PCS Season: Use This Credit Card Hack For Thousands in Rewards on Your DITY/PPM Move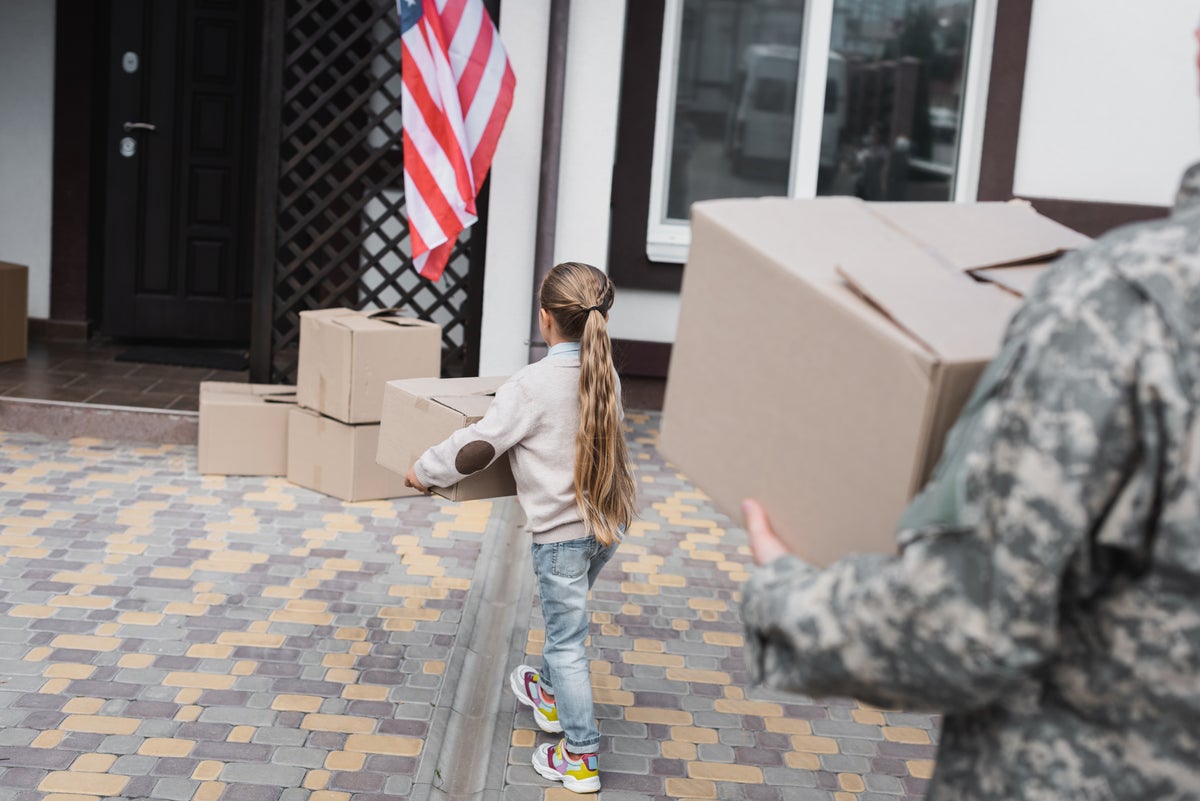 We may be compensated when you click on product links, such as credit cards, from one or more of our advertising partners. Terms apply to the offers below. See our Advertising Policy for more about our partners, how we make money, and our rating methodology. Opinions and recommendations are ours alone.
Marching orders are in! Where did Uncle Sam stick you?
PCS season can be a very stressful time.
Many service members will trust the DoD to relocate their belongings, hoping that everything makes it to their destination in one piece. Others opt to do it themselves with a DITY move, now called a Personally Procured Move (PPM).
It may seem like a no-brainer to just let the DoD move your things, but there are a lot of reasons why a DITY move makes sense. You can:
Ensure your stuff gets there in one piece
Turn the move into a road trip
End up with more control over when your stuff actually arrives at your new station.
Get reimbursed for the cost of the move, so the only downside is that there is a little more legwork when doing it yourself.
As an added bonus, the most financially savvy servicemembers are using free rewards credit cards as a hack to turn their PCS move into credit card bonuses, building immense amounts of points or cash back.
Remember that most cards have a spending requirement for the sign-on bonus, so moving time is the perfect time to meet that spending requirement and stack rewards.
Plus, as you have probably heard, most credit card issuers will waive credit card fees, including the annual fee, for active-duty servicemembers – thousands of dollars in bonuses and lucrative card benefits for free, in other words.
Read on for our list of top cards that do not charge annual fees for servicemembers:
Quick Summary (Annual Fees Not Charged for Active Military)
[table "538" not found /]

Amex Credit Cards (Annual Fees Not Charged, Best Card Benefits)
American Express goes beyond the letter of the law when offering benefits to active-duty military (including spouses and domestic partners).
They do not limit benefits to credit cards opened prior to active military service. Instead, Amex is not charging fees and offering reduced interest rates on all of their credit cards — even newly acquired ones.
Amex Benefits for Active Military Only
Exempt annual membership fees and other fees such as late payments, returned payments, and over-limit fees
A cap of 6% on interest rates for cards acquired prior to active duty or 36% (Military Annual Percentage Rate) for cards acquired during active duty

Newly acquired cards are not capped
How to Request These Benefits (Do This
After

You're Approved)
Online: Log in to your credit card account online and click on "account services." Under the account services tab you will find "credit management." You will see SCRA Benefits under that tab and be able to request the benefits there.
Phone: Call 800-253-1720 from the U.S., or outside of the U.S. call collect at 336-393-1111.
Fax: Fax active duty documents with American Express account numbers to 623-444-3000.
Mail: Mail documents with account numbers to American Express, Servicemembers Civil Relief Act, PO Box 981535, El Paso, TX 79998-1535
Best Amex Credit Cards for Active Duty Military
Why We Like the Card for Military Members
This is the "no brainer" card for active military given the substantial annual fee is not charged.
If you like to travel, having lounge access can certainly add economy and comfort to your trip. You can grab a free drink, a bite to eat, and relax during your journey. Cardmembers will have access for themselves plus 2 guests to upscale Centurion lounges, considered to be some of the best airport lounges available.
In addition, you'll enjoy Priority Pass Select membership upon enrollment, which allows you and 2 guests complimentary access to Priority Pass lounges worldwide. Priority Pass is the world's largest lounge network with nearly 1,300 lounges.
If you travel on Delta Air Lines, you'll also enjoy access to Delta Sky Clubs (cardholder only). Also included is access to select Virgin Clubhouses, select Lufthansa Lounges when flying Lufthansa, Escape Lounges – The Centurion Studio Partner, Airspace Lounge and Plaza Premium Lounges.
What makes this card even better is that you can get benefits with over $5,300 in value from all of the credits available that are listed above in the table. If you're active-duty military, you get access to all of this value without paying the hefty annual fee.
2. The American Express® Gold Card (Annual Fee
Not Charged

, Best for Earning Lots of Bonus Points)
Why We Like the Card for Military Members
Because the Membership Rewards points you earn on everyday spending can be redeemed easily for travel, the Gold Card strikes a balance of being an everyday earning credit card and a travel rewards credit card.
For those who travel occasionally but will spend up to $25,000 per year on dining and at U.S supermarkets, this card is a great match.
Bottom Line: American Express offers over 60 different cards, and they do not charge annual fees on all of them for active military. To maximize this benefit, we recommend applying for The Amex Platinum Card or the Amex Gold Card due to their high annual fees and premium benefits. 
Chase Credit Cards (Waived Annual Fees, Excellent Card Benefits)
Chase Benefits for Active Military Only
Chase offers benefits for active military members in accordance with the MLA law for those under active duty who applied for cards after September 20, 2017. Benefits apply only to personal credit cards, not their business cards.
Waived annual fees and other fees (except late fees and insufficient fund fees)
Military Annual Percentage Rate (MAPR) won't exceed 36% (includes any fees)
Any introductory promotional interest rates (0% APR, etc.) will be honored
How to Request Benefits (Do This After You're Approved)
After applying for the credit card of your choice, you can request SCRA/MLA benefits:
Access your Chase.com online banking profile
Select "secure messages" in the upper left of the page
Select "compose message"
Under "inquires," select Military SCRA benefits
Include your account number
Attach supporting documents
You can call 1-877-469-0110 to ask about credit card fee waivers for Chase credit cards (8am-10pm Monday through Friday, and 9am-6pm Saturdays). Internationally, call collect at 318-340-3348.
All Chase personal credit cards are included for Military benefits; here are some of the most popular that we recommend.
Best Chase Credit Cards for Active Duty Military
3. Chase Sapphire Preferred® Card (Annual Fee
Waived

, Excellent First Travel Card, Solid Travel Insurance)

A great first-time travel rewards card, the Chase Sapphire Preferred card offers a nice balance of practical travel benefits and earning valuable Ultimate Rewards points.
5x points on travel purchased through Chase Ultimate Rewards
3x points on dining
2x points on all other travel purchases
Travel protections and benefits, including trip interruption/cancellation and primary rental car insurance
Redeem for 25% more value on the Ultimate Rewards travel portal
Why We Like the Card for Military Members
Earning valuable Chase Ultimate Rewards is a real benefit and being able to redeem them for travel on the Chase travel portal for 25% more is an added bonus.
Ultimate Rewards points can also be transferred to travel partners for even more value.
If you're a Military Member renting a vehicle, know that you'll be protected with primary car rental insurance.
The Chase Sapphire Reserve card is a premium travel rewards credit card with a long list of benefits.
Generous welcome bonus worth hundreds of dollars toward travel after completing minimum spending requirements within first 3 months after card approval
Priority Pass Select Membership with access to over 1,000 airport lounges worldwide after enrollment.
Up to $300 travel credit each card anniversary year
3X points on travel and dining purchases
Transfer Ultimate Rewards to travel partners for potential added value
Redeem Ultimate Rewards points for 50% more value on travel purchased through the Chase Ultimate Rewards travel portal
Global Entry/TSA PreCheck credit up to $100
Why We Like the Card for Military Members
If you're traveling frequently, the worldwide lounge access benefit will make your journey more comfortable and economical. The $300 travel credit each anniversary year is easy to use and adds immediate value.
With elevated earning on travel and dining purchases and 50% more value when redeeming through the Chase travel portal, any military member who travels will utilize this card's benefits.
Final Thoughts
Premium travel rewards credit cards can have fees exceeding $500 per year, plus additional fees for authorized users. Having these annual fees not charged while qualifying for the valuable benefits offered can result in significant savings.
This is why so many active military members get the Amex Platinum Card (1st choice) or Amex Gold Card (second choice).
Keep in mind that balances still need to be paid off each statement period to avoid interest charges (even reduced ones), and payments must be made on time to preserve your good credit.
---
For the rates and fees of the Platinum Card® from American Express, click here.
For the rates and fees of the American Express® Gold Card, click here. 
The information regarding the For the rates, fees of the Platinum Card® from American Express, For the rates and fees of the American Express® Gold Card was independently collected by Upgraded Points and not provided nor reviewed by the issuer.