CLEAR Expedited Airport Security Program — What It Is, Membership, Benefits, and More
Update: Due to the spread of COVID-19, many CLEAR locations may have adjusted enrollment and/or operational lanes. Visit the Where We Are page to view current hours and days of operation at your departure airport. There have also been reports of CLEAR extending membership by request.
CLEAR is a program that utilizes biometrics to create a much smarter and more secure connected world for all of its members.
CLEAR is available at several nationwide stadiums and airports, and it allows you to enter into the security queues faster for a more seamless travel experience.
From airports to major sports venues, the CLEAR platform powers a unique customer experience that is both secure and smooth. In this post, we're going to take a look at what CLEAR is and if it makes sense for you, how much it costs, how you can save, and see where CLEAR is located.
How Much Does CLEAR Cost?
Currently, CLEAR offers 1 type of membership:
Standard CLEAR membership ($179): Access at airports and stadiums
To use CLEAR at airports and sports stadiums, a yearly membership is $15 per month billed annually ($180 per year), and children under 18 are free. All members can also add as many as 3 adult family members to their membership for an extra $50 each annually.
You can pay for your CLEAR membership using American Express, Discover, Mastercard, and Visa (both credit and debit cards).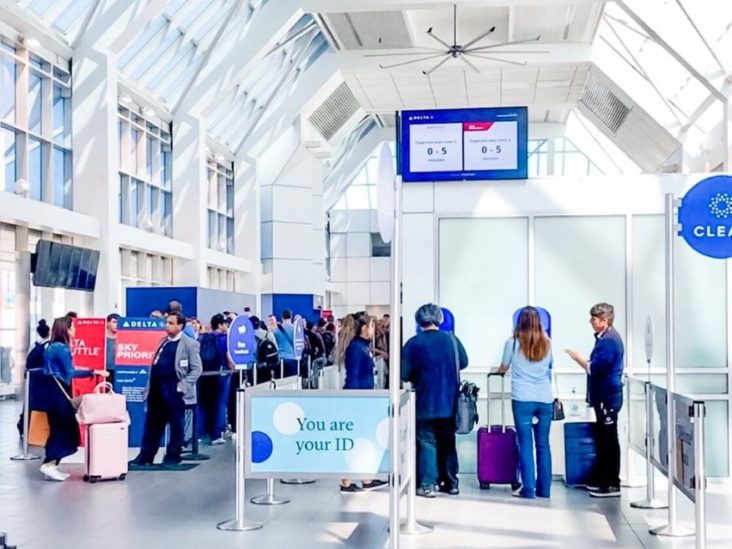 An Easy Way To Save on Your CLEAR Membership
What you won't find on the CLEAR website is an easy way to save on your CLEAR membership that is an absolute no-brainer.
If you hold The Platinum Card® from American Express, The Business Platinum Card® from American Express, or the Centurion® Card from American Express you'll receive a free CLEAR membership. 
If you're a Delta SkyMiles member, you can save on your annual CLEAR membership:
Diamond Medallion members: free membership (save $179 annually)
Platinum, Gold, and Silver Medallion members: $109 membership (save $70 annually)
General SkyMiles members: $119 membership (save $60 annually)
Delta SkyMiles credit card members: $109 membership (save $70 annually)
If you don't have any status but are simply a SkyMiles member (which anyone can be), you'll save $89 per year. From there, depending on your status, you will save even more — all the way up to free membership for Diamond Medallion members.
To take advantage of these benefits, simply enroll in SkyMiles for free, or apply for a Delta credit card and then sign up to CLEAR on this page to get the special offer.
This is a partnership between Delta SkyMiles and CLEAR, though the great thing is that anyone can participate.
If you're a United MileagePlus member, you can save on your annual CLEAR membership:
Global Services and 1K members: free membership (save $179 annually)
Platinum, Gold, and Silver members: $109 membership (save $70 annually)
General MileagePlus members: $119 membership (save $60 annually)
United MileagePlus credit card members: $109 membership (save $70 annually)
To take advantage of these benefits, simply enroll in MileagePlus for free (if you're not a member already), or apply for a United credit card. Then sign up to CLEAR on this page for the special offer.
If you're a student, you're eligible for special pricing of $50 a year for 4 years.
CLEAR partners with a third-party service to confirm eligibility, but if you're a student, this is by far one of the cheapest ways to get CLEAR.
If you're joining as a family, you can add adult family members at $50 a person per year. 
According to CLEAR, "family" doesn't necessarily need to be your biological family: "whether it is your biological family, chosen family, or friends that feel like family. It's totally up to you!" Children under 18 do not need to enroll and can join any CLEAR member in line free. You can receive 2 months free here.
How Does the CLEAR Program Work?
Following a 1-time enrollment, CLEAR will connect your biometrics (e.g., face, iris) to your personal identity, making it possible for you to speed through both airport and sports venue security using only the blink of your eye.
The CLEAR platform aims to create a smoother experience for its members, from biometric airport boarding passes to biometric airport lounge access and easy access to sports venues and concessions. When you become a CLEAR member, your standard ID, ticket, and boarding pass are simply replaced by your eyes.
This means you'll no longer need to remove your wallet from your purse or pocket. Members just enroll or verify at any CLEAR pod at the participating location, and then a CLEAR Ambassador escorts you through the dedicated CLEAR lanes.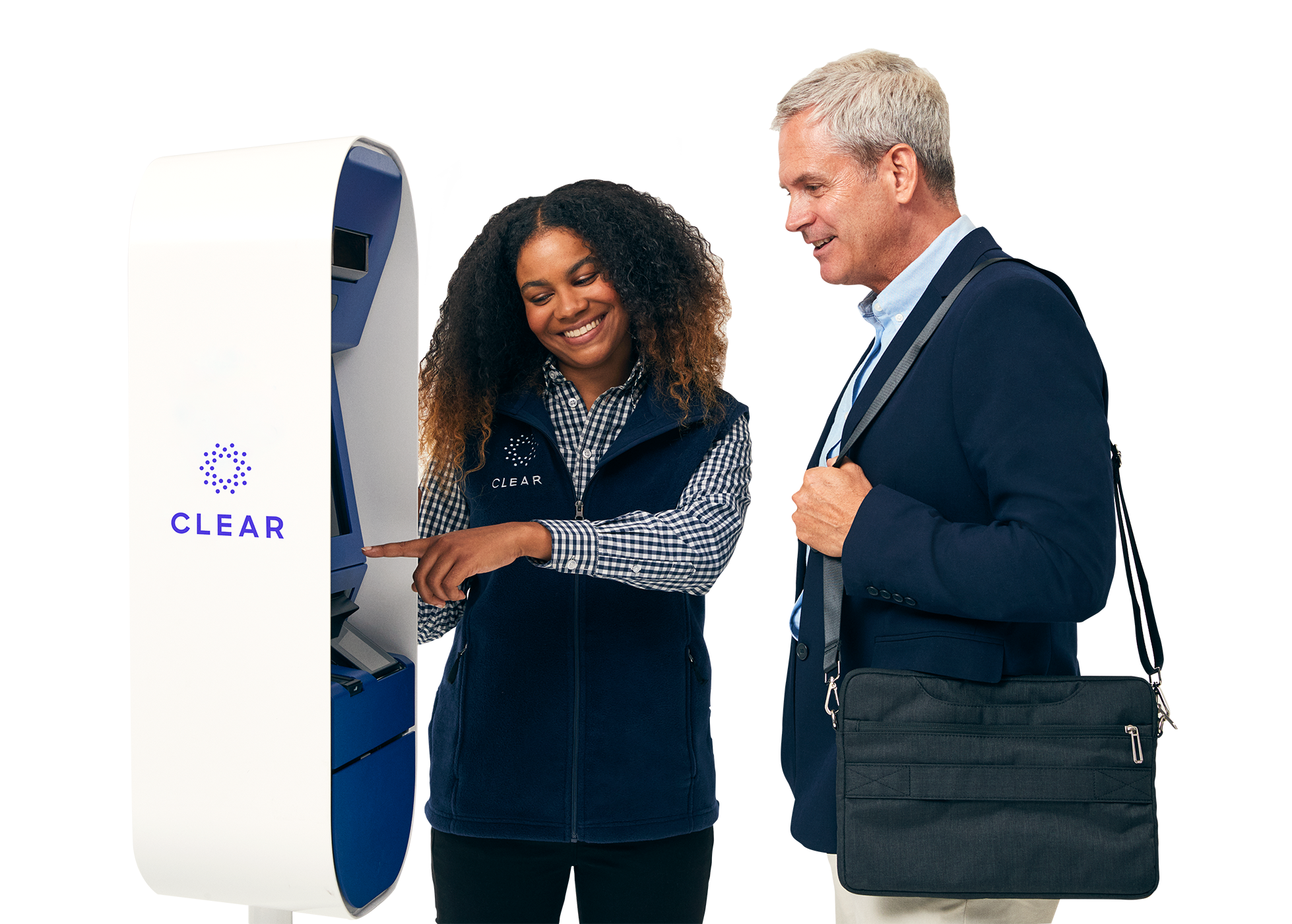 What About Eligibility Requirements?
Any U.S. citizen and legal permanent resident who has reached the age of 18 is eligible for enrollment in CLEAR.
The program is not open to international residents, though they likely wouldn't receive many benefits anyway unless they travel extensively within the U.S.
Are There Any Restrictions?
The only restriction is that the full name on your application must match the name on your photo ID.
Unlike Global Entry and other expedited programs, there is no background check for CLEAR members. This is because by being a CLEAR member, you are not receiving any expedited or reduced screening.
The program is simply matching your eye and identity with your boarding pass so you don't have to present your ID to a TSA officer. From there, you're still assigned access to either the regular security lanes or TSA PreCheck (if you have that program).
What Are the Benefits of CLEAR?
CLEAR offers accelerated touchless screening for members when going through airport identification security lines before any physical screening. Currently, CLEAR is working on an airport expansion aimed at creating a smooth experience from curb to gate for all members.
Eventually, this would include baggage check and claim, boarding, airport lounge access, and security checkpoints. Once you become an enrolled CLEAR member, you can utilize this service anywhere that CLEAR is found. The other CLEAR program benefits include:
Fast and easy enrollment that only requires a few minutes
Accelerated screening in security ID lines at participating airports
Availability at an ever-expanding list of airports and sports venues all over the country
CLEAR also offers its members several exclusive discounts or opportunities within its partner network, such as discounts on hotels, airline tickets, or other travel-related services.
Bottom Line: CLEAR does not bypass you from participating in actual security processes, including passing your bags through x-rays or walking through a metal detector. As a CLEAR member, your eyes will be speeding you through the participating airport and stadium identification lines faster.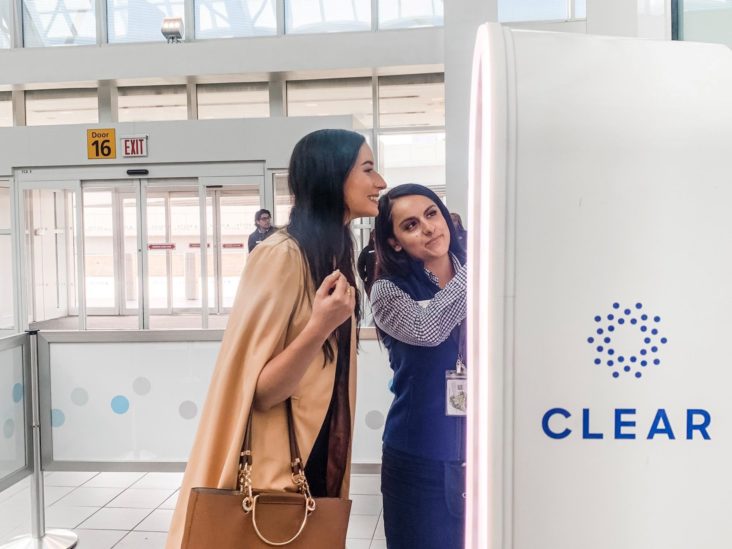 How Much Time Can I Save With CLEAR?
With CLEAR, you can breeze through the identification inspection process at more than 55 airports and sports venues nationwide. In fact, CLEAR members can actually speed through the entire security process from start to finish in less than 5 minutes on average, since CLEAR lanes allow members to proceed to the very front of the physical security queues.
Take for example an airport like Ronald Reagan Washington National Airport (DCA), where many travelers have TSA PreCheck due to being government workers. TSA PreCheck and regular security lines can be insanely long, especially during peak travel periods like Monday morning or Friday afternoon.
With CLEAR, once your ID is matched to your boarding pass, you will proceed to the front of the security lines. So, no matter how long the TSA PreCheck or standard security lines are, once you're done with the CLEAR process, you head straight to the front, right where you put your bags into the scanner.
This process of having your eye scanned and matched to your boarding pass rarely (if ever) takes longer than about 2 minutes, at which point you'll proceed through the metal detector like normal to complete the rest of your screening process.
Bottom Line: CLEAR is a great way to speed to the front of any long security queues. Processing only takes a few moments.
How Long Does the CLEAR Application Take?
CLEAR's fast and easy enrollment application only requires a few minutes of your time. You'll notice that in many CLEAR airports, salespeople are trying to get you to enroll; these folks receive a commission for every new user that becomes part of the program.
They'll try to solicit your business by encouraging you to enroll, so be vigilant about the offer they may present and always ensure you're getting the cheapest CLEAR membership possible.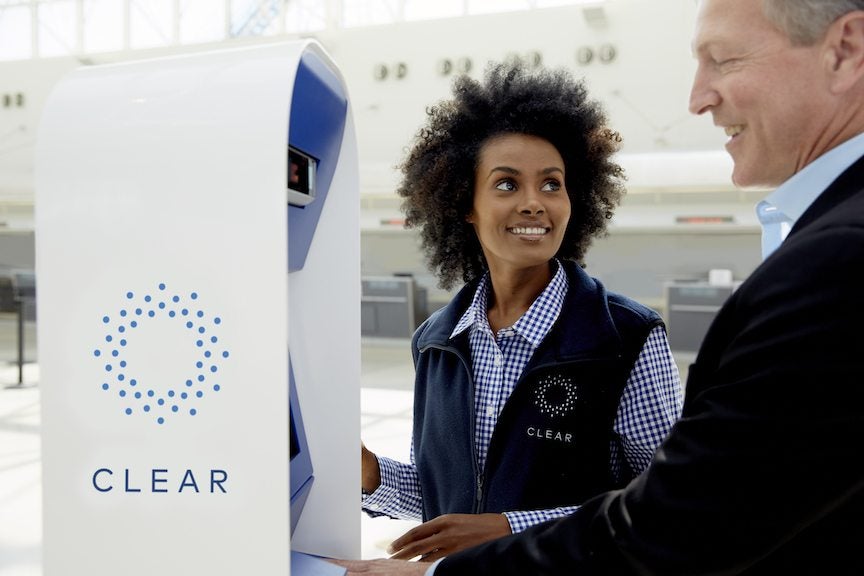 How To Use CLEAR at the Airport
Here are the easy steps:
Get in the CLEAR lane. Usually, these are right next to the regular security lines.
You'll check in at a pod using an iris scan as verification. An ambassador will open the pod for you and then escort you to the checkpoint.
Once you're finished verifying your identity, you can put your ID away. You won't need to show this to the TSA officer.
You'll proceed through the TSA checkpoint as normal. If you have TSA PreCheck, you can use those lanes; otherwise, you'll use the regular lanes.
How CLEAR Works With TSA PreCheck
If you have TSA PreCheck, CLEAR staff will see the TSA PreCheck eligibility on your boarding pass and escort you to TSA PreCheck expedited lanes for screening.
By visiting this page on the CLEAR website before your upcoming flight, you can find out which CLEAR lanes happen to be located next to a TSA PreCheck.
Hot Tip: CLEAR does not come with TSA PreCheck. For the best possible travel experience, use a premium credit card to get Global Entry membership for free, which also comes with TSA PreCheck. Then, enroll in CLEAR separately.

Enrolling a Family Member
Once you are a CLEAR member, just log into your account to access your Family Plan. Here, you can add up to 3 adult family members at $50 each per year.
Children under 18 who are accompanied by a CLEAR member have access to the CLEAR lane free of charge, so you don't need to add them to your account. Children under 18 don't need identification when traveling through the TSA checkpoint, which is why CLEAR allows them to proceed through.
Hot Tip: At stadiums, you can take 1 person with you in CLEAR security lanes, so you don't need a second membership for a companion in those scenarios.
Which Countries Participate in CLEAR?
Currently, CLEAR is only available to citizens and legal permanent of the U.S.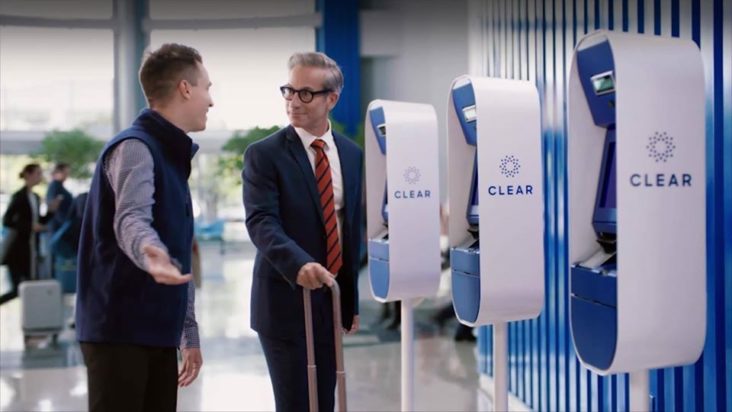 CLEAR Locations
Currently, members can utilize CLEAR at 15 stadiums and 38 U.S. airports that cover a great deal of the country's domestic departure traffic. Opening times and specific location information for each checkpoint can be found on the CLEAR website.
Which Sports Venues Have CLEAR?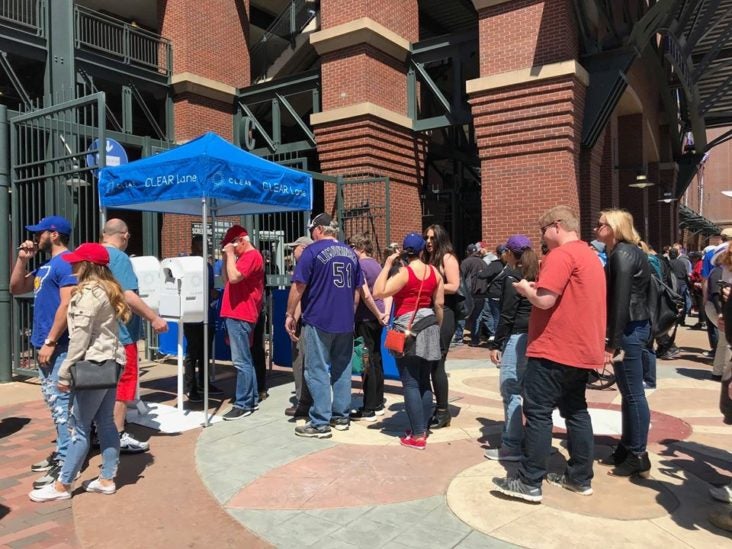 All full membership CLEAR users are eligible to access CLEAR at sports venues. If you don't have a normal CLEAR membership, you can enroll in a special CLEAR Sports version, which is completely free, but only valid at sports stadiums and not at airports.
Starting your free online Sports enrollment here is easy, and can be finished in just a few minutes at any CLEAR location. You can also upgrade your membership to enjoy CLEAR airport access as well by selecting "Sports + Airports" when enrolling (this requires a fee).
Stadium Locations With CLEAR
AT&T Center, San Antonio
Coors Field, Denver
PayPal Park, San Jose
Target Field, Minnesota
Banc of California Stadium
Earthquakes Stadium, San Jose
Madison Square Garden, Manhattan
T-Mobile Park, Seattle
Citi Field, Queens
Globe Life Field, Dallas
Oracle Park, San Francisco
Yankee Stadium, Bronx
Comerica Park, Detroit
Lumen Field, Seattle
Staples Center, LA
CLEAR Application
How You Apply
Applying for CLEAR only takes a few minutes; no appointment is necessary. You can begin the application online to save more time. Once enrolled, you can begin using CLEAR that same day.
Bottom Line: You do not need an appointment to enroll in CLEAR. Unlike Global Entry or other expedited traveler programs, CLEAR enrollment can be done on the spot at the airport.
What You Need
CLEAR is open to individuals 18 and older. For enrolling, you'll need one of the following photo identification forms. All identification must be valid, unexpired, unamended, and contain a photo:
U.S. Driver's License
U.S. Passport
U.S. Passport Card
U.S.-issued Permanent Resident Card
State-issued ID
U.S. Military ID

Re-Registering for CLEAR
If you were a former member of the old CLEAR program, CLEAR will honor whatever amount of time remains on that CLEAR account. This will be credited to you when you reactivate your account by logging in to your account.
Don't remember your original password? Just follow the instructions for establishing a new one. The CLEAR program doesn't use CLEAR cards any longer (if you were issued 1) — once you reactivate your account, you are ready to use the CLEAR lanes right away.
Renewing Your CLEAR Membership
To renew an existing CLEAR membership, log in to your account. After selecting Reactivate you'll be set — you don't have to update your biometrics because CLEAR will still have them on file. You will just need to pay the annual membership fee.
Once you select a CLEAR membership tier and package, you then receive that pricing for life — so it's advantageous to find the best pricing before you enroll. Note that this is not the case for pricing tied to elite status, which you only get as long as you hold that elite tier.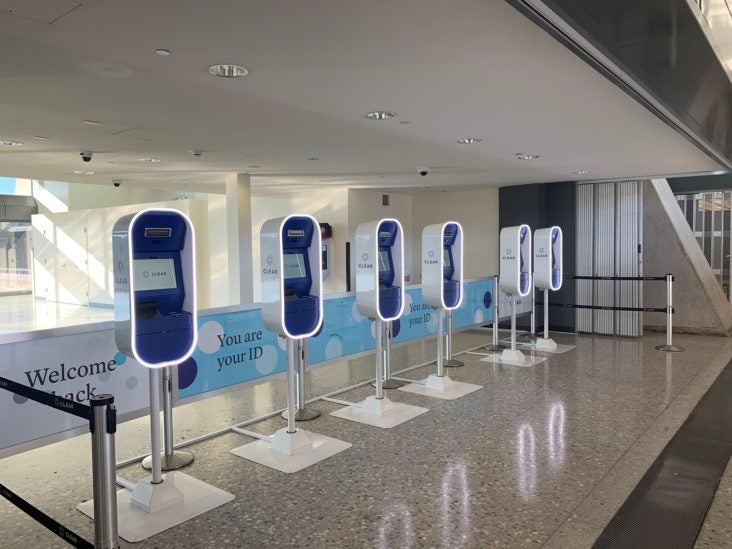 Final Thoughts
The bottom line is that everything is faster with biometrics, and CLEAR can make your travel life faster and easier.
CLEAR is perfect for both solo business travelers and families since members can take their children under 18 along with them. There are also several opportunities to reduce the price of your annual CLEAR membership, which is great for travelers looking to reduce their wait times at the airport and not break the bank.
CLEAR is recommended for:
No matter how you access CLEAR, it will definitely reduce the stress of having to stand in line for the identification check, and you'll be in the front of these lines in no time, ready to proceed through the scanner and metal detector checks.