Follow These 3 Steps If You Want to Fly Business or First Class…Using Points!
If you're tired of flying economy and want to fly Business or First Class (without paying crazy amounts of cash), you need to earn the right type of points, and then use them in a smart way!
Follow these 3 steps and we'll show you how to fly at the front of the cabin in no time…
Step 1 – Get a Big Sign-up Bonus & You'll Earn Lots of Points (Quickly)
Yes, there are so many credit cards out there but we've helped thousands of people and always recommend travelers start by adding the Chase Sapphire Preferred® Card to their wallets.
There are 2 main reasons to get this specific card over all the others out there:
a) You'll earn a whopping 60,000 Ultimate Rewards sign-up bonus after spending $4,000 on the card in the first 3 months of account opening.
Tip: Both you and your spouse can each get a card and earn 60,000 bonus points per person, netting you 120k points total.
60,000 points are worth at least $750 when you redeem through the Chase Ultimate Rewards travel portal, but under Step 3 we'll show you how to get a lot more value than that!
b) Chase Ultimate Rewards points are one of the most valuable rewards currencies on the market because they're easy to earn, and they can be transferred to partner airlines and hotels (this is the key).
Bottom Line: The current sign-up bonus is 60,000 Chase points (worth at least $750), but the most value comes from transferring to their partners. Continue reading to see the amazing flights you can take by using your Chase Ultimate Rewards points.
Step 2 – Earn Even More Points (2x Pts/$1 Spent on ALL Travel & Dining)
The more points you earn, the more options you'll have to use them for Business and First Class flights. It's really as simple as that!
What's so great about the Chase Sapphire Preferred® Card is that you can earn an unlimited 2 points for every dollar spent on travel and dining expenses (worldwide) when you pay with this card. All other purchases earn you 1 point per $1 spent and those will help to top up your balance.
We put ALL of our daily expenses (that don't incur a fee) on our card so that we're always earning points, whether it's at restaurants, bars, stores or making any online purchases!
Hot Tip: The Chase Sapphire Preferred® Card is actually a lot more generous than other competing cards because there are many more opportunities to earn the 2x points/$1 bonus.
You'll Earn 2x Points on These Types of Purchases:
Restaurants, Bars, Pubs, Coffee Shops, Eateries etc
Airfare tickets – booked directly through the airline, or through 3rd party sites like Expedia, Booking.com etc
Trains, Metros, Buses and other public transportation services
Tolls & Bridges
Food-delivery services
Airbnb and other house-sharing services
Parking meters, lots and garages
Tours organized by travel companies
Time Shares
Making regular purchases with this rewards card, especially in those categories above — is how you continually rack up points.
Bottom Line: Earn an easy 2 points per $1 spent on ALL travel and dining purchases (which covers a lot of areas which we listed above). This means you can rack up lots of valuable Chase Ultimate Rewards points during the year to use on incredible redemptions — or book through the Chase travel portal.
Step 3 – Maximize Your Points with Transfer Partners (This is How You Fly Business/First Class)
Chase Ultimate Rewards points earned with your Chase Sapphire Preferred® Card can be transferred to 9 elite airline frequent flyer programs and four luxurious hotel loyalty programs, all at a rate of 1:1.
Some of these transfer partners include:
For example – transfer 50,000 of your Chase Ultimate Rewards points to United Airlines, and you'll get 50,000 United miles. Simple!
Before we get into a few examples, please know there are so many incredible ways that you can use your Chase Ultimate Rewards points (we found 49 different redemption options and that's still scratching the surface!).
Let's dive into a few of our favorite uses:
Option 1 – Fly "Singapore Suites": JFK > Frankfurt: Use Just 76,000 Points!
Average retail cost in cash = $5,100 USD!
Transfer your Chase points directly to Singapore Airlines and you could book an absolutely amazing experience in their Singapore Suites cabin using points, not ~$5k in cash!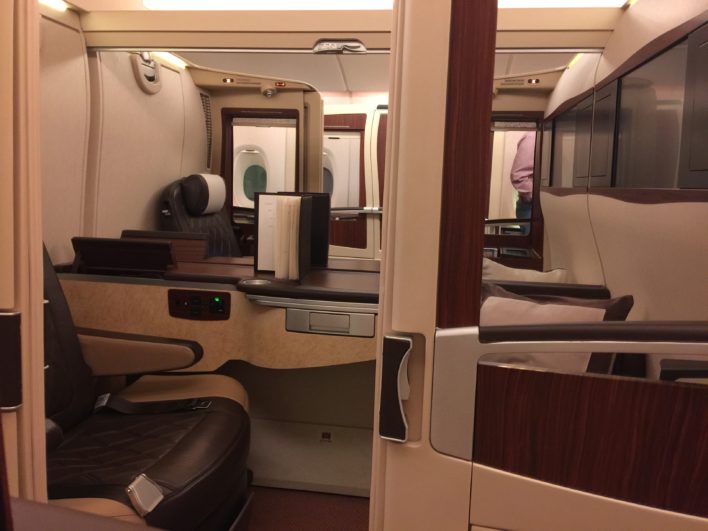 The Singapore Airlines First Suites Class on their A380 aircraft has been impressing fliers since it was introduced in 2007 offering a full double bed to couples flying together in the middle cabin.
The easiest way to experience this amazing flight is to transfer just 76,000 Ultimate Rewards points to your existing or newly created Singapore KrisFlyer account. From there, redeem the points for a one-way First Suites Class ticket from New York's JFK to Frankfurt, Germany!
Want to continue all the way to the Far-East and visit Singapore? Save up to get 120,000 points and spend 20 hours in your own private suite in the sky for the ride.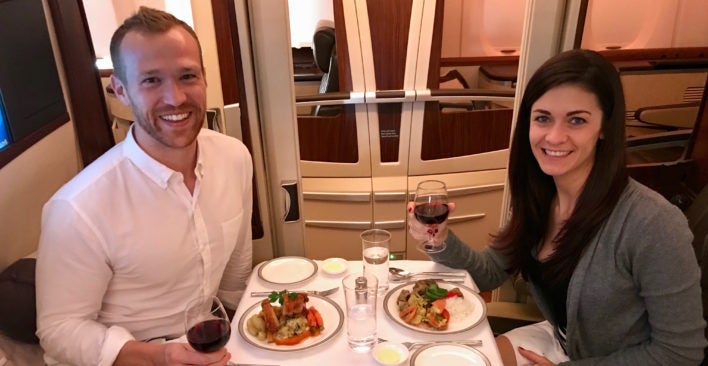 Need help booking this award flight? Read our in-depth guide on how to fly Singapore Suites using points.
---
Option 2 – Fly Delta Business Class: US > Hawaii – 45k Points

Round-Trip!
Average retail cost in cash = $4,000 USD!
This is an awesome deal. If you transfer 45k of your Chase Ultimate Rewards points to Korean Airlines (which is a transfer partner of Chase), you can fly from anywhere in the US that Delta flies to Hawaii, round-trip. That would save you ~$4,000.
45k points isn't even the sign-up bonus amount either – so you could book this by just meeting the minimum spend of the card!
Need help booking this award flight? Check out our guide to booking Delta business class with points.
---
Option 3 – Fly Virgin Atlantic Upper Class: US > Europe – 100k Miles

Round-Trip!
Average retail cost in cash = $6,000 USD!
You can experience Virgin Atlantic Upper Class to Europe using your Singapore Airlines KrisFlyer miles for less than flying on Singapore Airlines and have more options for your final destination.
Singapore Airlines partners with Virgin Atlantic and only charges 100,000 miles for a round-trip ticket in their Upper-Class premium cabin.
Need help booking this award flight? Read our guide on how to book Virgin Atlantic Upper Class >>
You could take this flight, for example, from JFK or Washington DC > London.
---
Option 4 – Fly Lufthansa First Class: US > Europe – From 95,000 Points!
Average retail cost in cash = $6,500 USD!
Lufthansa has also been hailed as one of the best airlines for first-class experiences. With your Ultimate Rewards points, you can easily transfer your miles to United MileagePlus to book first class flights with Lufthansa.
United charges 110,000 points each way, however United does not charge any additional surcharges, you'll just have to pay the nominal taxes and fees. Here is a complete go-to guide to booking Lufthansa first class using points.
For fewer miles (but more in taxes) you can transfer your Chase Ultimate Rewards to Singapore Airlines and it'll cost 95,000 KrisFlyer miles.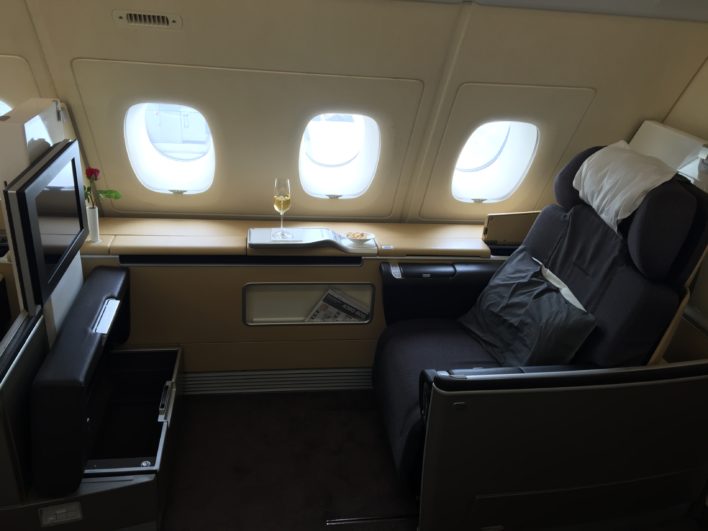 One of the most sought-after flights for Lufthansa first class is on the A380, which connects Los Angeles, San Francisco, Houston and New York to Frankfurt.
Looking for the ultimate first-class experience?
Be sure to use your miles to fly from Frankfurt to the USA and get a chance to explore Lufthansa's exclusive first class terminal where you can wine and dine at a full-scale restaurant, take a bubble bath with a Lufthansa rubber ducky, and be driven right to your flight in a luxurious private car from your very own personal assistant.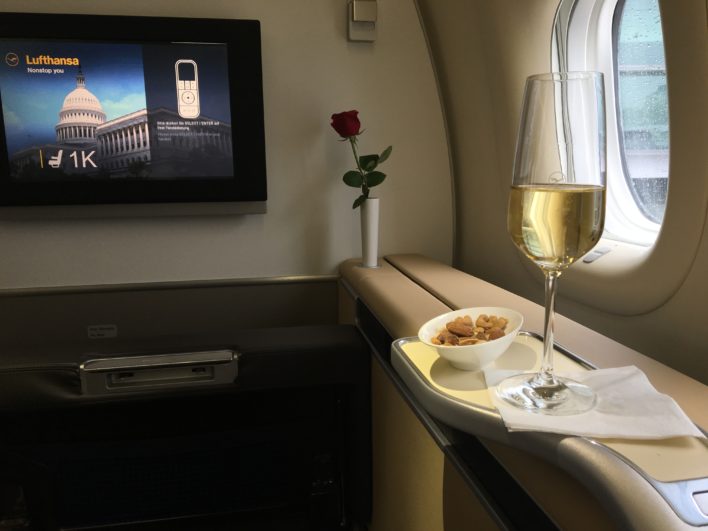 Need help booking this award flight? Check out our guide to booking Lufthansa First Class with points.
Bottom Line: As you can see above, there are many incredible redemption options for Chase points. In the examples above, if you use your points for those redemptions you're getting between $4,000-$6,500 in value!
If you need more ideas, dive into our list of 49 different ways to use your Chase Ultimate Rewards Points.
Final Thoughts
The Chase Sapphire Preferred® Card has one of the best sign-up bonus offers on the market.
Remember, if you have a spouse or partner, then you could each sign up to the card and 2x your earnings!
Below you'll find a summary of the Chase Sapphire Preferred® Card, as well as our FAQ's further down:
Using this card for all travel and dining expenses will earn you double points anywhere in the world with no foreign transaction fees. 
You will also be able to maximize the value of your points significantly by transferring your Ultimate Rewards points to select travel partners, and try some of the most exclusive travel rewards out there including International Business and First Class experiences. It's really hard to beat this.