How To Use Spirit Airlines' Free Spirit Dining Program To Earn More Points
If you're earning Free Spirit points with Spirit Airlines, did you know that you can earn them even when you're dining out? Sounds too good to be true, doesn't it?
Just join the Free Spirit Dining program, and you can start eating your way to extra points with over 11,000 participating restaurants, bars, and clubs.
This article will guide you through setting up and making the most from your account so you can start planning your next meal out right away!
How To Sign up and Log In
To start earning extra points, you need to register for an account at freespiritdining.com. Click the Join Now button.
If you already have an account, then log in with your details.
If you have a Free Spirit account with Spirit Airlines already but haven't signed up for the dining program, then you'll still need to fill out the form to join using your frequent flyer details.
You'll need to sign up here if you aren't a Free Spirit member yet.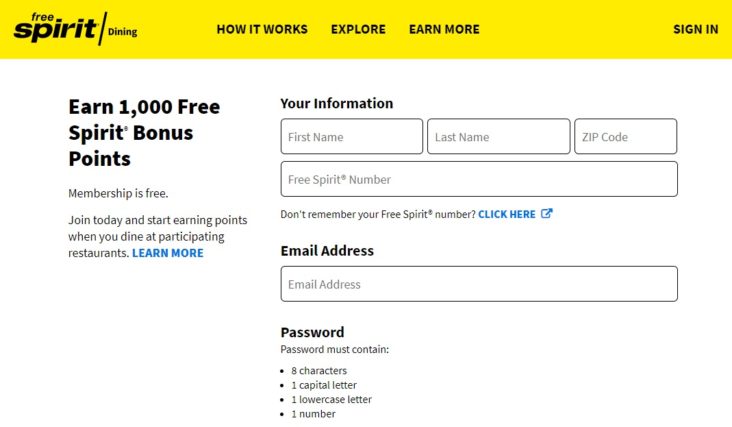 The next step is to link a credit card to complete your registration. There's no fee for joining; this is just how they will track your dining experience and credit your points. You can add or change credit cards at any time.
You don't have to log in to view participating restaurants, so you can browse before joining if you want.
Basics of Using the Free Spirit Dining Program
There are 3 membership tiers for the Free Spirit Dining program, each with different earning levels:
Basic members receive just 1 point per $2 spent and will benefit from bonus opportunities periodically.
Select members receive 3 points per $1 spent, and it's really easy to climb to this tier — you just have to sign up to receive emails from the Free Spirit Dining program.
VIP members receive 5 points per $1 spent. To be eligible for this tier status, you must consent to receive emails and have completed 11 qualifying dining transactions in a calendar year. On your 12th meal, you'll begin receiving 5 points per $1!
There are over 11,000 participating bars, clubs, and restaurants, and you can use the program's search engine to browse restaurants in your chosen city, state, or zip code. You can also search by restaurant name.
In list format, you'll be presented with information such as the restaurant's member rating taken from reviews, average entrée price, and what days you can dine and collect points.
Hot Tip: You can sort your list by any of these headings. For example, if you have a dining budget or you're only interested in well-reviewed restaurants, choose to see those options first.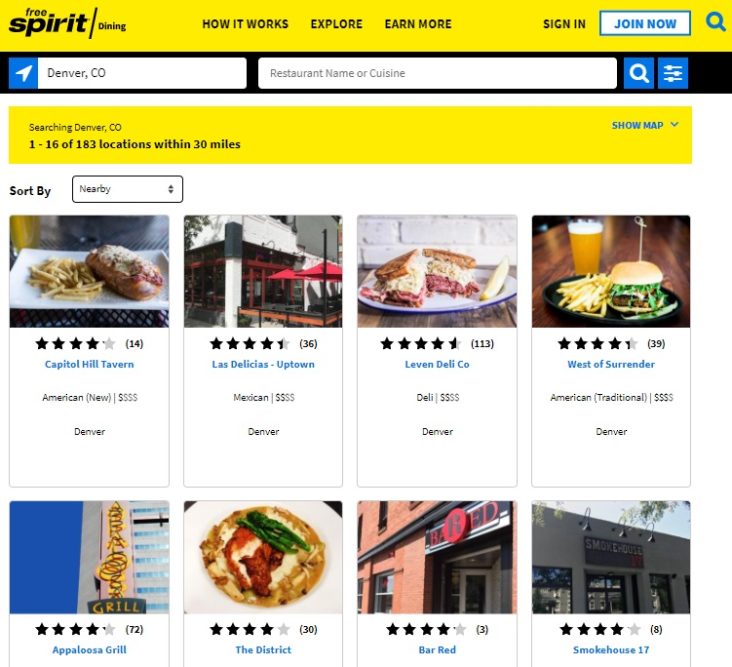 Your restaurant results can be presented in a list format or by changing to a map view, which is really handy for checking particular restaurants nearby.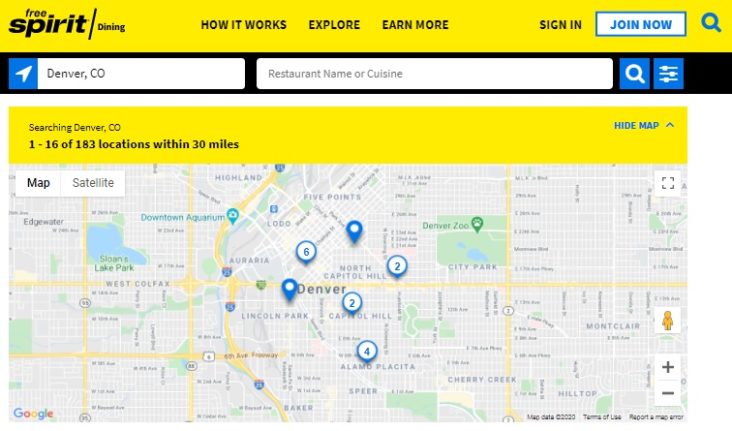 When you visit a restaurant, be sure to pay with your registered credit card, otherwise, Spirit will not be able to track the visit and award the points to your account.
You'll earn bonus points based on your membership tier and the total cost of your meal, including tax and tip.
Hot Tip: You'll accrue the points at the same rate for any participating restaurant, so hit up that fine dining establishment or grab some cheap takeout!
After your dining experience, points earned should appear in your Free Spirit Dining account within 5 days. However, it could take up to 6 to 8 weeks — so if you don't see them immediately, don't worry.
Intro Bonus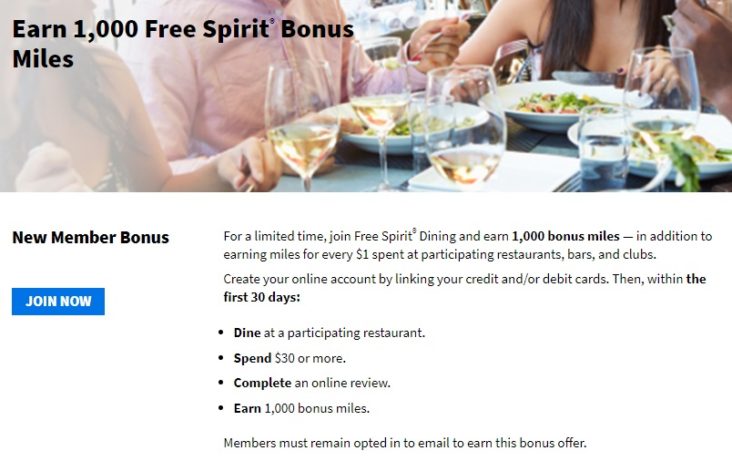 At the time this article was published, Spirit offered 1,000 extra bonus points for new members who spend $30 in the first 30 days. You'll need to pay with your registered credit card and review your experience within 30 days of the visit to qualify for the extra points.
Example Restaurants
The Free Spirit Dining program includes over 11,000 participating restaurants, bars, and clubs across the U.S.
We found that most of the participating restaurants are small independent restaurants rather than chains, so if you like trying a new restaurant regularly, this could be the program for you.
When searching for Miami, as an example, there were 390 restaurants within 30 miles of the city center.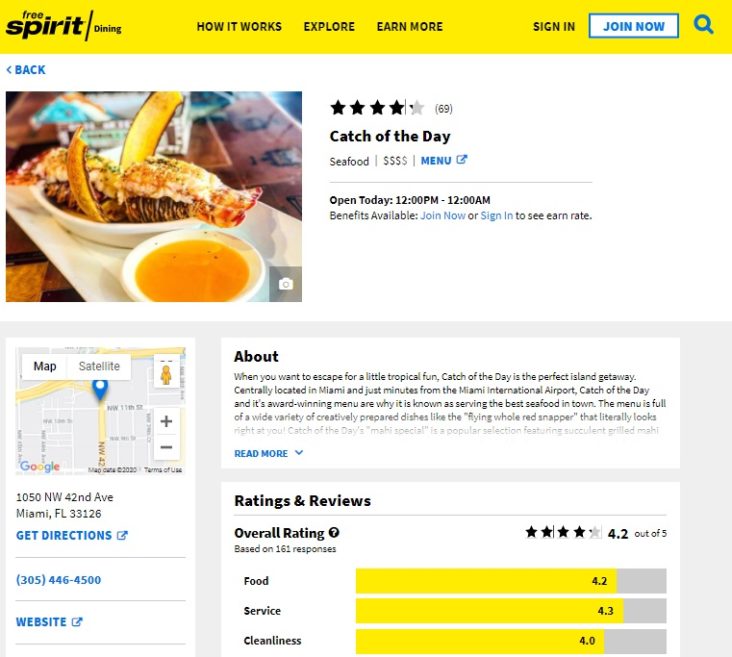 Every city has a varying amount of participating restaurants. For example, when this piece was written, Las Vegas had just 75 restaurants listed within 30 points of the city center, while Jersey City had 898, and Los Angeles had 576.
While most participating restaurants are independent establishments, double-check the address listed. If you are looking at a chain restaurant, not all chains may be participating in the program.
Final Thoughts
If you dine out regularly and you like checking out independent restaurants, then it's definitely worth signing up for the Free Spirit Dining program.
You can use it as a resource to check reviews on great restaurants and benefit from extra valuable points at the same time.