CardMatch Tool — Find the Best Credit Card Offers for You [2021]
Targeted credit card offers are usually some of the best offers out there. Targeted offers usually come with a higher welcome bonus than the publicly available offer, and sometimes come with other perks like promotional 0% interest rates, waived annual fees, and more.
Finding these targeted offers can be tough — sometimes, you'll get them in the mail; other times, you'll see them in social media ads or you can find them by using a "pre-approved offers" form on a bank's website.
With this in mind, finding targeted offers can be an incredibly confusing process, and you may even lose out on them in the process. Promotional mailers get lost in the mail, and checking dozens of bank websites on a regular basis isn't practical. That's not to say you should give up on finding targeted offers — thankfully, there's a better way.
Enter the CardMatch tool. This tool has been a favorite of many miles and points aficionados for years. In short, the website curates all of your targeted credit card offers into an easy-to-digest dashboard that lets you compare all of your targeted credit card offers in a single place.
But what exactly is CardMatch? More importantly, how do you use it? In this article, you'll see the ins-and-outs of the CardMatch tool including an in-depth explanation of what CardMatch does, how to use it, and an up-to-date list of CardMatch's current offers.
In a hurry?Find your own personalized card offers at: CreditCards.com's CardMatch Tool. Your credit will not be pulled when viewing these offers.
What is CardMatch and Why Should You Use It?
CardMatch is a tool that you can use to see all of your targeted credit card offers in single place. Most of the larger U.S. banks publish their targeted offers to CardMatch, including American Express and Chase.
Since these offers are targeted, you may or may not have luck using the tool. We've found that the people most likely to be targeted for offers on CardMatch are those with relatively few new credit cards and a high credit score. However, even if you don't meet this criterion, it's still worth a look.
CardMatch also shows pre-qualified offers on its dashboard. These are cards that the bank will likely approve you for. While this decision isn't guaranteed, the bank is more likely to approve you for the card than a standard person applying for the card through its website.
These offers don't always have a welcome bonus attached, so tread lightly and read over the full terms of the offer before applying.
You do need to provide CardMatch with some personal information when using the tool, like your full name, address, and the last 4 digits of your Social Security number. However, your credit will not get a hard pull when using CardMatch. This information is simply used to match you to an eligible offer.
CardMatch recently became a part of Creditcards.com, a website dedicated to credit card news and reviews.
When Should I Use CardMatch?
Using CardMatch will ensure that you're getting the best credit card offer available. Even if you've already made up your mind on your next card, using CardMatch may give you a better offer than what you'd find on the bank's website.
In other words: search CardMatch before every new credit card application — you never know when you'll find a better deal!
CardMatch Partner Banks and Products
Which Banks Show Targeted Offers on CardMatch?
According to CardMatch, they show targeted offers from:
American Express
Bank of America
Capital One
Chase
First Premier Bank
Other smaller banks
Remember though, you'll only see offers from banks that have targeted you specifically. This means that you may or may not see offers from all of these banks at once.
Can I Find Business Card Offers With the Tool?
Unfortunately, the CardMatch tool doesn't show targeted business credit card offers.
If you need a new business credit card, you'll only find targeted offers through the mail, direct email, or other types of targeted advertising.
Alternatively, check out our business credit card recommendations for some ideas and apply directly. You'll still get a great offer, and don't have to rely on the banks to target you.
How to Use CardMatch
Thankfully, you don't need to create an account or even give an email address when checking CardMatch for offers. All you need to do is input a few key bits of personal information into CardMatch's secure form, including your full name, current street address and the last 4 digits of your Social Security number.
This information is transmitted using 256-bit encryption, and CardMatch is a PCI Level 1 compliant organization. This means that your personal information is treated with the utmost security by a trusted company; PCI Level 1 Compliance is the highest level of certification issued by the Payment Card Industry Security Standards Council.
How to Use CardMatch Step-By-Step
To find your CardMatch results, just head over to the CardMatch website and fill out the form on its website. Note that the website asks for your email address at the bottom of the form, but this is completely optional. If submitted, you'll receive promotional emails from CardMatch.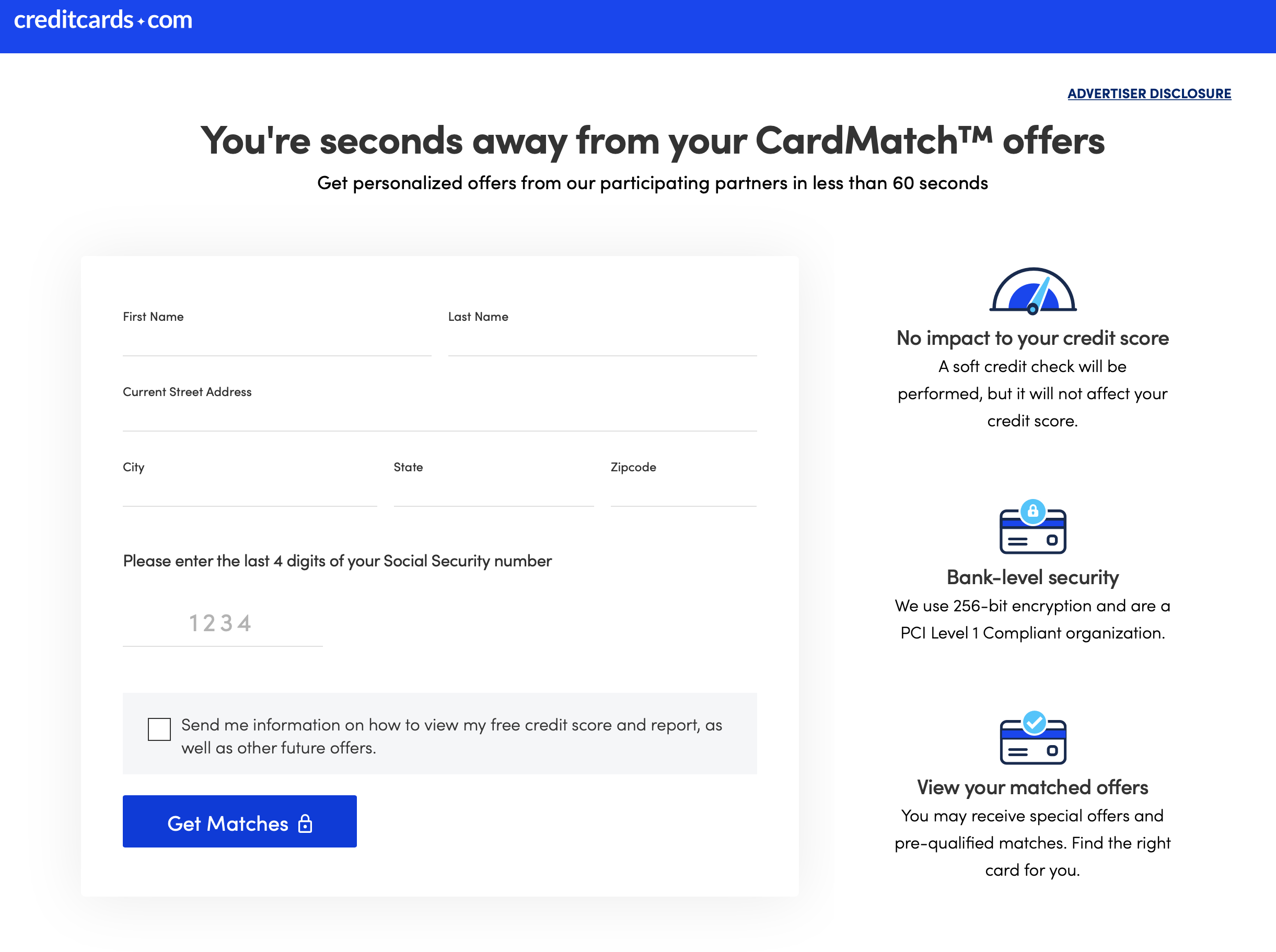 Step 2: View Your Offers
After submitting the form, you'll be brought to your list of targeted credit card offers. Under each card is a look at its respective benefits, bonus points, APR, and other important information. There's also a "Features" sidebar that you can use to filter out cards based on type and bank.
Step 3: Apply (Optional)
If an offer strikes your eye, click the blue Apply Now button on the right-hand side of the card's information box. You'll be brought directly to the bank's application page for the offer you're targeted for. Note that you must go through this link in order to take advantage of the targeted offer.
A Word on Chase Cards and the 5/24 Rule
Unfortunately, Chase's 5/24 rule still applies to CardMatch offers. In short, this means that if you've opened 5 new credit cards in the past 24 months, you'll be automatically denied for all-new Chase cards that you apply for. Unfortunately, you can't appeal this decision, and it applies to both personal and business cards issued by Chase.
Check Your Account for These Valuable CardMatch Offers [Updated]
For your convenience, we've curated an up-to-date list of the best targeted CardMatch offers below. We've split up the list into active offers and previous offers, giving you a good look at what's possible on CardMatch. We're keeping an eye on the CardMatch website for new offers too, and will keep this list updated as we hear about both new and expiring offers.
Note that we're only covering increased welcome bonuses in our CardMatch tracker. We're not tracking pre-qualified offers or offers that are the same as their publicly available bonus offers.
Let's take a look at what's possible with CardMatch!
Current CardMatch Offers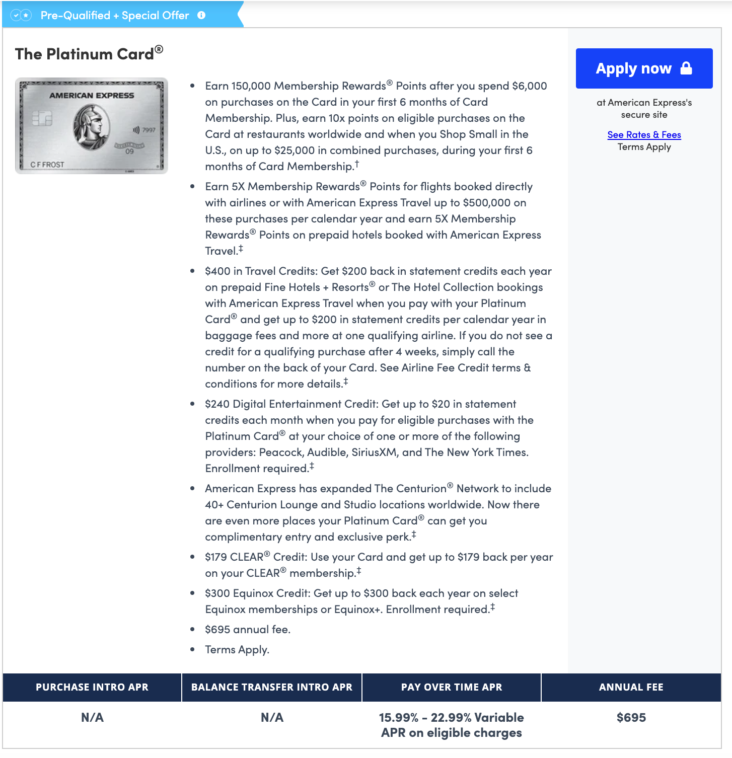 In Select CardMatch users have been targeted for a 100,000 (125,000 or even 150,000) Membership Rewards point bonus for the Amex Platinum after spending $6,000 on their card in the first 3 months of account opening. Other users were targeted for a 75,000 Membership Rewards point bonus after spending the same amount.
Both of these offers are excellent. The publicly available Amex Platinum can differ from CardMatch, so definitely check CardMatch before you apply for the card directly.
And remember: the Platinum Card has a number of other awesome benefits, too. These include up to $200 annual in Uber credits (up to $15 monthly with up to $35 in December), extensive airport lounge access, a $200 annual airline credit, car rental benefits and more.
Hot Tip: Wondering what you can do with 100,000 Membership Rewards points? Check out our article on the best Membership Rewards redemptions.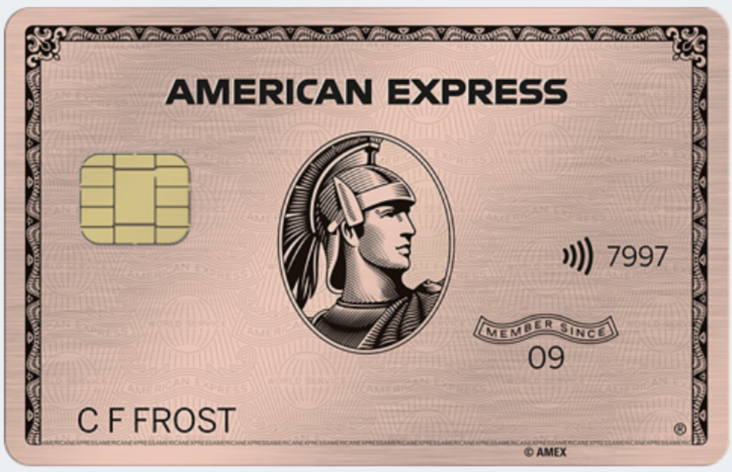 Likewise, some CardMatch members are being targeted with an increased offer for the Amex Gold.
We've seen a 50,000 Membership Rewards point bonus after spending $2,000 on the card in the first 3 months of account opening on CardMatch. This is 15,000 more points than the standard offer, making it an exceptionally good deal for those in the market for an Amex Gold.
Other card benefits include 4 points per dollar spent on restaurants and at U.S. supermarkets (up to $25,000 per calendar year, then 1x), and up to $10 in monthly dining credits. See our article on the benefits of the Amex Gold Card for more information.
Previous CardMatch Offers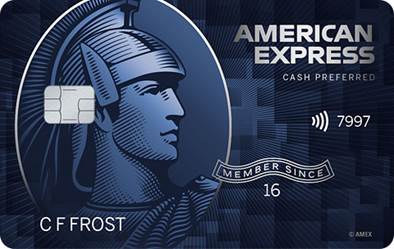 In the past, we've seen an increased welcome bonus on the Blue Cash Preferred. The card normally earns $250 in bonus cash-back after spending $1,000 on the card in the first 3 months of account opening. However, CardMatch was once offering a $300 bonus for the same amount of spend. We'll let you know if this offer reappears in the future.
For more information about this card, check out our detailed guide to the benefits of the Blue Cash Preferred card.
CardMatch once offered increased welcome bonuses for the Delta Gold, too. At the time, the standard welcome bonus was 35,000 Delta SkyMiles after spending $1,000 in the first 3 months of account opening. However, the CardMatch site offered 50,000 Delta SkyMiles and a $50 statement credit (after your first Delta purchase) for the same amount of spend.
Check out our full review of the card for more information and current offers.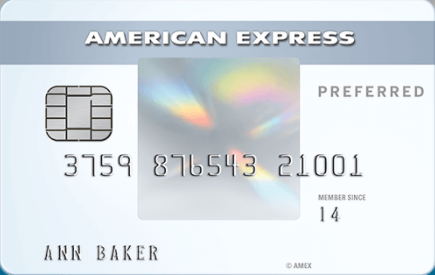 American Express has previously offered an increased welcome bonus for the The Amex EveryDay Preferred, too. The standard bonus is 15,000 Membership Rewards points after spending $1,000 in the first 3 months of account opening. However, CardMatch doubled the welcome bonus to 30,000 Membership Rewards points after spending $2,000 in the first 3 months of account opening.
A CardMatch Example Case Study
To further prove how valuable CardMatch can be, here's a look at the offers I was personally matched with.
I have opened 12 new cards over the past 12 months but was still offered a set of different offers from Chase, Capital One, and Genesis FS Card Services. These offers weren't the most exciting offers around, but here's a look at each of them.
Here's a look at the offers on my CardMatch account, broken down by bank:
American Express
Unfortunately, I wasn't matched to any American Express CardMatch offers. This is likely because I already hold a variety of American Express cards, including the Platinum and Gold cards. If you've never had an Amex before though, your experience will likely be much different than mine.
Bank of America
Likewise, I didn't have any Bank of America CardMatch offers. I do hold a few Bank of America cards, so the reasoning may be similar to the above. However, you may have different results depending on your card portfolio and credit history.
Capital One
There were 2 different "pre-qualified" offers presented to me: one for the Capital One® QuicksilverOne® Cash Rewards Credit Card and another for the Capital One® Platinum Credit Card. Both of these offers had no welcome offer attached and largely looked to be cards for building credit.
Here's a look at the offers:
The QuicksilverOne Cash Rewards Card has a particularly lackluster offer on CardMatch. While I pre-qualified for the card, there is no welcome bonus offered on the CardMatch link.
The CapOne Platinum is another strange offering on CardMatch. The card doesn't earn rewards and seems to be targeted to those looking to build credit. This can be seen by its automatic credit line increase after making your first 5 payments on time. So while we don't recommend the card to those with established credit, it may be a good offer for those just starting out on their credit building journey.
Hot Tip: If you're looking to build your credit, one of these cards might make sense. If you need help deciding, check out our head-to-head matchup of the QuicksilverOne Cash Rewards Card vs. the CapOne Platinum Card.
Chase
Surprisingly, I was targeted for 3 different Chase credit cards: the Chase Freedom Unlimited® card, Chase Freedom® card (currently closed to new applicants), and the Chase Sapphire Preferred® Card.
However, all of the targeted offers are identical to those offered directly through the Chase website. Further, these cards didn't have the "pre-qualified" tag, so we're confused as to why these offers are showing on my CardMatch page.
Strangely enough, when I checked Chase's own pre-approved offers page, none of these cards showed up. This is likely because I have multiple open Chase credit cards and am way past 5/24. However, this means that there may be some disconnect between Chase's offers and what you'll see on CardMatch.
Freedom Unlimited Card and Chase Freedom Flex℠ Credit Card
As mentioned above, the 2 variants of Chase's Freedom cards — the Freedom Flex card and Freedom Unlimited card — have identical offerings as the Chase site. Both offer a promotional 0% APR for 15 months on purchases.
The Chase Sapphire Preferred card's welcome bonus may be standard, but it's a pretty solid one nevertheless. These points can be transferred to Chase's wide array of transfer partners, or used at 1.25 cents per point towards paid travel on the Chase Travel Portal.
Other Banks
I was also targeted for 2 other credit cards: the Indigo® Platinum Mastercard® and the Milestone® Gold Mastercard®. However, these cards are largely targeted towards those with no credit or previous bankruptcies, neither of which applies to me. Needless to say, we don't recommend applying for these cards unless you fall into the latter category.
So, as you can see, I didn't have the best experience with CardMatch. However, this is likely because I'm far from new to the credit card world. I have an established portfolio of points earning credit cards, giving banks less of a reason to target me for special offers. So with that in mind, your experience will likely be much different than mine.
Final Thoughts
In this article, we showed you the ins-and-outs of the CardMatch tool. Make sure to run a search on CardMatch before you apply for your next credit card, you may walk away with a better offer than what's publicly available, giving you more points and other special perks.
However, do keep in mind that CardMatch won't always hook you up with a better credit card offer. Targeted offers come and go, and it's up to the banks to target you for special offers. Regardless though, it doesn't hurt to check from time to time.
Have you had luck with the CardMatch tool? Let us know in the comments below!
---
The information collected and presented in this article regarding the Amex Everyday® Preferred Credit Card is independently collect by Upgraded Points and not provided by the issuer.