Amex Platinum Card – How To Maximize the Monthly Uber Cash [2021]
The Platinum Card® from American Express is one of the best and most sought after travel rewards cards on the market. Likewise, Uber is one of the leaders when it comes to ridesharing and food delivery services, so the fact that all Amex Platinum cardholders receive monthly Uber Cash is a perfect match.
Each month, Amex Platinum cardholders receive $15 in Uber Cash, plus $35 in the month of December, for a total of $200 Uber Cash each year. But how exactly do these credits work, and what sort of purchases can they be used for? This guide covers all of that and more!
Overview of the Amex Platinum Card
Amex Card
Benefits & Info

The Platinum Card® from American Express


Apply Now

(at Amex's secure site)

Earn 60,000 75,000 Membership Rewards® points after you use your new Card to make $5,000 in purchases in your first 6 months of Card Membership.
Earn 10x points on eligible purchases, in your first 6 months of Card Membership, on your new Card at U.S. Gas Stations and U.S. Supermarkets (on up to $15,000 in combined purchases).
Earn 5X Membership Rewards points on flights booked directly with airlines or with American Express Travel (up to $500,000 on these purchases per calendar year) plus earn 5X Membership Rewards points on prepaid hotels booked with American Express Travel.
Access 1,300+ airport lounges across 140 countries, including the amazing Centurion lounges. (This is our favorite lounge access card.)
Up to $200 Uber Savings Annually.
Up to $200 Airline Fee Credit.
Up to $100 fee credit for Global Entry or TSA PreCheck.
Up to $100 annual Saks Fifth Avenue credit.
Good to Excellent Credit Recommended (670-850)
Annual Fee: $550.
Terms Apply. For rates and fees of the Amex Platinum Card, click here.
$1,650


Must Reads: For more info on the Amex Platinum, see our thoughts on its benefits & perks, travel insurance coverage, and unbeatable airport lounge access. Take a look here for our full review. If you're a business owner, see our review of The Business Platinum Card from American Express.
The Amex Platinum card is a crowd favorite in the points and miles community — and good reason. The Amex Platinum card comes jam-packed with lots of excellent travel and lifestyle benefits that make it extremely rewarding to be a cardmember. Here is a look at some of the best benefits of the Amex Platinum card.
Key Benefits of Amex Platinum Card
How Amex Platinum Card Uber Cash Work
Setting up your Uber Cash isn't as difficult as you might think. All you have to do is link your Amex Platinum card as a payment method on your Uber or Uber Eats account in the Wallet section of the Uber app and the funds will be deposited into your account automatically on the first of each month.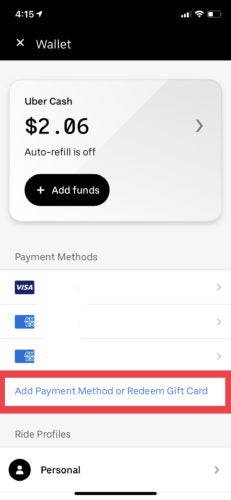 Linking your Amex Platinum card to your account will also prompt you to activate a complimentary 12-month Eats Pass subscription, which saves you the $9.99 per month that the pass usually costs. The Uber Eats Pass gives you 0% delivery and 5% off orders of $15 or more at eligible restaurants. Keep in mind that taxes and service fees may apply and do not count toward order minimum.
Once you've linked your account, and your credits have been deposited, these credits will automatically be applied to your next U.S. Uber Eats or U.S. ride purchase. Don't have enough Uber Cash to cover the entire purchase? No problem! You can apply all of the credits you have in your account as 1 part of the payment method and cover the rest with a linked credit card.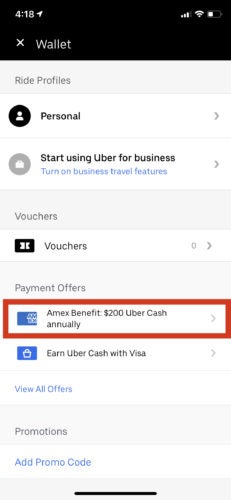 Hot Tip: If you're using Uber Cash, and the amount owed exceeds your $15 credit, you don't have to pay the remaining balance with your Amex Platinum card. Instead, you can use a card that offers a bonus category for rideshare or dining purchases — like the Chase Sapphire Reserve® Card.
4 Ways To Use your Uber Cash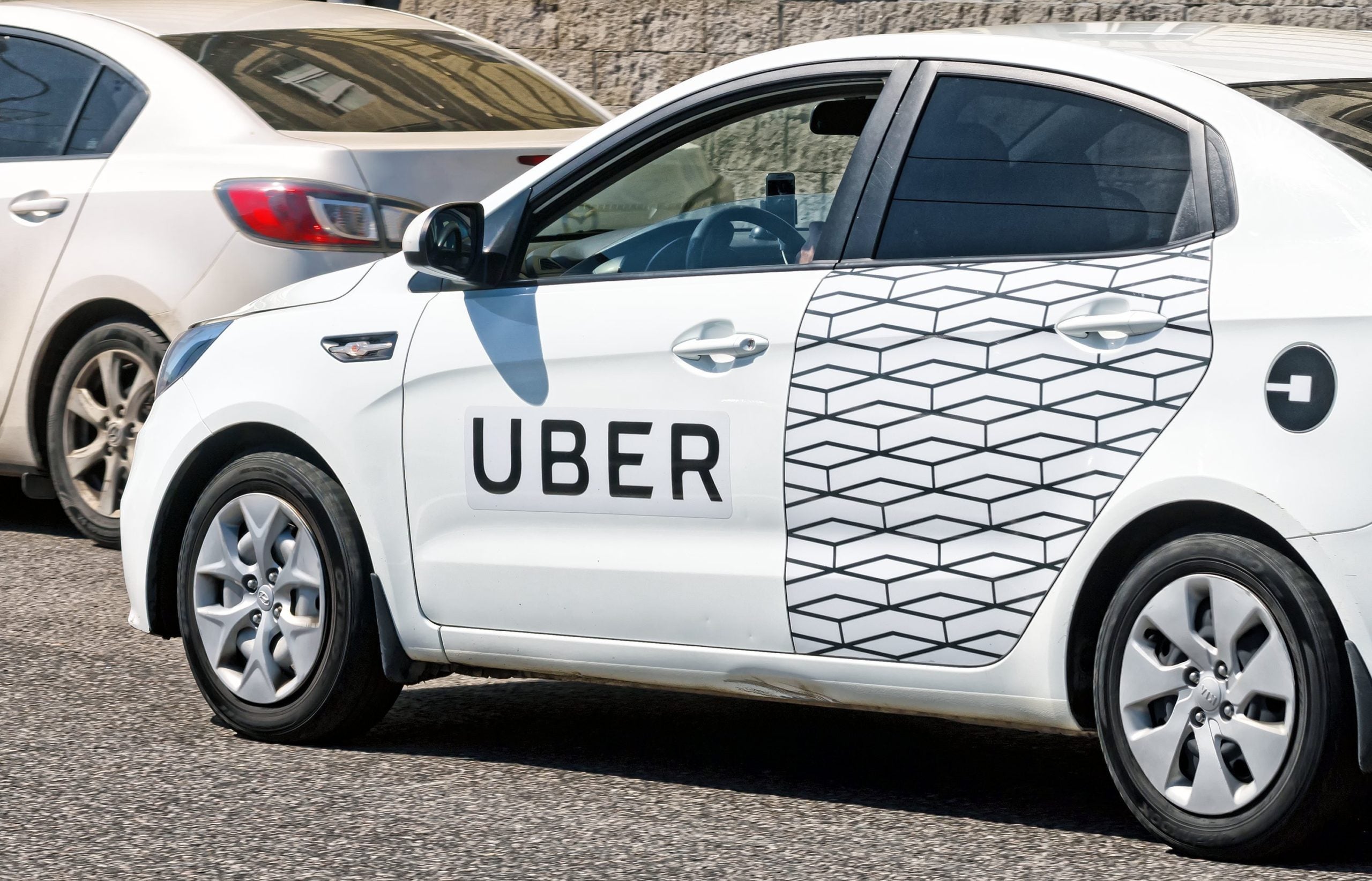 If you thought you could only use Uber credits for Uber rides, you thought wrong. Here are all of the ways you can put those Uber credits to good use.
1. U.S. Uber Rides
Unsurprisingly, the most obvious way to use your Uber credits is for free, or discounted, rides with the ridesharing platform. This includes every type of ride service that Uber offers. So whether you want a standard UberX, a shared Uber Pool, or a luxurious Uber Black ride, you can apply your credits to the purchase.
Hot Tip: Prefer a greener option? Uber also offers electric bikes and electric scooters in select cities, providing another option to the traditional rideshare model. And you guessed it — you can use your Uber credits for these, too!
2. U.S. Uber Eats
Another great way to use your monthly Uber credits is through Uber Eats. This is especially helpful for those who don't take Ubers often because everyone has got to eat!
Your monthly credit can be applied to both pickup and delivery orders at every restaurant offered on the Uber Eats app in your location. Uber Eats doesn't just deliver food, though — you can also get alcohol delivery, too, from participating restaurants.
Don't forget that your Amex Platinum card also gives you a 12-month complimentary Eats Pass that gives you $0 delivery fees and 5% off orders of $15+ at eligible restaurants. So if you're someone that uses Uber Eats often, an Eats Pass will really help you rack up the savings.
3. U.S. Uber Groceries
Uber has recently launched a grocery delivery service, although it is currently only available in Dallas, Miami, and New York, along with select Canadian and Latin American cities, though they plan to roll out the service to more cities in the near future.
For those that have ever used a service like Instacart, Uber Groceries effectively operates in the exact same way, allowing you to do all of your grocery shopping at home from your phone with everything delivered straight to your door.
4. Gift Your Credits
Don't plan to use your Uber credits this month? You can make a kind gesture and gift them to someone else! While you're not able to just transfer your credits to someone else's account, you can just as easily place an order through your account for someone else, whether that be a ride through Uber or ordering them a meal through Uber Eats.
Final Thoughts
Whether you prefer a free meal each month or rides to the airport for your next trip, you have multiple solid options when it comes to how you redeem your Amex Platinum card's Uber credits each month. If you're someone that already uses these services often and you don't currently have the Amex Platinum card, we strongly suggest that you consider adding it to your wallet.
---
For rates and fees of The Platinum Card® from American Express, click here.