TSA PreCheck: Everything You Need to Know [Application, Benefits, Costs & More]
Anyone who has been through airport security knows what a hassle it can be to catch a flight. Some of you probably have TSA PreCheck already and know how much better the airport security experience can be!
For those of you who don't already have it, we'll discuss the ins and outs of the program and show you how to get access.
What Is the TSA?
In response to the events on September 11, 2001, the Transportation Safety Administration (TSA) was created as an agency within the Department of Transportation. It was later moved to the Department of Homeland Security where it currently operates.
The agency's main function is air travel security, which includes the administration of the screening process at airports. Additional security measures including canine units and Federal Air Marshals are also employed by the TSA at airports.
Not without controversy, TSA has faced significant pushback on some of the enhanced screening measures instituted since its inception. In recent years, TSA's failure to pass security tests have brought the agency under increased scrutiny.
Hot Tip: Still have questions? Check out these TSA airport security FAQs.
What Is TSA PreCheck?
It is 1 of 5 trusted traveler programs, which also include Global Entry, SENTRI, and NEXUS. These 4 are intended for personal and business travelers, while the fifth program is for commercial trucking (FAST).
Unlike the other trusted traveler programs that are administered by U.S. Customs and Border Protection, TSA PreCheck is run by the Transportation Security Administration (TSA).
The program was started in October 2011 and allows the TSA to expedite the security checkpoint process for low-risk travelers.
What Airlines Participate in TSA PreCheck?
Below are the airlines that are currently part of the TSA PreCheck program:
TSA PreCheck Airport Locations
200+ airports in the U.S. participate in the program, including the 30 busiest airports in the nation:
Note that if you are at an international airport outside the U.S., you will have to wait in the normal security line with everyone else. Sorry, it's only a U.S. program!
Hot Tip: PreCheck can be especially helpful if you regularly fly out of an airport that has consistently long TSA wait times. 
What Are The Benefits of TSA PreCheck?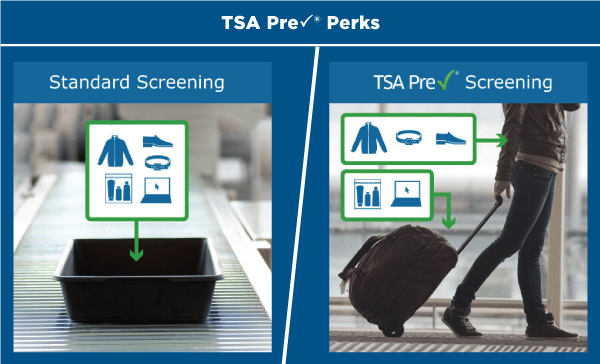 After years of taking off your shoes to go through airport security, the most noticeable difference might be that you can finally just leave them on when using TSA Pre. Additional perks include leaving on light outerwear and jackets, belts, and keeping laptops and small liquids in your bag.
Essentially, it makes having carry-on luggage a breeze as you won't have to take everything you carefully packed into it back out to go through the security line!
These aspects of the program make the screening process much quicker, which is perhaps the best benefit of them all, especially on busy travel days.
Even with these perks, randomly selected travelers will still be pulled for extra screening, but the overall time through security will still be an improvement.
Bottom Line: TSA reported that the PreCheck wait time for 98% of travelers was less than 5 minutes in December 2016. This is significantly faster than going through standard security!
How Does The Program Work?
To use it, you first need to complete the membership application and approval process. If approved, your membership will be active for 5 years. At this point, you will have to renew your membership if you wish to keep it.
Once you have completed the in-person appointment (assuming everything checks out), you will be notified, receive your Known Traveler Number, and become eligible to use the TSA PreCheck security lanes.
Before traveling, make sure you add your Known Traveler Number to your reservation to ensure you have access to TSA Pre. Many airlines will allow you to do this online, but you can also call the airline to have your number added to your reservation.
You can also add this to your frequent flyer accounts so it will be automatically included when you book your flights.
If you notice that "TSA PreCheck" is not printed on your boarding pass or showing on your mobile boarding pass, speak with the appropriate airline check-in desk for assistance. It must be listed on your boarding pass, or you will not be allowed to access those security lanes.
For parents and guardians with children ages 12 and under, your children are eligible to use the TSA PreCheck security lanes with you. Children older than the age of 12 will need their own membership.
If you are flying with an airline that is not a partner of the program, you will not be able to utilize the program. Fortunately, TSA continues to partner with more and more airlines.
Who Is Eligible? What Are the Requirements and Restrictions?
To apply, you must be a U.S. citizen or a lawful permanent resident and pass a background check.
Violations of transportation security regulations and incomplete or false information on your applications can disqualify you from membership access.
Additionally, there are several criminal offenses and factors that can disqualify you.
How Much Does TSA PreCheck Cost?
The application fee is $85. If you are rejected from the program, you will not receive a refund. This application fee is only required upon membership renewal every 5 years.
Fortunately, there are several credit cards that will reimburse the fee regardless of approval. Additionally, 2 loyalty programs will pay the fee for you; we'll discuss all of these options below.
What Credit Cards Reimburse the TSA PreCheck Application Fee?
As big fans of credit cards and the many travel benefits they provide, we want to share with you our recommended cards that will reimburse you for the application fee.
If you use one of the following cards to pay the $85 application fee, you will receive a statement credit. You could also use the following cards to be reimbursed for the $100 fee for Global Entry instead since it provides access to TSA Pre too.
Cardholders are eligible for the statement credit once every 5 years, which is the length of your TSA Pre or Global Entry membership.
The Platinum Card® from American Express - Be sure to make use of the up to $100 fee credit for Global Entry or TSA PreCheck and up to $179 CLEAR® Credit. There's currently a new welcome bonus offer of 60,000 100,000 Membership Rewards Points after spending $6,000 on purchases in your first 6 months of Card Membership. Plus, earn 10x points in the first 6 months on eligible purchases on the Card at restaurants worldwide and when you Shop Small in the U.S., on up to $25,000 in combined purchases, during your first 6 months of Card Membership.

This is our absolute favorite card for getting into 1,300 airport lounges worldwide (including Priority Pass) and we get ~$3,000+ in value from the card every year.

The Amex Platinum can get you up to $200 in Uber Cash annually ($15 per month and a $20 bonus in December), up to $240 a year in digital entertainment credits and up to $300 a year on select Equinox members, and up to $200 in annual credit for airline incidental charges (e.g. baggage or seat selection fees). There's even a $100 Saks Fifth Avenue credit, annually. With an annual fee of $695, you get more value in return. Terms Apply and enrollment may be required for select benefits. For rates and fees of the Amex Platinum card, click here.
The Business Platinum Card® from American Express - Right now, there's a new welcome bonus of 75,000 100,000 Membership Rewards® points after you spend $15,000 on eligible purchases with the Business Platinum Card within the first 3 months of Card Membership.

Like with the Amex Platinum (personal card), you'll also get up to a $100 fee credit for Global Entry or TSA PreCheck and an annual $179 credit for your CLEAR® membership Access 1,300+ airport lounges worldwide. Terms apply and enrollment may be required for select benefits. For rates and fees of the Amex Business Platinum card, click here.
Chase Sapphire Reserve® Card - This premium card will get you access to 1,300+ airport lounges. as well as a number of other card benefits. The current sign up bonus is 60,000 points after you spend $4,000 on purchases in the first 3 months from account opening. You'll also get a $300 travel credit per year which wipes away a big chunk of the $550 annual fee. As an extra bonus, until 12/31/21, gas station & grocery store purchases will also count towards earning your Travel Credit.

Earn big with this card, earn 3X points on travel immediately after earning your $300 travel credit, earn 3X points on dining at restaurants including eligible delivery services, takeout and dining out, then 1 point per $1 spent on all other purchases
If you already have a membership and don't need the credit, you can pay for a friend or family member's application and receive the credit that way. Not a bad birthday gift if you ask us!
Several of these cards will extend this benefit to authorized users as well. While you may be charged for adding authorized users on some cards, the $100 credit can help make it more manageable.
Alternative Ways of Paying for Membership
If you hold Delta Platinum or Diamond status, you can choose a Global Entry voucher as one of your Choice Benefits. Platinum members receive 1 $100 voucher, while Diamond members receive 2 $100 vouchers. If you're a Diamond member, this guarantees you the ability to share the perks of Global Entry and TSA PreCheck.
Remember that if you often travel to Canada, you can pay $50 for NEXUS and gain access to both TSA PreCheck and Global Entry. While there is not a credit card that will reimburse this fee, it might be worth it if you are a frequent traveler to Canada.
Applying For TSA PreCheck
To apply, you must fill out an online application so the TSA can conduct a background check. You'll have to include information such as citizenship, address, date of birth, and immigration documentation (if applicable).
Once you have finished your application, you will need to make an appointment at an enrollment center. There are over 380 enrollment centers located throughout the United States.
At your interview, you will be required to show a valid photo ID, proof of citizenship, and immigration documentation if applicable.
The interview is quick and mostly for verification. You can expect questions about yourself and your travel, and you will be fingerprinted during the process.
You will be notified of approval (or denial) within 2-3 weeks once the in-person interview is complete, but many people are approved within several days. During this time, you can check your status online.
Don't wait to apply as in-person appointment slots can fill up quickly.
Bottom Line: With a clean background, it's highly unlikely you'll have trouble being approved.
How Did I Get TSA PreCheck Without Applying?
When the program was first rolled out in late 2011, some members of frequent flyer programs were invited to participate free of charge. These frequent flyers were not given Known Traveler Numbers, though, so they were still required to formally enroll in the program.
However, you have 3 other options for getting access without directly applying for it. If you are approved for Global Entry, NEXUS, or SENTRI, you will be given access to TSA Pre.
A Step-by-Step Application Walkthrough
If you're looking for a quick rundown on the application process, we have you covered! Let's dive right into it:
Step 1: Visit the TSA Pre Home Page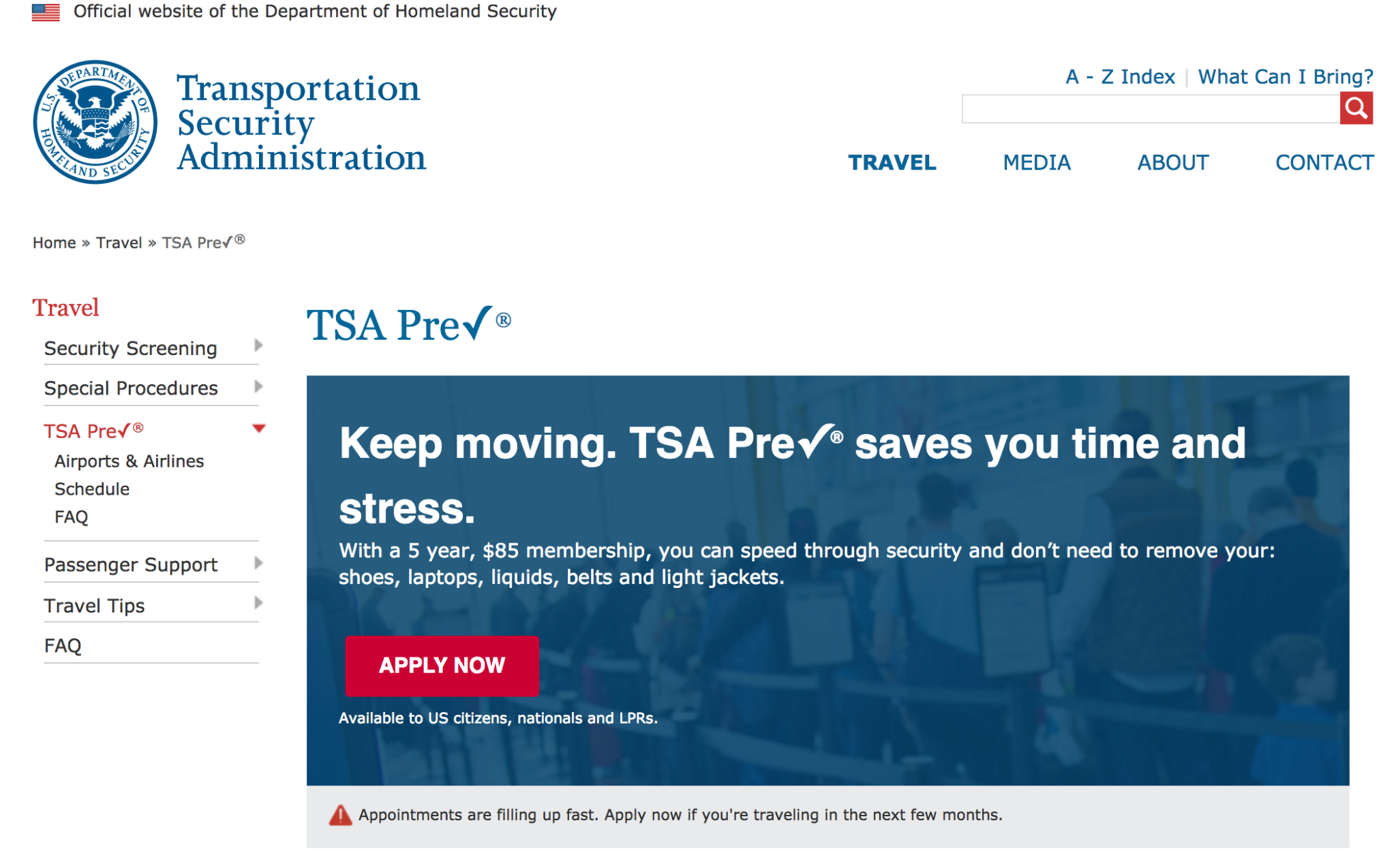 Once on the homepage, you need to click on the red "Apply Now" button in the middle of the page. This will bring you to the first page of the application, which asks for biographical information.
Step 2: Complete the Application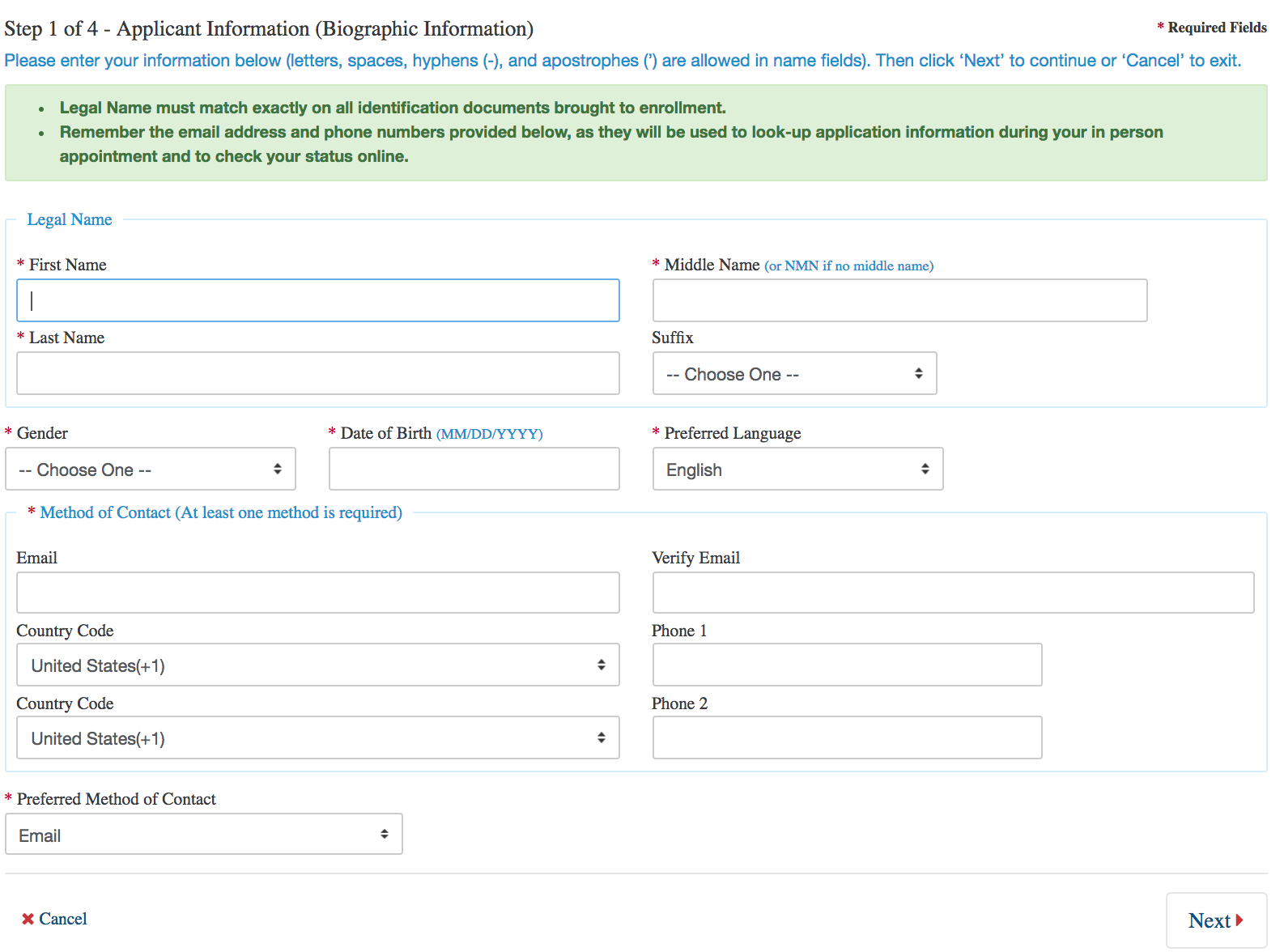 Work your way through each page of the application. The application is simple to complete and won't take more than 15 minutes if you have all the necessary information on hand.
Step 3: Schedule Your In-Person Interview
The final piece of the application process is to select a location for your in-person interview. You will need to search for your location. The search results will show options near you and how many appointment slots are available in the next 45 days.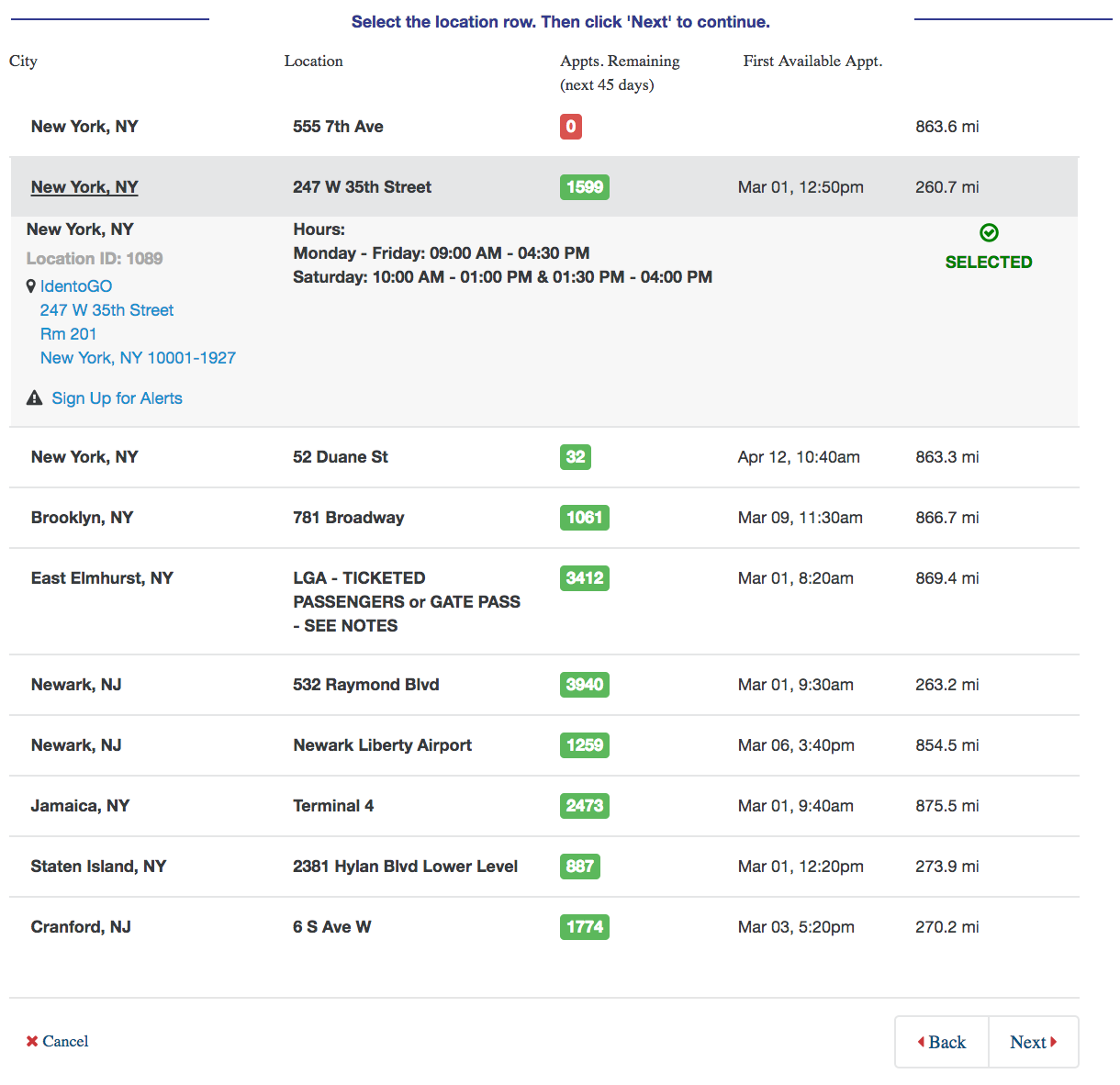 After selecting a location, you will need to choose a date and time for your in-person interview. You will also have the option to "walk in" for an interview, but we strongly recommend scheduling a time to prevent unnecessary delays.
Step 4: In-Person Interview
Bring all the required documents. You will select which 2 forms of ID you will bring in the online application. This could be a driver's license and a passport. If applicable, bring any required immigration documents as well.
You will also need to bring a credit card to pay the $85 fee. You could pay by cashier (or certified) check, but with so many credit cards that reimburse you for the fee, why would you?
Step 5: Wait for an Update
Most will be notified shortly after their appointment, but it can take a little over a month. Keep this in mind when planning a trip: you don't want to leave your application and interview to the last minute!
Step 6: Add Your Known Traveler Number to Frequent Flyer Accounts
Once approved, you will be notified and provided your Known Traveler Number. Add this to your frequent flyer accounts so it is automatically included in your itineraries going forward.
Step 7: Use the Benefits
You can now use the TSA PreCheck security lanes at over 180 airports nationwide. Enjoy your expedited screening process experience!
Comparing to Other Trusted Traveler Programs
There are four total Trusted Traveler Programs, so how do you know which one to choose? This section compares each of the different programs so you have a better idea.
TSA PreCheck vs. Global Entry
Global Entry provides expedited screening upon re-entering the United States from abroad. The program is administered by U.S. Customs and Border Protection, an agency within the Department of Homeland Security.
If you are a member of Global Entry, you are provided access to TSA Pre. However, having a membership does not provide access to Global Entry.
The enrollment process is similar as each requires an application and in-person interview. The Global Entry application is available online. The fee for Global Entry is $100 but can be reimbursed by several credit cards and loyalty programs.
TSA PreCheck vs. NEXUS
NEXUS provides access to both Global Entry and TSA Pre. It is a joint program between the United States and Canada designed to allow more efficient travel between the 2 countries.
In addition, NEXUS provides expedited entry into Canada. Global Entry and TSA Pre members do not get this benefit.
The cost is only $50, which is a fantastic deal, but you will have to visit one of the enrollment centers located in select cities in the northern U.S.
TSA PreCheck vs. SENTRI
On the southern border of the United States, the SENTRI program provides similar benefits to that of NEXUS in the north. Members of the SENTRI program also receive access to Global Entry and TSA Pre.
To receive an expedited entry into Mexico, you are required to have a SENTRI membership, so again neither Global Entry or TSA Pre on their own will be enough. Enrollment centers are located in Arizona, California, and Texas.
Final Thoughts
If you're going to travel often, you definitely want to sign up for this program to make the security checkpoint process a little less painful!
With so many credit cards that will reimburse you for not only TSA Pre, but Global Entry as well, you might as well sign up for Global Entry if possible. You get the same access to TSA PreCheck, and it will make your return to the United States much easier.
If you know you won't travel outside of the U.S. for 5 years, though, perhaps you only need TSA PreCheck.
Whatever the case may be, think about enrolling in this program to save time and increase efficiency at the airport!
---
Like these tips? Pin them on Pinterest!