The Best Ways to Help Families Speed Through TSA Airport Security
Traveling can be stressful even for a seasoned veteran. Add in a kid or 2, and you could be looking at entirely new stress levels. Maybe a traffic jam made you late to the airport or a single TSA line created an extra long wait…or perhaps it's just one of those days where everything goes wrong.
In any case, being extra prepared for TSA airport security can help save you and your family some sanity.
Here, you'll find tips to navigate the TSA screening process, get your family through airport security, and get started on your vacation as quickly as possible — car seats, strollers, tablets, and stuffed animals included!
Have a Game Plan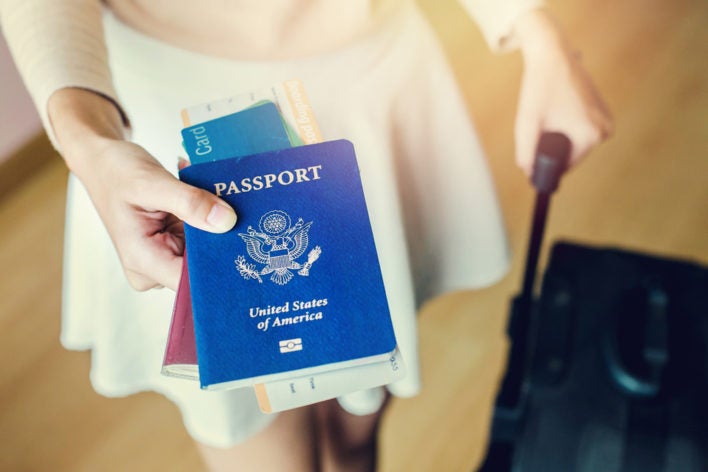 If you have flown in the U.S. recently, you know the drill: get in a long line, take off your shoes, remove your laptop, go through the x-ray, turn around because you forgot to take off your belt, and try again.
Even when flying alone, getting through security can be frustrating. Multiply that by a couple of cranky kids, and you'll be thankful for some sort of game plan!
Start Training Early
As soon as your child is old enough to somewhat understand what going through airport security means, start to prepare them on your way to the airport. Explain what is going to happen and what you need your child to do.
This helps your child expect and understand the TSA process, making them less likely to be frightened when TSA agents have to place their favorite stuffed animal in a dark tube. Don't learn this lesson the hard way via a meltdown because their favorite toy has disappeared into the scanner!
Hot Tip: If the little ones are old enough, try giving them some responsibility, like being in charge of their bag when it comes through the end of the x-ray. Little things like this can help them stay focused so you can continue gathering everything else.
Master the ID Check
If you are traveling internationally, you may find yourself at the TSA checkpoint with multiple passports and boarding passes — all very important items you don't want to misplace. When flying domestically, you can probably get away with just using your mobile boarding pass and your driver's license; the kids won't need an ID.
However, sometimes trying to navigate multiple boarding passes on 1 cell phone can be more trouble than it's worth.
For example, when we travel as a family of 4, I prefer to use printed boarding passes and keep them lined up on the photo page of each passport. This helps speed things along with the TSA agent.
Hot Tip: Yep, kiddos also need passports for international travel!  For more information, check out our detailed piece: How to Get a U.S. Passport for Your Baby [Step-By-Step]. 
Prepare While in the Security Line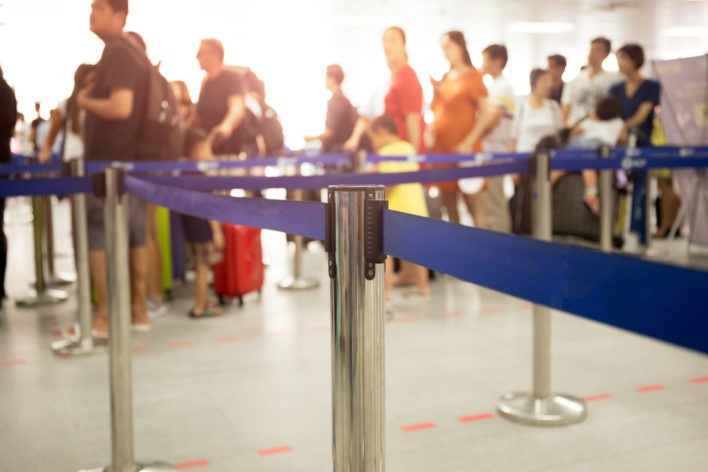 As soon as you're done with the ID and boarding pass checkpoint, you should immediately store all passports and boarding passes together in a safe spot.
(I also put my cell phone, wallet, and watch in my carry-on so I don't need to worry about collecting them later — this helps me focus on the kids and their stuff.)
The same goes for any other loose items. If you're traveling with a stroller, it can become a catch-all for a lot of stuff — so take this moment in line to start consolidating anything you can.
Hot Tip: If any toys, dolls, stuffed animals, or jackets can be stuffed into a carry-on bag, do so now. The goal is to send as few items through the x-ray as possible so you can just grab your stuff and move away from the fray on the other end. Also, be sure you are up to date on what can and can't be taken through security before you're waiting in line!
Assign Responsibilities
If you are traveling with children who can follow instructions and handle responsibilities, you're ahead of the game. If they can help with the younger kids, even better!
However, when traveling with infants or toddlers, the responsibility falls on you to make sure things go as smoothly as possible. Traveling with your partner or another adult who can help will make a huge difference.
Here's another example of how my family of 4 manages security responsibilities. When my wife and I travel with our 2 young children, we send her through the x-ray first with the kids while I finish loading our stuff into the machine.
We do this for a few reasons:
I can provide a small buffer for her and the kids to get their shoes on before the people behind us start collecting their stuff.
Having 4 people (even if half of them are tiny) trying to help load items onto the belt can cause more headaches than it solves.
I choose what order our stuff is sent through, which can make a big difference on the other side of the x-ray.
Hot Tip:When traveling with a stroller, send it through x-ray first so you can start loading it up with the kids and bags as soon as possible on the other side!
What Will Be Scanned?
Everything you brought to the airport that you want to take on the airplane will be scanned. If it is on you (like clothing, jewelry, etc.), it will be scanned via a full body scan or a standard metal detector.
In my experience, our children have never been asked to complete a full body scan. As soon as our oldest was able to walk, she was asked to go through the metal detector by herself. Before that, TSA allowed us to carry her through.
All items not on your person will be placed in bins on a conveyor belt and sent through a closed x-ray machine so they can be inspected more thoroughly.
Car Seats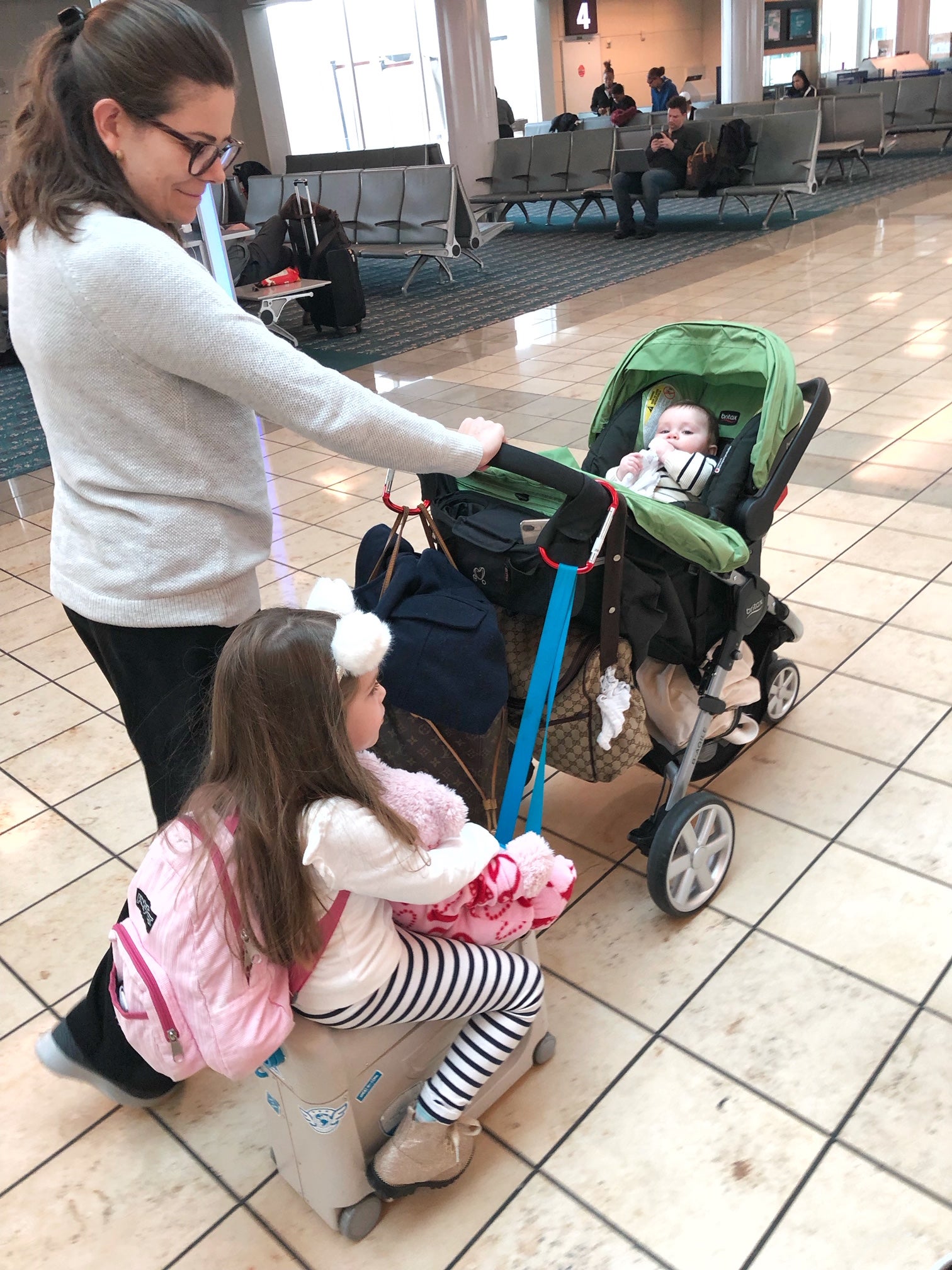 If you are traveling with a car seat or stroller, depending on its size, be prepared that it might not fit inside the x-ray machine. In this case, it will need to be hand-checked by airport security and will add a few minutes to your experience.
My family often travels with a stroller, infant car seat, and a convertible car seat. Though we could, we don't like to check the car seats for 2 reasons:
Airlines often claim they aren't responsible for damaged baby items. So if your car seat is mishandled, you're out of luck.
If the airline loses or misplaces your car seat, you'll be in a tough situation when you land. Airlines often have loaner seats available, but that just adds more hassle to your trip. Since we like to grab our rental car and start exploring new locations immediately, the thought of having to deal with a lost or damaged car seat is very unappealing.
So, although it is free to check strollers and car seats, we don't think it is worth the risk. Plus, having a stroller in the airport is handy!
Hot Tip: After going through many airport security checks, I already know that our stroller and infant car seat will fit in the x-ray, but our convertible car seat won't. As soon as it's our turn, I bring the big car seat to the front and ask the TSA agent to request a hand check.
Baby Formula and Breast Milk
Normally, passengers are subject to the 3-1-1 rule when it comes to traveling with liquids. That means you can bring a quart-sized bag of liquids, gels, creams, and aerosols as long as each one doesn't pass 3.4 ounces.
However, according to the TSA website, parents (whether they are traveling with the child or not) are allowed to bring juice, formula, and breast milk "reasonable quantities".
That means that if you are just coming back from a week-long work trip and you have a large supply of breast milk that you pumped, you will be allowed to bring it in your carry-on.
To expedite the screening process, place the breast milk or other liquids in a separate tray and alert the officer so they can test them for explosives.
If the breast milk is frozen, it will be easier to pass through security as it doesn't need to be tested.
Ice or gel cold packs are allowed as well, though these are also subject to additional testing.
Hot Tip:Water is allowed for babies and toddlers, but it is subject to extra inspection. To save time, empty your water bottles and refill them after security.
For a complete rundown on flying with breast milk, read our detailed guide here.
Going Through the X-Ray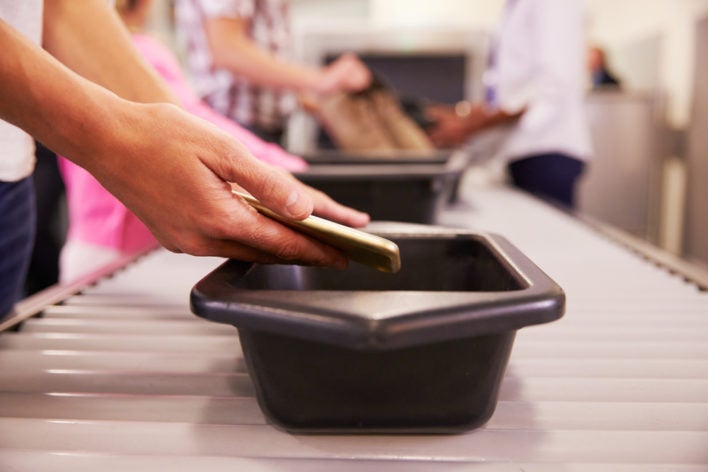 The moment of truth: just a few more steps and you are on your way to a wonderful family vacation (paid for with points of course)!
For some kids, going through the metal detector will be a lot of fun. For others, being separated from their stuffed animal for 30 seconds can trigger a tantrum — parents beware!
Here are a few tips to keep in mind for you and your children:
If you have your baby in a baby carrier or sling, according to the TSA website, you are allowed to keep them on but may be subject to additional screening.
Remove any excess jewelry that may cause the metal detector to go off. Wedding rings are OK to leave on.
Plan which items you will be sending through the x-ray first. We recommend sending the stroller first if you are traveling with one.
Prepare any tablets or laptops by placing them in their own bin, outside of any case or sleeve
Keep breast milk, formula, juice, medicines, etc. in a separate bin so they're easy to find if extra testing is required.
Remember, small children should not need to go through the full-body scan.
Unless you have TSA PreCheck, you will be required to remove your shoes. Make sure everyone is wearing shoes that are easy to take off and put on by themselves.
Wear socks. You don't want your kids walking around barefoot on the dirty airport floor.
Double and triple check the bins when you are done — nobody wants to forget a teddy bear at security!
Hot Tip: Did you know that in 2017 more than $869,000 was left in security bins by forgetful travelers? Don't be like them! Save your money for more family vacations.
Try to Stay Relaxed
This is obviously easier said than done. We all know that traveling can be frustrating, but it's easy for this feeling to spread: first you're flustered, then your spouse, then the kids. Managing a family and everyone's stuff can be stressful, especially with a line of people behind you watching.
If you feel yourself getting stressed over something silly like a TSA agent trying to force the car seat into the x-ray machine, just take a deep breath, look at your kid(s), and try to laugh it off. Even a forced laugh will help — and it's contagious!
Take a Step Back
Sometimes, common courtesy helps too. Even though we're all trying to get through security as fast as possible, a family of 4 is obviously going to take a bit longer than a single businessman with a briefcase. Instead of rushing and stressing, try asking the person behind you if they'd like to go ahead.
When my family travels, we make this offer almost every time we're in a situation like this — and have only been taken up on it once. On our last trip, we asked the 2 businessmen behind us, who both declined. After we'd all passed through security, they told us they were impressed by how smoothly we'd moved through with 2 crying kids and all our gear.
I'd love to say that practice makes perfect, but just being prepared can really go a long way. And it was also nice to get a compliment — it just goes to show that not everyone is going to be judging you negatively!
TSA PreCheck for Families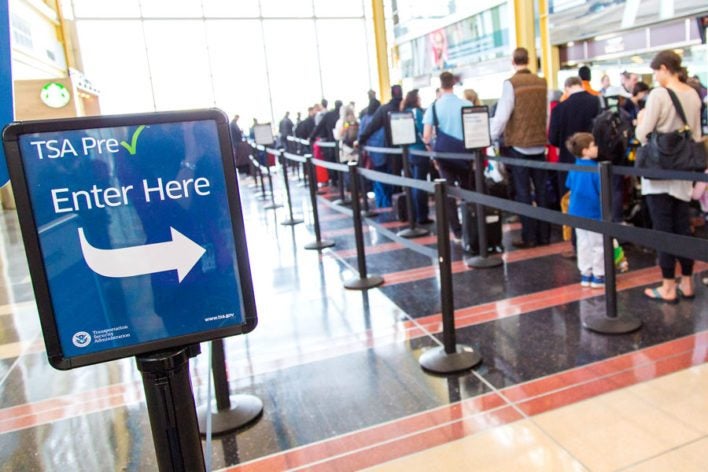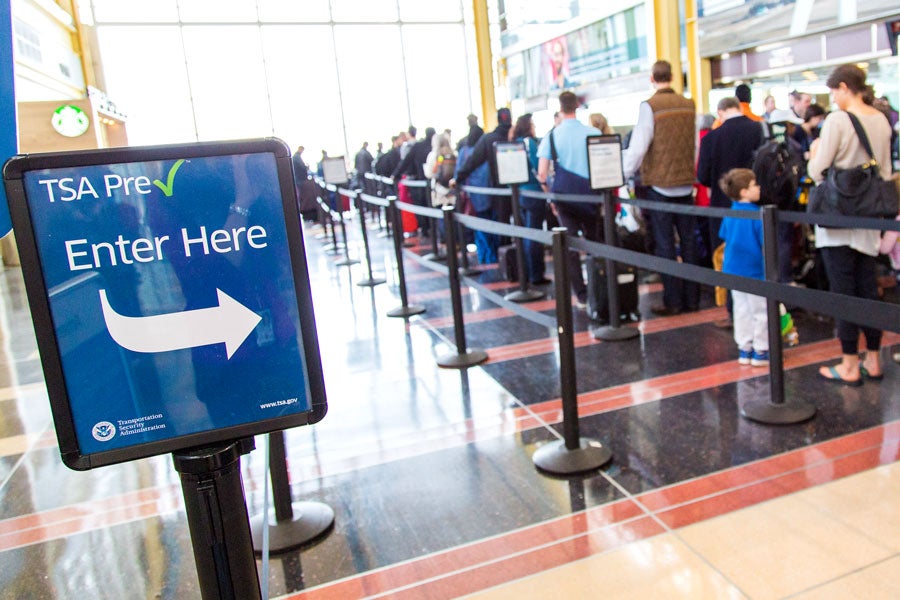 TSA PreCheck is a great tool for any traveler to have. This program is a more thorough security clearance that U.S. citizens (and a few others) can receive by paying an $85 fee, completing an in-person interview, and undergoing a background check.
Once you qualify, you'll be set for 5 years. In this line, you will not need to remove your shoes, laptops, belts, light jackets, or small liquids.
TSA PreCheck is free if you have Global Entry, which is commonly reimbursed by many of our favorite credit cards.
Cards That Pay for Your Global Entry & TSA PreCheck Fee
The Platinum Card® from American Express - Be sure to make use of the up to $100 fee credit for Global Entry or TSA PreCheck and up to $179 CLEAR® Credit. There's currently a new welcome bonus offer of 60,000 100,000 Membership Rewards Points after spending $6,000 on purchases in your first 6 months of Card Membership. Plus, earn 10x points in the first 6 months on eligible purchases on the Card at restaurants worldwide and when you Shop Small in the U.S., on up to $25,000 in combined purchases, during your first 6 months of Card Membership.

This is our absolute favorite card for getting into 1,300 airport lounges worldwide (including Priority Pass) and we get ~$3,000+ in value from the card every year.

The Amex Platinum can get you up to $200 in Uber Cash annually ($15 per month and a $20 bonus in December), up to $240 a year in digital entertainment credits and up to $300 a year on select Equinox members, and up to $200 in annual credit for airline incidental charges (e.g. baggage or seat selection fees). There's even a $100 Saks Fifth Avenue credit, annually. With an annual fee of $695, you get more value in return. Terms apply and enrollment may be required for select benefits. For rates and fees of the Amex Platinum card, click here.
The Business Platinum Card® from American Express - Right now, there's a new welcome bonus of 75,000 100,000 Membership Rewards® points after you spend $15,000 on eligible purchases with the Business Platinum Card within the first 3 months of Card Membership.

Like with the Amex Platinum (personal card), you'll also get up to a $100 fee credit for Global Entry or TSA PreCheck and an annual $179 credit for your CLEAR® membership Access 1,300+ airport lounges worldwide. Terms apply and enrollment may be required for select benefits. For rates and fees of the Amex Business Platinum card, click here.
Chase Sapphire Reserve® - This premium card will get you access to 1,300+ airport lounges. as well as a number of other card benefits. The current sign up bonus is 60,000 points after you spend $4,000 on purchases in the first 3 months from account opening. You'll also get a $300 travel credit per year which wipes away a big chunk of the $550 annual fee. As an extra bonus, until 12/31/21, gas station & grocery store purchases will also count towards earning your Travel Credit.

Earn big with this card, earn 5X total points on air travel and 10X total points on hotels and car rentals when you purchase travel through Chase Ultimate Rewards immediately after the first $300 is spent on travel purchases annually. Earn 3X points on other travel and dining & 1 point per $1 spent on all other purchases.
Here's how to use TSA PreCheck as a family:
If everyone in your family has the TSA PreCheck logo on their boarding passes, you can all use the faster PreCheck line.
If anyone did not receive the TSA PreCheck logo on their boarding pass, they will have to use the regular line.
Children under 12 are allowed to accompany an adult with TSA PreCheck clearance, even if they do not have their own PreCheck clearance.
Children 13 and older are required to complete an interview and pay for a separate TSA PreCheck status.
Hot Tip: If you are arriving into the United States and your boarding pass does not have PreCheck clearance for your connecting flight, have it reprinted when you land. Sometimes it will get added automatically!
Final Thoughts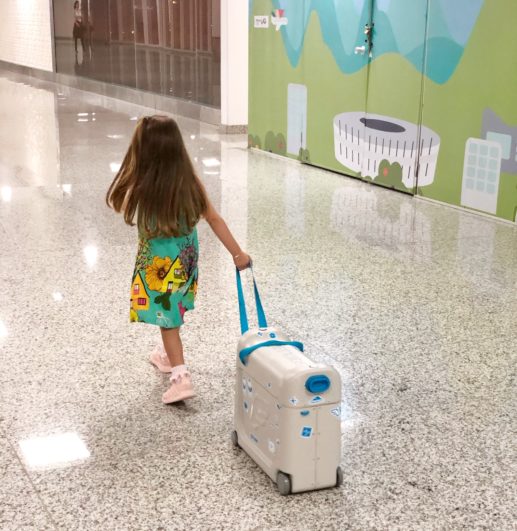 Getting a family through airport security can be hectic and stressful for even the most seasoned traveling family. But having a plan and understanding expectations for everyone in the group can go a long way toward a smooth and quick start to your next trip!
---
Feature image courtesy of Monkey Business Images via Shutterstock