The 10 Best Travel Strollers for Newborns and Toddlers in 2021 [In-Depth Buyer Guide]
Your child's stroller is one of the most useful essentials you will ever own. It is somewhere to sit for long distances, somewhere to nap when little legs get tired, and a mobile shopping basket for parents on the move. Nowhere is your stroller more necessary than when you are on vacation. With lots of considerations, our buyer guide will help you find the perfect travel stroller for newborns and toddlers.
In this article, you'll find all the information you need about a travel stroller, what types of travel strollers are on the market, important qualities to look for, as well as a short list of recommended travel strollers if you're in the market.
Why Use a Stroller for Travel?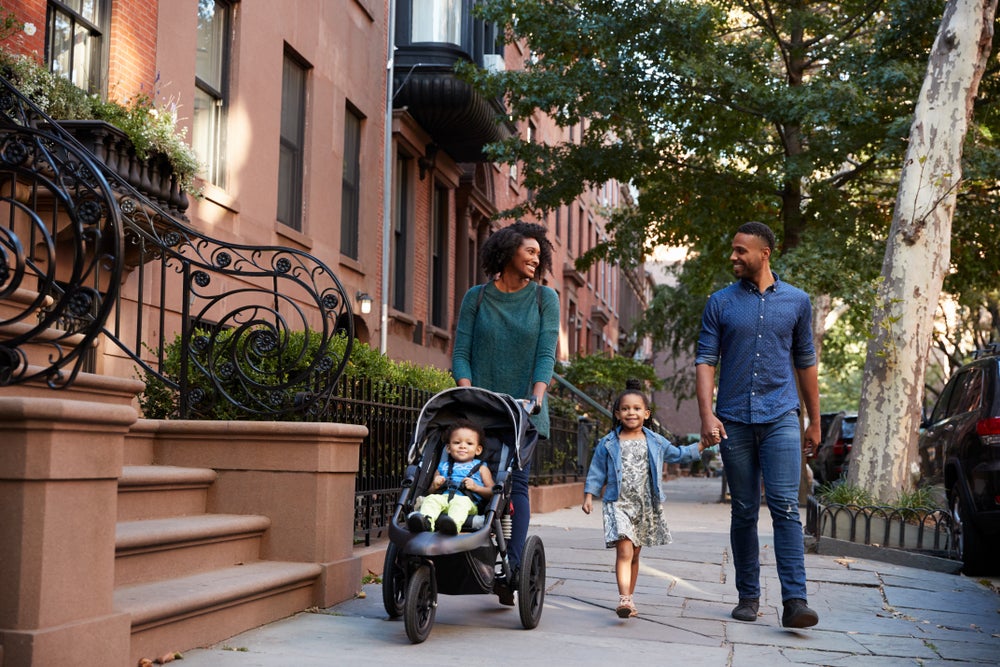 Travel strollers are easy to use and offer a comfortable and convenient seat for little legs on the go. With all the basics covered — seat, canopy, basket, and handles — most travel strollers are not designed to replace your super plush, designer brand travel system, but they will fold up small enough to fit in the trunk of your car or take on an airplane.
They should be affordable and convenient in order to be a must-have for any parent who likes to vacation with the family. A travel stroller offers everything you need when you are away from home.
Types of Strollers
As any new parent will quickly discover, there are tons of different kinds of strollers for moms and dads to choose from:
Travel Systems
These fully integrated systems offer everything a new parent needs and will last your baby from birth well into their toddler years. Usually comprised of an infant car seat that connects to the stroller with an adapter, as well as a seat unit (and sometimes a bassinet), these systems offer a variety of forward and rear facing positions to suit the development of your baby, all in one neat package.
Bottom Line: If you have a big enough vehicle, you will be able to fold and pack the various parts of the system in the trunk of your car, but for small vehicles or air travel, these are big and bulky and not the most practical to take on vacation with you.
Frame Strollers
Frame strollers are more lightweight and compact than regular strollers and simply feature a seat that fits into a variety of different positions on the stroller frame itself. These types of systems allow you to mix and match the car seat, carry cots, and toddler seats to suit your requirements and are useful for growing children.
Bottom Line: Frame strollers are a little bit bulky as no matter how compact the frame may be when folded, the seat unit can still be cumbersome for throwing in the trunk or taking with you on airplanes.
Umbrella Strollers
Compact and easy to use, these basic little strollers are great for keeping in the car or taking with you on vacation. They can close up small but should offer enough padding to be comfortable for your child. They should also have enough extras (like adjustable handles and shopping baskets) to be useful for mom or dad too.
Bottom Line: Umbrella strollers are inexpensive, lightweight, and better suited to babies of 6 months or older, although some will lie flat to use from birth. You will have no worries using these on public transport, and they can be carried over your shoulder with ease.
Full-Size Strollers
A full-size stroller is designed to house your baby from birth through to the toddler years and therefore is built to last. Often with 2 smaller front wheels to allow for precise steering, and larger rear wheels to help you handle any terrain, these types of stroller are incredibly durable and easy to use. Padded, comfortable seats will give your baby enough space to grow, and there is usually a ton of storage space for parents to make the most of, too.
Bottom Line: Much like travel systems, full-size strollers can be heavy to lift and bulky even when folded. Most are well suited to the trunk of a car, but you could come unstuck trying to lift the frame and your baby on buses, trains, planes, and other public transport.
Jogging Strollers
Jogging strollers allow mom or dad to get in shape while staying with the baby. With many offering a fixed front wheel, additional hand brake, and a 5-point safety harness to keep baby safe on the go, these types of stroller are great for working out in the park or close to home, and some of the newer generations of jogging strollers may even be able to fold up small enough to take away with you.
Double Strollers
Double strollers come in a wide variety of designs, and if you have twins or 2 children that are close in age, you can opt for a double frame stroller, travel system, three-wheeler or even an umbrella stroller, depending on your preference. You can also choose whether you would like your children to sit next to each other in a side-by-side stroller, or in front of each other with a tandem stroller.
Bottom Line: Unless you manage to find a lightweight and compact double umbrella stroller, most double strollers are too large to be easily carried around on public transport.
Things to Consider With Travel Strollers
The best travel system for you is the one that suits you perfectly. Every family will have their own unique requirements, but you should still consider the following before you buy:
Size and Weight
The lightweight, compact nature of a travel stroller is what sets it apart from any other type of baby carrying device. Ideally, it will be as small as possible without compromising the space available for your little one to sit in. It needs to be compact enough to fold up small, and light enough to be carried (using a strap or by the handle) around airports, down to the beach and on public transport when you need to.
Bottom Line: Travel strollers are designed to fold up small for the journey but still offer enough space to be comfortable and useful when you get there.
Material and Durability
Your travel stroller may not need to be used daily, but it will need to be strong enough to withstand the rigors of air travel and other public transport. Sturdy steel or aluminum frames are far more durable than plastic ones, so be sure to buy a travel stroller that is made of sterner stuff.
Your travel stroller should be made of nylon or another human-made, rip-proof material. It will also need to be water resistant to a degree (as not all strollers come with rain covers) and will definitely need to be easy to wipe down to keep it clean and hygienic.
Your Child's Age
Newborns babies need to lie flat in their strollers, and even between the ages of 3-6 months old, it is only recommended that they can be gently elevated in their strollers. A child who is not yet old enough to walk will need a travel stroller that offers some padding and a few more added extras than the most basic of strollers has to offer.
Hot Tip: You should also bear in mind that most travel strollers do not have suspension features, meaning that they can be uncomfortable for young babies to travel in for hours at a time.
Folding and Portability
Of course, part of the reason for purchasing a travel stroller is the fact that you will be able to take it anywhere with you. For this purpose, many smaller, lightweight strollers come complete with a carry strap, handle or even a case to be tucked away in.
Easy folding mechanisms are also a must, and it's even more useful if you can operate it one-handed. If you are carrying your child or lots of luggage, you need a stroller that flips open and collapses wherever you are.
Hot Tip: Some teeny tiny travel strollers are designed to fit in their own carry bag. These are better still as you can carry them over your shoulder, leaving both your hands free.
Safety and Comfort
Just because your travel stroller is smaller than your travel system doesn't mean it shouldn't be as safe or able. Your travel stroller should have a secure 5-point harness and shoulder straps to keep your little one safe, and the seats should be padded and breathable for comfort.
Hot Tip: You should also check the manufacturer's recommendations to ensure that the stroller you buy is suitable for your baby's age and that the stroller has passed rigorous safety tests.
Price
How much you pay for your travel stroller is entirely up to you. Most basic strollers are inexpensive and will offer a seat, a shade, 4 wheels, and a small shopping basket. If you are willing to pay upwards of $200, you could grab yourself a stroller that also offers:
All terrain wheels and full suspension
5 point safety harness with padding
A fully reclinable seat unit made from breathable, wipeable fabric
An extendable canopy
One-hand folding mechanism
Carry strap, handle or even a travel bag
Rain cover
Adapters for car seat or bassinet to form a travel system if you want to
The most affordable travel stroller in our review is the Kolcraft Cloud Plus Lightweight Stroller at $69.99, and the most expensive is the Babyzen YOYO+ Stroller at $499.00. If you already have a top of the range stroller system back at home, you may not want to splash out on an expensive travel stroller, but whatever your budget there are plenty out there to choose from.
The Best Travel Strollers
Under $150
A Lightweight Travel Stroller for Everyday Use
Summer 3Dlite+ Convenience Stroller
This light and convenient stroller is good quality for everyday use and is perfect for trips to the supermarket, days out with the family and even for taking with you on your next vacation. With a high-end look and feel, this stroller weighs in at just 14 pounds, and the padded carry strap makes it easy to take with you anywhere with you. The one-handed folding mechanism also helps by making light work of folding and opening on the go.
Suitable from birth, the 2Dlite+ has a fully reclining seat that is made from soft yet durable polyester and is padded to provide extra comfort. The oversized canopy with flip-out sun visor will help to keep your child shielded from the sun, and the peek-a-boo windows mean you can check in on your little one even when they are sleeping.
Loaded with premium features, there is an extra large storage basket for keeping your items safe on the go, as well as a parent cup holder, a cell phone holder, a zip-close storage pocket, and a child sippy cup holder. The compact fold with auto-lock makes this super convenient to close and open in transit, and the anti-shock front wheels and lockable rear wheels mean it is as comfortable to push as it is for your baby to sit in.
Bottom Line: The 3Dlite+ travel stroller really is a delight for both parents and babies alike.
Jog, Run and Have Fun With This Little Travel Stroller
Jovial Portable Folding Baby Stroller
This portable travel stroller has an extra slim foldable design and comes complete with its very own carry bag for stowing on planes, trains and other public transport. Weighing in at just 16.3 pounds and with a super easy open and fold mechanism, using and traveling with this stroller literally is as easy as child's play!
Suitable for use from birth, the Jovial Portable Folding Baby Stroller has been designed to offer superior stability and unrivaled versatility. This compact stroller could even be used as a jogging stroller for parents that like to stay active while on their travels.
The 5-point seatbelt with its super-secure locking system, combined with the easy-to-use foot pedal, make this an incredibly safe stroller. The retractable overhead canopy can also be pulled forward to protect your little one from the hot sun.
The almost lay flat seat makes this particular stroller incredibly popular with families on vacation. Let your little baby sleep soundly on the move without having to carry a separate bassinet.
Bottom Line: Compact, lightweight but super usable, this stroller really can accommodate babies of all ages.
Travel System Compatible, the Breaze is the Whole Package
Graco Breaze Click Connect Stroller
Made by the baby experts at Graco, the Breaze stroller is a lightweight, versatile, umbrella fold stroller that is perfect for the trunk of the car or on vacation. As one of the most cumbersome strollers on our list — weighing it at 17 pounds — this can also be used as a travel system.
The Graco infant car seat can quickly and easily be attached to the frame using the specially made adapters. This means that this stroller is especially useful for long car journeys.
Suitable for children from birth up to 50 pounds, the Breaze offers a super comfy ride for your kids. With an extra-large canopy with UV 50 protection and pop-out visor to provide shade from the sun and adjustable calf support, your little one will be able to sit, play and snooze on the go. The cushioned seat unit has multiple recline positions, and the convertible 3- or 5-point harness with chest pads is designed to adjust as your child grows.
For busy parents, this stroller can be pushed using just one hand, and the lockable front wheels and tailored suspension make it move like a dream. A removable parent cup holder and an easy-access, extra-large storage basket makes this great for any excursion, and the one hand fold mechanism is super easy to use.
Bottom Line: Big brand features from one of the biggest names in baby wheels, all at a price you can afford.
A Lot of Lightweight Stroller for Your Buck
Kolcraft Cloud Plus Lightweight Stroller
Weighing in at just 11.8 pounds, this lightweight stroller is perfect for families on the go. You can stow it in the trunk of your car for days out and other adventures, or take it on vacation with you. Suitable for babies from 3 months old up to approximately 40 pounds and 40 inches tall, this is a useful little stroller that makes a perfect addition to your essential baby travel kit.
For the comfort of your little one, the seat reclines (although not to lie fully flat), and is padded and wipeable to keep it clean and hygienic. There is also a handy 3-tier extending canopy for maximum sun coverage and peek-a-boo window so you can see what your baby is doing at all times. The 5-point safety restraint system has the scope to grow with your baby and will keep them safe, while the all-terrain wheels and front suspension offer a smooth ride, every time.
Bottom Line: For moms and dads on the move, the Kolcraft Cloud offers a large, easy to access storage basket for holding your shopping and a parent tray with not 1, but 2 drink holders. It also includes a useful extra storage area for keys, wallets, and other everyday essentials.
Another Great Stroller From Chicco
Chicco C6 Stroller
The Chicco C6 Lightweight Stroller is an affordable and highly capable travel stroller that works as well at home as it does when you are away. Weighing in at just 12.4 pounds this is the perfect umbrella stroller for keeping in the trunk of your car, packing for your vacation, or just using as a second stroller for short journeys or older children.
Suitable from 6 months old, this is an easy-to-maneuver, fast-fold umbrella stroller that offers all the basics as well as a few extra useful features. The hammock style seat offers 2 seating positions, and the padded fabric and 5-point harness make it both comfortable and secure for your little one to travel and nap in.
The all-wheel suspension and locking front swivels help to keep the ride incredibly smooth, and it can even handle more rugged terrain without too much trouble. For your convenience, there is also a travel-friendly carry strap and bag for keeping your stroller in tip-top condition.
Bottom Line: Basic but better than many of its competitors, the Chicco C6 Stroller has got lightweight strolling down.
Under $500
A Cabin Size Stroller With Plenty to Offer
Besrey Airplane Stroller
This cute and convenient stroller is so small it can fit into its very own backpack, making it perfect for families traveling by air. With an innovative 2-step folding design, the carry bag measures just 22'' x 12''x 11" — just the right size to store in the cabin — meaning you can get to it as soon as you touch down.
Suitable from children between 6-36 months and weighing no more than 33 pounds, this stroller does not recline, but it is equipped with a secure 5-point safety belt and protective comfort pads, meaning your baby will be kept comfy and safe along the way.
Weighing in at just 10.8 pounds, and featuring a lightweight yet sturdy aluminum frame, this is an excellent buy for parents looking for a second stroller for the trunk of the car or to use on vacations. The overhead canopy will help to keep your little one protected from the sun, and the seat is padded for their comfort. The removable handlebar can be used to attach toys to, or taken away as your child gets older.
Bottom Line: With a one-hand fold mechanism, a large brake, smooth rolling swivel wheels, and a large shopping basket, this stroller is also designed with parent comfort in mind. Travel light on your next family adventure with a stroller that fits into a backpack.
Not Quite Pocket Size, but Definitely Locker Size
BG Pockit+ Lightweight Stroller
With its ultra-compact and collapsible design, this smart stroller will fit neatly inside most overhead compartments on planes and trains, making it a fantastic alternative to your regular, bulky stroller.
Weighing just 9.5 pounds, pushing and steering this baby is a breeze. The 2-step easy fold mechanism means you can keep one hand free while you close or open it, and it can be quickly lifted and carried using the built-in handle.
Little ones love this stroller, too. With a UPF 50+ canopy to keep them safe from the sun, and a padded, reclining seat, they will be able to nap in comfort wherever you go. The flexible, yet durable, construction also ensures that the seat unit remains stable no matter how wriggly your toddler may be.
For your own pushing pleasure, this stroller has agile front swivel wheels that will glide effortlessly over indoor and outdoor terrain. The stroller also corners beautifully and for uneven terrain, simply switch the wheel lock to make it easier to handle.
Bottom Line: A quirky, cute looking travel stroller that can more than hold it's own against larger, more expensive strollers and travel systems.
Designer Stroller with Excellent Functionality
UPPAbaby G-LUXE Stroller
UPPAbaby is one of the biggest names in designer strollers, and the G-LUXE stroller makes it easy to see why. Packed with the functionality of a much larger stroller, but without the extra weight, this agile little number is suitable for children from 3 months old to 55 pounds. The hand-level triggers make it easy to fold the G-LUXE using just your hands, and once folded it can even stand on its own — vacation-ready every time.
For the comfort of your baby, the one-handed reclining seat with adjustable footrest is well padded and large enough for naps on the go. The pop-out sunshade extends way out to help shield your child from the sun, and the seat pad and fabric surround can all be removed for washing. Comfy, clean, and cozy all year round.
For moms and dads who want a more elegant ride, the high-performance 5.75″ wheels are super easy to maneuver, and the one-click brake mechanism will bring you to a gentle stop.
Bottom Line: Designed with both fashion and function in mind, this is a great looking stroller that ticks all the boxes.
Room for Two in This Compact Double Stroller
ZOE XL2 Best v2 Lightweight Double Travel
Suitable for carrying both your babies at one time, the Zoe XL2 is a lightweight, umbrella fold double stroller that is perfect for taking away on vacation with you. With a 1- or 2-handed easy fold mechanism with an automatic lock, this double stroller folds up so small it can fit in tiny trunks and storage lockers.
Made with comfort in mind, both seats recline enough to let your children nap, and the seats are padded and breathable, with a ventilated back panel to help keep kids cool. There is also a detachable belly bar, with 2 kid cup holders and a snack holder. The canopies are fully extendable and reach all the way down to the belly bar, offering an exceptional level of sun protection for both of your babies.
For parents, the Zoe is also easy to push, even for a double stroller. While it is not an all-terrain stroller, it is incredibly competent on surfaces like airport terminals and busy city streets. The steering is light and manageable, while the front wheels have their very own in-built suspension.
Bottom Line: Lightweight and easy to love, whatever Zoe lacks in terms of fancy extras, it more than makes up for in terms of practicality and ease of use.
Stylish, Sleek and Small Enough for an Overhead Locker
Babyzen YOYO+ Stroller
This super light stroller is one of the most compact on the market and is so tiny it will even fit in the overhead bin on an airplane. As petite as it may be, it still can be turned into a travel system with the addition of a car seat, but it is one for city streets as opposed to rugged country hiking.
As one of the most expensive on our list, this stroller has a lot of added extras to justify the higher price tag. For example, the cleverly crafted folding mechanism can be opened in seconds with just one hand, and the patented and exclusive 4-wheel, "soft drive" suspension system offers the ultimate smooth ride for both parents and babies.
Suitable from 6 months, the chassis and seat chassis snap together easily and can be used as an outward-facing stroller with a multi-position reclining seat. If you want to use it for your newborn, you will need to purchase the newborn pack for an additional cost or use the adapters to attach your infant car seat.
Padded fabrics that are removable for easy washing will keep your little one comfy on the move, while the under seat storage basket is just big enough to hold your baby essentials. Suitable for children up to 33 pounds, the YOYO+ collapses to 20.5 x 17 x 7 inches. It comes complete with its very own carry bag and strap, making it super easy to take with you everywhere you go.
Bottom Line: Half the size of a regular stroller, this is a teeny-weeny stroller that has plenty of big features to offer.
Final Thoughts
Choosing the right travel stroller is vital for ensuring your child's comfort and safety on the road. It also needs to be as parent-friendly as possible, as well as easy to transport, push, and maneuver no matter where you are headed.
Before you commit to your next bit of baby kit, consider the advantages over your existing stroller or travel system to find a travel stroller that totally suits you and your little one's needs.