The Ultimate Guide to Buying the Best Travel Insurance [For You]
Whether you're traveling with family or solo, on an epic adventure or a weekend getaway, travel insurance can go a long way toward providing peace of mind during your trip. And if things should go wrong, you'll find consolation in being financially covered.
With all that's at stake, you've probably given serious thought to purchasing travel insurance just like I have. There have certainly been times when I've needed it, including severe flight delays, a parasailing accident in Mexico, and when my luggage took a trip of its own!
Unfortunately, it's also easy to become overwhelmed with the vast selection of travel insurance options available. We've created this guide to help you sort through the confusion and demystify the process.
In this article, we'll cover all the information you need to:
Determine the type of coverage you need
Find out if you currently have any travel coverage
Narrow your options to just a few policies that fit
Select a reputable travel insurance company
Let's get started with helping you find the best travel insurance policy for your situation.
Why You Need Travel Insurance
Situations Where Travel Insurance Can Help
If you travel frequently, you've probably experienced an event where travel insurance would have helped.
Whether it was a severely delayed flight, illness abroad, stolen possessions, or a canceled trip due to an unforeseen event — travel insurance could have made the situation better.
Travel Insurance can cover a variety of situations. Here is just a sampling of those you can easily purchase coverage for:
You have an accident and need medical evacuation to a nearby hospital: According to travel insurance company Allianz, the estimated cost of medical evacuation ranges from $15,000-$20,000 in Mexico to over $200,000 in Asia, Australia, and the Middle East.
You miss your cruise because your flight is severely delayed or canceled: Catching up with your cruise once it has departed can be costly!
You can't take a planned trip due to illness: The entire cost of your trip and any pre-paid arrangements could be at risk if you become ill and unable to travel. Coverage is even available when travel companions become ill and you must forego your trip.
You become ill while abroad: The cost of medical attention abroad can be expensive, and it can result in increased costs to rearrange your itinerary.
Your baggage is lost or delayed: After your bags have been delayed a minimum amount of time, usually 12-24 hours, coverage kicks in and provides money for essentials.
Bottom Line: It's prudent to buy travel insurance for expensive trips. You may go several years without using the coverage you've purchased, but one incident could cause you to incur thousands of dollars in expenses, far exceeding the cost of insuring multiple trips.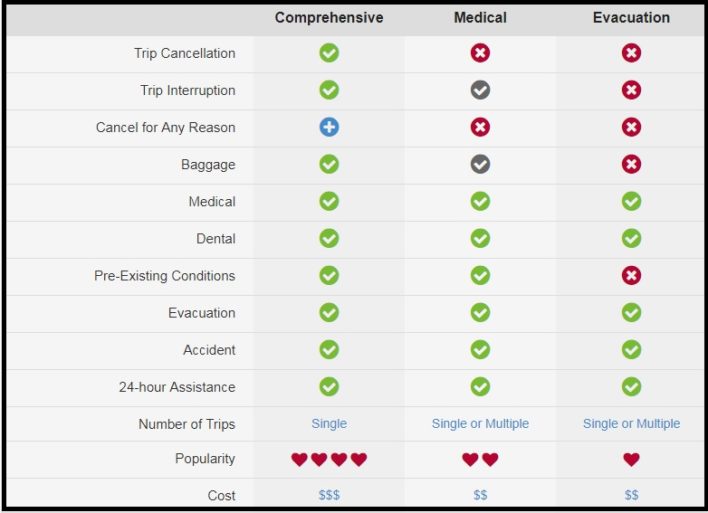 Covering Your Major Concerns
If money is no object, you can purchase a lot of travel insurance to make sure you're covered for nearly every situation you'll encounter. In reality, you'll probably want to balance cost with the coverages that are most important to you.
For some travelers, their greatest concern is the huge cost of an emergency medical evacuation. For others it can be the risk of getting ill and not being able to travel on a trip they've paid thousands of dollars for already.
But don't fret: there's a travel insurance plan for just about any travel concern that can cost you money if things go wrong.
Here are some of the plan types available:
Emergency Medical Evacuation: Pays to get you to the nearest hospital, even in remote areas
Travel Medical Insurance: Provides medical care if you get sick or injured while traveling
Annual Travel Insurance: Covers you for multiple trips taken throughout the year
Comprehensive Package Travel Insurance: Conveniently groups many travel insurance coverages together in one policy
Cancel for Any Reason Rider (CFAR): When certain conditions are met, this coverage lets you cancel your trip for any reason and receive reimbursement
Policies that Cover Families: Comprehensive travel policies that cover all family members/domestic partners before and during your trip.
When to Buy Travel Insurance
Most travel insurance policies can be purchased up until the day of your departure. However, some policies contain pre-departure benefits, so you'll want to buy your policy as soon as possible.
For example, you may have coverage that covers you getting ill and not being able to take your trip.
The general advice is to buy your policy when you make your first payment on the trip.
Since policies can be priced according to how much your total trip costs, you can take out the insurance based on what you've already paid and call the company to raise the amount of the policy once you've made additional payments.
Hot Tip: Travel insurance policies include a free-look period, where you can review your policy once you've received it and decide if it's right for you. This free-look period is usually 10-15 days depending on the company and type of policy. 
You May Already Have Coverage — Here's Where to Look
Before you purchase a travel insurance policy, you should check these 4 places where you may have some current coverage.
You may find travel coverage included as a benefit on credit cards, with your employer-sponsored health plan, with club/organization memberships, and on Medicare gap policies.
It is helpful to know which types of coverage you currently have so you can select a comprehensive travel insurance policy without paying extra for duplicate coverage.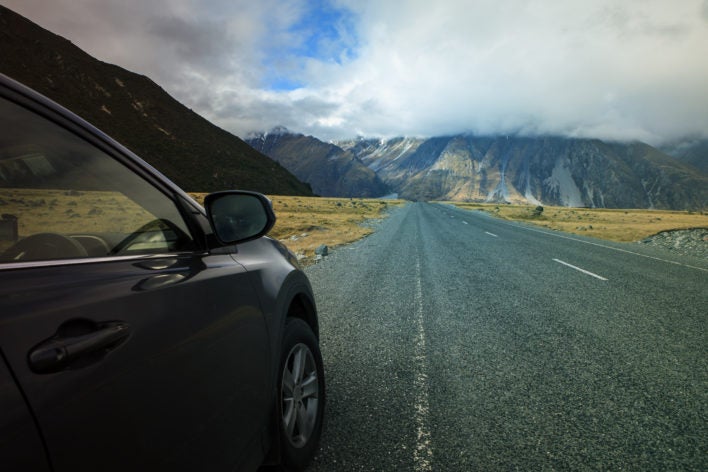 Credit Cards
Credit cards commonly carry travel insurance benefits, but whether they're included and the level of coverage provided will vary depending on which card you carry.
Let's take a look at some of the most popular credit card issuers and the types of travel insurance/protection they provide.
American Express offers several travel insurance benefits on their cards.
Car Rental Loss and Damage Insurance: Secondary coverage is included on various American Express cards. Primary Car Rental Protection is available to purchase for one low fee that covers the entire rental period.
Travel Accident Insurance: Limits of $250,000-$500,000 depending on the card.
Baggage Insurance: Provides coverage for lost, stolen, or damaged checked or carry on baggage. Included on various American Express cards. 
The Global Assist Hotline: Included on various American Express cards. Premium cards such as the Platinum Card® from American Express and Business Platinum Card® from American Express include premium versions of the Global Assist Hotline that provide support before, during, and after your trip.
Roadside Assistance: While Amex has removed roadside assistance from many of its cards, there are still several Amex cards with the coverage. Coverage includes assistance with jump starts, gas, towing, and lockout.
Chase is another major card issuer that includes various travel insurance coverages on their credit cards.
Citi credit cards have recently had several travel benefits removed,  similar to other credit card issuers. Your exact coverage benefits will depend on which Citi card you have. To learn the details of Citi's credit card travel protections, you can access Citi's credit card guide to benefits here.
Hot Tip: To receive coverage from any credit card, you must meet the purchase requirements. Some credit cards require you to charge the entire purchase, while some grant coverage if you pay for just a portion of the purchase with your card. You may also be able to receive coverage by using points for your purchase.
Requirements vary, but you can call the number on the back of your credit card for questions on coverage specific to the card you're using.
See our article for information on additional credit card travel insurance coverage.
Bottom Line:Credit cards may offer incidental travel protections and benefits, but they should not be considered a replacement for a comprehensive travel insurance policy. 
Employer-Sponsored Health Insurance
You'll first want to check your current health insurance policy to see if it might cover you while traveling. Many do not extend health insurance benefits while traveling, but there may be ancillary travel insurance coverages included in your policy.
For example, some employer-sponsored health insurance plans contain travel insurance coverage that can be quite significant. Unum is one of the most common group insurance companies offering employers travel insurance for their employees through Assist America.
The employee is provided a 24/7 phone number that can be called for immediate assistance when traveling more than 100 miles from home.
Here is a sample of coverage provided:
Hospital admission assistance
Emergency medical evacuation
Prescription replacement assistance
Transportation for a friend or family member to join a hospitalized patient
Care and transport of unattended minor children
Referrals to Western-trained, English-speaking medical providers
Legal and interpreter referrals
Passport replacement assistance
There is no charge for any of these services when the coverage is included on an employer-sponsored healthcare plan, so you'll want to check your current employer-sponsored health plan to see if you have this coverage.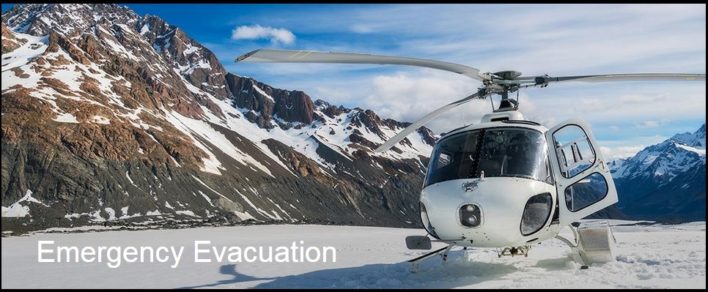 Club Memberships
If you're a member of any club or organization, you'll want to ask about travel insurance benefits.
Here are just a few clubs where membership includes various types of travel insurance benefits.
Divers Alert Network — Membership is $35/year for singles, $55/year for families
DAN members receive $100,000 of emergency medical evacuation assistance coverage. Evacuation is covered for diving and non-diving medical emergencies when you are more than 50 miles from home.
Membership also includes TravelAssist, a 24/7 access to prescription assistance, medical monitoring, emergency messaging, and much more.
American Alpine Club — Membership is $80 per year and includes search and rescue insurance. The insurance applies to any land-based activity.
Up to $7,500 of Global Rescue Trailhead Rescue Services (available worldwide)
Up to $5,000 of Domestic Rescue Benefits (available in the U.S. only)
Gold Wing Road Riders Association ($55/year) and the American Motorcycle Association ($49/year)
Members receive FREE emergency roadside assistance and 24/7 towing up to 35 miles per disablement for their motorcycle or any motorcycle they are riding, even as a passenger.
Gold Wing Coverage is limited to motorcycles; American Motorcycle Association members receive coverage for motorcycles, cars, trucks, trailers and RVs.
Family Motor Coach Association — Membership costs $60/year and includes discounted worldwide travel assistance insurance plus several other travel benefits.
Hot Tip: Club memberships can include travel insurance coverage at no additional cost or at a discounted price. Checking your current memberships and seeking out organizations you can join for cost-effective coverage may result in travel insurance coverage you can use.
Medicare Supplements and Advantage Plans
With rare exceptions, Medicare does not extend coverage to another country outside the United States. However, some supplement and advantage insurance plans do include coverage when traveling.
These supplemental policies, called Medigap plans, pay 80% of medical emergency care outside the U.S. after a $250 deductible. The expense must not be covered by Medicare, and it must be incurred within the first 60 days of your travel. There is also a lifetime limit of $50,000.
Medigap plans C, D, F, G, H, I, J, M, and N contain this coverage. Visit Medicare.gov for a complete explanation of the coverage and information on out-of-country coverage for Medicare Advantage plans.
Remember, these are plans that you purchase in addition to your base Medicare Plans A and B. Medicare does not cover you out of the country except in rare circumstances detailed here.
Bottom Line: It's important to know the travel insurance coverages you have currently, as you may save money not duplicating those coverages when purchasing a travel insurance policy. You'll also want to be able to take advantage of and use these existing coverages if you experience a covered event.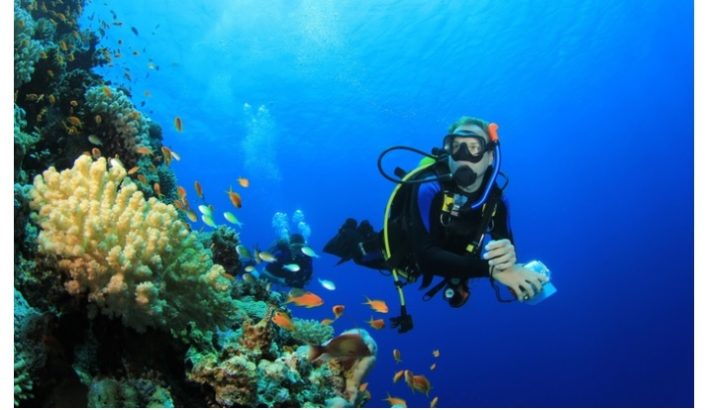 Where to Buy Travel Insurance
All insurance companies are rated based on their financial stability; A.M. Best is the oldest, most recognized provider of ratings in the global insurance industry. We'll include only those companies with excellent or above ratings.
Before we discuss specific travel insurance companies, however, we'll cover a few great travel insurance comparison sites that can help narrow your choices before selecting a specific company and travel insurance policy.
Travel Insurance Comparison Tools/Websites
Purchasing travel insurance is a balancing act between getting the coverage you need without spending above your budget. That's why comparison sites can ease the pain of searching hundreds of policies and dozens of companies individually.
Another benefit of using these sites is that your information is entered just once, and their search engines will quickly find the best fit for your budget and coverage requirements.
Here are 3 comparison sites to help you get started:
1. Travelinsurance.com (recommended)
Easy-to-use online comparison tool
Instant coverage
Best price guarantee; this means you won't find a lower price anywhere else for a plan that's found on TravelInsurance.com.
2. Squaremouth
Award-winning customer service team
20 travel insurance companies and 116 different policies
Over 60,000 customer reviews
3. InsureMyTrip
Licensed agents to help you with questions and claims
21 providers; both large and boutique highly-rated companies
Glossary and articles explaining coverage and plans
Once you've completed a few easy comparisons, you'll have an idea of the type of policy you want, a range of costs, and what options are available.
You'll find most of the major travel insurance providers on these comparison sites, but not all carriers participate.
Hot Tip: Don't miss our dedicated article on the Best Travel Insurance Companies For All Travelers!
Let's take a look at some specific travel insurance providers you'll want to consider:
World Nomads — Best for Comprehensive Coverage and Adventure Activities (Recommended)
Included in the top 10 travel insurance companies by Consumer Advocate, World Nomads offers a comprehensive portfolio of travel insurance products including medical/evacuation insurance, 24-hour emergency assistance, trip delay/cancellation, and coverage for a long list of adventure activities.
There are several reasons to purchase travel insurance with World Nomads.
Backed by established, reputable, highly-rated companies such as AIG Insurance Company, Lloyds, and Nationwide Mutual Insurance Company
Understand world travel and the associated risks
Single-trip, multiple-trip, and annual policies are available
Good for active travelers, as most activities/sports are covered
Plans include standard to comprehensive coverages
Ability to purchase or extend coverage while traveling
Available for travelers through age 69
Sample Pricing
| | | |
| --- | --- | --- |
| Length of Travel | Country/Countries | Pricing for Standard and Explorer-level plans |
| 1 week | Singapore | $88-$107 |
| 4 weeks | Asia and Europe | $117-$171 |
| 1 year | Asia, Europe, South America, Canada, Mexico, Caribbean | $1,275-$1,618 |
Click to get a quote with World Nomads >>
Hot Tip: If you participate in sports and adventure activities when traveling (even dangerous ones), World Nomad's travel insurance is a perfect fit with over 150 travel activities covered.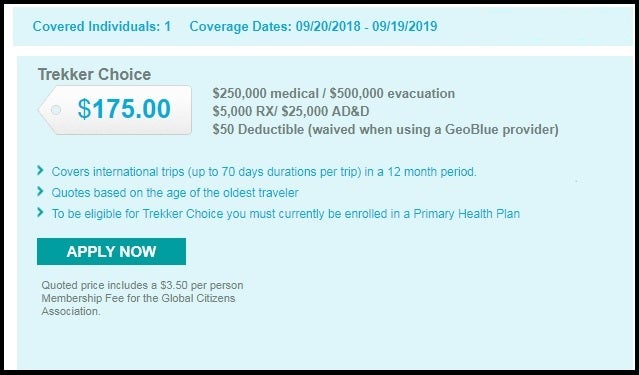 Travelex/Berkshire Hathaway Travel Insurance — Family Protection for Children at No Extra Cost
The family Travel Select plan covers children 17 and under for no additional cost. This comprehensive plan includes protection for trip interruption/cancellation/delay, medical and evacuation, baggage and personal effects, and travel assistance. For more information check out our Travelex review.
GeoBlue — Affordable Annual Medical Travel Insurance
If you currently have health insurance that does not cover you outside of the United States, you'll find GeoBlue an affordable option for medical coverage while you're traveling.
Their Trekker Choice policy covers unlimited international trips up to 70 days in length for a 12-month policy period. The cost for an annual plan for a 40-year-old was $175 for the Trekker Choice policy, but even less expensive plans are available!
USAA — Travel Insurance for Military and Families
Active military, their families, and post-military USAA members receive exclusive rates for travel insurance that includes these coverages. Children are included on most plans at no additional cost.
Lost/delayed baggage
Trip delays
Trip interruption/cancellation
Trip interruption/cancellation due to accident or illness
Medical expenses
Interruptions due to weather
Emergency assistance and evacuation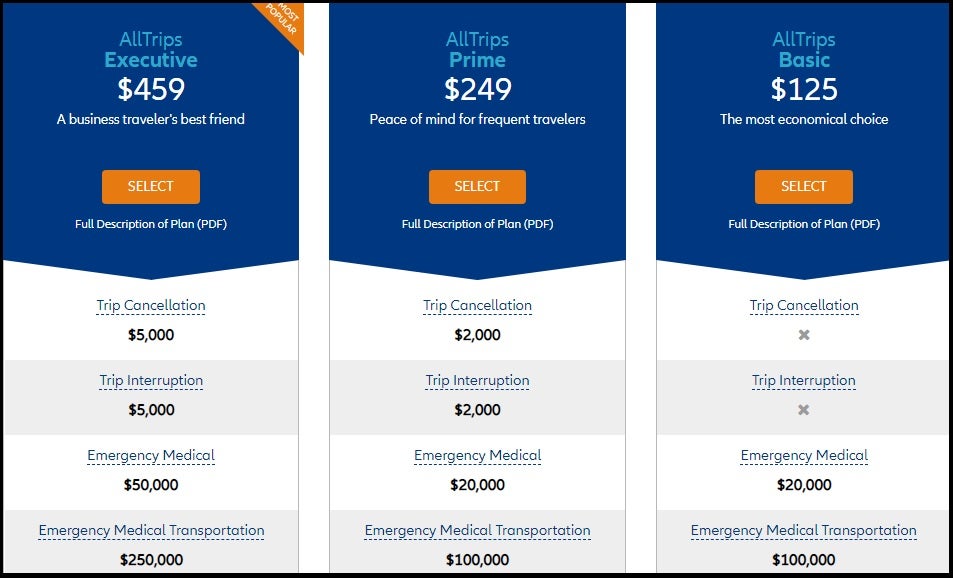 Allianz — Affordable Annual Travel Insurance
With nearly a dozen awards so far in 2018, highly-rated Allianz is a trusted company in the travel insurance arena.
I was particularly impressed with their annual travel insurance policy offerings that are surprisingly affordable. The prices listed above are for an annual policy for travelers ages 30-80, and it covers unlimited trips of 45 days or less during the 12-month period.
It's not just a medical policy either. In the top 2 plans above you'll find trip cancellation/interruption, change fee coverage, collision damage waiver, and even business equipment coverage.
For coverage details and a specific quote, visit their website.
Expedia — An Impulse Buy You Can Prepare For
Expedia is the world's leading travel provider, so a mention of their Expedia® Package Protection plan seems appropriate.
Pricing varies from $49 per person for travel within the continental U.S. to $89 per person for multiple international destinations.
The trip insurance includes trip cancellation/interruption coverage even for bad weather, mechanical failure, or strike. Medical emergencies/transportation and lost/stolen baggage coverage are also included. You can review details and additional coverages here. You may only purchase the package at the time of booking.
Before purchasing the Expedia Package Protection plan, you should price and compare a policy from one of the major providers. You may be able to find more coverage for a lower cost.
Other Travel Insurance Companies
The U.S. Department of State publishes a list of travel insurance companies that provide coverage overseas; you can access it here.
Hot Tip: Some travel insurance policies require you to be outside the United States for coverage, but others will cover you as few as 50 miles from home. Since travel insurance is widely available (and in many cases affordable), it may make sense to purchase a policy for medical and other valuable coverage even if you're traveling domestically. 
Single/Multiple Trip Policies vs. Annual Policy: Which Is Better?
Single Trip Policies
If you take 1 major trip annually, purchasing a single trip policy is the way to go. If it's a trip you put together yourself, utilizing one of the providers mentioned in this article to purchase an individual travel insurance policy can be a simple solution and cover your trip appropriately.
If your trip is a packaged tour, there's nothing wrong with selecting insurance offered by the tour provider, but arm yourself first by doing some research. You'll want to be sure you're not overpaying, and that you're purchasing travel insurance coverages that take care of your personal concerns, not just those of the tour provider.
Multiple Trip or Multi-Destination Policies
If you're taking 2 trips a year, you can purchase a separate policy for each trip. If you're taking 3 or more trips, you should consider an annual policy.
If you're going on an extended trip and visiting several countries (say 3 months in length), companies such as World Nomads can issue a policy that covers your entire trip.
Annual Policies
Taking a year off and traveling the world or just taking frequent international trips? You may want to consider a comprehensive annual travel insurance policy that covers multiple trips.
Pricing can vary widely, so it's important to compare prices and select the coverage that's most important to you.
Hot Tip: The best way to determine if a multiple-trip or annual travel policy is better is to simply price each option, compare coverage, and review any terms/conditions. You may find that insuring 2 or 3 trips could cost as much as an annual trip insurance policy. 
Travel Insurance for Special Situations
Travel Insurance for Seniors
In your late 60s, your options for purchasing travel insurance start to diminish (but they don't disappear!). There are still several travel insurance companies where you can purchase great coverage.
Allianz and Berkshire Hathaway each allowed me to quote a policy up to age 99
GeoBlue medical travel insurance covers through age 84
"Silver Nomads" age 70 and above can purchase coverage with World Nomad partner TripAssure
Special Needs and Travel Insurance for Those With Disabilities
If a person is healthy enough to travel, they're usually able to purchase travel insurance from many providers.
Allianz Global Assistance comes highly recommended by Wheelchair Travel.org for travelers with disabilities. Their policy for a 45-year-old traveling on a 2-week trip costing $2,200 quoted between $76-$143 depending on the coverages I selected.
Group Travel Insurance
When you have 10 or more travelers in a group, you might consider group travel insurance as an affordable option.
For a group of 10 traveling to Mexico for a 2-week trip that cost $2,200 per person, the lowest quote according to a search on Squaremouth.com was $838, or $83.80 per person.
Coverage per person included:
Trip cancellation ($2,200)
Trip interruption ($2,200)
Good medical coverage ($20,000)
Good medical evacuation coverage ($100,000)
Trip delay ($150/day $500 max)
Baggage delay/personal effects ($700)
Pet Travel Insurance
If you're a traveling pet owner, you've probably considered insuring your pet during your travels.
While some travel insurance policies include coverage for pets, separate policies for medical/veterinarian care for your pet can also be purchased.
Here are a couple of options for purchasing pet insurance that cover your pet while traveling.
PetPlan – PetPlan insurance covers your pet in the United States and Canada and costs as little $8/month for $20,000 in annual coverage.
Travelex Travel Max – The policy provides $1,000 in emergency medical treatment for your pet. If you are hospitalized while traveling and cannot take care of your pet, the policy will also pay to return your pet back home (up to $10,000).
Final Thoughts
Insurance is an intangible; we can't see it or hold it in our hands. Unless you have a claim, you're simply buying the peace of mind that comes from knowing you're covered if things go wrong.
Travel insurance is a bit different than home or auto insurance, however — if you travel frequently, you know it's common to experience delays, illness, lost baggage, and other travel disruptions where travel insurance could be useful.
Insurance is meant to protect you from disaster and major financial setbacks. Insuring yourself against losing money on an expensive trip or having a major medical event when traveling makes sense, especially since travel insurance is widely available and affordable.
Whether you should purchase travel insurance will depend on your risk tolerance level for what you could lose personally if things go wrong during your travels.
---
All information and content provided by Upgraded Points is intended as general information and for educational purposes only, and should not be interpreted as medical advice or legal advice. For more information, see our Medical & Legal Disclaimers.