AIG Travel Guard Insurance Coverage Review – Is It Worth It?
Purchasing insurance for your home, auto, or your life, can be complicated and time-consuming if you want to compare coverages and premium costs between companies. Fortunately, the process of purchasing travel insurance is quite simple, and you can secure immediate coverage within minutes.
It all starts with determining the coverages that most important to you, securing a quote, then making sure you're purchasing from an established, highly-rated company. One such established travel insurance company is AIG Travel Guard.
With over 25 years of experience and high ratings from premier insurance financial rating company A.M. Best, AIG Travel Guard was named the best travel insurance company of 2020 by Forbes. Its Travel Guard Deluxe policy was also given a top 5-star rating by Forbes' insurance analysts.
We'll certainly discuss AIG Travel Guard's policy offerings in our article today but we also want to discuss why you'd want to purchase travel insurance, whether travel insurance covers COVID-19, the process for obtaining a quote, and additional resources to help ensure you're receiving good value.
Plus, if you're wondering if you need to purchase travel insurance or whether you might have enough coverage elsewhere, you'll want to read on.
Why Purchase Travel Insurance
While the primary reasons for purchasing travel insurance are to protect your economic investment and to cover unexpected additional expenses you might incur due to trip disruptions, purchasing travel insurance has another, more intangible, purpose.
Purchasing travel insurance can provide peace of mind prior to and during your trip as you won't be worried that an unforeseen event will result in an economic loss. Knowing you have evacuation insurance when you're traveling to a remote area on safari, for example, could be tremendously reassuring, even if you never use the coverage.
Here are some sample situations where travel insurance may provide coverage:
Your sister is diagnosed with a life-threatening illness and you must cancel your trip
You broke your ankle and will not be able to go on your skiing trip
You become ill and cannot travel
You or your traveling companion is terminated or involuntarily laid off from your job
You are summoned to jury duty or other legal action such as requiring you to appear as a witness
If your trip is expensive, complicated, or you need medical coverage while traveling, a travel insurance policy is a must.
Bottom Line: In addition to protecting your trip investment and covering unexpected expenses due to trip disruptions, travel insurance can also provide peace of mind before and during your travels. 
AIG Travel Guard — Coverages and Policy Options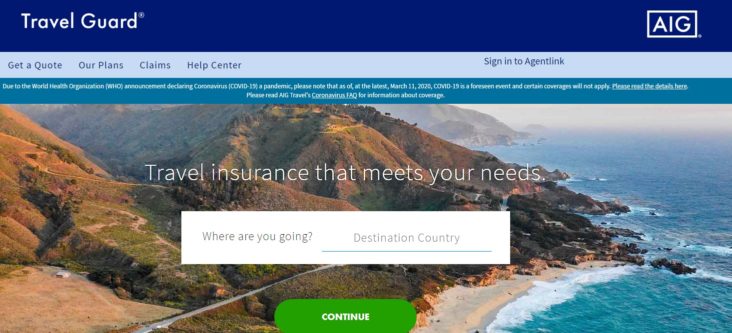 There's probably nothing more boring than listing insurance coverages but it's important to know the types of coverages you can expect when purchasing an AIG Travel Guard policy.
First, AIG Travel Guard offers 3 policy options for U.S. residents (not including NY residents), 3 separate options for NY residents, and 1 policy for Canadian residents.
Travel Guard Essential
Travel Guard Preferred
Travel Guard Deluxe
Travel Guard Essential Expanded — available to NY residents
Travel Guard Protect Assist — available to NY residents
Travel Guard Tour, Cruise, & Travel — available to NY residents
Gold Trip Cancellation Policy — available to Canadian residents
Coverage options and limits will vary by policy, however, you can expect to find the core and optional coverages listed here.
Core Coverages
Here are the types of coverages you'll find offered on AIG Travel Guard policies and the applicable coverage limits for each type of policy.
Coverage
Travel Guard Deluxe
Travel Guard Preferred
Travel Guard Essential
Trip cancellation
100% of trip cost, $150,000 maximum
100%, $100,000 maximum
Trip interruption
150%, $225,000 maximum
100%, $100,000 maximum
Trip delay
$1,000 ($200 per day)
$800 ($200 per day)
$500
Missed connection
$1,000
N/A
Travel inconvenience benefits
$750
$500
Baggage insurance
$2,500
$1,000
$750
Baggage delay
$500
$300
$200
Travel medical/dental
$100,000/$500
$50,0000/$500
$15,000/$500
Emergency evacuation and repatriation of remains
$1,000,000
$500,000
$150,000
Accidental death/dismemberment
$30,000
There are also additional coverages that may be included at no extra charge, depending on the policy type selected. Terms and conditions apply.
1 child under 17 per covered adult is included for no extra charge
Pre-existing conditions waiver
Trip exchange coverage
Single occupancy fee coverage
Evacuation for a security reason
Non-flight accidental and dismemberment insurance
Worldwide travel and medical assistance services
Optional Coverages for an Additional Fee
You may secure any of the following add-on coverages by paying an additional fee.
Cancel for Any Reason Insurance — covers trip cancellation for any reason
Rental vehicle damage — coverage for collision damage when renting a vehicle
Pet bundle coverage — pet care, medical expenses, and adds pet illness to trip cancellation benefit
Adventure sports coverage — coverage for higher risk adventure activities
Increased lodging expense bundle — increases the amount covered under travel inconvenience benefit
Wedding bundle — coverage when a destination wedding is canceled
Name a family member bundle — select a traveler to be covered as a family member
Hot Tip: For more information and tips on purchasing travel insurance, start here in our article on travel insurance basics.
AIG Travel Guard and COVID-19
Travel insurance, in general, is designed to protect you from financial loss due to unforeseen events that may cause you to cancel your trip, or to cover disruptions that could occur during your journey. It is not meant to cover voluntary trip cancellations due to fear of getting ill.
Voluntary cancellations, including those that are related to the fear of getting ill, are not covered on travel insurance policies. However, there is 1 option for obtaining coverage for voluntarily canceling your trip.
Cancel for Any Reason insurance (CFAR) is an optional coverage that can be added to select travel insurance policies allowing you to cancel your trip for any reason you deem necessary and be covered for partial reimbursement.

AIG Travel Guard offers CFAR coverage as an optional add-on to add to its Preferred and Deluxe plans, with these stipulations:
Must be purchased within 15 days of the initial trip deposit
The trip must be canceled more than 48 hours prior to departure
The full cost of the trip must be insured for at the time of purchase
Cancel for Any Reason insurance does not cover the entire cost of the trip. In this case, to add CFAR insurance to the Deluxe and Preferred plans above, the additional premium would be $53.31 for coverage to cover up to 50% of the trip price. Additional options may be available to cover up to 75% of the cost of your trip.
The above prices are for a single trip 1-week in length for a traveler of 40 years of age at a cost of $3,000.
AIG Travel Guard policies, even without the CFAR insurance add-on, offer coverage for trip cancellations due to COVID-19 related illness and also medical coverage should a covered traveler become sick with COVID-19 during their travels. Terms and conditions apply.
Bottom Line: While trip cancellation, trip interruption, and emergency medical may offer some coverage for illness, you must purchase Cancel for Any Reason insurance to have coverage for canceling a trip due to the fear of getting ill. AIG Travel Guard offers this coverage on its Deluxe and Preferred plans.
Additional Information — AIG Travel Guard
Point-of-Sale Availability — In addition to offering travel insurance package policies directly to the public, AIG Travel Guard offers travel insurance products via several travel providers including airlines and various travel services. You'll find the option to purchase Travel Guard protection during the checkout process with companies such as United Airlines or Frontier Airlines when purchasing a flight and when making a travel purchase via Costco Travel.
Call for Additional Quotes — While AIG Travel Guard does sell annual multi-trip policies, you must call to request a quote. Adventure sports coverage, medevac coverage, and rental vehicle damage coverage quotes are also available via phone.
15-Day Free Look Period — If you decide, after you have reviewed your purchased policy, that you do not want it, you may receive a full refund.
Cruise Insurance Option — AIG Travel Guard offers cruise insurance that includes cruise diversion and other applicable coverages.
Filing a claim — to initiate a claim, you can either call AIG Travel Guard at 866-478-8222 or access travelguard.com to begin the process. You will need your policy number handy. Once your claim is submitted, you can check the status at claims.travelguard.com/status.
How Does AIG Travel Guard Compare
First, know that when purchasing a policy from AIG Travel Guard, you're buying from a highly-rated established insurance company. Here's how the company stacks up in relative comparison with other travel insurance companies.
To Other Travel Insurance Companies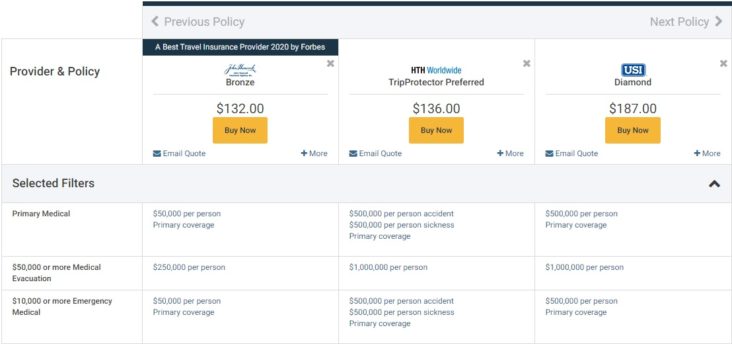 Comparing travel insurance policies can be complicated as coverage limits and prices vary widely. We looked at a 1-week trip to Mexico for a traveler 40 years of age and a total trip cost of $3,000 as criteria for obtaining a quote.
AIG Travel Guard's Preferred plan, which prices out at around $200, aligns with the John Hancock Bronze policy above. Add in CFAR coverage, however, and the comparison costs are closer to AIG Travel Guard's $254 premium for its Preferred level plan that also includes CFAR.

This 1 example uses the criteria of a specific trip for an individual traveler of a certain age and may not reflect the same relative premium costs as other comparisons.
Your own individual traveler information, the number of travelers, trip length, destination, state of residence, selected coverages, and the total cost of your trip will ultimately determine the premium cost. Our example is just a narrow snapshot comparison.
Bottom Line: Travel insurance policy coverages and costs vary dramatically. To ensure you're receiving good value, determine the coverages that are most important to you, compare policy options, and purchase from a reliable company. 
To Credit Card Travel Insurance
The travel insurance coverages that come complimentary on your credit cards are no substitute for a comprehensive travel insurance policy. With that being said, the coverage that comes with your credit card could be enough to cover some trips.
Here are some examples of trips where you may not need travel insurance and the coverage you have on your credit card could be sufficient.
The trip consists of only a round trip domestic flight and hotel stay
The trip is a road trip by car
The trip does not include any non-refundable trip expenses
The trip does not have several travel providers involved
Your health insurance covers you while traveling and you are not worried about having additional medical coverage during your trip
Also, keep in mind that coverage offered on your credit card is generally secondary versus a primary travel insurance policy. This means you must first file a claim with other applicable insurance, including coverage with the airline or travel provider, for example, before the credit card coverage will kick in.
Bottom Line: If you have a significant investment at stake, several travel providers involved, or want medical coverage during your travels, you should purchase a comprehensive travel insurance policy for your trip and not depend on the insurance coverage that comes with your credit card. 
The Value of Travel Insurance Comparison Websites
Travel insurance is widely available and competitive. You won't have trouble purchasing some level of coverage regardless of your situation. Additionally, there are travel insurance comparison websites that make it easy to find a policy that fits and purchase coverage that is effective immediately.
These travel insurance comparison websites are each easy to use, have qualified people to assist, and all feature policies offered only by highly-rated companies.
Instant coverage
Simple format, easy to secure a quote quickly
Guarantees the best price for the policy you're purchasing
Features 20 companies with nearly 120 different policy options
Its customer service team is award-winning
You can access thousands of customer reviews
Educational content to assist you in understanding coverages
Features 21 highly-rated companies
Licensed agents can answer questions and assist with a claim
Bottom Line: Travel insurance comparison websites provide quick easy access to securing a quote, compare several high-rated travel insurance providers at once, and the benefit of receiving immediate coverage. 
Final Thoughts
While airlines and travel providers have made significant changes to cancellation, refund, and exchange policies, it's still important to consider purchasing travel insurance if you're uncomfortable with the possibility of losing your trip investment or incurring unexpected expenses during your journey.
In addition, if you need medical insurance coverage during your trip, you won't find that coverage on a credit card or with the airlines — you'll need to purchase it.
The fact that AIG Travel Guard does not exclude COVID-19 related claims under certain coverages and offers a Cancel for Any Reason add-on is significant as not every travel insurance company can make that claim.
Also, if you have children traveling with you, you may find good value with AIG Travel Guard having those under 17 included for no extra charge (1 per premium-paying adult).
The bottom line when purchasing travel insurance from AIG Travel Guard is that if you can secure the coverages you need at a price you're comfortable with and you'll know you're completing that transaction with a highly-rated established company.
---
All information and content provided by Upgraded Points is intended as general information and for educational purposes only, and should not be interpreted as medical advice or legal advice. For more information, see our Medical & Legal Disclaimers.