Costco Travel Review & Guide — Will It Save You Money?
When you hear "Costco," chances are the first thing that comes to mind is the big-box warehouse, a gigantic market where you can get wholesale prices on groceries, cheap home goods, affordable gifts, clothing and alcohol!
You need a membership to shop at Costco, but for families, small business owners, and others, the annual price of the membership easily pays for itself after just a few visits. They even have their own co-branded cards, the Costco Anywhere Visa® Card by Citi as well as the Costco Anywhere Visa® Business Card by Citi.
A lesser-known service offered by Costco — one you may have noticed advertised in a store — is Costco Travel, an in-house travel agency designed to offer members good deals on vacation packages, hotel rooms, cruises, and more.
By taking advantage of the same bulk-purchasing power that it uses in retail, Costco can secure group rates when putting together vacation packages and bundles.
But can they compete with the bigger names in discounted travel booking, like Priceline? Keep reading to find out.
Costco Membership
To use their travel services, you'll need to have a Costco membership. The retailer offers 2 membership levels:
Gold Star membership costs $60/year and gives you access to stores as well as travel services.
The Executive Membership costs $120/year and comes with a few extra perks, including 2% back on your purchases made through Costco Travel (up to $1,000 per year).
Because some Costco vacation packages offer extra benefits to Executive members, you may want to consider upgrading to that level — the perks on 1 vacation package or cruise could be worth more than the extra $60/year.
Hot Tip: Costco only accepts Visa cards, although it's unclear if this extends to Costco Travel. To maximize rewards and travel benefits, use a Visa card like the Chase Sapphire Preferred® Card. If you're a small business owner, check out some of the best business credit cards for rewards when making purchases at Costco Travel.
Costco Vacation Packages
Unlike many other travel agencies and booking portals, Costco Travel doesn't let you book flights individually. Instead, you can only book them as part of a larger vacation package, which can include hotels, airport transportation, activities, tours, transportation between cities, or more.
Searching
On the home page, you can choose between a few different tabs depending on what you're searching for. The default option is vacation packages, which include the hotel, transportation to and from airports, and flights if you need one.
To start a search, select your destination area from the drop-down menu. The service only offers these vacation packages to a few places, including Florida, the Caribbean, Europe, Hawaii, and Fiji. You can also select a general "theme parks" search, fully-guided trips, or "Lion World Travel" (an African safari service).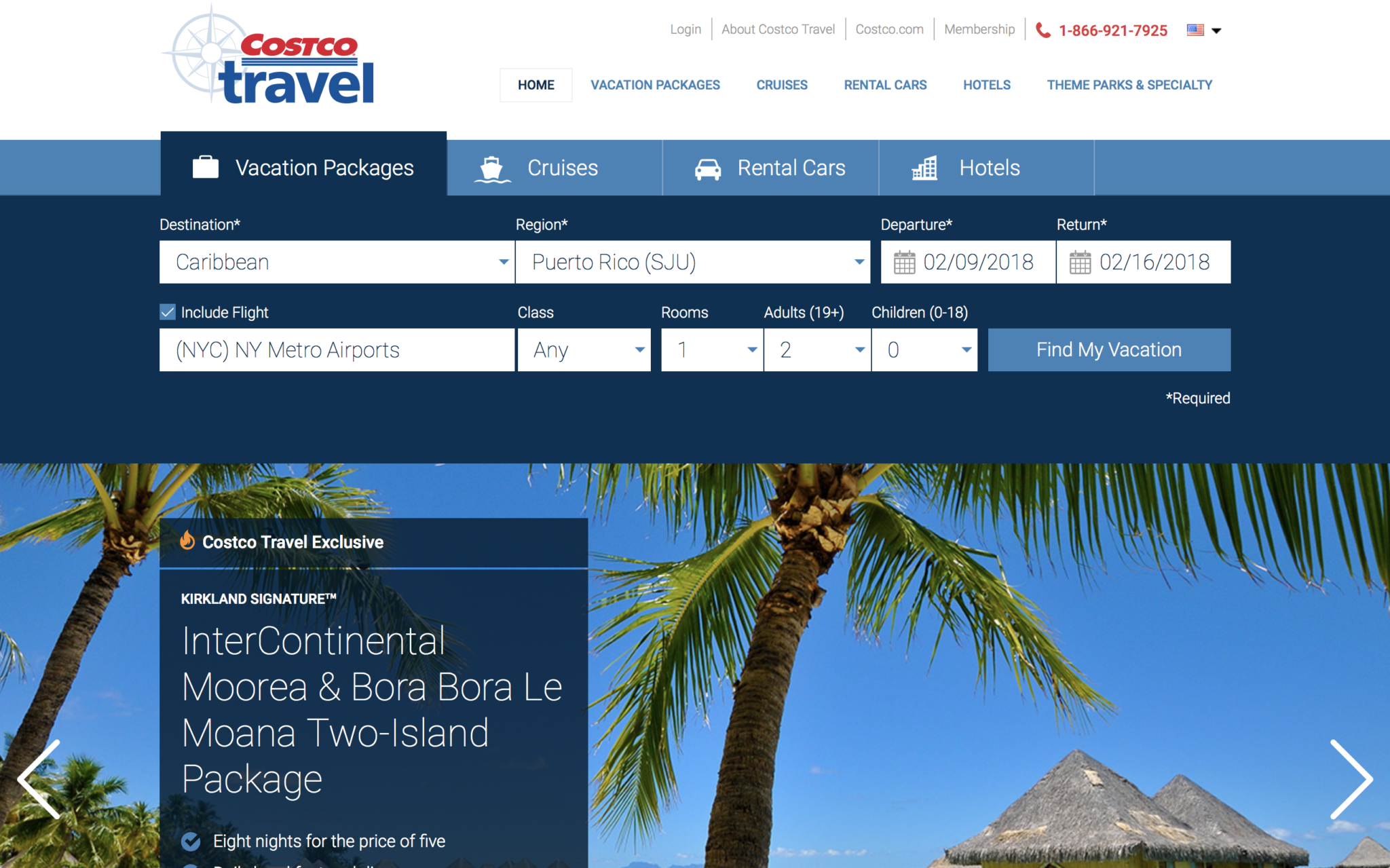 After picking your destination, you can choose the specific city or region, travel dates, and whether or not you want to include flights; if so, select the departure city or airport.
For a sample trip, I searched for packages to Puerto Rico for a week in February 2018, including round-trip flights from New York for 2 adults.
The results page sorts vacation packages by price, based on the cheapest available flights on the days you selected (you can change your flight on the next screen, but that may add to the total price).
It shows a brief preview of each package including the name of the hotel, general things the package includes (like flight, hotel, and airport transfer), as well as room type and rating.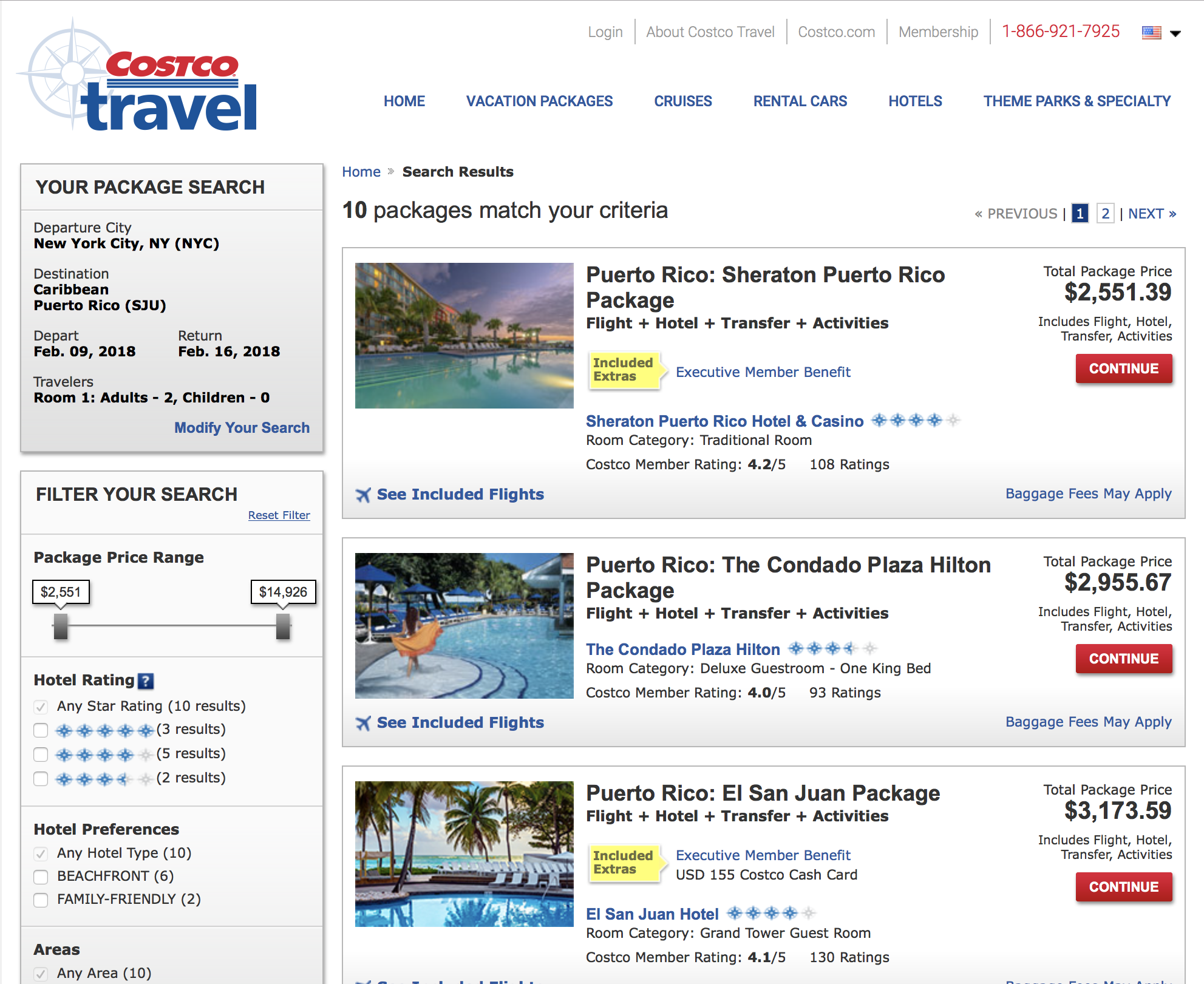 Some packages are marked with a little yellow flag that says "included extras." Typically, these are benefits included for people with the higher-tier Executive Membership: usually a one-time hotel/resort credit or a Costco gift card.
Using tools on the left sidebar, you can filter results by hotel star rating, specific area, price, and certain features (like beach-front or family-friendly).
Booking
To pick your hotel, click the red button on the search page labeled "continue."
For our example booking, I chose the least expensive package, which included 7 nights at the Sheraton Puerto Rico in San Juan and cost $2,551 total. For Executive Members, this included a one-time $65 credit to use toward food and drinks at the resort.
Next, choose a flight. Although Costco picks a suggested flight, you can scroll down to view other options. Some flights may cost more, but it's possible that you'll find a cheaper flight — usually, the reason these aren't picked as the default is that they're at less-than-ideal times.
For the Puerto Rico trip, there was a cheaper flight option available, but it meant arriving in San Juan a little after midnight. I stuck with the default, which was a much more conveniently-timed Delta flight.
If you have preferences for flight time, the number of stops, or airline, use the tools on the left side to filter your options.
Once you've picked the flight, click "Continue" to move to the hotel details screen.
Based on your chosen hotel's availability, you can select a room type. The original package price shown on the results screen includes the basic-level room, which is selected by default. You can also view cancellation policies, rate details, and included extras. Click "Continue" when you're ready.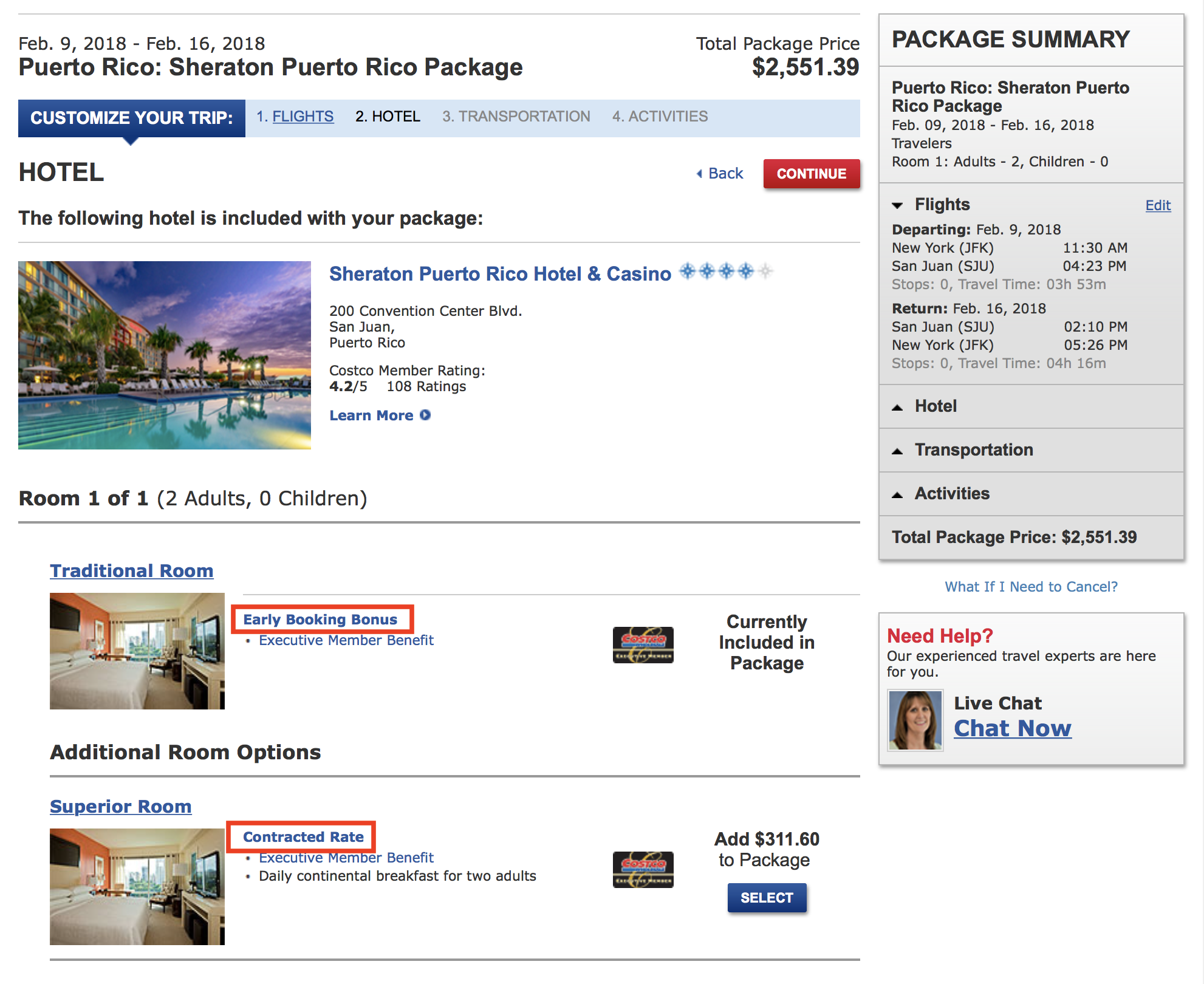 Next, you can view details of transportation from your destination airport to the hotel and back to the airport at the end of the trip. Click the text for each trip to see details. In this search, airport transportation was shared, but other packages in different places offered private transportation instead.
On the next screen, you'll find details of included activities. For non-guided trips, this might be a credit to use with a tour company, admission to a site, or a special event.
The Puerto Rico package came with a $100 credit to use with a tour company called Elegant Steering. Options included an ATV tour, a rainforest tour, a Bacardi-themed tour of Old San Juan, or a tour on horseback.
Note that the credit is per booking, not per person, which means you only get 1 credit regardless of how many people go on the trip. While the Costco site suggested that those tours were $50-$125/person, prices aren't shown on Elegant Steering's website.
The next page shows a summary of the total vacation package. Make sure to review all details; you can still go back to change anything. Once you're happy with the details, continue to the next page, where you'll be prompted for your Costco account login before entering traveler and payment details.
Rates: How Do They Compare?
So how do prices stack up compared to other services like Amex Travel or Priceline, or booking each component of a trip individually?
It turns out that Costco can win on price, with a major caveat; Costco doesn't offer flights on certain low-cost carriers such as JetBlue or Norwegian Air Shuttle. If you compare a vacation package including flights across several different online travel agencies, you may find cheaper packages if those airlines are offering lower prices.
Hot Tip: When using an online travel agency, make sure it includes flights on all possible airlines. Some, like Costco Travel, don't include every airline.
However, in several comparisons on routes not serviced by those carriers (or on packages and hotels without the flight), Costco offered significantly better prices and deals. Take a look below to see what I could find at other services.
Costco Travel vs. Priceline
Priceline only includes flights and hotels in its vacation packages (and a rental car, if you choose).
When you search for a vacation package, Priceline defaults to sorting results by a "recommended" algorithm, although you can change it to show results in order of price. While there were options that were less expensive than anything Costco offered, most of these were hotels in suburban neighborhoods, or 1- and 2-star hotels without many amenities or services.
I found the same Sheraton hotel that Costco listed for $842 per person, including flight and hotel — that's $1,684 total, a significant savings over the Costco package.
However, while that price included taxes and most fees, it left out a $19.85/day resort charge. It also involved a terrible flight, landing in San Juan at 4:45 a.m.
When I narrowed the flights down to nonstops and eliminated anything arriving later than 8 p.m. or earlier than 9 a.m., the price went up to $923/person, or $1,846 plus about $140 total for the resort fee.
Including everything, Priceline offered flights on JetBlue and the Sheraton Puerto Rico San Juan for $1,986. That's a lot lower than $2,551 through Costco Travel. Even factoring in hotel transportation (let's estimate $50 each way, for $100 total), $65 resort credit, and $100 tour credit, you still come out ahead with Priceline. Those additions bring the total to $2,251 — a savings of $300 over the Costco package.
When I did the same searches but excluded the flight from the Costco vacation, Costco offered a much better rate — a total of $1,776 at the Sheraton including the extras, compared to $2,077 at Priceline. Both rates were cancelable — if you were willing to pay a non-refundable rate, Priceline would have been about $2,010.
However, when I priced the packages with identical flight itineraries (taking the same Delta flight), Priceline was still less expensive — $2,157 compared to $2,551. Worth noting, the Costco booking allowed hotel cancellations and refunds, while the Priceline rate didn't — this may account for the extra price.
Hot Tip: When booking vacation packages, make sure to price compare! Prices for the same exact thing can vary between booking providers, and prices can change depending on which options you select.
To check again using a different scenario, I searched for a vacation package in Madrid on the same dates. Costco Travel offered a number of multi-region packages, with train tickets and hotels included for other cities like Barcelona. However, you can also specify "single-region," which I did for the sake of this comparison.
I selected a package at the Westin Palace Madrid with the default nonstop flights on Iberia. Priceline offered a slightly less-expensive flight on TAP Portugal, but this required some extensive and poorly-timed layovers. On Priceline, the least expensive nonstop option was United.
While the Costco option offered private airport transportation (let's value at $75 each way), the Priceline option was slightly cheaper — $2,813 ($2,963 if we include the cost of airport transportation) vs. $3,083.
However, excluding the flight and searching only for hotels changed things just like with Puerto Rico. Costco was only $75 more expensive than Priceline, but it included far more: airport transportation, breakfast each day, and the refundable rate.
If I changed the Priceline room to a rate that allowed cancellations, the price jumped up to $2,442; Costco was lower at $2,415 including transportation and breakfast.
Something to consider is the fact that Costco offered much more enticing packages. Some included extensive tours, and some multi-city trips included all inter-city transportation.
Bottom Line: If you include flights, Priceline offered better prices for packages, though with fewer perks and less flexibility. If you book flights separately and just focus on hotels and activities, Costco sometimes came out ahead. Costco also offered more interesting packages.
Costco Travel vs. Amex Travel
I checked American Express Travel to see what the price would be for the same hotel and flights in San Juan.
As with the Priceline comparison, Amex Travel offered JetBlue flights, which automatically meant the rate was lower. When looking at the same exact flights, prices seemed about the same. Due to some bugs in the Amex Travel website, I wasn't able to calculate the final price including all taxes and fees.
Comparing hotels only, Costco was significantly less expensive — $1,776 vs. $1,952 at American Express Travel. That isn't even factoring the items included with the Costco package, like the tour credit and airport transportation.
Bottom Line: While Amex Travel offered more — and cheaper — flight options, the hotel only was much cheaper at Costco Travel, and included some nice perks!
Costco Travel vs. Booking Directly
A real key is to see whether Costco can beat or match the price of booking flights and rooms directly with the airlines and hotels.
For our Puerto Rico example, I had chosen a room at the Sheraton and a flight on Delta Air Lines, so I went to the respective companies' websites.
Direct flights on Delta for the days I picked were available for around $454 each, or $908 total for both travelers in economy.
Then, I searched for the hotel on the Sheraton website for the rates at the same Sheraton. Prepaid rates started at $270/night including taxes and fees with rates allowing cancellation starting at $282/night.
The totals for those hotel rates were $1,887 for the prepaid rate, or $1,972 for the flexible one.
Hot Tip: Rates for packages and hotels can be complicated. When comparison shopping, always read the terms closely to make sure you're comparing the same things (instead of comparing a non-refundable rate with a fully refundable one, for example).
Depending on whether you're willing to forgo the ability to get a full refund if you have to cancel the hotel, the cost of booking flight and hotel directly was $2,795 or $2,880. The price through Costco, including a refundable hotel rate, airport transportation, and the tour credit was $2,551.
That's a sizable discount, especially considering the included perks. Even excluding the flights, Costco wins: $1,776 vs. a minimum of $1,887 booking directly through the hotel.
But just to keep things complicated: Delta also offers vacation packages. The same flights, hotel room (non-refundable), and shared airport transportation cost $2,250, which was far and away the winner. This only included the flight and hotel room.
Bottom Line: Costco Travel vacation packages can be less expensive than booking directly with the airlines or hotels. However, travel packages offered by airlines like Delta might be even cheaper.
Costco Cruises
Like many online travel agencies, Costco offers deals, perks, and specials when booking cruises. In some cases these can be quite valuable, but as always it pays to shop around.
Searching/Browsing
If you know more or less what you want, it's easy to search for cruises on Costco Travel. Just go to the home page, click the "cruise" tab and enter your destination, departure month, specific cruise line (if you have a preference), and duration.
You can also select an option to search for Alaska cruise tours, which is a combination of a cruise voyage and a guided land tour either before or after the voyage.
The results page lists every matching and available cruise, with options to filter the results. Each result shows the available room types and any included extras, such as a Costco Cash Card (gift card), onboard credit, or discount.
Hot Tip: Some cruise lines offer their own credit cards with cruise rewards, but a more general travel rewards card like The Platinum Card® from American Express almost always offers a better value.
When you find the right cruise, you can select your room type, the number of people joining, and the specific room (based on a floorplan). You can also choose to add flights and pre- or post-cruise hotels to a package.
Alternatively, if you aren't set on a specific cruise, date, or region, you can browse available deals, packages, and popular options.
On the homepage, scroll down to see a few featured cruises. To see more, click the link either below or to the upper-right that says "explore all cruises."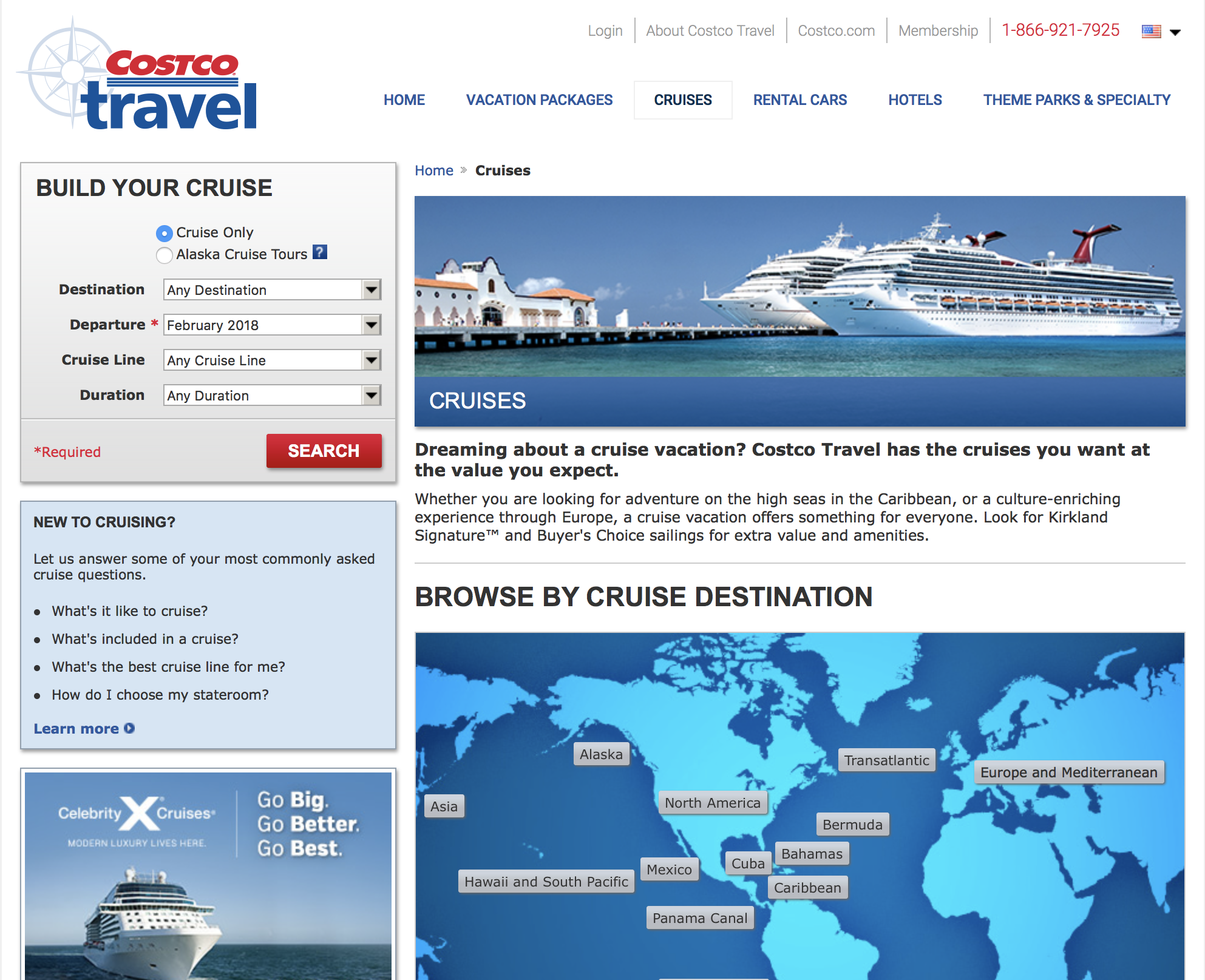 This brings you to a helpful screen with a few options. In the upper-left corner, you can search for a cruise. There are more options as you scroll down — you can use a map to browse cruises by region, browse by cruise line, or pick one of the available "hot deals."
One section I love is right under the search field at the top-left: an FAQ section for cruising newbies. Clicking the link takes you to a dedicated page that answers some common first-timer questions. I've never been on a cruise myself, so I found this page really interesting and helpful!
Hot Tip: Booked that cruise and finally ready to head out on that adventure? Print this ultimate cruise packing list and ensure you won't leave a thing behind. 
Comparing Prices
Costco Travel did well with hotels as part of vacation packages, but it wasn't the best when it came to flights. How does it do with cruises?
To compare a few different booking services, I built a particular itinerary and priced it out on each online travel agency or portal. The specific cruise was on Royal Caribbean, sailing on the ship Rhapsody of the Seas, departing from Tampa, Florida on March 18 and sailing for 7 nights.
These prices reflect a standard interior room ("inside stateroom") for 2 adults.
Service
Price
Included Extras
Costco Travel
$1,233

Costco Cash Card (value not specified)

Orbitz
$1,233
None
Amex Travel
$1,233
None
Orbitz
$1,233

$75 onboard credit
Additional $50 onboard credit

Royal Caribbean (direct)
$1,233
As you can see, prices were identical across services, with Costco, Orbitz, and Royal Caribbean offering a few extras.
The same was true for searches with other cruise lines in other areas, such as a voyage on Norwegian Cruise Lines departing from Barcelona.
Cruise Flight/Hotel Packages
Costco offers the option to book pre- and post-voyage hotels and flights when planning a cruise. These tend to price out similarly to vacation packages and can help you save money on your entire trip.
In one sample search featuring a 10-day cruise in Barcelona, the Costco Travel package added a flight for 2 booked through British Airways (but operated by partners) and a night at the hotel Le Méridien Barcelona for $4,181 total.
If I booked each aspect of that trip individually, rather than as a package through Costco, the price breakdown was as follows:
| | |
| --- | --- |
| Travel | Price |
| Cruise | $2,793 |
| Flight | $1,109 |
| Hotel | $523 |
| Total | $4,425 |
That means Costco offered savings a saving of nearly $250!
Bottom Line: It can be worth booking your flights and a pre- or post-cruise hotel as part of a cruise package. Make sure to price it out and see what you could save.
Costco Car Rentals
Costco Travel also includes a standalone car rental booking feature. In some cases, you can rent a car in conjunction with a vacation package, although that option isn't always available.
Unlike some other online travel agencies that offer just about every option under the sun, Costco sticks with 4 big car rental agencies: Alamo, Avis, Budget, and Enterprise.
If you would prefer to get your rental from another company like Hertz or Dollar Rent A Car, you should book directly or use a more inclusive portal like Amex Travel or Orbitz. If you're not sure where to book, check out our list of best websites to book cheap car rentals.
Hot Tip: When renting a car, remember that your credit card may provide damage/loss insurance if you decline the rental company's collision or loss damage waiver (CDW/LDW). This includes cards like the Chase Sapphire Reserve® Card.
Searching and Booking
You can search for a rental car right from the home page — just click the "rental cars" tab in the search area.
If you have a preference for one of the 4 available brands, you can also hover over the rental car link at the very top of the page and then click that company. You'll also find available deals and coupons on the following page (when searching normally, these are automatically applied).
In the search window, enter the city, airport, address, or zip code where you want to pick up the car. If you want to drop-off at a different location, click the link shown. Next, enter the pickup and drop-off dates/times and hit "search."
Results are shown in a grid, with the 4 companies as the columns and the various classes of car available as the rows. Taxes and fees are included in the price shown, which is for the entire rental period.
Price Comparison
Prices were a little better than other portals, even when booking directly with the rental agencies. For this sample, I searched for a midsize rental from Alamo for 3 days, picking up and returning to Los Angeles-LAX at noon on identical dates:
Costco offered a slightly lower price, and this was the same across other searches — one reason is that Costco automatically applies any available coupons or discounts.
Bottom Line: If you're looking for the absolute cheapest rental option, you may want to check another portal that offers more rental companies. If you want to rent from Alamo, Avis, Budget or Enterprise, Costco Travel can offer better prices than the competition.
Costco Hotels
The service also offers standalone, room-only hotel booking after recently launching a new program — previously, the only options for non-package hotels were properties with Best Western or Hyatt.
Unlike vacation packages, these don't come with airport transportation, activities, or other items bundled, and you'll have to book flights or other transportation separately.
Even without the packages, Costco Hotels can still represent a good deal. As always, be sure to shop around to compare prices and read all the terms carefully before making a reservation.
Searching for Hotels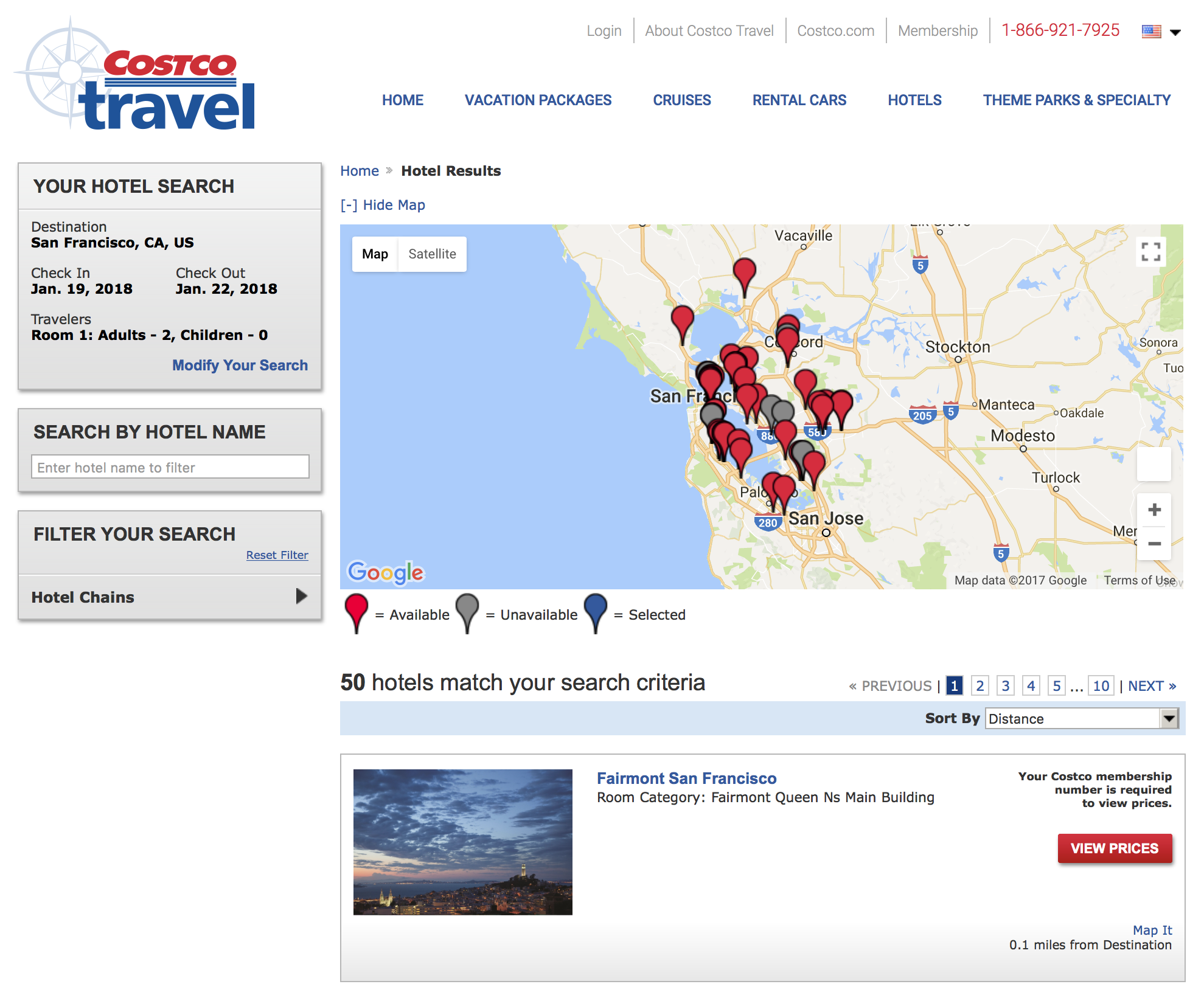 Searching is straightforward: enter the city, dates, number of people, and the number of rooms.
Results appear on the next screen, with the option to filter the results by a specific hotel or hotel chain. Unfortunately, prices are only shown if you enter your Costco number — you can sort results by price, starting with either the highest or lowest, but you won't see the actual price unless you use your number.
Prices and Terms
As always, it's best to compare booking portals with booking directly. Costco Travel sometimes offers discounts, which are usually about equal to a hotel's AAA rate. The price could also be slightly lower than competitors, but sometimes it's similar to other online travel agency and direct booking rates.
One thing you should remember is that when you book through the portal, you won't be eligible to earn hotel loyalty points or elite benefits. Consider whether any savings through Costco Travel outweigh the loss of those perks.
Bottom Line: Costco's hotel booking can offer savings, but you should always compare prices with the hotel directly.
Other Services
There are a few other specialty options that Costco offers, including packages at Disney or Universal theme parks, guided safaris, or guided tour packages.
Theme Parks
Costco offers special member rates and packages at several theme parks and resorts, including Walt Disney World, Disneyland, and Universal Orlando Resort.
To browse available packages, click the "theme parks & specialty" link at the top of the home page.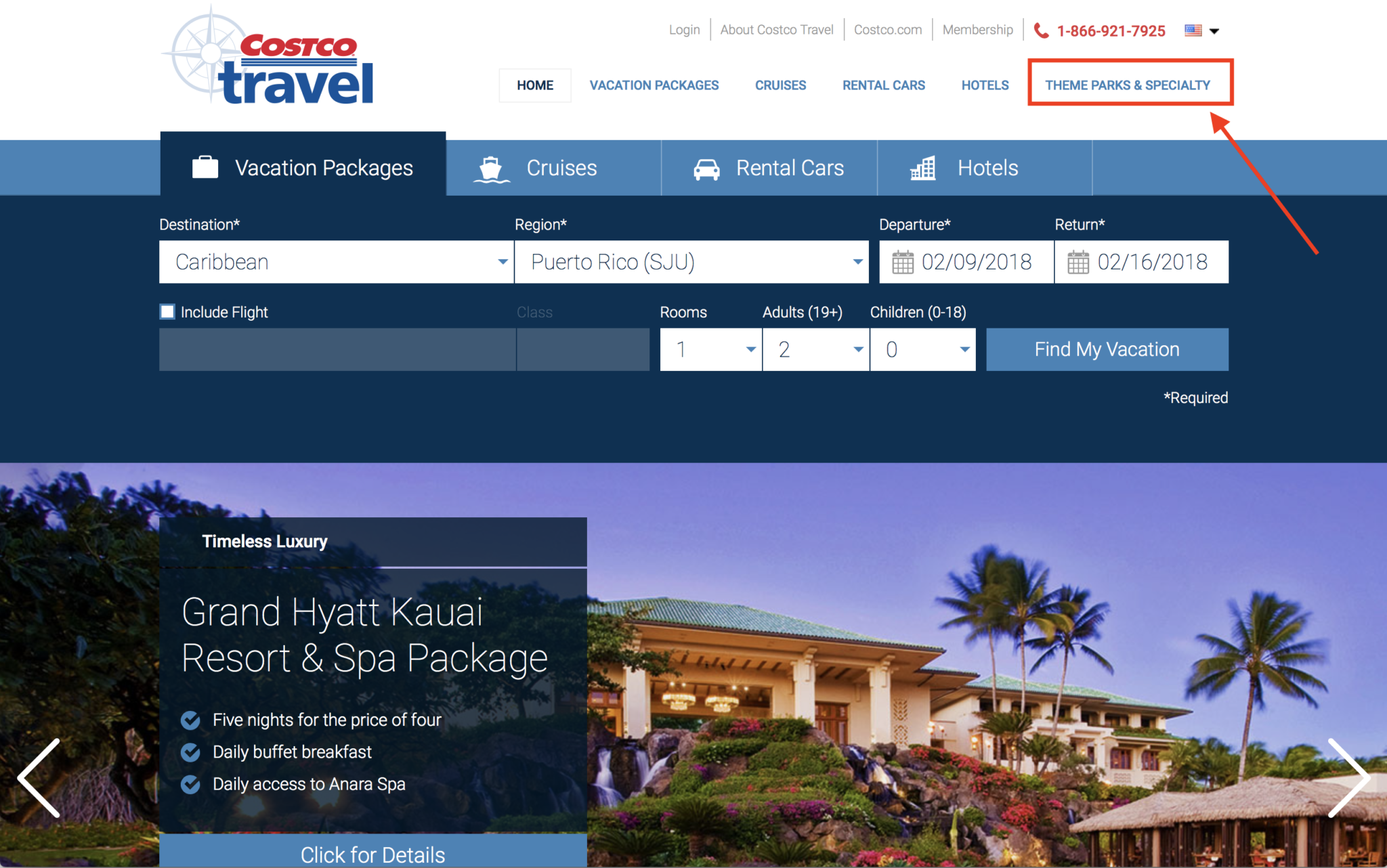 Take a look at the available destinations, then click the one you're interested in. There are a lot of different deals available at each resort, so just scroll through and find the hotel, deal, or package that piques your interest!
Packages vary, but they generally include the hotel(s), transportation to and from parks, and sometimes other extras.
Lion World Travel
Using Costco Travel, you can book some incredible safari packages and tours in a few countries in Africa, including South Africa, Botswana, and Tanzania.
Packages generally include airfare, accommodations, meals, guides, tours, and game drives. Each package is different, and when you click on one of them you can read a detailed sample itinerary.
To get prices and book, you'll have to call them directly at 1-866-921-7925.
Guided Vacations
In addition to safaris, you can also book guided vacations through Costco. Available tour companies include Adventures By Disney and Trafalgar Worldwide Guided Vacations.
There are packages and destinations available throughout Europe, Asia, South America, Australia, and New Zealand. For details, click on the specific package you're interested in. To book, Costco will either direct you to Trafalgar's website, or prompt you to call for Disney's tours.
Final Thoughts
For Costco members, using the retailer's travel service can present an opportunity to save some cash on an incredible vacation. Through negotiated rates with hotels, tour providers, and more, Costco can sometimes offer generous discounts or great added perks.
As always, just make sure to price compare and read all terms. While Costco may offer a price advantage for one service, another portal might win for something else, while direct booking may be the best option for yet another aspect of your travel.
Lastly, if you plan to book a vacation package through Costco and have a Gold Star membership, you might want to consider upgrading to an Executive Membership for an extra $60 a year. Check your vacation package — the extras may be worth more than that $60!
---
Like this post? Pin it on Pinterest!