The Ultimate Guide to Dollar Car Rental [Dollar Express Rewards Loyalty Program]
When you need to rent a car, it can be difficult to decide which program to pick in what seems like an endless sea of options. But the more you know, the better prepared you will be when you're on the hunt for your next deal!
Our previous posts have covered Alamo, Avis, Budget, Enterprise, Hertz, and National — this post will cover the ins and outs of Dollar Car Rental and its Dollar Express Rewards program.
Dollar Express Rewards Program
While the Dollar Express Rewards program does not offer elite status tiers like a typical loyalty program, it does offer quite a few great benefits that make it a no-brainer to join if you're planning to rent a car with Dollar. For starters, it is 100% free to join and all members receive benefits like:
Skip the Counter — no need to stop at the counter, head straight to the lot to pick up your car
E-Return — enjoy an expedited return experience; just drop the keys and go
Free Authorized Additional Driver — add your spouse or domestic partner free of charge
Priority Counter Service — receive priority counter service if you need help with your reservation
Earn Free Days — earn points for each rental and redeem them for a free rental
How to Earn Rewards Points
With Dollar, you will earn 1 point for every $1 of qualifying spend on Dollar car rentals. You can redeem 500 points for a free weekend rental and 625 points for a free weekday rental. These points will never expire as long as you have at least 1 rental with Dollar every 24 months.
Keep in mind that your points may only be redeemed on compact, mid-size, standard, full-size or SUV vehicles, and can only be redeemed within the U.S. and Canada.
Double Dip on Rewards Points
In addition to earning Rewards points, you should also make sure you are earning credit card points each time you rent a car with Dollar. If you don't currently have a credit card that offers bonus points for car rental purchases, there are plenty of great options.
Earn 2x points/miles per $1 for car rentals on these cards:
Earn 3x points per $1 for car rentals on these cards:
Hot Tip: In addition to earning points, you'll also want a card that offers excellent car rental insurance coverage to help keep you protected throughout your rental!
How to Join Dollar Express Rewards
The sign-up process is quite simple — all you need to do is enroll through the Dollar website. Once you've filled out the form, you will receive your Express ID number. You can use this number each time you log in to your account from this point forward.
How to Rent a Car Through Dollar
The process of renting a car with Dollar is quite simple. First, enter your pick up location and drop off location, the dates and times of your rental, along with any promo or corporate discount codes, and finally your Dollar Express ID, and click Continue.

The search results are given in descending order based on the daily rental price. Dollar does not give you the option to filter the search results, so you will simply have to scroll down until you see find the option that works best for you.
Dollar does offer a Manager's Special option that, while not the cheapest option, is near the bottom in terms of price per day. With the Manager's Special option, you will not know what type of car you will have until the day of your rental. So technically speaking, it could be anything from a Chevy Spark to a Ford Mustang Convertible — though the former is much more likely.
When you select which car you'd like, you'll notice that there are Pay Now and Pay Later options. The Pay Now option gives you a discount for paying the amount owed upfront, but your reservation will be non-refundable. However, the Pay Later option is usually more expensive but allows you to cancel before check-in if you need to change your plans.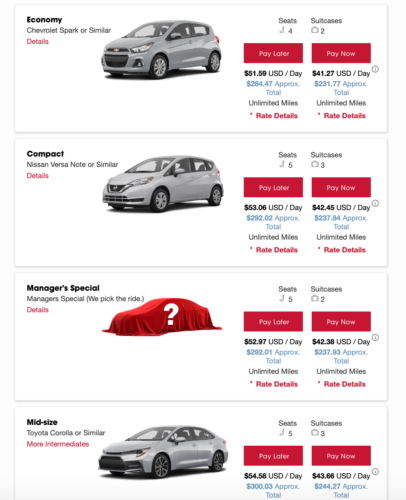 Once you've selected a vehicle, you'll then have the option to add any extras for your rental. These could include insurance and vehicle protections, along with any other equipment additions like GPS, fuel plans, or a child safety seat.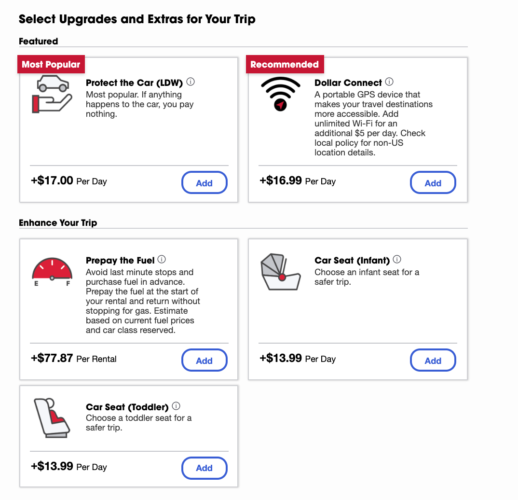 Lastly, after you've selected any extras that you'd like to add, you'll be taken to the final screen where you can enter your payment details to finalize the reservation.
Do You Need to Add Extra Insurance?
If you've ever rented a car before, you've probably wondered, "Do I actually need to purchase the extra insurance?"
Whether or not you should purchase the extra insurance will depend on whether or not you pay for the reservation with a credit card that offers primary or secondary rental car insurance.
Let's start by establishing what secondary rental insurance is. Secondary rental insurance kicks in to help cover costs that your personal auto insurance won't pick up. But this means that if you have an accident in your rental car, you still need to file a claim with your personal insurance provider and pay the deductible before any secondary coverage kicks in, leaving you at risk for your primary rental policy premiums increasing.
So does primary rental coverage kick in before your personal insurance then? That's exactly what it does! If you have a credit card with primary rental insurance, this coverage kicks in before your personal auto insurance so you do not need to notify your personal auto insurance company if you have an accident — meaning no risk to your premiums. Furthermore, primary rental car coverage is usually more comprehensive than secondary insurance and is much more likely to cover the entire cost of your rental car in the unfortunate case of the car begin stolen, or total loss to the car from flood or fire.
Here are some of our favorite card options that offer primary rental car insurance:
United Club℠ Business Card
Bottom Line: If you have a credit card that only offers secondary rental car coverage, you might want to consider adding on a policy offered by the rental car company. If your card has primary coverage, you can save money and feel confident in declining any additional policies. 
Dollar Locations
Dollar has 570 worldwide rental car locations across 61 countries. To find a location, click on Locations in the top menu.
To search for a specific location, just enter the zip code or city and state, then hit enter.
Miles, Points, and Partners
If you're someone who would prefer to earn points with an airline or hotel program for your rentals as opposed to Rewards points, then you're in luck as Dollar has 12 different programs for you to choose from.
Frequent Flyer Tax
While it can be a great option to earn airline or hotel points for your rentals, keep in mind that when you choose to earn points from certain hotels or airlines, you will be charged a fee.
These fees vary in cost, so be certain to determine how much value you will receive from the points, compared to how much extra you will pay, and then decide if it's worth it.
Alaska Airlines: $0.95 per day
All Nippon Airlines: no extra charge
American Airlines: $0.06 per day
Avianca Airlines: no extra charge
Delta Air Lines: 7.5% excise tax on the cost of the miles
Emirates Airlines: no extra charge
Frontier Airlines: $0.75 per day
IHG Rewards: no extra charge
Japan Airlines: no extra charge
Southwest Airlines: $1.50 per day, up to $8 per rental
Spirit Airlines: $0.75 per day
United Airlines: $0.75 per day
Hot Tip: If you choose to earn airline miles for each rental instead of Rewards points, you will still benefit from all of the other Dollar Express program perks like skipping the counter and free authorized additional drivers.
Dollar Deals
Dollar offers a great deals page to help you save money on each rental. Some great recurring specials include a 10% discount for AAA members, a 10% discount for renters under 25 years old, 10% off weekend rates, partner specials, and much more. So always be sure to check this page before finalizing your rental — you just might be able to save some cash!
Dollar 4Business Program
Small business owners can have big savings with the Dollar 4Business program. Dollar offers the following savings and benefits to those booking with their Corporate Account (CDP) number:
7% discount off the base rate of all business car rentals
Young renter fee waived for drivers between the ages of 20 and 24
Add an additional driver to the reservation free of charge
No fees for early returns, late returns, or minor changes to your rental
Drive wherever you need to go with unlimited mileage
Multi-Month Business Rentals
If your business needs to rent a car for an extended period, Dollar offers business rentals for up to 11 months at a time. Long-term renters can benefit from great daily rental rates and discounted loss damage waivers.
Meetings and Group Car Rentals
At this time, Dollar does not offer a meeting or group car rental program. Those interested in a group car rental program should consider going through another company like Enterprise, Hertz, or Budget.
U.S. Government and Military Program
Federal government employees and military personnel receive special car rental rates and benefits for official business travel as well as off-duty leisure travel.
Those on official government travel receive the following benefits:
Competitive government rates
Free car class upgrades
Unlimited mileage
No fees for additional or underage drivers
Those on leisure travel receive the following benefits:
Preferential government leisure rates
Bonus 5% discount off retail rates
Free car class upgrades
Unlimited mileage
If you're a military veteran, active-duty military, or National Guard and Reserve servicemember that is also a member of VetRewards through Veterans Advantage, you can receive these benefits:
5% discount on car rentals
Fee waiver for an additional driver or underage driver
Dollar Car Sales
Currently, Dollar does not currently have any retail car sales operations.
Dollar Customer Support
If you need assistance with anything related to Dollar's services, you can find customer service information under the Customer Support tab at the top right of your screen.
From here you can select which issue you need help with and be connected with the corresponding department. You can get help with a reservation, ask for a receipt from a previous rental, view FAQs, and more.
If you need to speak with someone directly, here are some helpful phone numbers depending on your needs:
Reservations: 800-800-4000
International Reservations: 800-800-6000
24-hour Roadside Assistance: 800-235-9393
Dollar 4Business Support: 800-331-3550
Competitor Price Comparisons
Curious how Dollar stacks up against its competitors? To find out, we've pitted them against Avis, Hertz, National, and Enterprise for a long weekend rental in Las Vegas. Here were the total quotes from each company — excluding any membership discounts:
| | | | | | |
| --- | --- | --- | --- | --- | --- |
| Rental Car | Dollar | National | Avis | Hertz | Enterprise |
| Compact  | $133 | $194 | $194 | $200 | $122 |
| Mid-Size | $137 | $266 | $260 | $201 | $129 |
| SUV | $162 | $273 | $276 | $209 | $170 |
In this search, Enterprise happened to offer the best prices for compact and mid-size cars, and Dollar came in with the lowest SUV price. Dollar faired well at the compact and mid-sized prices, too, beating out Avis, Hertz, and National, and coming in just a few dollars behind Enterprise. Again, keep in mind that these prices do not include any membership, credit card, or corporate discounts, so be certain to account for those when doing your own price comparisons.
Hot Tip: For more information, check out our guide to saving money on car rentals.
Final Thoughts
Plain and simple, Dollar Car Rental is a great option for those looking for a company with competitive prices and a rewarding membership program that offers perks and a discount on each rental.
Before deciding who to rent with, always do your own research and make sure to compare the prices of competing programs to help get the best price!