How to Book Cheap Car Rentals in Las Vegas [Price Comparisons]
Las Vegas has pretty good public transportation, and there's no better way to explore the famous Strip than by foot, but there are times when a rental car will come in handy. If you're staying off the Las Vegas Strip or are planning to take a day trip to the likes of the Grand Canyon or Zion National Park, you'll want to rent a car for the duration, or at least part-way through your visit.
There are plenty of ways to book cheap car rentals in Las Vegas, from finding the best deals with an online travel agent to renting from a neighborhood location.
McCarran International Airport Car Rentals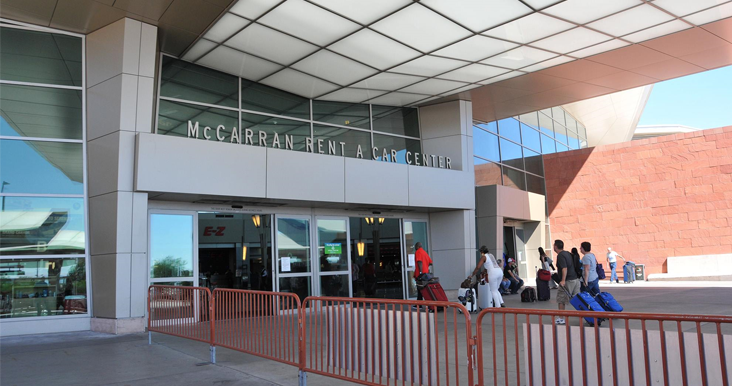 McCarran International Airport Rental Car Center
The rental car center at McCarran International Airport (LAS) is located a few miles from the terminal and is home to 11 rental agencies. Although passengers are required to ride a shuttle bus to the rental center, it is still the most convenient place to rent a car when flying into Las Vegas.
We compared prices for the 11 airport car rental companies to see which offers the cheapest rate for a 6-day rental in September 2020 for a standard vehicle.
Price Comparison for On-Airport Property Car Rentals
We found that Budget offered the cheapest prepaid and pay on arrival rates for the rental, available from just $189.33. Advantage and EZ-Rent-A-Car were significantly more expensive at over $600.
Price Comparison for Off-Airport Property Car Rentals
Several rental companies are not based at the airport car rental center, but are located not too far from the airport. Companies supply their own courtesy shuttles to transport passengers to and from the terminal.
Fox Rent A Car offers the lowest rate when booking from an off-airport rental company, and is just a little cheaper than booking with Budget at the airport.
Hot Tip: You can often find good deals if you book your car rental as part of a vacation package.
Neighborhood Car Rentals
Las Vegas is a very accessible city to get around, so you may not need to rent a car for the full duration of your visit. If you're renting mid-way through your trip, search for availability at a neighborhood office, rather than traipsing back to the airport, where rates are typically more expensive.
We compared rates for rental companies that have neighborhood offices in Las Vegas, using the same search criteria as we did for the airport rates. If you compare rental companies that have both airport and neighborhood offices, you can see that there are savings to be had when renting away from the airport.
Price Comparison for Neighborhood Car Rentals
We found that Budget charges over $30 less to rent from a neighborhood location, and Enterprise's rates are $60 less than at the airport. By the time you add the return taxi fare to the airport, it's probably not worth renting from a neighborhood location instead of the airport if you need a rental car for the entire duration of your trip.
Hotel Car Rentals
Hotels know how popular day trips are from Las Vegas, so many have an on-site rental office. Rental car companies can be found in some of the most popular Las Vegas hotels, such as Caesar's Palace, Mandalay Bay, and the Bellagio. You don't need to be a guest at the hotel to rent a car from the office, so check the rates and go for the hotel office closest to you.
Price Comparison for Hotel Car Rentals
Hotel rates are generally on par or more expensive than airport rates, as they are one of the most convenient locations to rent from. Exceptions for our quotes were Hertz and SIXT that offered cheaper hotel rental rates.
Hot Tip: Save some money on your Las Vegas hotel by booking with points!
Book Direct With the Car Rental Company
Booking direct might not always give you the cheapest rate, but many rental companies such as Thrifty, Budget, and Hertz have price match guarantees. If you find the rate cheaper on any other website within 24 hours of booking, they will match the rate and give you a further 10% off.
If you regularly book rental cars, it can also be worth booking directly to benefit from loyalty program perks. Most programs allow members to earn points with every booking to use towards free rentals. For members that rent regularly, some programs have elite tiers that give members even more benefits, such as increased point earnings or free use of a GPS or car seat every time you rent.
Book With an Online Travel Agent
Online travel agents and metasearch sites can be useful when browsing for the best deals, as they search and display pricing from hundreds of car rental companies.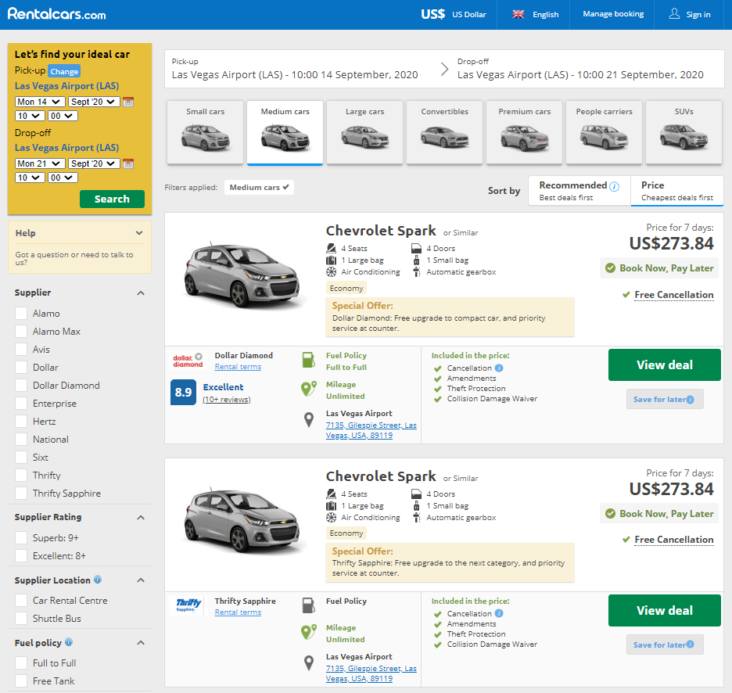 Rentalcars.com is an easy-to-use website that provides excellent deals for rental cars from hundreds of rental companies. You can filter your search using lots of options such as rental supplier, car specifications, fuel policy, the maximum number of passengers, and more.
Rentalcars.com returned a price of $308.99 for Alamo, which is around the same price for booking direct, but with Rentalcars.com, the offer includes a free vehicle upgrade and you can choose a 2019 model. Rentalcars.com was $33 cheaper for Thrifty than booking direct, and the deal included a free upgrade to the next category and priority counter service.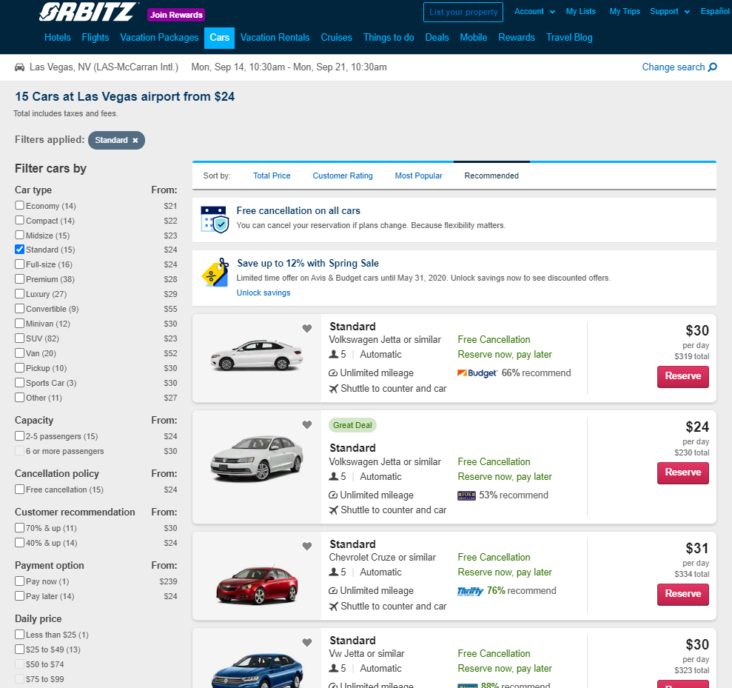 Orbitz is another great site for searching for rental cars, flights, hotels, cruises, and vacation packages. You can sign up for Orbitz Rewards to be eligible for special insider prices that are displayed in blue on the search results page.
When comparing the cheapest provider available on Orbitz — Fox Rent A Car — we found that the price was the same as going direct, and this was the case for many rental providers. Orbitz occasionally promotes savings that can be "unlocked" by clicking a banner above the search results. When we were searching, there was a limited-time off for 12% off Avis and Budget.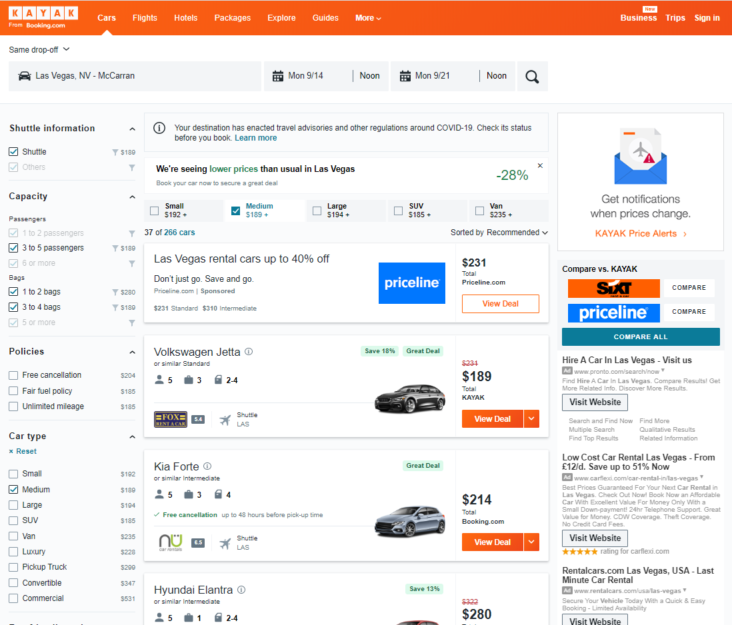 Kayak is a little bit different from the other online travel agents in that the booking doesn't take place on the Kayak website. It searches and displays the best prices from hundreds of websites, and when the visitor clicks to book, they are redirected to that website to complete the booking.
The rate on Kayak for Fox Rent A Car was the same as the prepaid rate available by booking direct. Although most online travel agents don't usually promote the prepay rates, Kayak does as it redirects the visitor to book with the supplier. Set up a Kayak Price Alert and you'll be sent an email notification when prices change based on your search criteria.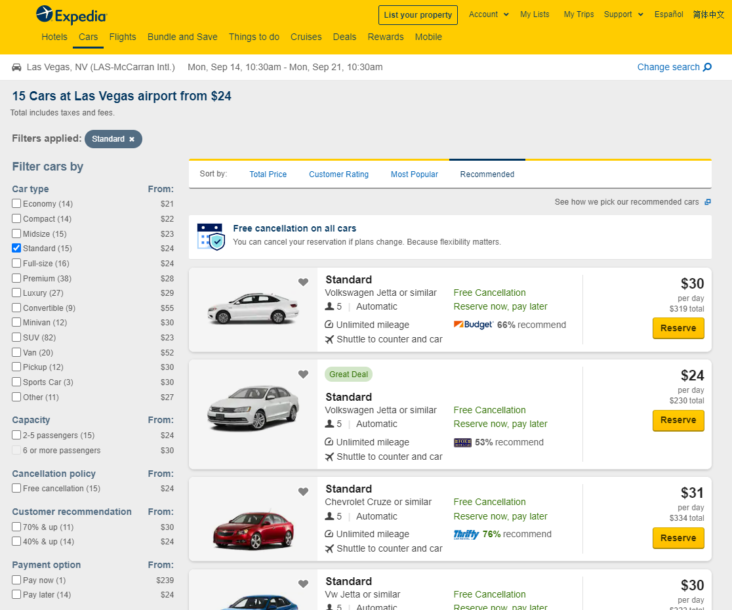 With Expedia, you can search not only for rental cars but also for hotels, flights, and excursions. You'll find that pricing tends to be the same as Orbitz as both websites are owned by Expedia Group, but with Expedia, you can join the Expedia Rewards program to earn points. Members earn 2 points per dollar spent to redeem against free car rental days, hotel stays, and more.
As with most online travel agents, Expedia reserves the booking, but payment isn't required until you pick-up the vehicle. This means that you can cancel for free at any time, but it does prevent you from benefiting from cheaper prepaid rates that are possible by booking direct.
Hot Tip: Book with the Expedia app to receive double reward points and you'll be redeeming them against free car rental days in no time.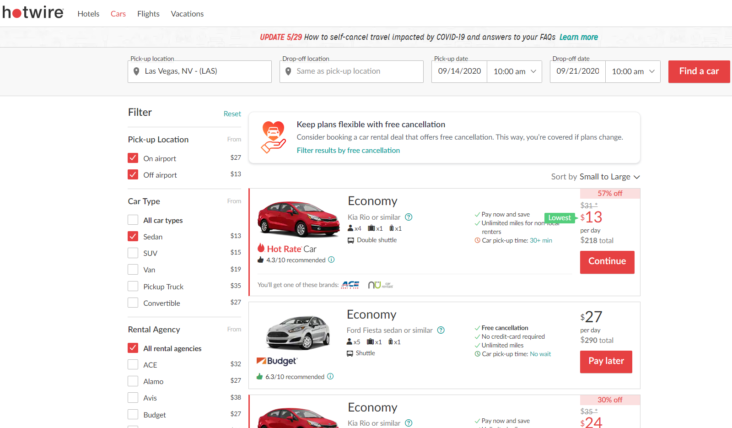 Hotwire is another site where you can book pretty much anything for your vacation, from car rentals to flights and hotels to vacation packages. Although it's another brand that falls under the Expedia Group, the website and booking experience is different to that of Expedia and Orbitz.
Hotwire features Hot Rate Cars — specific deals where you won't discover the car rental provider until after you've booked the offer. The listing states that "You'll get one of these brands" and displays several rental companies that it could be. You're taking a gamble (which is pretty apt in Vegas), but if you're happy with any one of the brands, you can quite often get a good deal.
The lowest price for a standard vehicle with Hotwire was $252, so it wasn't the cheapest rental we found. As a Hot Rate Car, the price was cheaper than going directly with ACE Rent A Car, but more expensive than booking direct with NU Rentals (the 2 possible brands for the deal), so these Hot Rate Car deals can be pretty hit-or-miss.
Price Comparison for Online Travel Agents
Final Thoughts
Finding the best car rental deal needn't take you hours upon hours of relentless searching. Run a few searches using any of the above websites, and once you've found a deal that suits you, check if it's cheaper than going direct. Take advantage of price match guarantees that many rental companies offer, but the vehicle's make, model, and booking conditions need to be exactly the same for a price match to be honored.
Typically, rates from neighborhood offices are cheapest, followed by the airport, then hotel locations. Even if you're just renting for the day, check out whether there's a neighborhood office nearby located off the Strip, as more often than not, you'll get a better rate.