The 10 Best Car Rental Companies in 2021 [Rates, Service, Loyalty, and More]
When it comes to renting a car, it can be daunting as to which car rental company to choose. Many travelers will opt for what appears to be the cheapest base rate, but depending on your requirements, you may get stung with expensive extras such as damage waivers, car seats, or toll policies.
If your search unveils pretty comparable rates, then you may want to consider a rental company with rave reviews for customer service or with the slickest pick-up and return process.
Regular renters will benefit from joining a loyalty program that offers up the highest point earnings and lowest redemption rates for free rental days.
We've detailed 10 of the best car rental companies to help you decide which one is right for you.
Best Car Rental Companies by Category
Price Comparisons
To assess which car rental companies offer the most competitive rates, we completed quote comparisons for a 7 day rental of a standard category car.
Example 1: Renting from Orlando International Airport (MCO)
Example 2: Renting from John F. Kennedy International Airport (JFK)
Rental Company
Example 1

Example 2

 
Prepay Rate
Pay on Arrival Rate
Prepay Rate
Pay on Arrival Rate
Advantage
$260.93
$269
$471.42
$486
Alamo
$381.51
$399.44
$408.34
$429.83
Avis
$289.85
$341
$596.37
$945
Budget
$280.14
$312.50
$521.10
$579
Dollar
Not offered
$455.76
Not offered
$772.51
Enterprise
Not offered
$411.11
Not offered
$772.48
Hertz
$260.28
$272.62
$535.67
$708.35
National
Not offered
$444.50
Not offered
$796.25
Sixt
$251.39
$263.61
Not available from JFK
Thrifty
Not offered
$448.34
Not offered
$612.41
For the same dates and category of car, rates vary drastically between rental companies. For example 1, Dollar charges over $190 more than Sixt, which is just over $27 extra per rental day.
You can see that Avis and Budget offer the biggest discounts for prepaying when making a reservation. In the case of example 2, the pay on arrival rate is widely more expensive for Avis than competitors.
Advantage Rent A Car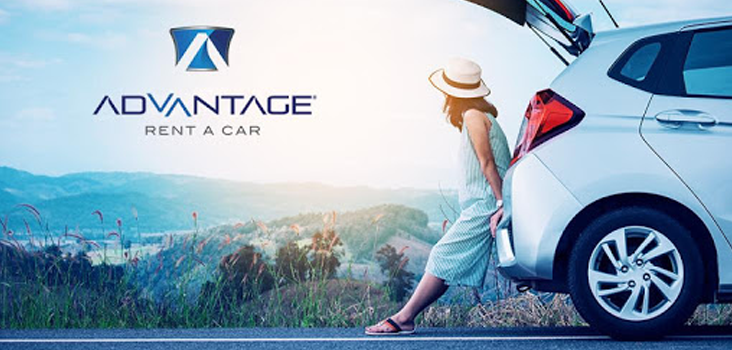 With only 34 offices across the U.S., Advantage doesn't offer the widespread locations of Enterprise or Hertz. Still, with international coverage and new and next-to-new car models at budget prices, it's a good option.
Expressway Membership Program
When drivers sign up for the Expressway program, they receive an instant reward for either a free rental day or a car upgrade. All 4 tier levels receive a random reward after every rental, and Gold and Platinum members also benefit from the choice of a free GPS, toll pass, or car seat for the duration of their rental.
It takes just 3-4 rentals to move from the base tier to Silver, 5-6 rentals from Silver to Gold, and 7+ rentals from Gold to Platinum. The higher the tier, the more benefits you'll receive.
Advantage Mobile App
The Advantage mobile app simplifies the booking process, allowing customers to search and book vehicles, along with receiving real-time estimates of when your car will be ready.
Fees for Optional Extras
As with many car rental companies, fees for added extras vary depending on the branch you're renting from. For states with non-specific laws or fee caps, Advantage is on the high side, charging up to $13.49 per day for extras such as additional drivers or car seats.
Pros and Cons of Advantage
Pros:
Expressway members earn rewards from the moment they sign up
Cheaper than average rental rates
Cons:
Agreements should be checked thoroughly before signing to review any possible charges for extras you may have declined at the counter
Higher fees for optional extras and young driver surcharges
Alamo Rent a Car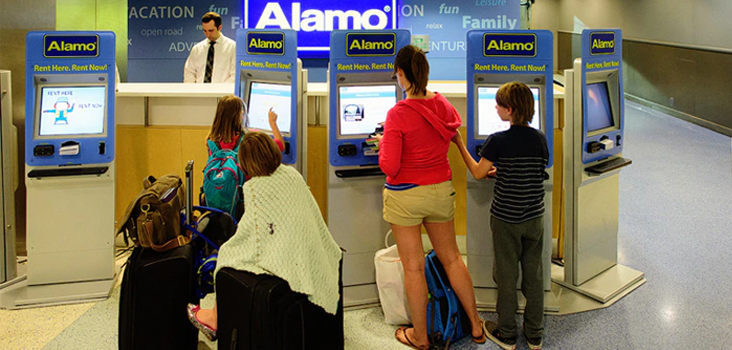 Alamo is the biggest car rental company for international travelers renting in North America, with offices located in all major U.S. airports. Compared to the likes of Enterprise and Hertz, Alamo's presence is actually a lot smaller, with around 250 offices across the U.S. Still, that didn't stop Alamo scoring highly in the J.D. Power North America Rental Car Satisfaction study of 2019.
Online Check-In and Self-Serve Kiosks
With an overall satisfaction rate of 4/5 in the J.D. Power North America Rental Car Satisfaction study of 2019, Alamo excels in streamlining the rental experience, enabling customers to use self-serve kiosks or to skip the counter entirely by checking in online. When checking in online or using the kiosks, customers can choose to add drivers, upgrade their vehicle, or add extras such as toll packages or a GPS.
Pick-Up and Return Process
At many U.S. airports, those customers checking in online may proceed to the rental garage and choose their car based on their requested car class. The process is really efficient and who doesn't love skipping a queue? Alamo scores a respectable 8.8/10 for customer reviews on RentalCars.com, with many reviewers praising the pick-up and drop-off process at countless locations.
Membership Discount
Although Alamo isn't the cheapest rental car company out there, it does offer a 5% discount for Alamo Insiders members, which is free to register for if you're renting in the U.S., Canada, the Caribbean, Latin America, or Mexico. Where available, a further 5% can be saved by prepaying your rental fee when booking in advance — just watch out for the cancellation fee ($50-$100) should your plans change.
Pros and Cons of Alamo
Pros:
A slick operation for vehicle pick-up and drop-off, with the opportunity to avoid the counter queues all together if you choose
5% member discount on all rentals
Cons:
Often on the expensive side compared to other rental car companies
Cancellation fees apply when prepaying your rental fee
Avis Car Rental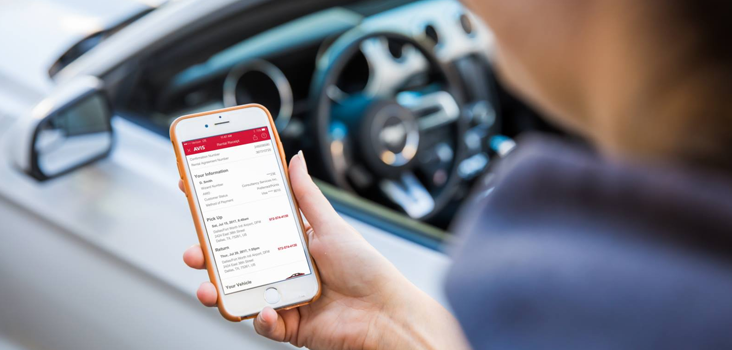 The original innovator in the rental car industry, Avis was the first company to rent vehicles from airport locations and has now expanded to operate in over 165 countries worldwide. With over 1,400 locations in the U.S., you're never too far from an Avis office.
Advanced Payment Savings
Avis is one of the most expensive car rental companies out there, particularly when choosing to reserve a vehicle and pay on pick-up. With that in mind, you'll want to take advantage of its prepaid rates that offer up to 30% off the standard fee. Just be aware that if your situation changes and you don't require the rental, that a cancellation fee of $50 would be charged with more than 24 hours' notice and $150 for less than 24 hours' notice.
Promo Codes and Special Offers
Another way to save on Avis' above-average rental fees is to take a look at its Offers page, available for U.S. or international rentals. Avis posts discount codes for a variety of offers, from money off renting from neighborhood locations to a free weekend day as part of a longer rental.
Avis Preferred Loyalty Program
Drivers can sign up for the Avis Preferred program and earn points towards free rentals and accessories, such as roadside assistance, GPS, or child seats. Members earn 1 point per qualifying dollar spent on rentals and 2 points per dollar spent on accessories. Once reaching specific thresholds for the number of rentals or total spend, drivers will become Avis Preferred Plus members where point earnings are up to 3 per dollar spent.
Pros and Cons of Avis
Pros:
Regular promo codes and special offers bring rental fees closer to cheaper rates of other car rental companies
Avis Preferred Points earnings on accessories are higher than competitors, and redemption rates are slightly lower
Extras such as damage waivers and roadside assistance are at the higher end, but Avis offers bundles to save money
Cons:
Most expensive rates of any car rental agency
Budget Car Rental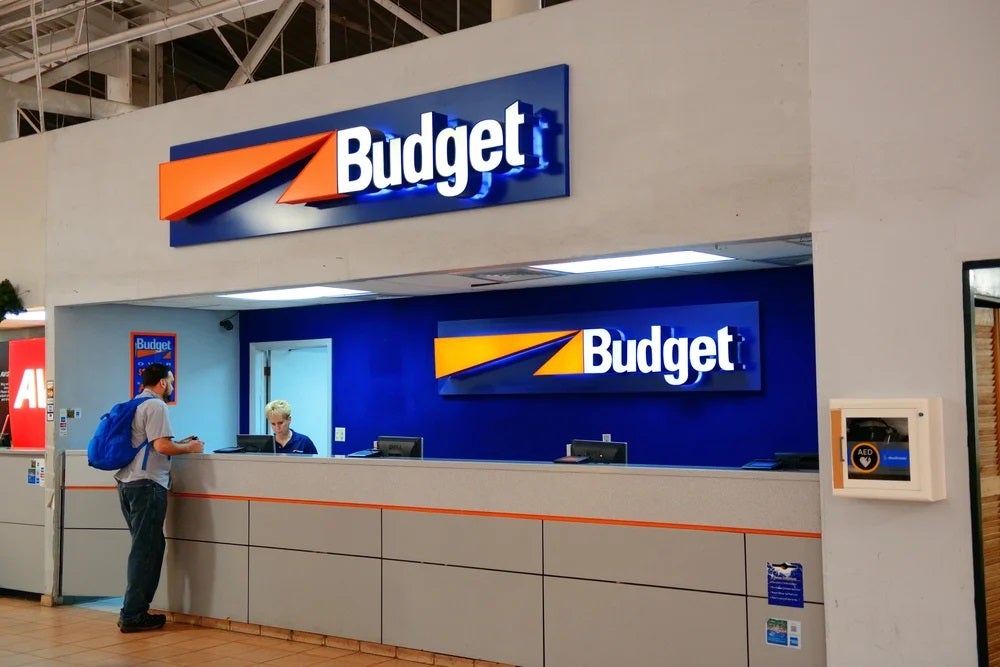 As Budget is part of the Avis Budget Group, it's not surprising that both brands have a lot of crossover with policies and offers that you see on both websites. Similar to Avis, Budget has nearly 1,400 neighborhood and airport offices nationwide. What is dissimilar is the rental price, with Budget being the cheaper of the 2 (as the name would suggest).
Prepaid Discounts
Like Avis, Budget offers significant discounts of up to 35% if drivers prepay for their rental at the time of booking. The usual prepay conditions apply for cancellations, so if you need to cancel, you'll pay $50-$150 depending on when you cancel.
Free Additional Driver for Spouses
Budget enables customers to add their spouse as an additional driver for free, provided they meet the standard driver requirements. With additional driver fees of up to $13 per day, this can save you a pretty penny on your bill — especially if you are renting outside of California or a state that allows free additional drivers for spouses.
Fastbreak Loyalty Program
Budget's Fastbreak program is a little different from other rental car companies as it doesn't work on a point earning and redemption system. Instead, members receive fast-tracked service when picking up and dropping off a vehicle.
Members also receive exclusive deals; for example, at the time of writing, Budget was sending members $25 of Budget Bucks after renting twice before the end of the year.
Pros and Cons of Budget
Pros:
Free additional driver for spouses across all states
Huge discounts of up to 35% when prepaying on booking
Cons:
Charges a daily e-toll fee even on the days that you don't use a toll
Dollar Car Rental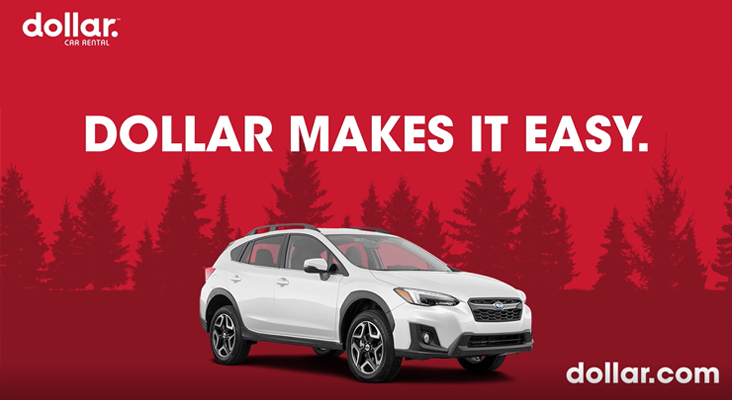 Dollar is part of The Hertz Corporation (along with Thrifty) and has 260 locations across the U.S. and Canada. Although it is known as a budget car rental company, Dollar was actually on the expensive side when we obtained quote comparisons. Thankfully, the company has regular promotions to bring its base rate down.
Dollar isn't renowned for its impeccable customer service, scoring just 1.5/5 with Trustpilot.com, but if you're looking for the most rewards from a loyalty program or for frequent flyer partners, it's a good option.
Special Offers and Discounts
Dollar offers 15% off weekday or weekend rentals when signing up to receive promotional emails. Or, for customers that have already registered, savings can be found under the Specials tab on the Dollar website. At the time of writing, this included 10% for young renters and 10% off for AAA members.
Like most car rental companies, Dollar allows customers to prepay their rental fee for a reduced rate. Provided the booking is 24 hours before pick up, customers can prepay and save up to 20% off of the base rate.
Dollar Express Rewards
Dollar's loyalty program is one of the most generous out there, offering favorable redemption fees along with additional membership benefits.
At select locations, members can skip the counter and head straight to the parking lot to collect their car, and spouses can be registered as an additional driver for free.
Members earn 1 point per dollar spent on rentals and accessories with redemption fees starting from 500 points per day (for other programs, this is usually around 700).
Pros and Cons of Dollar
Pros:
Generous loyalty program with low redemption fees and great benefits
Generous partner travel rewards such as 125 hotel points per rental day with IHG Rewards
Cons:
Hot Tip: If you have status with another car rental program, you may be eligible for an elite status match.
Enterprise Rent-A-Car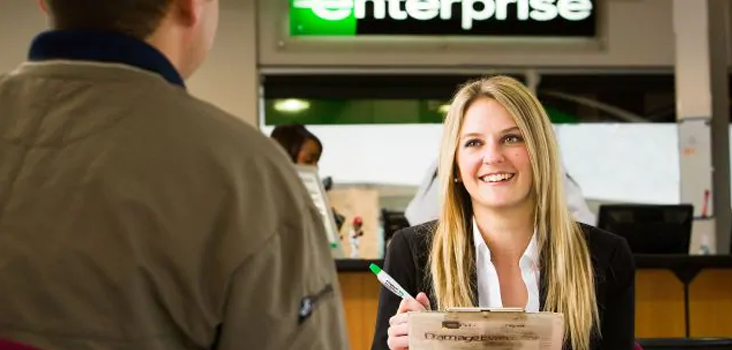 With over 4,500 neighborhood and airport branch offices, Enterprise is the largest car rental company in the U.S. Combined with its sister companies Alamo and National, Enterprise Holdings has offices located within 15 miles of 90% of the U.S. population, so it is by far the most accessible. Enterprise was one of the top performers in the 2019 J.D. Power North America Rental Car Satisfaction Study, scoring 5/5 in all but 1 category.
Fees for Optional Extras
Enterprise's rental fees tend to be on the higher side, but compared to its competitors (excluding Alamo and National), its fees for optional extras such as child seats or a GPS are quite a bit cheaper. Drivers aged 21-24 can also save a bit of money on daily young driver surcharges as non-state specific fees are $5-$15 cheaper per day versus its competitors.
Toll Policies
Enterprise also has one of the most reasonable toll policies, along with Alamo and National, with a cap of $19.75 per rental period. Advantage and Dollar have a considerably higher cap of $90 per rental period, so if your journey takes you through several electronic toll booths, then you'll want to consider Enterprise.
Membership Program
The Enterprise Plus program is free to join and allows members to earn points towards free car rentals. Frequent renters qualify for tier status and can reach Silver, Gold, or Platinum status to achieve bonus point earnings and free car upgrades.
Pros and Cons of Enterprise
Pros:
Lots of office locations throughout the U.S. to call into for assistance should you encounter an issue
Lower fees for optional extras and young driver surcharges
Cons:
Higher than average rental rates
Membership program points earnings are not as generous as Hertz or National
Hertz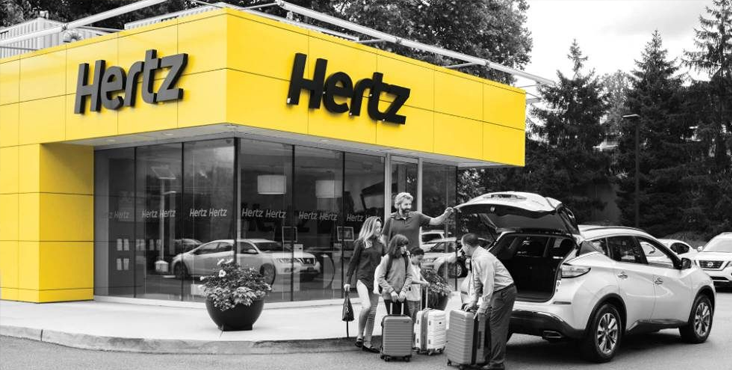 Hertz is one of the largest car rental companies in the U.S. with over 3,000 neighborhood and airport locations. With reasonable rates and excellent customer service, its easy to see why it was the highest-rating car rental company in the 2019 J.D. Power North America Rental Car Satisfaction study.
Hertz has a good range of standard car models, but for an extra special treat, customers can rent from the Hertz Dream Collection, including an Aston Martin DB11 Volante or a Lamborghini Huracan Evo.
Best Rate Guarantee
Hertz puts a lot of emphasis on booking direct and offers an attractive price matching policy. Not only will Hertz match the rate for the same Hertz vehicle group and rental period, but it will also take off an additional 10% once the claim has been verified.
Hertz Fast Lane Powered by CLEAR
Hertz Fast Lane Powered by CLEAR is available at 14 Hertz locations in the U.S. Having bypassed the check-in counters, registered customers can pick up their vehicle and exit the parking lot more efficiently using CLEAR identification.
Hertz Gold Plus Rewards
Customers can sign up for the Hertz loyalty program to earn 1 point per dollar spent and work their way up to Five Star or President's Circle status for more benefits. All membership tiers can skip the counter for check-in, use e-returns for quicker processing, and receive a free a CLEAR security program airport trial.
Point redemptions are on the higher side starting at 750 points for a day's rental, but members are not restricted to any blackout periods.
Pros and Cons of Hertz
Pros:
Price match plus 10% off for the same Hertz car and rental period
No blackout periods for reward rentals and generous member benefits
Cons:
Higher than average redemption rates compared to other loyalty programs
High cancellation fees for prepaid reservations — $100 when canceled more than 24 hours before pick up and $200 when canceled within 24 hours of pick up
National Car Rental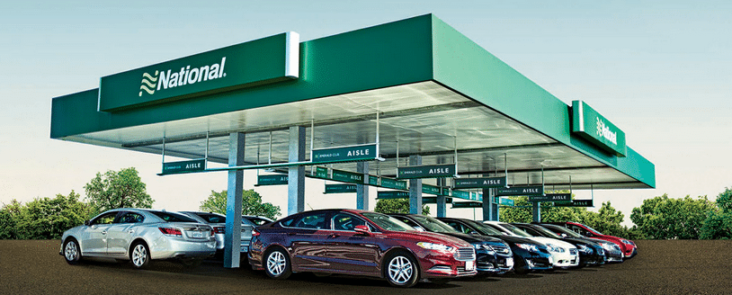 Owned by Enterprise Holdings, National is the little sister company of Enterprise Rent A Car with just over 330 office locations across the U.S. National dropped a couple of positions in the 2019 J.D. Power North America Rental Car Satisfaction study compared to the 2018 survey but is still highly regarded for its customer service.
Emerald Club Loyalty Program
The Emerald Club is for frequent customers that want to earn rental credits towards free rental days, along with a whole host of other benefits. All members can choose any car (midsize or above) on the Emerald Aisle when booking a midsize car, and all members receive 1 rental credit for every eligible rental.
Emerald Club members can redeem 7 credits for a free rental day, whereas Elite members (Executive and Executive Elite) require less rental credits to redeem against a free rental day. Executive members only require 6 rental credits, and Executive Elite members need only 5 rental credits.
Emerald Aisle
The Emerald Aisle is available to Emerald Club members when renting in the U.S. or Canada, and when booking a midsize car, customers can bypass the counter and head straight to the Emerald Aisle to choose any make and model they like (the keys are ready in the car).
Corporate Program
National is well-known for its corporate rental programs for small- and medium-sized businesses. Favorable contracted rates allow businesses to rent a vehicle at the drop-of-a-hat without incurring high last-minute fees.
Pros and Cons of National
Pros:
Emerald Club members pay no additional driver fees for family and business associates
The Emerald Aisle allows customers to choose their car
Cons:
Like its sister companies, National's rates are at the higher end
Sixt rent a car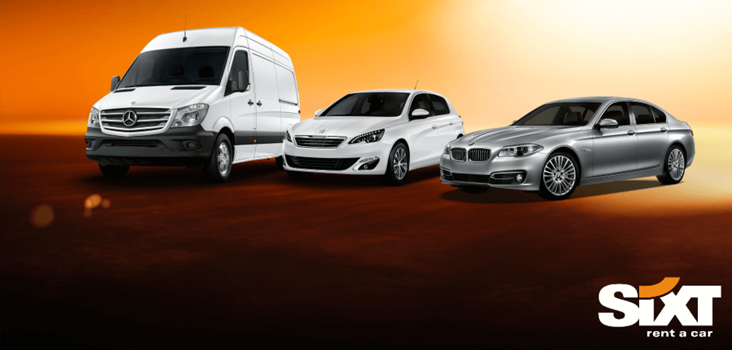 Only entering the North American market in 2011, Sixt is one of the newest rental agencies and has grown at a tremendous rate with over 60 offices throughout the U.S. Sixt offers a new and premium fleet of German and American cars, with vehicles at an average of 3 months old.
Although it's got some of the newest cars available, Sixt offered up some of the cheapest rates available when we searched for quotes.
Savings on Long-Term Rentals
Sixt offers particularly favorable weekly rates when reserving a vehicle for more than 28 days. At the time of writing, a Jeep Grand Cherokee could be booked from just $122 per week with a long-term rental.
Sixt Advantage Circle
The Sixt Advantage Circle consists of different levels of reward cards that allow members to collect points with other partners such as airlines and hotels, as well as receive rental benefits. When signing up, customers will receive a Sixt Express card that allows members to skip the usual formalities at the counter and receive low self-service rates.
After 3 rentals, members will receive a Sixt Gold card, after 10 rentals members receive a Sixt Platinum card, and to reach Diamond card status, members must await an invitation. Elite tier cardholders receive benefits such as free additional drivers, discounts of up to 20%, and free upgrades.
Hot Tip: Sixt will status match to your loyalty membership level with other rental companies, airlines, or hotels. Simply send the relevant documentation detailing your status level to [email protected] and you could reach Platinum level after your first rental.
Pros and Cons of Sixt
Pros:
Cheap rental rates
New premium fleet of vehicles
Cons:
Less office coverage across the U.S compared to other rental companies
Thrifty Car Rental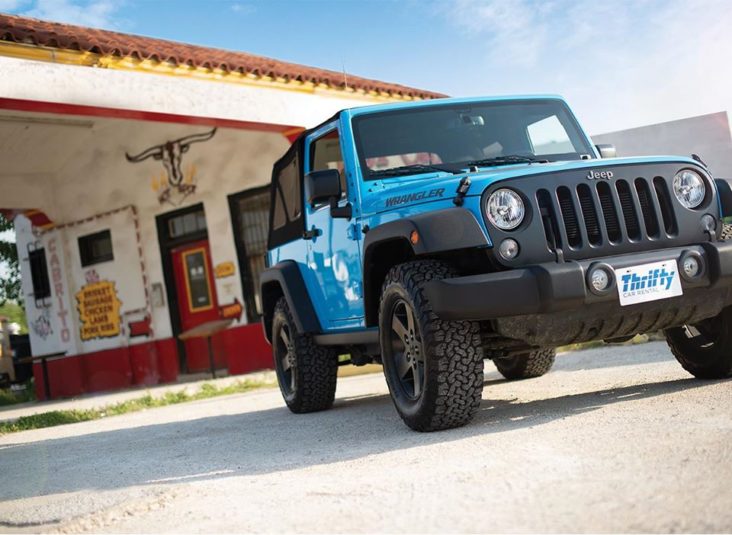 Thrifty is part of the Hertz Corporation, and like sister company Dollar, the main focus is on value for money. Saying that, whereas most other car rental companies mostly always offer discounted prepaid rates, these are hard to find with Thrifty.
With 472 locations across the U.S., Thrifty offices can be found in neighborhood locations and at major airports. Customers in a rush will love Thrifty's Timesaver Check-in, where you can complete your details in advance to skip the formalities at the counter.
Blue Chip Rewards Program
The Blue Chip Rewards program enables members to earn points towards free rental days and has lots of additional benefits such as free additional driver (spouse or domestic partner), skipping the counter to head straight to the lot, and priority counter service.
Members receive 1 point per dollar spent, and the redemption rate is pretty low — starting at 500 points for a weekend day.
Partner Offers
Thrifty works in conjunction with lots of airline and hotel partners for increased points earnings. At the time of writing, customers could earn triple Alaska Airlines miles when renting with Thrifty or double points with Southwest Rapid Rewards.
Pros and Cons of Thrifty
Pros:
Cheap rental rates
Generous redemption offers with the Blue Chip Rewards program
Cons:
Final Thoughts
Choosing the best car rental company will depend on your requirements. If cost is the deciding factor, then rates can depend on how far in advance you book and how long you're renting for. Budget offers up to 35% off for prepaying when reserving your vehicle, and Sixt has some great rates on long-term rentals over 28 days.
If receiving the best customer service is of the utmost importance, then Hertz is the company to go with. Hertz snatched the top spot from Enterprise in the 2019 J.D. Power North America Rental Car Satisfaction Study, having achieved 5/5 for all but 1 category.
If you're a regular renter, most car rental loyalty programs offer a standard 1 point for every dollar spent, although Avis offers 2 points per dollar spent on accessories. Where members really feel the benefits is when the redemption rates are lower, and Dollar and Thrifty both have low redemption rates starting at 500 points for a weekend day rental.