The Ultimate Guide to Alamo Rent a Car [Alamo Insiders Loyalty Program]
Needing to rent a car can leave you with analysis paralysis, especially if you're unfamiliar with many of the car rental options and have no idea where to begin!
We've already covered complete guides on Avis, Budget, Enterprise, Hertz, and National, and this time, we're covering the Alamo rental car program.
Alamo Insiders Program
Alamo does not offer a typical elite program. It does not offer status tiers and you cannot earn points towards future rentals or even receive complimentary car upgrades.
What it does offer is a membership program that is as easy to understand as it is to use. When you sign-up for the free Alamo Insiders program, you will receive a 5% discount off all of your Alamo rentals. Furthermore, there is no cap on how much money you can save with your discount.
Hot Tip:If you would prefer a program with a more traditional loyalty program, where you can earn points and receive car upgrades for your elite status, then you might want to consider renting with a company that offers a more robust program, like National or Hertz. 
Double Dip Your Savings 
Even though you cannot earn points with Alamo Insiders, you should extend your savings by earning credit card points for each of your rentals. If you're not already using a credit card that offers bonus points for car rental purchases, there are many great options.
Earn 2x points/miles per $1 for car rentals on these cards:
Earn 3x points per $1 for car rentals on these cards:
Hot Tip: Points aren't the only important thing — you'll also want a card that offers excellent car rental insurance coverage to help keep you protected if you have an accident with your rental!
How to Join Alamo Insiders 
To join Alamo Insiders, all you need to do is sign up for an account online. Once you've filled out all the necessary details, you will receive your member number.
How to Rent a Car Through Alamo
You'll find that renting a car with Alamo is quite easy. First, sign in using your username and password, then enter your pick-up location, date, pick-up time, renter age, any corporate or discount codes you have, then click Continue.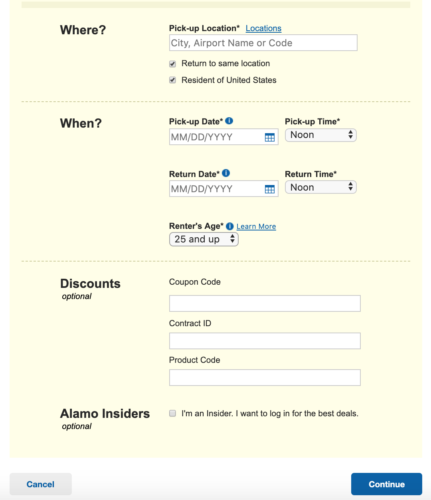 On the next screen, you'll notice that the results are given with a Drive Happy Deal first and the rest of the options sorted in order by price from low to high. From the top panel, you can filter your results by vehicle type and price.
When you select a Drive Happy Deal, your car type is determined when you arrive to pick up the car. Drive Happy Deals are usually the cheapest option, so if you do not care what car you receive, this could be a great option. On the other hand, if you know you need a specific vehicle type like an SUV, we would not recommend selecting the Drive Happy Deal.
When you select which car you'd like, you'll notice that there are Pay Now and Pay Later options. The Pay Now option gives you a discount for paying the amount owed upfront, but your reservation will be non-refundable. However, the Pay Later option is usually a bit more expensive but allows you to cancel before checking-in if you need to change your plans.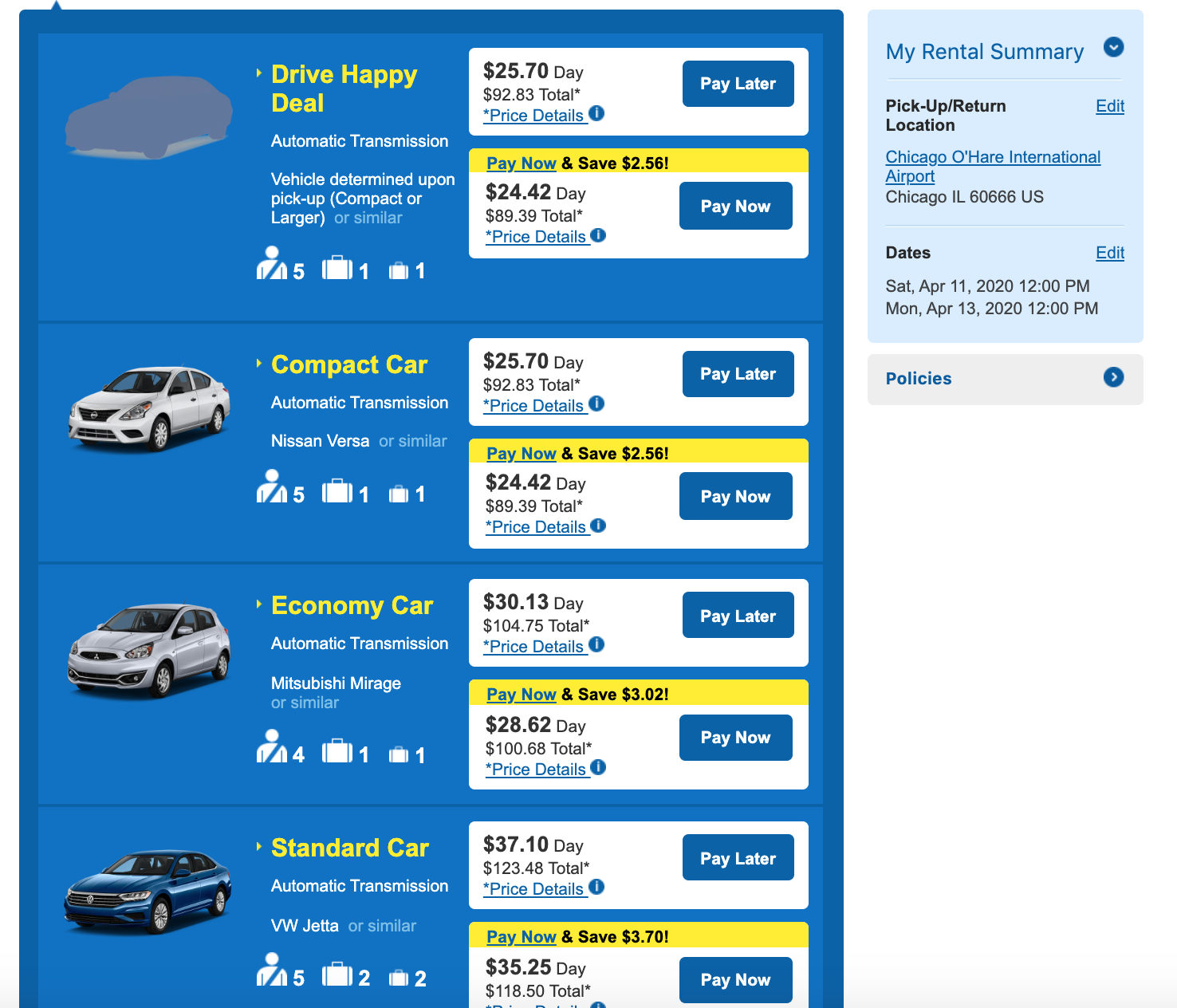 After you've selected a vehicle type, you'll then be able to add any extras that you'd like with your rental. These could include insurance and vehicle protections, along with any other equipment additions like SiriusXM, a navigation device, toll waiver, or fuel service option.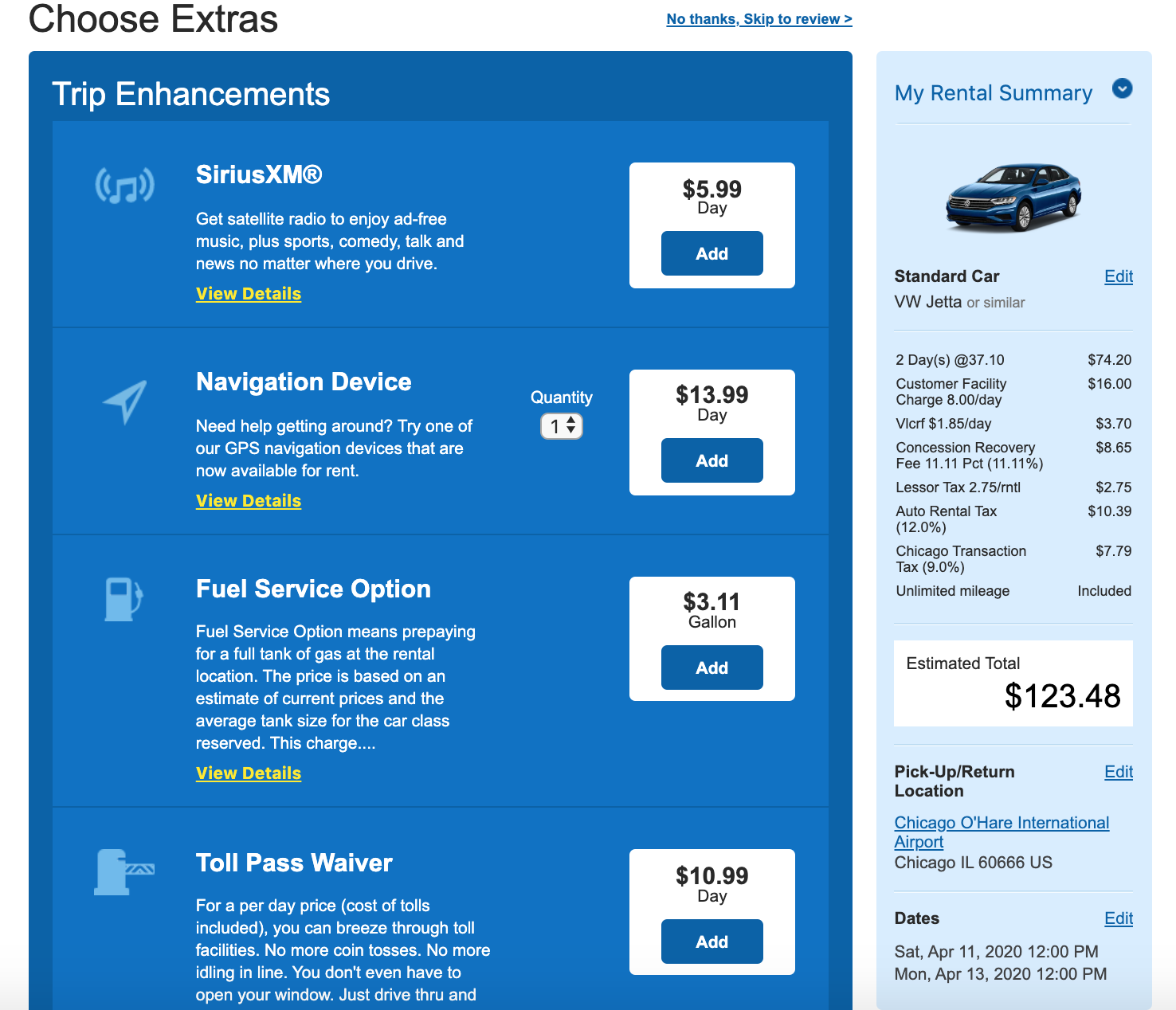 After you've selected any extras that you would like, you'll be taken to the final screen where you can enter your driver's license and flight details, both of which are optional but help you save time when you arrive. Finally, add your payment details to finalize the reservation.
Do You Need to Add Extra Insurance?
This is always a tough question for people when renting a car. Do you actually need to purchase the extra insurance or is this just a cash grab?
Whether or not you should purchase the extra insurance will depend on whether or not you pay for the reservation with a credit card that offers primary or secondary rental car insurance.
What is the difference between primary and secondary insurance? Secondary rental insurance kicks in to help cover costs that your personal auto insurance won't pick up. But this means if you have an accident in your rental car, you still need to file a claim with your personal insurance provider and pay the deductible before any secondary coverage kicks in — leaving you at risk for increased premiums.
Primary rental coverage, on the other hand, kicks in before your personal auto insurance so you do not need to notify your personal auto insurance company if you have an accident — meaning there is no risk to your premiums increasing. Furthermore, primary rental car coverage usually covers much more than secondary insurance and is much more likely to cover the entire cost of your rental car in the unfortunate case of the car begin stolen or total loss to the car from flood or fire.
Here are some great card options that offer primary rental car insurance as one of their benefits:
United Club℠ Business Card
 Alamo Locations
Alamo has over 1,500 locations worldwide across 78 countries. To find a location, click on Locations in the top-right menu.
To search for a location, simply enter the city or airport you intend to rent from in the Find a Specific Location search box and hit enter.
Miles, Points, and Partners
Since you are not able to earn points with Alamo for your rentals towards future rentals, Alamo allows you to earn airline miles or hotel points for your rentals with 19 different partners.
Frequent Traveler Recovery Fee
Opting to earn airline or hotel points can be a great option for your rentals, but keep in mind that when you choose to earn points from certain hotels or airlines, you will be charged a fee.
The fees for each program are as follows:
Alaska Airlines: $0.75 per day
American Airlines: $0.725 per day
All Nippon Airways: No extra charge
Asiana Airlines: No extra charge
Avianca Airlines: No extra charge
Best Western: No extra charge
Cathay Pacific: No extra charge
Copa Airlines: No extra charge
Delta Air Lines: $0.63 per day
Eva Airlines: No extra charge
Frontier Airlines: $0.75 per day; max of $7.50 per rental
Hilton: No extra charge
Japan Airlines: No extra charge
Korean Airlines: No extra charge
Lufthansa Airlines: No extra charge
Radisson: $0.75 per day
Southwest Airlines: $1.50 per day; max of $7.50 per rental
Sun Country Airlines: $0.75 per day; max of $5.25 per rental
Virgin Atlantic Airlines: No extra charge
Bottom Line: These fees vary in cost, so be certain to determine how much value you will receive from the points, compared to how much extra you will pay, and then decide if it's worth it.

Alamo Deals
In addition to your 5% Alamo Insider discount, Alamo also runs rotating featured deals to help save you money on your next rental. You'll find specials like last-minute deals, one-way specials, free single car upgrades, and even discounts on international rentals.
Business Program
At this time, Alamo does not offer any sort of business rental program. However, those interested in a business rental program can sign-up with one of its partners, Enterprise or National.
Meetings and Conventions Program
Alamo offers special rates for organizations of all sizes that plan meetings, conventions, annual conferences, educational forums, or just about any event that needs 11 or more cars. The benefits of the meetings and conventions program include unlimited mileage, vehicle selection including luxury cars, 24-hour emergency roadside assistance, and frequent traveler rewards with most major airlines.
U.S. Government and Military Program
Federal government employees and military personnel receive special car rental rates and benefits for official business travel as well as off-duty leisure travel.
Those on official government travel receive the following benefits:
No additional driver fees for government and military personnel
No underage driver fees (the minimum age for on-duty military rental is 18 years old)
Collision Damage Waiver (CDW) included
Frequent traveler benefits with Alamo's major travel partners
Over 550 participating locations worldwide to accommodate active-duty travel needs
Those on leisure travel receive the following benefits:
Discounted rates for federal government employees and military personnel, including discounts for veterans
Frequent traveler benefits with Alamo's major travel partners
Government and military family members with dependent identification are also eligible for discounted car rental rates on leisure rates
Buy a Car From Alamo
Alamo partners with the Enterprise Car purchase program to offer used cars to those looking for a new ride.
Most of the cars sold come from either the Enterprise or Alamo fleet, and you can choose from more than 7,000 low-mileage vehicles of over 250 makes and models of cars, SUVs, trucks, and vans. 75% of these vehicles are available for below the Kelley Blue Book typical listing price.
All vehicles pass an inspection performed by an ASE-certified technician and come with a 12-month/12,000-mile limited powertrain warranty and 7-day buyback.
Alamo Customer Support
If you need assistance with anything related to Alamo's services, you can find customer service information under the Customer Support tab in the bottom right menu.
From there you can view FAQs for a plethora of different topics you may need assistance with, access the lost and found, or send in an email to the support team.
Want to speak with someone directly? Here are some helpful phone numbers depending on your needs:
Reservations: 844-354-6962
Customer Service: 844-357-5138
Alamo Insiders: 855-533-1197
Customers with Disabilities: 800-651-1223
Competitor Price Comparisons
Curious how Alamo stacks up against its competitors?  To find out, we've pitted them against Avis, Hertz, National, and Enterprise for a random weekend rental in Chicago. Here were the nightly quotes from each company – excluding any membership discounts:
| | | | | | |
| --- | --- | --- | --- | --- | --- |
| Rental Car | Alamo | National | Avis | Hertz | Enterprise |
| Compact | $176 | $213 | $86 | $92 | $177 |
| Mid-Sized | $179 | $218 | $91 | $100 | $182 |
| SUV | $138 | $235 | $138 | $109 | $157 |
In this search, Avis happened to offer the best prices at the Compact and Mid-Sized cars, and Hertz offered the lowest SUV price. Alamo faired decently well at each level, beating out its partners National and Enterprise at the first 2 car sizes, and tying for second for an SUV. Again, keep in mind that these prices do not include any membership, credit card, or corporate discounts, so be certain to account for those when doing your own price comparisons.
Hot Tip: For more, check out these tips to help you save money on car rentals.
Final Thoughts
There is no shortage of rental car options on the market, and Alamo can be a compelling option for those looking for a company with competitive prices and a straightforward membership program that offers a discount on each rental.
Before deciding who to rent with, always do your own research and make sure to compare prices of competing programs to be certain that you're not overpaying!