The Ultimate Guide to Enterprise Rent-A-Car [Enterprise Plus Loyalty Program]
Renting a car can be a frustrating experience, and trying the learn the ins and outs of each rental car program can really make your head spin.
We've covered many popular car rental agencies like Advantage, Avis, Hertz, and National, and this time, we're diving into Enterprise — the largest rental car company in the U.S.
The Enterprise Plus Program
Enterprise Plus is the loyalty program of Enterprise car rentals. There are 4 levels of status in the program — Enterprise Plus, Enterprise Plus Silver, Enterprise Plus Gold, and Enterprise Plus Platinum.
The Enterprise program is revenue-based, so points are earned purely based on how much money you spend and then can be redeemed for free rentals.
Plus Status
All members of the Enterprise loyalty program start off at Plus status. This membership is free to join and allows you to begin earning points for free rentals and working your way up the elite status tiers.
Silver Status
In order to reach silver status, you'll need to have 6 qualifying rentals with Enterprise in a calendar year.
Once you've achieved Silver status you'll receive these perks:
10% bonus points on points earned for all qualifying rentals
1 free car upgrade per program year
Gold Status
In order to reach Gold status with Enterprise, you'll need to reach one of these criteria in a calendar year:
12 qualifying rentals
40 total rental days
Once you've reached Gold status you will enjoy the following benefits:
15% bonus points on points earned for all qualifying rentals
2 free car upgrades per program year
Platinum Status
The program's top tier, Platinum status, requires you to complete one of the following in a calendar year:
24 qualifying rentals
85 total rental days
Those who reach Platinum status in the program will receive the following benefits:
20% bonus points on points earned for all qualifying rentals
4 free car upgrades per program year
Bottom Line: If you're regularly renting cars with Enterprise, the extra point earnings and free upgrades will definitely come in handy. If you'd like to try Enterprise Plus and have status with another car rental program, you can request an elite status match.
How to Earn Enterprise Plus Points
You will earn Enterprise Plus points every time you have a qualifying rental, and your earning potential is based on your elite status within the program. Points are worth about 5 cents per point on average when redeeming towards a car rental.
Silver Plus Status: 1.1x points per $1 (5.5% rebate)
Gold Plus Status: 1.15x points per $1 (5.75% rebate)
Platinum Plus Status: 1.2x points per $1 (6% rebate)
Remember you will only earn points on qualifying rentals, which is any rental completed and paid for at a participating Enterprise location or Enterprise website.
Qualifying rentals do not include any third party rentals, like from websites such as Hotwire or Priceline.
Double Dip on Points
Enterprise points aren't the only points you can earn when renting a car. Whenever you rent a car, make sure you are earning both car rental program points and credit card points!
There are plenty of credit cards that offer bonus points on car rental purchases.
Earn 2x points per $1 for car rentals on these cards:
Earn 3x points per $1 for car rentals on these cards:
Hot Tip: Make sure you use a credit card that offers excellent car rental insurance coverage to help keep you protected during your rental! 
How to Use Enterprise Points
You could redeem your points for a free rental day with as few as 400 points. The number of points required will vary based on the rental details you provide.
To determine how many points are required for a specific rental, once you have a points balance on your account, log in to your account, enter your rental details and click on the Redeem Points button before selecting your car class.
How to Join Enterprise Plus 
To join Enterprise Plus, all you need to do is sign up online. Once you've filled out all the necessary details, Enterprise will give you your membership number.
You can use this number to log in to your account once you are enrolled.
How to Earn Enterprise Elite Status Without Renting a Car
If you have status in another rental car program, like Avis or Hertz, you can match that status with the Enterprise Plus program.
Here is the status you'll receive with Enterprise based on your current program status:
Your Current Program Status
Your Status Match

Avis Preferred (6 to 11 rentals/year)
Hertz Gold Plus Rewards (6 to 9 rentals/year)

Enterprise Plus Silver

Avis Preferred Plus
Hertz Gold Five Star

Enterprise Plus Gold

Avis President's Club
Avis Chairman's Club
Avis Preferred Plus (25 rentals or 85+days)
Hertz President's Circle

Enterprise Plus Platinum
Not sure if you have elite status with either the Avis or Hertz program? It may be a benefit from one of your credit cards!
The following World Elite Mastercard credit cards offer complimentary Avis Preferred Plus status that can be matched to Enterprise Plus Gold:
Hawaiian Airlines® World Elite Mastercard®
Virgin Atlantic® World Elite MasterCard®
Don't have a World Elite Mastercard? The Platinum Card® from American Express or The Business Platinum Card® from American Express will get you Avis Preferred status, which can then be matched to Enterprise Plus Silver.
Hertz status, on the other hand, is offered as a complimentary benefit on these credit cards:
The Gold Plus status offered with the American Express cards will get you a match to Enterprise Silver Plus, the Five Star status offered with the Chase Sapphire Reserve card will get you a match to Enterprise Plus Gold, and those with President's Circle status from the United Club card can be matched to the highest elite tier — Enterprise Plus Platinum.
How to Rent a Car Through Enterprise
Renting a car with Enterprise is quite easy. First, sign in using your Enterprise Plus number, then enter your pick-up location, date, pick-up time, renter age, vehicle class, and any corporate account number or promotion code you have, then click Continue.
The search results are then broken down nice and easy for you in descending order starting with the least expensive options first — except at the very top of the list where Enterprise will list which option it deems to be the best choice.
From the sidebar, you can narrow down the options you are most interested in viewing by filtering by vehicle type and passenger capacity.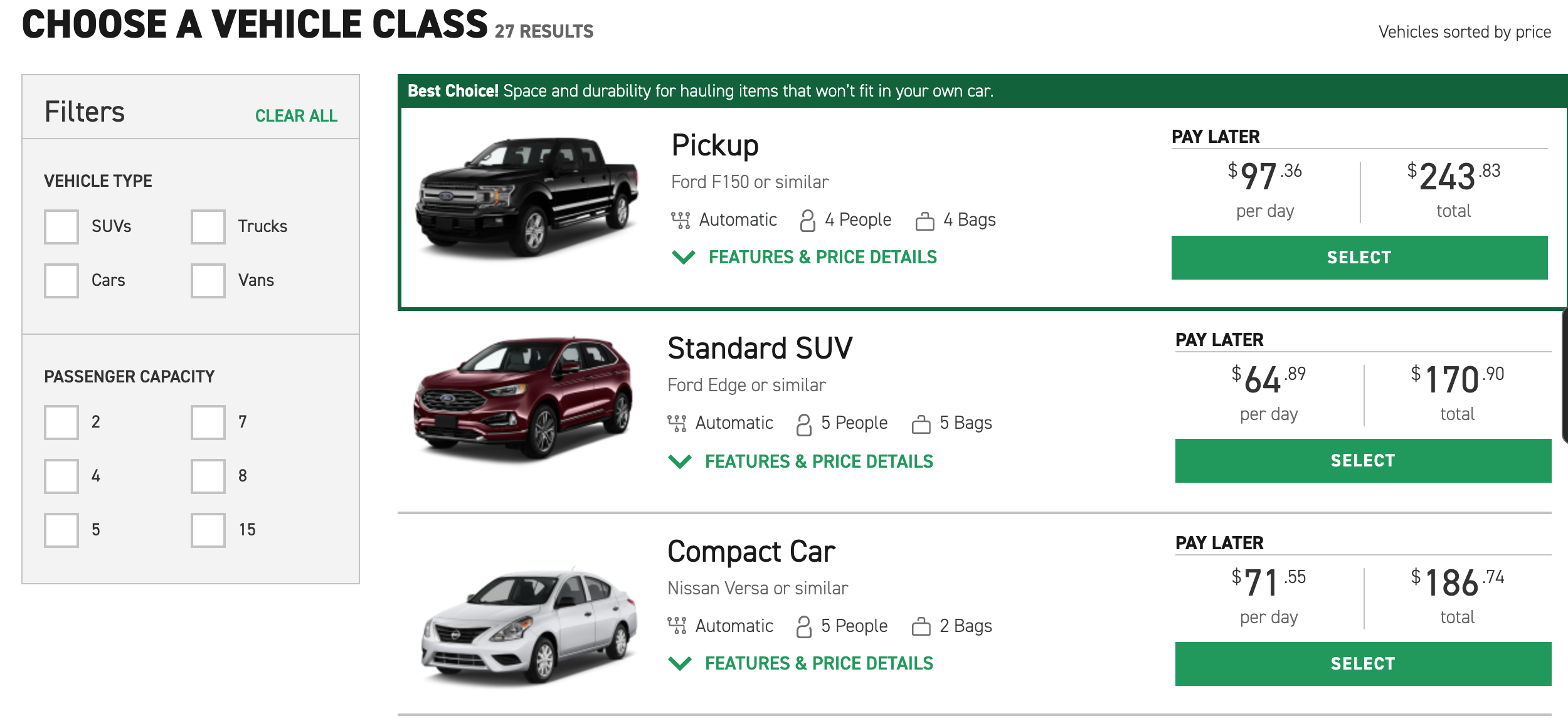 Once you've selected a vehicle you'll then be prompted to add any extras for your rental. These extras include insurance and vehicle protections, along with any other equipment additions like Sirius XM, GPS, or a child safety seat.
After you've selected any extras that you would like, you'll be taken to the final screen where you can enter your driver's license and flight details, both of which are optional but help you save time when you arrive. Finally, add your payment details to finalize the reservation.
Do You Need to Add Extra Insurance?
Whether or not you should purchase the insurance options offered by Enterprise has a lot to do with what credit cards you have in your wallet and whether the cards offer primary or secondary insurance.
Secondary rental insurance only kicks in to cover costs that your personal rental insurance won't pick up. This means that if you have an accident in your rental car, you still need to file a claim with your personal insurance provider and pay the deductible before any secondary coverage kicks in.
Primary rental coverage is just the opposite — it kicks in before your personal auto insurance, so if you have an accident you do not need to notify your personal auto insurance company and risk increasing your premiums.
Usually, primary rental car coverage covers much more than secondary insurance and is much more likely to cover the entire cost of the car in the case of theft or total loss from flood or fire.
Here are some great card options that offer primary rental car insurance:
United Club Business Card
Enterprise Locations
Enterprise has 7,600 locations in over 85 countries and territories. To find an Enterprise location, click on Locations in the main menu.
To search by an address, zip code, city, or airport code, enter that information in the search bar and click continue. If you need a local rental and you're searching using a device with geo-location, just click use my current location.
Miles, Points, and Partners
If you're someone who would rather earn airline miles or hotel points for your car rental, Enterprise offers that option via one of its rental partners.
Air France/KLM Flying Blue — earn 4 Flying Blue miles per every qualified euro spent on time and mileage at participating Enterprise locations
Amtrak Guest Rewards — earn 50 Amtrak Guest Rewards points per day on every qualifying rental
CAA Rewards —  members may earn 1 CAA Dollar per day up to $10 per qualifying rental with Enterprise
Hilton Honors — earn 500 Hilton Honors points on every qualifying rental
Enterprise CarShare is an automated way to rent a vehicle by the hour, the day, or overnight. Vehicles are parked in your local community and are accessible to renters 24/7. A wide selection of vehicles is offered for whatever your needs are, including hybrids, pickup trucks, sedans, and SUVs.
Rentals are charged by the hour and rates include fuel, physical damage/liability protection, and 24/7 member service support.
Here's how Enterprise CarShare works:
Sign up for membership. Once approved, your membership materials (including the physical card you will need) may take 7-10 days to be received.
Login to your Enterprise account, select the vehicle you want, and how long you'll need it. You can also make reservations via the Enterprise mobile app while you're on the go.
Head to where the vehicle is parked and hold your membership card over the windshield sensor to unlock the vehicle. The keys will be waiting for you inside.
Return the vehicle at the end of your reservation. Hold your membership card over the reader one last time, the doors will lock, and your rental has ended. Easy as that!
Enterprise CarShares are available in 35 U.S. states, Canada and the U.K. with more than 130 university campuses, 40 dedicated government programs, and 500 business accounts across the country.
Commute With Enterprise
Want to save money on your daily commute to work? Commute with Enterprise! Enterprise offers a program that connects you with coworkers who live near you and supplies a recent-model SUV, van, or crossover of its choice.
Hot Tip: Riders who carpool can save up to $500 a month by reducing fuel expenses, insurance premiums, and wear and tear on personal vehicles.
Enterprise Business Car Rental Program
Those with a small or medium-sized business can earn big savings on their car rentals by enrolling in the Enterprise Business car rental program. The business car rental program has over 9,000 locations across 90 countries worldwide. Those enrolled in the program enjoy these benefits:
Special Contracted Car Rental Rates — Enterprise offers customized corporate discounts, options for damage coverage, and billing solutions
Complimentary National Emerald Club membership — choose any car in the Emerald Aisle area and only pay the reserved midsize rate
Long Term Car Rentals
Entertainment and VIP Rentals
Buy a Car From Enterprise
In the market to purchase a car? You can do so through Enterprise!
Many of the cars sold are directly from the Enterprise fleet. You can choose from more than 7,000 low-mileage vehicles of over 250 makes and models of cars, SUVs, trucks, and vans. 75% of vehicles available for sale are priced below Kelley Blue Book's typical listing price.
All vehicles pass an inspection performed by an ASE-certified technician and come with a 12-month/12,000-mile limited powertrain warranty and 7-day buyback.
Enterprise Customer Service
If you need help with the website or renting a car, you will find all of the Enterprise customer service information under the Help tab in the main menu.
From here you can email customer support about billing, your Enterprise Plus account, or reservation management, as well as view FAQs and share feedback from your recent rental experience.
Want to speak with someone directly? Here are some helpful phone numbers depending on your needs:
Enterprise Car Rental Reservations: 855-266-9289
Customer Service: 855-266-9596
Roadside Assistance: 800-307-6666
Enterprise Plus Member Services: 866-507-6222
Competitor Price Comparisons
Curious how Enterprise stacks up against its competitors?  To find out, we've pitted them against Avis, Hertz, National, and Budget, for a random weekend rental in Miami Beach. Here were the nightly quotes from each company — excluding any membership discounts:
| | | | | | |
| --- | --- | --- | --- | --- | --- |
| Rental Car | Enterprise | National | Avis | Hertz | Budget |
| Compact  | $75 | $97 | $91 | $80 | $91 |
| Mid-Sized | $77 | $103 | $93 | $84 | $93 |
| SUV | $90 | $116 | $106 | $91 | $106 |
In this example, Enterprise offered the best price at every car level, making it a compelling option for those looking for the lowest rate available.
Again, keep in mind that these prices do not include any membership, credit card, or corporate discounts, so be certain to account for those when doing your own price comparisons.
Hot Tip: For more, take a peek at these tips to help you save money on car rentals.
Final Thoughts
While Enterprise is just one of many in a sea of rental car agencies, it does offer competitive prices, great rental car options for businesses, and a loyalty program to help extend your savings even further.
Its loyalty program, Enterprise Plus, is free to join and lets you earn points for every rental that you can then redeem for free rental days. While Enterprise offers great pricing, be sure you're always comparing against other programs to ensure you're getting the best deal!
---
The information regarding the Citi Premier℠ Card, Citi Prestige® Card, Hawaiian Airlines® World Elite Mastercard®, Virgin Atlantic® World Elite MasterCard®, United Club℠ Card, and United℠ Explorer Card was independently collect by Upgraded Points and was not provided nor reviewed by the issuer.