A Complete Guide to Booking Travel With Priceline [2021]
You are probably familiar with Priceline, an online travel agency (OTA) you can use to book flights, hotels, rental cars, cruises, and more.
The key thing that differentiates Priceline from its competitors is its "opaque" travel booking products. If you're willing to be flexible with your travel plans (to the point of not knowing which airline you're flying or what hotel you're staying at when you make a reservation), you might be able to snag a deep discount.
As part of Booking Holdings Inc. — which includes Booking.com, Agoda, Kayak, Momondo, and other OTAs and metasearch sites — Priceline has also been able to use its combined resources to build its published-rate hotel offerings. Its Name Your Own Price tool has ceased to exist as an option, but low prices are offered through its other opaque tools — Express Deals for flights and hotels and Pricebreakers for hotels.
Below, we'll take a look at the various services offered by Priceline, including how to use it to find the best prices on flights, hotels, rental cars, and more!
Booking a hotel on Priceline is straightforward. Enter your search preferences, pick a hotel, and confirm your reservation, just like with any other OTA like Travelocity or Expedia. Although Priceline has a few extra options to help you find a great rate, there can be some additional terms.
How to Book a Hotel on Priceline [Step-by-Step]
To search for a hotel on Priceline, enter a destination, choose your check-in and check-out dates, and specify the number of rooms you need.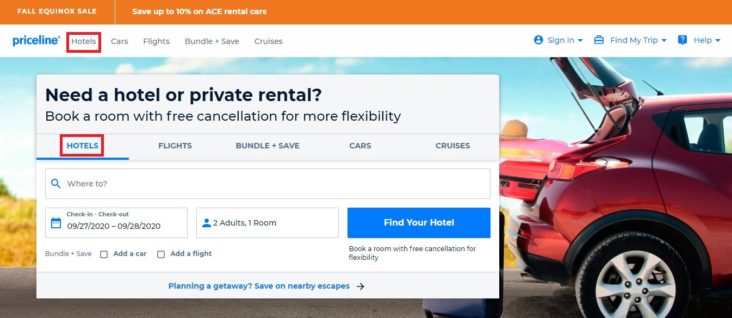 By default, results are organized in "recommended" order, determined by a combination of user reviews, general ratings, and price. You can change this to sort results by price or customer rating instead. Semi-opaque Pricebreaker options will also be suggested at the top of the search results.
At the top, you can switch to Map View, or even select from top filters.
On the left sidebar, you can adjust filters for amenities, budget, guest rating, neighborhood, and hotel brand. If you have a specific property in mind, you can also search for it by name.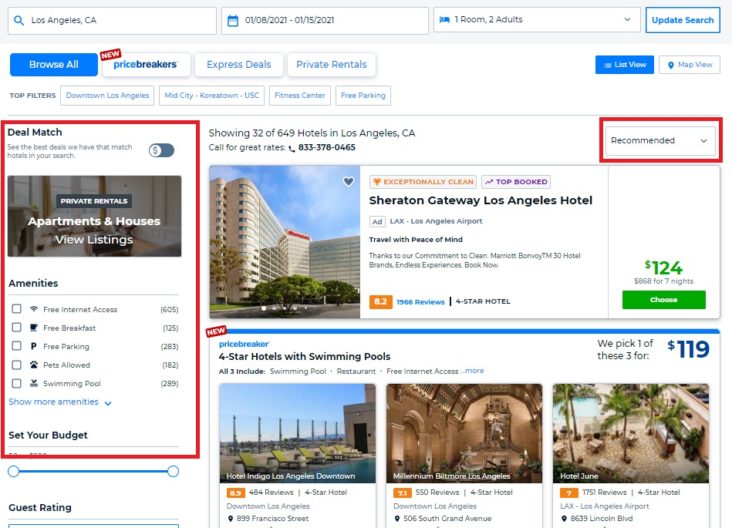 The terms and conditions vary between properties, so make sure to read everything before making a reservation. If your travel plans are concrete, you can usually save money with a prepaid and/or non-refundable rate.
Some properties require payment at the time of booking, while others allow you to pay at check-in. You can see each hotel's policy on the results page — if a hotel says "Pay Later" your card won't be charged (unless you choose to pay upfront). If the hotel allows you to cancel the reservation without penalty, Priceline highlights that as well.
Hot Tip: Keep in mind that taxes aren't included in the rate shown on the results page or a specific property's profile page — you'll see all additional fees included once you choose a room and rate. When comparing prices between different websites and services, it's always good to check the total price rather than the initial per-room-rate.
Select any hotel by clicking "Choose," which will bring up the hotel's page to select your room type. You'll be able to review payment and cancellation terms, guest ratings, and amenities.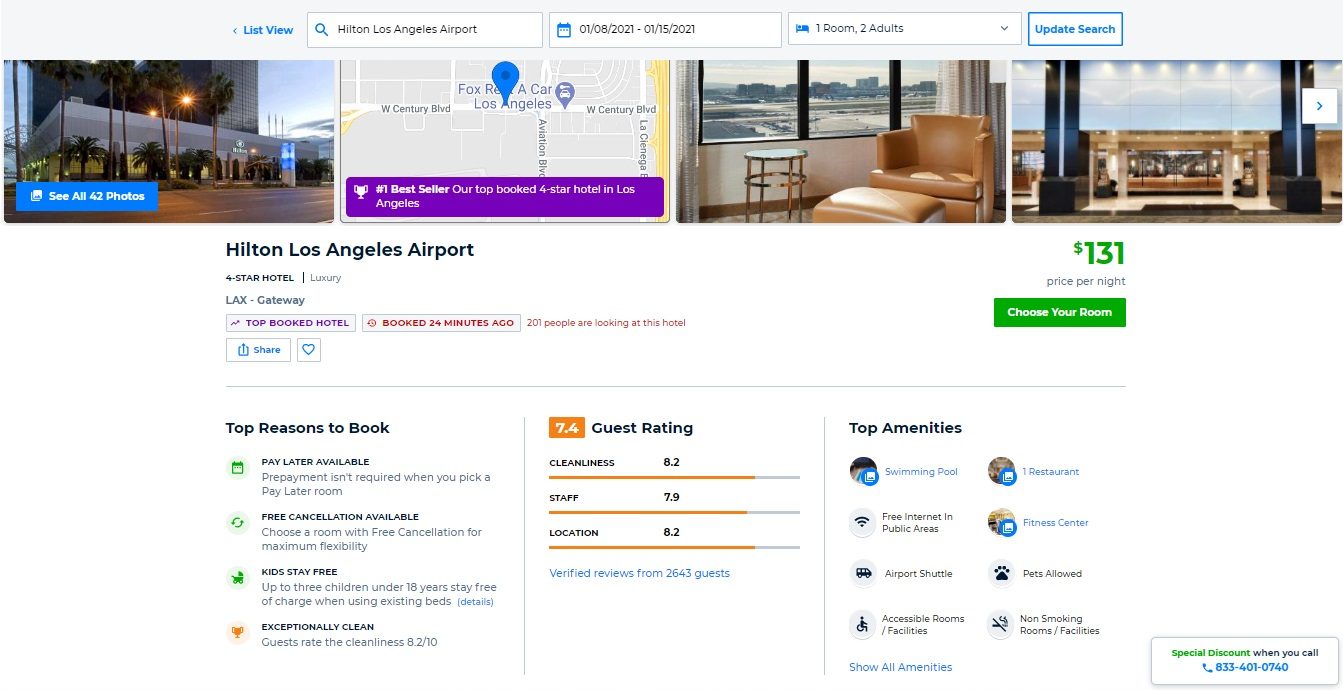 Scroll further down to select your room type, then click "Book."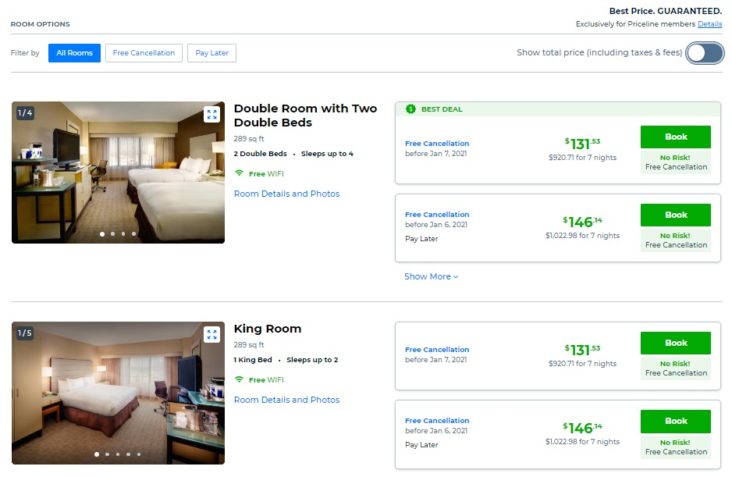 Toggle the button above the results to see the "true" total price, including taxes and fees. This will also be displayed before you checkout.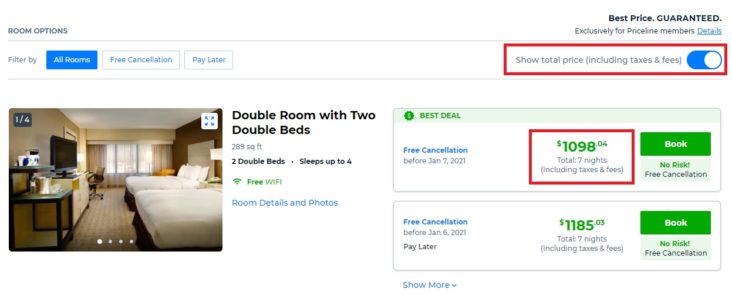 Enter your personal and payment details, then click "Complete Booking."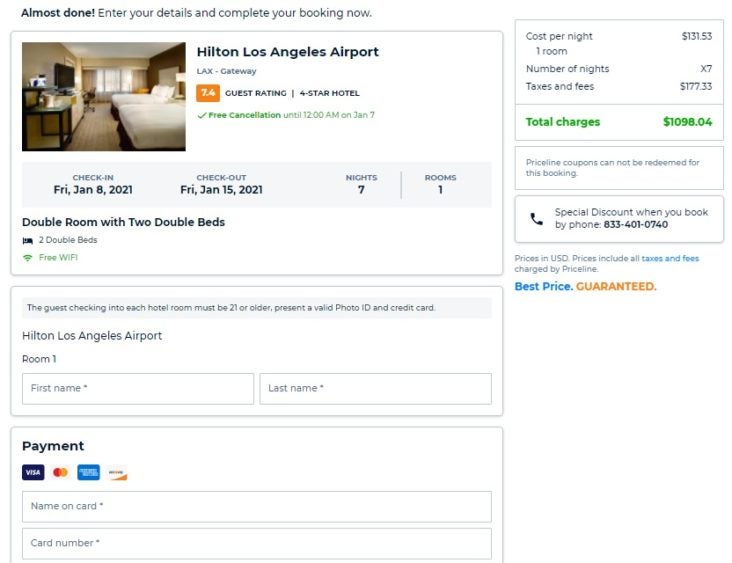 Trip Protection
Before completing your reservation, you'll be offered the opportunity to add Trip Protection, a travel insurance product offered by Allianz through Priceline.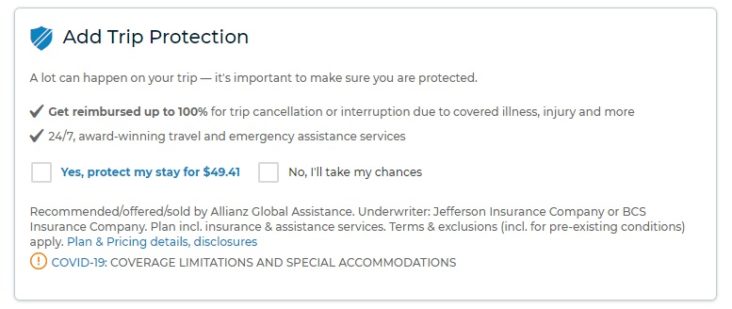 While adding this protection is a personal choice, it's important to understand that there may be no need to purchase extra insurance if you have the right travel rewards credit card in your wallet.
Many major credit cards come with trip insurance:
Hot Tip: Check out our guide to credit card insurance for more information about the various protections and benefits offered and our recommended cards with coverage.
Best Price Guarantee
Priceline members that can find a better deal within 24 hours of making their air, hotel, rental car, and cruise reservations can submit a Best Price Guaranteed claim to Priceline for the difference.
For Express Deals, Priceline members who find a better price up to midnight before they travel can be refunded 200% of the difference.
To make a claim for a hotel, you'll need to contact Priceline by phone at 800-PRICELINE (800-774-2354). The representative will check the lower rate to verify it. Note that to qualify, the lower rate must be available to the public and have the same availability.
Hot Tip: Rates booked through loyalty program discounts are excluded from the Best Price Guarantee, meaning that if there's a membership discount (even one that's available to the general public), Priceline may not honor it.
Price Comparisons — Hotels
Let's take a look at some price comparisons to see how Priceline stacks up to other online travel agencies and hotel websites.
Example #1: A 7-night stay in a king room at the Hilton Los Angeles Airport for 2 adults.
In this example, Priceline had the cheapest overall rate, thought Hotels.com was a few dollars more and Hilton itself was around $45 more. You would have to weigh the overall cost compared to any benefits you may receive from a rewards program like Hotels.com Rewards or a loyalty program like Hilton Honors.
Hot Tip: No matter which website you want to use to book your hotel, always compare room rates across multiple sites to find the best deal!
Example #2: A 3-night stay in a superior king room at the St. Regis Washington, D.C. for 2 adults.
| | |
| --- | --- |
| Website | Price |
| Booking.com | $1,720.80 |
| Expedia | |
| Hotels.com | $1,548.39 |
| Orbitz | |
| Priceline | $1,548.39 |
| St. Regis (direct) | $1,517.34  |
Booking directly with St. Regis would deliver the best value in this example, with Priceline offering a slightly higher price that was similar to most of the OTAs checked. If you really want to book with Priceline, you can always submit a Best Price Guarantee claim within 24 hours of reservation.
Bottom Line: When you book a hotel through Priceline, you generally won't be able to collect hotel loyalty points. Also, the property likely won't honor any elite status you hold, as is the case with most OTAs. For example, if you hold Marriott Gold Elite status, you won't get a room upgrade or free breakfast if you book through Priceline.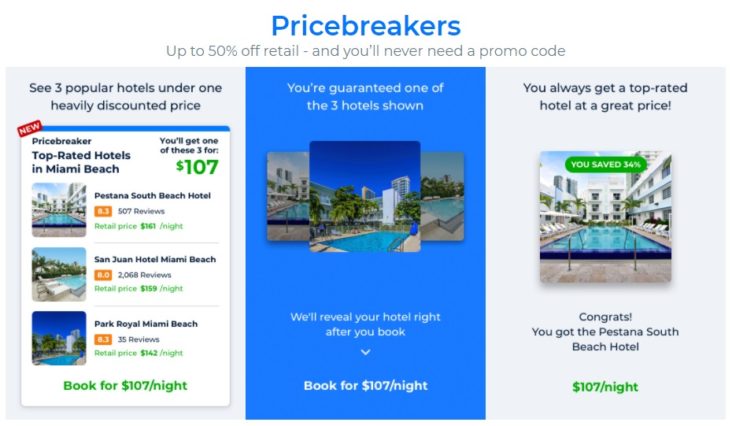 One of Priceline's opaque products, Pricebreakers gives travelers a heavily discounted price on one of 3 similar hotels. You will be able to see details for the 3 hotels before your purchase, including the shared amenities, location, reviews, and average retail rates. You will be guaranteed to secure a room at one of the 3 properties at the price shown, with the "winning" hotel revealed after confirmation of your purchase.
Pricebreakers are similar to Hotwire's Hot Rates with the added benefit of narrowing down the possible hotel to one of 3 guaranteed options across various amenities and star ratings. You can also create your own deal at the bottom of the options by selecting 3 amenities and 3 neighborhoods that will help narrow the deals shown to you.
Just like with flights, Priceline offers a feature to help you save a ton on hotels — as long as you aren't too picky about hotel choice.
The basic premise is that Priceline can provide a deep discount on a hotel, but it won't tell you where you're actually staying until you confirm the reservation. Bookings are prepaid, non-refundable, non-changeable, and non-transferable… so basically, you're stuck once you make the booking.
From the main Hotels page, you can scroll down until you see an option to "Search Express Deals," or you can simply enter the city, number of rooms, and check-in and check-out dates and filter by Express Deals at the top of the results page.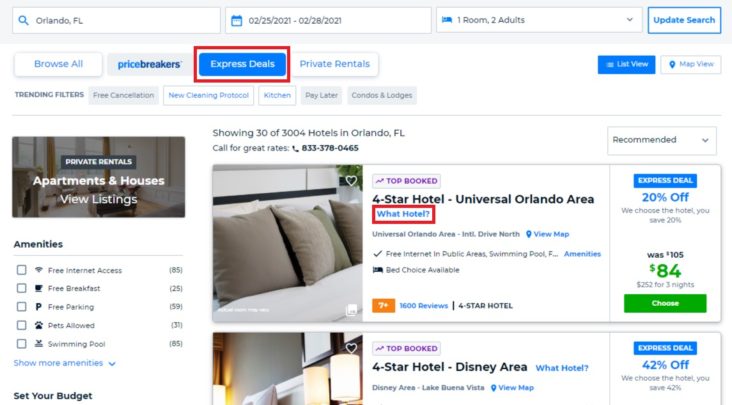 The results page looks exactly like the standard hotel search results, except that instead of hotel names you'll only see star ratings. For example, the top result might be "4-Star Hotel." If you click the "What Hotel?" link, you'll see a map with the hotel's general location shaded and a list of similar hotels in the area, similar to the previous Name Your Own Price tool.
Because you can't even read guest reviews before committing — only an average rating by guests — any hotel booked through Express Deals is a bit of a gamble. You have no way of knowing exactly where you're staying. If you're flexible or more easy-going, this means you can get a great deal. Otherwise, it might be worth paying a bit more so you know the details of the hotel before you book.
Unfortunately, it seems like lots of people book these rates without reading the terms — there are a ton of complaints online from people who didn't get what they expected or wanted when booking through Express Deals. To avoid ending up in a similar situation, make sure you're prepared to accept whatever hotel Priceline reserves for you before finalizing the reservation.
The good news is that Priceline's Best Price Guarantee applies, and Priceline members who find a better price up to midnight before they travel can be refunded 200% of the difference.
Bottom Line: Priceline's Express Deals feature can help you save up to 60% off a hotel, but you won't know the actual hotel until you make a non-refundable reservation. If you are flexible, this can be a great deal.
How to Book a Flight on Priceline [Step-by-Step]
Booking regular flights on Priceline is a straightforward process, similar to any other OTA.
You start by entering details of your trip: the city or airport you're departing, dates, cabin, and the number of people traveling. You can also search for a one-way or multi-stop trip instead of a standard round-trip flight.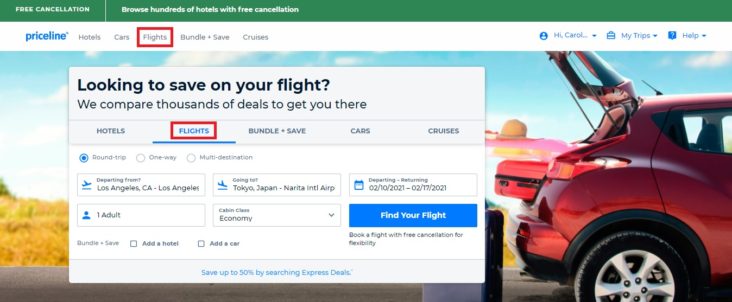 If your dates are flexible, you can see variable pricing across the calendar when inputting your search parameters.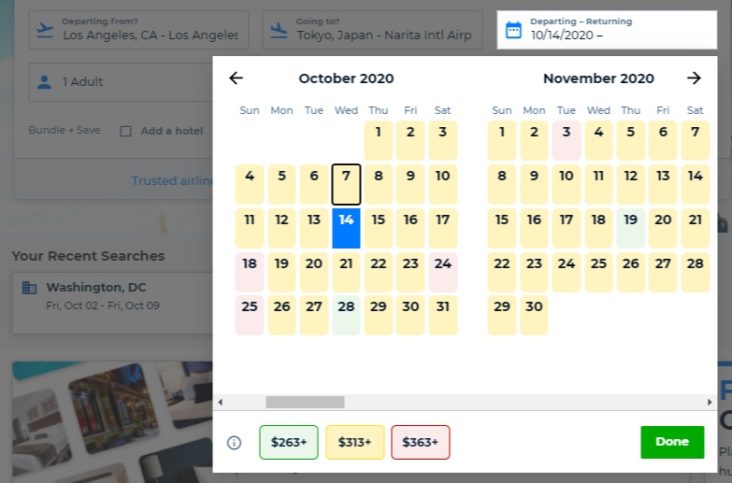 By default, results are shown in price order. You can use controls on the left sidebar to filter results by the number of stops, departure or arrival time, total travel duration, and airline. If your travel involves a city with multiple airports, you can also specify which 1 you'd prefer.
At the top, you can also search by flexible dates to see pricing a day before and after your selected dates.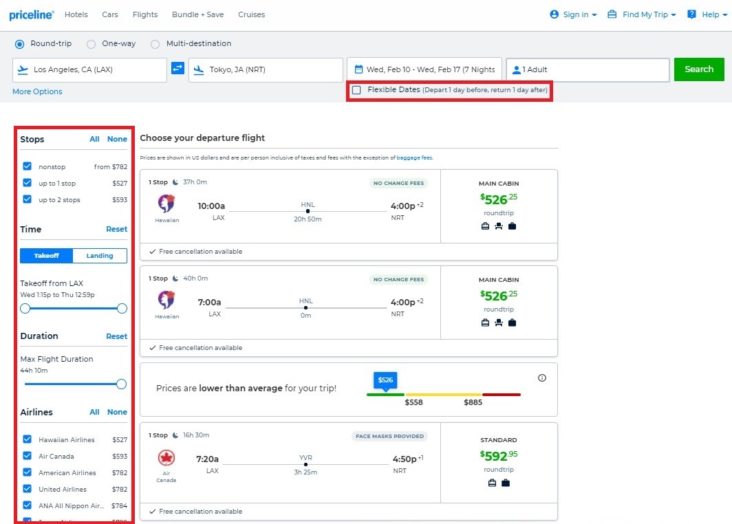 Once you select any departing flight, you'll see options for the return flight. Any pricing at "+$0.00" will not affect your total price, but you may see cheaper or more expensive options for your return.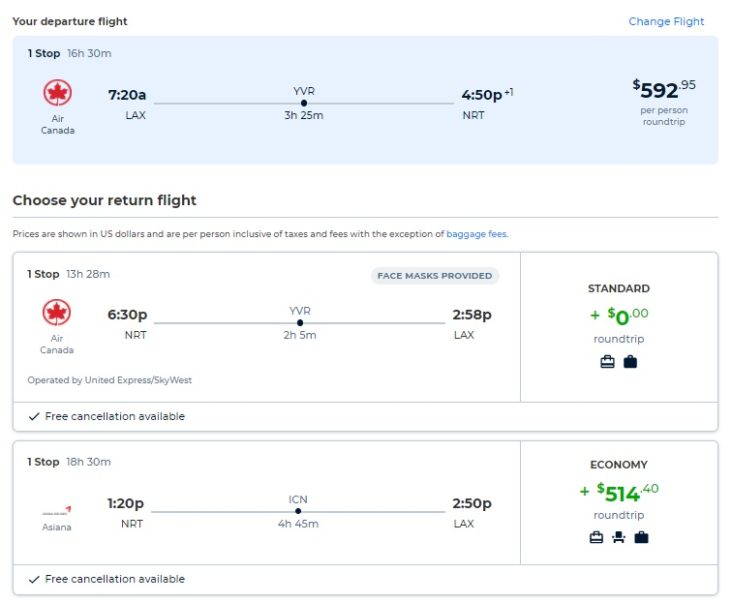 Once you have selected your flights you'll see a confirmation of the departure and return, baggage information, and also have an option to select your seats before continuing to checkout. Enter your passenger and billing details, then review and book.
Priceline offers free cancellation within 24 hours, as well as its Best Price Guarantee.
Price Comparisons — Flights
Using the straightforward flight-search function, prices compare favorably with other tools (though Express Deals may be cheaper, see below).
Example #1: The cheapest flight overall, round-trip between Los Angeles (LAX) and Tokyo (NRT)
| | | |
| --- | --- | --- |
| Website | Price | Airline |
| Expedia | $527 | Hawaiian |
| Google Flights | $527 | Hawaiian |
| Hawaiian (direct) | $527 | Hawaiian |
| Kayak (via Hawaiian) | $527 | Hawaiian |
| Orbitz | | Hawaiian |
| Priceline | $526.25 | Hawaiian |
Priceline technically had the lowest price, but only by a few cents. In this case, you may consider booking directly via the airline for convenience or look to an OTA with a rewards program that allows you to triple-dip credit card points, airline miles, and loyalty points like Orbitz's Orbucks or Expedia Rewards.
Hot Tip: When comparing prices on different OTAs, make sure the results you find are valid! In some cases, the cheapest fare you find may no longer be available.
Example #2: The cheapest nonstop flight overall, round-trip between Los Angeles (LAX) and Tokyo (NRT)
When we filtered the results to nonstop only, Priceline (and Kayak) actually took an edge:
| | | |
| --- | --- | --- |
| Website | Price | Airline |
| American (direct) | $781.65 | AA (operated by JAL) |
| Expedia | $782 | AA (operated by JAL) |
| Google Flights | $772 | JAL |
| JAL (direct) | $787.60 | JAL |
| Kayak (via Ovago) | $668.05 | JAL |
| Orbitz | | AA (operated by JAL) |
| Priceline | | AA (operated by JAL) |
The OTAs and airlines all delivered similar prices with 1 exception: a fare from Ovago via Kayak that would save over $100 against all other quotes. Sometimes these rate anomalies are too good to be true, so we suggest checking a few sites for comparison.
Bottom Line: Priceline compares well with its competitors. During sample searches, it consistently provided about the same or a slightly lower price as other OTAs.
In the screenshot of the initial search page above, you might notice a link below the search fields that says "Save up to 50% by searching Express Deals." Priceline's Express Deals program can help you get discounts on last-minute flights, but there's a pretty big catch — in exchange for a discount (sometimes a hefty one), you won't know what airline you'll be flying on or your exact flight times until after you book.
You can click that linked text to search specifically for Express Deals, but we recommend seeing how they compare to flights in a regular search. If you do find an Express Deal, it's shown alongside regular results. They are easy to spot: Express Deals are flagged as a special fare, and there's a lot of information missing.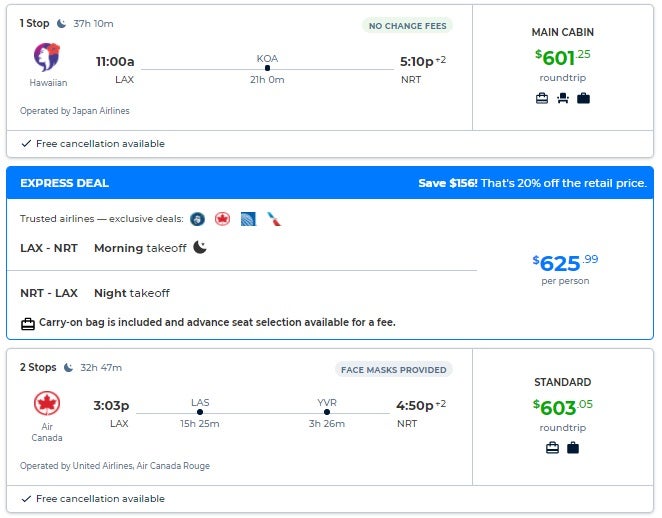 The sample fare above is actually higher than the cheapest available options, but the touting of 20% off may help you narrow which fare you may be getting, such as one with fewer stops and less travel time.
After you click on a fare, you'll see a little more information — basically, just the time range for your flights. Morning is considered from 6 a.m. to 2 p.m., mid-day is from 10 a.m. to 6 p.m., and night from 3 p.m. to 11 p.m.
You'll also see the approximate number of stops. Note that there's no minimum layover time, so if you have to go to a different terminal and the layover is unusually short, you might be left scrambling.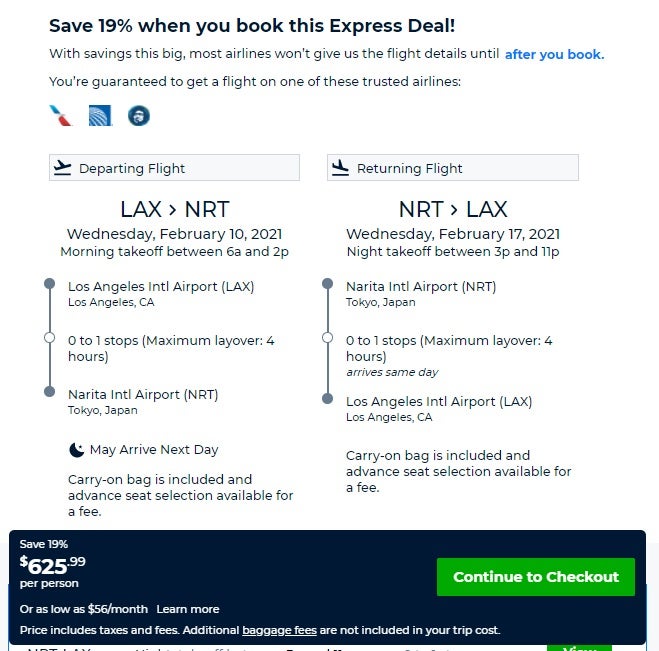 Follow the checkout prompts to complete your purchase.
Terms are similar to most airline bookings, with 1 key exception: unlike most other tickets booked through Priceline, which you can cancel for free within 24 hours, Express Deal tickets are absolutely non-refundable and non-changeable.
Fortunately, Priceline's Best Price Guarantee ensures that if you find the exact same flight for a lower price up until midnight on the day before travel, you will be refunded 200% of the difference.
Bottom Line: Priceline's Express Deal flights can help you save a ton of money, as long as you're okay not knowing exactly what you're booking until after you pay.
How to Book a Rental Car on Priceline [Step-by-Step]
Priceline's rental car tool has access to most major rental agencies like Alamo, Avis, Budget, Hertz. National, and SIXT.
To search for a rental car, enter the airport or city you're traveling to and your pickup/drop-off dates and times. You can also specify whether you want a different drop-off location in the same city or a one-way rental.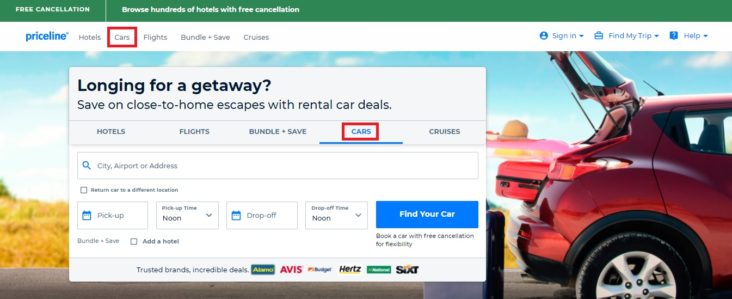 You can filter results by vehicle type at the top or filter on the left by type, price, company, offers, payment, and fuel type. Priceline's recommendations will sort first or you can change to sort by the lowest price or car type.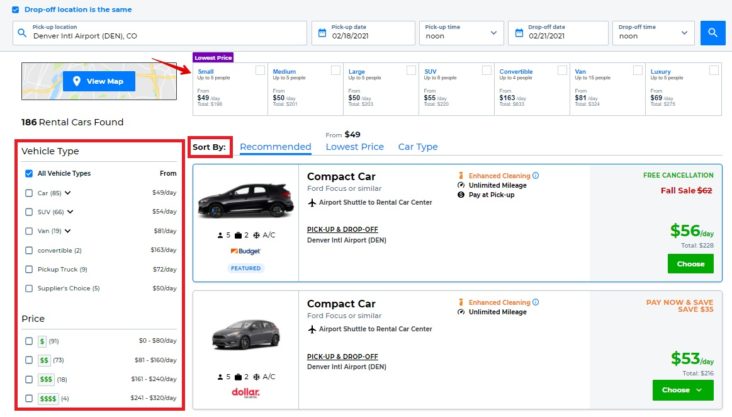 Once you select "Choose," you'll be able to view the terms and conditions — these vary by rental company, although many reservations are cancelable.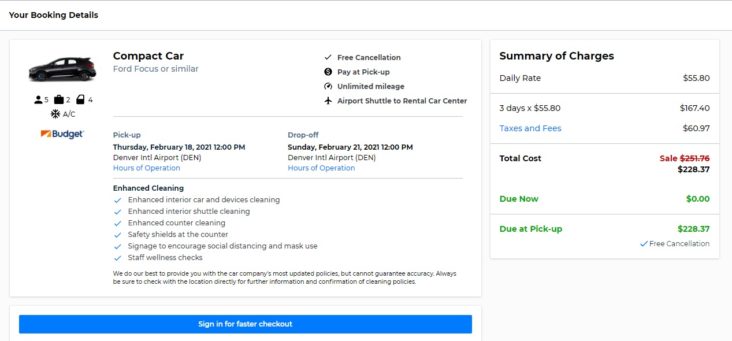 You will be prompted to enter your contact and driver information, as well as optional information like adding child seats, loyalty program information, and flight information.
Collision Damage Protection
Before confirming your purchase you'll be offered an option to purchase collision damage protection, an insurance product offered by Allianz through Priceline.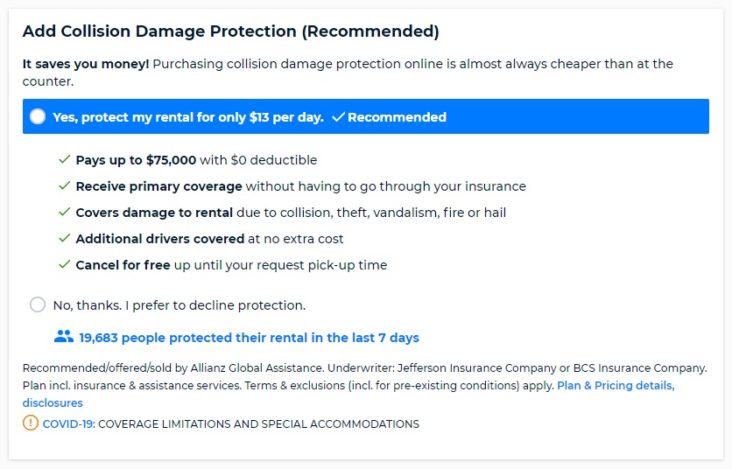 Make sure to check what rental car coverage comes with the credit card you use to make the reservation. This coverage usually requires you to decline coverage from the rental agency and pay for the entire rental with the card.
Some of our favorite credit cards that offer primary car rental coverage are the Chase Sapphire Preferred® Card and Chase Sapphire Reserve® Card, but for more information on ALL the cards that offer car rental insurance, check out our complete guide to credit card insurance.
Price Comparisons — Rental Cars
Let's take a look at how Priceline's car rental rates compare to other OTAs and other popular car rental agencies.
Both of these examples are for a week-long rental in Denver including all taxes and fees. The first example compares prices for the cheapest option available, and the second example compares prices for a specific type of vehicle.
| | | | | | | |
| --- | --- | --- | --- | --- | --- | --- |
| Type of Car | Budget | Expedia | Enterprise | Hotwire | Priceline | Thrifty |
| Cheapest car available | $291.59 | | $447.14 | $261.18 | $258.85 | $374.79 |
| Mid-Size SUV | $325.79 | $415 | $496.81 | $321.61 | | $394.42 |
In the first example, Priceline offered the best deal for the cheapest car available. In the second example, Priceline was in the middle of the pack, with Hotwire delivering the best rate for a mid-size SUV. Rental cars are also eligible for Priceline's Best Price Guarantee within 24 hours of purchase.
Bottom Line: You can save plenty on your next car rental by shopping around on several different sites. Our guide to the best websites for cheap car rentals can help you narrow which pages to check!
How to Book a Bundle + Save Vacation Package on Priceline [Step-by-Step]
Priceline offers the opportunity to bundle a combination of hotel, flight, and car rental together to assemble a discounted vacation package. Start your search on the homepage by clicking Bundle + Save in the main search area or on the top navigation bar.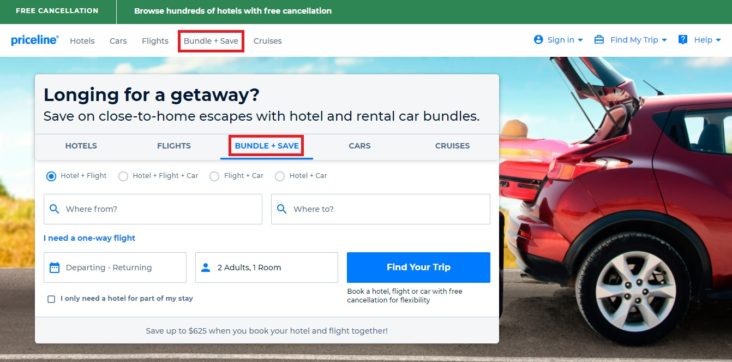 You'll have 4 bundled options to choose from:
Hotel + Flight
Hotel + Flight + Car
Flight + Car
Hotel + Car
Enter your departure and arrival cities and dates as well as the number of adults and rooms, then click "Find Your Trip."
For a sample search for a Hotel + Flight from Chicago (ORD) to Seattle (SEA), the results start with hotel selection. On the left-hand side, you're able to sort by recommended hotels, hotel name, price, and star and guest rating. You can also filter by amenities, neighborhood, star and guest rating, and hotel name and brand.
Once you select your hotel by clicking "Choose," the rest of the booking process is just like if you were booking a hotel or flight separately.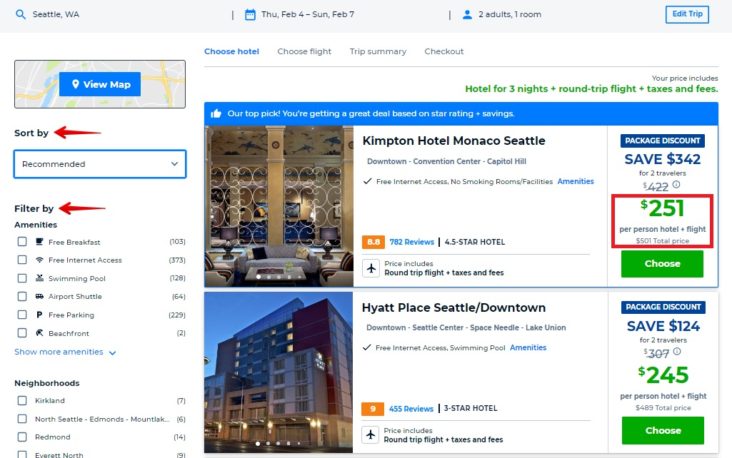 Note that there are 2 prices displayed for your Priceline vacation package — a per person rate and the total price.
After you select your hotel and begin to select your flights, you'll see how the various options affect the package price you were initially quoted.
+$0.00 will not affect your package price
A positive price would increase your package price
A negative price would decrease your package price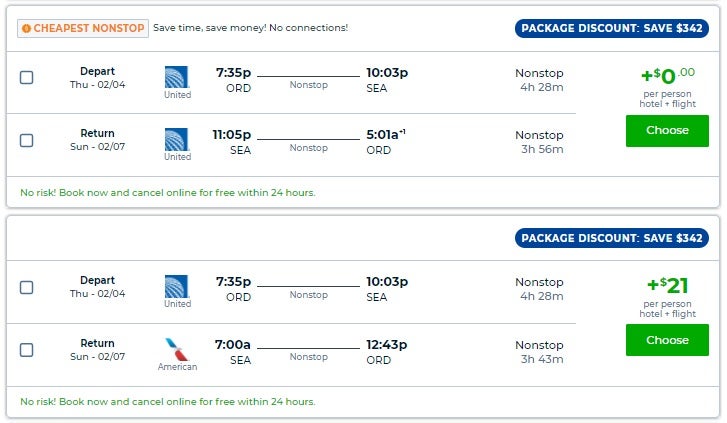 You'll get a chance to review your selections fully before checking out, then add the passenger information and payment details before completing your booking.
Hot Tip: Take a peek at our guide to the best credit cards for vacation packages before making your purchase.
Price Comparisons — Bundle + Save
Let's see if this Priceline vacation package will have you on your way to saving $342 as advertised.
This package consisting of 2 round-trip flights from Chicago (ORD) to Seattle (SEA) plus a 3-night stay at Kimpton Hotel Monaco Seattle for a cost of $288.24 per person. The total price for this package is $576.47.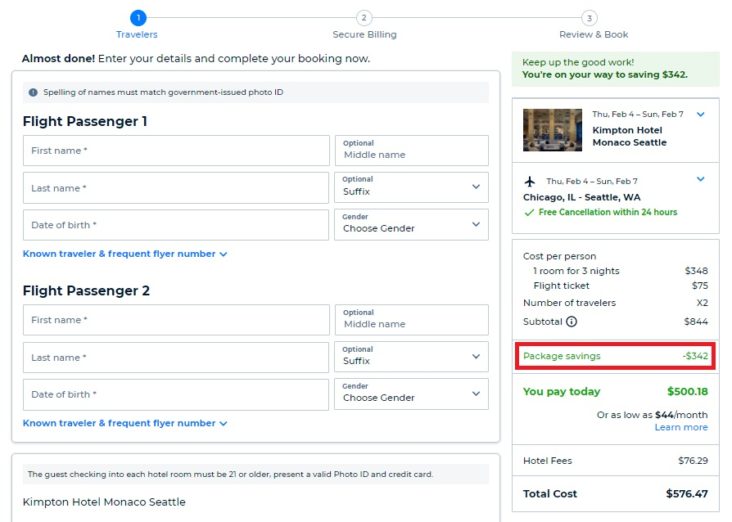 We quoted the individual components of the bundle separately for review:
| | | | |
| --- | --- | --- | --- |
| Hotel Price on Priceline | Hotel Price on IHG | Flight Price on Priceline | Flights Price on United |
| $694.14 | | $148.40 | $148.40 |
If paid for separately, the total cost when booking through Priceline would be $842.54, so the actual savings for the Bundle + Save rate is $266.07. The savings are a bit shy from the advertised $342, but still a substantial discount nonetheless.
How to Book a Cruise on Priceline [Step-by-Step]
It is easy to search for cruises on Priceline. Start by selecting Cruises from the top navigation bar or the main search menu, enter your destination, cruise line, departure month, cruise length, and whether you're under 55 or not, and then click "Find Your Cruise." You can fill out minimal information to see a wider variety of search results, like all cruises in February 2021, all Caribbean Carnival cruises, etc.

You can then sort by featured cruises and departure date, or refine your search further at the top to adjust destination, length, departure date, cruise line, cruise ship, departure port, and additional discounts.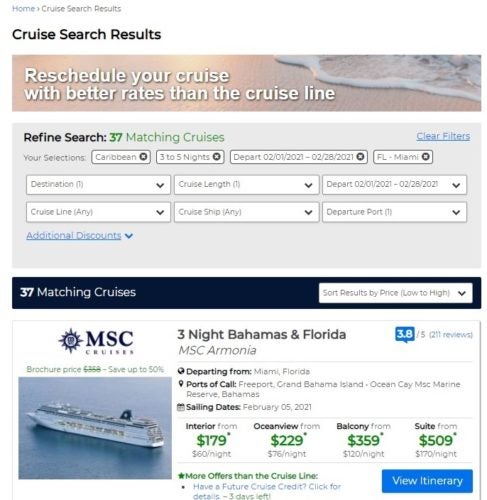 Click "View Itinerary" to see more details about the cruise. Choose your sailing date and click "Select."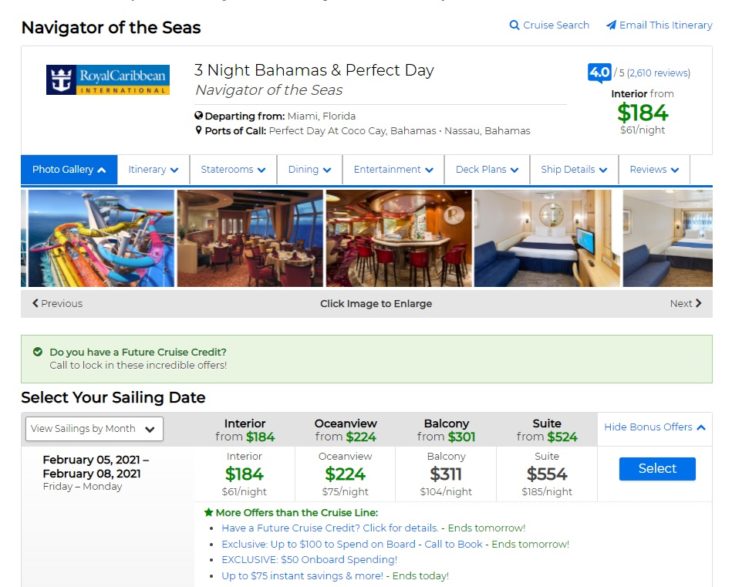 Input the number of guests in your party and the zip code of your current residence and click "Continue." Select your room type by clicking "Select." Finally, enter your full guest details and preferred dining time and click "Continue."
On the final booking screen, you'll be able to review your fare, taxes, and fees, as well as special offers like onboard spending credits. You can opt to add travel protection and choose how to pay — deposit-only, payment in full, or monthly payments. When you've entered all the required details, click "Complete Booking."
Hot Tip: Will your travel insurance cover COVID-19? Our guide details what type of insurance might be best to cover your next cruise. We also have everything you need to know about the current cruise cancellation policies due to the coronavirus.
Price Comparisons — Cruises
Will Priceline save you money when booking a cruise? Let's take a look.
Example #1:
In this example, we searched the 3 Night Bahamas & Perfect Day cruise for 2 adults on Royal Caribbean's Navigator of the Seas in February 2021.
| | |
| --- | --- |
| Website | Total Cost of Cruise |
| Cruise.com | |
| Cruise Direct | $532.04 |
| Expedia | $589.04 |
| Priceline | |
| Royal Caribbean | $589.04 |
Priceline's price was in the middle of the various sites we checked, with Cruise.com and Cruise Direct offering the same lowest rate.
Remember, if you find a lower price for the exact same itinerary you've purchased on Priceline within 24 hours of booking, you can always submit a Best Price Guarantee claim.
Example #2:
In this next example, we searched for a 7-night Western Mediterranean cruise for 2 adults on Norwegian Cruise Line's Norwegian Epic in August 2021.
| | |
| --- | --- |
| Website | Total Cost of Cruise |
| Cruise.com | |
| Cruise Direct | $1,930.54 |
| Expedia | |
| Norwegian | |
| Priceline | |
Expedia offered the best rate in this example, with all other sites at a higher yet equal price. Thought Expedia's rate included onboard credit, Priceline's rate included onboard credit and a "free" shore excursion credit. The value you place on these extras may sway your decision on what site to book with.
Bottom Line: It's to your advantage to search on a few cruise websites to find the best price and best bonus offers (like onboard credit, free gratuities, or free specialty meals or drinks). You may also find more value in earning loyalty points (like Expedia Rewards).
Priceline VIP Members
Priceline members can save even more on existing hotel rates when logged in to their account. Look for a "Room Revealed to VIP Members" option among your search results.

Members also can save up to 50% on hotel rates when bundling their stay with a rental car or flight.
To create an account on Priceline, from any page click "Sign up" at the top, then "Create Account" in the pop-up window.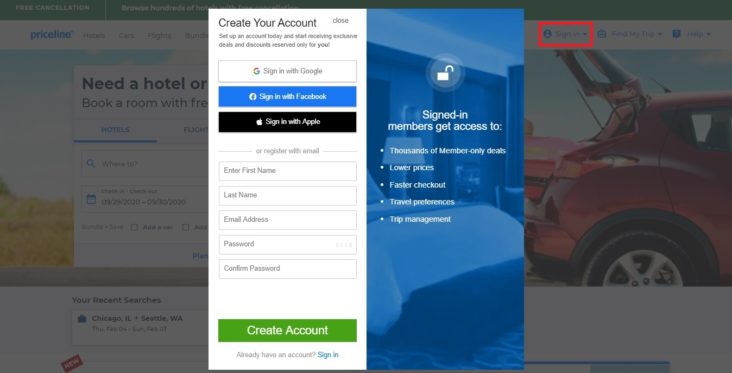 Priceline App
The free Priceline app (iOS, Android) can be used to book, view, and manage your hotels, flights, and rental cars, even when you're offline.

The app offers exclusive app-only hotel deals as well as "Late Night Rates" daily at 9 p.m., showcasing the best hotel deals nearby to help with last-minute check-in.
Priceline Rewards™ Visa® Card
For people who use Priceline consistently, Barclays offers a no annual fee co-branded credit card that earns rewards on everyday spending and bonus points on everything booked through Priceline.
Earn 10,000 points after spending $1,000 on qualifying purchases in the first 90 days (worth $100)
Earn 5x points per dollar on Priceline purchases and 1x point on all other purchases
Get 10% of points back when redeemed for statement credits toward travel purchases over $25 (including those made at Priceline) made in the last 120 days
Hot Tip: Because Priceline itself codes as "travel," you can also use a card that offers bonus points for travel purchases, such as the Chase Sapphire Preferred® Card that offers 2x points for travel.
Final Thoughts
As a standard online travel agency, Priceline performs solidly, and it is roughly on par with other OTAs in terms of selection and pricing. What makes the website stand out is its various opaque pricing tools that sometimes offer steep discounts on flights and hotels… if you're flexible and willing to commit without knowing all the details.
Before bidding or purchasing one of Priceline's opaque options, make sure that you're certain about the trip, timing, and any other details you can confirm. Once you submit a bid or make a reservation, there's no refund or cancellation!
---
Like this post? Pin it on Pinterest!