Skyscanner: How To Find Flights, Hotels & Car Rentals at the Best Prices [2020]
There are lots of websites available to book flights, hotels, and car rentals these days… so many that it can be hard to know which is the best one.
Whether you're booking directly through the airline, booking through a credit card travel portal like Amex Travel or Chase Ultimate Rewards Travel, or through an online travel agency (OTA) like Expedia, Hotwire, or Priceline, how do you know which will get you the best deal?
The short answer is, there's no short answer — sorry! There are lots of factors that can go into getting a good deal on a flight, hotel, or car rental.
The good news is that we're doing the hard work to help you find the best website to book your next vacation.
In this post, we're going to take you through metasearch engine Skyscanner, a type of site searches millions of flight, hotel, and car rental options to show you the best choices, then transfers you to another website to book.
We'll show you the pros and cons of this site and do some price comparisons between Skyscanner and other popular websites like Orbitz, Booking.com, and Kayak.
What Is Skyscanner?
Skyscanner is a metasearch engine like Kayak or Google Flights. Skyscanner combs through millions of flight, hotel, and car rental options to find the best choices for your trip.
Once you're ready to book, Skyscanner will transfer you to the airline, hotel, or car rental website or an online travel agency to complete your booking.
Bottom Line: Skyscanner does NOT charge booking fees on flight, hotel, or rental car reservations.
How To Search for a Flight on Skyscanner [Step by Step]
The home page of Skyscanner has a search engine that functions much like other websites you're used to. The search box defaults to flights, but if you're looking for hotels or rental cars, you can use the tabs at the top of the search box.
I'm going to walk you through the steps you'll follow to search for flights on Skyscanner.
Search for Flights
Start by entering your departure and destination cities. If you're flexible with your destination, select Everywhere in the search box. This will let Skyscanner find the best deals from your home airport on the specified dates.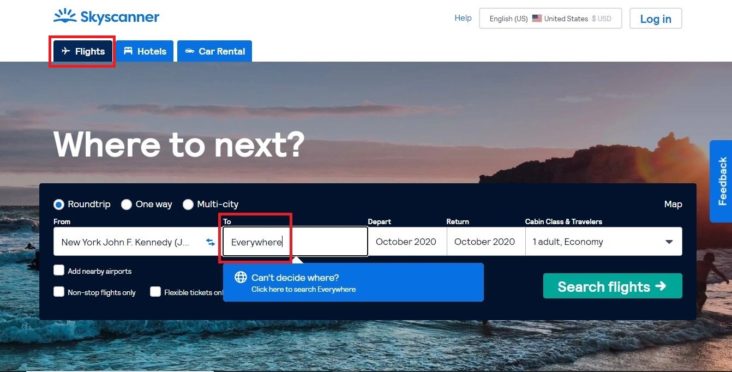 Next, input your travel dates. If you have some flexibility, you can search an entire month. If you have lots of flexibility, you can search for the Cheapest Month.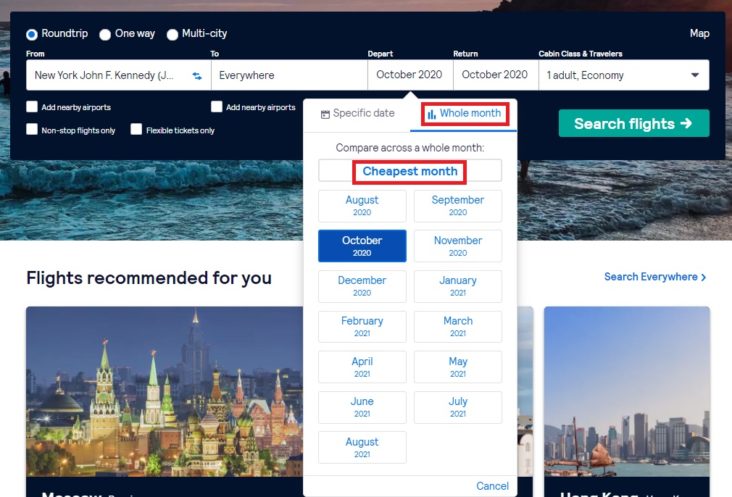 Next, you'll need to choose the number of travelers and your cabin class of choice. If you want to search for business or first class flights, you'll need to input your exact travel dates and destinations. If you're using the Search Everywhere feature or searching for flexible dates, you'll only be able to see availability for economy seats.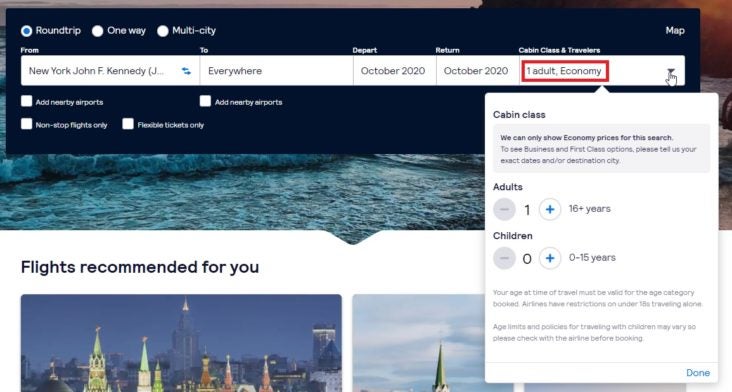 If you searched for Everywhere, you'll get a list of destination countries from least to most expensive. Click on the drop-down arrow to the right to see specific cities, also in order from least to most expensive.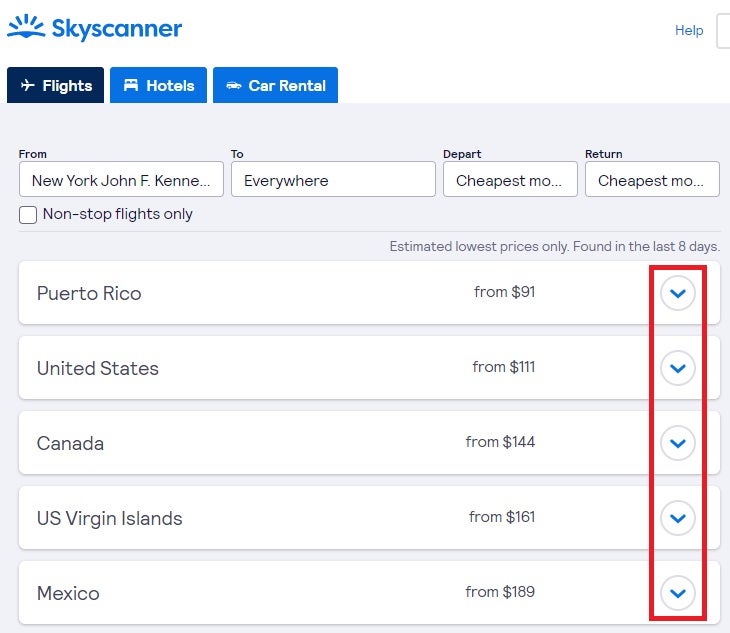 If you searched using flexible dates, you'll be able to see a calendar with fares for the months you chose. The lowest prices are shown in green and the highest prices are shown in red. After selecting your specific dates, click on Show flights to see the actual flights available.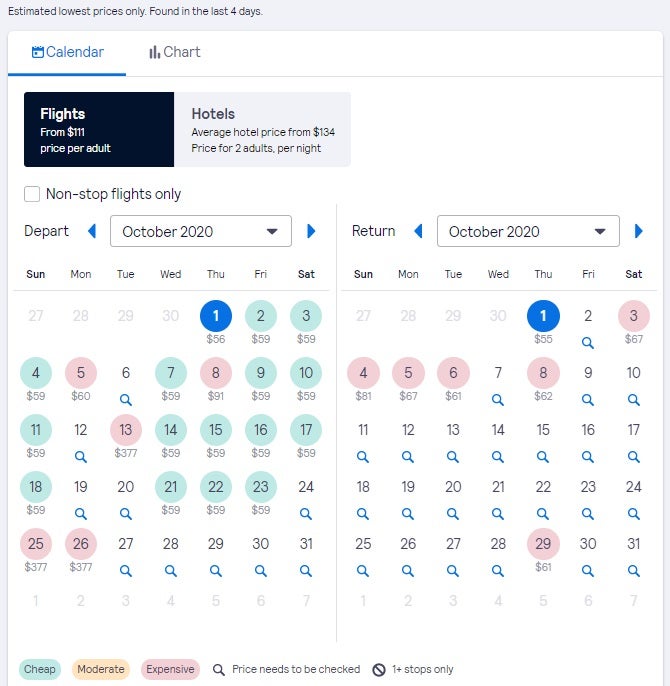 Hot Tip: If you're using any of Skyscanner's flexible search options like Search Everywhere or Cheapest Month, you'll only be able to see economy tickets. If you're interested in business or first class tickets, you'll need to input a specific date and destination.
Choose a Flight
Once you get to your flight results list, it should be in a format that looks pretty familiar. Your filtering options will be to the left of the screen. Sorting options are in the upper right corner.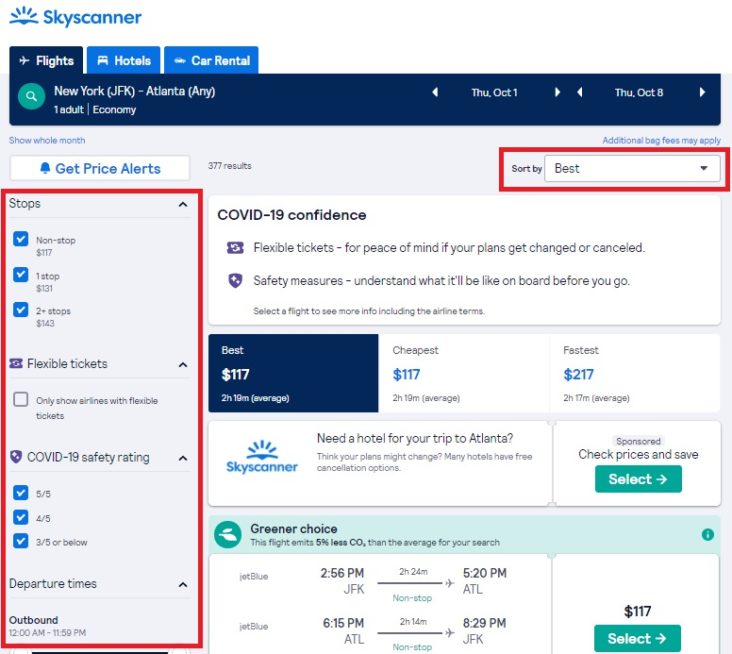 You can choose to filter by:
Number of stops
Flexibility
COVID-19 safety rating
Departure times
Trip duration
Airlines (including airline combinations)
Greener flights
Then you can sort your list using the following options:
Cheapest
Fastest
Outbound departure time
Return departure time
Once you find the flight you want, click the green Select button.

Next, you'll see a list of options. Click on either the green Select button and you'll be transferred to the listed website to complete your purchase.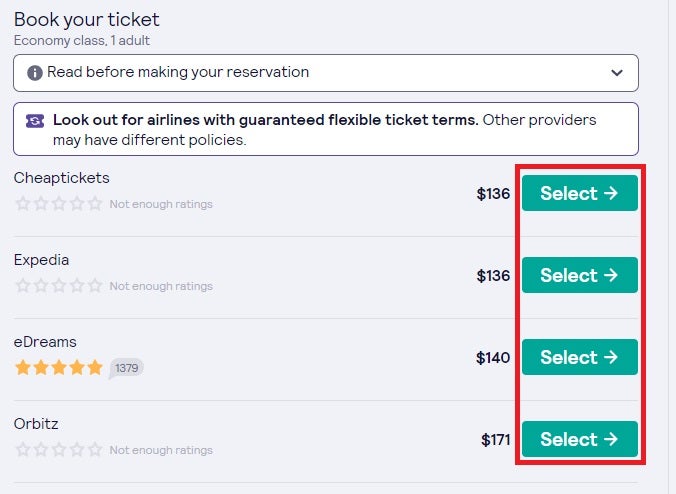 Double-check all of the flight details and prices before booking. We found the prices to be accurate, but Skyscanner does state that the prices you see are based on estimated taxes and fees and are subject to change.
Skyscanner Mashups
You might notice a little double ticket icon in the upper right-hand corner of some of your results. This indicates the flight is a Skyscanner Mashup.

These are similar to Kayak Hacker Fares where you'll be combining tickets from 2 separate providers for your trip. These mashup tickets require you to book 2 separate tickets (usually from different airlines or OTAs) to complete a round-trip ticket.
To book a Mashup ticket, click on the Select button as you normally would.

Under the flight details, you'll be able to see the 2 websites you'll be booking from. Click on Next to continue.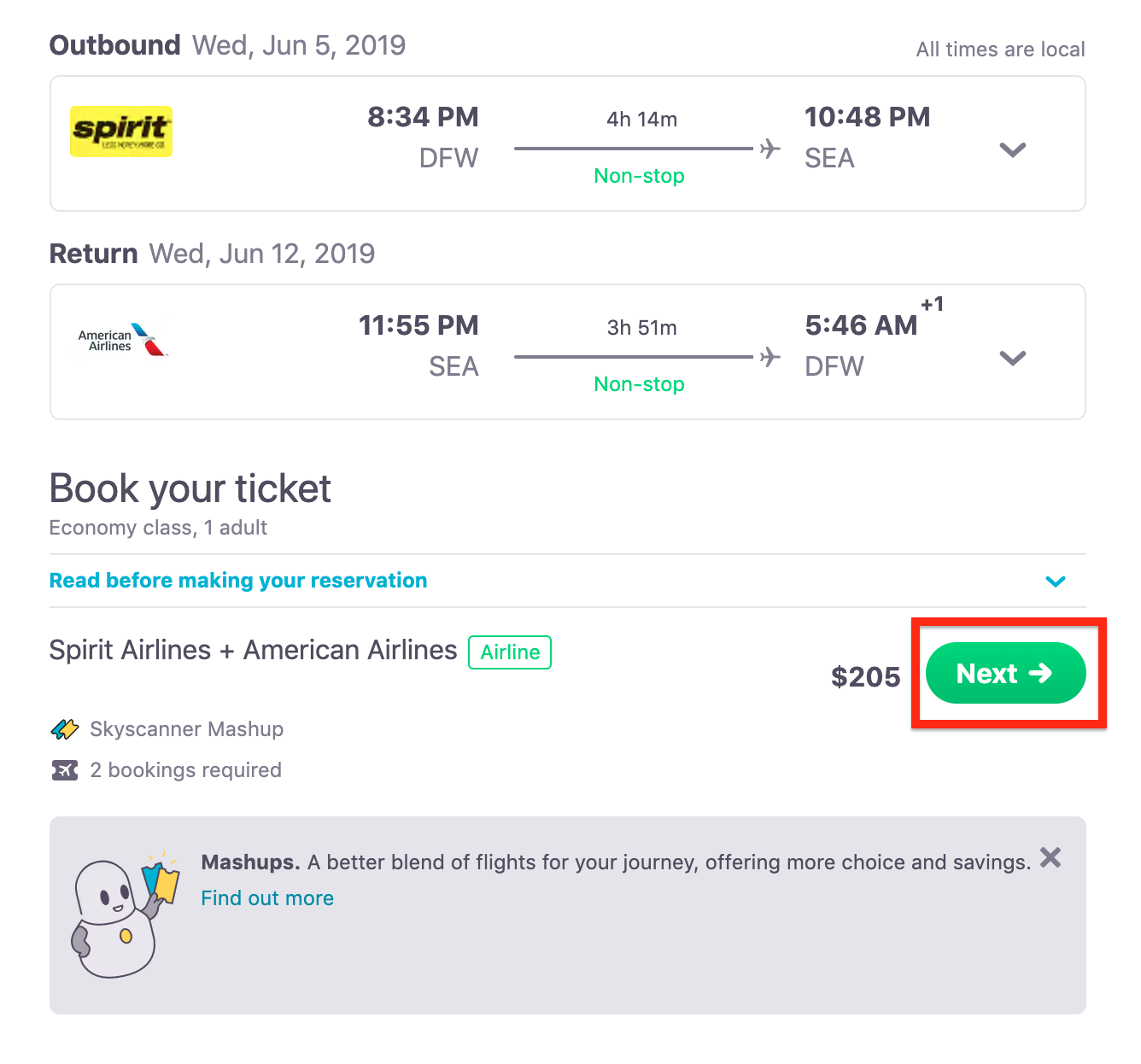 You'll then get links to the 2 websites you need to book from. Skyscanner advises opening both links at the same time to double check availability before you actually book.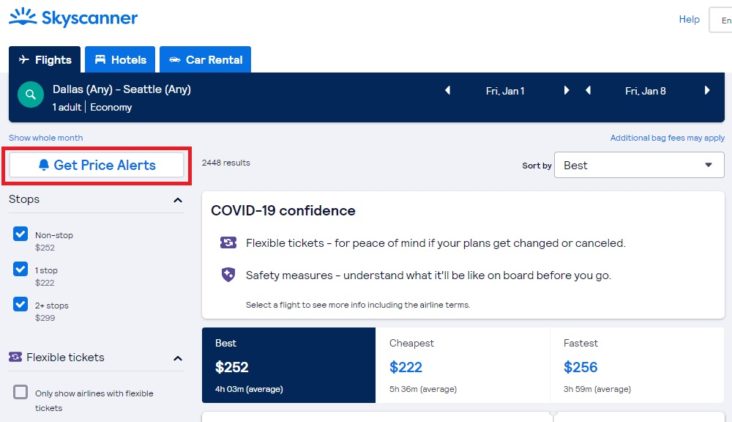 Once you confirm the flight availability, complete each booking separately.
Hot Tip: Skyscanner Mashup tickets can offer savings over a traditional round-trip ticket, however they aren't without risk. If something happens and you need to cancel or change your trip, you'll be dealing with 2 separate tickets that might have different cancellation or change policies.
Price Alerts
If you'd like Skyscanner to keep you informed of changes in flight prices, you can sign up for price alerts. Just click on Get Price Alerts on the search results page.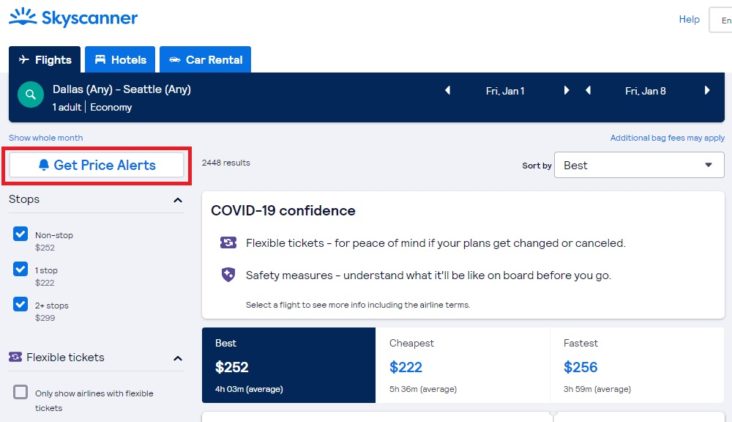 You can sign up using an email address, Facebook, or your Google or Apple account.
Greener Flights

If you're an environmentally conscious traveler, Skyscanner can help you choose the greenest option. Look out for the flights labeled Greener choice. These flights have scored the highest in Skyscanner's eco-friendly CO2 ratings. This rating system helps you identify the most eco-friendly flights by calculating the following:
Distance traveled
Fuel efficiency of aircraft type
Direct routes
Fuel usage per seat
How To Search for Hotels on Skyscanner [Step by Step]
To start your search for a hotel on Skyscanner, go to the home page and select the Hotels tab at the top.
Input your destination, dates of travel, number of guests, and number of rooms. Unlike searching for a flight on Skyscanner, you can't search with flexible dates. Click Search hotels to continue.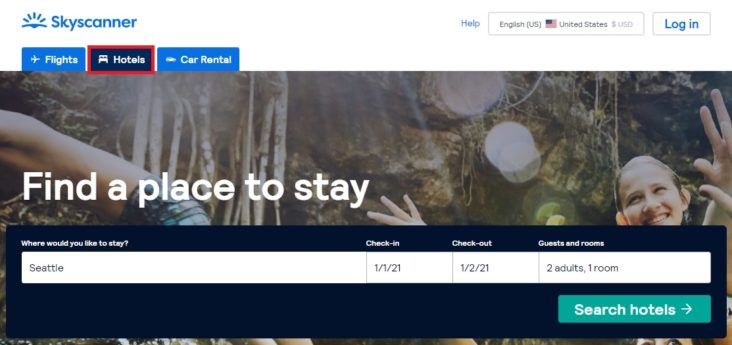 To the left of your search results list, you'll see a lot of options to filter your results by. Those options include price, rating, accommodation type, meal plan, cancellation policy, amenities, and more. You can then sort your list at the top by price, distance to destination, rating, or stars.
You can also search for hotels by location using the map in the upper left-hand corner. When you click on this, you'll be able to see each location pinpointed on a map, so it's easier to narrow your search using location as your main criteria.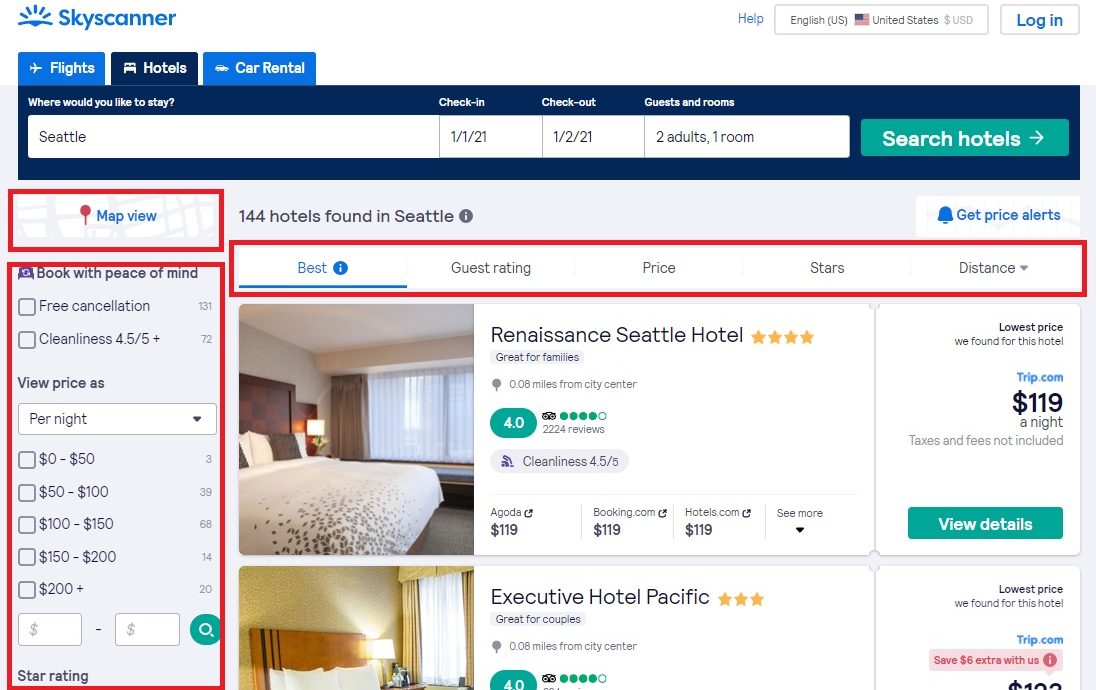 Once you've made your selection, click View details or Go to site to directly book your room.

Hot Tip: The price you see for a hotel is per night. It will be for the lowest level of room available, and it doesn't include taxes and fees. To see the actual total for your entire stay, you'll need to click through to the booking site.
Fly Stay Save
After you find a flight, you may notice advertising a Fly Stay Save promotion. This is Skyscanner's version of a vacation package.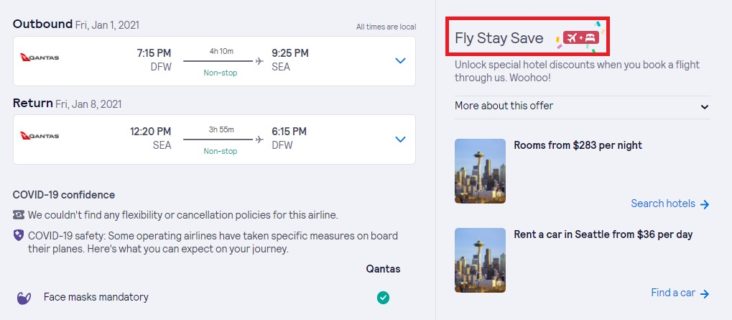 You can identify these discounts in red when you're searching for a hotel, or you may see a small icon within a search result.

These deals are supposedly available within 24 hours of booking a flight through Skyscanner. However, the fine print claims that this flight and hotel combo won't be considered a package and therefore, if something goes wrong, you'll need to contact multiple providers. The offered deals also did not consistently match the advertised price or site.
If you're looking to book a travel package, it's probably best to go through an OTA that offers great deals on packages like Expedia, Orbitz, Hotwire, or Priceline.
Skyscanner Car Rental
You can also use Skyscanner to book a rental car or airport shuttle. The site offers rentals from familiar brands like Avis, Hertz, National, Alamo, Enterprise, and Budget.
After selecting your rental car, Skyscanner will transfer you to the car rental agency to complete your reservation. There's no separate fee charged by Skyscanner.
How To Search for a Rental Car on Skyscanner [Step by Step]
To get started, click on the Car Rental tab at the top of the page.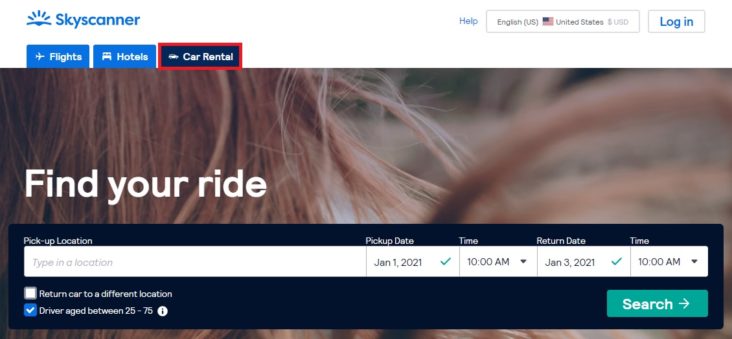 Enter your pick up location, dates, and time, as well as your drop off dates and times. If you need to drop off at a different location check the box marked Return car to a different location.
The results page has all of the filtering options to the left, including car type and class, features, and fuel policy.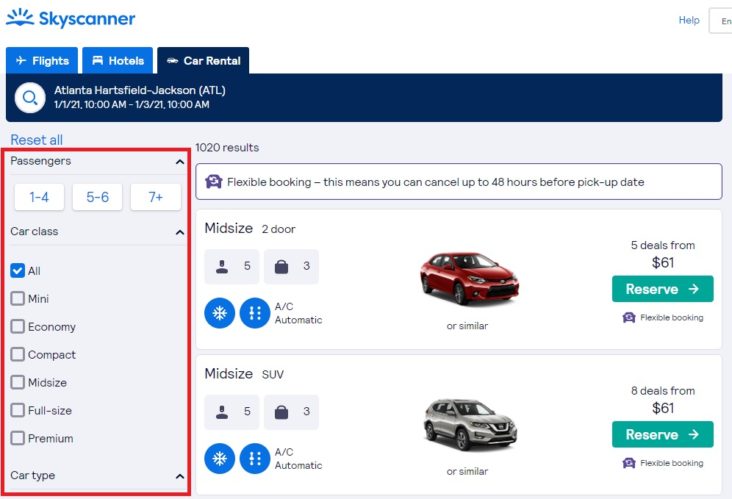 If you click anywhere in each search result box or Reserve, you'll get a drop-down of the specific cars available, along with the rental agency and price. Click the green Reserve button to make your selection. This will take you to the car rental agency or OTA to complete your booking.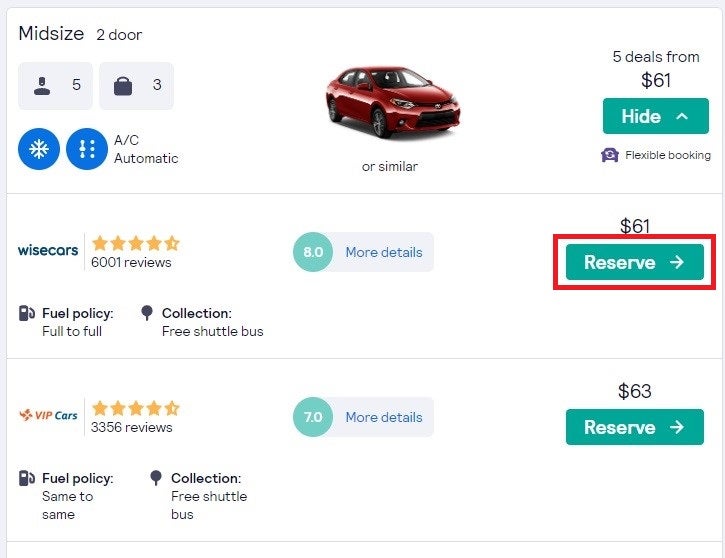 Hot Tip: No matter who you choose to rent a car from, be sure to use a credit card that comes with great car rental insurance. For example, the Chase Sapphire Preferred® card comes with primary CDW (Collision Damage Waiver) insurance which provides reimbursement for damage or theft up to the actual cash value of the vehicle. Plus, you'll earn 2 Ultimate Rewards points per dollar on your rental.
Skyscanner Mobile App
Skyscanner offers a free mobile app that you can use to book your travel.
You'll need to download the app (iOS or Android) or you can enter your mobile number here and you'll be sent a download link for the app.
The Skyscanner mobile app allows you to plan and book your entire trip plus you'll have all the details at your fingertips.
It offers many of the features of the website including:
Flight, hotel, and car rental search function
Explore everywhere (searching for any destination)
Search by month
Search by price
Search by map
You can easily search for flights, hotels, or car rentals using the buttons at the top of the home screen.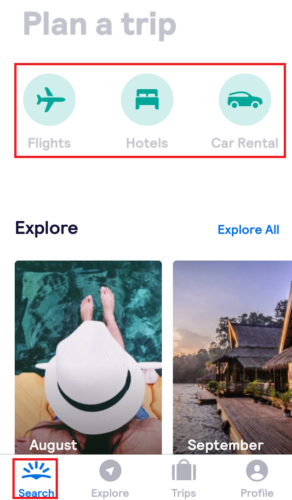 Explore by month, destination, or type of trip (like kid-free or quick getaways) by selecting Explore on the bottom of the home screen. Click on Explore Everywhere if you'd like to use Skyscanner's flexible destination feature.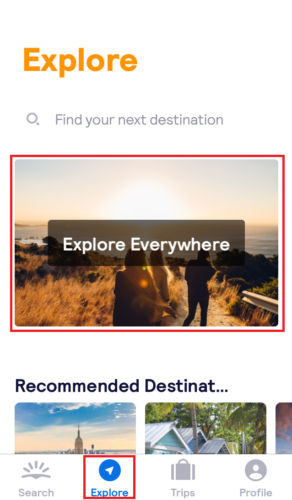 Click on the Trips icon on the bottom of the screen to see all of your past and upcoming itineraries.
Hot Tip: Another handy mobile app is Hopper. This app predicts the best time to book flights and hotels at the lowest prices to save you money.
How Does Skyscanner Compare to Other Websites?
Let's take a look to see if Skyscanner can save you money. We priced out the exact same flight, hotel, and rental car on Skyscanner along with other OTAs and metasearch engines to see which ones can save you the most money.
Example #1 — Flight
For this example, let's look for the cheapest non-stop, round-trip flight from New York (JFK) to Los Angeles (LAX) in economy. Here are the results:
In this example, Skyscanner and Google Flights both come in within a dollar of each other. In this example, Skyscanner will save you money, but it's not a guarantee. It's always smart to price out your flights on a couple of websites before you make a purchase.
Great Credit Cards for Flights:
Don't forget to use a travel rewards credit card that earns bonus points on air travel purchases. Here are some of the top earners:
Example #2 — Hotel
In this example, let's look at a weeklong stay in a base level room at the Hilton Hawaiian Village Waikiki Beach Resort (the first result in the Skyscanner search).
*Including resort fees and other taxes; all are non-refundable
Skyscanner is the clear winner in this example as far as price goes. You'd save over $100 versus any of the other websites.
However, there are other things to keep in mind when booking a hotel that might influence which website you choose to book through.
If you're booking a chain hotel like Hilton, Hyatt, or Marriott, any hotel status you have may not be recognized if you don't book directly through their website, and you won't earn any hotel loyalty points
Some OTAs have their own loyalty program which can save you money over the listed price — look out for Expedia member rates, Orbitz Rewards, or Hotels.com rewards
Great Credit Cards for Hotels:
Don't forget to use a travel rewards credit card that earns bonus points on hotel purchases. Here are some of the top earners:
Hot Tip: Booking a chain hotel that has a loyalty program through a website like Skyscanner means you might miss out on earning hotel loyalty points and enjoying benefits of any elite status you may have.
Example #3 — Car Rental
In this example, let's look at a week-long rental in Denver for an economy car.
Bottom Line: For this example, Skyscanner ended up in the middle of the pack, with the best prices going to Priceline and Kayak. As you can see, Skyscanner often offers the lowest prices, but not always.
Great Credit Cards for Car Rentals:
When you're renting a car, don't forget to use a credit card that offers great car rental insurance. Often you can avoid purchasing the extra insurance from the rental company if your card offers enough coverage. Here are some of our favorites:
Final Thoughts
Skyscanner is a metasearch engine that combs through countless flights, hotels, and rental cars to find a great match for your needs. This site excels in its ability to do flexible flight searches, including the Search Everywhere feature and Cheapest Month search feature.
Skyscanner can often have the lowest price, but it's not a guarantee. It's best to search for your flights, hotels, or rental cars on a few different websites before booking to ensure you get the best deal for your needs.
---
The information regarding the Citi Prestige® Card, Hilton Honors American Express Aspire Card, and Citi ThankYou® Preferred Card was independently collected by Upgraded Points and not provided nor reviewed by the issuer.