Hotel Resort Fees — What They Are and How to Avoid Them!
If you want to get a relaxed vacationer upset quickly, just mention resort fees. These annoying extra fees are often charged at resort hotels to cover extra perks ranging anywhere from a welcome drink to phone calls to beach chairs.
The frustrating part is that you're required to pay the fees regardless of whether or not you use the extra services. These fees aren't included in the room price until right before you book, so it can make price comparisons between hotel booking websites difficult.
Resort fees have gotten some people so upset that hotel chains like Marriott and Hilton have even been sued over them.
So, what's a traveler to do? We'll show you exactly what these resort fees are, where to find them, and most importantly, how to avoid them.
What is a Hotel Resort Fee?
Hotel resort fees, also called amenity or destination fees, are pesky additions to your hotel bill that cover anything from Wi-Fi to parking. While they are disclosed before you book a hotel, they can be easy to miss and can add a lot to your final bill.
Resort fees can range from under $10 per day to over $50 per day (some, like the resort fee at Dorado Beach, a Ritz Carlton Reserve property, are over $100!). For a week-long vacation, these fees could add hundreds of dollars to your hotel bill!
The things that you may see as a "benefit" of your resort fee can include activities and amenities you would expect to be already included in your room rate, like local calls or an in-room safe.
Other things we've seen listed as resort fee amenities include:
Beach chairs and umbrellas
Bike rentals
Enhanced internet
Access to the fitness center
Tennis court access
Photography session
Snorkel lessons
Pool activities
Food credit
Self-parking
While some of these amenities seem nice, many are what you would expect to be complimentary at a resort.
You might also notice resort fees at properties you wouldn't consider a resort, like hotels in big cities like New York City. They get away with it by calling it a destination fee, but it's basically the same thing.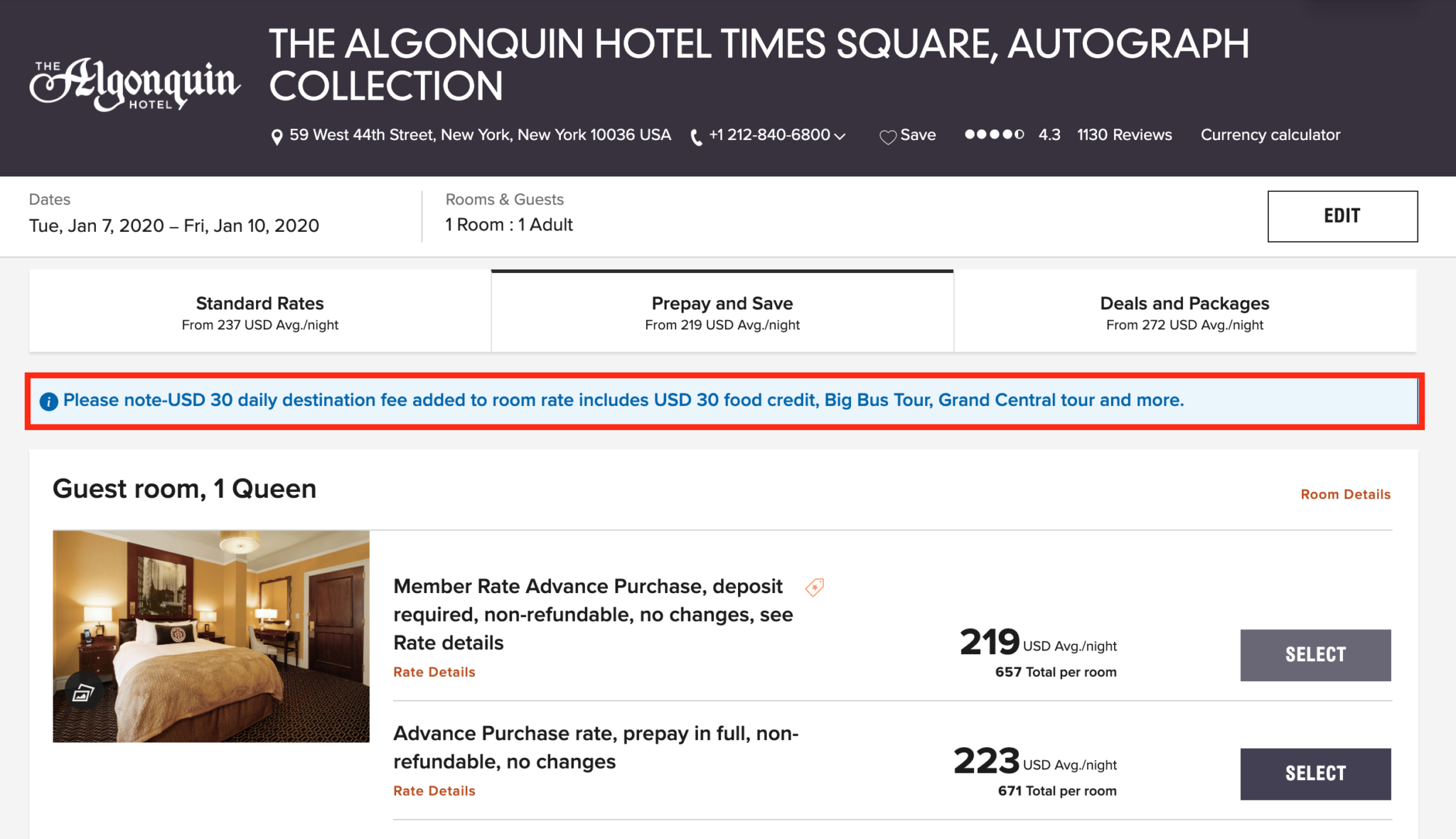 Which Hotels Have a Resort Fee?
Marriott
When you're booking a Marriott hotel, keep an eye out for the resort fee disclosure when you're looking at room rates.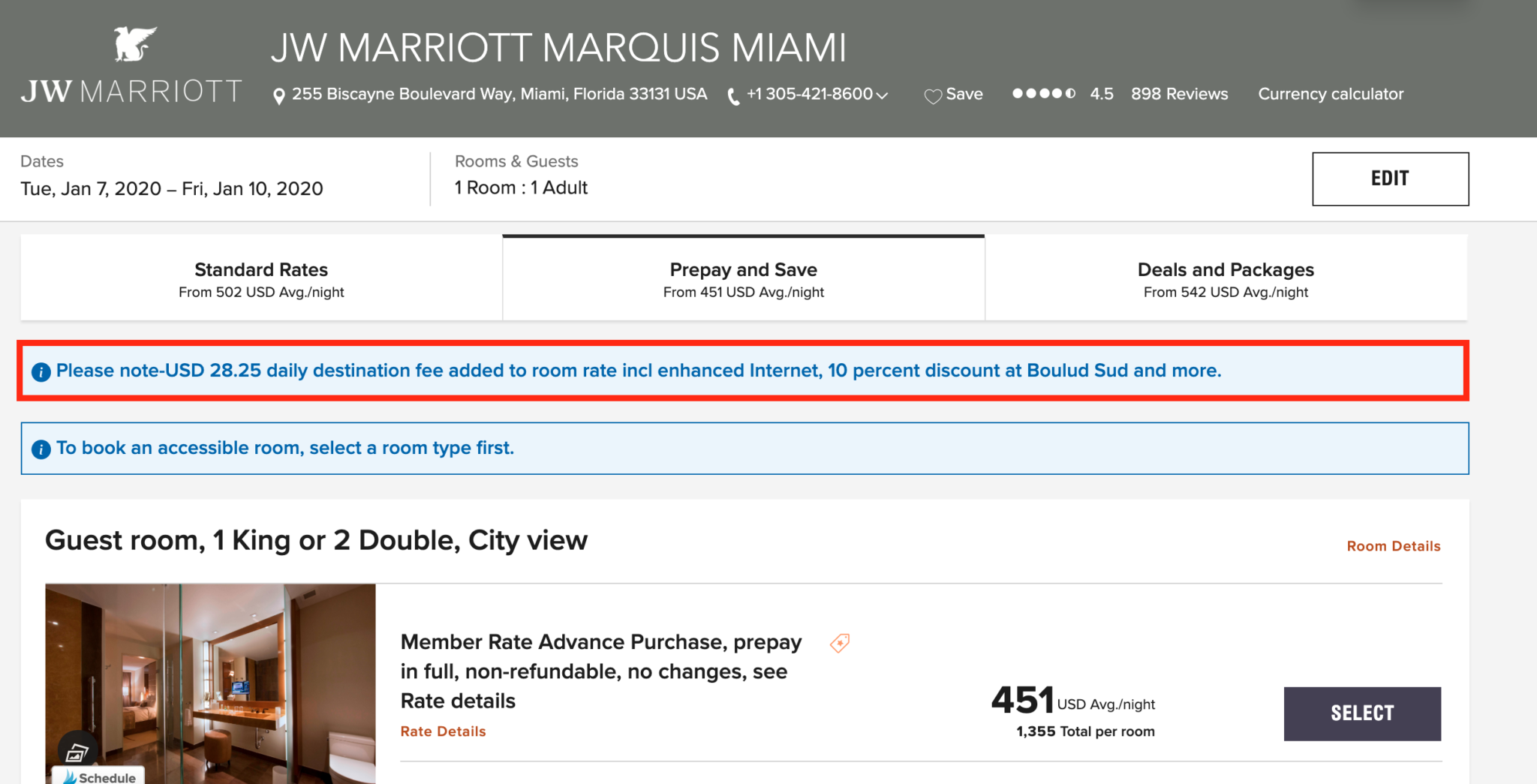 Hot Tip: Pay attention to how the resort fee disclosure is worded. While most of the time you'll see a flat rate per day charge, you'll also find per person charges and charges that are based on your room rate!

Hyatt
Hyatt resort fees will be noted before you select a room, however, the disclosure isn't highlighted, so it can be easy to miss.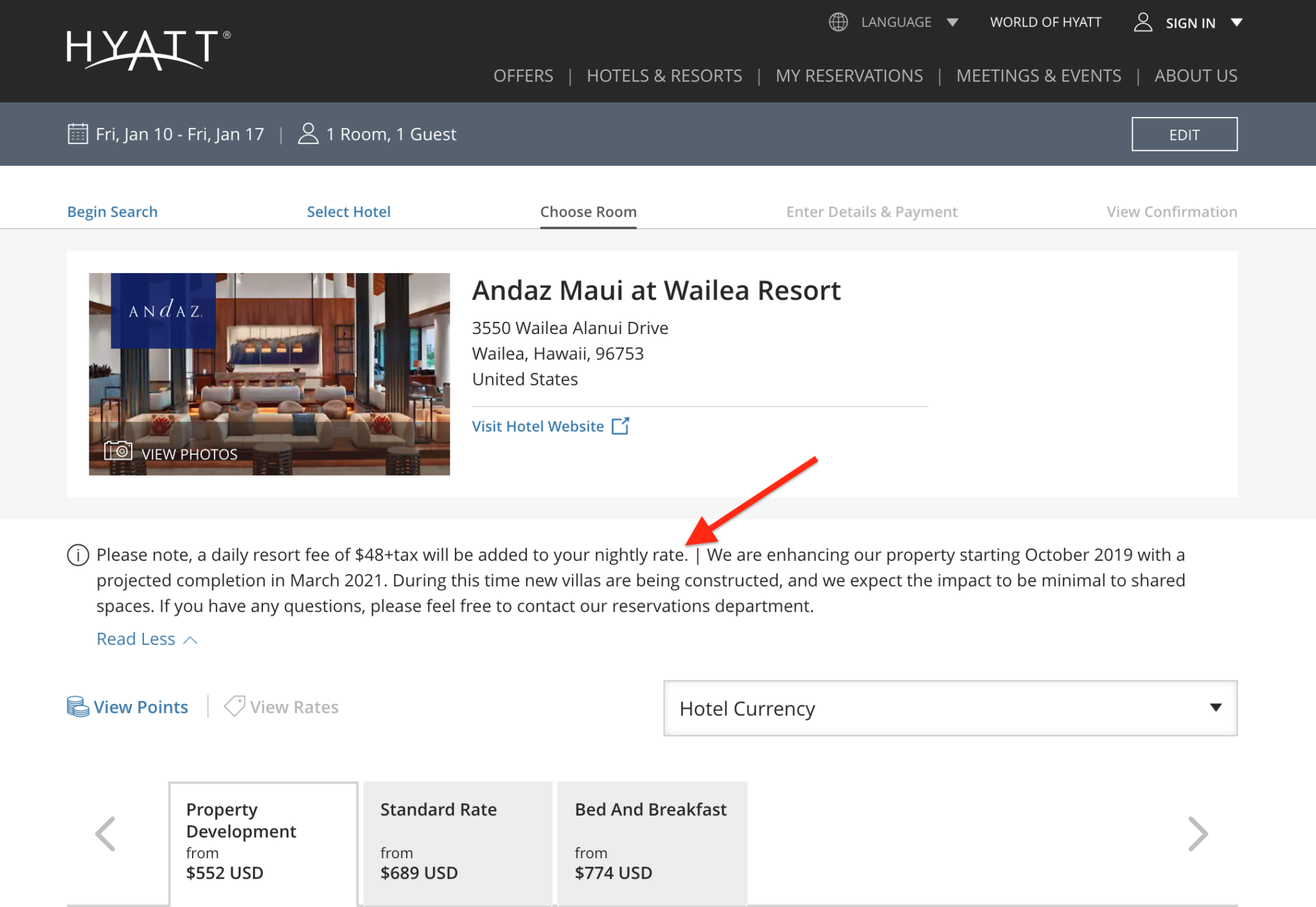 Hilton
When you're booking a Hilton Hotel, you'll be able to see if there is a resort fee when you're searching for a room type. However, you won't be able to see what the fee is until you scroll down a bit to each individual room type.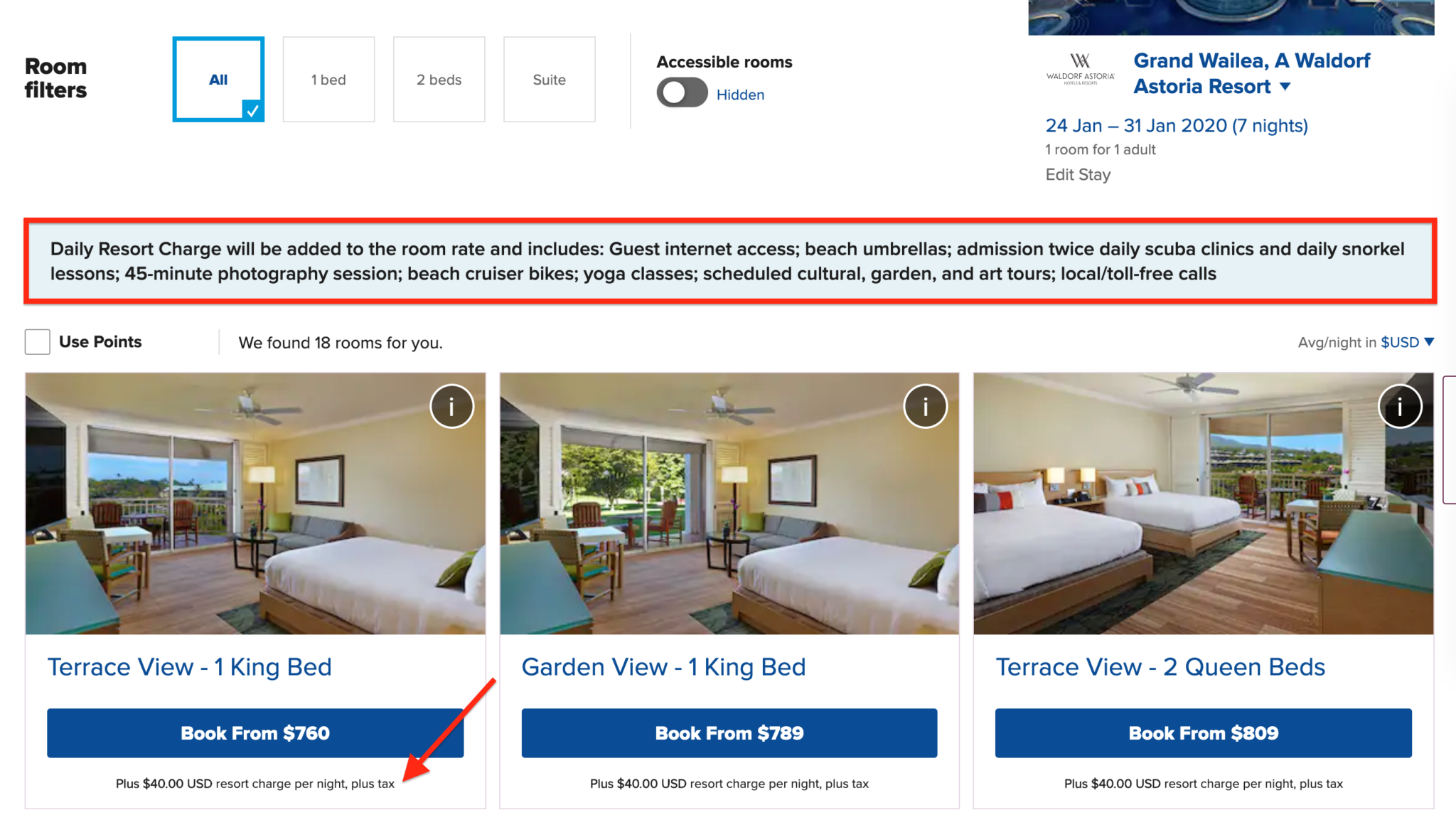 IHG
The IHG resort fee disclosure is really hard to find and doesn't even appear until right before you're ready to book. Keep an eye out for these sneaky fees!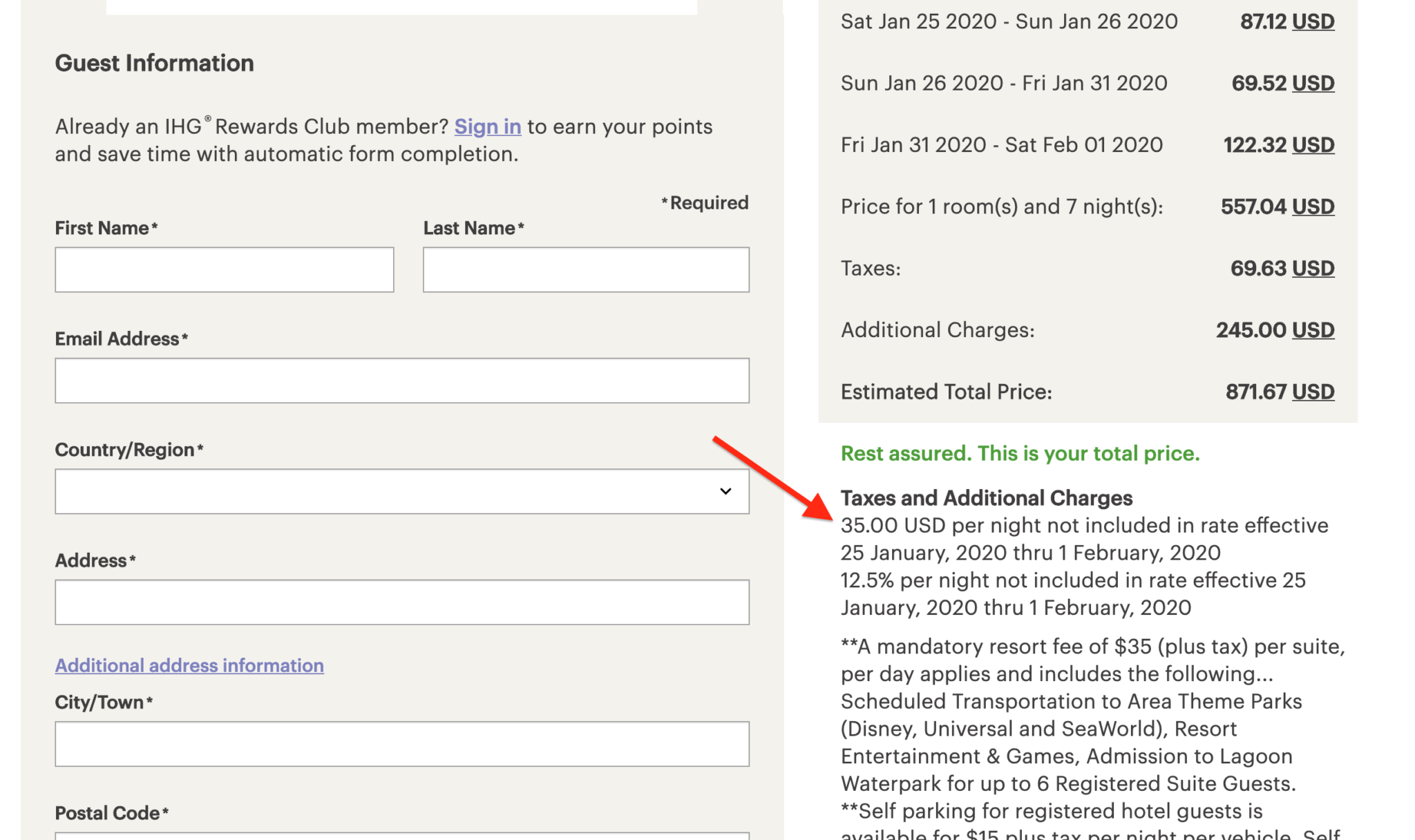 Wyndham
Unfortunately, Wyndham does a good job of hiding their resort fees, too. They aren't disclosed until you are ready to complete your booking — and you'll only see the fee breakdown if you click on the Cancellation and Rate Details details.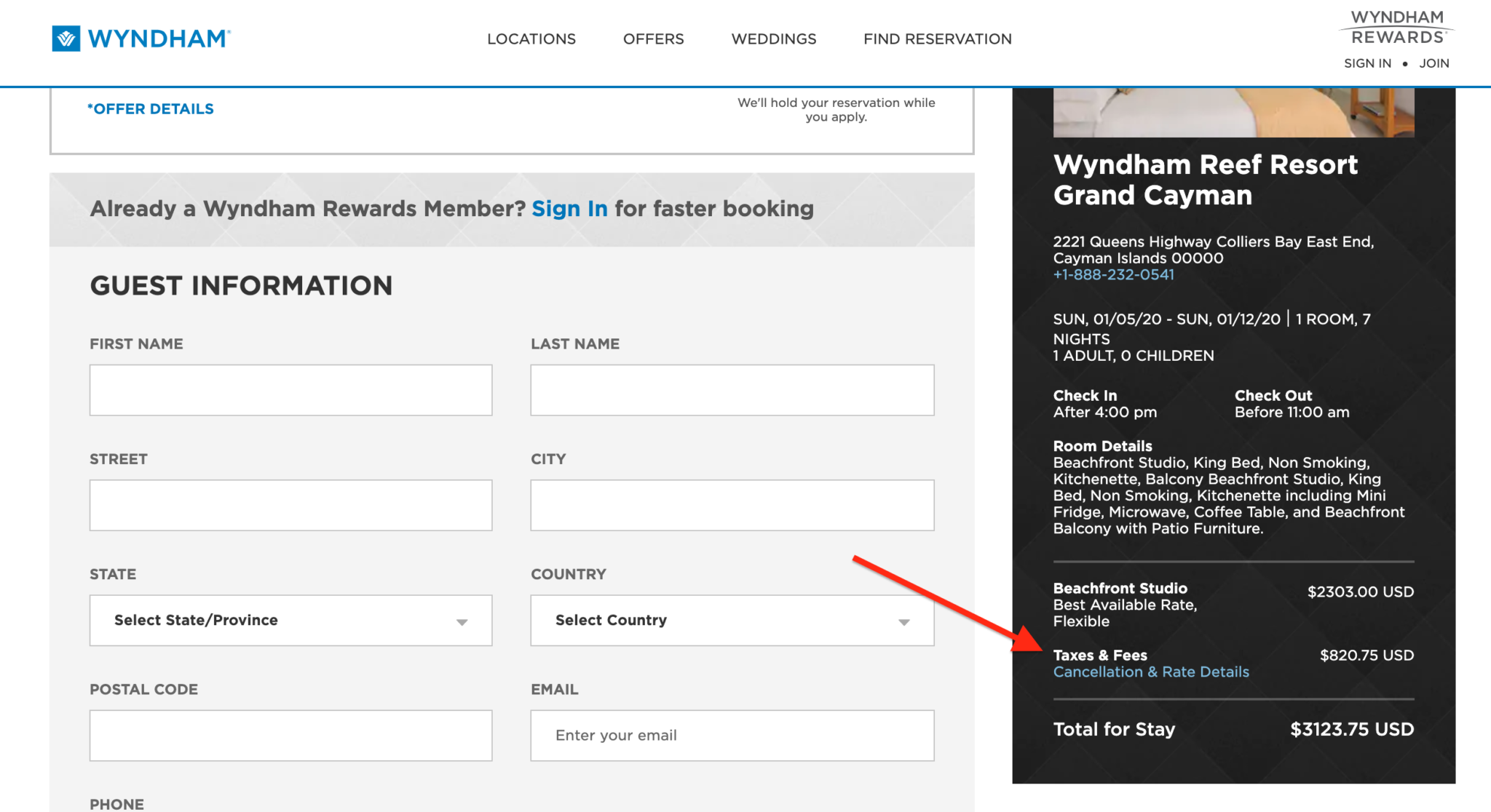 Hot Tip: Think you'll avoid a resort fee by staying at an Airbnb? Be careful, because if a host has 6 or more properties, they are able to charge a resort fee!
How to Avoid Paying Resort Fees
Resort fees are a quick way to add to the cost of your vacation. However, the good news is that there are a couple of ways to get out of paying these fees.
Book an Award Stay
One of the easiest ways to avoid resort fees is by booking an award stay. Many hotels will waive the resort fees on stays booked with points.
Hyatt and Hilton always waive resort fees when you book a room with points. Wyndham will also waive resort fees, although there is a good amount of crowdsourced data that suggests their implementation of this policy is spotty.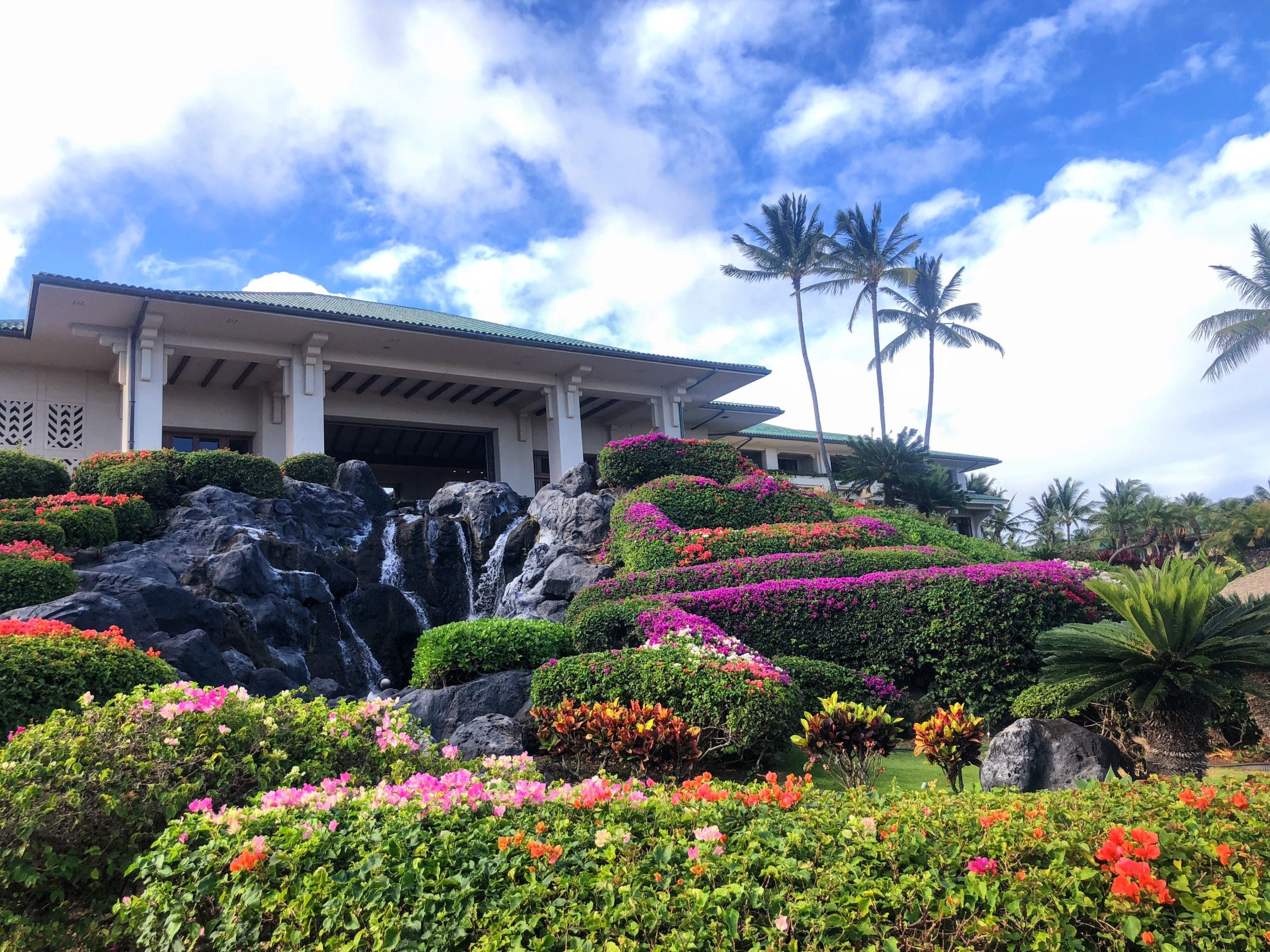 Here are some of our favorite credit cards that earn World of Hyatt points: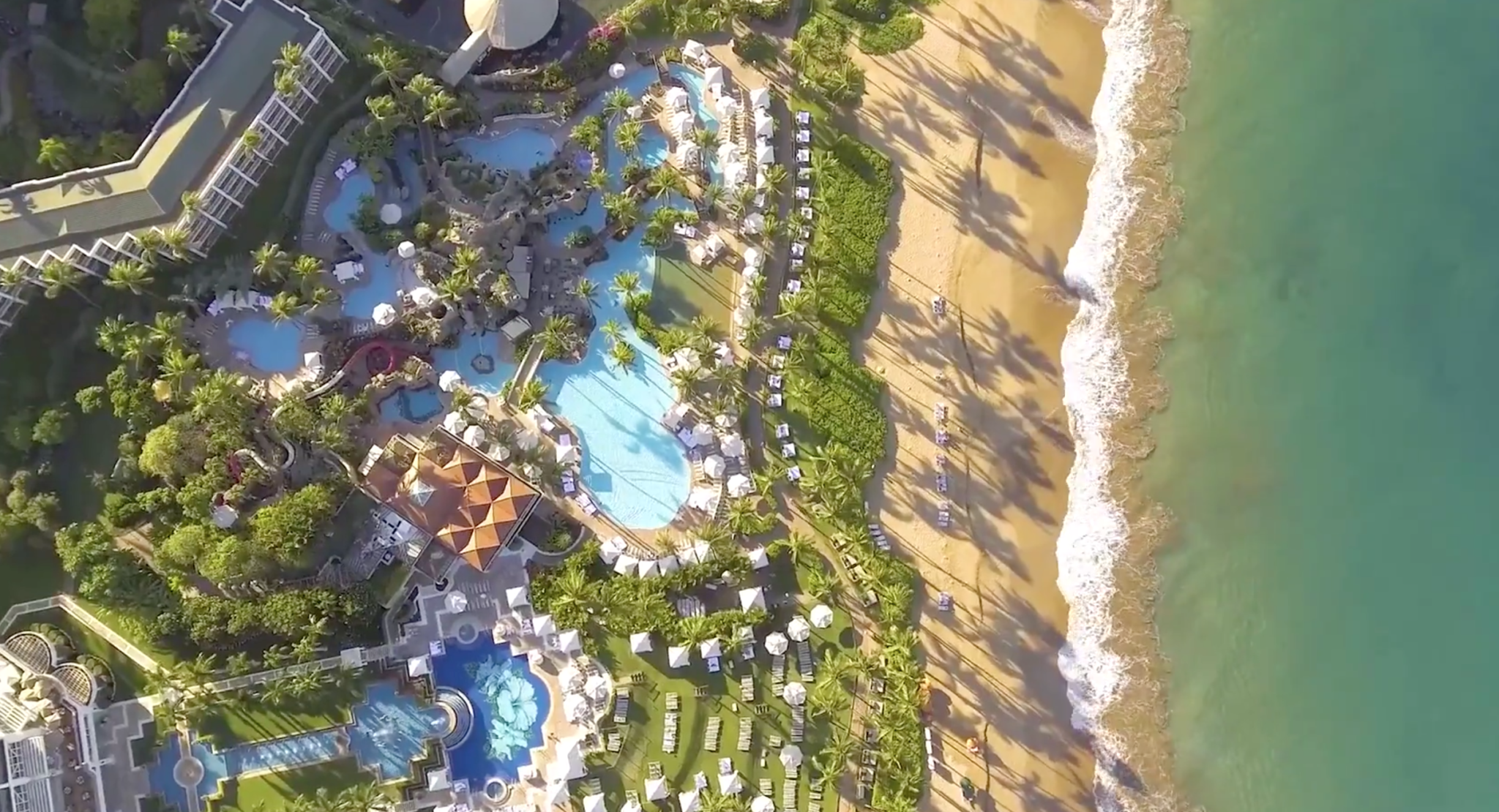 Here's one of our favorite credit cards that earn Hilton Honors points:
Credit Card
Benefits & Info
Hilton Honors American Express Surpass® Card


Learn More

(at Amex's secure site)

Earn 130,000 Hilton Honors Bonus Points after you spend $2,000 in purchases on the Hilton Honors American Express Surpass Card in the first 3 months of Card Membership.
Plus, you can earn an additional 50,000 Hilton Honors Bonus Points after you spend a total of $10,000 in purchases on the Card in the first 6 months.
Earn a Weekend Night Reward from Hilton Honors after you spend $15,000 on purchases on your Card in a calendar year.
Earn 12x Hilton Honors Bonus Points for each dollar of eligible purchases charged on your Card directly with a hotel or resort within the Hilton portfolio.
Earn 6x Hilton Honors Bonus Points for each dollar of eligible purchases on your Card at U.S. restaurants, at U.S. supermarkets, and at U.S. gas stations.
Earn 3X Hilton Honors Bonus Points for all other eligible purchases on your Card.
Spend $40,000 on eligible purchases on your Card in a calendar year and you can earn Hilton Honors Diamond status through the end of the next calendar year.
Good to Excellent Credit Recommended (670-850)
Annual Fee: $95
Terms Apply. For rates and fees of the Hilton Honors Surpass Card, click here.
Bottom Line: If you would like to avoid resort fees, book an award stay with Hyatt or Hilton hotels and the fees will be waived.
Use Your Elite Status
Having elite status with a hotel can be great, and one of the perks you may be able to enjoy is waived resort fees.
If you're a Hyatt Globalist member, you'll enjoy waived resort fees on all stays! This top tier status comes with lots of other benefits, like room upgrades and free breakfast, making it a desirable status for any Hyatt fan.
You can earn Hyatt Globalist status by staying 60 nights at Hyatt hotels, by earning 100,000 base points, or by hosting 20 meetings or events. If all of that seems daunting to you, check out how you can use the Hyatt credit card to help you earn Globalist status.
Even if your hotel status level doesn't offer waived resort fees as a perk, it can't hurt to ask the hotel to waive the fees anyways.
Bottom Line: Regardless of your elite status or how you paid for your room, try asking the hotel to waive the resort fees. While this method probably won't work a majority of the time, it can never hurt to ask!
Final Thoughts
Resort fees are an unpleasant reality of traveling. They can add a lot to your final hotel bill without adding a lot of value. Plus, they are sometimes tricky to identify since some hotel chains bury them in the rate details instead of clearly identifying them.
While there's been a lot of push back from travelers recently, unfortunately, resort fees are here to say for now. Until then, you can grin and bear it, find a hotel that doesn't come with a resort fee, or try out a method to avoid resort fees like booking an award stay or using your elite status.
What type of experience have you had with resort fees? Were you able to get them waived?
---
The information regarding The Hilton Honors American Express Surpass® Card was independently collected by Upgraded Points and not provided nor reviewed by the issuer.