The Ultimate Travel Guide to New York – Best Things to Do, See, & Enjoy!
No matter where you're from, New York City is probably pretty high on your list of places to visit. And no matter the season, there are always magical things to experience.
If you're planning a trip to NYC, you can definitely count on having a great time. There is never a dull or quiet moment — which is why New York is known as the city that never sleeps! But with all the things NYC has to offer, who would ever want to?
There's a reason New York City is one of the most popular tourist cities in the world. Millions of people visit the Big Apple every year, and knowing the best places to see and eat will help you more fully experience the city. That's precisely why we compiled this comprehensive guide to visiting New York City. We hope it helps you plan your next big adventure!
A Brief History to New York City (NYC)
Before modern-day New York City, the Lenape people were the original inhabitants of the places we call Manhattan, Westchester, northern New Jersey, and western Long Island.
Fur trading changed the lifestyles of the Lenape well before any permanent European settlers stepped foot in this region.
In 1524, the Italian navigator Giovanni da Verrazzano was the first European to enter the harbor, but the first attempt to settle came in 1624 with a group of settlers sent by the Dutch West India Company. Most of them proceeded upriver to present-day Albany, but a few settlers remained on Manhattan.
Fort Amsterdam was built to protect the little colony. With the Dutch settlement, the Lenape entered into various land deals, effectively "selling" them the land of Manhattan.
Only the third largest American port at the time of the American Revolution, New York gradually achieved trade domination and handled more than half of the country's commercial trade by the mid-1800s.
After 1900, New York was the world's busiest port, a distinction it held until the 1950s.
Soaring labor costs shifted business to the New Jersey side of the river after the 1960s, but at the beginning of the 21st century the Port Authority of New York and New Jersey still dominated water trade of the northeastern United States.
For the past 2 centuries, New York has been the largest and wealthiest American city. More than half the people and goods that ever entered the United States came through its port, and that stream of commerce has made change a constant presence in city life.
New York always meant possibility. Once the capital of both its state and the country, New York surpassed such status to become a global city in commerce and culture, and home to the most famous skyline on earth.
It also became a target for international terrorism — most notably the destruction of the World Trade Center on September 11, 2001.
NYC Fact File
Did you know that 1 in every 38 people who live in the United States call New York City home? Here are some more useful facts and figures to prepare you before your trip:
Population: 8.62 million
Area (including land and water): 468,484 square kilometers
Official Language: English
Primary Religions: Christianity & Judaism
Time Zone: Eastern Standard Time (EST)
Currency: U.S. Dollar (USD)
Country Dialing Code Prefix: +1
Emergency Numbers: 911
Michelin Stars: 72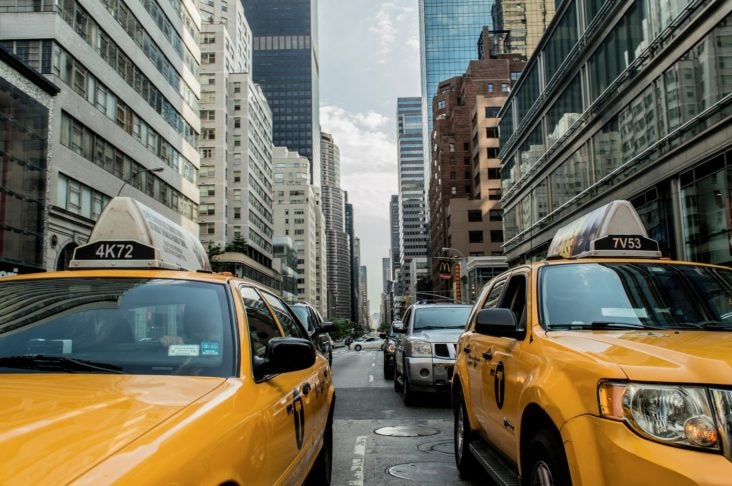 Getting to NYC
New York City is served by 3 main airports: John F. Kennedy International Airport (JFK), Newark Liberty International Airport (EWR), and LaGuardia Airport (LGA). Sometimes you don't have a choice which airport you fly into.
For example, JFK serves as a hub for both American Airlines and Delta Air Lines, and it's the primary operating base for JetBlue Airways. If you do have an option, read on for the best airport to fly into based on where you're headed in the city.
John F. Kennedy International Airport (JFK)
John F. Kennedy International Airport (JFK) is located in Queens, 6 miles southeast of Midtown Manhattan. If you're flying from outside of the United States to New York City, you will likely land at JFK.
This is also a good airport to arrive at if your destination is Park Slope, Brooklyn Heights, Fort Greene, or pretty much any other neighborhood in the borough.
The following airlines service JFK:
Aer Lingus, Aeroflot, Aerolíneas Argentinas, Aeromexico, Aeroméxico Connect, Air China, Air Europa, Air France, Air India, Air Italy, Air Serbia, Alaska Airlines, Alitalia, All Nippon Airways, American Airlines, American Eagle, Asiana Airlines, Austrian Airlines, Avianca, Avianca Brazil, Avianca Costa Rica, Avianca El Salvador, Azerbaijan Airlines, British Airways, Brussels Airlines, Caribbean Airlines, Cathay Pacific, Cayman Airways, China Airlines, China Eastern Airlines, China Southern Airlines, Copa Airlines, Delta Air Lines, Delta Connection, Egypt Air, El Al, Emirates, Etihad Airways, Eurowings, EVA Air,  FinnAir, Fly Jamaica Airways, Hainan Airlines, Hawaiian Airlines, Iberia, Icelandair, Interjet, Japan Airlines, JetBlue Airways, Kenya Airways, KLM, Korean Air, Kuwait Airways, LATAM Brasil, LATAM Chile, LATAM Ecuador, LOT Polish Airlines, Lufthansa, Norwegian Air Shuttles, Philippine Airlines, Qantas, Qatar Airlines, Royal Air Maroc, Royal Jordanian, Saudia, Singapore Airlines, South African Airways, Sun Country Airlines, Swiss International Air Lines, TAME, TAP Air Portugal, Turkish Airlines, Ukraine International Airlines, Uzbekistan Airways, Virgin Atlantic, VivaAerobus, Volaris, Volaris Costa Rica, WestJet, XiamenAir, XL Airways France.
Traveling From the Airport to the City
Once you've landed at JFK, you have a few options on how to get into the city.
Taxi
The cost is $52.50 flat fare (non-metered), plus a potential $4.50 for peak fare travel and added gratuity. It generally takes 30-60 minutes to reach Midtown Manhattan, depending on traffic and road conditions. For more information, call 212-NYC-TAXI or visit the Taxi and Limousine Commission website.
AirTrain JFK & Subway
The cost is $7.75 ($5 AirTrain fee plus $2.75 MTA subway fare), but children under 5 are free. This generally takes 50-75 minutes, depending on destination. AirTrain links the airport to the subway and Long Island Rail Road. AirTrain also offers free service between points in the airport. For more information, visit the AirTrain website.
City Bus
There are many routes to take depending on your final destination. To plan your route and get details on pricing, visit the City Bus website.
Shuttle Bus
NYC Airporter, Go Airlink NYC, and SuperShuttle are all options for shuttle service. If you book in advance, tickets can be found for as low as $17/person, but the reviews of all companies are less than stellar. Depending on the number of people in your party, a taxi may be a better use of your time and money.
Note: There are also opportunities to hire a private car service or rent a car, but these are much more expensive options. The JFK airport website has tons of great information as well regarding travel from the airport.
Newark Liberty International Airport (EWR)
Newark Liberty International Airport (EWR) is located 15 miles southwest of New York City. If you're flying United, you will be arriving at EWR — in fact, over 65% of passengers flying through EWR are United customers. If you have a choice, this is the best airport to fly into if you're traveling to Manhattan.
The following airlines service EWR:
Aer Lingus, Air Canada, Air Canada Express, Air China, Air India, Alaska Airlines, Allegiant, American Airlines, American Eagle, Austrian Airlines, Avianca El Salvador, British Airways, Cathay Pacific, Delta Air Lines, Delta Connection, El Al, Elite Airways, Emirates, Ethiopian Airlines, Icelandair, JetBlue Airways, La Compagnie, LEVEL, LOT Polish Airlines, Lufthansa, Norwegian Air Shuttles, OpenSkies, Porter Airlines, Primera Air, Scandinavian Airlines, Singapore Airlines, Southwest Airlines, Spirit Airlines, Swiss International Air Lines, TAP Air Portugal, United Airlines, United Express, Vacation Express, Virgin Atlantic, VivaAerobus
Traveling From the Airport to the City
Once you've landed in EWR, you have a few options on how to get into the city.
Taxi
This will be a metered fare of approximately $50-$75, plus bridge and tunnel tolls and gratuity. The journey typically takes 45-60 minutes to Midtown Manhattan.
During weekday rush hours (6-9am and 4-7pm) and on weekends (Saturday-Sunday, 12-8pm), there is a $5 surcharge for travel anywhere in New York State except Staten Island.
AirTrain Newark
Costs vary by destination. AirTrain links to the airport via NJ Transit and Amtrak's Newark (or EWR) train station. The journey typically takes 45-90 minutes to Midtown Manhattan, requiring a transfer from the AirTrain line to Amtrak or the NJ Transit line (be sure to keep your ticket after using it to exit the AirTrain station, as it is also used for the NJ Transit fare).
Shuttle Bus
NYC Airporter, Go Airlink NYC, Olympia Airport Express, and SuperShuttle are all options. Prices vary, but are lowest when booked in advance on their websites.
LaGuardia Airport (LGA)
LaGuardia Airport (LGA) is located in Northern Queens and is the third largest airport serving NYC. There is no border control facility at LGA, so this airport only has domestic service and international service for countries with pre-clearance. This is a good airport to arrive at if your destination is Long Island City, Astoria, Williamsburg, or Manhattan's East Side.
The following airlines service LGA:
Air Canada, Air Canada Express, Alaska Airlines, American Airlines, American Eagle, Delta Air Lines, Delta Connection, Frontier Airlines, JetBlue Airways, Rectrix Shuttle, Southwest Airlines, Spirit Airlines, United Airlines, United Express, WestJet.
Traveling From the Airport to the City
Once you've landed in LGA, you have a few options on how to get into the city.
Taxi
There isn't a flat fee, but the ride will cost you approximately $29-$37 (metered fare), plus bridge and tunnel tolls and gratuity. It will typically take 20-25 minutes to get to Midtown Manhattan. For more information, visit the Taxi and Limousine Commission website.
City Bus
Two express buses serve LaGuardia: the M60 and Q70. The Q70 goes nonstop to Jackson Heights/Roosevelt Avenue, a major subway hub in Queens with 5 lines. The M60 runs to Harlem and connects to all the major subway lines in Manhattan. For details, visit the City Bus website.
Shuttle Bus
Similar to the advice above for JFK, shuttles are available but not recommended. The main companies are NYC Airporter, Go Airlink NYC, and SuperShuttle.
Private Car Service & Car Rental
Many private car services and rental options are also available; prices will vary.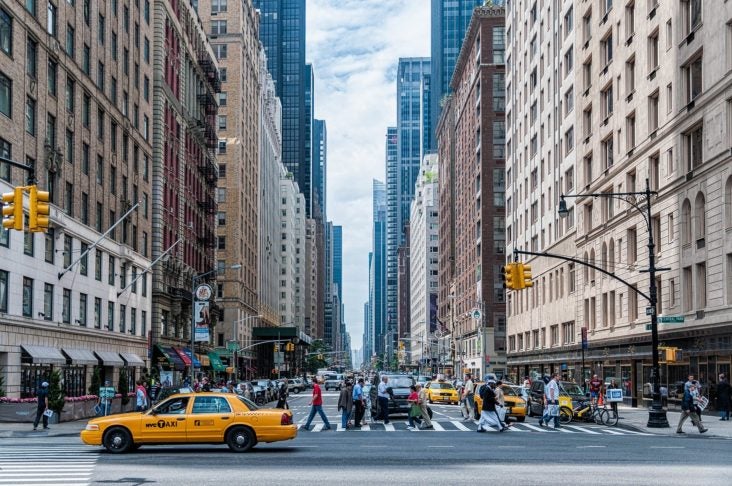 Getting Around NYC
With 34 lines and 469 stops, the New York City subway system is one of the largest urban mass transportation systems in the world. Traveling to every single stop (without leaving the transit system) would take you almost 24 hours! Of course, the iconic yellow taxis are also a popular option. Here's how to get around the city once you've arrived.
By Public Transportation (Subways & Buses)
If you can't walk to your destination, mass transit is the next-best way to get around. The city's rail and bus system is run by the Metropolitan Transportation Authority (MTA) and known as MTA New York City Transit. It's inexpensive, environmentally friendly, and a great way to see sights throughout the 5 boroughs — plus it operates 24 hours a day, 7 days a week.
The easiest option is purchasing a MetroCard, which you can do at subway stations from either automated machines or booth attendants. When you use a pay-per-ride MetroCard, a single subway or bus ride costs $2.75, and you don't have to pay for transfers unless you exit the turnstiles.
Subway lines sometimes change routes or temporarily stop running — especially during weekends and late nights on weekdays — so be sure to check for up-to-date MTA service information at mta.info.
By Taxi
The City's fleet of yellow taxicabs and green Boro Taxis are licensed and regulated by the NYC Taxi & Limousine Commission. Grabbing a cab can be ideal when tired feet, heavy luggage, or shopping bags weigh you down. Hail taxis whose numbers are lit up on top; that means they're on duty.
The minimum metered fare is $2.50, which increases 50 cents every 1/5 of a mile or every minute, depending on how fast you're traveling. There is also an MTA state surcharge of 50 cents per ride and a 30-cent improvement surcharge.
An additional $1 surcharge is added to the meter Monday through Friday, 4–8pm (excluding holidays), and a 50-cent surcharge is added at night (8pm–6am). All taxis accept cash, credit, debit, and prepaid cards…and don't forget to tip!
By Car
If you're planning to drive around the City, use Google Maps to help you navigate New York City roads. Parking is the biggest concern, so make sure you know where there might be a spot for you. You may want to use an app like SpotHero to compare parking rates and locations. Parking fees can add up fast, so plan accordingly!
If you're planning on renting a car, check out our guide to help you save some money.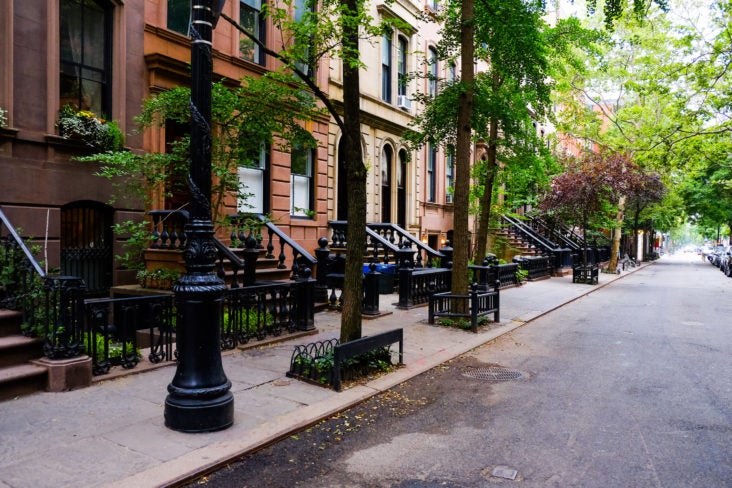 Top 10 Neighborhoods to Visit in NYC
New York City is made up of 5 boroughs, but as a visitor, you'll most likely be exploring Manhattan and Brooklyn. When planning a trip to the city, it can be overwhelming because the city is huge and spread out.
In our guide, we mainly focus on the areas you'll visit as a tourist, but there are clearly unlimited options when it comes to great places to stay all throughout NYC on your second or third visit.
1. Soho
Soho is where to stay in New York City if you want to be in one of the most happening, upscale, and artsy neighborhoods. The area is littered with high-end boutiques, designer chain stores, and some of the trendiest spots in NYC. There are countless retail options, including Alexander Wang, A.P.C., Rag & Bone, James Perse, Suitsupply, Oliver Peoples, Film Forum, and Apple's flagship store.
Also check out galleries including The New York Earth Room and The Leslie-Lohman Museum of Gay and Lesbian Art.
Where to Stay:
2. Greenwich Village
Greenwich Village is where to stay in New York City if you want to experience one of the most desired and charming neighborhoods. The Village is famous for shows like Sex in the City and Friends.
Greenwich Village is young and hip with a great nightlife, and is considered one of the most delicious foodie neighborhoods in the city! Nearby attractions include Washington Square Park, Bleecker Street Records, the famous Comedy Cellar, NYU, and tons of restaurants in the area.
Where to Stay:
3. Chelsea/Gramercy
Stay in Chelsea if you want to be in one of the city's cultural hubs known for its art galleries, foodie scene, incredible location, and gorgeous brick apartment buildings. As this is one of the most desired places to live in NYC, staying here will increase your chance of bumping into celebrities.
If you want to explore other parts of NYC, it's only a 20-minute subway ride to just about everywhere else in Manhattan.
Where to Stay:
4. DUMBO
Just across the Manhattan and Brooklyn Bridges lies this trendy neighborhood. You can't help but fall in love with this area filled with independent boutiques, restaurants, trendy cafes, and killer views. Sadly, there aren't a lot of options here for hotels, which make the available choices pretty pricey.
Nearby attractions include the famous Brooklyn Bridge, Manhattan Bridge, Brooklyn Bridge Park, Jane's Carousel, and amazing views of Manhattan's skyline.
Where to Stay:
5. Tribeca
Tribeca is where to stay if you're here on business and don't necessarily want to be in the heart of the Financial District. This is also a great spot if you want to be in one of the coolest parts in the city while still in a convenient location for getting almost everywhere in Manhattan. It's also an easy commute to Brooklyn from here.
Nearby attractions include the World Trade Center, Oculus, City Hall, Hook & Ladder Company 8 (think Ghostbusters!), and Hudson River Park.
Where to Stay:
6. Upper East Side
This is where to stay in New York City if you are a luxury traveler who wants to be in the heart of Manhattan with easy access to the rest of the city.
Nearby attractions include designer shopping along Madison Avenue, Museum Mile (including the Metropolitan Museum of Art, the Guggenheim, and El Museo del Barrio), and of course Central Park.
Where to Stay:
7. Upper West Side
The Upper West Side is for the general traveler who is a lover of culture and arts. It's home to the Lincoln Center and the Natural History Museum as well as conveniently located next to Central Park. With beautiful brownstones and manicured streets filled with adorable cafes and nice shops, this is another lovely neighborhood to pick in New York City.
Where to Stay:
8. Meatpacking District
The Meatpacking District is another great option for where to stay in New York City if you want access to some of the best shopping and nightlife. Once home to the city's slaughterhouses and packaging plants, this is now a cool neighborhood filled with great restaurants, upscale shopping, and bars.
Nearby attractions include half of the High Line, the Samsung Experience, the Whitney Museum of Art, Chelsea Market, Gansevoort Market, and the West Village.
Where to Stay:
9. Financial District
Stay here if you're a business traveler. This is also a great place to be in lower Manhattan that is easily accessible to Brooklyn, Staten Island, and the rest of the city.
Nearby attractions include Wall Street, the Charging Bull and Fearless Girl statues, the Statue of Liberty, Battery Park, Staten Island Ferry, the World Trade Center, 9/11 Memorial, and Chinatown.
Where to Stay:
10. Midtown
Midtown is where the tourists stay in New York City, which isn't necessarily a bad thing! Besides Times Square, Broadway, and Rockefeller Center, Midtown also boasts quick access to Grand Central Terminal, Radio City, St. Patrick's Cathedral, and Top of the Rock.
Midtown is especially recommended for anyone who is coming on a short trip, since you're centrally located with easy access many of the city's tourist hot spots.
Where to Stay: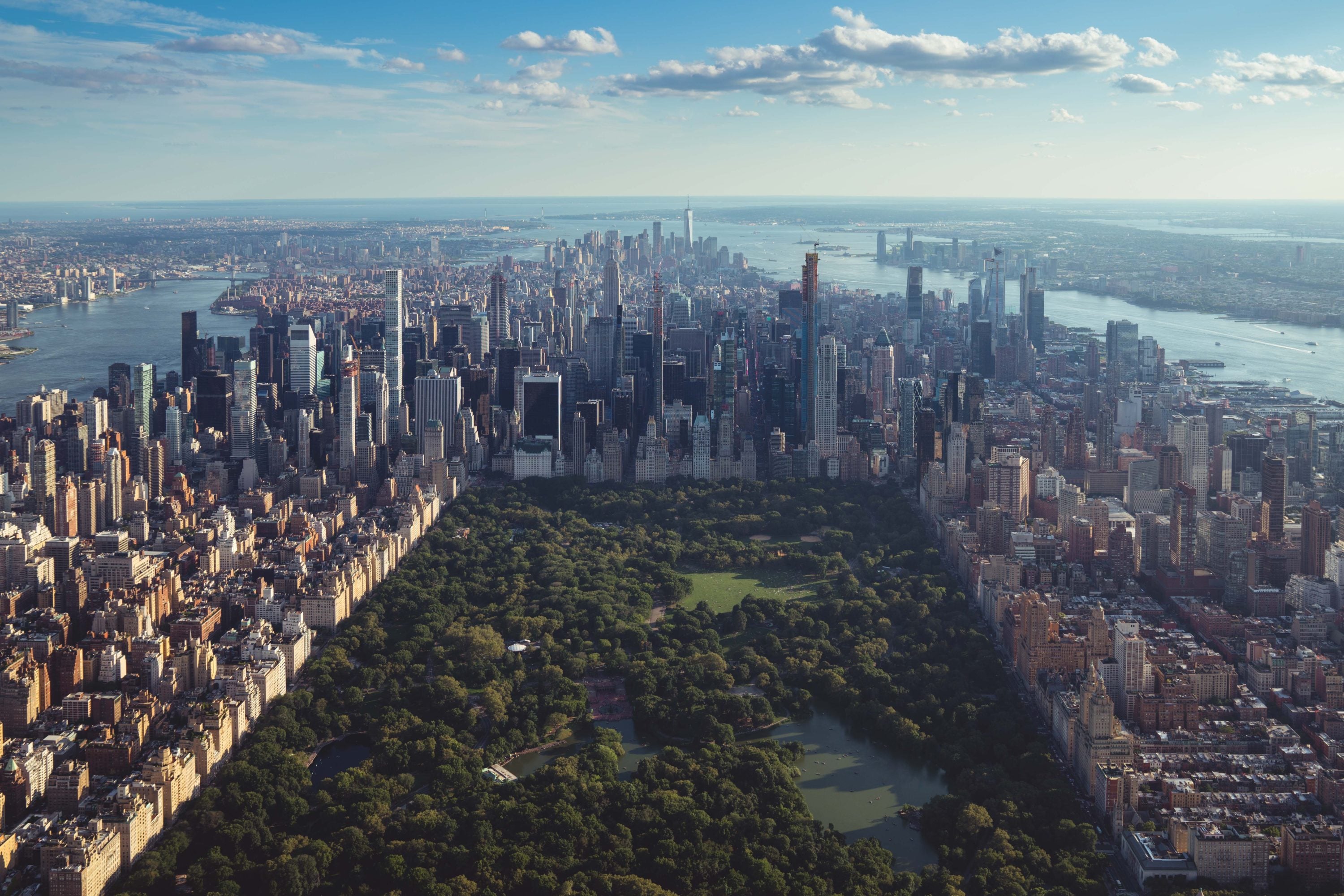 Top 10 NYC Attractions
You won't see everything in a single trip, so it's definitely important to prioritize your wish list in a place like New York City. Here are a few of our favorite "must-see" attractions!
1. Walk the High Line
There are few places more pleasant than a sunny afternoon on the High Line. NYC's only elevated park is one of Manhattan's most popular destinations, and it's easy to see why.
Formerly a rail track that went out of use in 1980, the High Line was resurrected as a 1.45-mile green space in 2009, running from Hudson Yards to the northern edge of Chelsea. Today it's a break from the concrete jungle planted with wildflowers and grass.
Visit: No admission fee. The Highline is open from 7am all year round. Closing times depend on the season.
Get There: Mostly located in Chelsea, but check their website for details on how to best access the area.
2. MoMA
You don't have to be an art lover to appreciate the Museum of Modern Art; this museum is a shrine of pop culture and 20th-century history. Some of the most significant contemporary artists have multiple works hanging on the walls, including Picasso, Warhol, Van Gogh, Dali, and Monet. There is also an attached cinema, a sculpture garden with works by Picasso and Rodin, and a high-end restaurant and bar that are worth a stop as well.
Visit: Admission is $25 for adults, free for kids 16 and younger. Open Saturday-Thursday from 10:30am-5:30pm and Fridays from 10:30am-8pm.
Get There: 11 W 53rd St, New York, NY 10019
Hot Tip: Head to MoMA on Friday evenings for free admission!
3. 9/11 Memorial
The 9/11 Memorial honors the victims of the September 11th attacks, and is a solemn but important stop on any trip to New York. One World Trade, a gleaming 104-story building, is located on the former site of the Twin Towers. One World Observatory is next door and offers 360-degree views of the City.
Visit: Open to the public from 7:30am-9pm every day, no ticket necessary. However, you will need a ticket to get into the accompanying 9/11 museum, and these can be reserved up to 6 months in advance.
Get There: 180 Greenwich St, New York, NY 10007
4. Afternoon Tea at the Plaza
The Plaza Hotel is iconic, and the afternoon tea served inside the Palm Court is considered a quintessential New York experience. While definitely a splurge at $90/person, the luxury can't be beat. There is a preset menu of tea, sandwiches, scones, and sweets with a glass of champagne to wash it all down. Be sure to make reservations in advance, especially if you're visiting around the holidays.
Visit: Head to their website to make reservations and see the current menu selection.
Get There: 768 5th Ave, New York, NY 10019
5. Central Park
In pretty much all seasons, this vast expanse of open green space calls out to anyone eager to spread out a blanket for a picnic, catch a concert or play, or just stroll through the various landscapes for a soul-soothing break from the grind. If you're visiting Manhattan with kids, Central Park is a must!
You can't really go wrong choosing a Central Park entrance, from bustling Columbus Circle to the much quieter, tree-lined Central Park West or Fifth Avenue.
Aim to see some of the architectural highlights like Bethesda Terrace, Strawberry Fields, the Conservatory Garden, and the Loeb Boathouse.
Visit: No admission fee. The park unofficially closes at 1am.
Get There: Visit the Central Park website for the best way to get there.
6. Statue of Liberty/Ellis Island
With her impressive 305-foot stature, Lady Liberty is one of the most recognized symbols of America. She also looks pretty great in a selfie! Take a ferry to go see her up close and personal. If you have a relative who was one of over 12 million immigrants who passed through Ellis Island, this is especially meaningful. Tickets to Ellis Island Immigration Museum are included in the ticket price.
Visit: Tickets start at $18.50 for adults and $9 for kids, but upgraded tickets are available as well. Check the website for departure times.
Get There: From Manhattan, the ferry leaves from Battery Park. There is a ferry that departs from New Jersey as well.
7. American Museum of Natural History
This museum is a great activity for the whole family! The Rose Center for Earth and Space is a favorite exhibit, but you should also plan on visiting the dinosaurs, the Hall of the Universe, and the Butterfly Conservatory. There are approximately 32 million artifacts inside spread across 4 city blocks, 25 buildings, and 45 exhibition halls…so don't even try to see everything in 1 day!
Visit: While there isn't a set admission fee, the "suggested" admission price is $22 for adults, $17 for seniors and students with an ID, and $12.50 for children ages 2-12. Open daily from 10am-5:45pm.
Get There: Central Park West & 79th St, New York, NY 10024
8. Chinatown
Mott and Grand Streets are lined with stands selling exotic foods like live eels, square watermelons, and hairy rambutans, while Canal Street glitters with jewelry stores and gift shops. Remember to come hungry! Here you'll find some of the best restaurants in NYC representing the cuisine of virtually every province of mainland China and Hong Kong, as well as Indonesian, Malaysian, Thai, and Vietnamese eateries and shops.
Wander past steamy windows with hanging Peking ducks, street carts vending drinkable coconuts in the summer, and countless restaurants serving up a variety of delicious Chinese cuisine. From delicious dumplings to dim sum, you'll definitely leave stuffed!
Visit: Open all the time with no admission fee
Get There: Chinatown is an area in Lower Manhattan bordered by the Lower East Side to its east, Little Italy to its north, Civic Center to its south, and Tribeca to its west.
9. Top of the Rock
Want to get a bird's eye view of the city? Skip the Empire State Building and head to Top of the Rock. The view of NYC from the Top of the Rock is awesome and allows you to get the Empire State Building in your photos! Rockefeller Plaza is famous for its Today Show tapings (often accompanied by free concerts in the summer), as well as its enormous Christmas tree and skating rink in the colder months.
You have a few options on how to visit. If you don't want to pay $37 plus tax for the 70th-floor observatory, go to the bar at the Rainbow Room's Bar SixtyFive, where a $20 cocktail gets you similar views just 5 floors below. Plus, this way you get to drink!
Visit: The elevator is open from 8am-12:30am (the last ride up is at 11:55pm).
Get There: 30 Rockefeller Plaza, New York, NY 10112
10. Brooklyn Bridge
Constructed over a span of 14 years in the late 19th century, this massive suspension bridge was a much-needed alternative to ferrying between Manhattan and Brooklyn. At the time, it was the tallest structure in the Western hemisphere! Ideally, try to walk from Brooklyn to Manhattan so you're facing the skyline.
To avoid crowds (and get the best pictures), head across in the early morning hours and avoid sunset. Nerd out on engineering trivia and read the plaques detailing the bridge's fascinating history along the way.
Visit: No admission fee. The walk takes about 45 minutes with stops for pictures and reading.
Get There: This will vary depending on the direction you want to walk, but your best bet is to take the subway.
Hot Tip: For more ideas, check out our dedicated post: The 15 Best Tours and Activities in New York City.
10 Unique & Quirky Things to Do in NYC
This incredible city is so much more than just the Empire State Building or the Statue of Liberty! There are tons of offbeat options to help you explore the city more deeply. So while this is a great list to look at if you've explored all of the "must-sees," it's also great to help you develop an itinerary that's a bit different from everyone else's.
1. The Gold Vault
Want to feel a bit like Scrooge McDuck? Beneath the New York Federal Reserve Bank, you will find the largest concentration of gold in human history. It contains a government-operated vault built in bedrock that includes deposits from central banks around the world.
In total, there are about 7,000 tons of gold bars, or 5% of all gold ever mined! Surprisingly, anyone can tour the vault with the Federal Reserve Bank, but visitors must register 30 days in advance of the tour.
Visit: 44 Maiden Ln, New York, NY 10038. Admission is free, with tours Monday-Friday at 10am.
2. Touch the Berlin Wall
After the fall of the Berlin Wall, parts of the wall were distributed around the globe, with 5 pieces ending up across New York City. The concrete hunks include artwork from artist Thierry Noir, who began painting the west side of the Berlin Wall in the 1980s to make it seem less threatening. Make a day of it and try to locate them all!
Visit: 5 locations throughout the city are open 24 hours a day
3. Tenement Museum
New York City has always been a magnet for immigrants looking for a better life. Per their website, the Tenement Museum, located on the Lower East Side, "enhances appreciation for the profound role immigration has played and continues to play in shaping America's evolving national identity."
This historical museum takes visitors back in time to give them a glimpse of what it was like to be an immigrant in New York in the late 19th-early 20th centuries. Housed in a 5-story brick building, it is estimated that about 7,000 people from over 20 countries lived in this historic site.
Visit: 103 Orchard St, New York, NY 10002. Tickets start at $25 for adults. The museum is open from 10am-6:30pm Friday-Wednesday and 10am-8:30pm on Thursdays.
4. Dirt Room
It's hard to believe 280,000 pounds of soil hides in a random New York room, but that's exactly what can be found in one spacious Soho loft. The art installation, known as the "New York Earth Room," was created by Walter De Maria in 1977…and the same dirt the artist installed 35 years ago remains today.
The Earth room contains a 22-inch deep layer of dirt spread across the 3,600-square-foot gallery. So if you need a bit of nature in the concrete jungle, you know where to go!
Visit: 141 Wooster St, New York, NY 10012. Admission is free, open Wednesday-Sunday 12-6 pm (closed from 3-3:30 pm).
5. The Cloisters
This quiet spot in northern Manhattan offers a welcome respite from the hectic pace of NYC. The Cloisters, a branch of the Metropolitan Museum of Art, house the museum's extensive collection of art and architecture from Medieval Europe.
Same-day entrance is included here when you buy a ticket for the Met. To save time and skip the big line at the museum, it is recommended to buy your tickets online.
Visit: 99 Margaret Corbin Dr, New York, NY 10040. Open 10am-5:15pm daily.
6. Coney Island
Whatever kind of offbeat adventure you're looking for, you'll find it on Coney Island. It's the perfect dreamlike summer escape from the hustle and bustle of the city. From Nathan's Famous hot-dog eating contest and P.T. Barnum's infamous "Feejee Mermaid" to an authentic circus sideshow, there are plenty of quirky attractions to be found.
Visit: Traveling to Coney Island is easy: just take the D, Q, N, or F train to Stillwell Avenue
7. Explore Abandoned Subway Stations
New York's subway system is one of the oldest in the world, so many of its former stations have been closed or abandoned. The most famous of them all is the City Hall station, which you can visit by joining this tour. You can also get a glimpse of the City Hall station and 2 other abandoned stops from one of the trains by staying on the 6 train while it turns around.
Visit: The tour lasts approximately 2 hours and costs $35. It meets on the north side of the Jacob Mould Fountain, facing City
8. Kayak the Hudson River
Looking for a way to be active in the city? Try kayaking on the Hudson River! The Manhattan Community Boathouse is a nonprofit organization that offers free kayaks to use during summer, so this activity is even friendly on your pocketbook (though donations are accepted). Kayaks are offered on a first-come first-served basis, so show up early to ensure your spot.
Visit: 56th Street in Hudson River Park. Hours vary with the seasons:
May 26-October 7: Saturday-Sunday 10am–6pm
June 4-August 29: Monday-Wednesday 5:30pm-7:30pm
9. Brooklyn Flea Market
This has been ranked as one of the top markets in the United States! The Brooklyn Flea features over a hundred vendors selling furniture, vintage clothing, antiques, jewelry, and much more. If you are looking for a perfect and unique souvenir from your trip, you'll probably find it here!
Visit: Open every weekend from April-October, 10am-5pm, with 2 locations:
Saturdays: 241 37th St., in Industry City
Sundays: 80 Pearl St., in DUMBO at the Manhattan Bridge Archway
10. Ellen's Stardust Diner
One of the most popular things to do when coming to NYC is to go to a Broadway show. Luckily you can experience Broadway without the Broadway ticket prices! Ellen's Stardust Diner is home to the world-famous singing waitstaff and located in Times Square.
Known as a halfway house to Broadway, the talent level in this place is insane, and the turnover rate is high due to the waitstaff getting discovered for Broadway roles. There is ALWAYS a line, so be prepared to wait.
Visit: 1650 Broadway, New York, NY 10019. Open daily from 7-midnight, so you can drop by anytime!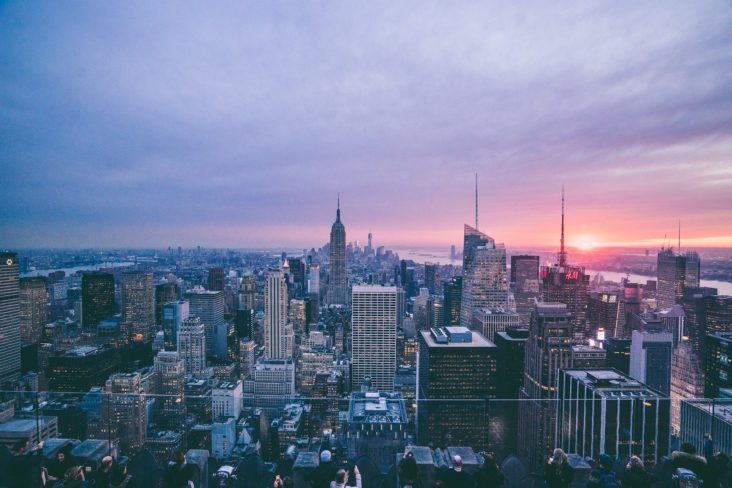 Top 10 Iconic Views in NYC
NYC led the pack in 2017 as the most-Instagrammed city in the world. There is clearly no shortage of iconic sights, but here are a few to fill your Instagram feed with.
1. Top of the Standard
Located on the rooftop of the Standard High Line hotel, this restaurant boasts some of the most iconic views in NYC. They serve tea and drinks in the afternoon, and in the evening they offer a small-plate menu and specialty cocktails with live jazz music. Reservations recommended.
Visit: The Standard, High Line, 848 Washington St, New York, NY 10014
2. Manhattanhenge
Twice a year, the setting sun aligns perfectly with New York City's grid streets, creating a sunset framed by concrete and glass skyscrapers that you've definitely seen pop up on your feed. You can still get a great photo of the centered sun for a few days on either side of official Manhattenhenge if the crowds are too much to bear.
Visit: The best cross-streets are 14th, 34th, 42nd, and 57th (they're wide streets framed with architecturally beautiful buildings). Check the local news for best dates to catch it!
3. Wall Street
Home to the financial district of NYC, you'll find world-famous landmarks and beautiful architecture here. Don't miss the New York Stock Exchange or the Charging Bull and Fearless Girl statues. The statues tend to get incredibly busy during the day, so go early if you want a good photo!
Visit: Wall Street, New York, NY 10005
4. Brooklyn Heights Promenade
Head to the promenade for some incredible views of Lower Manhattan's skyline and the New York harbor. This would be a great place to watch the sunset or just experience a different view of the city.
Visit: Montague St & Pierrepont Pl, Brooklyn, NY 11201
5. The Oculus
The Oculus is actually the main transportation hub for the World Trade Center, but it's also one of the most popular sights in NYC. Head to the top floor and take a picture of the stunning skylight, and then over to the 9/11 Memorial to make a day of it.
Visit: Church St, New York, NY 10006
6. Flatiron Building
The Flatiron Building has become such an iconic landmark of Lower Manhattan that the entire area is now referred to as the Flatiron District. For over 100 years, the Flatiron Building has been an architectural icon and an international tourist attraction. It's still a private office building, but that doesn't detract from the wonder it stirs up when you see it for the first time.
Visit: 175 5th Ave, New York, NY 10010
7. Top Floor of the Mandarin Oriental
Head to the top floor of the Mandarin Oriental for a stunning view of the city, including wonderful views of Central Park. It's the perfect place to have a drink, and you can visit their Asiate restaurant for brunch with a view.
Visit: 80 Columbus Cir, New York, NY 10023
8. Times Square
Surrounded by energetic, buzzing crowds and the bright lights of digital billboards, there's no more iconic view than that of Times Square. Head there at night for some truly Insta-worthy photos, but don't expect to get the place to yourself. It is definitely one of "the" spots to go for tourists in NYC.
Visit: Manhattan, NY 10036
9. Empire State Building
If you actually want pictures OF the Empire State Building, then Top of the Rock may be a better bet…but there is definitely something special about seeing the building up close. The 102-story art deco skyscraper located in Midtown is a cultural icon, and it stood as the world's tallest building for nearly 40 years.
Visit: 350 5th Ave, New York, NY 10118
10. Rooftop at Hotel Hugo
For beautiful views over the Hudson River, Freedom Tower, and Statue of Liberty, check out the 20th floor of Hotel Hugo in Soho. They have an incredible rooftop bar that has to make any list of the most Instagrammable places in NYC! Don't leave early — there are some stunning views at sunset.
Visit: 525 Greenwich St, New York, NY 10013
Top 10 Restaurants to Try in NYC
New York City is one of the best places in the world for foodies. Here are 10 restaurants that won't let you down!
1. Joe's Pizza
This is your spot for a quintessential, cheap, classic New York slice. The original Bleecker Street location has been shut down since 2005, but the Carmine Street location continues to serve hot, gooey slices of flawless, foldable pizza until long after the local bars close. It's a pretty simple shop with only a few menu options, but the price (under $3) and ambiance can't be beat.
Visit: 7 Carmine St, New York, NY 10014. Open daily from 10am-4am or 5am depending on the day.
Get There: Check out their website for more details. There are countless subway stations within walking distance, so your best bet is to plug it into Google from your current destination.
2. Jack's Wife Freda
This restaurant is a Mediterranean-inspired cafe with delicious cocktails in a couple of cute NYC neighborhoods (Soho was the original). Their brunch and late-night offerings are the most popular. If you want my ideal order, it would be the grilled haloumi, peri-peri chicken with chopped salad, or cheeseburger with fries, finished off with a fruit crisp. Yum!
Visit: The original is 224 Lafayette St, New York, NY 10012. Open from 8:30am-late. Reservations are accepted for groups of 6 or more. For details about their second location, see their website.
Get There: The closest station is Spring Street, and can be accessed by the 4, 6, or 6X train.
3. Momofuku Noodle Bar
Momofuku has the original pork bun that spurred a million copycats. By now, most people are familiar with David Chang's culinary empire (or at least his Netflix show). New York City offers many Momofuku-associated venues offering cocktails, pastries, and fine-dining, but we like this option because of the ramen. Chang jump-started the NYC ramen craze in 2004, and any variety you choose will be one of the best you've ever had.
Visit: 171 1st Ave, New York, NY 10003. Open daily from noon-4 or 4:30pm. Reopens from 5:30pm-11pm (1am on weekends). Check their website for the menu.
Get There: The closest station is at 1st Ave, taking the L.
4. Katz Delicatessen
There's no more "New York" meal than the towering hand-carved pastrami on rye at this Lower East Side institution. Katz's is a living portrait of frenetic customers clutching loaves of golden rye, butchers in blood-soaked aprons, and a study in the best pastrami sandwich in the city (and perhaps the world). With 4 stars and almost 10,000 reviews on Yelp, this is a pretty safe bet.
Visit: 205 E Houston St, New York, NY 10002. On weekdays, they open at 8am and close around 10:45. On weekends they're open 24 hours.
Get There: The F train at 2nd Ave is the closest station.
5. Russ & Daughters
This 100-year-old shop is still the place to go for the city's finest Jewish fare. You can't go wrong with the timeless combo cut by expert fish slicers: sesame bagel, schmear, and smoked salmon. There is always a line (welcome to New York), but it's worth it for this classic taste of the city.
Visit: The original shop is at 179 E Houston Street, New York, New York, 10002. Open most days from 8am-6pm.
They also have a cafe at 27 Orchard Street, New York, New York, 10002. Open from Monday-Friday from 9am-10pm, and Saturday and Sunday from 8am-10pm.
Get There: This will be based on your preferred destination, so check their website for more details.
6. Mercer Kitchen
The in-house eatery at the Mercer Hotel showcases local ingredients in a Mediterranean fusion menu that changes with the seasons. Sample dishes might include sashimi and horseradish pizza, butternut squash soup served in an individual kettle, and salmon glazed with kaffir and lime. The atmosphere is relaxed and lively, and there's a lovely brunch and a fun bar scene to boot.
Visit: Located in The Mercer hotel at 99 Prince St, New York, NY 10012. Open daily from 7am-late.
Get There: The closest station is at Prince St, access by the N & R.
7. The Butcher's Daughter
Don't let the name fool you — the Butcher's Daughter is a plant-based, vegetarian restaurant that is ALL over Instagram. Think avocado toast, cold-pressed juices, plantain bowls, and filling salads. This is an especially great spot when the sun is shining and you can sit outside for breakfast or lunch. Avoid weekends if you can, because the word is definitely out about this spot.
Visit: Nolita, West Village, and Williamsburg all have a location. Hours vary, but all 3 locations open at 8am.
Get There: Check their website for specifics based on your desired location.
8. Luke's Lobster
The best lobster roll in NYC. The sauce is light, delicious, and not too overbearing. Luke's gets shipments from Maine delivered daily, so you know it's always fresh. They opened their first location in the East Village in 2009, but now have multiple across the city, in addition to a food truck!
Visit: There are 20 locations throughout the U.S. now, but 13 are in the NYC area. Check their website for address and hours.
Get There: Since there are so many locations, Google is your best friend here!
9. Per Se
This dining option with 3 Michelin stars is one of the fanciest places in NYC, but getting a table isn't the only hard part to stomach. The tasting menu runs over $300/person (not including drinks), so you and your wallet should be prepared! That being said, you will come away fully satisfied from your 3-hour multi-course dinner. It's an event not to be missed, especially if you're celebrating a special occasion in the Big Apple.
Visit: 10 Columbus Cir, New York, NY 10019. Open daily for dinner from 5:30-11:30pm. Open Friday-Sunday for lunch from 12-1pm.
Get There: The closest station is 59th St–Columbus Circle, which can be accessed by the 1, 2, A, B, C, & D trains.
10. Eleven Madison Park
Also on the fancier end, Eleven Madison Park was rated the World's Best Restaurant in 2017, and they serve "European food with a New York twist." There is a tasting menu (similar to Per Se), and some of the dishes include honey lavender roasted duck, celery root cooked in a pig's bladder, and honey-glazed duck with turnips and huckleberries. See their website to secure reservations.
Visit: 11 Madison Ave, New York, NY 10010. Open daily for dinner from 5:30 pm. Open Friday-Sunday for lunch from 12-1pm.
Get There: The closest station is 23rd St, which can be accessed by 7 different trains.
5 Coffee Shops to Get Your Caffeine Fix in NYC
New Yorkers drink 7 TIMES more coffee than people in other cities, so you know there are bound to be plenty of great cafes and shops to grab your daily (or twice daily…or more) cup. Hey, you have to fit in, right?
1. Paper Coffee
This beautifully designed cafe inside the MADE Hotel is backed by Brooklyn's Devocion Roasters, who lend a hand to a standard menu of espresso-milk drinks, plus a few specialty items like a matcha lemonade and the Vietnamese (a layered macchiato with condensed milk, espresso, and milk foam). Pastries come from Patisserie Chanson, and the black sesame kouign-amann is especially delicious.
Visit: 44 W 29th St, New York, NY 10001. Open daily from 7am-5pm.
2. Saltwater Coffee
This East Village neighborhood cafe has quickly claimed a large fan base despite its tiny size. Head to Saltwater Coffee for an expertly pulled espresso, flat white, or seasonal special like ube and charcoal vanilla chai made with Australian-style coffee. Baristas dose higher than most coffee shops and run their shots shorter, so customers get a sweeter, fuller-bodied taste with minimal acidity.
Visit: 345 E 12th St, New York, NY 10003. Open Monday to Friday from 7am-7pm, and weekends from 8am-7pm.
3. Blue Bottle
This California company uses sustainably-sourced beans from developing coffee regions all over the world, and offers seasonal menus of tasty bites like olive oil shortbread, cookies, liege waffles, pastries, and more. The Bella Donovan blend coffee and Hayes Valley Espresso are among its most popular brews. Blue Bottle is influenced by the Japanese-style small shops that serve coffees prepared carefully 1 at a time.
Visit: There are currently 11 cafes all over New York with more on the way. Hours also vary, but most open up around 6:30am. Check their website for specifics.
4. Daily Provisions
Daily Provisions provides an atmosphere that is equal parts cozy, energizing, and intimate. Opened in February 2017, it quickly became the cafe of choice for those in the neighborhood, serving up JOE Coffee and its famous crullers (maple is their signature), plus gougéres, sandwiches, and breads. They also have a hearty evening menu if you feel like making a return trip!
Visit: 103 E 19th St, New York, NY 10003. Open Monday-Friday from 7am-9pm, and Saturday and Sunday from 8am-9pm.
5. La Colombe
Popular among New York's pretty people, La Colombe is famous for its draft lattes. This East Coast coffee roaster from Philly comes out with various seasonal draft lattes in addition to its core draft latte menu (Black and Tan, Pure Black, and Draft Lattes). This summer it's the Honeysuckle Latte made with natural honeysuckle extract.
Visit: There are 8 locations throughout NYC; see their website for the location nearest to you.
Top 5 Bars to Grab a Drink in NYC
New York has a roster of bars that are second to none. Depending on your preference for old-world charm, fantastic rooftop bars, or something a bit more unique, you will have no problem finding some first-class cocktails. Here are our picks for the best bars in NYC.
1. The Campbell
One of the classic New York drinking establishments, the Campbell is located inside Grand Central Terminal. It was formerly home to the offices of American financier John W. Campbell; after his death in 1957, it served as a storage closet for decades before the grand space was restored to its former glory. It now houses a chic cocktail bar that serves all the classics with light food.
Visit: 15 Vanderbilt Ave, New York, NY 10017. Open daily from noon-2am.
2. Bar SixtyFive
Set atop 30 Rockefeller Plaza, Bar SixtyFive is the lounge component of the recently reopened Rainbow Room. Modern furnishings sit beneath a geometric ceiling, and a wraparound terrace provides excellent views from the Empire State Building to Central Park…what you're really paying for are the views! It's best to reserve your spot in advance, and note the $65 minimum per person for the rooftop terrace.
Visit: 30 Rockefeller Plaza, 65th Floor, New York, NY 10112. Open Monday-Friday 5pm-12am and Sundays 4-9pm. Closed Saturdays.
3. Mother of Pearl
This lively tiki bar brings Hawaiian flair to the Big Apple. Owned and designed by East Village restaurateur Ravi DeRossi, it features a white-and-green tiled bar, vintage-looking tropical upholstery, and banana-leaf wallpaper. The drinks are true to the tiki theme with punchbowls and assorted fruity cocktails. For dinner, there is tuna poke, Kahlua pork belly with ginger glaze, and pineapple kimchi to choose from.
Visit: 95 Avenue A, New York, NY 10009. Open Monday-Wednesday 5pm-1am, Thursday and Friday 5pm-2am, and weekends 3pm-2am.
4. The Library Bar
The NoMad Hotel's 2-level library, with its custom furnishings and an extensive book collection, is a unique haven for cocktail and literature lovers. Located in the heart of the Flatiron District, only guests of the NoMad Hotel are granted access to the bar after 4pm (meaning it's rarely busy). Try the pineapple juleps, hot apple cider cocktail, or one of their other unique creations.
Visit: 1170 Broadway, New York, NY 10001. Open Monday and Tuesday from 5pm-12am and Wednesday-Saturday from 5pm-2am. Closed Sundays.
5. Ophelia Lounge NYC
There is a great 1920's aesthetic at this bar atop the landmark Beekman Tower. Think arched glass panels restored from the original rooftop and vintage artifacts on display. Cocktails are creative, the price point is reasonable, seating is ample, service is top-notch, and advanced reservations are available online. And then, of course, there are those 360-degree views of the East River and Manhattan skyline.
Visit: 3 Mitchell Pl 26th floor, New York, NY 10017. Open Monday-Thursday 5pm-2am, Friday and Saturday 5pm-4am, and Sundays 12pm-2am.
Top 10 Sweet Treats in NYC
If you're a sucker for sweet treats and looking for something new to try, then look no further than these spots in New York City!
1. Magnolia Bakery
Magnolia Bakery has been serving up legendary cupcakes for as long as we can remember, but they really hit the jackpot with the banana bread pudding. The classic banana flavor never disappoints, and if you're feeling adventurous you can try out their chocolate bread pudding or rotating flavors of cupcakes.
Visit: There are 6 locations in NYC; see their website for locations and hours.
2. Serendipity 3
Serendipity 3 has been doing dessert right since 1954. Their frozen hot chocolate is perfect for sharing, making this luxurious drink not just a cool treat but a social experience. It's more than a milkshake — it tastes like a liquefied fudge brownie. You have to try it at least once in your life!
Visit: 225 E 60th St, New York, NY 10022. Open daily from 10am-1am.
3. Levain Bakery
Perfectly photogenic, these chocolate chip cookies are anything but boring. Levain Bakery has grown famous for the melty, gooey inside of their chocolate chip cookies. There are numerous cookie types to try, as well as scones, sticky buns, and freshly-baked breads to choose from.
Visit: 167 West 74th Street, New York, NY 10023 is the original location. Open Monday-Saturday from 8am-7pm and Sunday from 9am-7pm. Check their website for details of their other 3 locations.
4. Black Tap
These outrageous milkshakes have been trending on every social media channel there is. Black Tap is building the sugar-lover's dream dessert fully loaded with toppings like M&Ms, cotton candy, rock candy, and chocolate chip cookies. They also serve gourmet burgers and fries, which of course make the perfect starter to a milkshake.
Visit: 529 Broome St, New York, NY 10013. Open Sunday-Thursday from 11am-12am, Friday and Saturday from 11am-1am.
5. Dominique Ansel
Dominique Ansel Bakery is a must-try on your trip to NYC. They are known for their cronut, but have plenty of other tasty treats if you don't feel like waiting in a line for hours to try this particular pastry. Their Milk and Cookie shot is completed by pouring cool milk into a baked cookie glass right before your eyes. This dessert isn't just a treat: it's an experience. They also have seasonal dishes like their Hawaiian malasadas with lilikoi curd, frozen smores, and the summer strawberry tart.
Visit: 189 Spring St, New York, NY 10012. Open Monday-Thursday 8am-7pm, Friday and Saturday 8am-8pm, and Sundays 8am-7pm.
6. Squish Marshmallow
At Squish Marshmallow you can satisfy your sweet tooth with unique creations like Marshmallow Ice Cream Cones, Marshmallow Donuts, and a Dessert Bacon Egg and Cheese. For the less adventurous foodies, there are homemade marshmallows available in flavors like Apple Pie, Rocky Road, Banana Pudding, and traditional S'mores…all of which can be roasted right in front of you with a blowtorch. They're most famous for their chocolate marshmallow tacos.
Visit: 120 Saint Marks Place Store 1, New York, NY 10009. Open Monday-Saturday from noon-10pm and Sunday from noon-9pm.
7. La Bella Ferrara Bakery
With secret recipes that span 3 centuries, this fifth-generation family-owned bakery continues to handcraft Italian desserts from the same location in NYC's Little Italy since 1892. Ferrara's specialty tiramisu and made-from-scratch cannoli should be a requirement for every visitor to Manhattan.
Visit: 195 Grand St, New York, NY 10013. Open daily from 9am-12am.
8. DŌ
Have you ever wanted to eat raw cookie dough and not make yourself sick? Enter DŌ. The shop offers scoops of 13 classic cookie flavors (including fluffernutter), as well as seasonal confections like cannoli and lemonade. They have gluten-free and vegan options as well. The dough is made with pasteurized eggs and heat-treated flour, making it safe to eat raw but also engineered for baking. It can also be frozen for up to 30 days.
Visit: 550 LaGuardia Pl, New York, NY 10012. Closed Monday. Open Tuesday, Wednesday & Sunday from 10am-9pm. Open Thursday and Friday from 10am-10pm.
9. Big Gay Ice Cream Shop
This shop started as an ice cream truck in June 2009, became an East Village shop in November 2011, and now has 2 other locations in NYC. They take ice cream to a whole new level, offering treats such as The Salty Pimp (vanilla ice cream, dulce de leche, sea salt, and chocolate dip), The Ben Arthur (vanilla ice cream, dulce de leche, and crushed Nilla wafers), and The American Globs (vanilla ice cream, pretzels, sea salt, and chocolate dip).
Visit: Check the website for details on all 3 NYC locations. You can also find pints in local grocery stores!
10. Emack & Bolio's
Unlike most ice cream and froyo places, Emack & Bolio's uses live cultures and nonfat milk to make their frozen yogurt. They have some unique flavors like Space Cake, S'moreo, Caramel Moose Prints, or Cosmic Punch. They're most known for their outrageous cones, such as one covered in Rice Krispies, marshmallows, and Fruit Loops.
Visit: There are 3 locations in NYC; see their website for addresses and hours.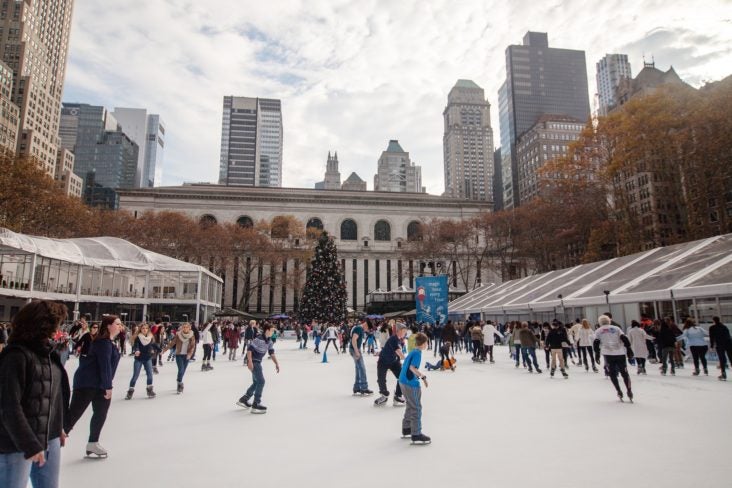 10 NYC Travel Hacks
1. Staten Island Ferry
The Staten Island Ferry is a public passenger ferry service that's totally free to ride and runs 5 miles through New York Harbor. Skip the pricey harbor cruises and hop on the ferry instead to enjoy beautiful views of the city skyline, the Verrazano-Narrows Bridge, and the Statue of Liberty.
2. Restaurant Week(s)
Restaurant Week happens in New York twice a year (January/February and July/August). While they say it's a week, it's really more like 3 weeks so you have time to take advantage. Get 3-course meals at some of New York's hottest restaurants at a fraction of the regular price!
3. Bryant Park NOT Rockefeller Center
If you are dying to go ice skating in New York in the Wintertime, head to Bryant Park's Winter Village. They offer free admission to the rink, so bring your own skates. If you don't have any, you can rent theirs for a fee…even if you do, it's still significantly cheaper than other (more famous) skating options.
4. Brooklyn Brewery
Brooklyn Brewery offers free brewery tours on the weekends with a sample at the end. The tour is for all ages, but the sample at the end is 21 and up.
5. TV Show Tapings
There are tons of great shows taped in New York City, and you can request tickets to attend a taping. Tickets are free but limited. Some shows have standby tickets to fill extra seats, so if you miss tickets give that a shot! Here are a few shows you can try: The Tonight Show Starring Jimmy Fallon, The Daily Show, The Dr. Oz Show, Good Morning America, Late Night with Seth Myers, The Late Show with Stephen Colbert, The Rachael Ray Show, and more!
6. Walk
Yes, public transit in NYC is plentiful…but New York City is a great walking city too! There are so many cute boutiques, eateries, little art galleries, and neighborhood bars. You will see so much if you walk where you need to go.
7. Free Museum Days
New York is home to some of the most famous museums in the world, like The Met, The Guggenheim, MoMA, and the Museum of Natural History. Admission to some of them is over $20, but they all offer free or "pay what you wish" days each week. Save a trip to the museum for these days if you happen to be in town then.
8. Happy Hours
Dining and drinking in New York are really expensive, with dinner being the priciest meal by far. If you're up for eating early, hit up restaurant happy hours. You can get great deals on food and drinks and save big.
9. Broadway for Less
If seeing a Broadway show is on your NYC bucket list but you're not picky about which one, the TKTS Booth is a great choice. Visit one of 3 locations for same-day discounted tickets to Broadway shows. Some pros recommend hitting the Times Square booth around 5 p.m. — apparently, that's when theaters might pop out additional tickets.
10. Taxi Payment on the Go
Just a bit of a time-saving tip: you don't have to wait until the end of the ride to swipe your card. NYC taxis let riders swipe at any point during the ride, so you can get to the action quicker!
10 Fun Facts About NYC
1. A U.S. Capital?
In 1789 it became the first capital of the United States for 1 year. Interestingly enough, New York City isn't even the capital of New York — that's Albany!
2. Many Millionaires
One out of every 21 New Yorkers is a millionaire. So maybe try to make a friend or 2 during your trip!
3. The Big Apple
Although many people considered the origin of the term "Big Apple" to be a mystery, researchers at Missouri University of Science and Technology managed to determine the probable origin. "Apple" referred to many of the big horse racing courses around NYC. The first known usage was by John J. FitzGerald in The New York Morning Telegraph when he mentioned going to the "Big Apple" to mean getting big money at the races.
4. Illegal Honking
Except for emergencies, honking your car horn is actually illegal in New York City. And yes, we know…everybody does it anyway.
5. A True Melting Pot
Over 37% of New Yorkers were born in another country, so it's unsurprising that the city's residents speak a wide range of languages (over 800 in fact)! Plus, some of the languages — like Quechua or Garifuna — are extremely rare or dying out even in their countries of origin.
6. What, How Much?
It can cost nearly $300,000 to operate a hot dog stand around Central Park!
7. Pizza Tradition
Pizza is probably the food most frequently associated with New York City. Italian immigrants introduced the delicious, cheesy snack to the city all the way back in 1905, and New Yorkers have never looked back. Today, there are approximately 1,600 pizza restaurants in the city.
8. Moving Day
From colonial times through the beginning of the 20th century, May 1 was Moving Day in NYC…nearly everyone who needed to move apartments did so on that day. The custom caused chaos and traffic jams as the streets became clogged with horse-drawn moving vans and furniture. Fortunately, this odd practice began to die down in the 1920s, and of course modern New Yorkers can move whenever they want.
9. Foodie Roots
The ice cream cone, pasta primavera, and eggs benedict were all invented in New York City.
10. Densely Populated
New York City has more people than 39 of the 50 states in the U.S.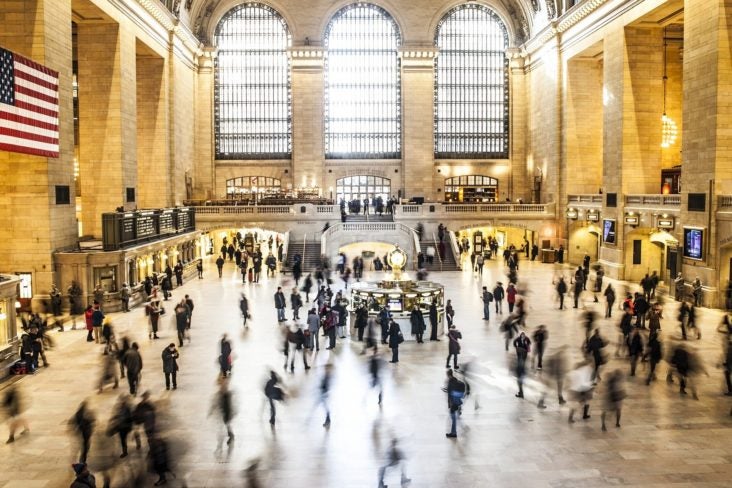 How to Stay Safe in NYC
Despite having a population of more than 8 million people, New York City consistently ranks in the top 10 safest large cities (those with more than 500,000 people) in the United States. Violent crimes in New York City have dropped by over 50% in the last decade as well.
However, visitors should be aware that many swindlers and thieves are skilled at identifying "out of towners" and folks who may seem disoriented or confused to prey upon. While this shouldn't scare you away from New York City, using common sense should keep you safe.
Emergency Contacts in New York City
If you have an emergency of any kind, call 911.
If you need to contact the police about a non-emergency (including information), call 311.
If you left your property on any form of public transit, you need to direct your call to the appropriate agency. Here is a link that contains most of them.
Stay Safe in the City
Pickpockets and thieves operate all over the world; be aware of your surroundings.
If you are walking along the street, keep valuables on your other side. Thieves have been known to grab purses and bags as they pass by in cars or motorcycles.
Never accept drinks from strangers, and always keep yours with you in crowded bars.
Avoid deserted areas, especially at night. This includes popular tourist destinations like Central Park.
If you feel uncomfortable or lost, approach a police officer or a friendly store owner to get your bearings or directions.
Public Transit Safety Tips
Only ride in marked taxi cabs.
When in doubt of your destination or the safety of a neighborhood, take a cab (especially late at night).
Many business districts are desolate at night — keep this in mind when deciding whether to walk or take a cab.
During peak times, the subway can be very crowded. If you can't avoid travel during these times, be aware of your bags at all times.
If taking the subway late at night, stand near the "During off hours trains stop here" sign or in view of the MetroCard booth. Ride in cars with more people and preferably in the conductor's car (you will see him look out the window of the train when it stops).
At Your Hotel
Always keep your valuables in a locked room safe if available.
Hotels are open to the public, and security may not be able to screen everyone entering. Always lock your room door. Don't assume that once inside your hotel you're automatically safe.
Emergency Alerts
Just as important as being prepared for an emergency is staying informed, and New York City offers a variety of ways to receive emergency information.
Notify NYC is the city's source of information about emergency events. Notify NYC is available through email, text, telephone, RSS, Twitter, and in many cases American Sign Language videos. To register for Notify NYC, call 311, 212-639-9675, or 711 for Video Relay.
Wireless Emergency Alerts are alerts sent to wireless phones by authorized governmental officials (such as Amber Alerts). You don't need to register for these; as long as you have cell service, they will automatically be sent to you based on your location.
Final Thoughts
New York City is a huge place with a lot to do, and this list barely scratches the surface. We know we mainly stuck to Manhattan in this guide, and didn't even really touch on all the amazing things to do in the boroughs like Queens and Brooklyn. Guess you'll just have to make a few more trips!
So, have you traveled to New York City before? What tips do you have to guarantee a great trip to the city?