Spirit Airlines Review – Seats, Amenities, Customer Service, Fees & More
This general review of Spirit Airlines has been compiled to give you a quick glance at the airline from the viewpoint of a viable customer.
Have you ever wondered — how much does Spirit charge for baggage fees? Do you get snacks and drinks when you fly Spirit? How often is Spirit delayed?
We've outlined some basic company statistics, ticketing options, added fees (including baggage fees), seat specs, inflight amenities, customer satisfaction ratings, and more.
Basic Information
Airline: Spirit Airlines
Alliance: N/A
Category: Ultra-Low-Cost Carrier
Frequent Flyer Program: Free Spirit
Tag Line: "Less Money. More Go."
About/Mission Statement: "We live for More Go. It's the big idea behind our business model, making it possible for more people to travel to more places, more often. And it's what inspires us to Invest In The Guest, going beyond low fares to discover more ways to make our unique brand of customizable travel a great personal experience too." (source)
Daily Flights: 500+ (pre-COVID-19)
Destinations: 65+ (U.S., Latin America, and the Caribbean)
Fleet: 150+ planes
Main Hub: Fort Lauderdale-Hollywood International (FLL)
FAQ Guide: Frequently Asked Questions About Flying Spirit Airlines
Spirit Ticketing Options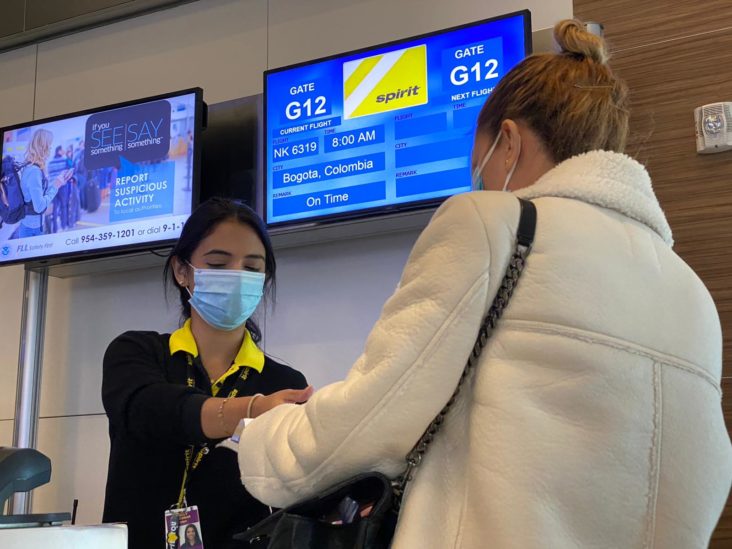 Standard Fare
Spirit Airlines prides itself on offering "unbundled" fares. In a nutshell, this means advertising the lowest possible rate as a base fare. Spirit then gives customers the ability to add options that it calls À La Smarte options.
This means Spirit's basic fare includes the most standard seat and 1 personal item. No refreshments, no seat recline, no Wi-Fi, etc. Spirit claims this generally lowers the cost of your ticket since with most other airlines all of these "frills" are included in your base fare, even if you don't want them.
Additionally, while you can pay more for a little extra legroom, there are no traditional premium economy, business class, or first class fares on Spirit Airlines.
Spirit Saver$ Club
Spirit advertises a Spirit Saver$ Club (formerly known as the $9 Fare Club) that it claims gives customers exclusive access to some of the lowest fares available, as well as discounted baggage fees, seats, Flight Flex, Shortcut Security, and Shortcut Boarding. It also claims that Spirit Saver$ Club members are privy to special deals only available to members.
The cost of the program is $69.95 for 12 months, $99.90 for 18 months, or $129.90 for 24 months. The club's discounts are also applicable for up to 8 persons on your itinerary if reserved under the same booking confirmation number.
Hot Tip: Remember that when booking with Spirit, an average traveler usually encounters added fees for options they generally don't even consider when purchasing a typical airline ticket. For example, it'll cost you $10 to print your boarding pass at the airport ticket counter vs. on your home computer. You can find more information on Spirit's options/fees below.
Spirit Frequent Flyer Program
Spirit debuted a new and improved Free Spirit loyalty program in 2021, adding new perks like accelerated points earning, seat and baggage benefits, the ability to pool points with family and friends, and a longer expiration date for points.
Free Spirit is free to join and you can earn points by flying on Spirit, spending on its Bank of America co-branded credit cards, or participating with its partner programs.
You can redeem Free Spirit points on award flights or with select partner products and services.
Hot Tip: For more information, check out our in-depth article on Spirit's Free Spirit loyalty program.
Spirit Baggage and Other Fees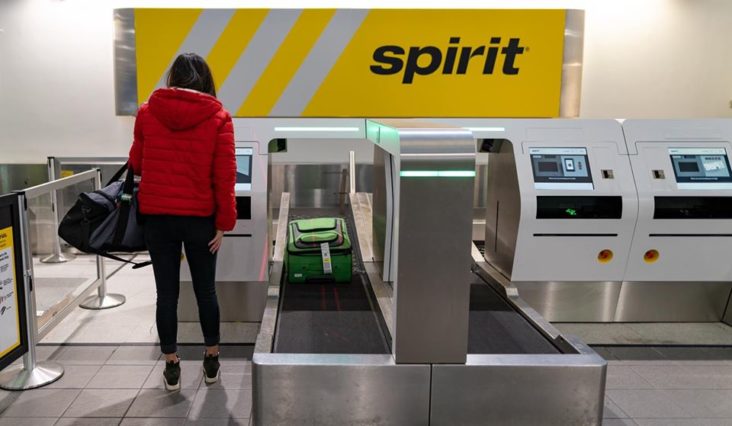 Since Spirit Airlines starts with a stripped-down fare, there are a number of additional options that can be tacked on for an extra fee.
Baggage Fees
Spirit only includes 1 personal item with its standard fare. This means a carry-on and all checked bags are extra. Additionally, baggage prices increase the closer you get to take-off. So, your best bet is to pre-purchase your desired baggage allowance during your initial booking.
It's important to note that Spirit Airlines has some pretty tight size/weight limitations for baggage:
Personal Item: 18 x 14 x 8 inches
Standard Carry-On: 22 x 18 x 10 inches
Checked Bag: max linear dimensions of 62 inches, max weight of 40 pounds
The following table displays general fees for MOST routes. However, for the most accurate baggage fee calculations, please use Spirit's online baggage calculator tool here.
During Booking
Before/During
Online Check-In
Airport
Reservation Desk
At the Gate
Carry-On
$26 / $35
$36 / $45
$55 / $55
$65 / $65
First Checked Bag
$21 / $30
$31 / $40
$50 / $50
$65 / $65
Second Checked Bag
$31 / $40
$41 / $50
$60 / $60
N/A
Spirit Saver$ Club / Standard Fare
Other Fees
Reservation Center Booking: Spirit Airlines charges $35 per reservation center phone booking for both standard bookings and Free Spirit award tickets. Save yourself some money and book online if possible.
Seat Assignment and Big Front Seat: Unless you pay an extra fee, Spirit randomly assigns you a seat at check-in. It also can't guarantee you'll get to sit with your friends or family with this free assignment. Spirit urges customers to purchase a seat assignment to choose the seat they really want.
Seat assignments begin at $1 and can cost up to $50, varying according to your specific route and the exact location of seats on the aircraft.
Additionally, customers can purchase a Big Front Seat that comes with about 6 inches of extra legroom (see seat specs below). Since these seats are limited (usually 4 to 10 per plane), you can expect the cost to fall between $12 to $150 in advance or $25 to $175 as an onboard upgrade. This price is based on availability and flight length.
Boarding Pass: Let's be clear here: when flying Spirit, check-in online and print your boarding pass at home or select an email boarding pass. If you wait until you get to the airport, Spirit Airlines will charge $2 per boarding pass printed at a kiosk and a hefty $10 per pass printed at its check-in counters. Spirit argues that it utilizes more of its time and resources to print a pass at the airport, so that's why it charges for it.
Refreshments Onboard: Spirit provides a menu with variable pricing from which customers can make a drink/snack selection.
Soft drinks, juices, and water currently cost $3, with coffee and tea costing $2. You can expect to pay $8 to $11 for alcoholic beverages and snacks vary from $3 to $8.
Modification Fees: These are fees applied to change or cancel your reservation. If you purchase Flex Flight for $35 to $45 at the time of booking, you're allowed 1 flight modification at no extra cost as long as it's done more than 24 hours prior to your departure.
Change/Cancellation Fee: $90 (online); $100 (phone/in-person); $50 (group booking)
As an added benefit to canceling online, customers are issued a $10 voucher (per one-way fare) if the value of the reservation is less than the cost of cancellation.
Update: Due to COVID-19, Spirit is waiving all change and cancellation fees for travel booked by March 31, 2021. Refunds will be processed as a full purchase price reservation credit.
Priority Boarding: Customers who wish to acquire Zone 2 priority boarding (Shortcut Boarding) may pay $5.99+ per one-way ticket.
Standby Fee: The standby fee is currently $99 per one-way flight.
Infant (Lap Child) Fee: FREE (taxes may apply in certain countries)
Unaccompanied Minor Fee: $100 per customer, each way (includes snack and beverage)
Pet Transport Fee: $110 per pet container, each way (limited to 4 pets per cabin total)
How To Avoid Excess Fees
There's an easy way to avoid a number of these excess fees, and it involves utilizing the member benefits of specific credit cards.
The following cards offer airline credits that will cover the cost of certain added fees (baggage, inflight purchases, etc.):
Capital One VentureOne Rewards Credit Card - This no annual fee card comes with a 20,000 bonus mile offer after spending $500 in the first 3 months. When you use your card for travel purchases (e.g. baggage fees), use your miles to pay off all, or part of, your statement balance! We've highlighted 30+ benefits of the card.
Capital One® Venture® Rewards Credit Card - The "big brother" card to the VentureOne with a 60,000 bonus miles when you spend $3,000 on purchases in the first 3 months. This card is full of benefits and perks and you can redeem your miles on travel (flights, hotels, even paying for baggage fees etc) or transfer your miles to over 10+ travel loyalty programs.
Spirit Inflight Amenities and Seat Specs
What will my flight on Spirit look like?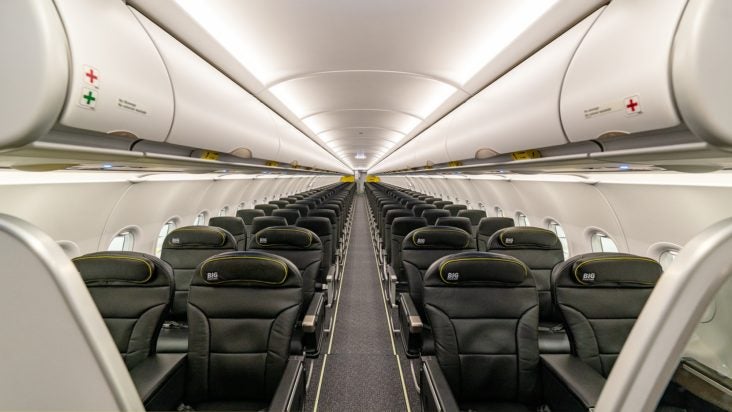 Inflight Amenities: As mentioned above, Spirit prides itself on offering the lowest possible base fare. This means a lot of inflight amenities many travelers are used to are simply unavailable.
Spirit does not provide in-flight Wi-Fi, video streaming capabilities, or any onboard entertainment
Refreshment service is limited to paid beverages and snacks only
Seat Specs: Seat specs for Spirit Airlines flights vary slightly depending on plane style. However, Spirit is notorious for having one of the shortest economy pitches of all domestic carriers. We've combined information from Spirit Airlines and SeatGuru to aggregate the following seat specs.
In general, dimensions are as follows:
Big Front Seats — 36-inch pitch, 18.5-inch width
Standard economy seats — 28-inch pitch, 17.75-inch width
 Style
Total Number
of Seats
Big Front Seats
Economy Seats
Airbus A319-100
145
10
135
Airbus A320-200 (Layout 1)
182
8
174
Airbus A320-200 (Layout 2)
174
0
174
Airbus A320neo
182
8
174
Airbus A321-200
228
8
220
Hot Tip: You can find information on Spirit's boarding zones and boarding process here.
Spirit Customer Satisfaction
Are customers happy with Spirit Airlines?
While Spirit Airlines doesn't drum up a lot of positive press when it comes to customer satisfaction, it is working hard to change the narrative.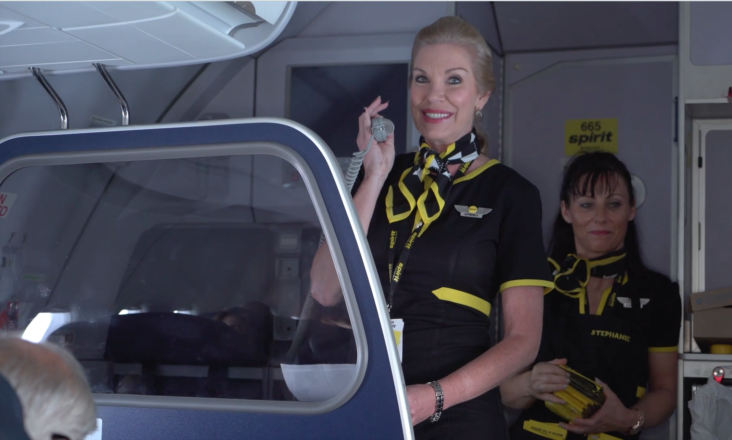 Spirit's new tactic involves talking up its standard fare and emphasizing the fact that stripped-down services are necessary to provide you, the customer, with the cheapest possible ticket option.
Here are a few examples:
Instead of hiding the fact that its seat specs are a little tight, Spirit states: "We're a cozy airline; We add extra seats to our planes so we can fly with more people. This lowers ticket prices for everyone, just like a carpool."
To justify its increasing baggage fee scale, Spirit says: "It costs time and resources to process at the airport, which means it costs you more money."
To address its "no refunds" policy, Spirit claims it's "trying to resell your ticket raises fares for everyone, so we don't give refunds if your plans change. Insurance is available to protect you from the unexpected."
Honesty and Transparency: One thing you can't fault Spirit on is its honesty. It is very clear on its website that it is attempting to offer the best possible price by cutting unnecessary expenditures. It even states it's proud to have broken some rules along the way.
Transparency on the other hand… not so much. With Spirit, it's tough to determine your total costs until you've selected all your specifics, including destination, departure dates, add ons, etc. Without going through the motions all the way to your purchase point, customers are simply given quotes like "fees starting at $5."
Most Common Complaints
What are the most common Spirit Airlines complaints?
The December 2020 Air Travel Consumer Report filed by the DOT ranks Spirit Airlines as having the fourth-highest number of consumer complaints across 13 reporting U.S. carriers (for October 2020).
For October 2020, there were 109 complaints out of 1,519,759 system-wide enplanements, or 7.17 complaints per 100,000 passengers. By comparison, Southwest had just 1.34 complaints per 100,000 passengers.
Flight Problems (cancellation, delay, or misconnection): 5 / 4.6%
Oversales: 1 / 0.9%
Reservation, Ticketing, Boarding: 8 / 7.3%
Fares: 6 / 5.5%
Refunds: 67 / 61.5%
Customer Service: 8 / 7.3%
Baggage: 6 / 5.5%
Disability: 6 / 5.5%
Other: 2 / 1.8%
Consumer Rankings, Ratings, Etc. 
It's difficult to compile all the rankings, ratings, reviews, and performance statistics into a single short synopsis, mainly because there are so many out there. Instead, we've listed a few of the more reputable options for a quick overview.
SkyTrax Ranking: 3 Star Airline (out of 5)
SkyTrax Customer Rating: 3/10 (average from 3,402 reviews)
ACSI Rating (American Customer Satisfaction Index): 65 (lowest of 12 largest U.S. carriers in 2020)
AQR (Airline Quality Rating): 8th of 10 Overall
TripAdvisor Airline Review Rating: 3/5 (average from 21,702 reviews)
Performance
Bureau of Transportation Statistics
Percent Flights Canceled: 2.31% (2020)
Average Departure Delay, All Flights: 3.8 minutes (2020)
Average Departure Delay, Late Flights: 59.63 minutes (2020)
Final Thoughts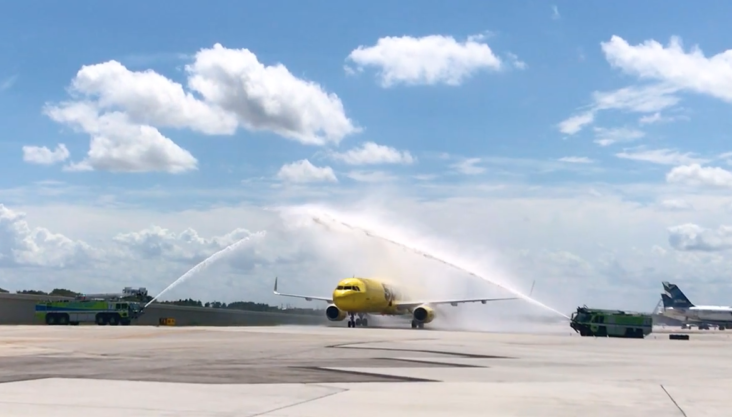 People who speak positively about Spirit seem to be those who know exactly what they want out of a cheap flight: getting from Point A to Point B, and that's about it. They're expecting a stripped-down experience, and they're expecting to encounter some surprise fees during the booking process.
They know what to pay for and when to pay for it, as well as where and what time to fly in order to secure some seriously cheap fares.
All in all, there are a number of factors that consistently land Spirit in the proverbial hot seat when it comes to customer satisfaction. Ticketing options are limited, extra fees abound, seat specs are tight, and inflight amenities are certainly lacking. Not to mention that the general consensus surrounding flying Spirit seems to be: don't.
However, if you're looking for an especially cheap fare, don't mind a bare-bones flight experience, and aren't too bothered about potential complaint-worthy hiccups, by all means… go ahead and book yourself a Spirit Airlines flight!
---
The information regarding the Capital One® VentureOne® Rewards Credit Card and Capital One® Venture® Rewards Credit Card was independently collected by Upgraded Points and not provided nor reviewed by the issuer.