Frontier Airlines Review — Seats, Amenities, Customer Service, Baggage Fees, & More
Since low-cost airlines like Frontier are becoming more relevant, we produced this general review in an attempt to answer some of your questions about the airline.
We know you're wondering about lots of things, like:
What are Frontier Airlines ticket options and what does that get me? What are Frontier's baggage fees and what about hidden fees? What do Frontier Airlines seats look like? Is Frontier a good airline to fly?
Read on for basic company statistics, ticketing/fare options, insights into those pesky extras (including baggage fees), seat specs, inflight amenities, customer satisfaction rankings, and more.
Basic Info
Airline: Frontier Airlines
Alliance: none
Category: Low-Cost Airline
Frequent Flyer Program: FRONTIERMiles
Tag Line: Low Fares Done Right.
About/Mission Statement: "… We make a bigger commitment to our customers — the 'Done Right' promise. This means providing you a real choice — with options that allow you to customize your flight to match both your wants and your wallet. And we are committed to providing safe, on-time and reliable service while at the same time treating you with Rocky Mountain hospitality like only we can provide." (source)
Fleet: 69
Main Hub: Denver, CO
Destinations: 80+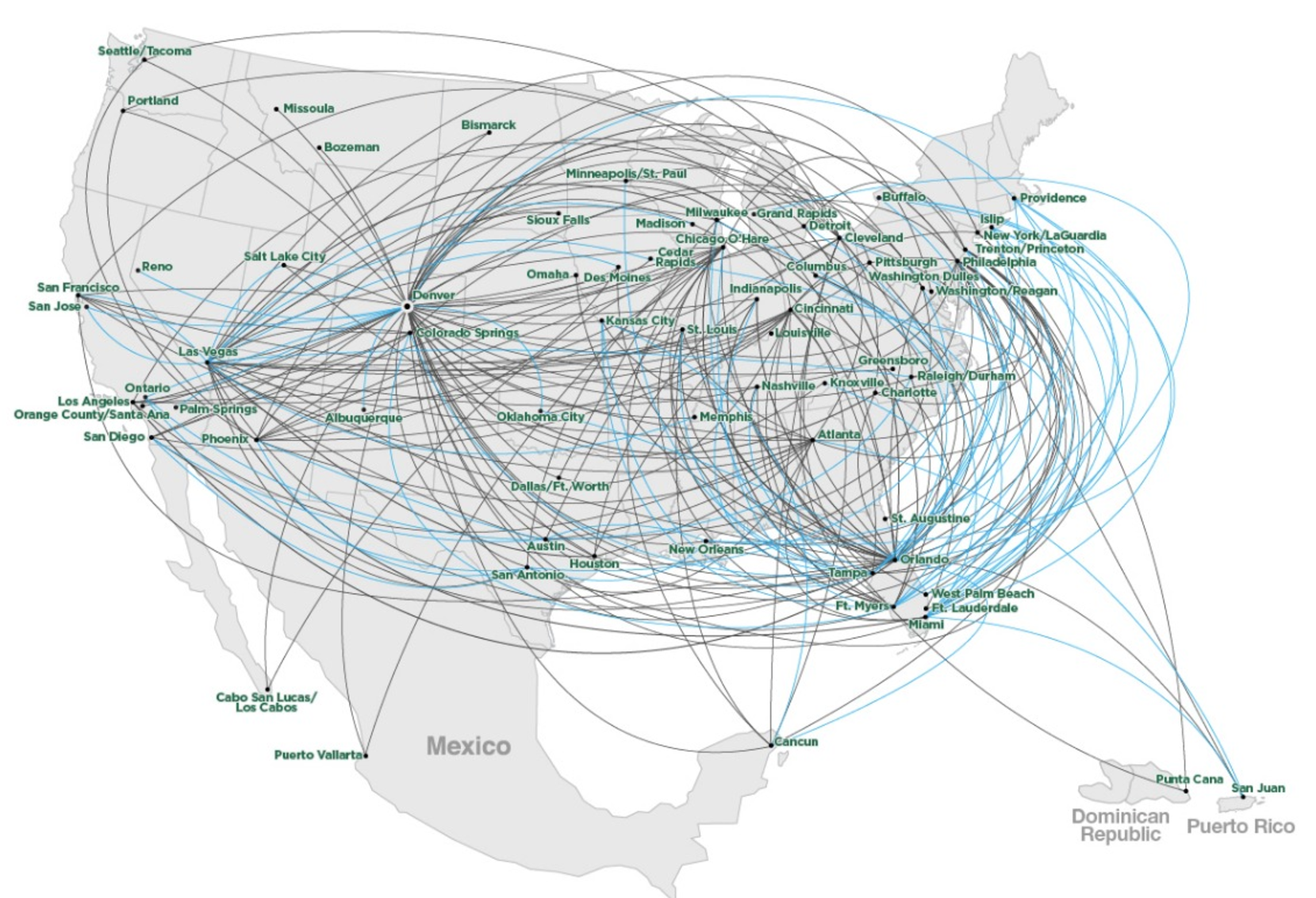 Ticketing Options
Frontier Airlines in a low-cost airline, meaning they follow the standard low-cost strategy when it comes to fares. Frontier advertises a basic ticket that covers your flight and a personal item — that's it. Anything else is an added fee.
Frontier offers 3 options for ticketing:
Basic Fare
The WORKS
The PERKS
Basic Fare: As we mentioned previously, Frontier's basic fare is just that: basic. This option covers getting you from Point A to Point B in a standard seat with 1 personal item.
Frontier's the WORKS and the PERKS options are "bundles." What's a bundle you ask?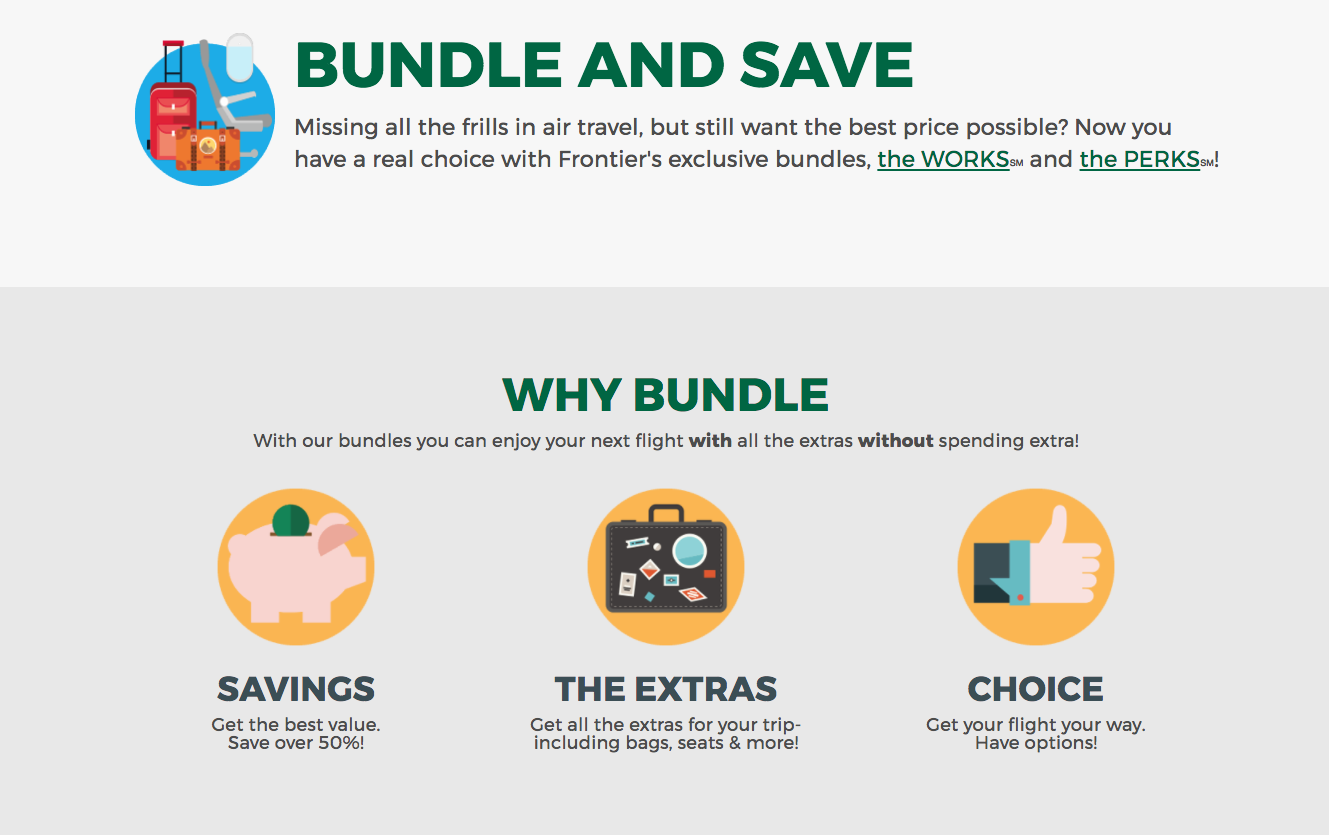 Frontier conveniently bundles extras together and offers them to you at a discounted rate in 2 different tier options.
The WORKS: The WORKS is Frontier's top-tier bundle. The cost starts at $59 one-way and varies by route; it's also based on a round-trip purchase.
This option includes the following "frills" at what Frontier claims to be a discount of at least 50% vs. adding them a la carte.
The ability to refund your ticket
No change fees
Seat selection
1 carry-on bag included
1 checked bag included
Priority boarding
Hot Tip: The WORKS can only be purchased at the time of booking. So, if you want this bundle, don't miss it the first time around!
The PERKS: The PERKS is Frontier's second-tier bundle. The cost varies by route, and it's also based on a round-trip purchase.
This option includes the following frills at what Frontier claims is a discount of over 30% vs. adding them a la carte.
Seat selection
1 carry-on bag included
1 checked bag included
priority boarding
As you can see, the PERKS does NOT include the ability to change or cancel your reservation. You can add the PERKS at any time, even if you purchased your flights through a third party.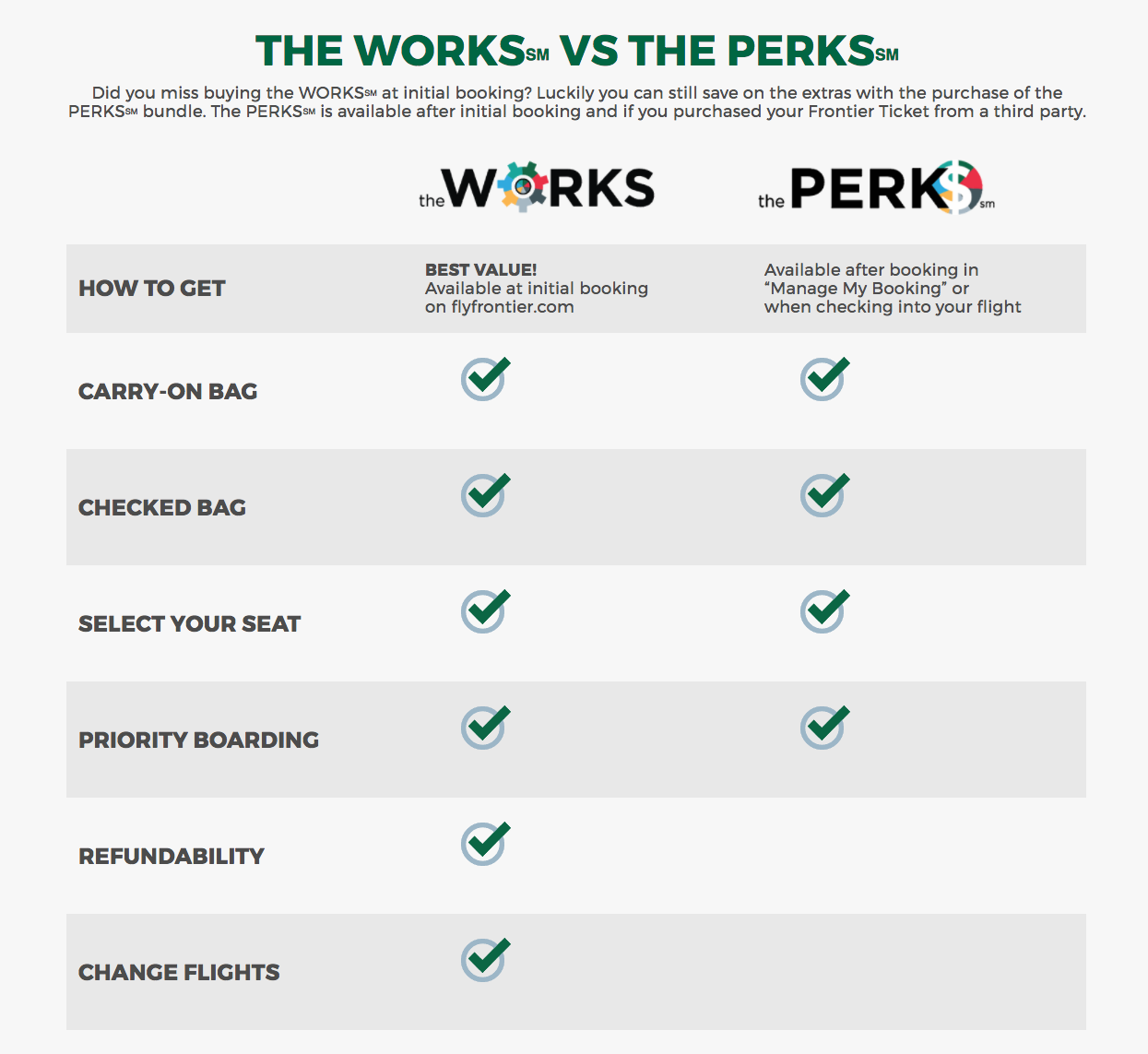 Discount Den: Frontier Airlines offers an email savings service called Discount Den for a $49.99 annual fee.
If a customer subscribes to Discount Den, Frontier advertises exclusive access to the lowest available fares. They also state that the more you fly, the more you'll save.
Here's what you (reportedly) get:
Exclusive access to the lowest fares
Unlimited savings for 1 year
Fares available for 6 people on the itinerary (as long as the subscriber is one of the passengers)
First look at new offers, promotions, and destinations
Earn EarlyReturns miles with every purchase
Hot Tip: Before you spend your Frontier miles, check out our complete guide on redeeming Frontier Airlines Miles for maximum value.
Frontier Baggage & Other Fees/Add-ons
Since Frontier is a low-cost airline that lists fares accordingly, you can expect some extra fees related to your trip. Unless, of course, you're the type who can fly comfortably with only a personal item!
Instead of hiding the add-ons, Frontier gladly explains why they keep fares so low — to give customers a choice: "You only pay for what's important to you."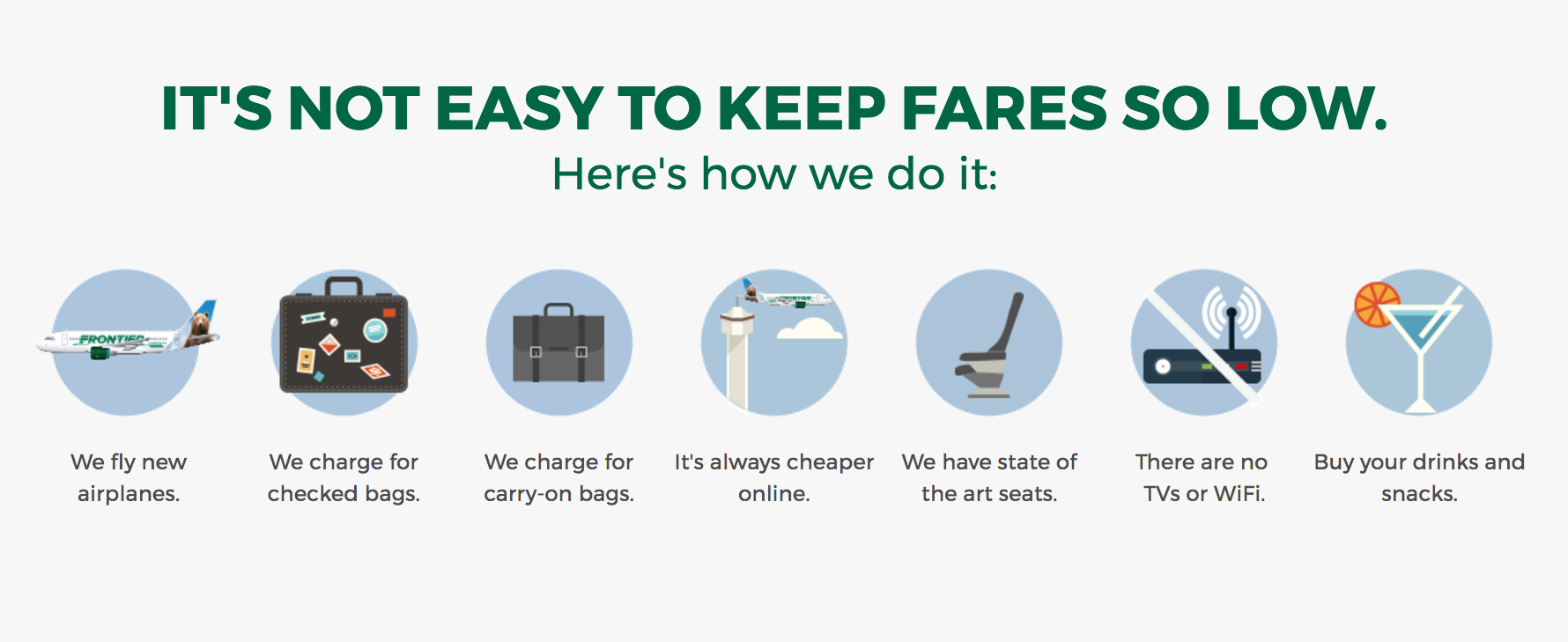 Baggage Fees
If you purchased the WORKS or the PERKS bundle, you already have 1 carry-on bag and 1 checked bag included in the cost. If you did not purchase either bundle, you can expect to incur higher baggage fees (see full details here).
Additionally, baggage fees increase as time goes on, so you'll want to purchase your allowance as soon as possible (ideally, at booking).
| | | | | |
| --- | --- | --- | --- | --- |
| | Carry-On | 1st Bag | 2nd Bag | 3+ Bag |
| At Booking | $35 | $30 | $45 | $80 |
| Online (up to 24hrs pre-departure) | $38 | $38 | $45 | $80 |
| Via Call Center | $40 | $40 | $45 | $85 |
| Web Check-in | $40 | $40 | $45 | $85 |
| Airport Ticket Counter | $45 | $45 | $50 | $85 |
| At Gate | $60 | $60* | n/a | n/a |
*Prices are per one-way flight.
Hot Tip: If you purchase a carry-on bag, you'll automatically gain Zone 1 boarding. 
Size/Weight Limits: Passengers should note the following size and weight limitations for each type of baggage.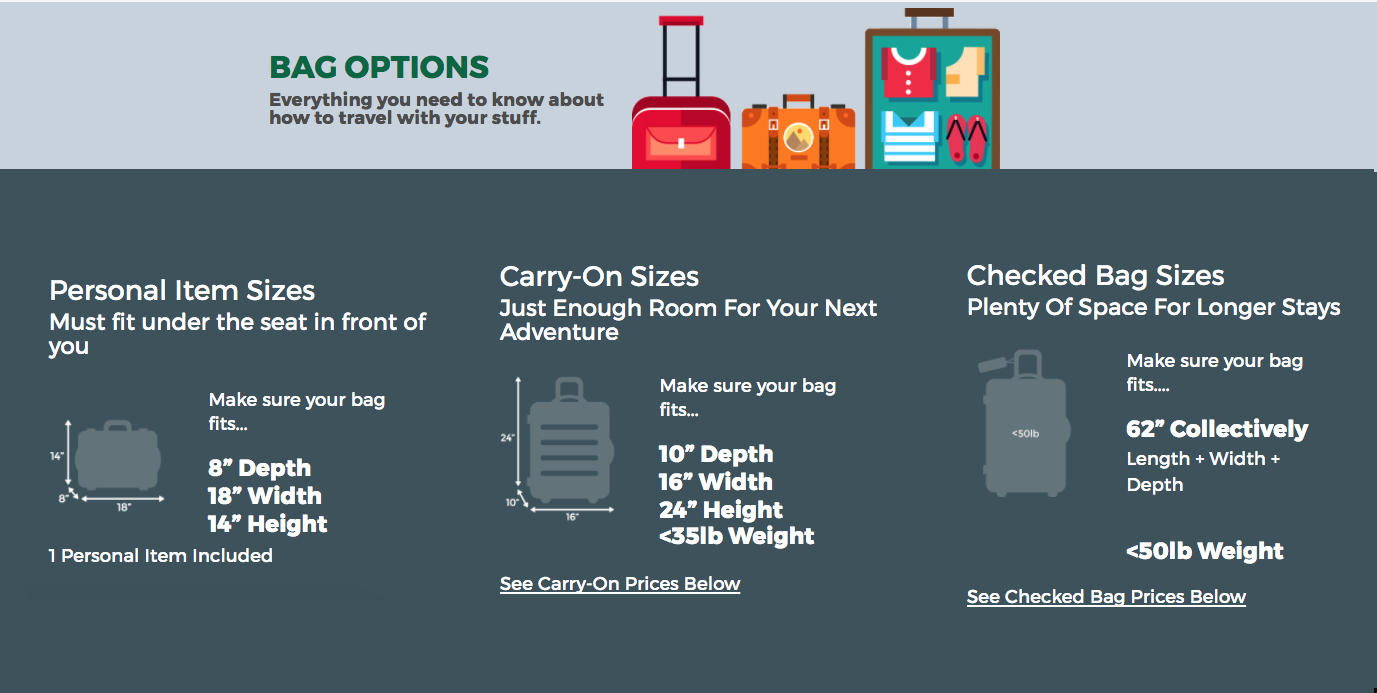 If your baggage is overweight, oversized, or both, expect to pay additional fees per flight.
Overweight baggage fee: $75
Oversized baggage fee: $75
Other Fees & Add-Ons
Seat Selection: Frontier encourages all passengers to choose their seats at the time of booking. If you purchased the WORKS or the PERKS bundle, this fee is already included.
If you purchased a Basic Fare and didn't pay to choose your seat, Frontier will assign you a seat from what's left at check-in.
While they state they'll try their best, Frontier makes no guarantees about seating your party together if you don't pre-purchase.
| | | |
| --- | --- | --- |
| | Standard Seating | Stretch Seating |
| Flyfrontier.com (up to 24hrs pre-departure) | $6+ | $20+ |
| Call Center | $8+ | $20+ |
| Web Check-in | $11+ | $25+ |
| Airport Ticket Counter or Self-Service Kiosk | $11+ | $25+ |
*Prices are per one-way flight.
Hot Tip: For EarlyReturns Elite members, seat assignment fees are waived and upgrades to Stretch Seating are free if available at the time of check-in. 
Call Center Reservations: $10 per passenger for bookings made through the call center
Paper Receipt/Itinerary: Undisclosed amount; Frontier reports a fee will be charged for any paper itineraries or receipts by mail.
Itinerary Change: If you change your flight 60+ days prior to departure, you will incur no costs to do so. If you need to change your flight 59 to 7 days prior to departure, you will incur a reduced fee of $39 per passenger to do so. If you need to cancel or change your flight 6 days or less prior to departure, you will incur the normal fee of $59 per passenger. Any bookings made between December 22, 2020, and March 31, 2021, will not incur change fees. These fees are not applicable to passengers who have booked the WORKS (itinerary change is free).
Name Change: $75 per person PLUS any fare difference between the fare already paid and the current fare for the same itinerary at the time the name change is processed.
Same-Day Confirmed Flight Changes: $59
Refreshments Onboard: 
Nonalcoholic beverages from $2
Snacks from $3
Beer, wine, and spirits from $7
Frontier also offers food and beverage packages for a slight discount.
Unaccompanied Minor: $110 per one-way flight (nonstop flights only; Frontier does not accept unaccompanied minors on connecting flights)
Pet Cabin Fee: $75 per one-way flight
How to Avoid Paying Excess Fees & Travel Expenses
Some fees are just unavoidable when traveling, but you can keep from paying these out of pocket by using points and miles earned from rewards cards.
Below are credit cards we recommend where you can pay off transactions on your statement by using your miles. For example: 5,000 miles are worth $50 so you could "wipe away" those charges if you had enough miles in your account.
Here are our recommendations:
Capital One VentureOne Rewards Credit Card - This no annual fee card comes with a 20,000 bonus mile offer after spending $500 in the first 3 months. When you use your card for travel purchases (e.g. baggage fees), use your miles to pay off all, or part of, your statement balance! We've highlighted 30+ benefits of the card.
Capital One® Venture® Rewards Credit Card - The "big brother" card to the VentureOne with a 60,000 bonus miles when you spend $3,000 on purchases in the first 3 months. This card is full of benefits and perks and you can redeem your miles on travel (flights, hotels, even paying for baggage fees etc) or transfer your miles to over 10+ travel loyalty programs.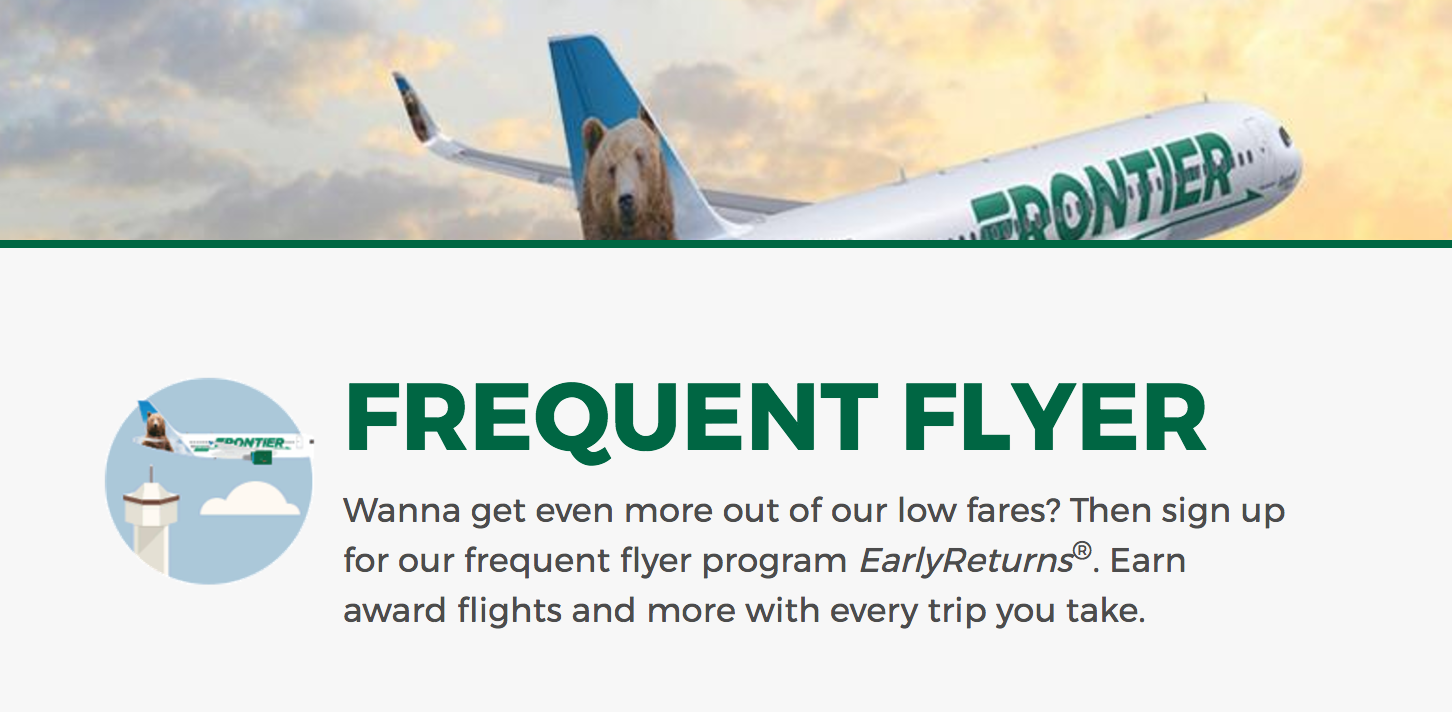 EarlyReturns® Elite Status: EarlyReturns is Frontier Airline's Frequent Flyer program. If you happen to reach EarlyReturns Elite status, you get certain perks including a number of waived fees.
In order to reach Elite status, EarlyReturns members must fly 20,000 miles or 25 one-way flights within a 365-day rolling calendar year (12 months).
Once EarlyReturns Elite status is attained, the following benefits are awarded:
Zone 1 boarding

 (priority check-in, boarding, and security)

Complimentary carry-on bag

Advance seat assignment

Free upgrade to stretch seating

 (if available at 24-hour check-in)
Extra fees waived (call center reservation fee, award redemption fee, unaccompanied minor fee, same day confirmed fee, same day, and standby fee)

Last seat availability

 (use miles to redeem any available seat)
Frontier Seat Specs & Inflight Amenities
So what will my Frontier flight look like? Let's get into the seat specs and inflight amenities.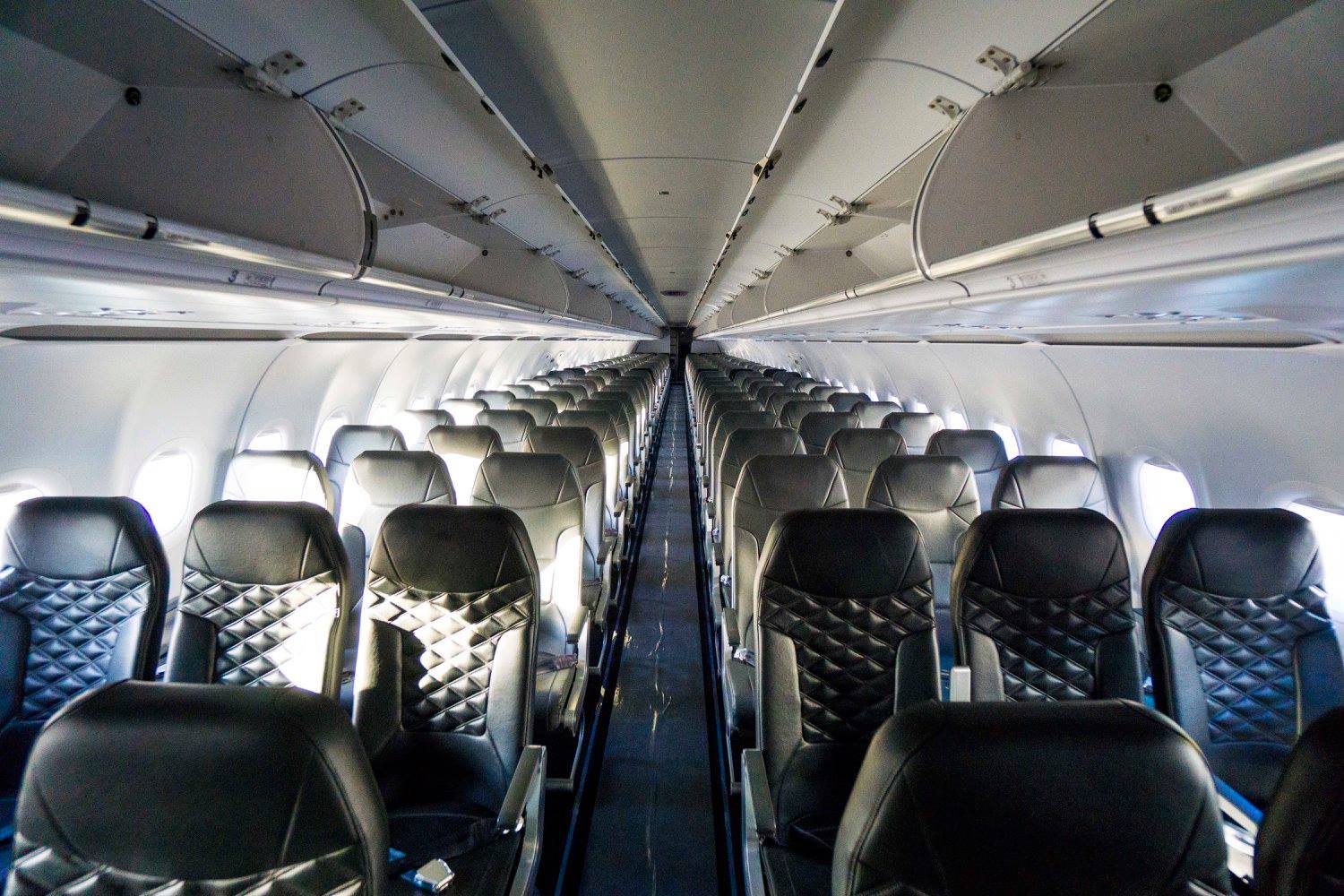 Seat Specs: Frontier has 2 different seat types on their planes, Standard and Stretch. Seat pitch and width vary slightly depending on which plane you're on, but it can get pretty tight! Additionally, these seats do not recline.
Stretch (all planes): 36″ pitch (rows 1-3), 38″ pitch (row 13), ~18″ width
Standard A319 V1: 31″ pitch, 17″-19″ width
Standard A319 V2: 28″-29″ pitch, 17″-19″ width
Standard A320 (V1 & V2): 28″-29″ pitch, 17″-19″ width
Standard A321: 28″-29″ pitch, 16.5″-19″ width
The following table is a breakdown of seating on each Frontier aircraft model.
| | | | |
| --- | --- | --- | --- |
| Aircraft | Total Seats | Standard | Stretch |
| A319 V1 | 150 | 126 | 24 |
| A319 V2 | 138 | 114 | 24 |
| A320 V1 | 180 | 150 | 30 |
| A320 V2 | 168 | 132 | 36 |
| A321 | 230 | 200 | 30 |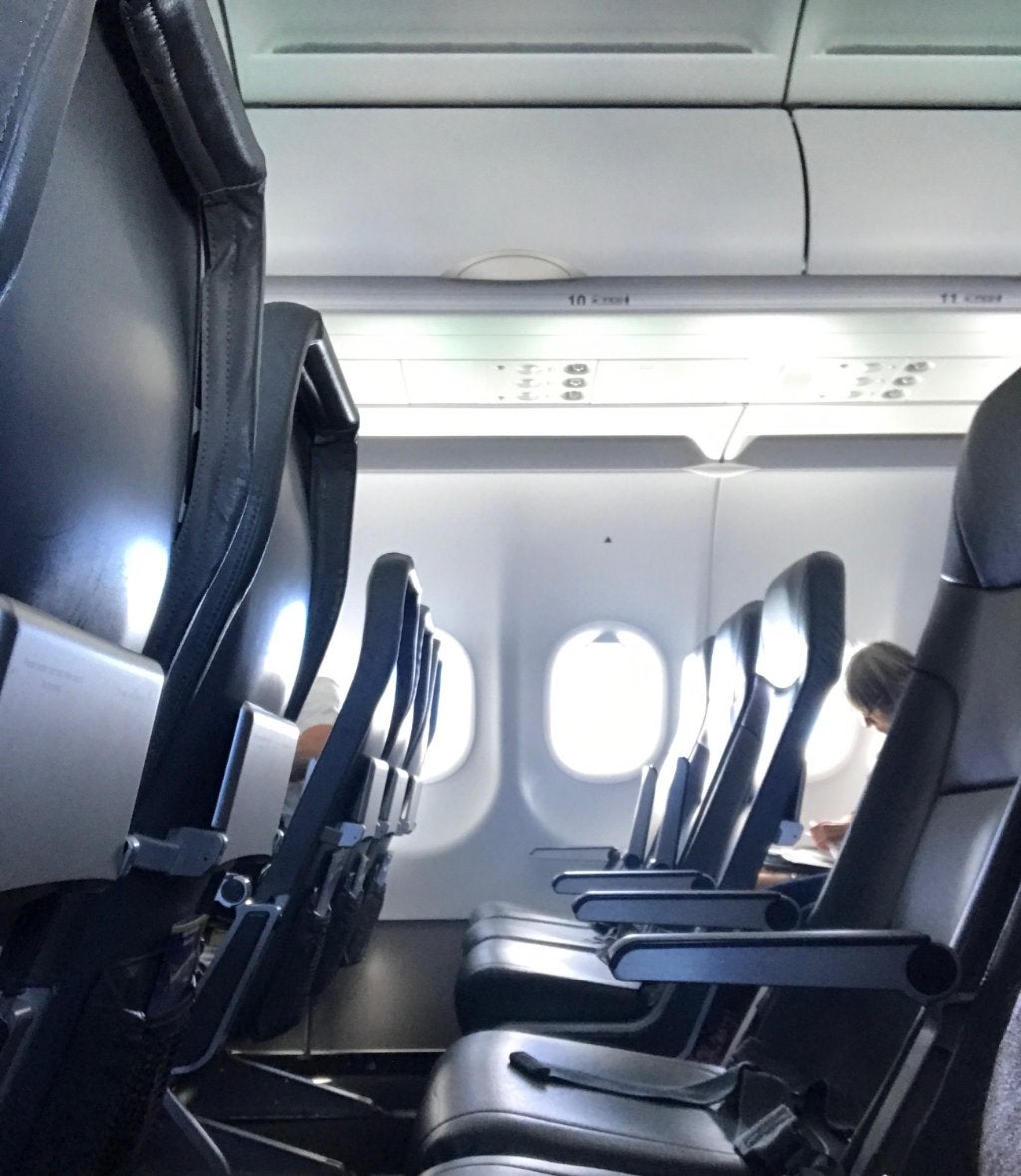 As mentioned above, most Frontier Airlines seats have a very short pitch — actually, the shortest in the airline industry (see table below).
When you combine a 28″-29″ pitch with a 16.5″ width as experienced on some A321 seats, it makes for a pretty tight fit. Plus, most of the seats have TINY tray tables.
Frontier Economy Class Pitch Comparisons (Single Aisle Aircraft)
Alaska Airlines

Boeing 737-800

31"-32"

American

Boeing 737-800

30"-31"
Delta

Boeing 737-800

31"-32"

Frontier

Airbus 320 & 321

28"-31

"

JetBlue

Airbus 320 & 321

32"-34"

Ryanair

Boeing 737-800

30"

Southwest

Boeing 737-800

32"-33"

Spirit

Airbus 320 & 321

28"

United

Boeing 737-800

30"-31"
Inflight Amenities: Since Frontier is a low-cost airline, this means many of the inflight amenities passengers have come to expect on other more popular airlines are absent.
Frontier does not provide inflight Wi-Fi, video streaming capabilities, or any type of onboard entertainment at this time.
Refreshment service is limited to paid beverages and snacks only.
Frontier does not have electrical outlets onboard for passenger/commercial product use.
Frontier Airlines claims all of these cuts save passengers money. But is a super cramped seat really worth it?
Hot Tip: For more information check out our guide to Frontier's boarding zones and boarding process.
Customer Satisfaction
Are people happy with their Frontier flights? Well…that depends.
Of course, you'll see a number of complaints due to the general lack of research into what you actually get for your money with a low-cost airline. Anyone who knows the basic low-cost structure will know to expect extra costs (or a pared-down experience).
Frontier even openly discusses and advertises how they are able to keep their fares low…so there shouldn't be any surprises. However, it is a bit tough to calculate what your total cost is going to be until you reach the final steps in your booking process.
But we talked a lot about fees and extras above. So what else are people complaining about?
Most Common Complaints
The September 2017 Air Travel Consumer Report filed by Transportation.gov ranks Frontier Airlines 11th out of 12 in regards to consumer complaints, sitting just above Spirit.
From January 2017 through June 2017, the data collected was 270 complaints from 7,965,326 passengers, or 3.39 per 100,000 passengers. (In comparison, Southwest had just 0.5 complaints per 100,000 passengers.)
That's all? 270 complaints in 6 months? Not quite…remember, not everyone who complains does so in an official manner. These statistics are drawn from data compiled by the OAEP's Aviation Consumer Protection Division (ACPD).
Flight Problems (cancellation, delay, or misconnection): 95 / 35.2%
Baggage: 69 / 25.6%
Reservation, Ticketing, Boarding: 31 / 11.5%
Fares: 22 / 8.1%
Customer Service: 19 / 7%
Refunds: 14 / 5.2%
Disability: 10 / 3.7%
Over-Sales: 5 / 1.9%
Advertising: 2 / 0.7%
Other: 2 / 0.7%
Discrimination: 1 / 0.4%
As you can see from the statistics, most complaints center around flight problems and baggage. These 2 issues combined represent ~60% of all complaints.
Consumer Rankings, Ratings, Etc.
We've listed some popular rankings and rating systems/sites here so you can see how Frontier Airlines stacks up.
SkyTrax Airline Ranking: 3-star airline
ACSI Rating (American Customer Satisfaction Index): 63% (11th of 12 largest U.S. carriers for 12-month period ending March 2017)
AQR (Airline Quality Rating): Worst of 12 largest U.S. carriers
TripAdvisor Airline Review Rating: 2.5/5 average (of 4,316 reviews)
Kayak Customer Rating: 5.6/10 (of 32,191 reviews)
Performance
In terms of performance, the September 2017 Air Travel Consumer Report states from July 2016-July 2017 Frontier Airlines was on time 74.8% of the time.
This places Frontier 10th out of 12 airlines in terms of On Time Performance (OTP). In comparison, the top airline was Hawaiian, arriving on time 88.8% of the time. Delta sits in second place with an OTP of 84.7%.
What were Frontier's worst routes for delays as of June and July 2017? The following flights were on time less than 50% of the time:
MCO (Orlando)-TTN (Trenton, NJ): ~42% on time
PHL (Philly)-SJU (San Juan): ~42% on time
CLT (Charlotte)-MCO (Orlando): ~46% on time
MCO (Orlando)-PHL (Philly): ~47% on time
Regardless of poor OTP and decreased customer satisfaction scores, Frontier Airlines has received a couple notable awards recently.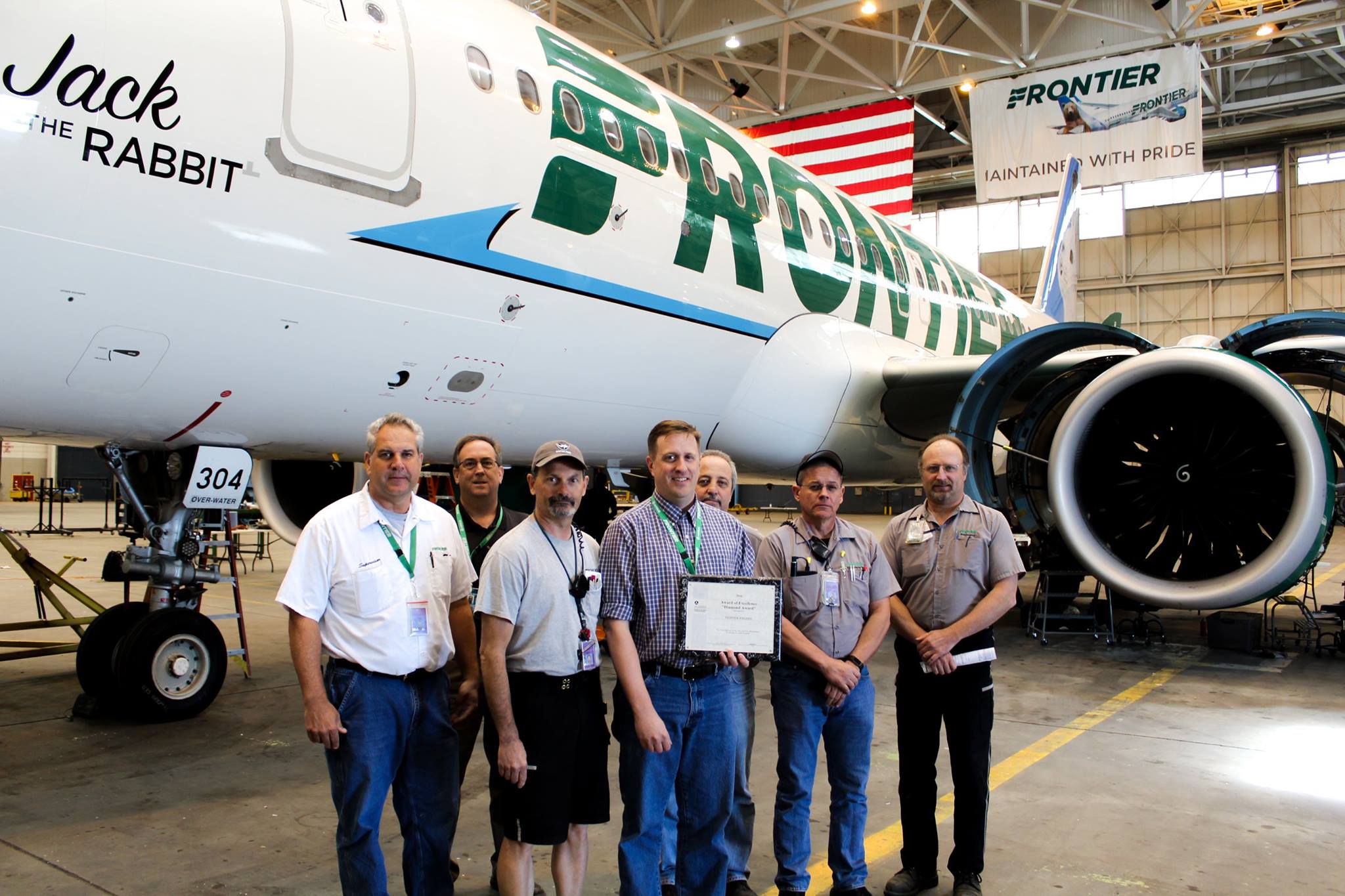 Federal Aviation Administration's Diamond Award for Maintenance Excellence – 2016
International Council on Clean Transportation (ICCT) – The Industry's Most Fuel Efficient Airline
Final Thoughts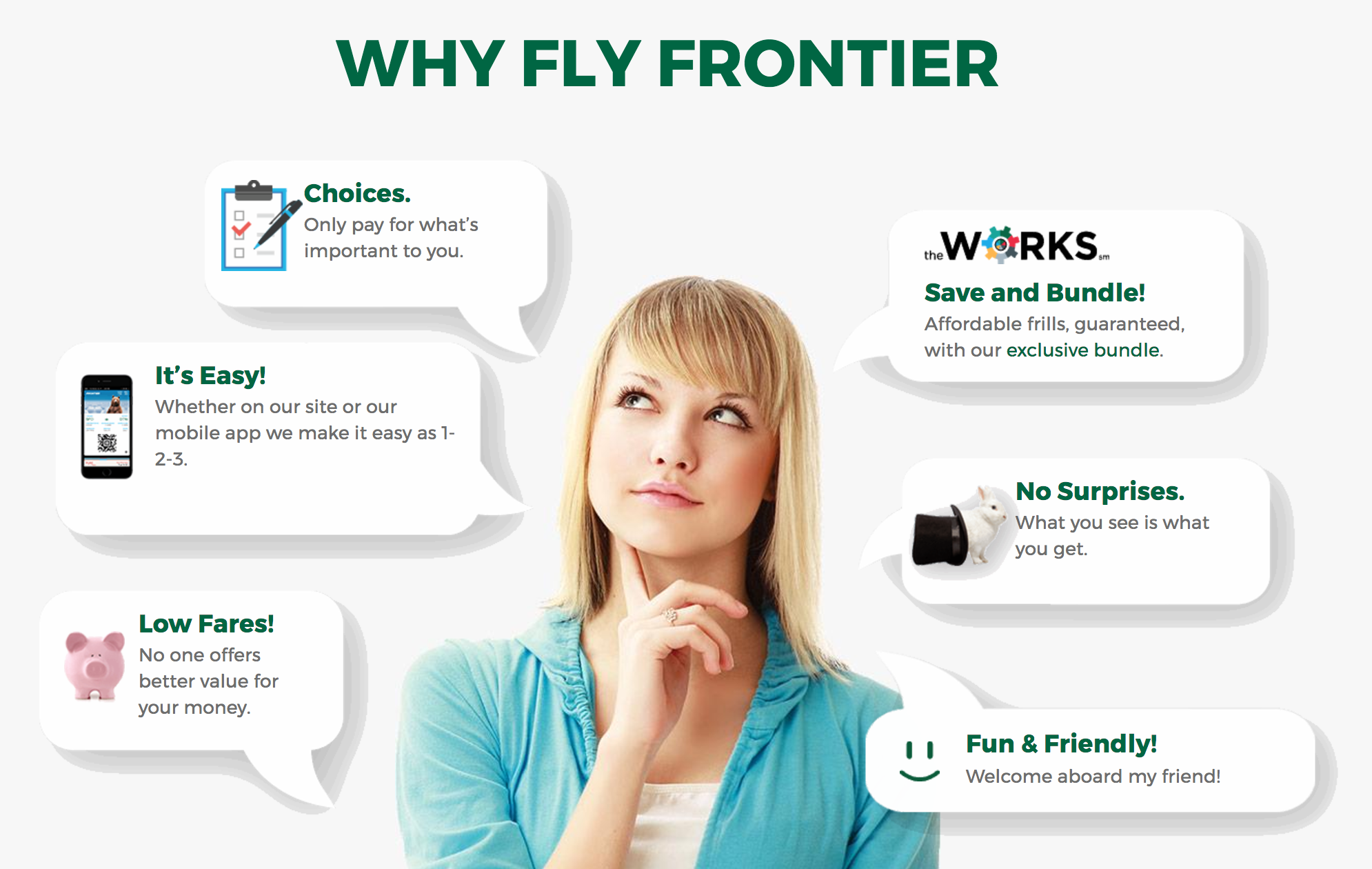 On many lists, Frontier sits right down at the bottom (alongside Spirit) as one of the worst airlines out there.
Is this mainly due to complaints surrounding low transparency with tons of added fees? Or is it more serious than that, concerning worsening customer satisfaction in regards to flight problems (delays, cancellations, etc.) and baggage handling?
Either way, the chance you'll be satisfied with your Frontier flight seems like a toss-up, and it likely depends on your passenger personality.
If you like all the perks included with your ticket, plan to check a couple of bags, and want a comfortable flight in terms of seating, then Frontier is not for you unless you plan to pay quite a bit more than their advertised base fares.
However, if you're not bothered by a bare-bones flight, don't have bags to check, and are OK with some customer satisfaction hiccups, then you could certainly score a pretty cheap flight.
The choice is yours!