Alaska Airlines Review – Seats, Amenities, Customer Service, Baggage Fees & More
Frequently named "Best U.S. Airline" by many awards that passengers vote on themselves (including Condé Nast Traveller, Kayak, etc.), Alaska Airlines provides great service and has a very loyal customer base.
If you're looking to fly Alaska for a future trip, then continue reading to find out all you need to know about baggage allowances, its frequent flyer program (Mileage Plan), fees and extras, cabin amenities, and more.
Basic Info
Airline: Alaska Airlines
Alliance: Oneworld
Category: Major U.S. carrier
Frequent Flyer Program: Mileage Plan
Tag Line: "Creating an airline people love"
About/Mission Statement: "Our goal is to always provide safe, reliable transportation for a reasonable price, along with the caring, friendly and professional service that we are known for." (source)
Daily Flights: 1,200
Fleet: 330
Main Hub: Seattle-Tacoma International Airport (SEA)
Destinations: 115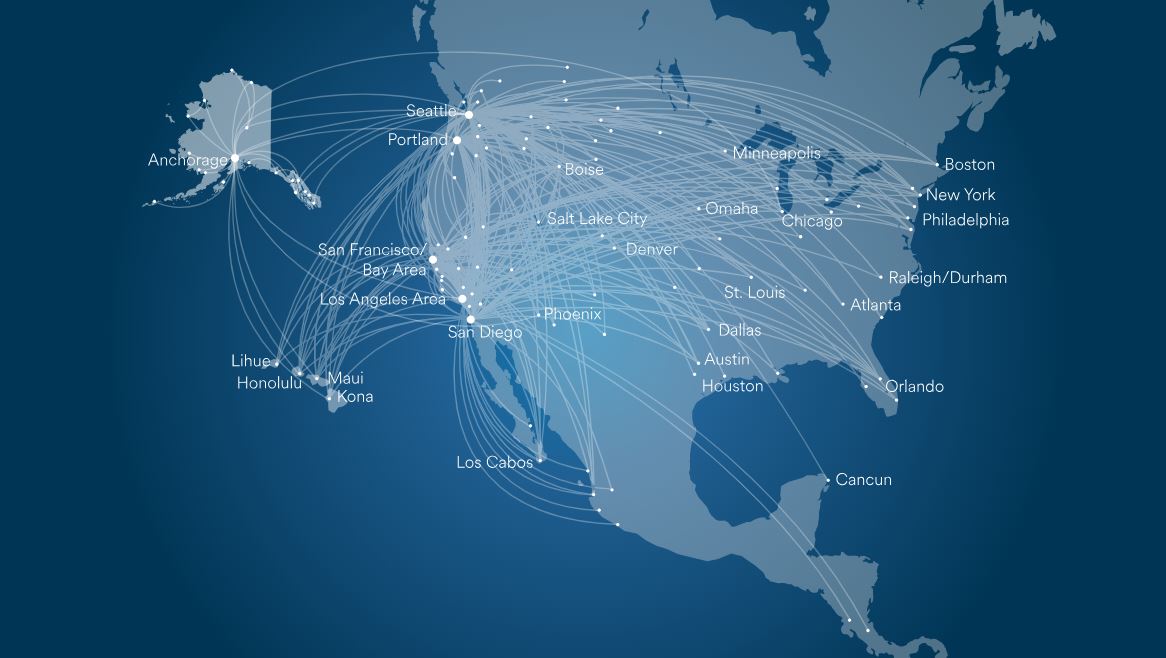 Ticketing Options
Alaska Airlines has clear-cut ticketing options with 3 fare types available to book.
If you're flexible on dates, then Alaska's handy low fare calendar view will display the cheapest fares 3 days before and 3 days after your search date — or you can view a full month of the lowest fares.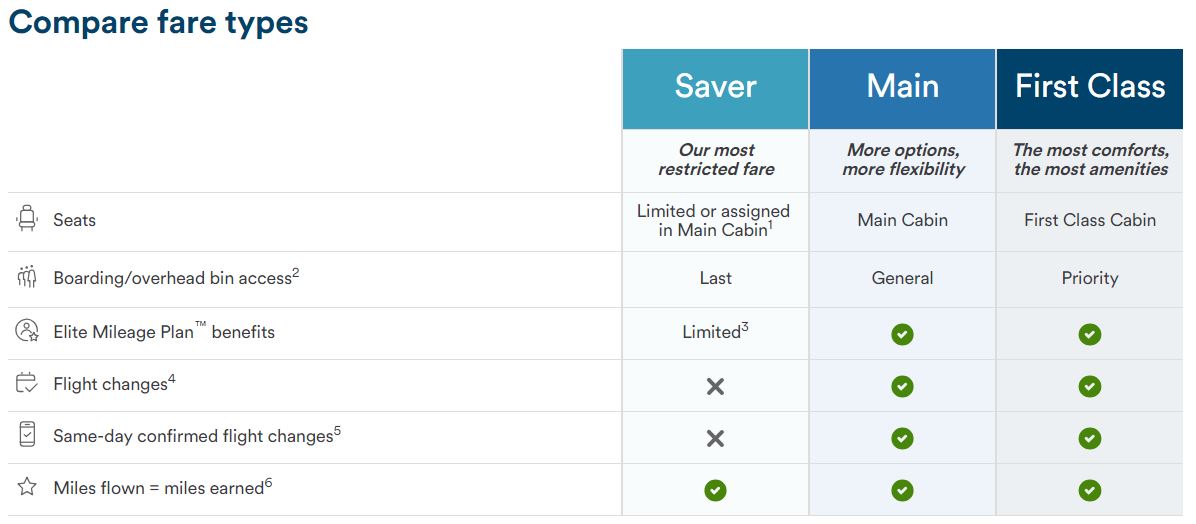 Saver (Most Restrictive Fare): 
No seat selection
1 personal item and 1 piece of carry-on
Last boarding status
No changes permitted
Mileage Plan Elite status members receive bonus miles, priority boarding, check-in benefits, and baggage allowance
Main (Standard Economy): 
Seat selection free of charge (unless upgrading to Premium Class)
Changes permitted for no additional fee
All Mileage Plan Elite benefits apply
First Class:
Seat selection free of charge
Access to the Alaska Lounge
Priority boarding status
Changes permitted for no additional fee
All Mileage Plan Elite benefits apply
Alaska Airlines Frequent Flyer Program

Mileage Plan is the loyalty program for Alaska Airlines. As part of the Oneworld alliance, you can earn valuable miles flying with airlines such as British Airways and Cathay Pacific.
When earning miles flying Alaska, it is among the most generous frequent flyer programs, awarding a mile for a mile. There are also many other ways of earning miles from everyday activities like shopping, dining, or staying in a hotel.
Hot Tip: To find out more, check out our in-depth article on Alaska's Mileage Plan loyalty program.
Alaska Airlines Baggage Fees & Other Fees/Add-Ons
Baggage Fees
Carry-On Allowance
All passengers can bring 1 personal item and 1 standard carry-on bag for free.
Size Restrictions: Alaska does not disclose size restrictions for a personal item. Standard carry-on should not exceed 22 x 14 x 9 inches.
Lap Infant Carry-On Policy: A diaper bag (or similar) will count toward the ticketed adult passenger's carry-on allowance. Lap infants receive no carry-on allowance.
Stroller Gate Check Policy: Alaska transports strollers or infant car seats free of charge as checked baggage, either at point of check-in or at the gate.
Checked Baggage Allowance
Max Weight of Each Piece: 50 pounds (23 kg)
Max Linear Dimensions: 62 inches (158 cm)
| | | | | |
| --- | --- | --- | --- | --- |
| | First Bag | Second Bag | 3+ Bags | 4+ Bags |
| Domestic Economy | $30 | $40 | $100 each | – |
| Domestic First Class | FREE | $25 | $100 each | – |
| Within the State of Alaska | FREE | FREE | FREE | $100 each |
Alaska applies seasonal baggage limits on the number of checked bags a passenger can bring; you can find these restrictions here.
Additional/Excess Baggage Fees
Additional luggage (3+ bags): $100 per bag
Overweight Fee: $100 for bags 51 to 100 pounds (23 to 45 kg)
Oversized Fee: $100 for bags 63 to 115 inches (158 to 292 cm)
If a bag is both overweight and oversized, the fee is charged only once.
View Alaska's policy on special luggage such as sports equipment and musical instruments.
Hot Tip: Check out our post on Alaska Airlines baggage fees and how to avoid paying for them, which details credit cards that reimburse you for checked baggage fees and waivers/exclusions for frequent flyers.
Other Fees & Add-Ons
Reservation & Service Fees
By Phone: $15 (free for MVP Gold or MVP Gold 75K members)
Paper Itinerary Charge: $5
Ticket Receipt Request Research Time: $20
Partner Award Booking: $12.50
Change Fee: $0 + fare difference. If the new ticket is cheaper, you may be eligible for credit or a refund depending on your ticket terms and conditions. Saver fares are not eligible for changes.
Same-Day Change: $50 ($25 if traveling within California, or shuttle flights between Portland and Seattle, Anchorage and Fairbanks, or Spokane and Seattle).
Cancellation: $125 (free for first class refundable tickets; will be eliminated started May 1, 2021, for Main and First Class fares)
Exclusions/Waivers:
Free same-day changes and ticket changes for MVP Gold or MVP Gold 75K members.
The same-day change fee is waived for customers booked in refundable coach (F, D) or refundable first (Y, Z) fare classes.
Passengers traveling as part of a vacation package are not eligible for same-day confirmed changes. Any changes must be made by calling 844-762-0087.
Seat Selection Fees
You do not have the option to select a seat if you purchase a Saver fare. Otherwise, there is no charge for seat selection with Alaska (unless you opt to upgrade to Premium Class).
Premium Class Upgrade
Once you've selected your Main Cabin fare, you can choose to upgrade to Premium Class seating from $15 (depending on flight route, with the exception of the Saver fare, as mentioned).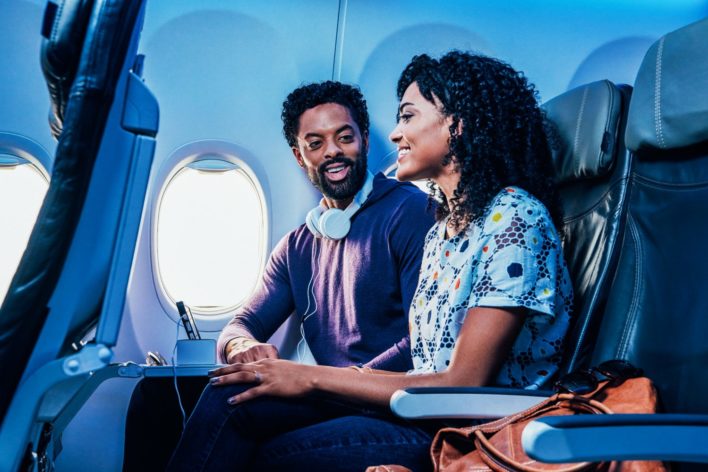 Inflight Entertainment Tablet Rental: $10
Wi-Fi: $7 (1 hour) or $19 (all-day pass)
Onboard Refreshments

Snacks: $2.50 to $6
Fresh Food: $8.50 to $9.50
Beer: $7.50
Wine: $7.50 to $8.50
Spirits: $7.50
You can reserve your food in the Main Cabin before your flight using the Alaska Airlines app.
How To Avoid Paying Excess Fees & Travel Expenses
There are a number of credit cards that will reimburse you for excess fees and travel expenses.
Capital One's Venture cards allow you to use your Capital One miles to erase your travel expenses at the time of paying off your statement.
Capital One VentureOne Rewards Credit Card - This no annual fee card comes with a 20,000 bonus mile offer after spending $500 in the first 3 months. When you use your card for travel purchases (e.g. baggage fees), use your miles to pay off all, or part of, your statement balance! We've highlighted 30+ benefits of the card.
Capital One Venture Rewards Credit Card - The "big brother" card to the VentureOne with 60,000 miles if you spend $3,000 on purchases in the first 3 months. This card is full of benefits and perks and you can redeem your miles on travel or transfer your miles to over 10+ travel loyalty programs.
Your travel rewards card may also include an annual "travel/airline" credit that could help offset excess fees.
Alaska Seat Specs & Inflight Amenities

Seat Specs
Alaska Airlines has a young fleet of 330 aircraft, including its standard and colorful commemorative planes.
We've listed some seat specs below to give you an idea, but Alaska does not publish these on its website.
All seats within the Main Cabin and Premium Class recline 3 inches, and you can view the general aircraft configurations and seat counts on Alaska's website.
Aircraft
Type
 
First
Premium
Main Cabin
Airbus A320 (21 in fleet)
Seat count
8
18
123
Seat pitch
41″
37″ to 38″
31″ to 32″
Seat width
21″
17″
17″
Airbus A320Neo (10 in fleet)
Seat count
16
24
150
Seat pitch
37″
33″ to 38″
30″
Seat width
21″
17″ to 18″
17″ to 18″
Boeing 737-700 (11 in fleet)
Seat count
12
18
94
Seat pitch
38″
35″
31″
Seat width
21″
17″
17″
Boeing 737-800 (61 in fleet)
Seat count
12
30
117
Seat pitch
41″
35″
31″ to 32″
Seat width
21″
17″
17″
Boeing 737-900 (12 in fleet)
Seat count
16
24
138
Seat pitch
41″
35″
31″ to 32″
Seat width
21″
17″
17″
Boeing 737-900ER (79 in fleet)
Seat count
16
24
138
Seat pitch
37″
34″
30″ to 31″
Seat width
21″
17″
17″
Inflight Amenities

First Class
Spacious Recaro leather seats with a 40-inch pitch and generous recline
Power sockets
Quilted blankets
Freshly prepared meals (flights over 675 miles) plus premium wine, spirits, and craft beer
Wi-Fi (fee applies) with free texting
Dedicated flight attendant for the cabin
Alaska Beyond Entertainment to stream to your personal device
Inflight entertainment tablet (coast-to-coast flights and to Hawaii)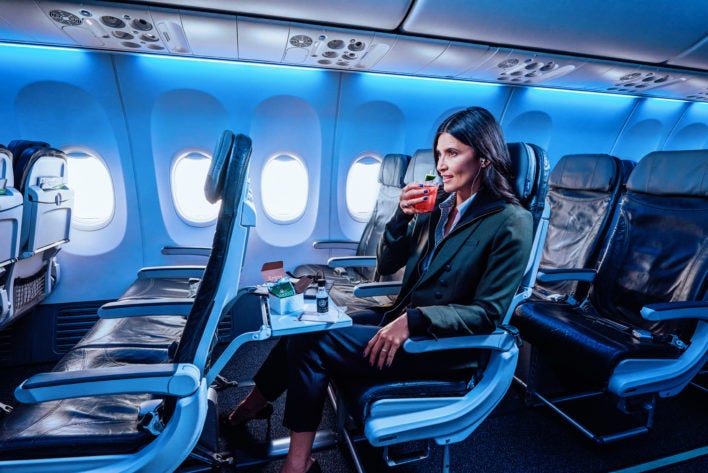 Premium Class
4 extra inches of legroom than Main Cabin
Recaro leather seats
Early boarding (before Main Cabin)
Power socket
Wi-Fi (fee applies) with free texting
Alaska Beyond Entertainment to stream to your personal device
Inflight entertainment tablet available to rent (coast-to-coast flights and to Hawaii)
Complimentary soft drinks, cocktails, wine, beer, and snacks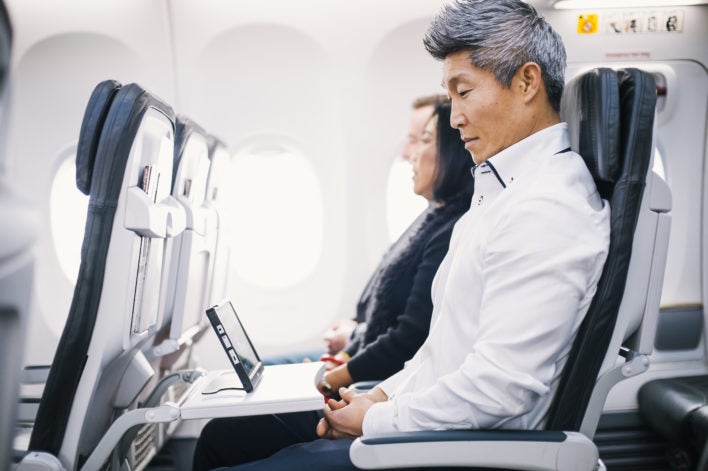 Main Cabin (Economy)
Leather seating with 6-way adjustable headrest
31 to 32 inches of legroom
Most seats have a power socket
Wi-Fi (fee applies) with free texting
Complimentary soft drinks and snacks
Hot Tip: View our article on Alaska Airlines' boarding policy so you'll know when it's your turn to board the plane. 
Alaska Airlines Customer Satisfaction
Overall, passengers have a lot of love for Alaska Airlines. Customer service is at the heart of this, with Alaska receiving praise for its friendly, helpful flight attendants and proactive customer service team.
Alaska's loyal customers regularly take to social media to thank the airline for its continuing service and are quick to defend their favorite carrier from comments by critical customers.
However, Alaska's Saver fare is causing a few issues for some customers who are used to the flexibility in changing tickets. But Alaska makes it very clear when purchasing a Saver ticket that changes are not permitted, so it can't really be held accountable here.
Actually, these tickets are some of the most generous basic fares out there, allowing both a personal item and carry-on plus the opportunity to earn miles (which isn't the case with budget fares for other major U.S. airlines). Alaska customers will probably be raving about the savings soon enough!
Most Common Complaints
132 complaints were lodged against Alaska Airlines from January-September 2018, according to the September 2018 Air Travel Consumer Report. These are the complaints broken down by category:
Flight problems (cancellation, delay, or misconnection): 32
Baggage: 24
Customer Service: 16
Disability: 14
Reservation, ticketing, boarding: 13
Other: 13
Fares: 6
Refunds: 5
Oversales: 5
Discrimination: 4
Advertising: 0
Consumer Rankings, Ratings, Etc. 
There are websites out there for airline ratings based on customer reviews. Here are a few of the most popular ratings, so you can see the general consumer opinion for Alaska Airlines.
Skytrax Ranking: 3 Star Airline (out of 5)
Skytrax Customer Rating: 5/10 (average from 735 reviews)
TripAdvisor Airline Review Rating: 4/5 (average from 16,164 reviews)
Kayak Customer Rating: 8.3/10 (average from 29,303 reviews)
Safety and Performance
AirlineRatings.com Safety Rating: 7/7 (factors in whether the airline holds an IATA Operational Safety Audit Certification, in addition to utilizing government and crash records and information from the World's Aviation Governing Body)
Recent Awards
Condé Nast Traveller: 2019 Best U.S. Airline
Kayak: Traveler Favorite 2019 Best Airline
FlyerTalk: 2020 Best Rewards Program
Air Quality Rating: No. 1 U.S. Airline 2018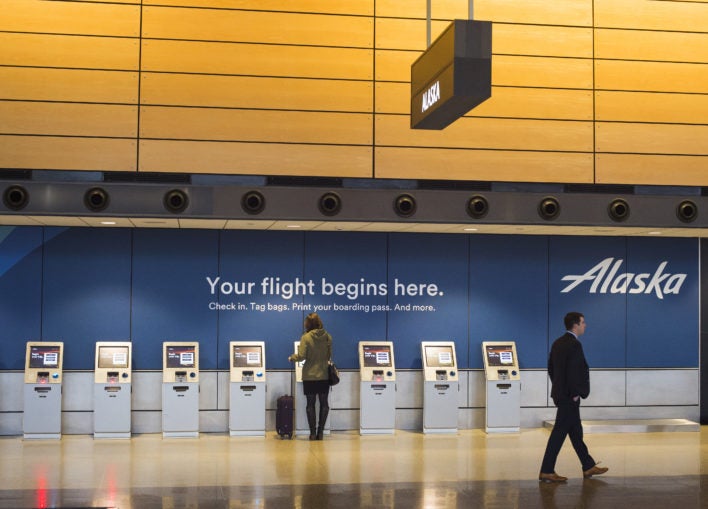 Charity Partnership
Alaska is as generous as it is friendly when it comes to philanthropic giving. In the last 5 years, it has made over $45 million in donations supporting disaster relief projects, youth/education, and community outreach.
It encourages its employees to get involved by donation matching and allowing volunteer time, and it allows its Mileage Plan members to donate miles to a choice of charities.
Final Thoughts
There's growth on the horizon for Alaska, with its addition as the 14th member airline of the Oneworld alliance, an expanded partnership with American Airlines, and 26 new routes being added throughout 2021. Given all of that, there has never been a more exciting time to be an Alaska Airlines flyer!
---
The information regarding the Capital One® VentureOne® Rewards Credit Card and Capital One® Venture® Rewards Credit Card was independently collected by Upgraded Points and not provided nor reviewed by the issuer.