Full List of U.S. Alaska Lounge Locations, Hours, Amenities & Partners
This post outlines all of the Alaska Lounge locations, including detailed information on exact airport location, hours, and general amenities. Additionally, you'll find information on how to access these Alaska Lounges including eligibility and day passes.
You'll also learn how to access partner lounges like American Airlines Admirals Clubs, select United Clubs, and more.
Alaska Lounges
Hot Tip: Alaska Airlines used to call their lounges "Alaska Airlines Board Rooms." While some signs and articles may still use the term Board Room, that branding has since fallen away and all lounges are now simply called Alaska Lounges.
Ted Stevens Anchorage International (ANC)
Concourse C (near gate C1)
Daily: 5:00 a.m.–1:00 a.m.
John F. Kennedy International (JFK)
Terminal 7, mezzanine level (near gate 64)
Daily: 5:00 a.m.–9:00 a.m., 2:30 p.m.–10:00 p.m.
Special amenity: In-house barista serving Starbucks coffee.
Los Angeles International (LAX)
Terminal 6, mezzanine level (just above security)
Daily: 5:00 a.m.–9:00 p.m.
Special amenity: Children's play area
Portland International (PDX)
Concourse C (across from gate C5)
Daily: 4:30 a.m.– 9:00 p.m.
San Francisco International (SFO)
Terminal 2 (just beyond the D security checkpoint) 
Daily: 5:00 a.m.– 10:00 p.m.
Seattle-Tacoma International (SEA)
Concourse C, mezzanine level (next to gate C16)
Daily: 6:00 a.m.–2:00 p.m.
Concourse D, just beyond the central security checkpoint
Daily: 5:00 a.m.–8:00 p.m.
North Satellite (mezzanine level, above gates N13-N18)
Daily: 5:00 a.m.–10:00 p.m.
Alaska Lounge Amenities
Alaska Lounges are some of the best-reviewed domestic lounges out there. Whether it's the amenities, genuine hospitality, or room to stretch out and relax, or a combination of all three, Alaska Airlines is recognized for its lounge collection.
The new SeaTac North Satellite lounge is the star Alaska Lounge.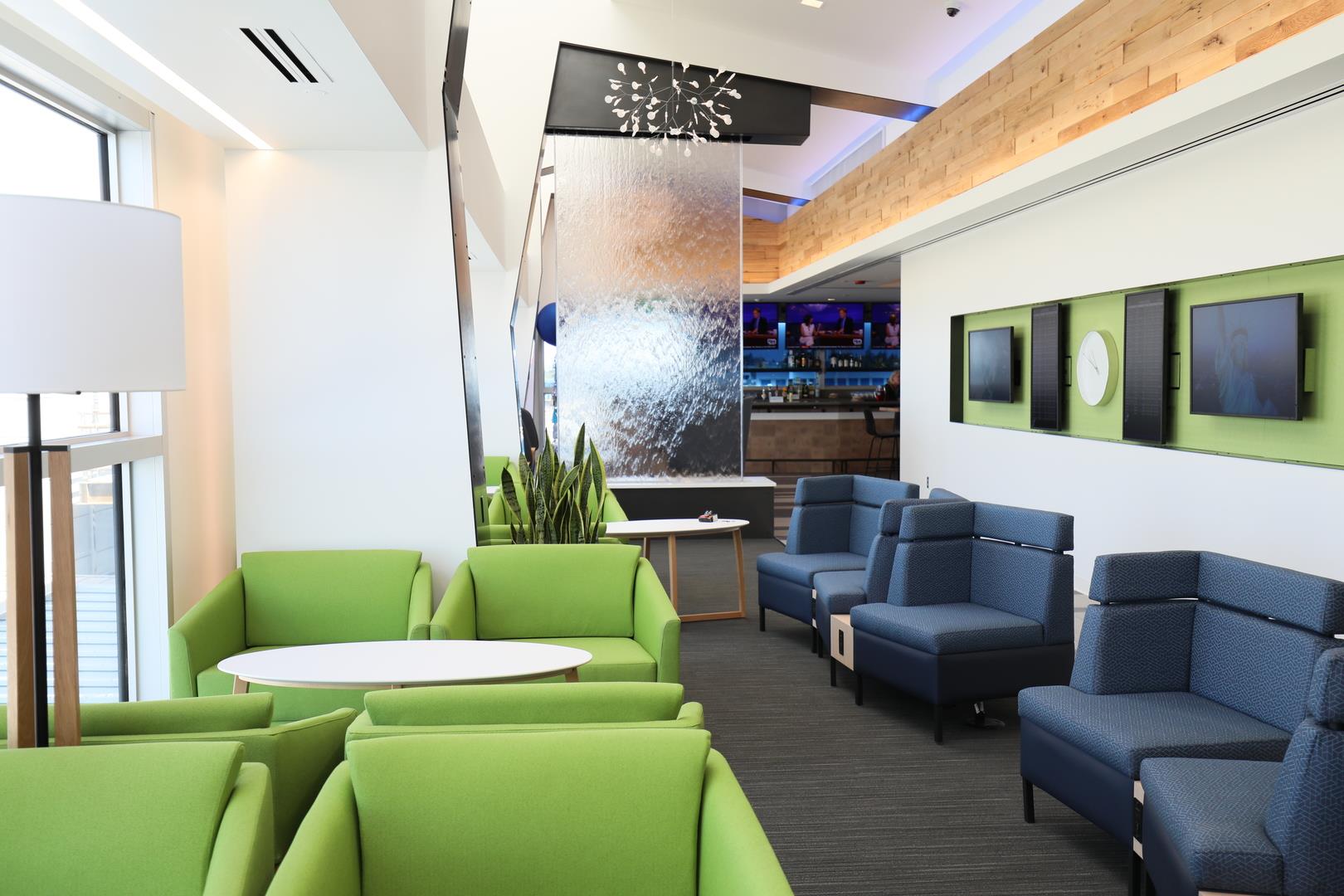 Food and Drink
Food and snacks can be relatively substantial, and the beverage selection is often above average. In some cases, you can get handcrafted Starbucks coffee drinks, such as in the new JFK lounge.
Amenities differ from lounge to lounge, but you can expect pre-flight nourishment including:
Breakfast items including pancakes, oatmeal, and bread
Daytime food items including soups and salads (at some locations)
Snacks including fruit, vegetables, pretzels, chips, guacamole, and cookies
Self-serve soft drinks, Starbucks drip coffees, and teas
Espresso machines
Beer (including craft beers) and wine
Spirits, liquor, and signature cocktails (except PDX)
The new JFK offers a few made-to-order meals that carry a bit more weight than the standard soups and salads. These are paid meals, but many reviews state they're worth it; think yogurt parfaits, egg and brioche sandwiches, Margherita flatbreads, and more.
A Space to Relax
While some lounges are larger than others, Alaska generally gives patrons a decent amount of room to stretch out and relax or sit down and get some work done.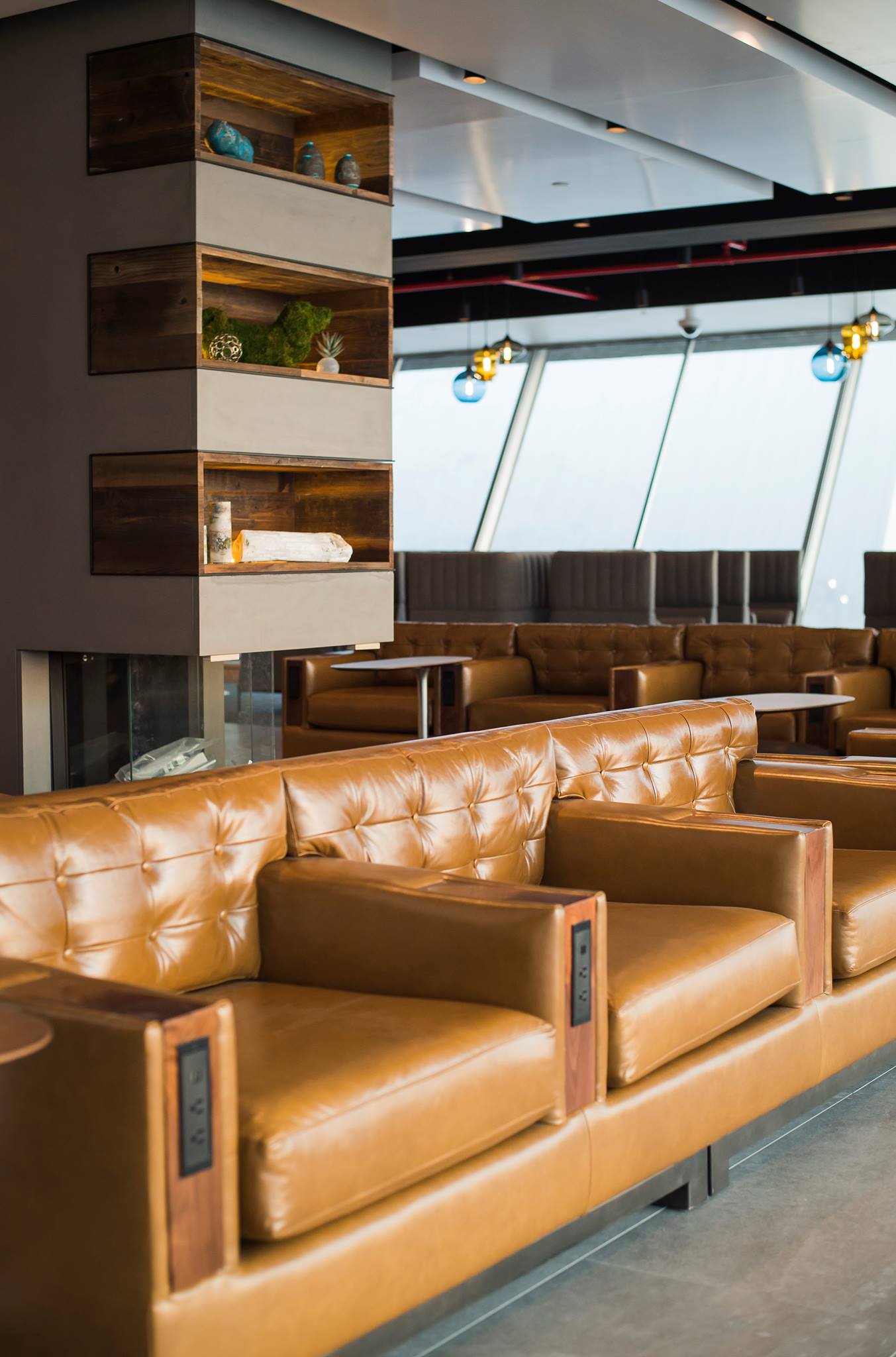 Alaska's lounges have a Pacific Northwest vibe, making use of rustic wood accents and leather seating options. You can even find a fireplace in the ANC, SEA, and JFK lounges. Every Alaska lounge has a tarmac, terminal, or gate view for planespotting fans.
Getting Down to Business
All Alaska Lounges offer complimentary Wi-Fi and workstations, and you'll find plenty of outlets throughout for charging. If you're in Anchorage, Los Angeles, Portland, or Seattle, you can reserve a conference room for $25 per hour (members) or $50 per hour (nonmembers).
Eligibility, Pricing, and Access
Paid Access: Alaska Lounge Membership
Alaska offers a paid lounge membership that comes with 3 tiered options. You must be an Alaska Airlines Mileage Plan member to purchase a membership.
Membership options
New member

1 year

Mileage Plan MVP® Gold 75K

$300

Mileage Plan MVP® Gold 

$350

Mileage Plan MVP®

$400
Standard
$450
Spouse/domestic partner membership
$250
You can purchase a membership online, at any Alaska Lounge location, or by phone. You'll receive a membership after payment. Members must present this card in addition to their same-day ticketed boarding pass (on any carrier) and a photo ID for access to the lounge.
Alaska members can access an Alaska Lounge if they aren't flying as long as a conference room has been reserved 24 hours in advance, or if the member is attending an Alaska Lounge-sponsored event.
Guest policy: Alaska Lounge members can bring immediate family (spouse or domestic partner and children under the age of 21) or 2 guests at no extra charge.
Hot Tip: Alaska Lounge membership includes access to over 90 partner lounges worldwide. (See Partner Lounge section below)
Day Passes
Alaska Lounges offer day passes for $50 per person. These can be purchased at any Alaska Lounge location and are valid for a single day only. They must be used in conjunction with same-day, ticketed air travel on any airline.
No guests are allowed with a day pass. However, children under 2 years of age can accompany the adult day pass holder at no extra charge. It's possible (however unlikely) that an Alaska Lounge can limit access or the purchase of a day pass due to capacity restrictions.
Membership vs. Day Pass
This is how the purchase of multiple day passes compares to membership fees.
Membership
Number of day passes you'd need to purchase annually to meet the cost of an annual membership
New member
Mileage Plan MVP® Gold/Gold 75K
6
Mileage Plan MVP®
8
Standard
9
For example, if you were thinking about purchasing a standard membership, you would have to make 10 or more visits to an Alaska Lounge in 1 year for the cost of a new membership to outweigh the cost of individual day passes.
Complimentary Access for Alaska Passengers
In some cases, you may be granted complimentary access to an Alaska Lounge. As with some other airline lounges, complimentary lounge access includes any passenger traveling on a paid first class fare or award ticket on a flight operated by Alaska Airlines. Unfortunately, access doesn't include those passengers who have been upgraded (U class).
Passengers must present their same-day first class boarding pass and photo ID. Access is granted on the day of flight only and doesn't include entrance agreements for other airline clubrooms.
Note: Cardholders of the Alaska Airlines Visa Signature® Card do not get access to these lounges. 
Admirals Club Member Access
Individuals holding a valid Admirals Club membership are allowed access to all Alaska Lounge locations.
Members must present their membership card, a same-day boarding pass for an American Airlines or Alaska Airlines operated flight, and photo ID.
This does not apply to One Day Pass holders or Citi® / AAdvantage® Executive cardholders — which is the only credit card that gains you access to Admirals Club lounges.
Priority Pass Access
New York's (JFK) Alaska Lounge offers access via Priority Pass.
Priority Pass members may have limited access to Alaska lounges due to space constraints, particularly at smaller lounge locations such as Anchorage. It's entirely within Alaska's rights (and any other lounge owner's rights) to restrict Priority Pass access according to terms and conditions.
Credit Cards that include Priority Pass membership:
Partner Lounge Access
Membership in the Alaska Lounge program includes access to over 90 partner lounges worldwide, including:
American Airlines Admirals Club
The main partner for this type of lounge access is American Airlines Admirals Club. Alaska is quick to state that members have access to select locations and these locations may change without advanced notice.
Passengers may access an Admirals Club upon arrival or departure on the day of travel on a purchased or redeemed-mileage ticket on Alaska Airlines or American Airlines. As with Alaska Lounge's guest policy, members are allowed complimentary access for their immediate family or 2 guests, as long as they are also arriving or departing on an Alaska or American flight.
Partner lounge access does not include access to any Premium American Airlines lounges and also excludes the Admirals Club in San Francisco.
Hot Tip: Just as Alaska Lounge members are allowed access to select Admirals Club locations, Admirals Club members are given access to all Alaska Lounge locations. 
Qantas Club Locations
Alaska Lounge members have access to select Qantas Club locations. The Alaska Lounge guest policy applies, and members and guests do not have access to Qantas' First Class lounges.
There are only 2 U.S. Qantas lounge locations listed as available to Alaska Lounge members: Honolulu Intl (HNL) and Los Angeles Intl (LAX; business lounge).
Additional Partner Lounges
There are 7 additional partner lounges in the U.S. where Alaska Lounge members have access. They are quite a mix, including United Clubs and other partnerships.
The Club at LAS, McCarran Intl (LAS)
United Club, Minneapolis Intl (MSP)
United Club, Philadelphia Intl (PHL)
United Club, Phoenix Sky Harbor Intl (PHX)
Airspace Lounge, San Diego Intl (SAN)
Cathay Pacific Lounge, San Francisco Intl (SFO)
United Club, Washington-Regan National (DCA)
House Rules
You can find information about Alaska Lounge house rules here. The rules are pretty standard, so if you're generally a courteous traveler, you'll be just fine.
Final Thoughts
Bottom Line: If you fly Alaska Airlines quite a bit, a lounge membership could be worth it, especially if you have status with the airline.
However, if you fly a number of different airlines out of a number of different airports and you don't have status with Alaska, the standard membership is pretty pricey. You'd be better off considering a travel rewards credit card that comes with a Priority Pass membership, especially since you'll get all kinds of additional travel perks on top of it!
---
Like this post? Pin it on Pinterest!