The Dallas (DFW) American Express Centurion Lounge – Location, Hours, Amenities, and More
American Express has made great strides with their outstanding Centurion Lounge. Its start as a small lounge at Dallas/Fort Worth International Airport (DFW) has grown to 9 havens across the globe.
Centurion lounges are extremely popular, which had resulted in complaints of overcrowding — but with some renovations and a change in location, this space is now back (and bigger than ever).
Let's dig into all the details of what you'll experience when you set foot in the new DFW Centurion lounge.
Location of the Amex Centurion Lounge at DFW
The new Lounge is located near the old location in Terminal D at DFW — across gate 12 above the D15 security checkpoint.
Go through the security checkpoint, turn left, and you will see a distinctive blue wall entrance. There is an elevator to the lounge which takes you behind the reception desk. The new lounge is almost 13,000 square feet, which is significantly larger than the old one was (9,000 square feet).
For those arriving or departing from another terminal, the Sky Train is nearby, and Terminal D is walkable from other terminals as well. I usually walk to Terminal D anyway (especially on long layovers), since it's much larger with more lounges and amenities.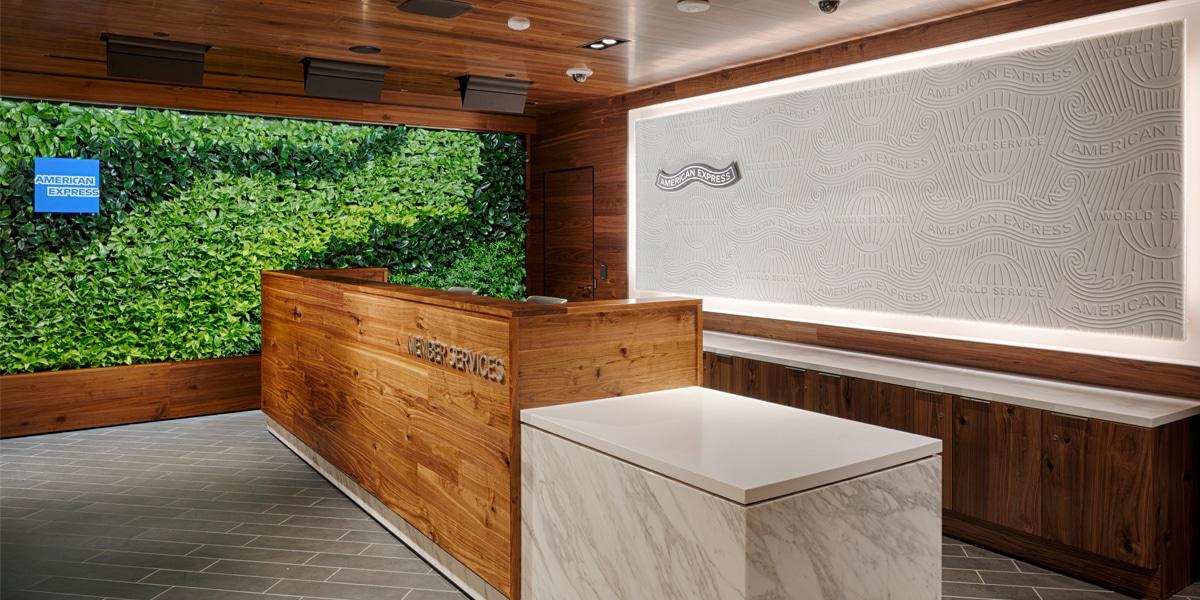 As a reminder, here are the locations of all the American Express Centurion Lounges around the world:
Guest and Check-In Requirements
When accessing the lounge, passengers need to hold a specific American Express card:
Centurion Card® from American Express
This includes all cards of these varieties issued in any country worldwide. If you have the required cards, you can bring along 2 guests or travel companions.
I've seen plenty of travelers "make friends" with others outside the door of the club to be let in, and some cardholders invite multiple friends in over the course of a single visit. This can include a cardholder's spouse and 1 child, perhaps the cardholder and 2 kids, or the cardholder and 2 business colleagues.
If you have more guests than your allotted 2, you can purchase a $50 day pass for additional people (which is actually valid at any lounge in the network as long as the cardmember is present).
There's two important rules for access that will affect all travelers, no matter the card you used to gain entry:
You cannot enter the lounge more than 3 hours prior to your scheduled flight, if originating. So, if your flight leaves at 10am, you cannot enter earlier than 7am.
You cannot use the lounge upon arrival, only upon departure, if the city where the lounge is located is your final destination. If you're flying from New York City to Dallas, and Dallas is your final destination, you cannot use the lounge upon landing.
You can, however, use the lounge on connecting itineraries, and at any point during the connection at the connection city, irregardless of the three hour rule.
Inside the Lounge
There are 2 wings in the lounge: right and left.
In the left wing you'll find the dining area and a bar, with a wide variety of seating to fit solo travelers, couples, and groups. This side is best for people with luggage and families. Many seating options have power outlets near the windows, so you can eat as you charge your devices too.
The bar and dining area is larger than the old lounge for sure, and the location of the food is actually much more convenient — it prevents a line from forming into the otherwise main hallway leading into the lounge. Past the dining area is another seating place with conference tables near the business center.
On the right side, there are some additional seats and a coffee station, as well as a "nap" area with more lounge-style chairs. However, even these seats aren't entirely private — if you're concerned about noise, this probably isn't the best place to rest.
The shower rooms are also in the right wing. To take a shower, you have to first check in at the reception desk, who will either unlock an empty room or place you on a waiting list. The showers are equipped with towels and soaps, so you don't need to bring anything extra.
Hours of Operation
The lounge opens at 5:30 am and closes at 10 pm, but the spa closes at 8 pm.
Food and Beverage
DFW's new Centurion Lounge has a full buffet that is accompanied by exotic food from different parts of the world, which rotates on a seasonal basis. Light snacks are also available, so you'll have a wide variety of food to choose from.
The food options are usually pretty mouthwatering — if you like experiencing different types of food, this is DFW's best airline lounge by far. And this is definitely the best place for foodies, thanks to the rotation of celebrity chef offerings sometimes available.
You'll find a welcoming and fun atmosphere at the bar, which has a long granite countertop and several bar-top seats. Standing tables are nearby for those who want to socialize as they enjoy their drinks.
The cocktail menu is a definite upgrade from your traditional airline lounge (such as the nearby Admirals Club). If you love fun drinks, you'll be tempted to have a taste of at least 5 of them! But they also have beer on tap, sparkling wine, vodka, and other options.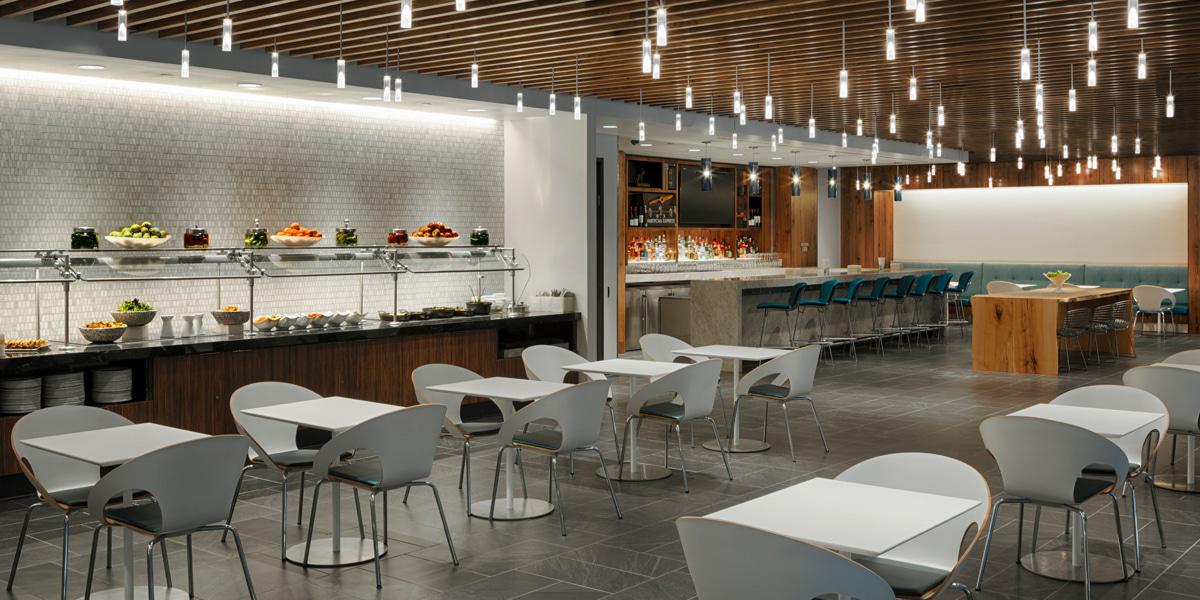 Amenities
Per American Express, here's what's on offer inside the new DFW Centurion lounge:
Fresh seasonal fare
Premium bar
Member services desk
Shower suite
Large, flat-screen TVs
Conference space
Spa
Family room
Semi-private workspaces
High-speed Wi-Fi
Print, fax, and copy services
Computer bar
Bottom Line: The best benefits of the Centurion Lounge are the upgraded food, shower facilities, and free spa treatments.
Free Wi-Fi
As you enter the lounge, you'll get a business card with Wi-Fi information. You can use the complimentary high-speed Wi-Fi for work or play — it's actually pretty fast, especially considering the number of travelers that can be packed into the lounge.
Bottom Line: Wi-Fi is free in all of the Amex Centurion Lounges!
Spa and Shower Facilities
To book a spa appointment at the reception desk, you just need to fill out a form with an emergency contact. The team in the spa is amazing and accommodating — they offer high-quality services and let you choose the products you want.
And the prices are wallet-friendly, especially since most of the simple treatments are included with your visit! Here's a list of services that are complimentary, according to Exhale (the company that runs the spa):
Body
Flow Chair Massage – The signature Exhale massage, using slow pressure throughout your body
Deep Tissue Chair Massage – Great for relieving pain throughout the body
Fusion Chair Massage – Relax in one of Exhale's massage chairs
Face
Get Glowing – Includes a deep cleanse and exfoliating mask
Soothe + Treat – Includes a deep cleanse and  acne treatment
Red-Eye Ready – Includes a deep clean of the face, plus application of creams (perfect for overnight travel)
Hands
Perfectly Polished – For ladies who want a manicure
Perfectly Groomed – For both ladies and gents to buff up cuticles and ensure a clean set of hands
Conference Space
As you enter the lounge and turn left, you'll notice a small meeting facility at the end of the hall. The room is equipped with a circular conference table and chairs surrounding it, with a phone in the corner and pads of paper and pens in the middle. On the wall, a television displays the daily news, although you're free to change this, for sure.
There's no fee to use the conference facility itself, however it is first come, first served and reserved by speaking with one of the member services agents at the front desk.
Generally, the room is limited to an hour usage, though can be extended or reserved for longer if there isn't a wait.
Family Room
For the young at heart, there's actually a kid's play room located within the lounge – a great idea to keep the noisy young ones from disturbing those working in the rest of the lounge.
The small kid's area is equipped with fun themed wall paper, colored stools, and a mix of books, games and small toys to keep one occupied.
The room doesn't need to be reserved – you can simply step inside and let your child play, though you do need to remain around for adult supervision.
Changes From the Old DFW Lounge
Unlike the old lounge that was in a broken up "U" shape, the new lounge is rectangular, which makes it bigger. The new interior design is amazing, with an attractive and a unique look.
From personal experience, I would say that there are not enough restrooms in this new lounge given its size. In the men's bathroom, for instance, there are only 2 stalls and 2 urinals — and every time I've been there, there was a wait to use them.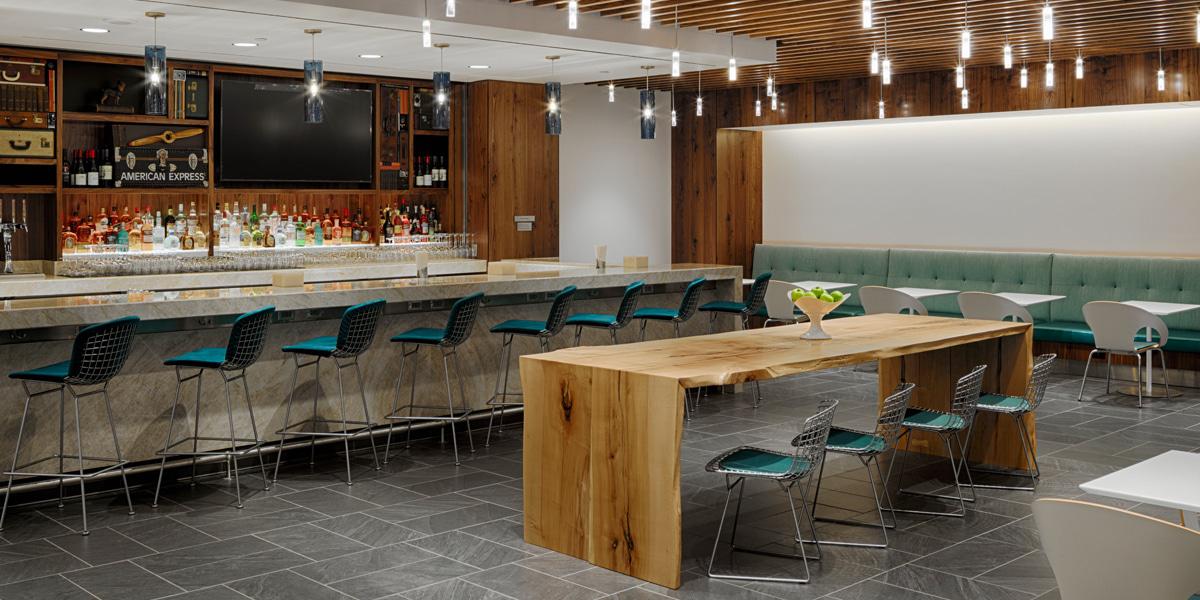 Final Thoughts
This lounge is by far the best one in Dallas/Fort Worth International Airport, and it's definitely the way to go when you've got a layover long enough to enjoy the food and amenities inside.
Holding the Platinum Card or Business Platinum Card is the simplest way to gain entry — this is a must-have card if you value premium lounge access.