The Houston (IAH) American Express Centurion Lounge – Location, Hours, Amenities, and More
American Express members who've been to one of The Centurion Lounge locations before are usually excited to see there is one available at an airport location they are flying through. These lounges offer complimentary food, beverages, Wi-Fi, a multitude of seating options, and often have shower facilities. The location at George Bush Intercontinental Airport in Houston (IAH) is no exception.
In this review, we'll discuss operating hours, how to access the lounge, location, amenities and features, and an in-depth look at food and beverage on offer.
There are plenty of complimentary amenities and places to work or relax. Are those perks worth bothering to find this lounge for? Below you'll find more details about what is available throughout this space and how the services stack up to expectations for a Centurion Lounge.
Overview
The IAH location is an impressive 8,500 square feet, making it one of the largest locations, though it feels much smaller inside due to the partitioned off areas. This gives the large space a more private feel.
It is designed with many similar touches to the other Centurion Lounge locations. It has a nice, sleek, professional, and clean look to the space. There are a ton of different amenities, which we'll look at later in this post.
Hours of Operation
This lounge is open every day between 7:00 a.m. and 5:00 p.m.
Location of the Amex Centurion Lounge at IAH
You can access The Centurion Lounge by taking the marked elevator located just outside of the Duty Free Shop located near gate D6 in Terminal D, the main international terminal.
Many travelers advise that when you're inside the Duty Free Shop, look for the scotch and you should be able to find where the lounge entrance is. The lounge is on the mezzanine level (up 1 floor) and only accessible by elevator; there is no way to get there using stairs.
The elevator isn't exclusive to the lounge and can sometimes be busy. During days with heavy traffic, you may have to wait for a few full elevators to go by before you catch one with space going up to the mezzanine level.
Upon exiting the elevator, walk down the long hallway. You'll see signage at the end, as well as the blue doors and Centurion logo.
You can access the lounge from every terminal via the upper-level Skyway train, an airside transportation method that will take you terminal to terminal without having to leave security.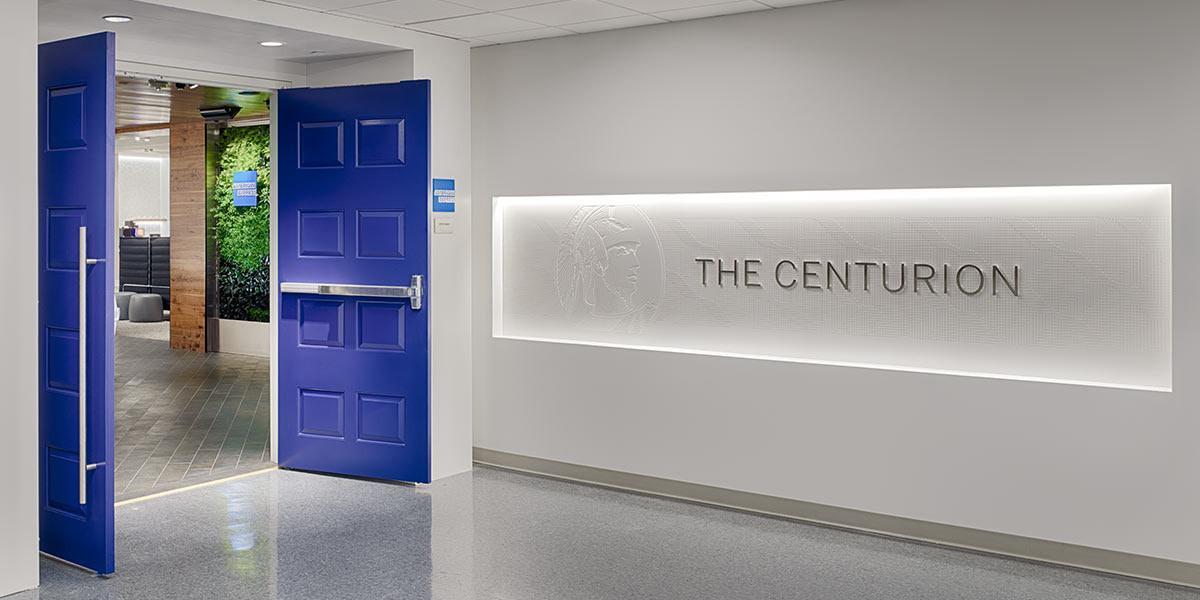 As a reminder, below are the locations of all the Amex Centurion Lounges to date:
Requirements for Accessing The Centurion Lounge at IAH
When you arrive at the lounge, you will have to check-in with the staff at the guest services desk. They will ask for a few different pieces of information before you can gain complimentary access to the lounge.
You will need to show the staff that you are a valid cardholder of The Platinum Card® from American Express, The Business Platinum Card® from American Express, or Centurion® Card from American Express.
You will also need a boarding pass and a government-issued I.D. 
You won't be able to access the lounge if you don't have a seat assignment. So if you are flying standby, the lounge will be off-limits for you. This mostly applies to airline employees flying non-revenue travel — so just be sure to take note of this if you fall into that category.
The lounge is a "day of departure" lounge, per American Express. This means that you can't use the lounge if you've just arrived at the airport and don't have another flight leaving on the same day.
Your departing flight needs to be leaving within 3 hours of your arrival at the lounge, except for connecting customers.
For clarification, here are 2 scenarios most travelers will fall under:
If you are an originating passenger and have a flight leaving Houston at 1:00 p.m., you won't be able to access the lounge until 10:00 a.m.
If you are a connecting passenger, coming in from another city, even if you have a connecting that is longer than 3 hours, you'll still be able to access the lounge at any hour.
You can bring 2 guests with you into the lounge free of charge. The 2 guests you bring into the lounge are the only 2 guests you can bring in free that day. So, you can't leave the lounge and then return with 2 different guests.
If you want to bring additional guests into the lounge with you over the 2 guest limit, you will need to pay $50 for a day pass for each additional guest, which is subject to capacity restrictions and may not be available at all times (or all lounges).
Children 2 years and younger can access the lounge for free. You will need to provide proof of age, such as a "lap infant" boarding pass, passport, birth certificate, or an immunization record.
Bottom Line: You can't enter the lounge more than 3 hours prior to your flight, unless you are a connecting passenger.
Checking Into The Centurion Lounge at IAH
When you enter The Centurion Lounge in Houston, you will see the familiar wall of greenery that is at most of The Centurion Lounge locations. Once inside, you'll see the front desk.
You will need to present your Amex card, same-day boarding pass, and identification.
Once that check-in process is done, the front desk staff will give you a summary of the amenities inside the lounge available to you, give you an update on the available food and beverages during your stay, and information on accessing the lounge Wi-Fi.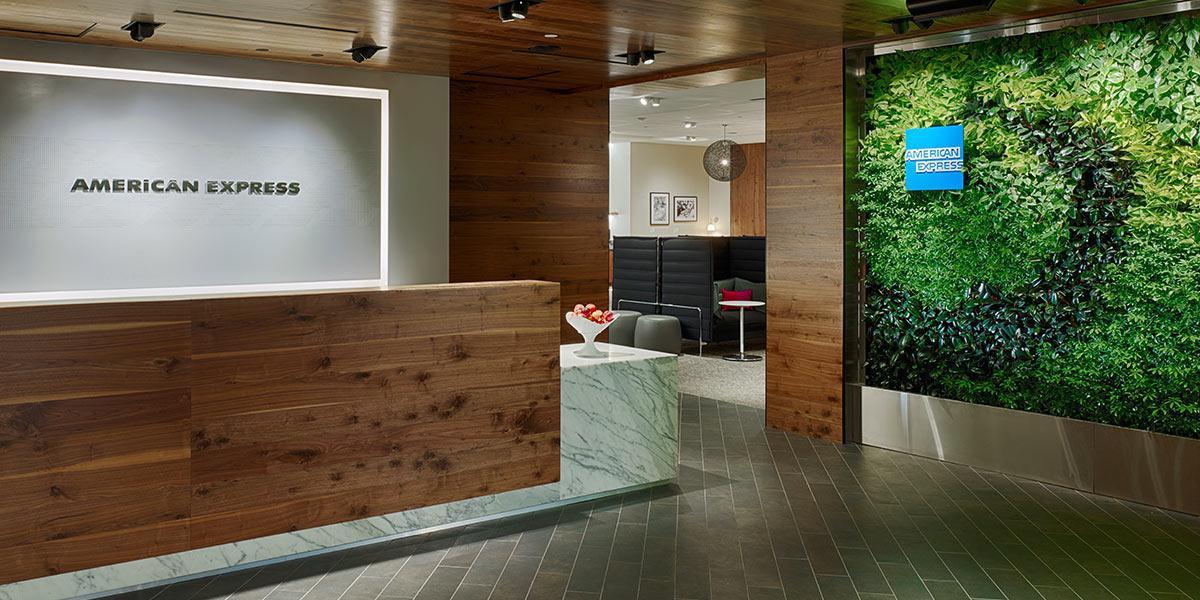 If you would like to take a shower during your stay in the lounge, it's a good idea to put your name on the reservation list at the front desk at check-in. The shower room can have quite a lengthy waitlist depending on the time of day, so if you think you'll need a shower, it's best to get on the list earlier rather than later.
Hot Tip: If you'd like to see your other options, check out the full list of lounges at IAH.
Amenities Available at The Centurion Lounge at IAH
With 8,500 square feet of space, you should be able to find a spot to stretch out and take advantage of the lounge amenities. There are quite a few perks you'll want to take advantage of in this space.
Highlights include:
Family room, where your kids can play without disturbing other guests
Computer bar, where you can quickly search the web or print out a document
Dedicated work area, where you can charge your laptop and phone
High-speed Wi-Fi, which is easy to connect onto
Print, fax, and copy services, which are usually free of charge
Tranquility area, for some peace and quiet while you nap
Phone room, which is a great place to hop on a conference call
Food, all complimentary and available throughout the day
Premium bar, all complimentary, but please do tip the wait staff and bartender
Shower suite, which can be reserved as you check-in and is available first-come, first-served
Member Services desk, which can help with general account or credit card inquiries
Magazines and newspapers, which you can take with you on your flight
Flight monitors, so you can watch for your boarding gates and any potential delays
If You Need Space to Work
If you need to work during your layover, there are plenty there are partitions and seating zones that make it easier to work distraction-free.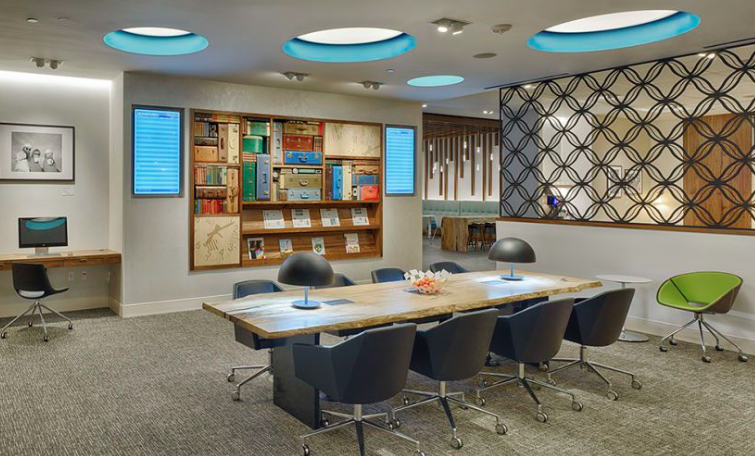 Business Center
When you first enter the lounge, you should see the business center. In this room, you'll find a large communal table with 8 seats. This is where you'll find a computer and printer for your use. The printer is free. If you need to work in a smaller space where you can't see as many other people, this room is probably your best bet.
Telephone Room
Across from the business center is a telephone room. This is a small and private space if you need to make phone calls without background noise or others listening in. This room is often available and has 1 seat in it, so it's meant to be as private as possible.
Power Outlets
Outside of these spaces, there is a general seating area with tables and chairs. Unlike many lounges, there are over 100 outlets. There are also outlets on the tables in some of the work areas for extra convenience. The olive green chairs have dividers between them with plugs in the front.
Wi-Fi
While there is free Wi-Fi in The Centurion Lounge, most have found that the advertised speeds are misleading. You can access the airport Wi-Fi from inside the lounge, so if you are finding that speeds aren't good enough for getting work done, you'll need to switch over.
Hot Tip: Using the Wi-Fi in the lounge is great for downloading your favorite TV show episodes before your flight.
The Shower Suite
When you arrive at The Centurion Lounge (or while you're there) you'll need to talk to the front desk to reserve a spot in the shower queue. There is only 1 shower room in the lounge, which can get busy, especially as Houston serves many long-haul flights with connecting passengers who will want to shower. To be safe, if you know you want to get a shower in, you should check with the desk as soon as you arrive to reserve your spot in line.
The shower stall is fairly large. There is a toilet, sink, walk-in shower, and a makeup mirror. The lounge has L'Occitane toiletries in the shower and the bathrooms, which is standard for The Centurion Lounge.
Hot Tip: The shower suite is reserved on a first-come, first-served basis, so make sure to grab it early so you don't miss out.
The Family Room and Play Area
You can usually find a family room in The Centurion Lounges, and the Houston airport location is no exception. The family room has a television, toys, and child-sized seating options. These rooms are often open and not very busy, so your kids may have space to themselves to run around, make noise, and have some fun while they wait for their flight.
Seating
In the large open area space, there are many seating options to choose from.
In the main seating area, you will find a variety of leather chairs, bench seating, tables with lime green chairs, olive green sofa chairs, and semi-private couches with partitions around them. There are outlets to plug in your devices at the center of the tables and in between the larger cushioned seating.
In the back of the main lounge seating area is a small partitioned-off television area. There are a handful of seats in this space with a variety of seating options, including large chairs and sofas.
The dining area also has a variety of seating choices, including 2-person tables, bench seating, a bar, and a larger high-top table.
Near the telephone room and business center, you can find a partitioned off area with 3 daybeds where you can stretch out.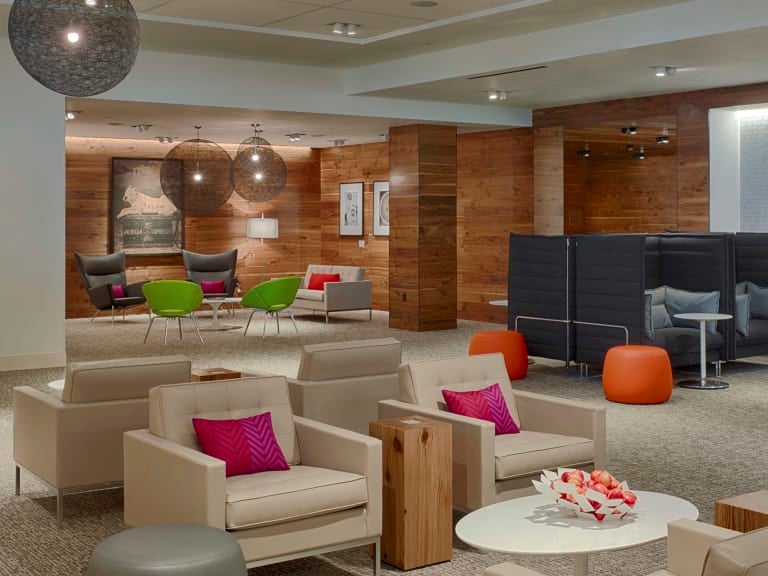 Food and Beverages at The Centurion Lounge at IAH
While many amenities make airport lounges convenient, it's the food and drink that can motivate you to travel across the airport to visit one of these lounges. The Centurion Lounge has a food and beverage bar stocked and ready.
The food changes seasonally but is always locally-inspired, so you can count on smoky flavors and unique dishes with a southwest flair. There are sample menus below.
Note: In the name of environmental responsibility, American Express says all Centurion Lounge locations have eliminated single-use plastics.
Food
The food bar is open between 7:00 a.m. and 5:00 p.m. You will find the food and drinks at the back of the lounge.
About the Chef Behind the Food
According to the biography published by American Express, Chef Justin Yu is a James Beard Award winner and the chef and owner of the popular Houston restaurant, Theodore Rex, as well as Public Services Wine and Whisky and Better Luck Tomorrow Bar.
American Express says Justin Yu has worked in several Michelin-star caliber restaurants in New York City, Chicago, and several international hotspots. His true "home" is Texas, and he currently resides in Houston. Among his many media accolades, he's been featured in Food and Wine, Bon Appetit, The Houston Chronicle, and The New York Times, to name a few.
The James Beard Foundation recognized his work when they named him Best Chef Southwest 2016.
He is currently in the process of opening 2 new businesses, a bar in the Montrose District and a restaurant in the Houston Heights neighborhood.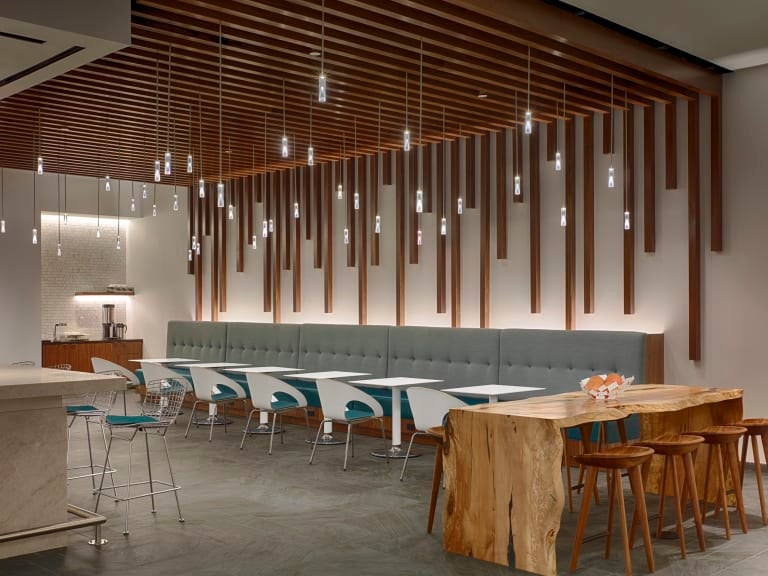 Below you'll find sample menus for breakfast and lunch and dinner.
A Sample Breakfast Menu (courtesy of American Express)
Breakfast is served between 7:00 a.m. and 11:15 a.m. In addition to the daily menu, you will find items like cereals, yogurt, bread, and fresh fruit on the food bar in this lounge.
Eggs En Cocotte with Tomato Sauce and Parmesan
Griddled Johnnycakes with Strawberry and Pink Peppercorn Jam, Thickened Cream, and Honey
3 Grain Breakfast Porridge with Coconut Milk, Dried Fruit, Cilantro, and Mint
Buttermilk Biscuits with Sorghum Butter
Skillet Fried Potatoes with Harissa and Avocado Crema
Zucchini Bread
Cardamom and Currant Scone with Whipped Butter and Jam
A Sample Lunch and Dinner Menu (courtesy of American Express)
Lunch and dinner are served between 11:30 a.m. and 5:00 p.m. In addition to the daily menu, you will find items like chips, cookies, and fruit available on the food bar in this lounge during lunch and dinner hours.
Light Mushroom Broth with Miso, Green Onions, and Kombu
Braised Chicken Thighs with Harissa, Dried Fruit, Nuts, and Avocado Crema
Chickpea and Egg Stew
Beets with Savory Granola, Spiced Yogurt, and Parsley
Quinoa with Olive Oil, Dried Fruit, and Spiced Pumpkin Seeds
Panzanella with Charred Vegetables and Cherry Tomato Citronette
Steamed Summer Squash with Shallot-Lemon Vinaigrette
Black Pepper Panna Cotta with Vanilla-Poached Stone Fruits
Steamed Corn On The Cob with Garlic Aioli, Chilies, and Pickled Jalapeno
Beverages
There is a selection of cocktails, beer, and wine available in The Centurion Lounge. You must be 21 years of age or older to consume alcoholic beverages.
Please keep in mind that the drinks in the bar are free, but tipping the bartender or server is still customary.
About the Mixologist Behind the Cocktails
Jim Meehan is a James Beard award winner. He has written 2 books: The PDT CockTail Book and Meehan's Bartender Manual. He is 15 years into his career, which has taken him from Wisconsin to New York City.
A Sample Cocktail Menu (courtesy of American Express)
Desert Oasis with Siete Leguas Reposado Tequila, Grapefruit Juice, Cointreau, and Del Maguey Vida Mezcal
Chinese New Year with Prosecco, Mandarin Napoleon, Canton Ginger Liqueur, and Lemon Juice
Fragola with Mount Gay Black Barrel Rum, Cocchi Rosa Vermouth, and Cardamaro
About the Wine Director
Anthony Giglio is the author of 3 separate editions of Food & Wine's Wine Guide and his book, Cocktails in New York.
A Sample Wine Menu (courtesy of American Express)
White — Pinot Grigio, Terlato Family Vineyards, 2015, Friuli, Italy
Rose — Grenache + Syrah, M. Chapoutier Cotes du Rhone 'Belleruche', 2014, Rhone, France
Red — Malbec, Bodega Tamari 'Reserva', 2013, Mendoza, Argentina
Sparkling — Prosecco, Nino Franco 'Rustico' NV, Conegliano-Valdobbiadene, Veneto, Italy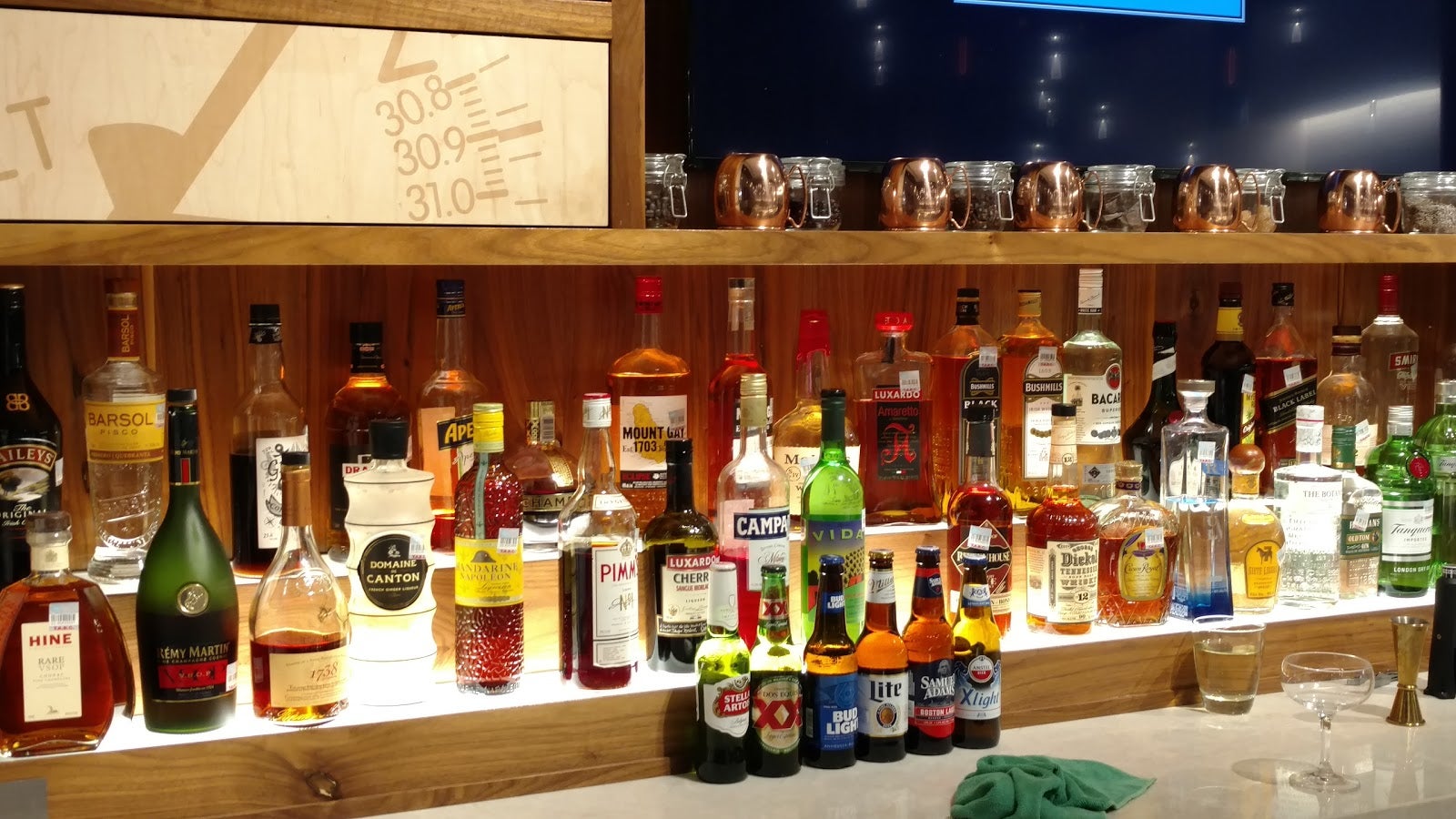 The Dining and Bar Seating
The 2 main areas of the lounge are the kitchen and the general seating area. The kitchen and bar have a substantial amount of seating. While the general seating area can get fairly full during busy times, the kitchen generally has empty tables.
The dining area itself has over a dozen tables meant to seat 2 people each. There is also a long, high-top seating table that could accommodate larger groups or people looking for more space.
The bar seats approximately 6 people and has subtle vintage suitcases for decoration.
Hot Tip: All food and drinks in the lounge are complimentary, so come hungry!
Pros and Cons of The Centurion Lounge at IAH
Pros
The design is appealing and clean-looking, definitely making for one of the nicer airport lounges you'll find. There is a large variety of seating options, so you should be able to find whatever you're looking for. There are plenty of outlets to plug into, which are great for business travelers.
The food and beverage selection varies from visit to visit because of the seasonal menu but has consistently been pretty great, according to many online reviews. It's always healthier and a lot more varied than what you'll find in the rest of the airport (eating fast food does get old…).
One of the areas this lounge really shines in is customer service. There are often multiple staff members working at the member services desk for check-in, which helps when there might be a long line of people trying to enter. The staff is always happy and ready to serve you more food and drink, and they walk around sporadically so you don't always have to walk to the bar.
Cons
Many people have had a difficult time finding this lounge. It's far off enough that while you are looking for it, you think you must be going the wrong way. There are quite a few signs up in the airport to help confirm you're going the right way, but it feels off.
You're headed into what looks like a basement and then down a long hallway. It almost feels like you're headed into a staff-only area. Having to go into the Duty Free shop and then into an elevator from outside the store is unexpected, but as mentioned, there's a fair amount of signage to help you to find the right place.
This location does not have a spa and doesn't have any views of the outside, which several other Centurion Lounges have. Comparing this lounge to the other Centurion locations, this is one of the more "minimal" lounges for amenities, but that shouldn't take away from the primary point of visiting — a relaxing environment to work in with complimentary refreshments.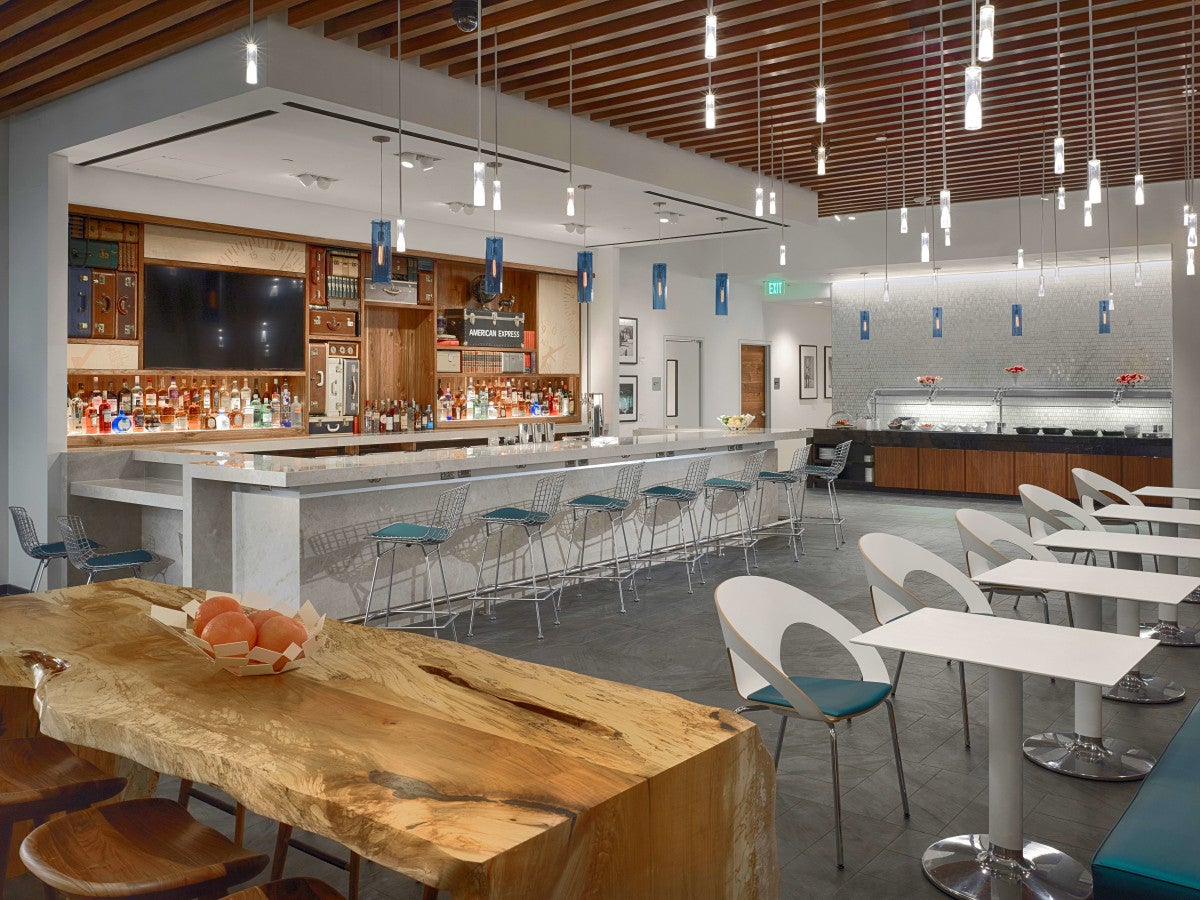 Final Thoughts
The Centurion Lounge at George Bush Intercontinental Airport (IAH) has a lot to offer during a layover in Houston. Between flights, you can stop in, sit somewhere much more comfortable than general airport seating, have food that's better than what you'll find in the rest of the airport, get some work done, and clean up between flights in the shower suite.
Yes, the lounge can be difficult to find. That being said, there are more advantages than disadvantages to this lounge. Free food and drinks? Comfortable seating options? A great workspace, a place for the kids to run around, an area to watch television, and excellent customer service that makes you feel welcome — like they want you to hang out and enjoy all the free goods?
These are probably the best credit card perks you're likely to get in life, so it's worth finding the location and taking advantage of them. It definitely beats uncomfortable airport seating and unhealthy fast food from the food court.