The New York (JFK) American Express Centurion Lounge – Location, Hours, Amenities, and More
The Centurion Lounge at New York's JFK airport is American Express' flagship lounge space, with 2 floors of amenities and services for the frequent traveler.
The humongous space features some of the best seating, amenities, and decor American Express has offered in its lounges to date and is a welcome retreat to eligible cardmembers.
If you're traveling through JFK airport, you'll love the new Centurion Lounge, so let's go over each of the features you have to look forward to!
Location of the JFK Centurion Lounge
The lounge is located in Terminal 4 of JFK airport, just to the left after you pass through the main security checkpoint (you can actually see the lounge from the airline check-in desk lanes). Once you clear security, you'll see the lounge almost right in front of you — the Centurion Lounge and American Express logos are on a large wall right outside, so you'll run right into it.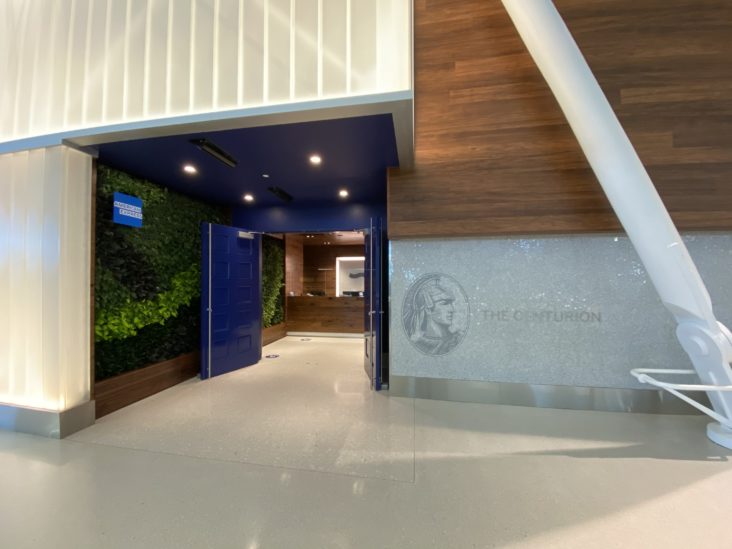 If you're familiar with JFK, there are multiple terminals that aren't accessible airside (you must leave security and take the AirTrain between all terminals). So, if you're flying out of Terminal 8, for example, and wish to use the Centurion Lounge, you'd need to visit Terminal 4, use the lounge, leave security, and then go back through security in Terminal 8 before boarding your flight.
You can access Terminal 4 with a same-day boarding pass for any other airline or terminal, so you'll have no problem passing through security even though you may be flying out of another part of the airport.
Hot Tip: For domestic flights, you should allow at least 75 minutes from leaving the Centurion Lounge before the departure of your next flight. For international flights, leave more time.
Terminal 4 is home to Delta and several other major carriers, including Etihad, SWISS, Emirates, and KLM. 
The lounge is approximately 15,000 square feet, laid out over 2 floors, making this the largest Centurion Lounge in the U.S. It is the only Centurion Lounge at New York's JFK airport.
The Centurion Lounge network is American Express' in-house lounge offering, available in these cities:
Lounge Opening Hours
The Centurion lounge at JFK is open from 6 a.m. to 8 p.m. daily. Beyond COVID-19, these hours will more than likely be extended to allow guests on later night departures to visit.
Checking In
You'll notice the green landscaped American Express Centurion Lounge wall as you enter, and there's a long row of check-in desks with agents staffing each computer to be able to check you in quickly.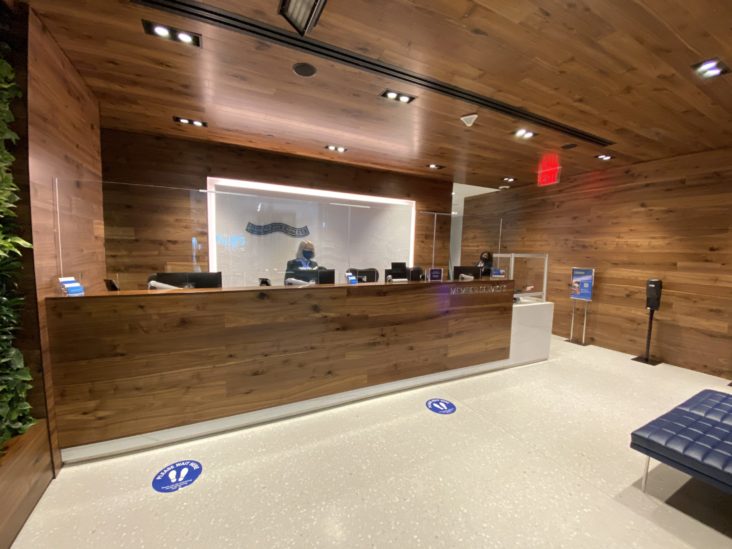 In order to enter the lounge, you must hold one of 3 types of American Express cards, issued anywhere worldwide:
Centurion Card® from American Express
The cardmember is eligible to enter the lounge, as are 2 additional guests, depending on how busy the lounge is. When entering the lounge, be sure to have your boarding pass and a government-issued ID handy for additional verification.
To use the lounge:
You must be on a

 

flight with a confirmed seat. You can't be flying standby, non-revenue, or any type of ticket where you aren't confirmed on the flight.
You must be on a departure within 3 hours or less from the time you arrive in the lounge. The lounge is only meant to use just prior to your flight, so you won't be able to linger all day.
You must be on a departing flight. You can't use the lounge after you arrive at your final destination.
You can use the lounge on a connecting itinerary. If you're flying from Boston to JFK to LAX, you can use the lounge on your arrival at JFK as this is a connecting city in your itinerary.
The Lounge Space
The lounge is divided across 2 floors, with each floor having mostly the same amenities on each, with a few exceptions. The main floor (the floor you enter on) has seating for 223 passengers, and the lower level (take the elevators or stairs down) has seats for 146 people. Both floors feature wonderful views of the outside gate areas and planes parked at each. 
There are plenty of seats on both floors, and there is a bar and food available on each floor as well, so there's no need to traipse between the 2 floors to experience any of the main benefits.
Hot Tip: There is a Member Services desk on both levels of the lounge, so if you need assistance with your card or benefits, you don't have to visit the main service desk — simply visit the smaller service desk on the bottom level.
As you progress through the lounge, you'll notice different nooks that are modeled after iconic New York City locations and buildings. These are great semi-private areas where you can relax that aren't within the middle of the main seating areas. There are also several private phone rooms where you can take a conference call without having to disturb your neighbors. What's great about these rooms is that they have a fully closable door, and they're actually rather large — great for those that tend to pace around while they talk, or if you have multiple people with you.
The top floor is the "main" part of the lounge, with the most seating available, as well as the larger of the several bars and the largest dining area. If you're in a hurry and only able to visit the lounge for a short while, stick to the top floor.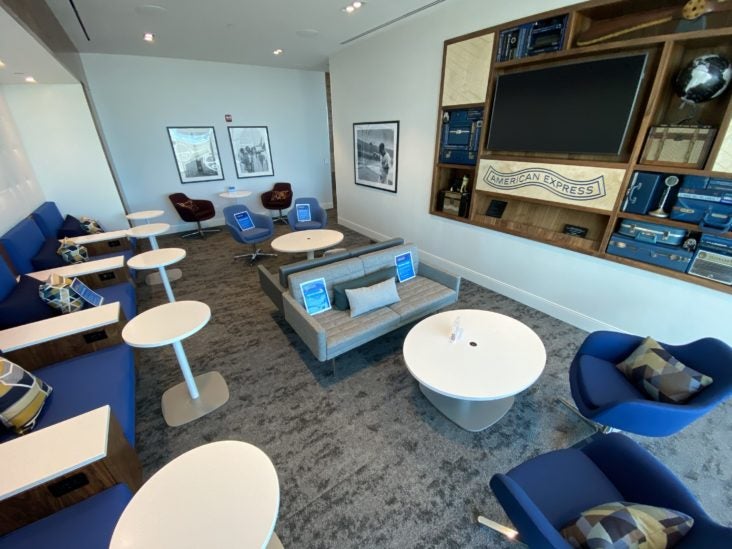 Food and Beverage
Since this lounge is the largest that American Express has to offer, there's no shortage of a healthy supply of drinks and food to go around.
There's a variety of sit-down tables, as well as seats at the bar, along with a string of seats along the floor to ceiling windows for those that want to sip a drink and watch the planes go by.
Temporarily due to COVID-19, all of the food offerings are served in individual portions that a server hands you from the buffet line. You can come back as many times as you'd like, and each plate is as pretty as would be served at a restaurant.
In the morning, you can expect egg sandwiches, bacon, potatoes, and spinach, among other morning items, to start your day off right.
In the afternoon and evening, there's fennel salad, steak and potatoes, mushroom "po'boys," and chocolate cake (that is heavenly) to crave your mealtime munchies.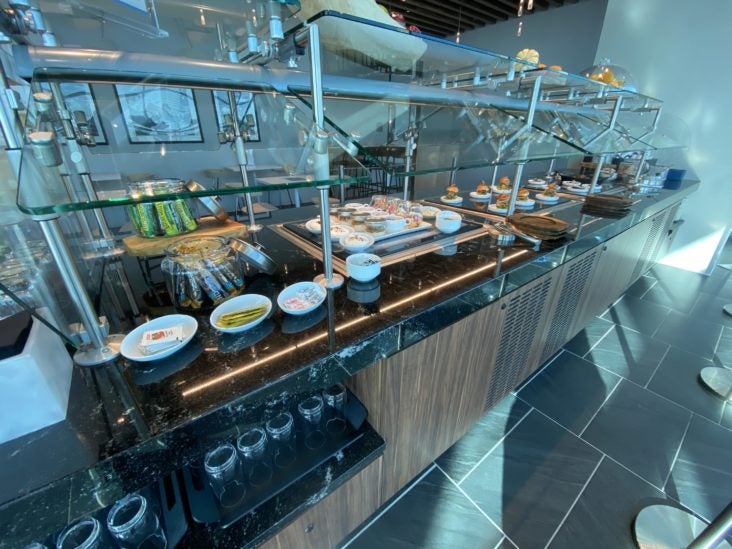 To drink, you've got a choice of 2 fully-stocked bars on either level, each serving standard drinks and an array of specialty cocktails created just for this lounge. The bar on the upper level is the larger of the 2, though you'll find the same service and drinks at each. There's also a long coffee bar where you can make your own specialty coffee drinks from a high-end espresso maker.
Bottom Line: The food in the lounge is quite extensive, and even though things are portioned individually, you're welcome to ask for as much food and drink as you'd like.
The Speakeasy
No other Centurion Lounge in the American Express system has a speakeasy, but if you make your way down to the bottom level and go past the bar, you'll notice a fairly nondescript door that swings in to lead you into a dark, dimly lit bar known as "1850" — the Centurion Lounge speakeasy. 
Hot Tip: If you get lost trying to find the speakeasy, just ask the bartender at the smaller bar on the bottom floor to show you how to get inside.
This bar, reminiscent of something out of the 1920s, is really a hidden gem within a lounge. In fact, it's really not well-advertised and according to the American Express staff on-site, most people don't know about the hideaway until they read online reviews or ask at the front desk. It's a quiet space to hang out and enjoy a few specialty cocktails that are otherwise not available in either of the 2 main bars.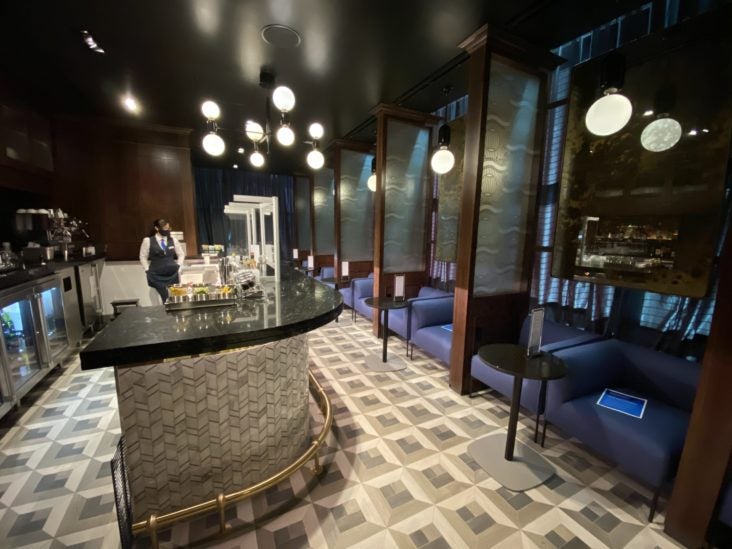 As an alternative to heading through the secret door by the bar, there's also an entrance by the restrooms.
Amenities
The American Express website lists these amenities for the JFK lounge space:
Phone room
Family room
High-speed Wi-Fi
Large flat-screen TVs
Specialty coffee bar
Dedicated work areas
Member services desk
Semi-private workspaces
Premium bar
Print, fax, and copy services
Shower suite
Equinox Body Lab
Speakeasy
Equinox Body Lab
Coming out of the front desk area, there's a long seating area, and, in the middle, the entrance to the Equinox spa.
Inside, there are several different activities and sessions you can choose from, from yoga to meditation rooms to an area where you can put on some very fancy "boots" that help improve blood flow throughout your body before or after a long flight. Most of the options within the spa are self-serve, though there is staff on hand to help you use any of the equipment. Depending on the time of day and the number of people inside, there are small classes that can be done to help you stay relaxed throughout your entire journey.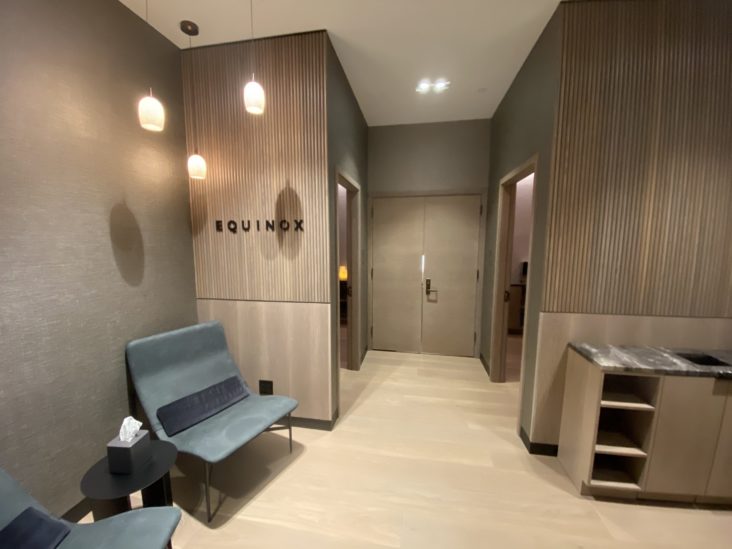 Wi-Fi Throughout the Lounge
Complimentary Wi-Fi is offered throughout the lounge, and you can obtain the password as you check-in at the Member Services desk. Upon testing, the Wi-Fi worked well in all spaces of the lounge and on both floors. If you need things printed or faxed, you can visit either of the 2 Member Services desks in the lounge for assistance.
Showers
On the main floor, there are 2 shower suites you can use during your stay. To use these, simply reserve a first-come, first-served time slot at the front desk. Inside of the shower suites are a sink, toilet, and shower, and all of the toiletries and towels are provided.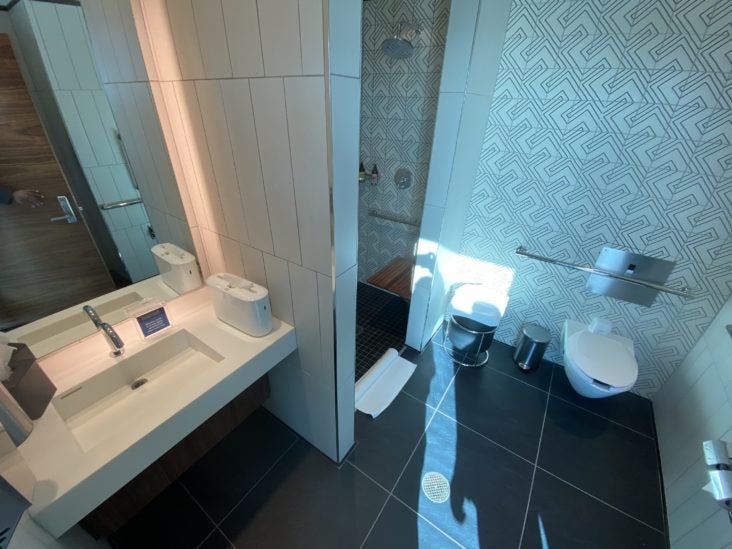 Conference Room
On the main level, tucked away towards the side of the lounge, is a conference room that can accommodate up to 8 guests. It's in an all-glass enclosure, but you're able to close the door and talk without anyone disturbing you. This room is first-come, first-served.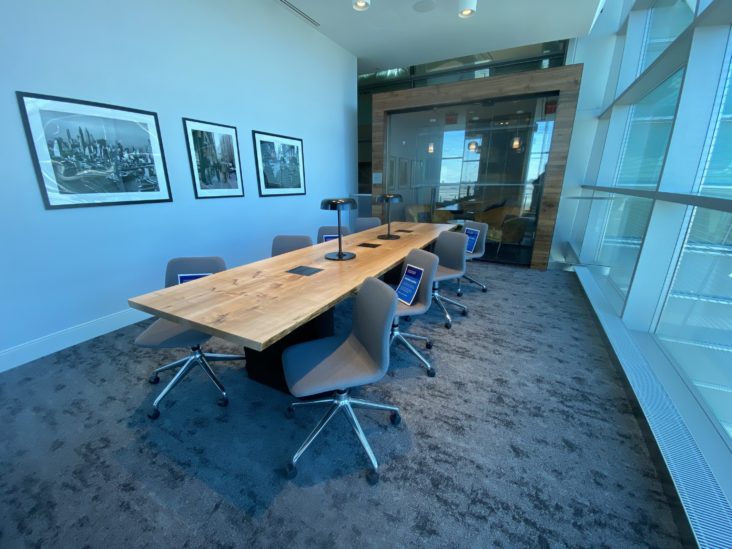 Family Room
Right in the front of the lounge, just beside the main entrance, is a family room filled with colorful walls, smaller chairs, and a few TVs for the little ones to watch their favorite shows on. The family space doesn't really have any toys or things to play with, so consider this family room more of a place to have a quiet room to sit rather than an area with activities or things to do.
Final Thoughts
This flagship Centurion Lounge space really is the crème de la crème of all Centurion Lounges. The views are stunning, and the little hidden features in the lounge — such as the phone nooks and the old speakeasy — really set this space apart from other retreats in the airport.
While it may be difficult to access the lounge depending on what terminal you're flying out of at JFK, this lounge is definitely representative of one of the many reasons you should hold an Amex Platinum Card, Amex Business Platinum Card or Centurion Card.
For other options or if you're not eligible to enter the Centurion Lounge, check out our full list of lounges at JFK airport.