The Denver (DEN) American Express Centurion Lounge – Location, Hours, Amenities, and More
Denver International Airport (DEN) is one of the major fortress airports in the U.S., home to nearly every major airline. To complement the travel experience, American Express has opened up its latest Centurion Lounge here, accessible to select cardholders prior to flights.
The lounge features an upscale environment with complimentary food, a premium bar, extensive seating, business services, and a one-of-a-kind beer bar — very apropos for Denver.
Let's dive in to check out the amenities of this new lounge space, and what features this lounge has to offer.
Location of the Amex Centurion Lounge at DEN
The Denver Centurion Lounge is located on the mezzanine level, next to gate C46 in the C terminal. Terminal C houses just a few airlines, with Southwest taking up a majority of the gates. Fortunately, Denver airport has a central security checkpoint, so once you're through, you have full access to the entire airport, including all A, B, and C gates. Even if you aren't flying out of Terminal C, you can take the train over, visit the lounge, and take the train back to your gate.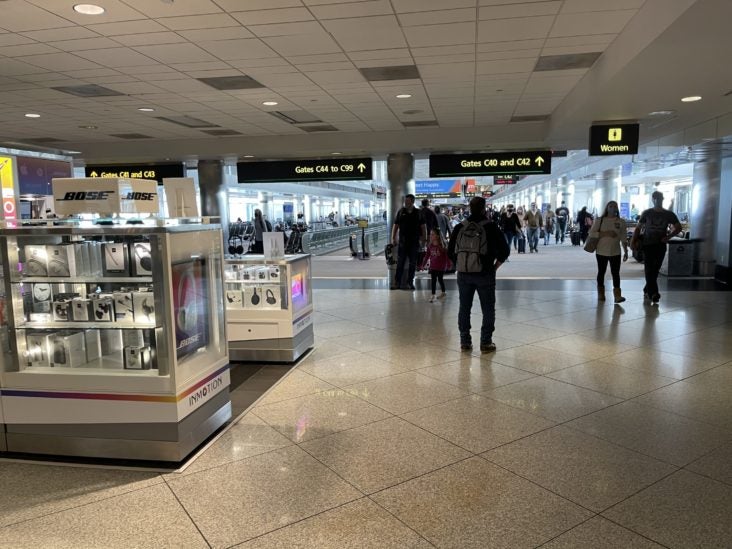 The lounge is located at the far end of the C gates, so once you come up the escalator of the train, don't be deceived by looking up and thinking the lounge is on the mezzanine above you. While this looks like a great place for a lounge, and is where I originally was looking before I found it, you need to walk down towards gate C46 to spot it.
As you walk towards C46, you'll see the traditional American Express green wall overlooking the gate area, and once you pass gate C46, you'll see a set of escalators and the white signage of the Centurion Lounge that will take you up to the main entrance.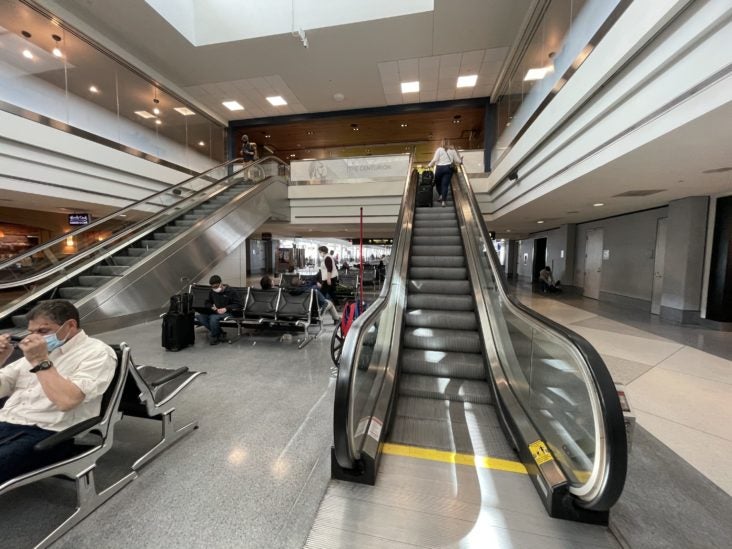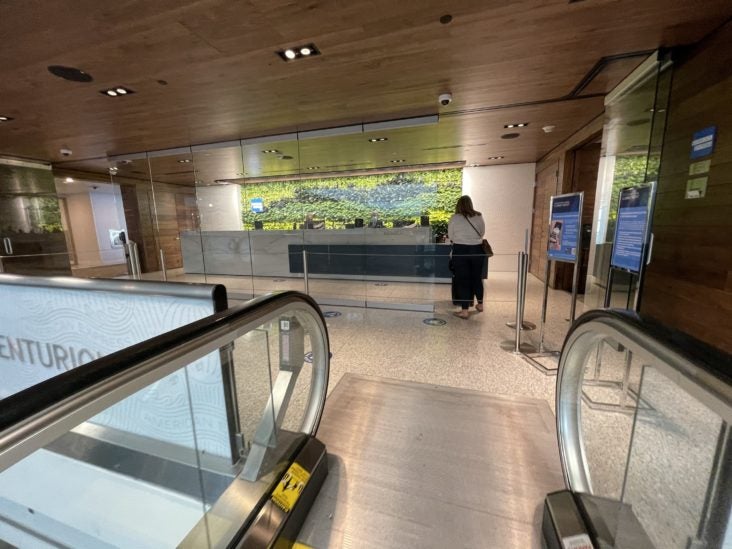 I will say, signage throughout the airport pointing towards the lounge isn't great — you sort of have to know where the lounge is, and I wish Denver would have done a better job about adding additional signage. I noticed 1 other passenger make the same mistake I did by going up to the mezzanine that looked like it would play host to the lounge.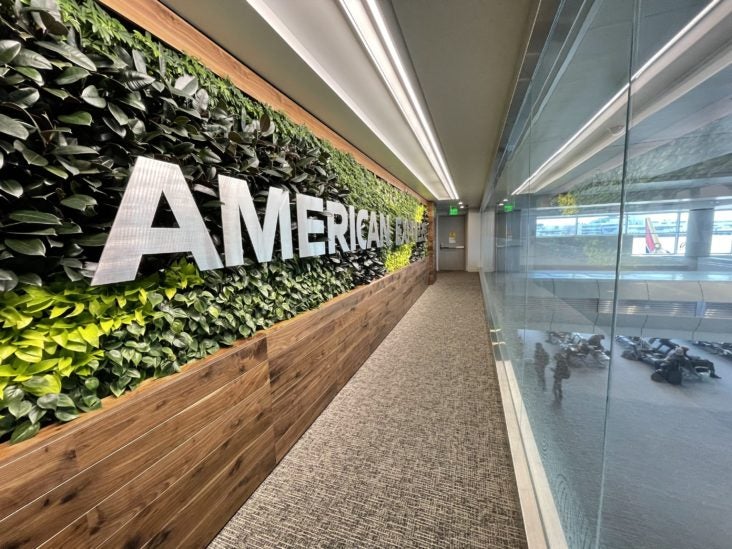 Hot Tip: Have a look at the full list of airport lounges at Denver International Airport (DEN).
Accessing the Lounge
Once you arrive in the check-in area, you'll be asked to present one of 3 American Express cards:
Along with your photo identification and your boarding pass, this is what will allow you to be admitted into the lounge.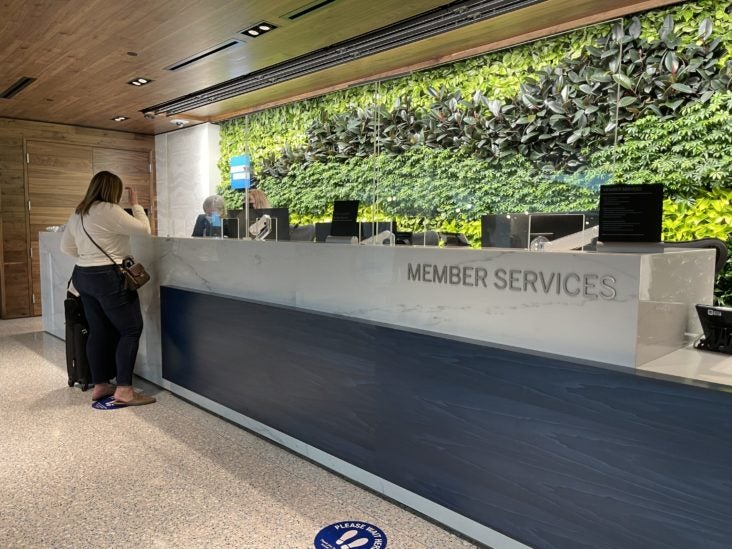 You're allowed to bring 2 travel companions with you, and these can be friends, colleagues, or family, so not everyone in your party needs to have one of the American Express cards listed above.
You will need to adhere to several admittance rules, however, so keep these in mind before you arrive:
The Centurion Lounge only admits you within 3 hours of your flight's departure, so there's no need to arrive at the airport terribly early. If you arrive at the lounge before 3 hours, you'll be turned away and told to return later.
You can only use the lounge for departing flights or if you're on a connecting itinerary, not when arriving in Denver as your final destination.
Hot Tip: In January 2022, American Express will be changing the access rules to eliminate the 2-guest rule for most cardholders. If you tend to take guests in with you often, you'll want to make sure you pay attention to this important change.
I arrived at the lounge nearly exactly 3 hours prior to my flight's departure but unfortunately arrived to be placed on a waiting list due to lounge capacity.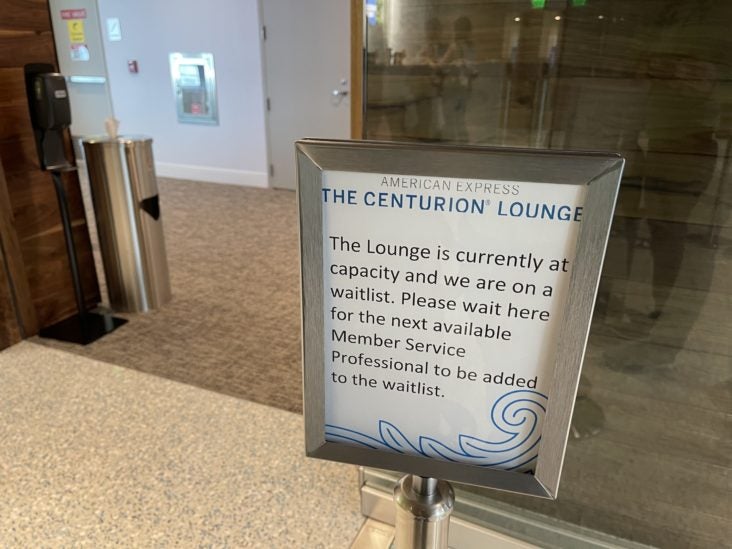 Due to COVID-19 and the lounge adhering to social distancing protocols, not all passengers could be admitted at once, so I was told to provide a phone number where I'd receive a text message when my time to use the lounge was ready.

Approximately 1 hour passed before I was told I could return to the lounge, despite the lounge attendant saying it would be about 30 to 45 minutes. I noticed dozens of travelers getting turned away or being placed on the waitlist, so I hope this problem fully resolves itself once social distancing protocols are lifted.
Hours of Operation
This lounge is open from 7 a.m. to 7 p.m. In my view, the lounge closes a little early, though perhaps the hours will be adjusted after COVID-19. Because Denver is a major hub for United, there is a late bank of flights where a post-7 p.m. closure would come in handy.
Inside the Lounge
The lounge is a giant horseshoe above the terminal above, so once you come up the escalator and check-in, you'll be admitted in either direction.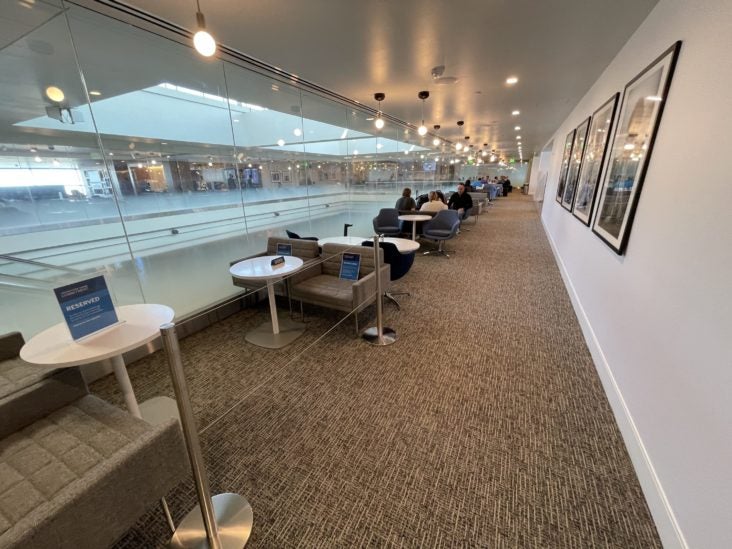 Restrooms and Showers
Starting from the left, you'll walk down a long corridor with seating, and pass the restrooms on your right. Both male and female restrooms are available, as well as 2 shower suites that are reserved by appointment by visiting the front reception desk. During busy times of the day, you may find these shower suites occupied, so make sure to check in early if you want to shower off. Everything is provided inside — from towels to soap — so you don't need to bring anything in with you. Unfortunately, the showers were closed during my visit due to COVID-19 precautions.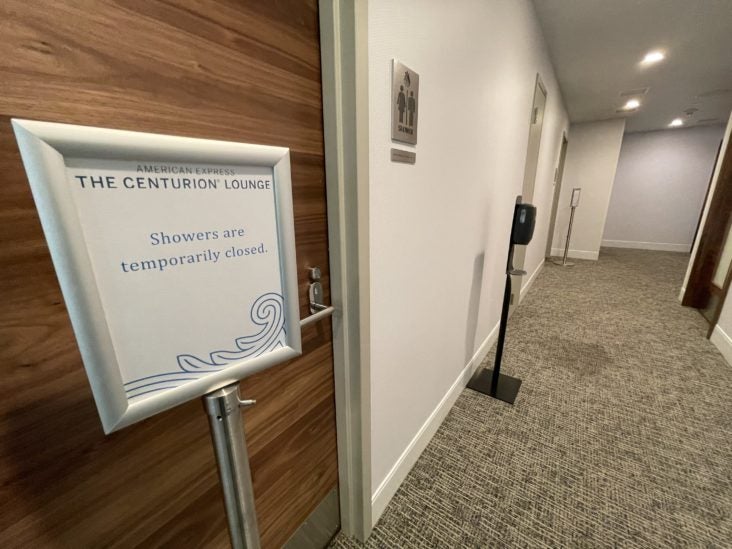 Walking further, you'll find the dining area on your right, a bar towards the back, and, on the other side of the horseshoe, the main seating area and beer bar.
Hot Tip: During COVID-19, you'll be escorted to a seat of your choice and asked to remain there for the entirety of your lounge visit.
Seating
Throughout the entire "U" shaped lounge, you'll find a variety of seating options, though the bulk of them will be on the opposite side of the dining area.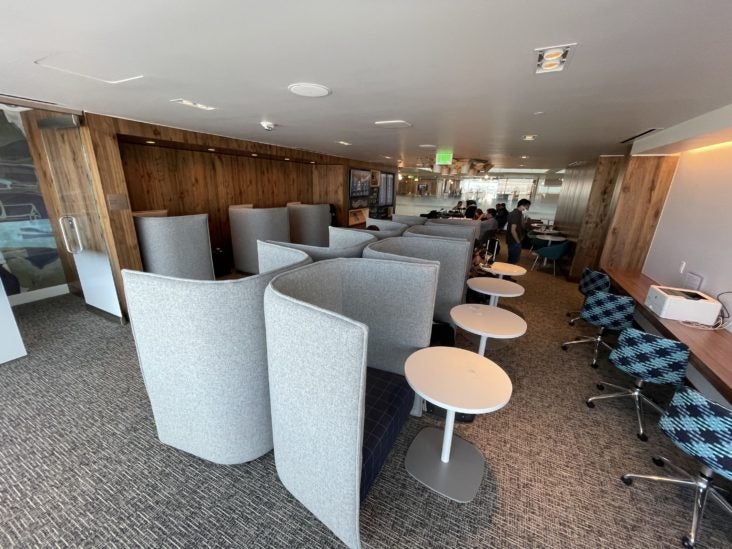 There are private cubicle seats, tables and chairs against the windows, a long conference table, and a variety of places to relax. Most seats had power readily accessible nearby if you needed to power your device.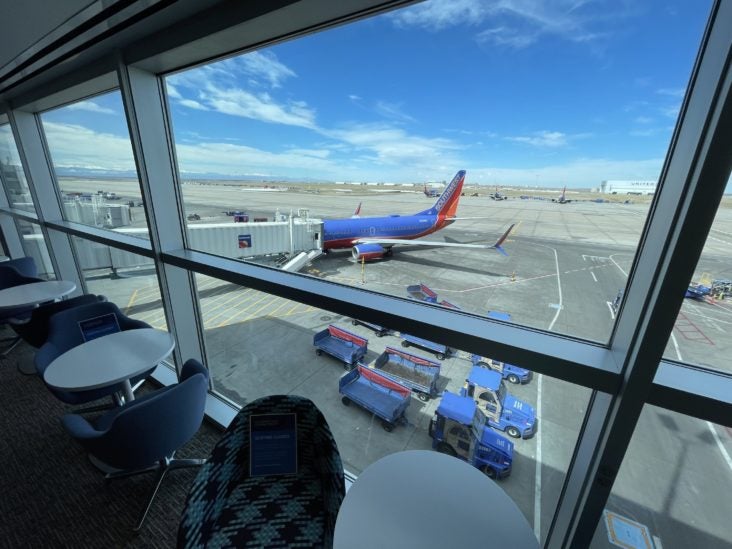 Amenities
At this lounge, there are the following amenities per the American Express website:
Craft beer bar
Dedicated work areas
Dining space
Game room
General lounge
Live "action station"
Main bar
Family room
Phone room
Game Room
Just next to the craft beer bar is the game room, home to some wall puzzles, a pool table, and a table-top shuffleboard game. I didn't notice anyone playing anything during my visit, but this is a great space to have a drink and unwind with family or friends before your flight.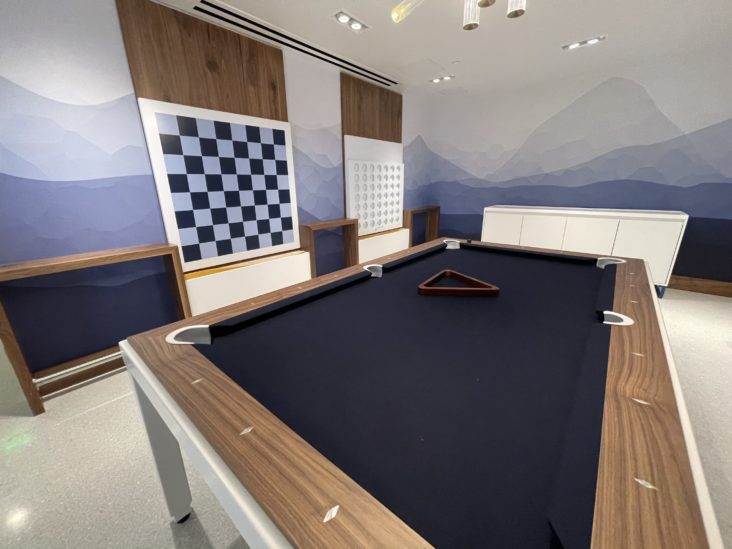 Family Room
There is a small family room near the craft beer bar, and after peering inside, I saw a private room with a few small chairs and whimsical wallpaper, but no games, toys, or entertainment options. This is a good place to bring your family for a private experience, but don't expect much in the way of amenities.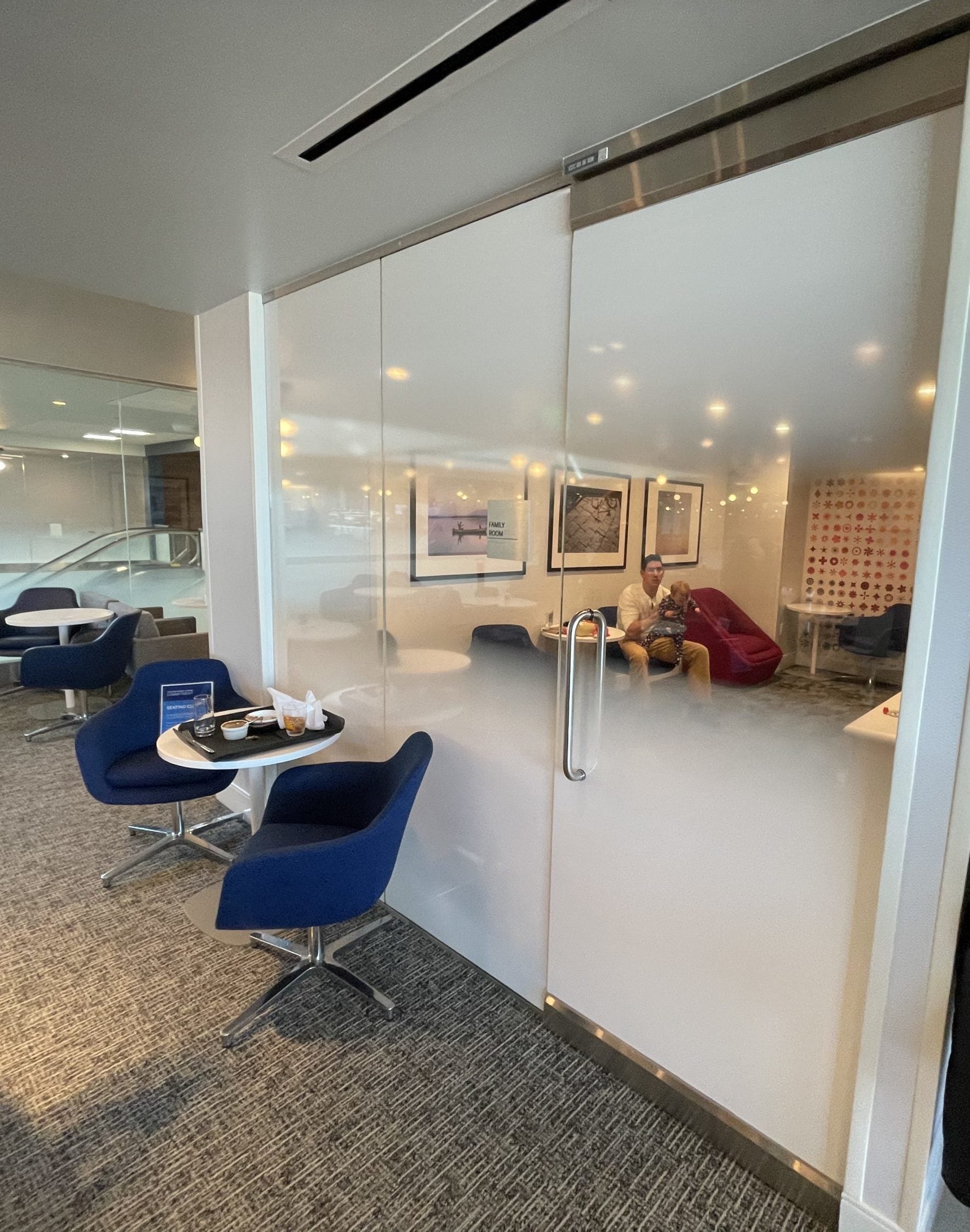 Phone Room
Near the windows overlooking the outside gates, there is 1 small phone room with space for 1 person. There's a table and chair inside, and the door closes, allowing you to take any important calls. I wish American Express would have built more of these rooms as they tend to fill very quickly.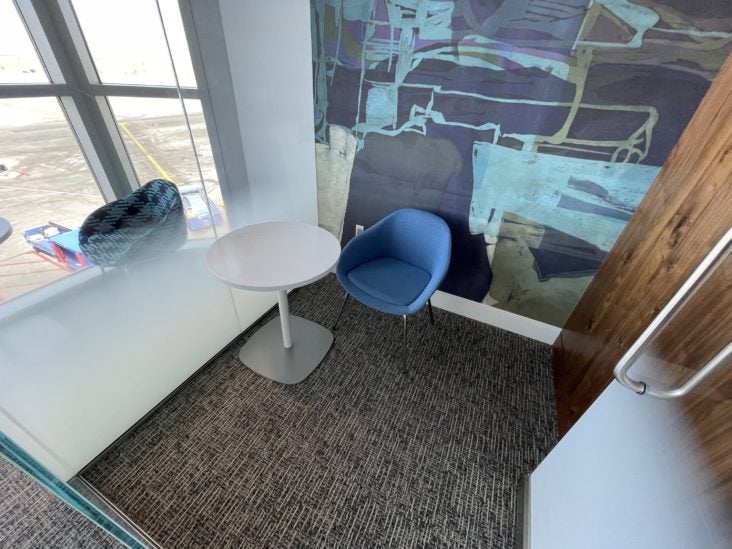 Free Wi-Fi
As you enter the lounge and are admitted, the check-in attendant will give you a small card with the password for the Wi-Fi that is free throughout the entire lounge.
Food and Beverage
During my stay, food was being served by a server due to COVID-19 precautions. Everything was pre-plated and pre-portioned, though you could visit as many times as you like.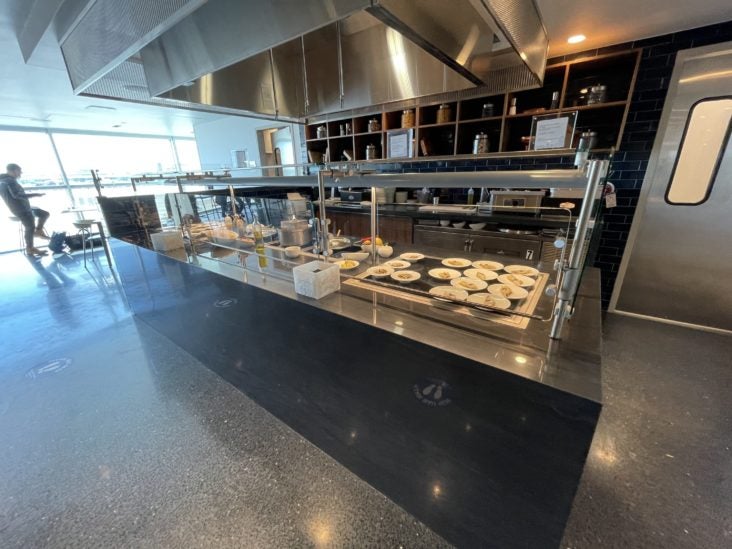 For my meal, I selected a chocolate chip cookie, avocado bruschetta, tomato pasta, chicken with potatoes, and a rotating pasta dish of the day (pasta with Italian ham).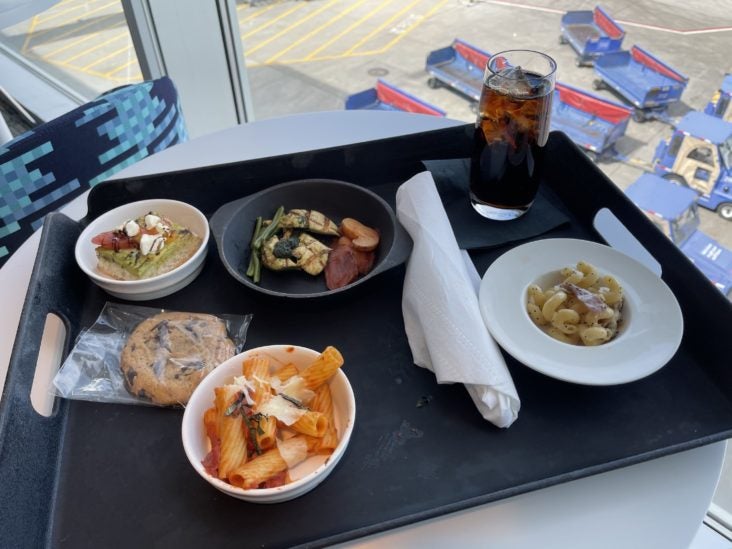 To receive food, you simply followed directional arrows to wait in line, and then you'd walk right down the buffet line asking for what you'd like. It was a very painless process. In addition to the buffet line, there was an "action station" where the rotating pasta dish was cooked. It appears as if this area will play host to a number of rotating dishes, and, hopefully, once the pandemic ends, will actually feature live cooking demonstrations.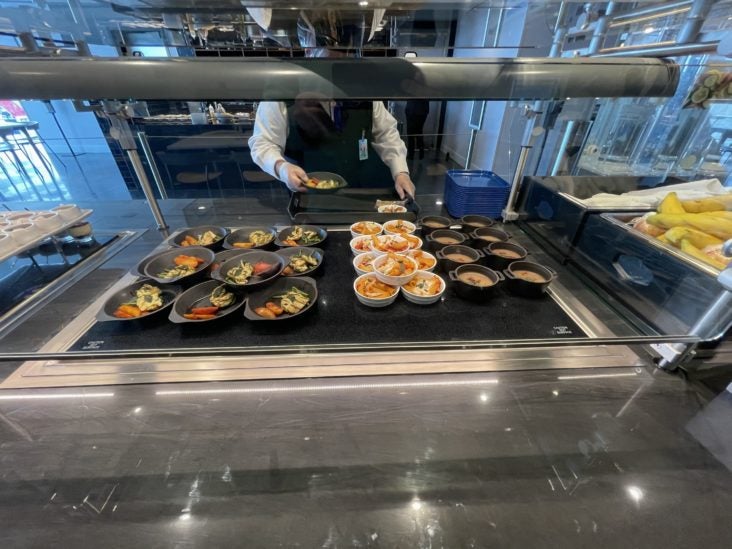 There was a menu nearby where you could peruse the options before getting in line.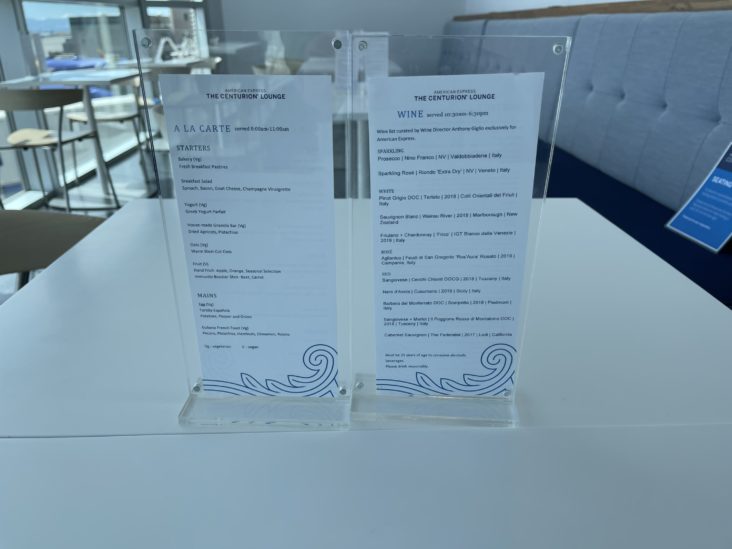 There's plenty of table seating in the dining area adjacent to the buffet line, and you'll also find a few window seats as well with great views of the planes below.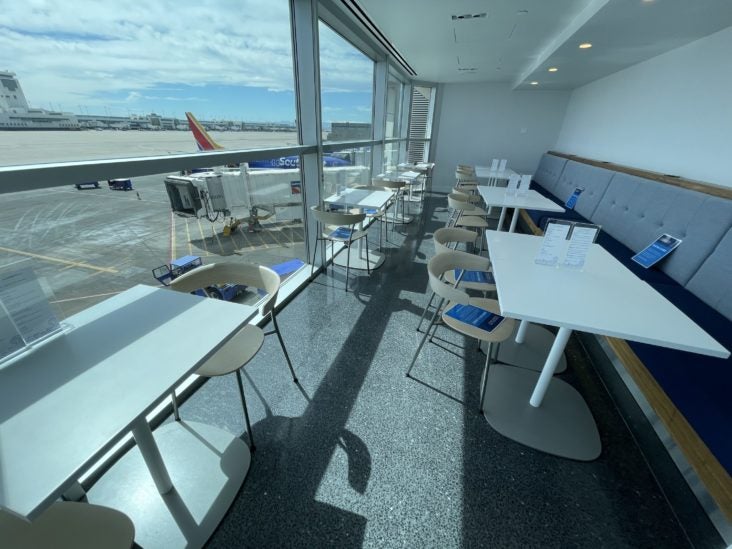 For beverages, a bar at the back of the horseshoe was ready to serve up pretty much any drink you could imagine.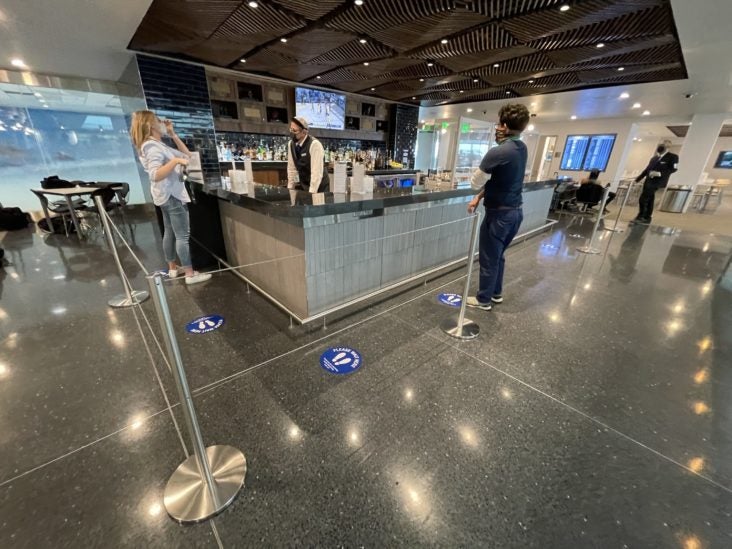 I went simple, asking for a Coke and sparkling water, both of which were promptly made.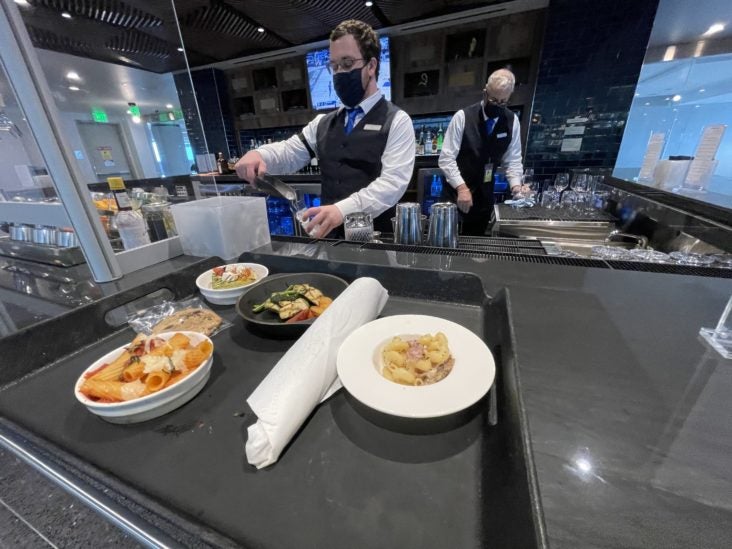 Craft Beer Bar
Unique to this lounge is a craft beer bar, just off of the main general seating area. This space was always busy with passengers lining up to grab a beer, and on offer were a number of local craft beers, both on tap and in bottles. This is a unique amenity to the Centurion Lounge network, and certainly a perk that's well situated in a lounge in Denver.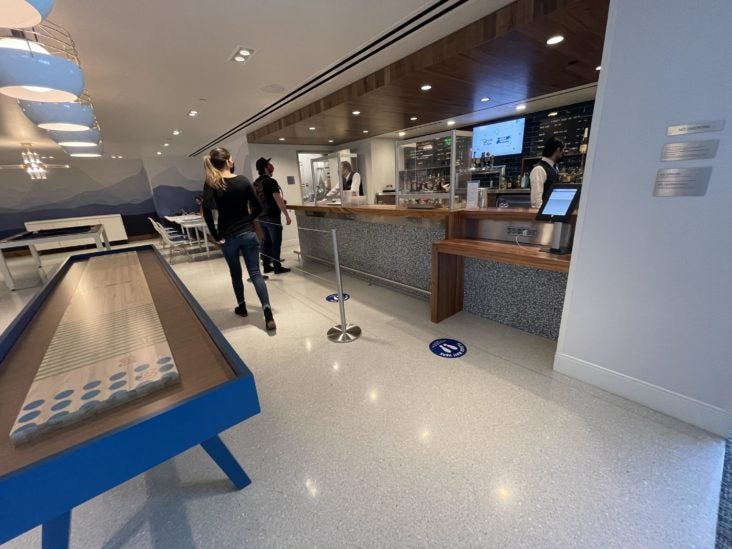 Final Thoughts
The Denver Centurion Lounge is nicely sized and really has some fantastic, unique features, including the game room, craft beer bar, and food action station. While it is a bit out of the way and confusing to find in the airport, it's certainly an oasis in an otherwise busy terminal, perfect for a visit before your flight.
If you're arriving at Denver International Airport with plenty of time prior to departure, be sure to check out the Denver Centurion Lounge if you're an eligible American Express cardholder.
---
 The information regarding the Centurion Card® from American Express was independently collected by Upgraded Points and not provided nor reviewed by the issuer.