Snag the Revamped Amex Platinum Card With up to a 150k-Point Welcome Offer
The award travel community let out a great breath recently when American Express officially announced all the new benefits for The Platinum Card® from American Express. These include the addition of hundreds of dollars in statement credits each year as well as an increase to the annual fee. And while that fee may be difficult to swallow, Amex has sweetened the pot by increasing its welcome offer to all-time highs. Let's take a look.
Amex Platinum Card Welcome Offer
The Platinum Card® from American Express - There's currently a new welcome bonus offer of 60,000 100,000 Membership Rewards Points after spending $6,000 on purchases in your first 6 months of Card Membership. Plus, earn 10x points on eligible purchases on the Card at restaurants worldwide and when you Shop Small in the U.S., on up to $25,000 in combined purchases, during your first 6 months of Card Membership.

This is our #1 card for accessing 1,300+ airport lounges worldwide. We leverage ~$4,900+ in benefits and perks from the card every year. Terms Apply. For rates and fees of the Amex Platinum card, click here.
The welcome offers for the Amex Platinum card can vary — depending on your personal information, you may see 1 of several different available offers. At this time, we're seeing the 100,000-point, 125,000-point, and even 150,000-point offers widely available, all of which are huge bonuses.
We generally value Membership Rewards points at about 2.2 cents per point, which means that a 100,000-points bonus offer is worth ~$2,200, a 125,000-point bonus is worth ~$2,750, and a 150,000-point bonus is worth $3,300.
If you're looking to pick up the Amex Platinum card with the highest offers, you can maximize your chances by using the CardMatch tool. This tool completes a soft credit check to see if you're eligible for any elevated offers. Since it's not a hard pull, this won't count against your credit.
Hot Tip: Explore your offers with CardMatch as you might be eligible for up to 150,000 points as a welcome offer for the Amex Platinum card. If you want to learn more about the CardMatch tool before giving it a try, check out our in-depth guide on CardMatch.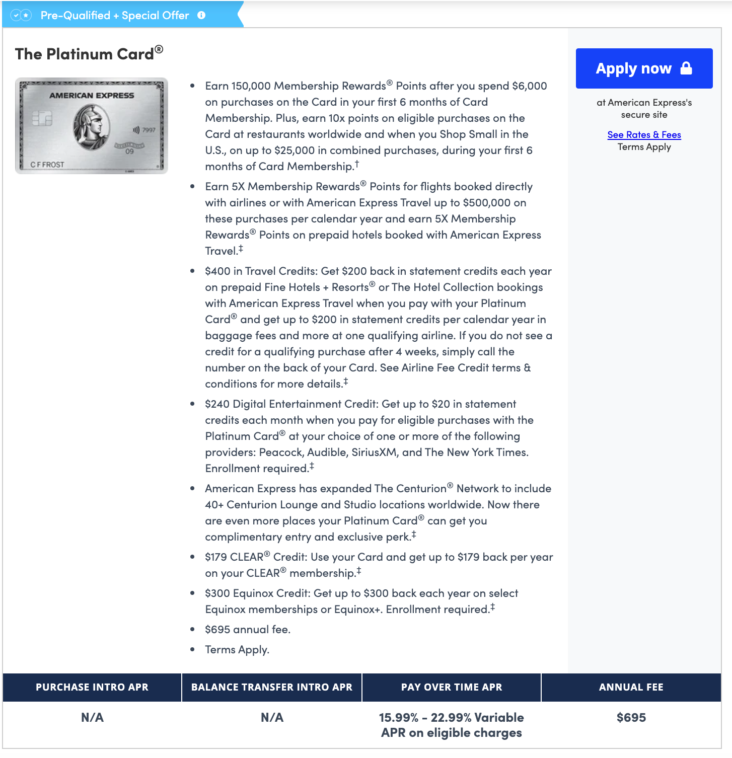 You can also look for targeted email offers so long as you are opted-in to receive New Card and Credit Offers in your Amex account's General Marketing Email Preferences.
In addition to the welcome bonus, you'll also receive 10x bonus points on restaurants worldwide and Shop Small U.S. businesses for the first 6 months of card ownership on purchases up to $25,000. If you max this out, you'll receive a whopping 250,000 bonus points!
Hot Tip: Both the American Express Platinum Card® for Schwab and The Platinum Card® from American Express Exclusively for Morgan Stanley also feature elevated welcome offers and new benefits, including 10x points at restaurants worldwide and new statement credits. 
New Benefits for the Amex Platinum Card
Along with a massive welcome offer, the Amex Platinum card has launched a number of new benefits, including over $900 in statement credits.
New credits and benefits include:
Combined with existing benefits like statement credits for up to $200 for airline incidentals, up to $200 in Uber Cash, and up to $100 for Saks Fifth Avenue, you can now receive over $1,400 in credits annually!
Maximizing Your Membership Rewards Points
What would you do with 100,000, 125,000, or even 400,000 Amex Membership Rewards points? If you qualify for the 125,000-point welcome offer and maximize your 10x earnings (250,000 points), you'll be sitting on a huge stockpile of points. So, what can you do?
Fly Round-Trip to Europe 14 Times
An economy class ticket to the U.K. is just 13,000 Avios one-way on British Airways from select U.S. cities. American Express Membership Rewards transfer to British Airways at a 1:1 ratio which means your 375,000 points can become 28 one-way or 14 round-trip flights to the U.K. How many times did you want to see Big Ben?
Enjoy Emirates First Class
A round-trip flight from New York (JFK) to Dubai (DXB) in Emirates first class will set you back 272,500 Emirates Skywards miles. That's not cheap, but where else can you enjoy digital windows from the middle seat? You can transfer Amex points to Emirates at a 1:1 ratio.
Take 2 Partners Around the World in Business Class
ANA's round-the world ticket prices out its flight costs according to distance. With a maximum stopover limit of 12, you can spend as few as 120,000 miles per person to fly around the whole world — in business class. That means you and 2 very good friends can have the time of your lives sipping Champagne as you see the sights. Amex points also transfer to ANA at a 1:1 ratio.
Hot Tip: For more inspiration, check out the best ways to redeem your Amex Membership Rewards points (we also have guides for redeeming 60,000 and 100,000 points) and how to upgrade your flight using Membership Rewards points.
Final Thoughts
If you don't already have the Amex Platinum card, now is the time to get it. Although the annual fee is steep, taking advantage of elevated offerings and increased earnings — along with brand new statement credits — can make this card a very good deal.
---
For rates and fees of The Platinum Card® from American Express, click here.