10 Awesome Ways to Spend 100,000 Amex Platinum Card Points
There's no doubt that the welcome bonus of 100,000 Membership Rewards points from The Platinum Card® from American Express is a huge deal.
100,000 points are worth $2,200 per our valuations, and you can use them in a variety of different ways. Think international business class, free domestic airfare, and stays in luxurious hotel suites.
But with so many options on how to redeem your newly minted stash of American Express Membership Rewards points, you may find yourself lost in a sea of different options.
To help you decide on the redemption that's right for you, we'll show you 10 of our favorite ways to redeem 100,000 Membership Rewards points using Amex's various transfer partners.
We're mainly focusing on airfare redemptions in this piece, but we've sprinkled in a hotel redemption, too. So without further ado, let's take a look at the redemptions!
Amex Platinum Card Overview
Before we dive into the redemptions, it's important that we take a look at the star of the show, the Amex Platinum card.
This card is the premium travel card to have in 2021. It features extensive airport lounge access and other awesome benefits like a biannual Saks Fifth Avenue credit, monthly Uber Cash, hotel status at Marriott and Hilton (upon enrollment), and much more.
So you're considering signing up for the card, make sure to check out our full review of the card's benefits. Here, we dive deep and show you the ins-and-outs of the card and its benefits.
Here's a quick look at the card's specifics — including its famous welcome bonus:
Amex Card
Benefits & Info

The Platinum Card® from American Express


Learn More

(at Amex's secure site)

Earn 60,000 100,000 Membership Rewards® Points after you spend $6,000 on purchases on the Card in your first 6 months of Card Membership.
Plus, earn 10x points on eligible purchases on the Card at restaurants worldwide and when you Shop Small in the U.S., on up to $25,000 in combined purchases, during your first 6 months of Card Membership.
Earn 5X Membership Rewards® Points for flights booked directly with airlines or with American Express Travel up to $500,000 on these purchases per calendar year.
$200 Hotel Credit: Get $200 back in statement credits each year on prepaid Fine Hotels + Resorts® or The Hotel Collection bookings with American Express Travel when you pay with your Platinum Card®.
$240 Digital Entertainment Credit: Get up to $20 in statement credits each month when you pay for eligible purchases with the Platinum Card® at your choice of one or more of the following providers: Peacock, Audible, SiriusXM, and The New York Times. Enrollment required.
$200 Airline Fee Credit: Get up to $200 in statement credits per calendar year in baggage fees and more at one qualifying airline.
$200 Uber Cash: Enjoy Uber VIP status and up to $200 in Uber savings on rides or eats orders in the US annually. Uber Cash and Uber VIP status available to Basic Card Member only.
$300 Equinox Credit: Get up to $25 back each month on select Equinox memberships. Enrollment required.
$179 CLEAR® Credit: Use your Card and get up to $179 back per year on your CLEAR® membership.
Good to Excellent Credit Recommended (670-850)
Annual Fee: $695
Terms Apply. For rates and fees of the Amex Platinum card, click here.

$2,200

Must Reads: For more info on the Amex Platinum, see our thoughts on the cards incredible benefits and perks, which includes travel insurance coverage, car rental insurance and so much more. Check out our full review to see why it's one of the best travel credit cards.


And now, let's check out those 100,000 redemptions!
ANA Business Class to Tokyo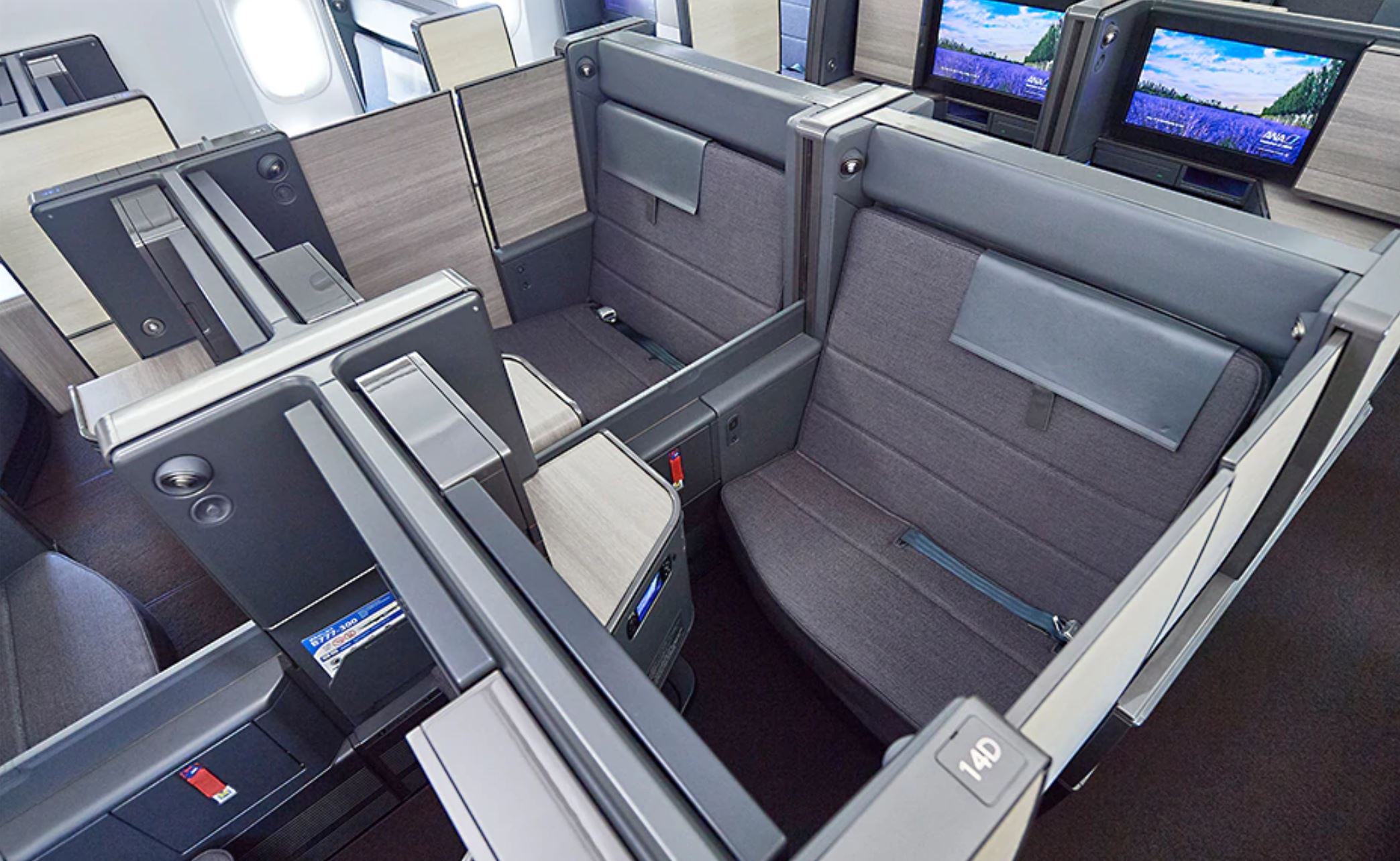 Is Tokyo on your bucket list? Cross it off by booking ANA business class with Membership Rewards transfer partner Virgin Atlantic Flying Club.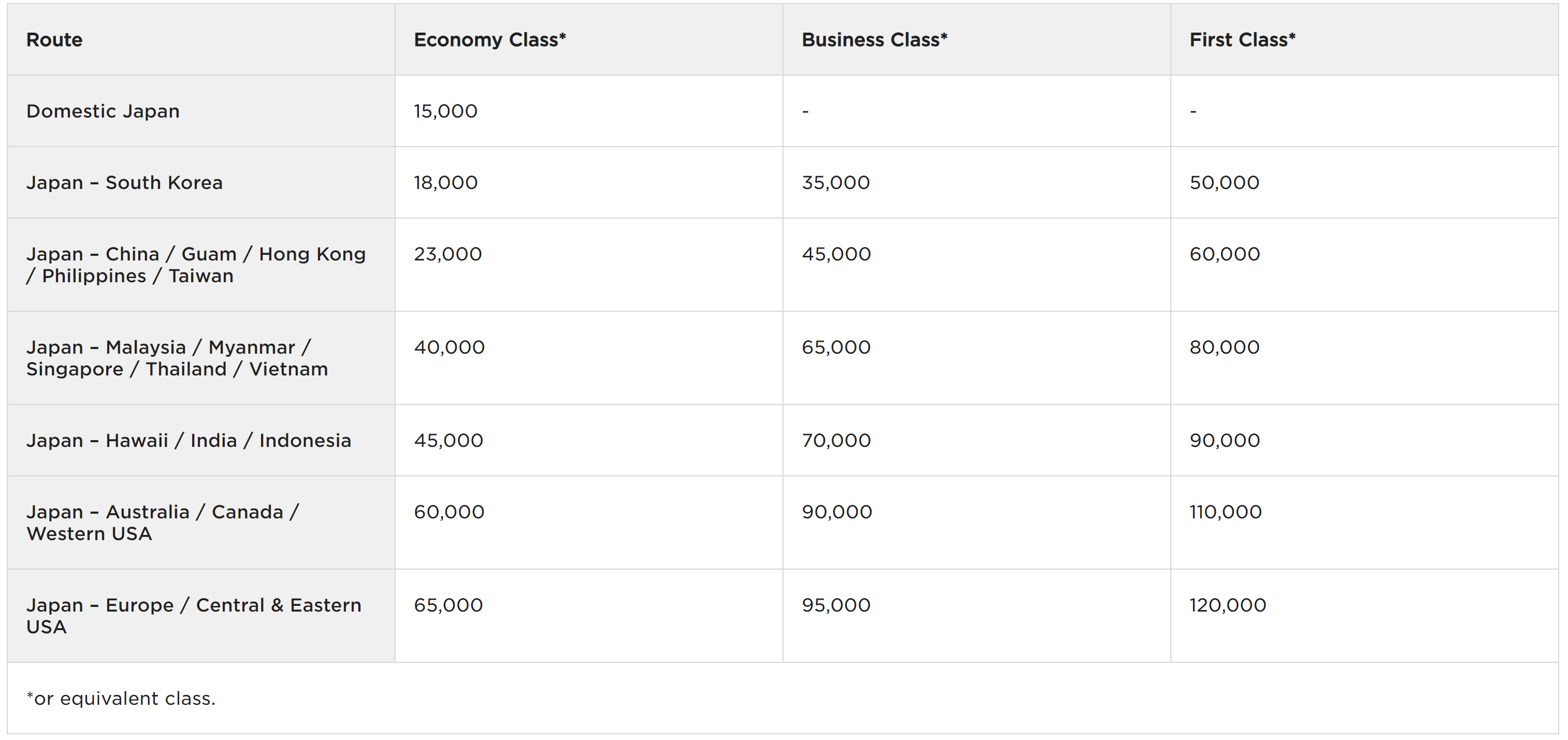 Virgin Atlantic and ANA have a non-alliance partnership that lets Virgin Atlantic Flying Club members redeem their miles on ANA flights to Tokyo from the U.S., Europe, and beyond.
One of the best deals on the award chart is 90,000-mile flights from the U.S. West Coast to Japan and 95,000-mile flights from the U.S. Midwest and East Coast to Japan, all in business class. Oh, and did we mention that's round-trip pricing!?
That's right — for less than the cost of 1 Amex Platinum card 100,000 welcome bonus, you can book a ticket from Chicago (ORD), Los Angeles (LAX), New York (JFK), or another ANA U.S. gateway to the airline's hub in Tokyo (HND/NRT). Plus, you'll pay less than $300 in taxes and fees round-trip — not bad for a ticket that usually costs over $6,000!
Booking the award takes a few extra steps, though. You can't book ANA flights on the Virgin Atlantic website, so you'll need to find Saver Award space on United.com before you book.
Simply search for the dates you'd like to fly on the United website and look for tickets with Saver Award space that are operated wholly by ANA — unfortunately, connecting legs on United and other Star Alliance carriers cannot be booked with Virgin Points.
Once you've found the flights you want to book, give Virgin Atlantic Flying Club a call (800-862-8621) and have the phone representative put the flights you found on hold. Then, transfer your Membership Rewards points to Virgin Atlantic Flying Club and have the representative book the ticket for you.
This is by far the best way to get to Japan on miles and points and is one of the best Membership Rewards redemptions out there. We highly recommend using this option if you're headed to Japan!
Fly Singapore Suites to Europe
No first-class product is more famous than Singapore Suites — and for good reason. This product offers a true single-bed in the sky and includes stellar food, drink, and in-flight entertainment along the way. All of these awesome amenities have made the product a favorite amongst the miles and points community.
While 100,000 Membership Rewards isn't quite enough to book you from the U.S. to Singapore (SIN) in Suites, it's more than enough to book you to fly the airline's fifth-freedom route from New York (JFK) to Frankfurt (FRA). While it's a shorter flight than continuing all the way to Singapore, it still gives you more than enough time to enjoy the product and costs just 86,000 Singapore Airlines miles one-way.
Booking is simple, too. Just search for award space on the Singapore Airlines website. Once you've found a ticket you'd like to book, call Singapore Airlines (312-843-5333) and ask them to place a hold on the ticket for you. Then, transfer the Membership Rewards points needed to Singapore Airlines and call the airliner to finalize the ticket.
Hot Tip: Membership Rewards transfers to Singapore Airlines take 24 to 48 hours to process, so always make sure that you get the ticket on hold first. 
Or, Give Lufthansa First Class a Shot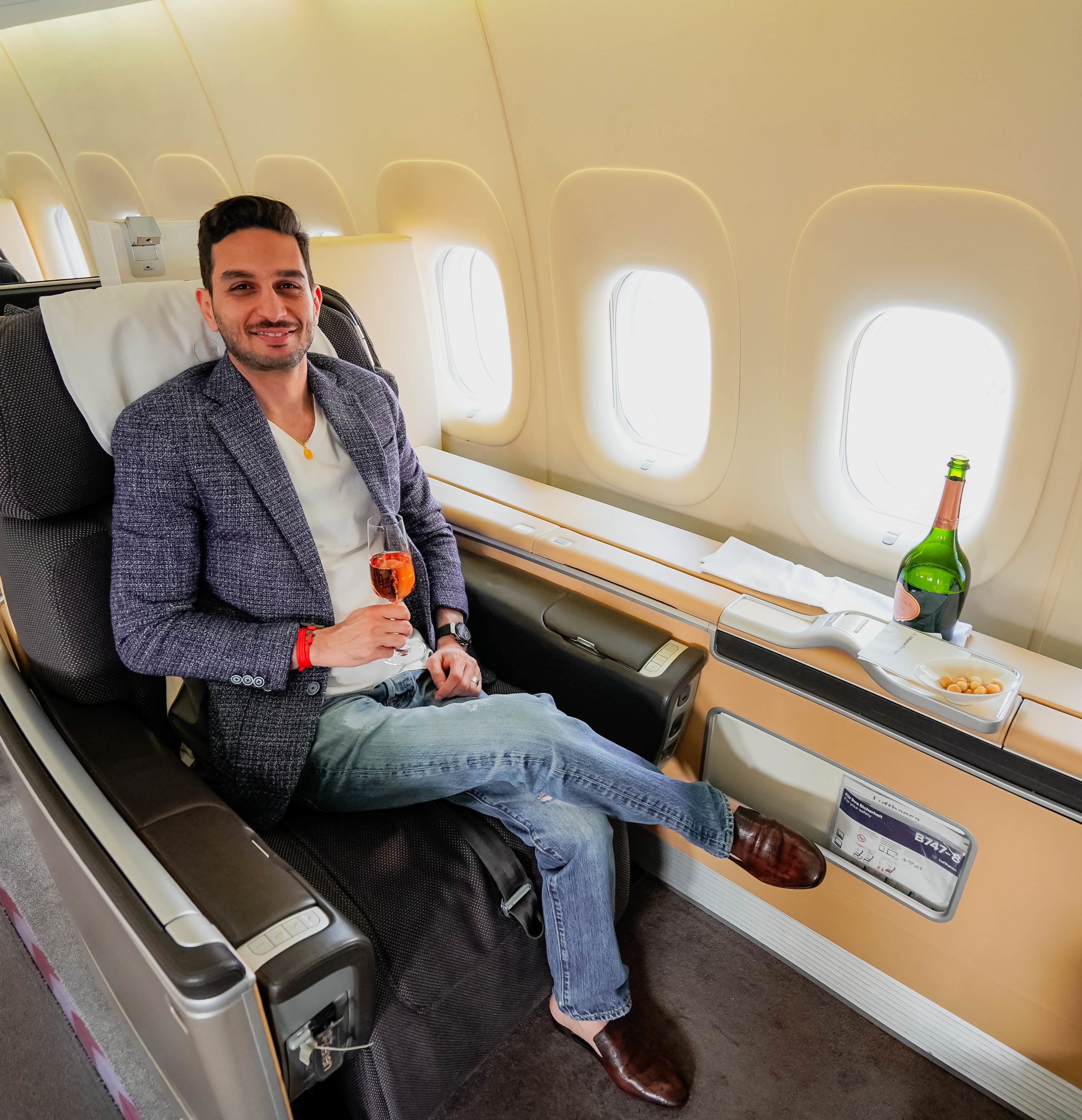 Alternatively, you can fly from the U.S. to Europe in Lufthansa first class one-way for just 87,000 Membership Rewards points transferred to Avianca LifeMiles.
The airline flies its first-class product from many of its U.S. gateways to hubs at Frankfurt (FRA) and Munich (MUC). You can expect top-notch service on all of these flights, with proper Champagne and caviar service. Plus, the seat is pretty excellent, too.
If you fly out of FRA, you'll have access to the airline's dedicated first-class terminal. Here, you'll find an upgraded lounge experience, private security lines, and a private car transfer to your plane. These cars are usually Porsches or other high-end German cars, so it's definitely a fun experience!
Booking Lufthansa first class with Avianca LifeMiles is pretty simple, too. Just search for the ticket on the LifeMiles website and you can book as soon as you find award space and transfer the miles needed. These transfers are usually instant, too, so there's no need to wait.
Hot Tip: Lufthansa first class award space usually opens to partner bookings (like Avianca LifeMiles) 2 weeks before departure, so it's perfect for last-minute bookings.
Oh, and you're not limited to Frankfurt or Munich either — you can book connecting flights in business class to other destinations in Europe, too. Oddly enough, a first-class flight from New York (JFK) to Frankfurt (FRA) to Prague (PRG) actually prices 3,480 LifeMiles lower than if you booked just the JFK to FRA segment.
Book Delta's New Business Class Suites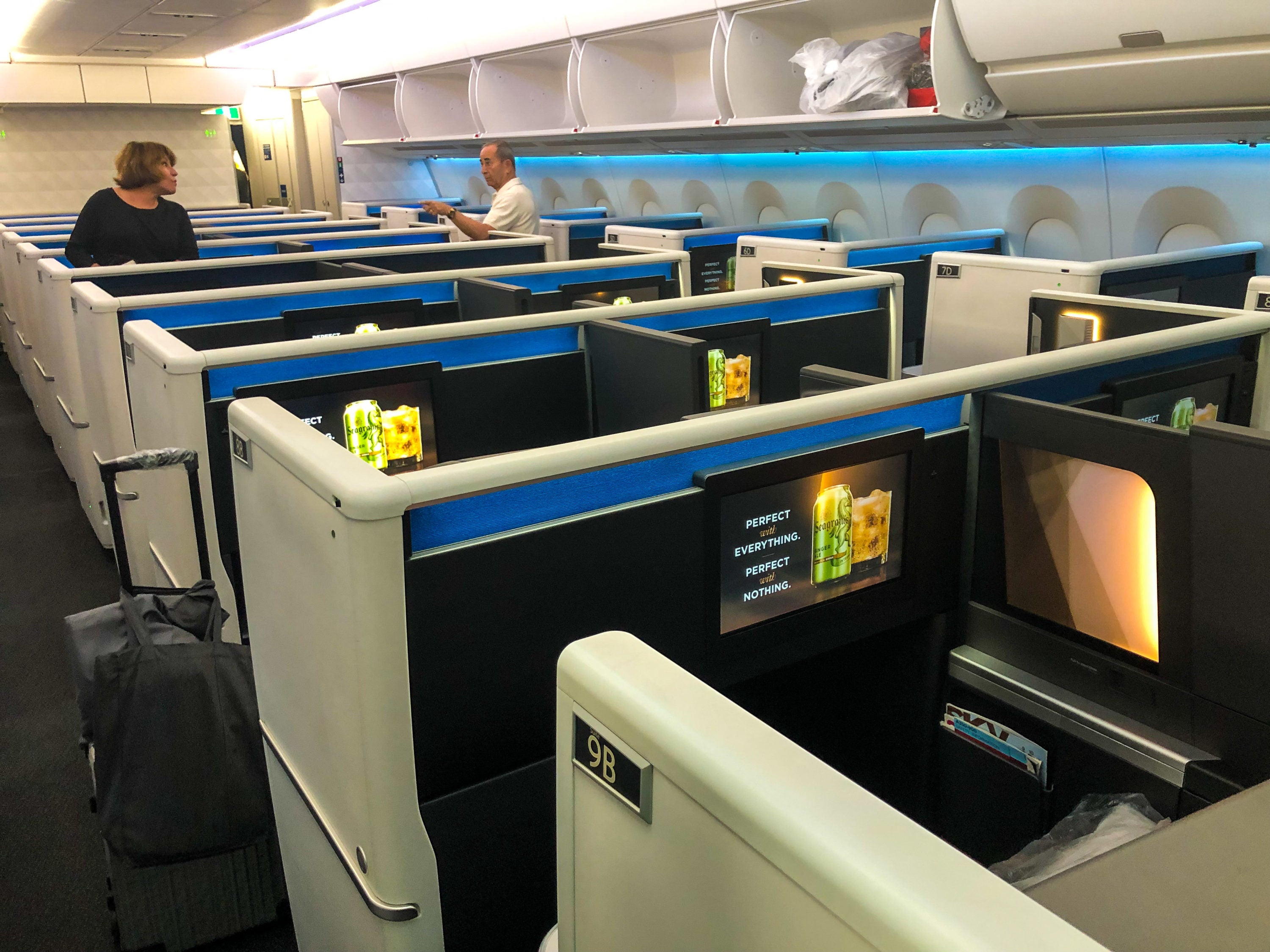 In 2017, Delta Air Lines unveiled an awesome new business class product on its A350 and A330-900 aircraft. Dubbed the Delta One Suites, these lie-flat seats have a door for privacy and an excellent selection of in-flight entertainment. Plus, according to Upgraded Points contributor Stephen Au's review, the food and in-flight service are excellent, too.
Hot Tip: Not all of Delta's international flights offer the new Suites product. Make sure to check which plane operates your route of choice on Delta's website before you book your flight.
The best way to book Delta One with Membership Rewards points is to transfer your points to Virgin Atlantic Flying Club. Delta One award tickets to Asia and Europe cost 60,000 and 50,000 miles respectively, making it much cheaper to book with Flying Club than Delta Sky Miles (which have dynamic pricing).
You can book most Delta tickets by searching for them on the Virgin Atlantic website, however, not all routes are searchable. Simply put: the Virgin Atlantic website won't let you search for certain routes even if there's award space (for reasons unknown).
If you find that your route of choice isn't searchable on the Virgin Atlantic website, send Virgin Atlantic a text. You can text Virgin Atlantic's Flying Club team from the U.S. using phone number 97634. Ask the text message team to search for Delta award space for you on a flight of your choice and you should hear back shortly.
If the text message representative finds award space for you, give Virgin Atlantic a call (800-862-8621) and ask them to put the Delta ticket on hold. Then, transfer the Membership Rewards points needed to Virgin Atlantic and finalize your award ticket over the phone.
On the other hand, if award space is available online, you can book on the spot without a phone call.
Bottom Line: Delta One Suites are some of the best business class seats in the sky. If you want to book them for your next trip, we highly recommend doing so by transferring your Membership Rewards points to Virgin Atlantic Flying Club Virgin Points. 
Enjoy a Lie-Flat Seat From New York to California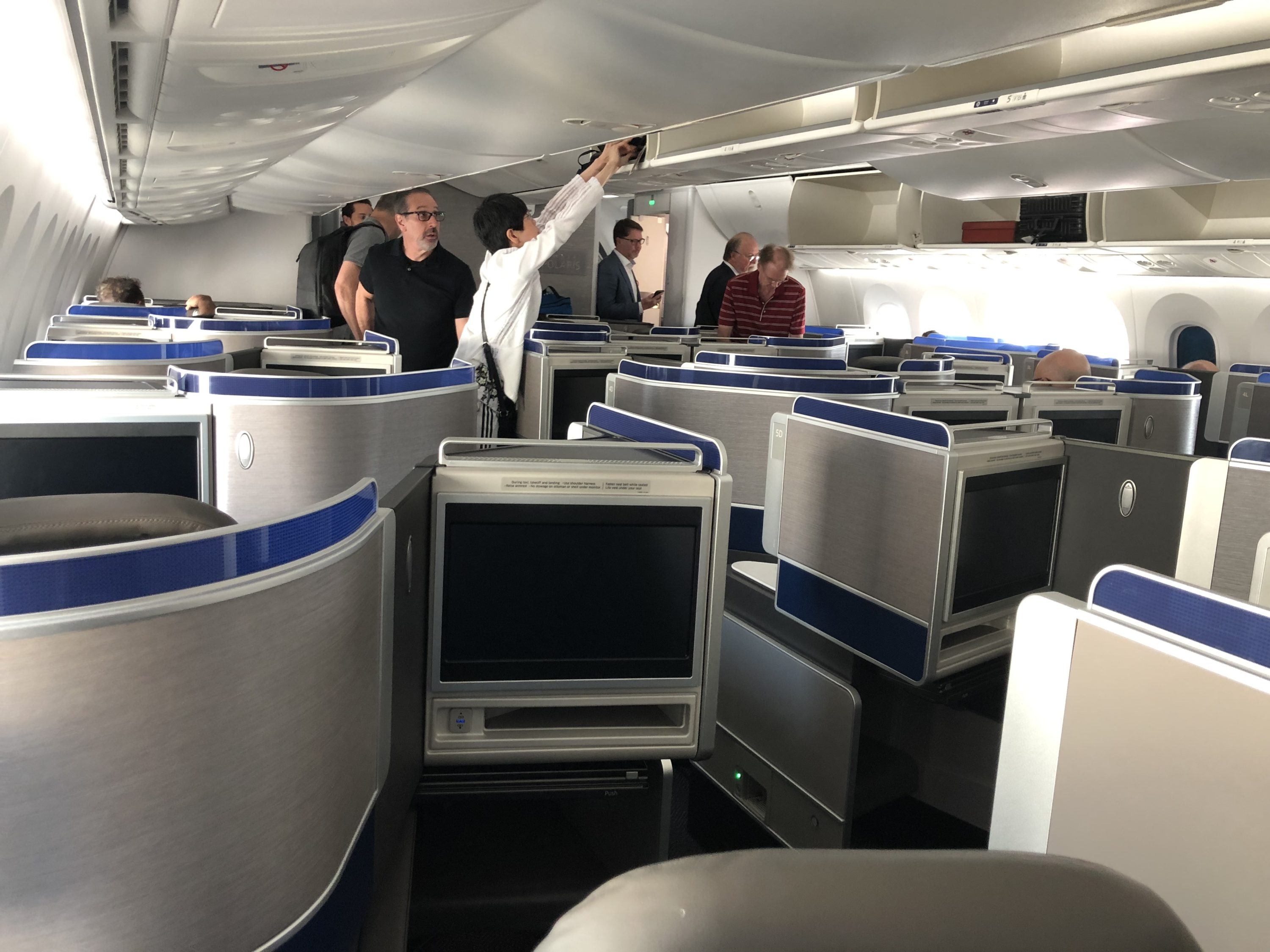 New Yorkers, Bostonians, Angelenos, and San Franciscans know the pain of flying coast-to-coast.
It's a long flight, and unless you're in business class, it can be a pretty uncomfortable flight, too — especially if you're unlucky enough to fly on a red-eye from the West Coast to the East Coast.
But fear not: you can transfer 25,000 Membership Rewards points to Air Canada's Aeroplan loyalty program and fly on a United transcontinental route in lie-flat business class for close to free. Just search for the flights on the Aeroplan website, transfer the miles, and complete your booking online.
These flights are operated by a combination of Boeing 777-200, 757, and 787-10 aircraft, but we highly recommend booking the 787-10 route if possible. This is United's newest plane, and it features the airline's new Polaris business class seats. This product has direct aisle access from all seats, along with posh bedding from Saks Fifth Avenue.
But no matter which plane you fly, you'll arrive at your destination rested after a luxurious jump from coast-to-coast.
Fly to Hawaii in Style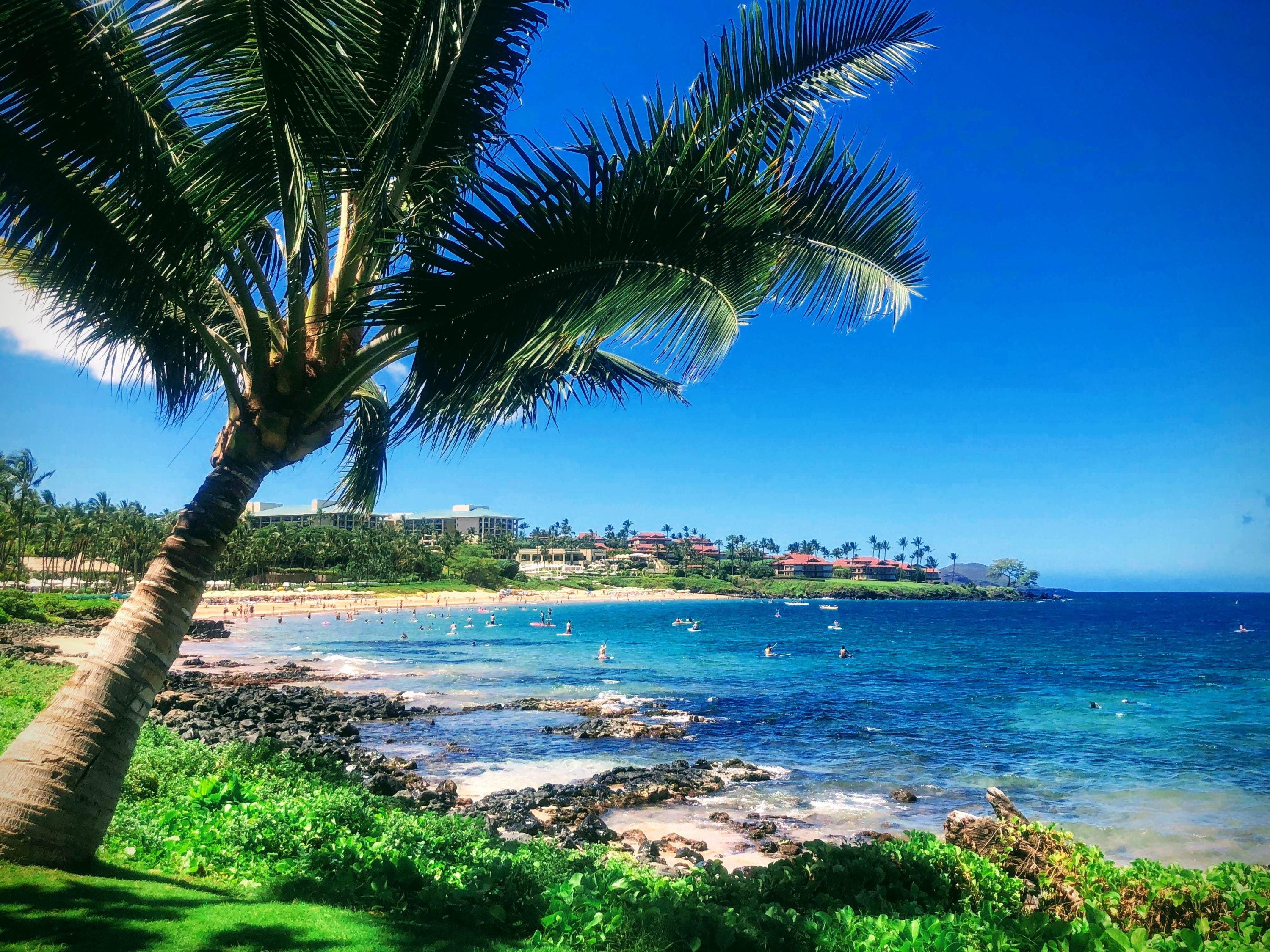 Hawaii is a beautiful state, but it can be incredibly expensive to travel to during peak holiday travel months. Armed with 100,000 Membership Rewards points, you can fly from several mainland U.S. cities to Hawaii on the cheap.
The best way to use your Membership Rewards points to fly to Hawaii is by transferring your Membership Rewards points to Singapore Airlines, and then using them to book United Airlines award tickets.
You'll pay just 17,500 Singapore miles for a one-way ticket to Hawaii in economy class, or 34,500 miles one-way in business class. Even cooler, this redemption is far cheaper than using United's own miles to book the same tickets.
Booking this ticket is similar to booking the ANA business class ticket we discussed earlier. You'll have to find award space on United.com, and then call Singapore Airlines (312-843-5333) to book the ticket. Look for flights that have Saver availability and are operated by United Airlines when searching on the United website.
Comfortably (and Cheaply) Fly From Asia to Europe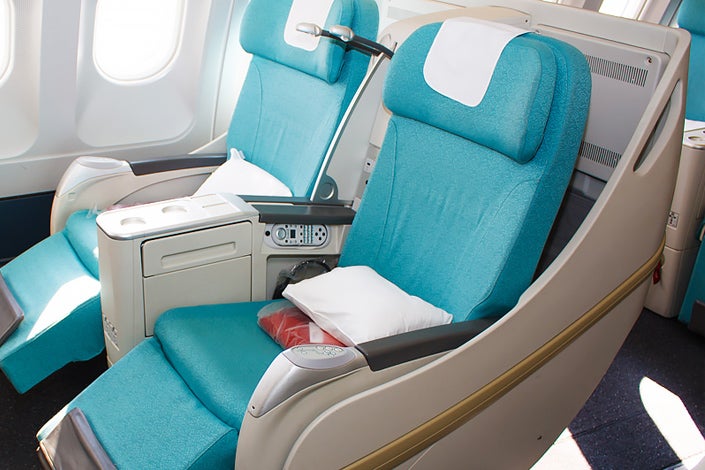 If you're piecing together a round-the-world trip and need a jaunt from Asia to Europe, consider transferring your Membership Rewards points to Etihad Guest to book Czech Airlines from Seoul (ICN) to Prague (PRG).
This flight costs 25,610 Etihad Guest miles in business class with roughly $200 in taxes and fees. This is an incredible deal considering the ticket usually costs over $1,850 one-way in business class, giving you over 7.2 cents per point in value for your Membership Rewards points.
Even cooler, the plane Czech Airlines flies between the 2 cities is leased from Korean Airlines, so it has a lie-flat seat that will make the long trip as comfortable as can be. Plus, you can also expect great service, food, and in-flight entertainment on your flight.
Booking this ticket can be tricky, though. You'll have to use ExpertFlyer's award search tool to find Czech Airlines award space in Z class first — check out our full guide to ExpertFlyer for a how-to. Once you find this award space, call Etihad Guest (877-690-0767) to book the ticket and you'll be ready to fly!
Alternatively, you can call Etihad Guest and ask them to find award space on your behalf. Just note that this may take longer than if you were to find the award space on your own beforehand.
Make sure to process your transfer after you've found the award space that you plan to book so that you're not left with miles you can't use.
Take 10 Domestic Trips on American Airlines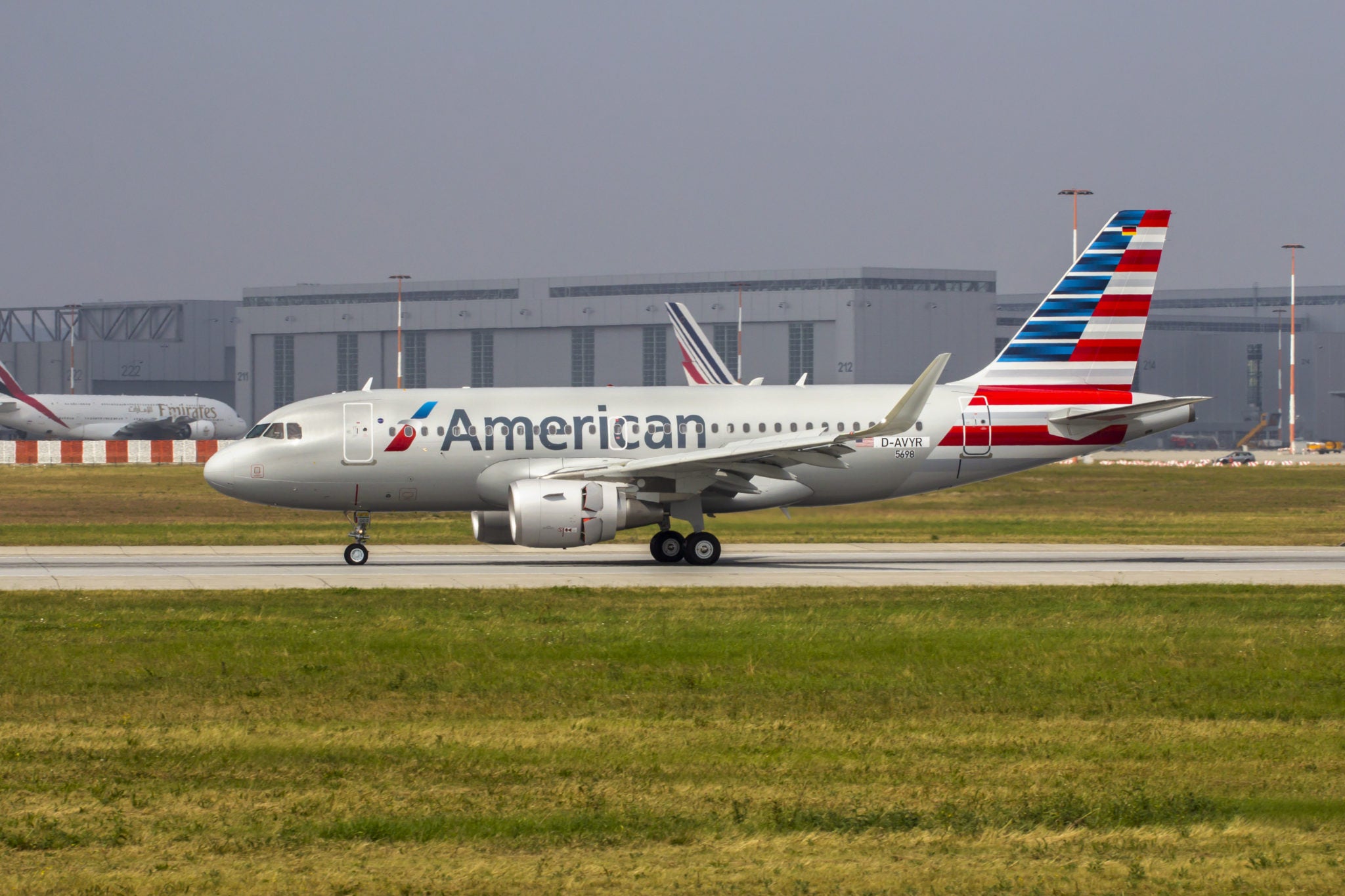 Have family and friends scattered around the U.S.? You can visit them on the cheap when you transfer your Membership Rewards points to British Airways Avios.
British Airways and American Airlines are both in the Oneworld alliance, so you can use your Avios to book tickets on any American Airlines flight with award space. In many cases, it's a better deal to book these tickets with Avios than American AAdvantage miles, too, since British Airways employs a distance-based award chart.
This means that your American Airlines award tickets will be priced based on the length of the flight. In the case of domestic U.S. awards, flights under 1,151 miles cost 9,000 Avios while flights between 1,152 and 2,000 miles cost 11,000 Avios. All domestic awards charge just $5.60 in taxes and fees.
This means that you can book a flight like Minneapolis (MSP) to New York (LGA) for just 9,000 Membership Rewards points and minimal taxes. This flight can be well over $300 one-way when booking at the last minute, giving you over 3.3 cents per point in value.
You can find American Airlines award tickets by searching on British Airways' website, so there's no need to call in to book.
Take Advantage of Flying Blue and Delta Award Sales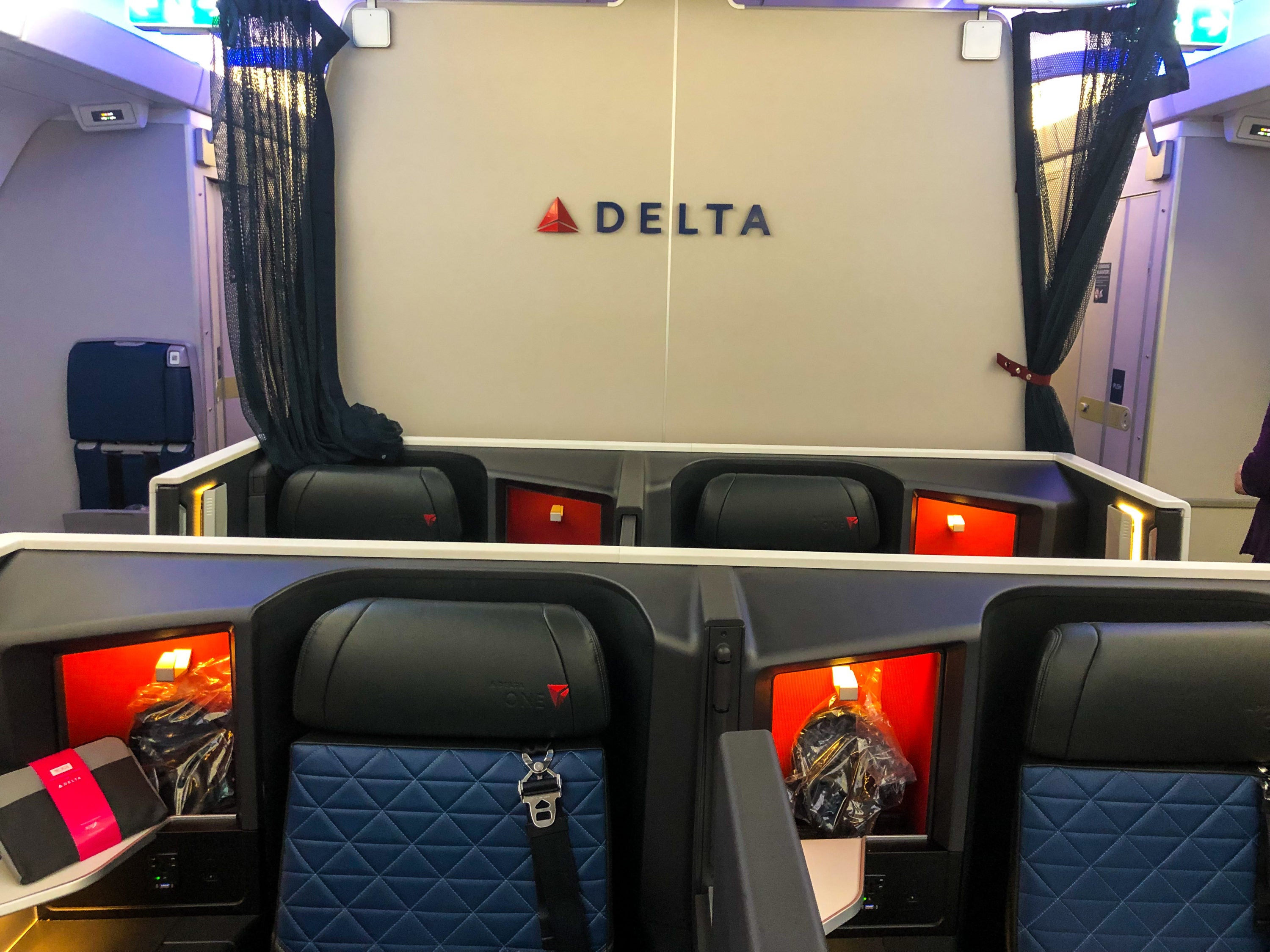 American Express transfer partners Air France/KLM Flying Blue and Delta Air Lines both run limited-time sales on their respective loyalty programs each month. These sales offer flights at a fraction of their usual cost — think 40,000 point redemptions to Europe in business class or 40,000 point redemptions to Asia round-trip in economy.
On the Flying Blue side of things, we see deals in international business class, premium economy, and economy awards every month. For example, last year we were able to book Toronto (YYZ) to Prague (PRG) via Amsterdam (AMS) for just 39,750 Flying Blue points one-way in business class.
Check out the Flying Blue Promo Rewards website for an up-to-date list of sales. Each award has a specific booking and flying window, with each award usually expiring at the end of the month the award was announced. New awards are released at the beginning of each month.
On the Delta side of things, the airline refers to its sales as SkyMiles Flash Deals. These are a mixed bag of domestic and international awards but are almost always in economy class. Some interesting deals we've seen in the past include 5,000-mile domestic rewards, 22,000-mile tickets to Europe, and 40,000-mile round-trips to Asia.
Keep an eye on the Delta SkyMiles Deals website for more info. We usually see new Deals released a few times per month with very limited booking windows, so act fast if you see something you like.
Book Expensive Hotel Rooms During Events
Dying to see the Super Bowl in person? Or maybe you want to head to New York City for a New Year's Eve celebration in Times Square? Regardless of the special event, hotel rooms can get insanely expensive during sporting events, large trade shows, party holidays, and other major events — especially at nicer properties.
Thankfully, though, you can transfer your Membership Rewards points to Choice Rewards, Hilton Honors, and Marriott Bonvoy at varying rates. While this usually isn't the best use of your miles, it can be a solid deal when hotel rooms are extremely expensive.
For example, at the time of writing this article, a night at the Hilton Times Square is $1,621 per room on New Year's Eve 2021. Alternatively, you can transfer 40,000 Membership Rewards points to 80,000 Hilton points, and book the night for just a $30 resort fee. This gives you an incredible 4 cents per point in value, almost twice our Membership Rewards valuation of 2.2 cents per point.
So, if you're traveling when hotels are expensive, make sure to check your points options. It could save you thousands of dollars in the process.
Final Thoughts
As you can see, there is no shortage of awesome ways to redeem your 100,000 Amex Platinum card welcome bonus. You have the choice of flying around the U.S., flying to Europe, or even taking an awesome business class excursion to Asia.
But no matter which redemption you run with, you'll have the ability to see the world in comfort at a fraction of the price of a paid ticket. And if you combine the 100,000 bonus with our other methods of earning Membership Rewards points, you can take a friend or family member with you, too!
But now it's your turn: how do you plan on using your Membership Rewards points? Let us know in the comments — we're excited to hear your thoughts!