ANA 777 Business Class Review – Los Angeles to Tokyo
Airline: All Nippon Airways (NH)
Aircraft: Boeing 777-300ER
Flight Number: NH 175
Route: Los Angeles (LAX) > Tokyo-Narita (NRT)
Date: March 3, 2019
Duration: 11 hours and 37 minutes
Cabin and Layout: ANA Business Class, 52-seat capacity across 13 rows, 1-2-1 configuration
Seat: 15A
Miles Used: 100,000 Virgin Points (ANA First Class returning to Los Angeles)
Taxes and Fees Paid: $176.17 USD
Typical Retail Cost: ~$3,071 USD
Typical Economy Cost: ~$605 USD
Booking ANA Business Class
Japan isn't a foreign destination for me. I'm based in Los Angeles, but in the last 6 months, I've visited there twice. The first time, I flew with my dad in November 2018 in Japan Airlines business class.
Then, I booked a trip with my mom in March 2019, because she wanted to visit Japan as well. I planned a 12 day trip to Japan and Indonesia for us — it was an adventure.
Since I'd already flown on Japan Airlines' business and first class, I thought, "why not try ANA's business and first class?" So, I booked the outbound tickets in business class and inbound tickets in first class.
I used Virgin Atlantic to book the award ticket in September 2018 for a March 2019 flight, so it was significantly in advance. Even still, I considered myself lucky to find first class availability on such a popular route. After finding the seats I wanted, I called Virgin Atlantic to book the ticket.
Virgin Atlantic offers the best first class redemptions to Japan. At only 110,000 miles plus $300 in taxes and fees for a round-trip first-class ticket from the West Coast, it's a pretty good deal. The same ticket in business class costs 90,000 miles.
Hot Tip: The main restriction compared to United Airlines is that you can only book round-trip flights with ANA. However, the round-trip flight can be a mixed-cabin award.
For one leg in business class and the returning leg in first class, you simply take half of the round-trip costs and add it up. In my case, the round-trip ticket cost 100,000 Virgin Points.
I transferred 200,000 Chase Ultimate Rewards points to Virgin Atlantic to book the tickets for my mom and myself.
Star Alliance Business Class Lounge at LAX
ANA is a Star Alliance partner, so if you're flying in business class on any Star Alliance carrier, you're entitled to access the business class lounge at LAX.
This is one of the best business class lounges in the world, and I'm somewhat disappointed to report that despite having been to the lounge 10 or more times, I don't have any usable pictures. I guess it's because I've been so many times that I never think much about reviewing it.
Rest assured, however, that a review of the Star Alliance Business Class Lounge at LAX is coming soon. And, it's well worth a visit if you have access.
But, let's get to the real reason we're here: ANA business class to Japan!
Flight
The boarding process with any Japanese airline is phenomenal. They're always on time and efficient with the entire boarding procedure. When we boarded, we entered through the business class boarding doors.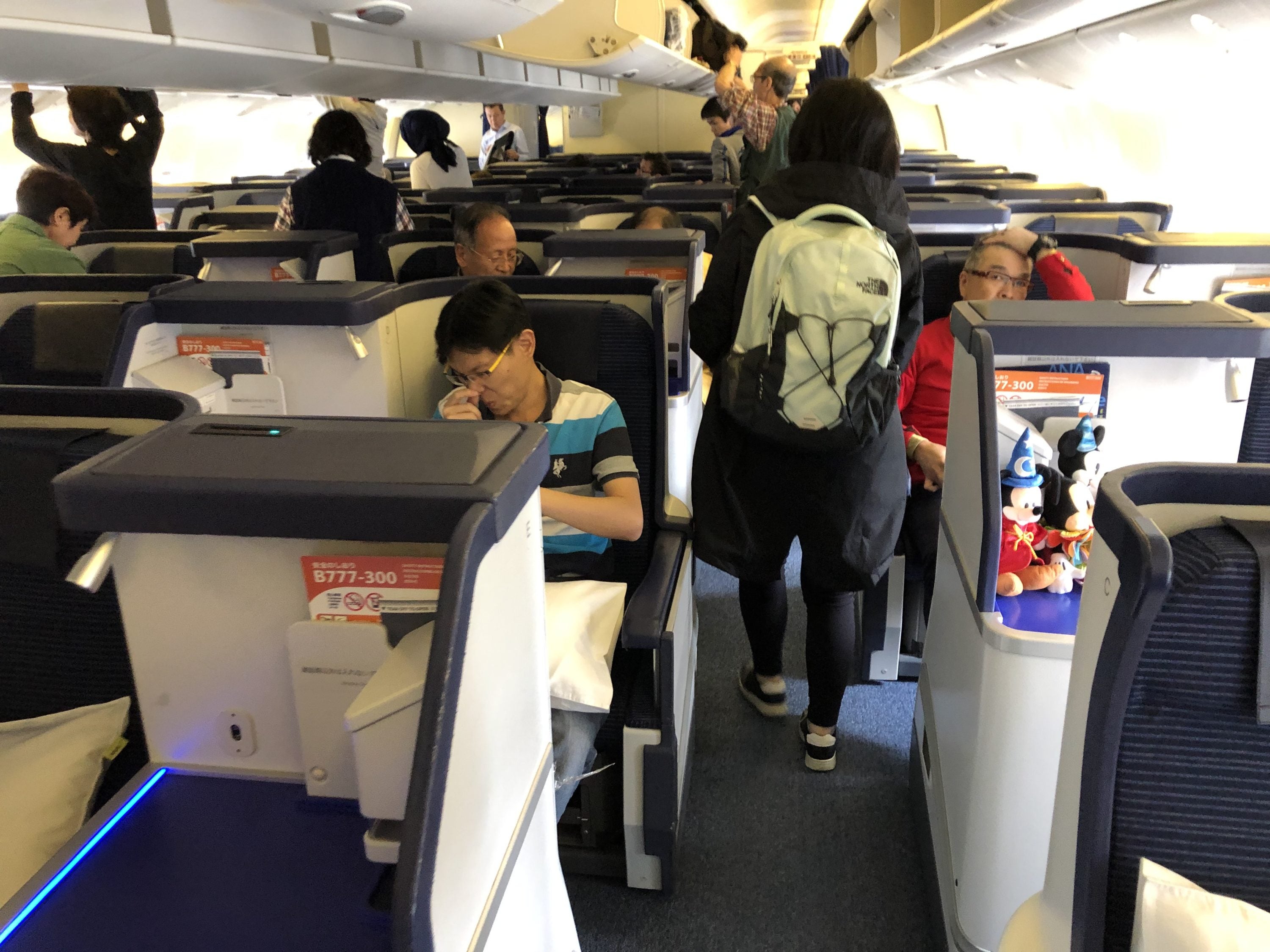 There are 52 seats spread out across 13 rows. There were 2 rows by themselves in the front of the aircraft, which we'll call the mini-cabin. These are among the most coveted seats due to their private feel.
I reserved a pair of window seats for my mom and myself, and I was seated in 15A. Overall, I'd say that the business class section was approximately 80% full.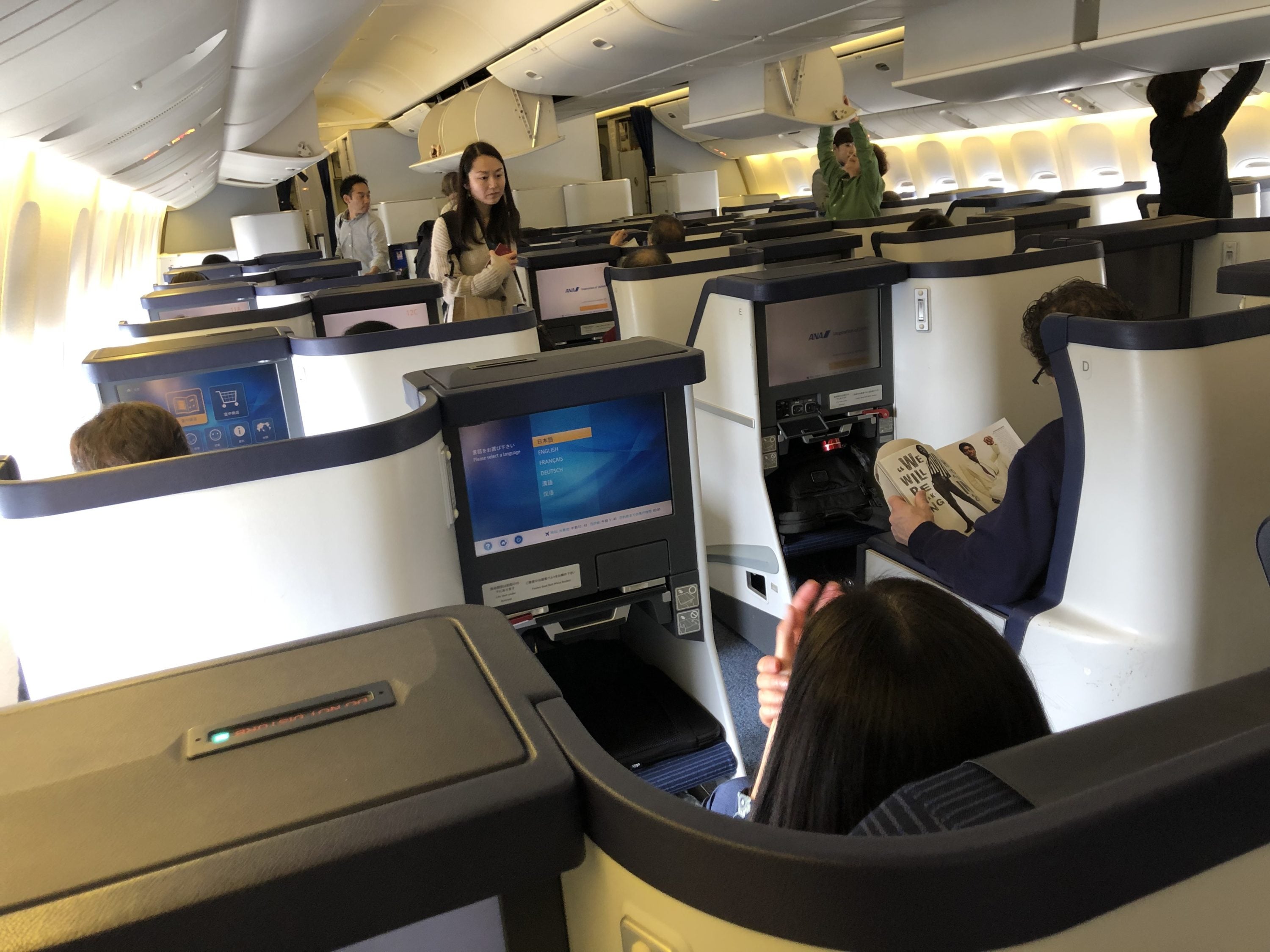 ANA Business Class Seat
The window seats are particularly private due to the arm table separating the aisle from the seat. The Boeing 777-300ER from ANA has two main cabin layouts: premium-heavy and premium-light. We flew on the premium-light configuration.
Hot Tip: Want to get the gist on which cities ANA operates flights from? Check out our definitive guide on ANA U.S. routes.
The seats themselves are business class staggered seats with direct aisle access and fully lie-flat capabilities. The seats are arranged in a 1-2-1 configuration.
You get quite a bit of personal space with these business class seats. The side table is around 18 inches across, giving you plenty of room to store personal items close at hand.
In addition, you get a cup holder, reading light, and a smaller, lipped storage compartment. Lastly, the literature compartment is located right next to the storage compartment.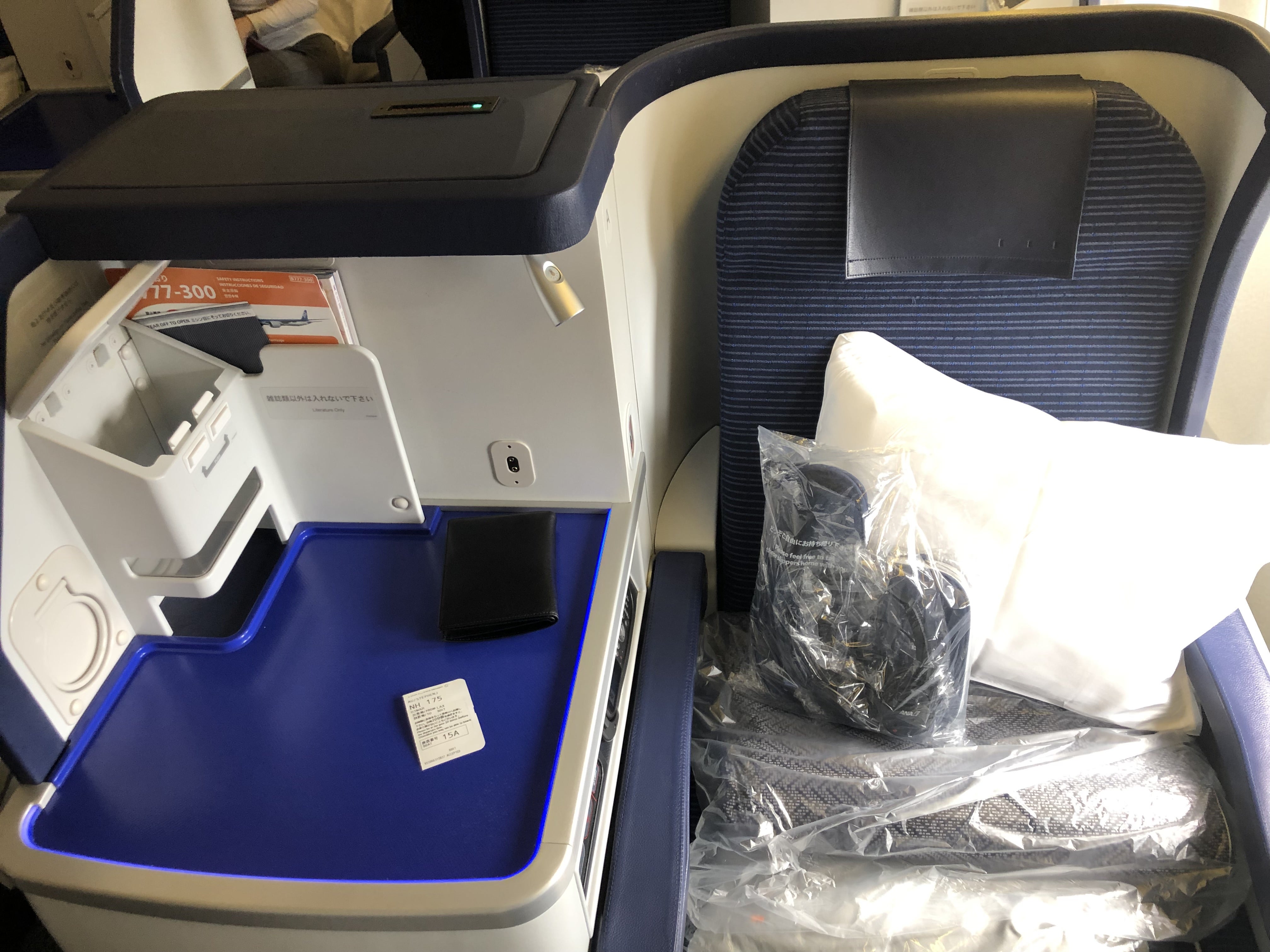 Waiting at my seat was a pillow, anti-slip mattress topper, light blanket, and amenity kit.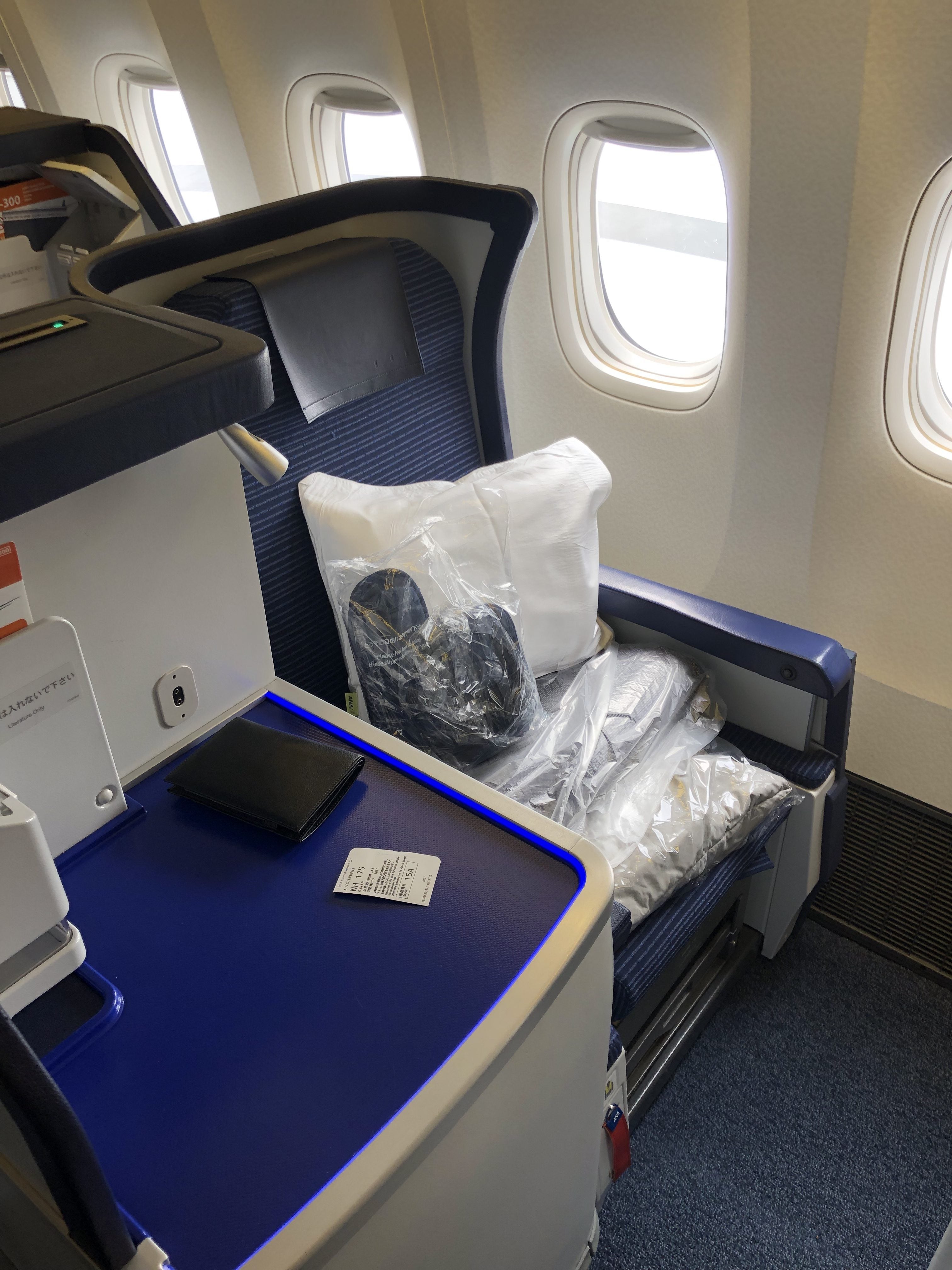 As for the seats themselves, they measure 21 inches wide and 62 inches in pitch. There was a large footwell and a shoe storage compartment underneath the footwell.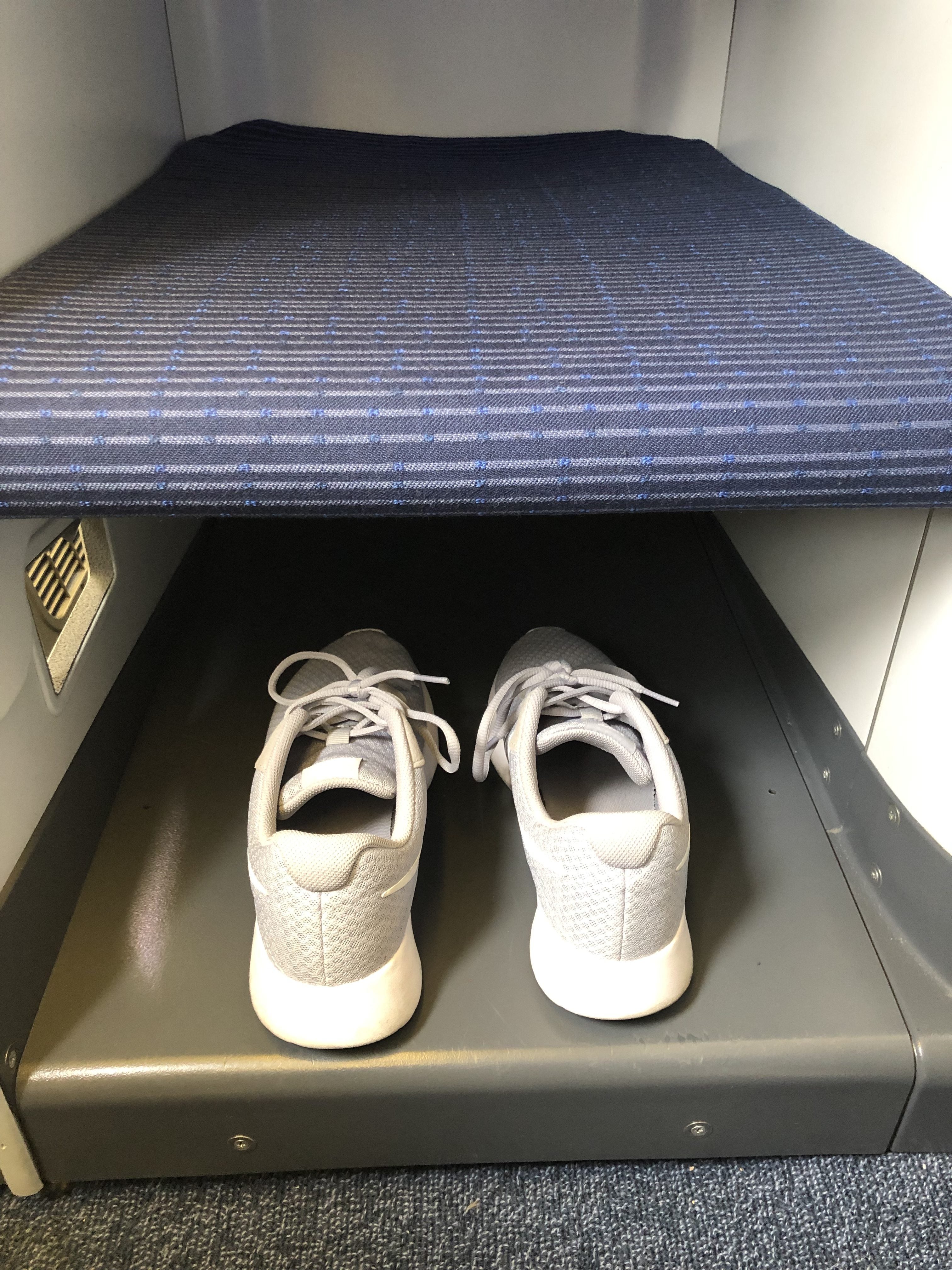 I'm always intrigued by the design factors that airlines put into premium cabin seats. I loved the fact that ANA's tray table was a slide-out design, hidden just above the footwell. This made eating and relaxing a seamless experience. No complicated fold-out armrest trays on ANA.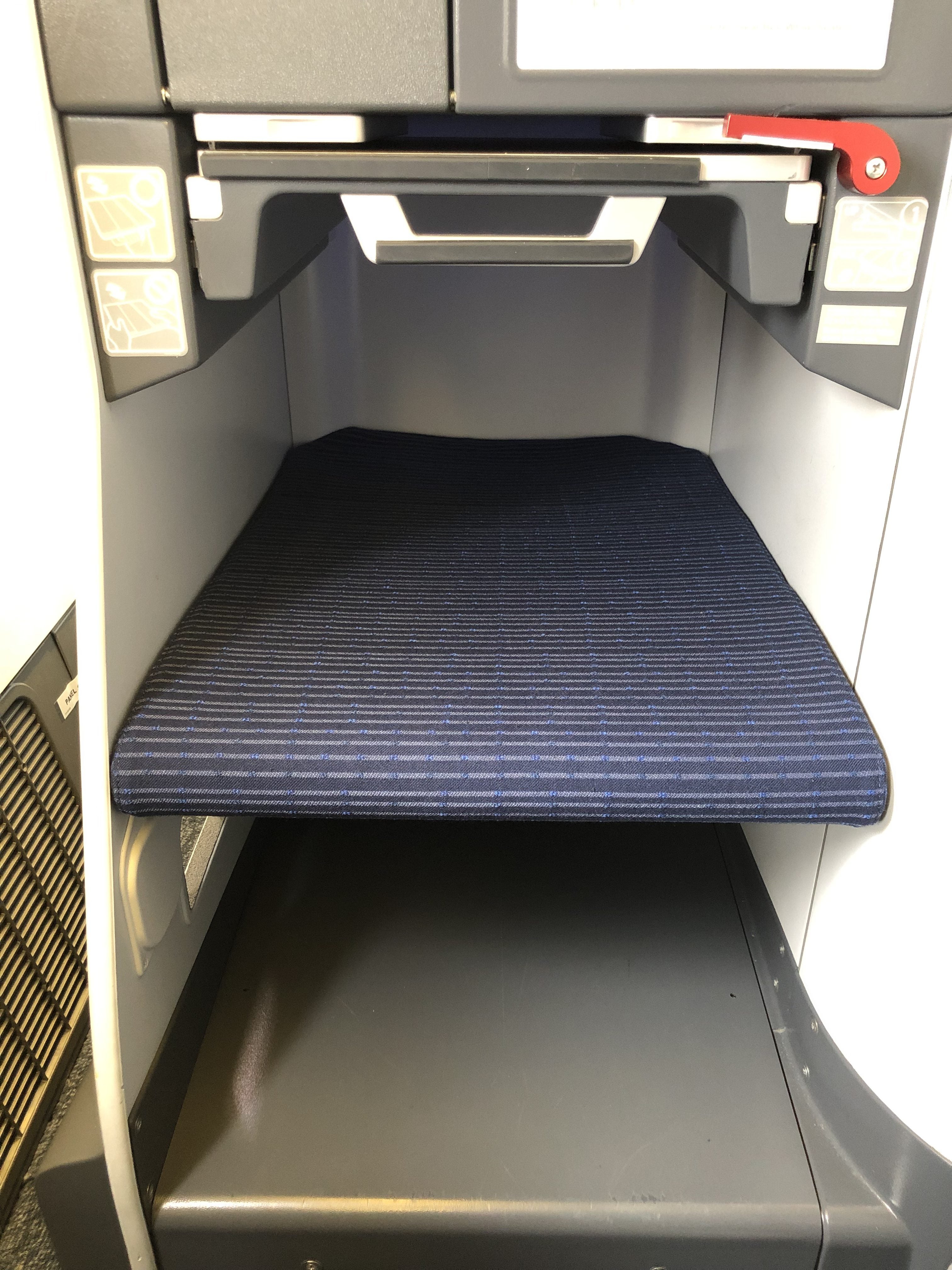 One unique thing you'll notice is the "do not disturb" button. Once this button is pressed, a light at the top of your side table will illuminate, signaling to the flight attendants that you want privacy.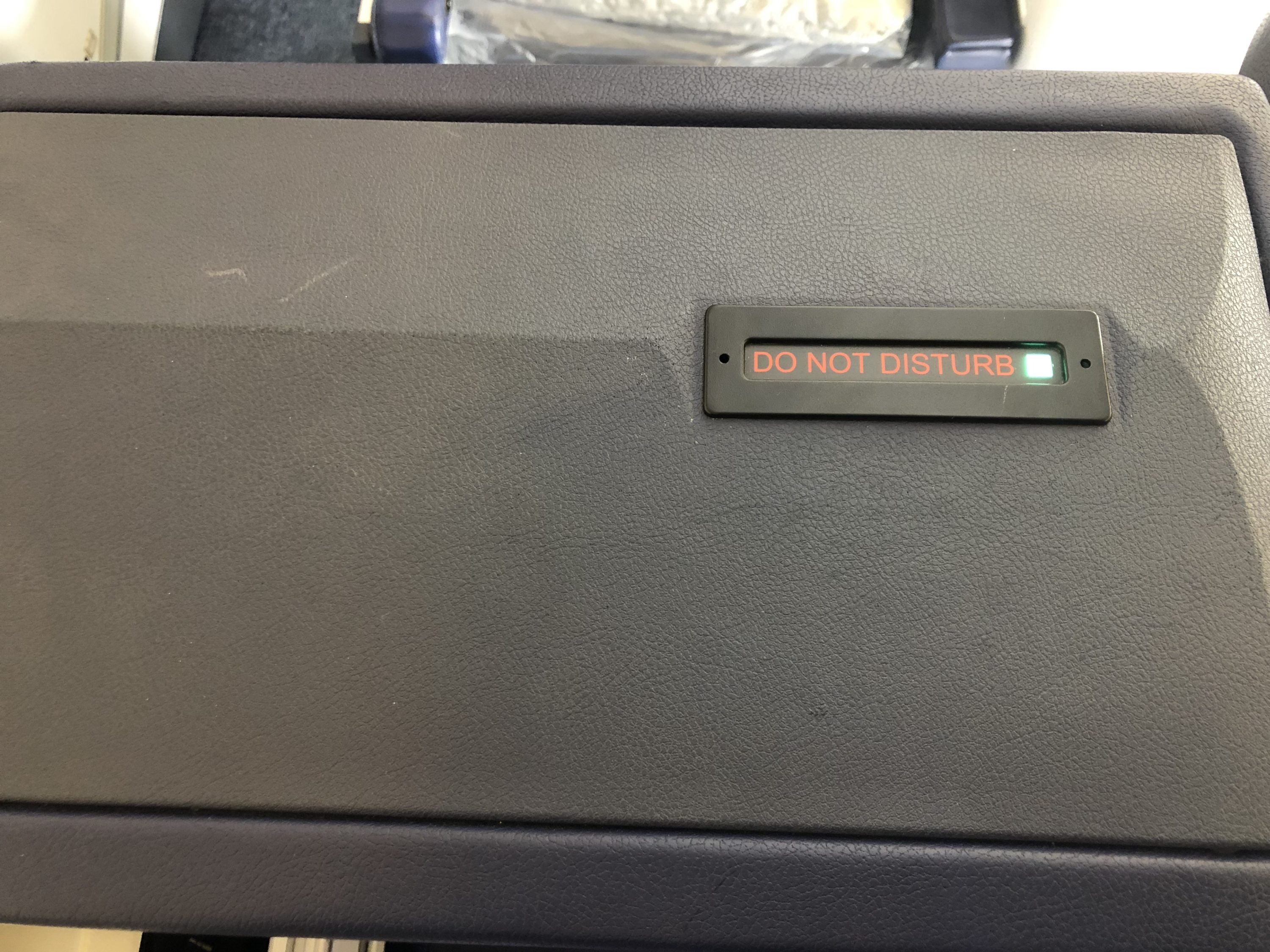 This functionality is a welcome feature to business class, which I've personally only experienced here and on Singapore Airlines.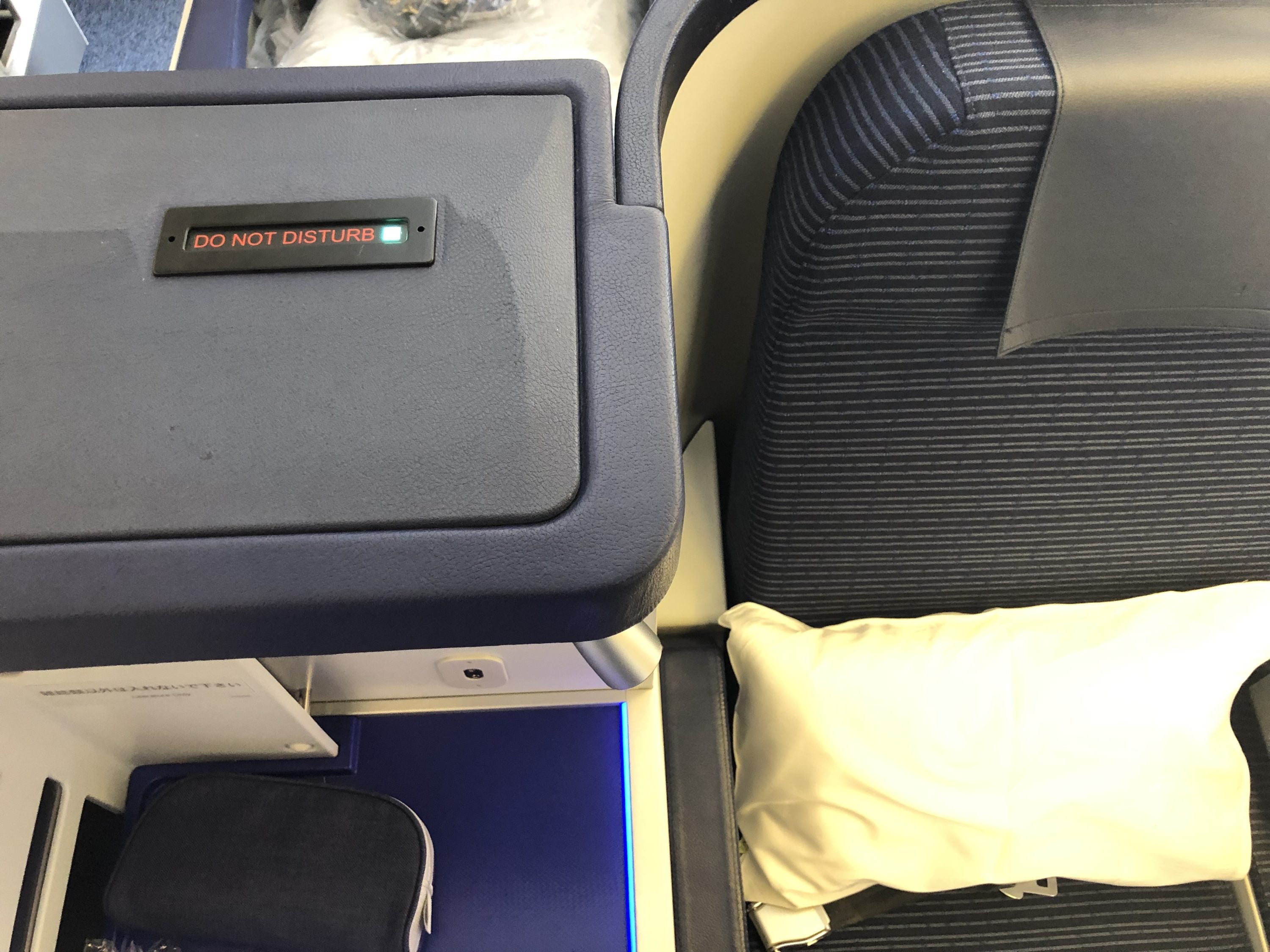 I continued to explore my seat and found a nifty coat hanger for my jacket.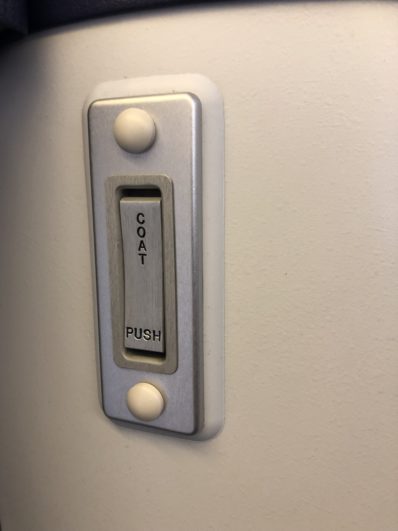 ANA also provides each flyer with a set of noise-canceling headphones for during the flight. Each seat comes equipped with a headphone jack to put those to good use.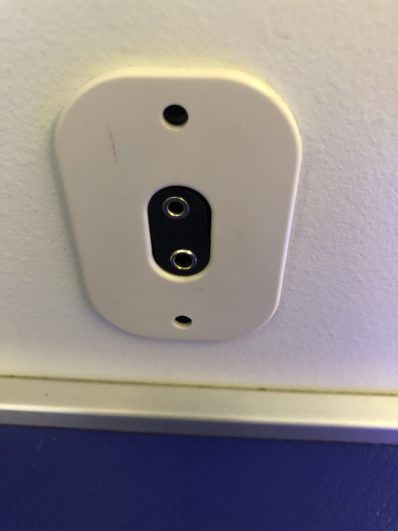 One of the best qualities of business class is the ability to recline your seat all the way back to create a bed. Simply push the button and you'll find yourself fully reclined and ready to sleep.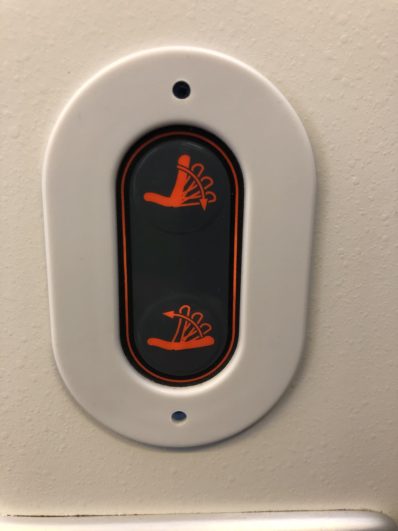 Interestingly, I also found a switch that turned on and off a footwell light.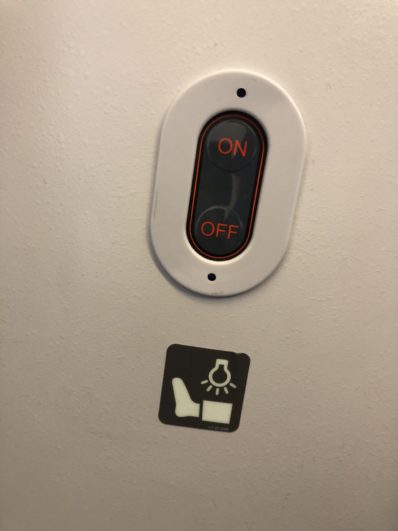 I also found a charging area for USB devices, a universal power outlet, and even an outlet for an iPod cable.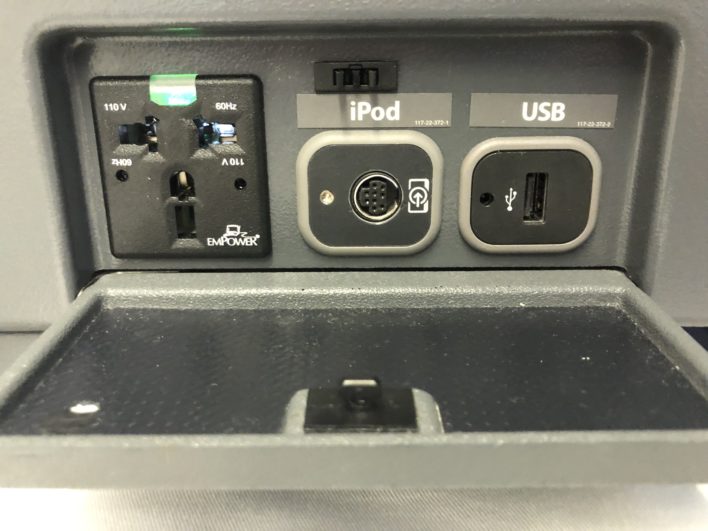 I measured the in-flight monitors, which were right around 18 inches in diagonal length. This is small compared to Japan Airlines, which boasts a huge 23-inch monitor.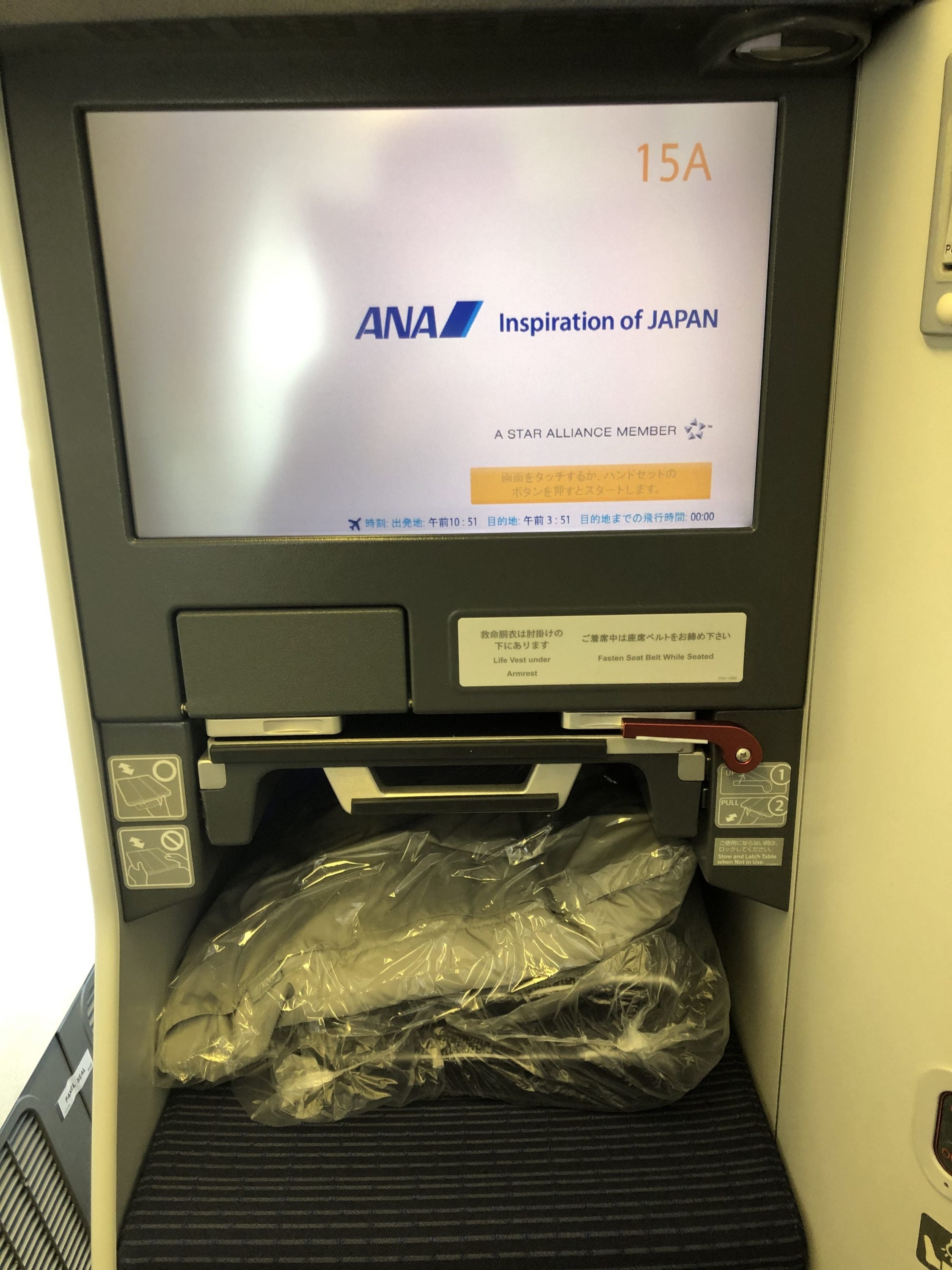 The monitor was decently crisp but had a bit of glare when exposed to sunlight.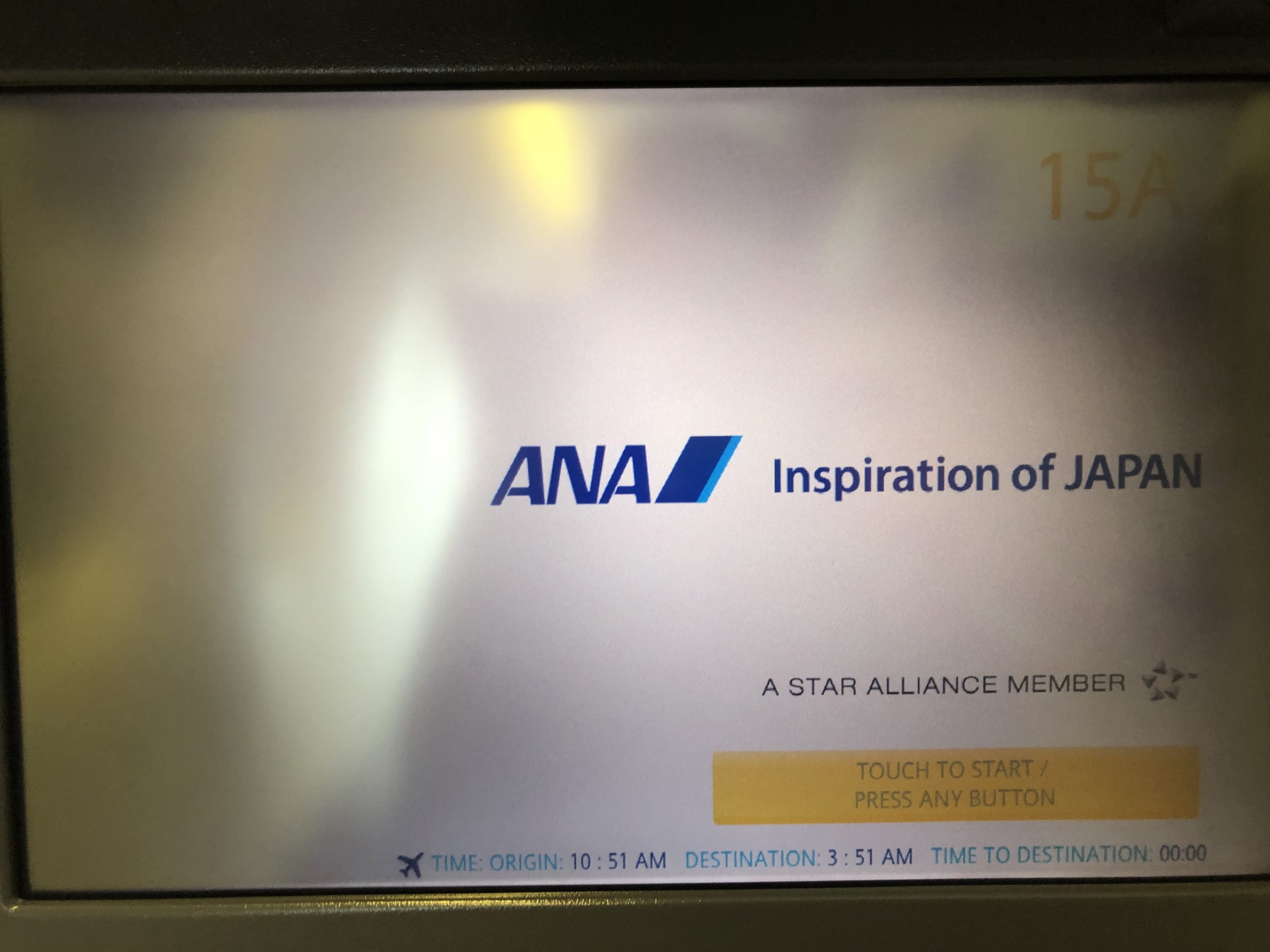 After I was done exploring the hard product, I relaxed and began to unwind in my seat.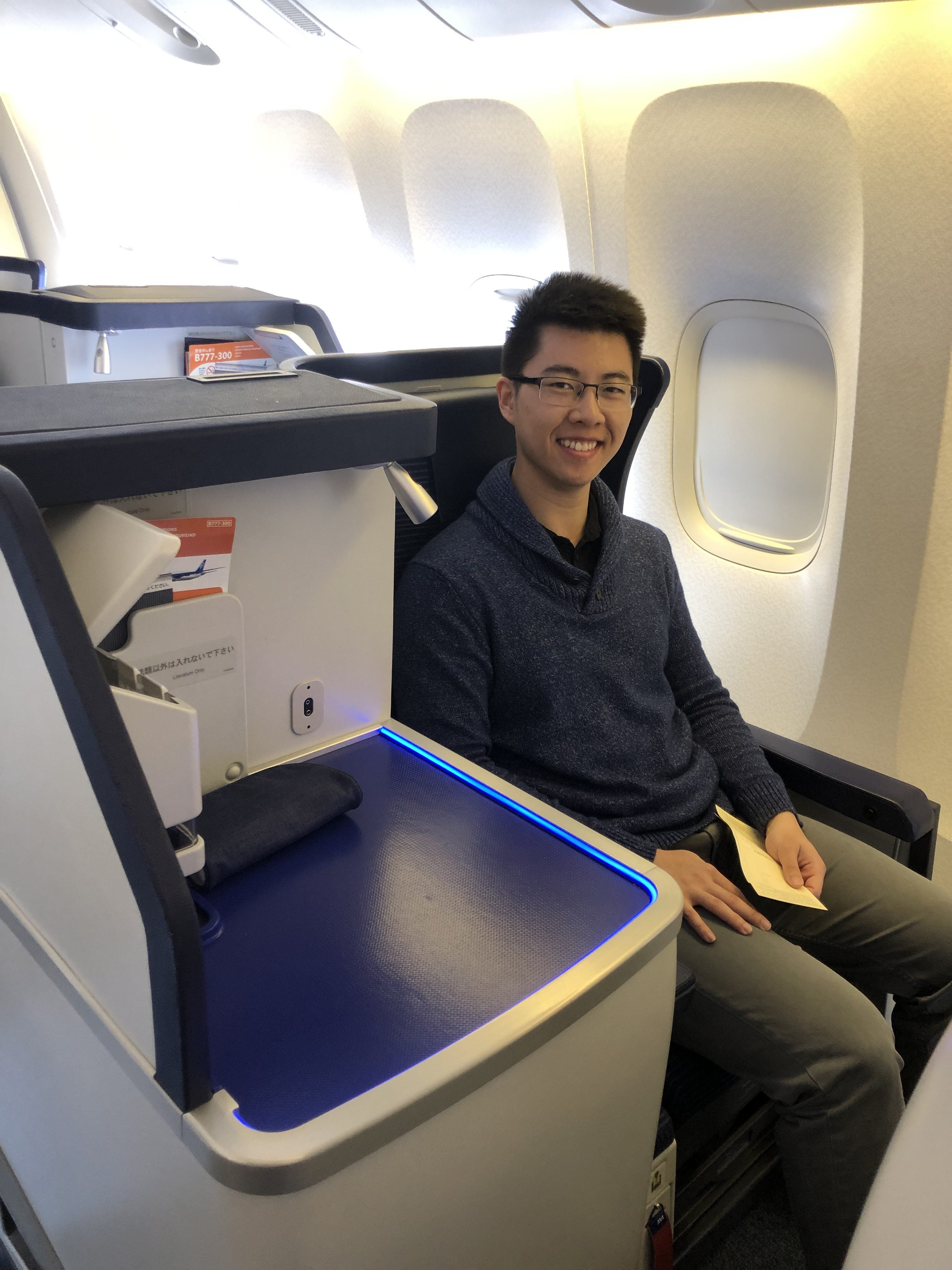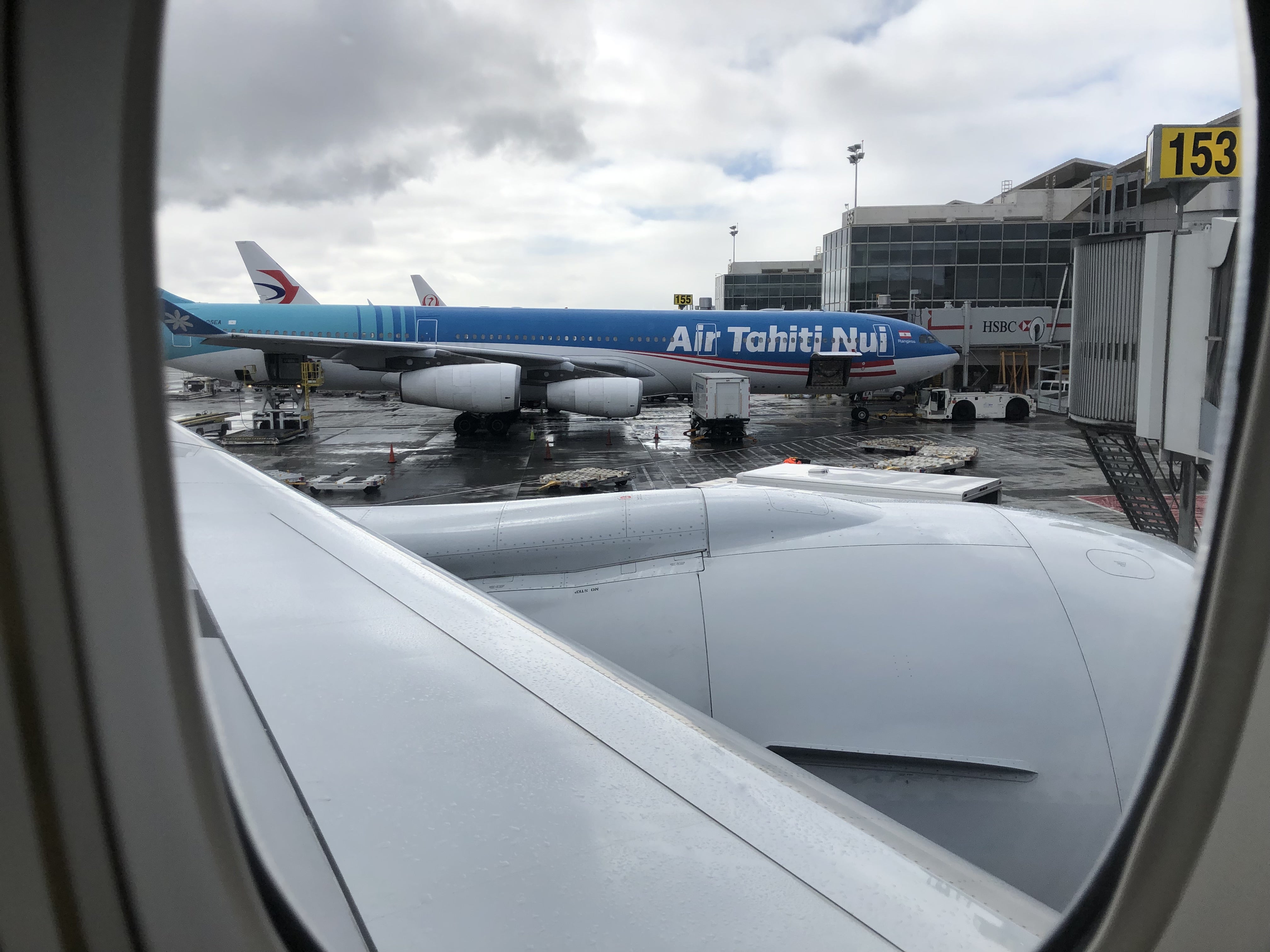 When it was time to sleep, I asked the flight attendant to help me make the bed. She laid out the Nishikawa's Air Cyclone® mattress pad. This was very breathable and prevented slipping.
On top she added a cozy down comforter and pillow, resulting in a beautifully made bed that set the tone for a comfy slumber. All in all, the bed length was approximately 76 inches, and I slept soundly for around 4 hours.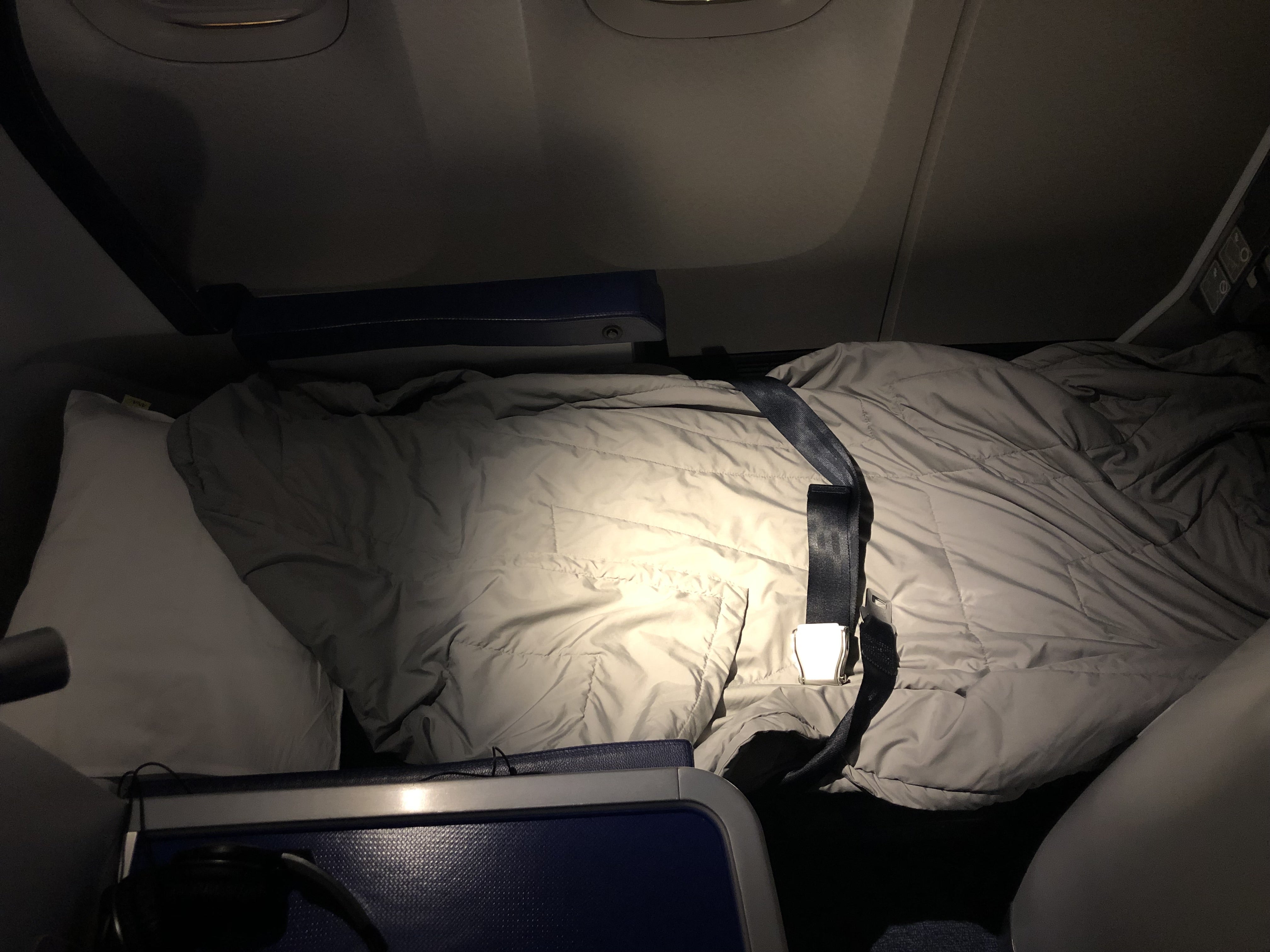 I love flying to Japan because the time zone difference is 17 hours. This means that a 12-hour flight in the middle of the day with a long nap prevents any jet lag.
ANA Business Class Amenities
When I got to my seat, I unwrapped the amenities kit like a child opening Christmas presents.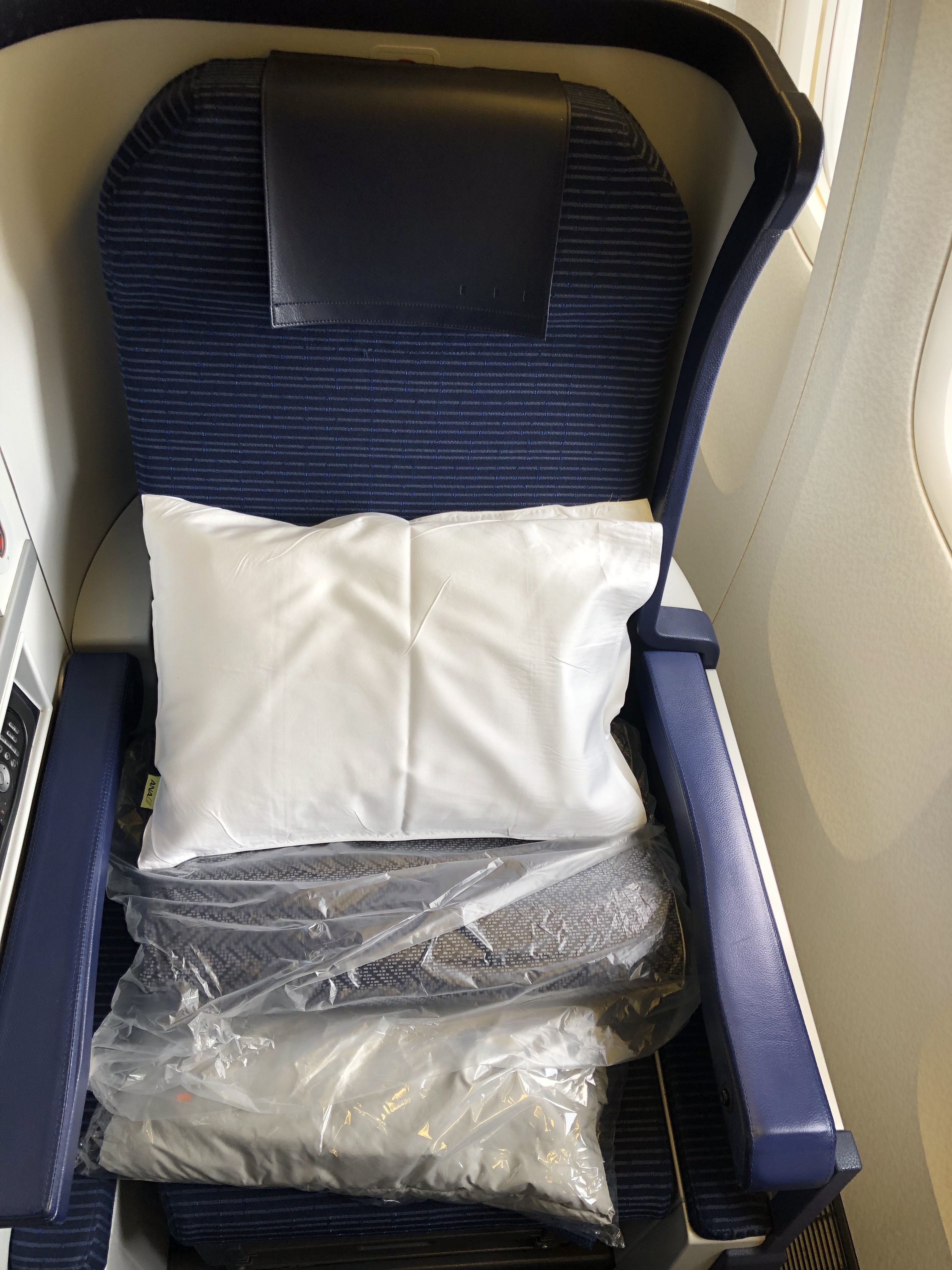 The amenities kit was provided by Neal's Yard, a UK-based cosmetics and skin care company.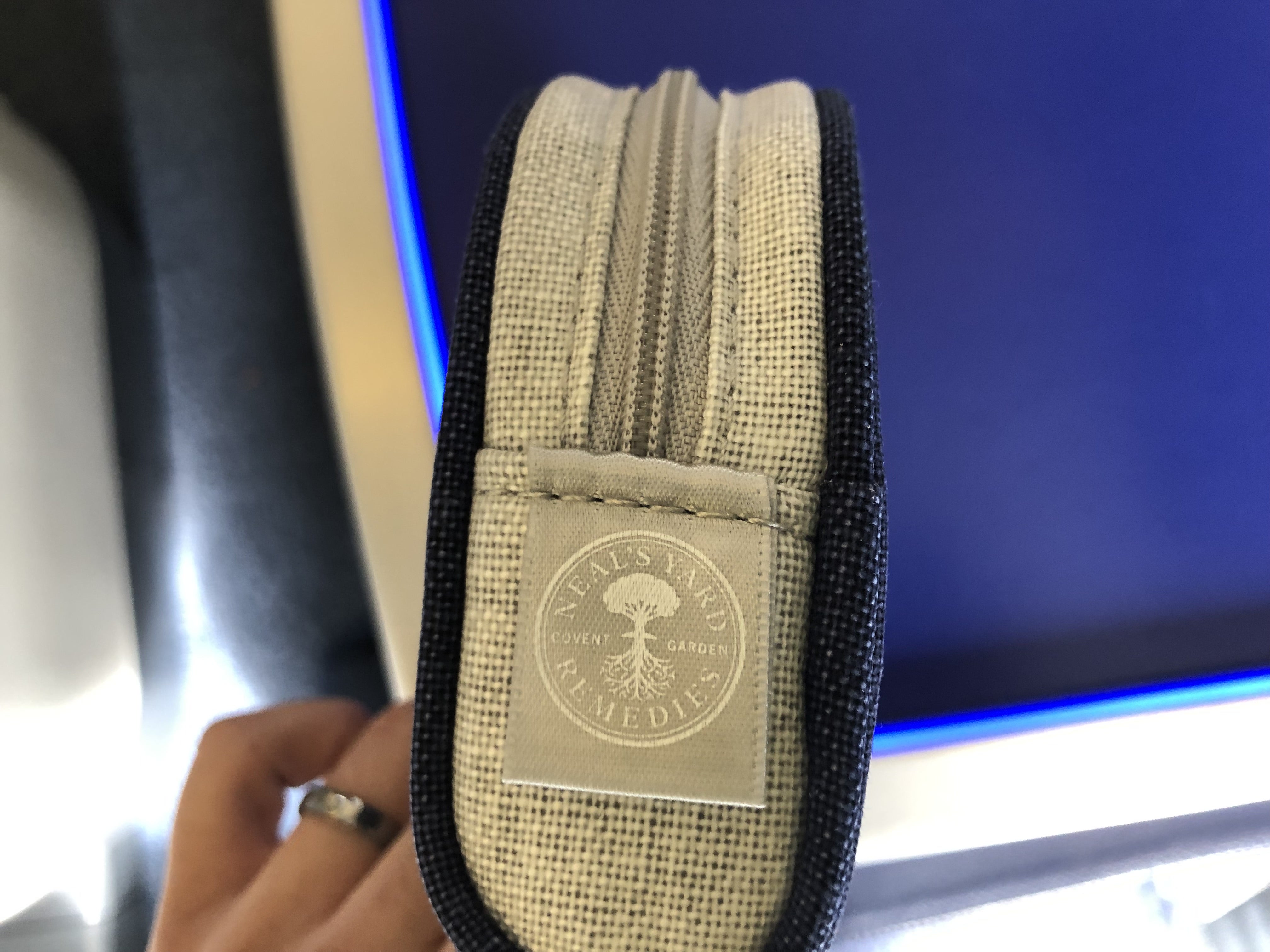 The kit itself was average, though it's definitely a welcome change from the ordinary L'Occitane amenity kits that far too many airlines offer in business and first class.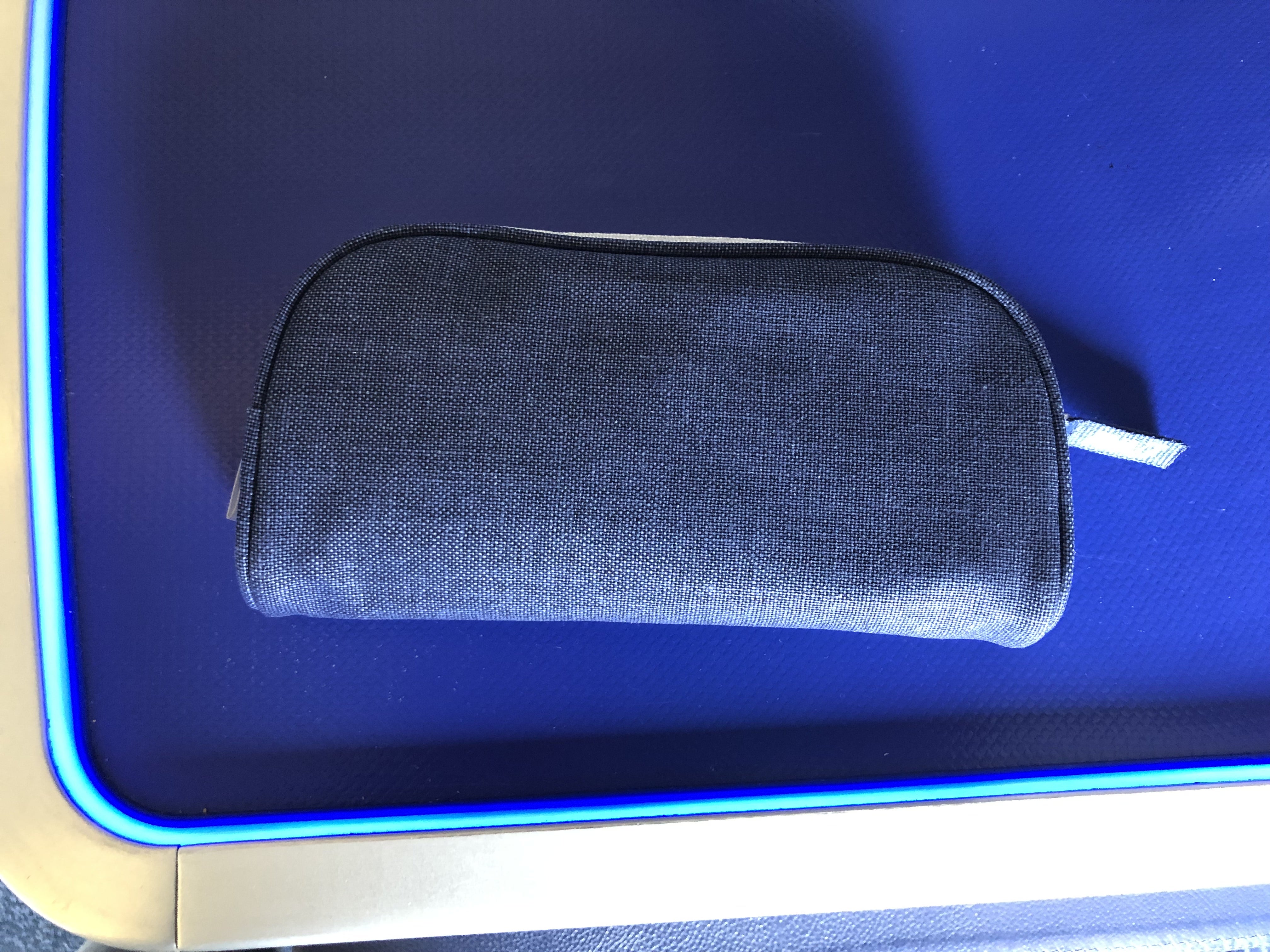 The kit itself had a traditional pencil case shape, but what did impress me were the contents. Inside the amenity kit was a sleep mask, toothbrush and toothpaste kit, earplugs, and some lovely Neal's Yard skincare items.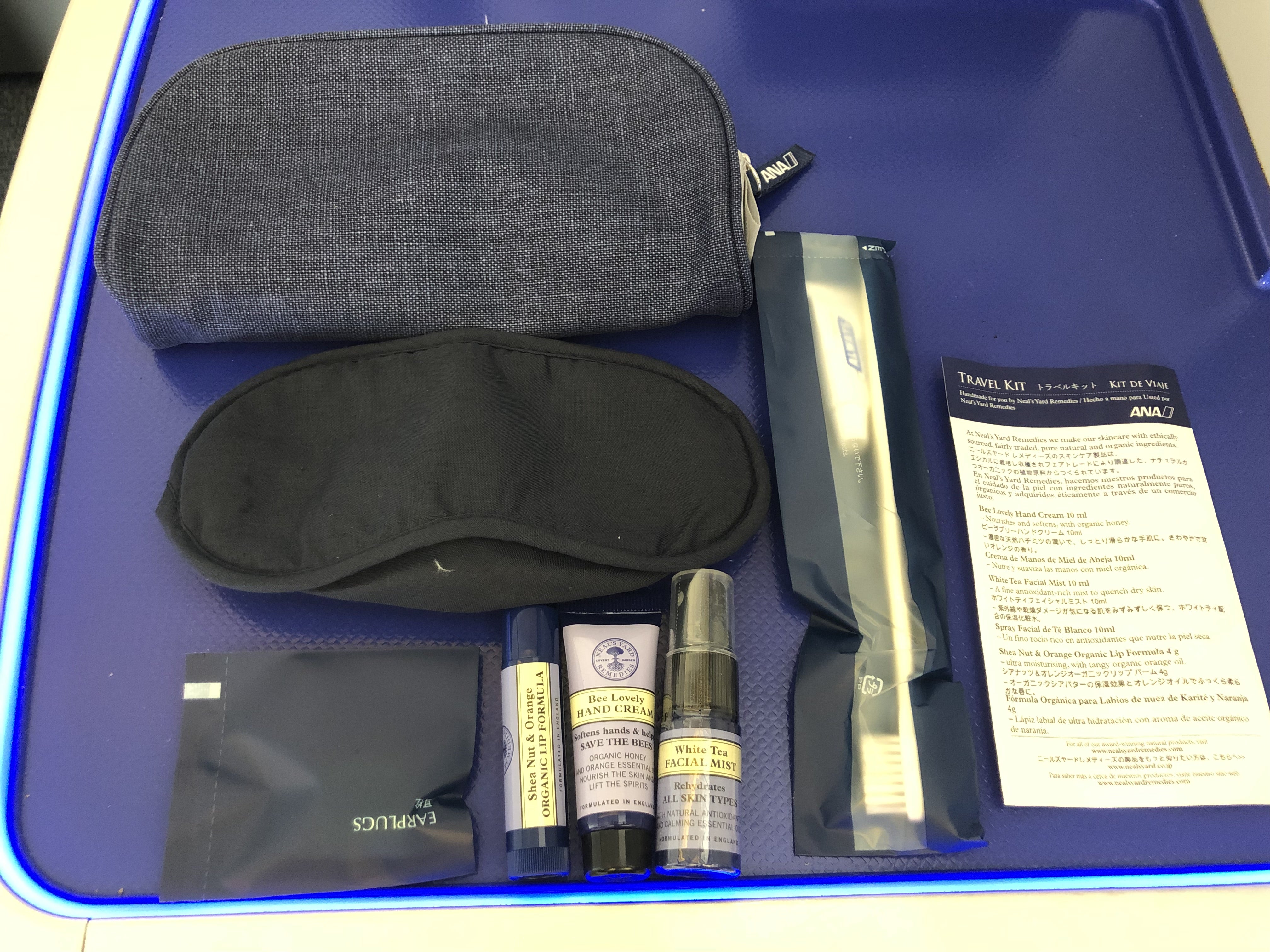 The Neal's Yard amenities were awesome. It included a shea nut and orange lip balm, honey hand cream, and a white tea facial mist spray.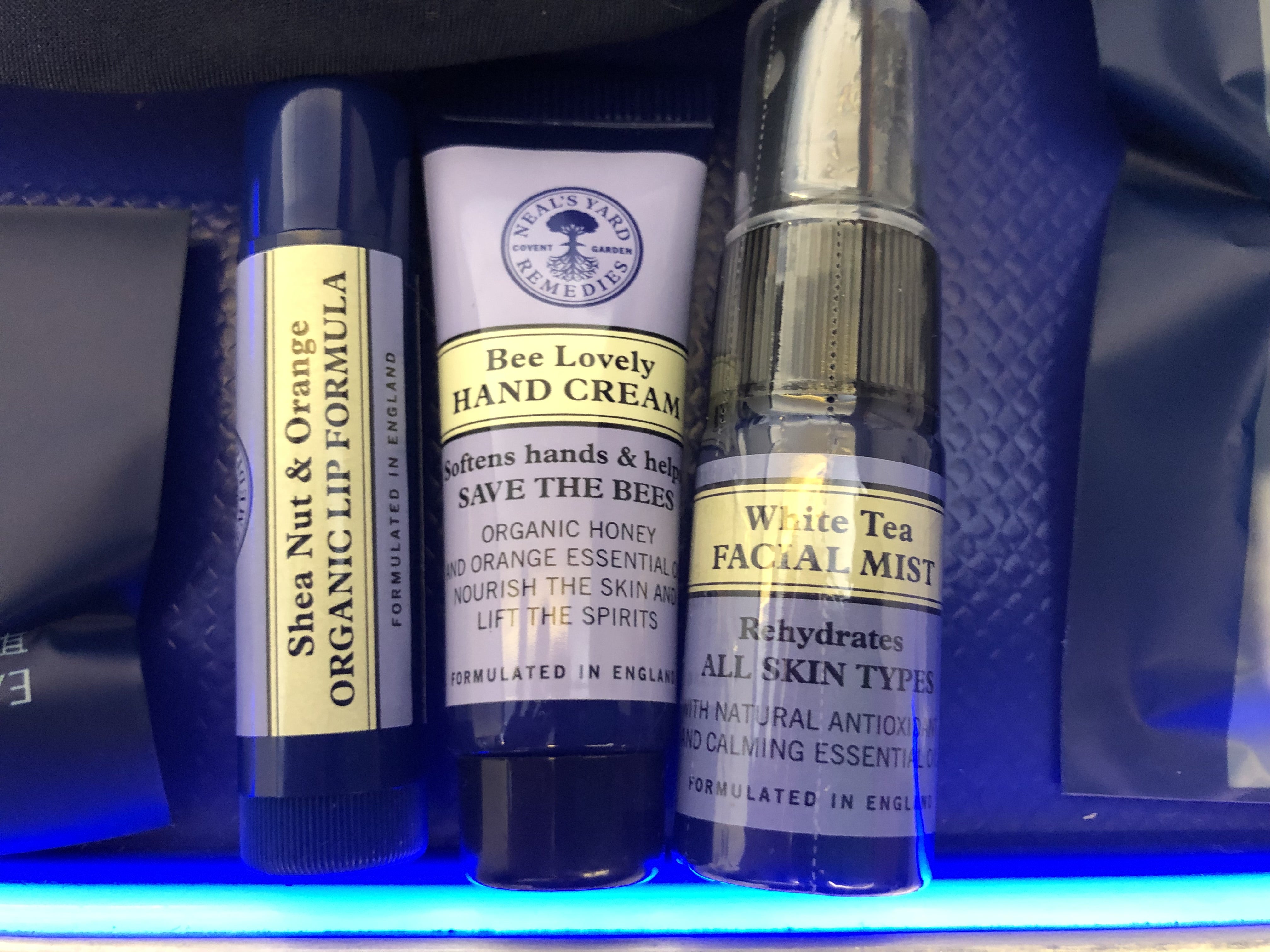 In addition to the amenities kit, we also received slippers and a small shoe horn for our in-flight comfort. I'm a slipper and amenity kit enthusiast, so having these is a welcome addition to my collection.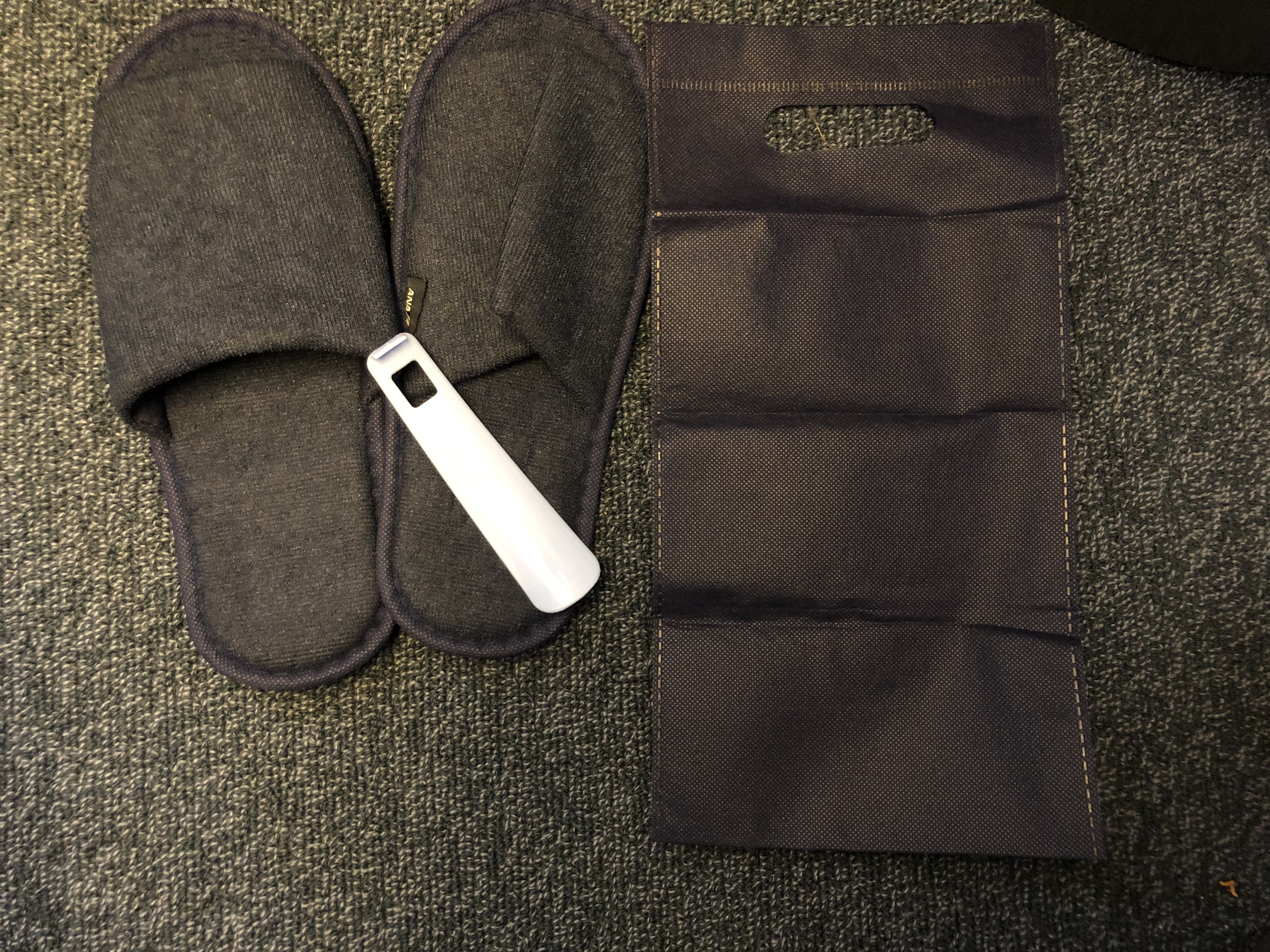 After departing Los Angeles, I was ready to explore the in-flight bar. The bar included 4 bottles of self-serve wine and some additional amenities. Guess who took more eye masks? 🙂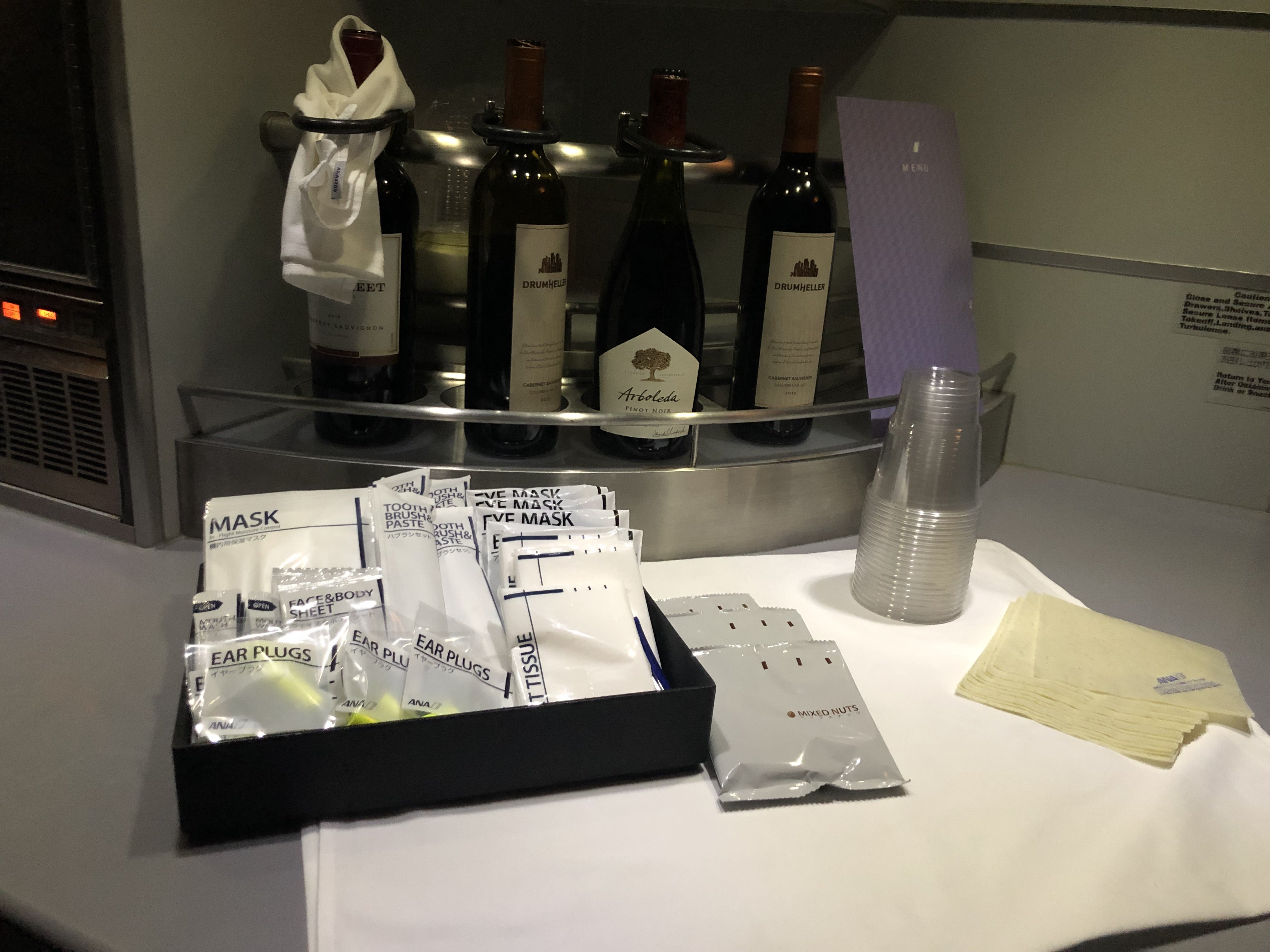 We were provided with a light blanket for lounging. This particular blanket was quite thick.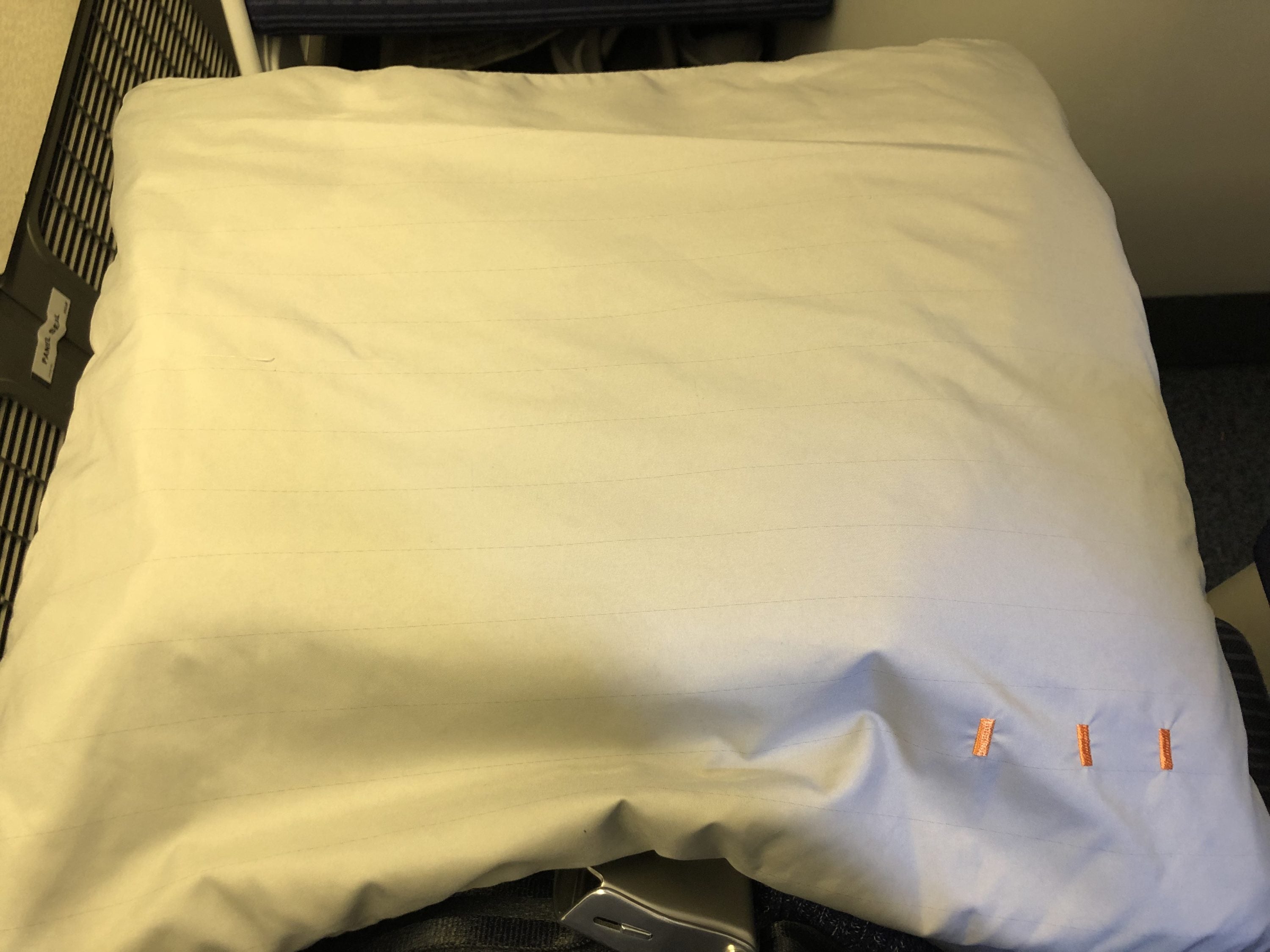 I immediately unwrapped the noise-canceling headphones, which were on-ear as opposed to over-ear. They were decent enough, and since I forgot to bring my Bose QuietComfort 35 headphones, these saved the day.
Noise-canceling headphones provided by ANA to business class travelers.
All in all, if I had to compare the amenities to Japan Airlines, which ANA is rivals with, I'd say that ANA's business class amenities edged out over Japan Airlines.
Food and Beverage
Let me be straightforward: I'm a lifelong foodie lucky enough to have had meals at over 25 Michelin star-rated restaurants. I love food. And, I admire Japanese food for the incredibly refined cuisine it is.
Unfortunately, airplane food has a reputation for being inedible. So, I was hungry to taste if ANA's business class dining lived up to the challenge of Japan Airlines.
How do these two match up? I would say that ANA's meals are on par with Japan Airlines' food. However, I think that the snacks on Japan Airlines are superior to those on ANA. All in all, I wouldn't hesitate to eat a meal with either airline again, but I would personally give a slight edge to Japan Airlines.
So, let's get down to the details.
I started the flight with a glass of champagne.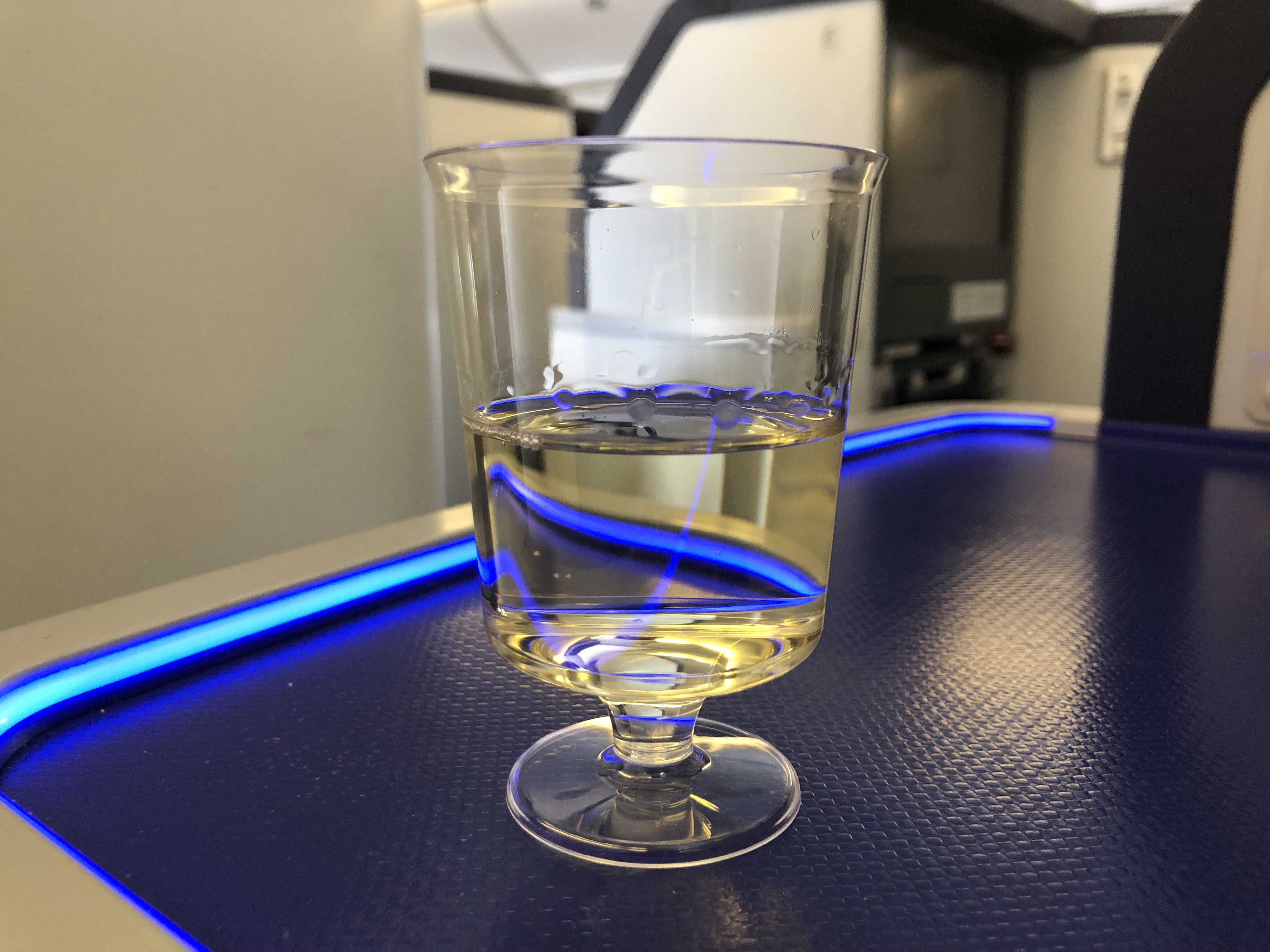 After departure and when the seat belt signs were turned off, ANA began their meal service. ANA coins their meal service The Connoisseurs.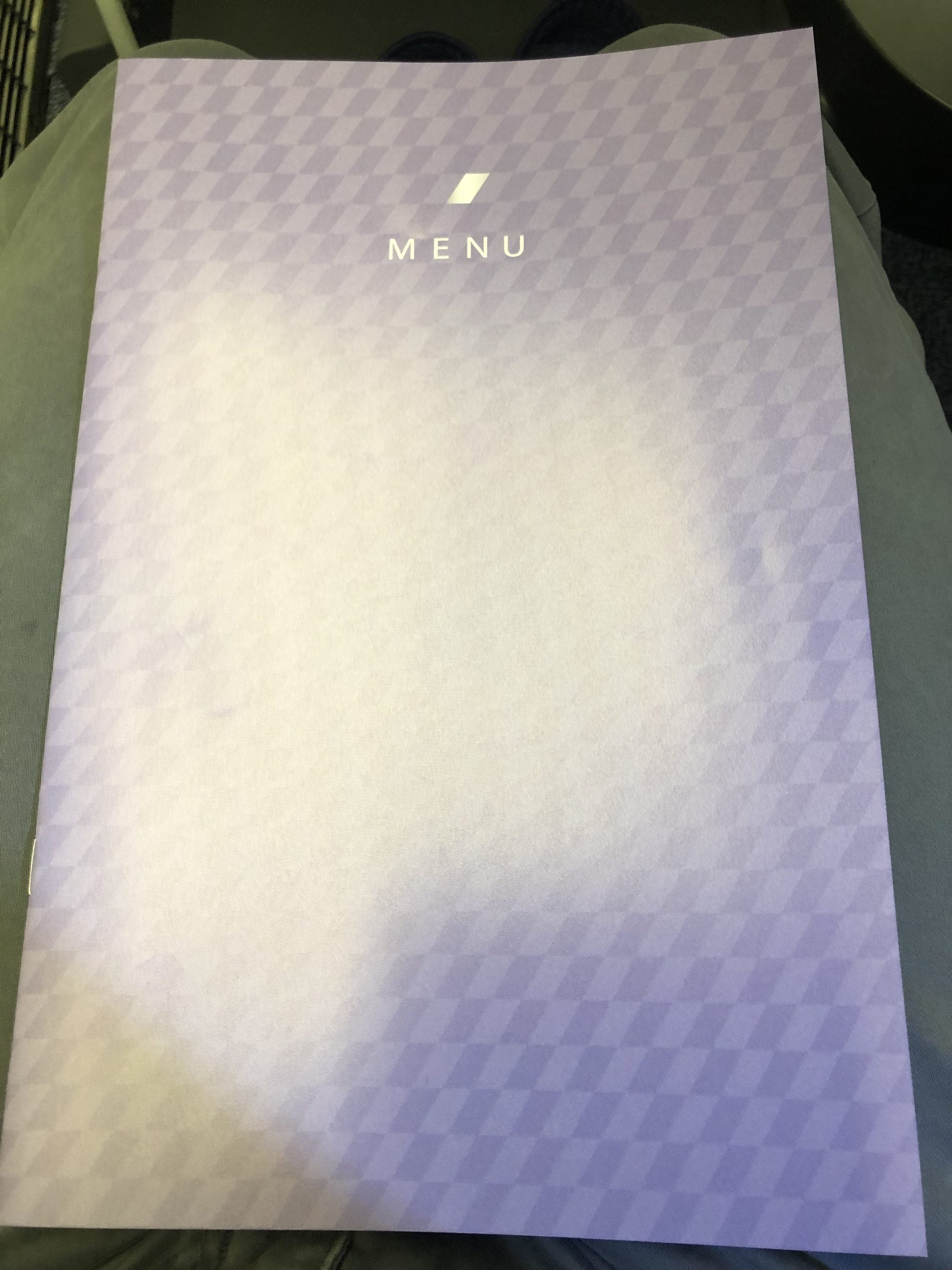 ANA's food and beverage team consists of 18 world-famous chefs, which is very impressive.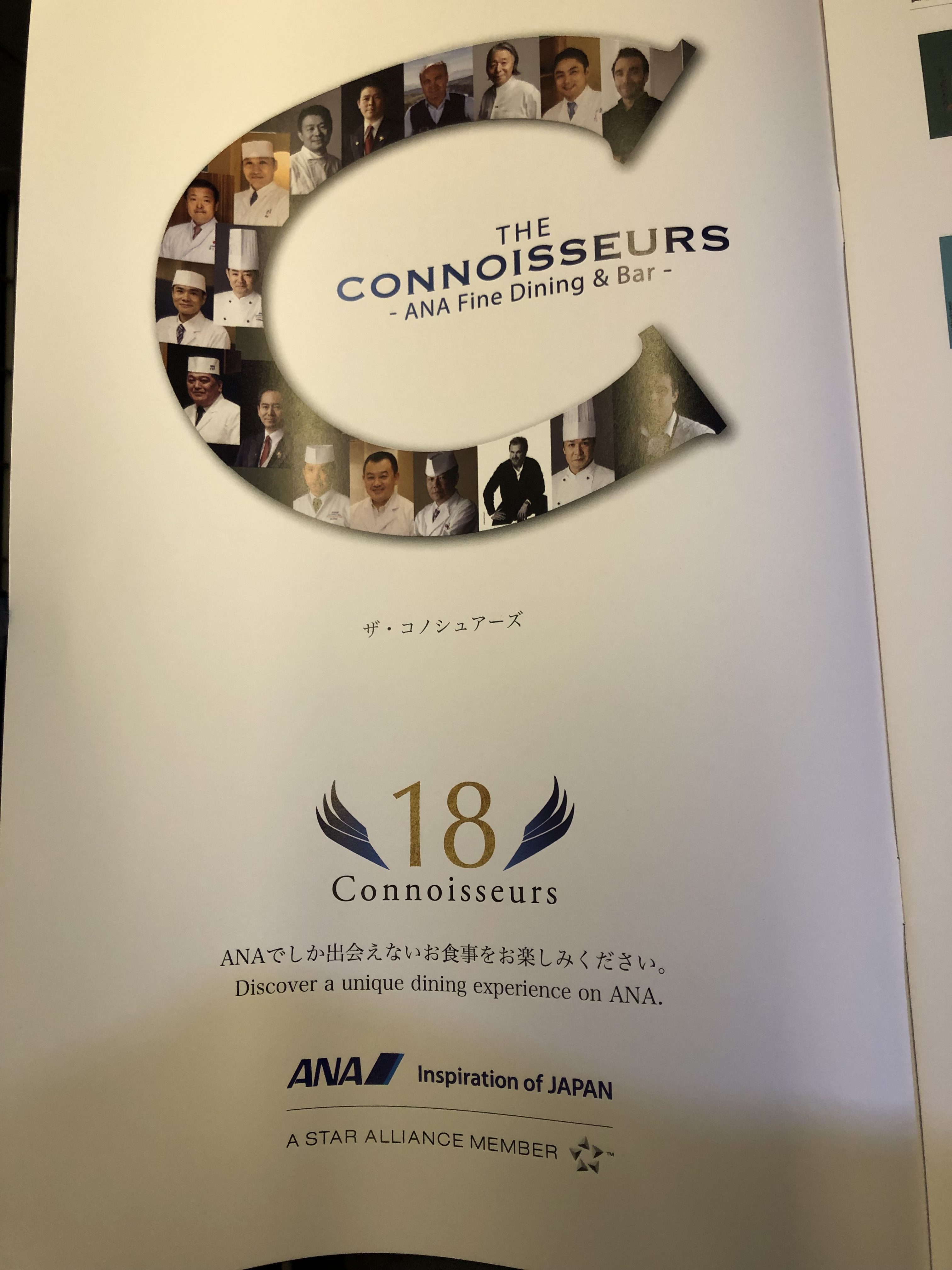 First up was ANA's sake, shochu, and umeshu offerings.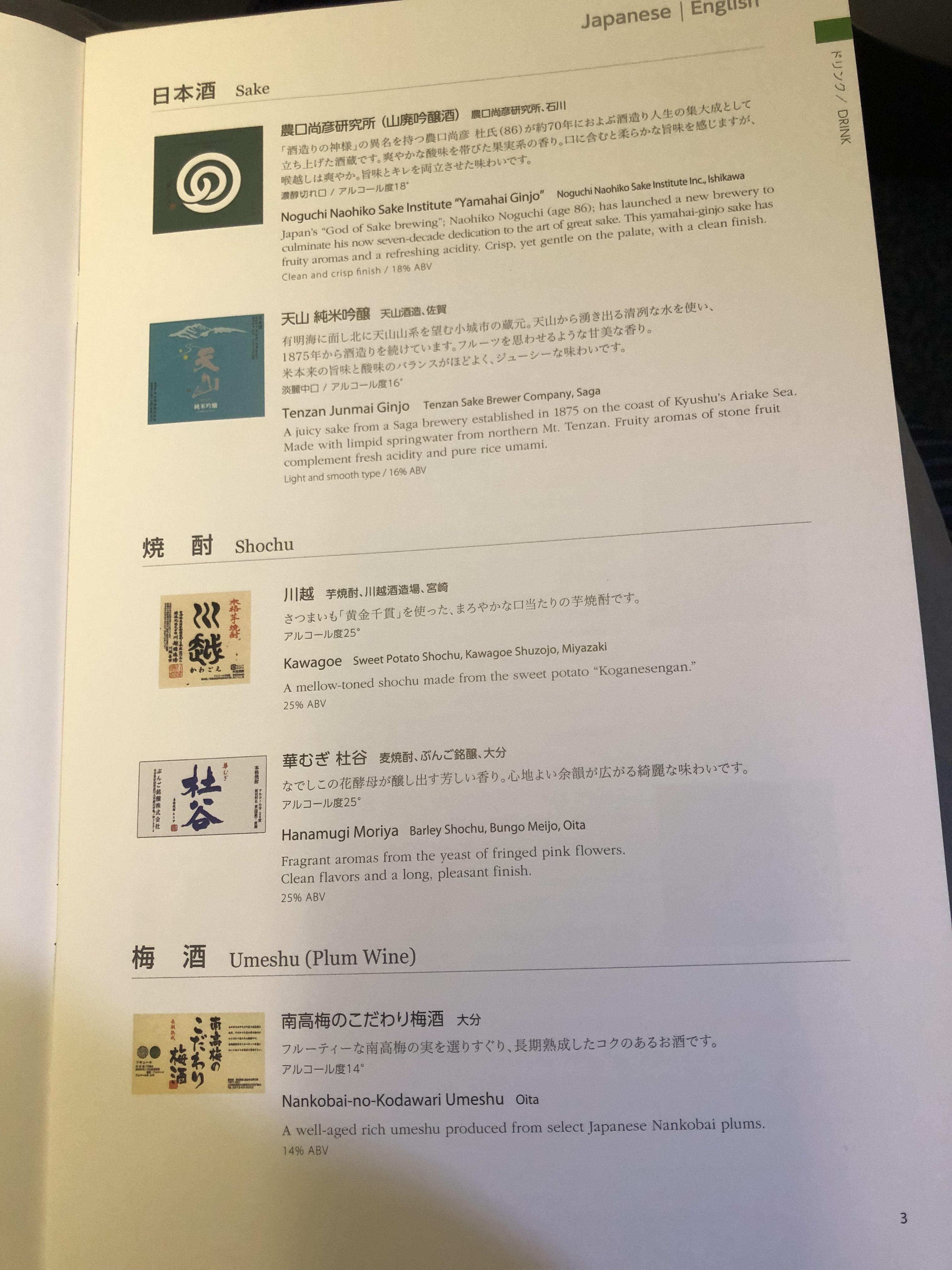 Next up was ANA's champagne and white wine selection. ANA's choice of champagne is Champagne Castelnau – Cuvee Brut Reserve, which retails for around $70 to $100 per bottle. The champagne was great, though a tiny bit sweet for my taste.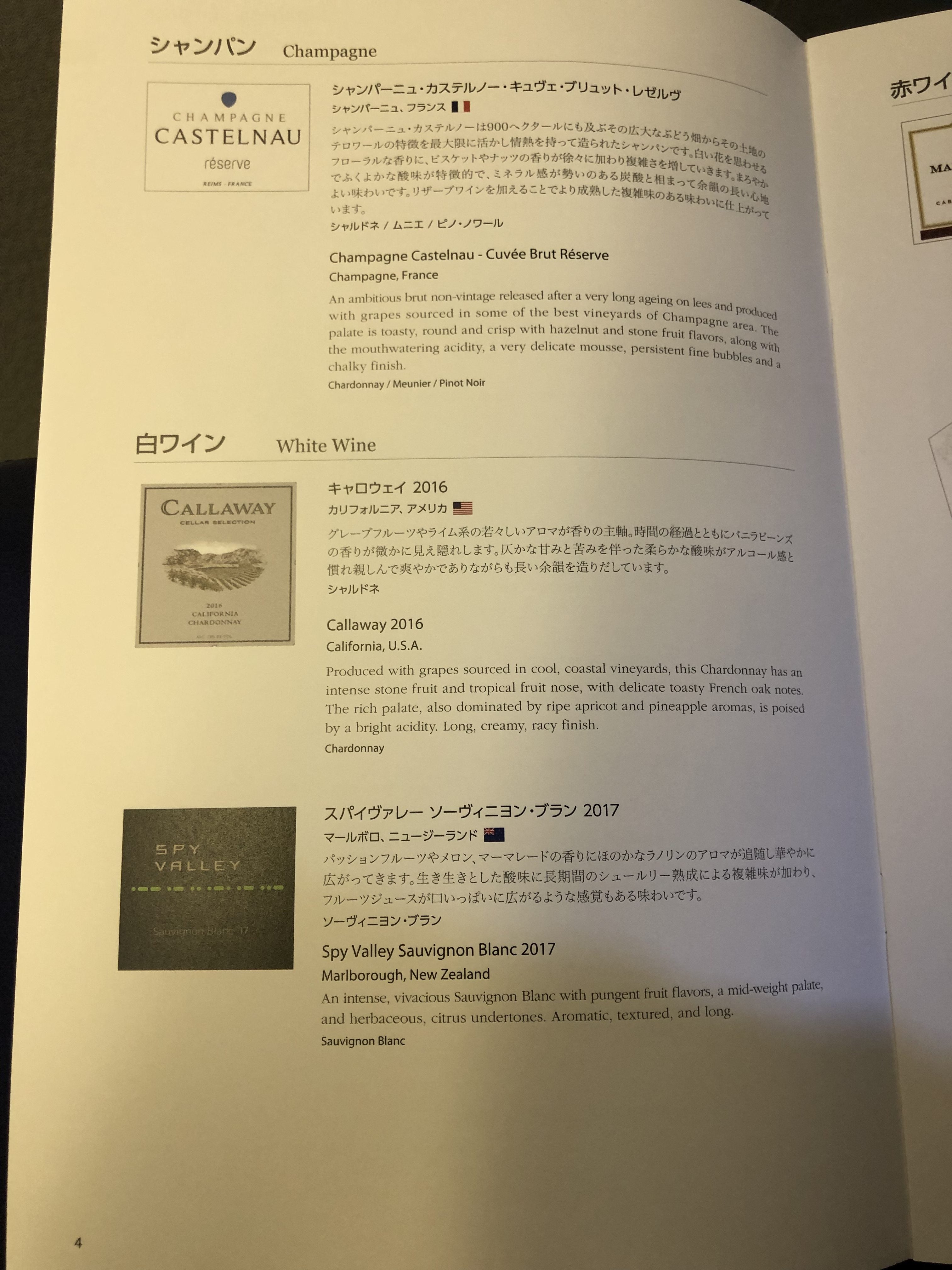 Additionally, ANA offers two red wines in business class.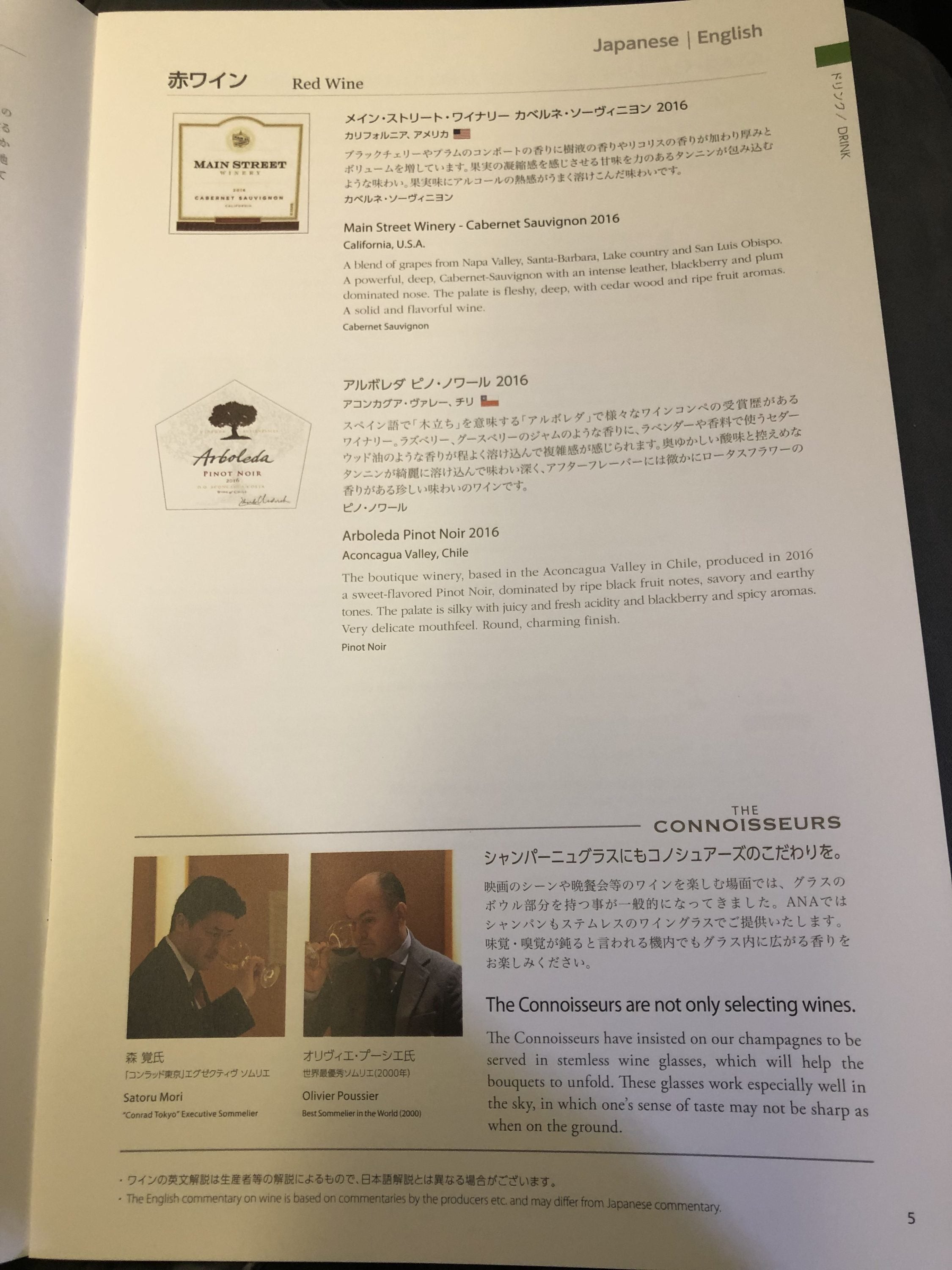 ANA also has a special wine selection, which I, unfortunately, did not try.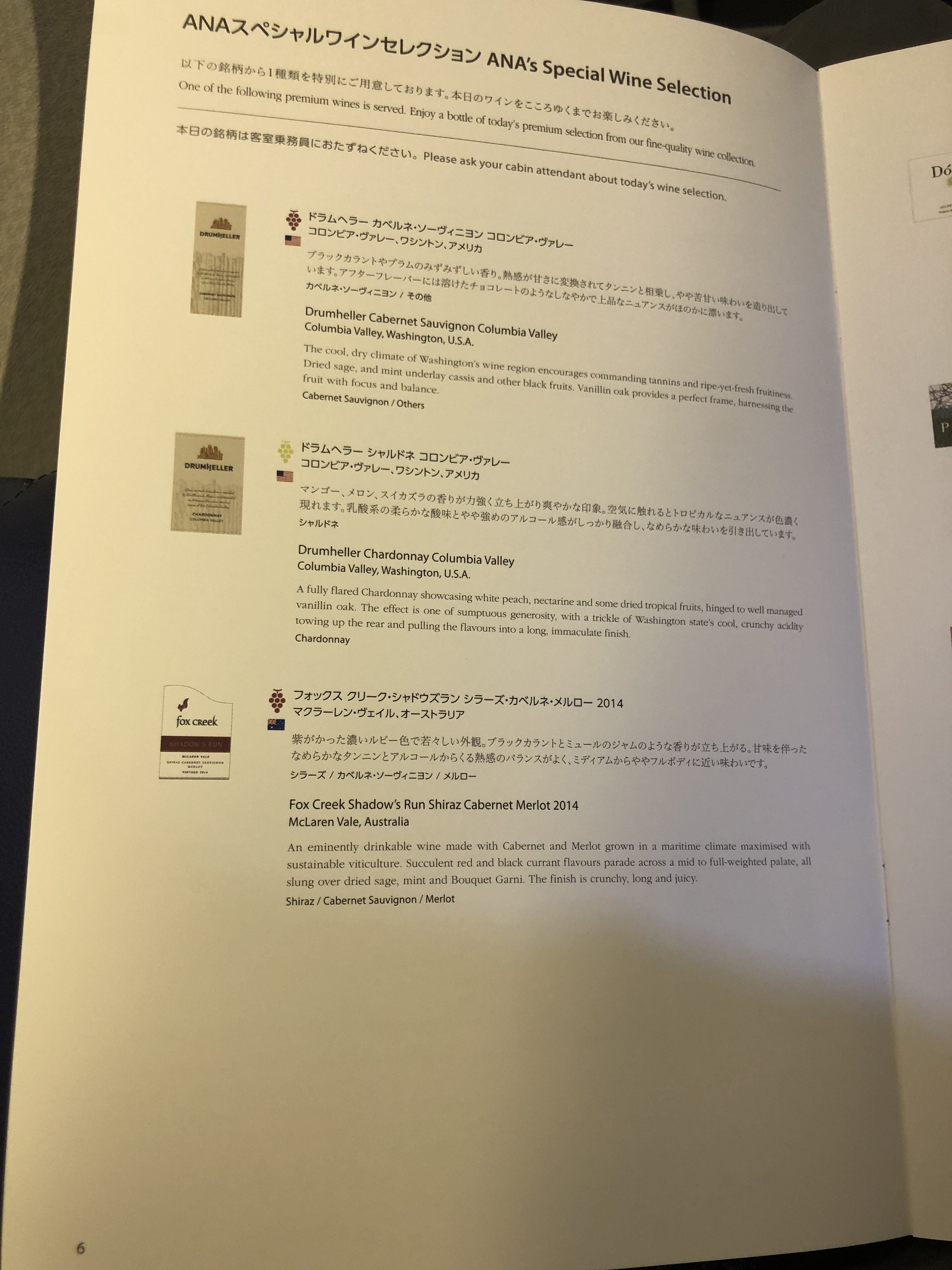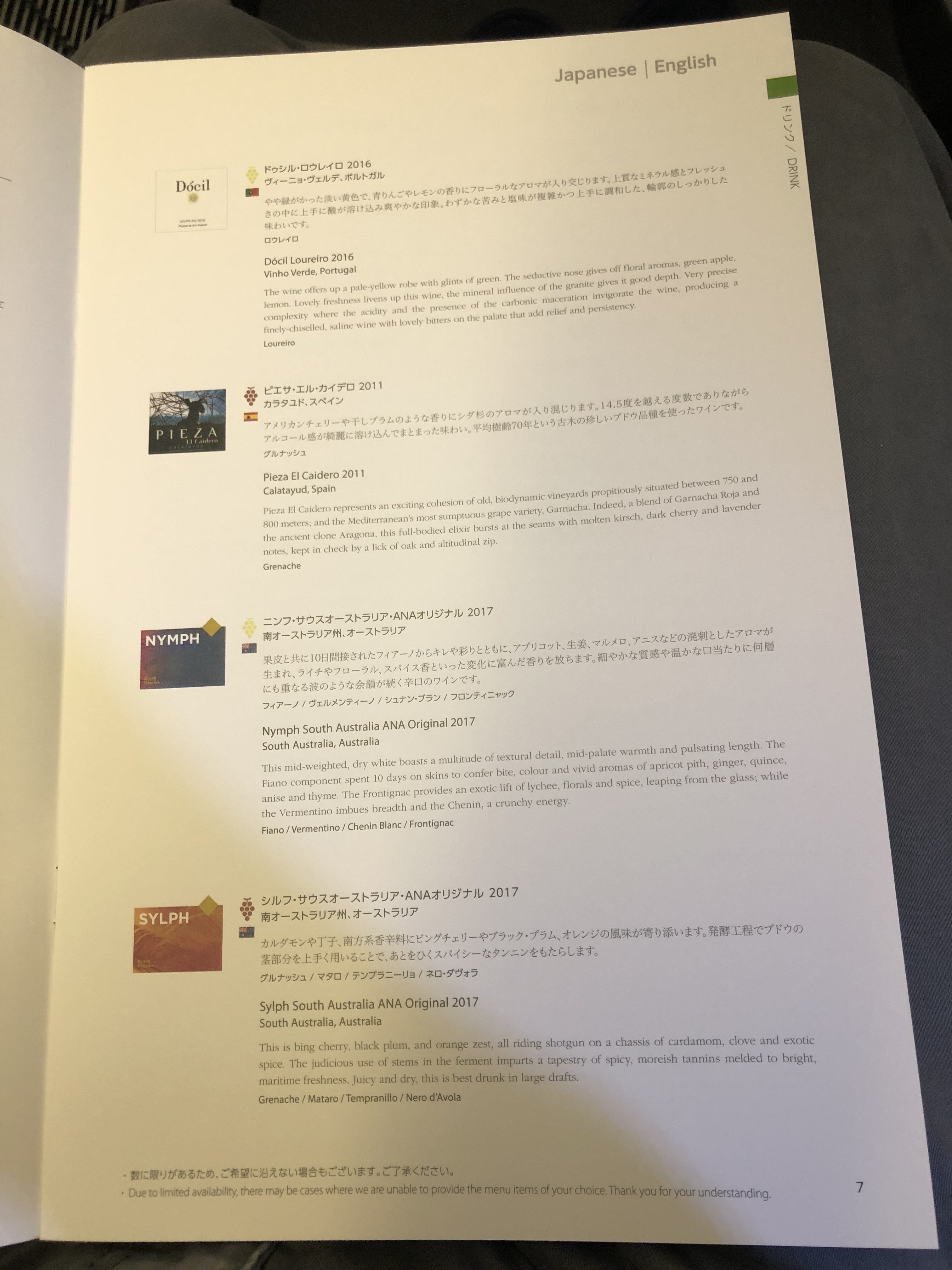 The miscellaneous alcohol selection included various drinks such as sherry, Camus VSOP, and Johnnie Walker Blue Label — which happens to be one of my absolute favorites.
I might have had a bit too much Blue Label on the rocks, but I have no regrets. This whiskey retails for approximately $200 per bottle and is perfectly sweet.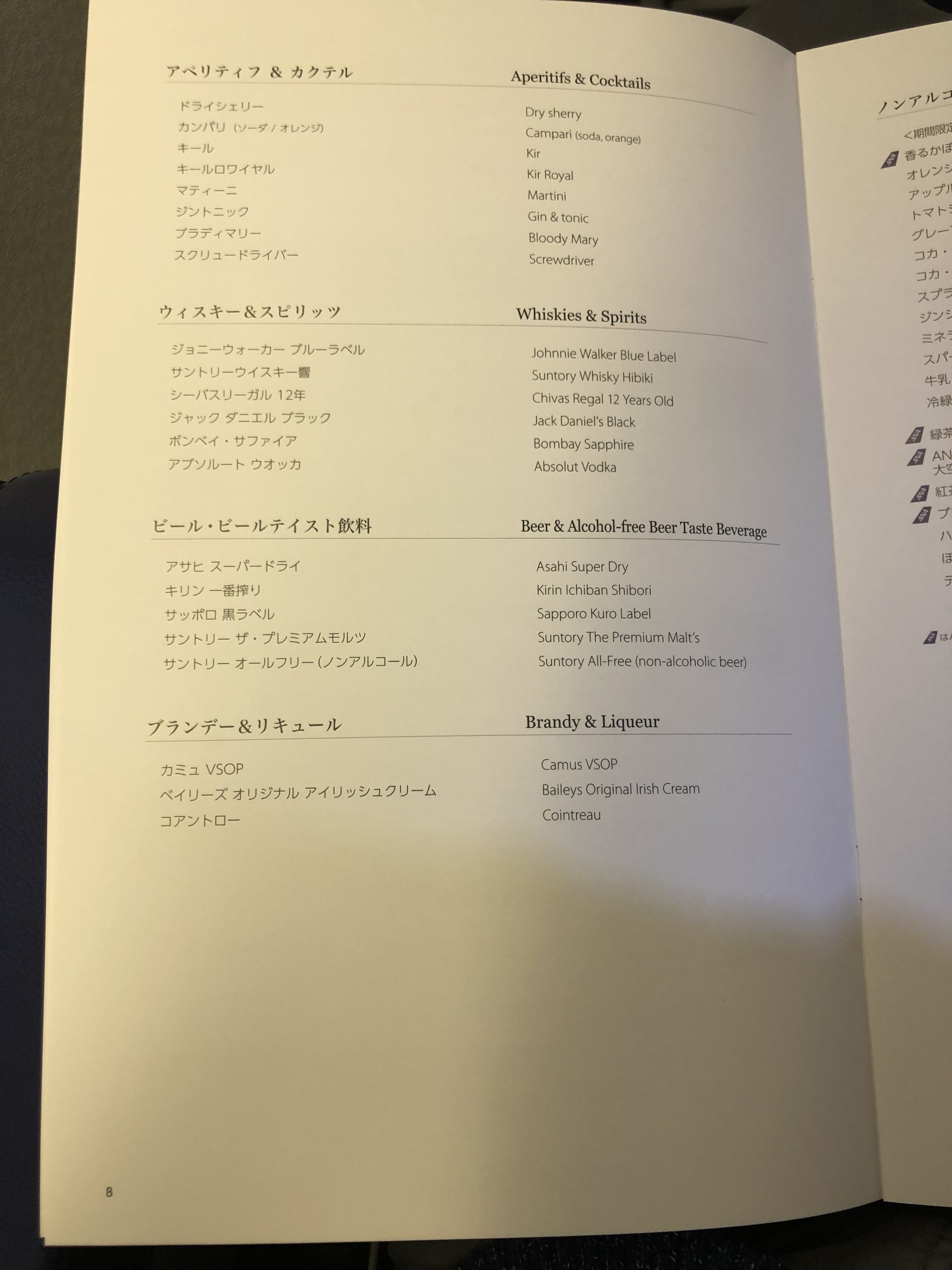 In addition to Johnnie Walker Blue Label on the rocks, I also had a copious amount of hojicha, which is roasted green tea. These drinks are displayed on the non-alcoholic drinks section at the end of the drink menu.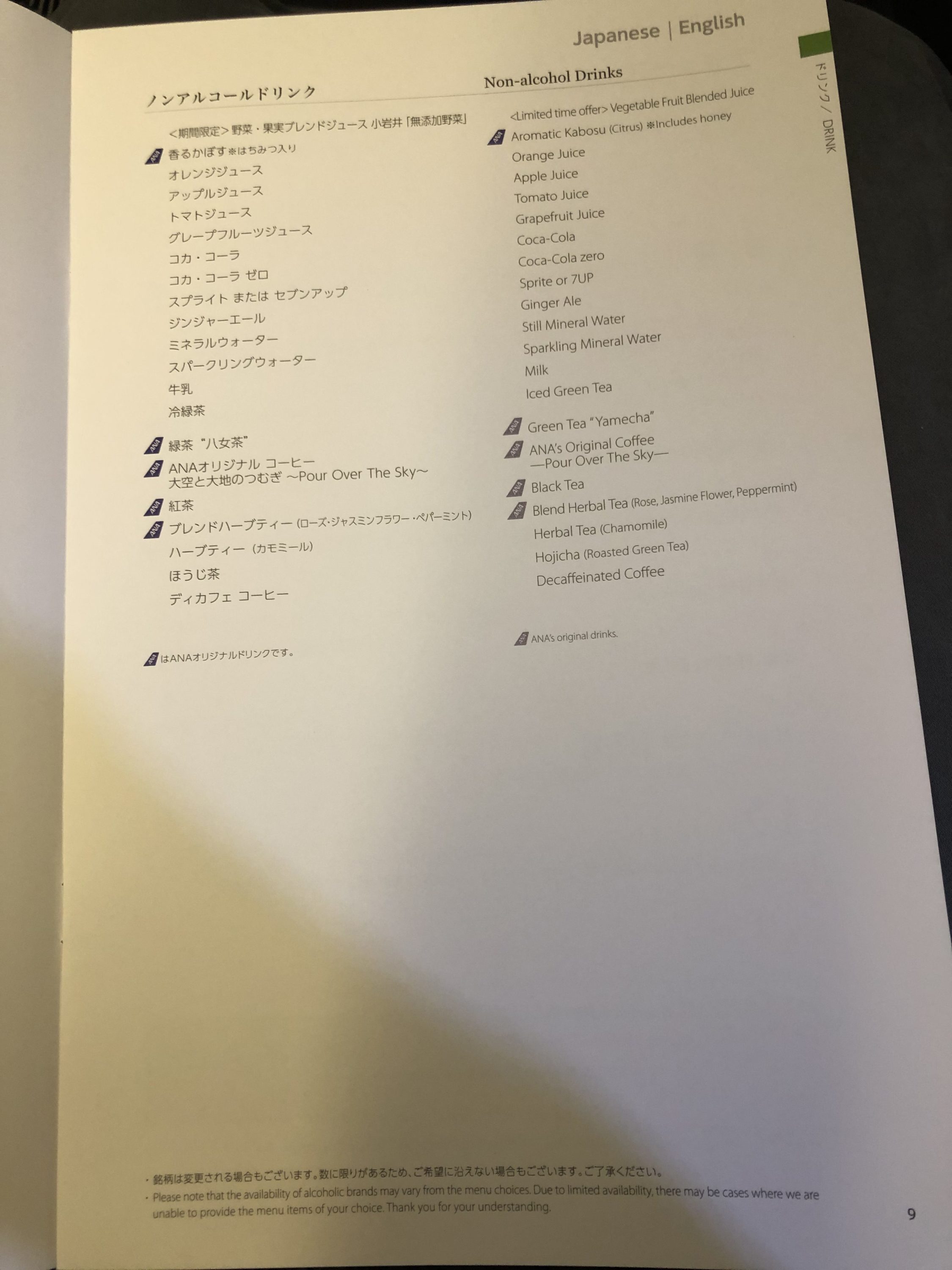 As always, I opted to choose my meals from the Japanese-cuisine part of the menu.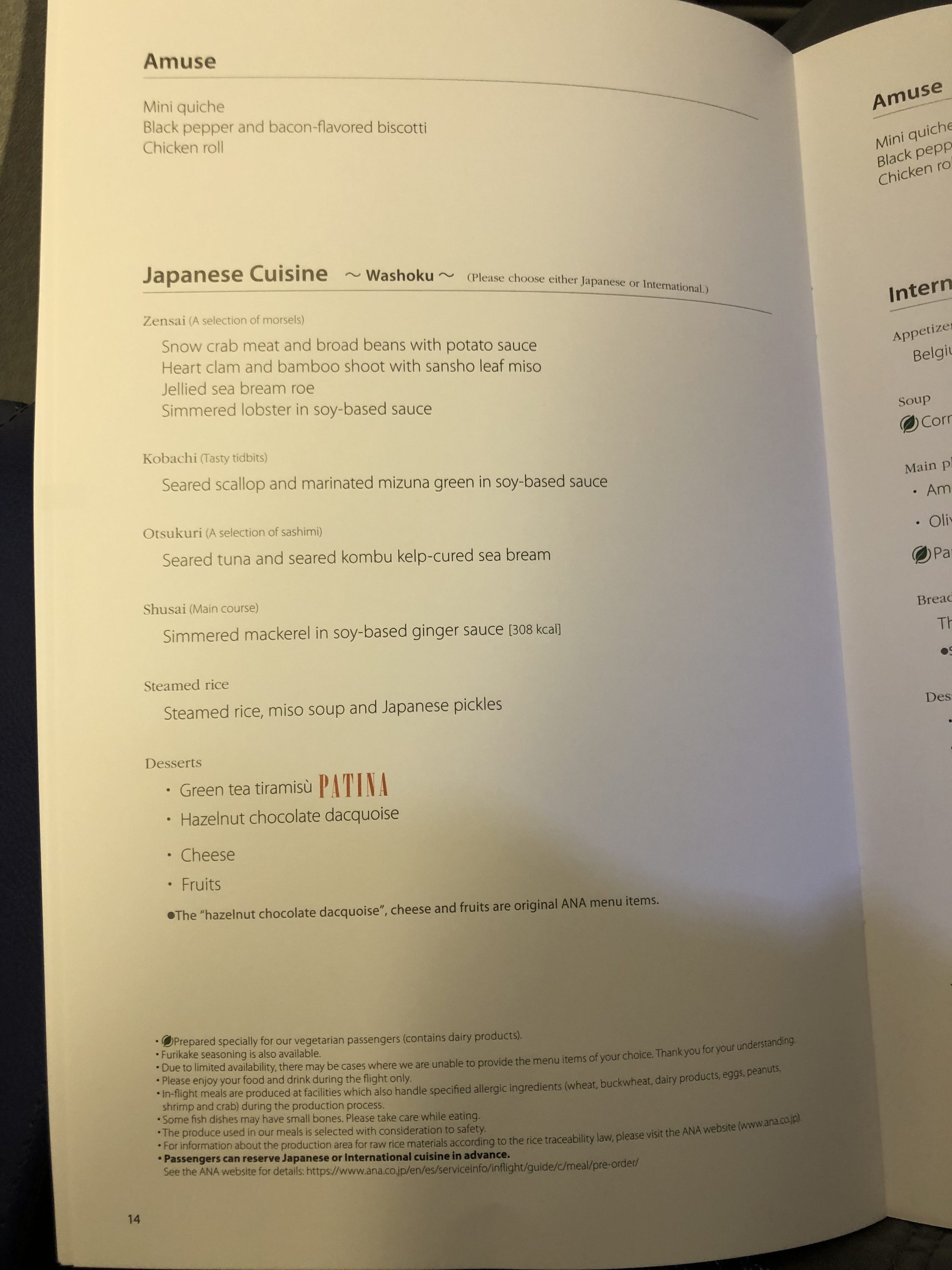 That being said, the options on the Western menu looked delicious too! ANA collaborates with Patina Restaurant Group, which is owned by famous chef Joachim Splichal.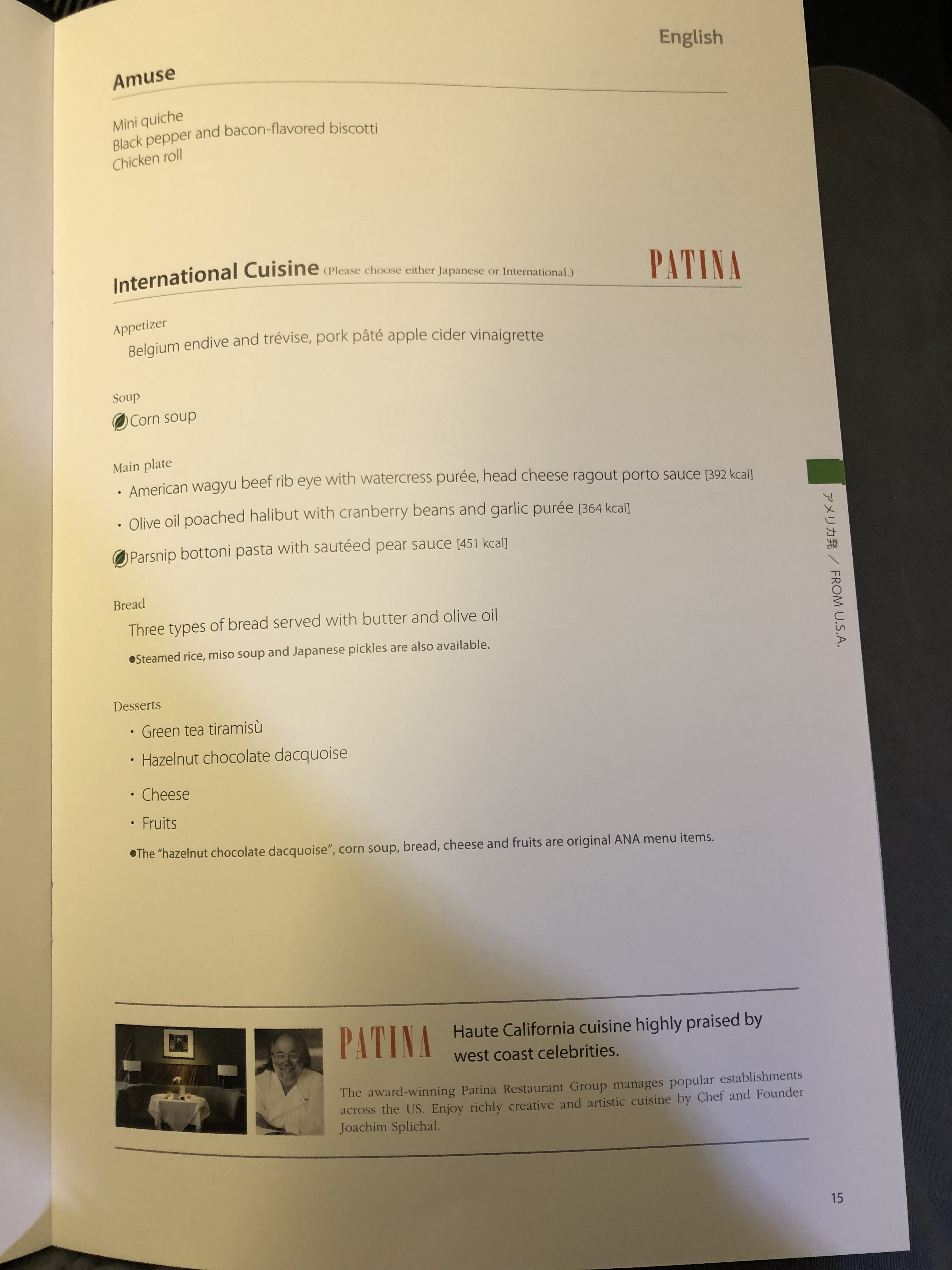 After the set menu is finished, you can also order from the "Light Dishes Anytime" menu, which had a lot of delicious options to choose from.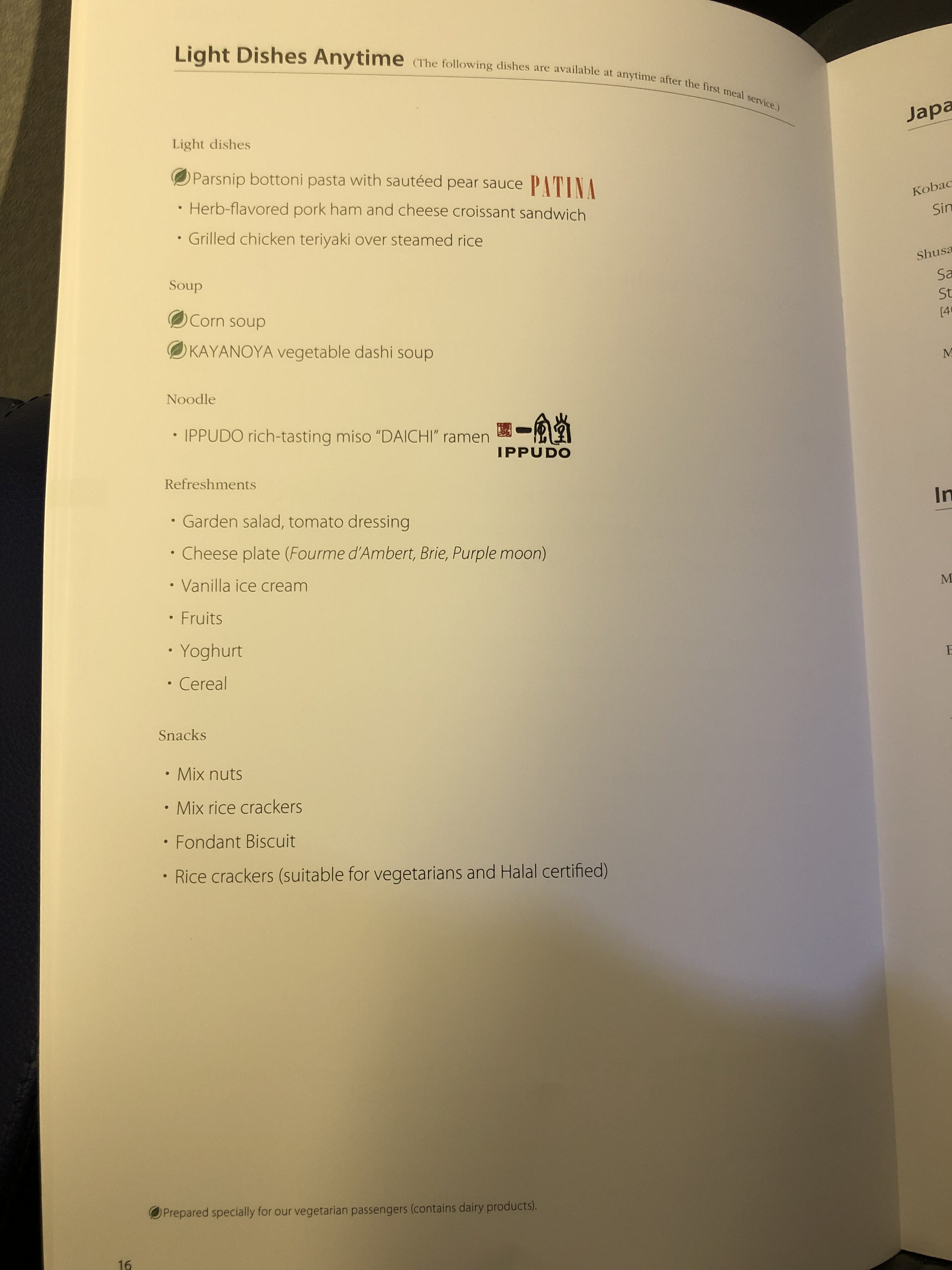 Before landing, ANA served a second meal. Again, diners could choose from Japanese or international dishes.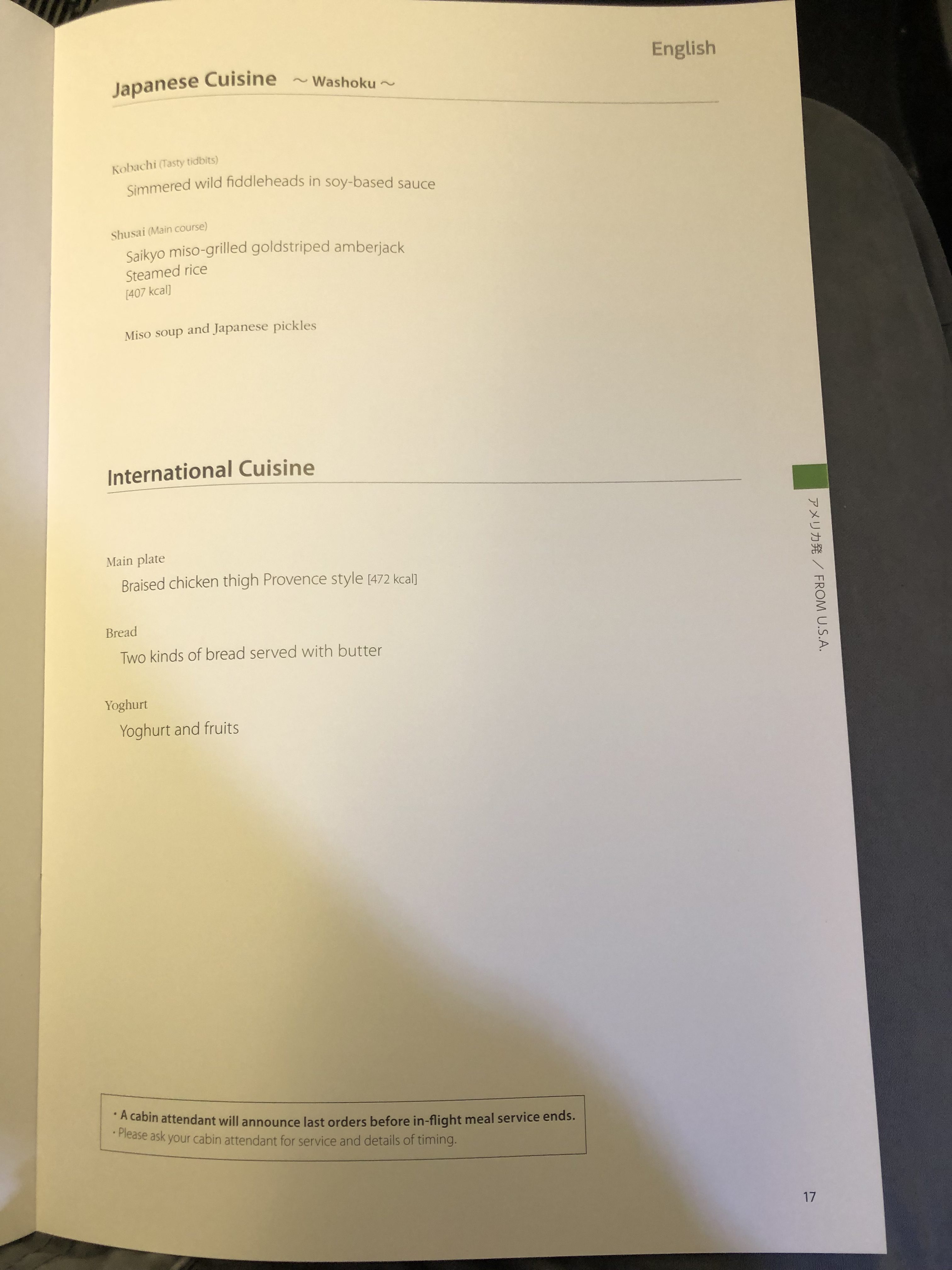 Again, I ordered the Japanese set menu, which ended up being a fantastic decision. The first dish was the amuse-bouche, which featured a chicken roll, a black pepper and bacon-flavored biscotti, and a mini quiche.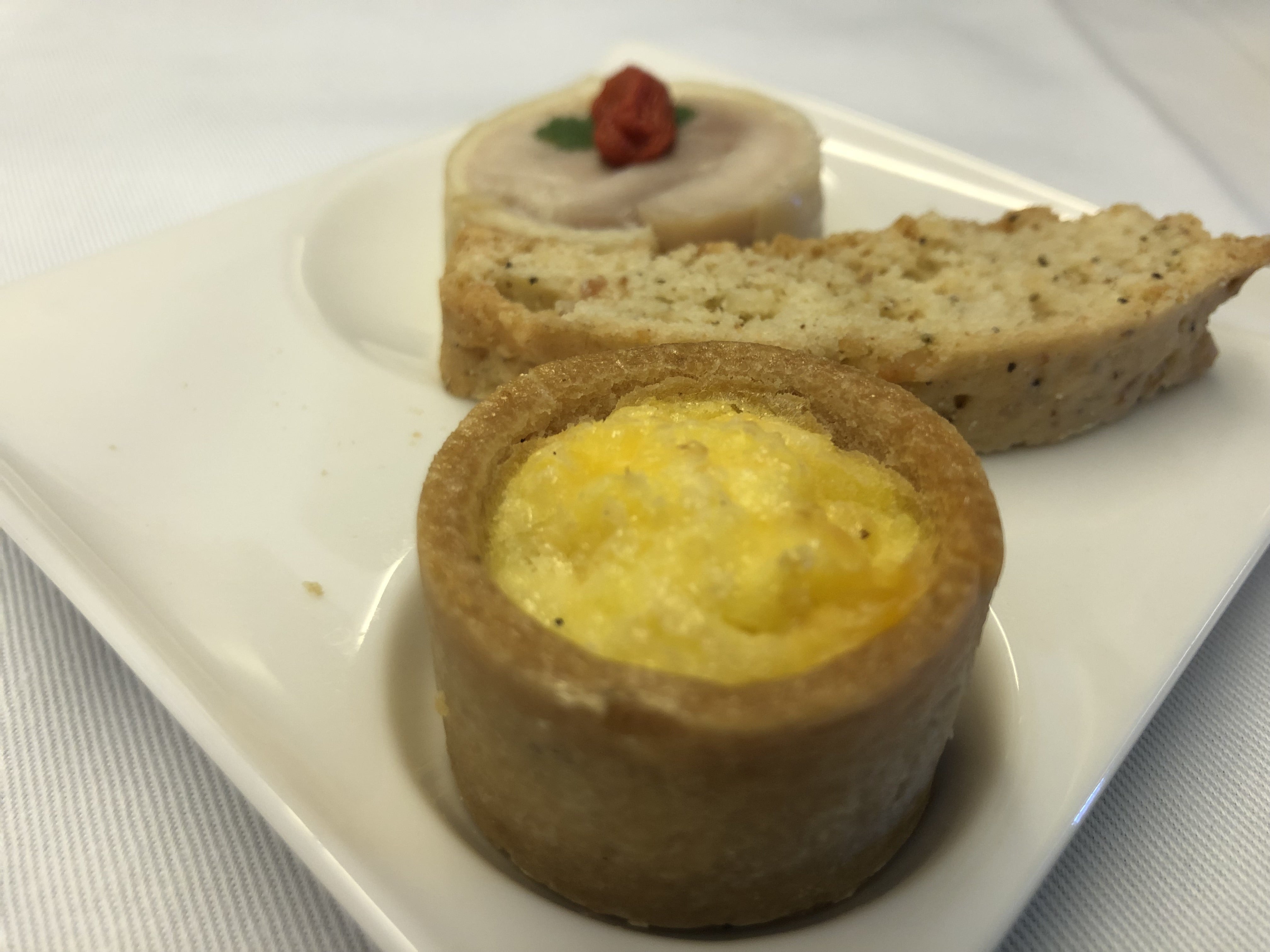 While all of it was excellent, the chicken roll was absolutely unforgettable. The meat was so tender and the seasoning so delicate, bringing out the juiciness and flavor of the dark-meat chicken.
Next was Zensai or a variety of appetizers. This included:
Snow crab meat and broad beans with potato sauce
Heart clam and bamboo shoot with sansho leaf miso
Jellied sea bream roe
Simmered lobster in a soy-based sauce
Seared scallop and marinated mizuna green in a soy-based sauce
Seared tuna and seared kombu kelp-cured sea bream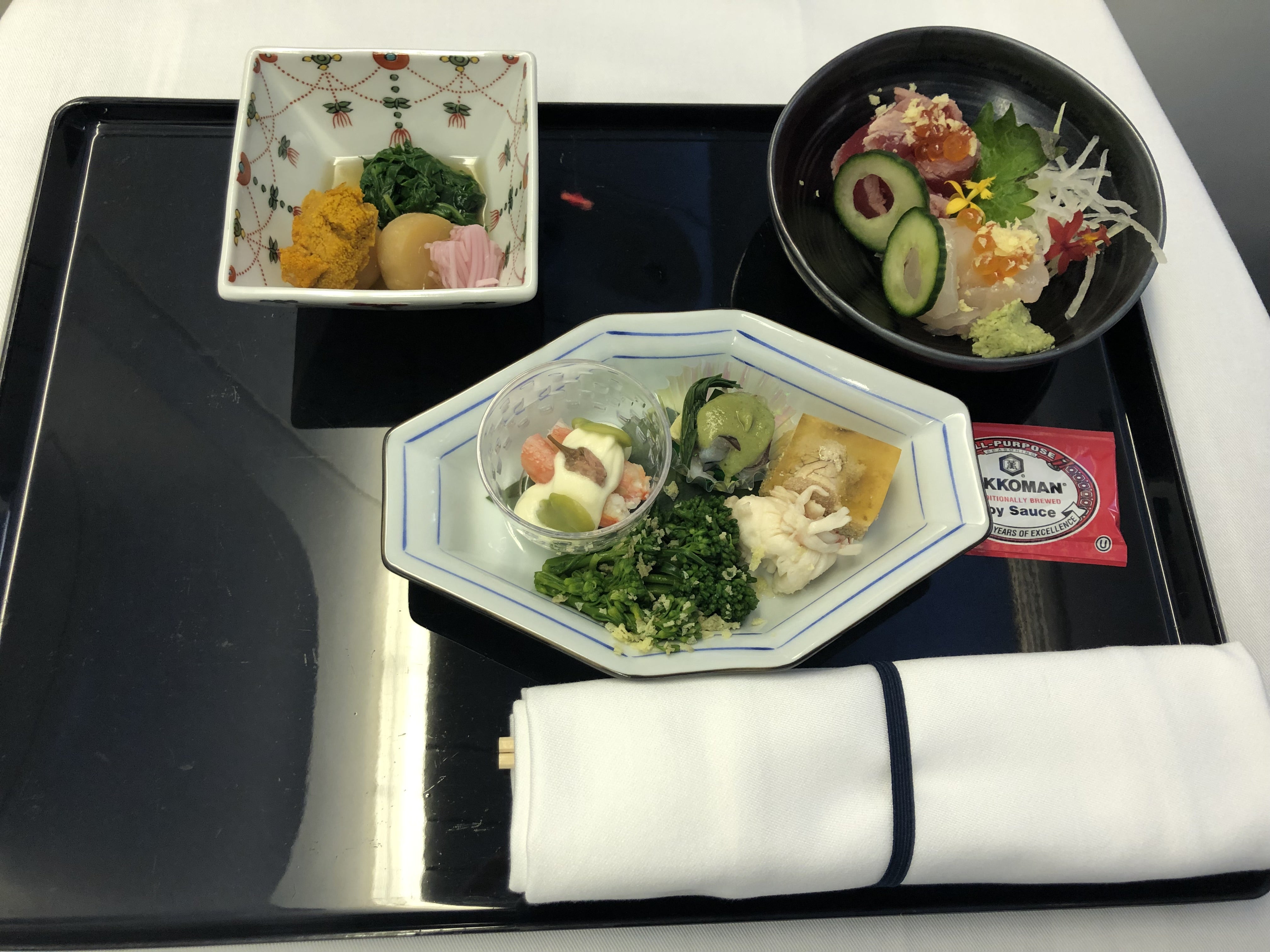 Each dish was phenomenal and extraordinarily creative. For example, the jellied sea bream roe was essentially a savory jello that so effortlessly worked in terms of flavor and texture.
All of the seafood was ridiculously fresh, tender, and sweet. After that, I was served the main course, which consisted of:
Simmered mackerel in soy-based ginger sauce
Steamed rice, miso soup, and Japanese pickles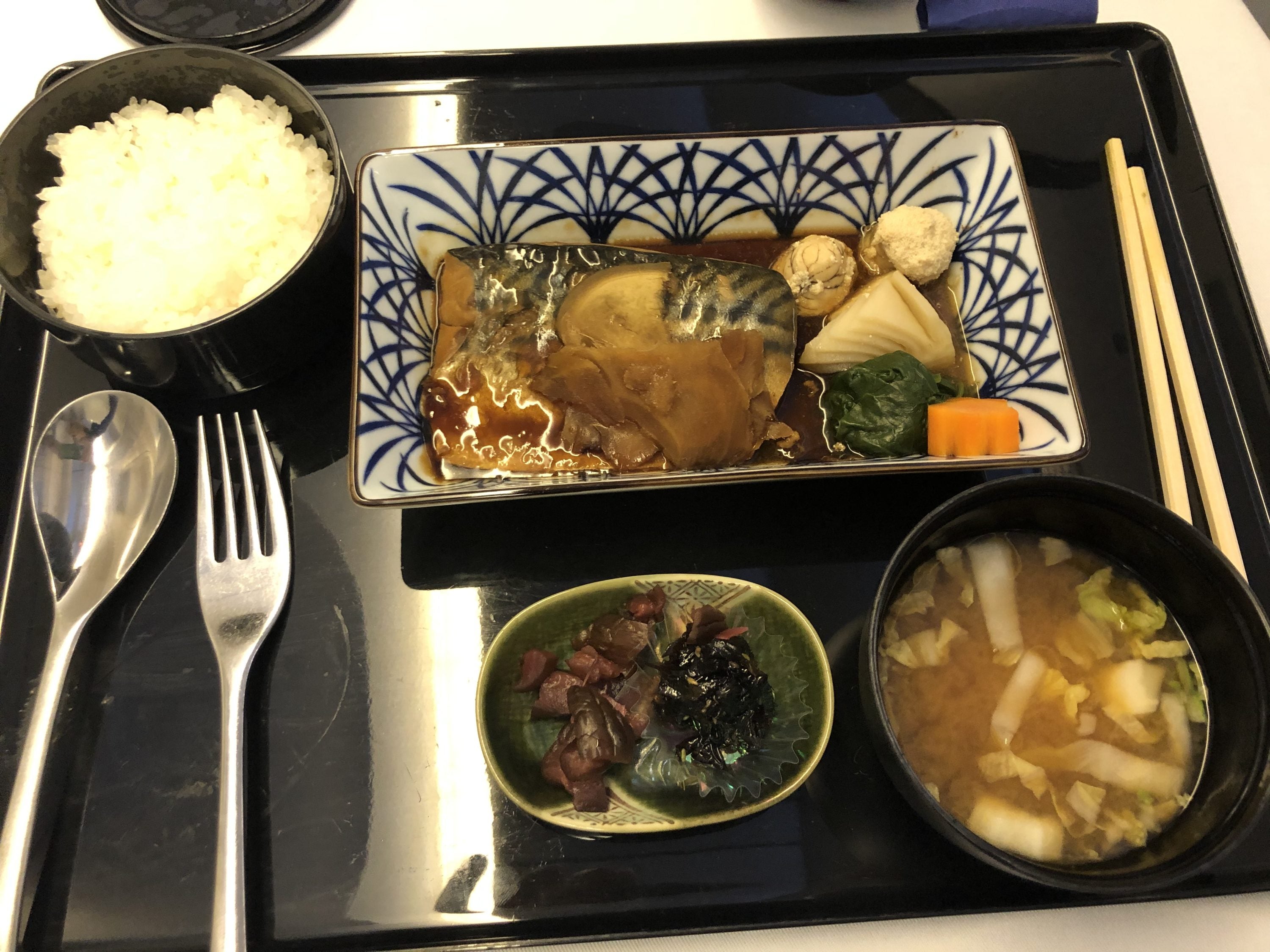 The mackerel had just the right balance between chewy and soft. I love Japanese-style meals featuring fish and rice. It's so satisfying, yet healthy. I especially loved the Japanese pickles, which were acidic and added just the right crunch to cut the full savory flavor of the fish.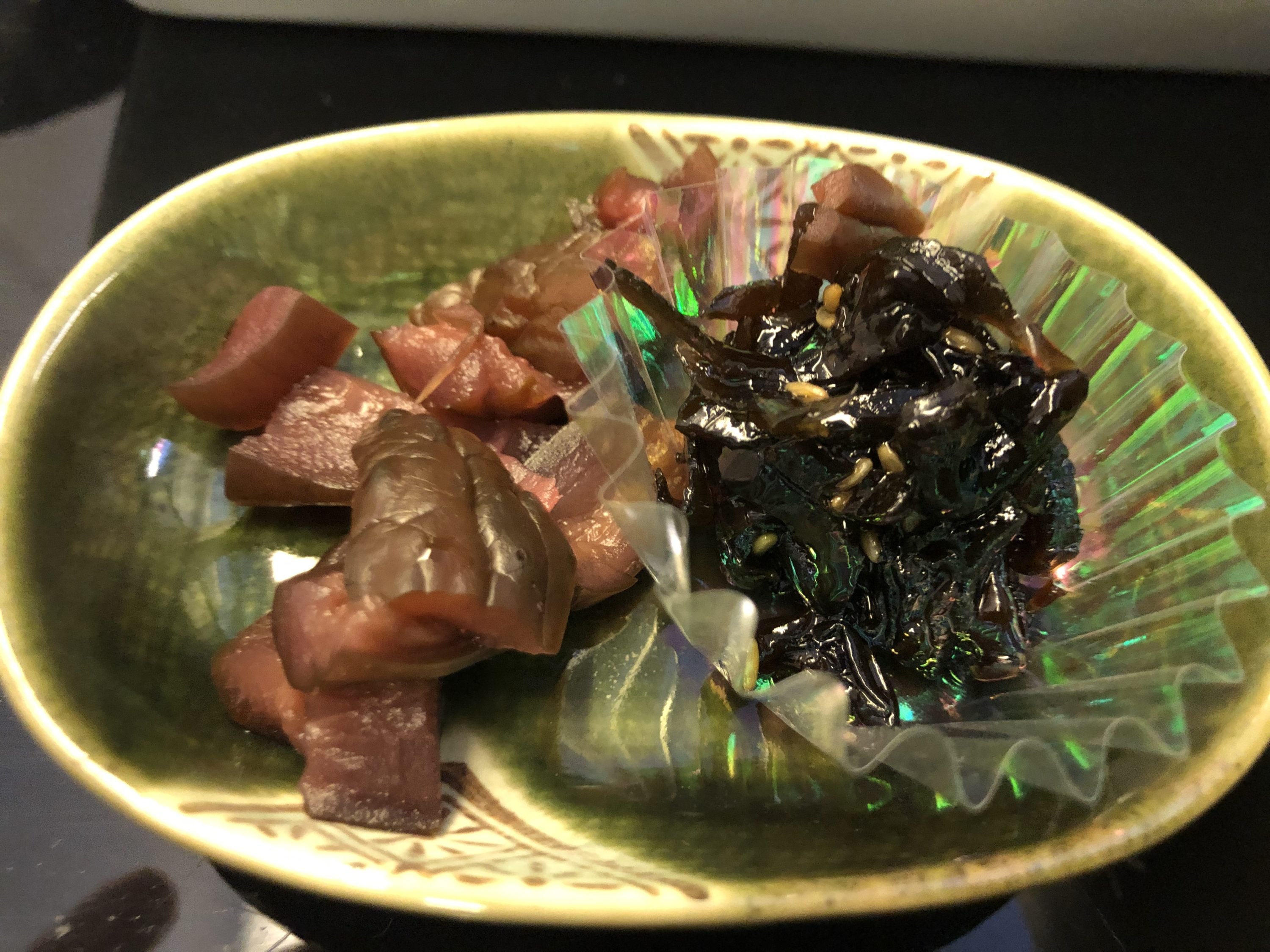 After I was finished with the fresh fish and rice, we had the option to choose between these items for dessert:
Green tea tiramisu
Hazelnut chocolate dacquoise
Cheese
Fruits
I picked the second option, and I'll tell you, it was the right choice.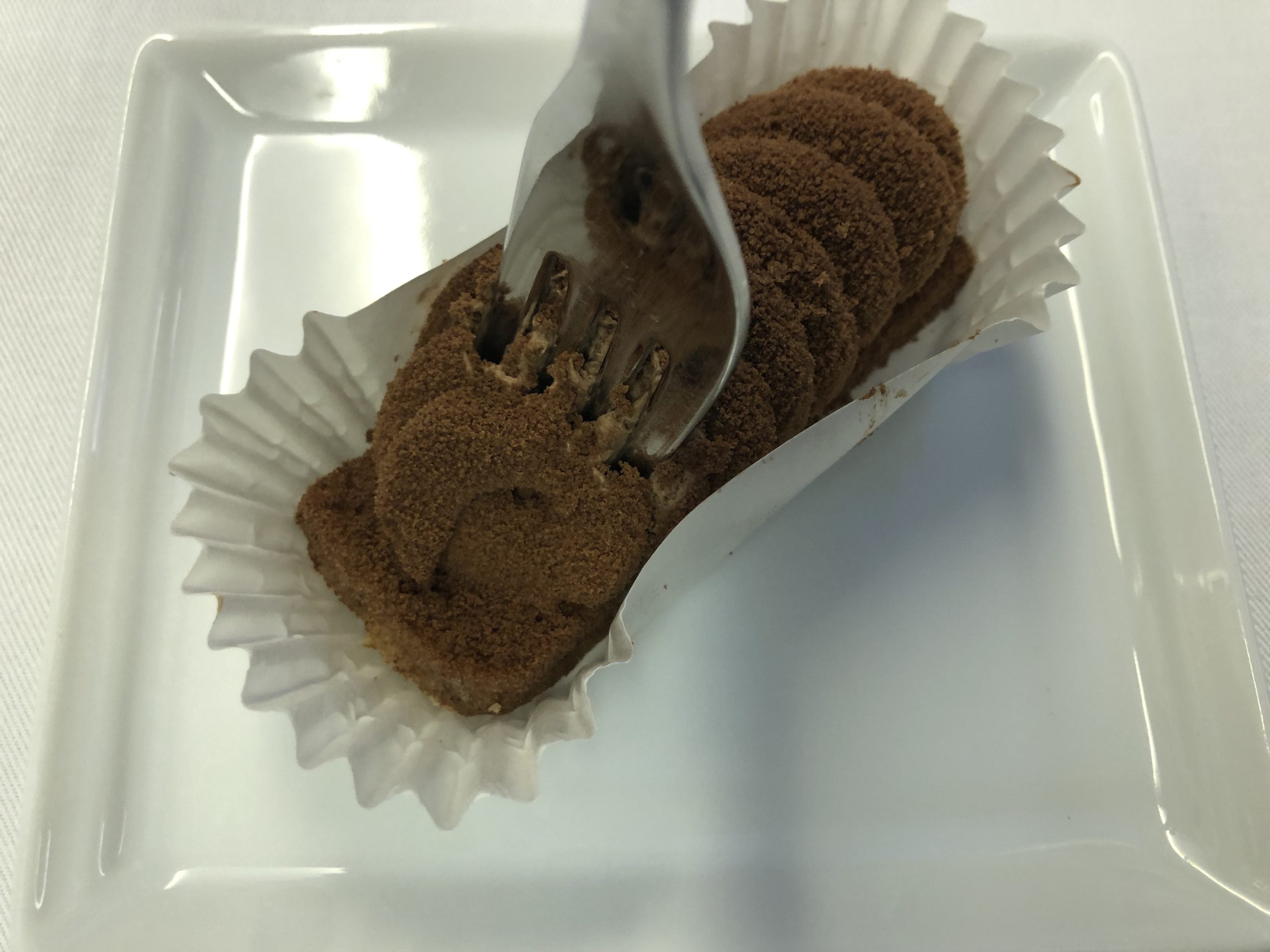 The fluffiness of the meringue was so elegantly complemented by the rich and dense biscuit at the bottom of the cake. I was insanely stuffed after my first meal.
After eating, I took a break and watched a few movies. Getting peckish, I then ordered a serving of Ippudo miso ramen. Ippudo is a chain of ramen restaurants that originated in the birthplace of ramen, Hakata. I've visited their locations in New York and Kyoto, and I was curious how this would measure up.
The ramen was just ok. It had a flavor profile that tastes much more like instant ramen than the authentic culinary masterpiece ramen truly is.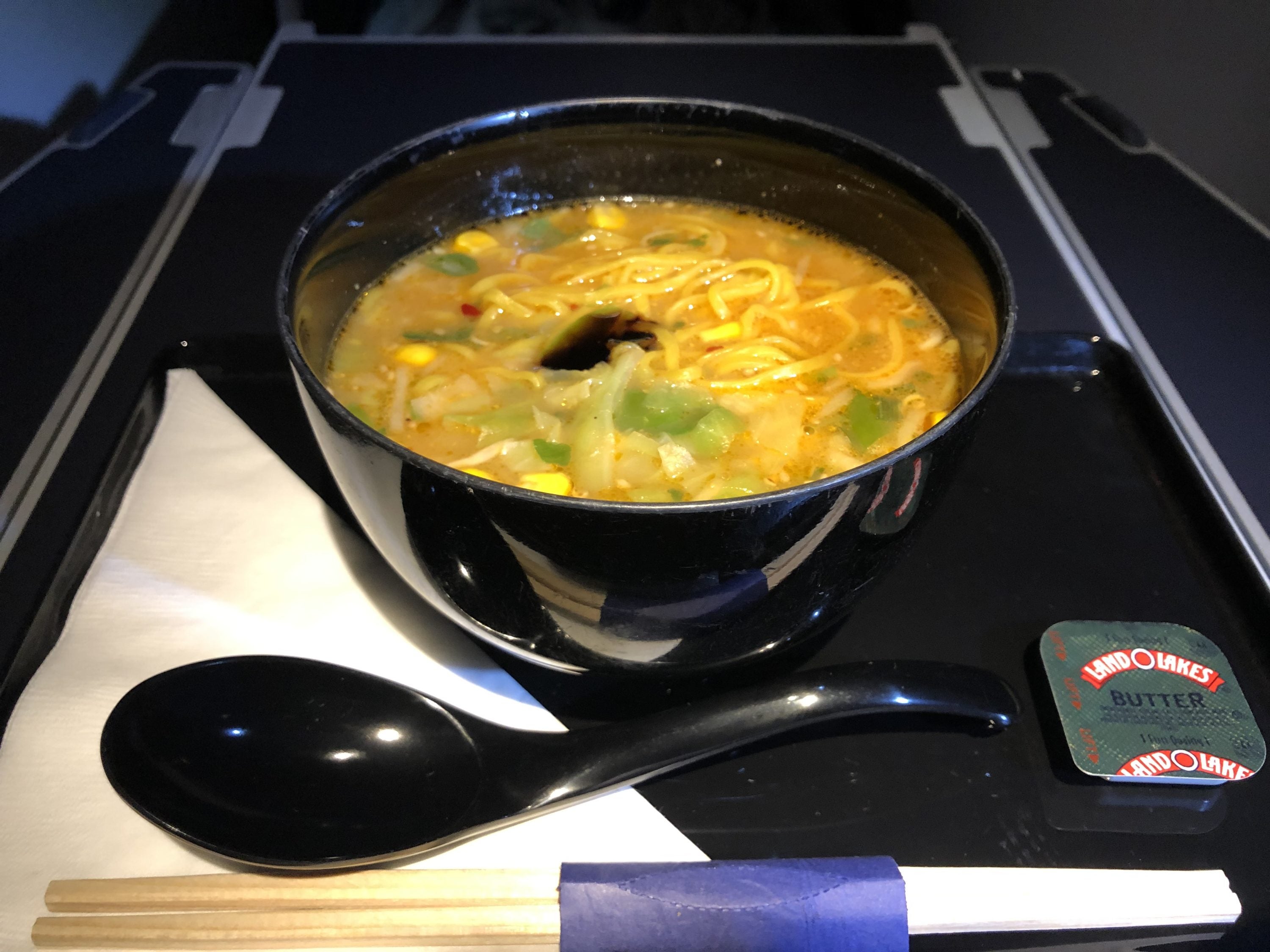 I was totally full for most of the flight. When it was time for the second meal, I was ecstatic to be having another fish and rice meal.
I had:
Simmered wild fiddleheads in a soy-based sauce (top-center)
Saikyo miso-grilled, gold-striped amberjack (bottom)
Steamed rice (bottom)
Miso soup (top-left)
Japanese pickles (top-right)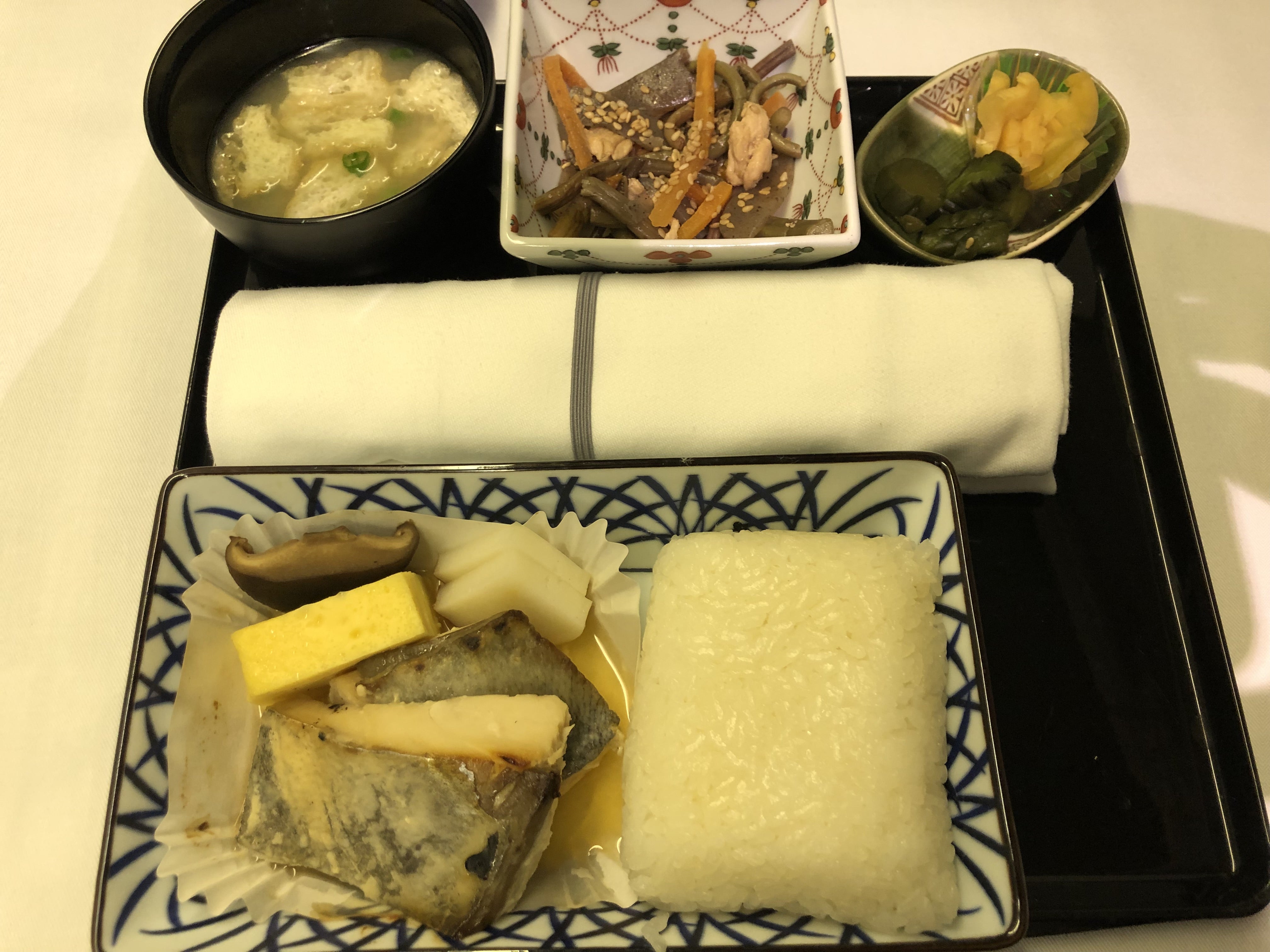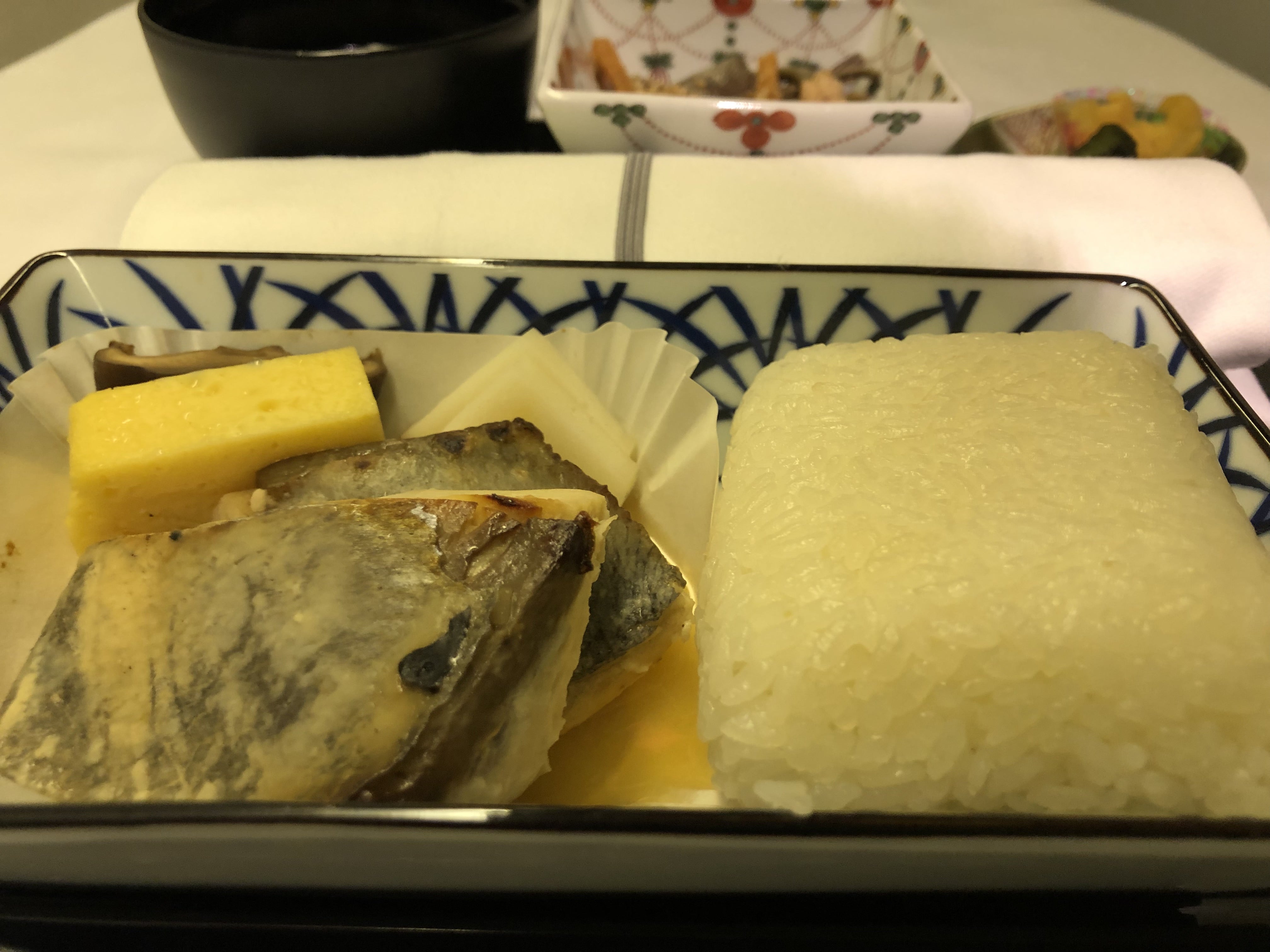 There's just something so refined yet simple about grilled fish served up with some ridiculously fluffy rice.
Overall, the main course meals were stellar. I felt completely content after these meals. However, the ramen that I tried was somewhat of a let-down. I would say that ANA's meals in business class were on par with Japan Airlines' food.
Entertainment and Service
Along with food, it's important that an airline provides passengers with good entertainment — especially on this long of a flight. There were a lot of buttons for controlling your seat and a remote control for accessing in-flight entertainment options. The remote was stowed right next to my seat, making it readily available.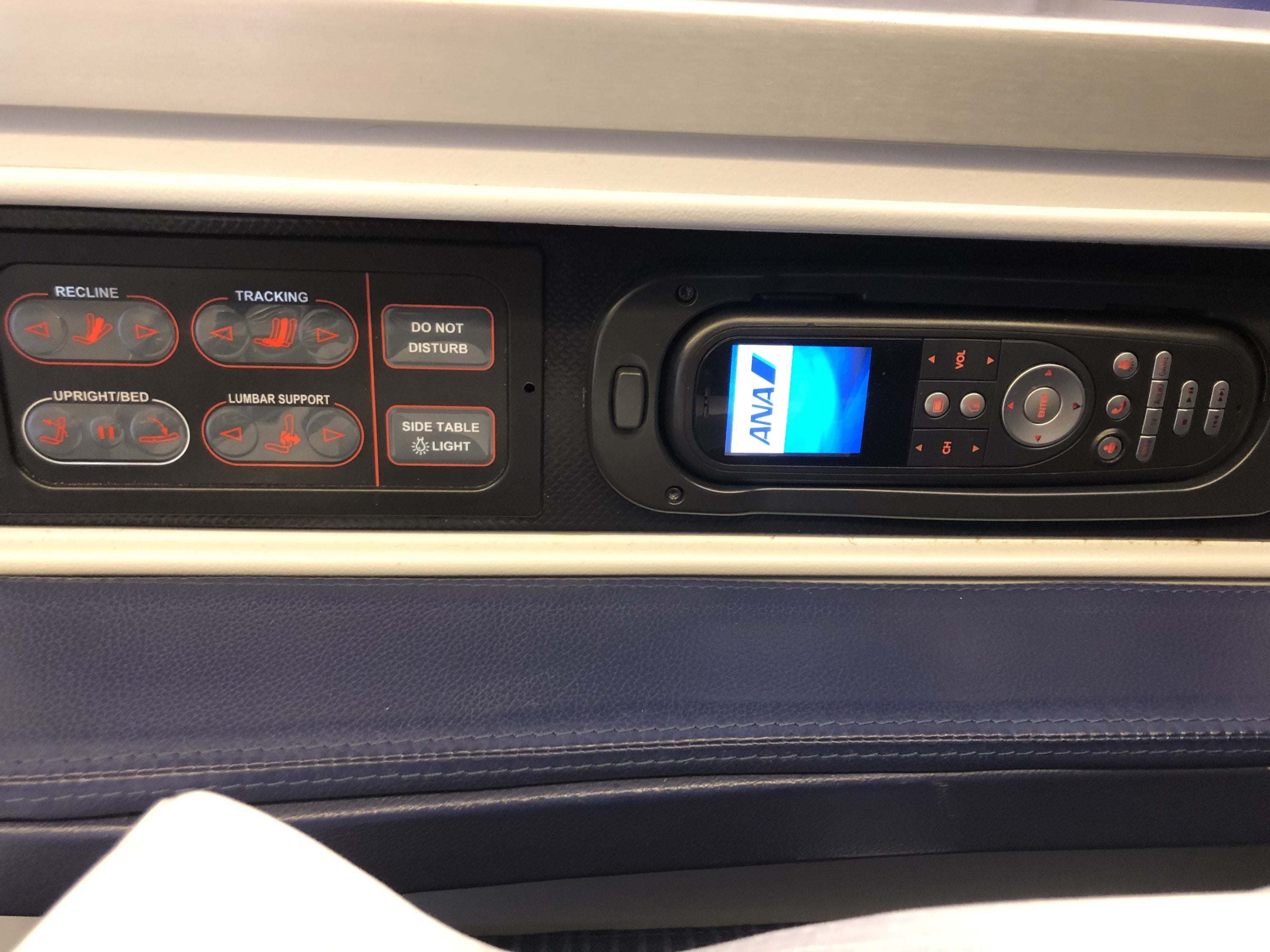 The entertainment choices were varied and plentiful. There was a healthy balance between Hollywood blockbusters including Venom and A Star is Born, and more varied, international options.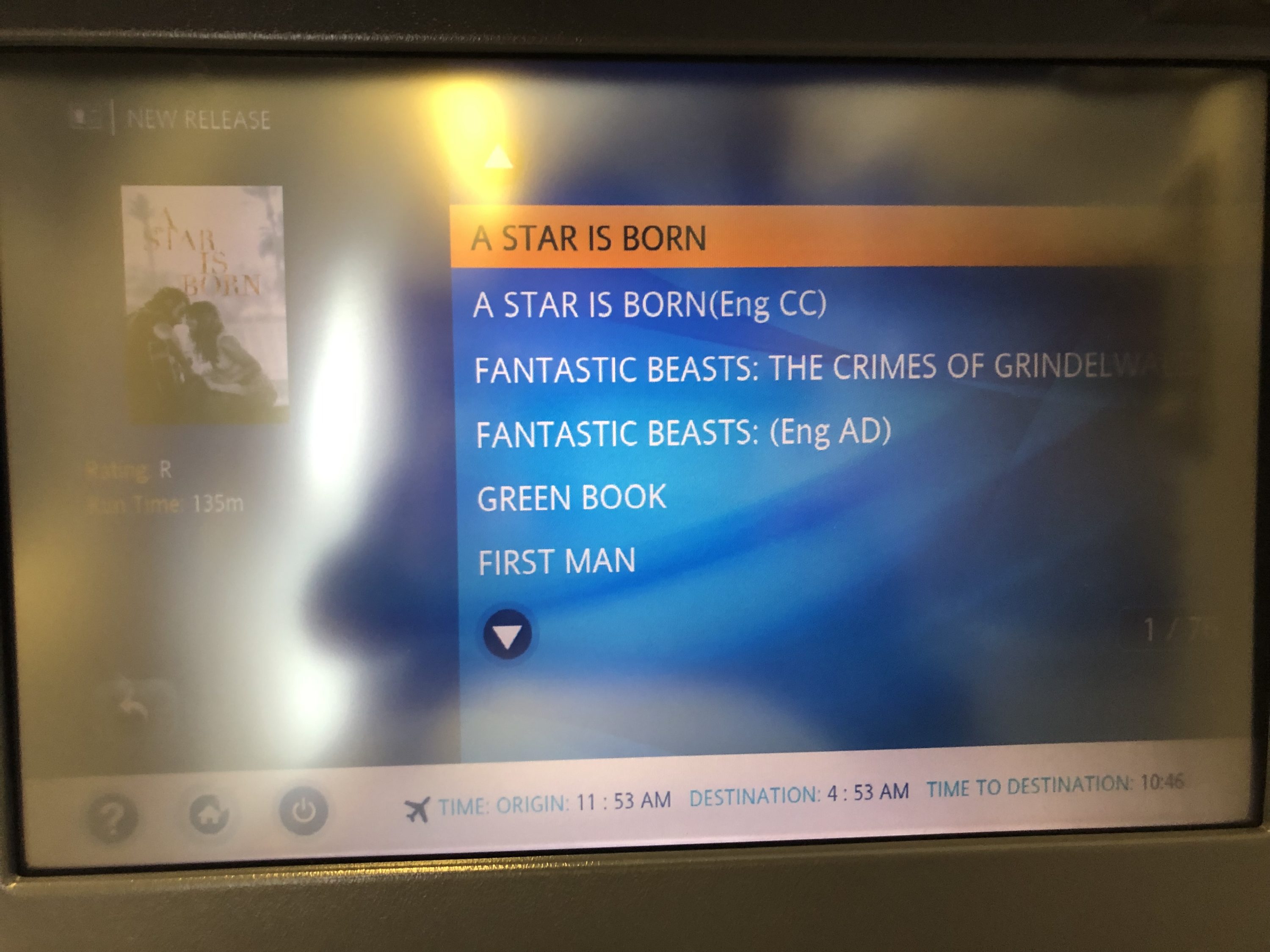 I was never bored over the course of the flight with all the new releases available for viewing.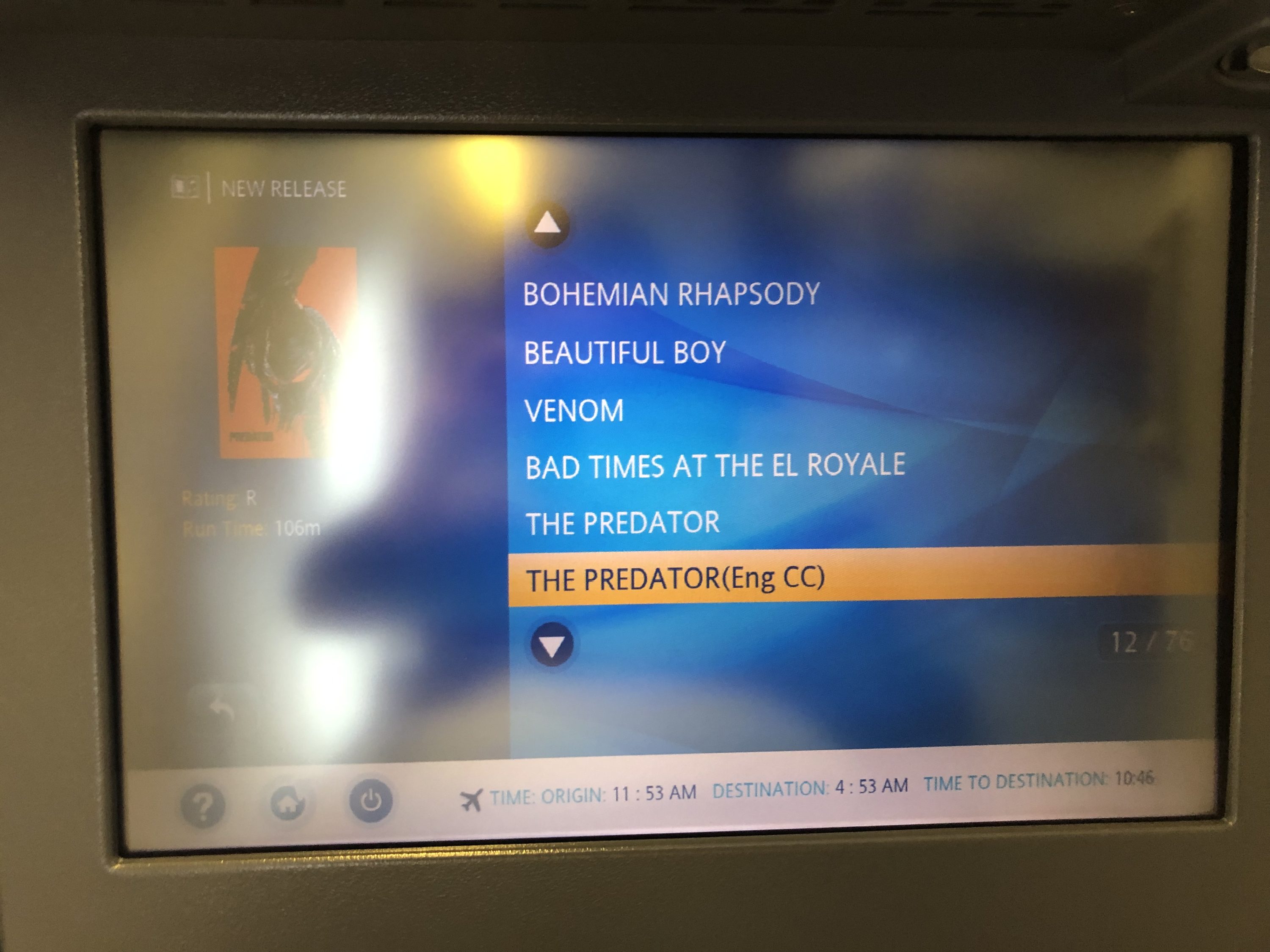 One thing that I enjoyed tremendously was the numerous shows and movies revolving around Japanese culture and, in particular, the culinary arts. I watched some great shows such as Samurai Gourmet, Midnight Diner, and The Solitary Gourmet.
As far as in-flight Wi-Fi goes, business class passengers don't receive free Wi-Fi passes, as these are reserved for first class passengers. Here's how much Wi-Fi costs on ANA flights:
30 minutes: $4.95 with a 15 MB limit
1 hour: $8.95 with a 30 MB limit
Full flight: $19.95 with a 100 MB limit
I paid for the full flight Wi-Fi service. It wasn't very fast, but it served the purpose I needed, which was to chat on messenger apps with my iPhone.
All in all, the service in business class was great. The flight attendants were well-trained, friendly, and attentive. This is pretty much all you can ask for as far as in-flight service goes.
Hot Tip: Curious about ANA first class? Check out our review of the ANA A380 Inaugural flight from HNL-NRT.
Final Thoughts
What I loved most about ANA business class was the soft product. The food and beverage offerings and in-flight service were excellent. They were incredibly accommodating, especially when they made my bed and responded to my in-flight requests.
As always is the case with premium cabin flights, I wish it lasted longer.
Though ANA's hard product is somewhat dated, it absolutely gets the job done. The seat was wide and comfy enough for me to be well-rested and begin my trip with my mom in Japan. I couldn't reserve the seat I wanted, but this was simply because someone beat me to it.
I loved the fact that Johnnie Walker Blue Label was served on the plane, as I've never seen it in business class before. The bedding was thick, and it allowed me to have a satisfactory respite.
The amenity kit was unique and definitely a keeper. Honestly, I still use the white tea facial mist, and I'll continue using it until I run out of it.
The in-flight entertainment was solid, and the Wi-Fi did exactly what I needed it to do: help me stay connected to friends and family on the ground.
Overall, the airline left me with a tremendously positive experience in business class, and most importantly, I was able to make it happen by leveraging ANA's partnership with Virgin Atlantic. This is something I'm grateful for, and I would do everything all over again if I could.
Thanks to ANA for the hospitality and service!
Interested in the pilot's perspective? Explore the Boeing 777 from a pilot's perspective.
---
All images courtesy of Stephen Au