The 25 Best International Business Class Airlines in the World
With many airlines following the trend in removing international first class and enhancing international business class, it makes sense that the competition for business-class travelers has gotten fiercer.
Airlines have gone to great lengths to make their business class product as luxurious as possible, and travelers are benefiting from this cutthroat competition. This list of the 25 best international business class airlines will start making you wish you were on a plane!
As a disclaimer, this ranking is subjective and based on our opinions. We conducted hours of industry research (some of which involved trying out the products ourselves!), and we also included the opinions of some fellow travelers in this guide, especially for products we haven't been able to fly.
What Makes an International Business Class Airline Great?
Generally, the jump from economy to business class involves one major thing: the seat. In economy, you have a seat, while in business, you have a bed.
Most people flying in business class do so for the comfort of having a bed to rest in. Sure, the food, amenity kit, and lounge access might impact your overall experience — but if you don't arrive to your destination well-rested, you're probably not going to be very happy.
For this reason, we considered the following aspects when determining each ranking:
Hard product (seat size/comfort, amenities, inflight monitor, cabin configuration, privacy, etc.)
Soft product (food and beverages, amenity kit, service/attentiveness, etc.)
Lounge and ground experience
Award pricing and availability
Hot Tip: All the business class seats in this ranking are bookable with points!
The 25 Best International Business Class Airlines and Cabins
1. Qatar Airways QSuite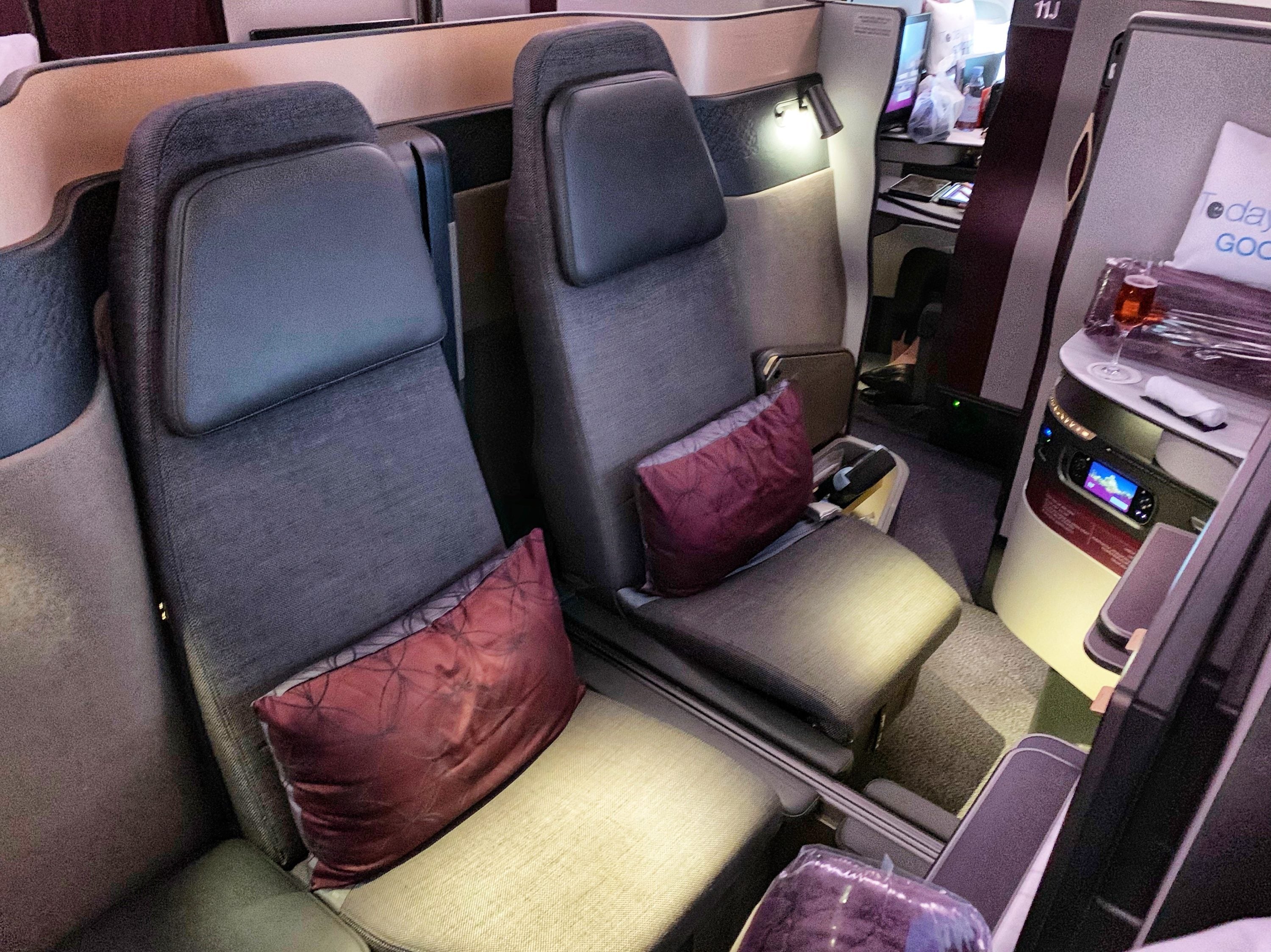 Qatar Airways QSuites checks off all the boxes for a phenomenal business class product…and then some! QSuites are not only an amazing business class product for solo travelers, but they're also the best in the business when it comes to family travel.
With QSuites, you'll enjoy fantastic bedding and amenities from The White Company and BRIC, a fully lie-flat seat with direct aisle access, fantastic catering, and unparalleled service.
Your seat will be 21.5″ wide and 79″ long in bed mode. It isn't as big as the Singapore Airlines business class seat, but Qatar Airways' bedding will make you feel like you're sleeping in clouds.
Other features include sliding doors for extra privacy, tons of storage compartments, and a technologically advanced seat (with Do Not Disturb signs). The coolest thing is that the QSuites in the middle can be converted into a 4-person cabin if you're traveling as a group!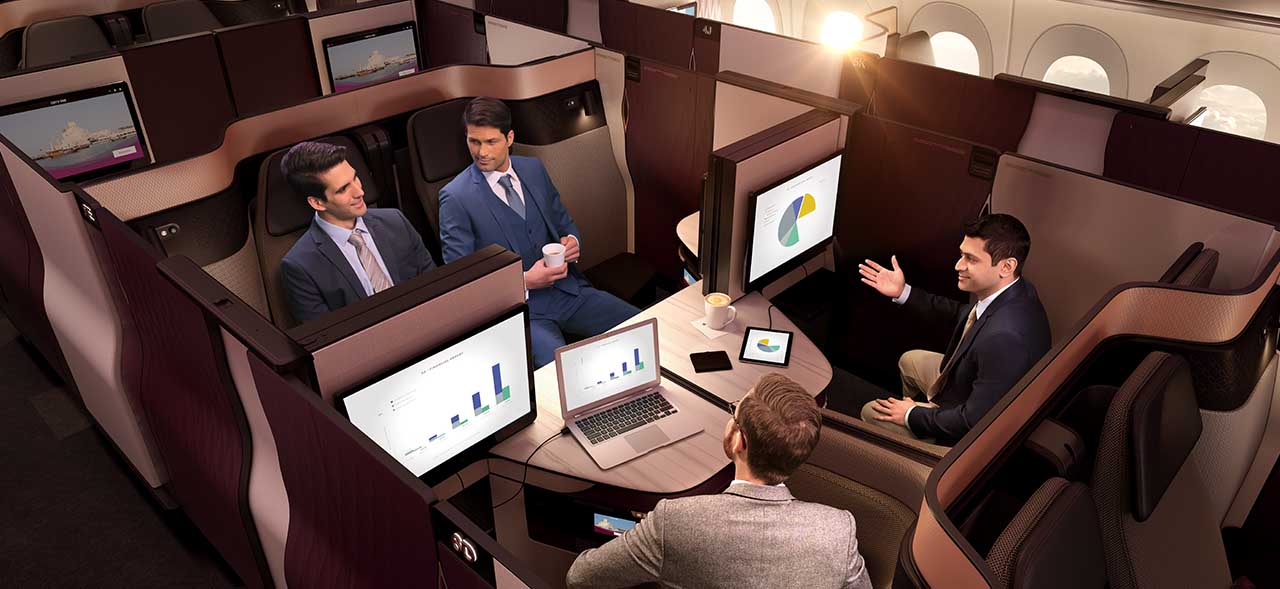 Qatar Airways is a Oneworld Alliance partner, which is great because you can use miles from American Airlines, British Airways, etc. to book your QSuites. If you need some tips, check out our guide to searching for Oneworld award availability.
Hot Tip: If you're looking for step-by-step guidance, check out our guide on how to book QSuites using points and miles!
2. EVA Air
EVA Air is arguably the most underrated business class product in the world. I've personally flown in EVA Air business class (they call their long-haul business product "Royal Laurel"), and I had absolutely no complaints.
The seats are arranged in a 1-2-1 reverse herringbone configuration, which is exceedingly private. Each business class seat is 26″ wide with an 81″-87″ pitch and 78″ bed length. This is extremely wide for reverse herringbone seats (typically you'll see 20″-22″).
Furthermore, EVA Air offers some fabulous Taiwanese catering, including juicy pork dumplings from Din Tai Fung, and endless Western courses too! You can also use EVA Air's Book The Cook option to reserve your meals before your flight.
Their bed is super comfortable, plus you'll get pajamas from Apujan (a London-based designer label,) and Rimowa/Salvatore Ferragamo amenity kits. This is one of the only airlines that offers pajamas in business class, much less pajamas and Rimowa amenity kits!
Award availability is absolutely phenomenal on this Star Alliance carrier. There's very little to complain about when it comes to EVA Air, and we like it that way.
Be sure to check out these great ways to earn Eva Air miles, and you can experience their business class for yourself in no time.
Hot Tip: Need help booking? Check out our guide on how to book EVA Air business class using points and these 29 ways to redeem EVA Air Miles for maximum value.

3. Delta One Suites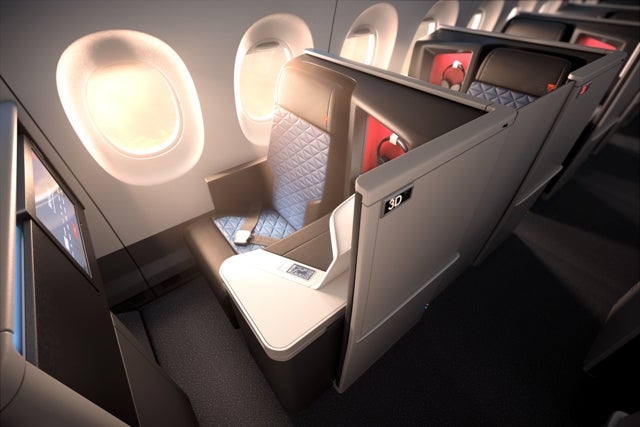 We're also huge fans of Delta One Suites (check out our review of the Shanghai to Los Angeles route). These Delta One Suites are Thompson Vantage XL seats with sliding doors that give you utmost privacy.
Though Delta One Suites are among the most technologically advanced and thoughtful hard products out there, the seats are relatively narrow at 21″ wide. The aisles are also quite narrow, so you might get a bit claustrophobic walking through them.
Highlights of Delta One include a beautiful Tumi amenity kit stocked with Kiehl's wellness products, plush Westin Heavenly bedding, and a comfortable seat to begin with.
Overall, it checks most of the boxes (though the lounge experience is limited to Delta Sky Clubs at the moment). Additionally, the Delta One Suites routes are currently limited — so if you want to try it, you'll want to confirm that Delta One Suites are being offered on your prospective flight.
Hot Tip: Check out our step-by-step guide on booking Delta One Suites using points and miles.
4. Singapore Airlines "New" A380 Business Class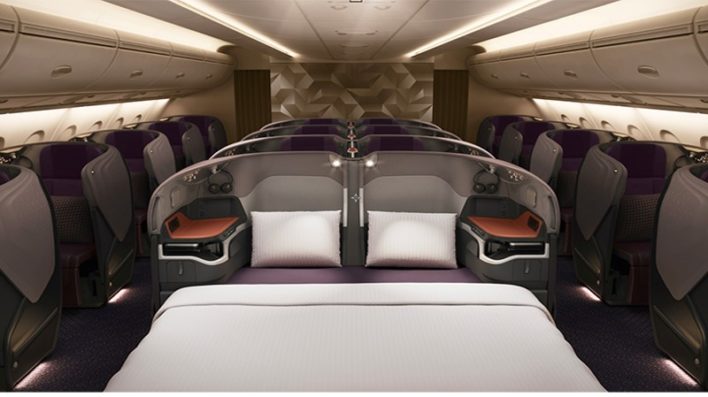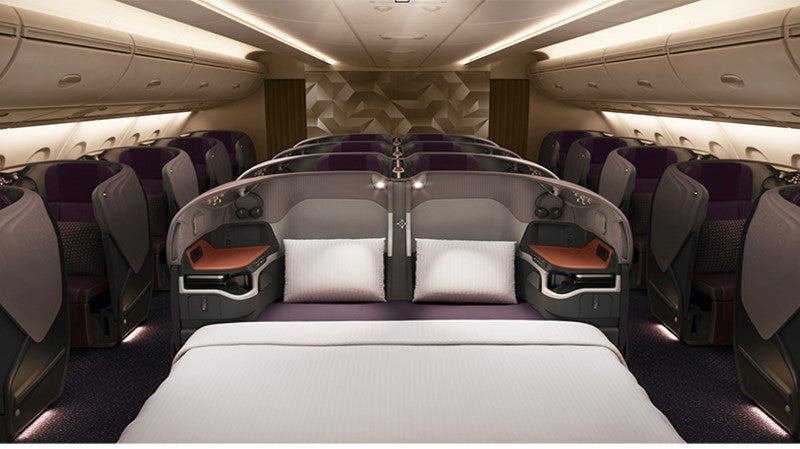 Singapore Airlines unveiled their revitalized A380 business class, which was last rolled out in 2006 — so this brings a welcome refresh to their premium cabin products.
Notably, the Singapore Airlines' new A380 has double beds in business class! This is very similar to the Qatar Airways QSuites that we talked about above.
With this new Singapore Airlines business class product on the A380, you can definitely expect some huge technology upgrades, including blazingly-fast Wi-Fi, a crisp 18″ inflight monitor that comes with phenomenal inflight entertainment, and their signature Book The Cook service.
The main drawback of these new business class seats is the tiny footwell, though you can get around this issue if you're able to choose bulkhead seats. Another "first world problem" is that Singapore Airlines doesn't provide amenity kits in business class.
At the moment, these new business class seats are limited to a few routes, which is also another setback if you're looking to try them out.
Check out our dedicated post on the subject for more information on the plane types and seating/cabins available for SQ's U.S. based routes.
Bottom Line: Not sure about flying business class with the whole family? Check out this post where we go over the pros and cons of flying business class with a baby.
5. ANA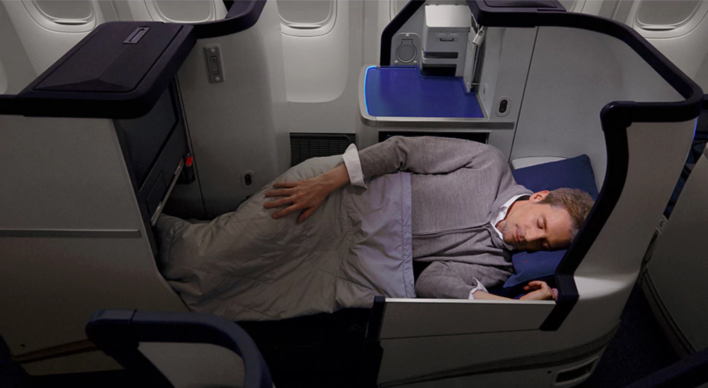 ANA business class is known for personifying Japanese hospitality and culture. The business class seats are arranged in a staggered 1-2-1 configuration featuring direct aisle access and fully lie-flat beds at all seats. You'll enjoy a seat that is 21″ wide and 62″ in pitch.
As with any solid business class product, ANA provides a comfortable sleeping surface, great bedding, tasty Japanese cuisine, large footwells, and a large inflight monitor. You'll also receive a decent business class amenity kit (likely from L'Occitane), though it's not as loaded as the EVA Air ones.
Additionally, you'll enjoy genuine service throughout your flight. The main drawback is that the seat is relatively "old" compared to other products like QSuites. But from a utilitarian view, ANA will provide you with an excellent business class experience — the only hiccups being things like a narrow range of inflight movie options.
Best of all, booking ANA with points and miles is super easy and has some fantastic sweet spots from Virgin Atlantic and ANA Mileage Club!
Bottom Line: All in all, ANA's business class seat/bed is comfortable, the food is great, the service is top-notch — and this has all the makings of a memorable business class experience. For details, check out our review of ANA 777 business class.
6. Emirates A380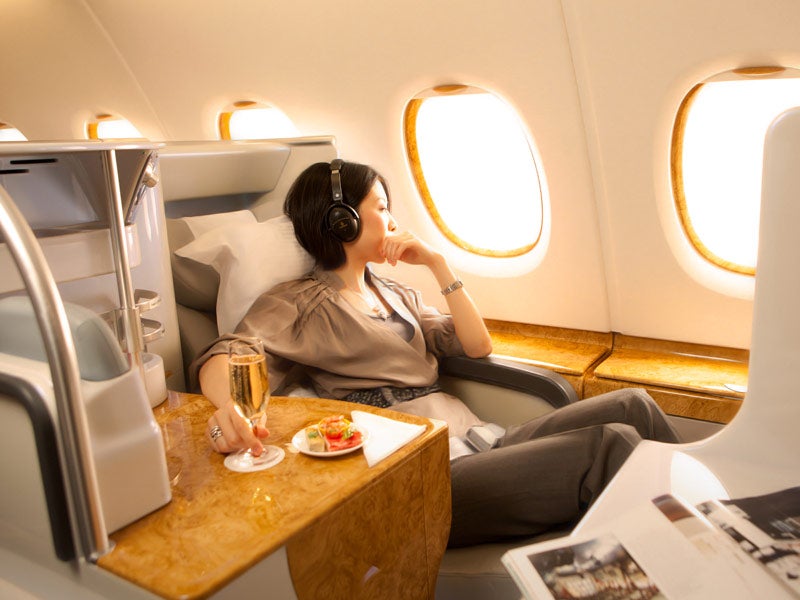 Emirates business class is almost a rite of passage for many points and miles aficionados. This product is known to be glamorous and glitzy with all the bells and whistles you could think of.
Some of the Emirates business class highlights include a state-of-the-art entertainment system, Bvlgari amenities, a mini-bar by your seat, motorized window shades, a manned inflight bar, and a spacious seat.
However, some of these things are meant to provide more of a "wow factor" than anything, such as the power shades and personal mini-bar. The food is known to be just OK, the bedding is rather lackluster, and the Wi-Fi is pretty bad for such a tech-enabled airline.
Hot Tip: If you need help booking your award flight, see our guide on the best ways to book Emirates business class with points.

7. Japan Airlines 777-300ER
Japan Airlines has a somewhat misleading business class product. From looking at the 2-3-2 seating configuration, you might think its business class is nothing special — but it's one of the best products you can find in this category.
That's because Japan Airlines uses a seat product called Apex Suites, which is known to be incredibly private. Even in a 2-3-2 seating configuration, all seats have direct aisle access along with privacy dividers/partitions. All the lie-flat seats are 25.5″ wide, 74″ in pitch, and 74″ long in bed mode.
If you're thinking these seats sound huge for business class, you'd be right! And if you manage to secure seats in row 5 like I did on the 777-300ER, you'll enjoy a true private-jet feel: there's only 1 row of business class seats in this mini-cabin, and the bulkhead means you'll have a lot more legroom.
Aboard Japan Airlines, expect a selection of tasty Asian dishes, a comfortable ride with solid bedding, a 23″ inflight monitor, a boutique Japanese amenity kit, and unparalleled service.
Finally, Japan Airlines is excellent about releasing award availability, both very far in advance and at the last minute. In fact, they are extremely consistent with releasing all their unoccupied seats for award redemption 1-2 days before departure.
Hot Tip: If you want one of the best all-around business class experiences, Japan Airlines won't disappoint. For the inside scoop, check out the best ways to book JAL Business Class.
8. China Airlines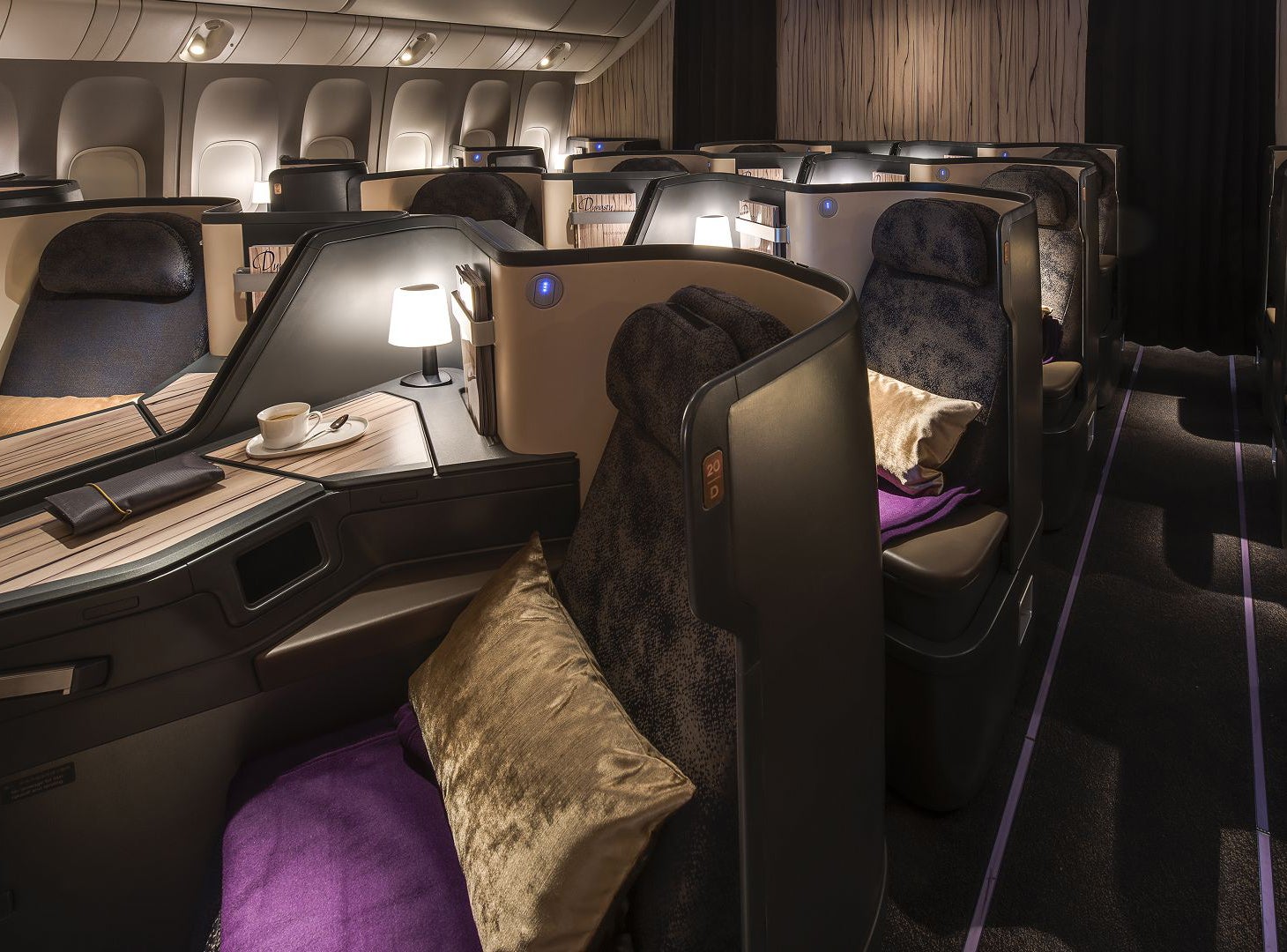 China Airlines is the flag carrier of Taiwan. They operate the 777-300ER on direct flights to/from the U.S., and they have some fabulous business class products.
You'll find a reverse herringbone seat in a 1-2-1 configuration with tons of bedding — you'll truly feel like you're sleeping in one of the best hard products in the sky. The in-flight monitor is 23″, which is the same size as the one in Japan Airlines' business class product above.
The seat itself is technologically enabled with tons of storage and charging ports, and food tends to be solid. While their amenities used to be mediocre, the new kit will feature The North Face products, which is a nice improvement!
China Airlines' food and beverage program tends to be decent, though not as good as Japan Airlines or ANA. However, they offer an inflight bar and mini-library on the 777, which is pretty neat.
You can find a ton of award availability here both in advance and close-in, though China Airlines' SkyTeam partners don't have the most appealing award chart in the world.
Bottom Line: Overall, the business class product on China Airlines presents some competition to EVA Air, though the soft product isn't quite there yet.
9. Cathay Pacific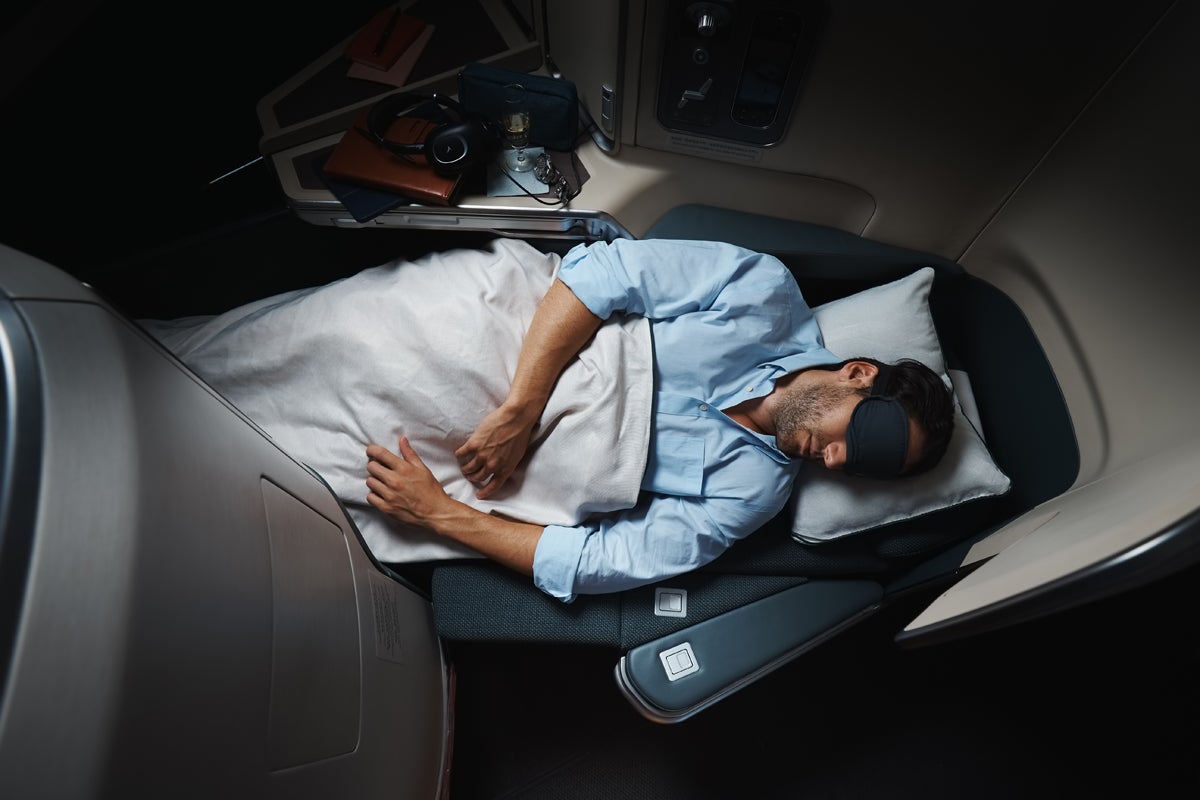 Cathay Pacific's product has largely remained unchanged for a long time. Their business class consists of reverse herringbone seats in a 1-2-1 configuration, each of which is 21″ wide and 81″ in pitch/bed length aboard the 777.
The layout is very private, and Cathay Pacific's cabin finishes are quite stylish. These lie-flat seats come with Jurlique amenity kits, but unfortunately the bedding is nothing to write home about. (You'll receive a pillow and a comforter, but not a mattress pad.)
Food is generally pretty decent and features Hong Kong classics such as dim sum, wonton noodles, or seafood chow mein (海鲜炒面). Your inflight entertainment options will be vast, you'll have tons of storage at your seat, and your headphones will be noise-canceling for maximum comfort.
Cathay Pacific offers many different business class products — get the inside scoop in our definitive guide to Cathay Pacific U.S. routes. And be sure to try the Cathay Pacific Lounges in Hong Kong!
10. Air France 777
Though Asian airlines have a reputation for offering unmatched service, we do have some solid business class picks on European airlines as well. Air France is a top choice for people planning transatlantic travel.
Although they operate a slew of different business class products, Air France's 777 business class (except the ATL-CDG 3-class 777) offers a reverse herringbone layout that's worth spending your hard-earned points on. This business class product is in a 1-2-1 configuration with seas 21.5″ wide and 61″ in pitch.
The seats themselves were introduced in 2014, so are relatively new. Your duvet and pillow are pretty thick, though there's no mattress pad or pajamas provided on this flight. Your amenity kit will most likely contain Clarins toiletries, and the food tends to be extremely tasty and exquisitely French.
Award availability for these routes is spectacular, though the award pricing is another story. Air France/KLM Flying Blue uses a "variable award pricing" calculator, which can price U.S.-to-Europe business class awards anywhere from 53,000 miles to an eye-popping 212,500 miles one-way!
The good news is that Air France/KLM Flying Blue partners with all 4 major transferable currencies: Chase Ultimate Rewards, American Express Membership Rewards, Citi ThankYou Rewards, and Marriott.
Hot Tip: Want to go to Paris? We've already done all the hard work for you. Check out our guide on the best ways to fly to Paris using points and miles!
11. Virgin Australia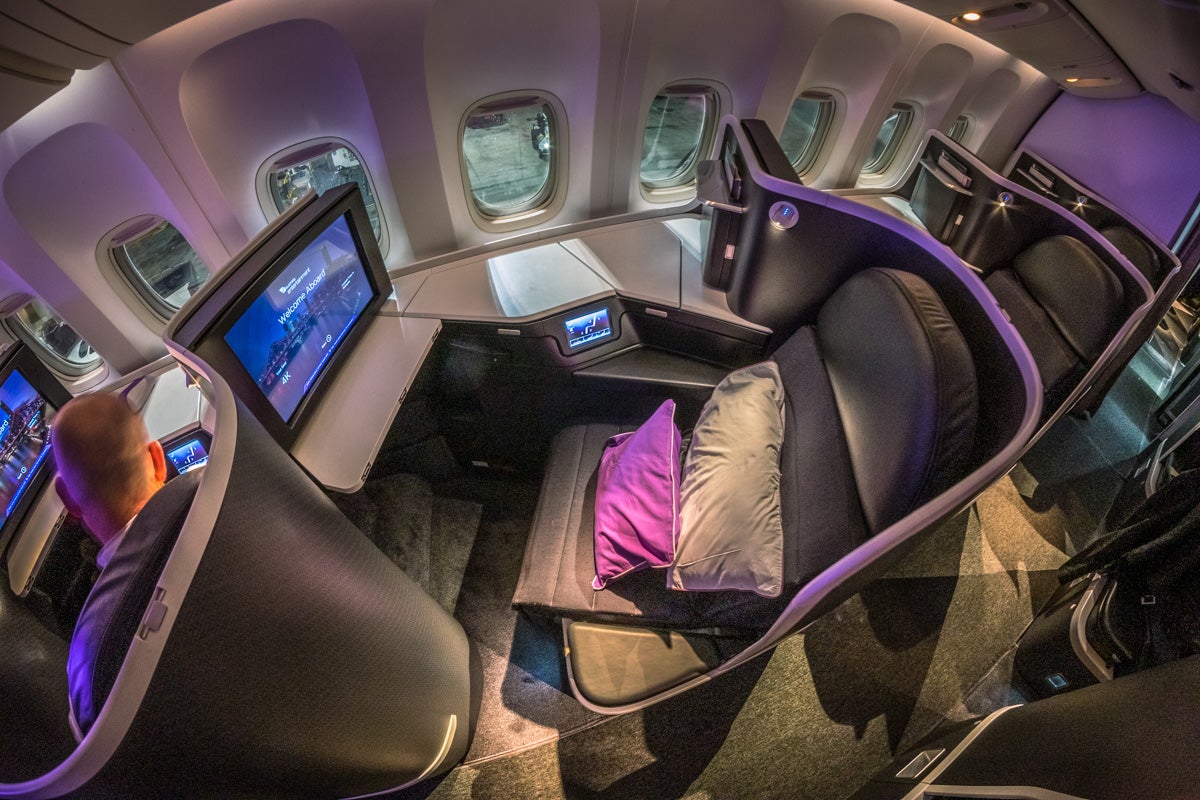 With service focused on Australia only, you'd think Virgin Australia would be overshadowed by Qantas. But Virgin Australia has tons of character, and it's reflected in the service.
Virgin Australia's business class seat is a spacious 23″ wide and 76″-80″ in pitch/bed length (depending on where you sit). When you're ready to sleep, the crew will provide a thick mattress pad and great bedding to make your slumber that much more comfortable.
The culinary options here are plentiful; you can essentially choose to dine whenever you want on award-winning and thoughtfully crafted food choices.
Virgin Australia provides business class pajamas but no slippers, and they also don't have lumbar adjustments, touchscreen remotes, and a few other extras (which will be perfectly okay for 99% of us).
Unfortunately Virgin Australia Velocity points are pretty difficult to accrue for U.S.-based points earners, but you can use Virgin Atlantic Flying Club Virgin Points to book travel on Virgin Australia.
Hot Tip: Check out our in-depth review of Virgin Australia's "The Business" for more information. If you want the best ways to fly to Australia, we've put together a detailed guide on just that.
12. Singapore Airlines 777-300ER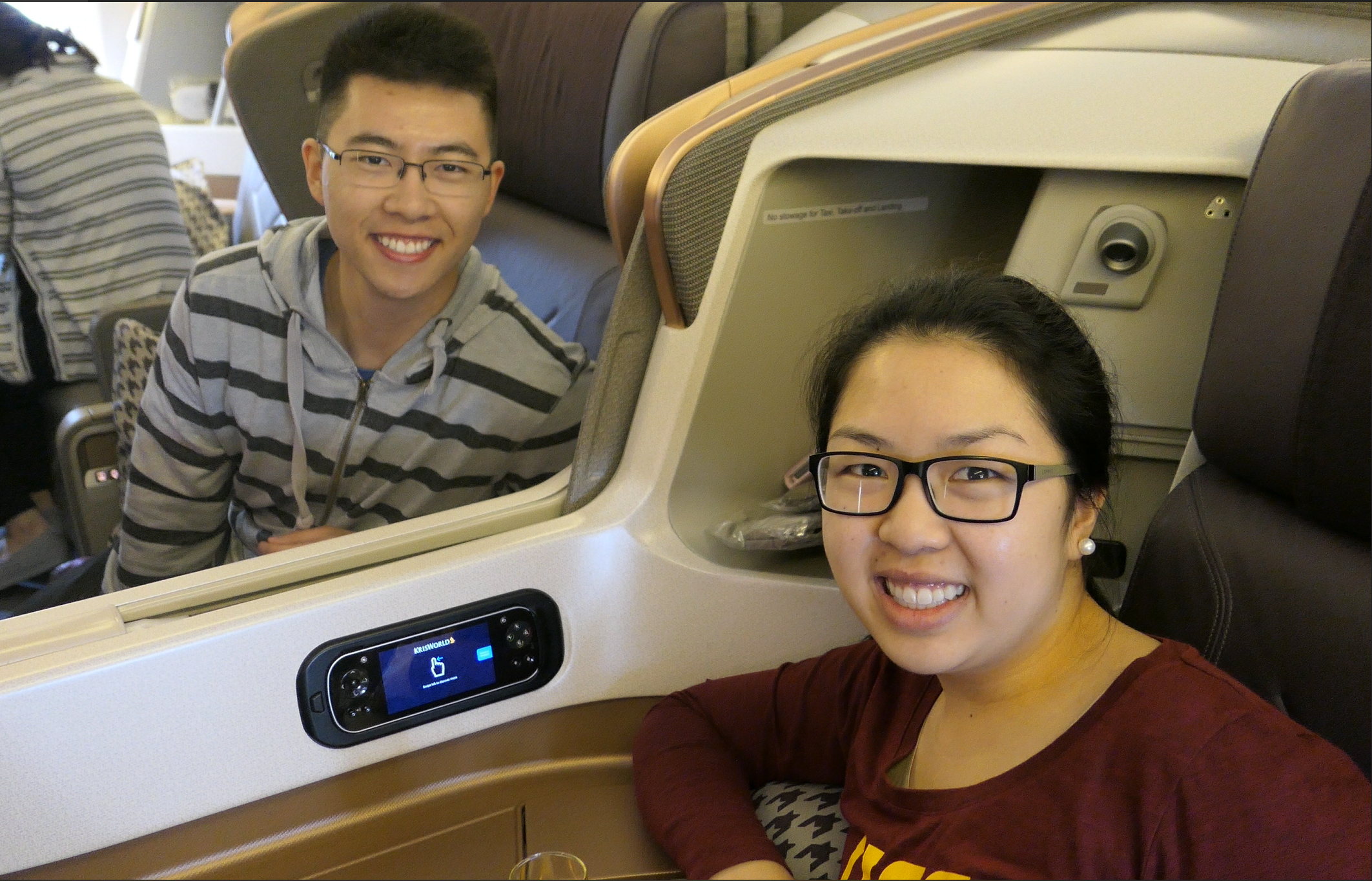 Singapore Airlines utilizes the 777-300ER on some of their nonstop routes to/from the U.S. The seats in Singapore Airlines' 777 business class are absolutely gigantic at a whopping 28″ wide!
You'll also experience super crisp inflight entertainment screens, great service, plenty of storage space, and the fantastic "Book The Cook" service (but no business class amenity kits).
However, the seats themselves are a bit quirky — you need to flip the seat over to convert it into a fully lie-flat bed. Additionally, the footwell is pretty small, and you'll have to slant your body to fit your legs into the space (unless you get the coveted bulkhead seats).
Hot Tip: Check out our review on this Singapore Airlines business product for in-depth information.
13. United's Real Polaris Class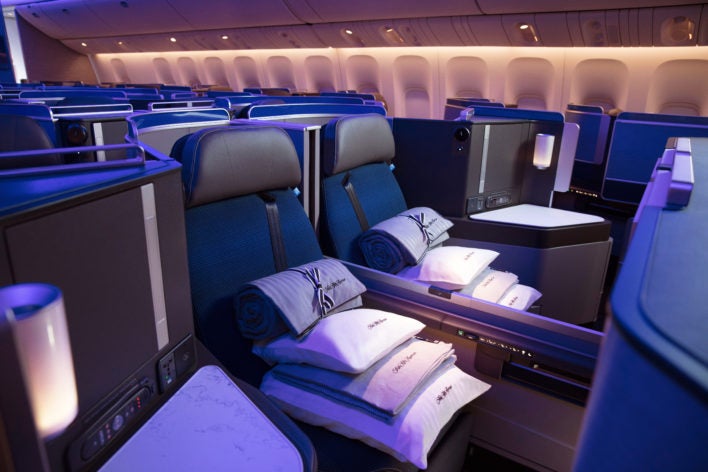 United Airlines has tons of variability for what constitutes Polaris class, but its true Polaris class consists of staggered seats in a 1-2-1 configuration. United's real Polaris class is flown on some of these planes: 787-10, 777-300ER, 777-200ER, and 767.
Seat widths tend to be around 22″-24″ wide and 78″ in pitch and bed length. These new products are technologically advanced, feature Saks Fifth Avenue bedding, and offer solid food and beverage options.
Overall, the major highlight of United Polaris is the bedding, which features 2 pillows (one of which is gel), a mattress topper, and a thick duvet/comforter.
The main drawback for these seats is that very few routes utilize this business class product. Furthermore, award availability is relatively sparse — if you want to try it, you'll need to be tremendously flexible.
14. Air New Zealand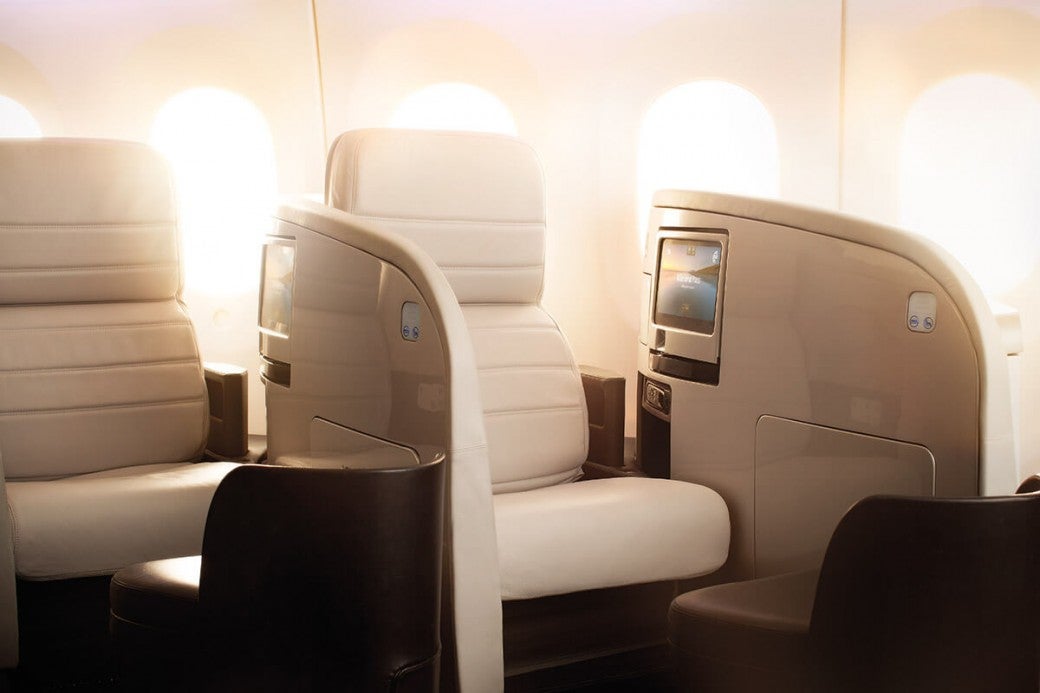 Though New Zealand isn't the most accessible place (especially for U.S. travelers), Air New Zealand has your back with a stellar business class product, which it operates on routes to/from the U.S. flying 777 and 787 aircraft.
Business class seats on the 777 have a herringbone 1-2-1 configuration with tons of space. The 787 has the same seat, but the 1-1-1 configuration is ridiculously private! All seats are 22″ wide, 79″-80″ in pitch, and 79.5″ long in bed mode.
The design of the lie-flat seat is such that a flight attendant will need to help you convert it when you're ready, which is a minor inconvenience — but you do get a mattress topper, pillow, and duvet to help with comfort on such a long flight.
Air New Zealand's amenity kit is very cool: it features Antipodes amenities and doubles as an iPad case! They also have a reputation for having some of the cheeriest flight crews!
The main drawback is that these seats are somewhat dated, and the 12″ inflight entertainment screen is tiny. However, the monitors do pop out so you can watch television or movies while reclined at an adjustable distance.
As for availability, it's not great: out of the whole year, some flights only have 1-2 dates with business class seats available for redemption, which is disappointing.
15. Etihad A380 Business Studio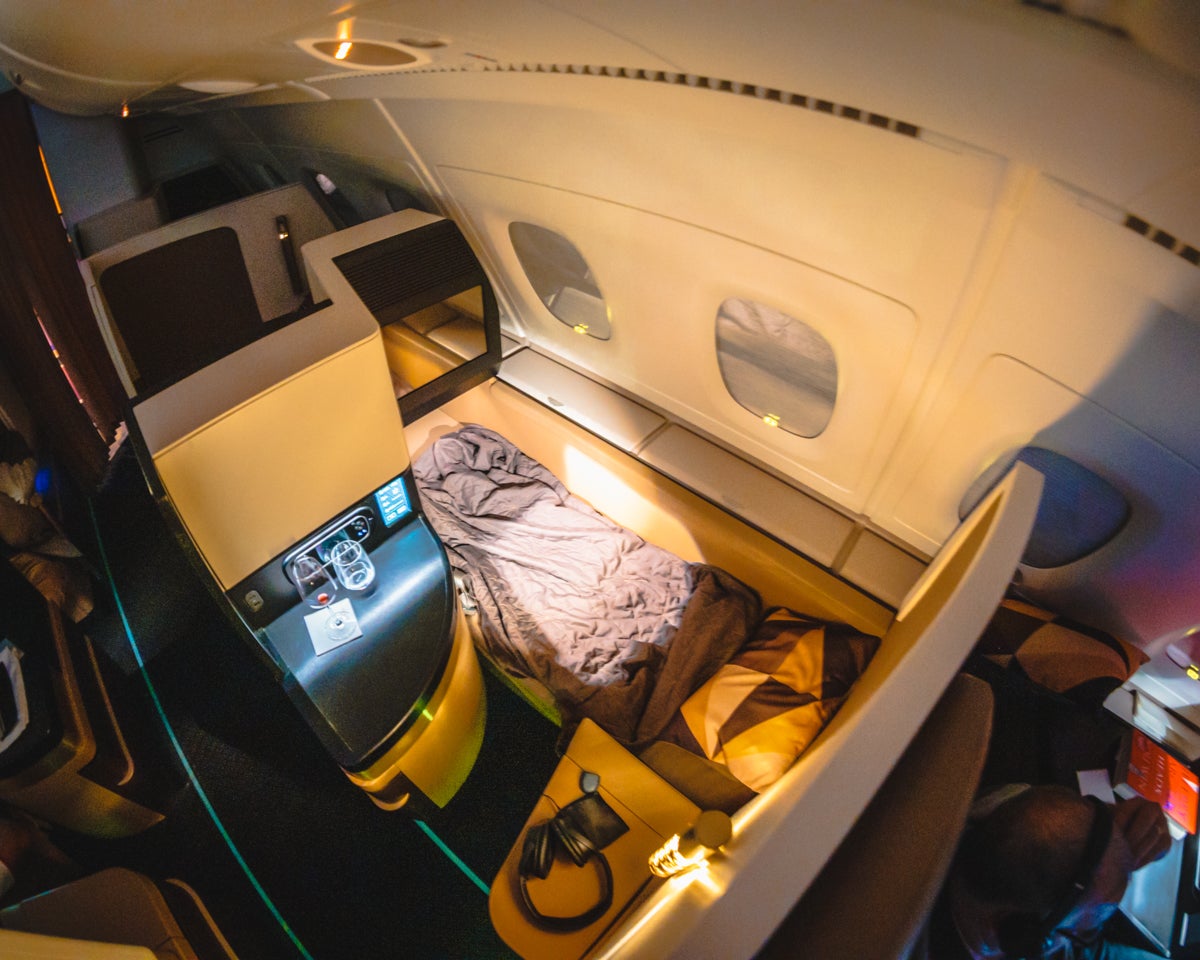 Known for their out-of-this-world First Class Apartments and the Etihad Residence, this financially struggling airline provides one of the only ways to fly to the Middle East from the U.S.
Etihad uses their best business class product on their 787s and A380s, which they call the Business Studio. Seats are arranged in a staggered 1-2-1 configuration alternating rows that face backward and forward.
These Business Studio seats are 20″ wide on the A380 and 22″ wide on the 787, with up to 78″ in bed length and pitch. Major highlights include a comfortable seat and bedding, great service, the dine-on-demand menu, provided pajamas, great inflight entertainment, and decent Wi-Fi.
But the main gripe people tend to have with Etihad business class is the food — for such a well-rounded business class product, it's just OK. And with very few business studio routes and not-so-stellar award pricing, this product falls toward the bottom of our ranking.
Hot Tip: Etihad has a great frequent flyer program, known as Etihad Guest, which is interestingly one of the best options for booking American Airlines premium travel. We also put together a guide on Etihad Airways Routes you can check out if you want to fly with them.

16. Qantas 787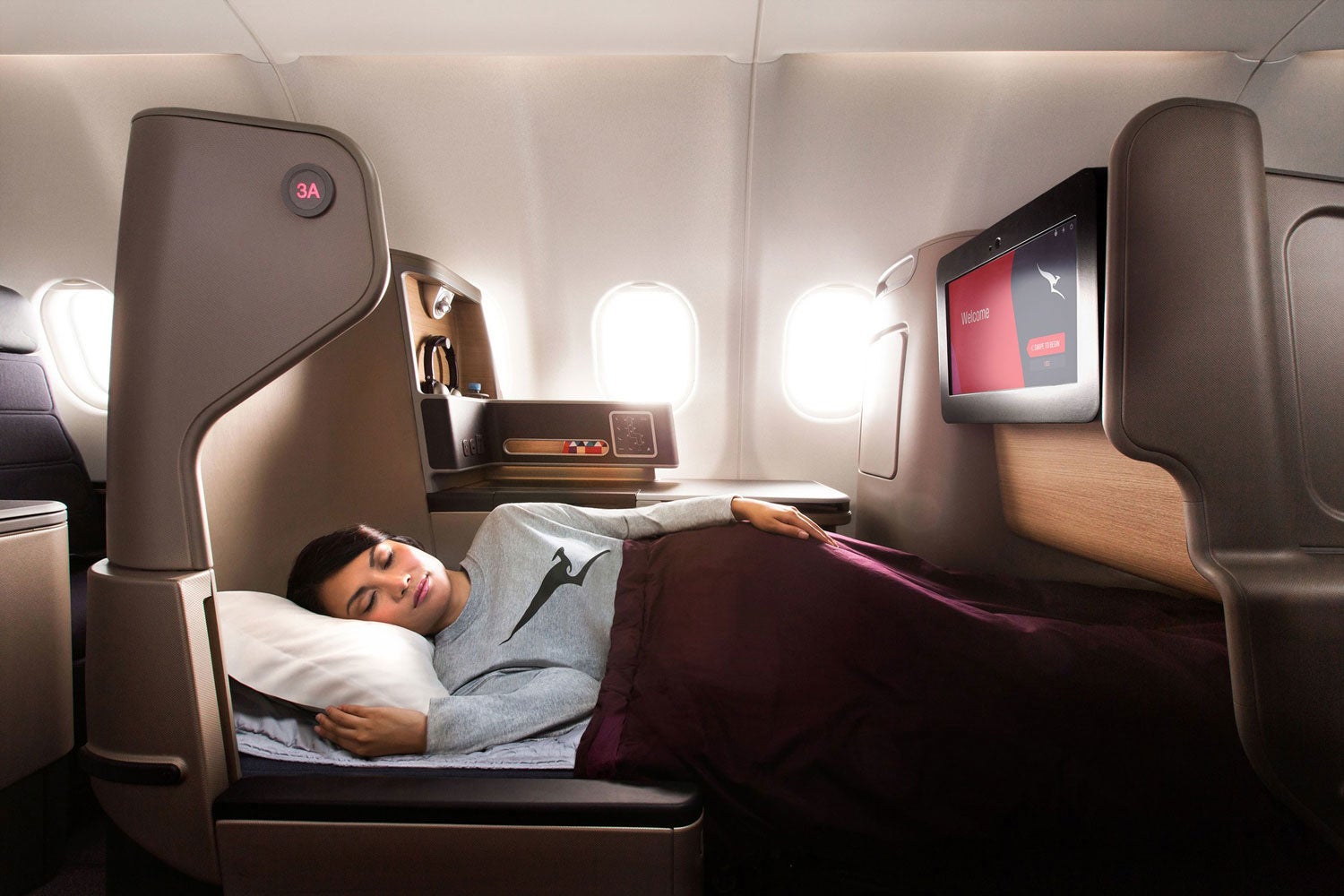 Qantas operates the A380, 747, and 787-9 on routes to/from the United States. In business class, the A380 isn't amazing, with angled-flat seats that don't all have direct aisle access. However, the 787-9 is a totally different story: you can expect seats in a staggered 1-2-1 configuration, each 23″-24″ wide and 80″ in bed length!
This product ranks here primarily because of its seat size, dine-on-demand availability, and thoughtful departure times. Qantas seems to understand that the flights between the U.S. and Australia are excruciatingly long, so planning red-eye departures is beneficial in every way.
Their soft product isn't going to win any awards, but the mattress topper, seat size, and emphasis on comfort is sure to impress.
Some drawbacks include limited award availability, smaller foot space in non-bulkhead seats, and inconsistent service. Still, with very few airlines flying to the South Pacific region, your business class options are relatively limited.
Hot Tip: Check out our step-by-step guide on the best ways to book Qantas business class using points.
17. Oman Air 787 Apex Suites
Even if you've never heard of Oman Air, one thing you should know is that their business class — especially their 787 Apex Suites business class — is fantastic. These 2-2-2 configured seats are super private (especially the window seats) with partitions, direct aisle access, and lie-flat capability.
You'll find thick bedding (though no mattress topper), pajamas, and a solid Oman Air-branded amenity kit. Furthermore, the food and beverage program is delicious.
One of the cons of this product is that you won't be able to find a U.S. route to try it out on. In fact, there aren't many Oman Air routes that offer this Apex Suites product at all. But if you manage to get your hands on some award availability, be sure to utilize Etihad Guest miles for fabulous value!
18. Korean Air Apex Suites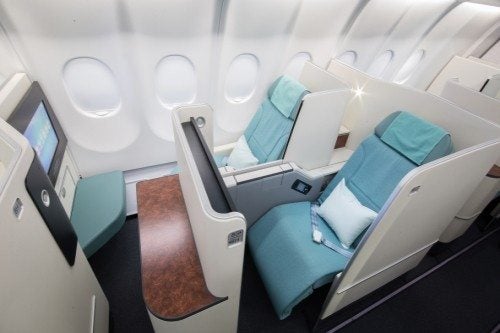 Korean Air uses the same Apex Suites-style configuration as Oman Air, but with quite a few more routes (mainly utilized on the 747-8, 777-300ER, 787, and A330-300).
Food and service tend to be the highlights for Asian carriers, and Korean Air is no exception. While their cabin finishes are known as hospital-like and sterile, the service is always undeniably good. Plus, you'll have around 21″ of width and 75″-80″ of bed length to sprawl out on.
The inflight monitor measures around 17″, and the amenity kit has DAVI toiletries. The main drawbacks brought up with Korean Air business class are a lack of thick bedding, concerns with inflight entertainment options, and poor ground service.
Still, Korean Air does a fantastic job with their seat size and soft product, and is one of the best SkyTeam partners to redeem miles and points on.
Hot Tip: Have you decided on visiting South Korea and flying on Korean Air to get there? Check out our guide on the best ways to book Korean Air business class.
19. Air Canada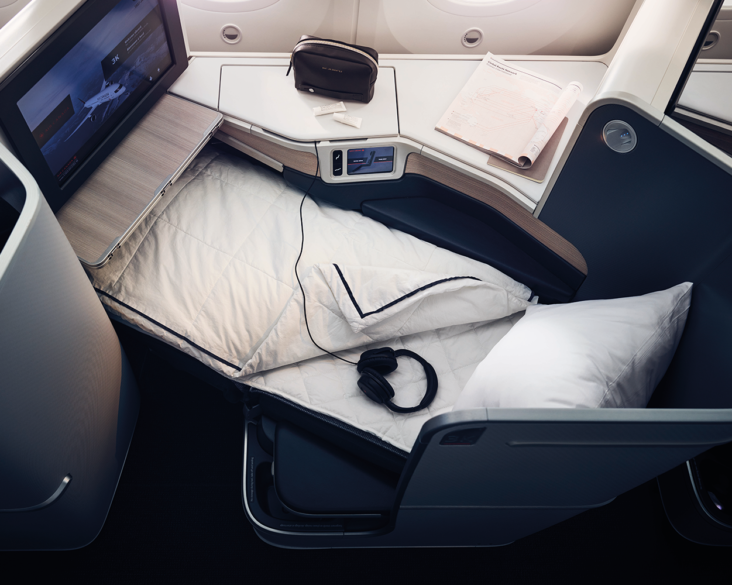 Air Canada's flagship business class product is known as Signature Class, with lie-flat business class seats in a 1-2-1 reverse herringbone configuration that's pretty standard for business class.
I'd describe Air Canada Signature Class as comfortable. The hard product is generally awesome, and their bedding is very plush (with a mattress pad) — though you'll have to set up your bed yourself. The seats are 21″ wide and 75″-78″ long in bed mode, which is solid but not spectacular for a reverse herringbone seat.
Though Air Canada has decently stocked amenity kits, the brands may vary. Food and beverage options are said to be tasty and familiar for American tastes, but no inflight Wi-Fi or pajamas are offered.
The unfortunate thing is that award availability on flagship routes is relatively limited — unless you book through Air Canada Aeroplan, which comes with hundreds of dollars in fuel surcharges!
If you prefer to try your luck at scoring an upgrade, check out our guide to upgrading to business and first class on Air Canada.
Bottom Line: Especially if you can find award space, Air Canada provides a solid product for a restful flight: comfortable beds/seats and good food. 
20. Xiamen
A relatively unknown airline, Xiamen offers 1-2-1 reverse herringbone seats in their updated business class product, which is available on their newest 787-9 Dreamliners.
This is an excellent hard product with ridiculously wide reverse herringbone seats: 26″ in width with a 78″ pitch/bed mode length. The service is solid, food is great, and Wi-Fi is free!
Amenity kits are Crabtree & Evelyn-branded, and you'll get noise-cancelling headphones along with cool-looking blue slippers. The bedding is quite thick, though a mattress pad isn't provided.
Xiamen is a SkyTeam airline, so you can use miles like Delta and Air France/KLM Flying Blue to book (though the award availability isn't very stellar). Still, Xiamen offers ridiculously cheap business class fares, especially on connecting flights, so that's also an option.
21. Hainan Airlines Reverse Herringbone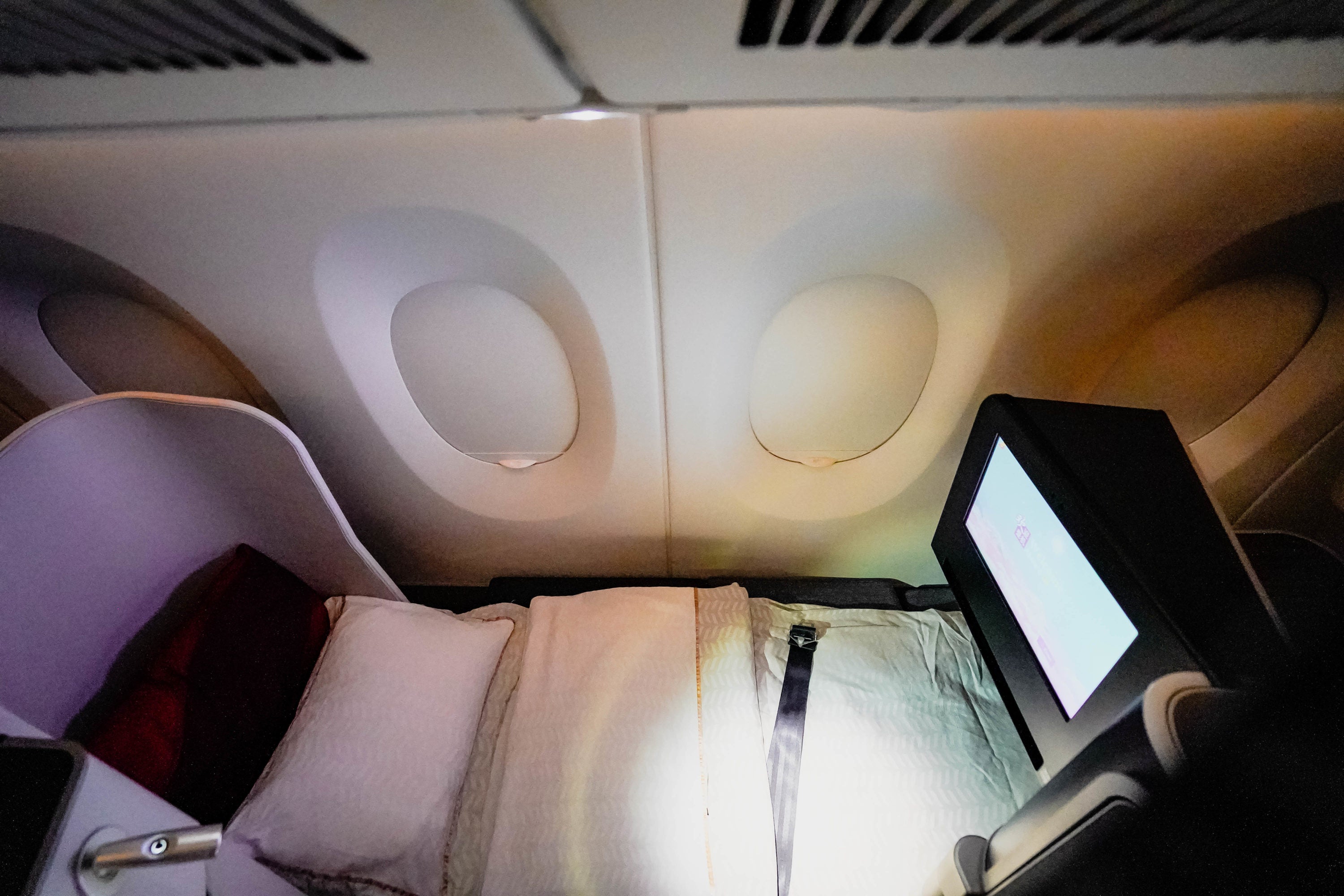 Hainan Airlines recently unveiled their new business class product, which is a reverse herringbone seat in a 1-2-1 configuration. This is a huge upgrade compared to its old 2-2-2 business class, and the relatively small cabin of 30 seats makes for a private experience.
Service was probably the biggest selling point of Hainan Airlines until this new hard product came along. In addition, the food is tasty, and they live up to their status as a Skytrax 5-Star Airline.
If you're flying a Chinese airline in business class, Hainan Airlines is definitely the best choice. They have a lot of routes to/from America, especially from cities like Los Angeles, Seattle, San Francisco, and New York.
Hot Tip: There aren't very many ways to redeem points and miles for Hainan Airlines business class, but some options include Alaska Airlines Mileage Plan and Etihad Guest.
22. THAI Air 787-900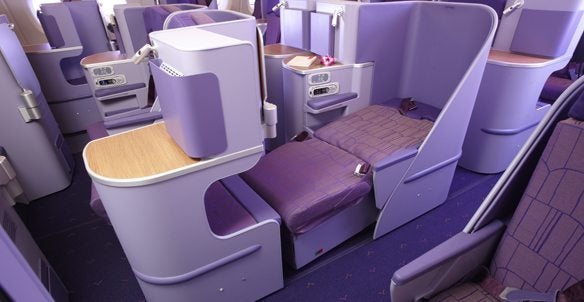 THAI Airways has an intriguing business class situation. While their first class is one of the best in the world, they have had a relatively lackluster business class…until rolling out these new 787-900 business class seats.
As you can probably imagine, these 1-2-1 reverse herringbone seats are currently only being used for a few routes, namely Auckland and Taipei. If you're flying here, expect 21″ of width, 61″ of pitch, and 77″ of bed length.
The armrests lower in bed mode, so you'll have more room to stretch out. But some other aspects of the product fall short, including the small 16″ inflight screen and thin bedding. However, the soft product is excellent, including a lounge experience in Bangkok.
Bottom Line: This is a great niche product to try if you're traveling in Bangkok, Auckland, or Taipei. THAI's comfortable seat, great service, and sweet spot redemption prices are what set this option apart.
23. South African Airways A330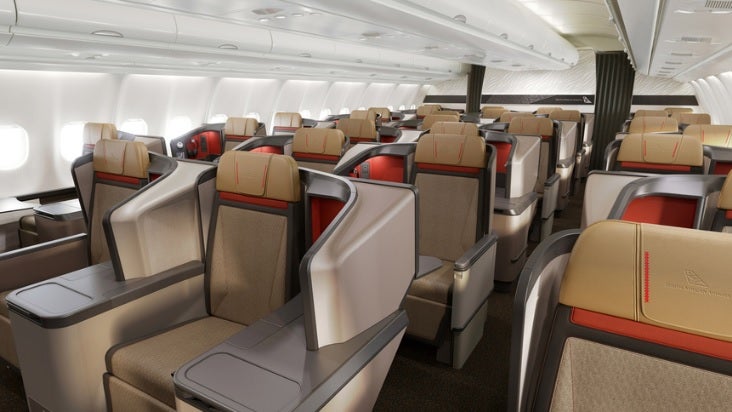 South African Airlines has some of the coolest cabin finishes ever, but that's not the only thing going for them. Their staggered Thompson Vantage XL seats on the new A330-300 are 24″wide, 45″ in pitch, and around 78″ long in bed mode.
Amenity kits are typically well-adorned with Crabtree & Evelyn products, and the flight crew is known to have tons of character and be fun onboard. Food is about what you'd expect on international business class airlines, which is decent but not over-the-top.
The 15″ inflight monitor can't be tilted/angled, so unfortunately you won't be able to watch a movie while in lie-flat position. And though South African Airways doesn't operate many of these planes, award availability tends to be pretty decent (since the routes are typically very niche without high demand).
24. Lufthansa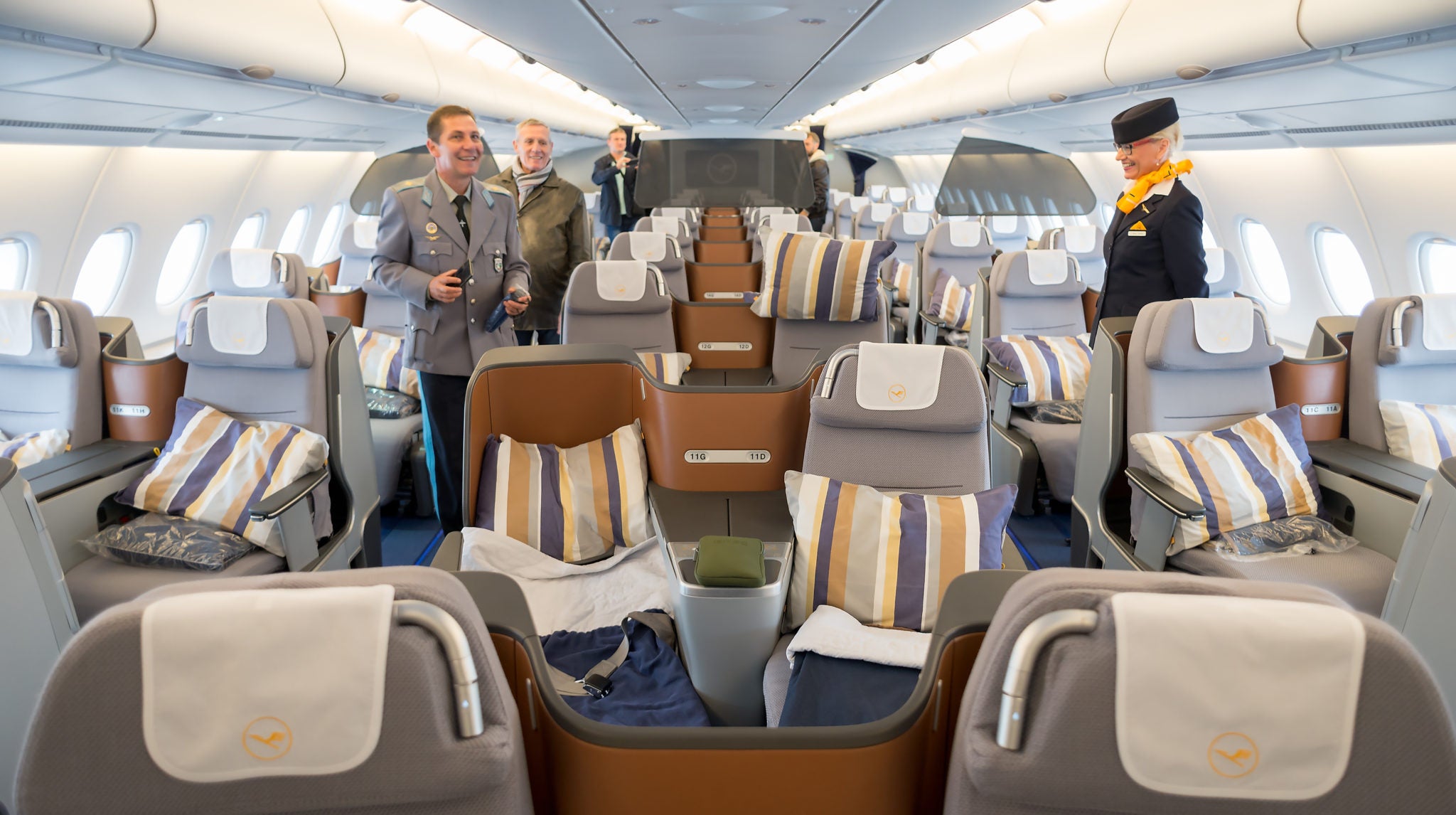 Lufthansa Airlines is known for its award-winning elegant first class — but the same can't necessarily be said for its business class. The seats are arranged in a 2-2-2 configuration, so you won't always have direct aisle access.
Seats are relatively narrow at around 20″ wide and 76″ long in bed mode. Still, they are fully lie-flat, and the provided mattress topper, duvet, and pillow will enhance your experience.
Wi-Fi is provided on most of their flights, and it's pretty fast. Additionally, the service is warm and the food will leave you satisfied. Award availability is plentiful in business class, which is also a plus!
Hot Tip: Check out our step-by-step guide on the best ways to book Lufthansa business class using points.
All in all, Lufthansa's business class soft product is very polished, but their hard product lags behind. If Lufthansa retrofits their aircraft with industry-standard 1-2-1 reverse herringbone seats or even Apex Suites, it would instantly catapult their ranking at least 10 spots in our book.
25. Swiss International Air Lines
Swiss International Air Lines, or Swiss for short, is a mixed bag of business class seats. The seat map is somewhat confusing and also unique — some business class seats don't feature direct aisle access, while others are throne seats as shown in the image above.
As a result, the Swiss business class experience can change depending on what hard product you reserve. Typically, throne seats require a $200 surcharge to reserve, which in my book would be totally worth it.
Amenity kits are Victorinox, which is apt for Swiss Air. Their food tends to be average, and service can be inconsistent. Inflight entertainment options are somewhat limited, and the bedding offered is not the best.
Award availability used to be stellar in advance, but it's actually very difficult to find nowadays, especially from the West Coast.
Final Thoughts
As you probably know by now, each business class product has its nuances, whether it's a large business class seat, specific cuisine choices, or even amenity kit brands.
All of these considerations are essential, especially when spending your hard-earned points and miles. Now, you have an idea of the 25 best international business class airlines in the world. Happy booking and traveling!