United 787-10 Polaris Business Class Review – Los Angeles to Houston [Detailed]
Airline: United Airlines (UA)
Aircraft: Boeing 787-10 Dreamliner
Flight #: UA 2361
Route: Los Angeles (LAX) to Houston (IAH)
Date: April 24, 2019
Duration: 3 hours, 13 minutes
Cabin and Layout: United brand-new Polaris, 44-seat capacity across 11 rows, 1-2-1 configuration
Seat: 7A
Miles Used: None, upgraded a paid fare for $184
Taxes and Fees Paid: $79.70
Typical Retail Cost: $776
Typical Economy Cost: approximately $150
Booking United Polaris Business Class
I booked a paid economy ticket from Los Angeles (LAX) to Houston (IAH) and upgraded the fare for $186 one-way to the brand-new Polaris seats on this flight.
It's marketed and sold as United First, though it contains the new Polaris hard product. The economy ticket was booked in fare class Q, and I decided to credit my flights to Asiana Club at 75% redeemable miles.
The reason why I'm crediting all my paid Star Alliance flights to Asiana Club is due to my plans to qualify for Star Alliance Gold. You only need to earn 40,000 miles in 2 years to qualify, and Asiana miles can be valuable anyway.
In any case, I earned 1,038 Asiana miles, which is not a bad haul for a domestic flight.
Hot Tip: Need help booking your next Polaris award flight? See our guide on the best ways to book United Polaris using points.
Flight
United Airlines operates a network of Polaris lounges, including one in Los Angeles (LAX). However, only those traveling on an international itinerary have access. Sadly, this didn't apply to me, so I simply didn't arrive at the airport too early.
I walked to my gate and boarded the aircraft when my boarding group was called.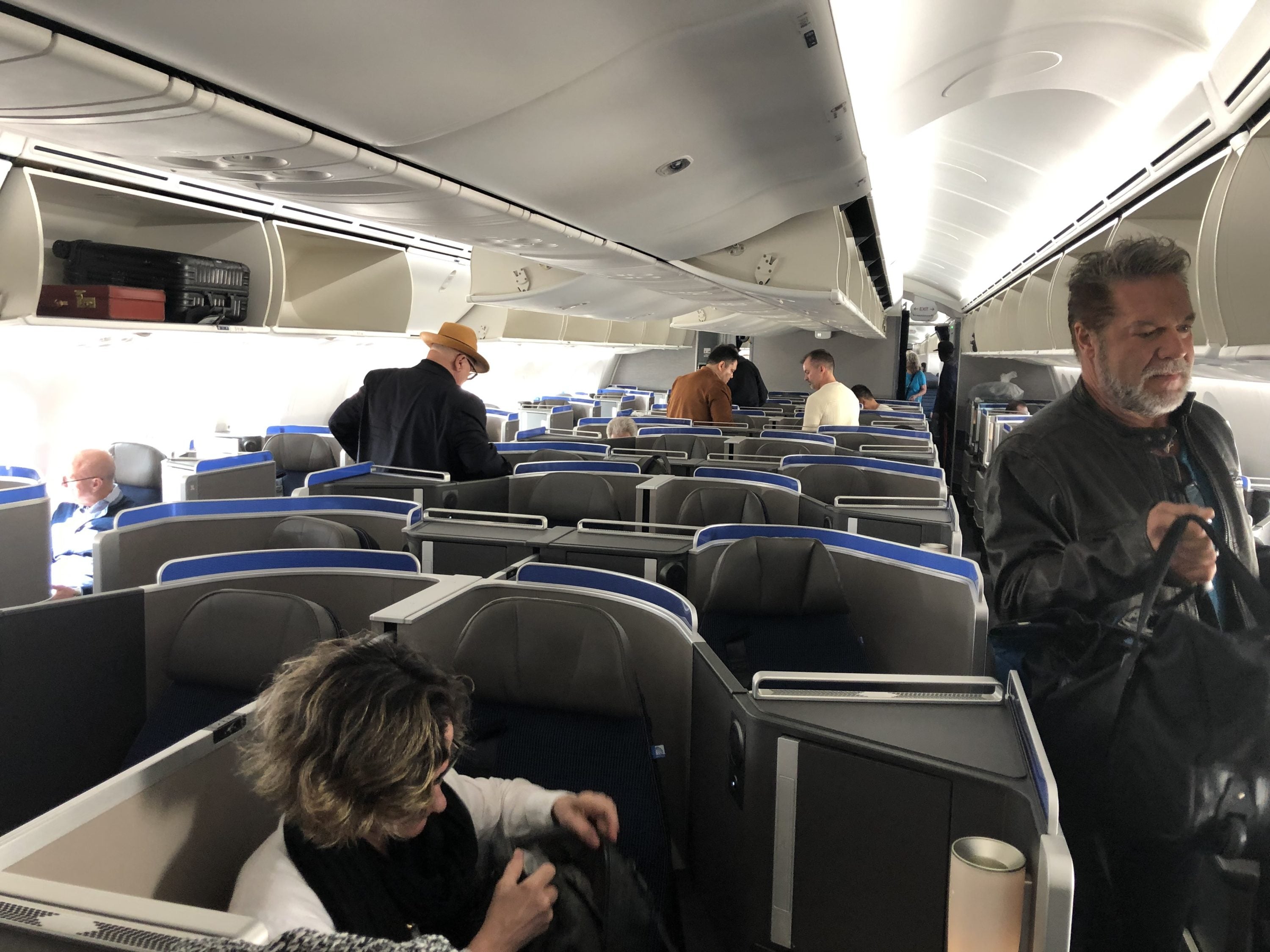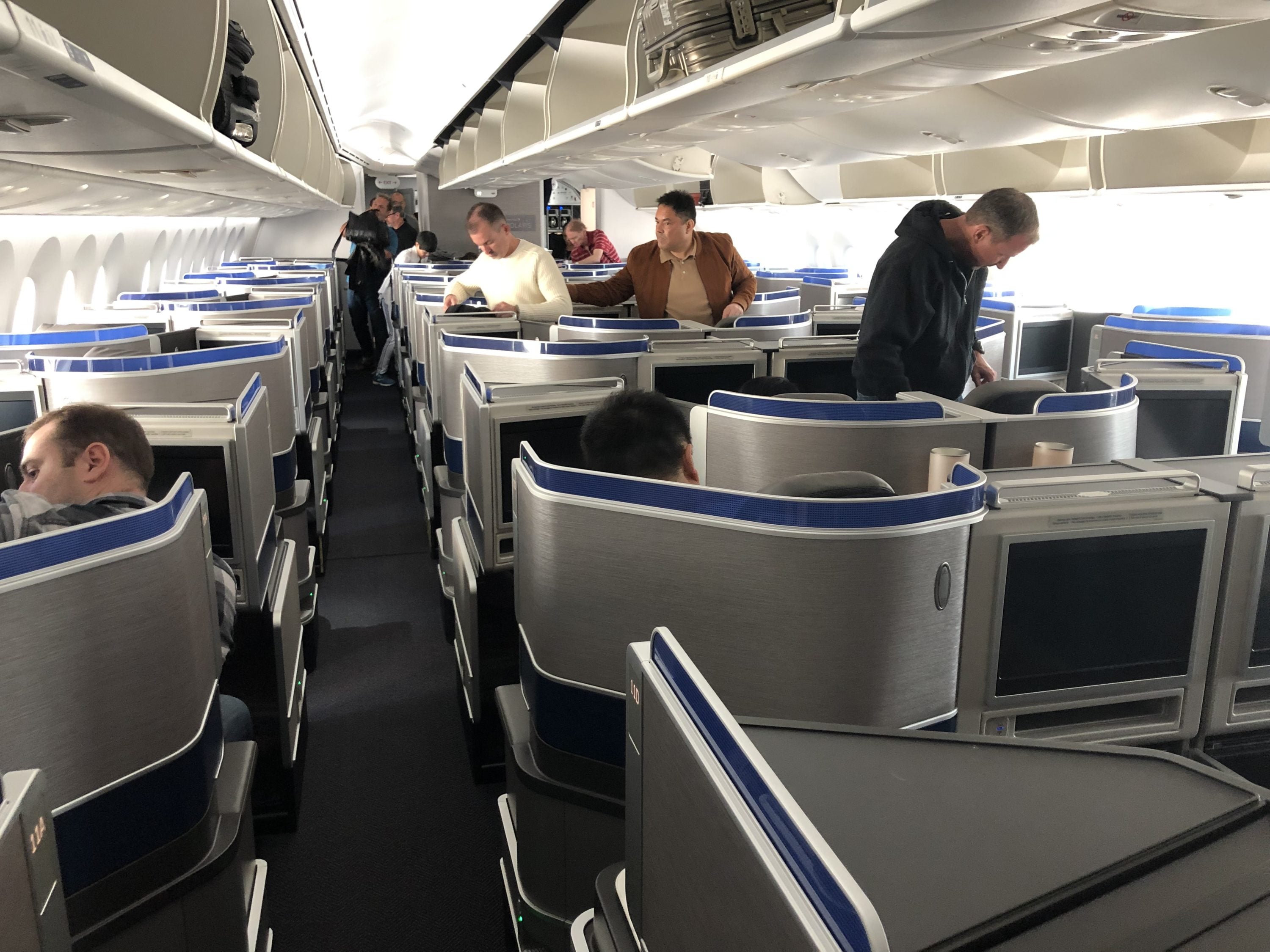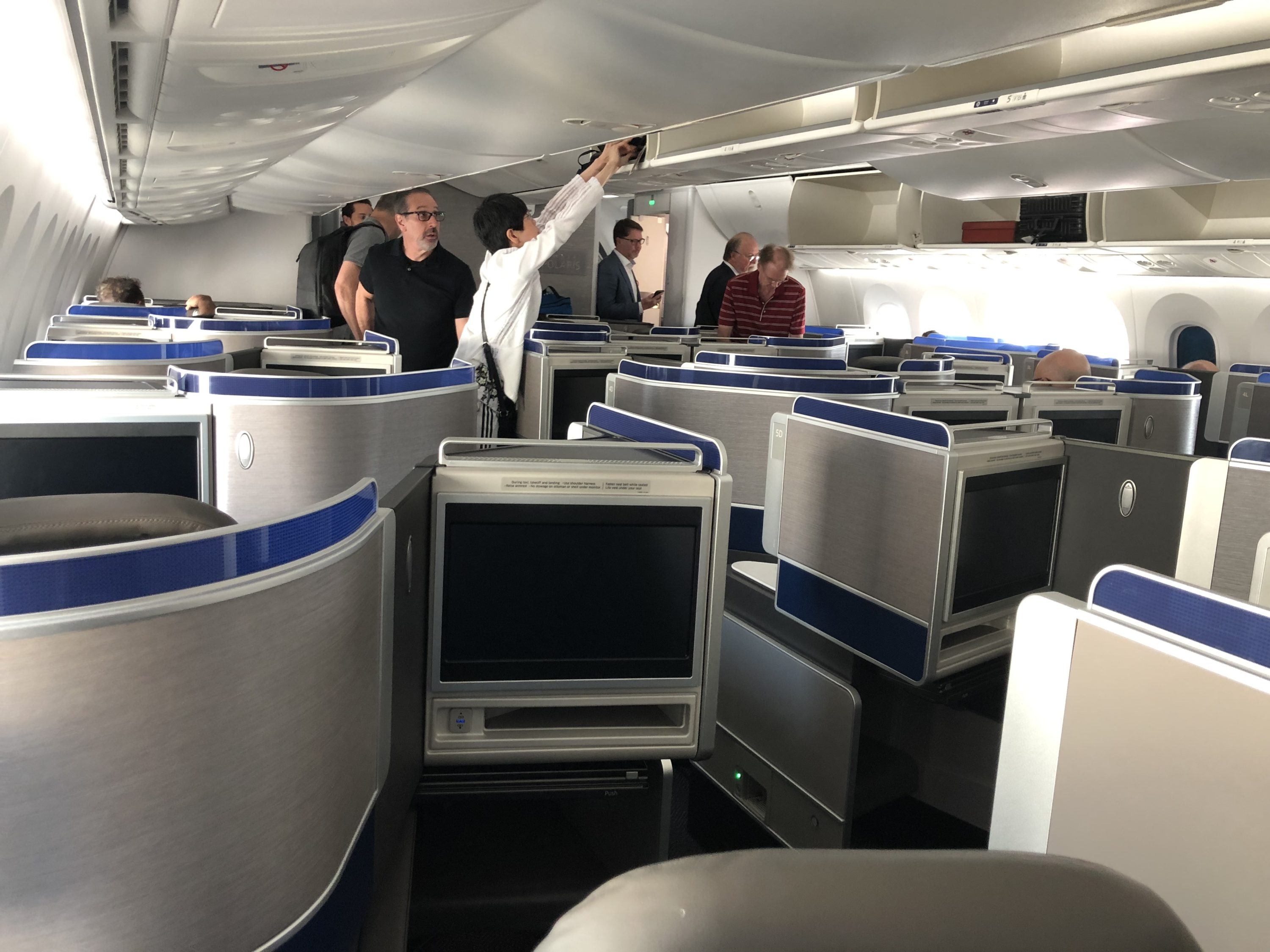 There are a total of 44 business class seats in a 1-2-1 configuration spread out across 11 rows. Odd-numbered window seats are true window seats while even-numbered seats are aisle seats.
Seat
I settled into my seat, 7A, which was a true window seat. The seat is 20.5 inches wide and 78 inches in pitch and bed length. Right off the bat, I feel that United was somewhat half-committed to creating a premium seat space. The seats are quite narrow and there's a lot of them.
Nevertheless, all of the seats are fully lie-flat and have direct aisle access.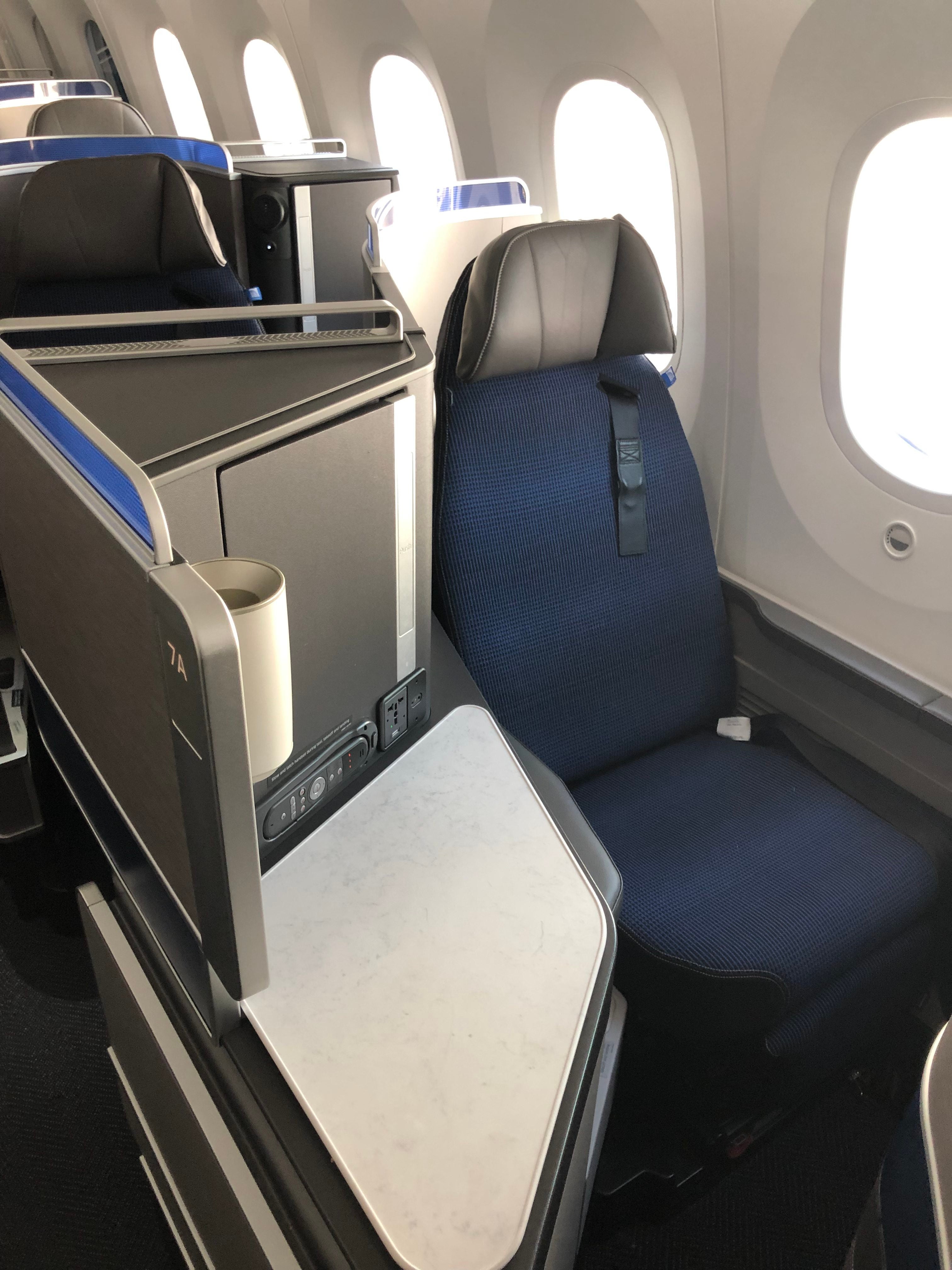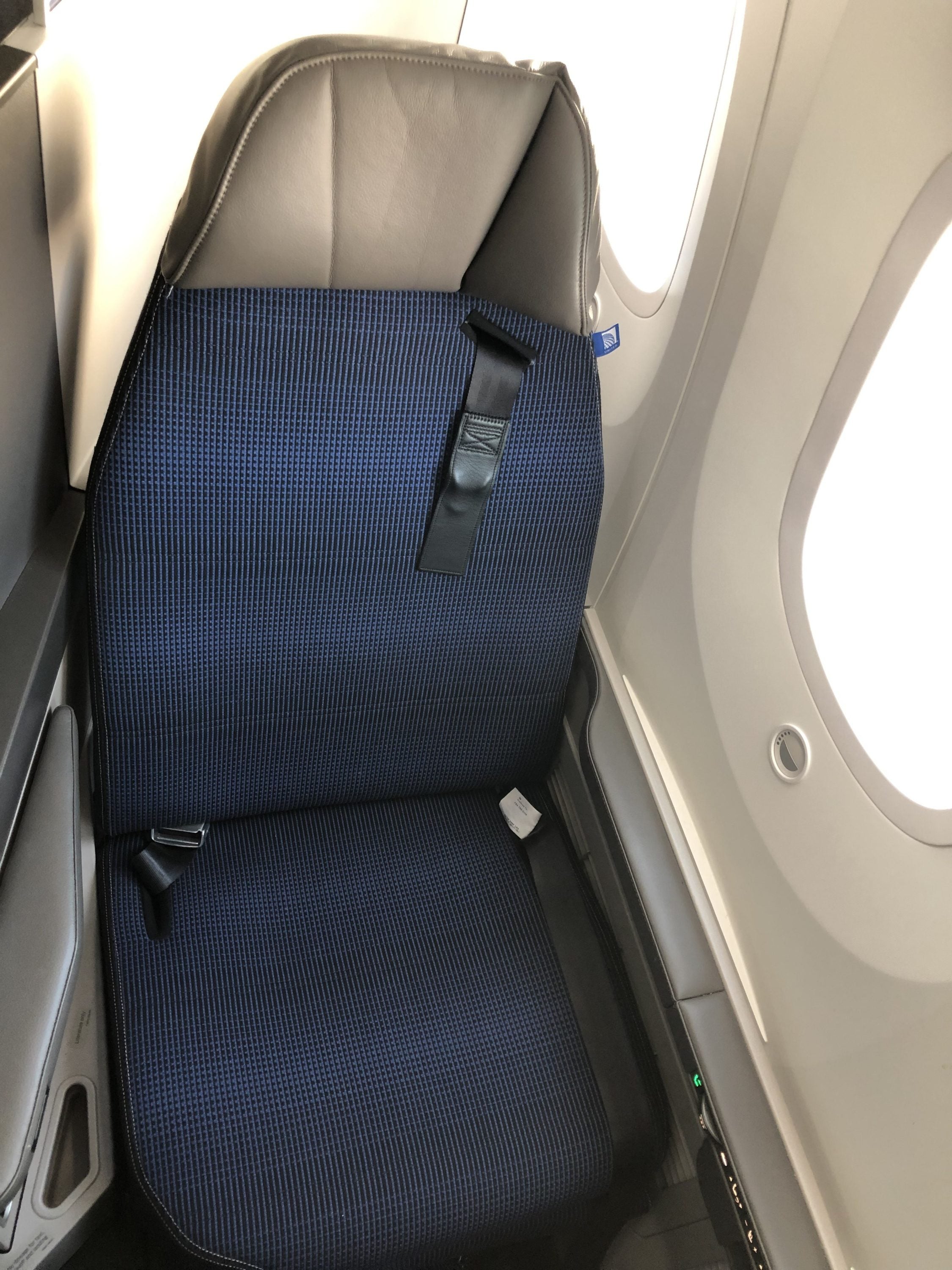 There was a "do not disturb" light below the seat number, which could be illuminated for additional privacy.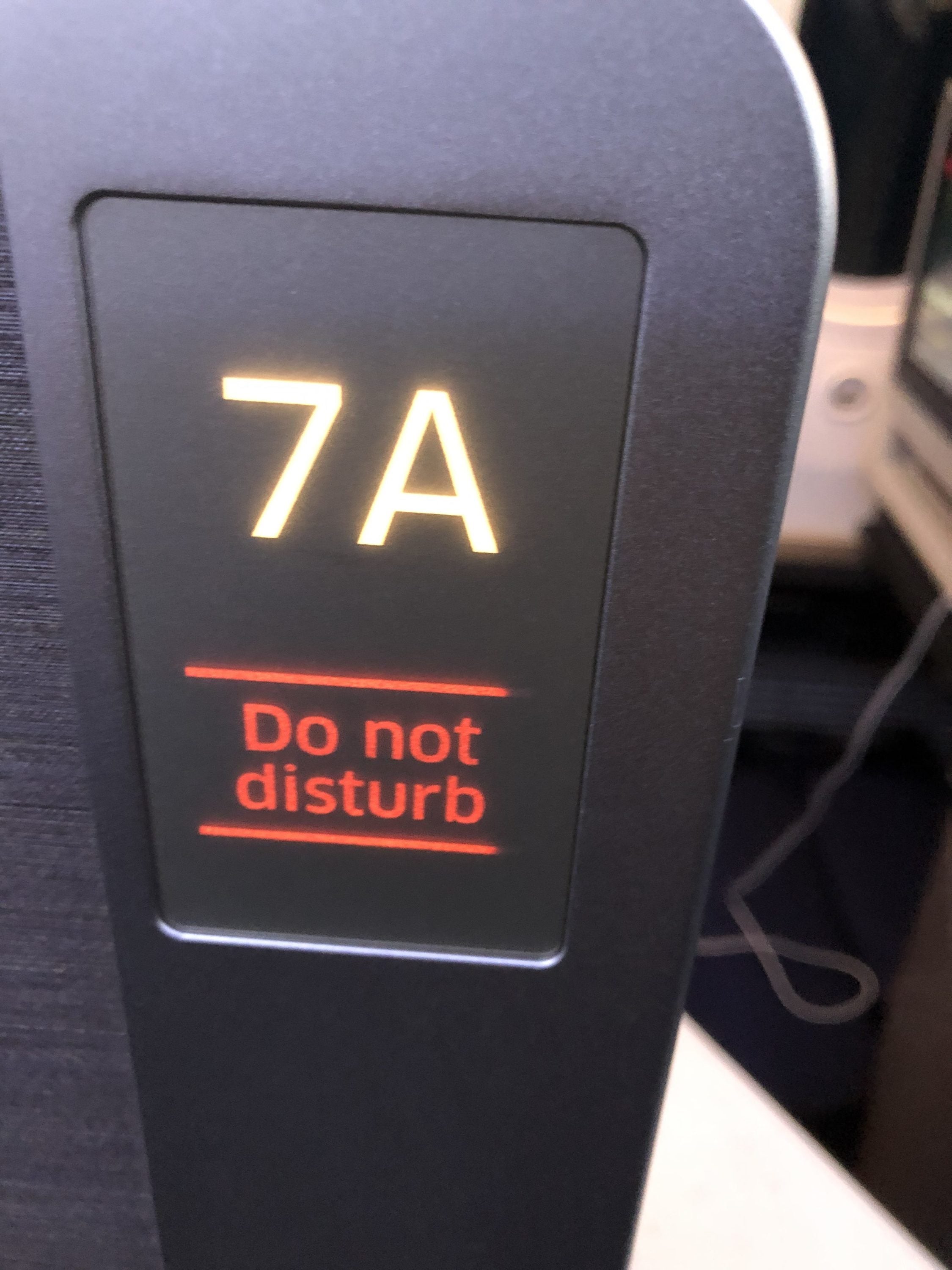 Though still better than domestic recliners in first class, this fully lie-flat seat is quite narrow.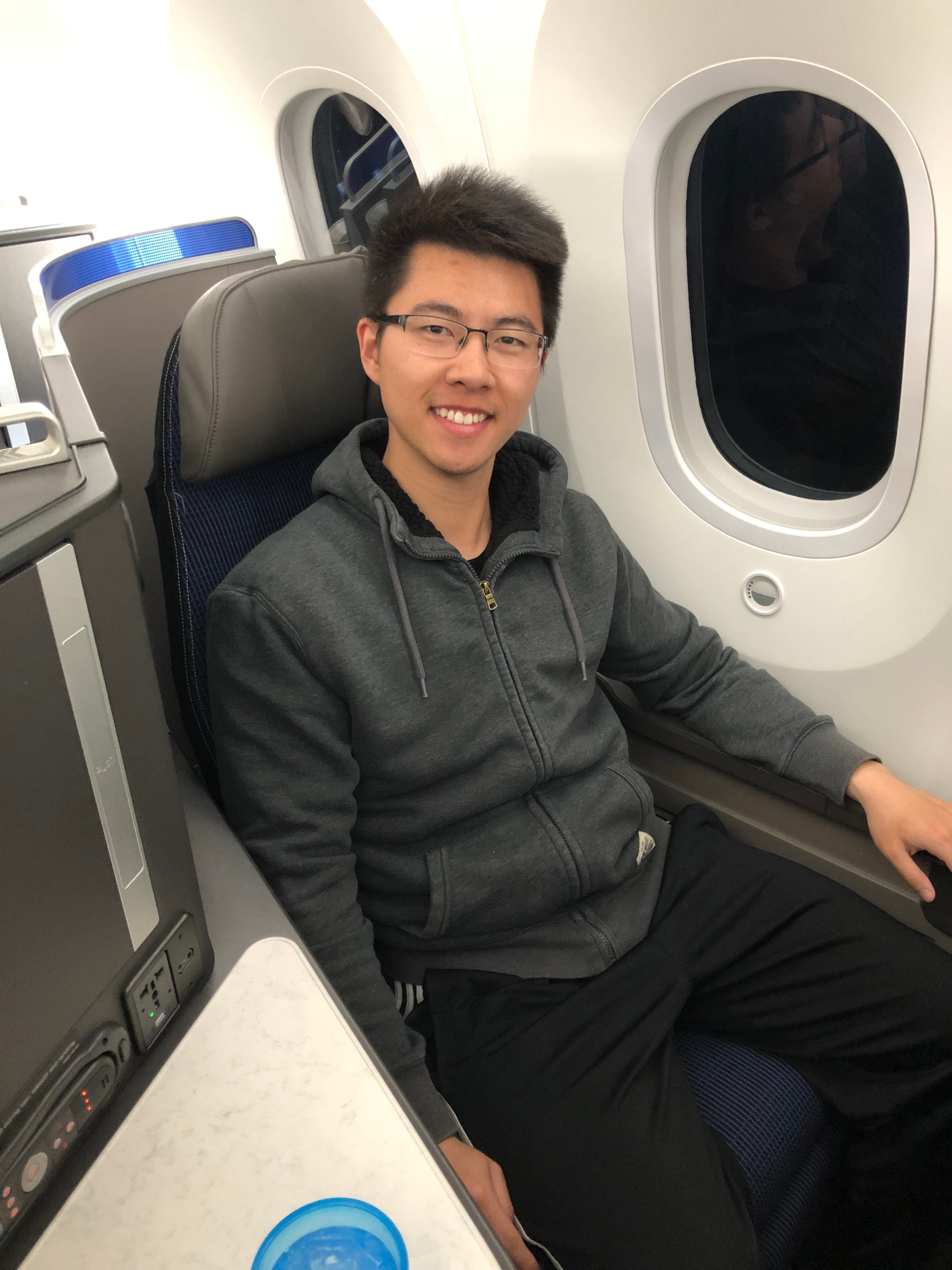 The seats aren't all that private, as I could see the passengers next to me.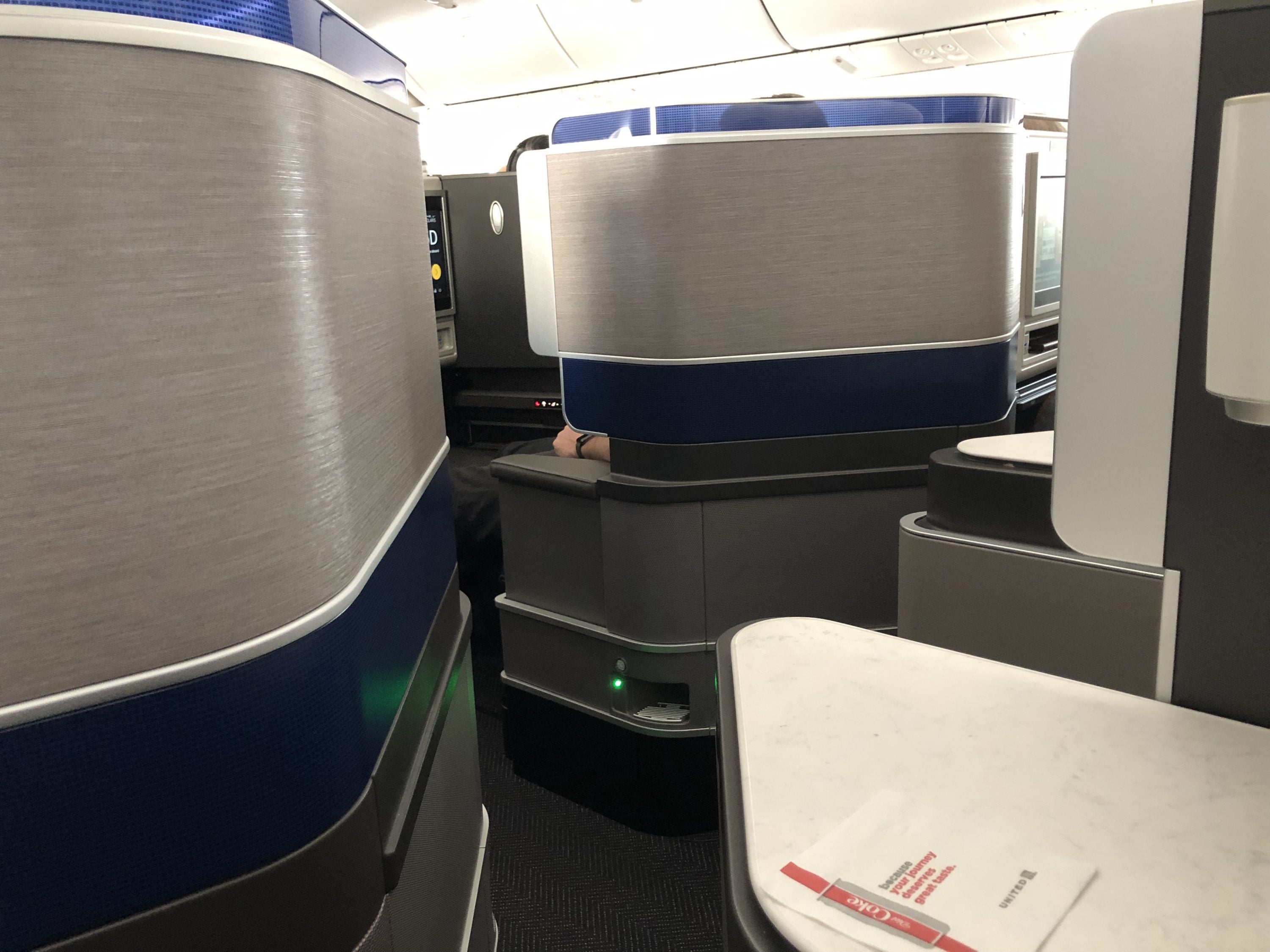 The headrest was movable, which is great for customizable neck support.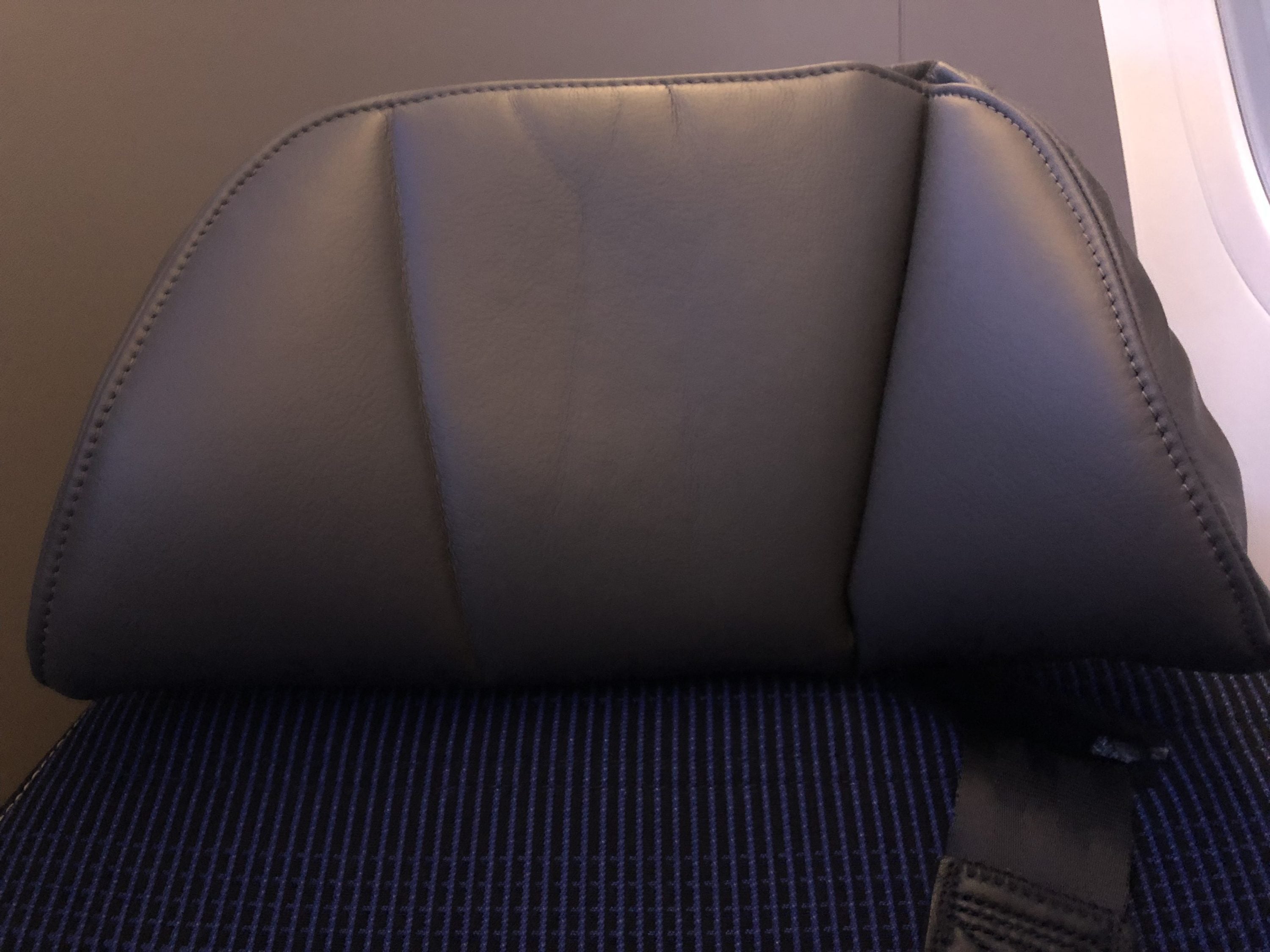 The in-flight monitor was quite large and crisp, as we'll find out in the entertainment section of this article.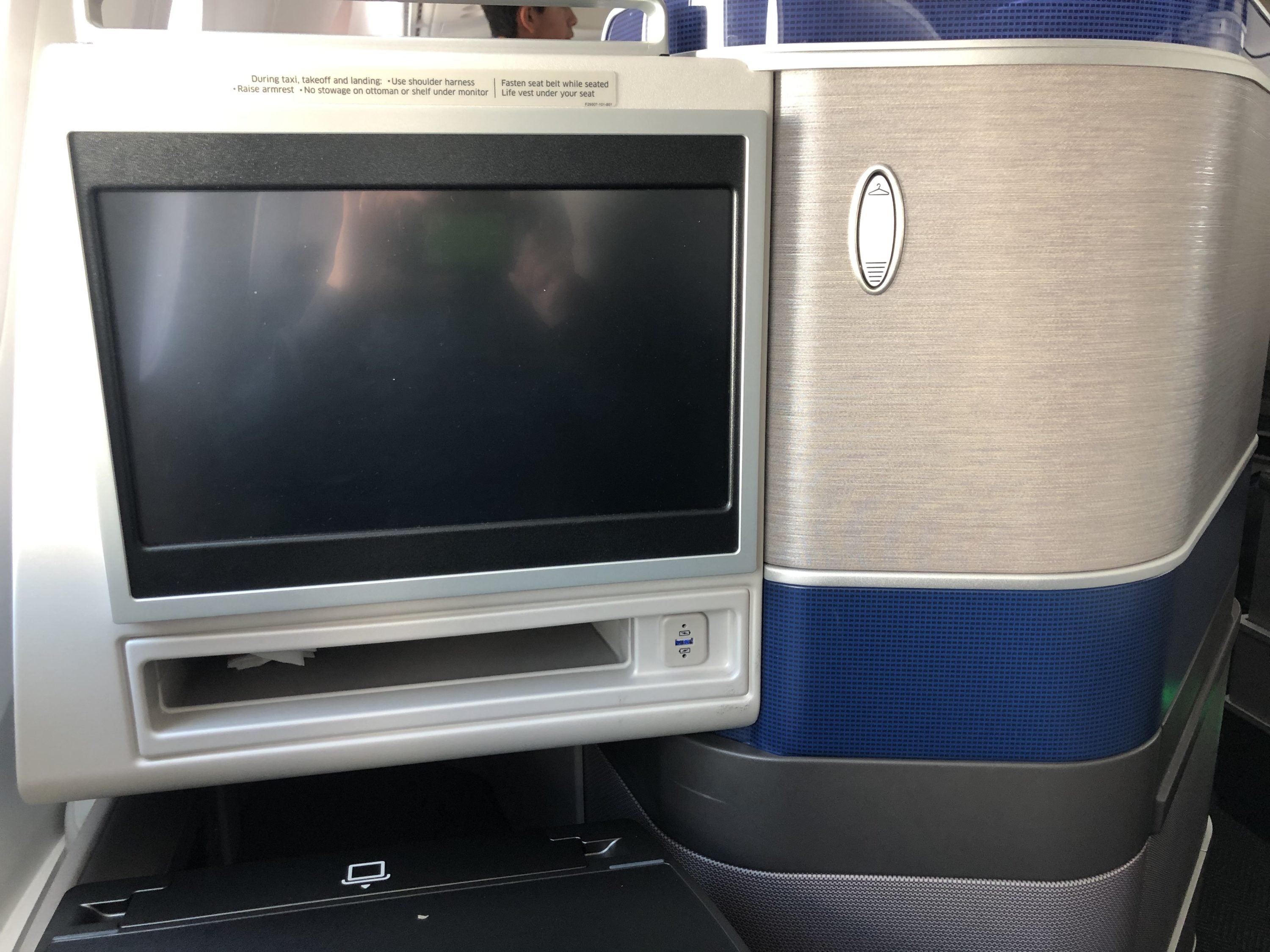 There was a thin storage compartment just underneath the in-flight monitor, along with a USB charging port.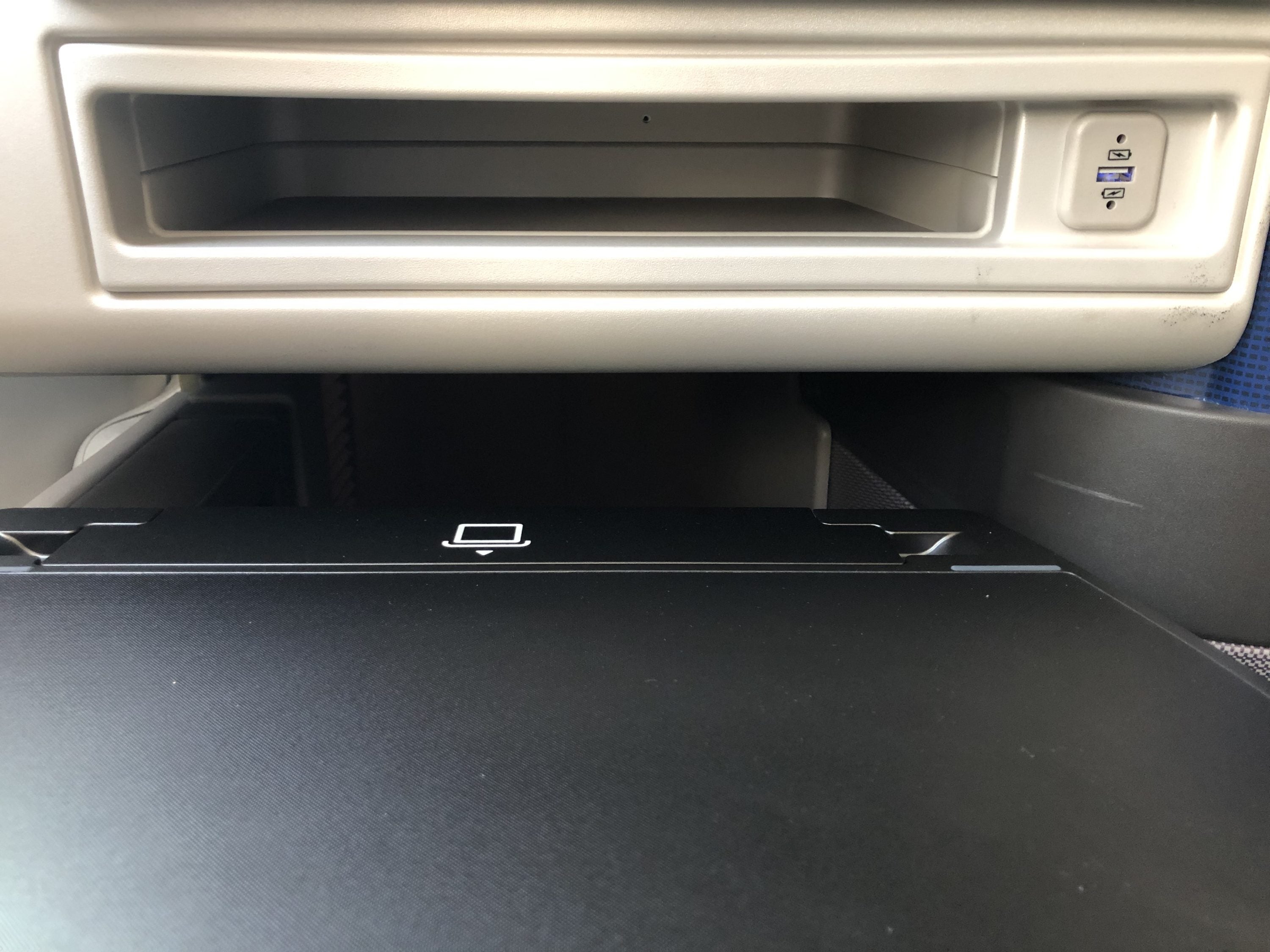 The tray table was also located underneath the in-flight monitor. When it's fully folded out, it's approximately 13 inches wide and 14.5 inches long.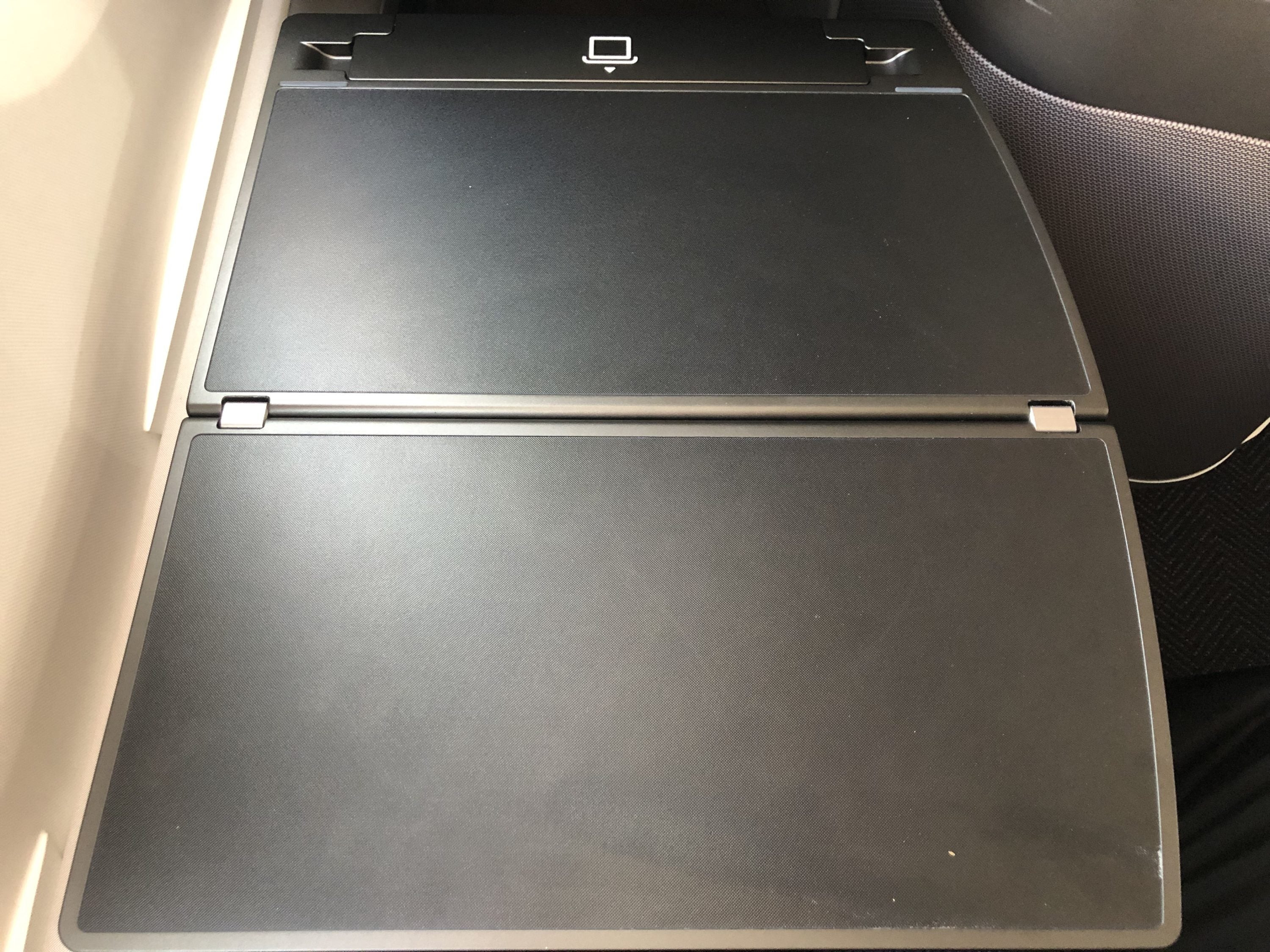 The tray table can be fully stowed away as shown below.
The footwell was quite wide. Most importantly, the footwell didn't taper off further away from you, which goes a long way in providing extra comfort.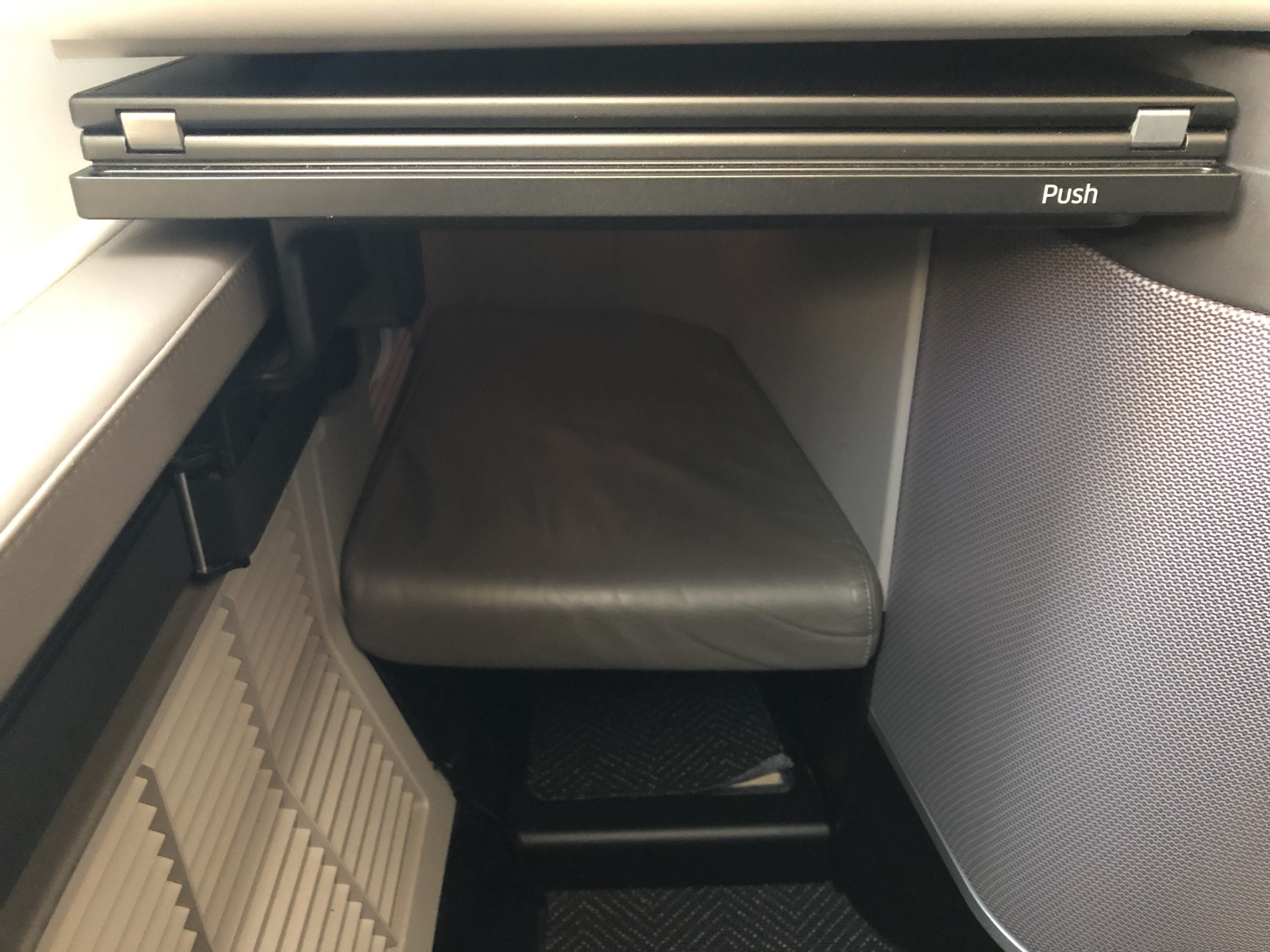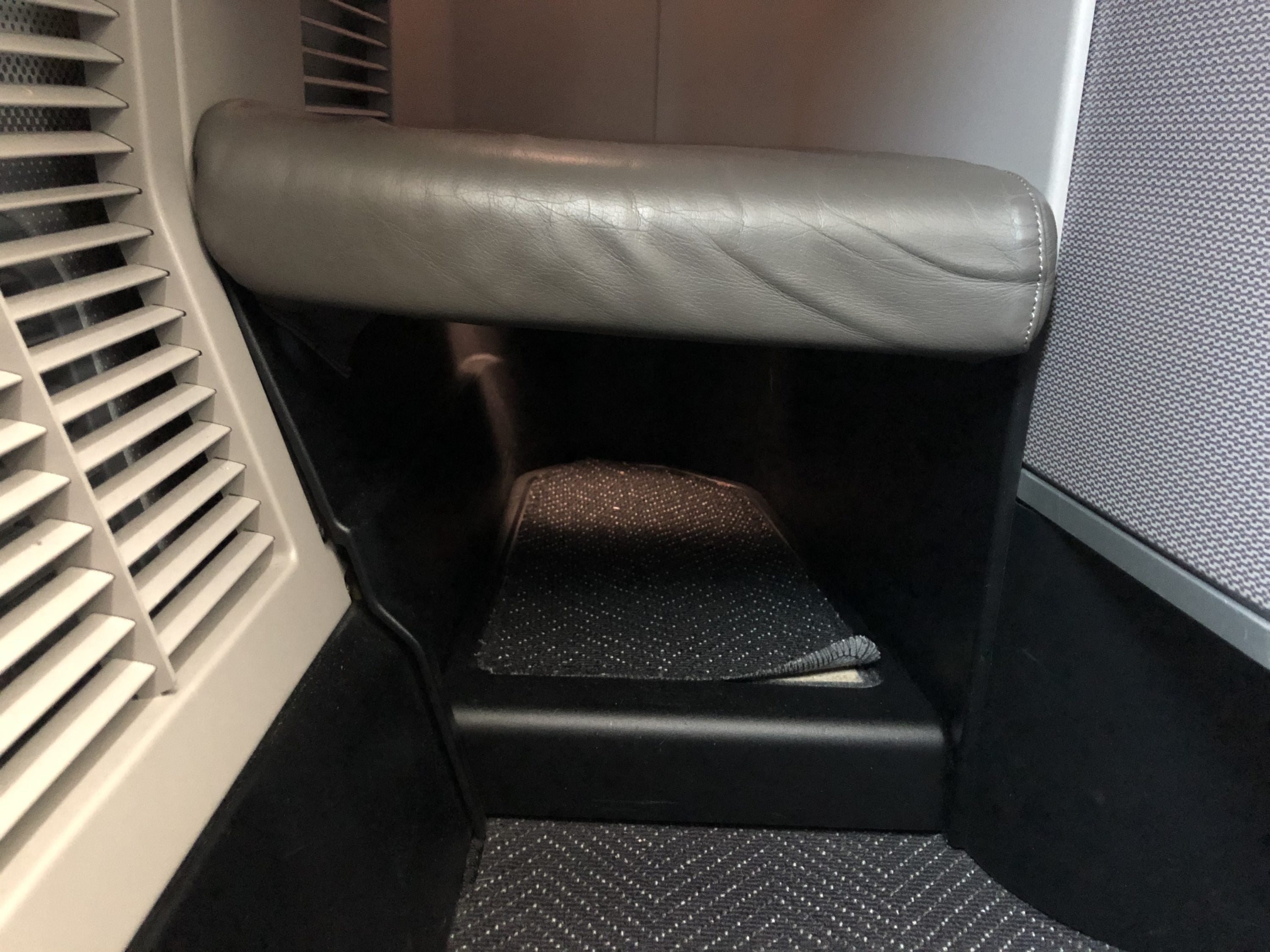 Just underneath the footwell was a shoe storage compartment, which held my sneakers nicely.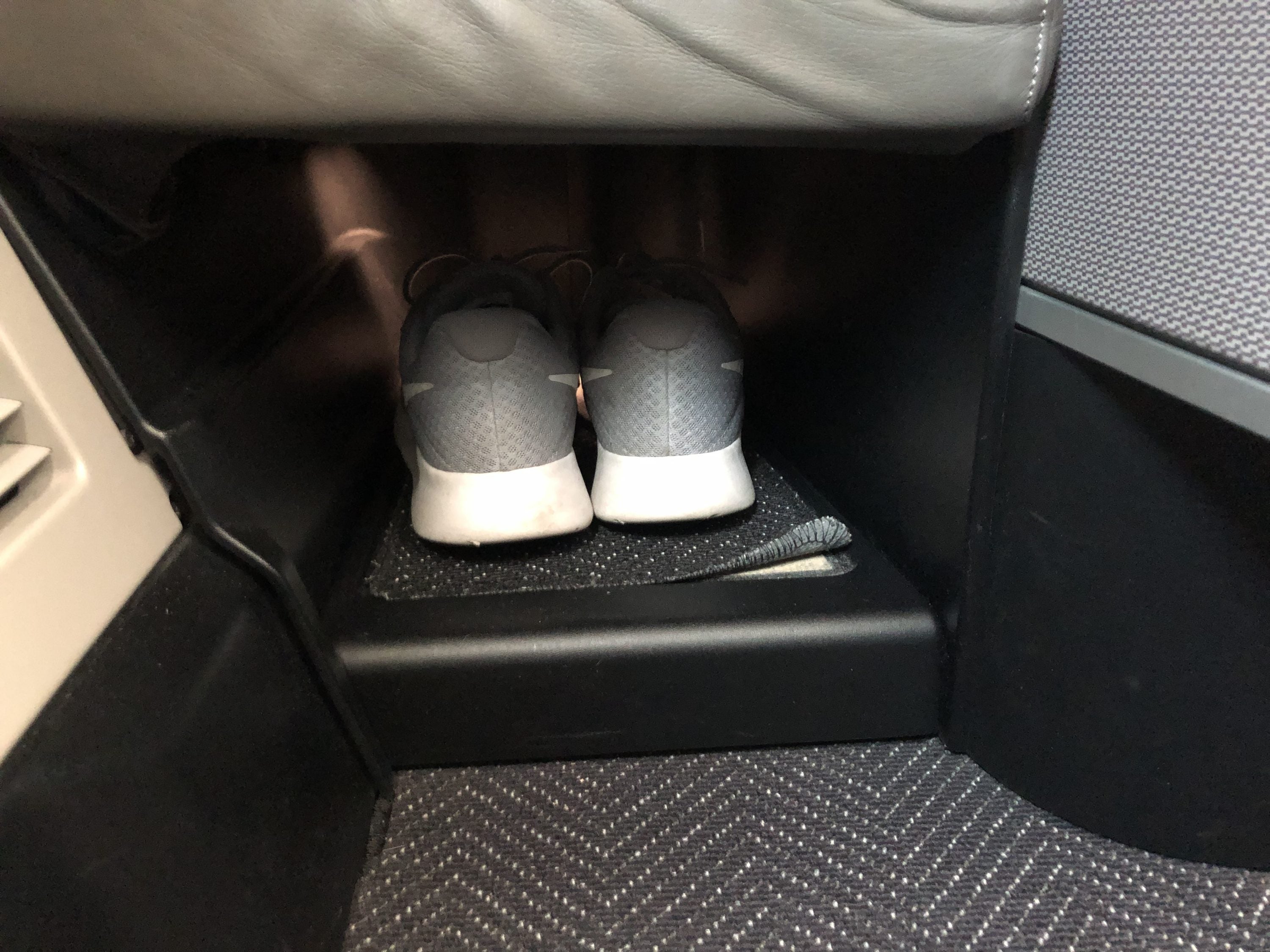 I performed the canoe test, where you recline fully and asses the lie-flat situation. Overall, it went well. I had more than enough space to maneuver my feet and lay flat without hitting the end of the footwell.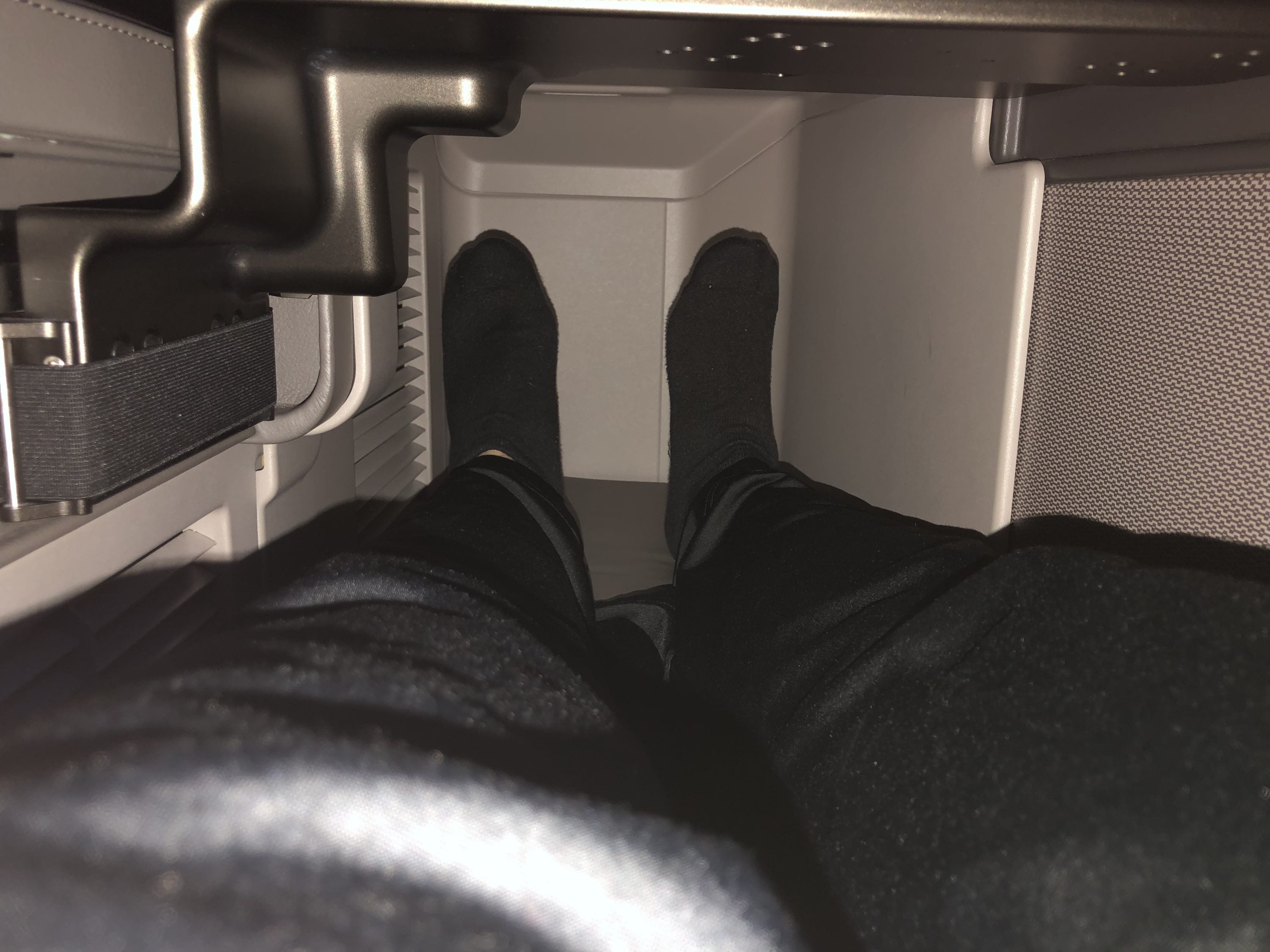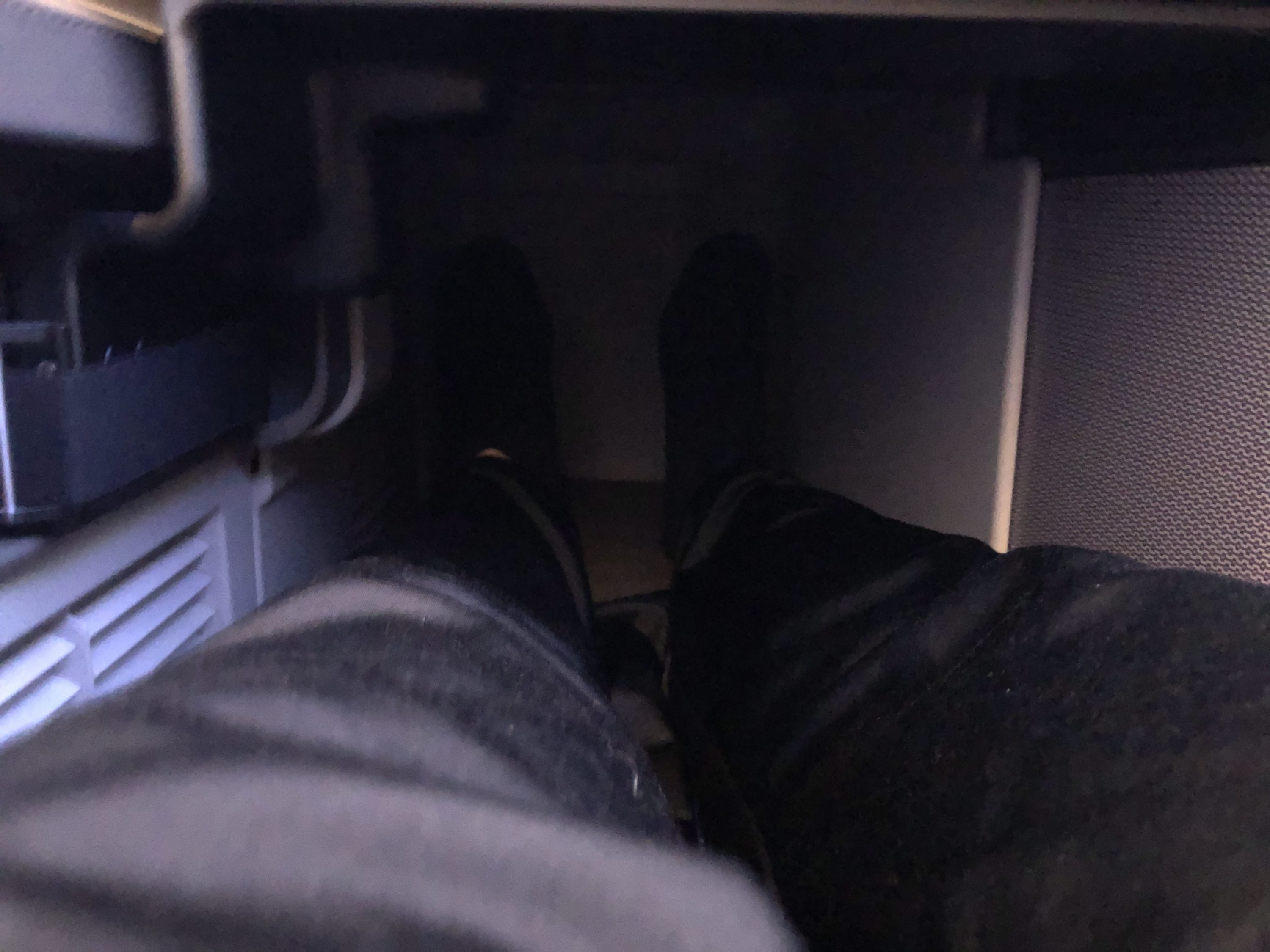 Located to my right was a seat lamp, which was aesthetically quite sleek.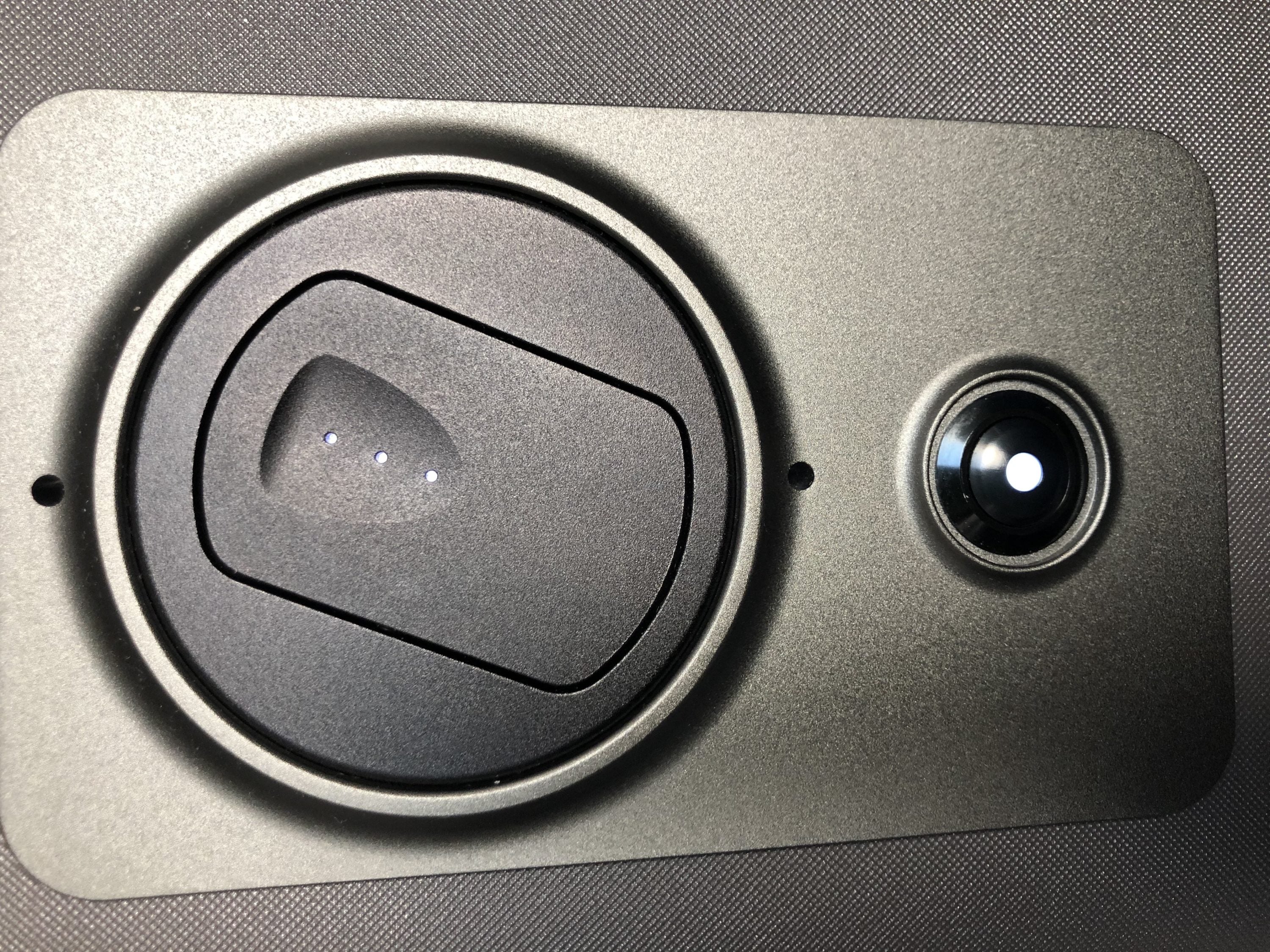 A large storage compartment was located next to the side table.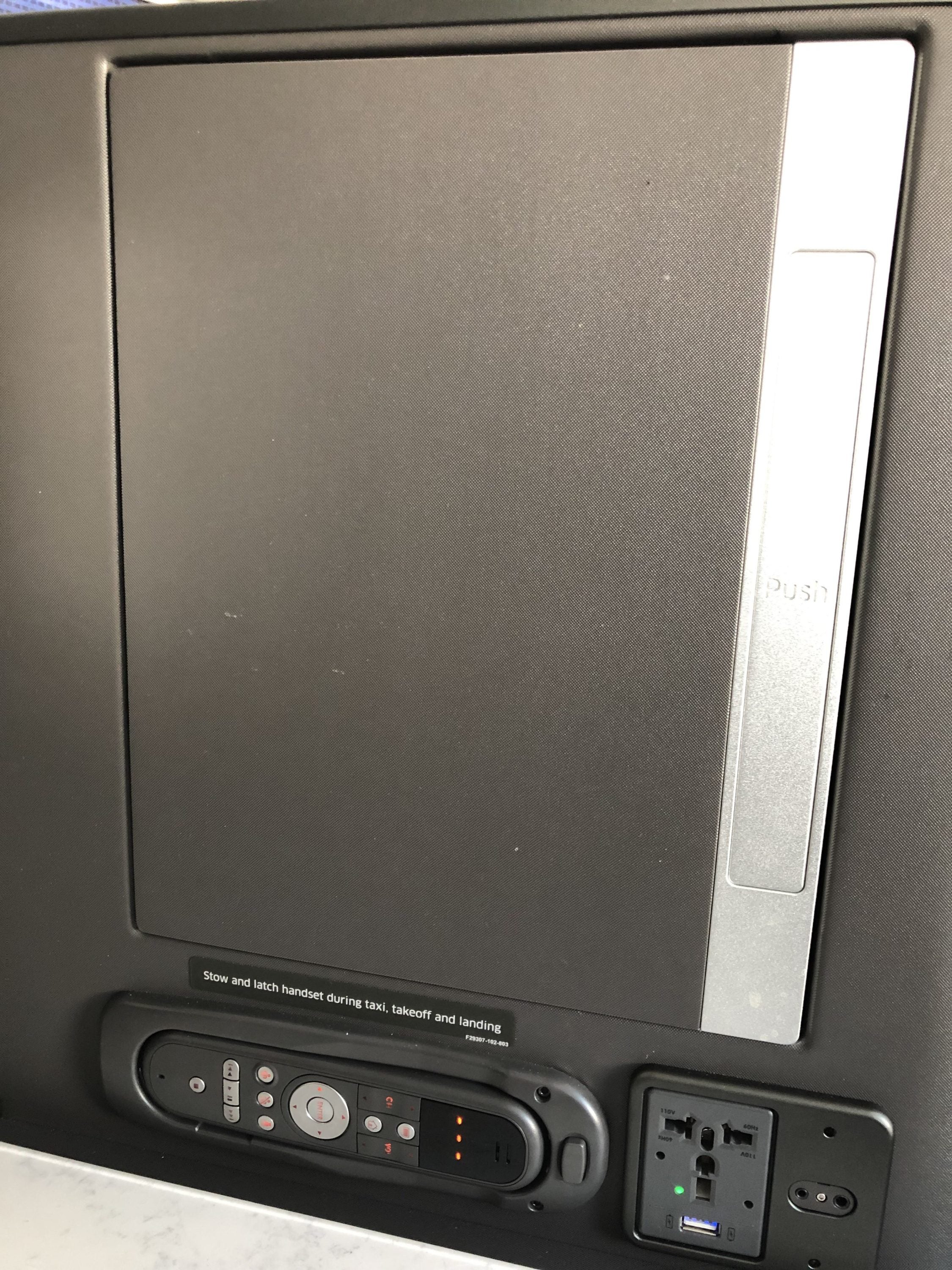 Pushing the storage compartment would un-latch it, revealing a mirror, headphone hanger, and extra space for storage.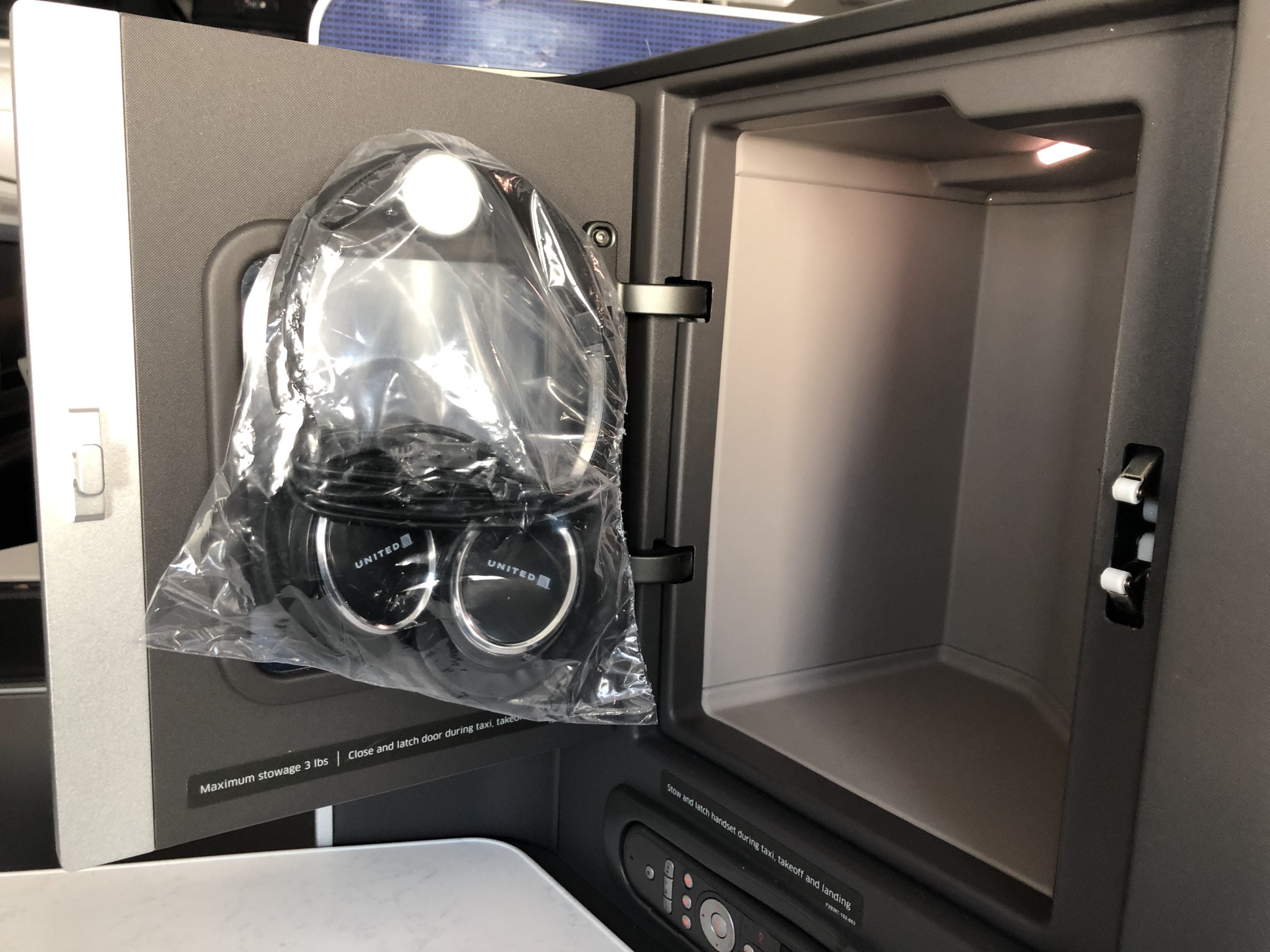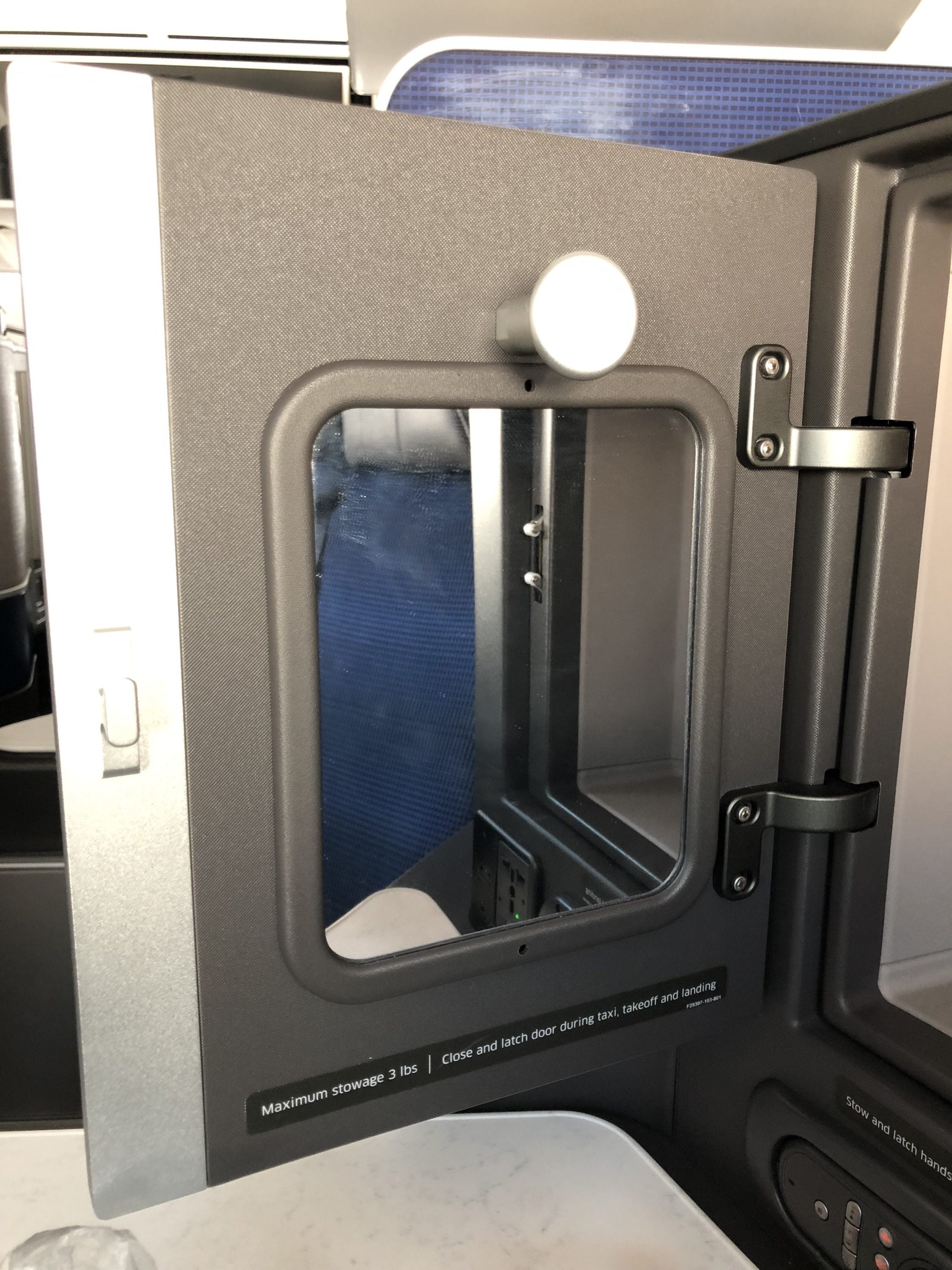 There was also an actual seat lamp at the seat, which was nice. I enjoyed all the cabin finishes and themes that constitute Polaris.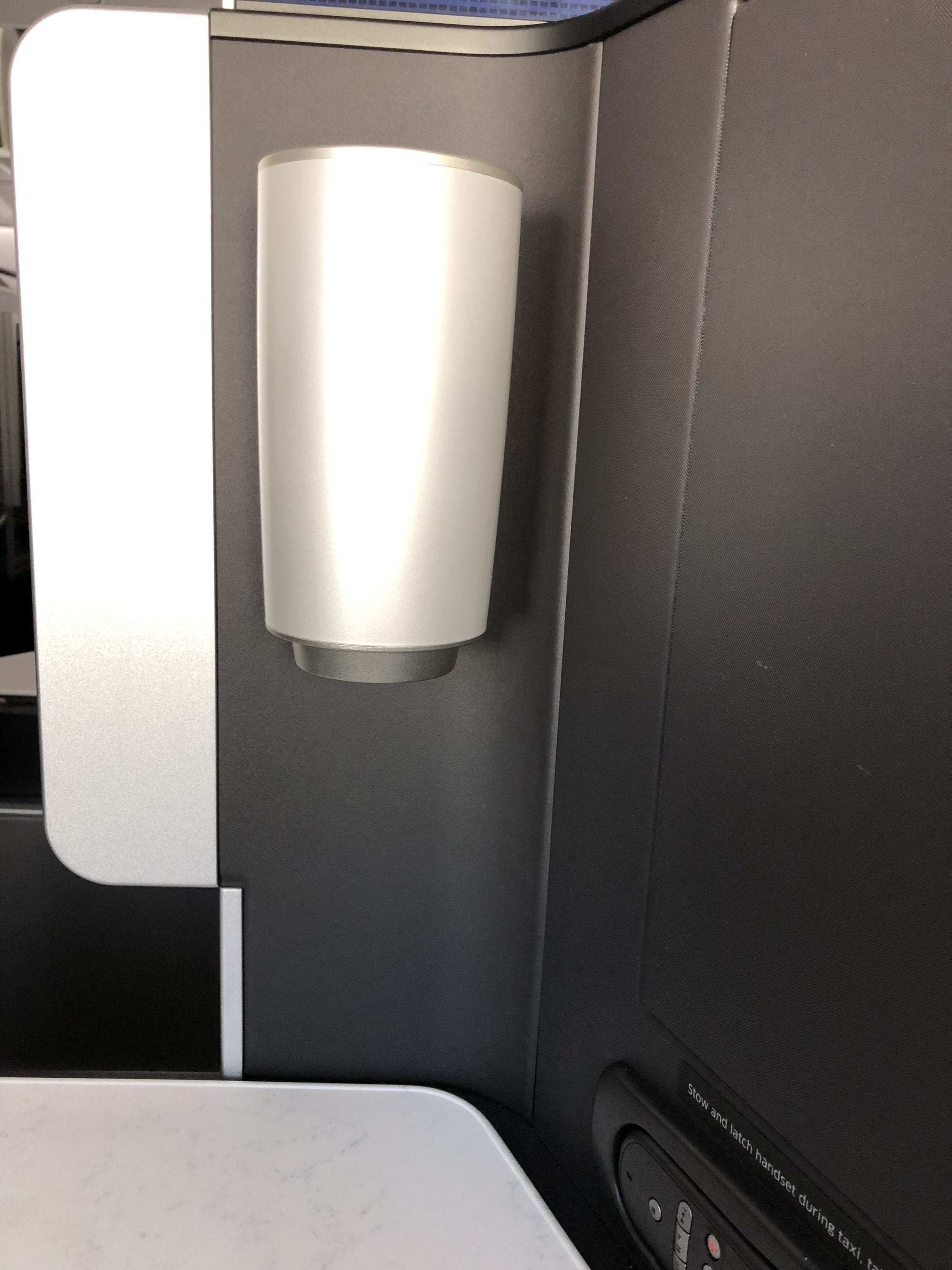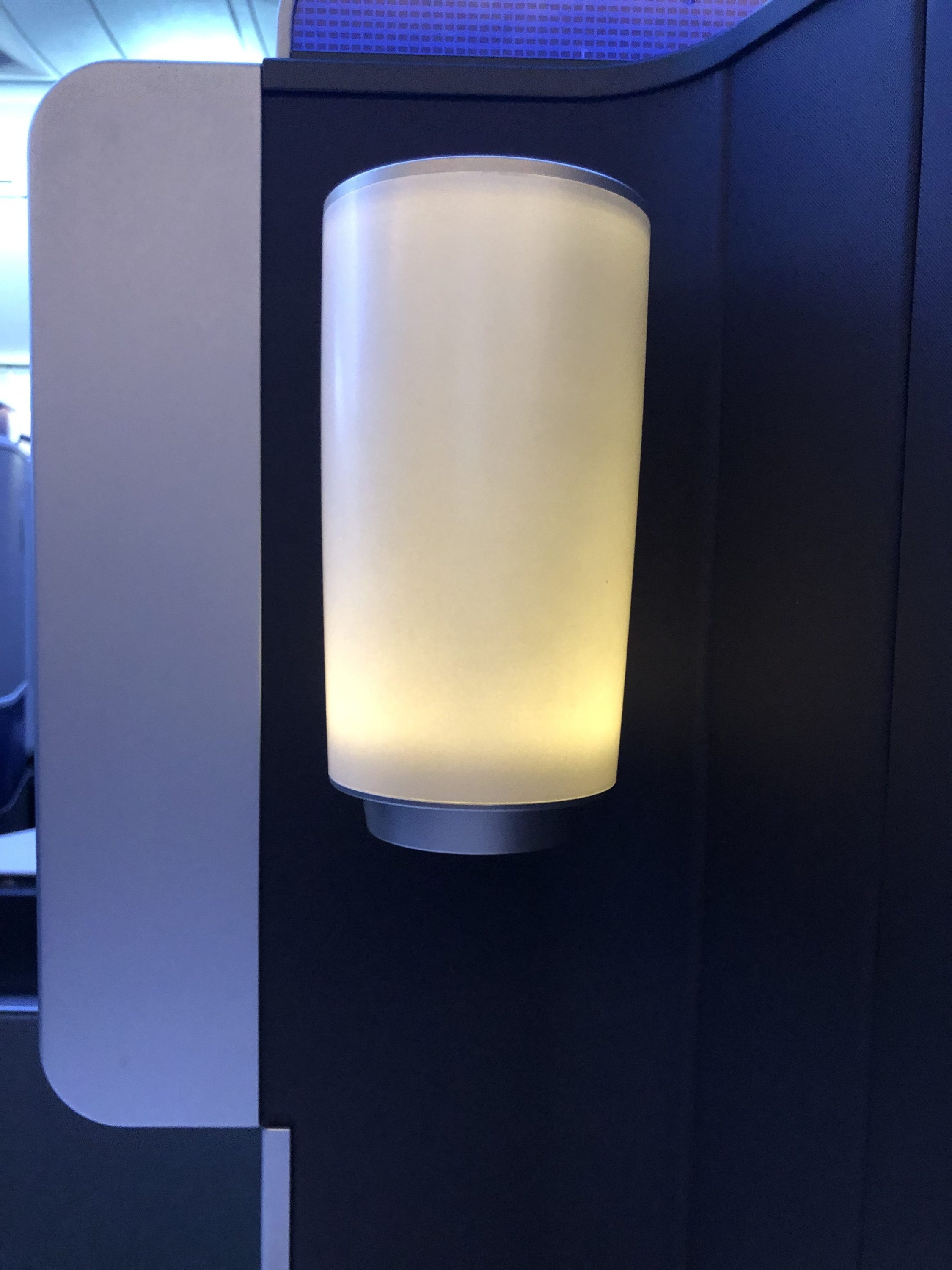 The coolest thing about the hard product was the seat control console. There was a wheel on the left side that controlled the exact recline of the seat. If your seat was "take-off/landing ready," then the green light on the left would be illuminated.
You basically scroll your way to fully lie-flat mode, which is pretty cool. Other seat controls include the lighting, lumbar support, do not disturb, and seat elements.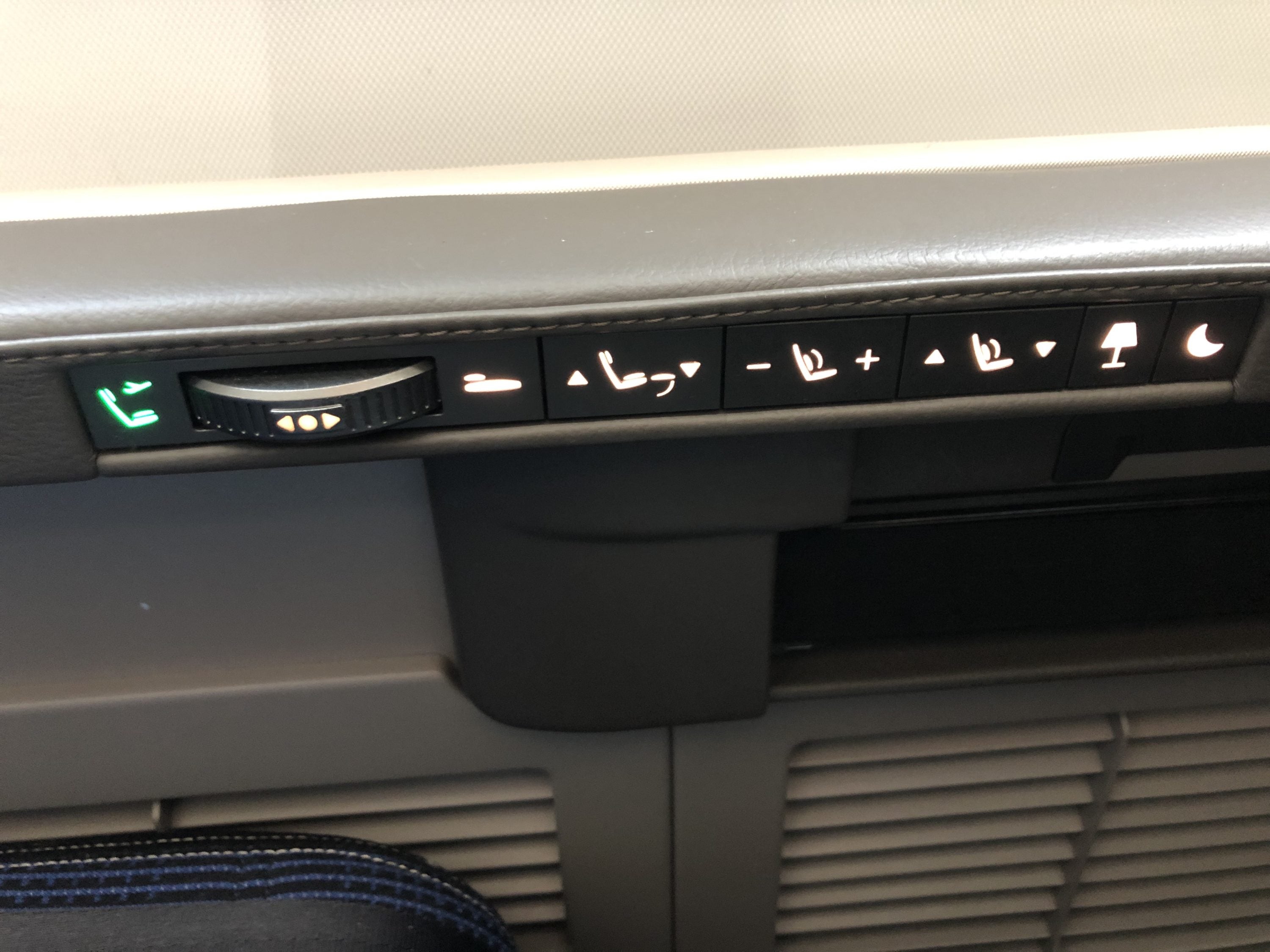 I found a 110-volt power socket next to the headphone jack and above another USB charging station.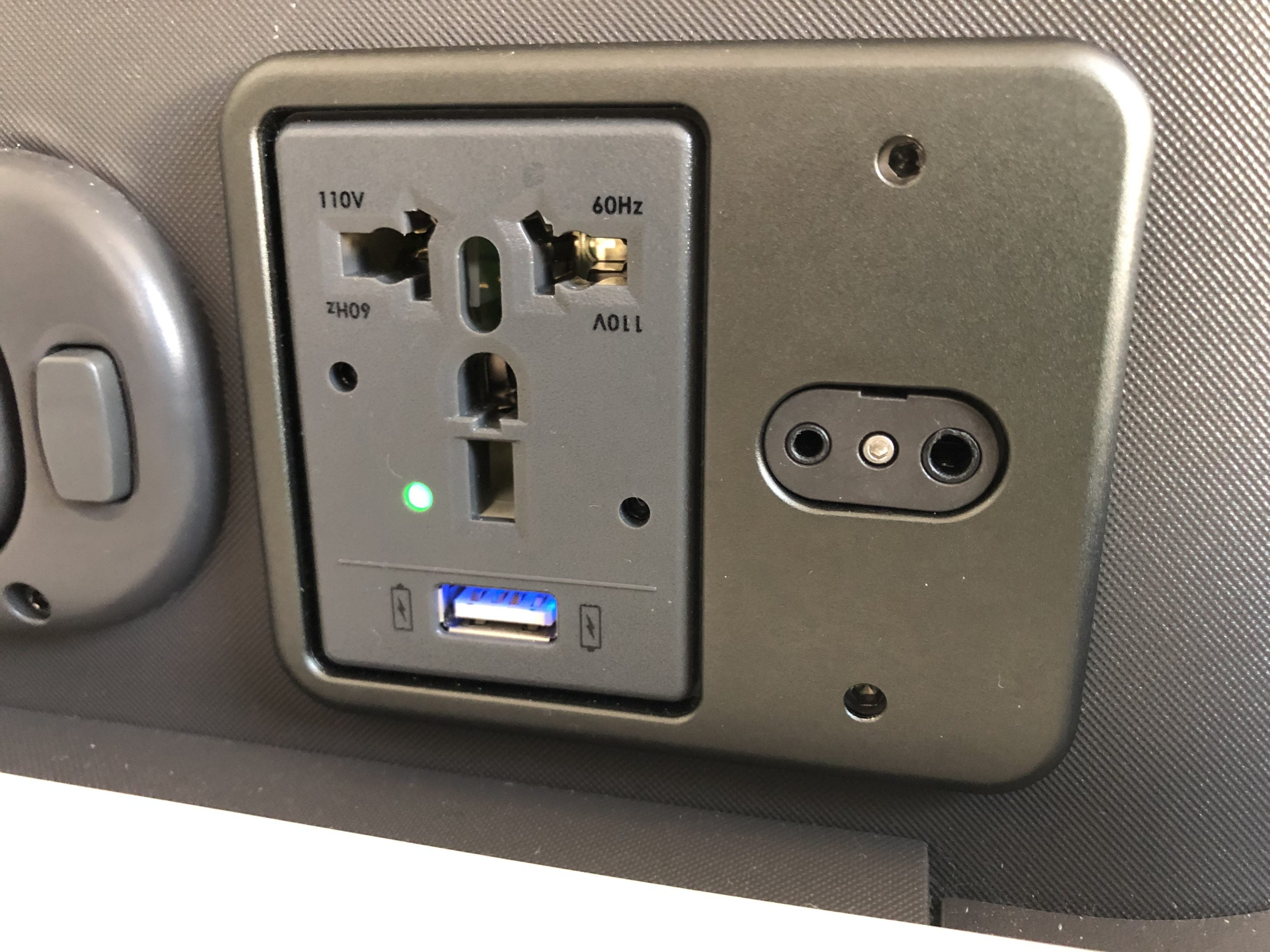 Individual air nozzles! This is great for moderating your own seat's temperature. I didn't have a problem staying comfortable in the 787-10 Dreamliner, which is made of state-of-the-art materials and features highly effective climate control.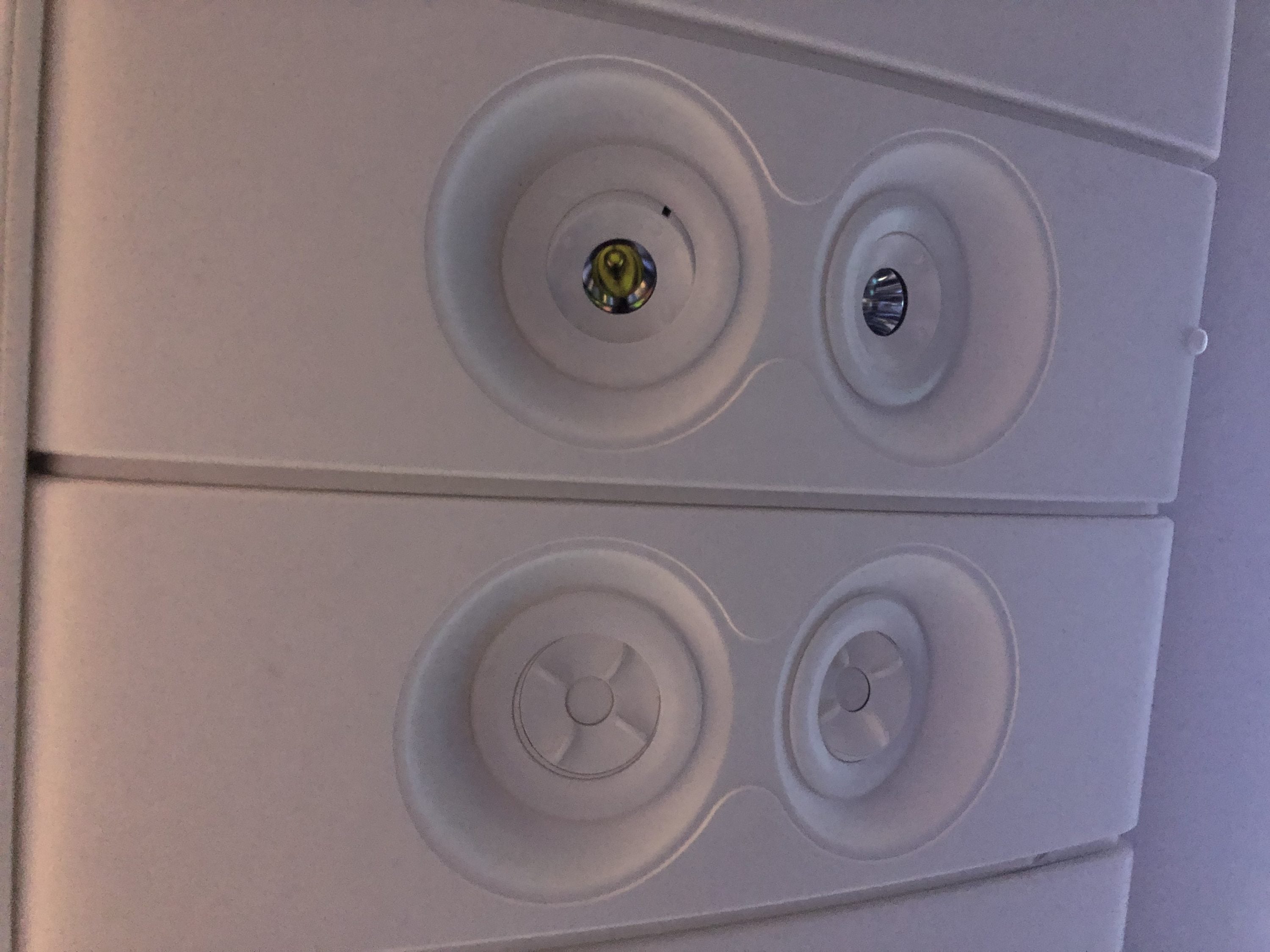 There was a coat hanger next to the in-flight monitor. I'm not sure why the placement is there, but it is.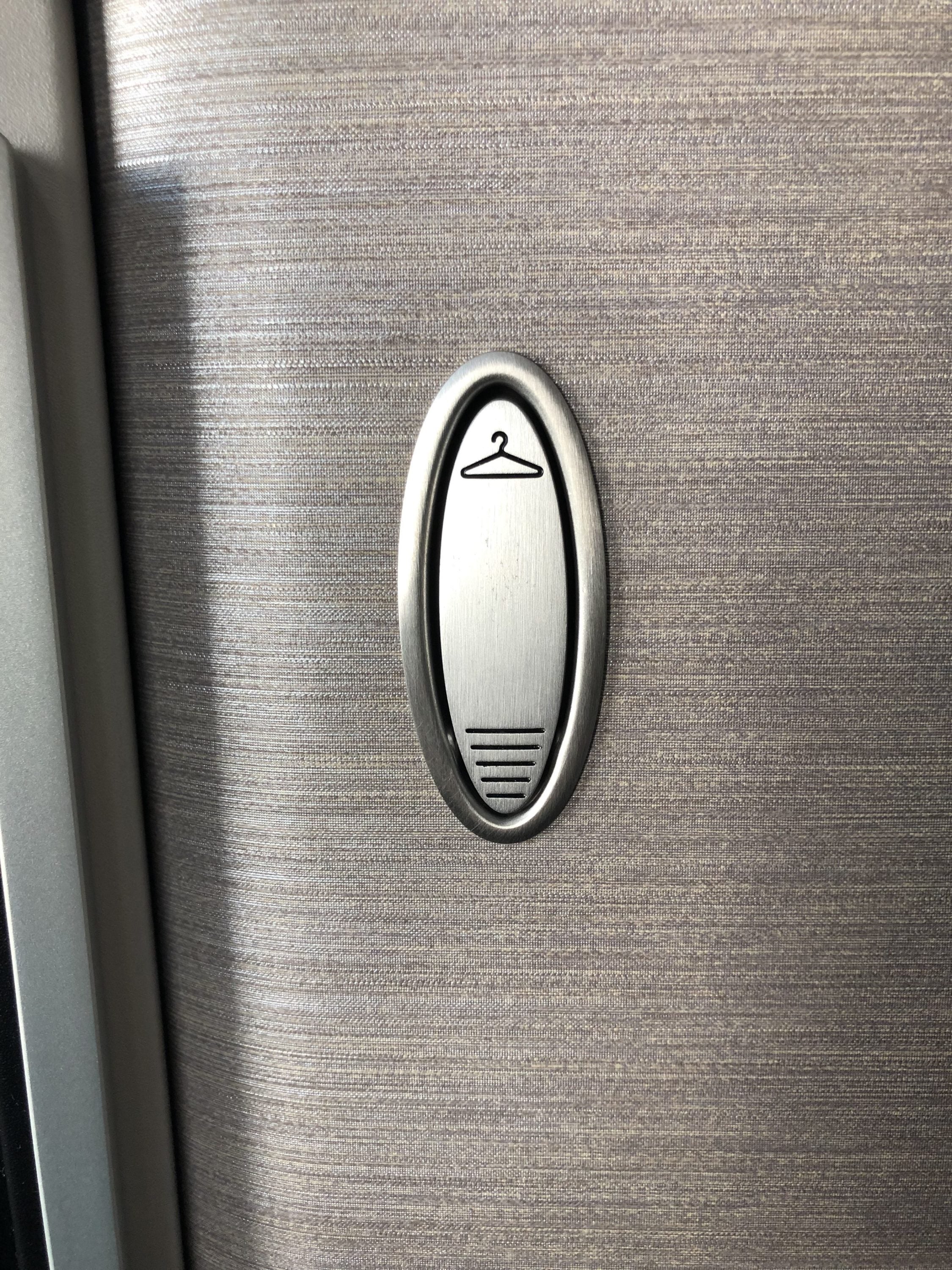 One new characteristic of United's Dreamliners is the presence of shoulder straps in addition to the ordinary seat belts.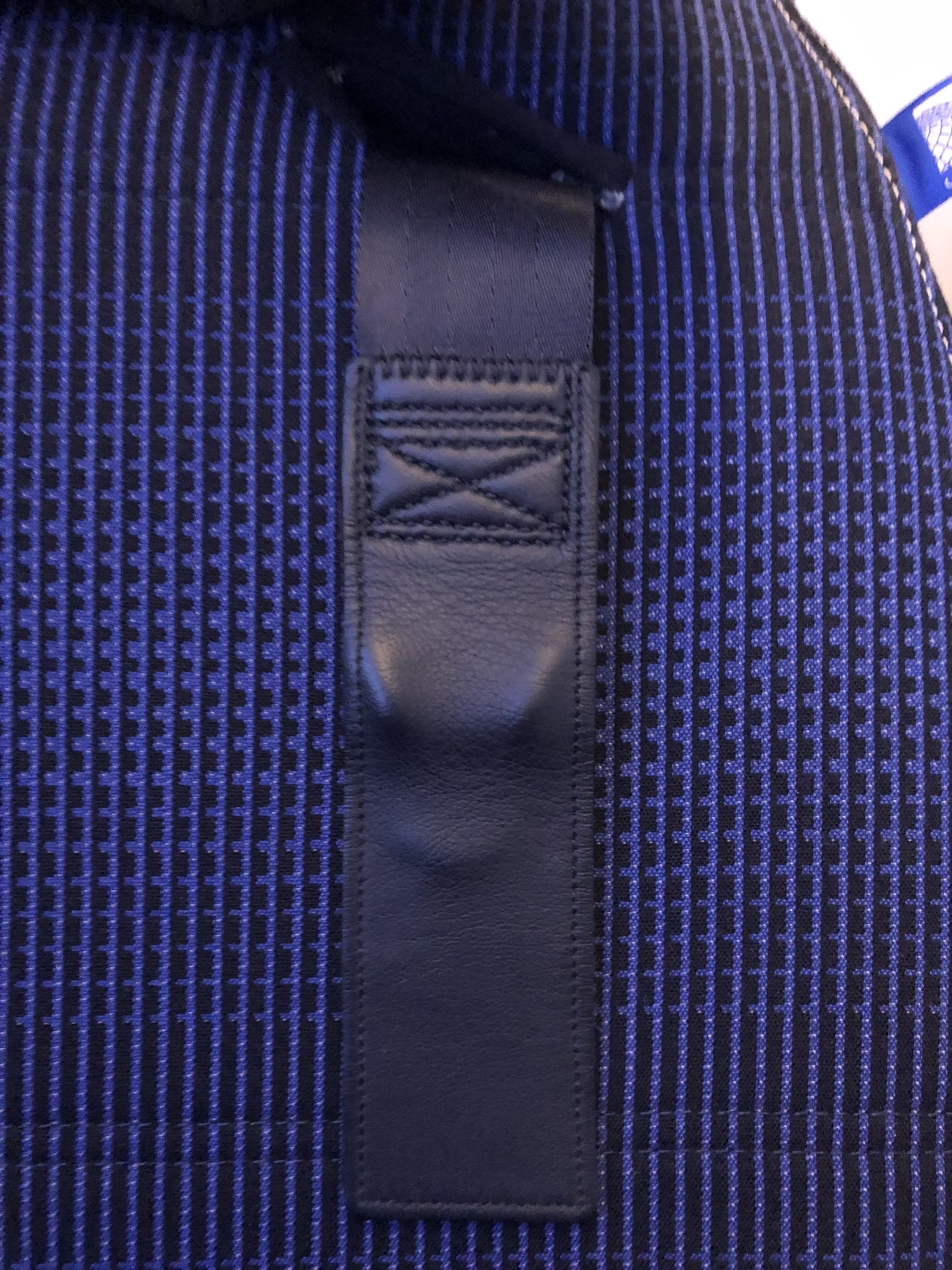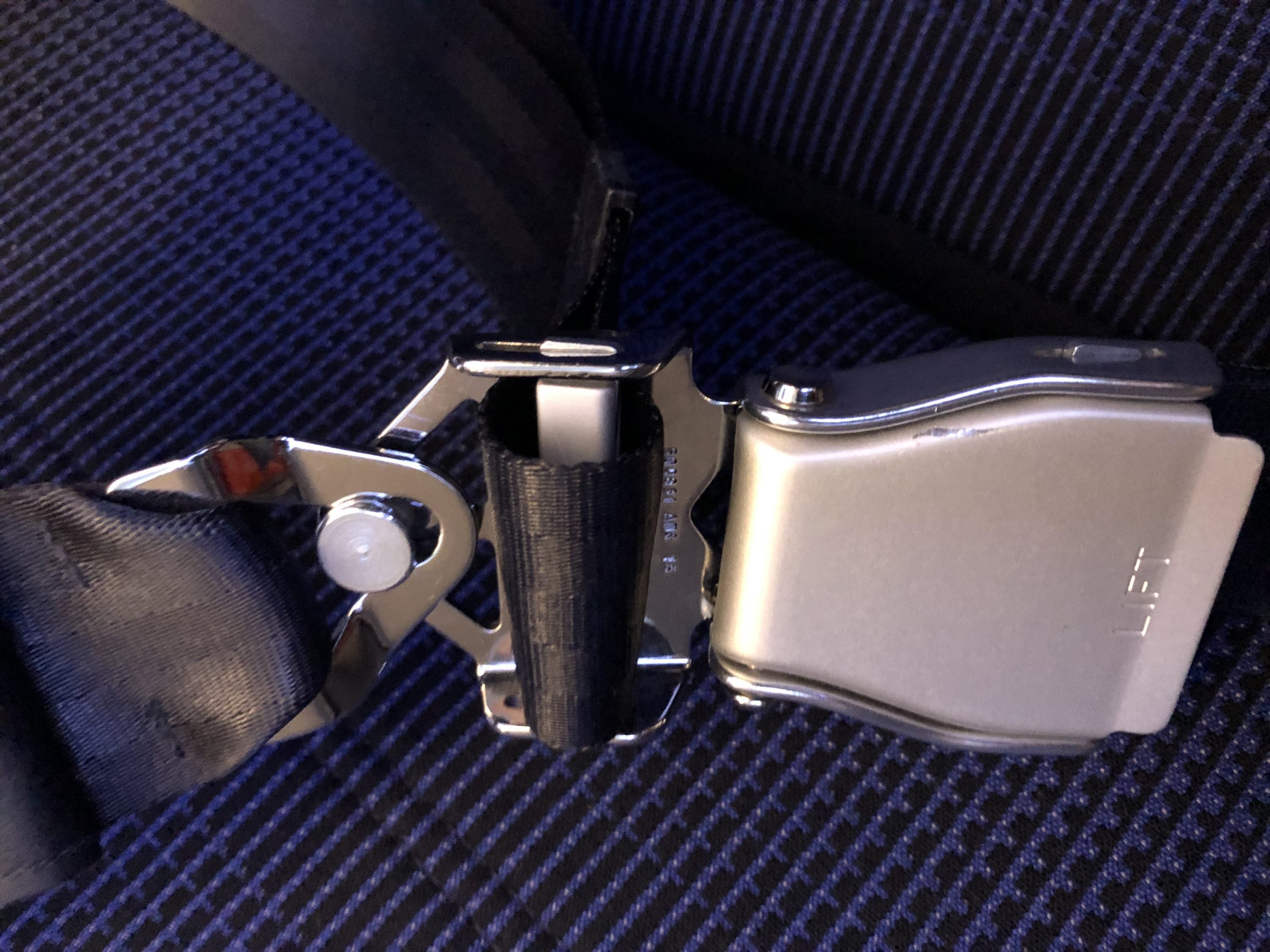 Below is how a fully secured seat belt would look.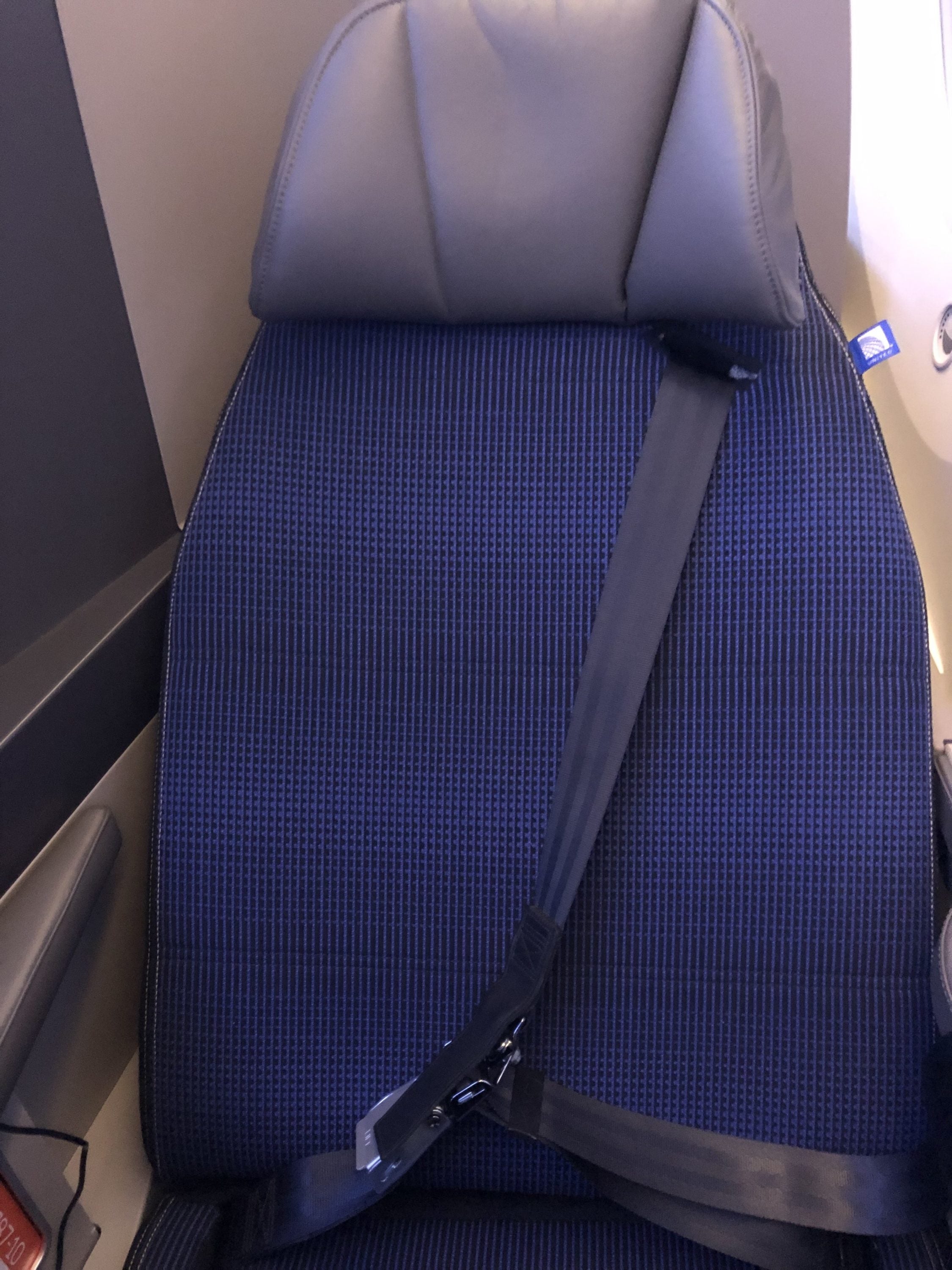 The safety brochure and literature were stowed just to the right of the seat for easy access.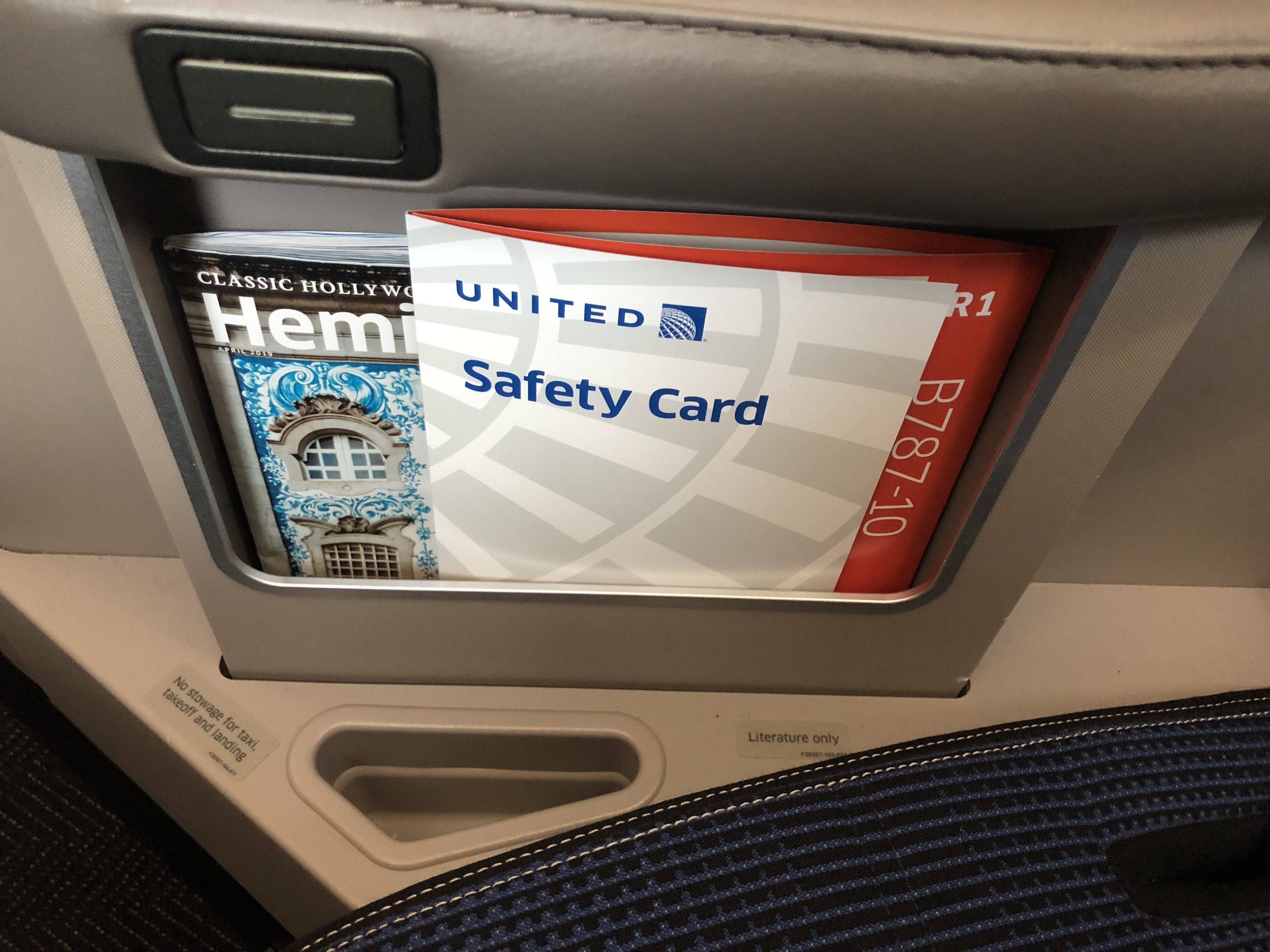 The seat when fully reclined is quite comfortable.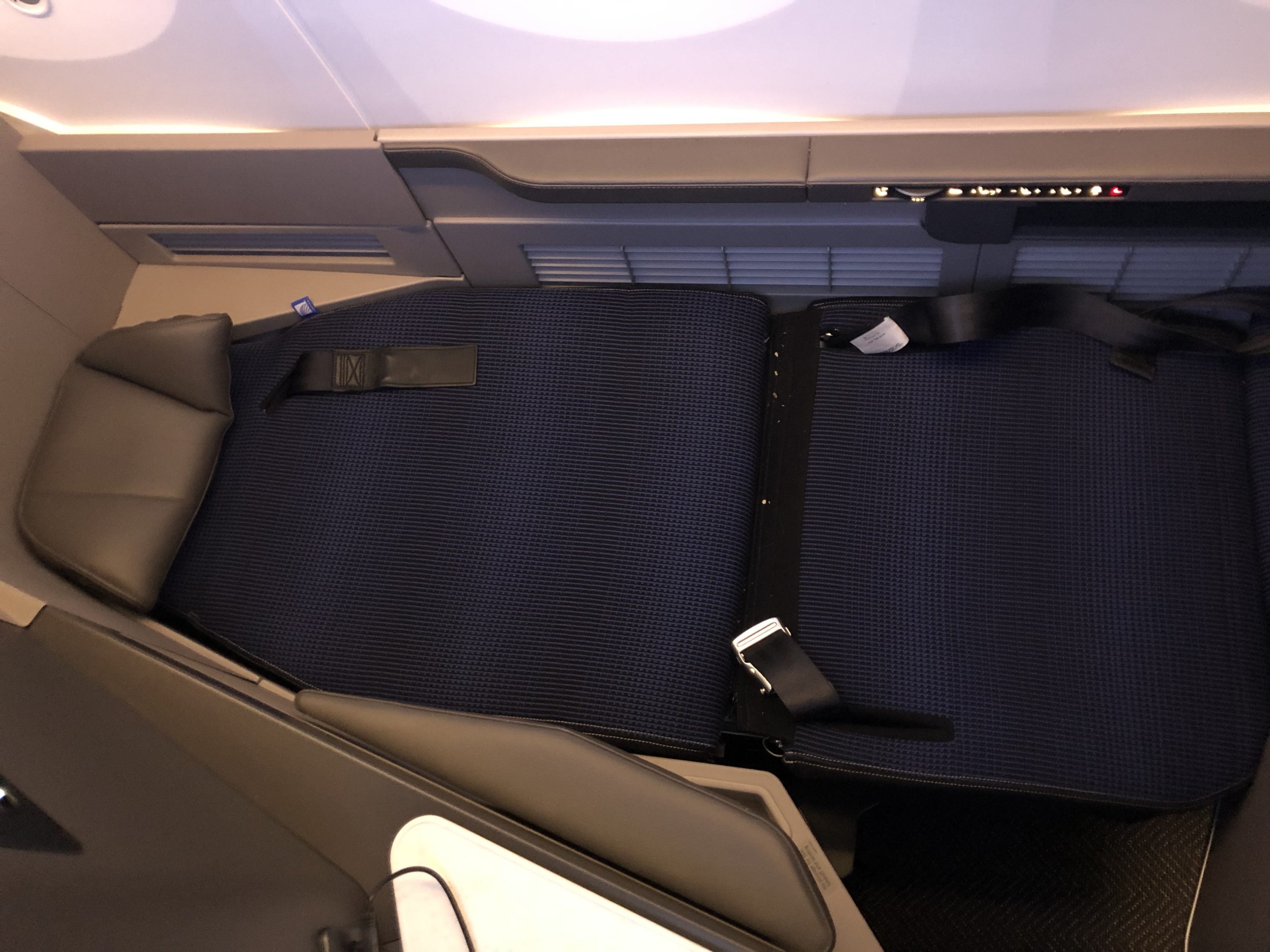 I dimmed the windows prior to take-off, though they were restored automatically for take-off.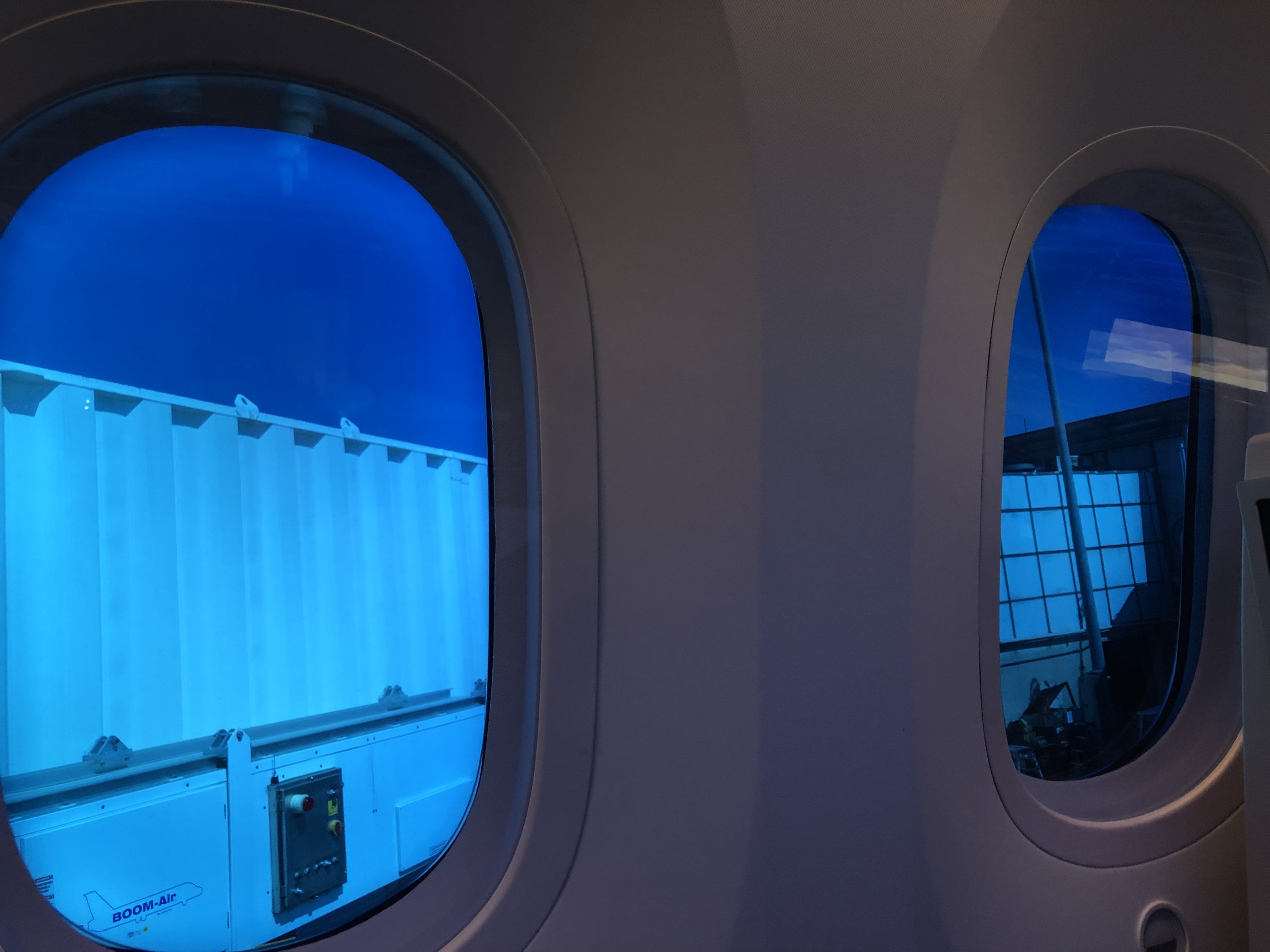 We taxied to the runway and proceeded on with our flight.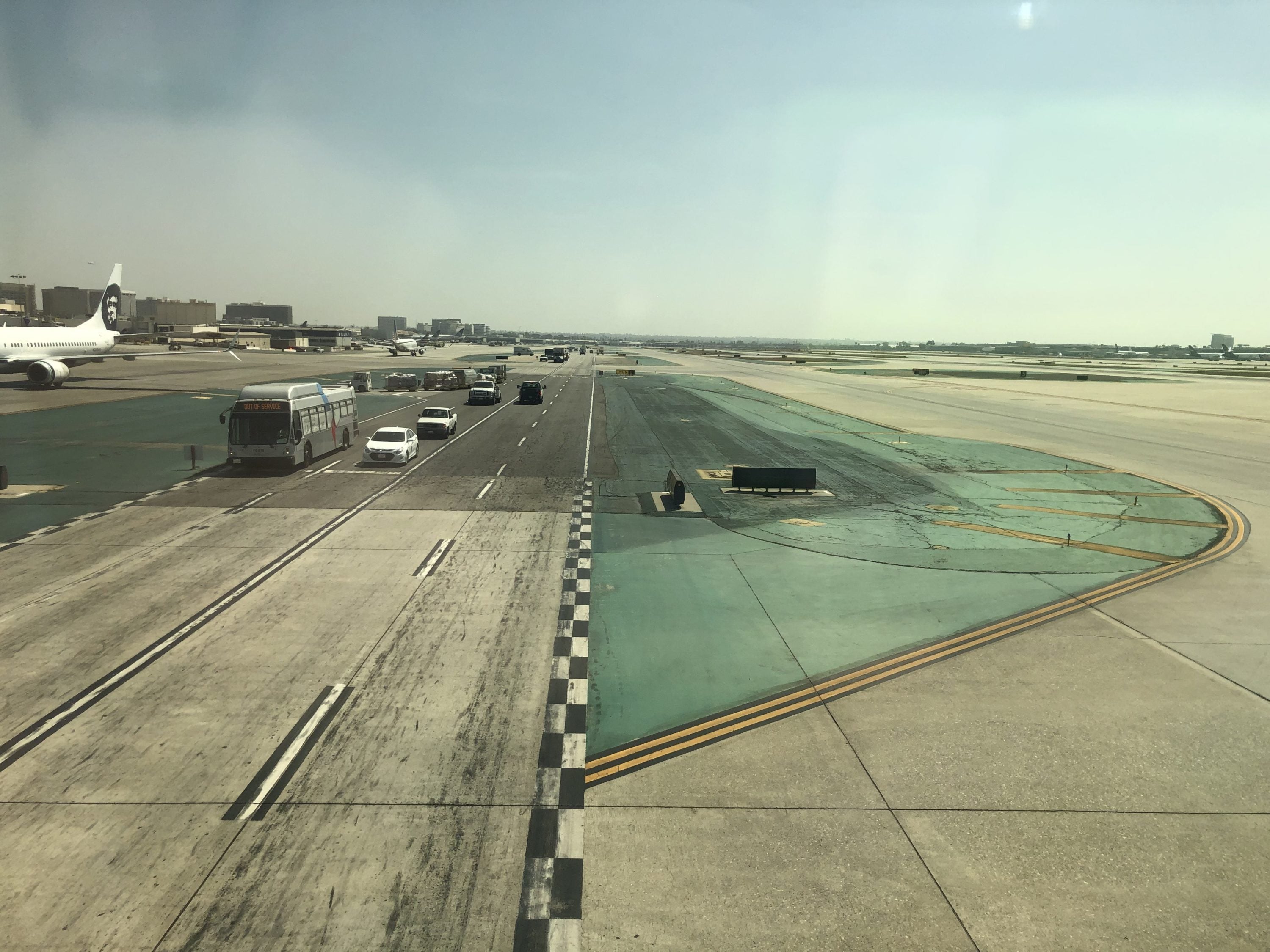 Bottom Line: United Polaris on the 787-10 offers some of the best domestic business class products in America. They're actually #2 on our best domestic business class rankings mostly due to the lie-flat capabilities and the tech-enabled seats.
Amenities
As this wasn't a true United Polaris long-haul flight, there's little to be said about the soft product. But, we were provided with a few amenities.
The headphones were found in the storage compartment by my seat, they were mediocre.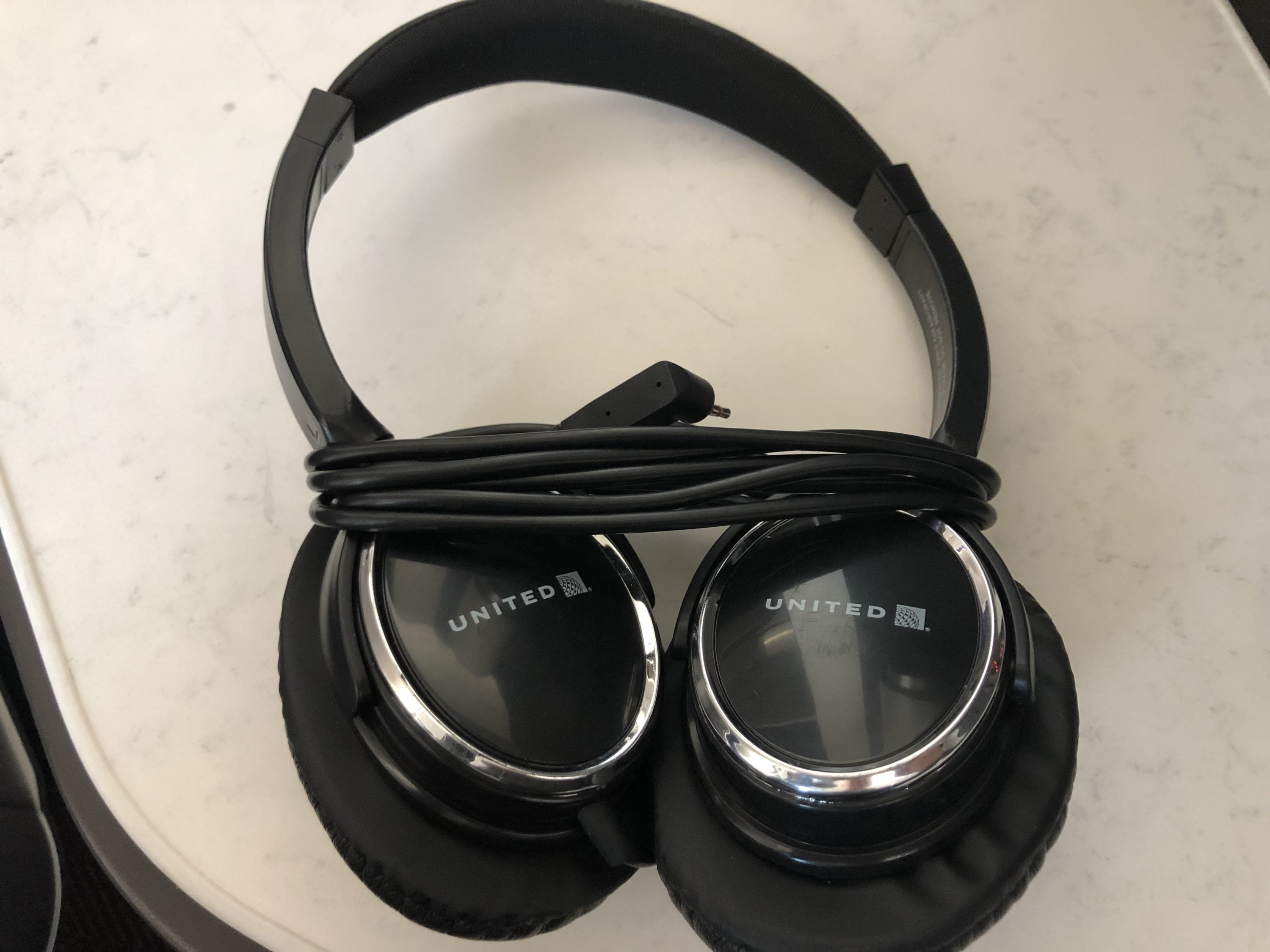 I headed to the lavatories to find that the amenities in the lavatory were quite nice.
Sunday Riley hand cream and facial mist were on offer, while Murchison-Hume garment spot cleaner and fabric refresher were also available.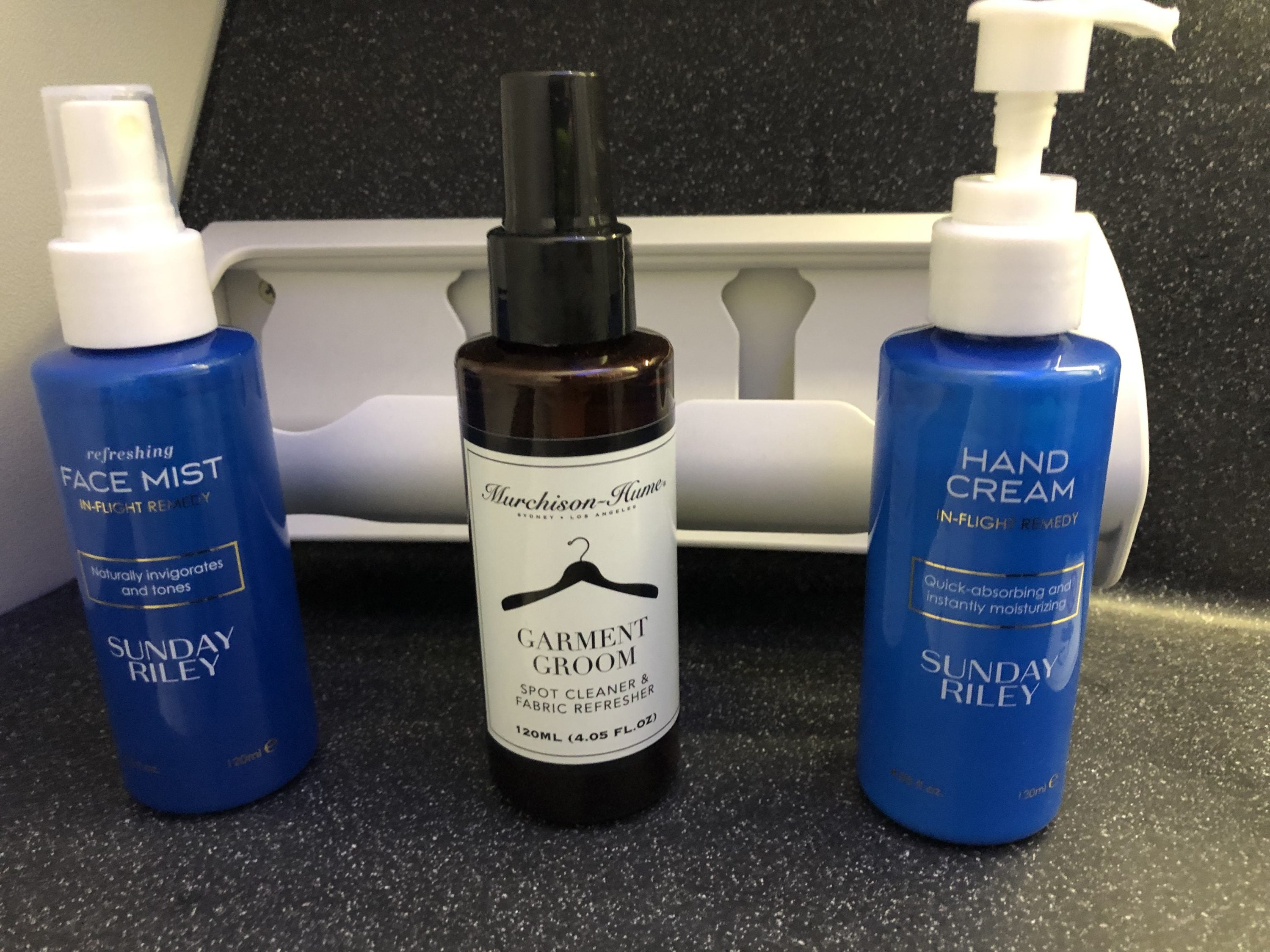 The soft product on this 3-hour flight was essentially non-existent. This isn't terribly surprising, as even the transcontinental Polaris flights between Los Angeles (LAX) or San Francisco (SFO) to Newark (EWR) offer an abbreviated amenity kit.
Bottom Line: Though I didn't get to sample the Cowshed amenities or Saks Fifth Avenue bedding, I also didn't expect it on this flight. The amenities reflect that of a domestic flight, which is what this was. 
Food and Beverage
Around 30 minutes after take-off, the crew turned off the fasten seatbelt signs and began taking meal orders. They distributed lap napkins, warm nuts, and drinks. I requested Coca-Cola.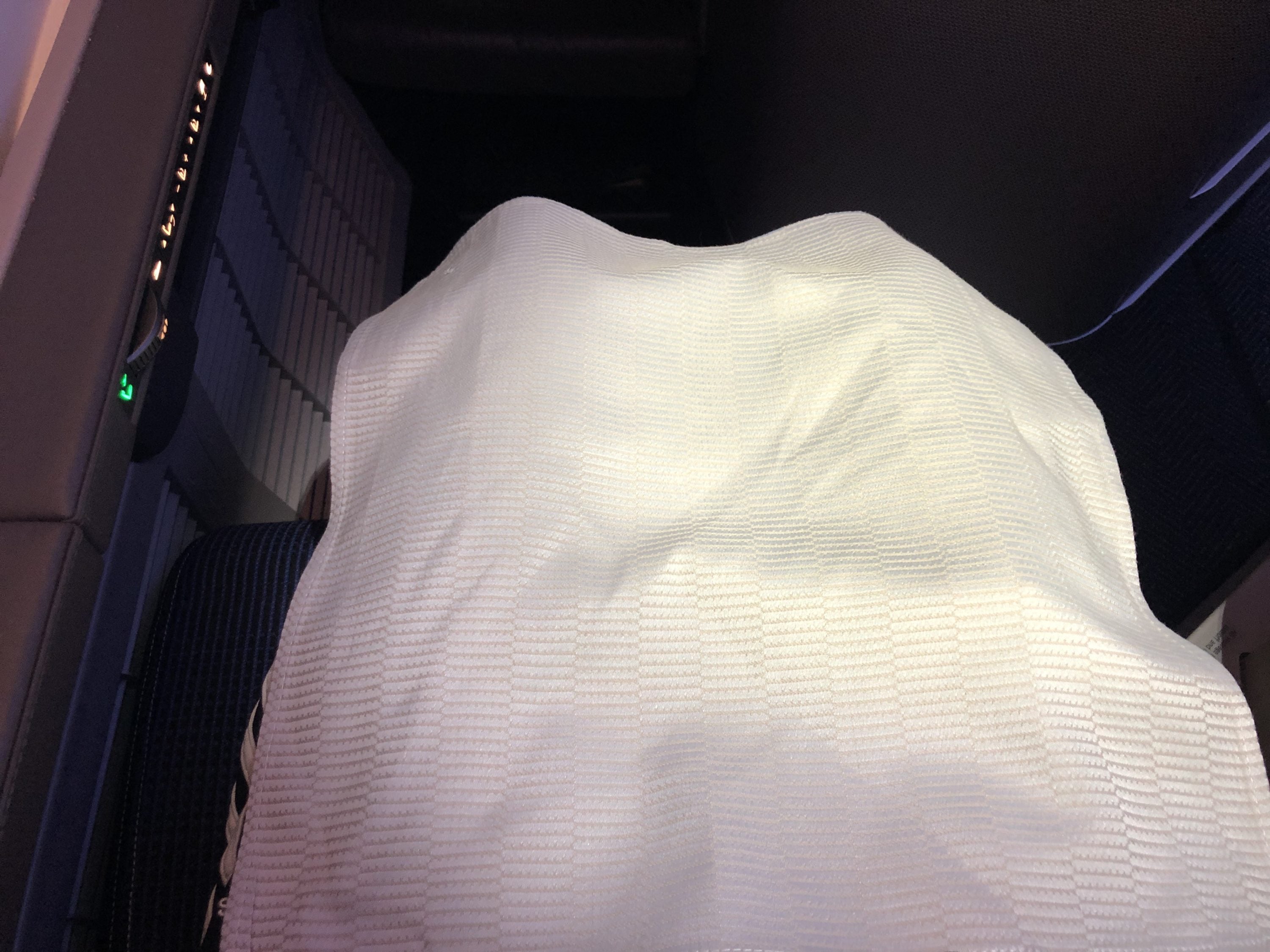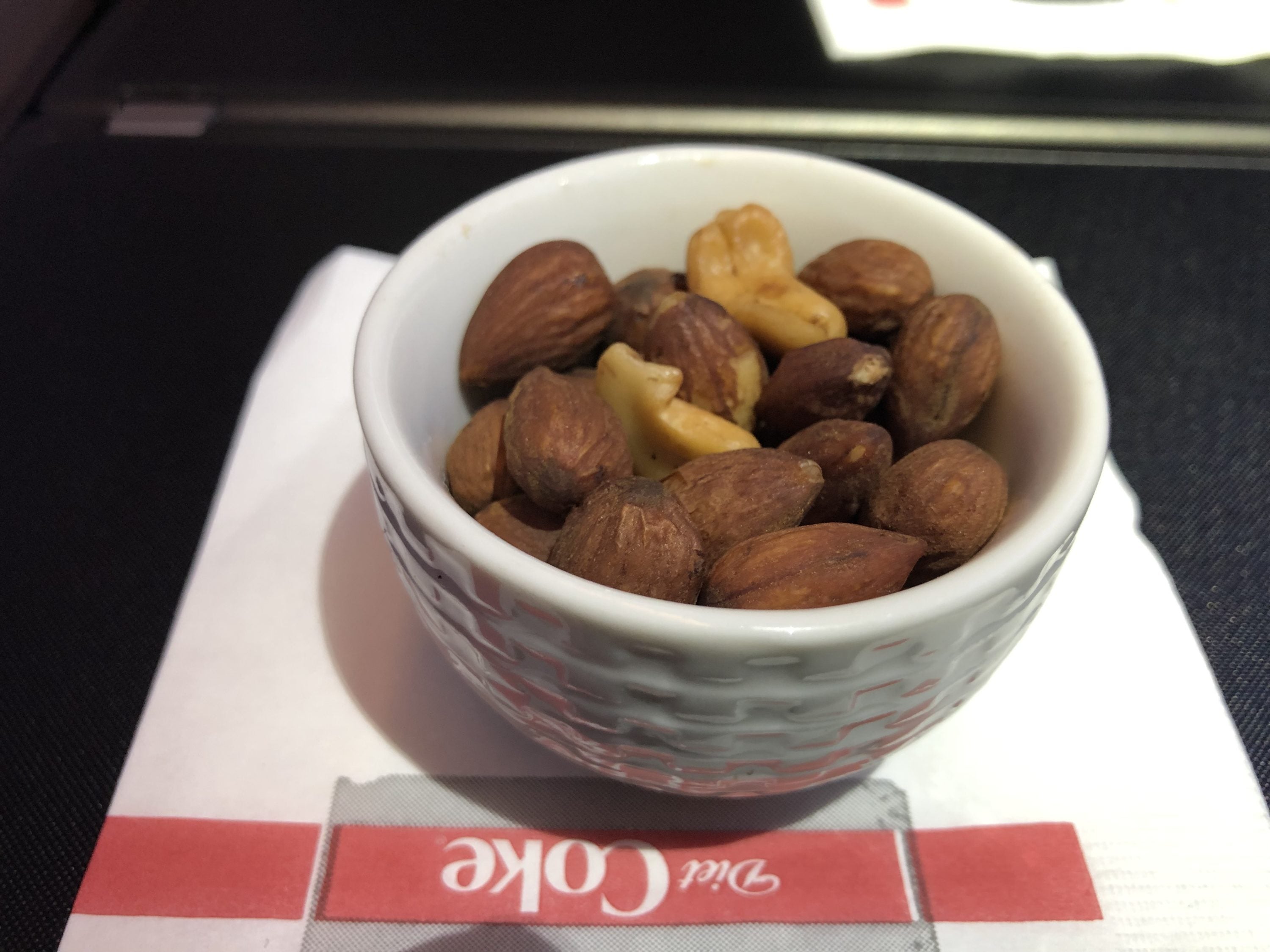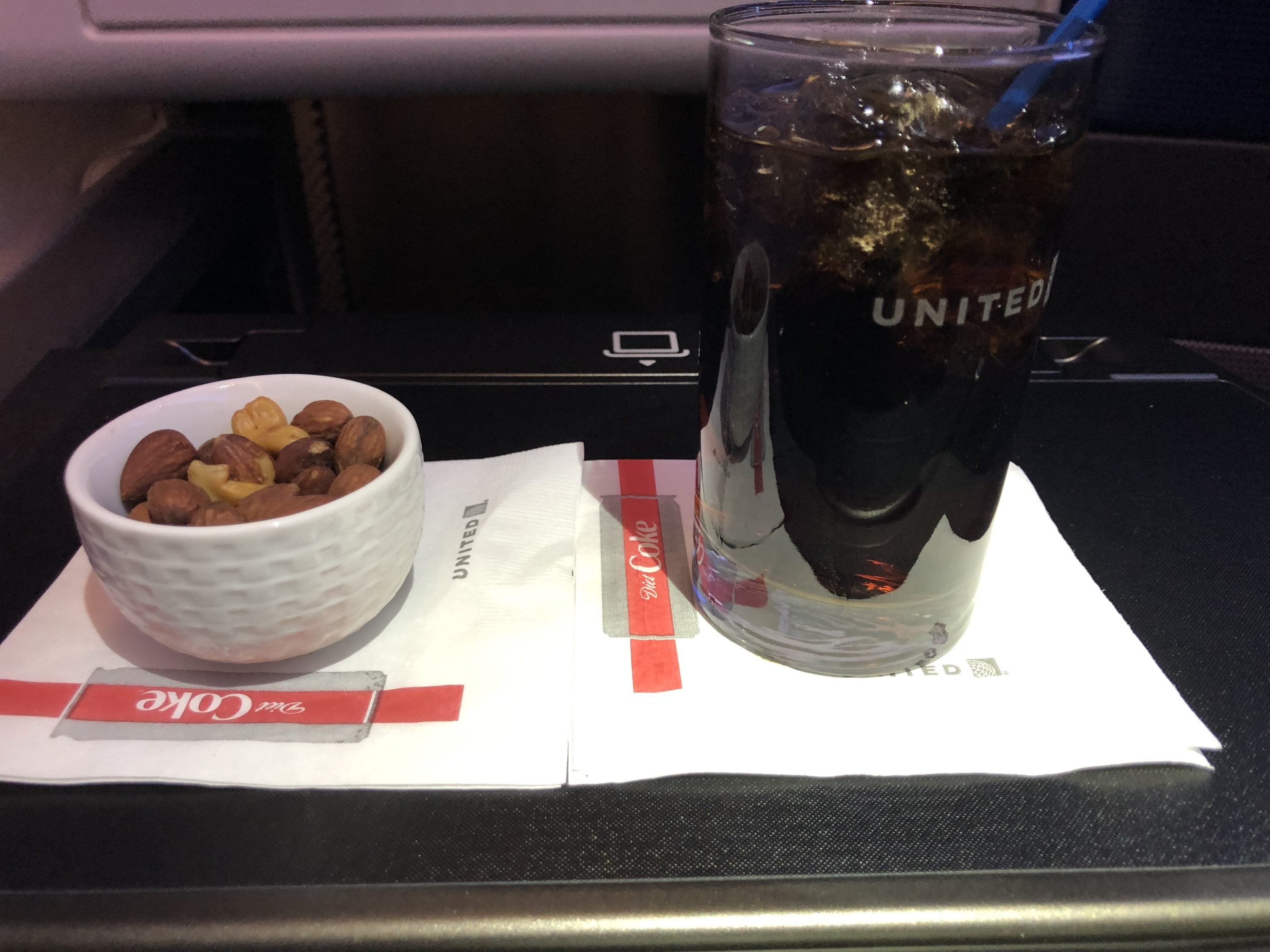 At this point, they went to each seat and took meal orders. We could choose between two meals:
Grilled chicken salad
Thai chicken with rice noodles
I opted for the latter, which ended up being a good decision. The entire meal was brought on a single tray.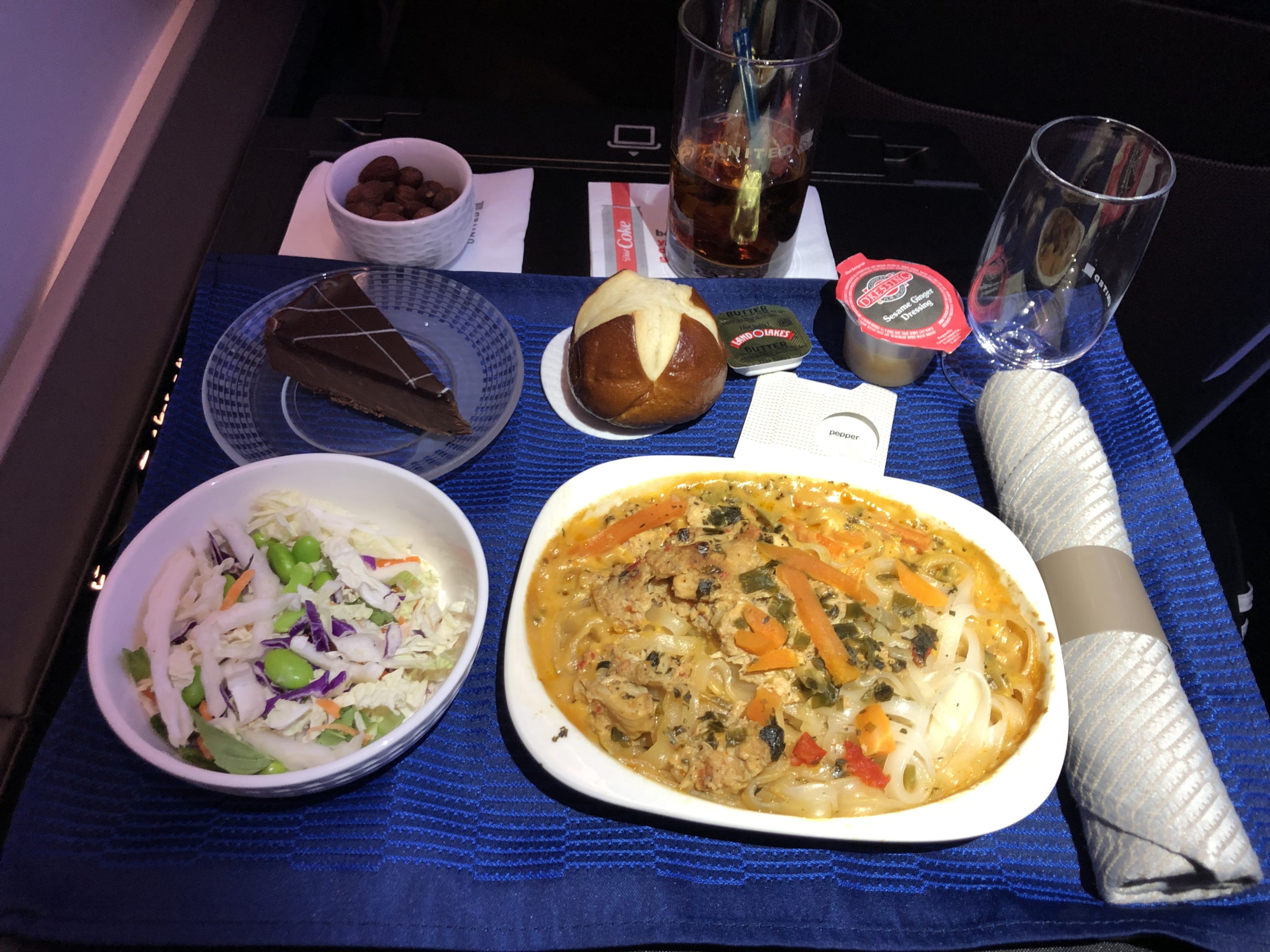 I first went for the cabbage, mint, soybean, and carrot salad with sesame ginger dressing on the side. It tasted great.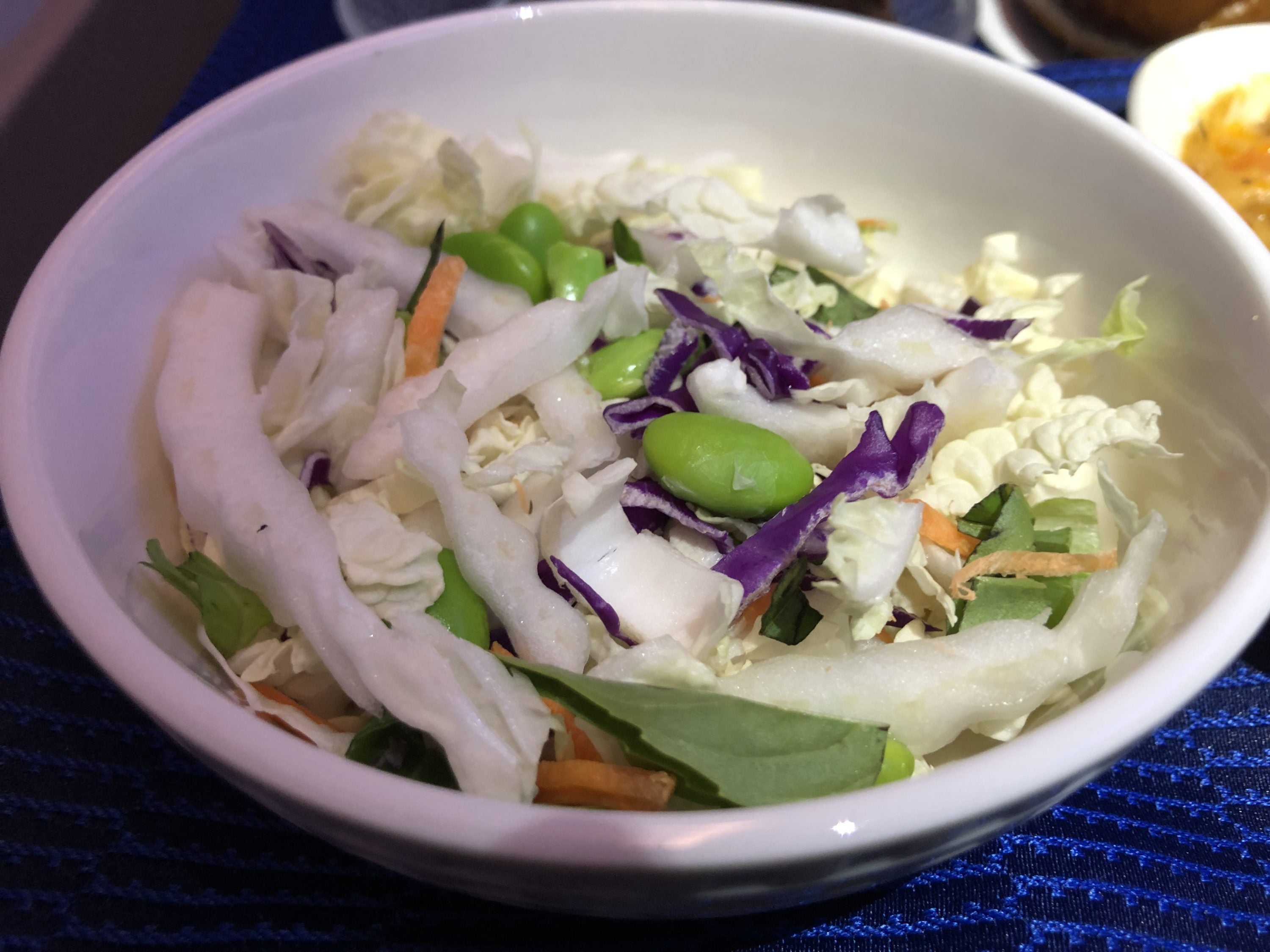 Next, I dug into the main course. The entire dish was acceptable and far better than I expected. I had initially expected some barely edible food, but this dish was slightly better than acceptable.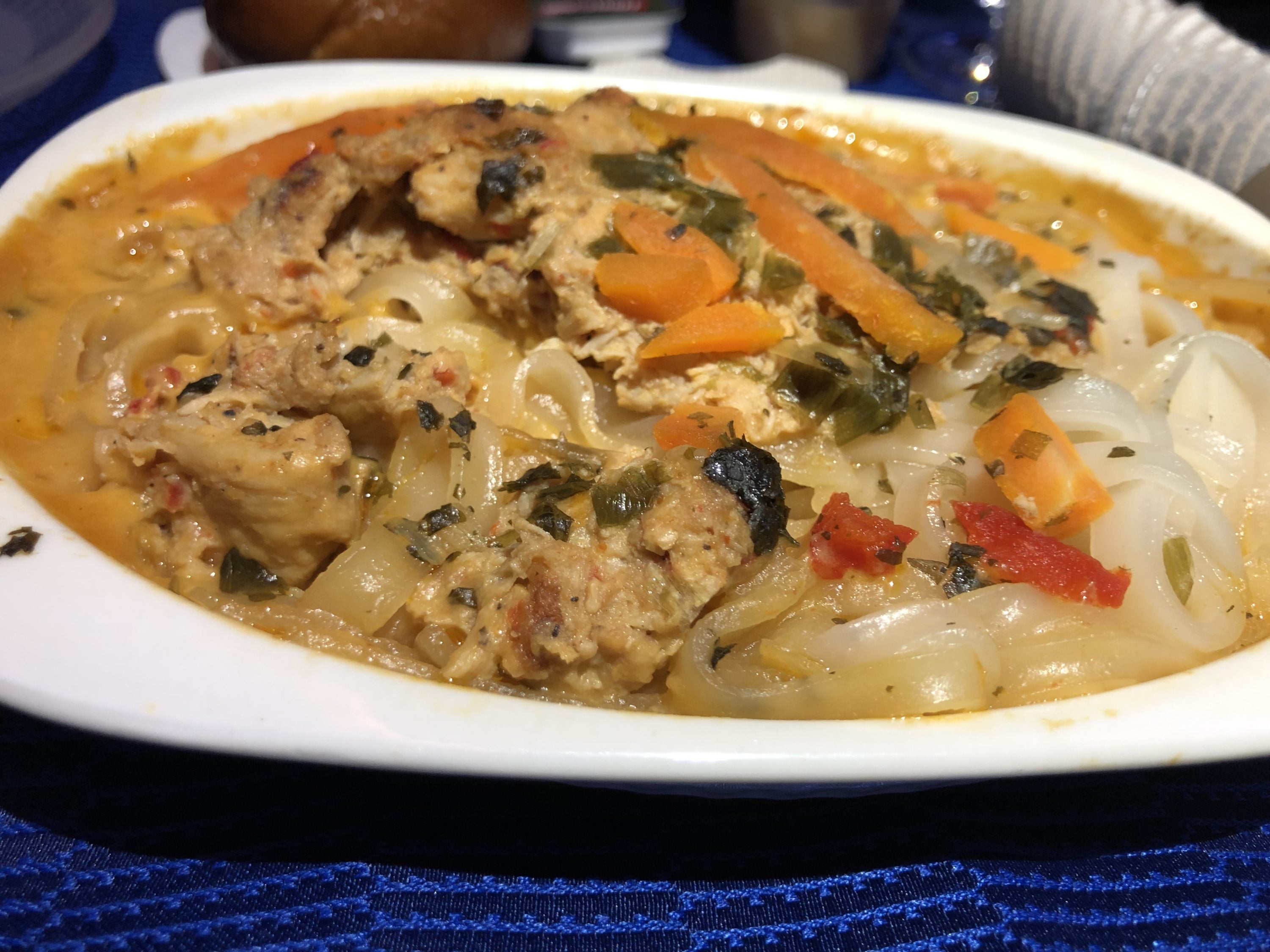 I took a bit from the dinner roll, which tasted a bit burnt and microwaved.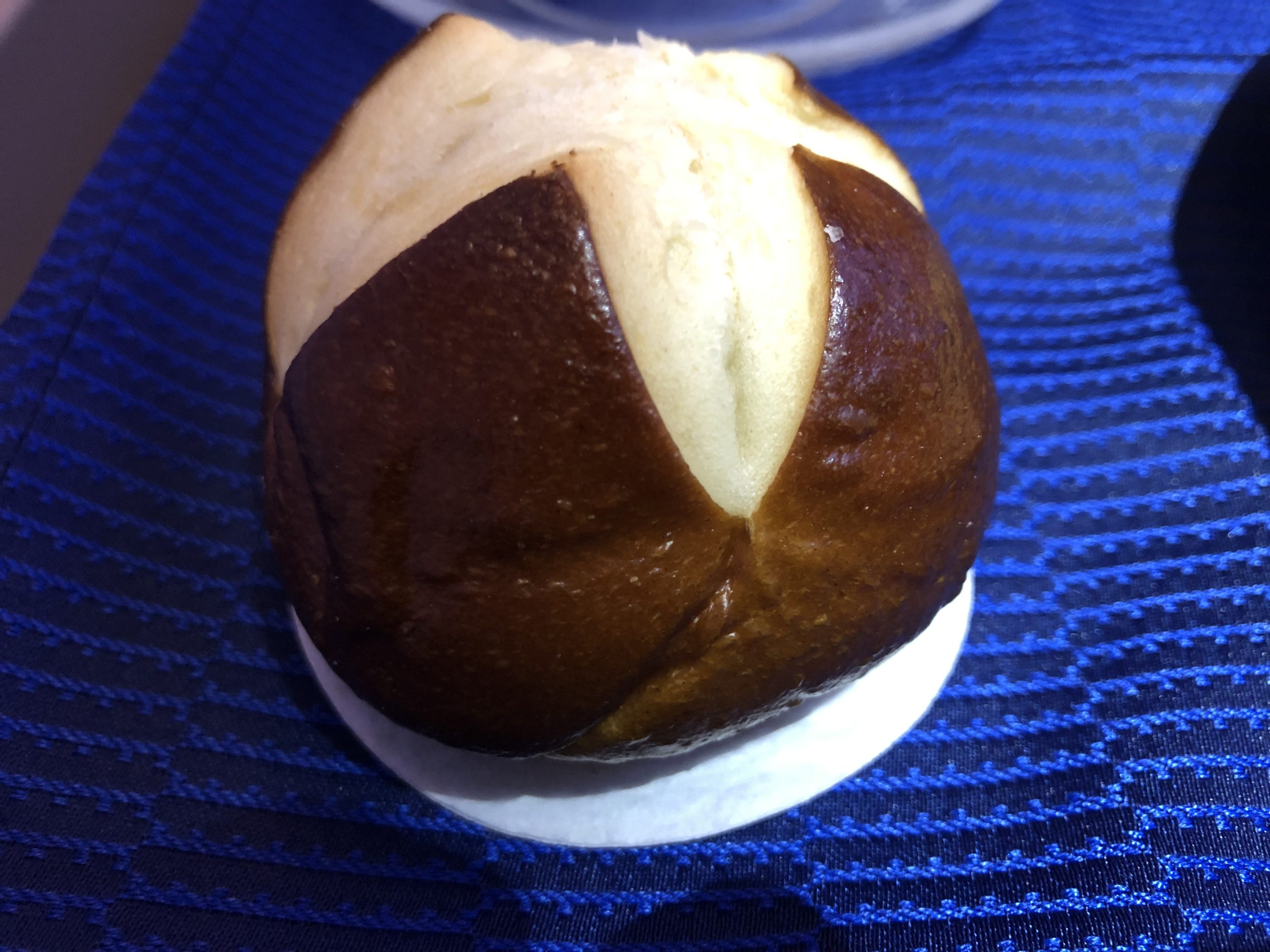 I wrapped up the meal service with chocolate cake, which was probably the highlight of the meal. Although the cake was extremely sweet, the decadence and airiness of the mousse was very pleasant.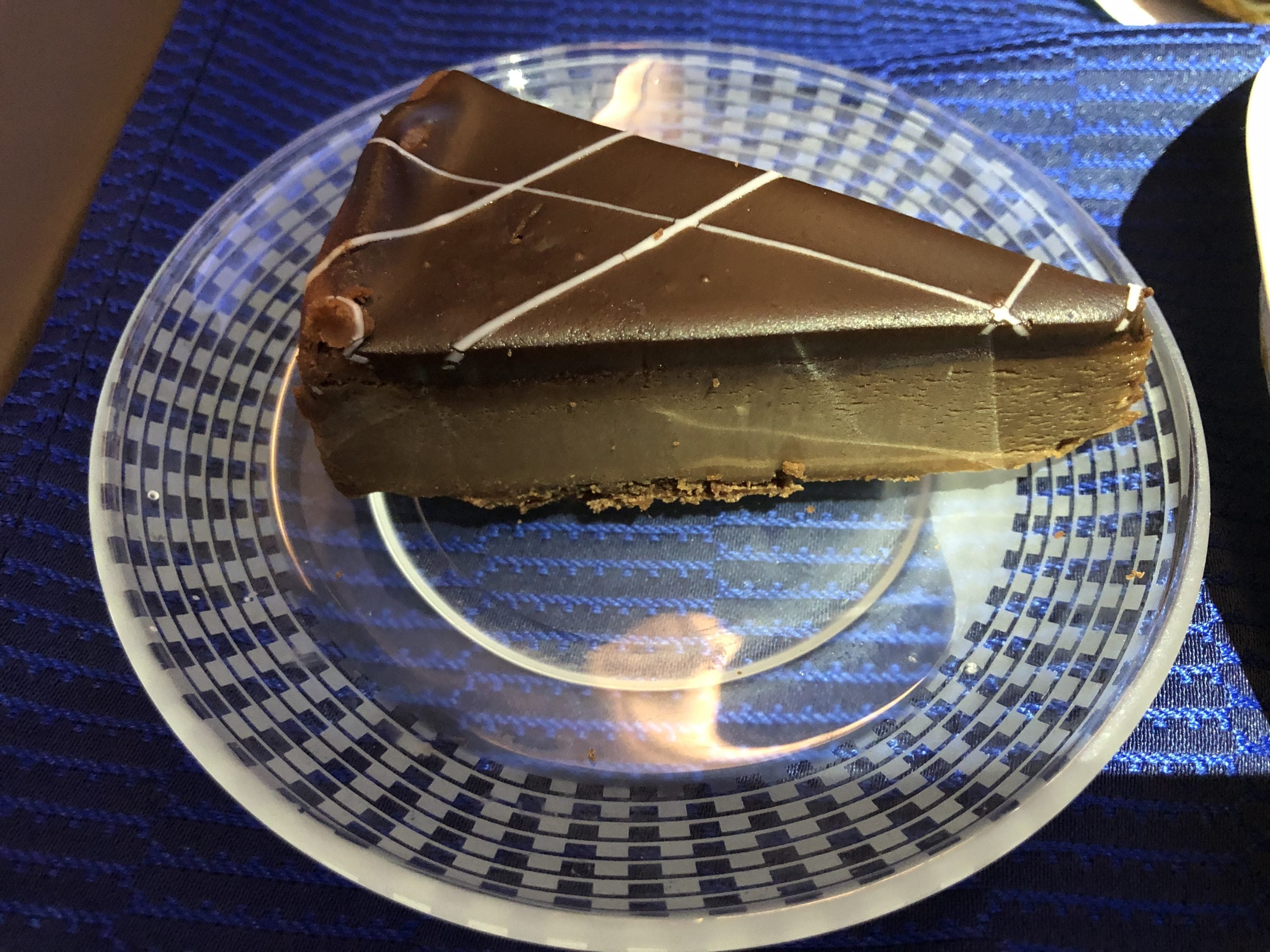 One of the flight attendants also came around offering wines, which I politely declined. Those bottles of wine retail for $10 each anyway!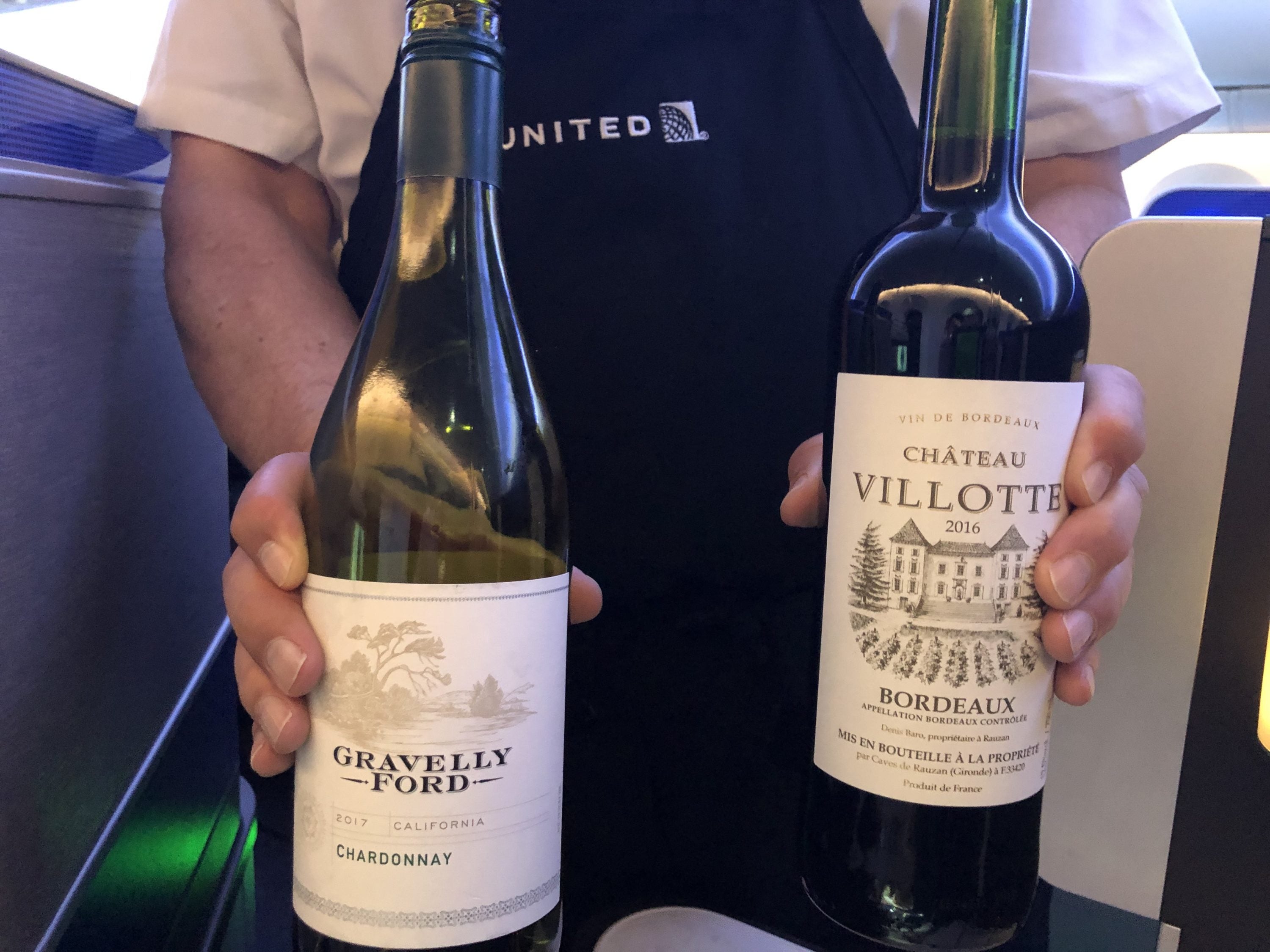 Bottom Line: The food on this flight actually surprised me in a good way. It might have been partly because of my rock bottom expectations, but that's beside the point. This was definitely one of the best domestic dining experiences I've had. 
Entertainment & Service
The in-flight monitor measures 16 inches diagonally, and the resolution was crisp. I was impressed by how clear the programming was on this screen. United invested a lot of money into making this aircraft as technologically enabled as feasibly possible, and it shows.
There were tons of entertainment options, including popular Hollywood blockbusters such as A Star Is Born.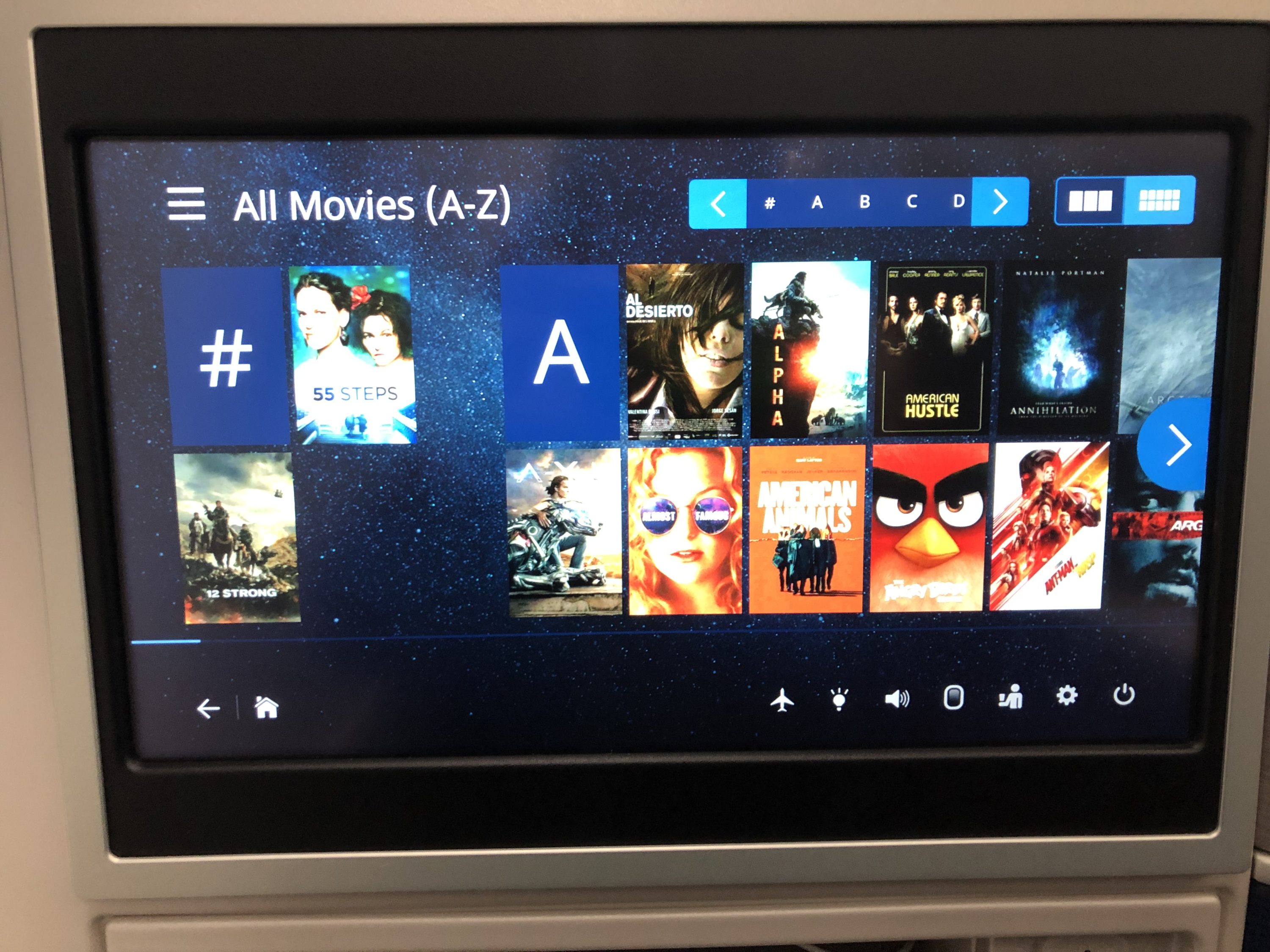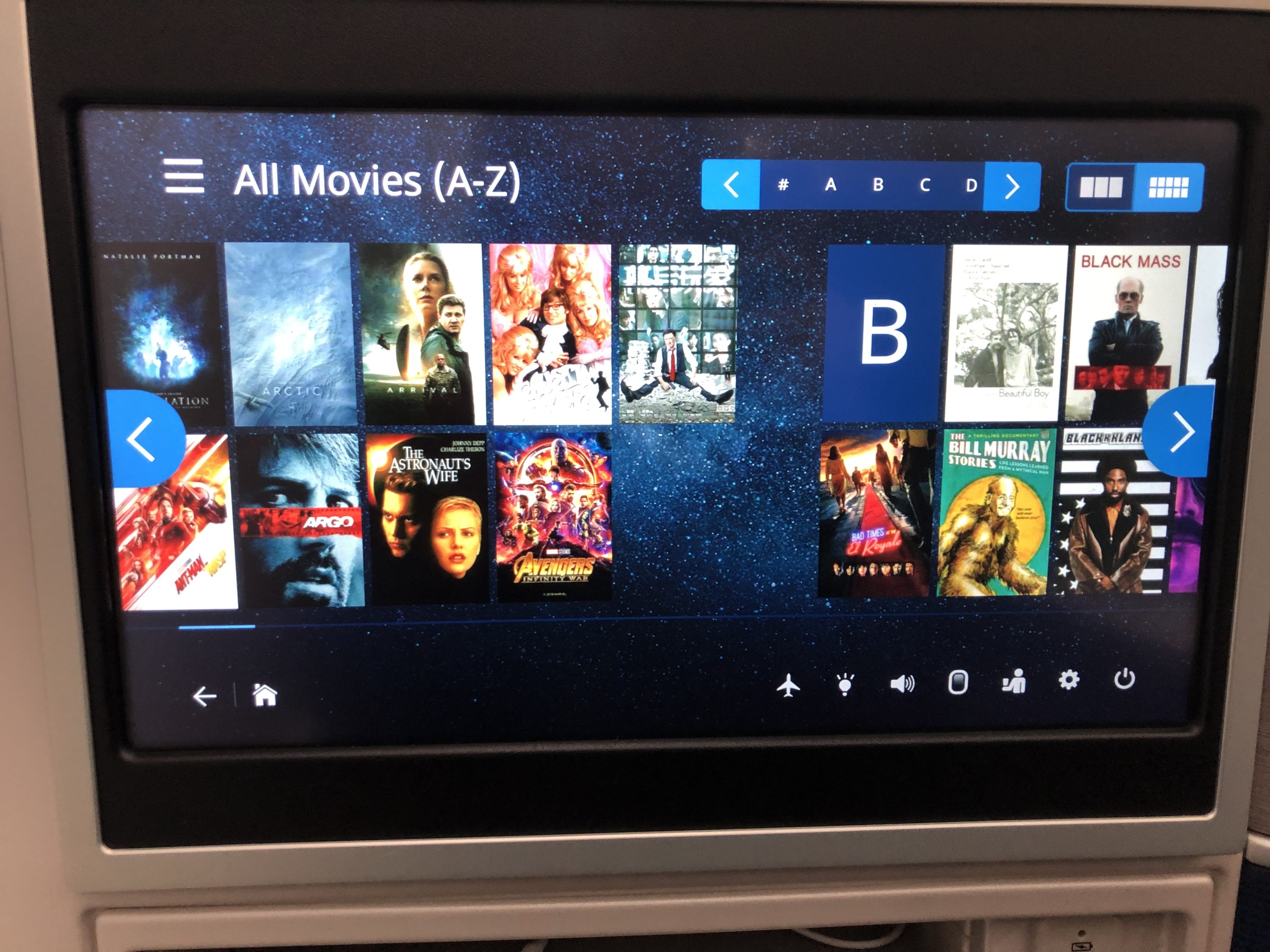 Additionally, one cool feature of United's 787-10 is the capability of multi-tasking via split screen. For example, I was able to look at the flight map without stopping my movie.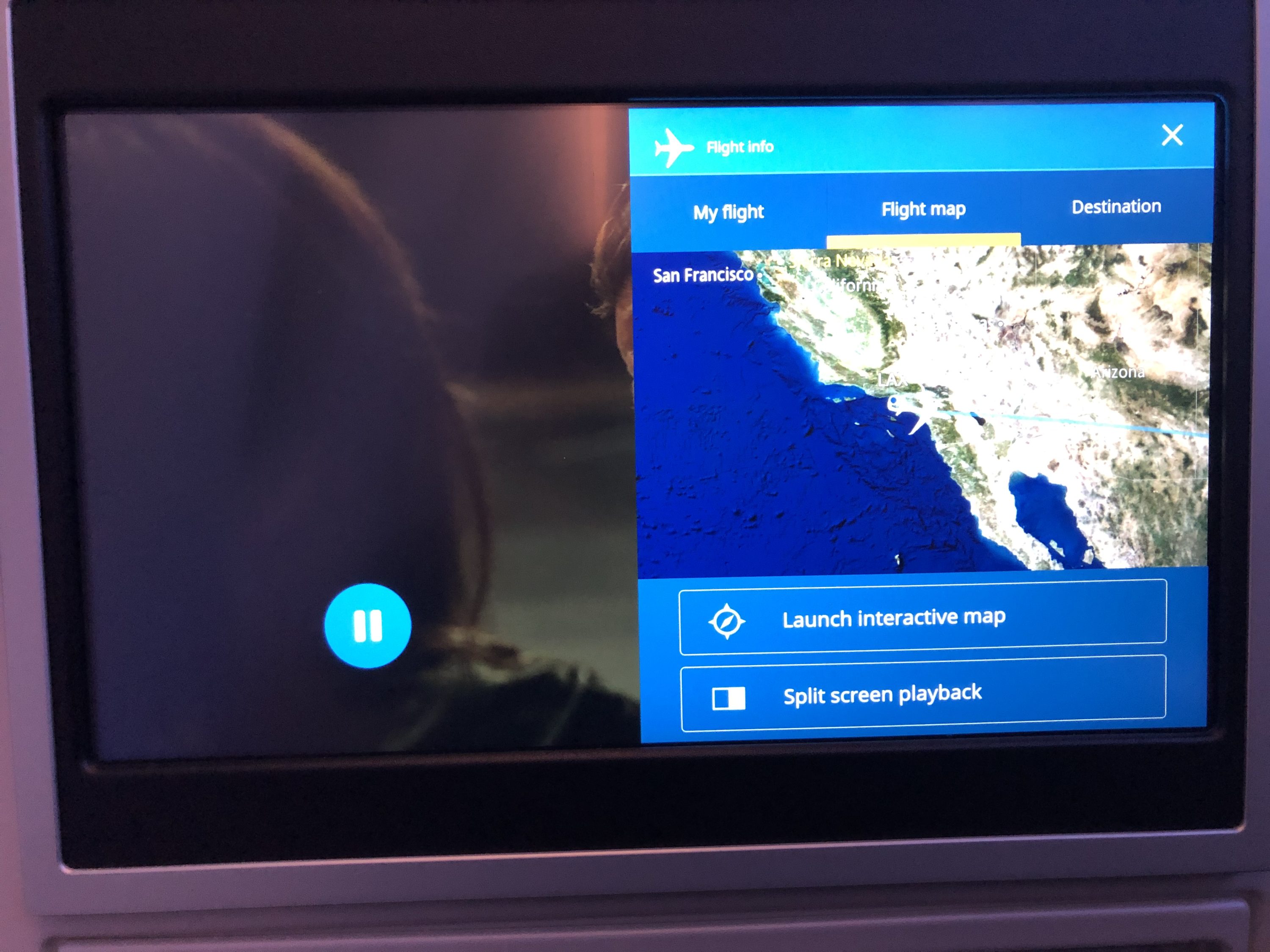 If you wanted to view the flight map full-screen, you could do that also.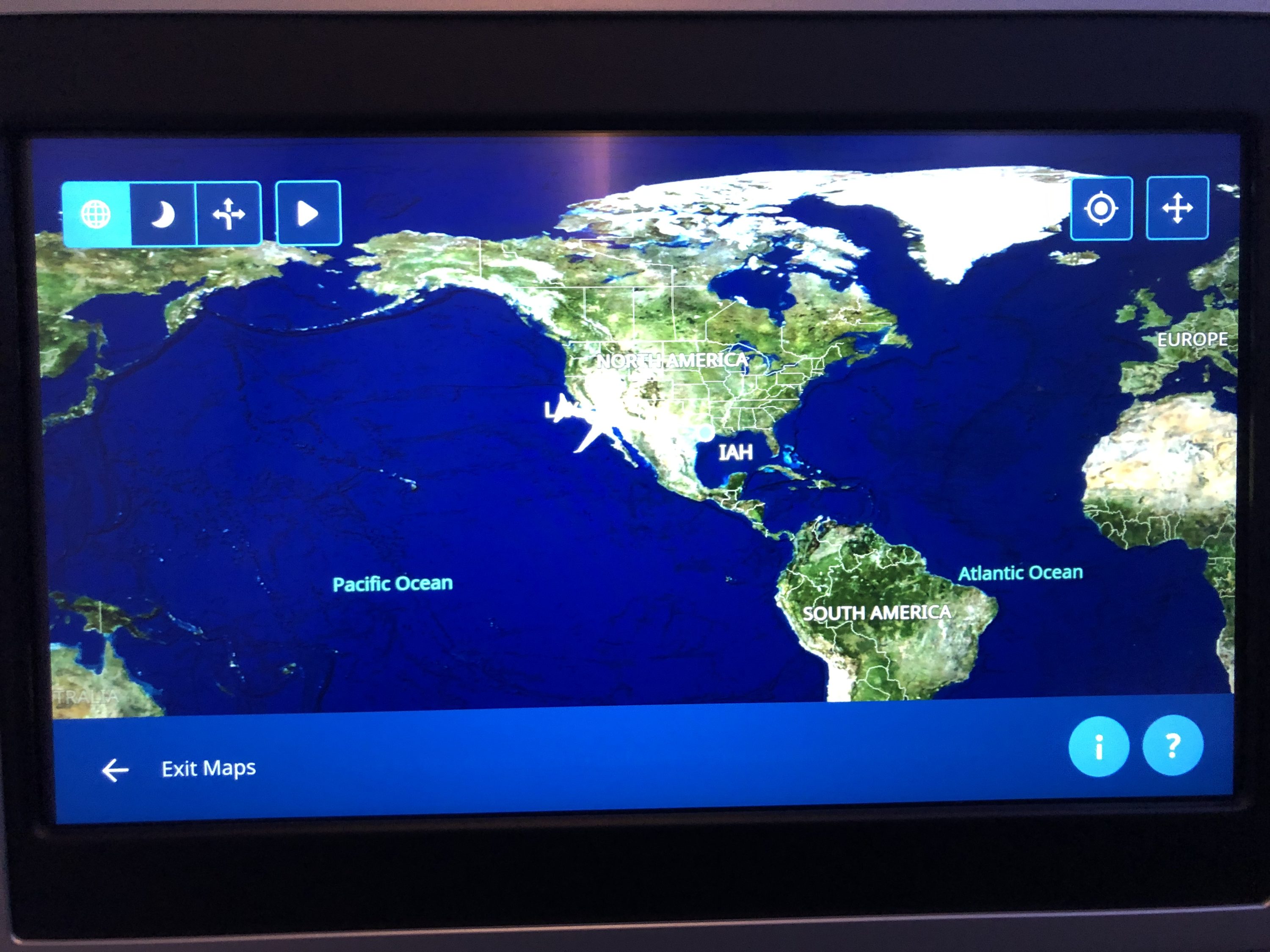 On our particular flight, the only option for Wi-Fi was Panasonic, which is dreadfully slow. Here's the pricing structure:
$8.99 or 1,390 United miles for 30 minutes
$10.99 or 1,700 United miles for 1 hour
$13.99 or 2,160 United miles for the entire flight (approximately 3 hours)
I paid for the entire flight, and according to Verizon FiOS, my download and upload speeds were 1 Mbps and 2 Mbps, respectively. Terrible, but let's hope that United retrofits these fancy aircraft with ViaSat or Gogo Wi-Fi.
As far as service goes, the flight attendant serving me was extremely friendly. Unfortunately, this isn't always the case, as some of the other cabin crew were dismissive and unresponsive to me at times. I was still very pleased overall with the service on this flight.
Bottom Line: United's 787-10 has great entertainment options, which include a variety of movies, TV shows, music, and other choices. The 16-inch screen is high-definition and large enough for my purposes. Also, the service on this flight was warm, professional, and almost uncharacteristic of my usual experiences. 
Final Thoughts
United Polaris's hard product is state-of-the-art. It's not the biggest business class seat by any stretch of the imagination, but it's a novelty and has some interesting features, such as the seat control wheel and unique seat lamp.
This is a brand-new aircraft with an excellent hard product, decent meal program, and good service. Unfortunately, this short-haul flight didn't include any lounge access, amenity kits, or even bedding.
They do offer light blankets on request, so be sure to ask for them!
I'm glad I tried United Polaris, but there are simply too many stellar choices for international flights, so I don't think I'll be going out of the way to fly it again.