Singapore Airlines Boeing 787-10 Regional Business Class Review (Tokyo to Singapore)
Airline: Singapore Airlines
Aircraft: Boeing 787 – 10 Dreamliner (9V-SCA)
Flight#: SQ 637
Route: Tokyo (NRT) to Singapore (SIN)
Date: March 16, 2019
Duration: 7hrs 02mins
Cabin + Layout: 36 Regional Business Class seats in a 1-2-1 staggered configuration
Seat: 18A and 12K
Miles used: None — it made more sense to buy this round-trip business class ticket to Tokyo during Singapore Airlines' fare promotion than to burn miles. The round-trip DXB-SIN-NRT Business Saver KrisFlyer mileage redemption is 156,000 miles + AED 315 (United Arab Emirates dirham; approx. USD $85.80) including taxes and fees per person.
Fare paid: AED 8,035 (approx. USD $2,188) per person including taxes and fees as part of  "The Great Singapore Airlines Getaway Fare" promotion.
Typical retail fare: AED 11,895 (approx. USD $3,239) per person including taxes and fees
Singapore Airlines Regional Business Class

Singapore Airlines is one of the world's best airlines, known for its consistent and exceptional service — it also has the unique distinction of being the only airline included in Fortune's 50 most admired companies worldwide.
I've been flying Singapore Airlines for as long as I can remember, and it's one of my personal favorites.
Singapore Airlines is currently in a fleet overhaul phase, part of which includes launching the cost-effective and fuel-efficient Boeing 787-10 Dreamliner — the big brother of the B787 family.
The B787-10 can seat up to 330 passengers in a 2-class cabin configuration, but it has a shorter range than the B787-8 and B787-9 variants since it's intended for regional and medium-haul travel. Singapore Airlines took delivery of the first B787-10 in March 2018.
At the of time writing this review, they had taken delivery of 11 of these aircraft (out of a total order of 49). Eventually, the B787-10 will be replacing Singapore Airlines' Airbus A330s and Boeing 777-200s, which predominantly operate their regional routes right now.
The launch route for Singapore's B787-10 was Bangkok, Thailand, and the aircraft has been slowly put into service on medium-haul regional routes of up to 8 hours throughout the Asia-Pacific region and Australia.
Currently, you'll find the B787-10 on all flights to Fukuoka (FUK) and Nagoya (NGO) in Japan, as well as select flights to Bali (DPS), Bangkok (BKK), New Delhi (DEL), Ho Chi Minh (SGN), Hong Kong (HKG), Manila (MNL), Osaka (KIX), Perth (PER), and Seoul (ICN).
However, due to recent Rolls Royce engine issues, on some flights the B787-10 has been switched back to the Airbus A330. And the SQ 638/SQ 637 flight I took to and from Tokyo (NRT) has been changed to the Airbus A380.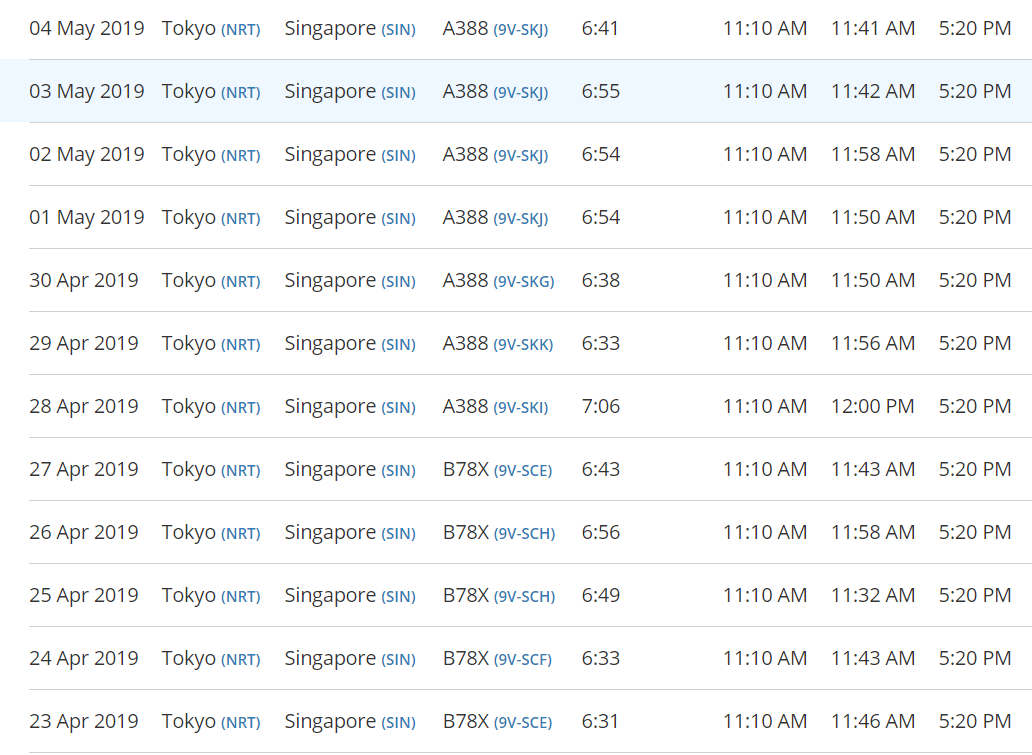 You can also find Singapore's regional business class on the Airbus A350-900 (regional variant) on all flights to Adelaide (ADL), Bengaluru (BLR), and Brisbane (BNE), as well as select flights to Jakarta (CGK) and Kuala Lumpur (KUL). This will be further extended to Kolkata (CCU), Perth (PER), and Seoul (ICN) as they receive additional aircraft.
Below are seat maps for business class on the B787-10 and A350-900 regional variant.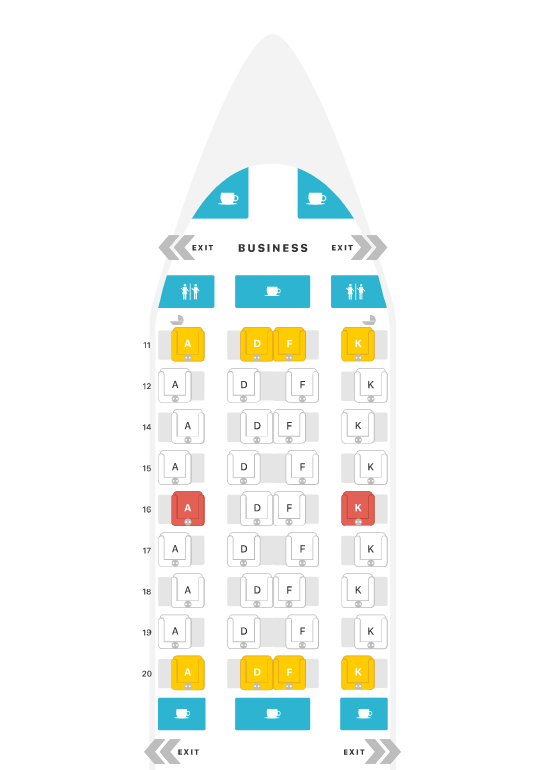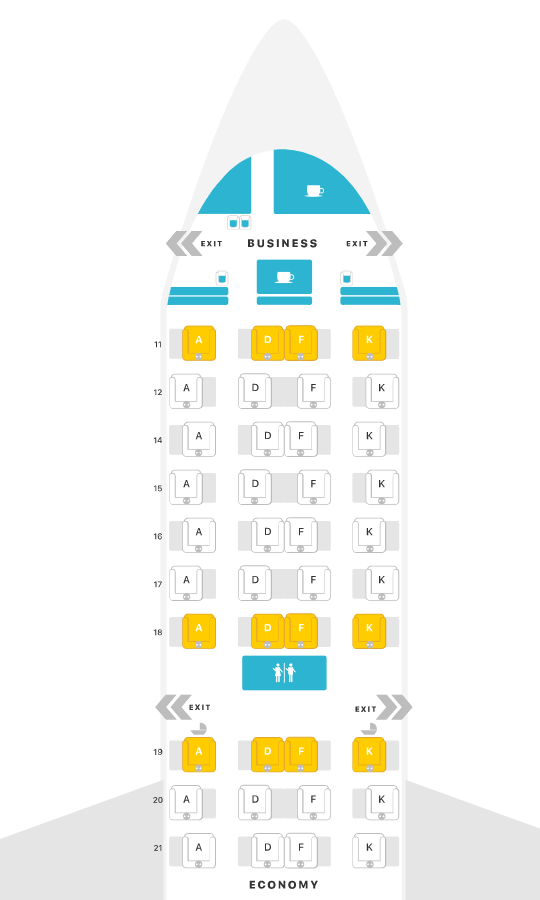 Booking the B787-10 Regional Business Class
It had been a while since my last visit to Japan, and I was contemplating visiting the Land of the Rising Sun during the Sakura (Cherry Blossom) Season in March or April 2019.
Japan gets crazy expensive during Sakura Season, and fares out of Abu Dhabi and Dubai to Tokyo are exorbitant during that time of year. I was looking at booking the round-trip ticket on Singapore Airlines using 156,000 KrisFlyer miles per person, when Singapore Airlines announced discounted fares from Dubai to Tokyo through their promotion.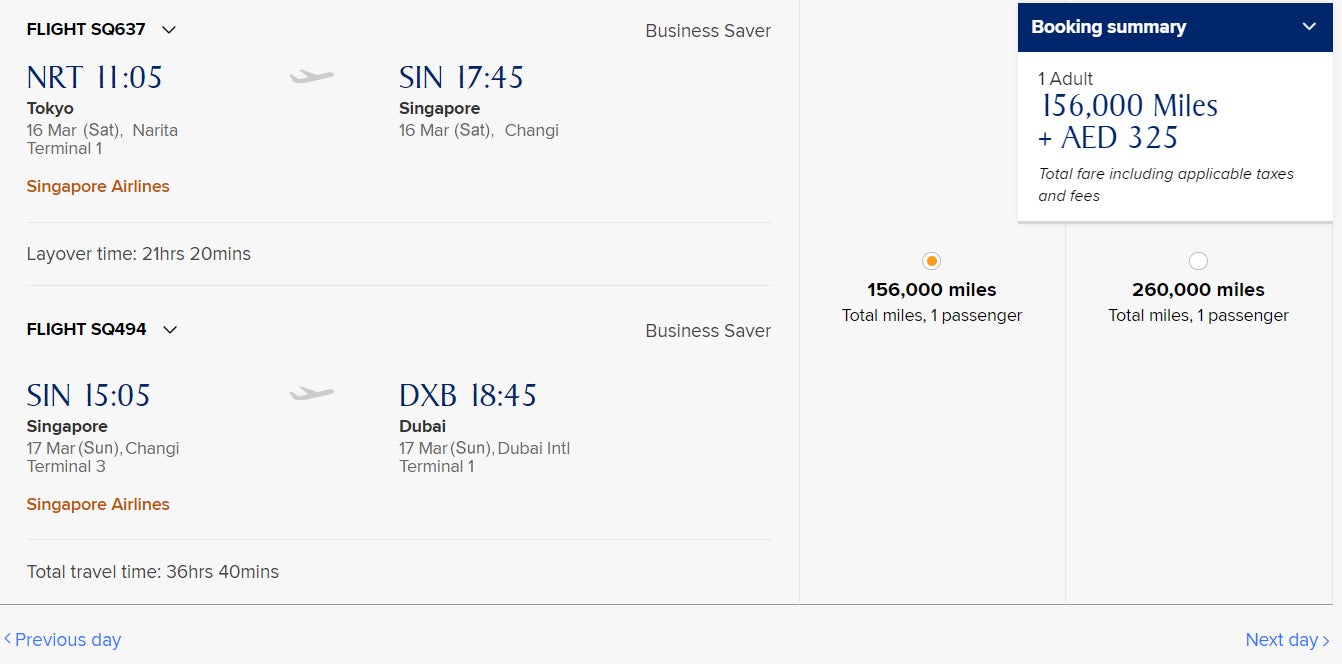 This round-trip promotion ticket from Dubai to Tokyo in business class with free stopovers in Singapore cost a reasonable AED 8,035 (approx. USD $2,188) per person including taxes and fees. That's a decent fare for an average duration of 6.5 hours each on 4 business class flights enjoying the world-renowned Singapore Airlines hospitality and service.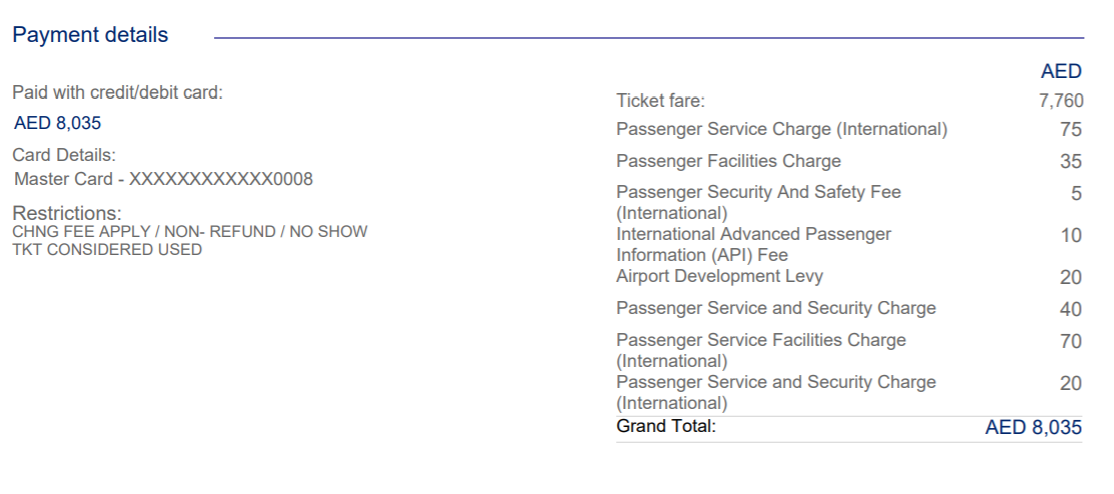 Buying this ticket also earned me 19,144 KrisFlyer miles, which helped me maintain my KrisFlyer Elite Gold status and PPS status.
Additionally, with the recent devaluation of KrisFlyer miles as of January 2019, it made sense to keep miles handy instead of spending them here — I later used them to book a ride on the new Airbus A380 suites from London to Singapore to experience 12 hours of bliss!
Hot Tip: Note that Singapore Airlines only allows you to redeem first class tickets through their own KrisFlyer program — so keep those miles handy to redeem when you feel like spoiling yourself.
You can also earn KrisFlyer miles through American Express Membership Rewards, Citi ThankYou Rewards, Marriott and Chase Ultimate Rewards.
Tokyo Narita International Airport
ANA Business Class Lounge
After completing the formalities at the Singapore Airlines check-in desk, I headed to the lounge. Singapore Airlines business class passengers and KrisFlyer Elite Gold Card members can access either the All Nippon Airways (ANA) or United business class lounges since they're both part of the Star Alliance. The ANA business class lounge near Gate 46 is more convenient since it's close to the Singapore Airlines boarding gate.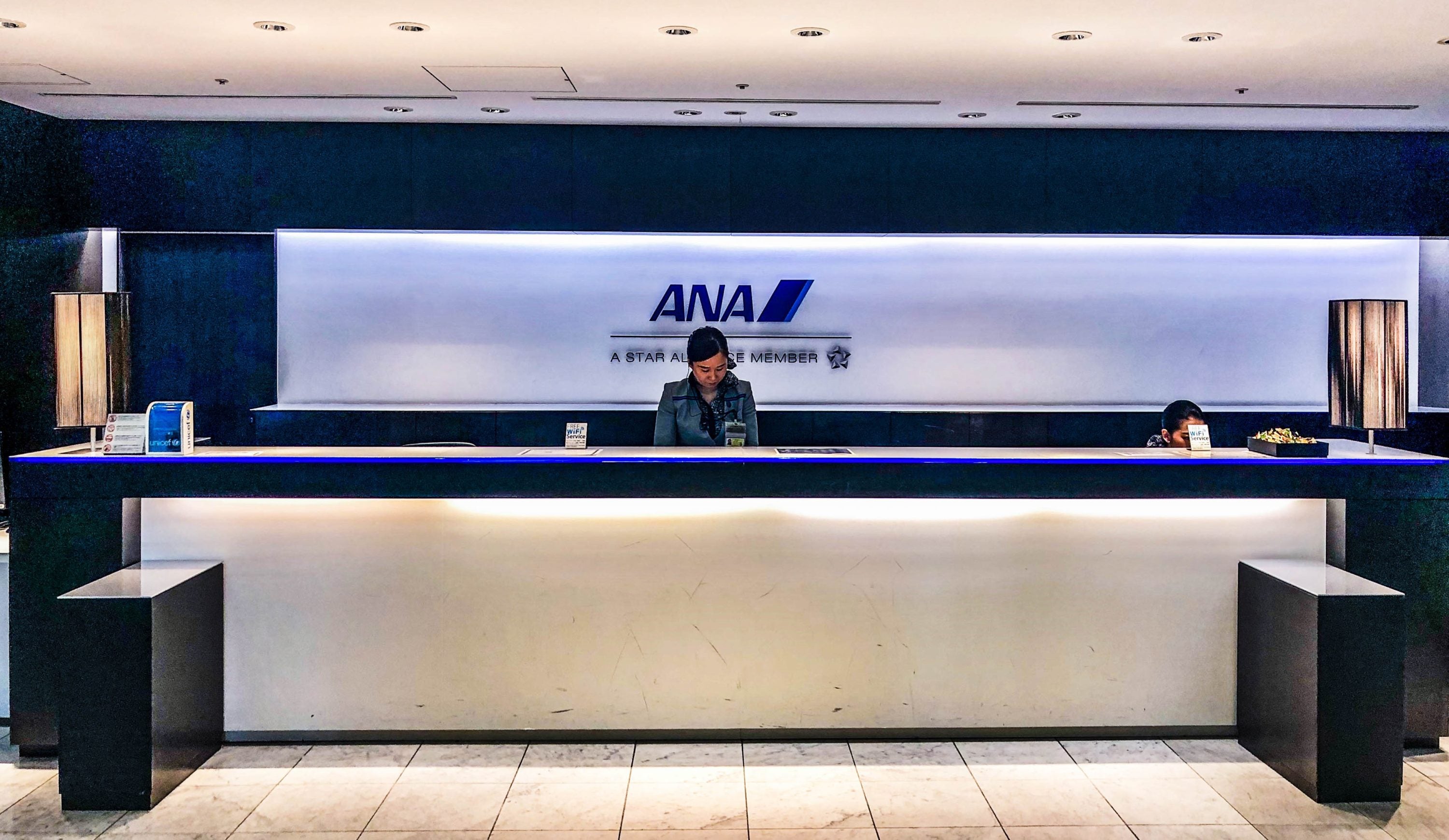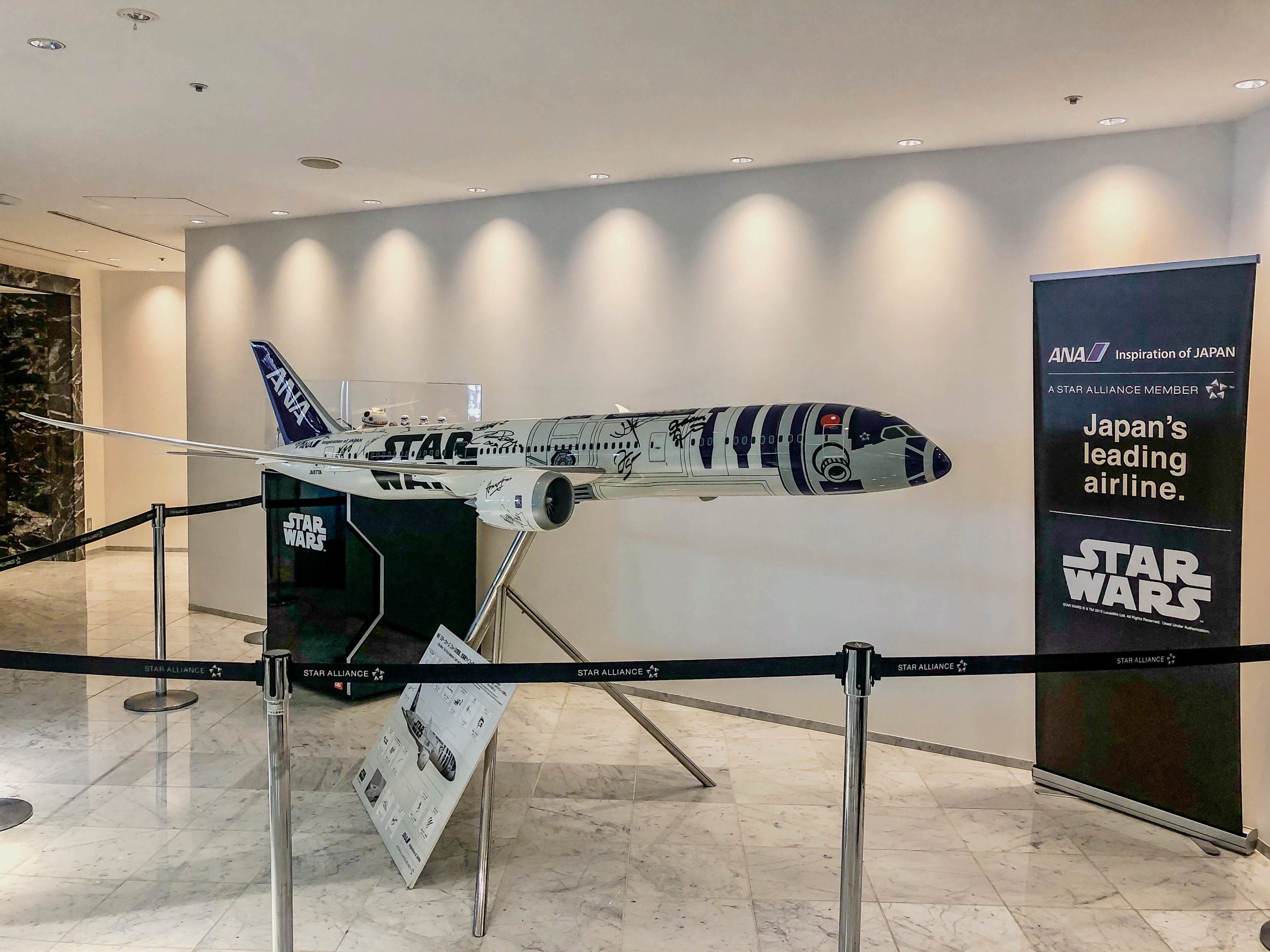 The lounge is huge with different seating areas in the form of cubicles, high chairs, and sofas.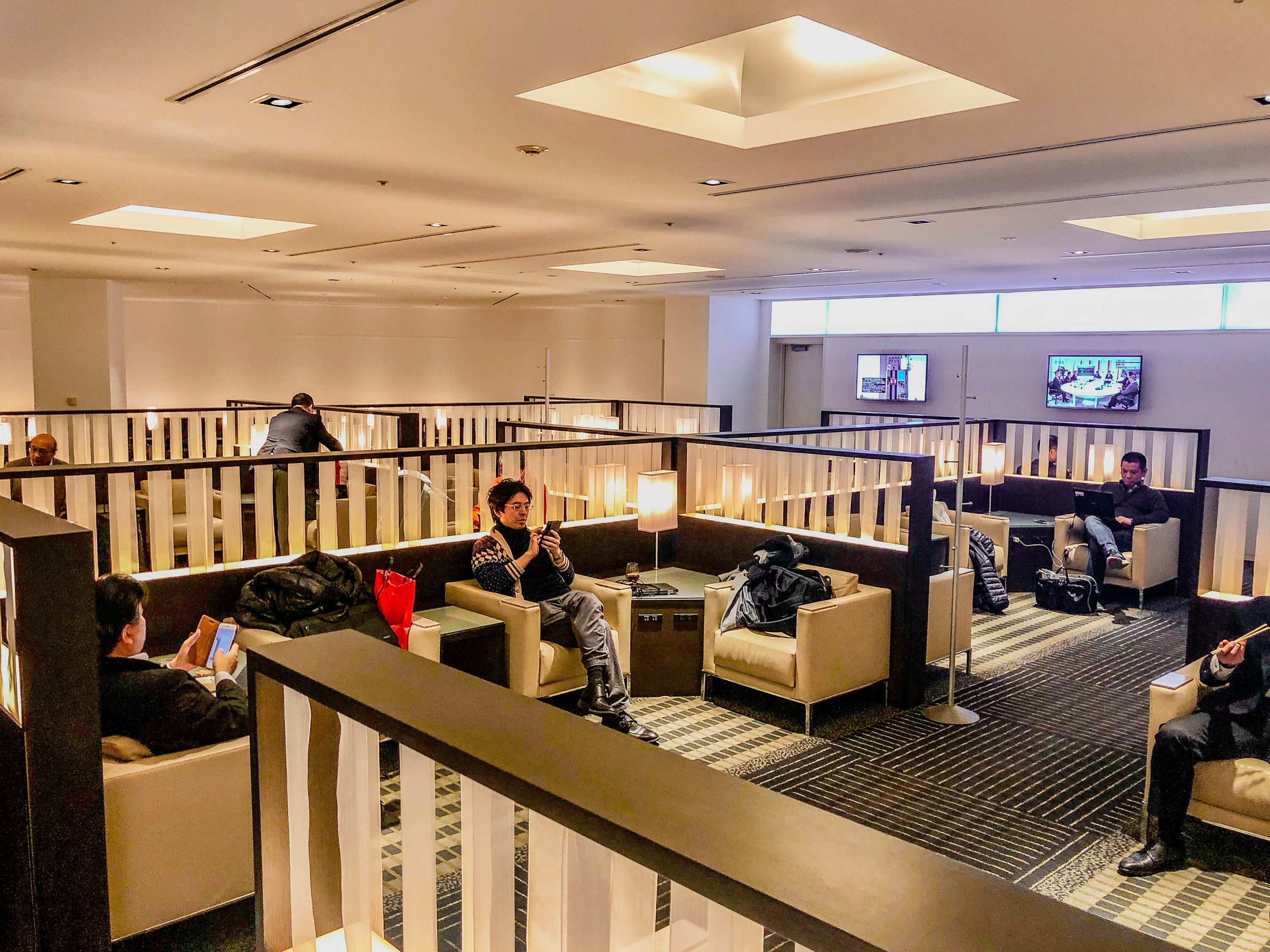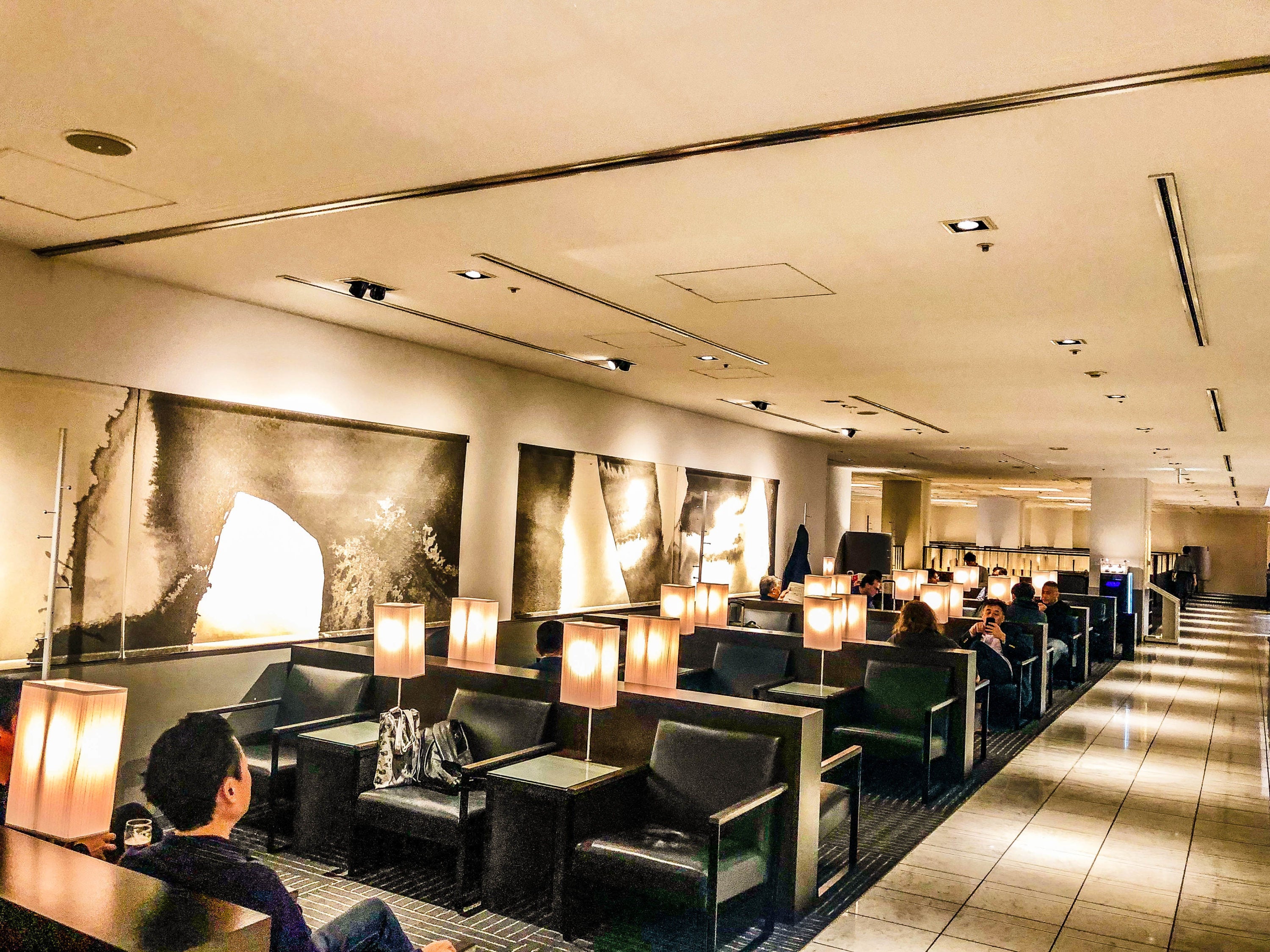 Since I had already had a sumptuous Japanese breakfast at the hotel, I skipped the food on offer at the lounge and headed for some plane spotting. For breakfast, they had noodles, meatballs, sandwiches, and pastries available along with draft beer, sake, soft drinks, and a wine selection.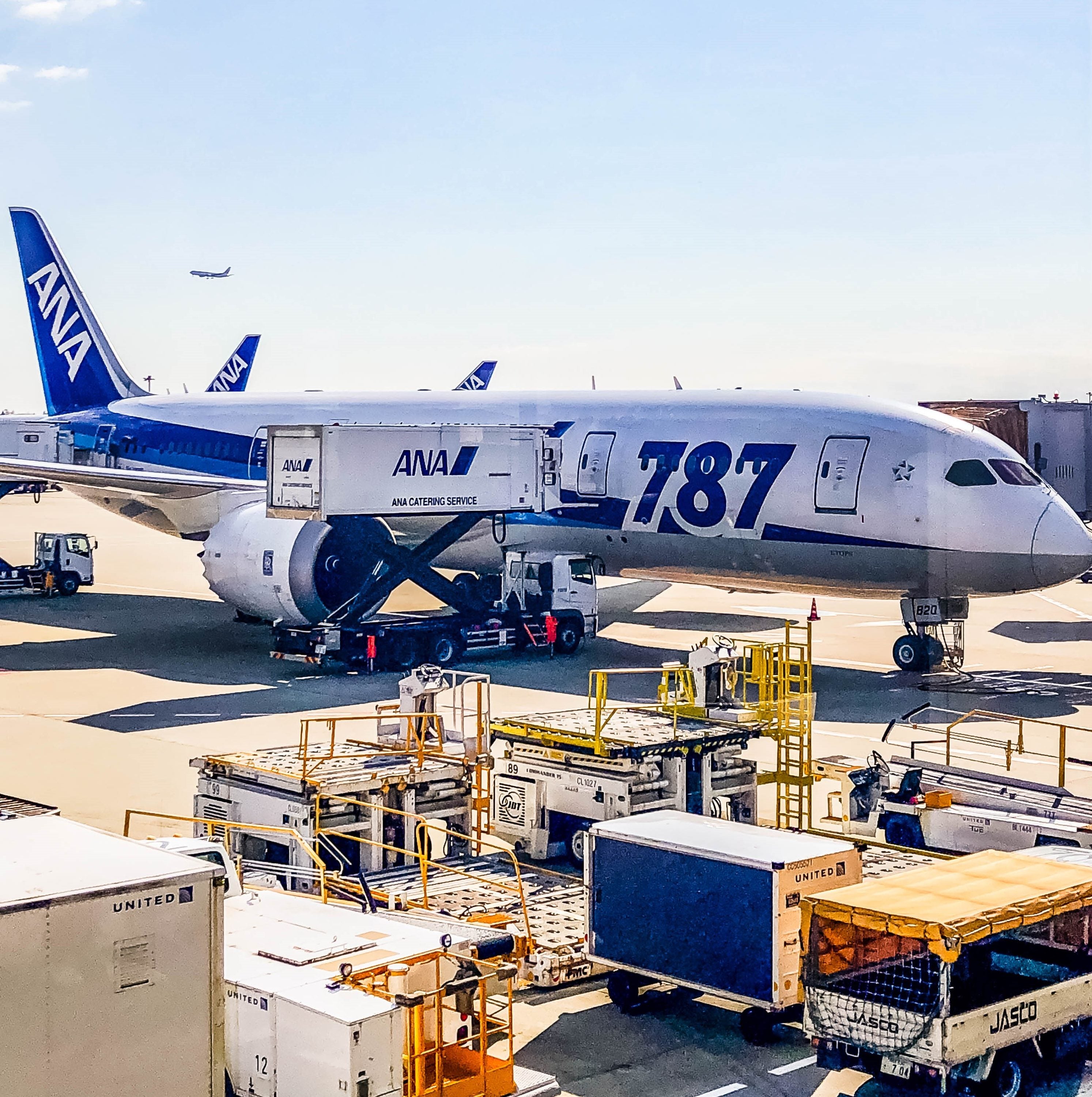 Hot Tip: Flying on an A350 instead? Check out our review of Singapore Airline's A350 business class from Singapore to Dusseldorf.
Flight
The aircraft registered 9V-SCA was delivered to Singapore Airlines in March 2018. This was the first Boeing 787-10 ever delivered, and also the first to be delivered out of Boeing's Charleston facility in South Carolina.
The aircraft has a total of 337 seats configured as follows:
Business class: 36 seats in a staggered 1-2-1 configuration
Economy class: 301 seats in 3-3-3 configuration
The Boeing 787-10 and Airbus A350-900 (regional variant) aircraft are not equipped with first class and premium economy class.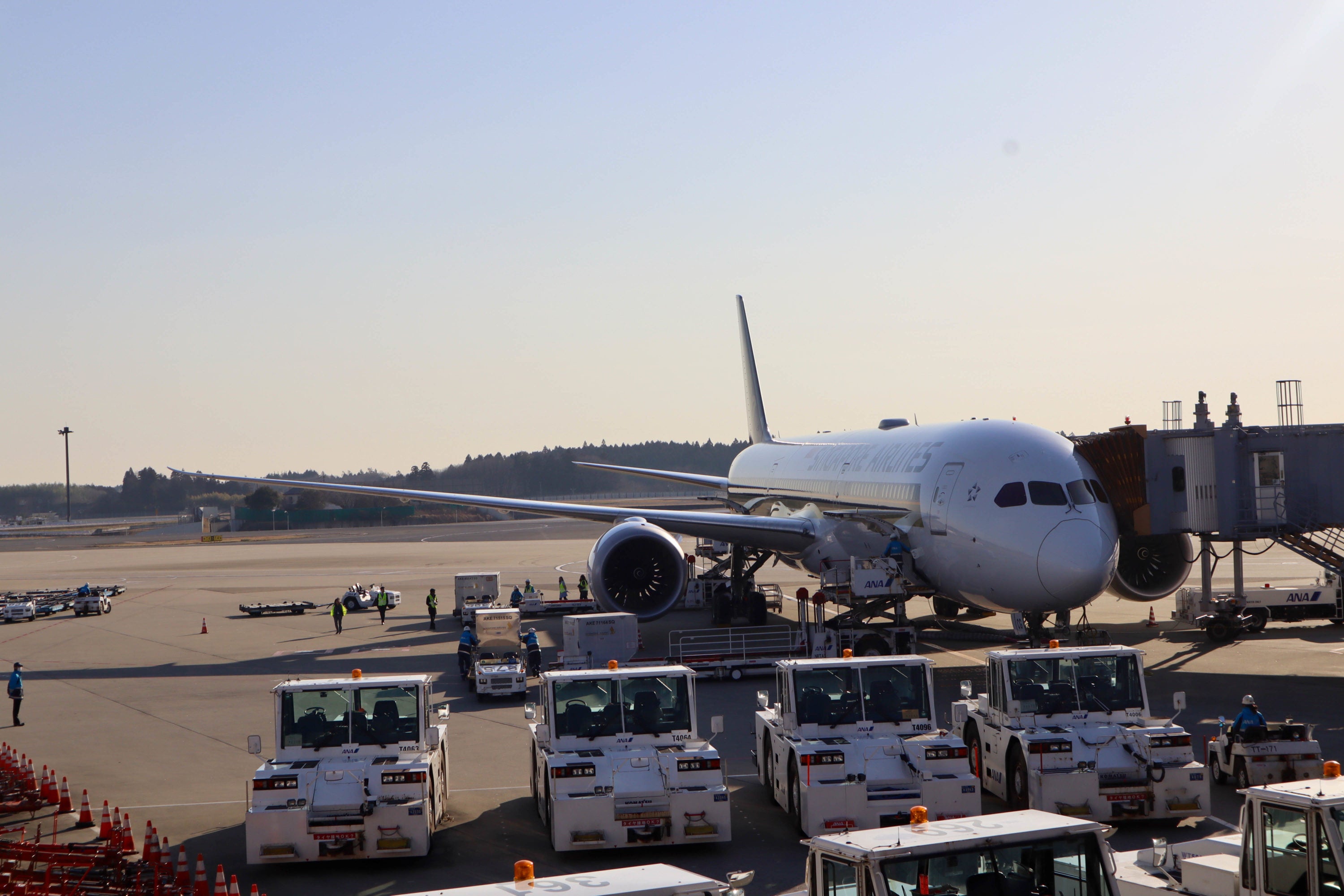 Boarding was through the L1 door via a separate jet bridge for business class passengers; thanks to priority boarding, I could snap a picture of the regional business class cabin symmetry.
Cabin
Set in a 1-2-1 staggered forward facing configuration with direct aisle access, the interior of this plane is modern with cocoon shell seats that provide limited privacy.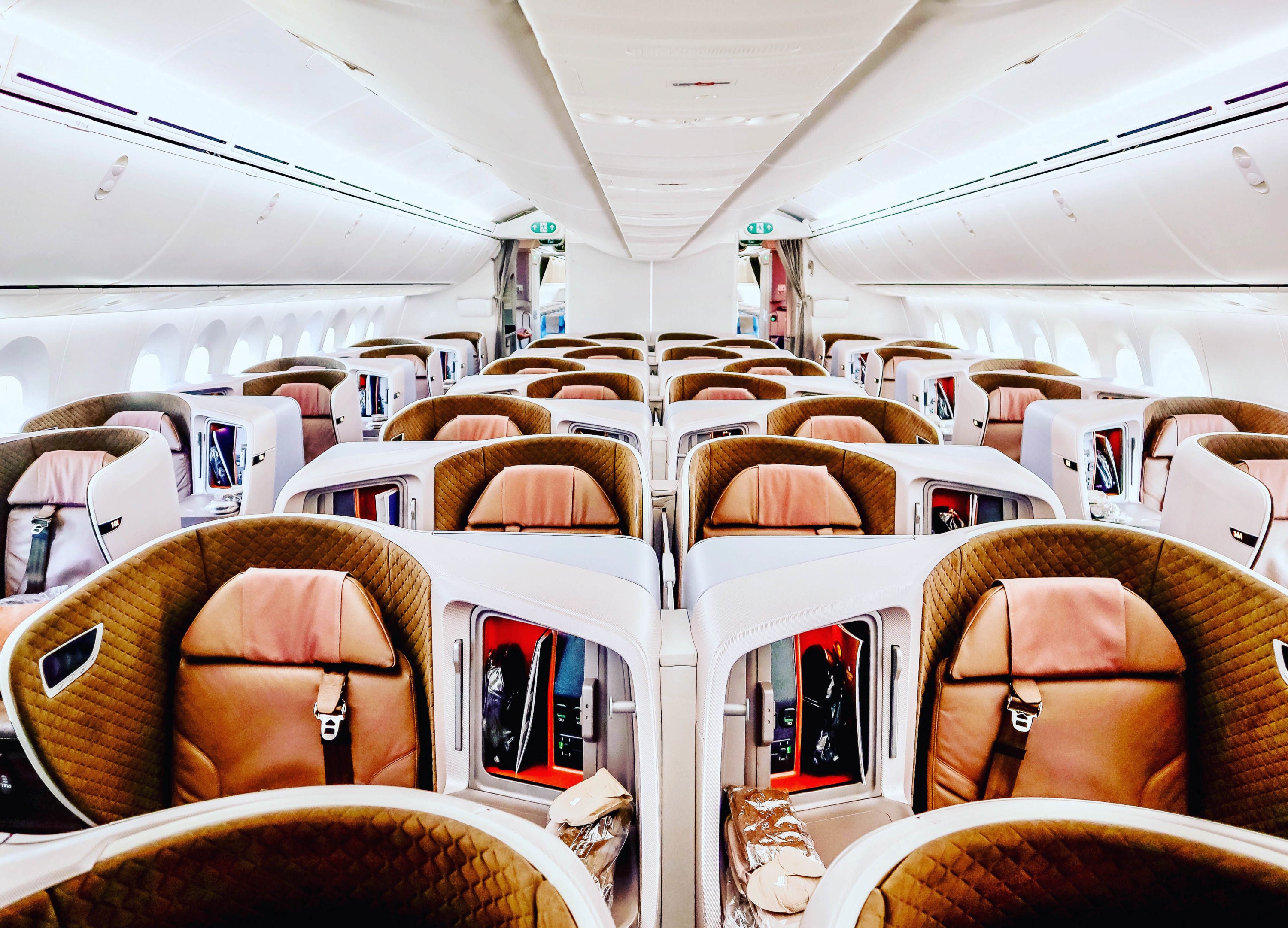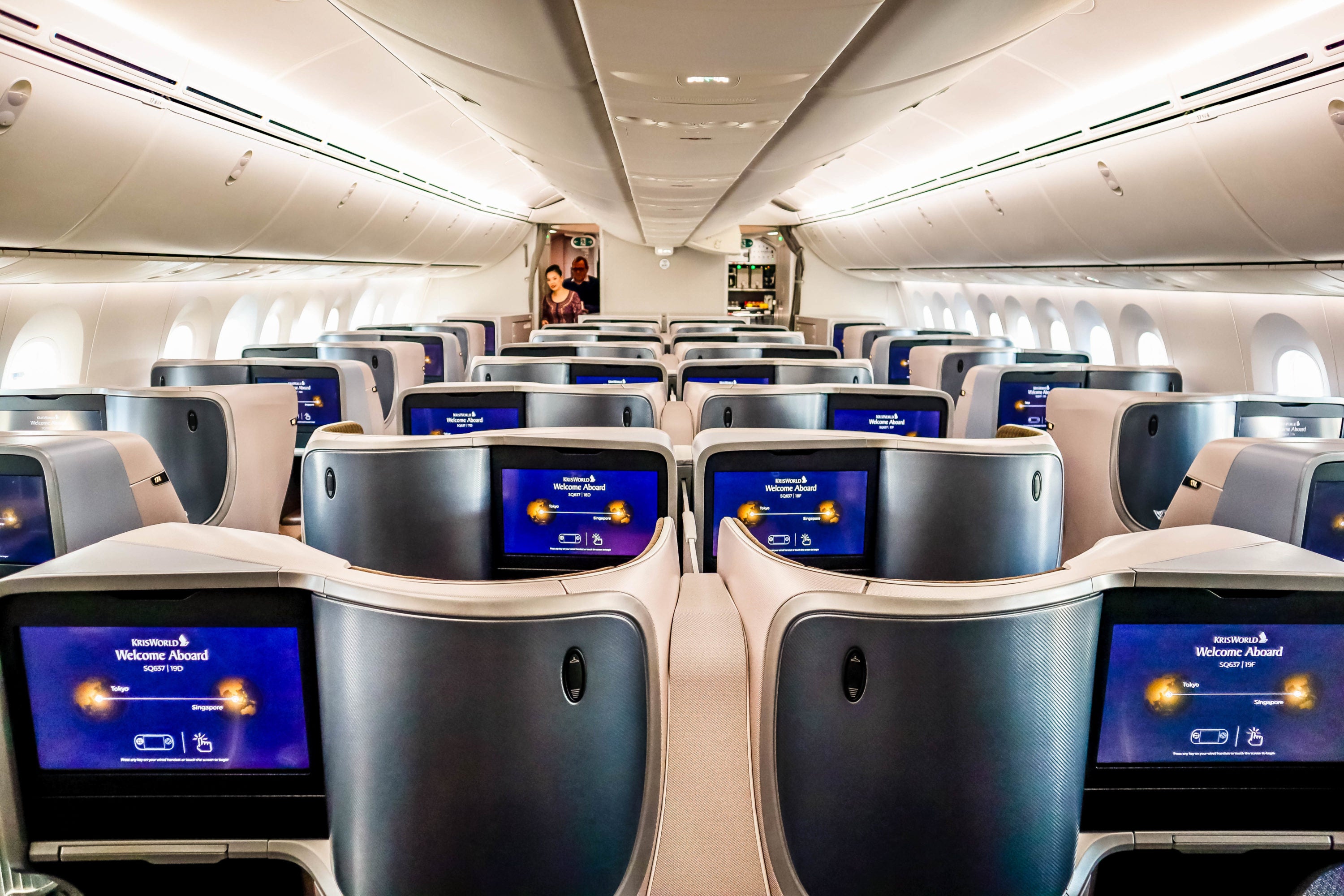 The look of the cabin is easy on the eyes, and I thought the different color palettes of grey, brown and metal silver blended well to give the cabin a refined and understated look.
With the mood lighting turned on, the cabin is beautifully illuminated.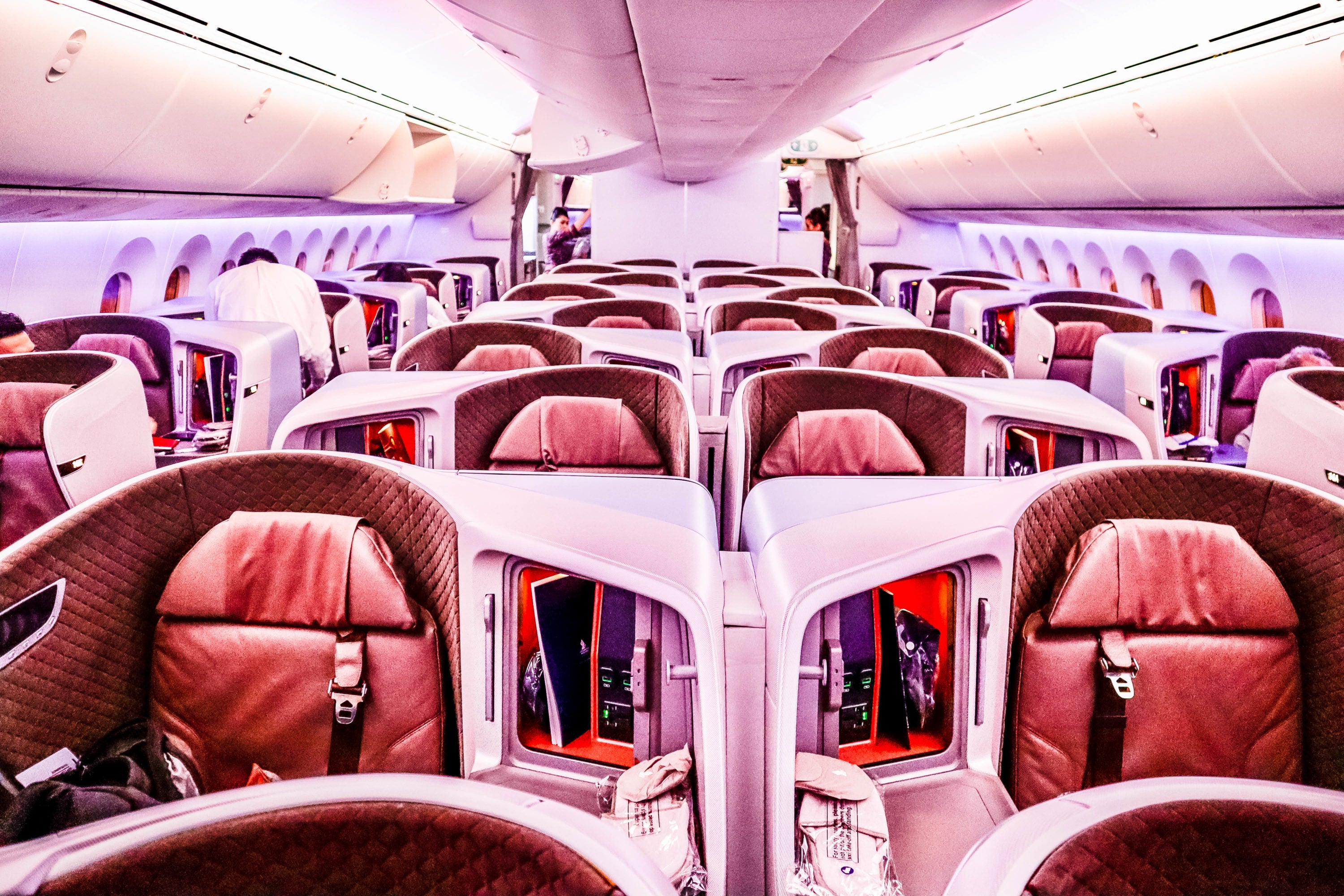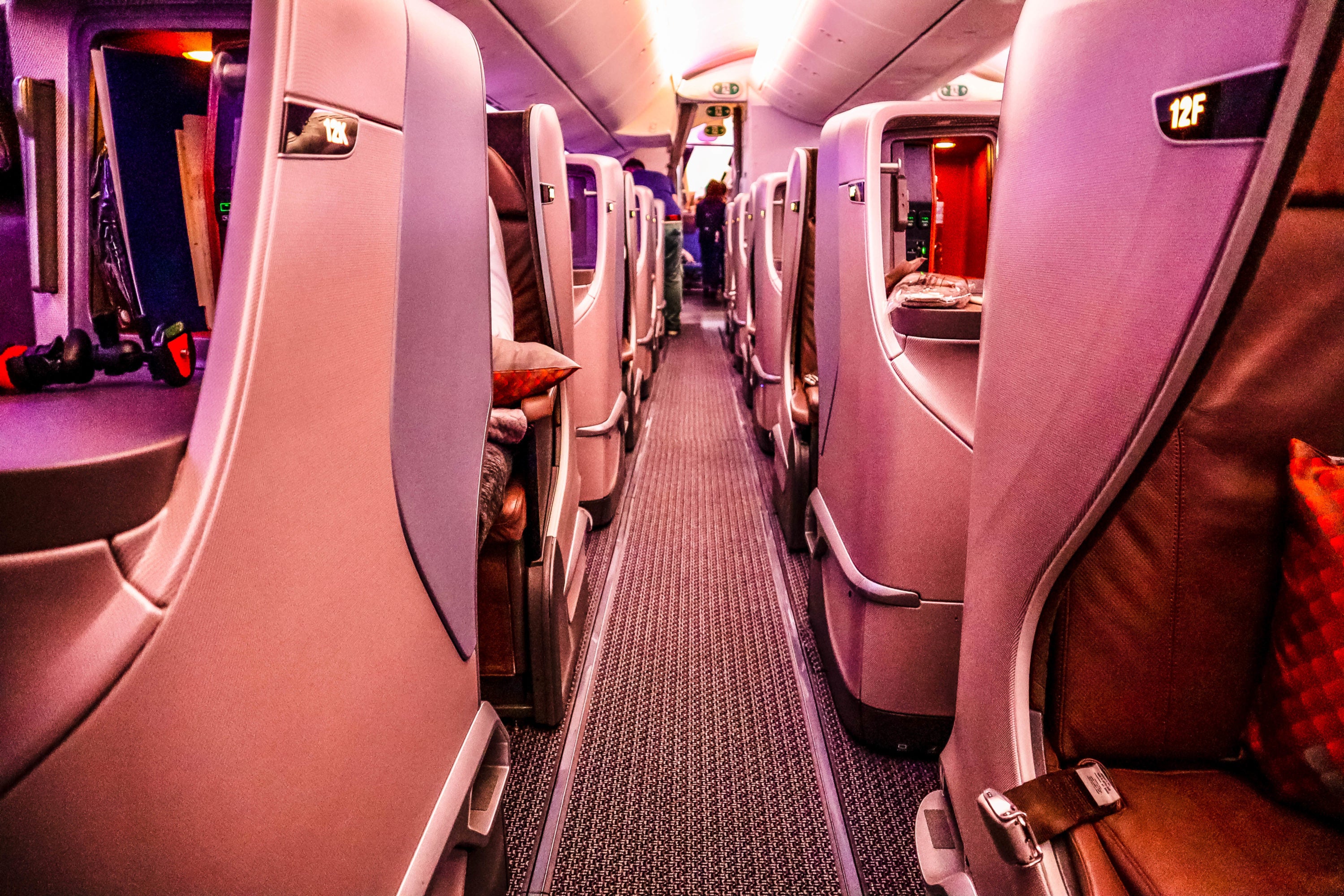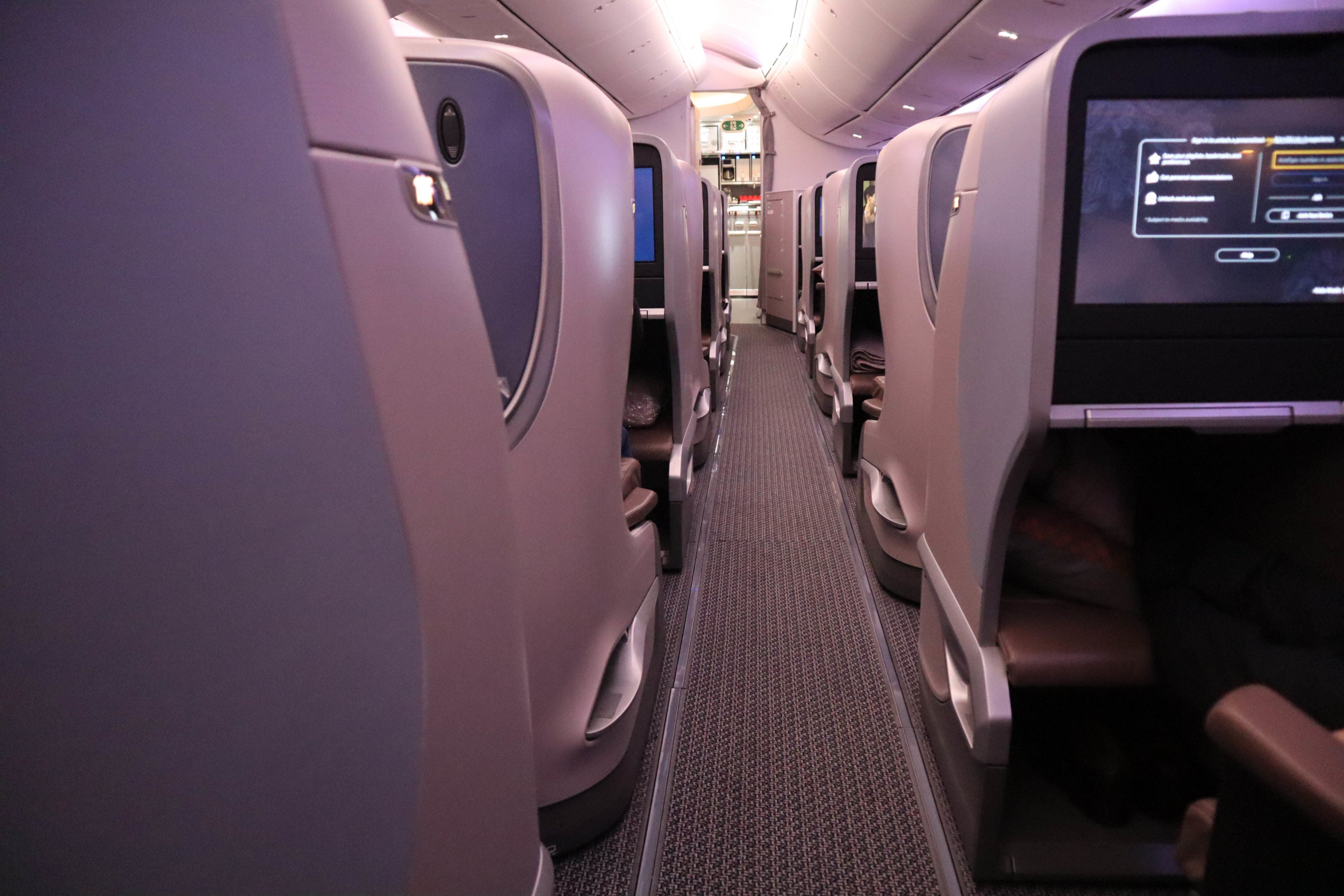 If you are traveling solo and prefer a window seat, then the side rows (A and K) 12, 15, 17, or 19 are the way to go.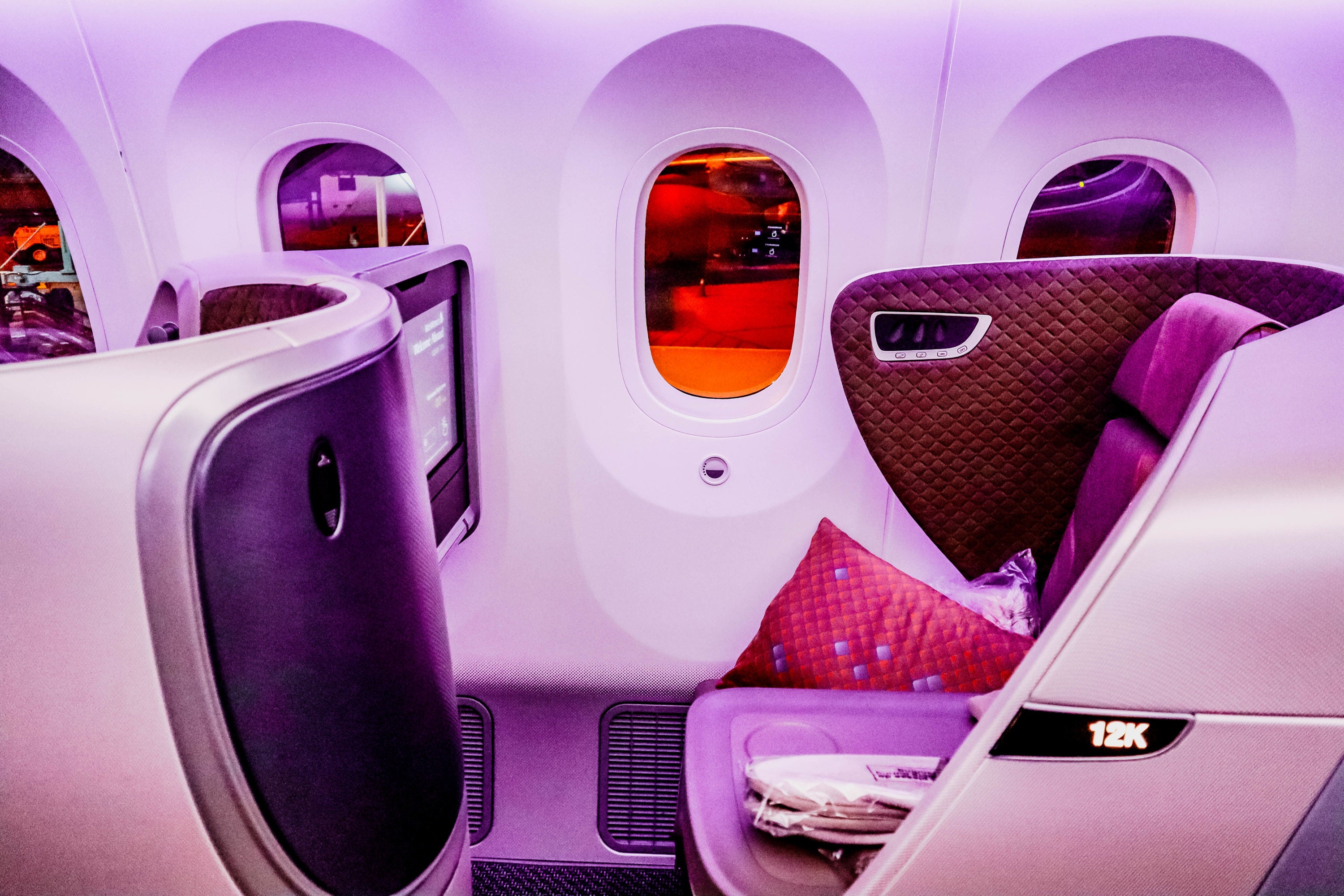 However, if you don't need a "direct" window seat, then seats in rows (A and K) 11, 14, 16, 18 and 20 will work for you.
If you're traveling solo but don't see any of the side row seats available, shoot for rows 12, 15, 17, and 19. For couples traveling together, rows 11, 14, 16, 18, and 20 in the middle row will be best since these seats are directly adjacent. All the middle row seats are equipped with a large privacy divider.
Are you wondering about the bizarre alternate row numbering? It is because there is no row 13 due to superstitious reasons.
Seats 11A and 11K are the designated bassinet seats, which are just behind the business class lavatories.
Hot Tip: Seats 16A and 16K do not have windows; avoid them if you want to enjoy the views outside.
Seat
I settled into seat 18A with a glass of Charles Heidsieck Brut Reserve Champagne and a glass of Sunrise Meadow (a concoction of orange and pineapple juices topped with soda).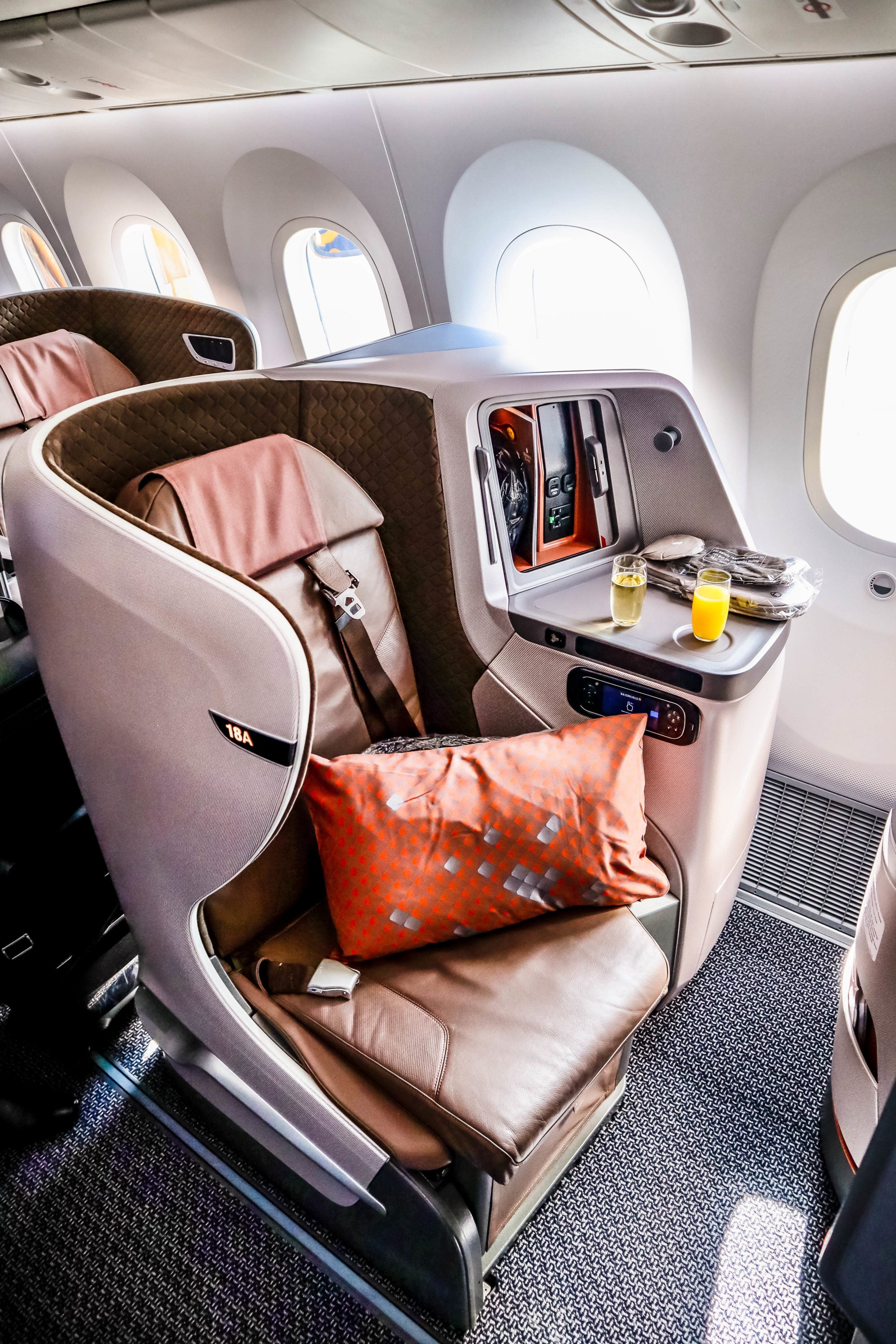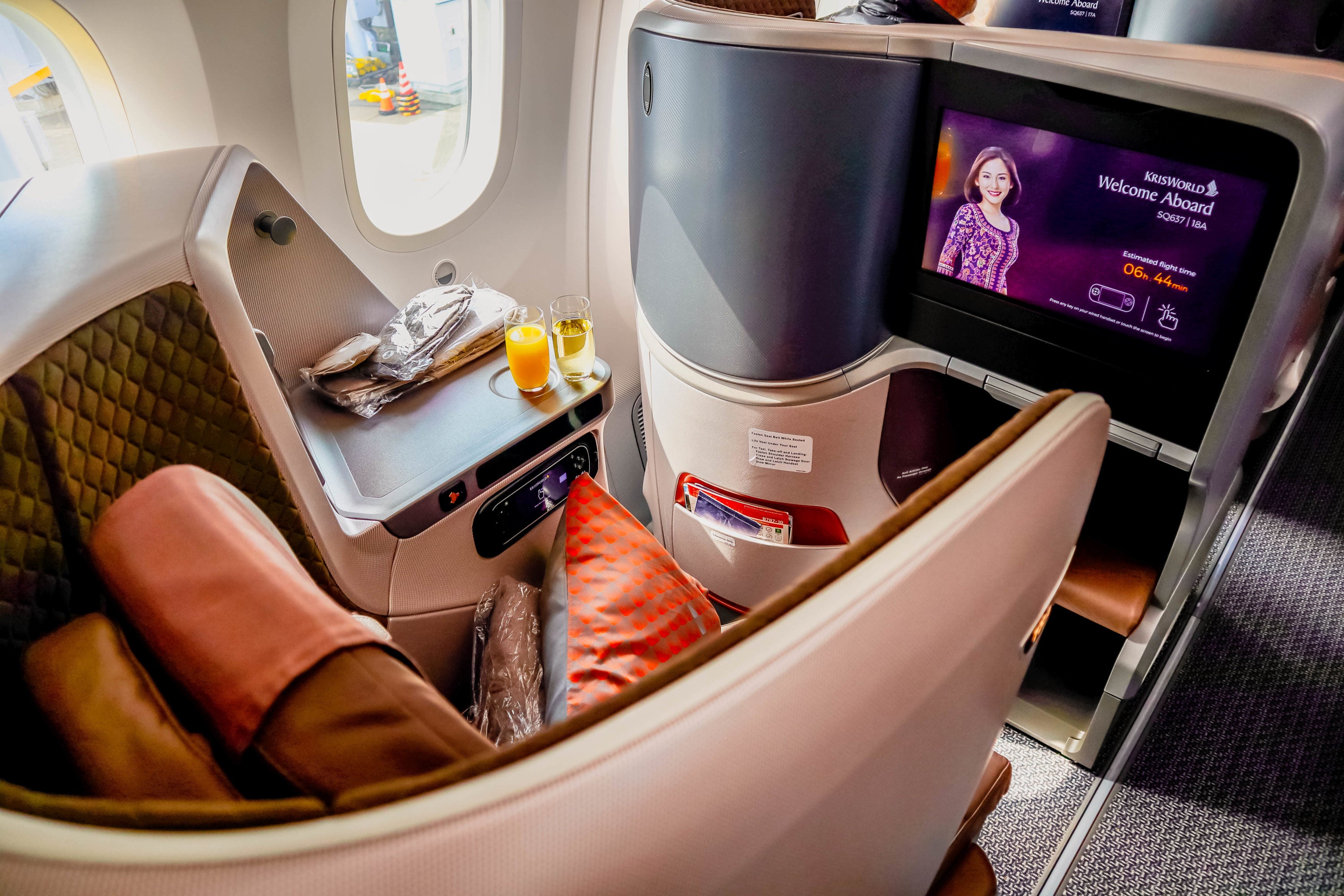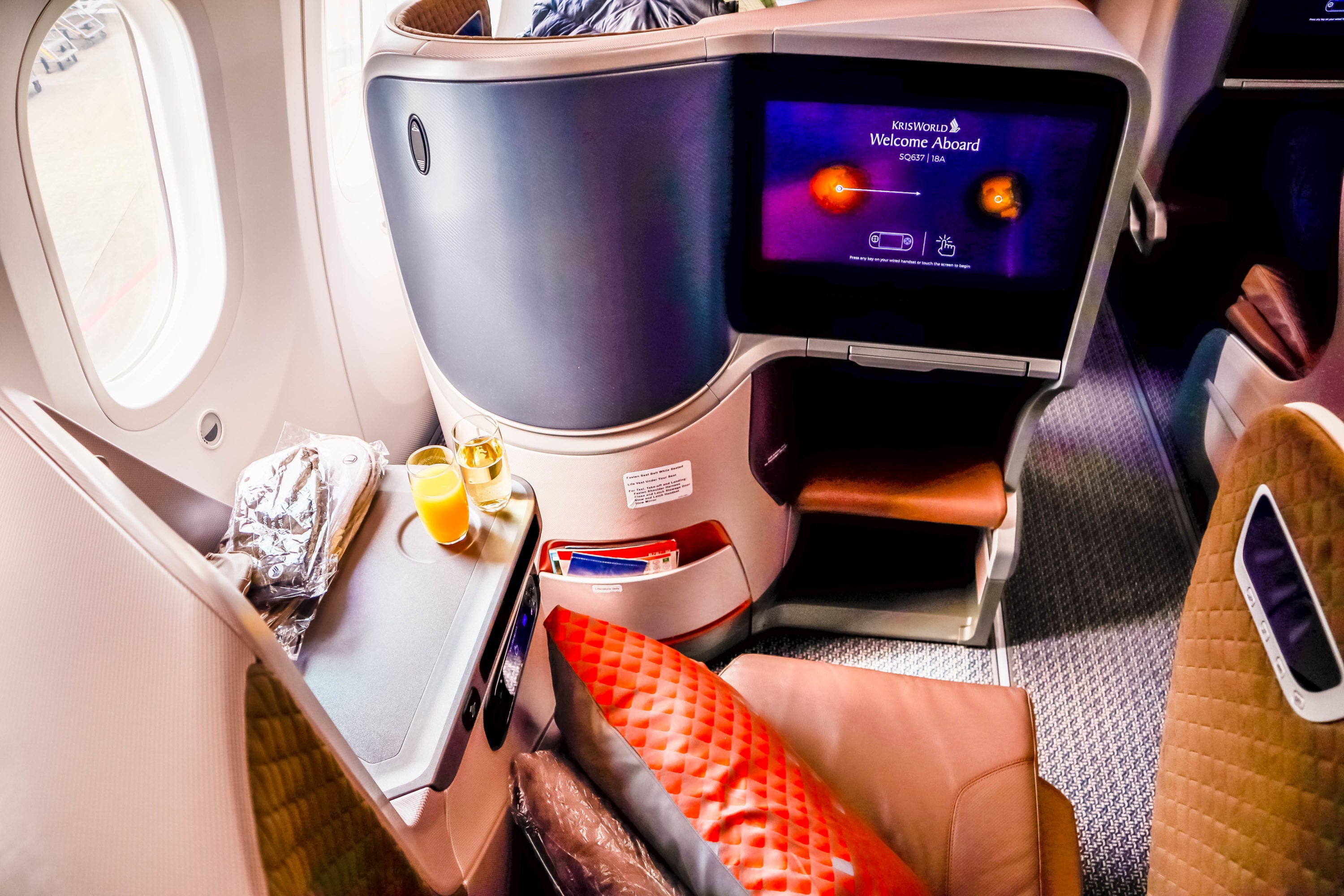 These seats feature a seat pitch of 44″ and a width of 20″, which widens to 26″ when the armrests are retracted. The new seats were designed by Singapore Airlines in partnership with Stelia Aerospace, known for their luxury and bespoke seats.
Stelia's Solstys 3 platform has finally evolved into this all-new design called the Symphony — a colossal improvement over Singapore's old regional business class seat, which was in a 2-2-2 configuration with angled seats.
The seat belt has been changed from the regular 2-point to a 3-point seat belt, which can be converted from a 3-point to 2-point  by disconnecting the shoulder strap. However, this is only permitted in-flight once the aircraft has hit cruising altitude and not during take-off and landing.
Hot Tip: Turkish Airlines will be introducing these seats on their Boeing 787-9 and Airbus A350-900 aircraft, so be on the lookout if you want to fly in them!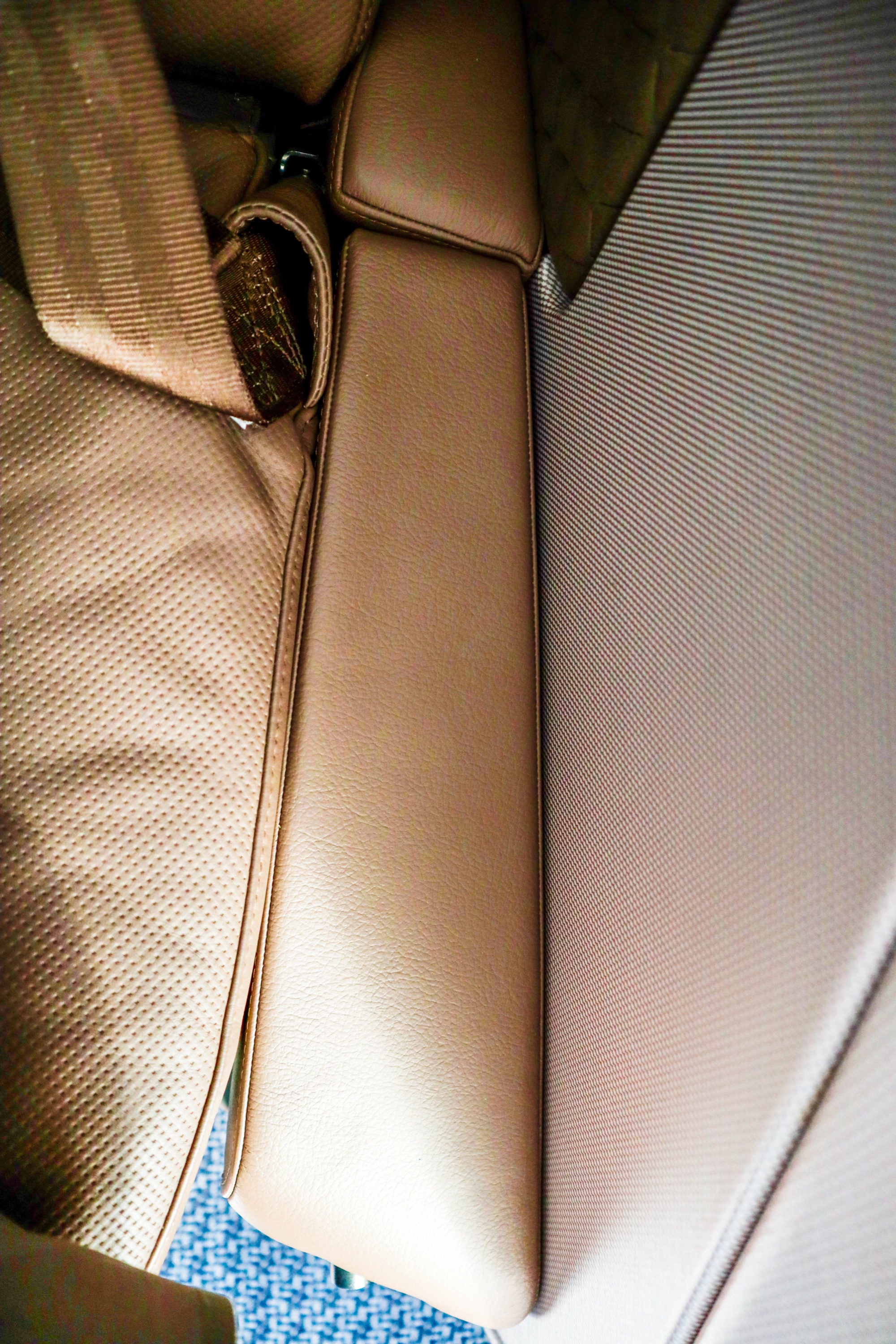 If you feel the seat is narrow, you might find it makes up for itself in length. These seats fold down to a fully lie-flat bed that is 1.9 meters (76″) from head to toe, with ample space in the cubby for your feet.
Personally, I think the biggest pro is that the seat converts to a flatbed at the press of a button, and there is a decent size footwell right in front of you under the entertainment screen.
This is an improvement from Singapore's medium- and long-haul Boeing B777's and Airbus A350's, where you have to request the flight attendant to convert your seat into a flatbed, and the foot cubby is at a rather uncomfortable angle (I learned this on an 18-hour ride to Newark).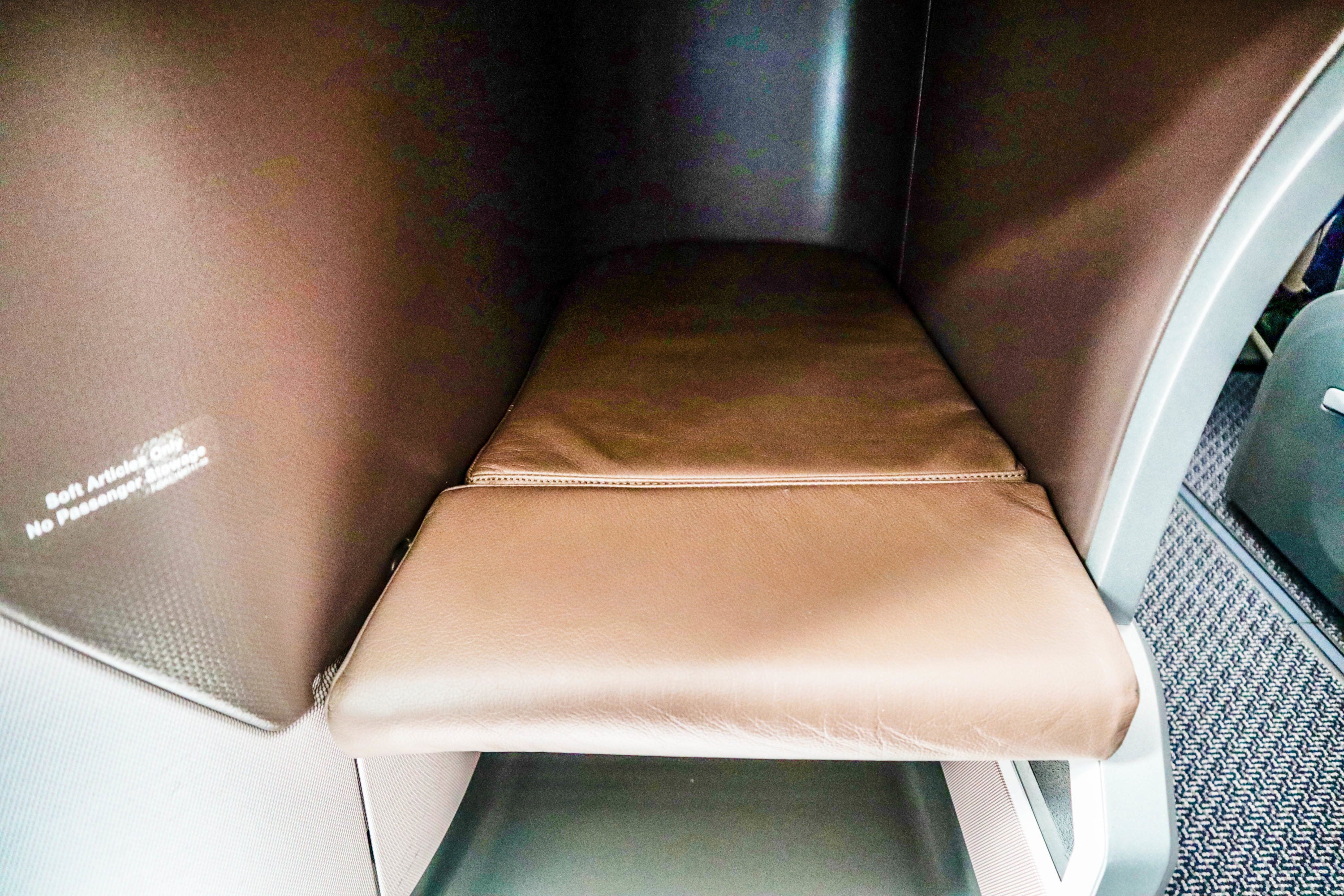 The Alcantara padding (also used in sports cars) lines the interior of the cocoon shell and provides a touch of luxury.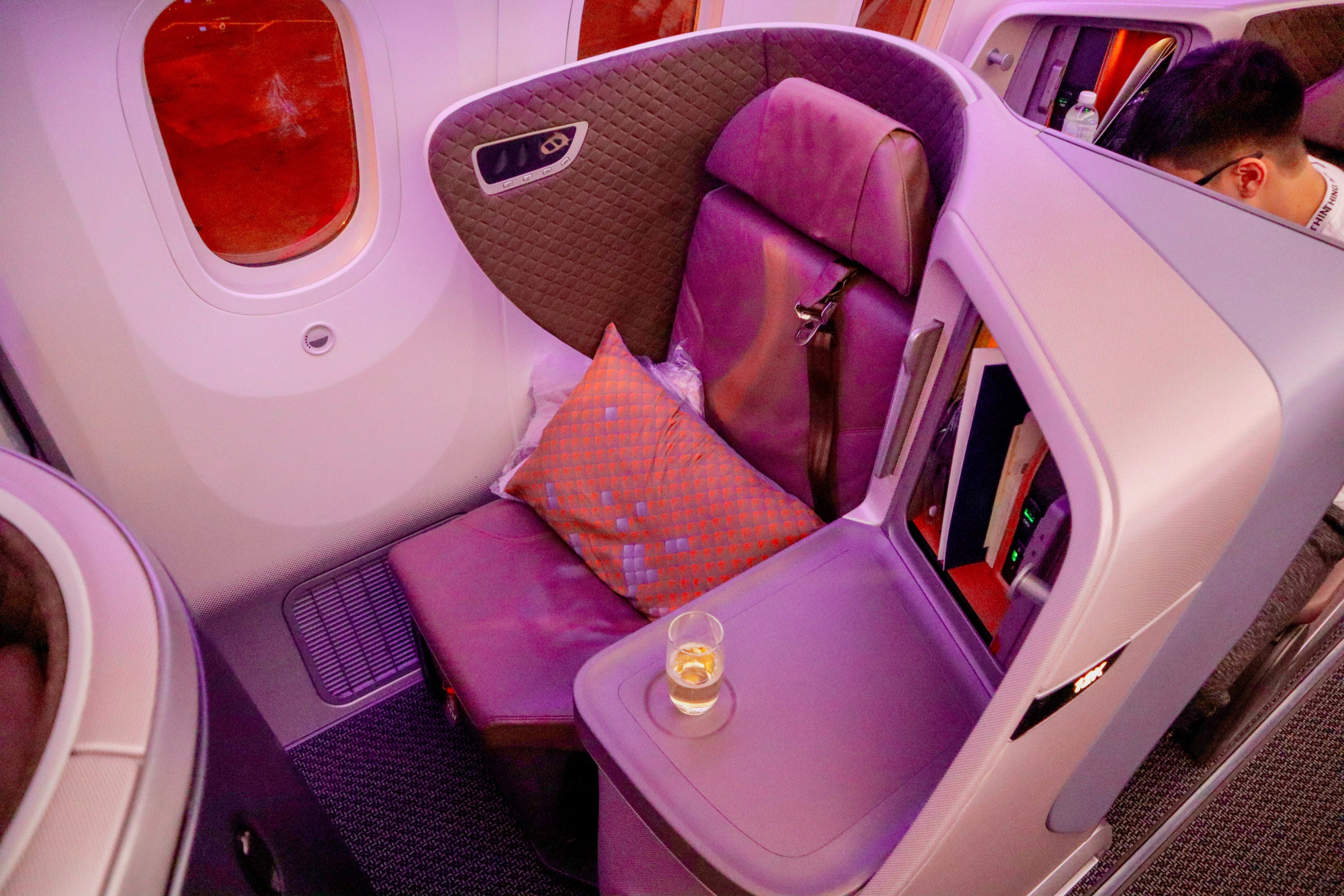 Each seat is equipped with a fold-out table that slides out from beneath the IFE screen, which can double as a work station to park your laptop (if work beckons at 35,000 feet).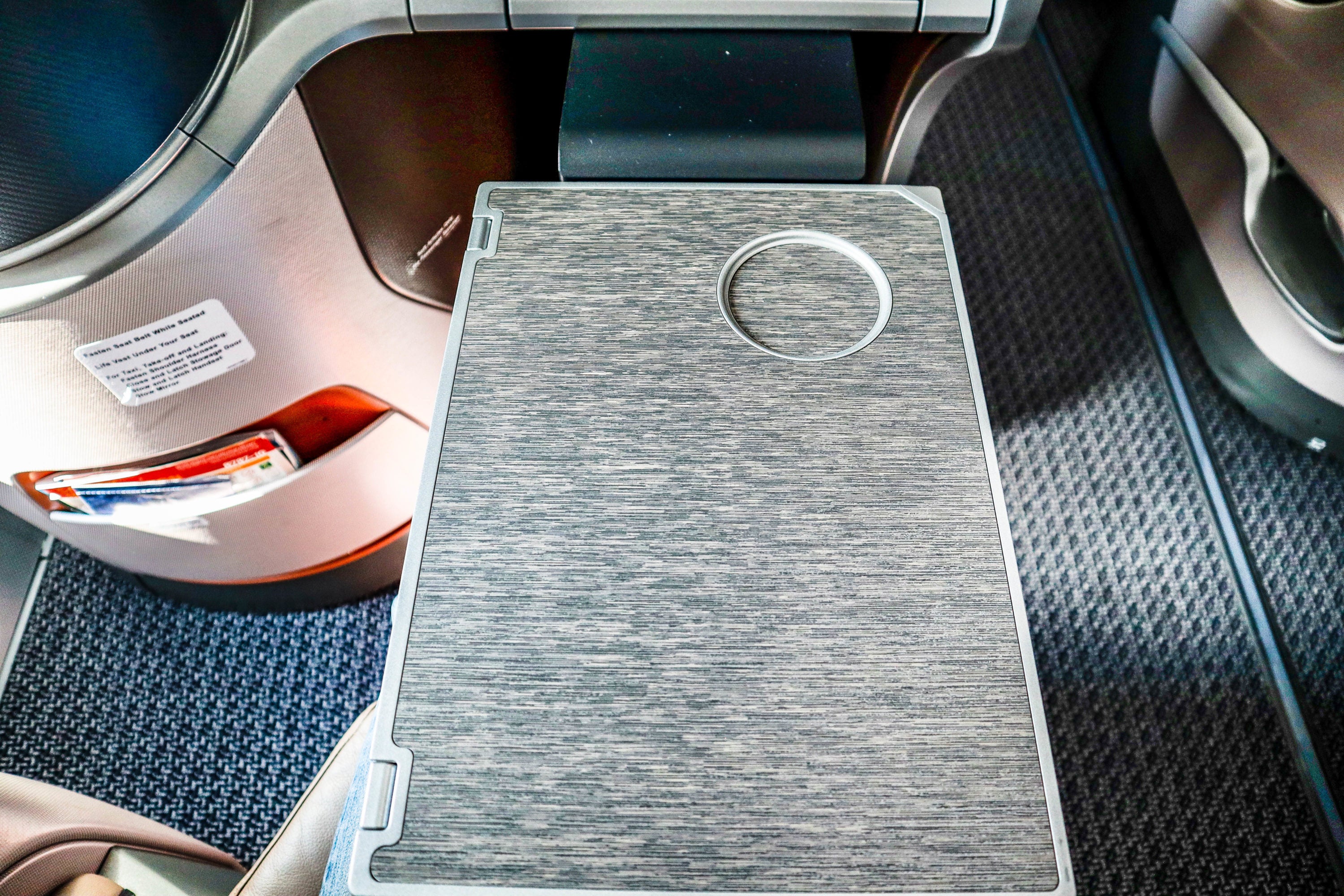 Storage
There is a sliding compartment that can be used to store chargers, headphones, passports, etc.  It also houses 2 USB ports and a universal charger, and next to it there is a helpful hook for hanging your headphones.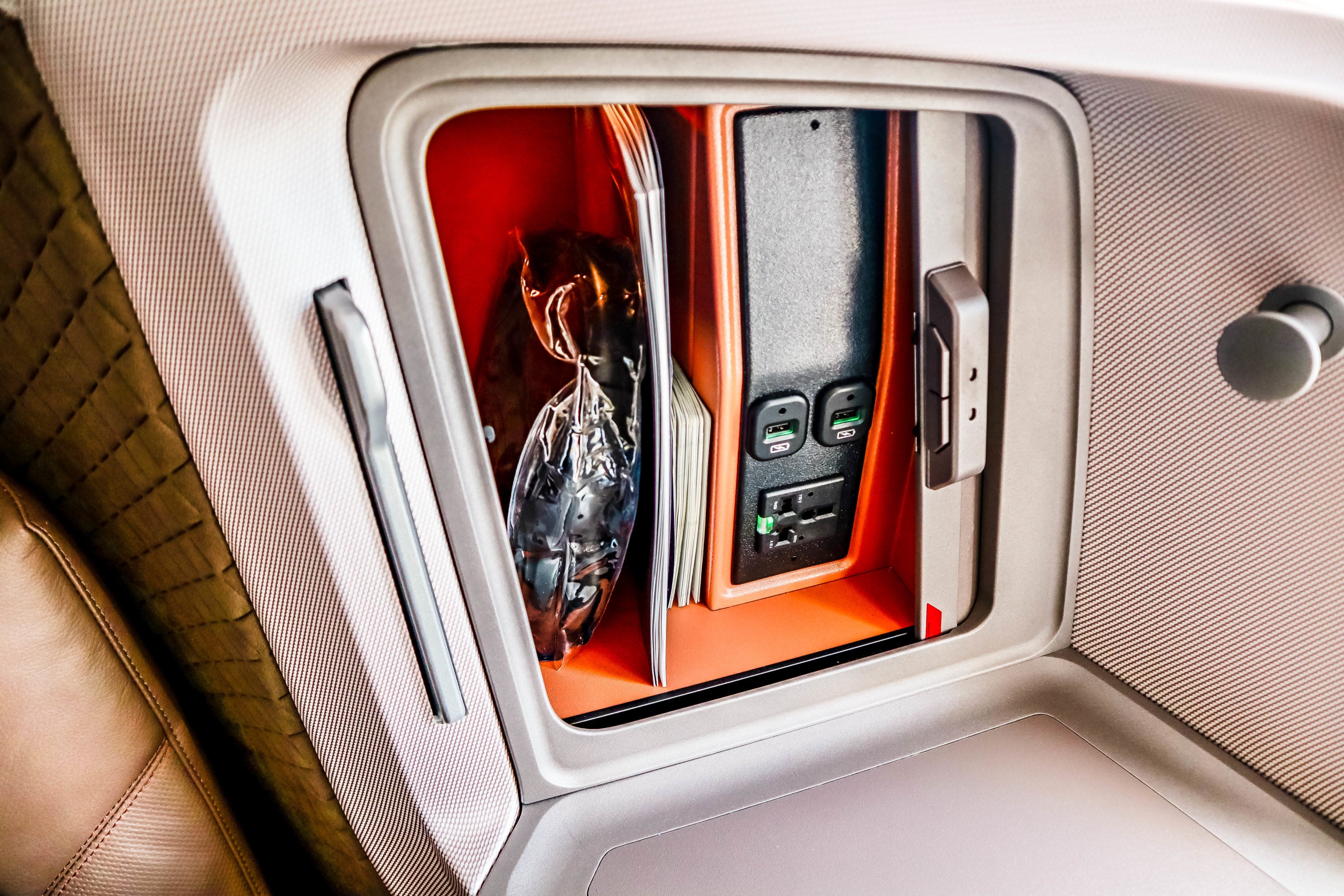 An alcove beneath the foot cubby area is the ideal place to store your shoes or a standard cabin bag such as a backpack, laptop case, and handbag.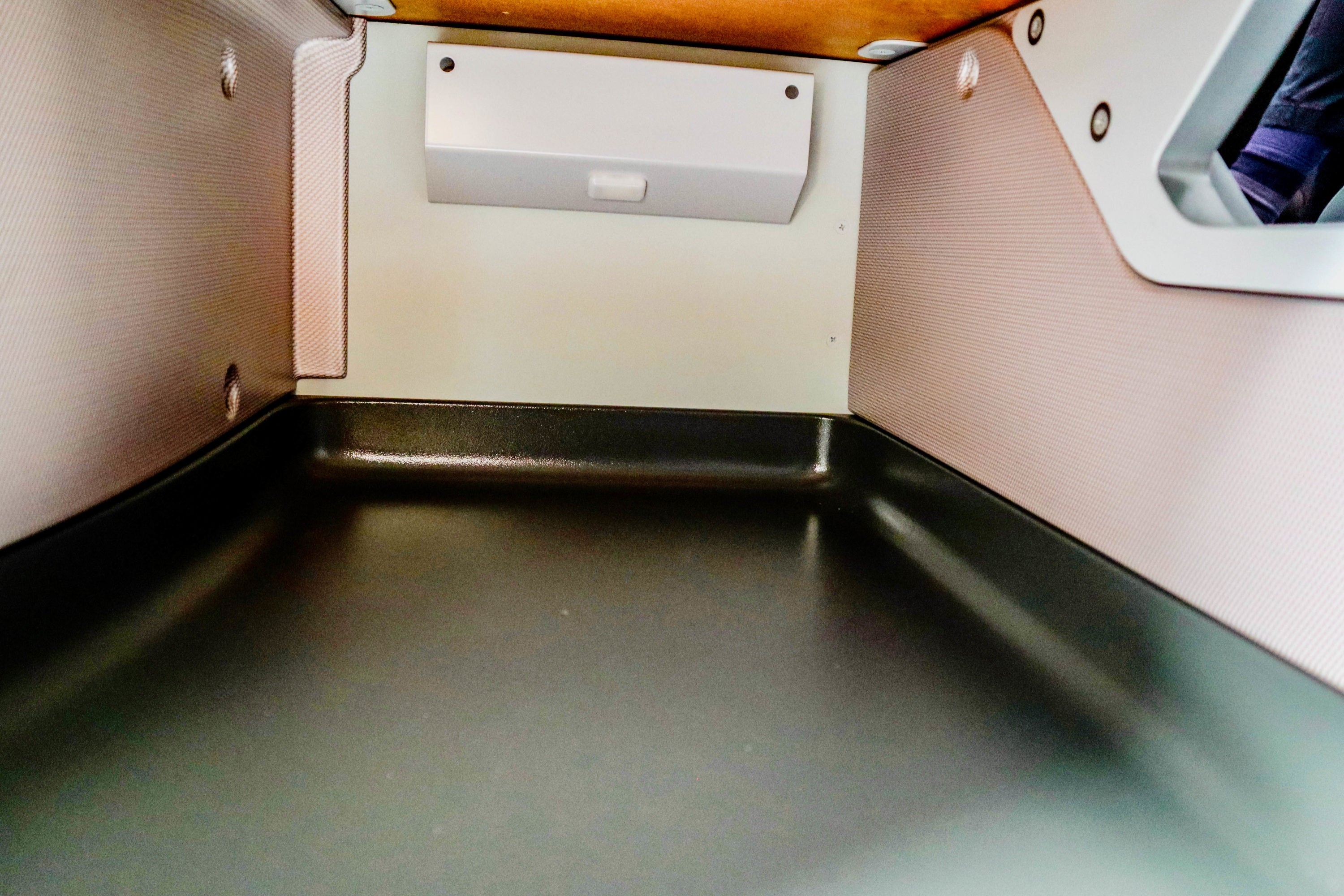 Flush between the seat and the sliding storage compartment is a slide-out vanity mirror.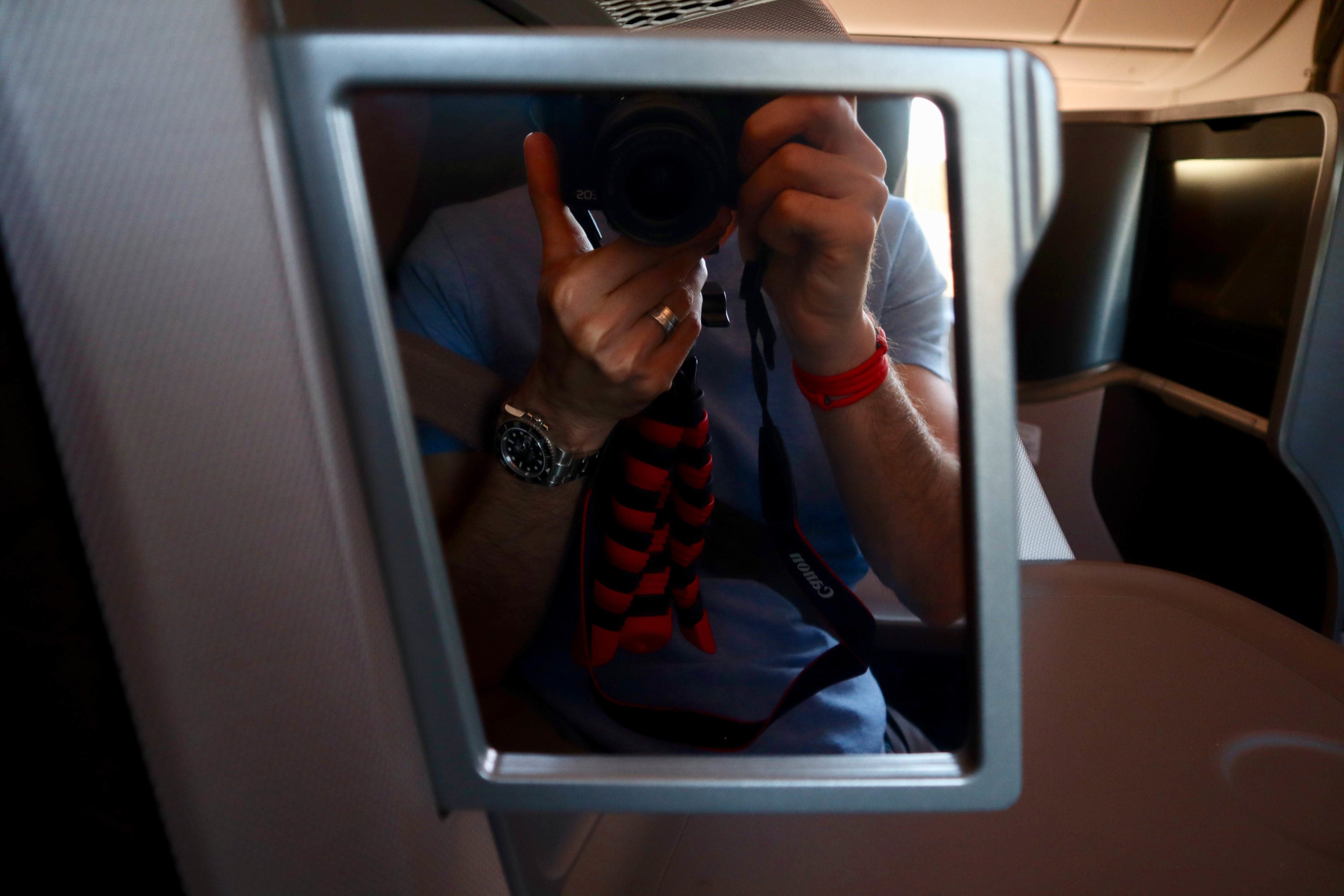 Touch Panels
On the inner edge of the storage console is the touch-sensitive control strip where you'll find illuminated icons for seat adjustments, a call button, on/off switch for the TV monitor, ambient lighting controls, and a "do not disturb" button.
You can convert the seat into 1 of the 3 modes: takeoff, recline, and flat-bed. Do not expect the seat to move instantaneously at the press of the button — there is a time lag, so be patient.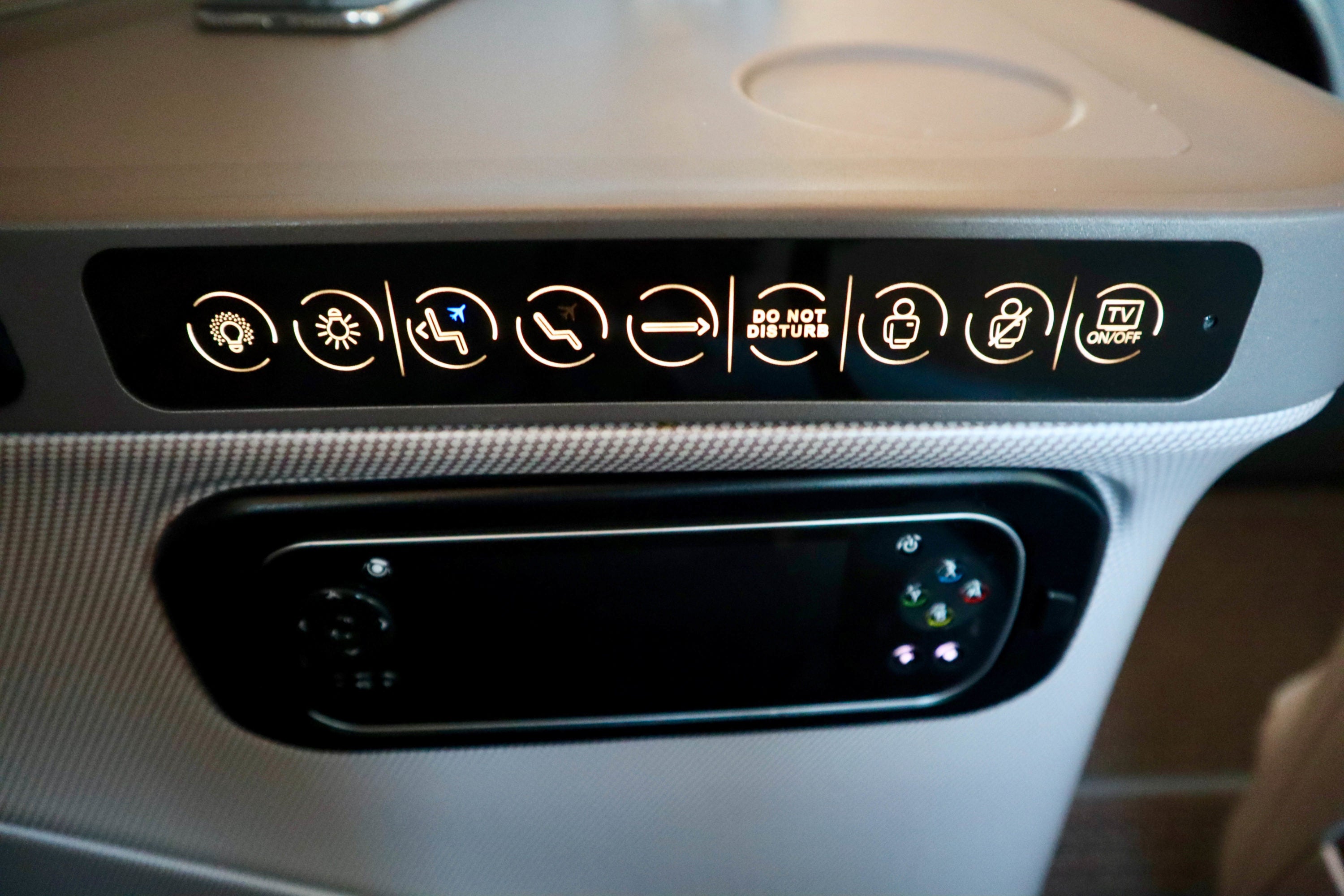 Additionally, the inner shell of the seat boasts of a second lighting panel, which has 3 LED spot beams with brightness settings angled to illuminate different parts of the seat. One goes almost straight down for when you are in bed, the second down toward your lap for reading, and the third shines toward the tray table.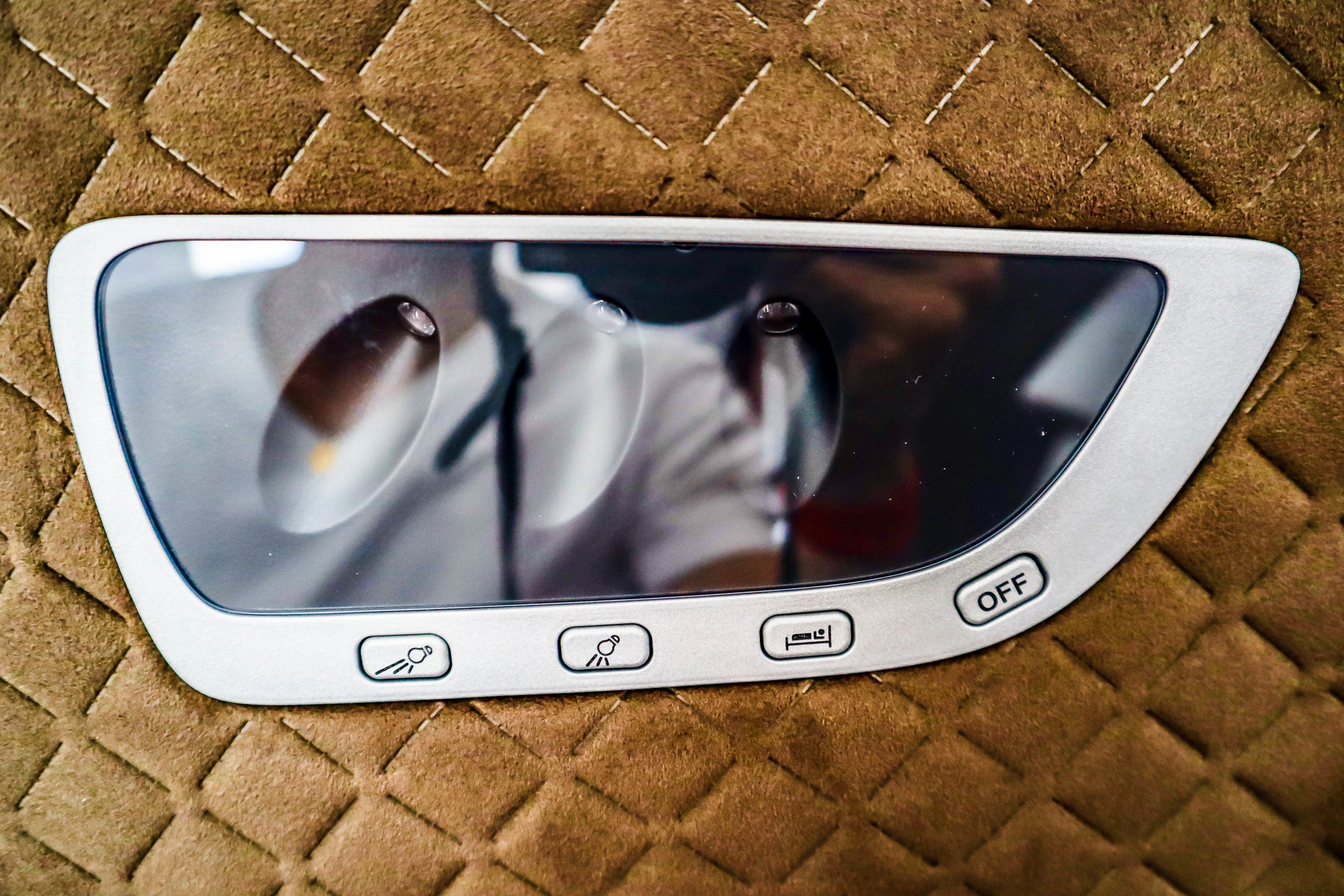 Inflight Entertainment and Wi-Fi
While you relax and take it all in, Singapore Airlines has you are covered with its interactive KrisWorld in-flight entertainment on a Panasonic eX3 18″ high-definition touchscreen monitor.
The screen tilts so you can adjust it depending on your seating position. Your controller is a touchscreen handset nestled away in a cavity next to the seat, below the touch panels.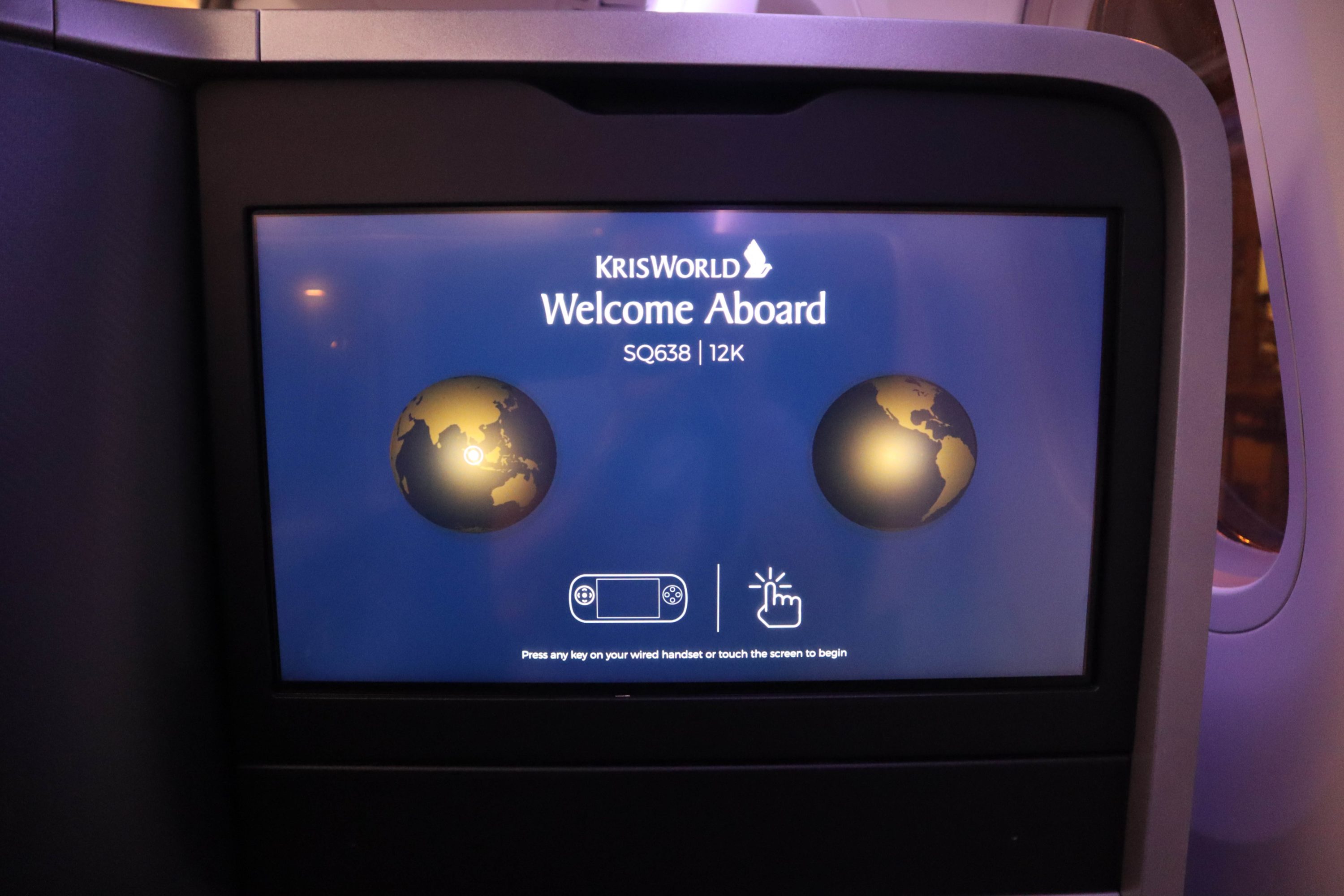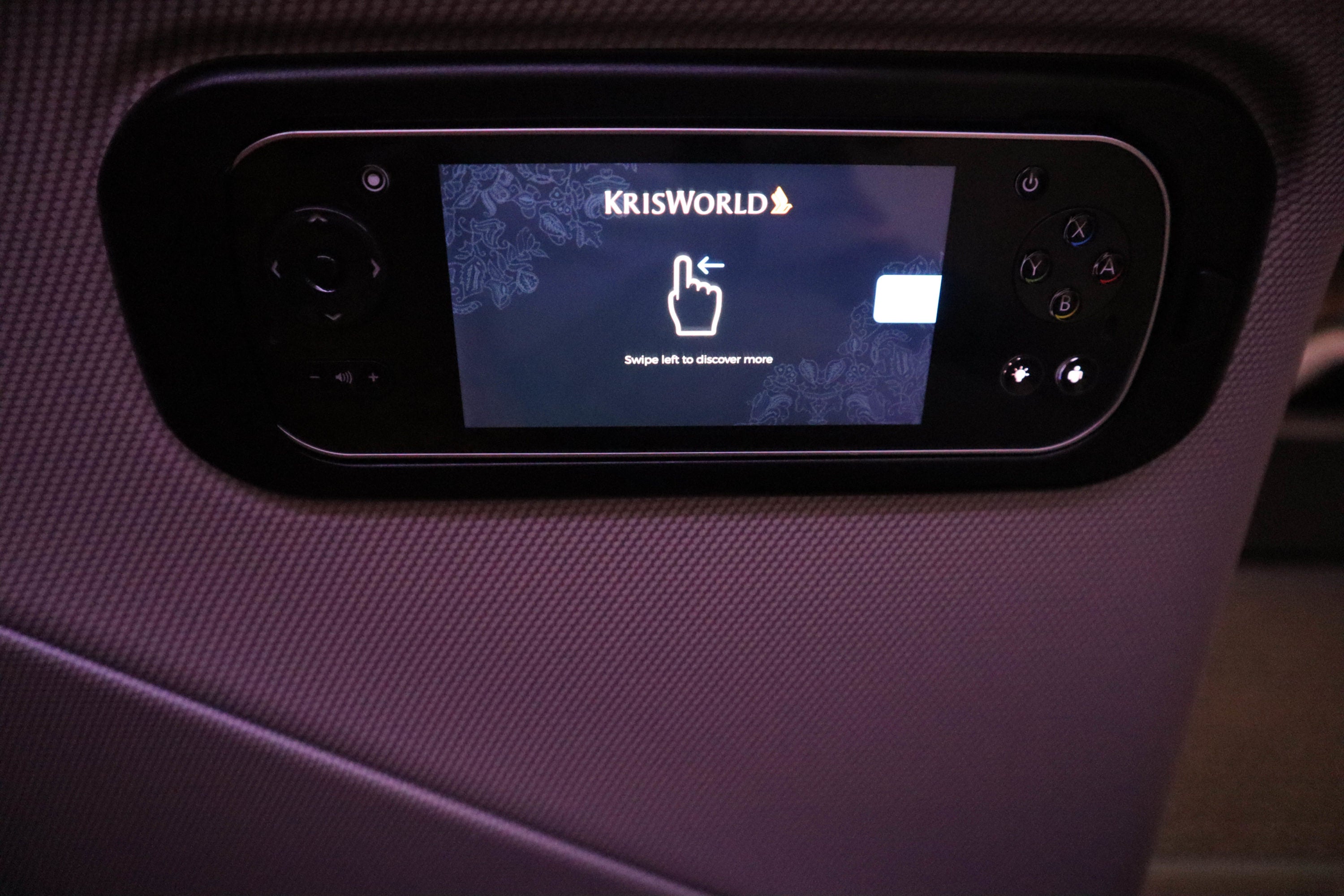 To complement the IFE system, Singapore Airlines also provides noise-canceling headphones.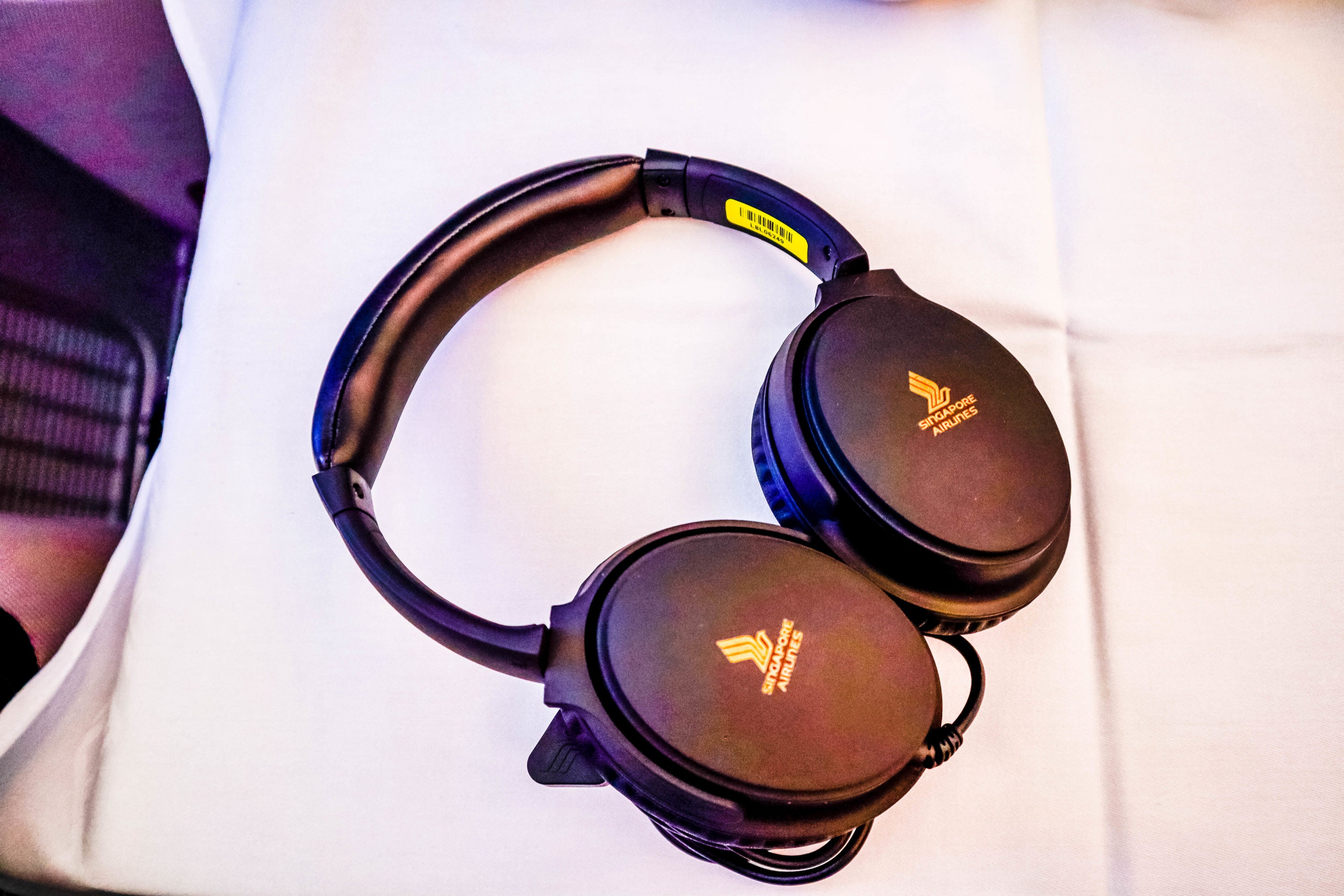 In-flight Wi-Fi is available with up to 30MB free for business class passengers as a Singapore Airlines promo for PPS Club members. If you use up the free 30MB, you can purchase additional bandwidth for the prices below (which I found pretty steep):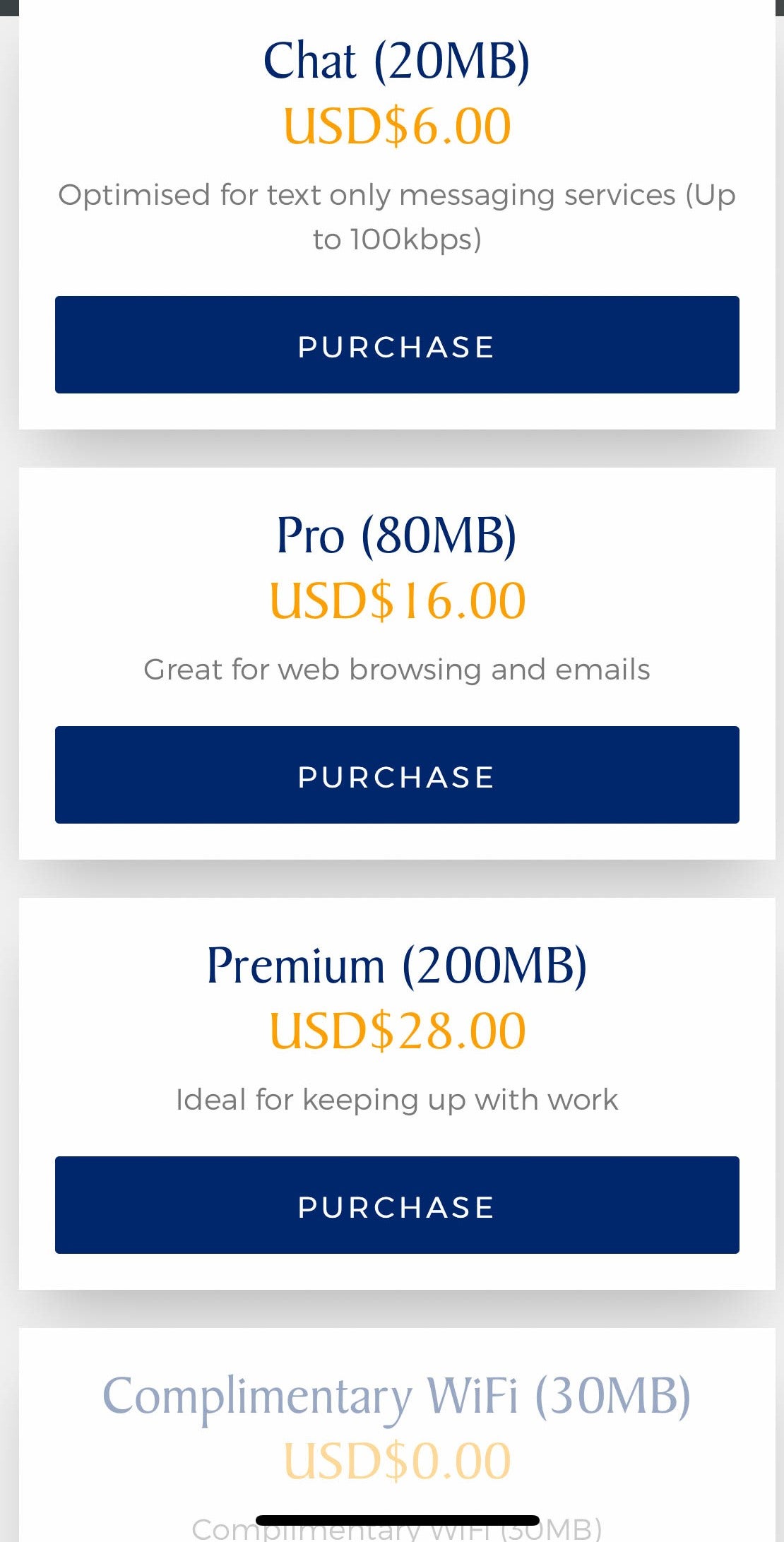 Food and Service
After takeoff, I switched to drinking a Singapore Sling, and meal service began with the crew rolling in the satay trolley. (Call me old fashioned…but I prefer when the crew brings in a food cart rather than individually serving meals.)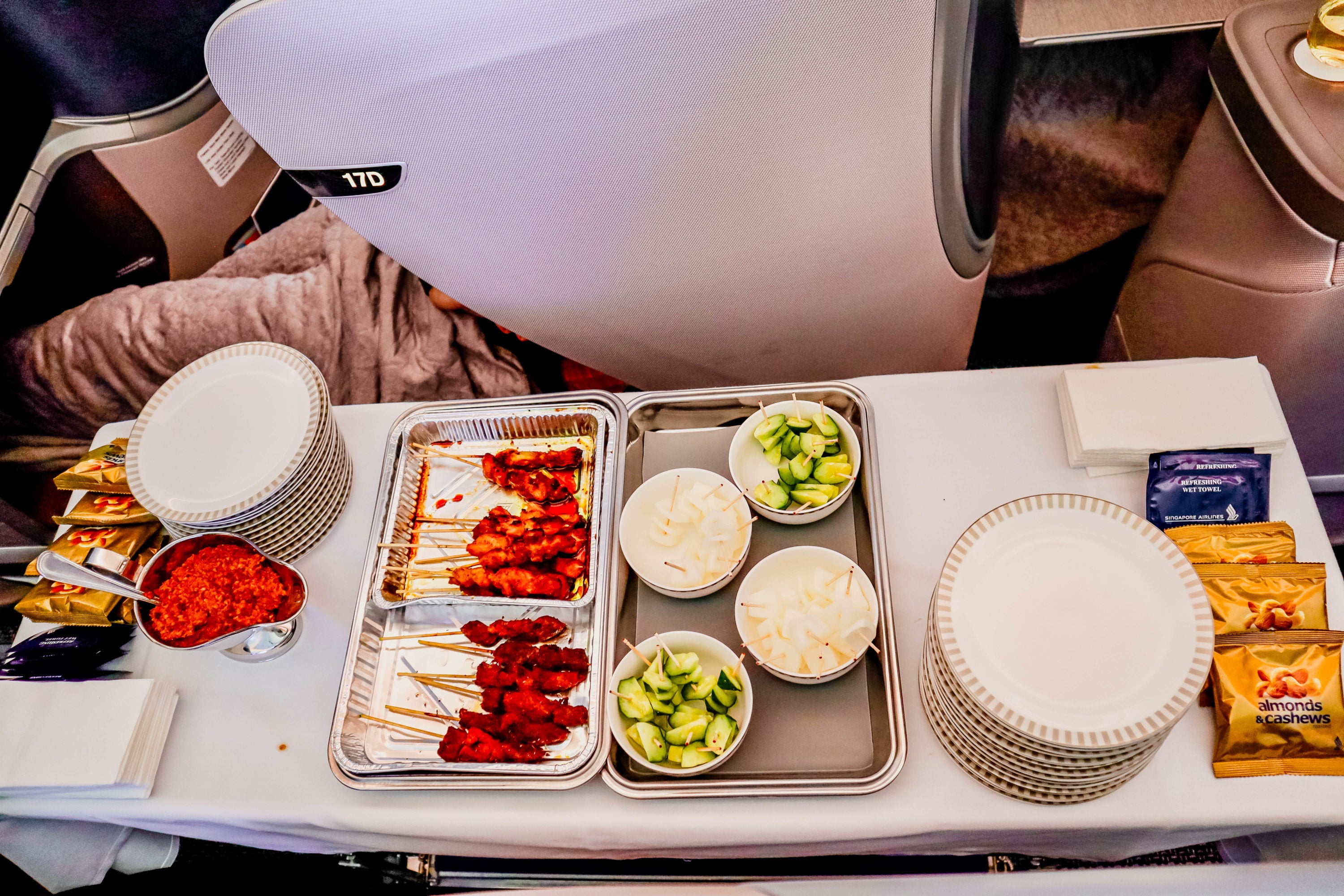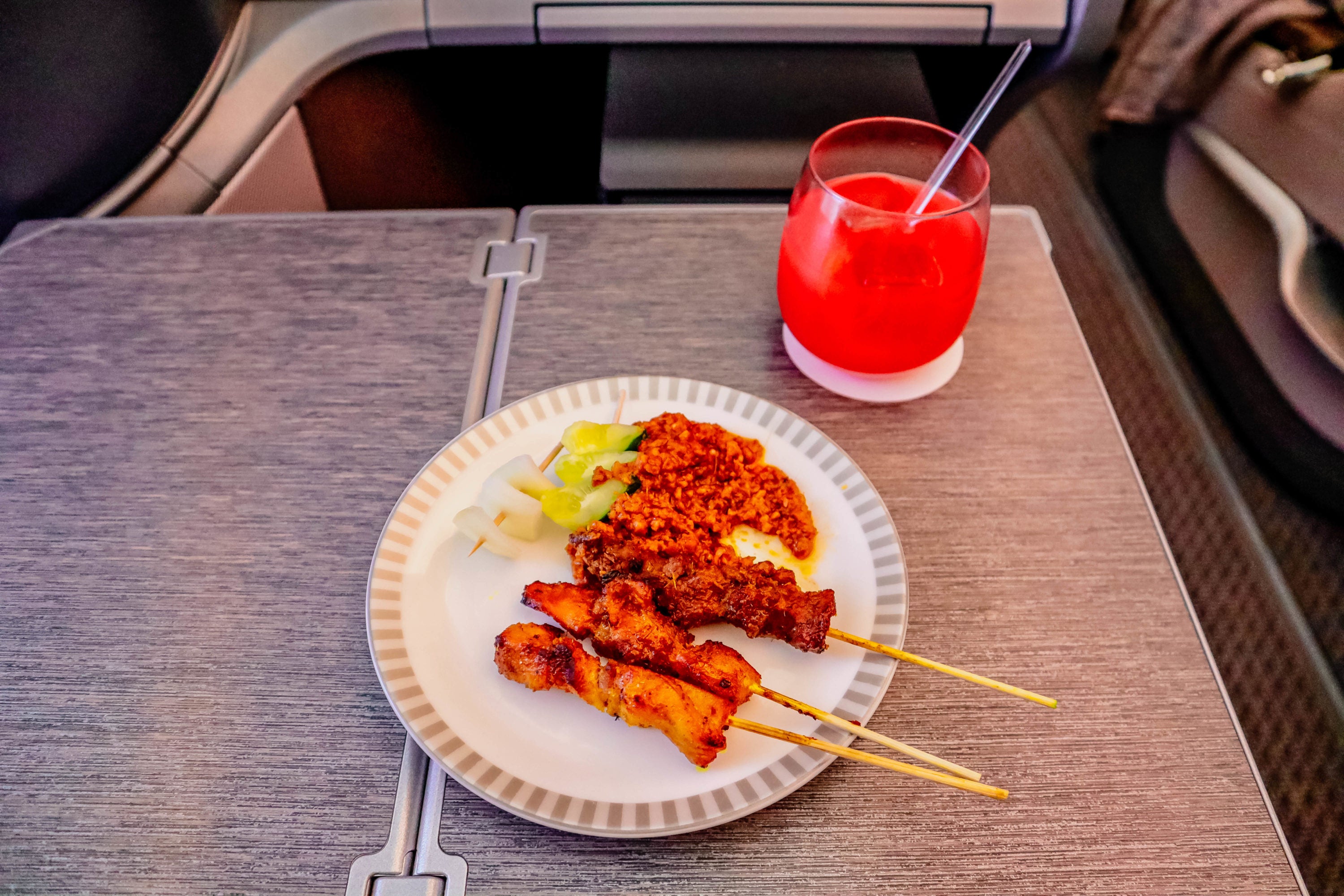 On Japan routes, Singapore Airlines offers you a choice of either Western or Japanese food. This is in addition to their "Book the Cook" option, which can be selected up to 24 hours prior to your flight. I opted for the Japanese "Hanakoireki" option.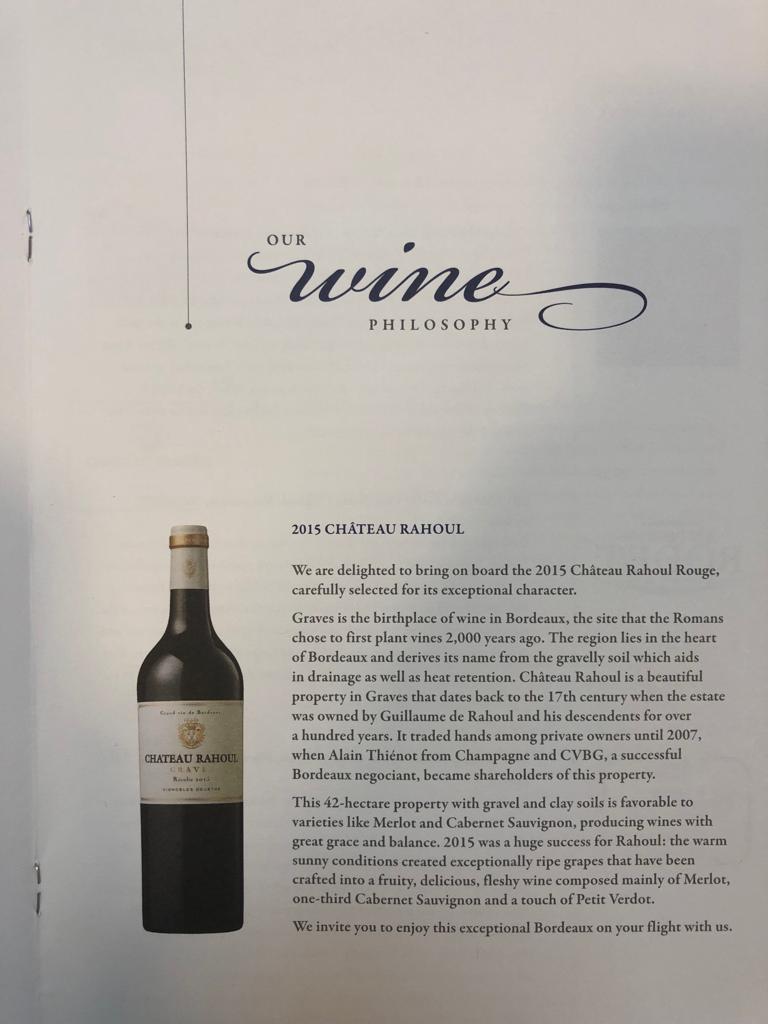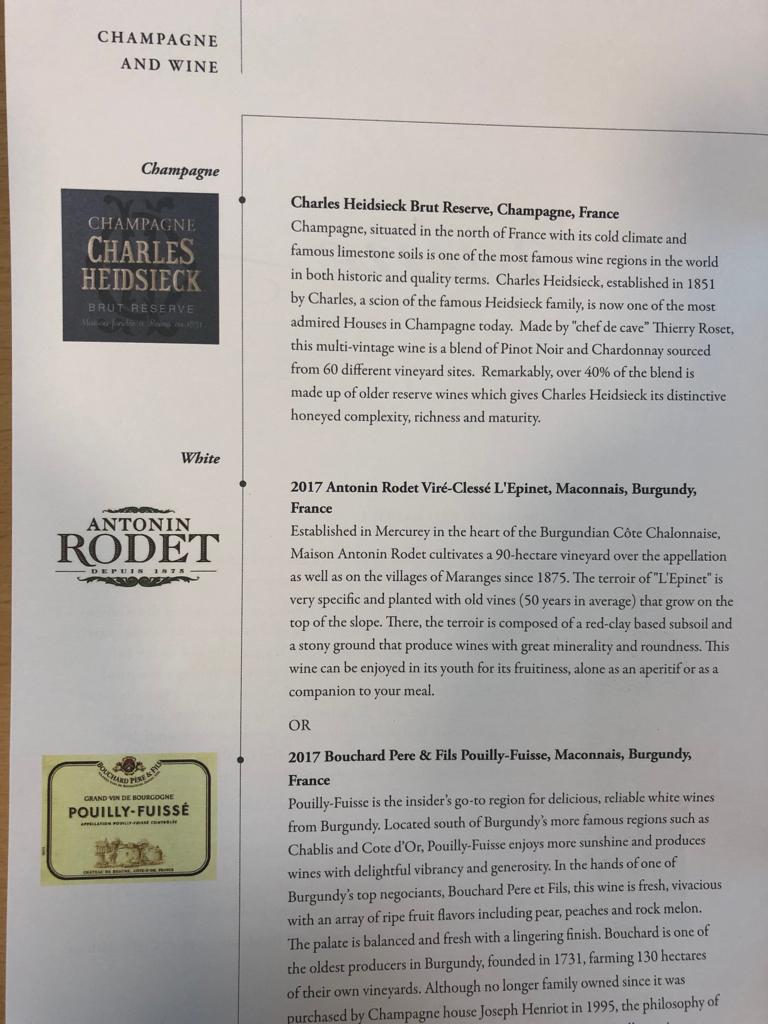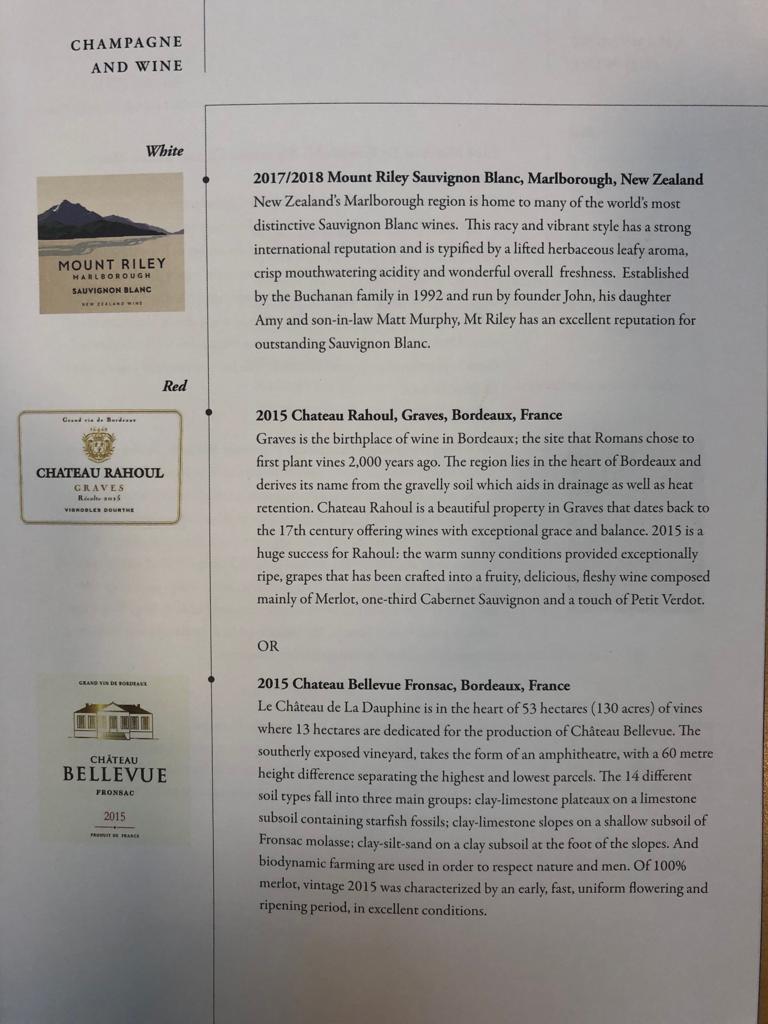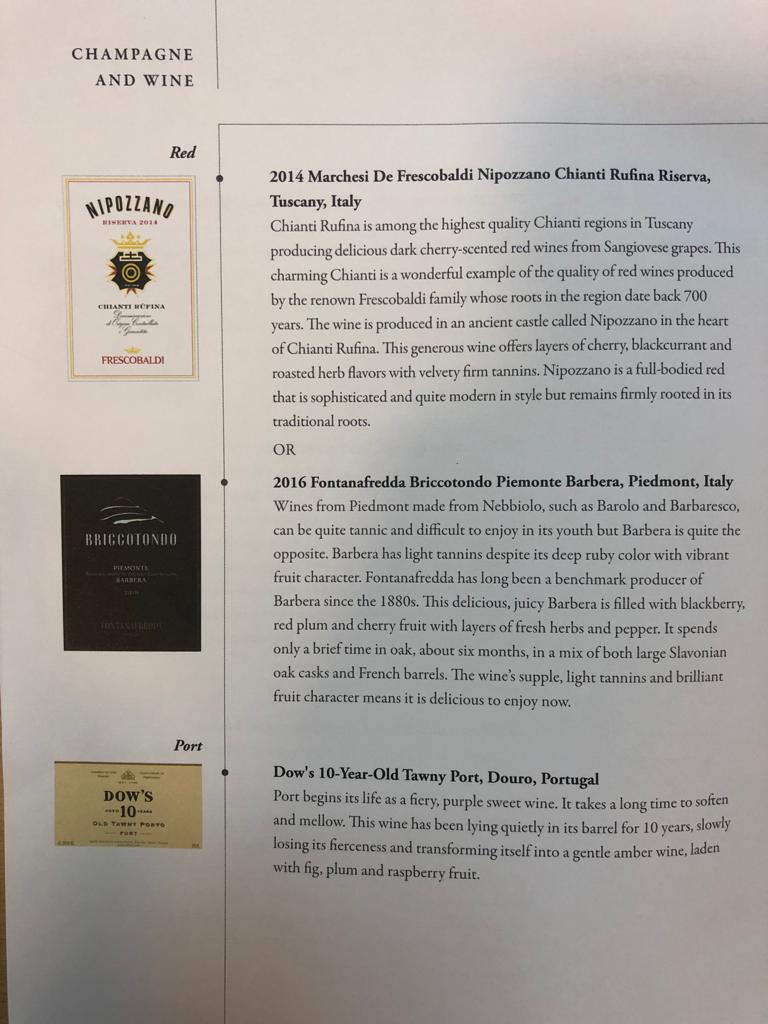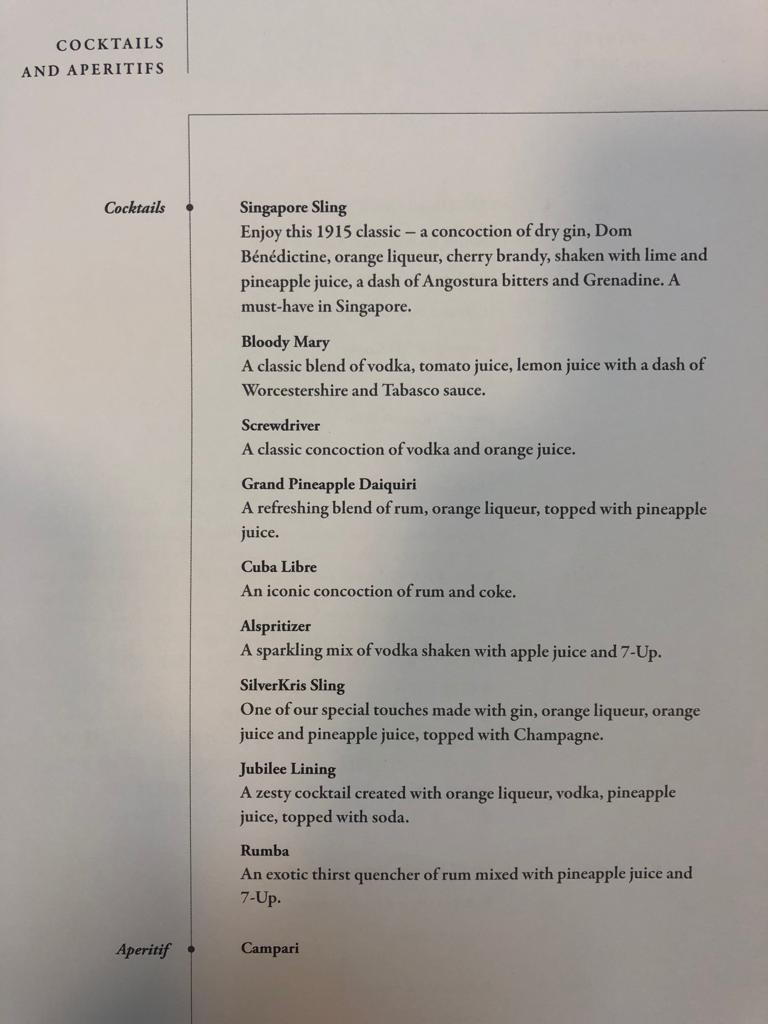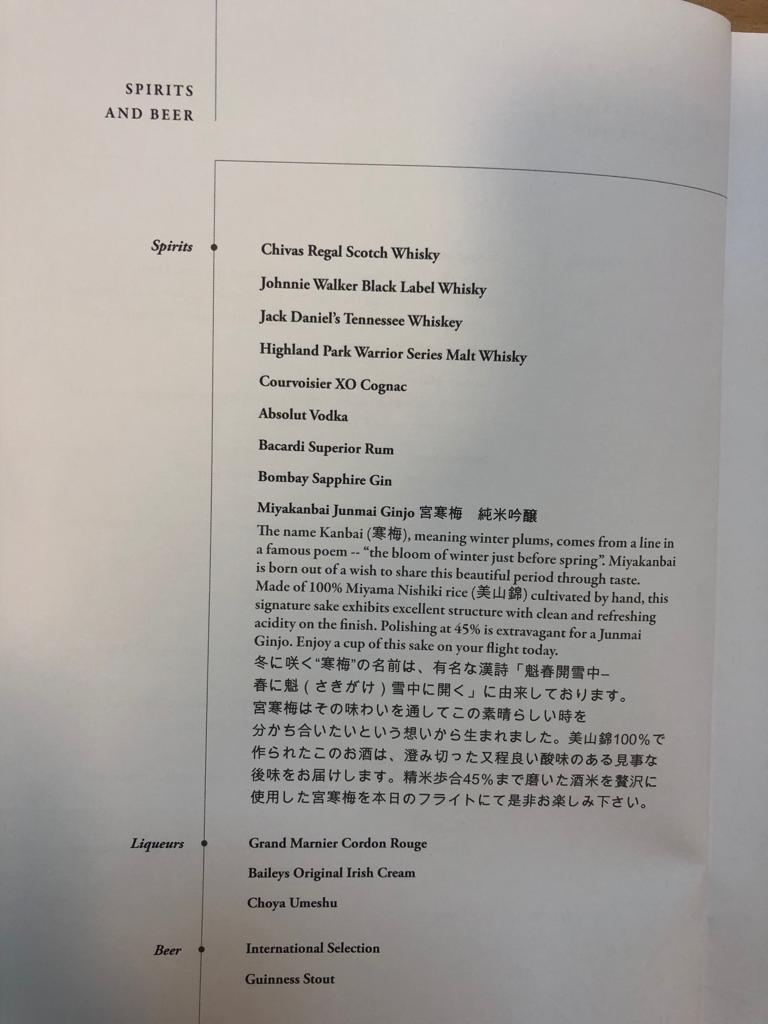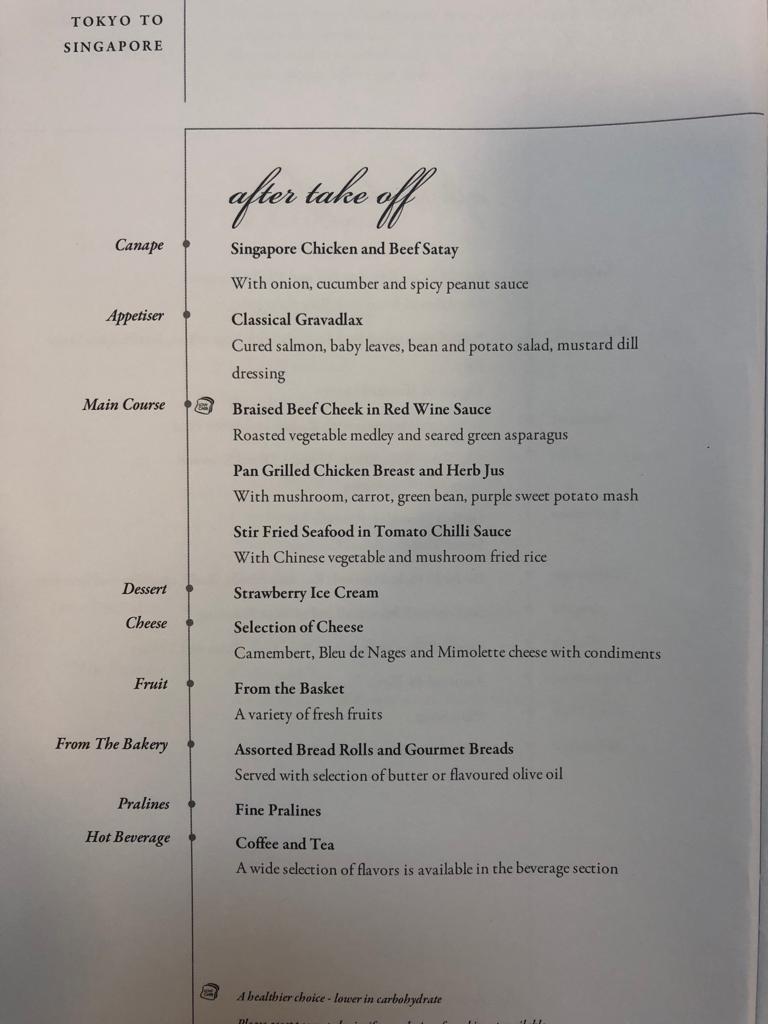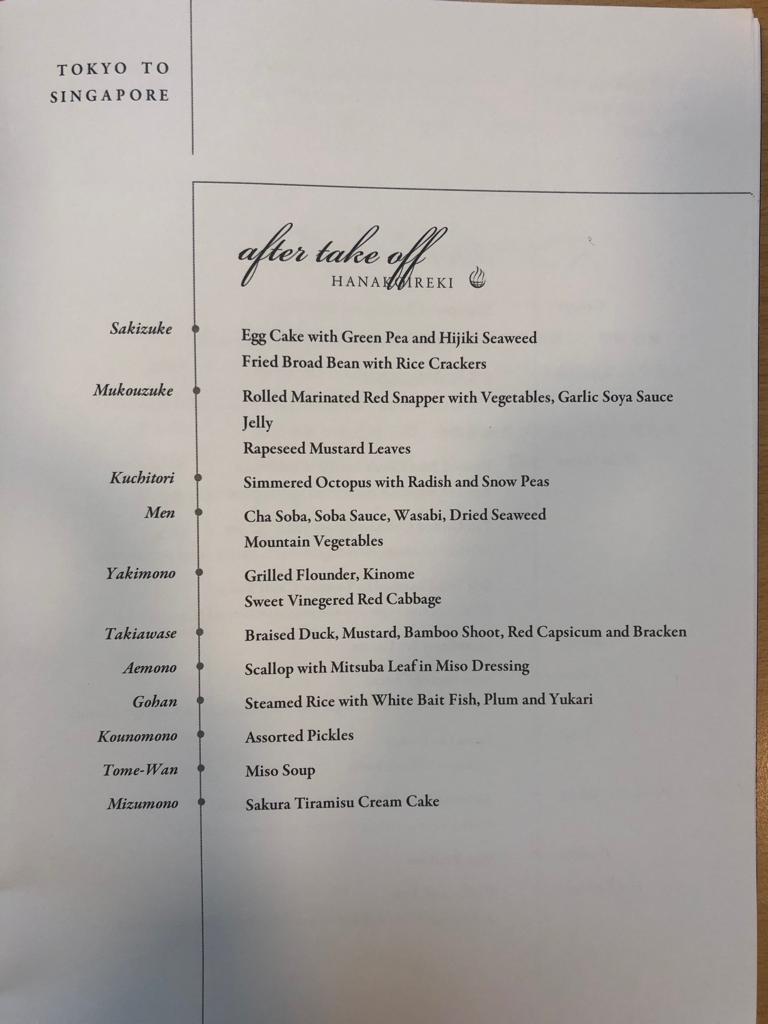 The Hanakoireki menu is created by Yoshihiro Murata, Japan's most awarded Michelin-star chef, and is derived from the Japanese word for "flower."
The multi-course Kaiseki meal presented in a plum blossom-shaped bento consists of 15 small dishes, echoing Singapore Airlines' obsession with detail. Items included an egg cake, rolled marinated red snapper, octopus, cha-soba, braised duck, scallop, steamed rice, and assorted pickles. (For a detailed description, please refer to the menu above.)
This meal was fantastic on all fronts — fresh, tasty, and beautifully presented.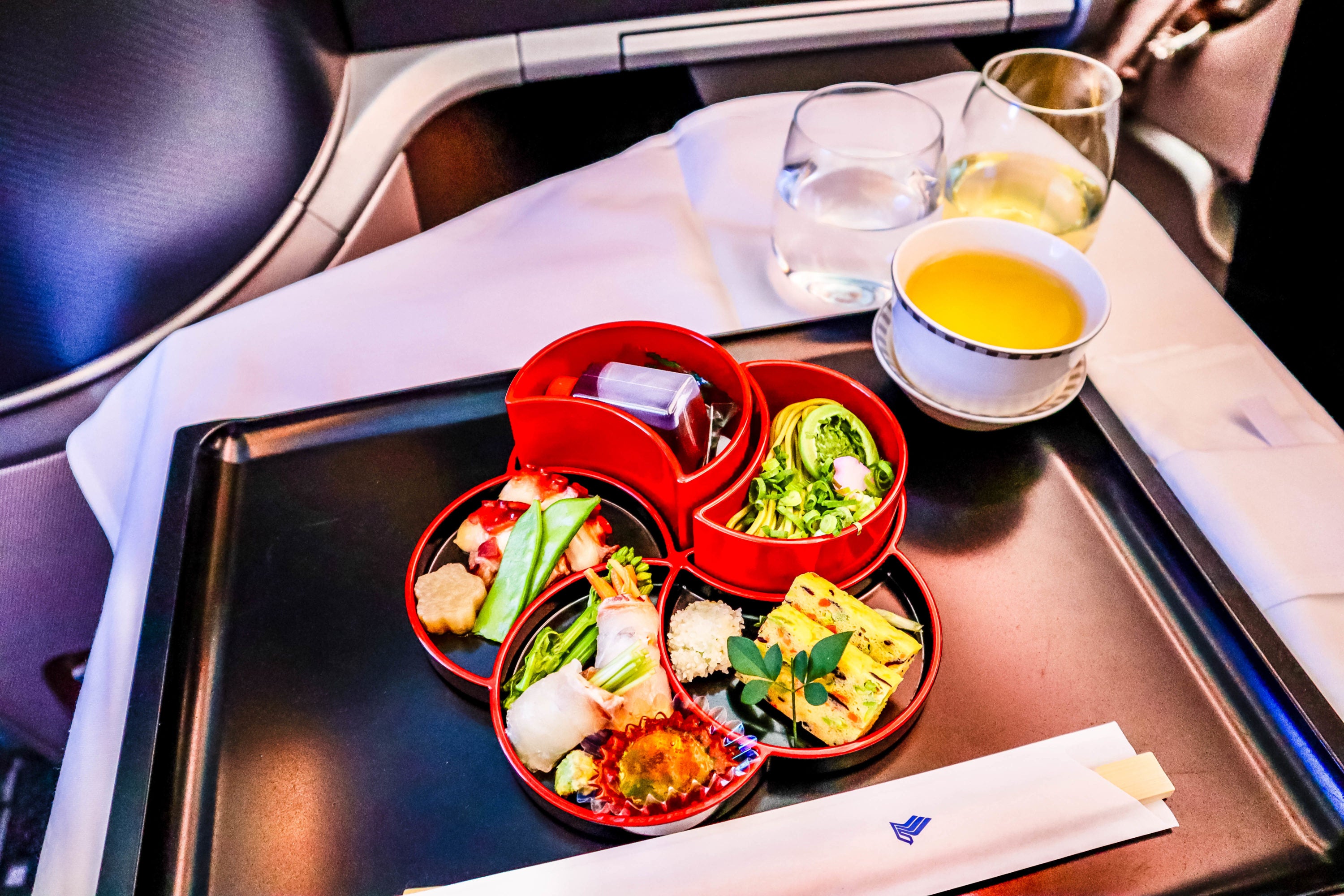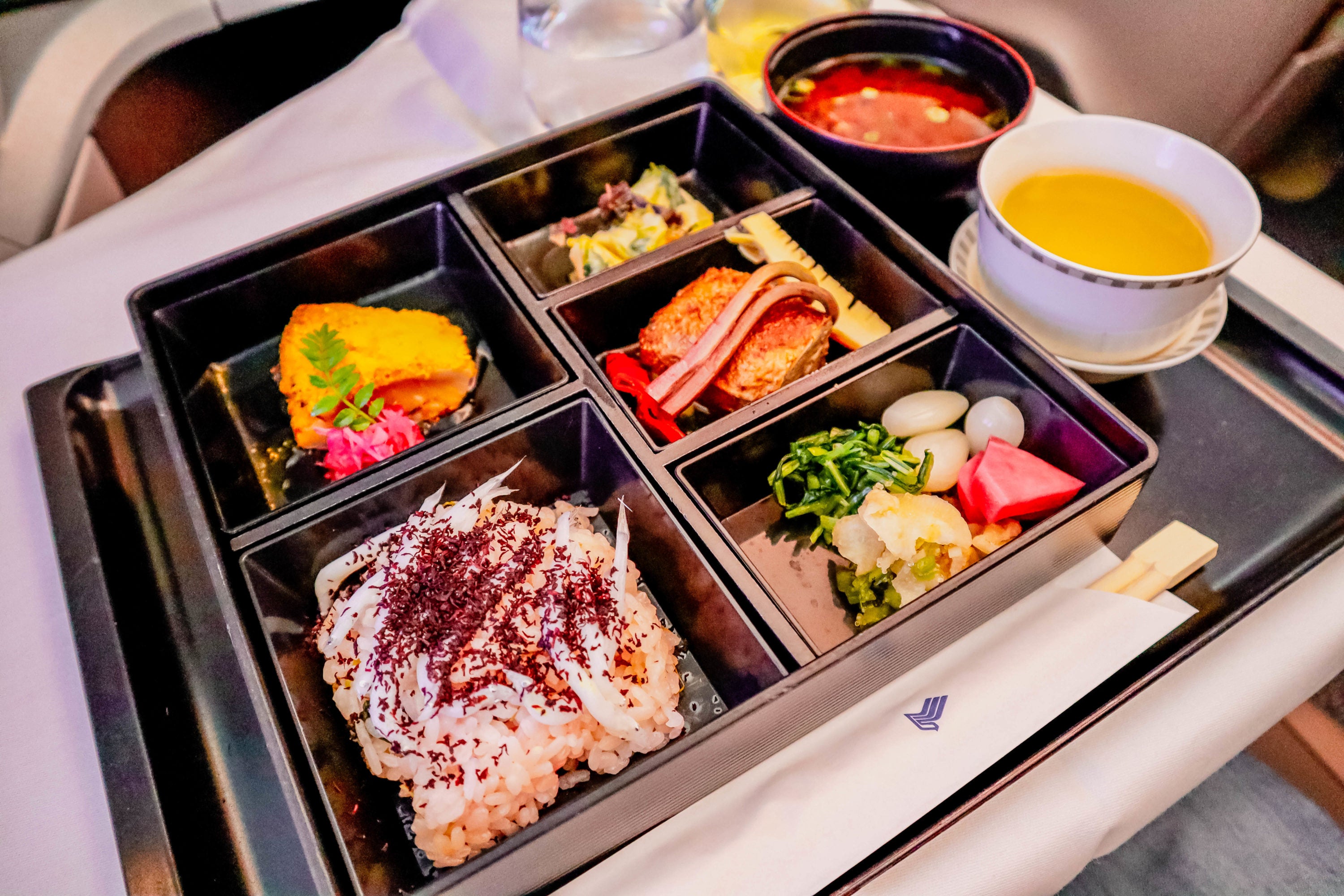 For dessert, I had the Sakura Tiramisu Cream Cake, which was delicious.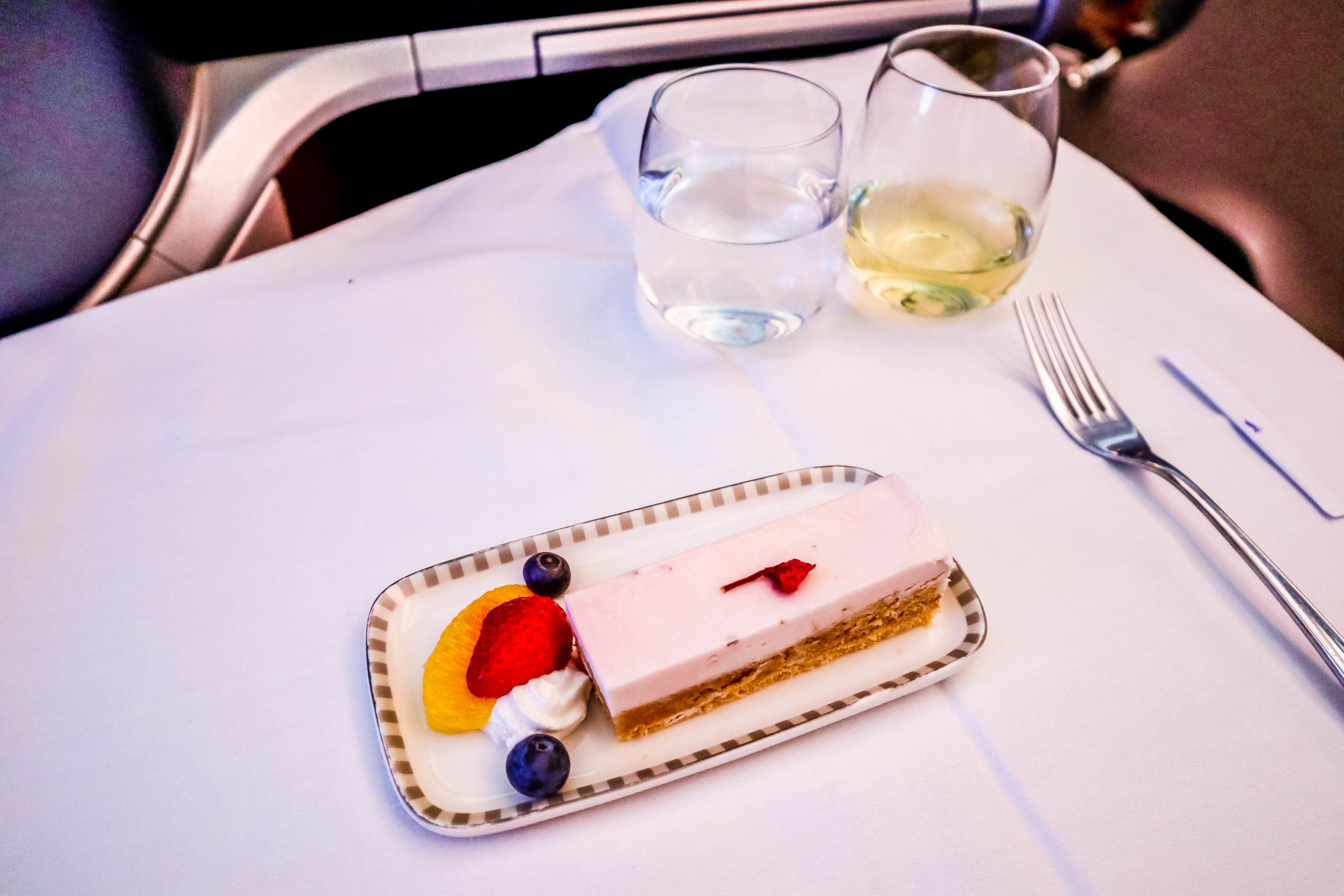 As always, the Singapore crew delivered outstanding service — and I even got a special welcome.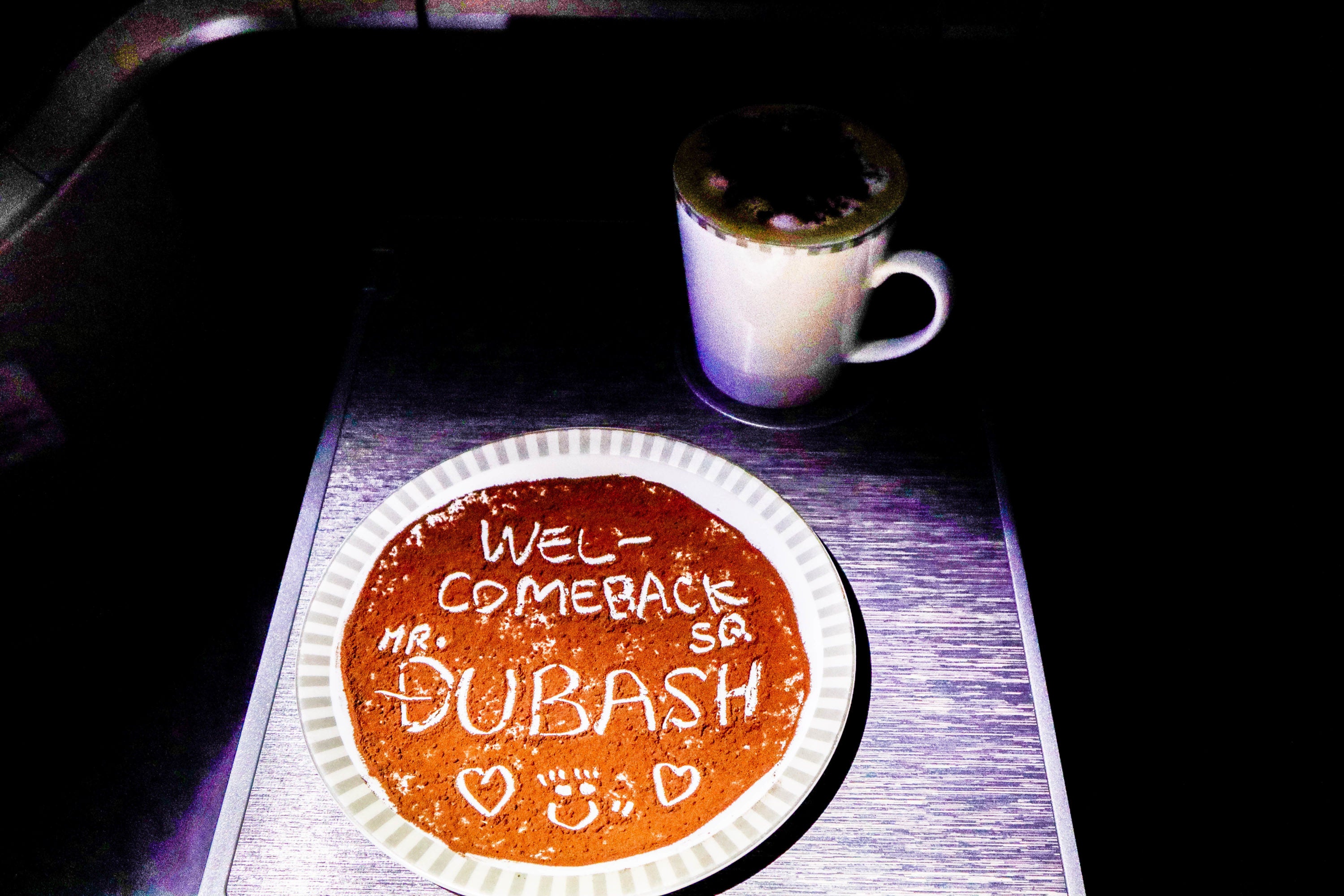 Anyone who travels frequently knows the crew can make or break your flight experience. Over the years, I can say I have never had a sub-par experience with Singapore Airlines, no matter what class I'm flying.
You obviously expect great service in first and business class, but Singapore maintains those same standards in economy as well — which is why I think they have the best cabin crew around.
Amenity Kit
Singapore Airlines provided me with the usual eye shades, slippers, and socks, but no amenity kits were handed out. Toothbrushes, razors, and combs are stocked in the business class lavatories.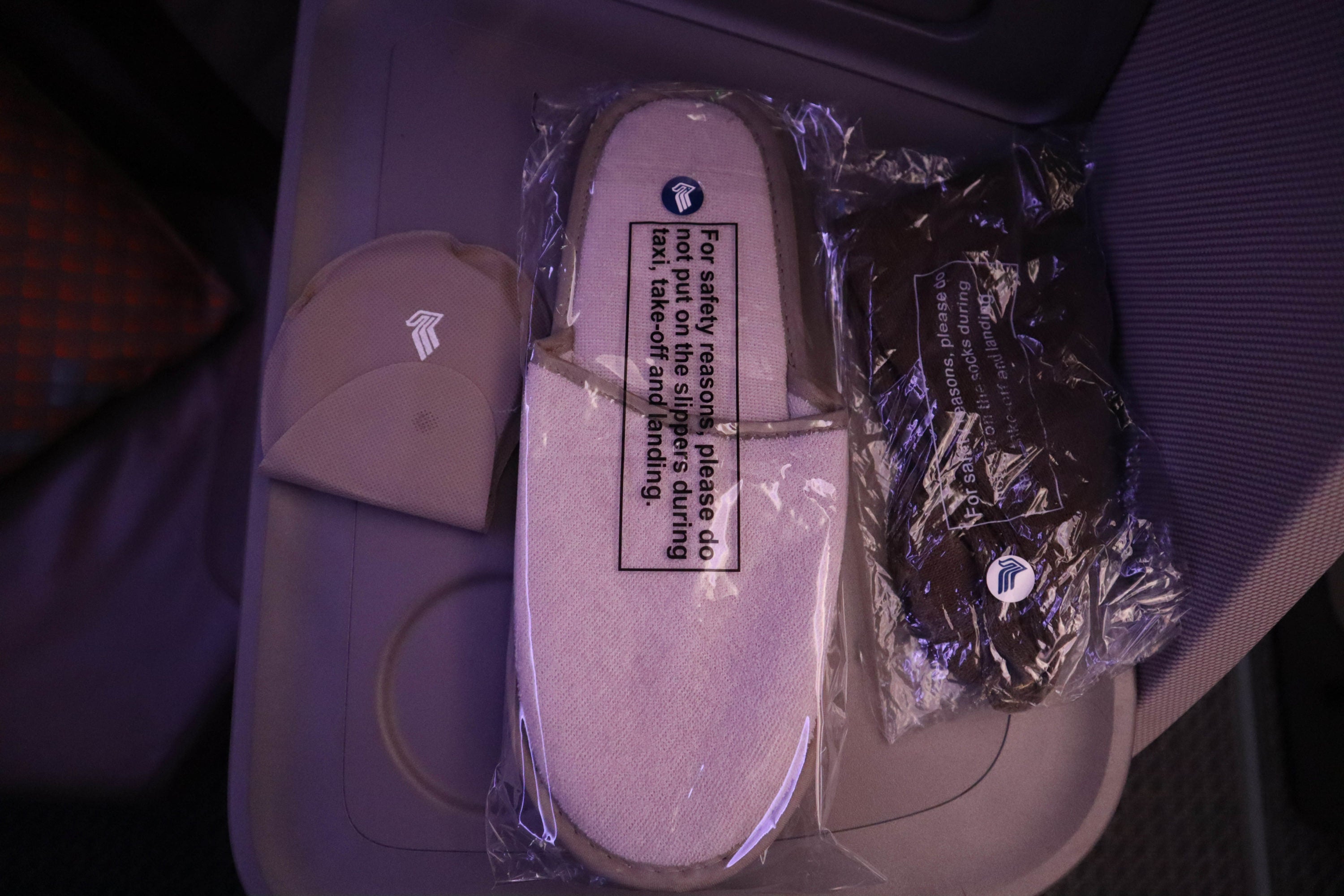 Final Thoughts
It is commendable to see Singapore Airlines take regional business class seriously and put together a strong offering like this for their short and medium-haul flights. Overall, they have a delivered a fantastic product that meets the standard most would expect on an international flight.
The overall look and feel of the new business class is one of subtlety, sophistication, and refined style. Some may complain that the seats are narrow; though it was a snug fit for me, and I thoroughly enjoyed the 7-hour ride and look forward to many more.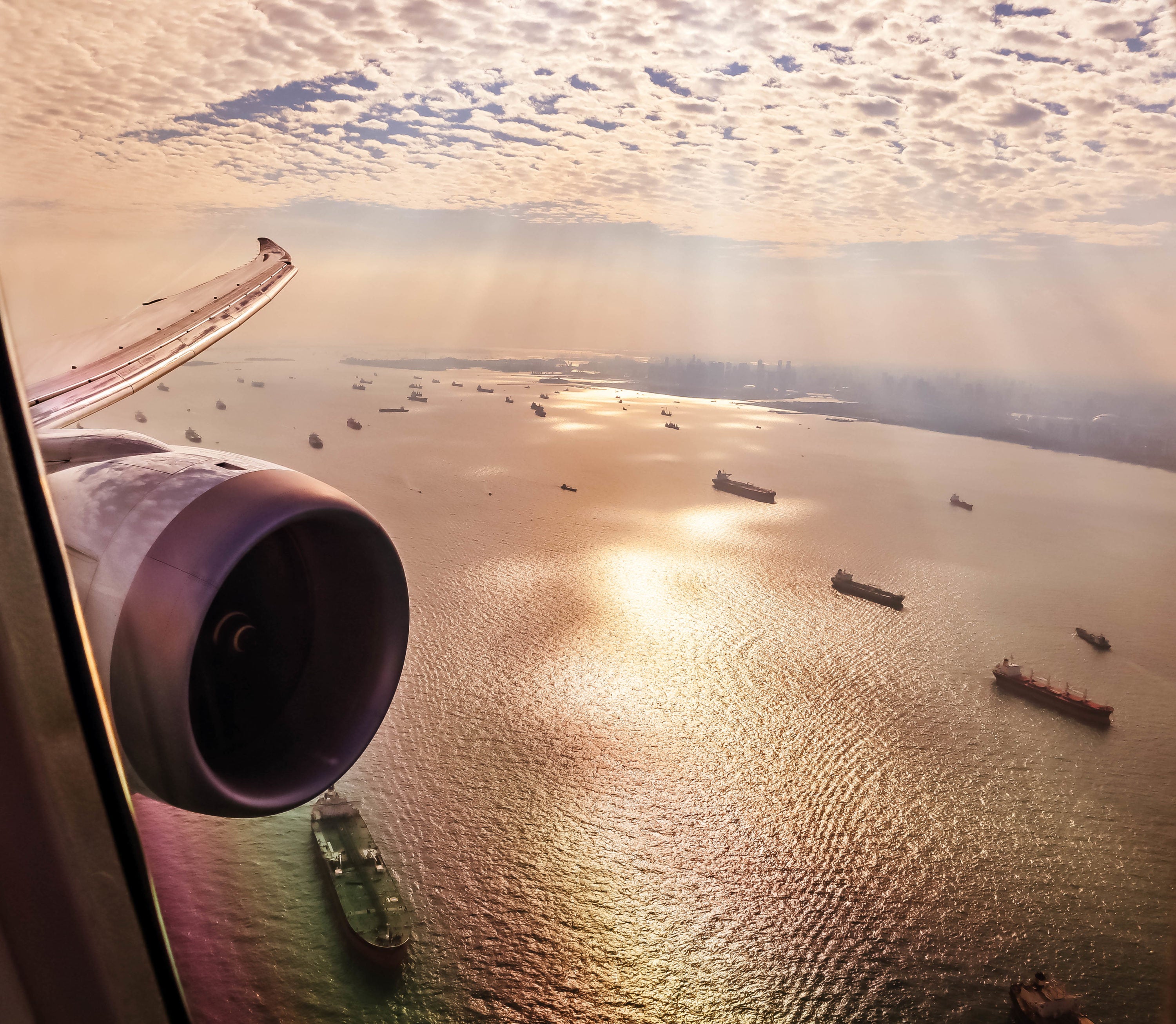 Regional travel is definitely better with Singapore Airlines!
---
All images courtesy of the author