Singapore Airlines A350 Business Class Review [SIN to DUS]
Airline: Singapore Airlines (SQ)
Aircraft: Airbus A350-900 (9V-SMK)
Flight #: SQ338
Route: Singapore (SIN) > Dusseldorf (DUS)
Date: September 22, 2018
Duration: 12hr 34min
Cabin and Layout: Business class, 42-seats, 1-2-1 config
Seat(s): 19F
Miles Used: 105,000 KrisFlyer miles per person one-way including a flight from Sydney to Singapore (now 116,000 miles)
Taxes and Fees Paid: $67 (AU$96.64) per person
Typical Retail Cost: $3,700 (AU$5,300) per person one-way
Introduction
Booking Singapore Airlines Business Class
After experiencing Singapore Airlines' new Airbus A380 Suites and business class, I next wanted to test out the carrier's new Airbus A350-900.
So, for an upcoming trip to Europe I decided to book with Singapore Airlines specifically to try the Airbus A350 to Dusseldorf.
Thankfully I had no trouble finding 2 KrisFlyer Saver redemption seats 8 months prior to departure on SQ232 to SIN and onwards on SQ338 for 105,000 miles per person and just $67 (AU$96) in taxes. This redemption has since increased to 116,000 miles.
At Singapore Changi Airport – SilverKris Lounge
Passengers flying Singapore Airlines Business Class are provided access to the SilverKris Lounge at Changi Airport.
As we were booked on the 11:30 p.m. service to Dusseldorf, we arranged the latest possible checkout from our layover hotel in Singapore and arrived at the lounge around 4:50 p.m., which meant we had a whole 6 hours there.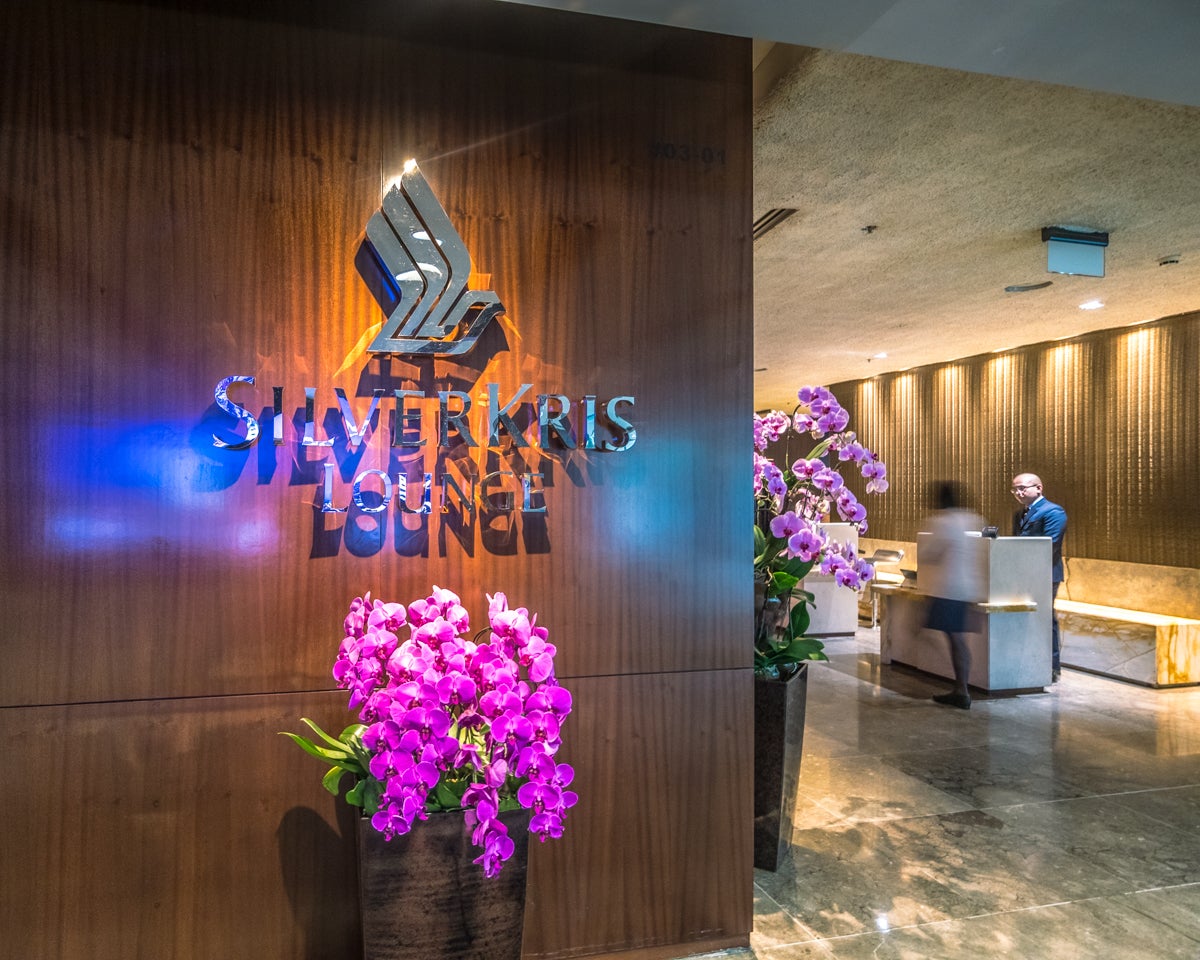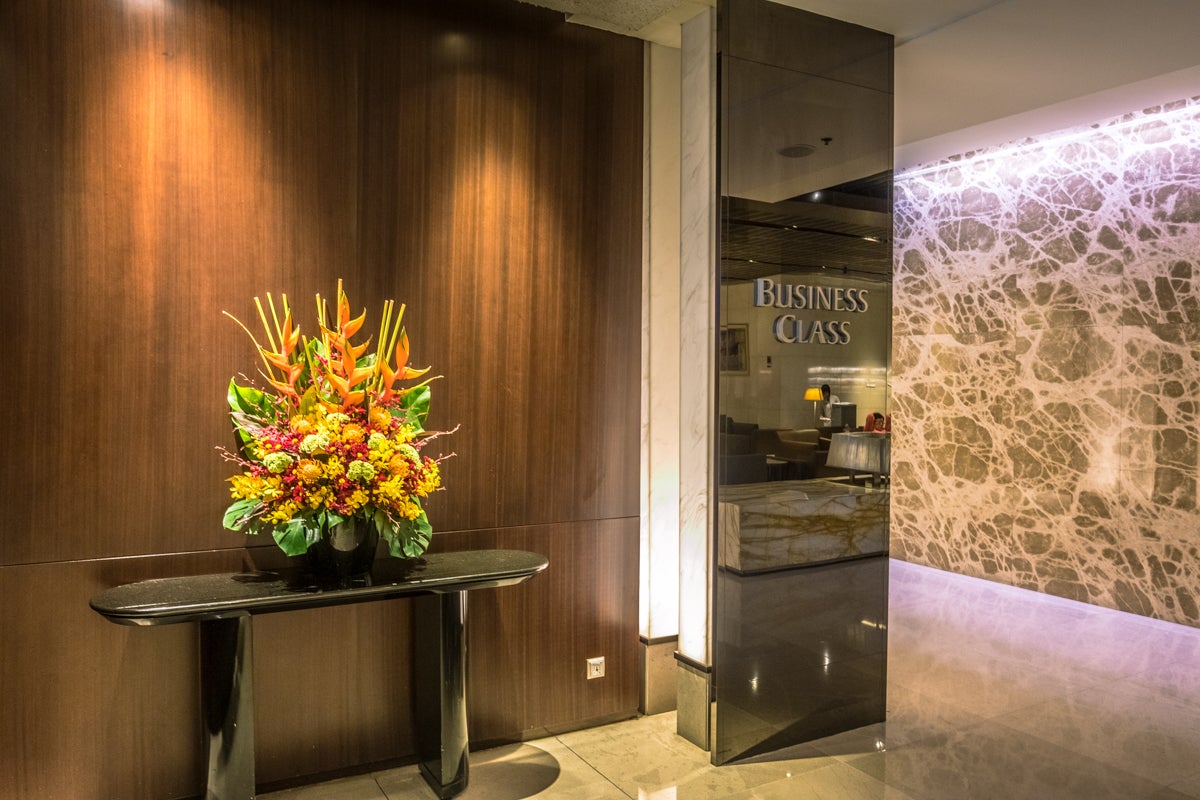 At this time the lounge was quite empty, and we had no trouble finding a place to park ourselves, but by the time we left, it was packed.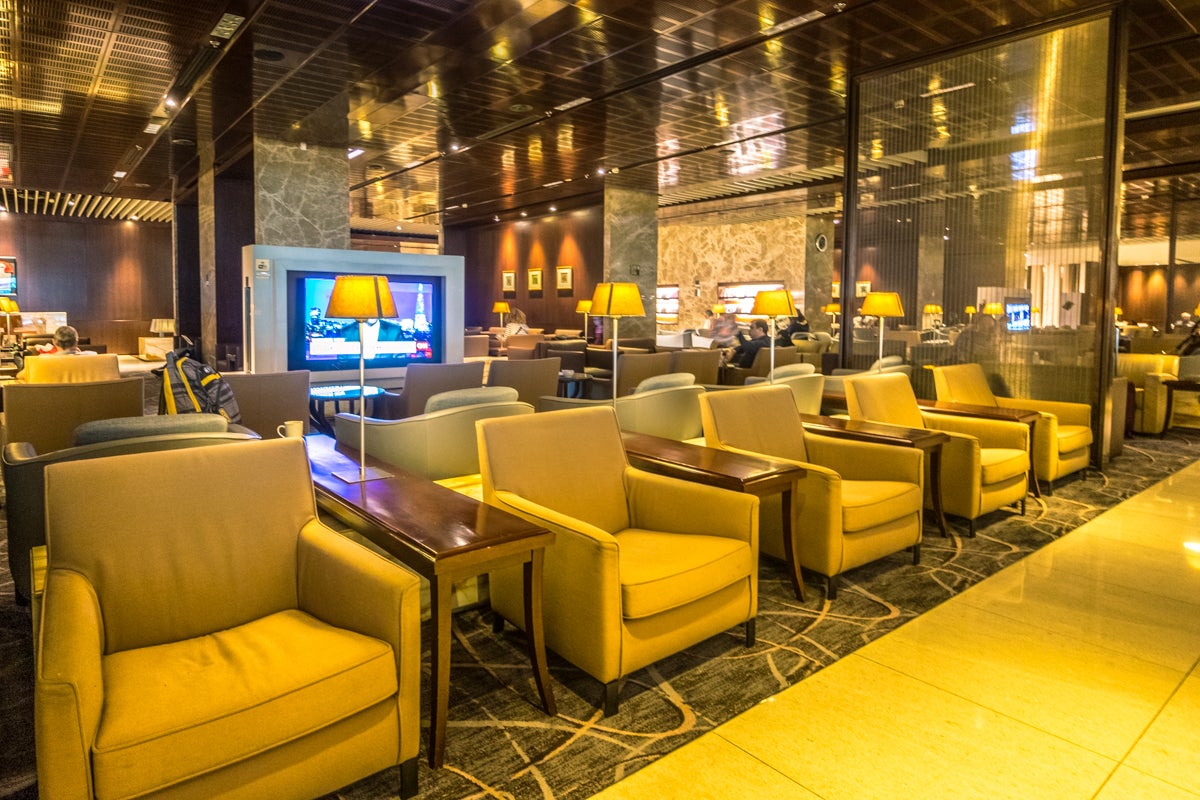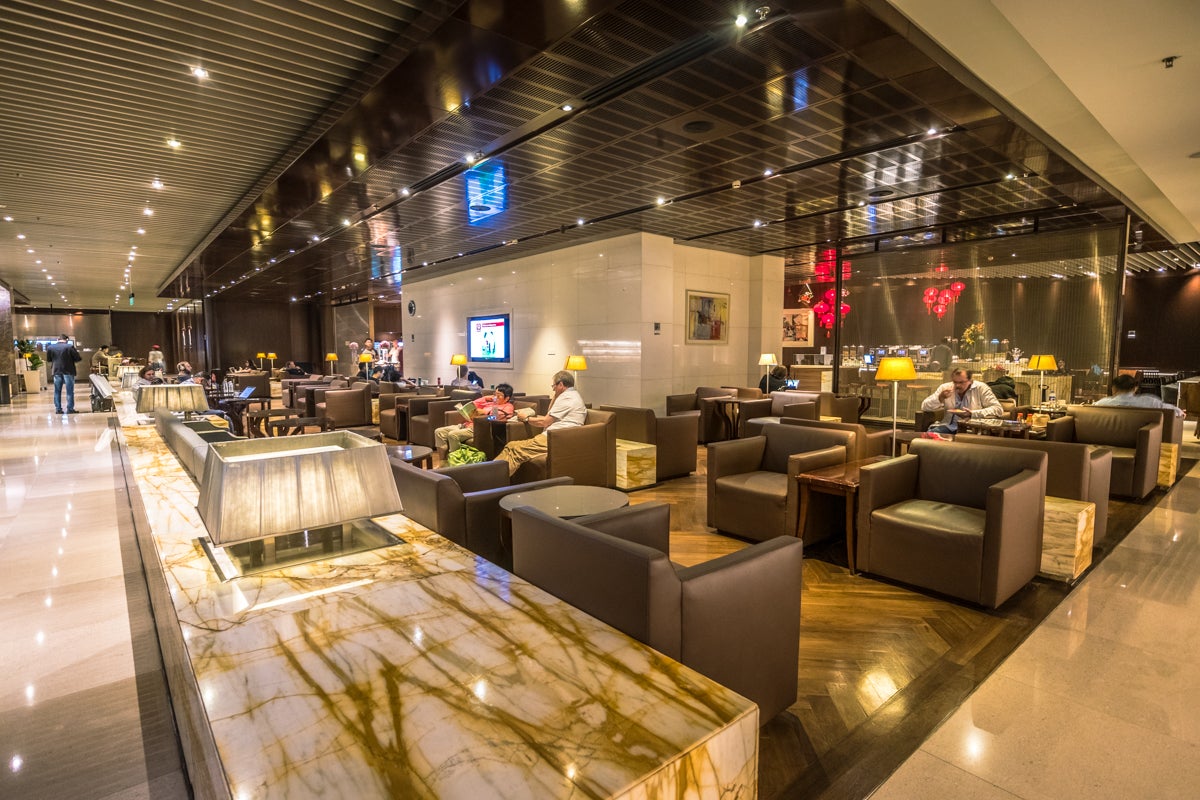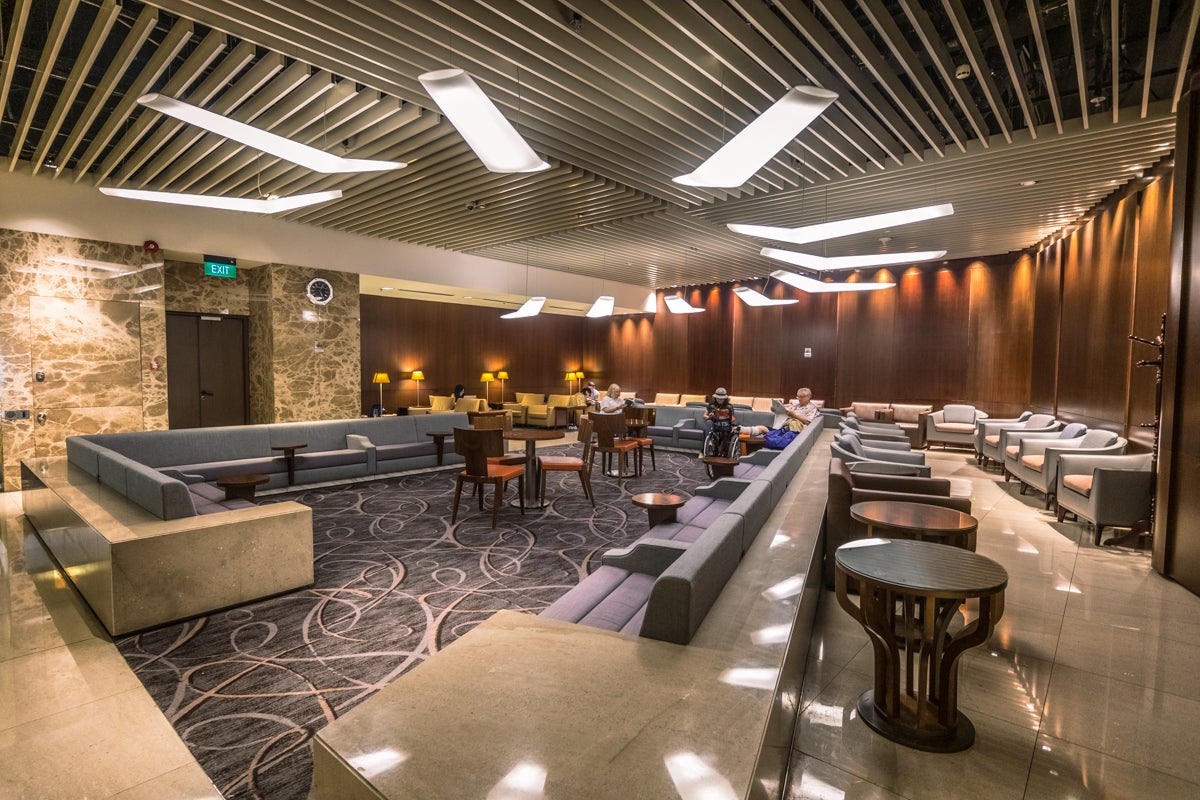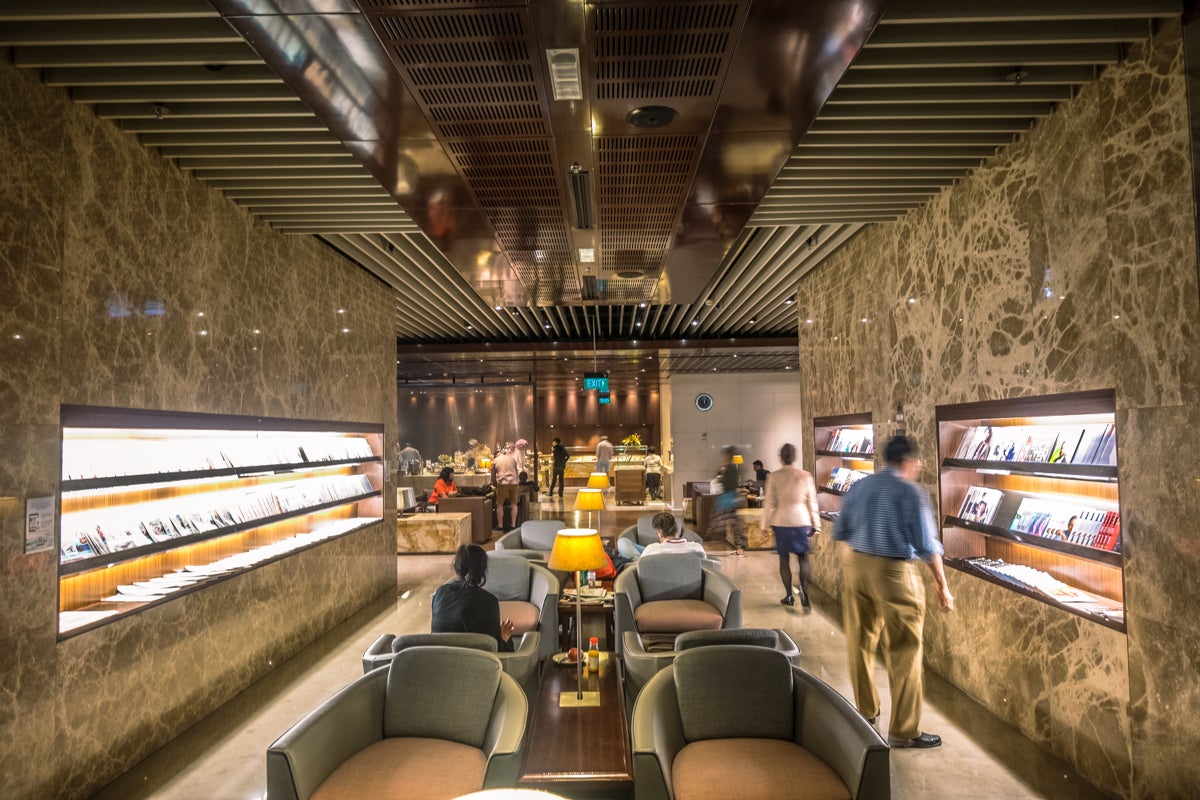 Wi-Fi speeds must have been impacted by the crowd, which resulted in a slow 5.13 Mbps download and 5.34 Mbps upload.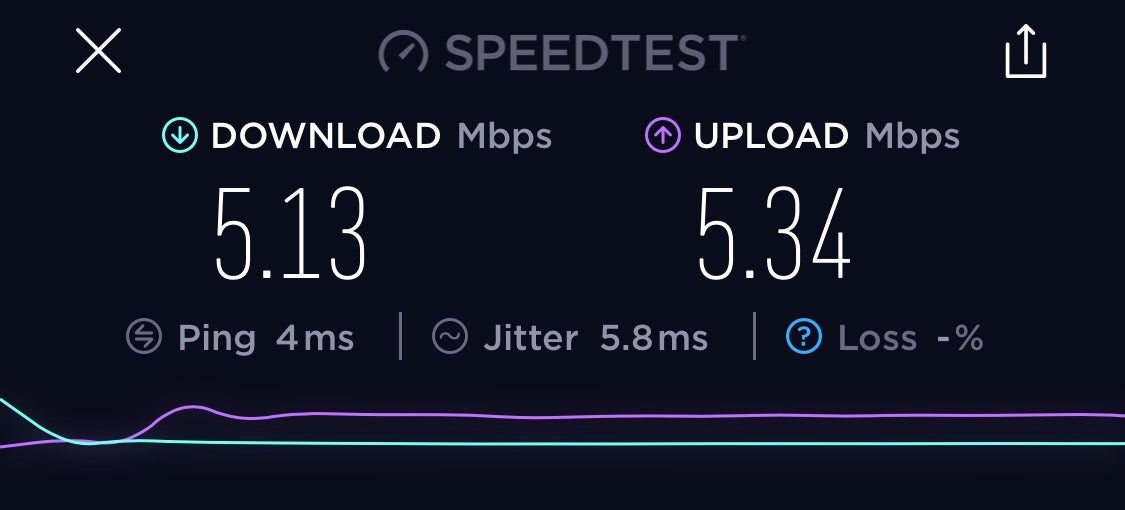 A large buffet featured hot and cold Western and Asian dishes.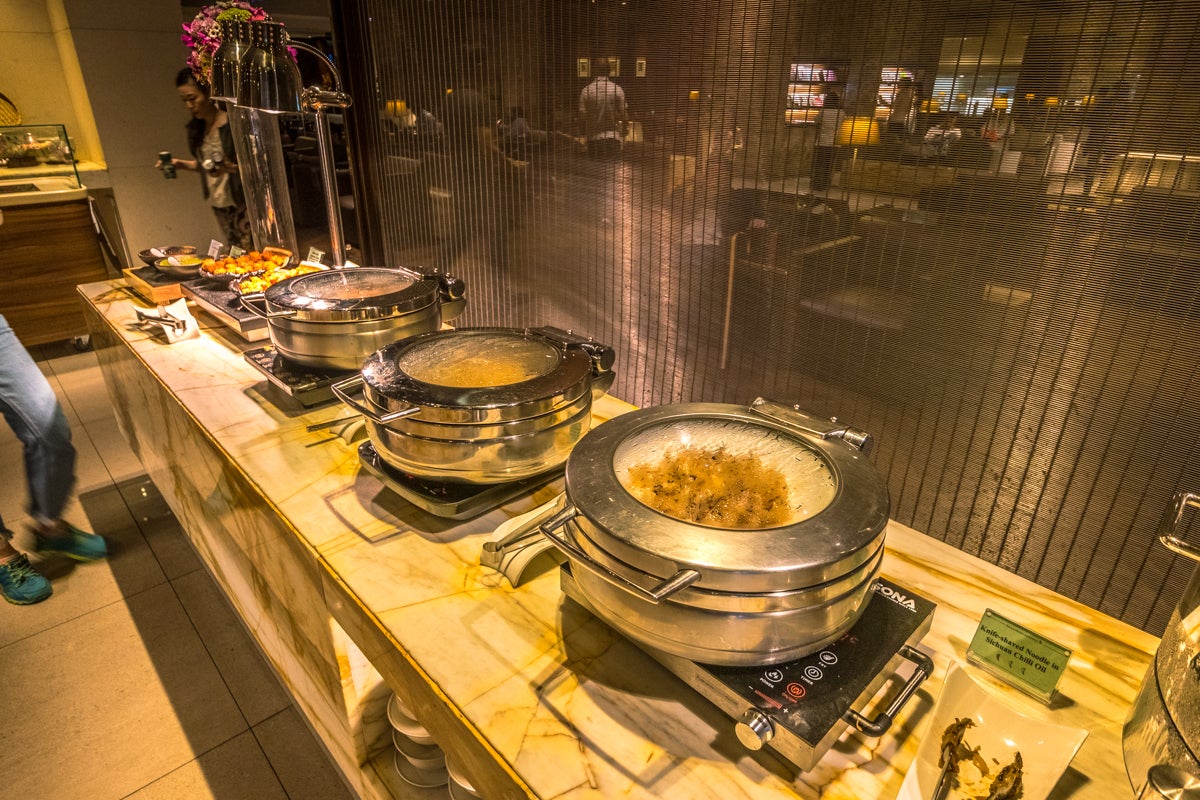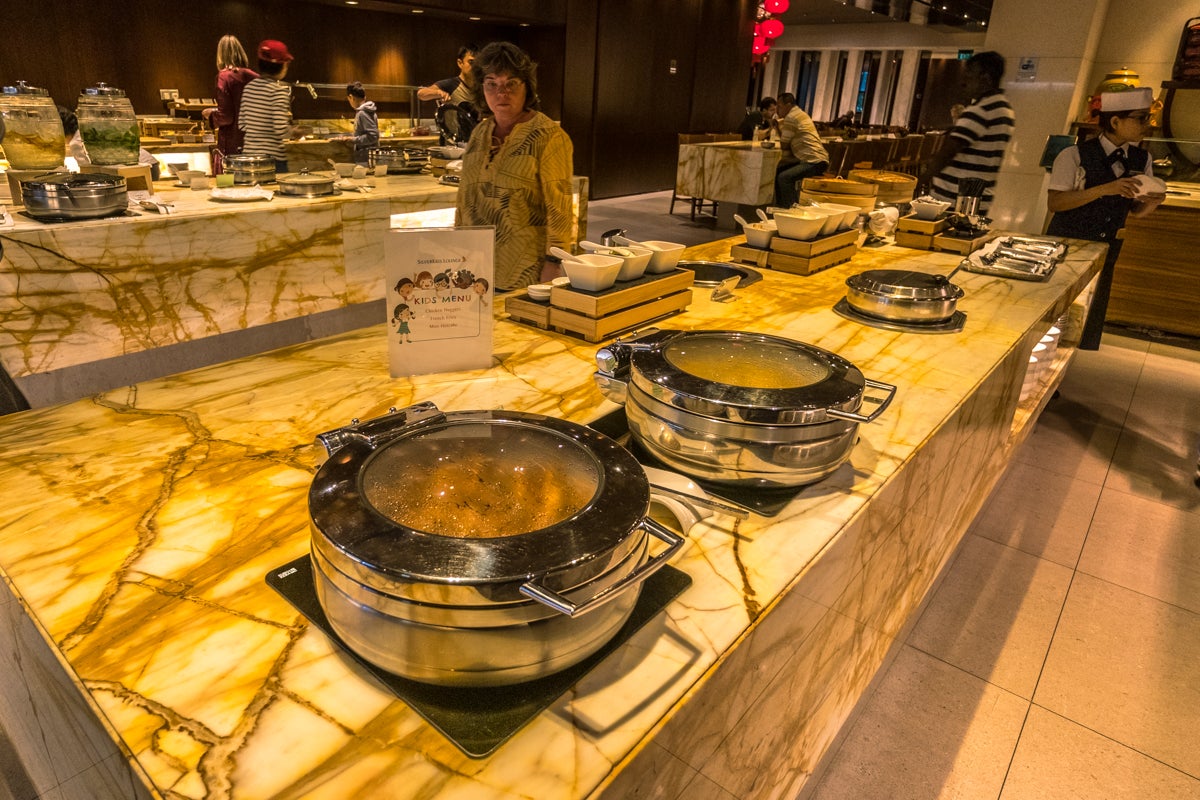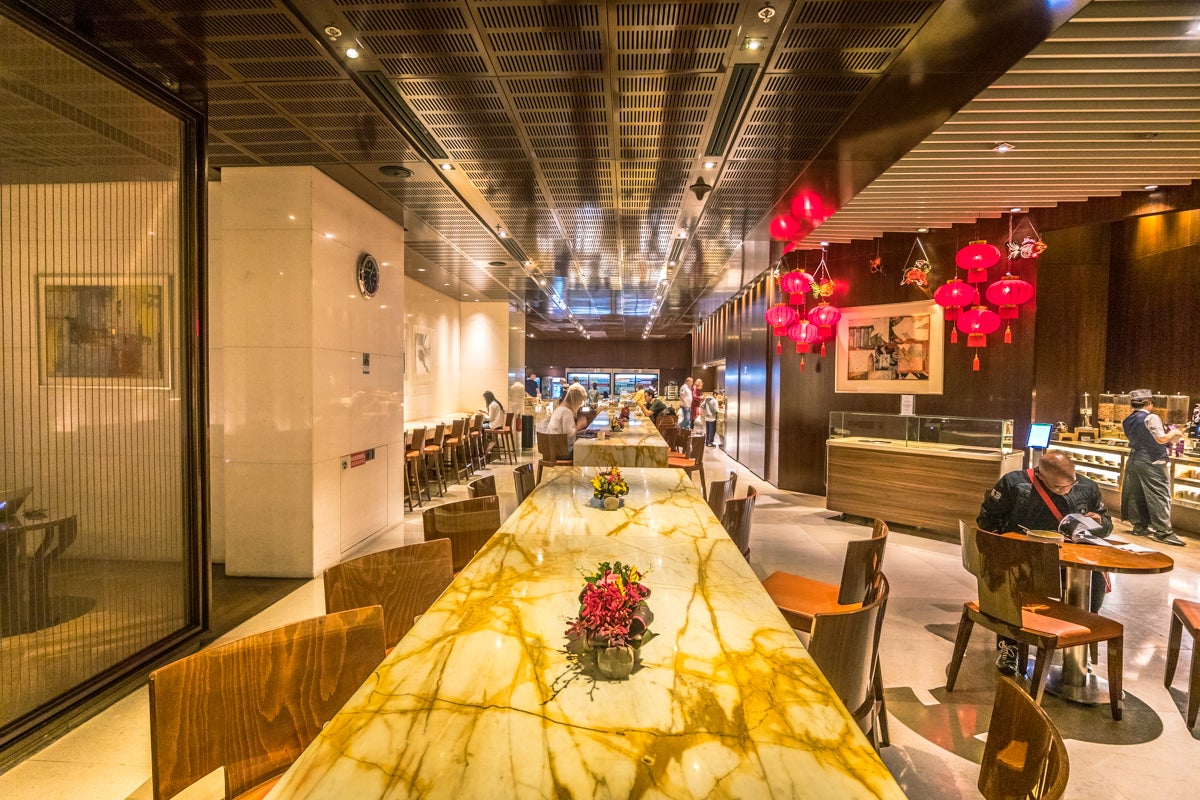 Charles Heidsieck Champagne was available from the self-serve beverage stations.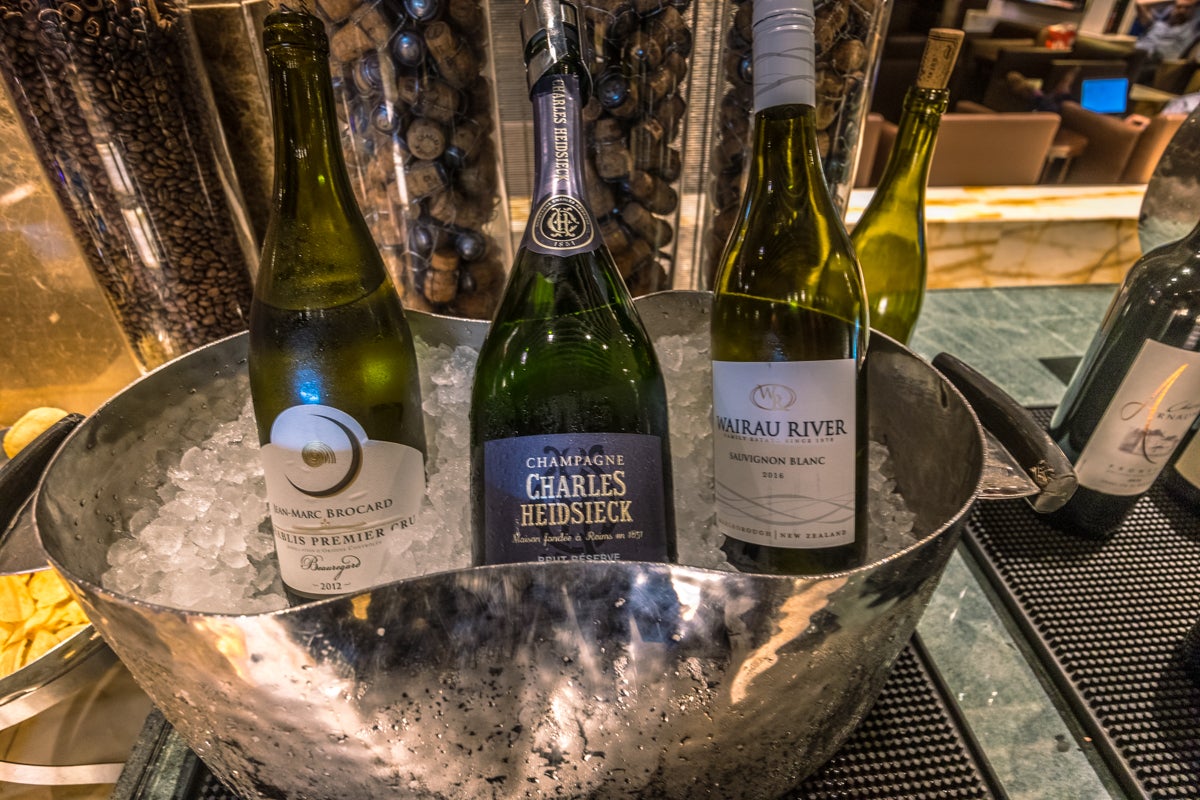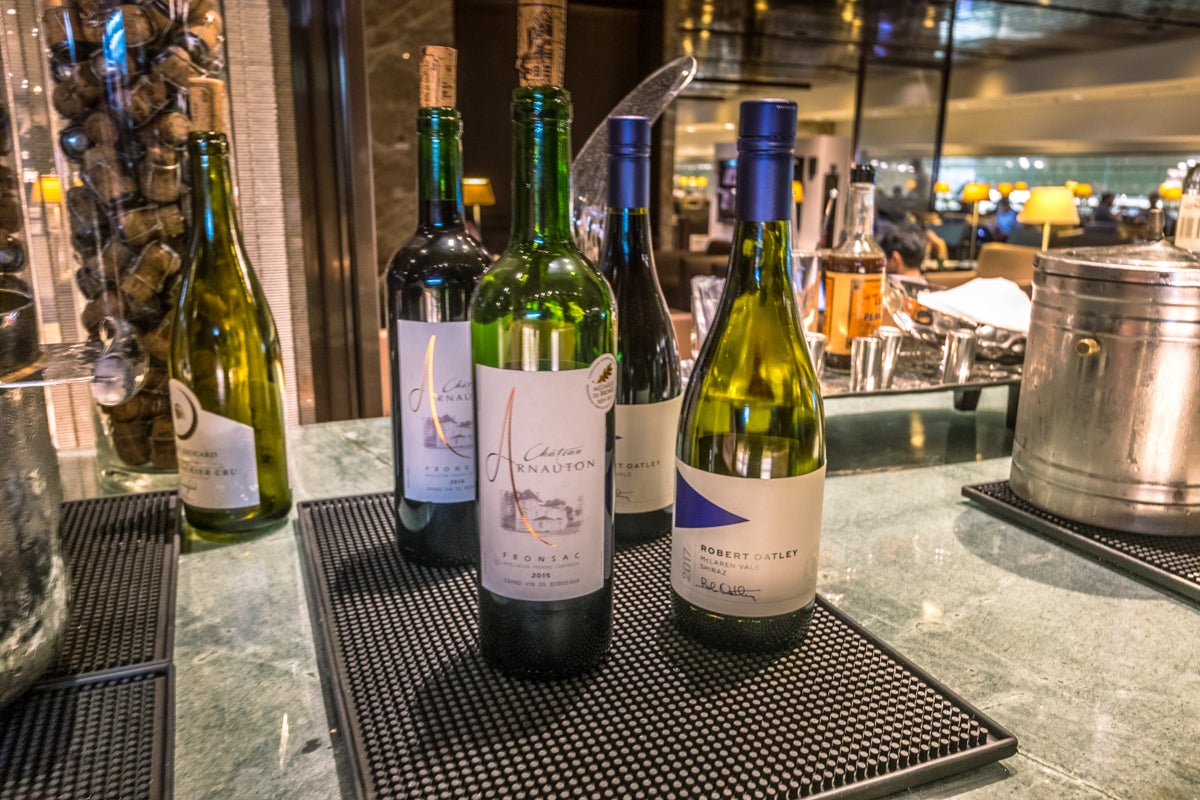 The lounge is an acceptable place to spend your time before a flight. However, there isn't anything special about it. Plus, there are no external facing windows for any plane spotting. If only every business lounge had a terrace like Swiss' Senator lounge in Zurich.
Thankfully, Singapore Airlines just announced a $50 million renovation plan for all its lounges at Changi airport. These renovations are due to be completed by mid-2021 and will feature a tendered bar.
Flight
Aircraft
Singapore Airlines currently has a fleet of 37 Airbus A350 aircraft including 7 Ultra-Long Range variants, with 30 of the regular -900 variants still on order.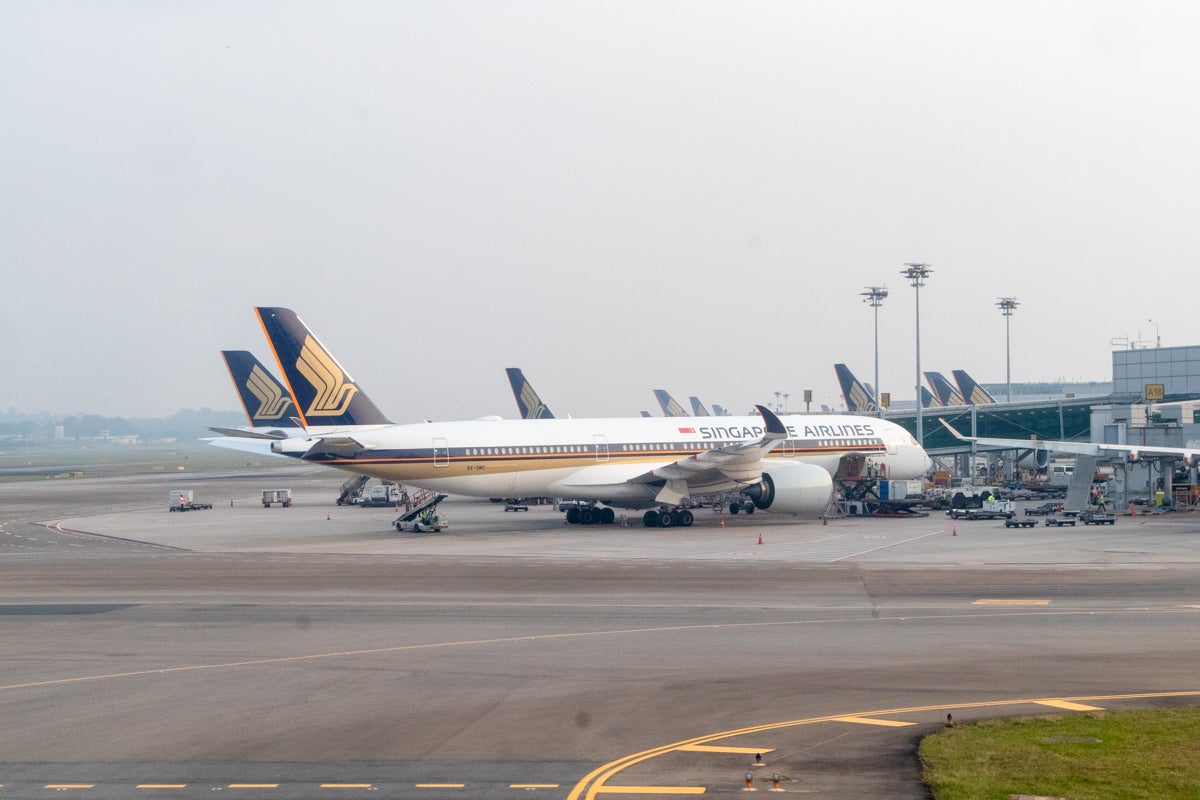 Our aircraft this evening was Singapore Airlines eleventh A350-900 delivered and was just 12-months young.
The long-haul Singapore Airlines A350-900 is configured with 42 flat-bed business class seats in a 1-2-1 configuration with 26 located between doors 1 and 2 and a smaller cabin of 16 seats behind door 2. Following that are 24 premium economy in 2-4-2 and 253 economy in 3-3-3.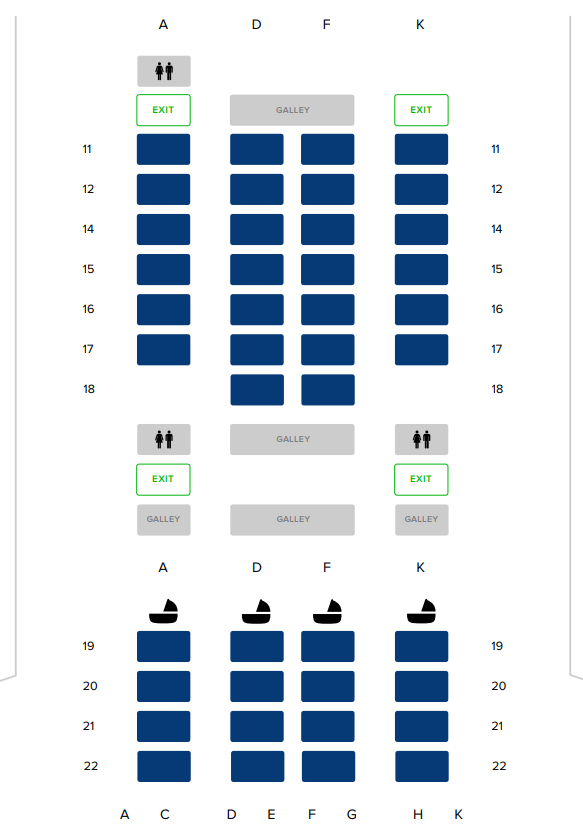 Singapore Airlines also has a regional configured A350-900 which has 40 flat-bed business class seats in a 1-2-1 configuration as installed in the carrier's Boeing 787-10 aircraft and 263 economy seats.
At the time of writing, Singapore Airlines currently flies the A350-900 to:
Adelaide
Amsterdam
Bangalore
Barcelona
Brisbane
Christchurch
Copenhagen (from October 2019)
Dusseldorf
Hong Kong
Istanbul (from December 2019)
Jakarta
Johannesburg
Kolkata
Kuala Lumpur
Los Angeles
Manchester
Melbourne
Milan
Moscow
Mumbai
Munich
Newark
Perth
Rome
San Francisco
Seoul
Seattle (from September 2019)
Tokyo Haneda
Business Class
Singapore Airlines reserves the prized bulk-head seats for its highest PPS status passengers and parents needing a bassinet. However, 3 days before departure, the airline will unlock these seats online to other passengers. I've had previous success selecting these seats, including the newly configured A380 from London.
Although I usually select a window seat, especially in an Airbus A350 where you get a view of that beautiful wing, I knew the Singapore Airlines A350 non-bulkhead seats have smaller footwells and you are required to sleep on an angle.
So, I first verified that our scheduled 6:30 a.m. arrival into Dusseldorf was going to be 45 minutes before sunrise and our 11:30 p.m. departure meant the flight would be in total darkness so there wouldn't be anything to see out the window anyway.
Due to this, I aimed to snag one of the bulkhead seats that would provide us with extra legroom, so I set a reminder 3 days before departure. At this time, the only options we had were 19D and 19F, at the front of the rear cabin, so I quickly acted to allocate those seats to us.
Anyone who has flown Singapore's long-range 777 will find the seat and cabin very familiar. It doesn't have the same 'wow' factor as the new A380 cabins.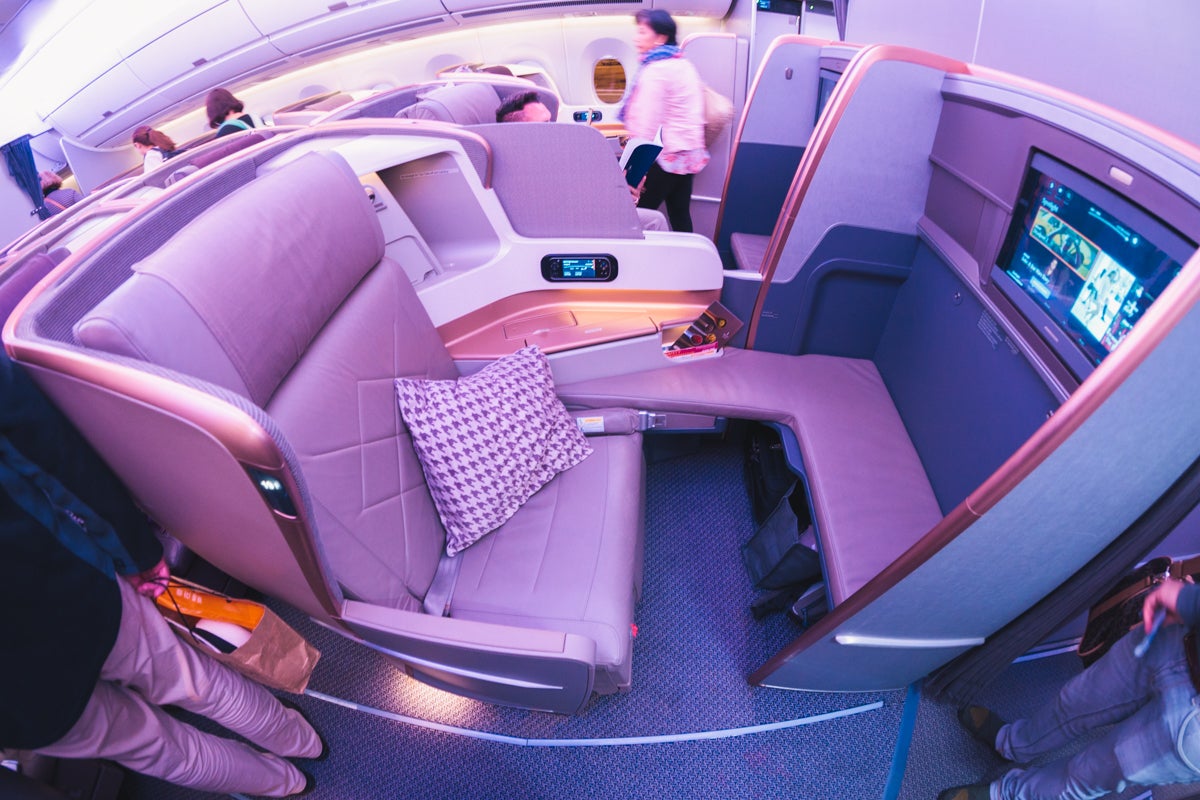 The bulkhead seats provide so much extra space thanks to a wide ottoman to rest your feet on. The seat is also wide and comfortable to relax in. Thankfully, it isn't as wide as the oldest Singapore Airlines A380 seats that I believe are difficult to get comfortable in.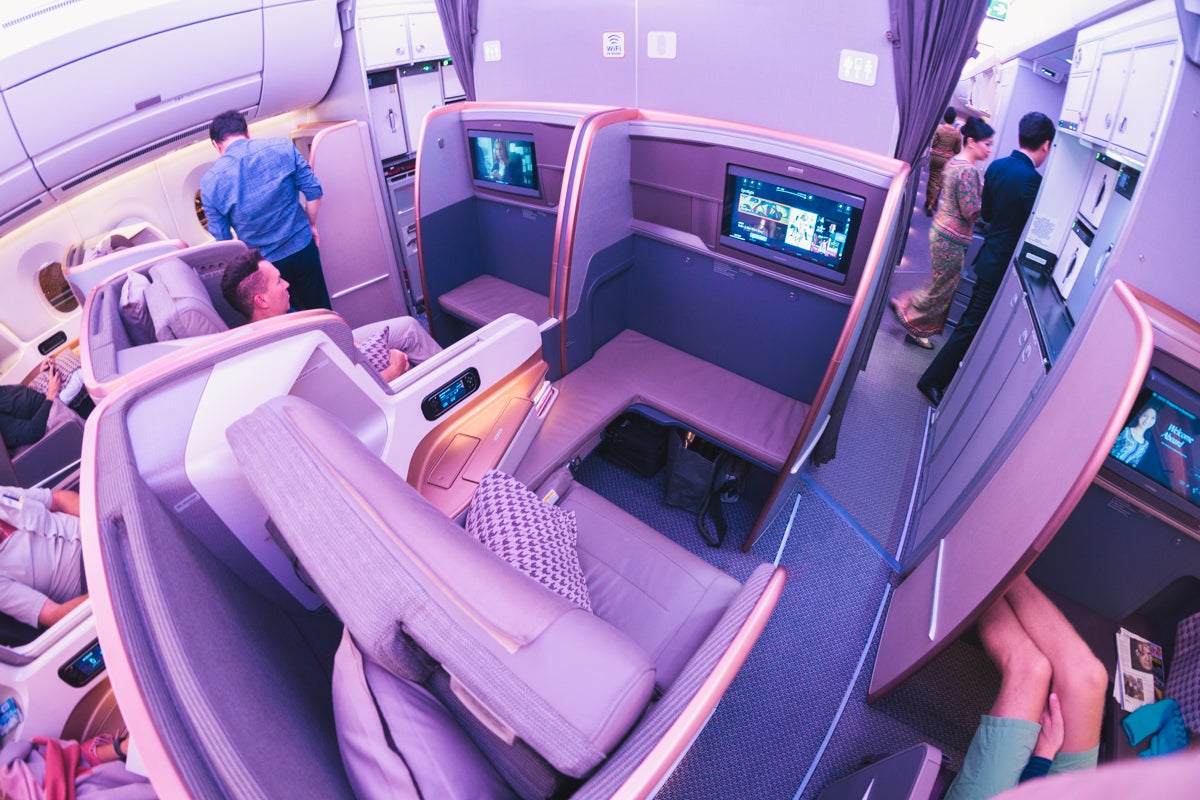 The seats provide excellent storage space under the ottoman, so I didn't have to store anything into an overhead bin.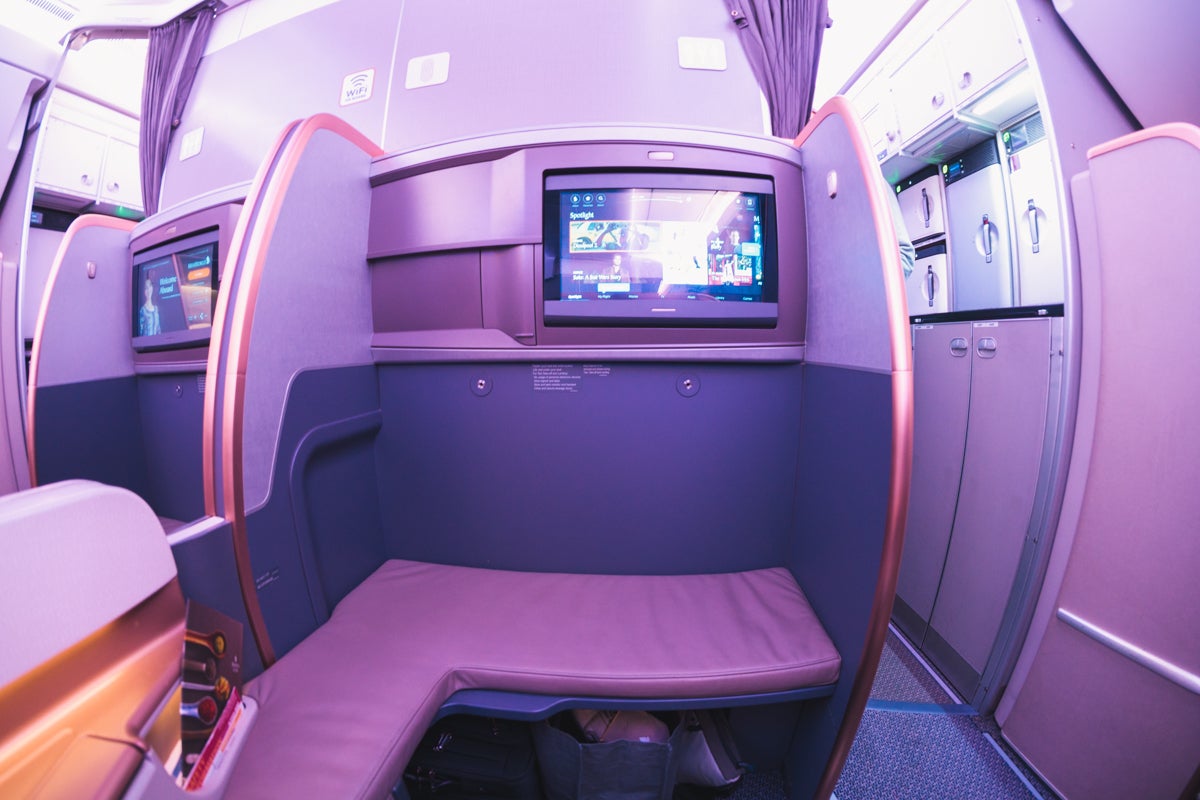 There are no overhead bins down the center of their business class cabins, yet the cabin doesn't feel spacious as the seats seem quite bulky.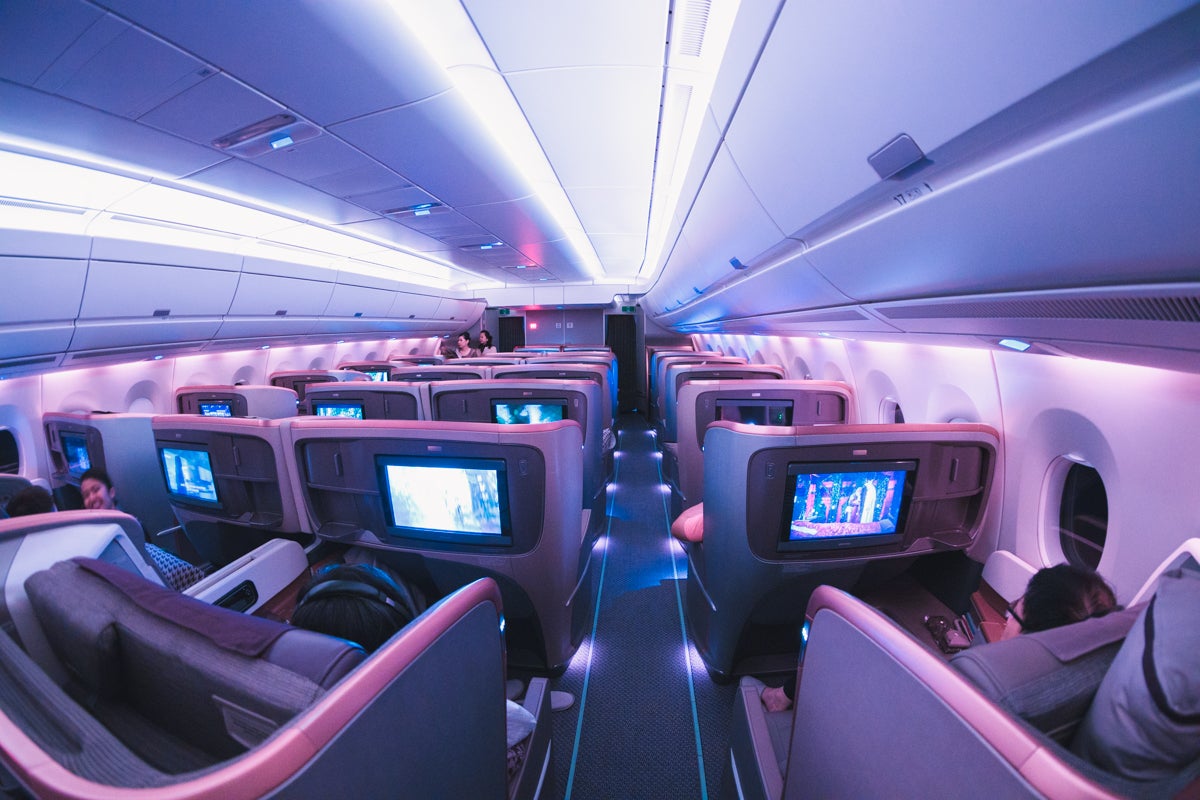 With a full flight, the rear business class cabin was kept very busy during boarding as the 211 passengers in premium and economy passed through the cabin with cabin crew jumping in and out of the way to provide pre-departure beverages to the business class cabin.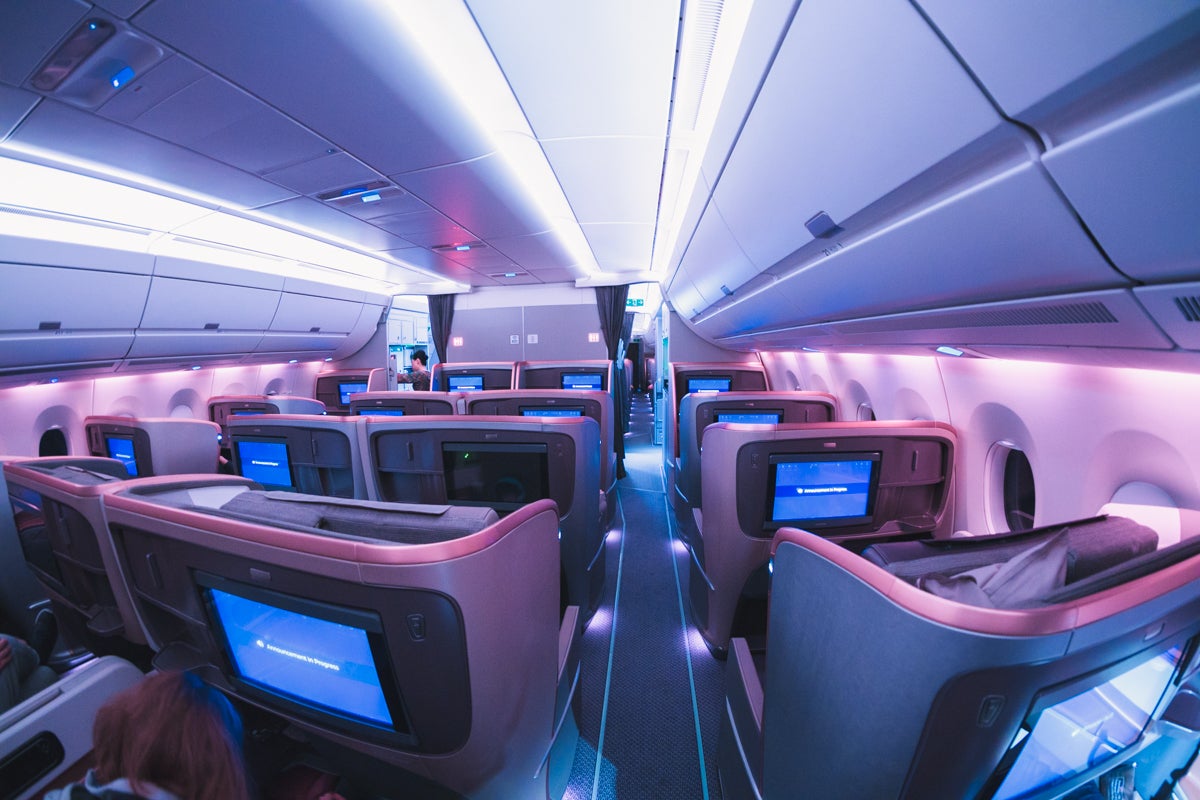 For passengers in a middle seat, a privacy screen between the seats extends out if you don't know the person next to you.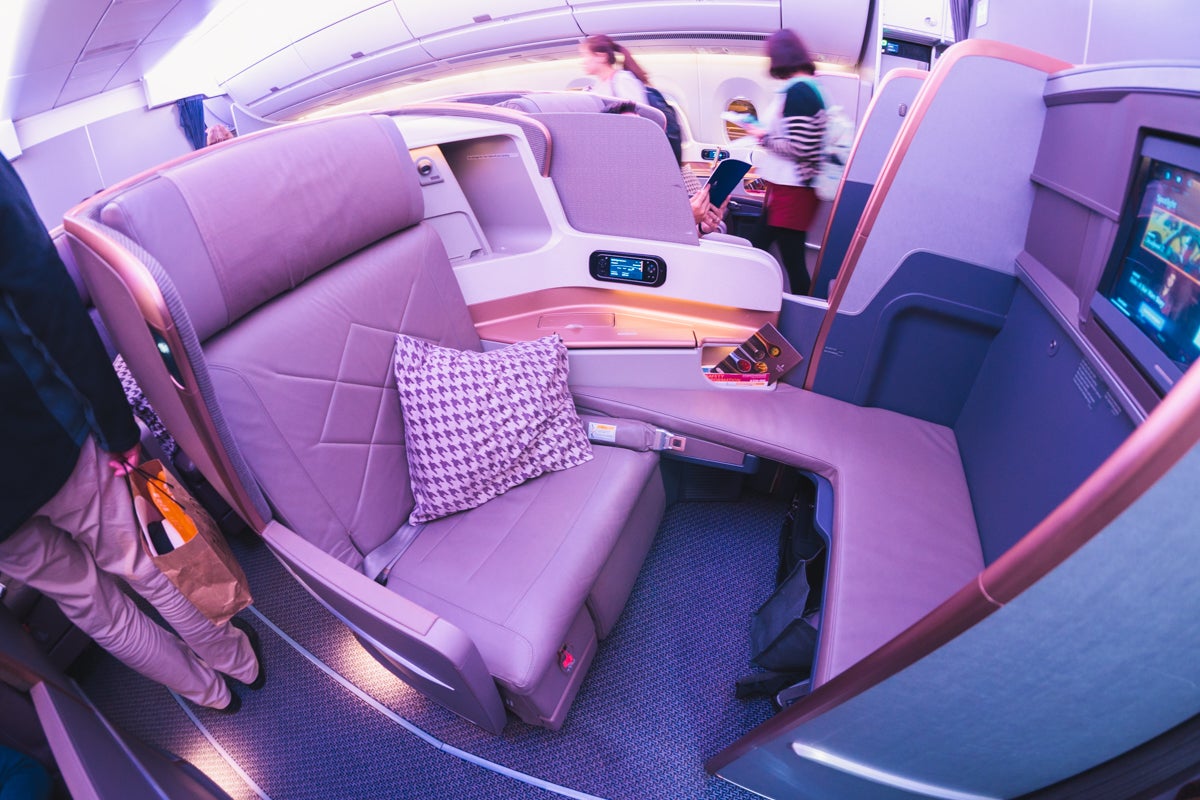 Unfortunately, you'll be able to see what they are watching the entire flight, which may be a distraction.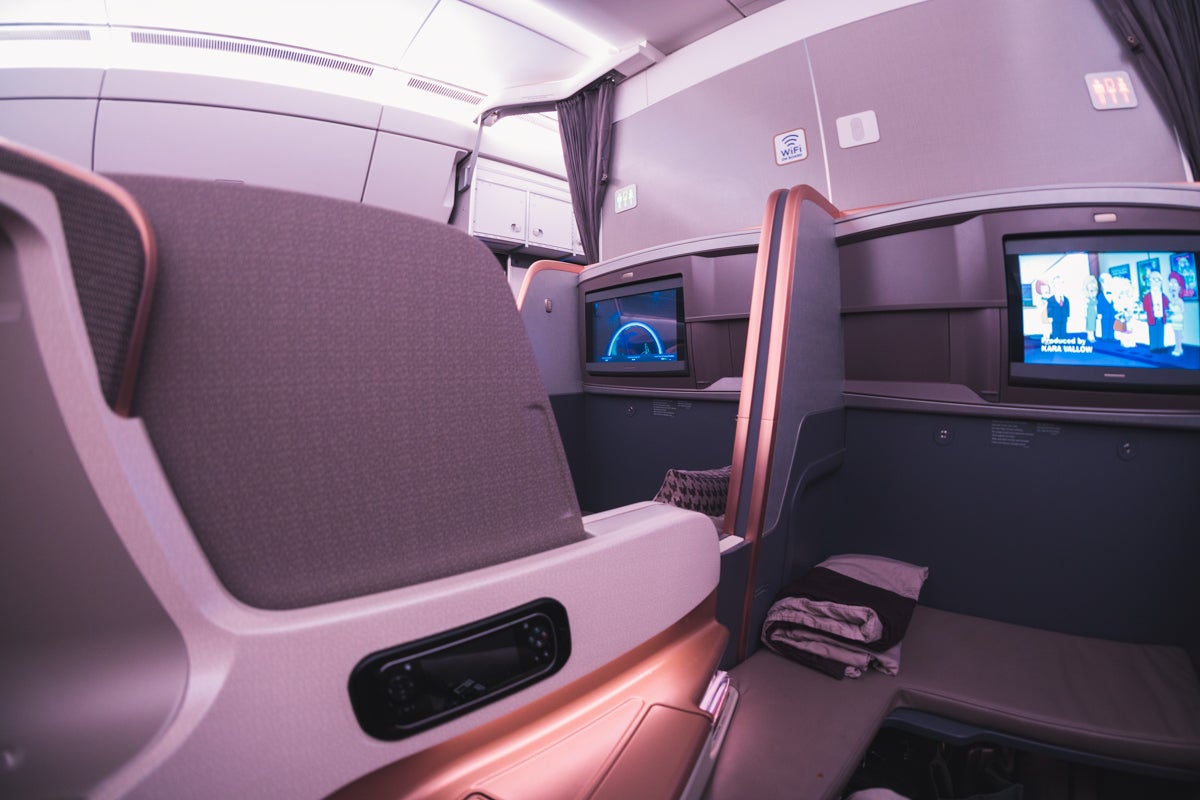 These bulkhead seats miss out on the storage compartment next to the IFE screen and beverage shelf but with this much legroom, it's a small price to pay.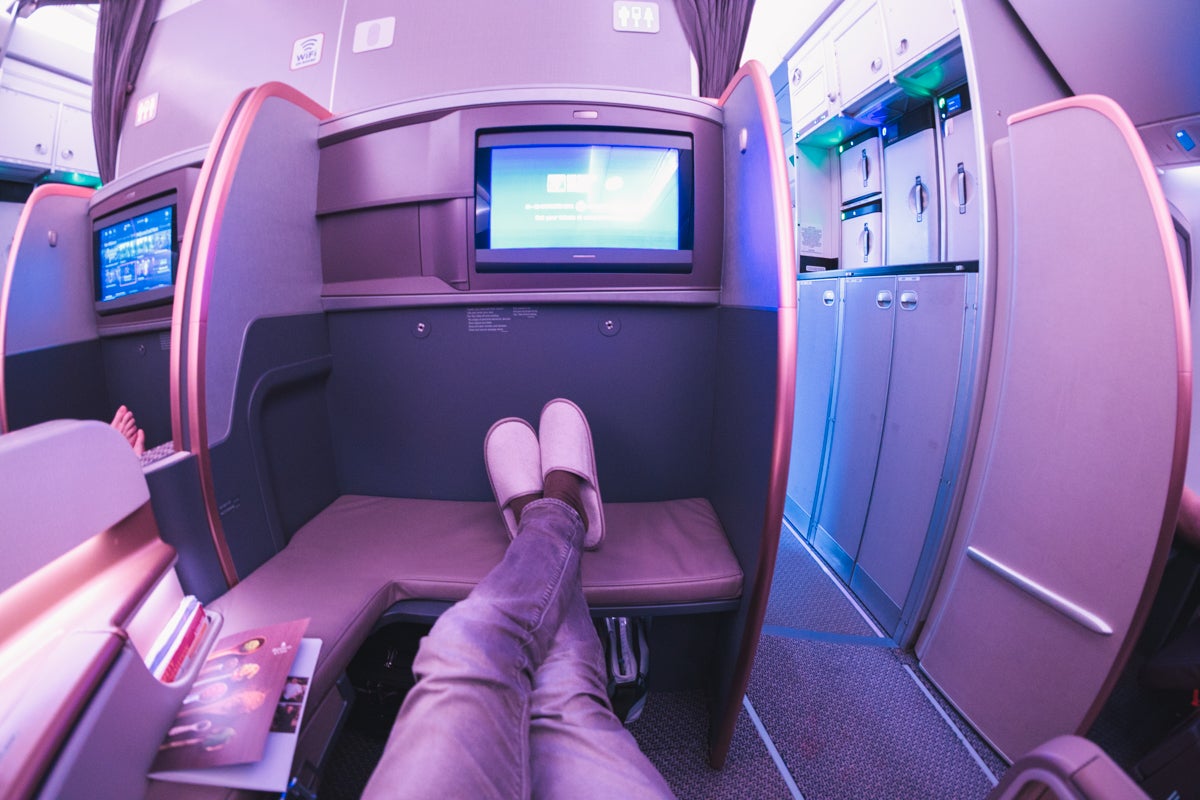 I feel that the seat shell on the aisle-side could extend further forward as I had a constant feeling of the passenger across the aisle staring at me taking lots of photos at my seat.
At head-height, you'll find a small storage pocket which has the noise-canceling headphones, reading light, and headphone adapter.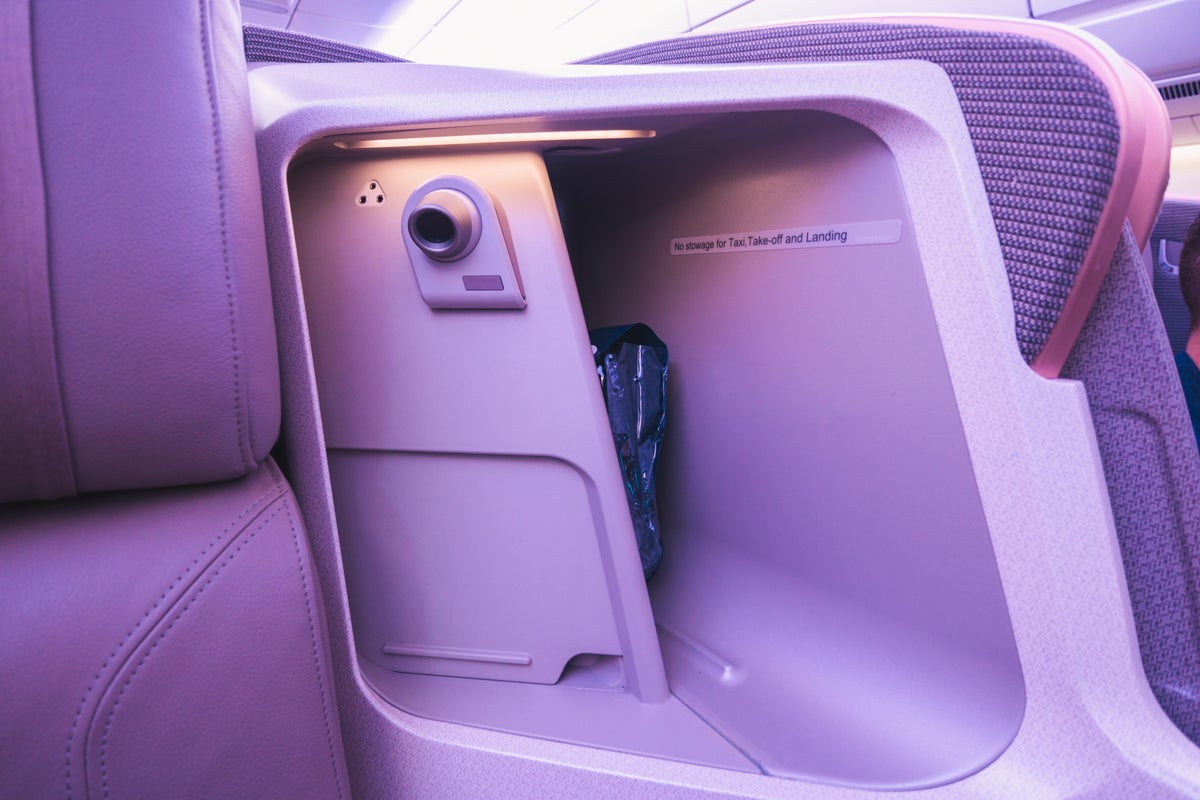 Slide open the door under the personal spotlight and you'll find a power adapter, HDMI, 2 USB sockets and a socket for your iPod (for those who still travel with an iPod, all 3 of you).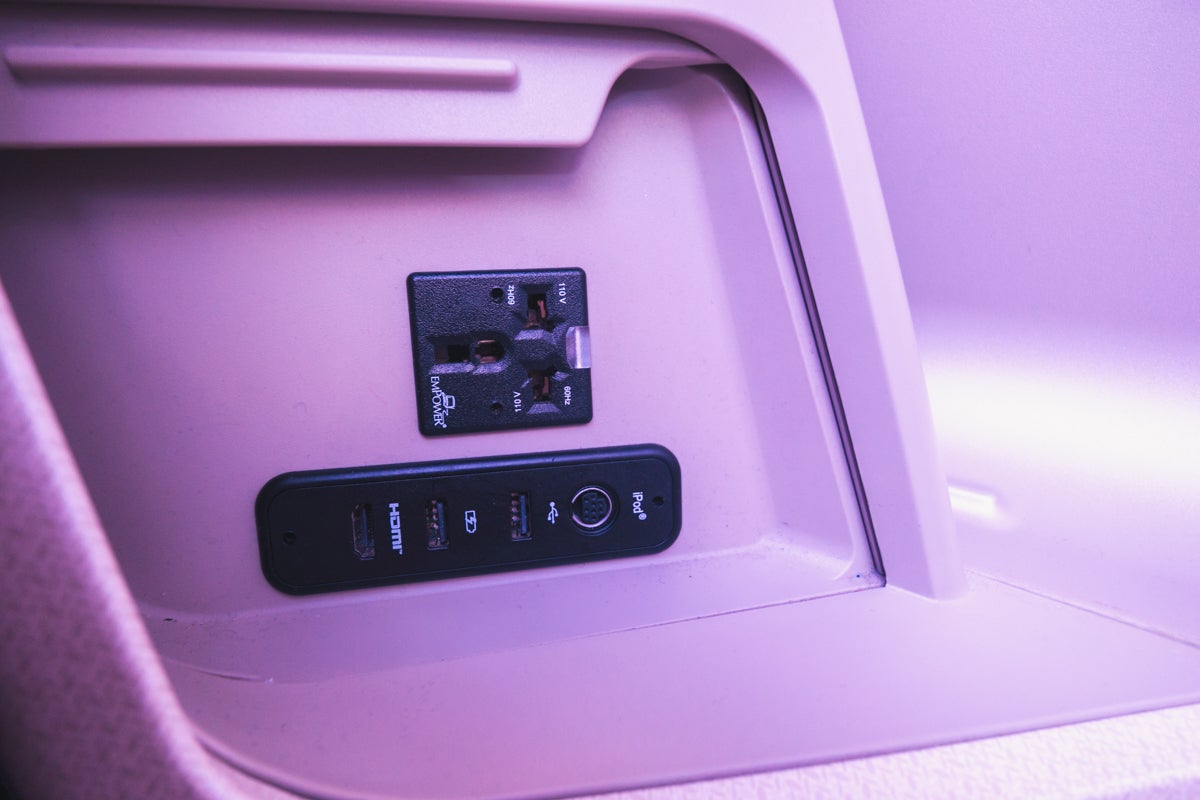 Alongside the seat console is an enclosed storage bin with a flip-up lid.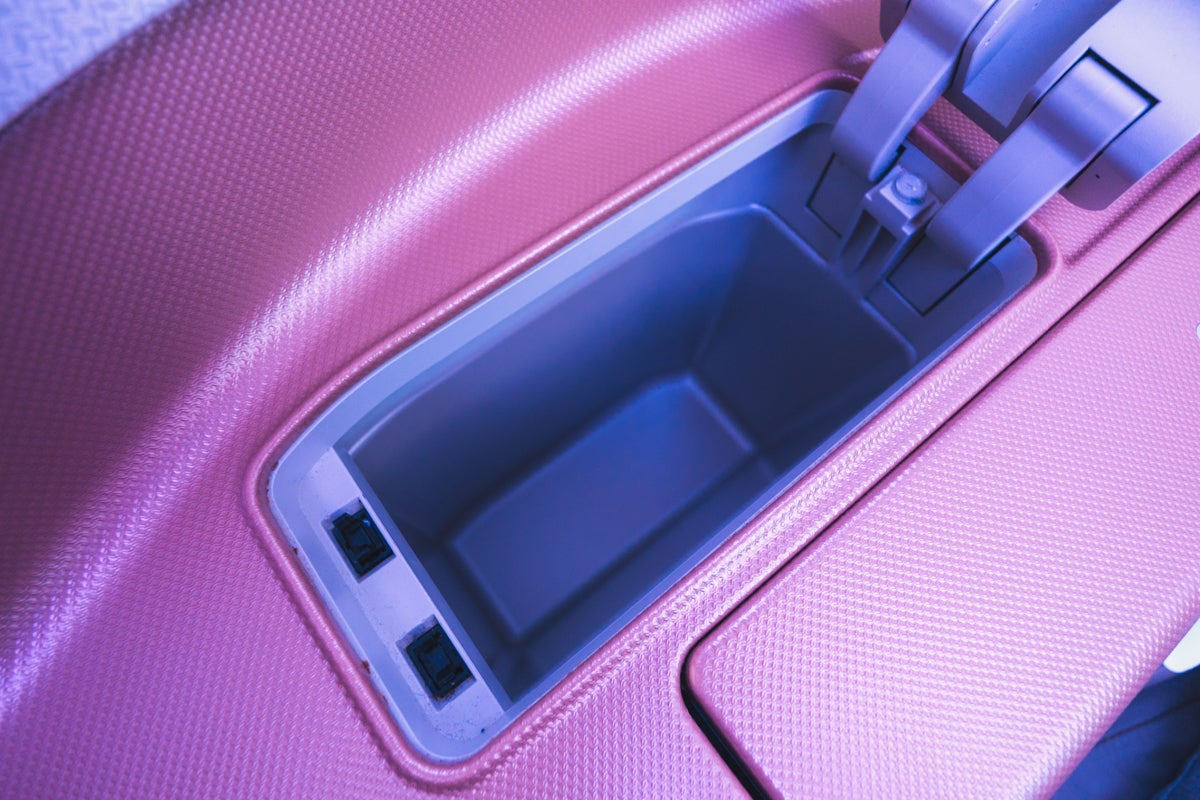 Seat controls are on the adjacent side of the seat including the crew call button, a do not disturb button, and shortcut to power down the IFE monitor, great for when you head to bed and don't want to fumble with the remote.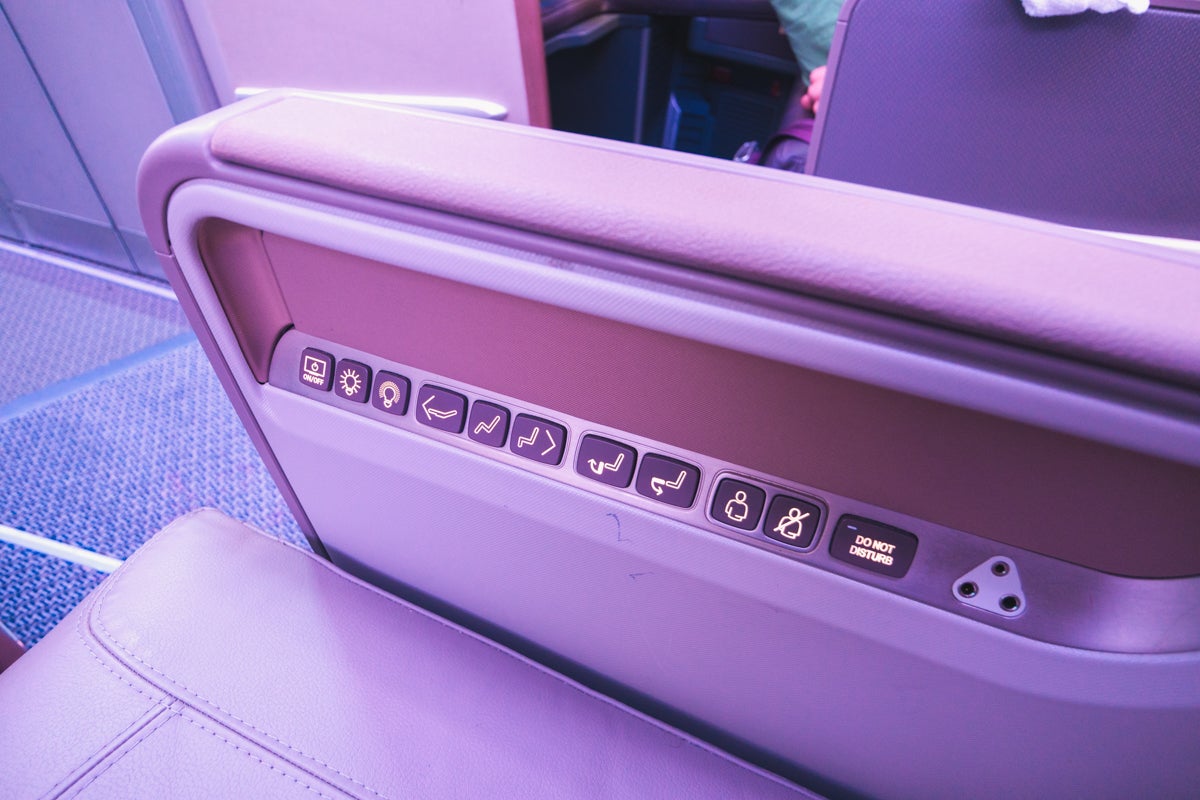 Over your shoulder on the seat shell are 3 lights with multi-stage brightness.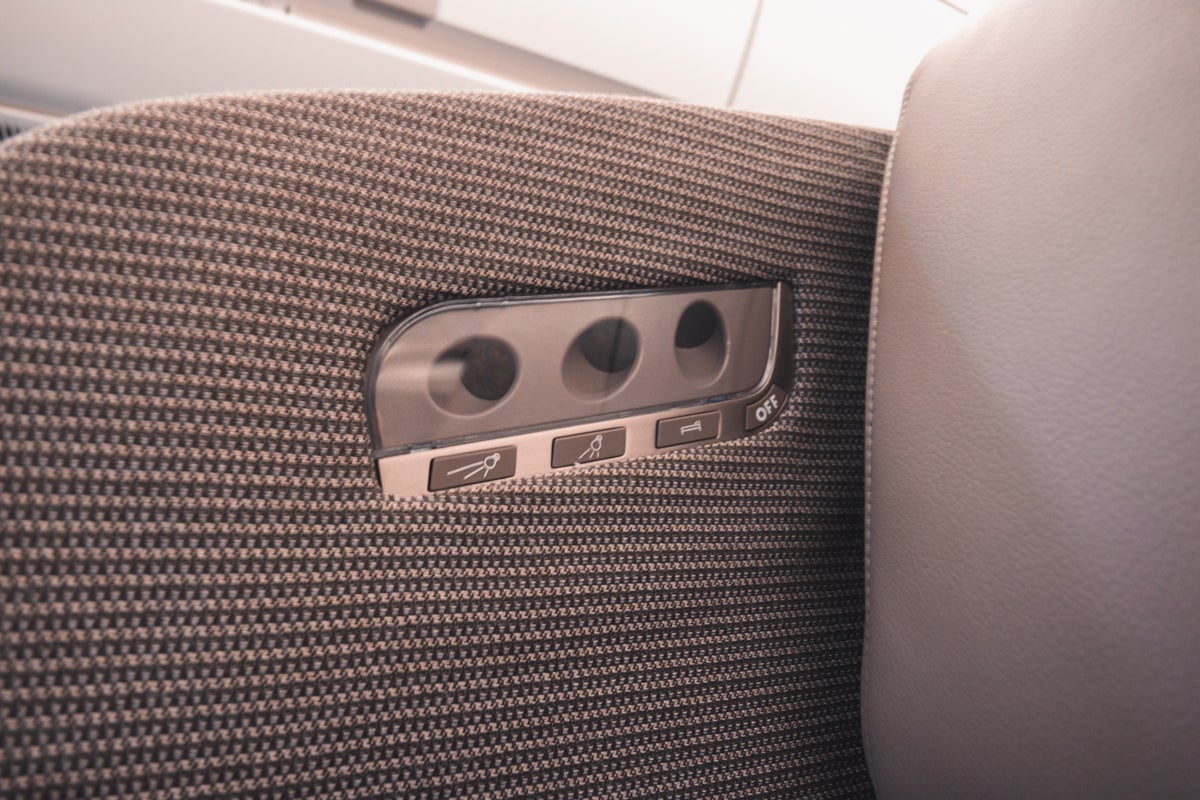 There are only 3 lavatories for 42 passengers: 1 at the front, and 2 ahead of door 2, providing a passenger to toilet ratio of 14:1. Before descent, I had a 30-minute wait to use a bathroom.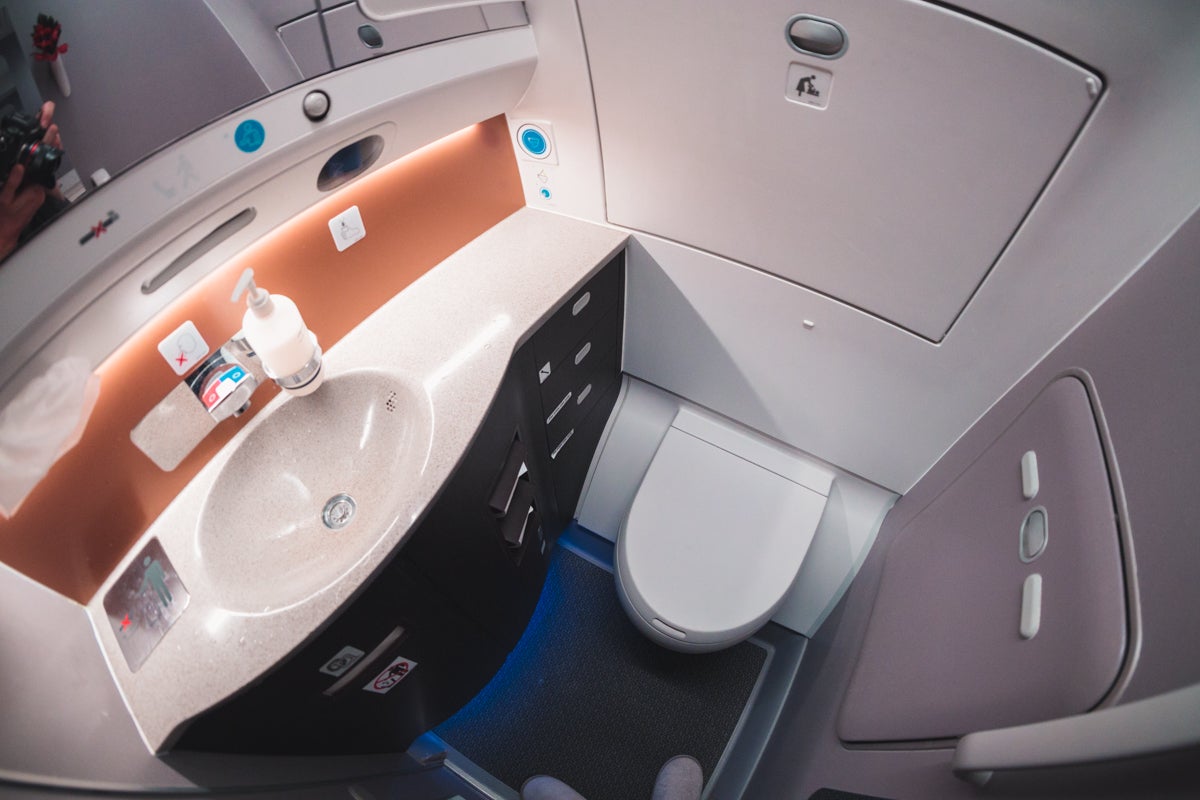 When it's time to sleep, you need to page a crew member to convert it to a bed or you can do so yourself if you're familiar with the process.
Rather than the seat simply sliding all the way flat, these seats flip over revealing a completely flat sleeping surface with a mattress pad for extra comfort. I've heard many complaints about this process. However, I personally prefer a seat surface for sitting on and a dedicated sleeping surface for sleeping on.
When at home, you usually don't go from sitting on the lounger to sliding down and going to sleep. Instead, you head to the bathroom, jump into PJs, and hopefully clean your teeth before heading to bed. On Singapore Airlines, you can do all this whilst a crew member makes up the bed for you.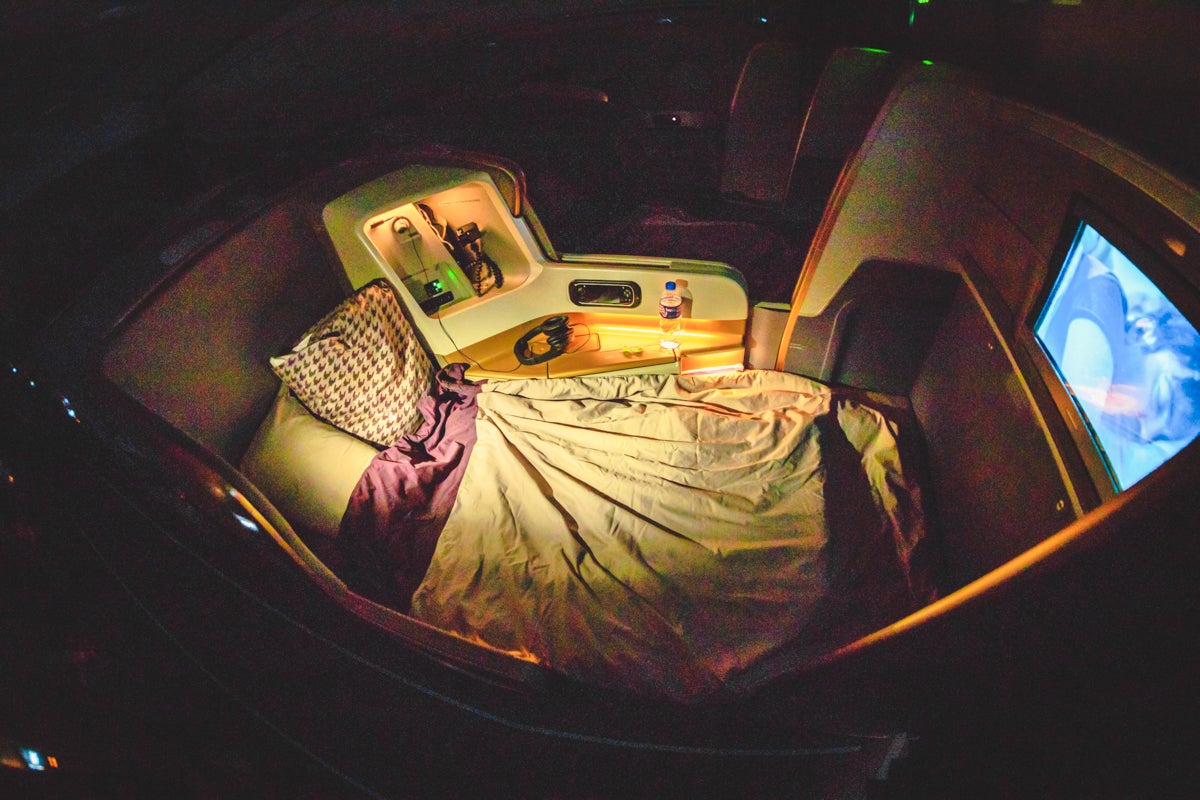 The bed will most likely be firmer than your one at home. However, I don't mind a firm mattress and was able to obtain a solid 7 hours sleep. The comfortable cabin temperature and draft-free air conditioning system in the new A350 also aided my sleep.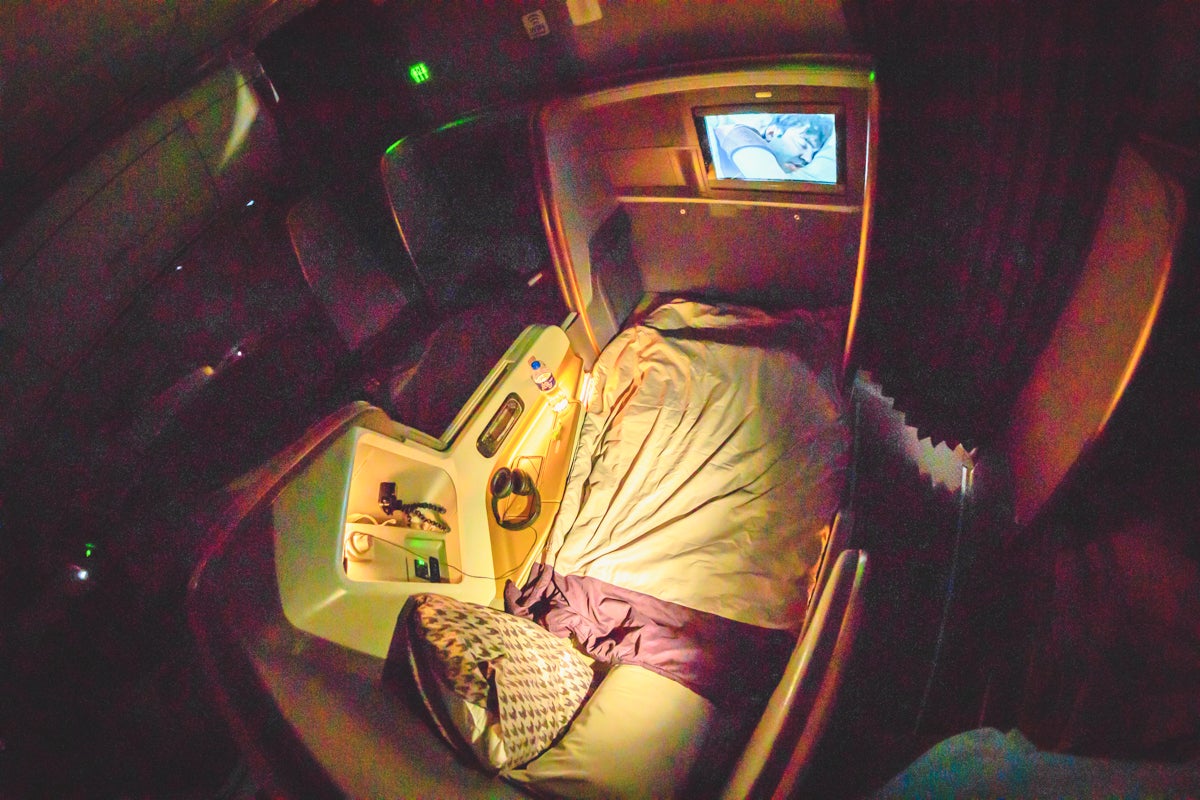 Like all Airbus A350 aircraft, the lower cabin pressure means more oxygen in the air and you'll feel better for it after a long-haul flight.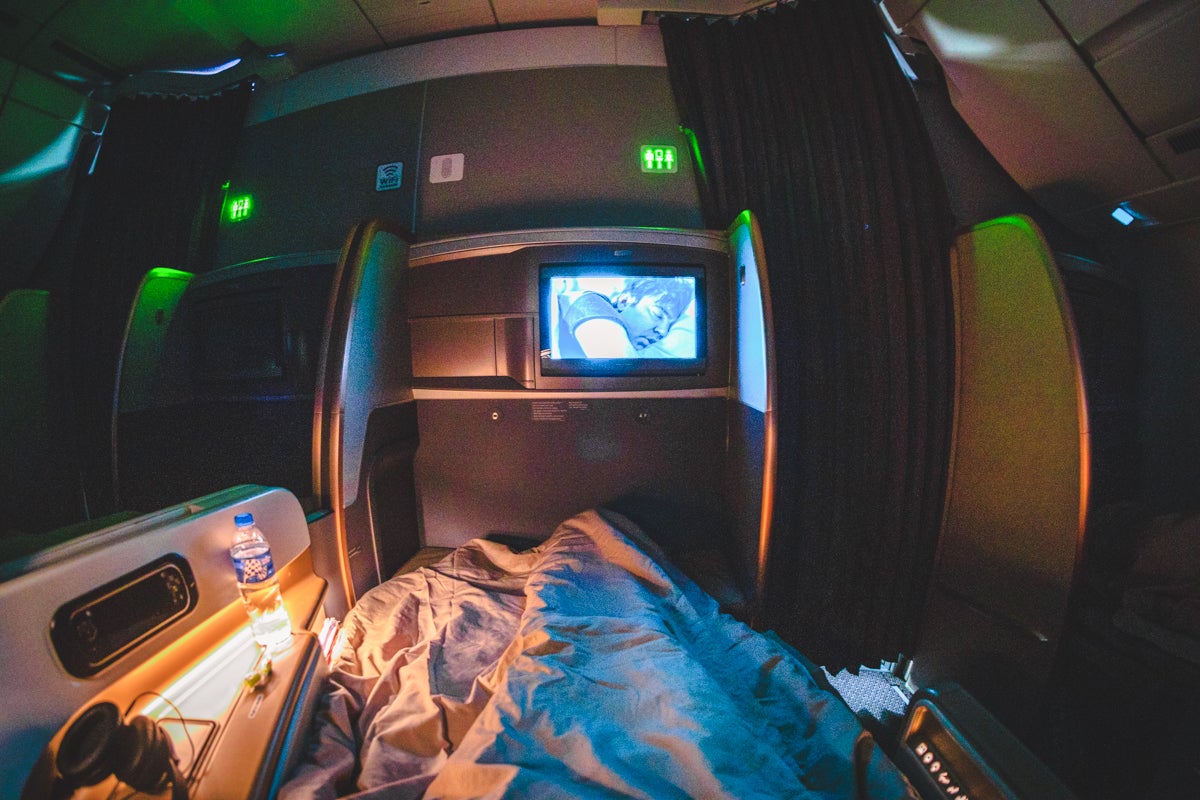 Amenities
Singapore Airlines does not provide business class passengers with amenity kits, yet you will find a pair of socks, eye mask, and slippers at your seat upon boarding.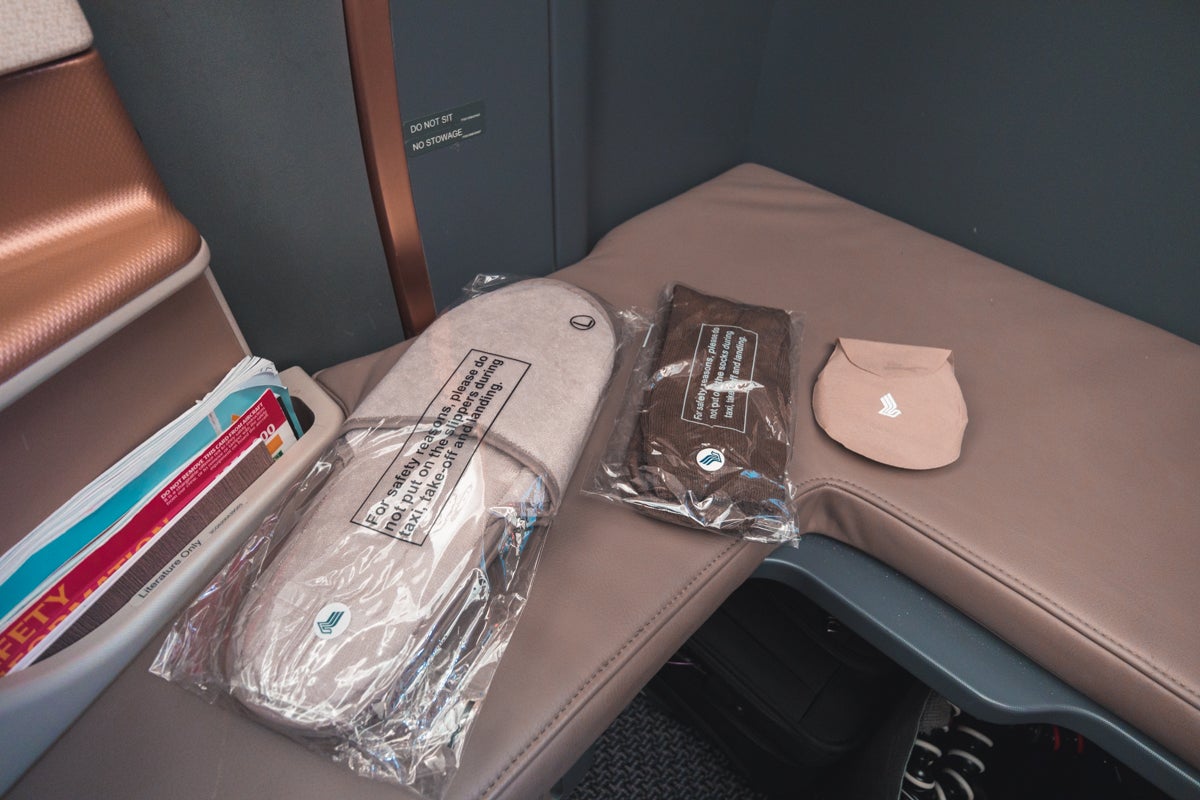 If you need a dental kit, these are in drawers in the lavatories.
A key omission I found for this long-haul overnight flight was earplugs, but thankfully I always have a spare pair available in my travel kit.
There are also no pajamas provided so make sure you bring your own.
Entertainment
Singapore Airlines has a large 18-inch IFE running its latest generation interface that also allows you to pair your mobile device. Branded KrisWorld, it's packed full of new release movies, TV shows, and music.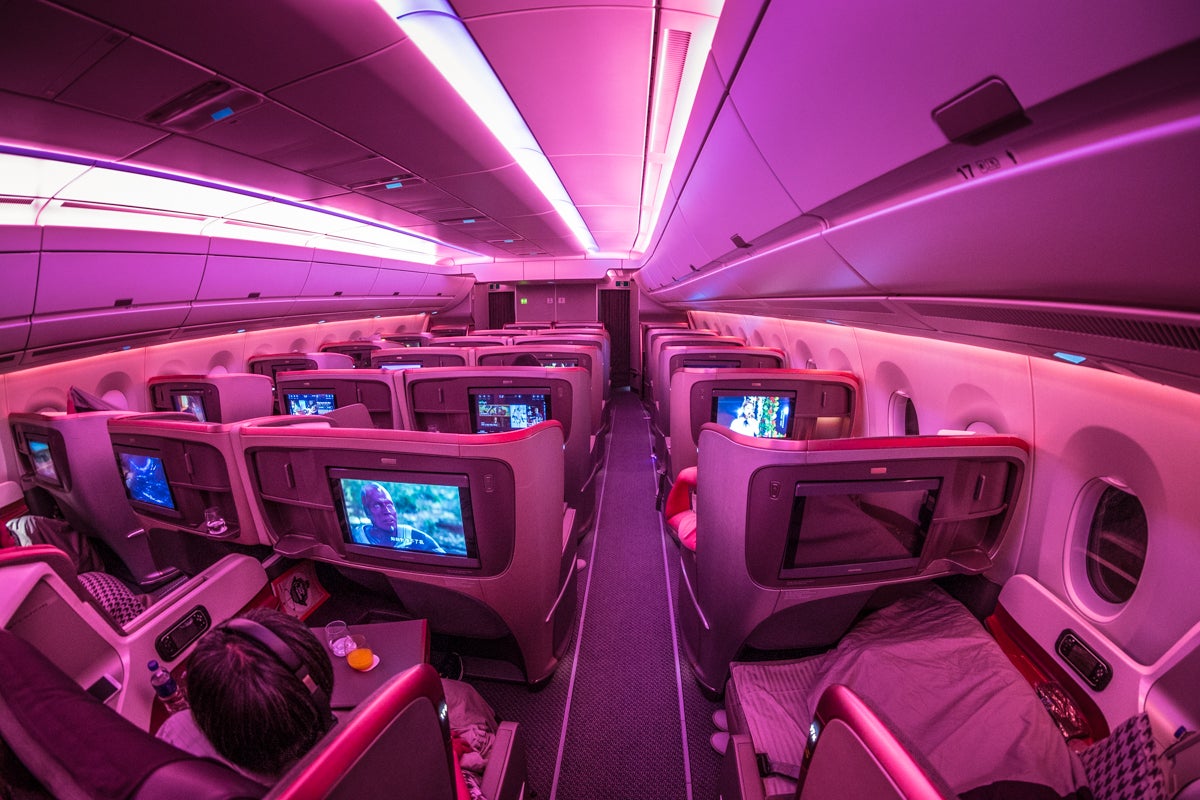 There are 2 minutes of advertisements to wait or fast-forward through before any of the content starts.
It also angles downwards so when you're in bed you can see the screen clearly.
Due to the distance of the seat from the screen, it isn't a touchscreen, so you'll need to use the remote to control it.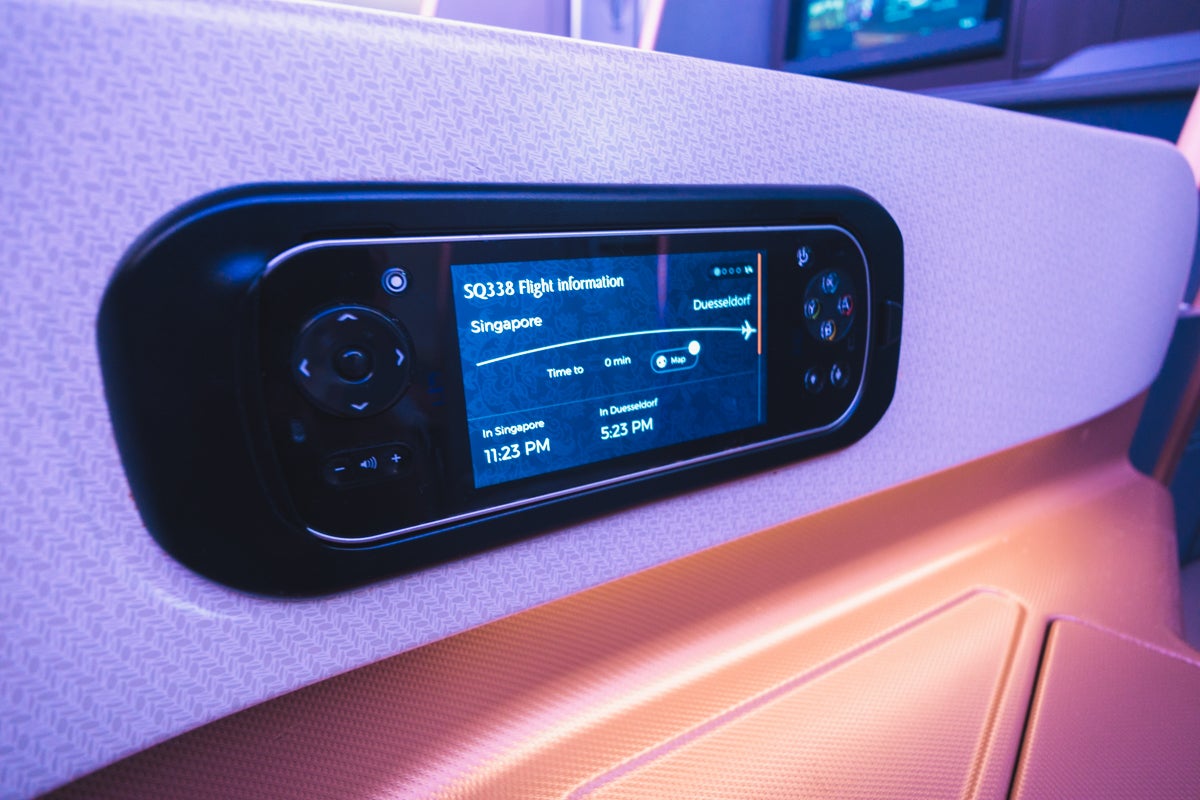 Singapore Airlines provides complimentary internet for first class and business class passengers, but with only 100 MB for first and 50 MB for business class passengers. Even when you turn off all background data usage, you'll use up your allowance in no time.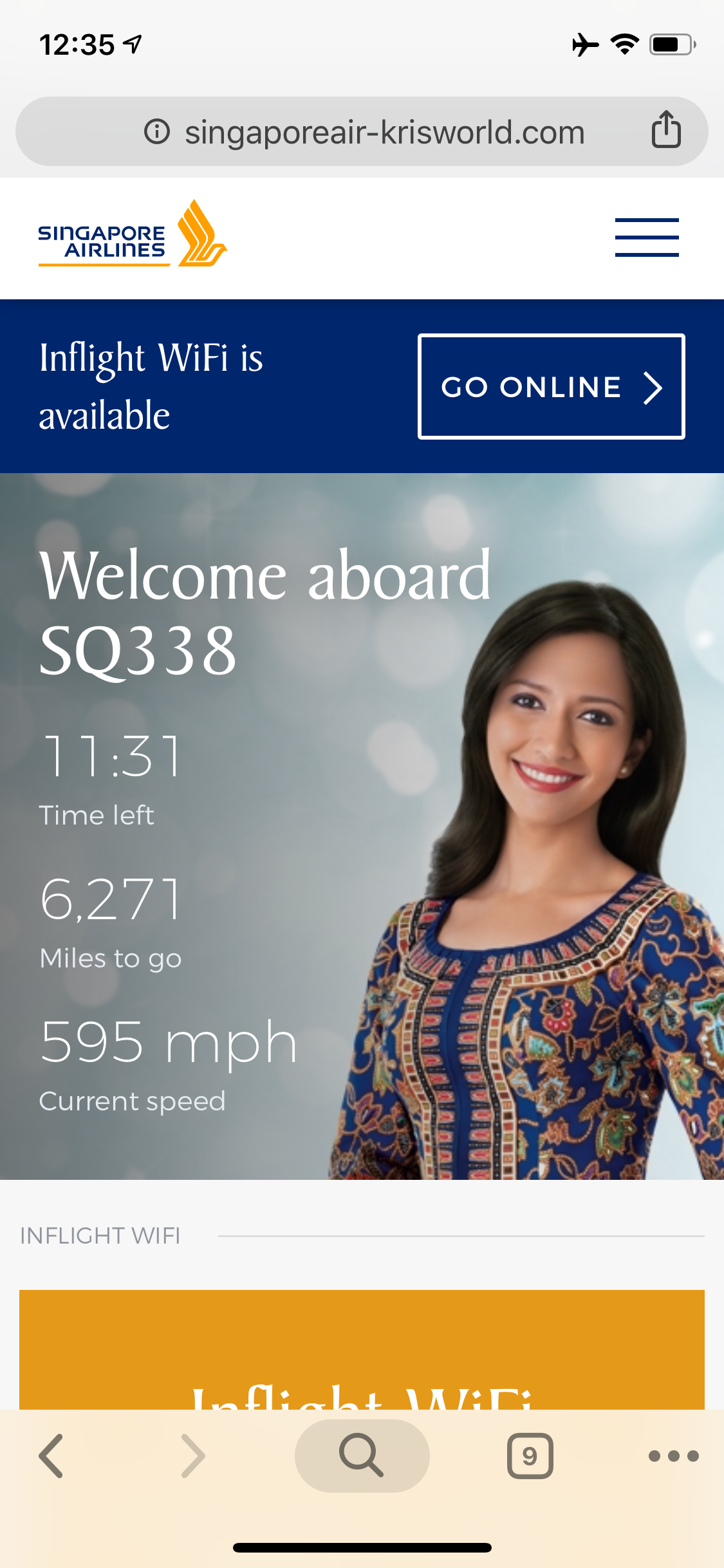 Singapore Airlines price its Wi-Fi based on data consumption and the plans only top-out at 200 MB. I wanted to maximize my sleep, so I didn't test out the Wi-Fi on this flight.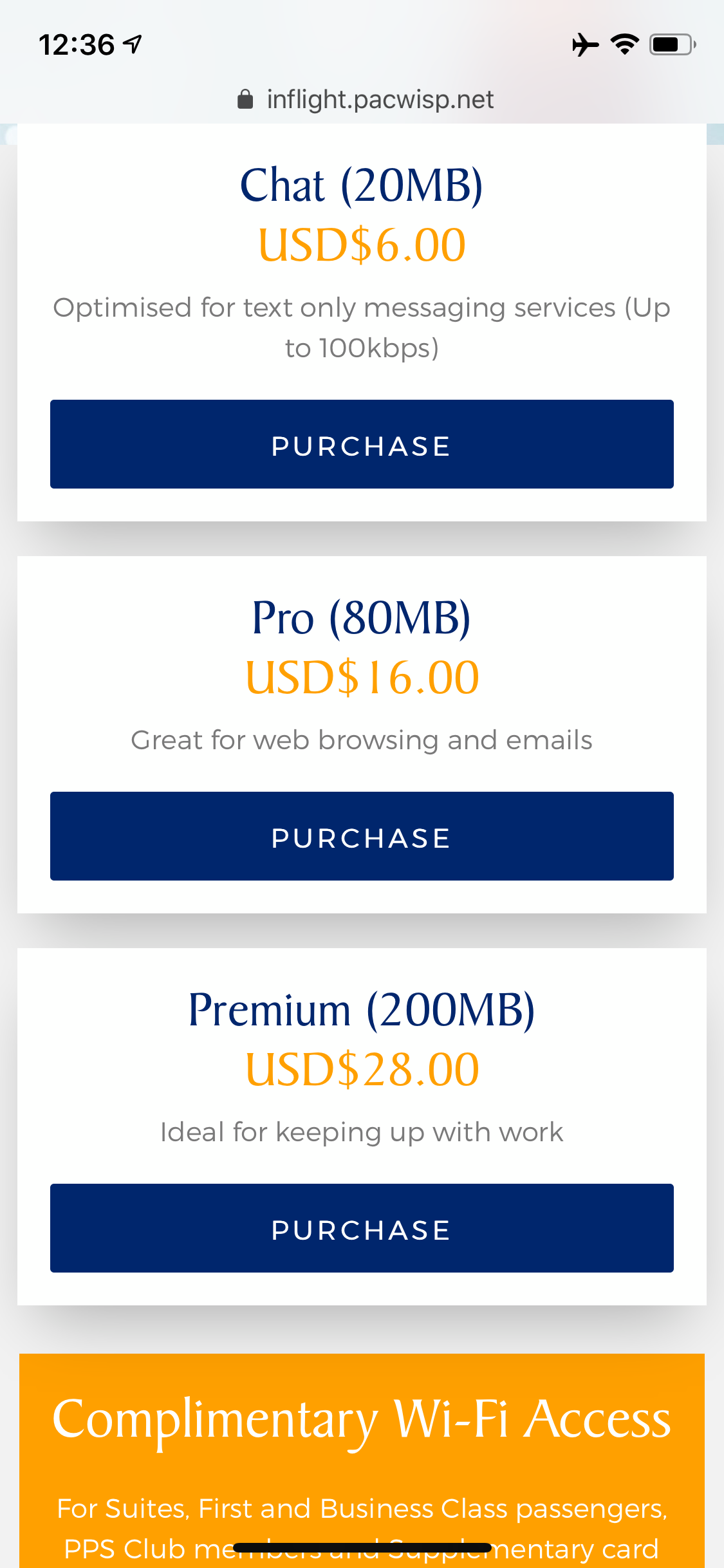 Rather than provide an insignificant free option, I would prefer the airline just provide timed options instead. I am not a fan of the data consumption options and would prefer to buy a "flight pass."
Meal and Service
Upon boarding, I was offered a glass of Charles Heidsieck Brut Reserve Champagne ($50 a bottle), orange juice, or water. I opted for the Champagne.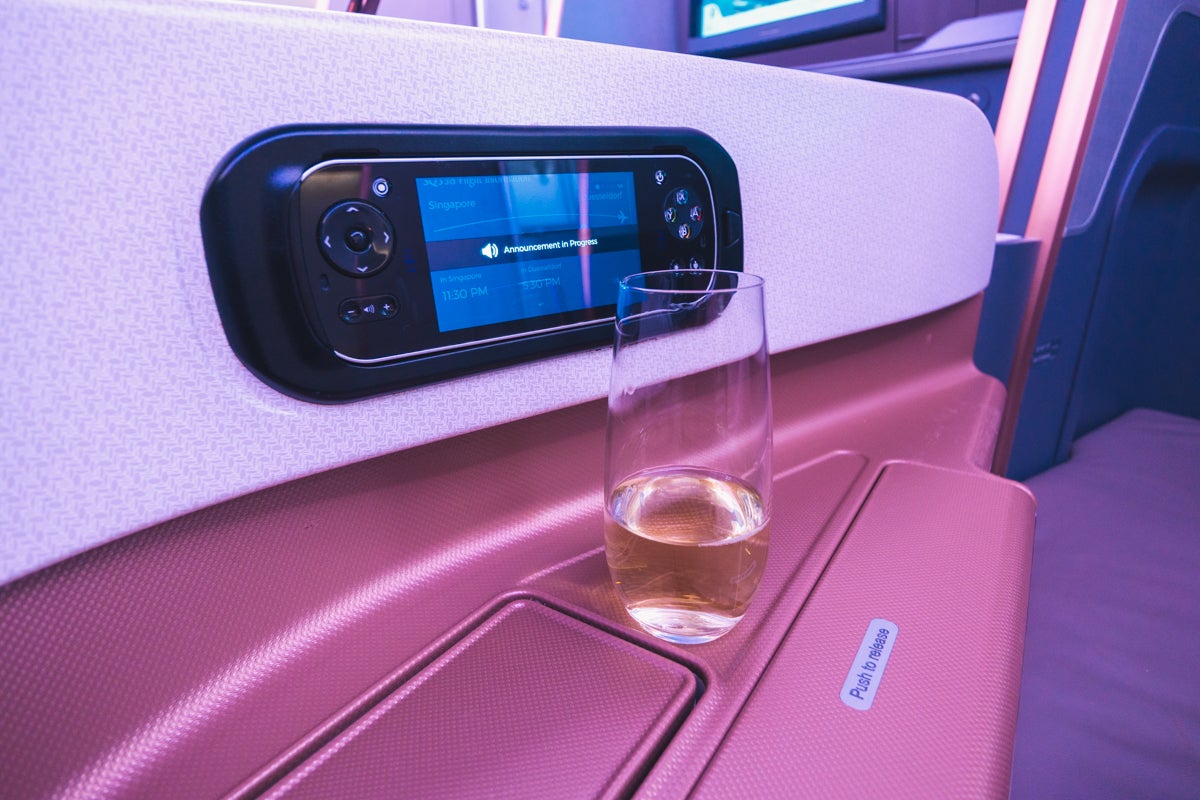 The flight departed 1 minute ahead of schedule at 11:29 p.m. Due to the late evening departure, the crew seemed to be in a hurry to get the service over with as quickly as possible. No crew members introduced themselves to us and there was no small talk during the flight.
After take-off, the crew took beverage and meal orders. I always like to start off with a Singapore Sling which was accompanied by some warm nuts which arrived around 50 minutes into the flight.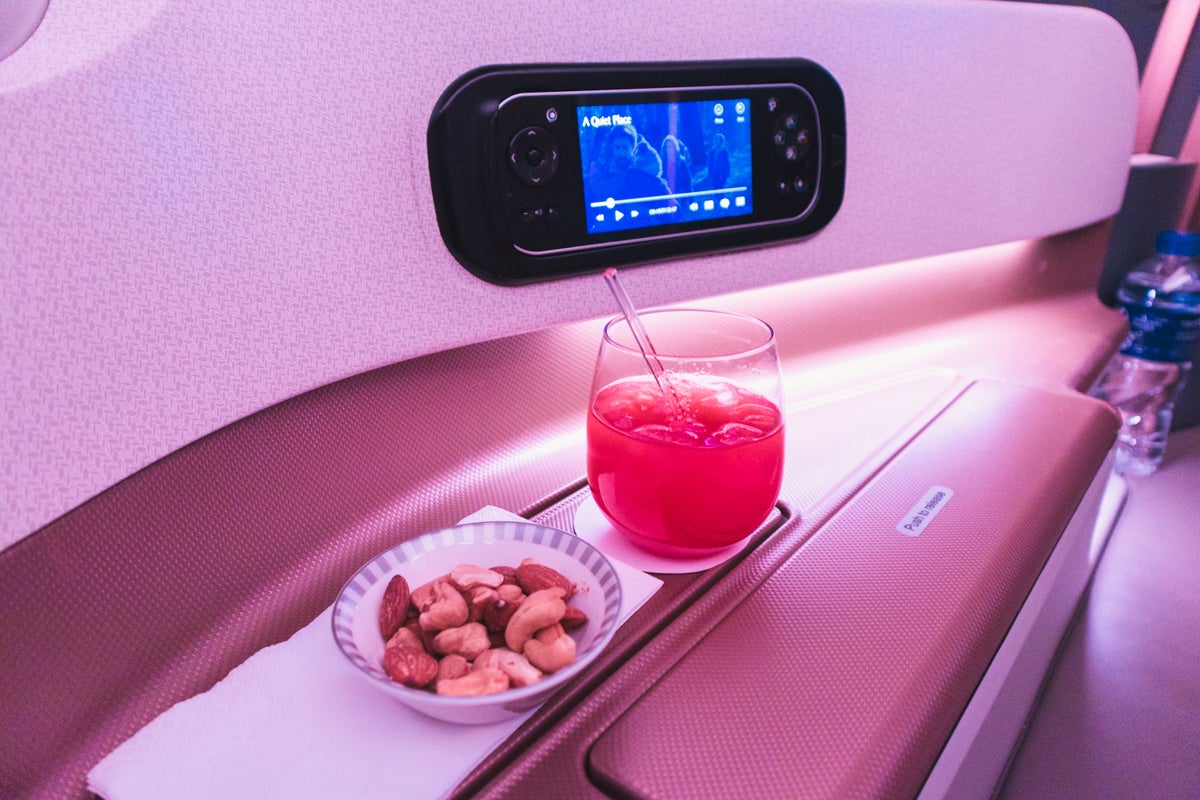 On longer flights, such as this one, the crew will set the tray table for each passenger, placing the salt and pepper shakers, glasses, and cutlery. They don't use trays for meal delivery unlike Cathay Pacific who continue to use trays even in their new meal service.
Singapore Airlines also provides an appetizer during supper services, unlike Cathay Pacific, albeit without a choice. I really enjoyed the Seared Tuna with Niçoise Salad which was very fresh and arrived 1 hour 45 minutes into the flight.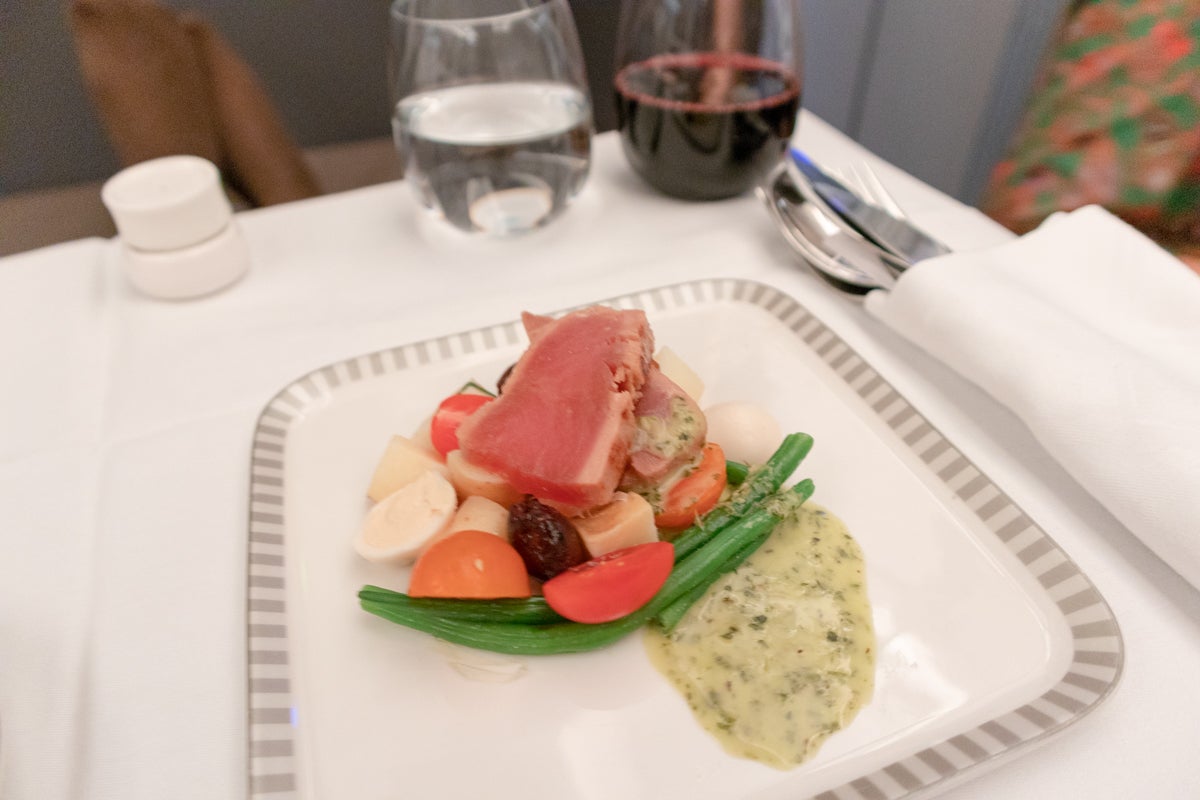 A few days prior to departure I checked the Singapore Airlines website to see what meal options I had on board and decided against the "Book the Cook" option as I liked the sound of the Grilled Lamb Kabab on a Farro, Pumpkin, Spinach and Beetroot Salad on the menu.
Supposedly when Farro is paired with red meat and beetroot, it improves muscle oxygenation, so it is perfect for a long-haul flight meal.
Those health benefits may have been lost on me when I also paired it with a few glasses of the 2014 Chateau Larose Perganson, Haut-Medoc, France ($30 a bottle).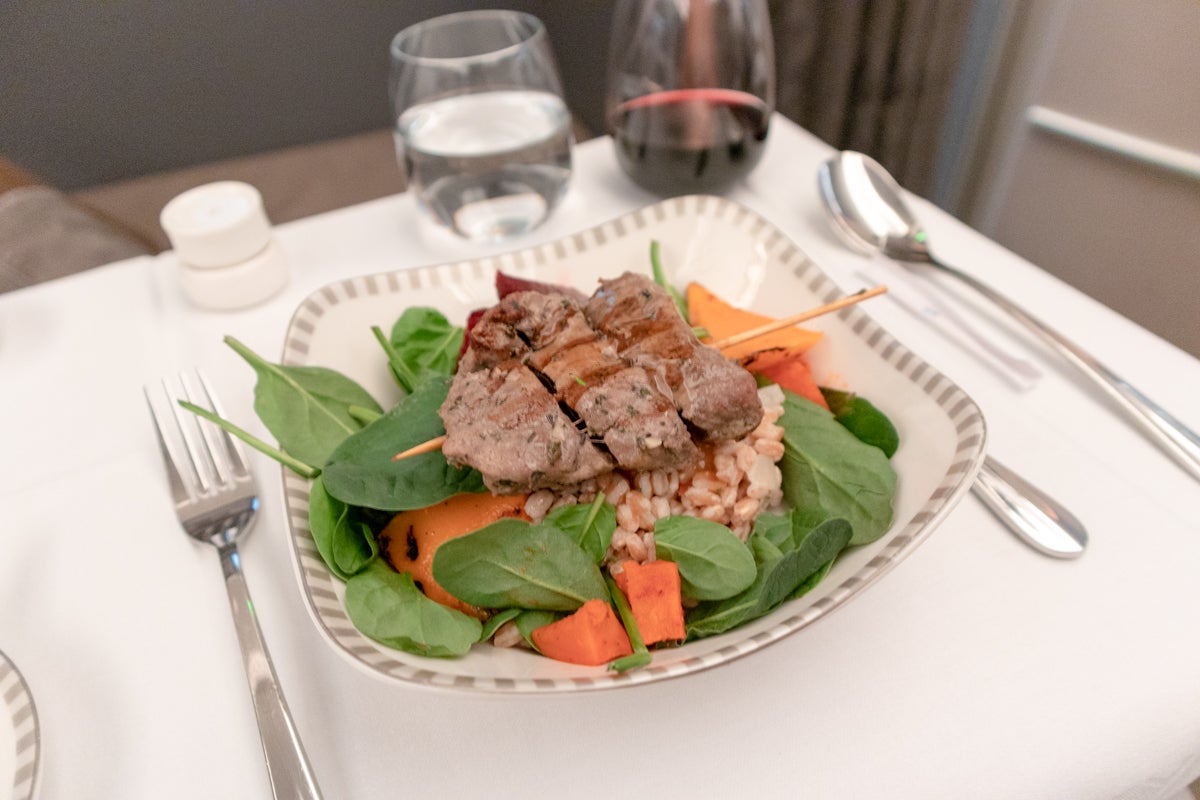 The other main course options were:
Braised Chicken Thigh in Basquaise Sauce
Fried Hokkien Mee
Dessert, fruit, or cheese finished off the supper service. I opted for the Nanyang Coffee Mousse with Chocolate Cake.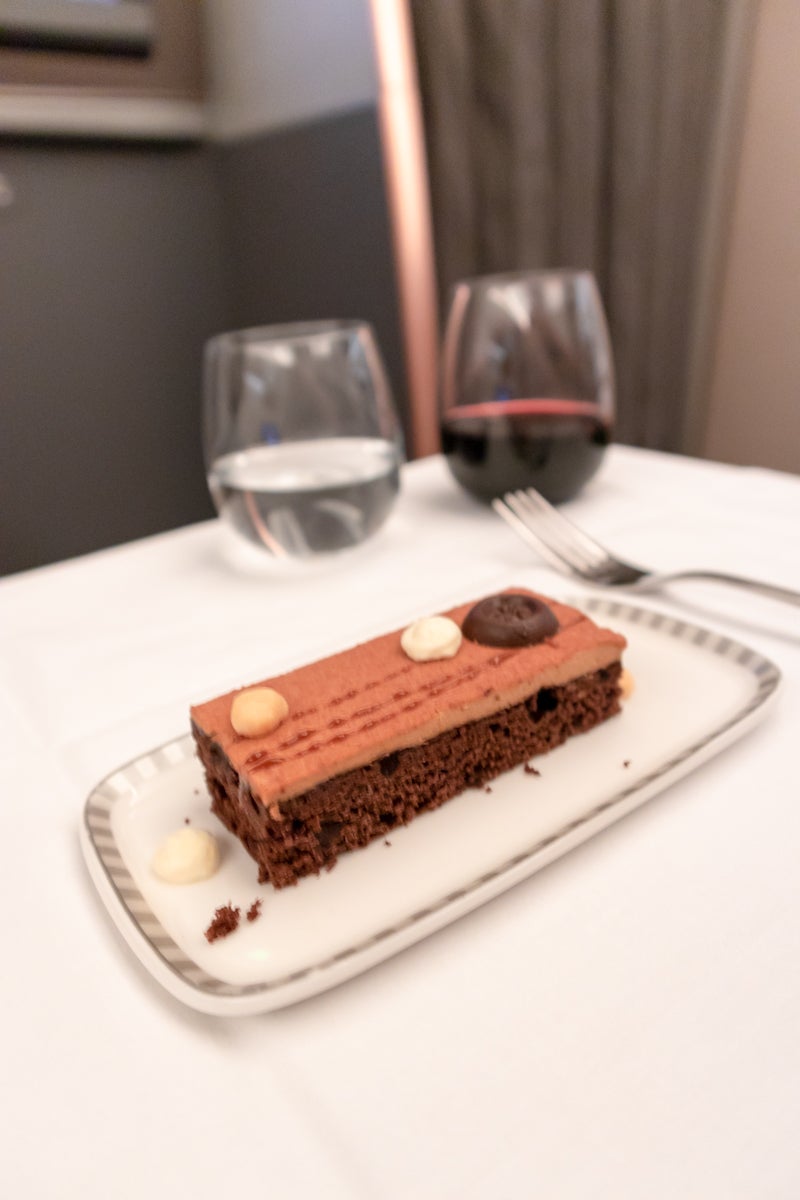 During the service, the crew left the curtain between the galley and cabin open, so fluorescent light flooded into the business cabin and there was quite a bit of noise, but this can easily be blocked out with noise-canceling headphones.
Following the service, the lights were turned off, yet the crew continued to monitor the cabin, offering proactive beverage refills.
A range of "delectables" are available throughout the flight if you get hungry, which include:
Chicken, seafood, vegetarian, or fishball noodles
Selection of sandwiches
Assorted nuts, muffins, chips, trail mix, biscuits, fruit
Breakfast was served 2 hours before arrival into Dusseldorf with a selection of fresh fruits and pastries.
Days before departure, I "Booked the Cook" and selected the poached egg served with hollandaise sauce.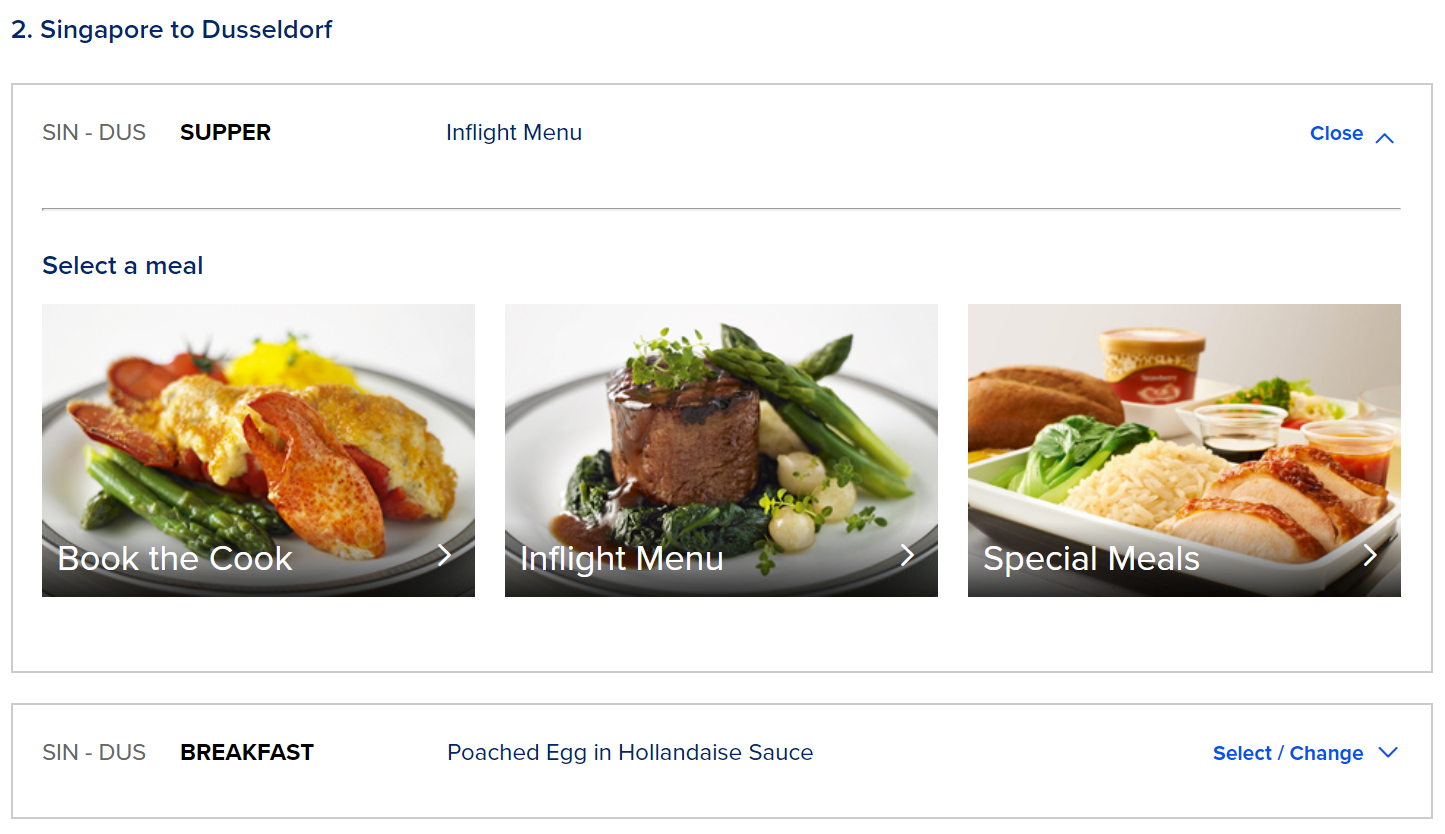 I was quite skeptical about the poached eggs as I had never had them on an aircraft before due to the known limitations of aviation galley equipment. But a huge congratulations to the Singapore catering and cabin crew as both eggs were still soft on the center and easily the best eggs I've had on a flight.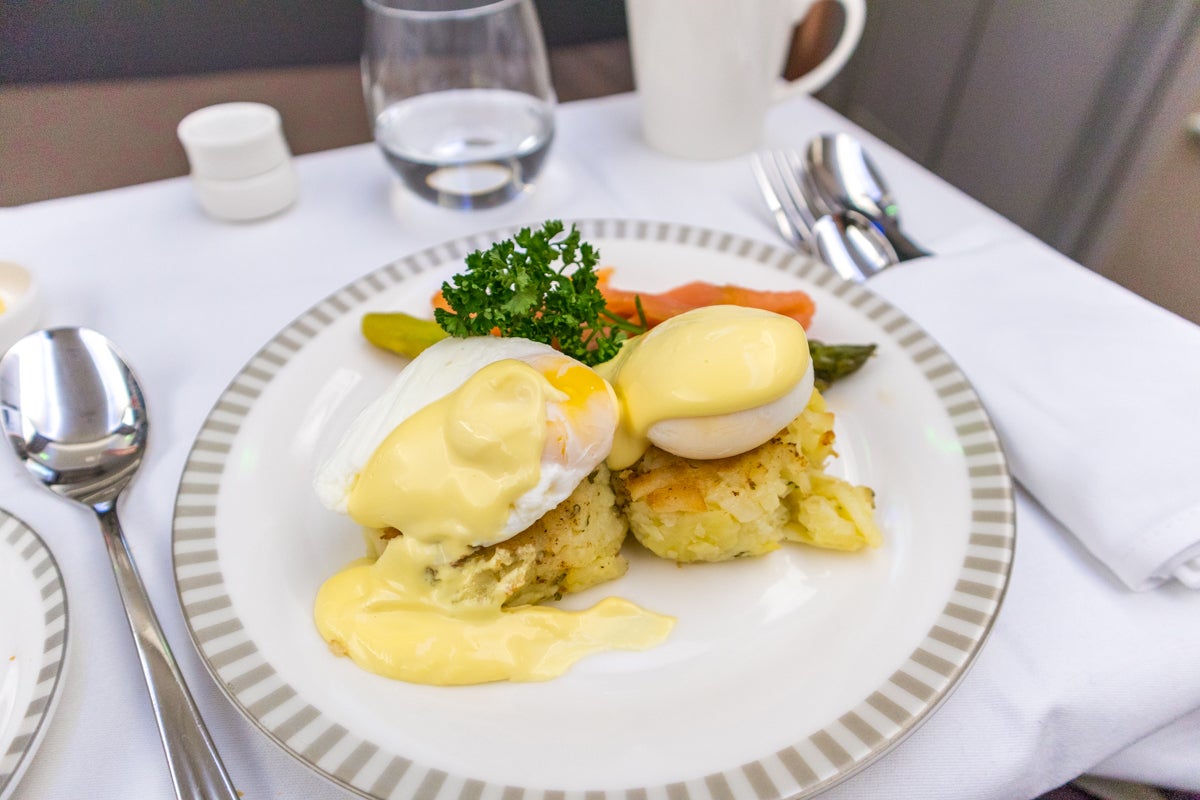 The breakfast menu items here:
Cheese frittata with tomato salsa
Kway Teow Gai Kua Pla Meng Grob
Warm French toasts
Final Thoughts
I really enjoyed the Singapore Airlines Airbus A350 Business Class flight. Although the crew wasn't as chatty as previous flights on the carrier, they were efficient and far more proactive than on our recent A380 flight from London.
I continue to be really impressed with Singapore Airlines catering — neither service could be faulted and every meal was delicious. I'm still amazed at how good the poached eggs with hollandaise were.
Although the A350 doesn't have the newest A380 seat, I slept incredibly well on the flat bed. The space the bulkhead affords passengers is phenomenal and worth giving up a window seat on this totally dark flight if you're quick to select them before departure. I would also avoid selecting the rear cabin again if possible as it was busy through boarding, and the proximity to the galley could be bothersome for some.
Plus, for just $67 in taxes between Australia and Germany, it was a bargain!