Cathay Pacific Airbus A350-1000 Business Class Review [HKG to AMS]
Airline: Cathay Pacific (CX)
Aircraft: Airbus A350-1000 (B-LXK)
Flight #: CX271
Route: Hong Kong (HKG) > Amsterdam (AMS)
Date: May 10, 2019
Duration: 12hrs 25min
Cabin & Layout: Business class, 46-seats, 1-2-1 configuration
Seat(s): 18K
Miles Used: 85,000 Asia Miles per person (transferred from American Express) one-way including the flight from Sydney to Hong Kong
Taxes & Fees Paid: $260 (HKD$2,051) per person
Typical Retail Cost: ~$3,500 (AUD$5,000) per person one-way
Introduction
Booking Cathay Pacific Business Class
Each year, in either March or May, I head to Europe for a conference for work. On my most recent trip, I was eager to fly Cathay Pacific's new Airbus A350-1000 as I also hadn't flown Cathay in over a year and was interested to see how much their new dining concept has improved the food service, which I had never been a fan of previously.
When I booked this flight in August 2018, my only A350-1000 options were Zurich or Amsterdam. With no availability on my required date to Zurich, I looked at options via Amsterdam. The Amsterdam schedule showed Cathay swapping back to a Boeing 777 at the end of March 2019, but I took a gamble and transferred 85,000 Membership Rewards points to Asia Miles and booked from Sydney Airport (SYD) to AMS via HKG.
Thankfully my gamble paid off and an Expert Flyer "Aircraft Change Notification" in December confirmed my flight would be on the new A350-1000. Happy days!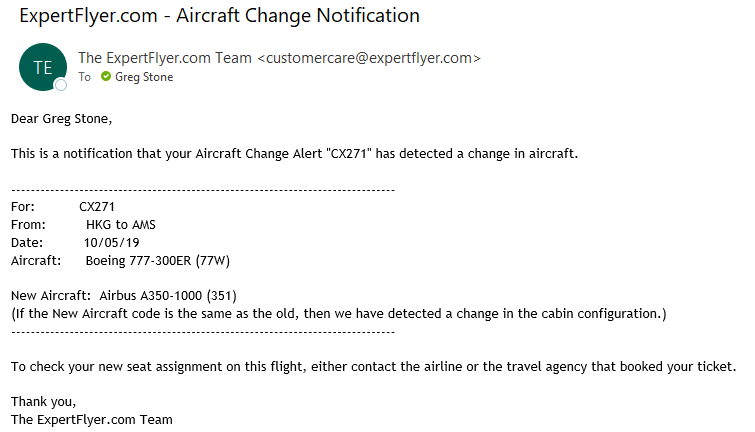 Unfortunately, the SYD to HKG A330 business class flight left a lot to be desired, so I was hoping for Cathay to redeem itself on the connecting A350 service.
At Hong Kong Airport
Because Cathay Pacific canceled my original service out of SYD, it resulted in a 9-hour transit in Hong Kong. I made sure to maximize my time there by experiencing as many lounges as I could.
Flight
Aircraft
Cathay Pacific currently has a fleet of 12 Airbus A350-1000 aircraft with 8 more on order. In contrast, they have 22 A350-900 in service and 6 more on order.
At the time of writing, Cathay Pacific has commenced or is planning to fly the A350-1000 to:
Amsterdam Airport Schiphol (AMS)
Chicago O'Hare International Airport (ORD)
Changi Airport Singapore (SIN)
Josep Tarradellas Barcelona-El Prat Airport (BCN)
Leonardo da Vinci-Fiumicino Airport (FCO)
Madrid-Barajas Adolfo Suarez Airport (MAD)
Manchester Airport (MAN)
Manila Ninoy Aquino International Airport (MNL)
Melbourne Airport (MEL)
Perth Airport (PER)
Seoul Incheon International Airport (ICN)
Taiwan Taoyuan International Airport (TPE)
Tokyo Narita International Airport (NRT)
Toronto Pearson International Airport (YYZ)
Washington Dulles International Airport (IAD)
Zurich Airport (ZRH)
My bird this evening was the most recent delivered — just 2 months earlier in March!
The Cathay Pacific A350-1000 is configured with 46 flat bed business class seats in a 1-2-1 configuration located completely between doors 1 and 2. Following that are 32 premium economy in 2-4-2 and 256 economy in 3-3-3.

Compared to the A350-900, the -1000 is 7 meters longer and, in Cathay Pacific configuration, seats 54 more passengers.
Business Class
Boarding commenced right on schedule at 11:35 p.m. Judging by the huge queues at the gate, it seemed most of the passengers were ready to go so boarding was prompt. Fortunately, Cathay utilized both doors on this flight, unlike in Sydney, which meant that none of the 288 premium and economy passengers needed to use the forward door.
I was second in the boarding queue so I could thankfully get some photos of a mostly empty cabin.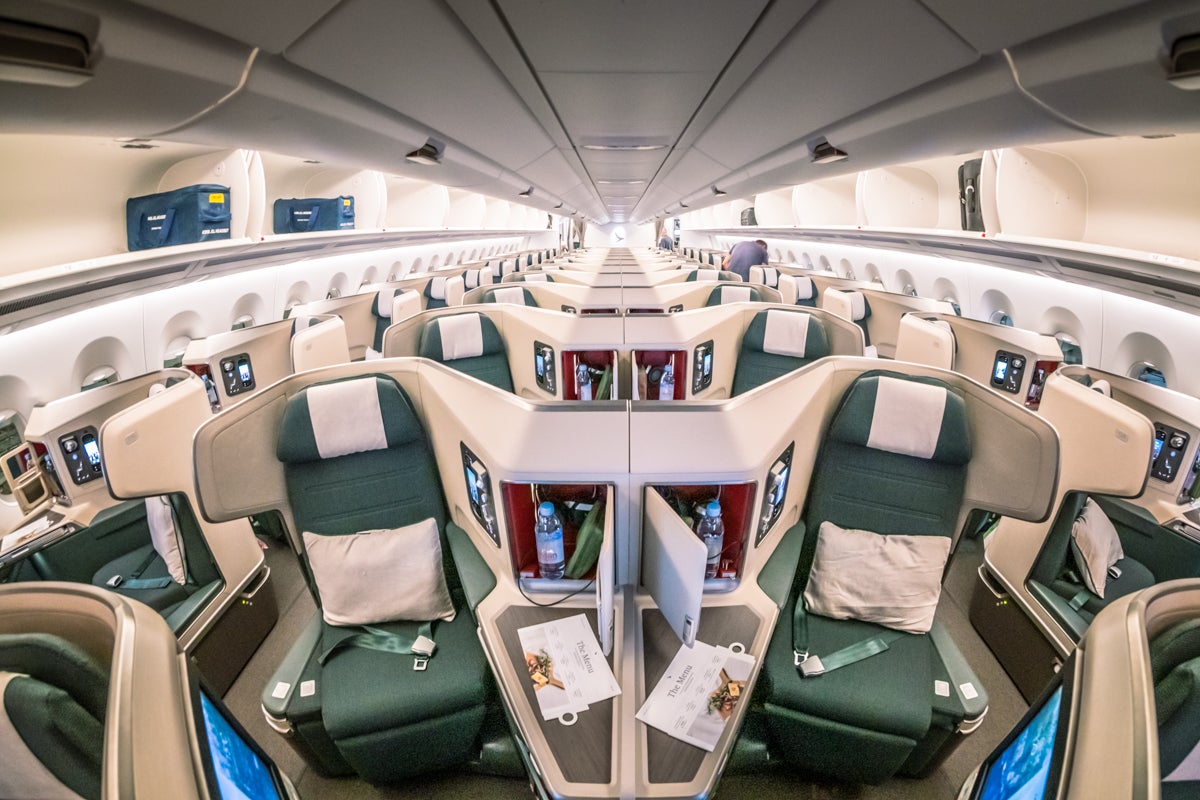 The cabin had that '"new plane smell" and it looked incredibly fresh compared to the aging A330 I had just flown on.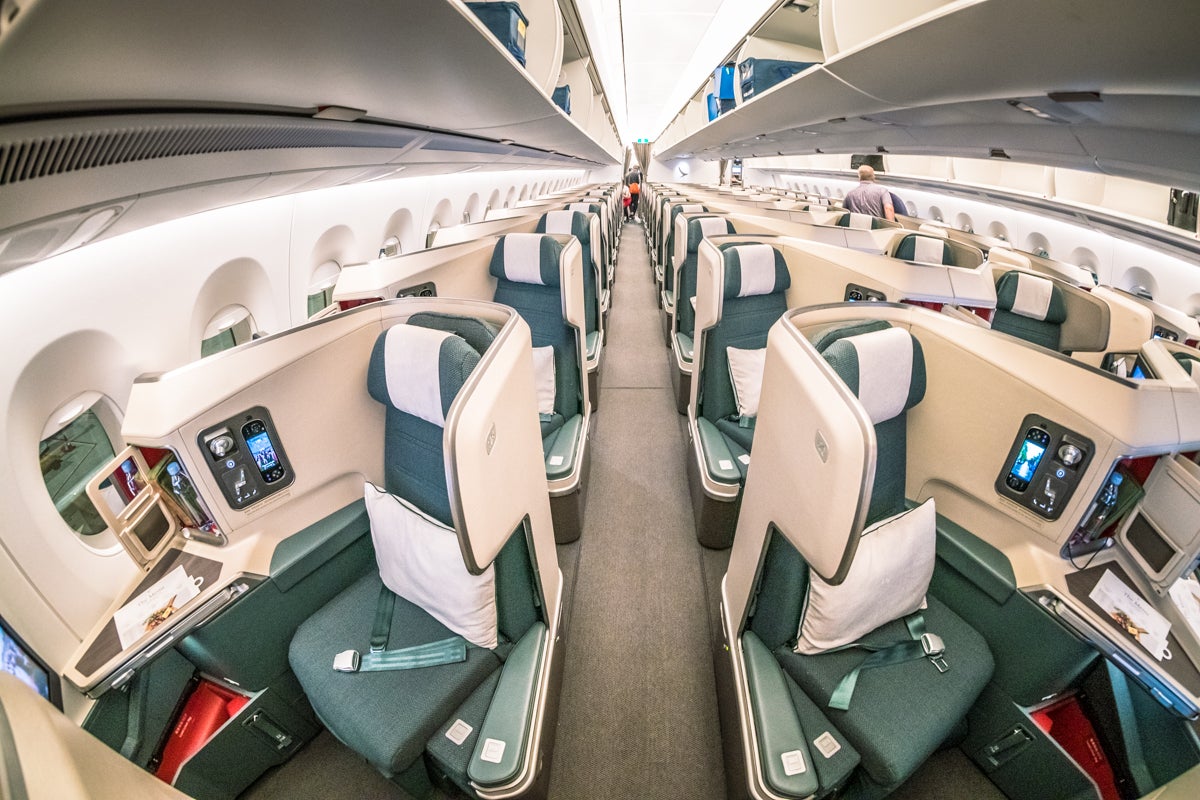 Cathay Pacific decided to continue using seat manufacturer Zodiac, now Safran, for the A350 seats but with the newest version of the reverse-herringbone Cirrus III.
The cabin feels far more spacious than the A330 I just flew on, even with the overhead stowage bins down the center of the cabin.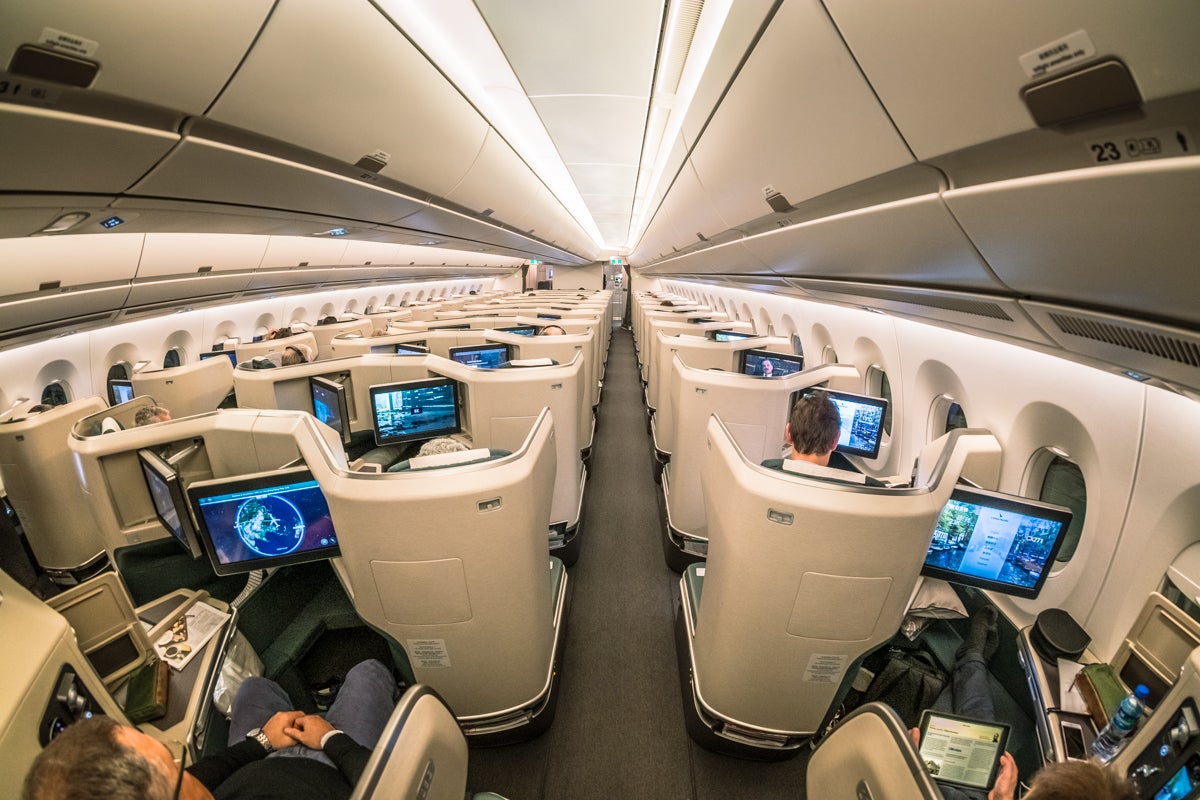 The middle seats continue to angle towards each other and still lack a privacy panel. Fortunately, the seats are positioned far enough back that you cannot see your neighbor unless you lean all the way forward. You can also leave the storage cupboard door open for a tiny bit extra privacy.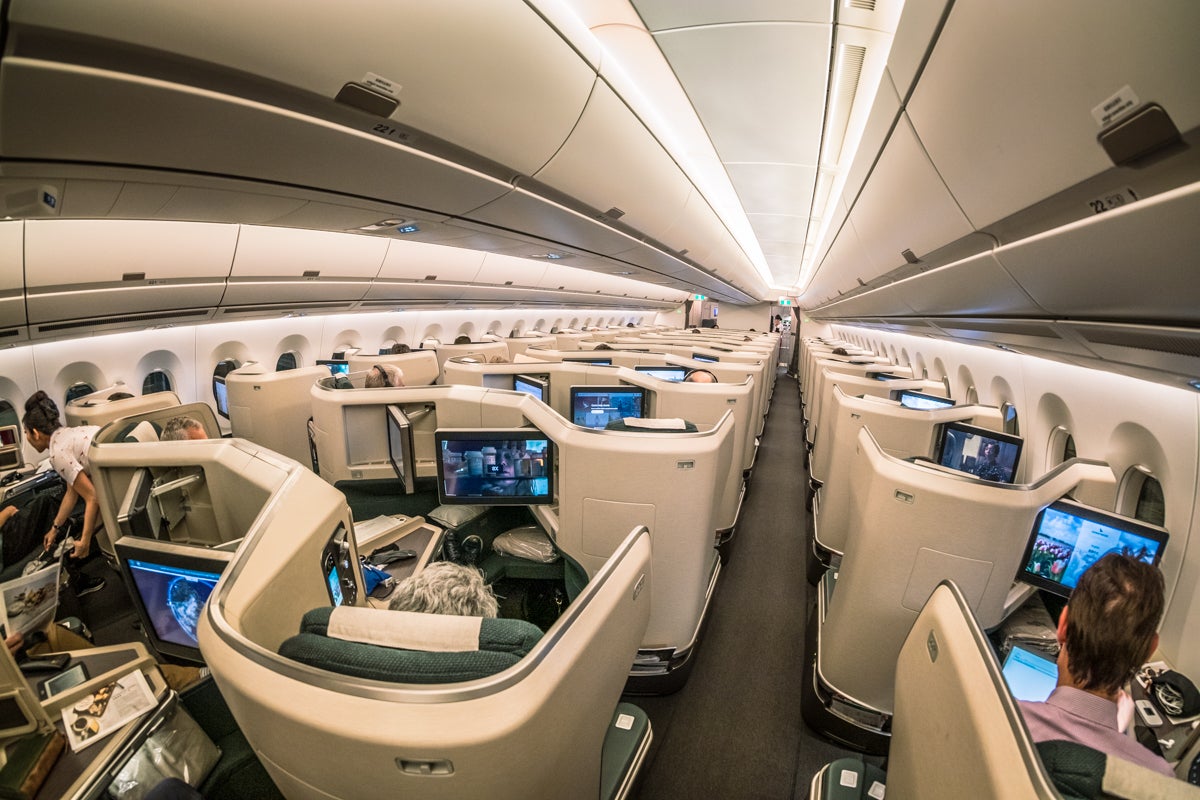 You'll definitely want to avoid the first-row middle seats, 11D and 11G, as the forward lavatories open onto these seats. On my flight the cabin was full and these seats occupied so, unfortunately, I couldn't get a photo of this issue. But trust me, don't ever pick these seats!
The window seats face towards 2 windows, so this AvGeek selected 18K, which is roughly in the middle of the cabin. Unlike the new Boeing 787-10, there isn't a missing window in the business class cabin due to a fuselage join, so you can't go wrong with any window seat.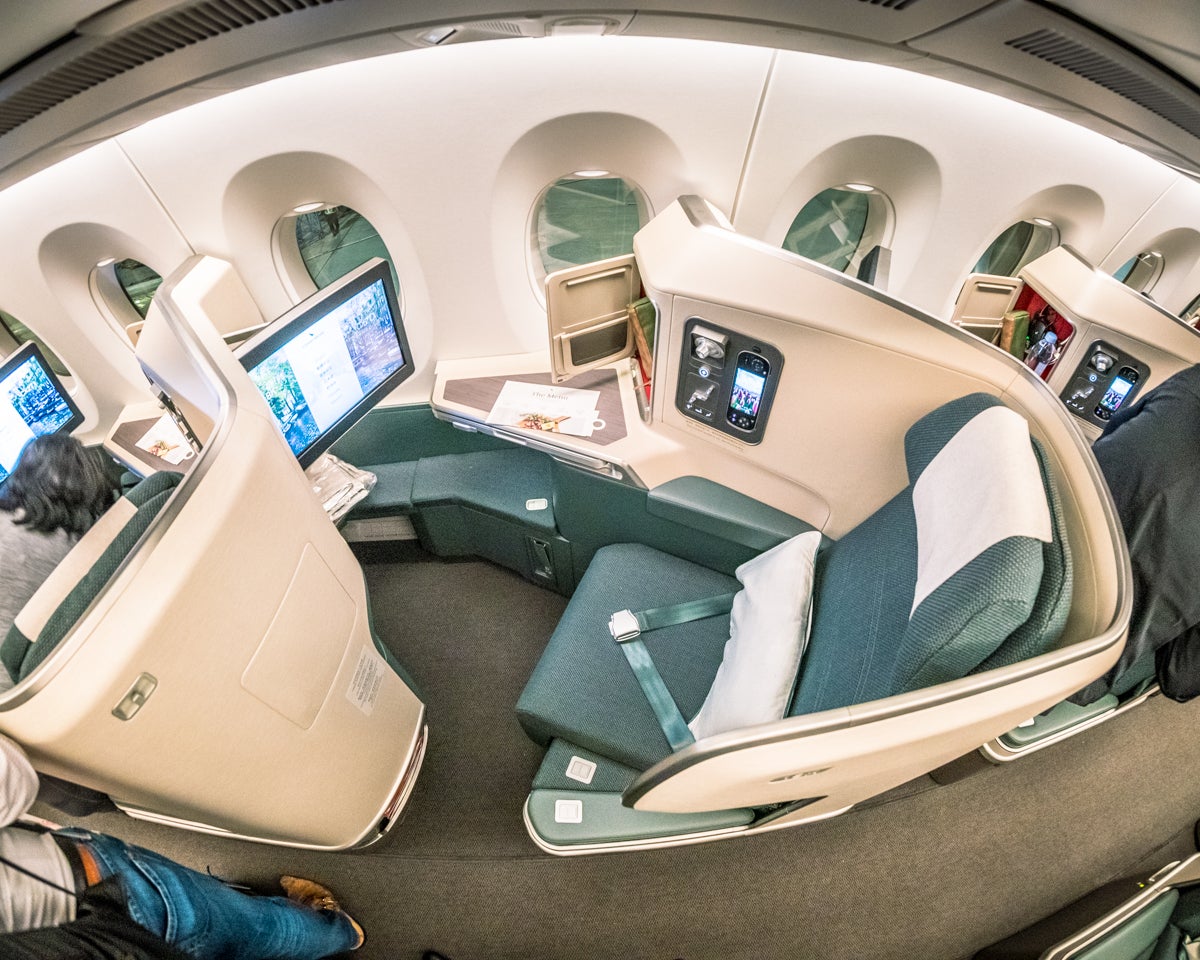 Cathay Pacific worked with Studio F.A. Porsche to design the new seat shells which look very slick and the seat now features a "full-flat floor," which means there is storage space under the ottoman.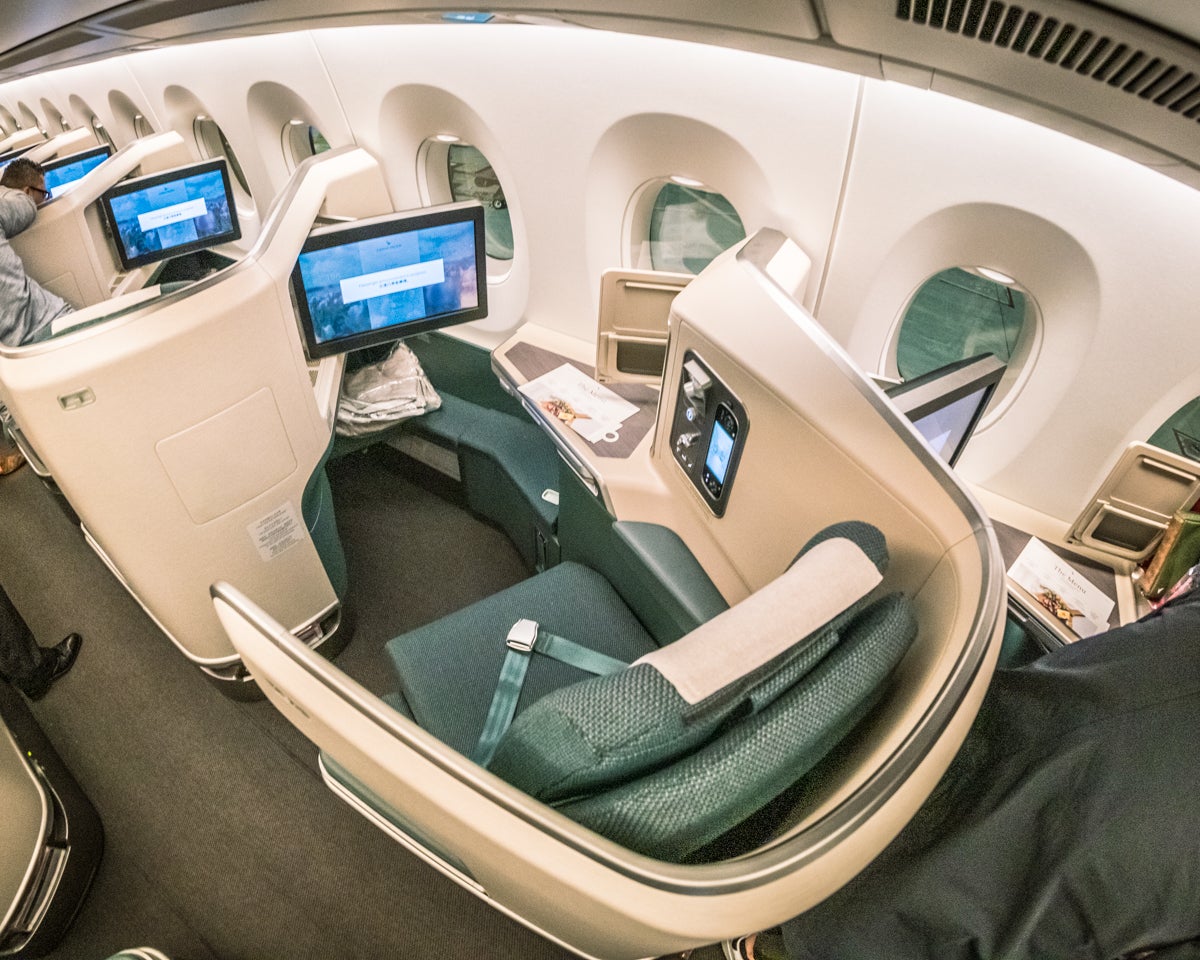 When boarding, a plastic wrapped duvet and pillow is found on your seat — the only linen provided.
The crew also open all headphone storage cupboards and place the amenity kit and bottle of water inside which makes everything look a bit messy with the door left open.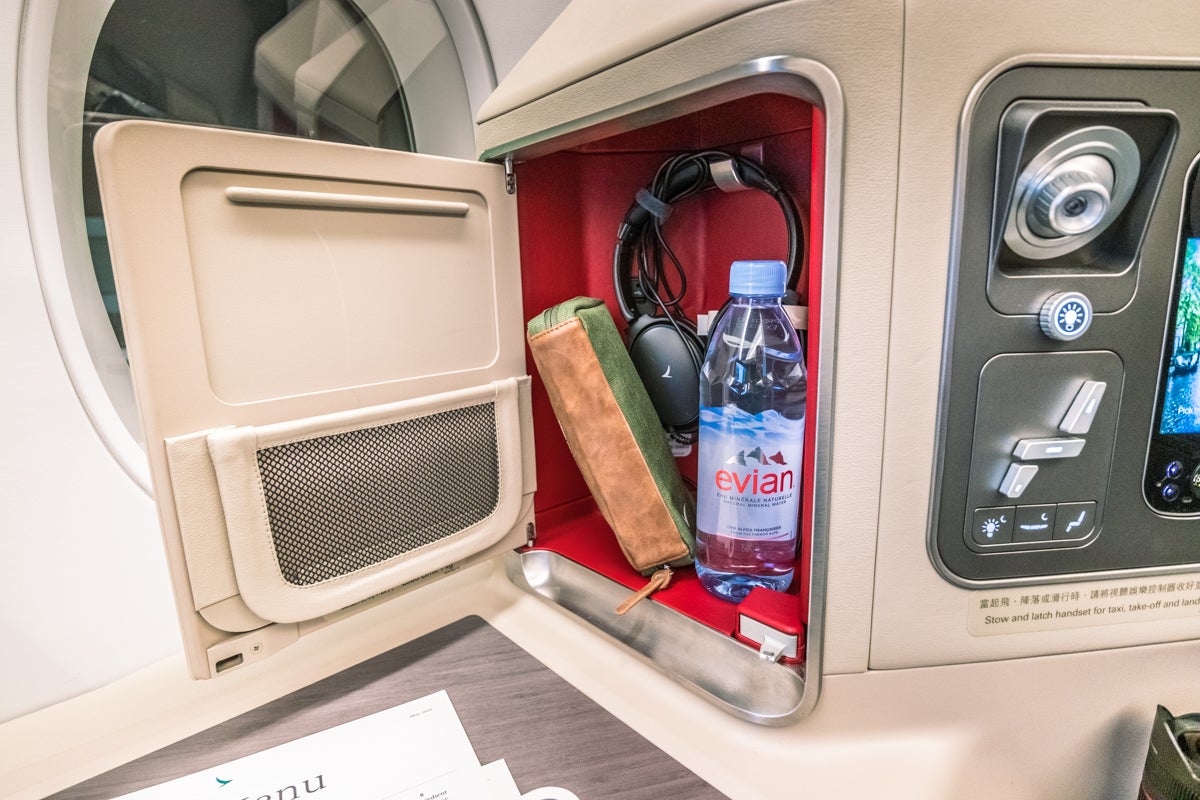 Also inside is a USB port, power socket, and the headphone socket (which only has 2 pins, unlike the usual 3-pin plugs).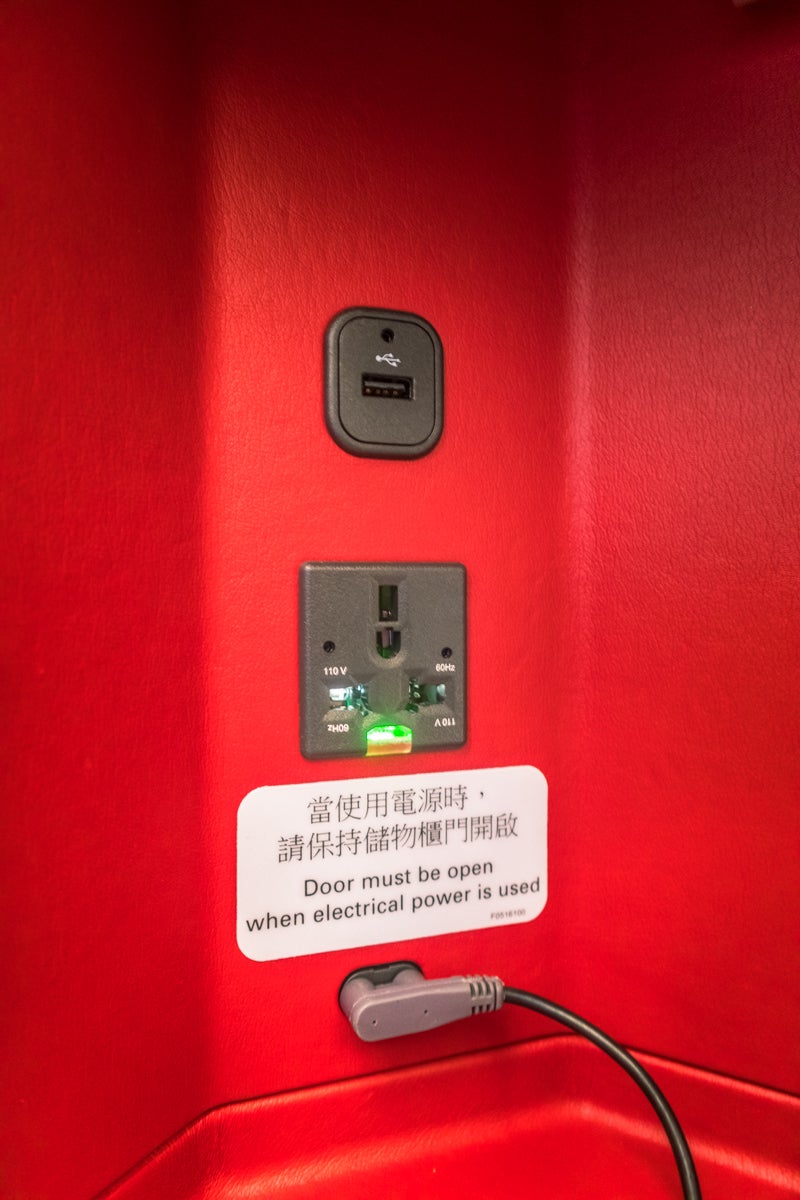 The seat controls and individual spotlight are at shoulder level along with a touchscreen IFE remote, making for easy adjustments. I loved the one-touch seat presets which don't require you to "press-and-hold" like other business class seats I've flown.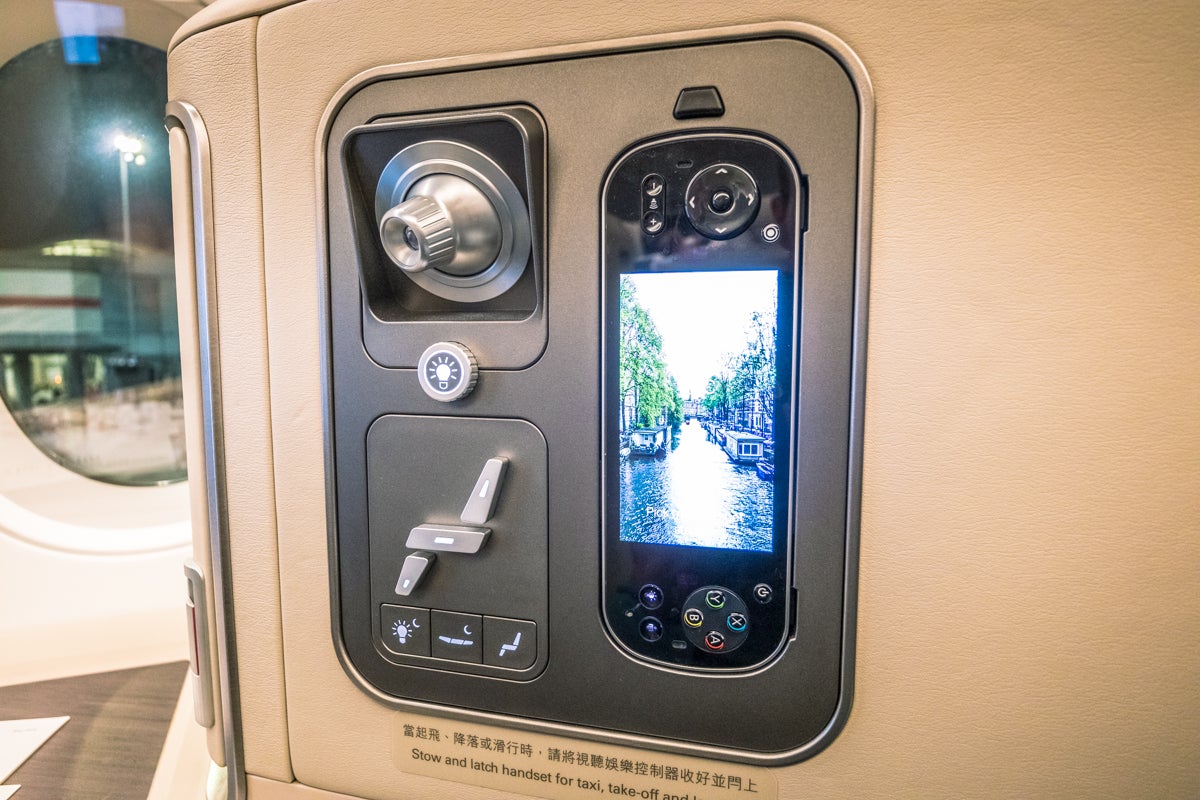 Alongside the aisle is a manually adjustable armrest which is stowed for take-off, but when raised, reveals a bottle storage compartment (where the bottle of Evian should have been stored in the first place).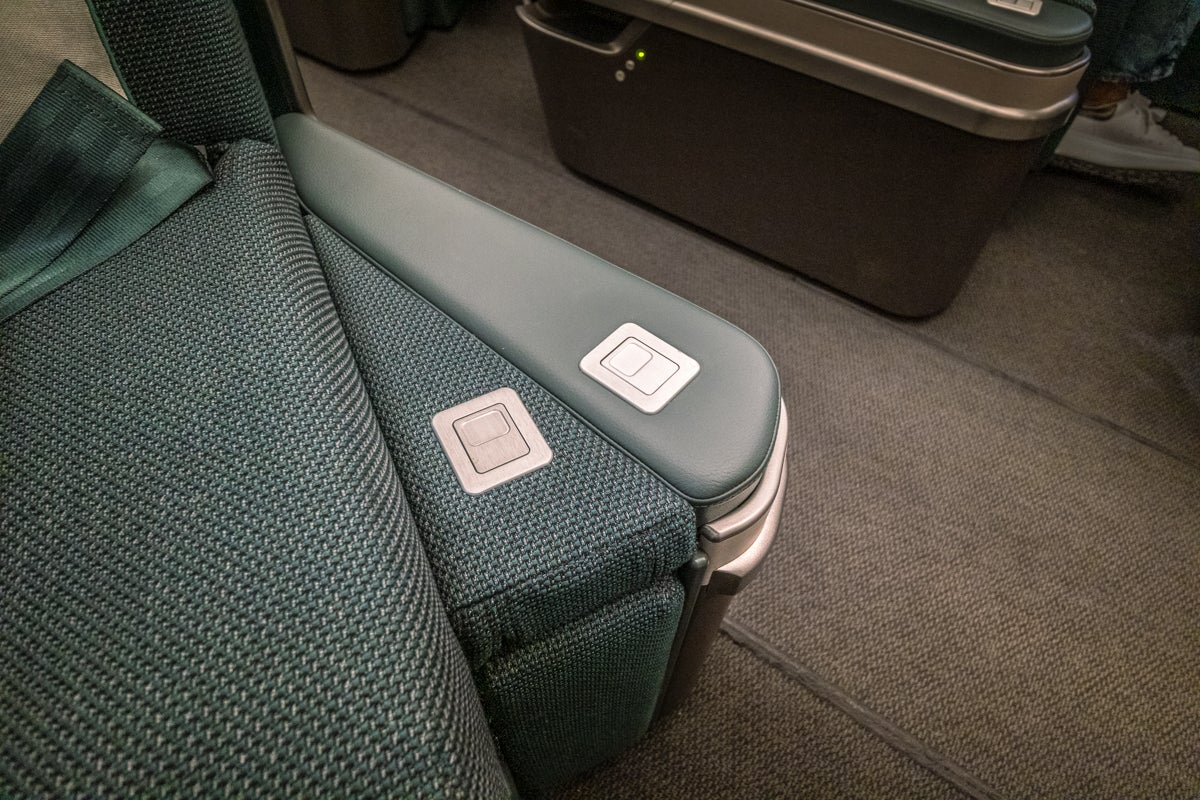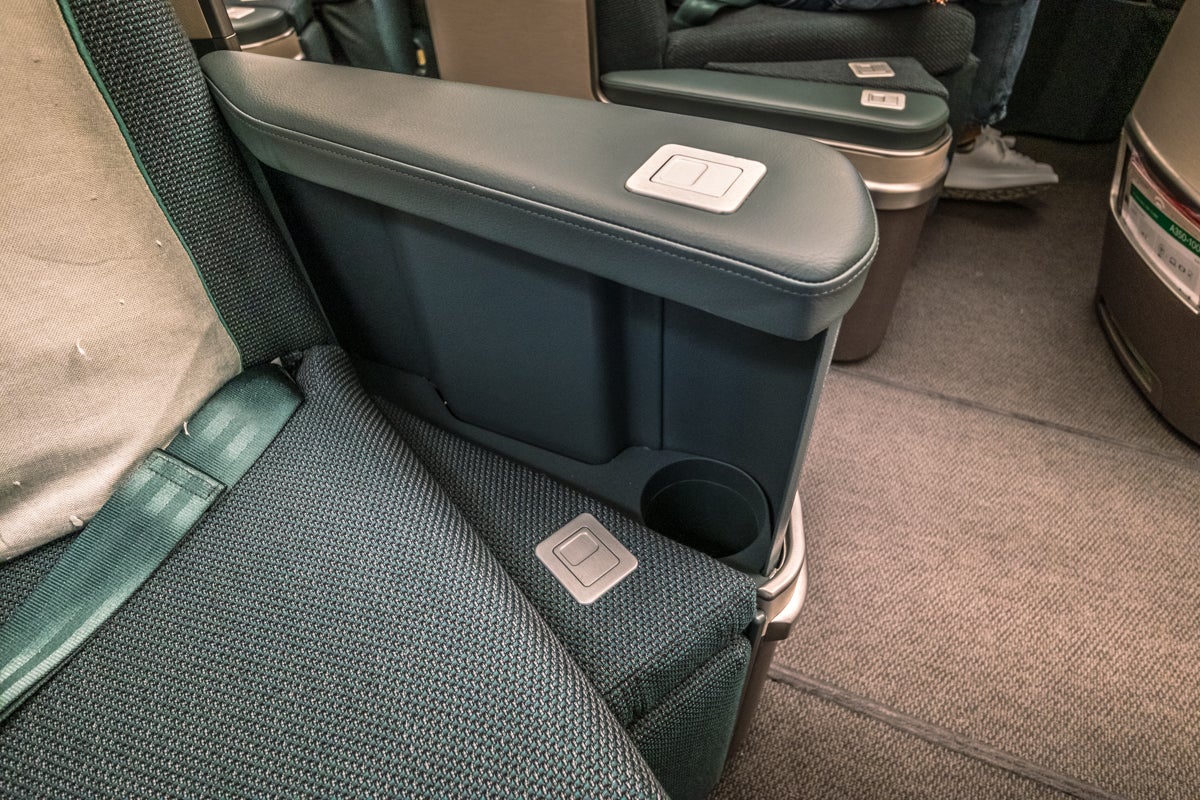 The "wings" on the seat shell provide privacy at eye level so other passengers don't see you from their seats and vice versa.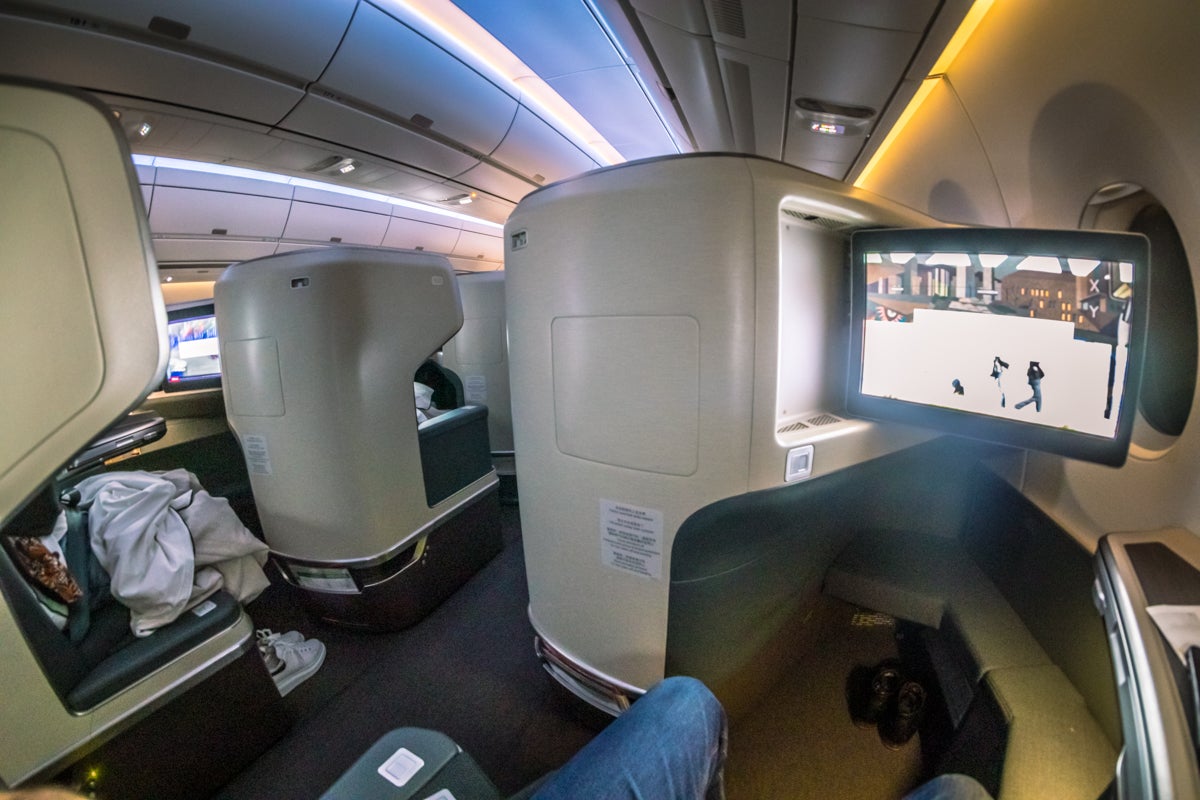 Customers who have experienced Cathay's previous generation seats will find the seats familiar and will really appreciate all the improvements, like the flip-out extension of the seat which provides added width when you convert the seat into a 75 inch (190 centimeters) flat bed.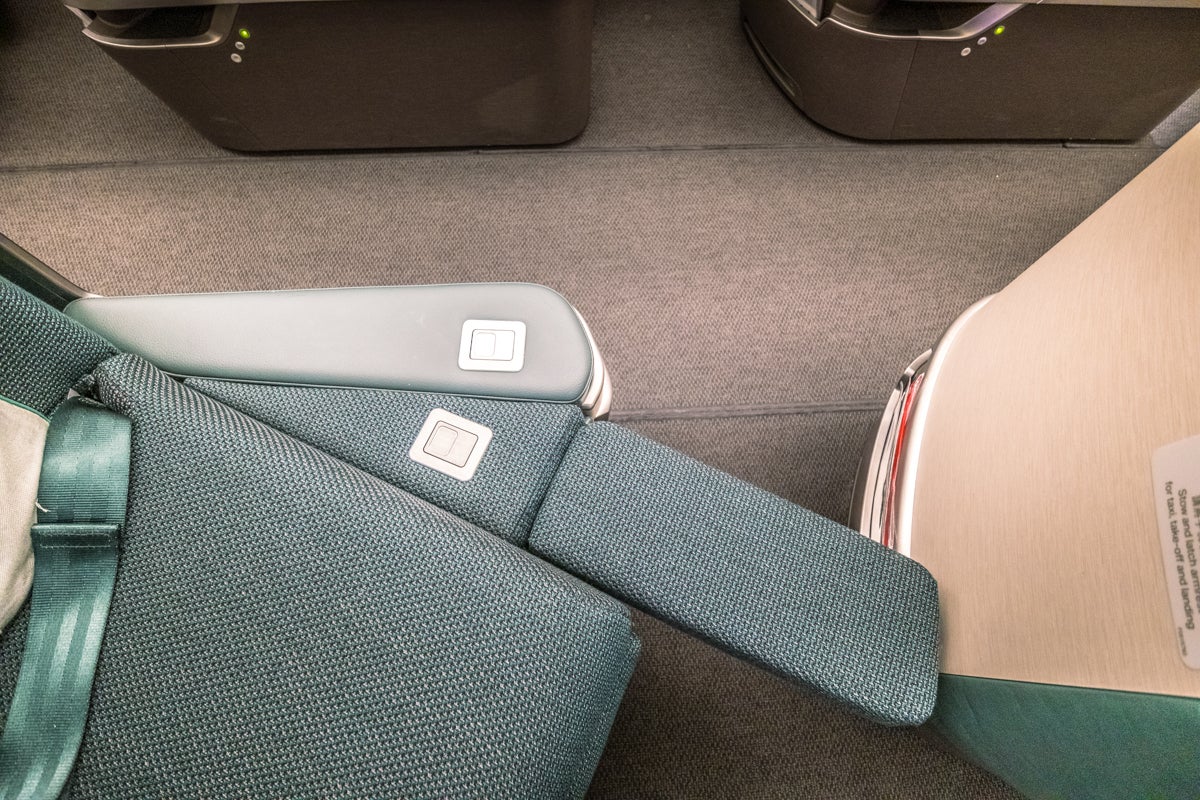 The highlight of this seat is the large footwell with the extended bench alongside the window with integrated storage space. These brilliant design features dramatically increase the width of the flat bed to 20.2 inches and is unique to Cathay's version of this seat.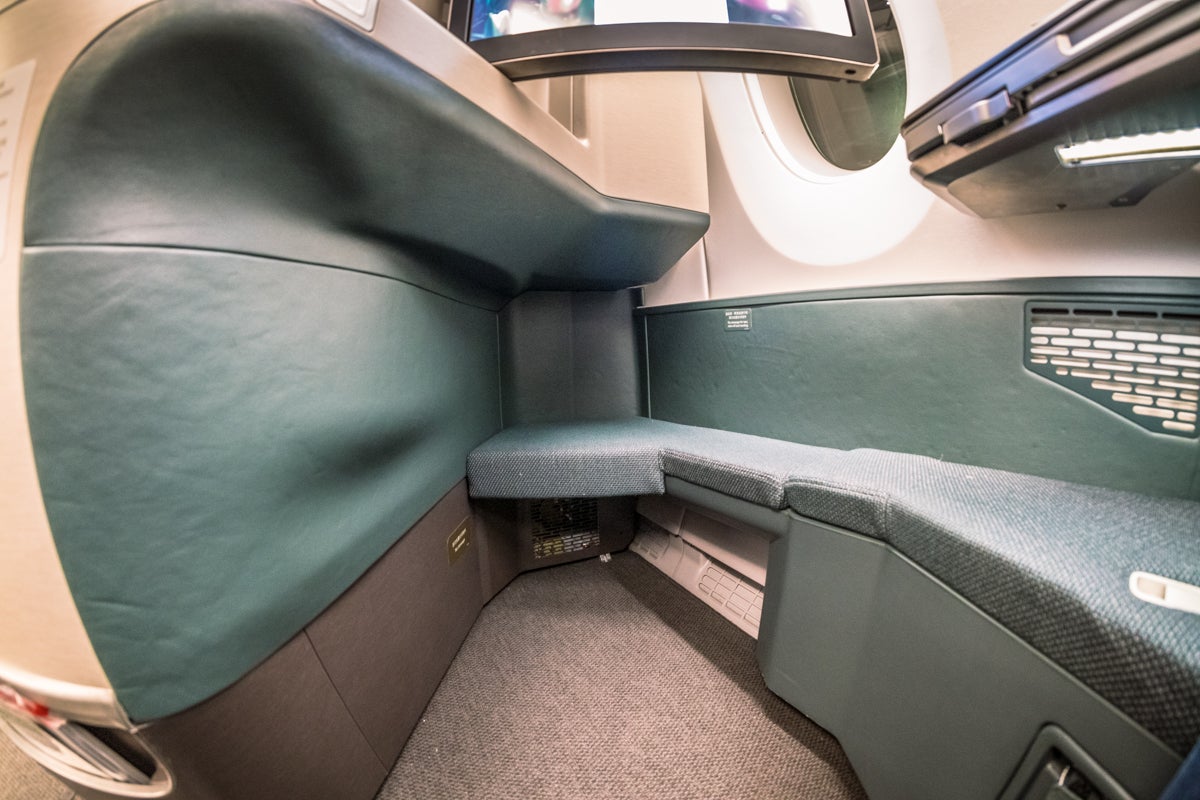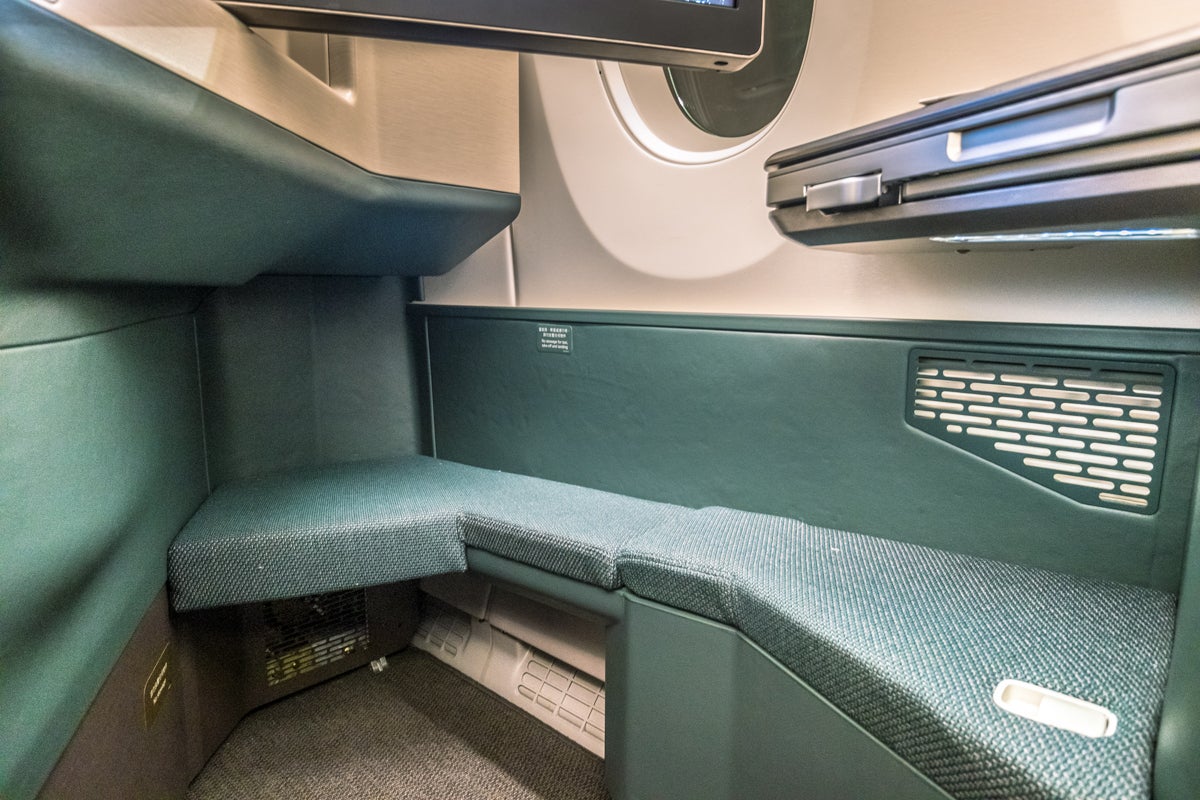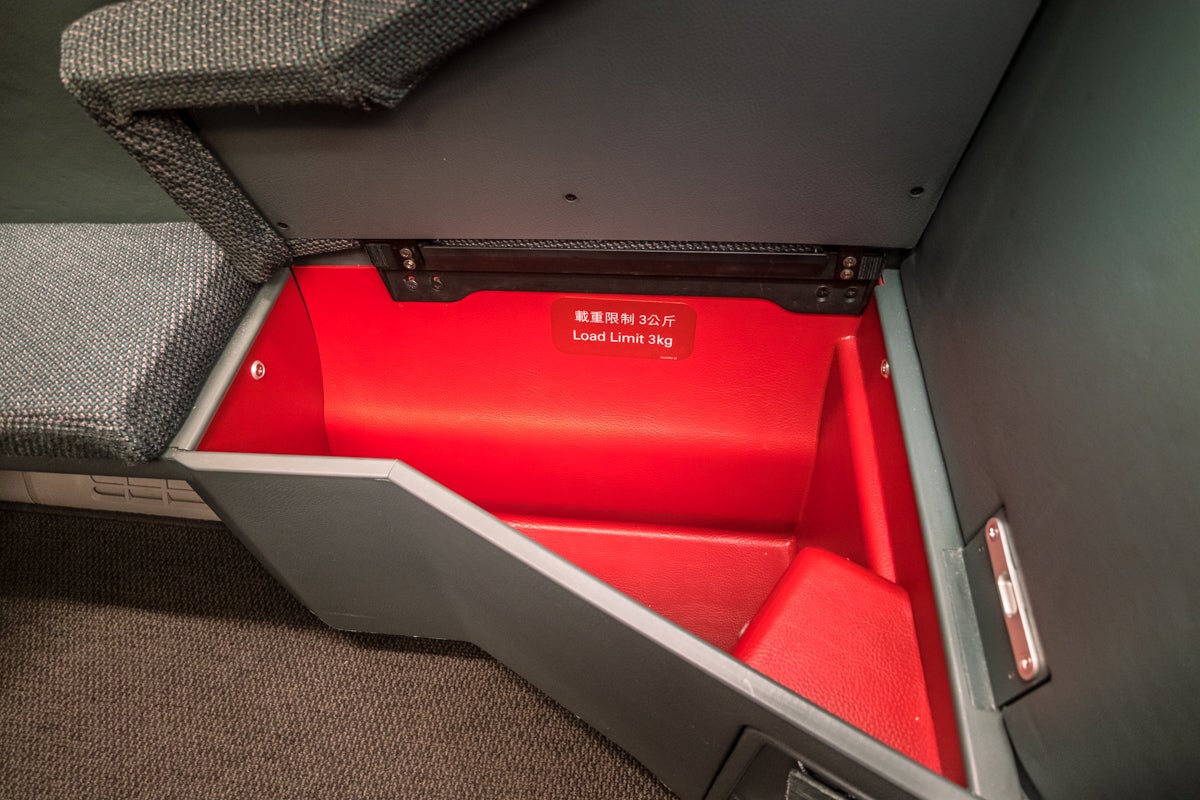 Cathay Pacific's quality issues with the A350-900 business class seats and lavatories were widely reported in the aviation community in 2017 and 2018 with reports of delamination of surfaces, poor fit and finish of seat, and cabin components and cracks in lavatory fixtures. This culminated in the seat manufacturer completely replacing entire aircraft seat sets and taking over the maintenance of those remaining in service. Thankfully with the launch of the A350-1000, it's evident in this newest aircraft that those quality issues have been solved.
I could not fault the seat fit and finish. Everything was perfectly executed.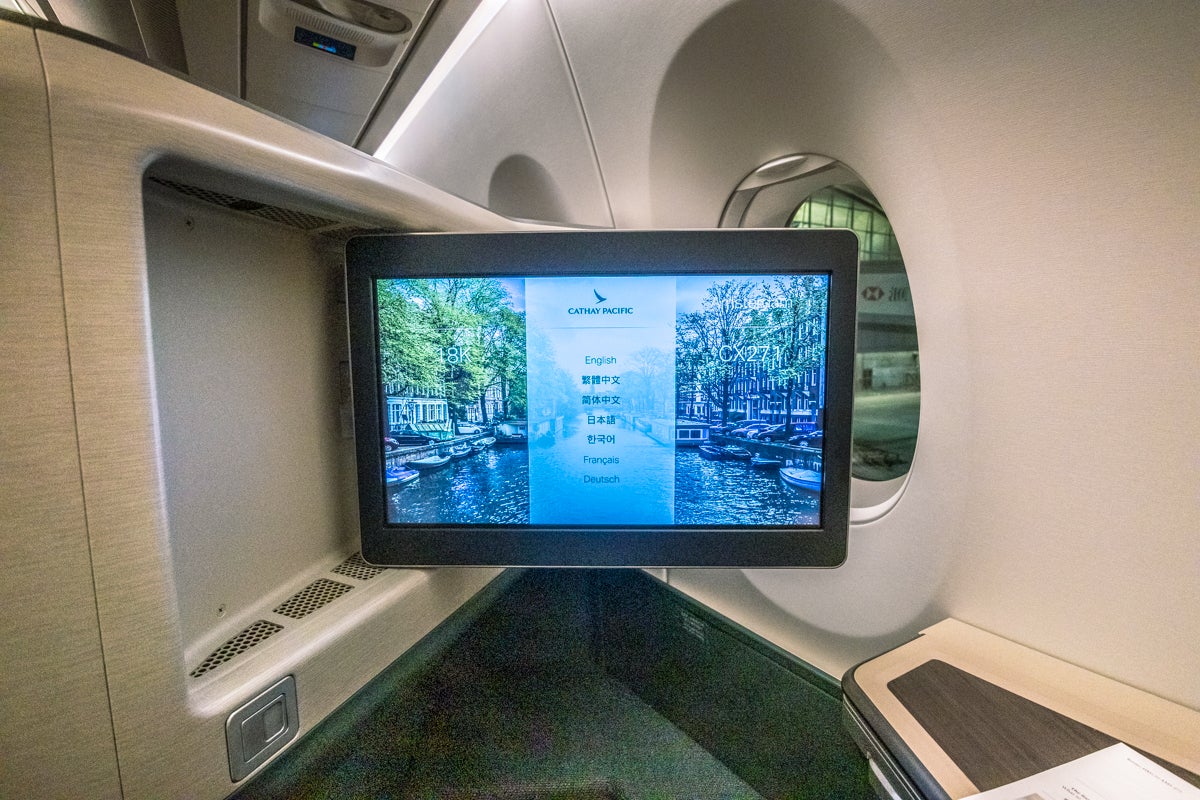 There is also no chunky seatbelt-mounted airbag like some modern business class seats.
LED mood lighting was activated just after departure and remained on until the cabin was placed in darkness after the meal service.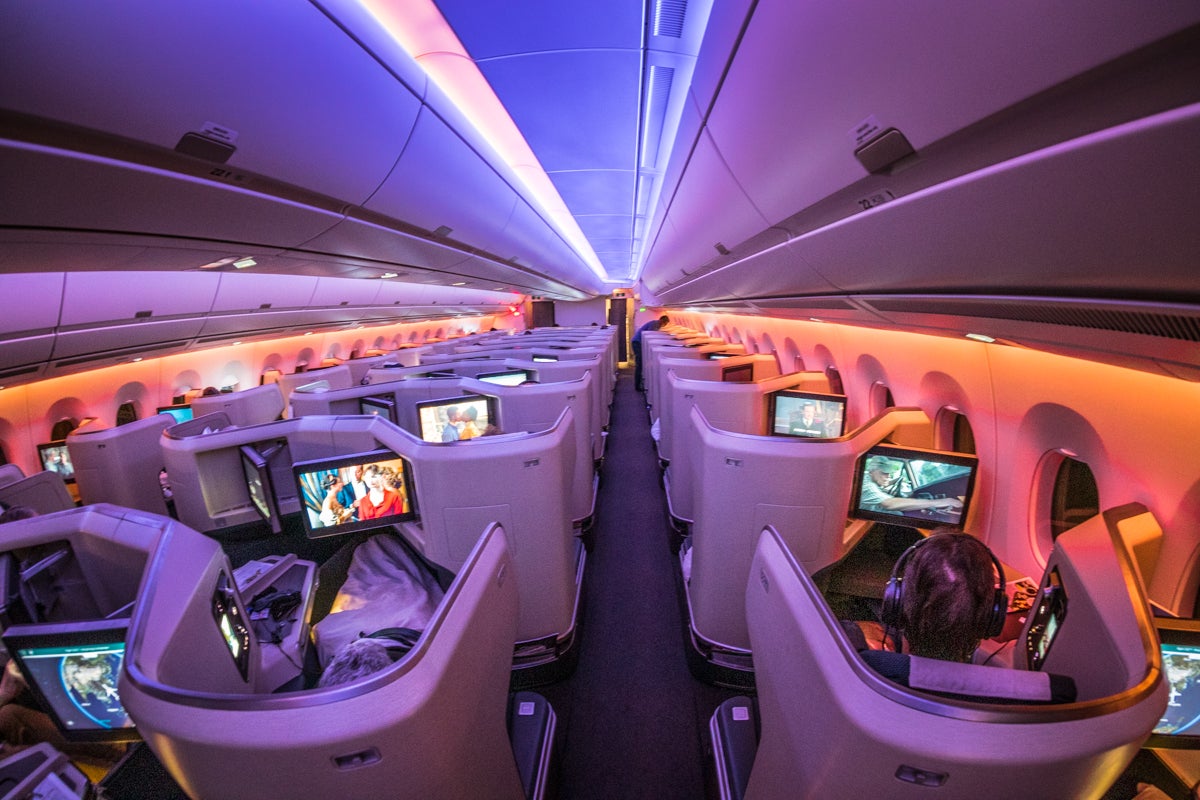 The A350 also benefits from a lower cabin pressure, which means there is more oxygen in the air, so you'll definitely notice the difference during and after a long-haul flight. The cabin is also amazingly quiet thanks to the draft-free air conditioning system and modern engines. She's a dream to fly in!
Unfortunately, there are no personal air nozzles but thankfully the cabin was kept at an acceptable temperature.
There are 4 lavatories in total, 2 at the front of the cabin and 2 at the rear, providing a passenger-to-bathroom ratio of 11.5:1. All lavatories feature Jurlique products.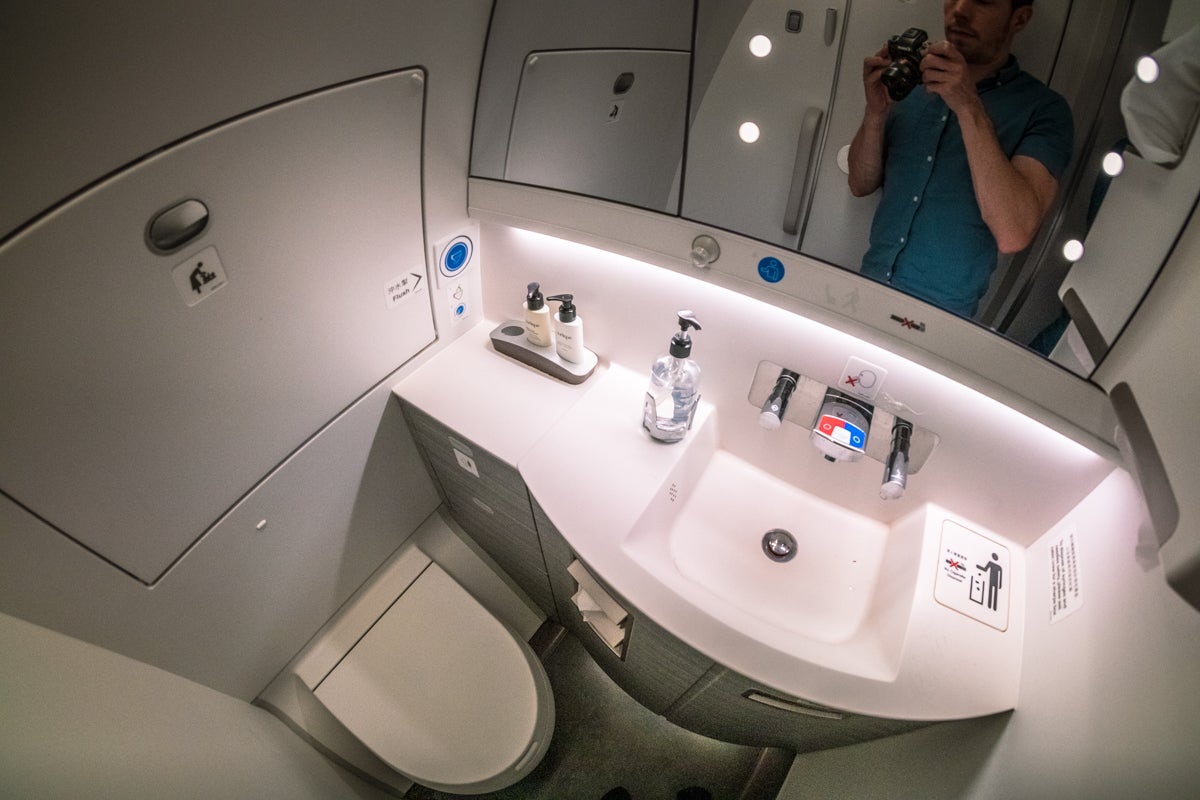 By the time the meal service had finished and I jumped into my BYO pajamas, it was 5:30 a.m. Sydney time and considering I had been up for a staggering 25 hours, I was incredibly exhausted and collapsed into my flat bed. I woke up 2 hours and 15 minutes before landing into Amsterdam after a solid 7 hours rest, and probably one of the best nights of sleep I've ever had on a plane.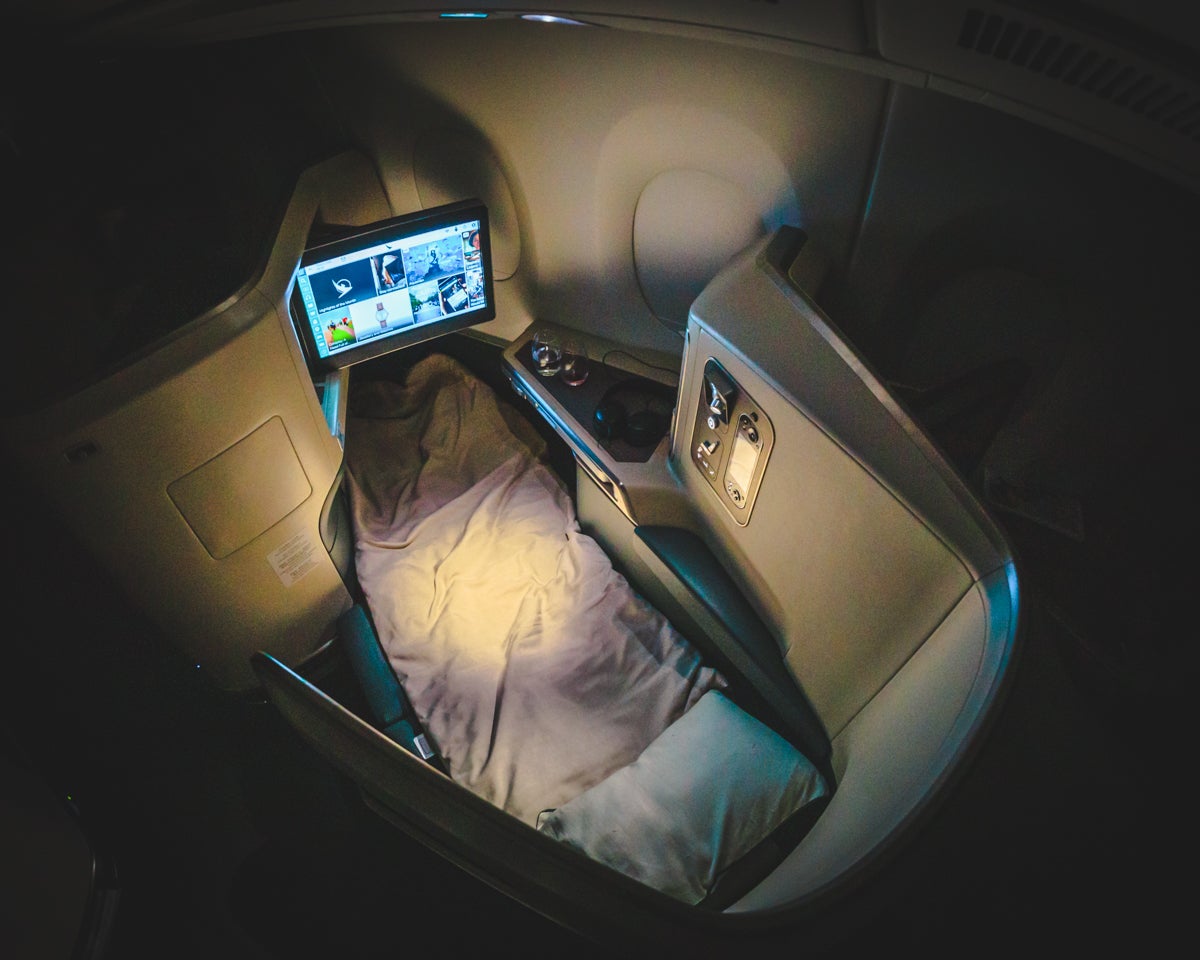 I absolutely loved the wide and long flat bed. Sadly, Cathay Pacific doesn't supply a mattress pad or extra pillow and the seat was a bit lumpy in parts, so a mattress pad would improve the experience further.
It is rumored that Cathay Pacific will be rolling out mattress pads and slippers to business class passengers in October 2019 — which I hope is true. Ideally, they'll use a thick version, like the one Virgin Australia uses in "the Business," as the thin ones are pointless.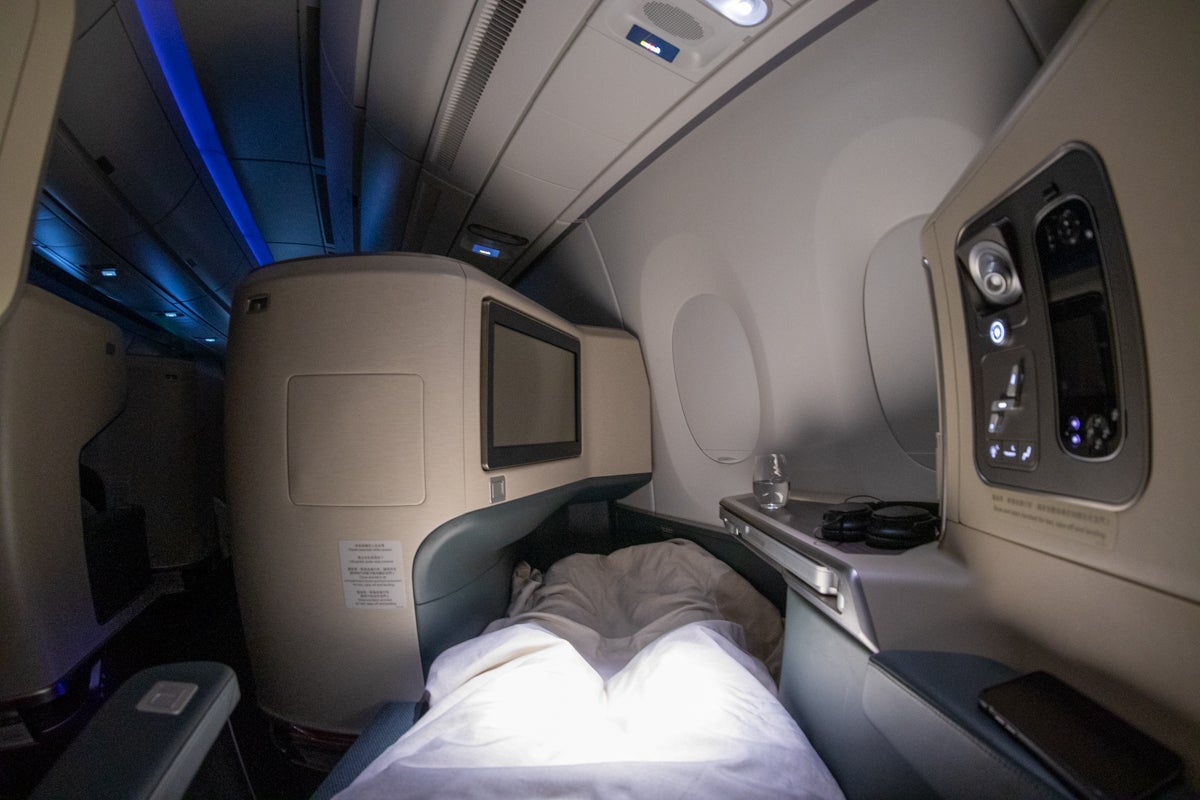 As a side and stomach sleeper, I also didn't like the built-in headrest. I often sleep with my hands under the pillow so this headrest created extra bulk under the pillow and prevented me from doing so.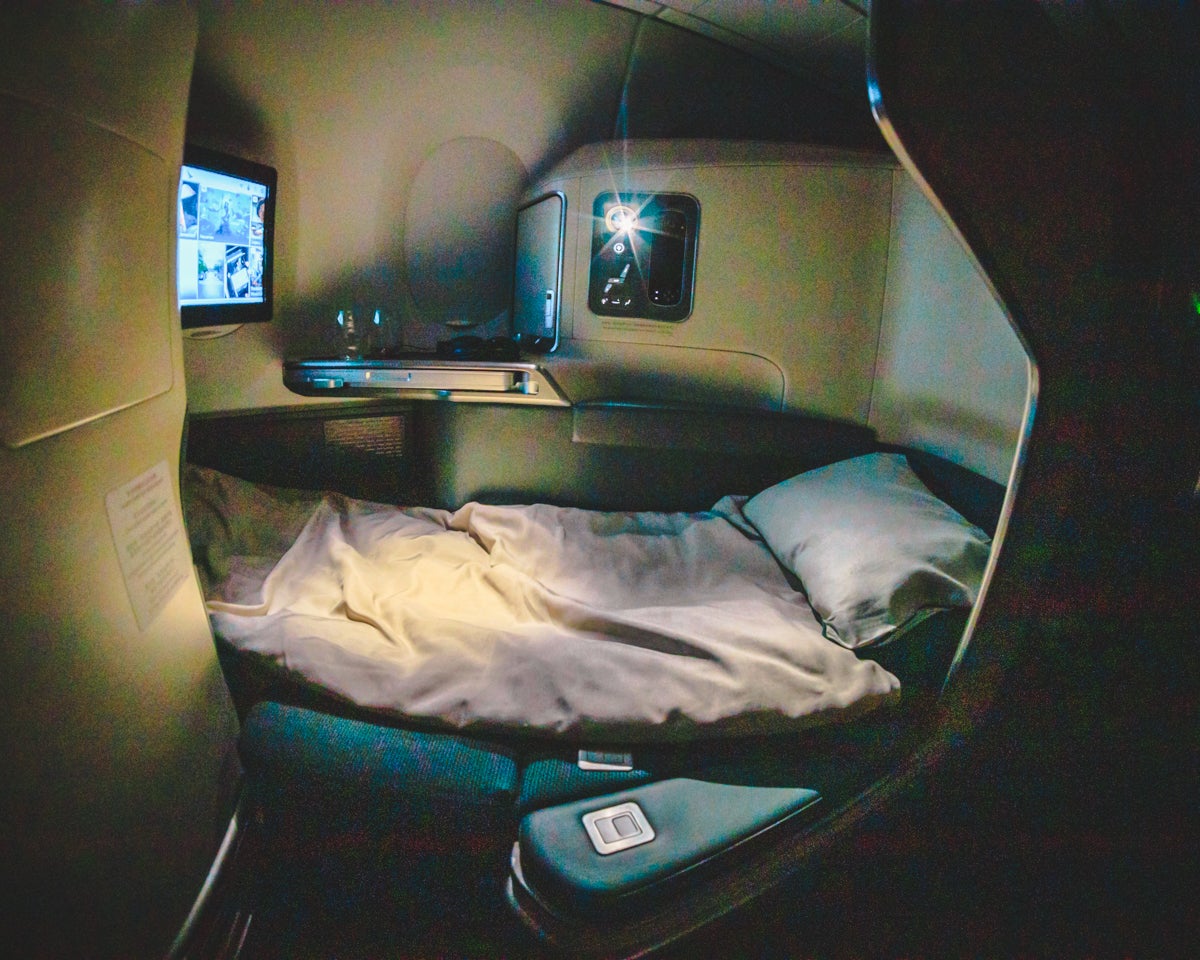 Overall, it was an amazingly comfortable seat to sit in and sleep on.
Entertainment
The A350 uses the Panasonic eX3 platform with 11.1 inch personal HDTVs packed full of movies, TV shows, satellite TV, magazines, city guides, games, and music.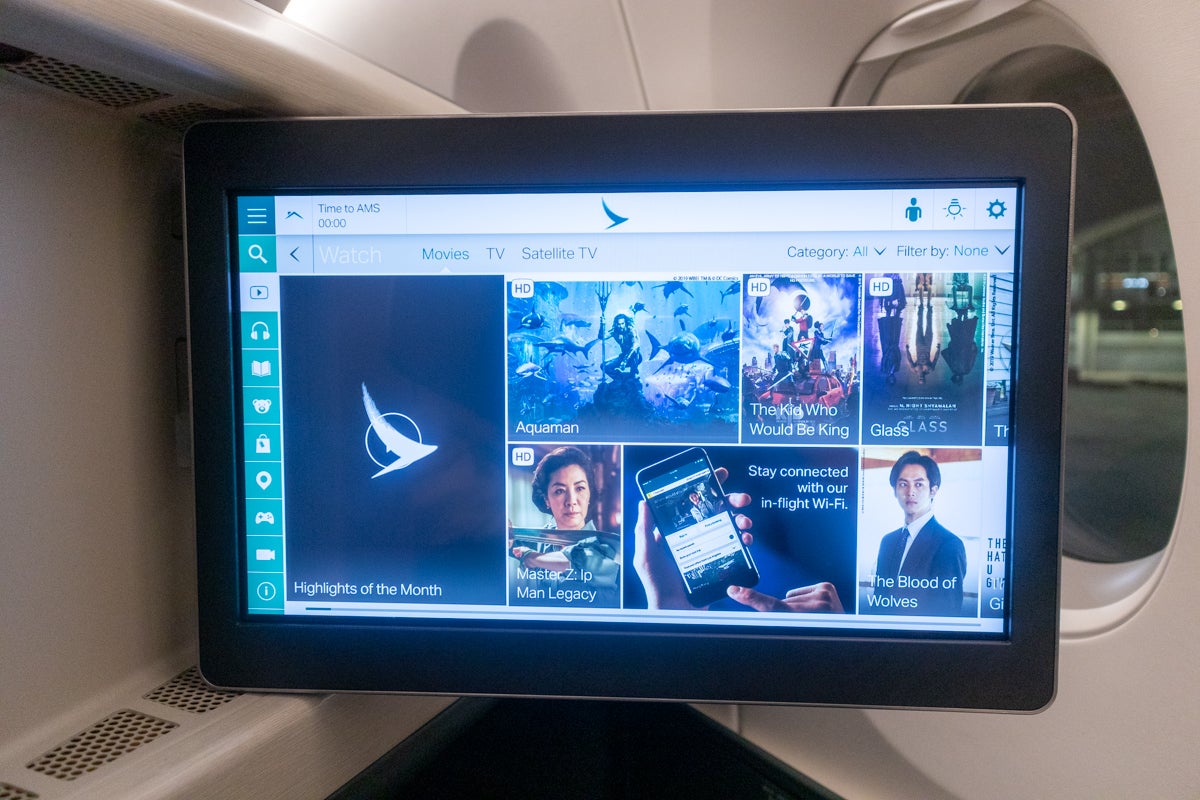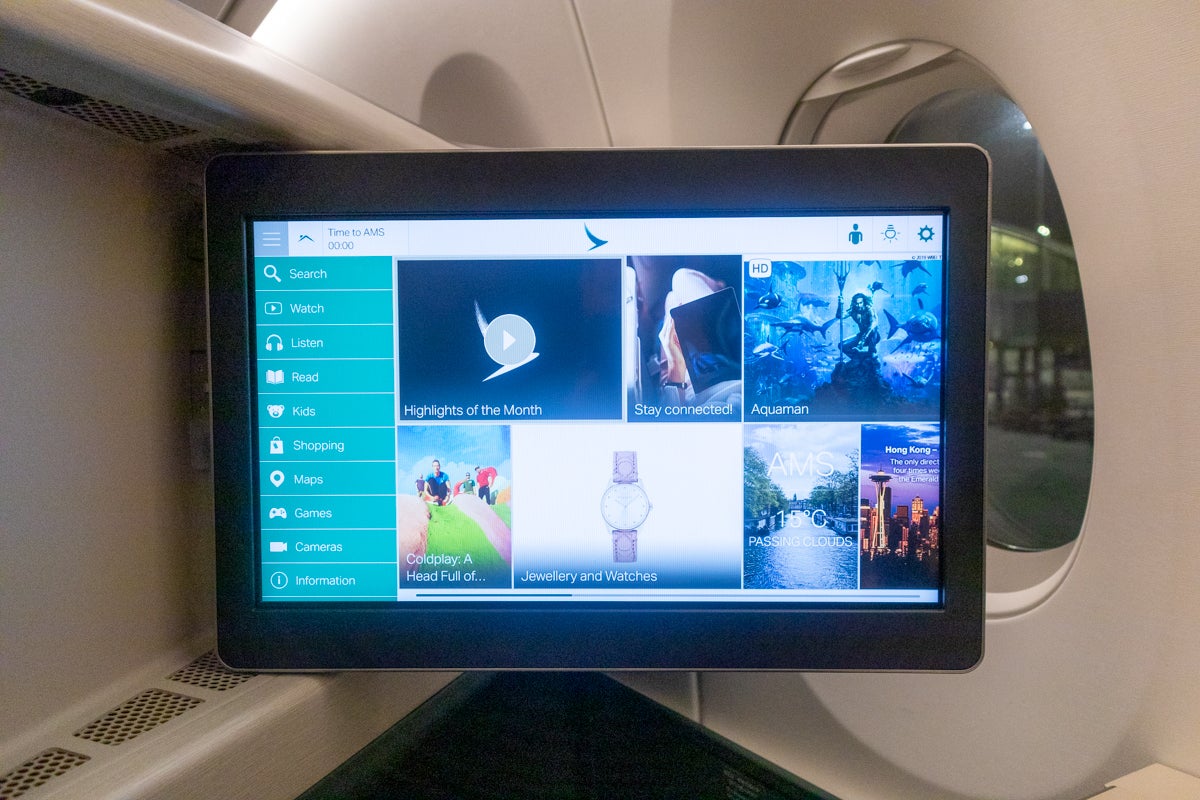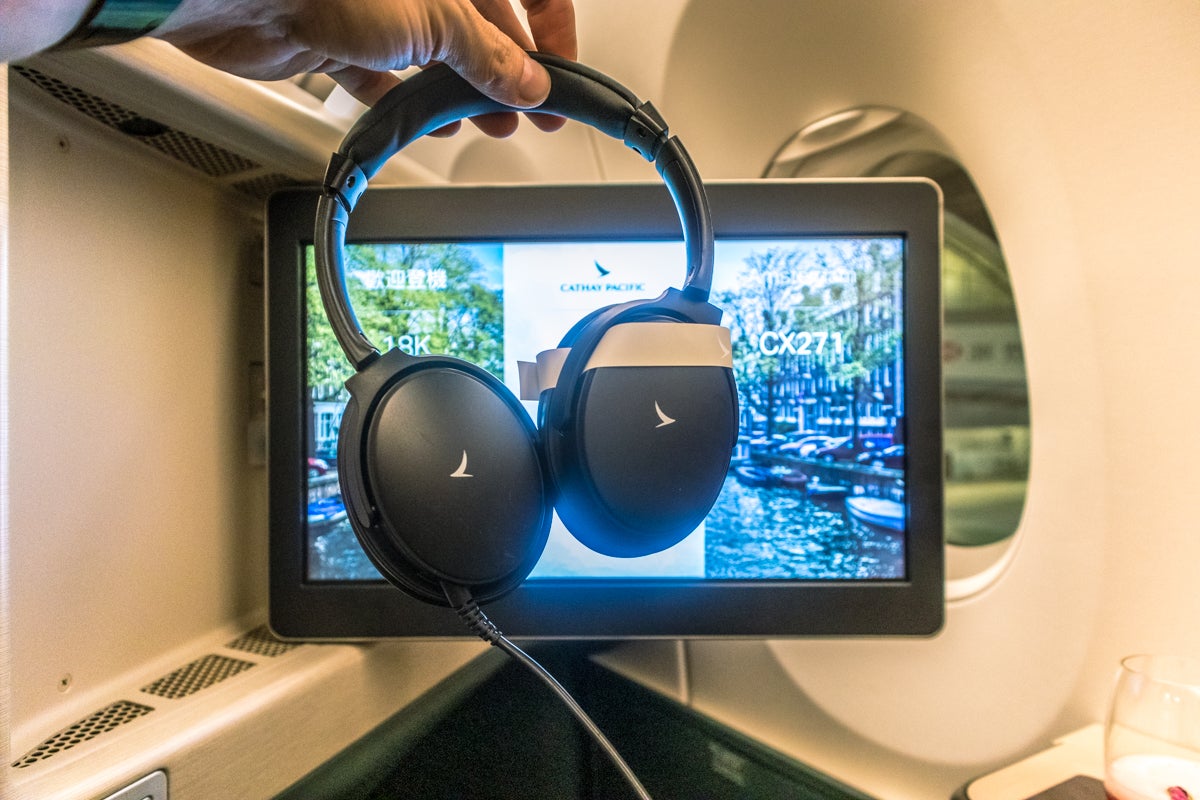 There is also an interactive air show, simulated views from the cockpit, and the exterior cameras to watch.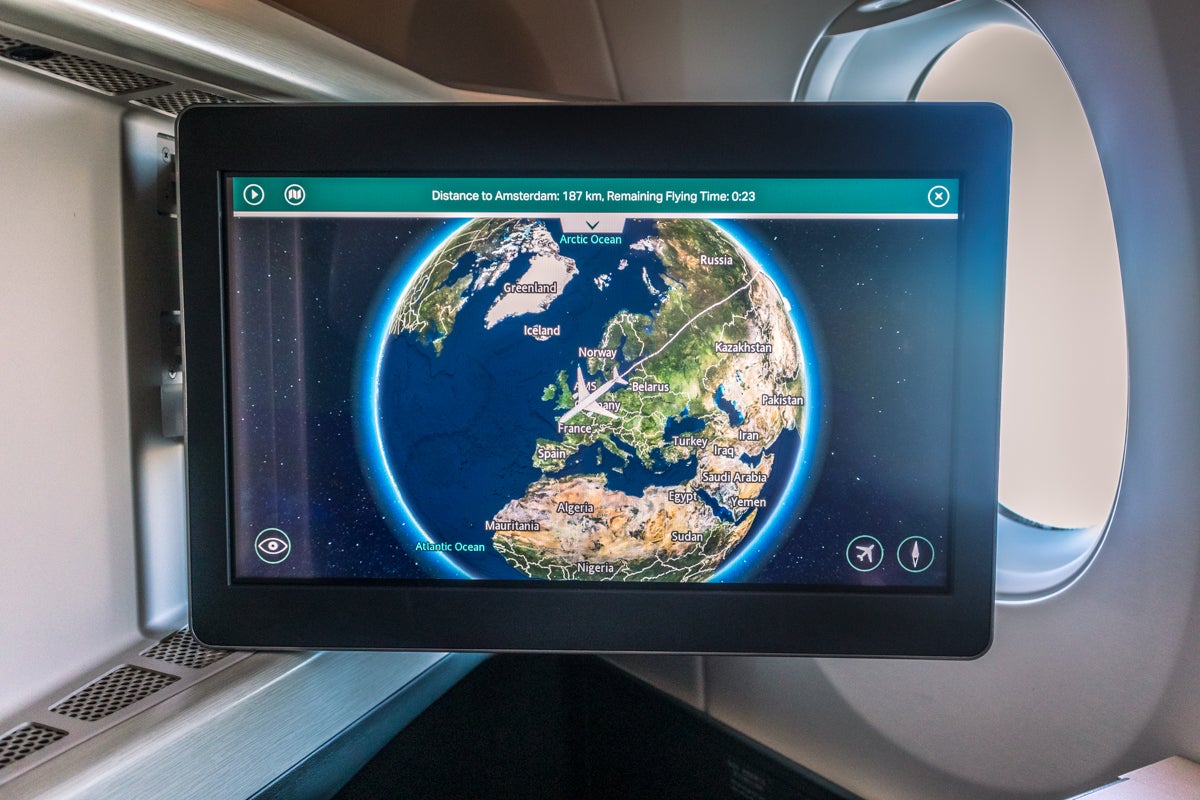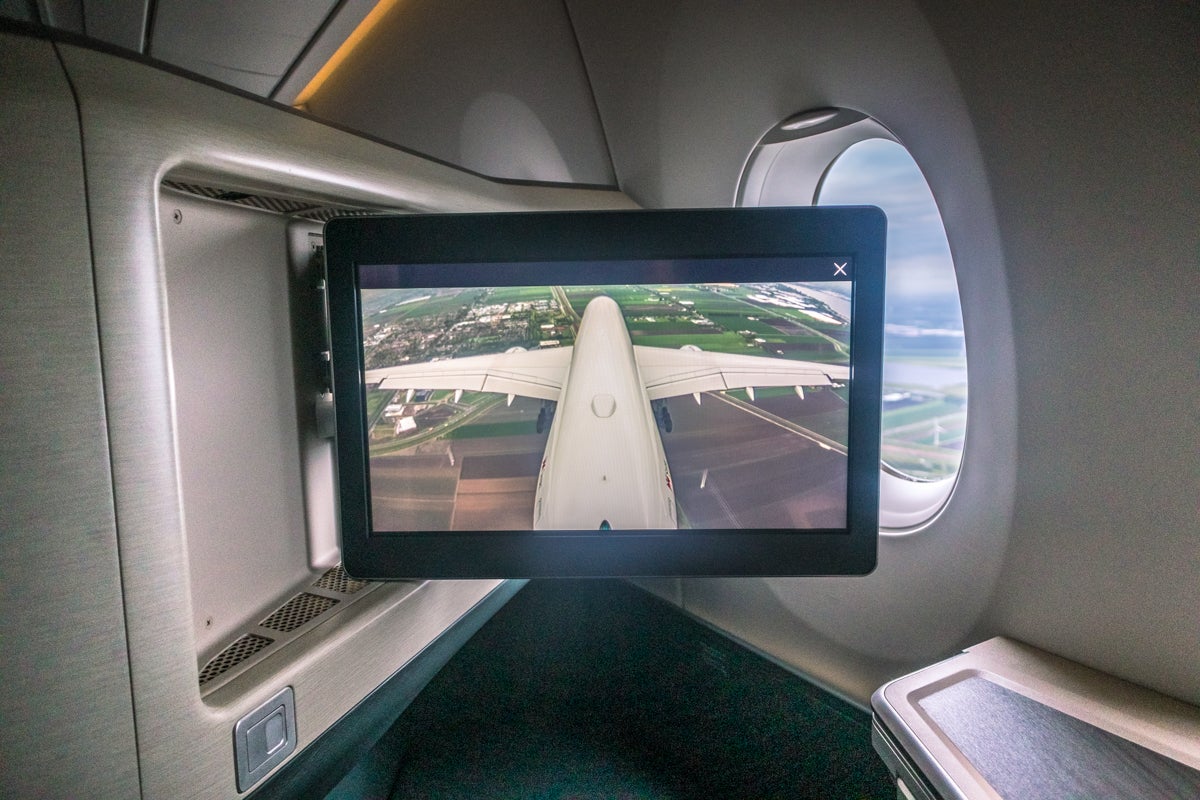 Business class passengers can advise cabin crew if they do not wish to be disturbed during the flight by selecting Do Not Disturb either on the video handset or personal TV.
Plus, passengers can advise cabin crew of the time they wish to be awoken, by selecting the wake-up function on the handset.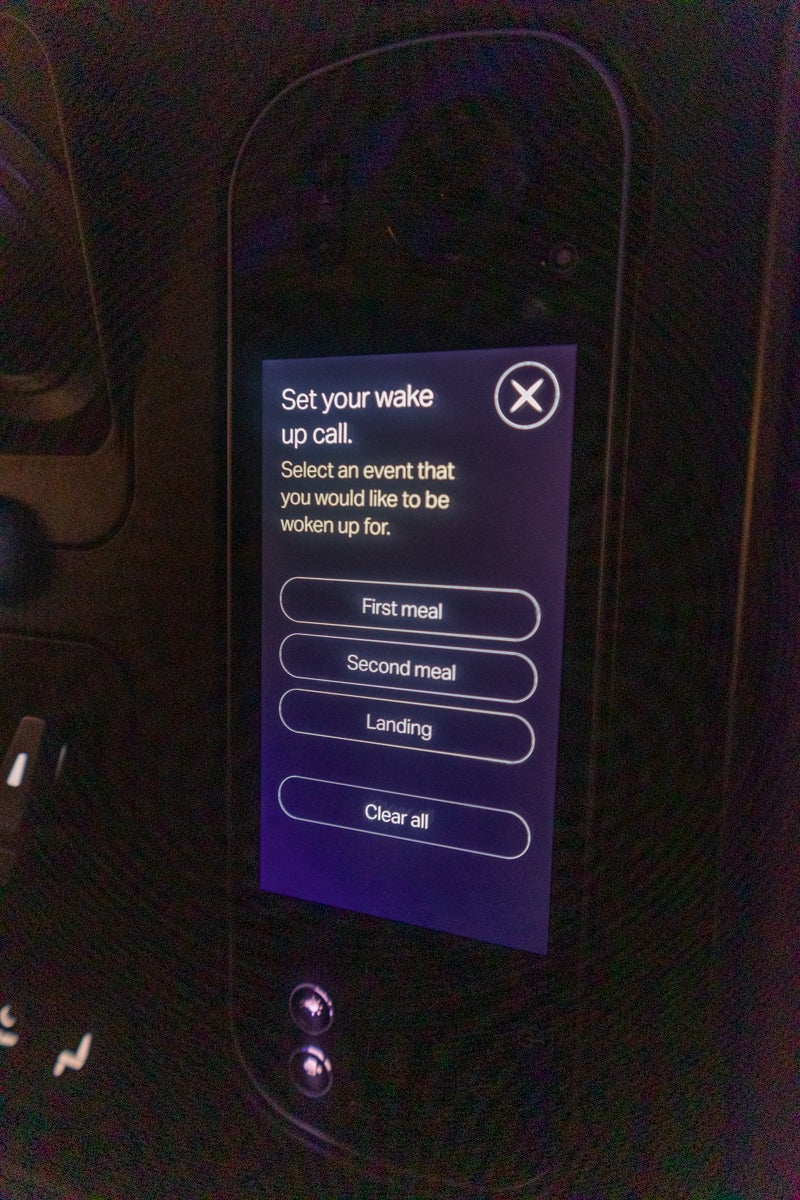 Wi-Fi is installed on all of Cathay Pacific A350s with 1 hour of access costing $9.95, or a full-flight pass (with no download limit) costing just $19.95 — which is an excellent value. I far prefer time-based Wi-Fi plans instead of data-capped ones. I clocked downloads at a speedy 9.2 Mbps and uploads at 3.70 Mbps.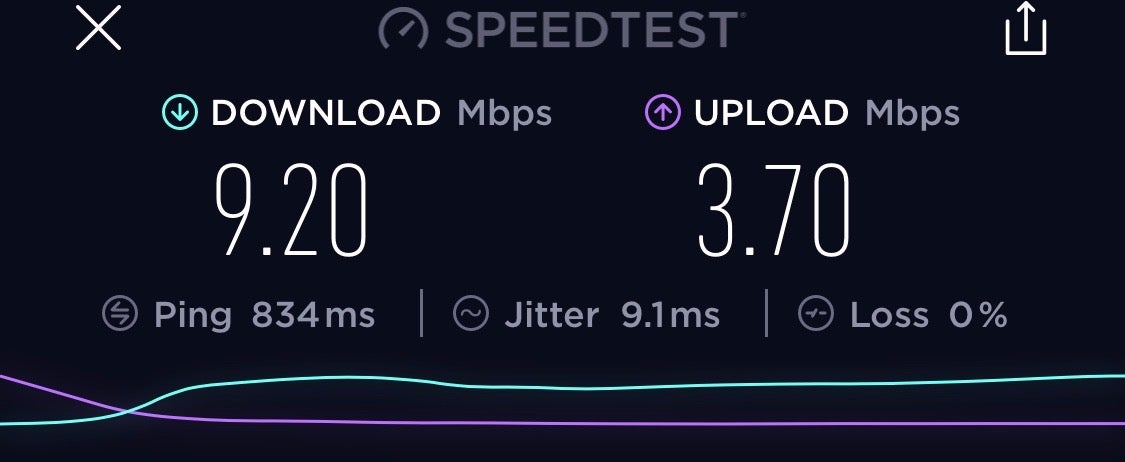 Amenities
The amenity kit hasn't changed for the last 3 years and features a wash bag designed by Seventy Eight Percent with products from Jurlique.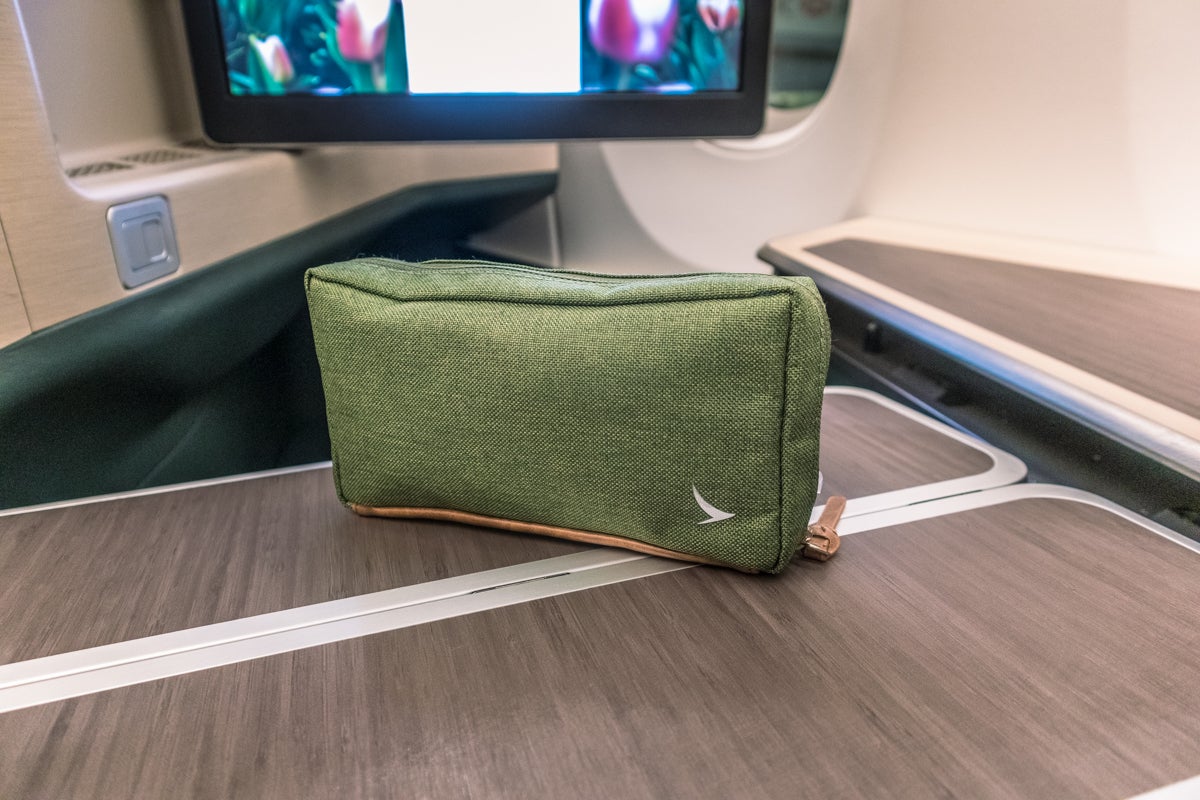 Also included is the obligatory dental kit and earplugs, as well as mouthwash. The socks have non-slip rubber on the soles.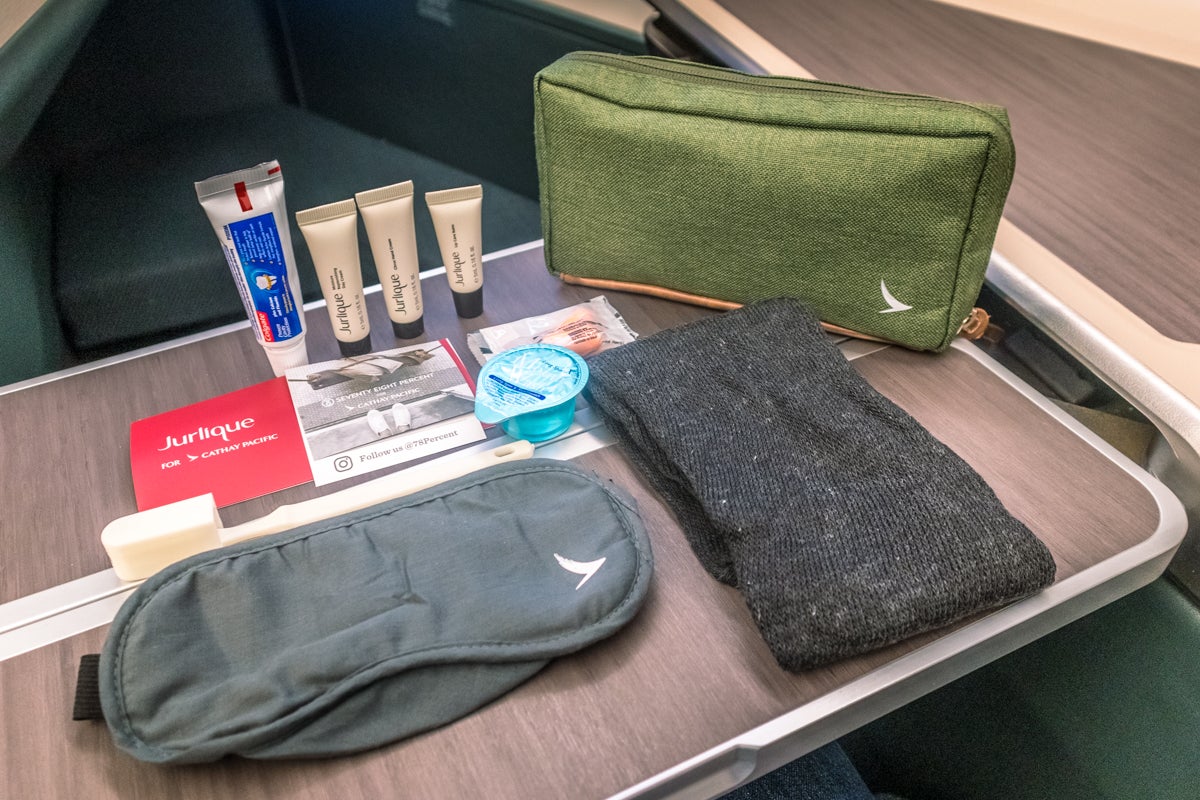 No pajamas, slippers, mattress pad, or extra pillow are supplied.
Meal and Service
After taking my seat during boarding, a crew member came around with a tray of 3 beverages. I asked what the 3 options were, to which she replied, "our signature beverages," in a condescending tone. Well, if I knew what the signature beverages were, I wouldn't have asked, would I?!
I picked the pink one, which turned out to be the Oriental Breeze that is a sour-plum tea and cranberry juice based non-alcoholic drink with honey and fresh lemon juice and a hint of rose water.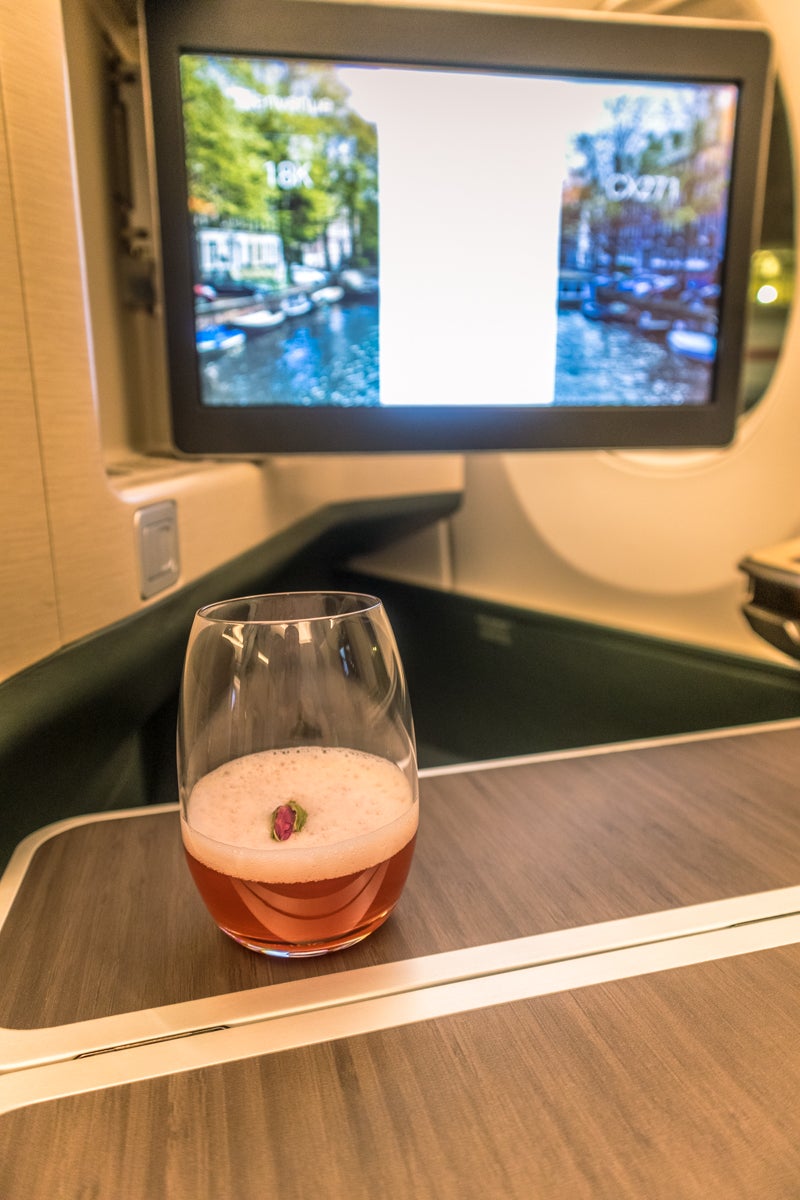 Part of the new "restaurant-style" business class meal service that was rolled out in October 2018 is "The Menu" in newspaper style. This wasn't supplied on my flight from Sydney but was waiting for me at my seat when I boarded this flight.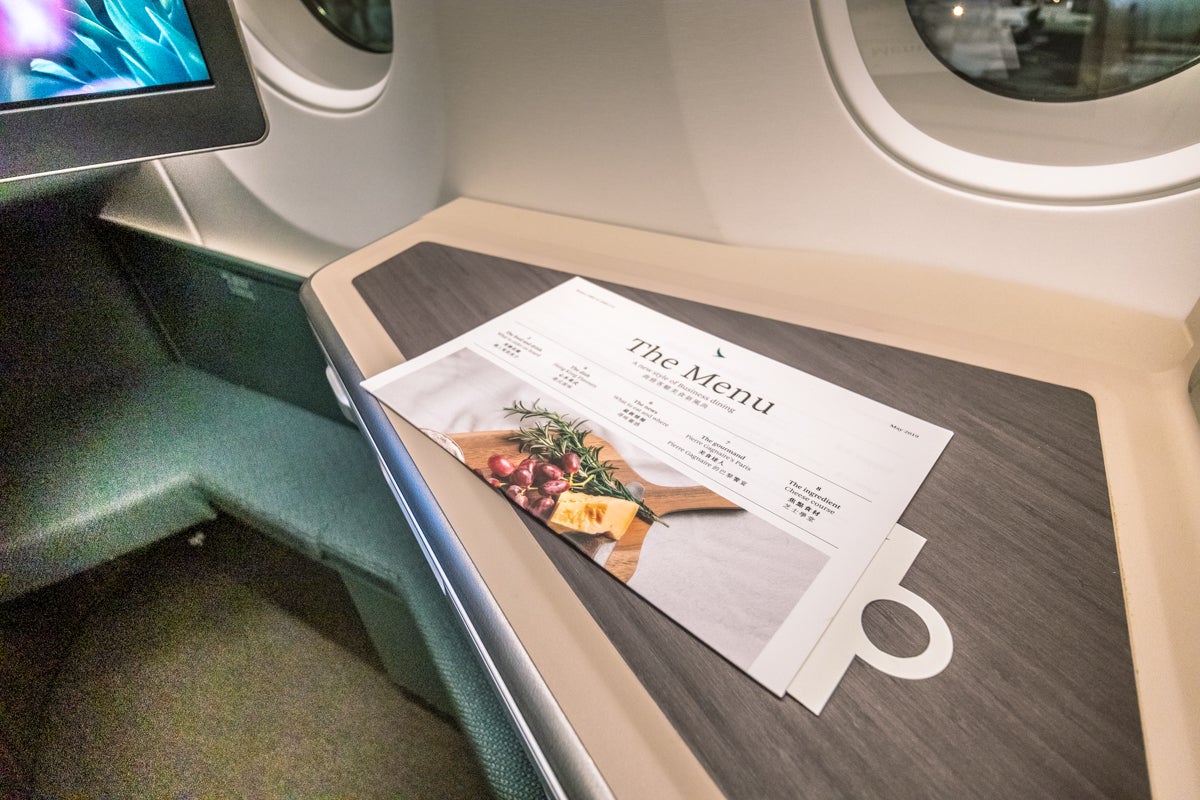 It was also accompanied by a breakfast card that perfectly fits on the coat hook of the seat shell once you've completed it.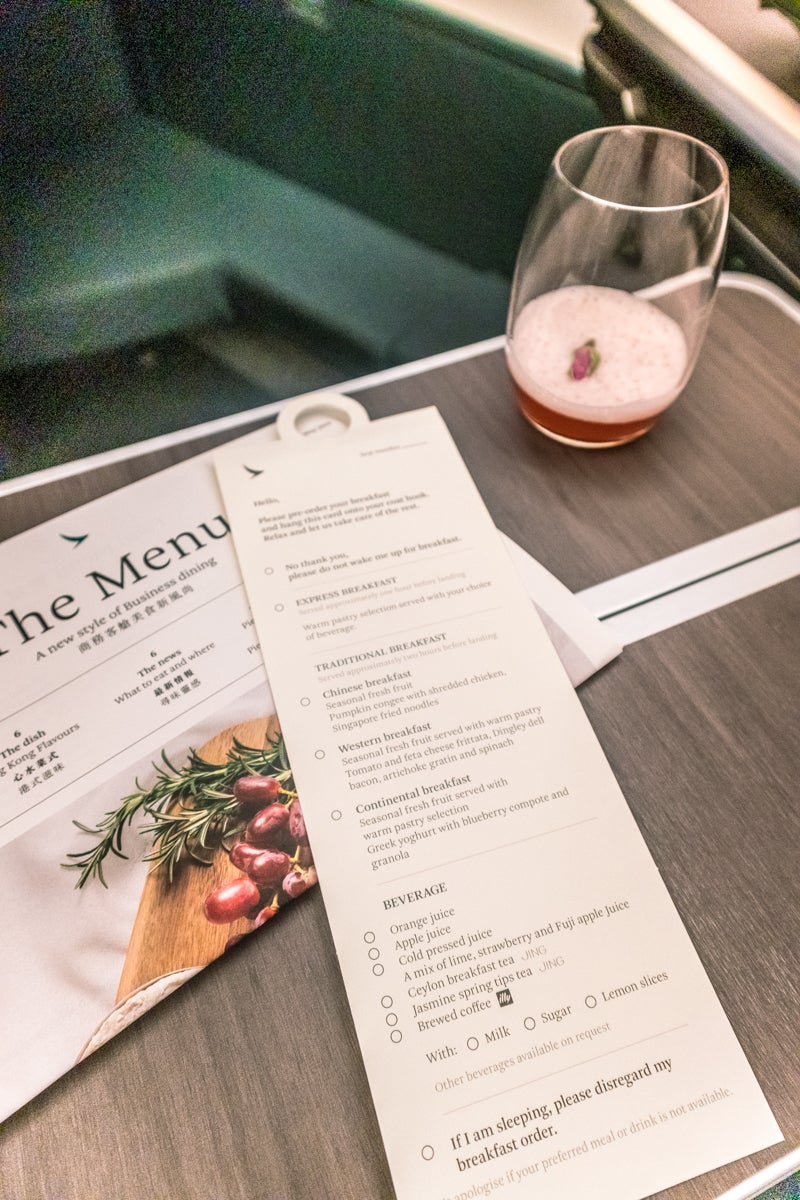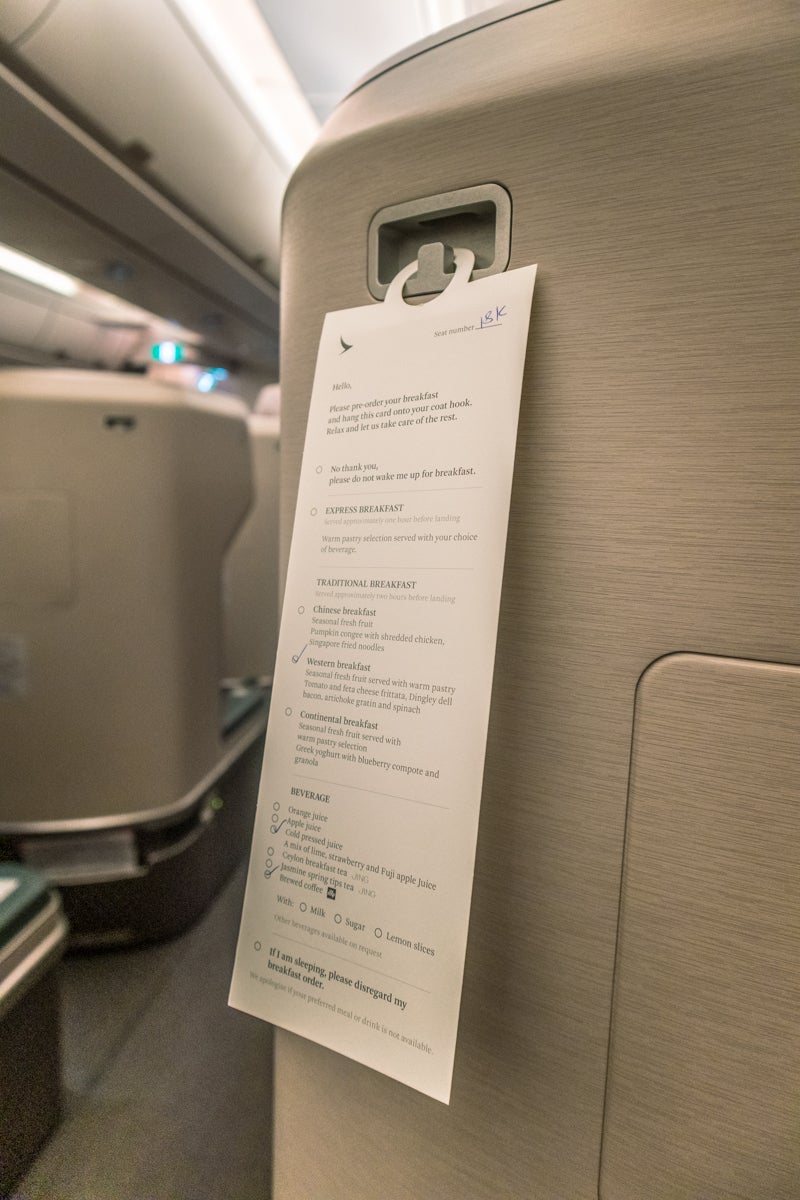 The meal order was taken before departure along with a pre-departure beverage; I selected the Cloud Nine cocktail.
At no time during boarding or after take-off did any crew member come and introduce themselves, welcome me aboard, or wish me a great flight. I was totally fine with this as I was tired and I'm not a fan of fake and forced pleasantries.
My pre-departure cocktail never arrived, and instead, my supper arrived on a tray at 1:45 a.m. Hong Kong time, over an hour after departure.
For a service described as "restaurant-style," there was no place setting and the meal still arrives on a tray. But for a late-night departure, I'm sure the tray service definitely speeds up the delivery.
There was no starter or appetizer for this "supper" service. For the main, I opted for the dish promoted most in the menu: the pan-fried beef filet in tomato and onion sauce, Shanghainese bok choy, and steamed jasmine rice. The meat was drowned in the sauce, which overpowered the dish.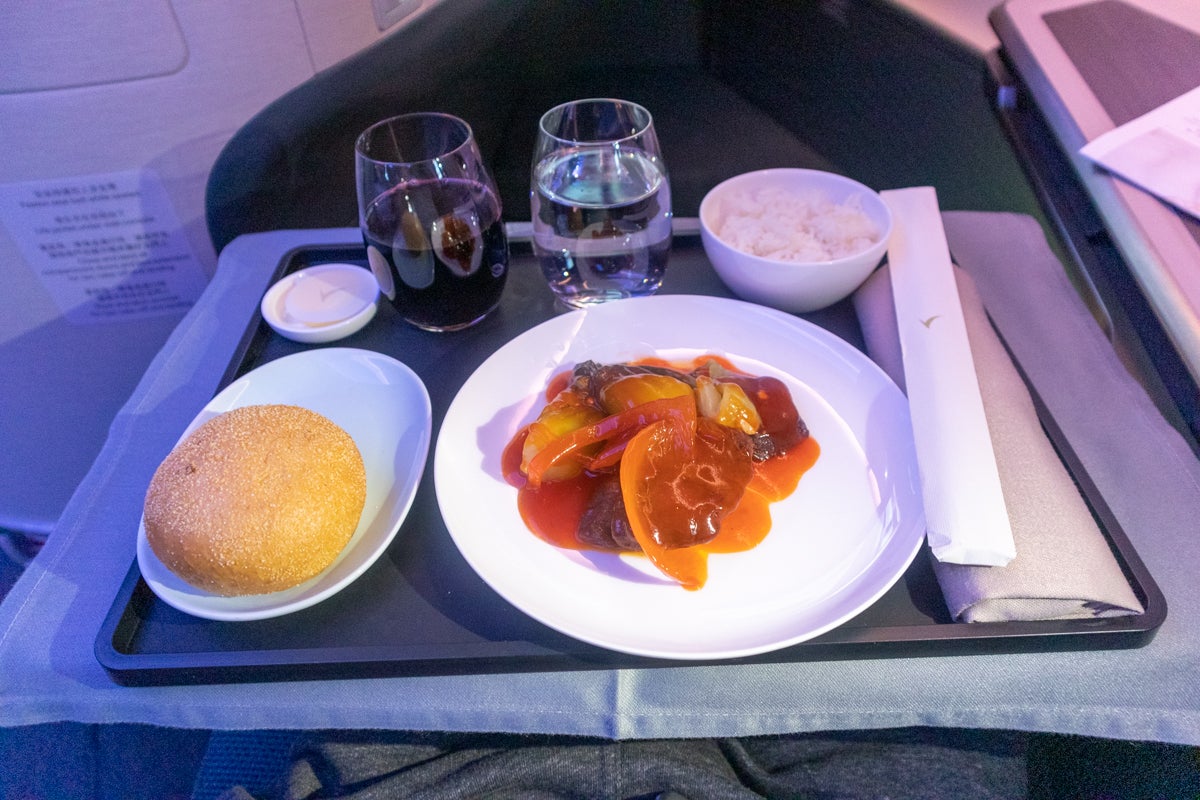 I paired this with the Clos De Reynon 2016 red wine (worth $47 a bottle).
Main options:
Roasted sea bream, edamame beans, potato, and tomato orzo pasta with fennel cream sauce.
Yangzhou style e-fu noodle in soup
Beef burger
Garden leaf side salad (on request)
Lighter options:
Sweet corn cream soup, tomato, and basil salsa
Warm lentil salad with mixed beetroot, ricotta cheese, Dijon mustard Champagne vinaigrette
Cathay Pacific promotes this new restaurant-style service as doing away with the trolleys for the service, yet they were still used on this flight for tray collection.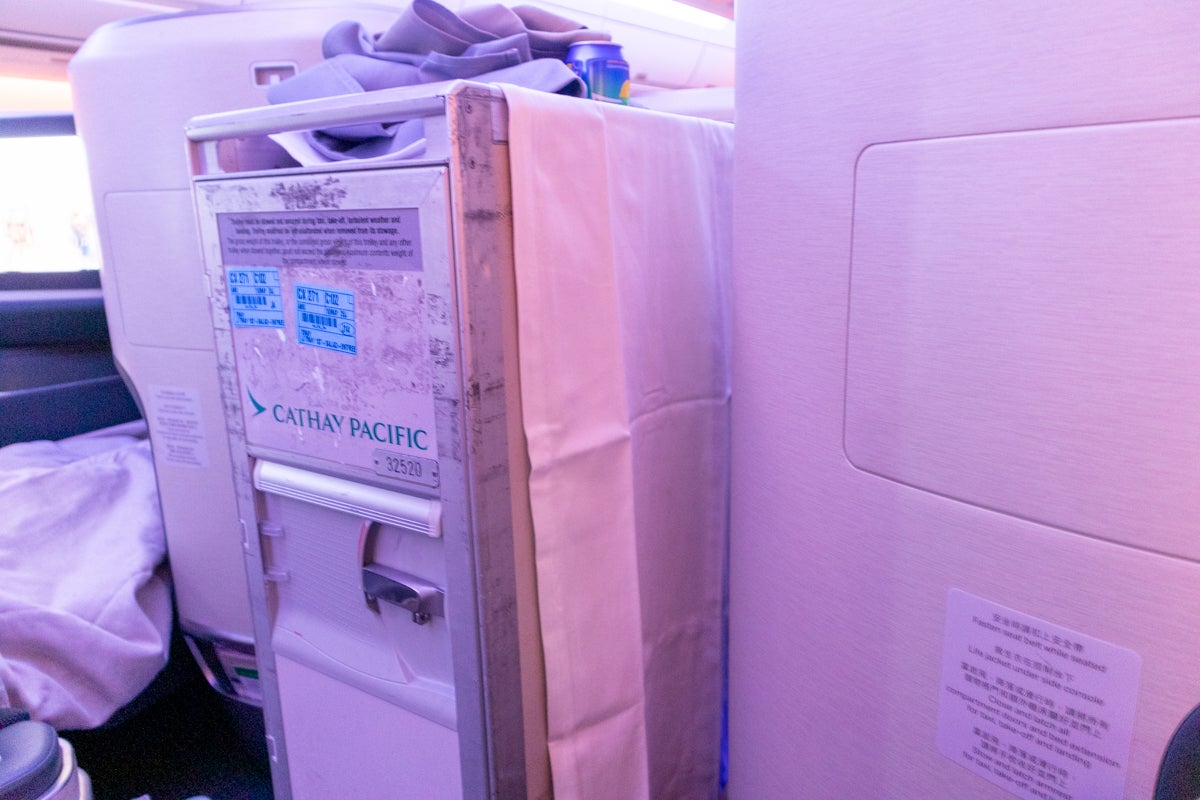 For dessert, I selected the mango pudding with whipped cream.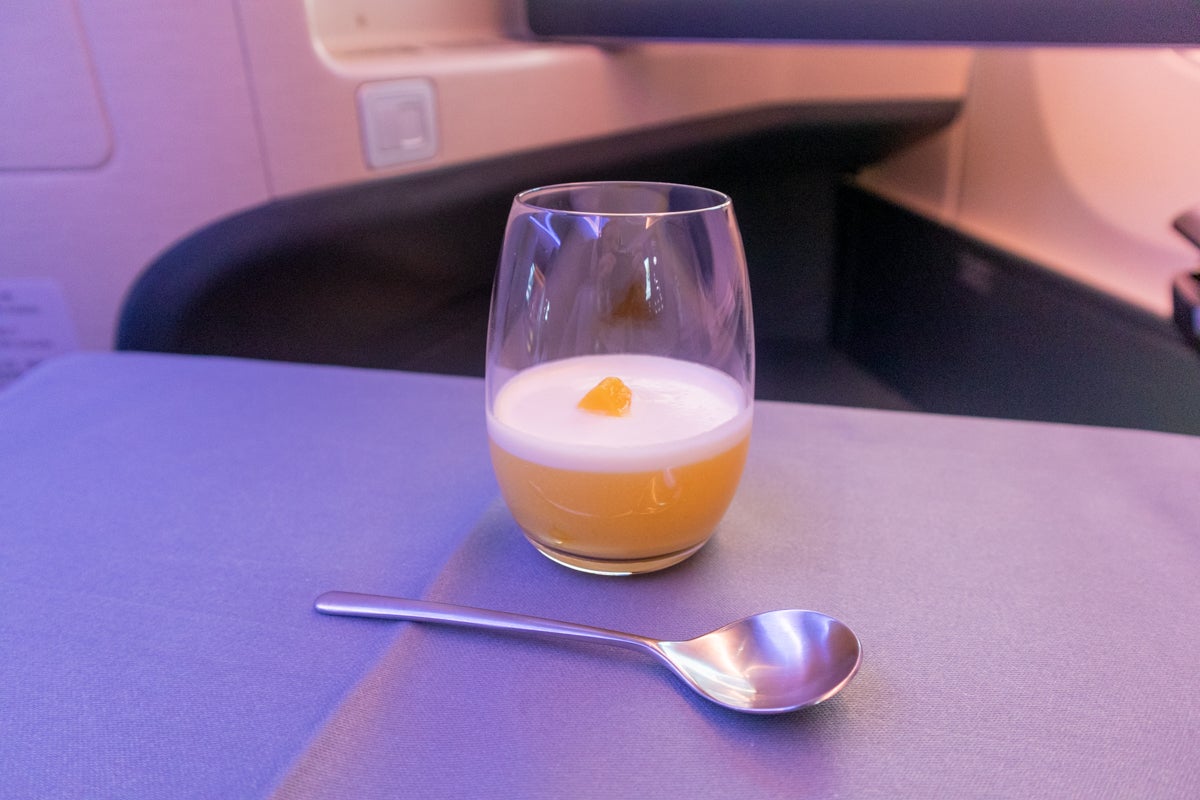 Dessert options:
Cheese plate with Steirnerberger, Camembert Le Pere, crackers, grapes, apple, and rosemary paste
Selection of ice cream
Seasonal fruit
If you were hungry during the flight, a selection of ice cream, caramel popcorn, and other sweet and savory nibbles were available in the galley.
Although I was tired, I wanted to finish watching the movie I had started. After the meal service, all the crew disappeared. No one was looking after the cabin offering proactive beverage refills and I had to use the call button to get a top-up of my drink.
Breakfast service kicked-off 2 hours out of Amsterdam. I had already ordered the Western option on my breakfast card that included seasonal fresh fruit served with warm croissant, tomato and feta cheese frittata, bacon, artichoke gratin, and spinach.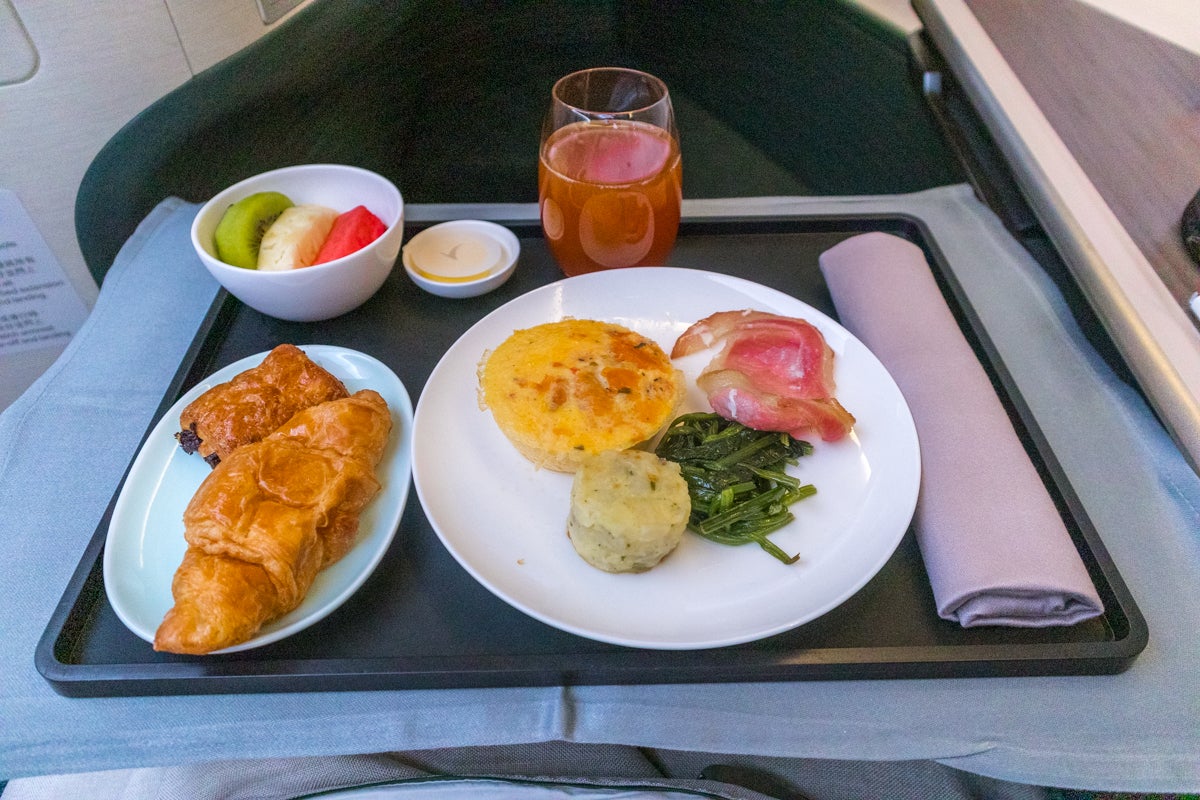 It wasn't great. I probably should have tried the Chinese breakfast instead which had pumpkin congee with shredded chicken and Singapore fried noodles.
Merely 20 minutes after placing breakfast in front of me, and 1 hour 40 minutes to go before arrival into Amsterdam, a crew member snatched the tray away from me without warning, even though I hadn't finished eating. I quickly grabbed the juice and croissant off the tray as it was being lifted away.
Final Thoughts
Overall, I'm a huge fan of Cathay Pacific's Airbus A350-1000 aircraft. The hard product is excellent. I love the new seat: it's wide, has excellent storage, and it's amazing to sleep on, which is really important for a business class experience.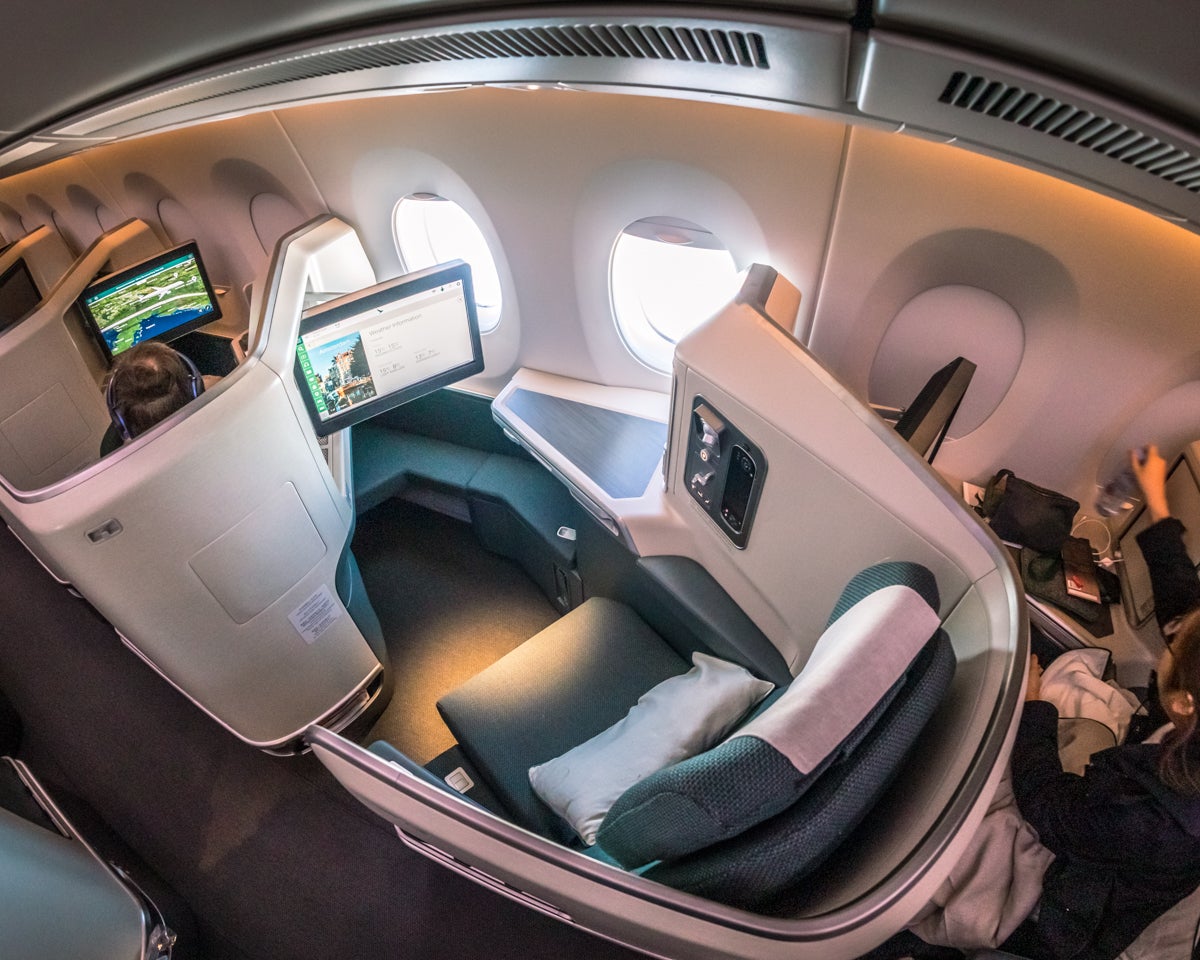 However, the soft product really let down the flight. The new "restaurant-style" dining concept has been widely promoted and I personally don't think it lives up to the hype. Don't get me wrong, it is better than before, but they should have benchmarked the service against other carriers and not just themselves. Knowing how good Singapore Airlines catering is and even Virgin Australia, Cathay could have done better.
The crew of this flight didn't wow me either. I understand that they wanted to rush the meal service due to the 12:30 a.m. departure time, but to speak condescendingly towards me over a pre-departure beverage, disappear after the meal service, and snatch my unfinished breakfast away from me without asking is pretty poor.
Would I fly this product again? Yes, it's great value at 85,000 miles between Sydney and Europe. I'm already booked on another flight for early next year. But I hope Cathay Pacific is listening to this feedback and refines the new dining concept further, introduces a mattress pad, and really lifts its service.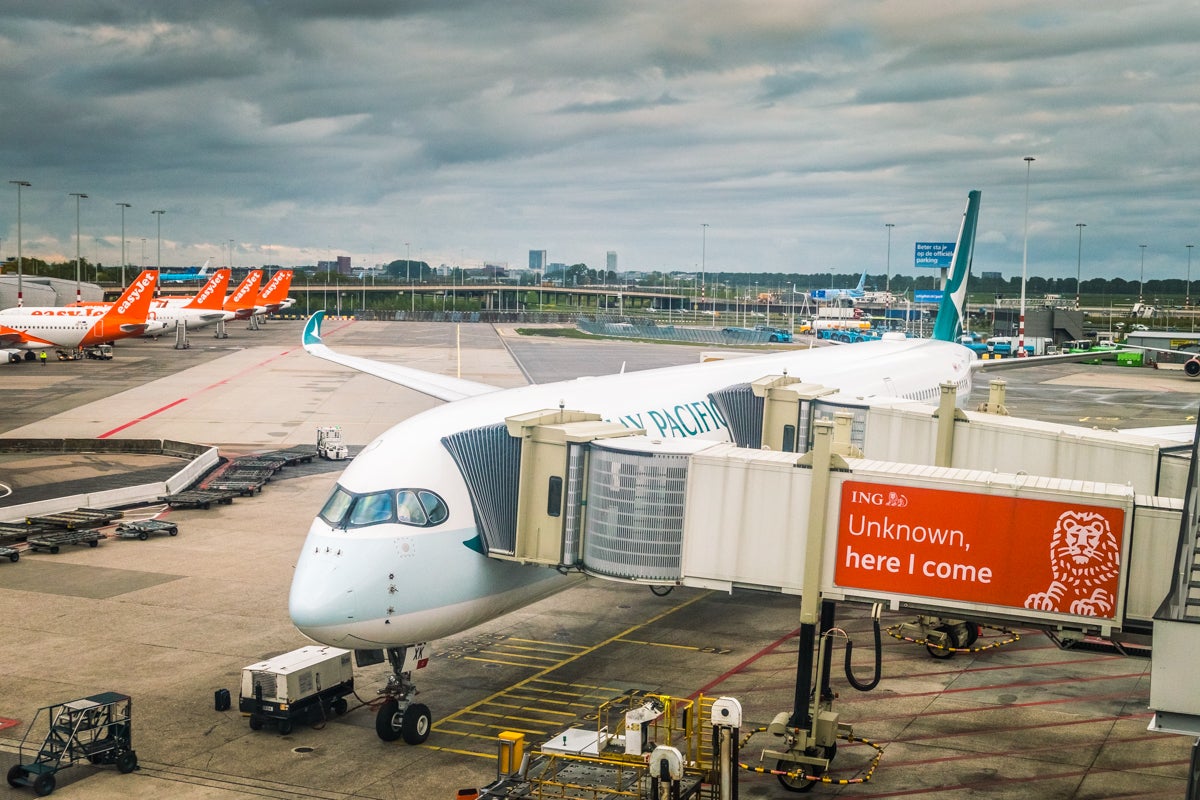 ---
All images, unless otherwise noted, are credited to: Greg Stone