How To Use ExpertFlyer To Automatically Search for Award Space & Upgrades
If you're an award traveler, follow Upgraded Points closely, or just have an interest in aviation and credit card points, you've probably heard of ExpertFlyer.
Planning trips with points and miles can be overwhelming, difficult, time-consuming, or all of the above. This is due to 1 main factor: award availability. ExpertFlyer is one of the best, most user-friendly ways to get a host of this highly valuable information.
ExpertFlyer is incredibly useful in a lot of ways, but the main one is searching for award availability. Though the tool does a lot more than that, we'll be focusing on this availability aspect — also known as award space or award seats.
This guide will be comprehensive and one of the most thorough walk-throughs of ExpertFlyer that exists. We'll start with an introduction of ExpertFlyer, then we'll dive into the tool's key features and benefits.
Introduction
ExpertFlyer is an incredibly useful tool, as we've already stated. However, it's not free (except for a 5-day free trial).
That said, a membership to ExpertFlyer can help you with award and upgrade searches, fare searches, flight timetables, flight statuses, seat maps, and much more. Let's quickly touch on the tiers of membership and why you may want to opt for the top one.
ExpertFlyer Membership Tiers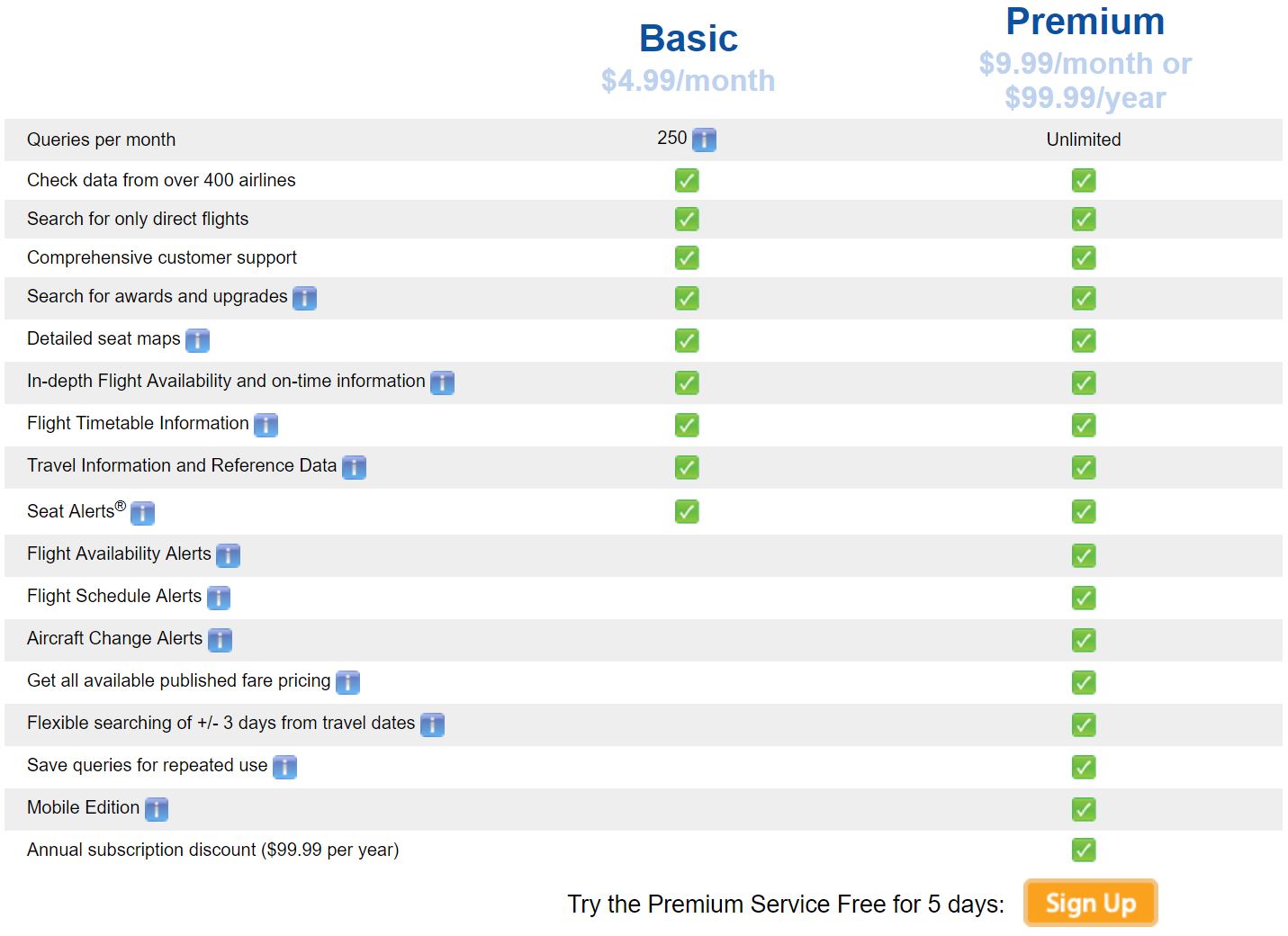 There are 2 tiers of membership: Basic and Premium.
With Basic, you'll pay $4.99 per month for up to 250 queries per month. You can search for direct-only flights, check data from over 400 airlines, search for awards and upgrades, access detailed seat maps, create seat alerts, and much more.
The main thing missing from Basic is flight availability alerts. With a Premium membership, you'll have unlimited queries per month, access to flight availability alerts, flight schedule alerts, aircraft change alerts, all published fare pricing, flexible searches of up to 3 days from travel dates, saved queries, and even the mobile edition of ExpertFlyer.
We'll look in-depth at each of these benefits below, but the most important benefit of Premium membership is that you get to set flight alerts. Say you are looking for 2 ANA first class tickets from New York to Tokyo, but there are no flights currently available with any first class space.
With Flight Availability Alerts, you can receive email notifications if/when 2 first class seats open up for an award redemption. This eliminates much of the stress associated with award bookings, and automates much of the award availability search.
This perk alone may be worth the upgrade to Premium membership over Basic, but that's up to you to decide. Now let's talk about the bread and butter of ExpertFlyer: award and upgrade availability search.
Awards & Upgrades
Flight awards and upgrades are at the heart of points and miles travel, so it makes sense that we spend a significant chunk of time on this.
Generally speaking, the process of securing an award flight consists of 2 parts:
Award search (most difficult part)
Award booking (least difficult part)
We find that the award searches often cause the most headaches and consume the most time. But ExpertFlyer's flight award and upgrade availability search removes much of the hassle in this sense.
In addition to availability searches, ExpertFlyer offers flight alerts, seat alerts, and aircraft change alerts — we'll touch on these in the coming sections.
Award & Upgrade Availability Search
The ExpertFlyer Award & Upgrade Availability Search receives input information from the user (you) and performs the award search. You can only search 1 airline at a time, and not all airlines are searchable with ExpertFlyer.
Here's the list of searchable airlines:
Adria Airways
Aegean Airlines
Aer Lingus
Aeroflot
Aerolineas Argentinas
Aeromexico
Air Canada
Air China International
Air Europa Lineas Aereas
Air France
Air India
Air Malta
Air Mauritius
Air New Zealand
Air Serbia
Air Seychelles
Air Tahiti Nui
Alaska Airlines
Alitalia
All Nippon Airways (ANA)
American Airlines
Asiana Airlines
Austrian Airlines
Avianca Vuela
Avianca Brasil
Avianca Costa Rica
Azul
British Airways
Brussels Airlines
Canadian North
China Airlines
China Eastern Airlines
China Southern Airlines
Copa Airlines
Croatia Airlines
Czech Airlines
Delta Air Lines
Egyptair
El Al
Emirates
Ethiopian Airlines
Etihad Airways
EVA Air
Fiji Airways
Finnair
Garuda Indonesia
Gol Transportes Aereos
Gulf Air
Hainan Airlines
Hawaiian Airlines
Hong Kong Express
Iberia
Icelandair
Jet Airways
Kenya Airways
KLM
Korean Air
Kuwait Airways
LOT Polish
Lufthansa
Malaysia Airlines
Mandarin Airlines
Martinair
Middle East Airlines
Niki
Philippine Airlines
Qantas Airways
Royal Jordanian
SAS
Saudia
Shanghai Airlines
Shenzhen Airlines
Siberia Airlines
Singapore Airlines
South African Airways
Sri Lankan Airlines
Swiss International Air Lines
TACA
TAP Portugal
TAROM
Thai Airways International
Turkish Airlines
United Airlines
Vietnam Airlines
Virgin Atlantic Airways
Virgin Australia
Westjet
Xiamen Airlines
And here are some airlines you cannot search for using ExpertFlyer:
Bangkok Airways
Condor
Cathay Pacific
Qatar Airways
Japan Airlines
LATAM
So, this is one imperfection to the system — but for many of us, it still cuts down the time spent on award searches by an astronomical amount.
Once you've logged into your ExpertFlyer account, you'll arrive at the following landing page.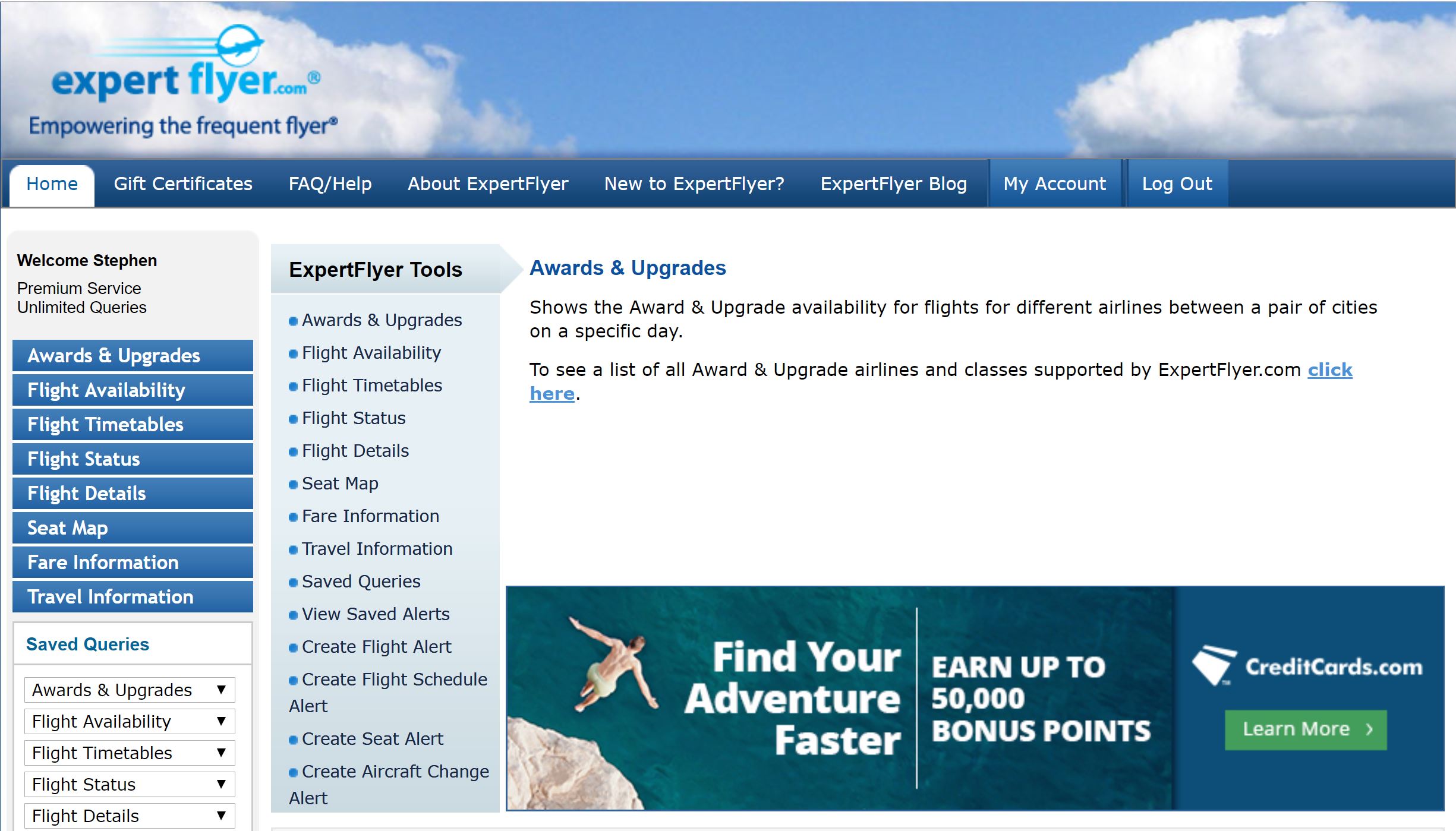 You'll want to click the button that says Awards & Upgrades.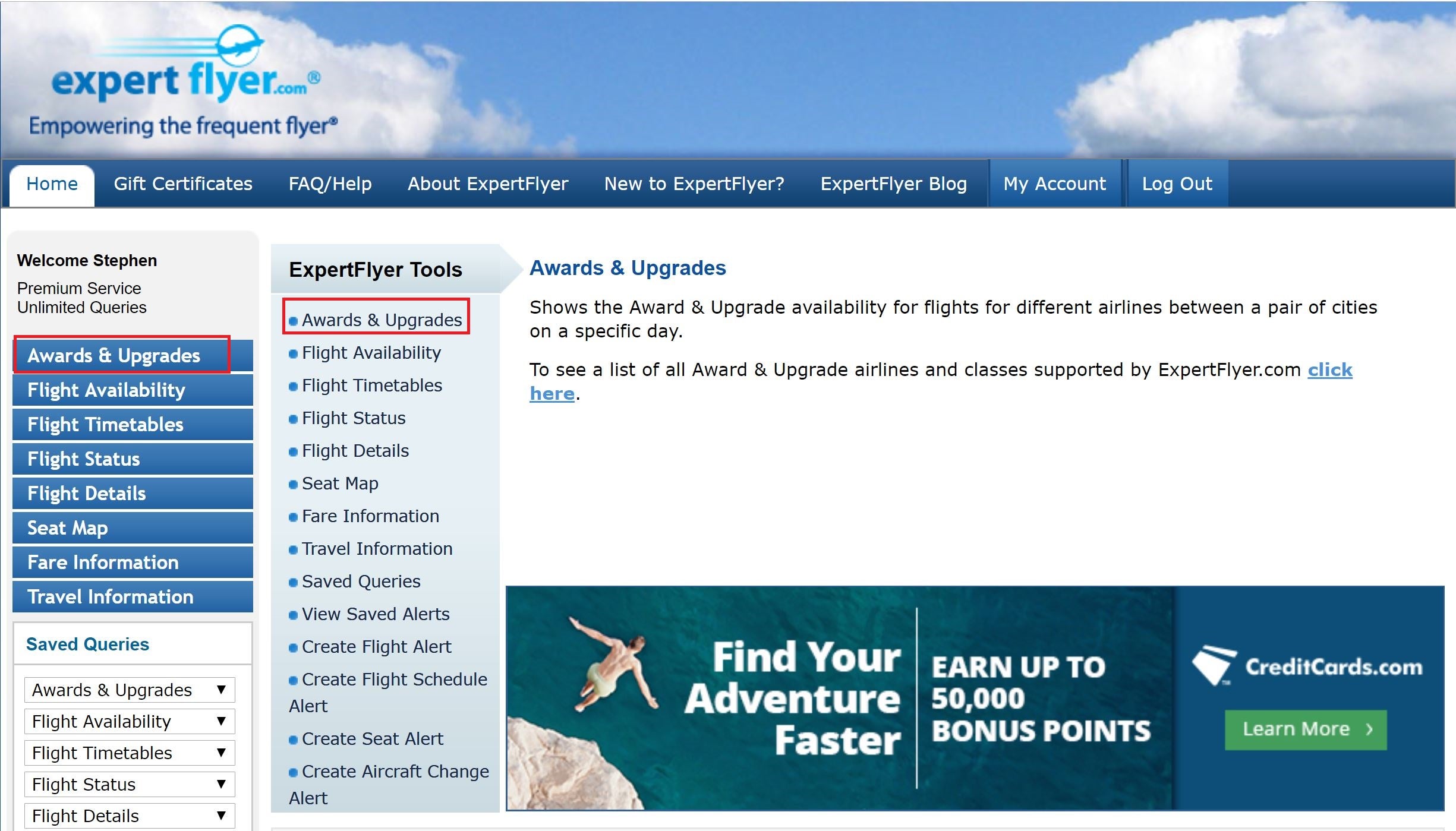 After you click either of the awards and upgrades buttons, you'll arrive at a search page with several fields you'll want to fill in.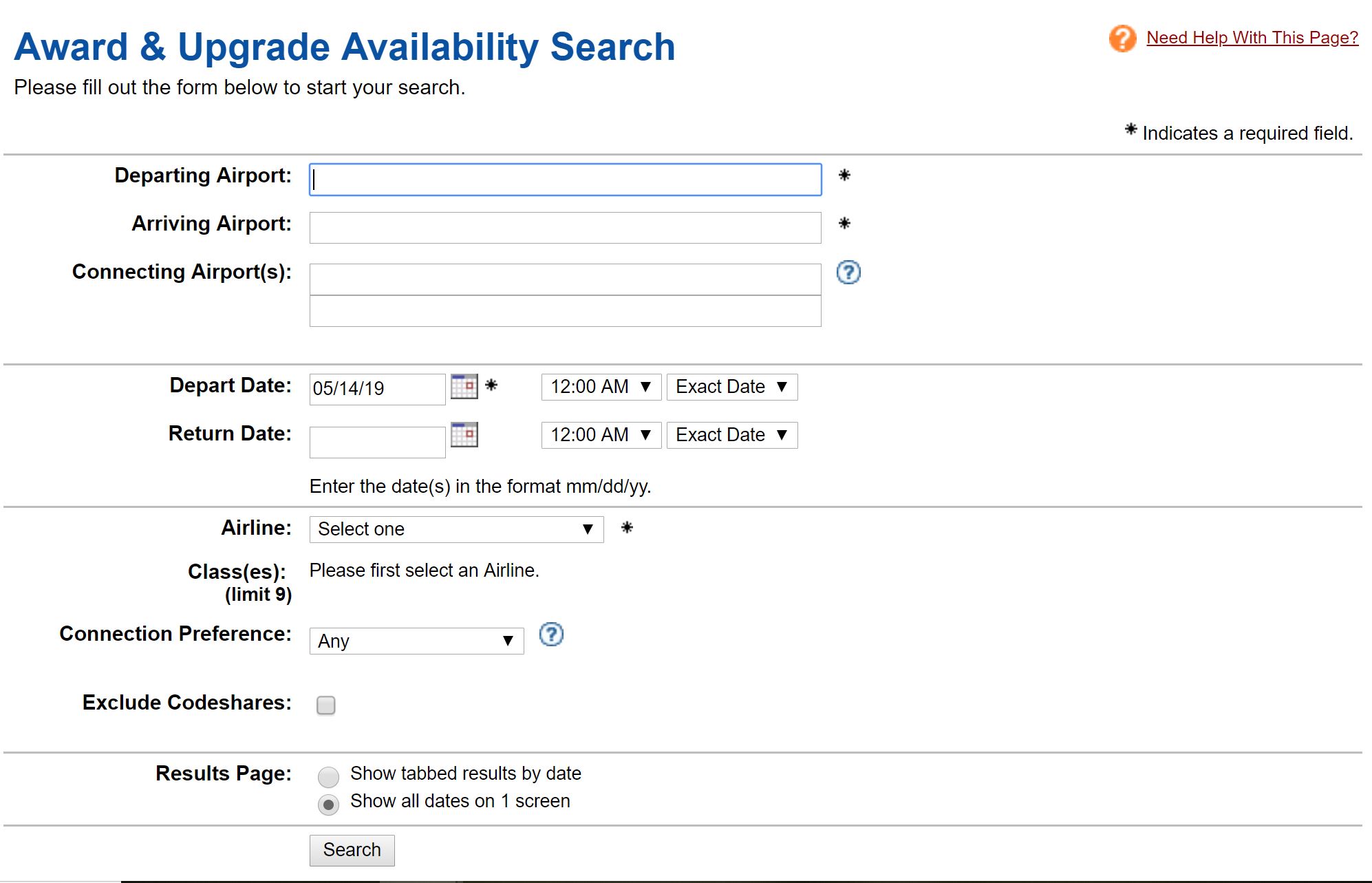 Here's what a search query that has been filled out might look like: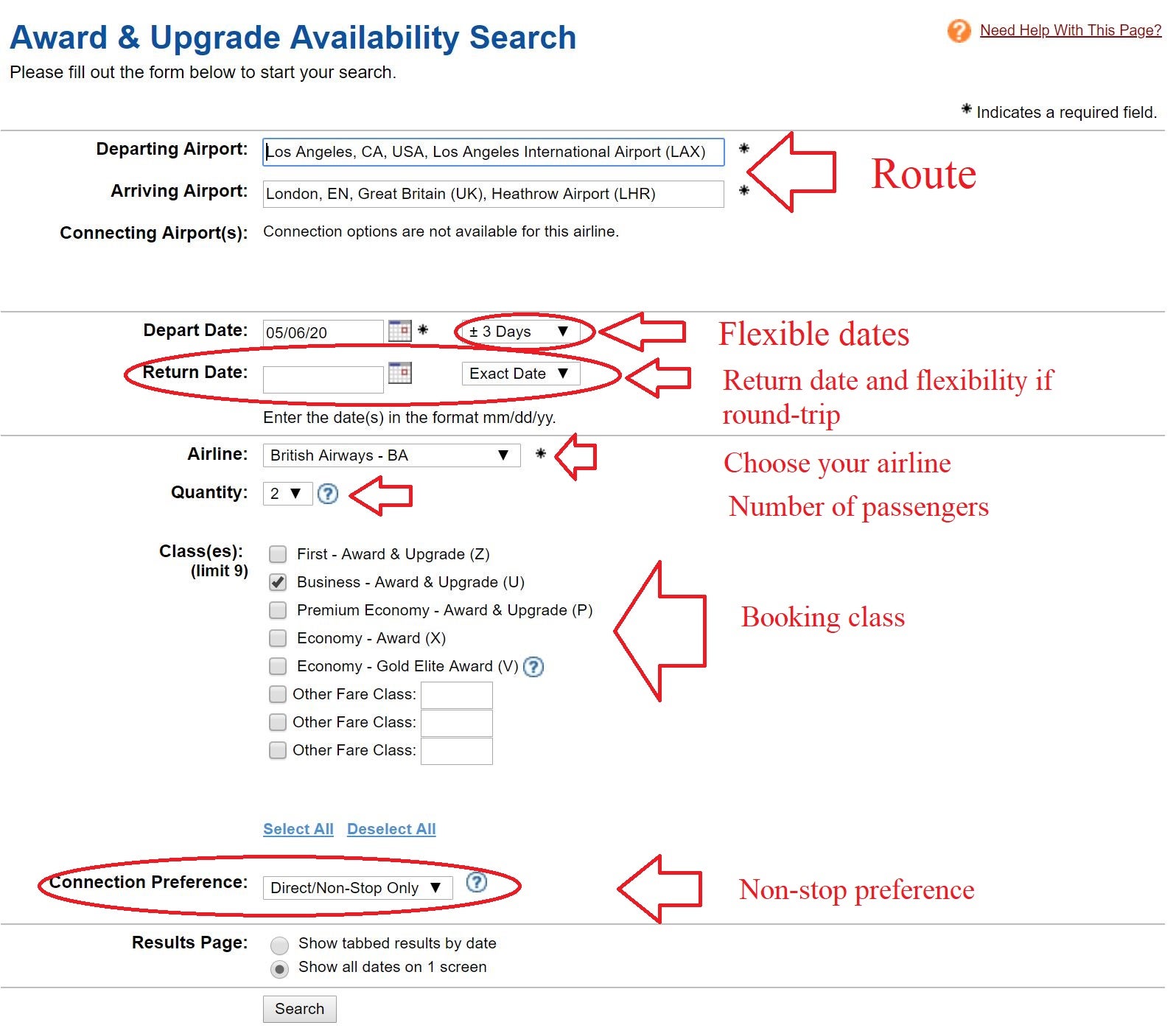 In theory, all you need to perform an award search is your airport pairs, number of passengers, travel dates, and airlines. However, repeating these searches is extremely tedious, and ExpertFlyer does a great job reducing your burden.
Here are some of the displayed options:
You can search using flexible dates (up to 3 days earlier and 3 days later)
You can search for multiple booking classes (first and business class)
You can restrict your award search to nonstop flights only
Let's see what the search results would look like after initializing a query.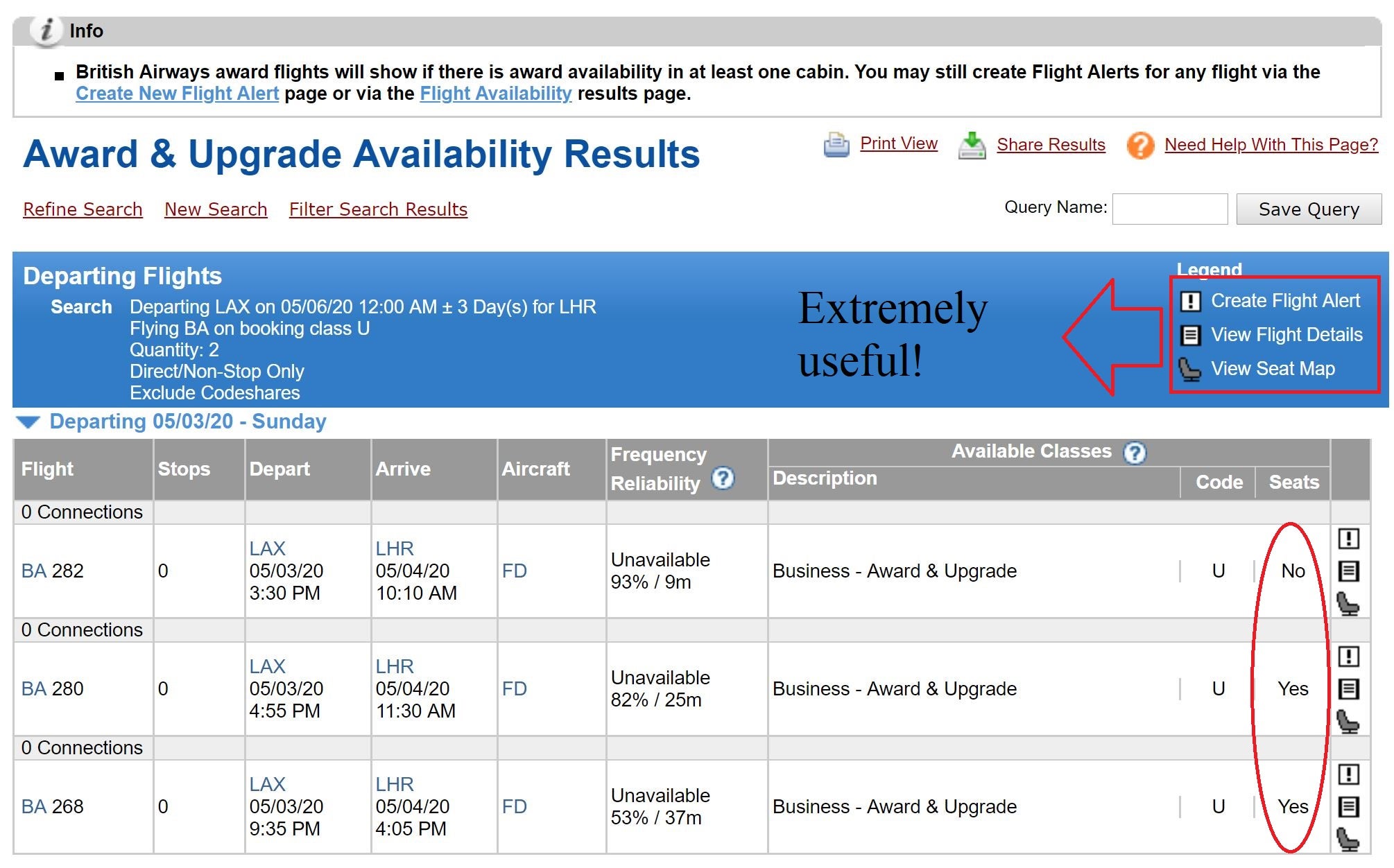 I performed an award search as per the filled query above, and this is what was returned to me. There are 3 flights on British Airways between Los Angeles and London on May 3, 2020. Of these 3 flights, there are 2 with business class award seats available as shown on the right side of the page.
In this case, BA 280 and BA 268 have business class award space. Additionally, the on-time departure percentage is displayed in the column that says Frequency Reliability. In our case, BA 282 is 93% on-time with an average delay of 9 minutes, BA 280 is 82% on time with an average delay of 25 minutes, and BA 268 is 53% on time with an average delay of 37 minutes.
Note that the flight availability may be displayed in a different format. Specifically, instead of a Yes or No, the number of award seats available may be presented. Let's see that in an American Airlines example: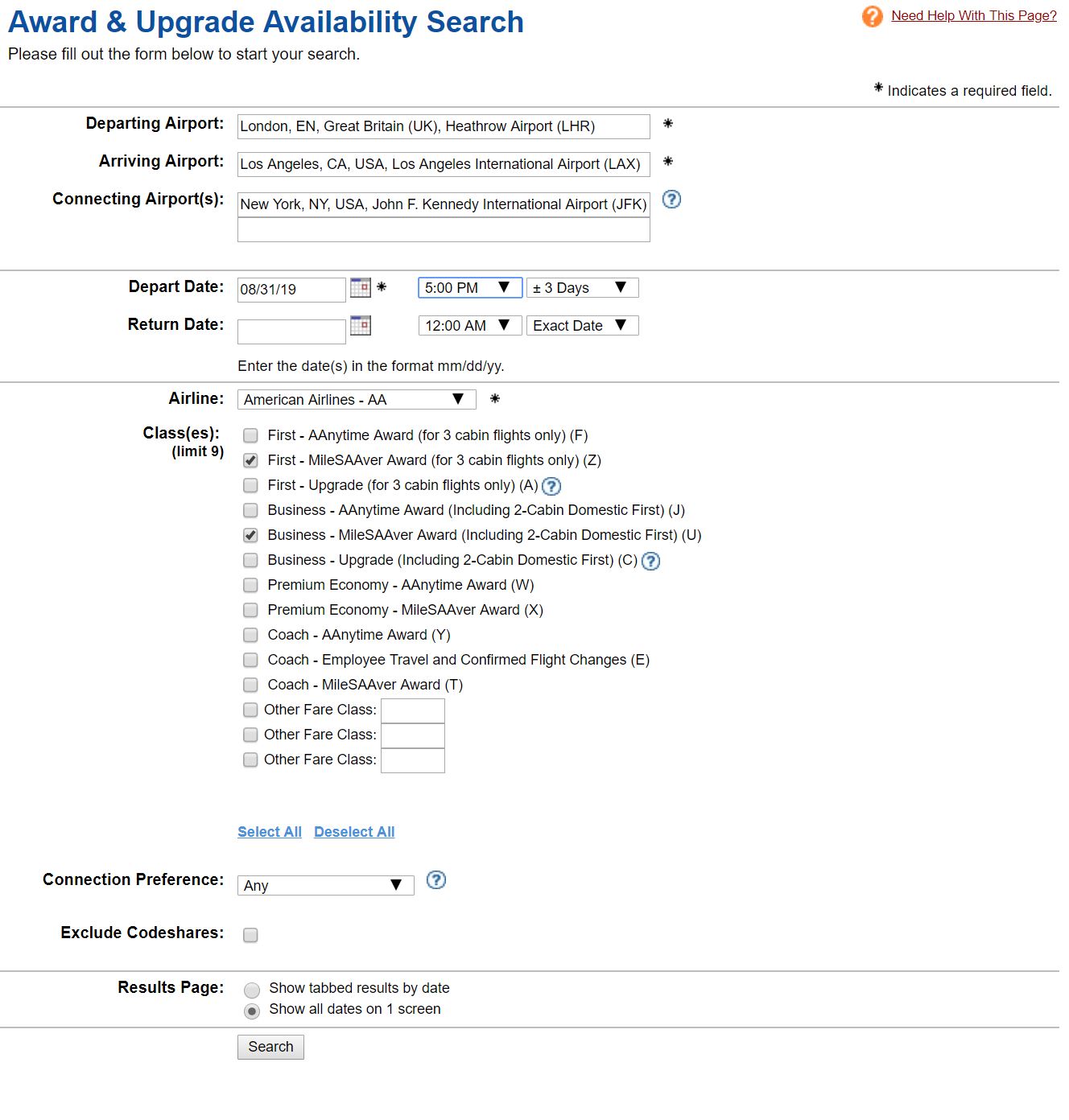 The query search form may look slightly different depending on the airline you're searching on. For example, if you choose American Airlines as your carrier, you can select connecting airports.
In our case, we've chosen to connect in New York before continuing on to Los Angeles. American Airlines has countless flights between the cities of Los Angeles (LAX), New York City (JFK), and London-Heathrow (LHR), so it's useful to narrow down the flights by time (we've done this to reflect 5:00pm departures on August 31, 2019).
The result? ExpertFlyer works its magic, and up comes the unicorn that is American Airlines first and business class availability.

There are 4 seats available aboard the 777-300ER Flagship first class from London to New York and then to Los Angeles. And Flagship business class has at least 7 seats. It's important to note that there may be more business class award seats available, but the maximum displayed is 7.
Can you see the power of ExpertFlyer's award and upgrade search? Simply put, if you take the time to learn the system and how to properly query results and searches, you'll have a ton to gain out of this.
Hot Tip: One thing you'll want to do is learn about fare classes. Some airlines, such as American Airlines, have different tiers of award tickets: they use MileSAAver (cheapest) and AAnytime (most expensive), which have a drastic price difference. You'll want to check off the correct boxes when choosing your fare classes to search. Click here to learn about the different airline fare classes searchable with ExpertFlyer.
Let's talk about some of the other core functions of ExpertFlyer.
Flight Alerts

There's a button on the right side of the flight results page that looks like a square with an exclamation mark in the middle. This is known as Flight Alerts.
Flight Alerts allow you to automatically receive email alerts for either of the following scenarios:
You see a flight you want, but it doesn't have award seats at this moment. You want to receive notifications when there are award seats on the exact flight and for the exact number of people in the exact booking class you want.
You see a flight that has more award seats than you need, but you might be waiting on a better flight or maybe waiting on more definitive travel plans. You want to be notified when there are fewer than a set number of award seats available so you can make the decision to book (or not).
Here's what the dialog box looks like to create an ExpertFlyer flight alert: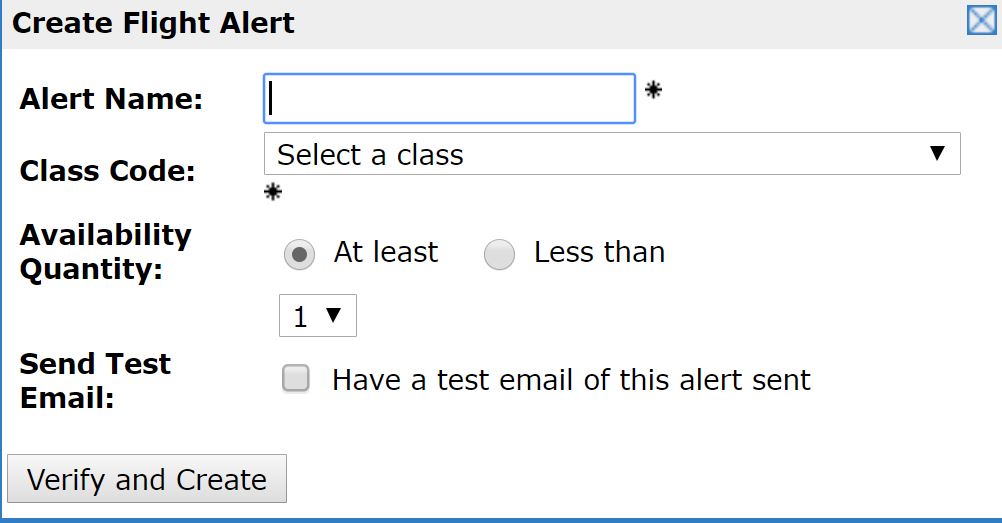 You'll want to name your flight alert, select your cabin class code, select At least or Less than, choose the number of seats, and click Verify and Create.
Let's talk through a couple of examples.
If you're in situation 1 above and are waiting for your desired award flight for 2 people, you'll click At least and choose 2 for your availability quantity. This will notify you via email when there are 2 seats available on your flight.
If you're in situation 2 above, and have found excess availability (maybe 5 seats if you need 2), but are also hesitant to commit to the award flight, you'll click Less than and choose 3 for your availability quantity. This will notify you via email when there are fewer than 3 seats available on your flight.
Double-check that your flight alert is operational and active by checking the box that says "Have a test email of this alert sent".
If you want to set a generic flight alert without having to perform an award or upgrade search, we'll show you how here.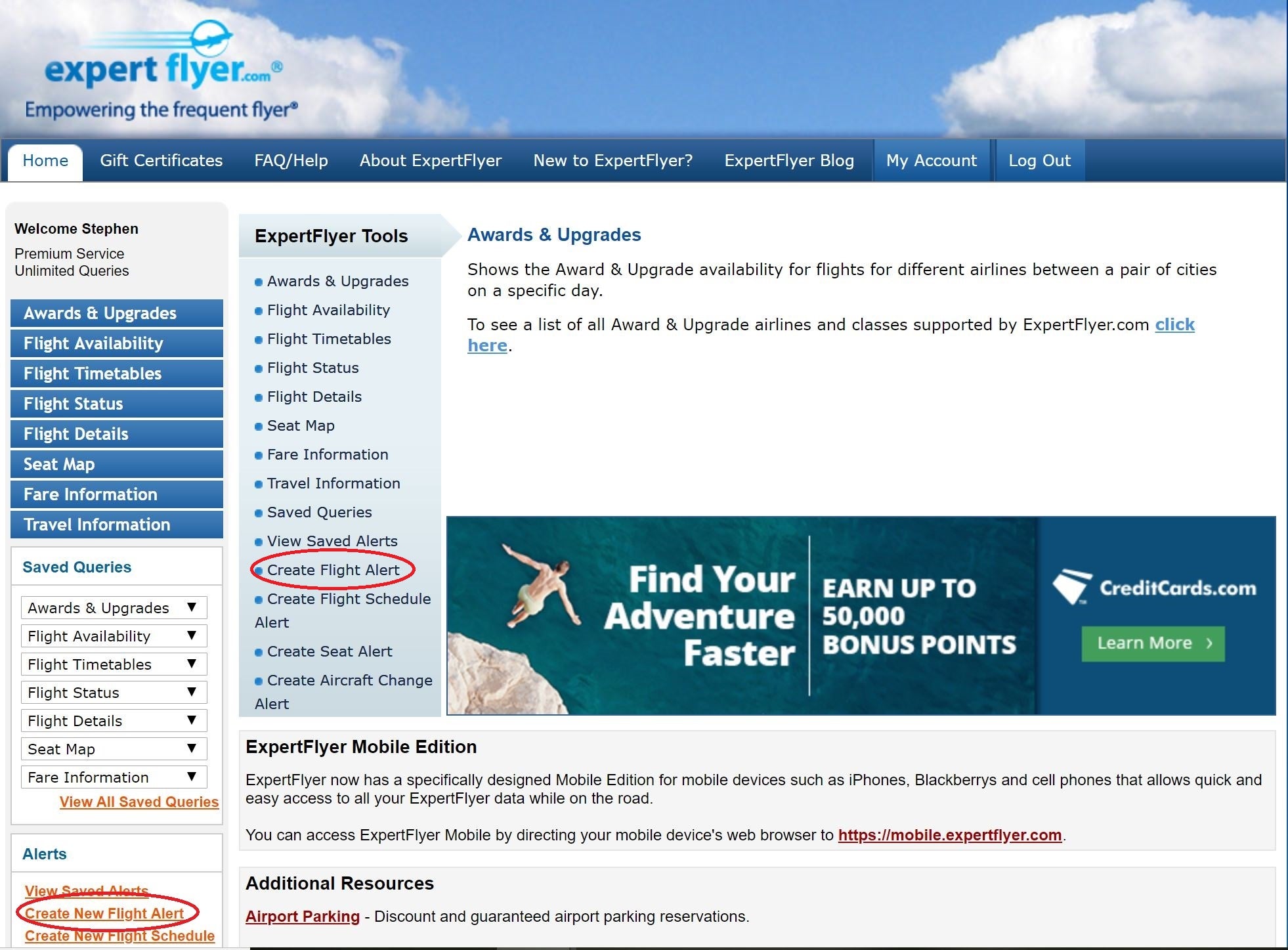 There are 2 buttons where you can do this from the homepage: one is toward the bottom-left of the page, and one is in the middle of the landing page. Once you click either of them, you'll arrive at this page: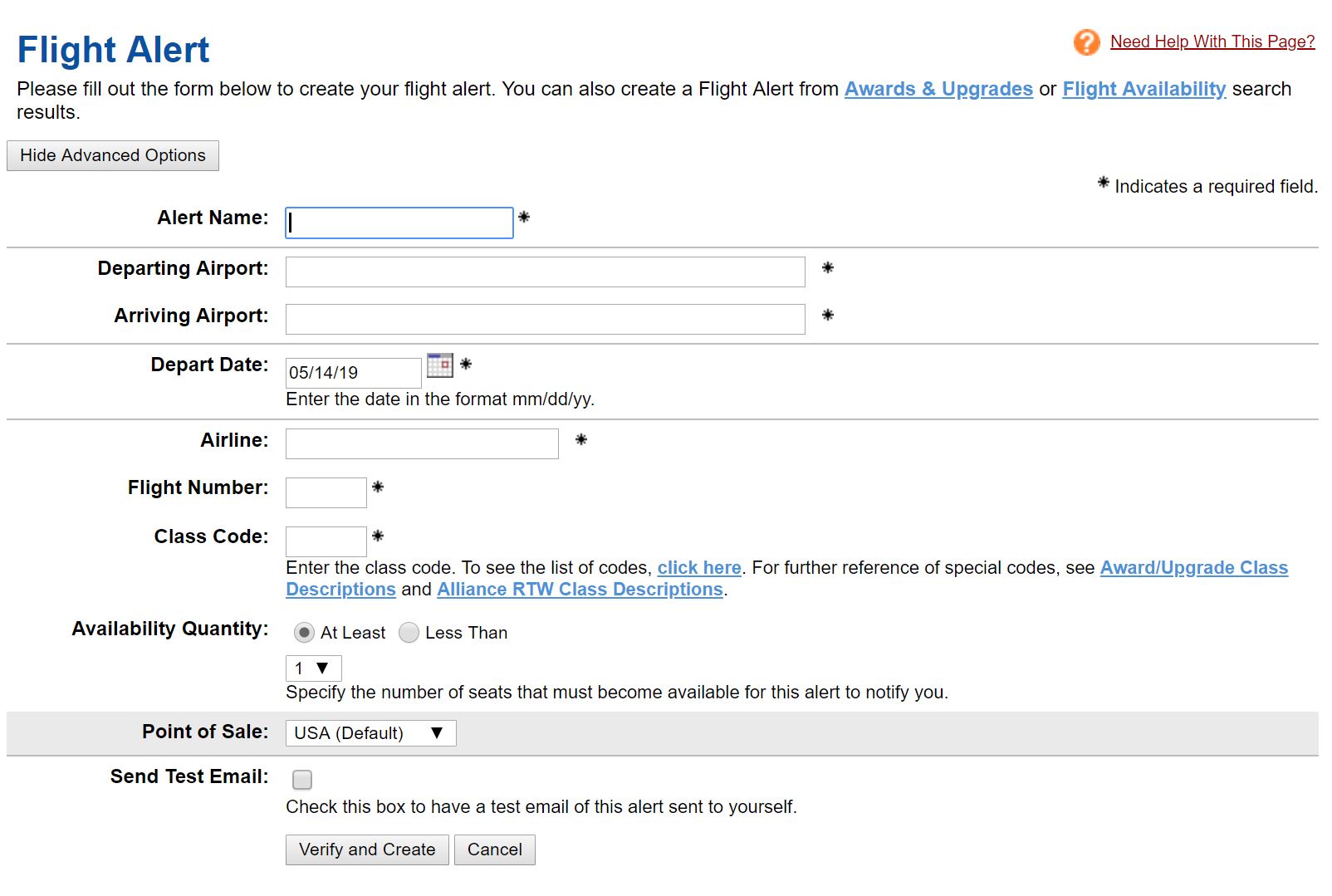 Simply follow the instructions and fill in the necessary information to create your flight alert.
Bottom Line: Award and upgrade flight alerts can really help put an award traveler's fears to rest. If you're planning a trip and would love to travel on a specific route and aircraft, you can set up flight alerts with ExpertFlyer to automatically notify you when award space opens up. This is probably the single most useful perk of the Premium membership tier. 
Seat Maps
If you've searched for award availability already and you'd like to see the available seat map, ExpertFlyer makes that easy too. Simply navigate to the right side of the screen on your flight results just like we did with flight alerts.

Instead of clicking the exclamation mark button, you'll want to click the button that looks like a chair or seat. After clicking that, a dialog box will pop up and you can select the cabin(s) you want to see the seat maps for.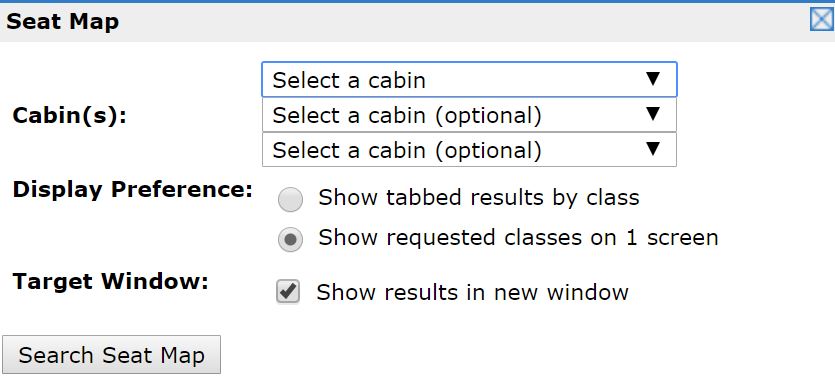 After clicking Search Seat Map, a display page similar to the following will show: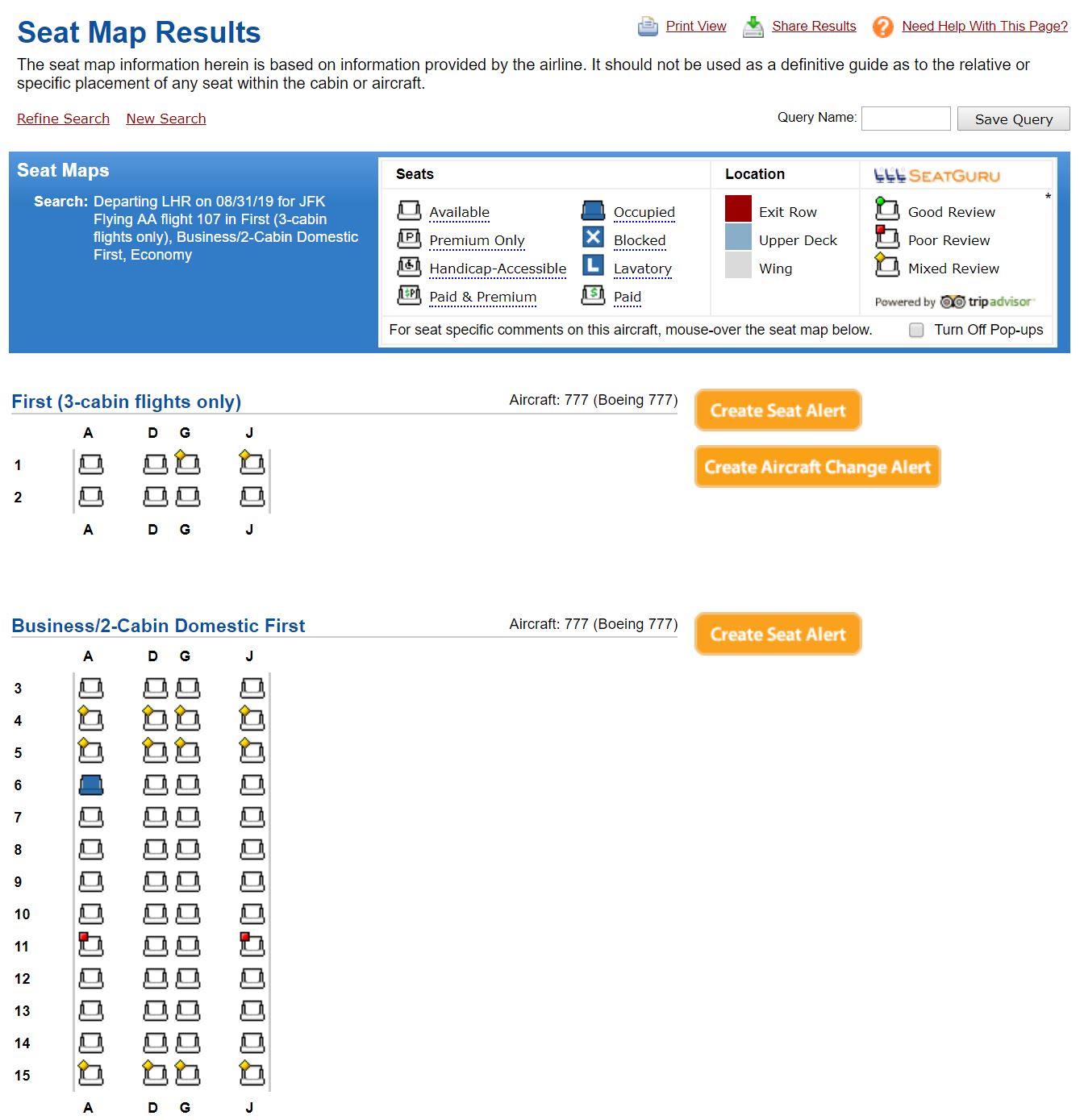 The legend is located at the top, and you can use this to determine if your "favorite" seat is already reserved. Furthermore, you'll be able to view the aircraft that will be operated on your specific flight.
The aircraft type is not as specific as it could be, however. For example, the seat map shown above is for a 777-300ER, though the seat map itself is only labeled "777." Sometimes it displays the exact variant, and other times it doesn't.
If you want to perform a seat map search without first searching for award and upgrade availability, you can do so as follows: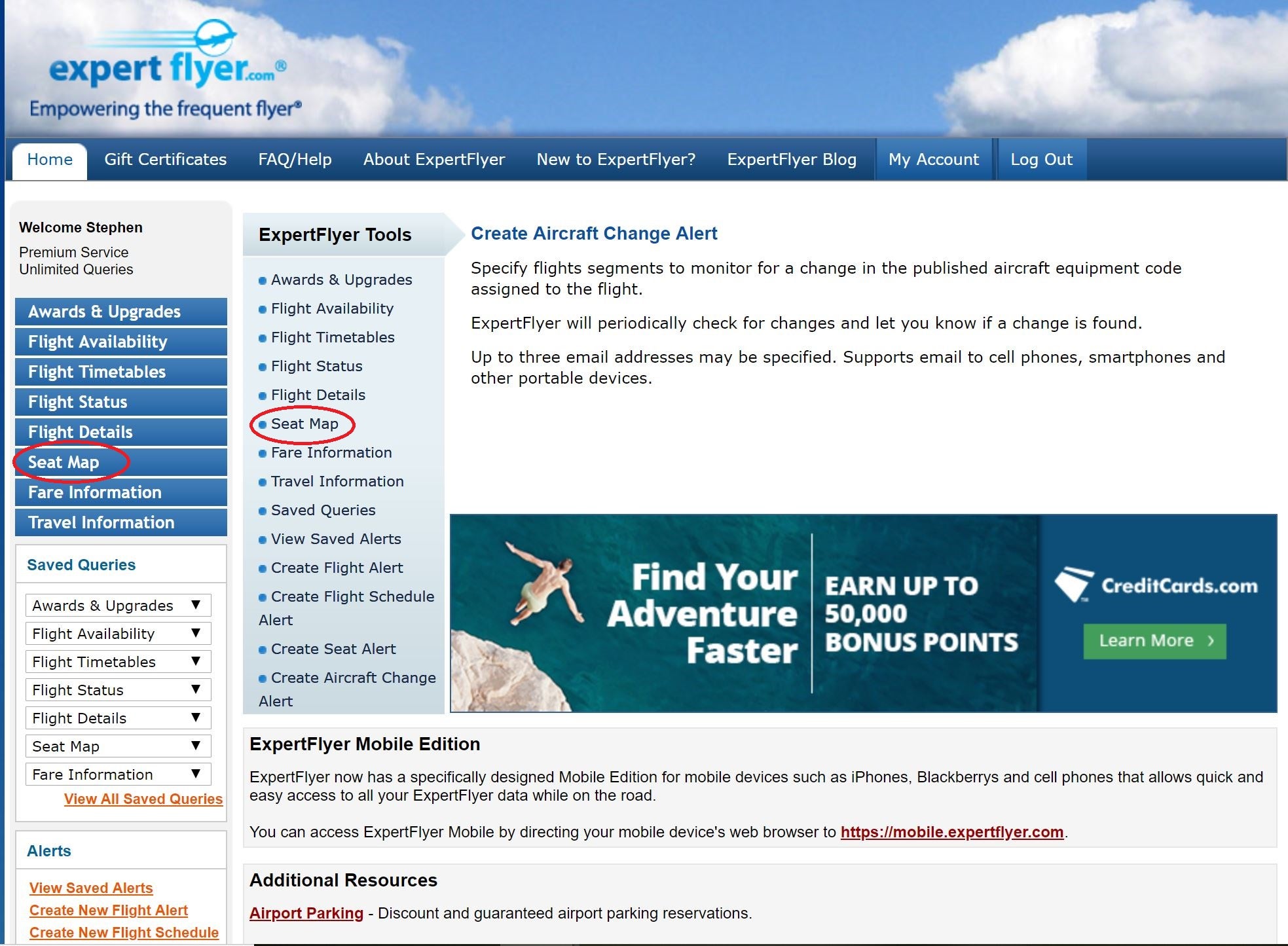 After clicking the seat map button, you'll arrive at a query page, which you can fill out to view your desired seat map.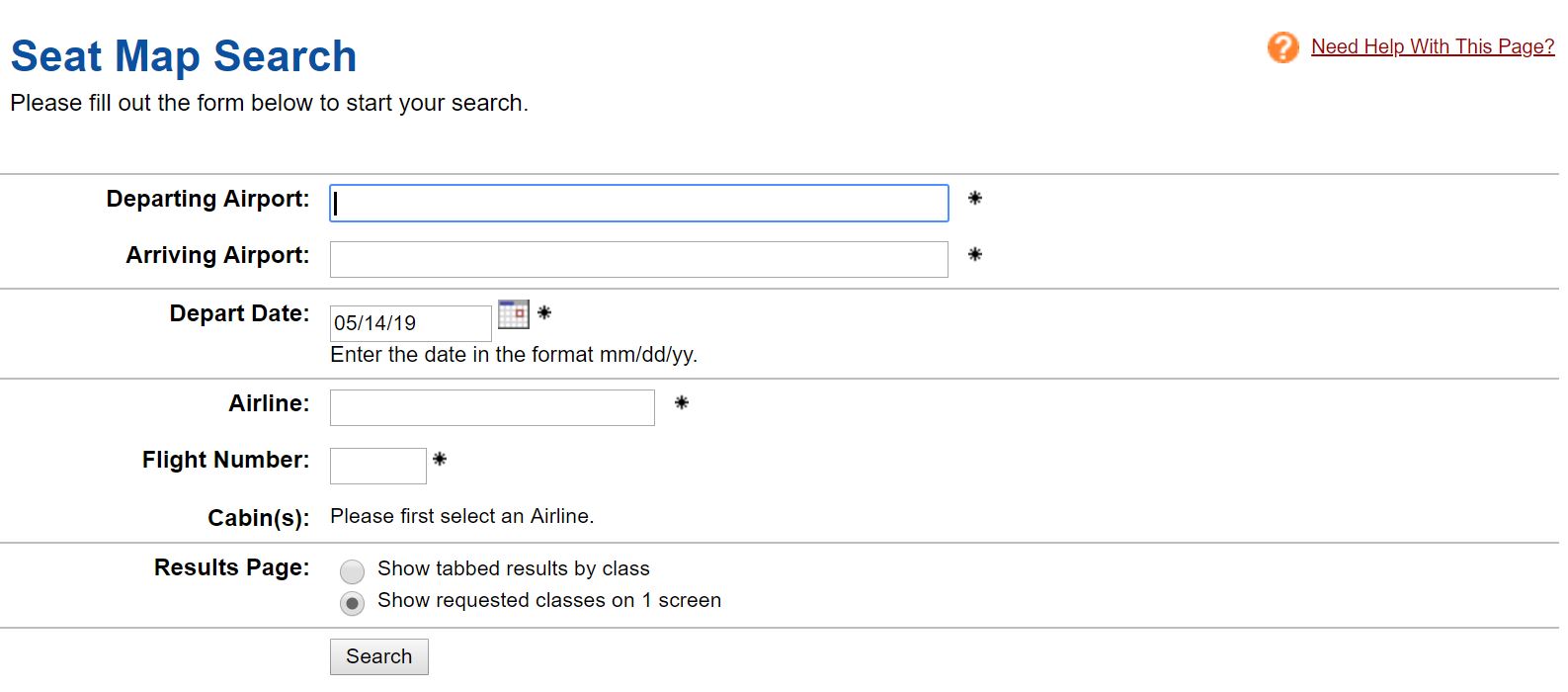 Bottom Line: Using the seat map search can help you determine if your favorite seats on your desired flight are available. Some examples include bulkhead business class seats, which can provide a greater amount of legroom. The process is pretty simple, and the results are easy to interpret. 
Seat Alerts
Another benefit of ExpertFlyer is seat alerts, which you can use similarly to flight availability alerts. These seat alerts will instantly notify you via email when your desired seat is available. There are many cases when this would be useful.
Let's say you're booked in Japan Airlines business class and want to reserve bulkhead seats in the mini-cabin on the 777-300ER. These seats are significantly better than the "ordinary" business class seats due to the increased privacy and space. However, these seats are normally blocked by the airline until a few days before departure.
You can use seat alerts to be the first to know when these seats are opened up, so you can swoop in and snag them.
Create a seat alert directly from a seat map search by clicking the orange-yellow button here: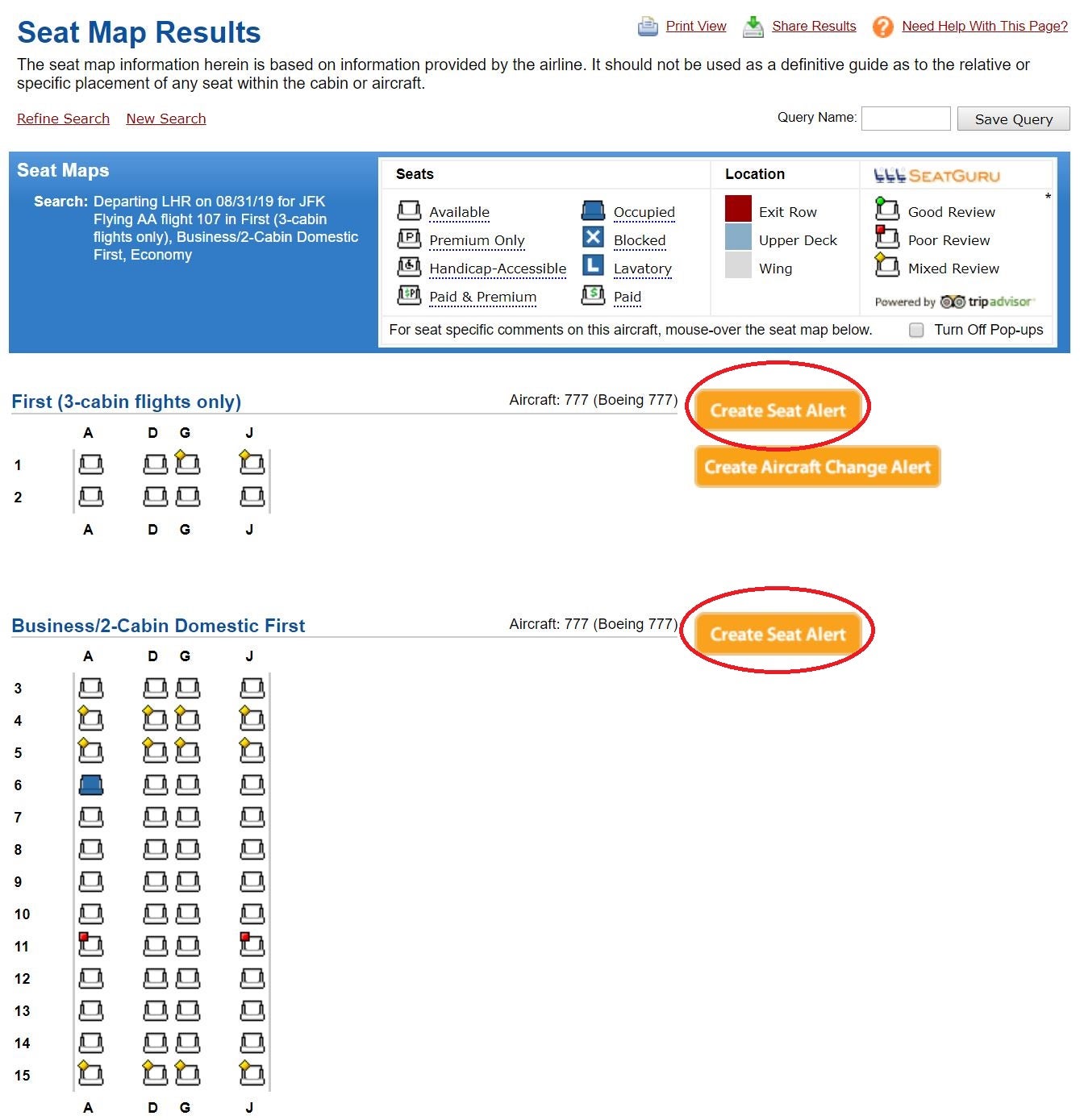 After clicking this button, you'll see an area to create your seat alert: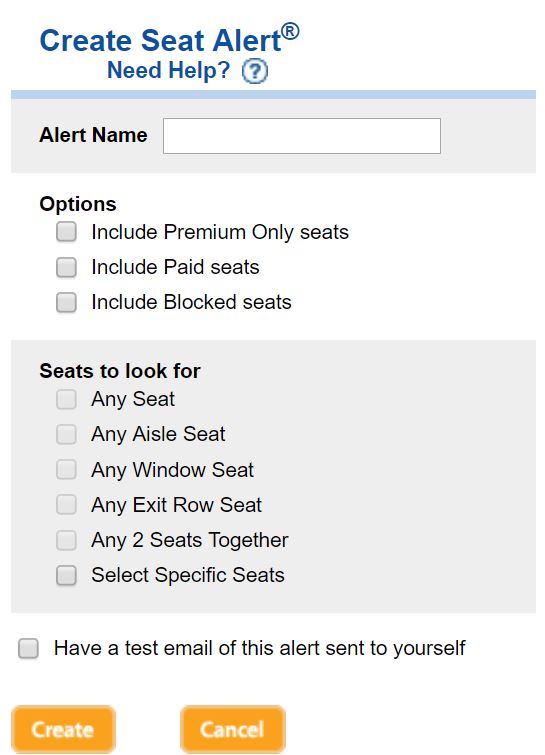 If you're looking for specific seats, you'll want to check the box that says Select Specific Seats.
Hot Tip: For this seat alert, you'll obviously need to also find out where the best seats are. To do so, we've put together several guides on many airlines that will help you determine optimal seats on various routes. Check out our definitive guide to Japan Airlines U.S. Routes, which includes the best seats!
Aircraft Change Alerts
The last main service we'll be covering from ExpertFlyer is the aircraft change alert. This is pretty self-explanatory and much more straightforward.
Your flying experience can be adversely affected depending on the aircraft you're flying in. An excellent example is Air France: you want to fly in their business class on the 777-300ER instead of the A380-800. If you originally booked a flight on the 777-300ER and it was suddenly changed to the A380-800, you'll want to be made aware of this so you're not in for any surprises on the day of your flight.
This is just one example — if you're flying with an airline that performs aircraft swaps frequently (such as British Airways or Lufthansa), it's in your best interest to leverage this feature from ExpertFlyer.
Again, you can create aircraft change alerts directly from a flight availability results page as shown here: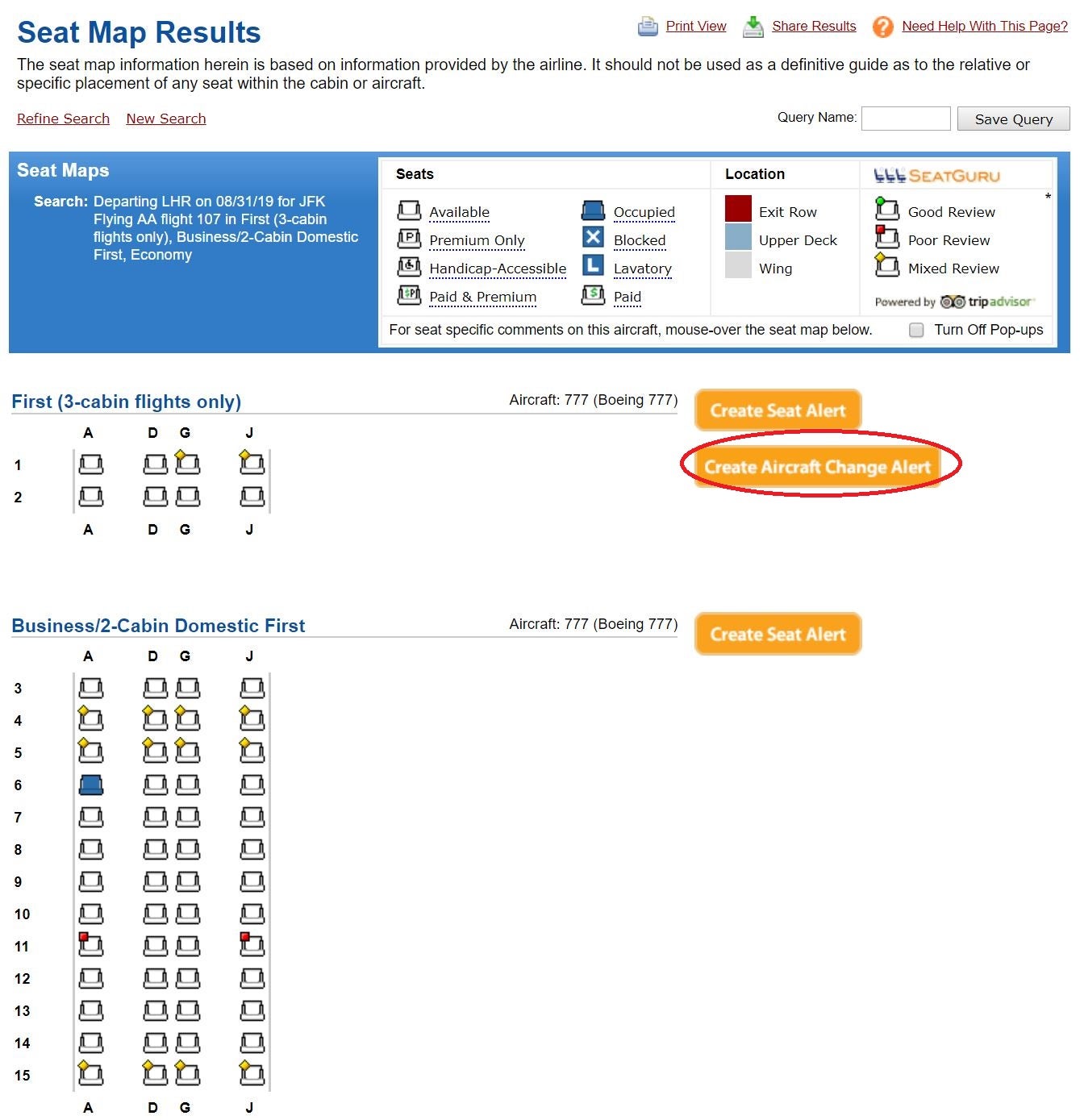 After clicking the button, simply name the alert and click Create.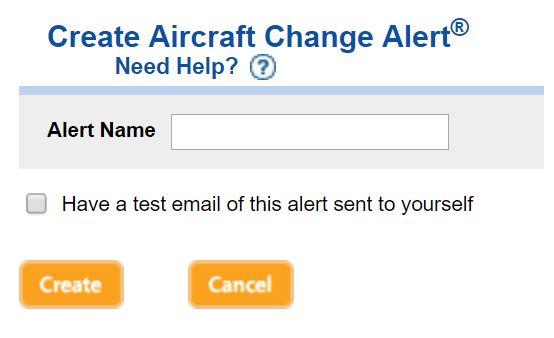 If you needed to get to the Aircraft Change Alert function from the homepage, see the following image to locate the appropriate button: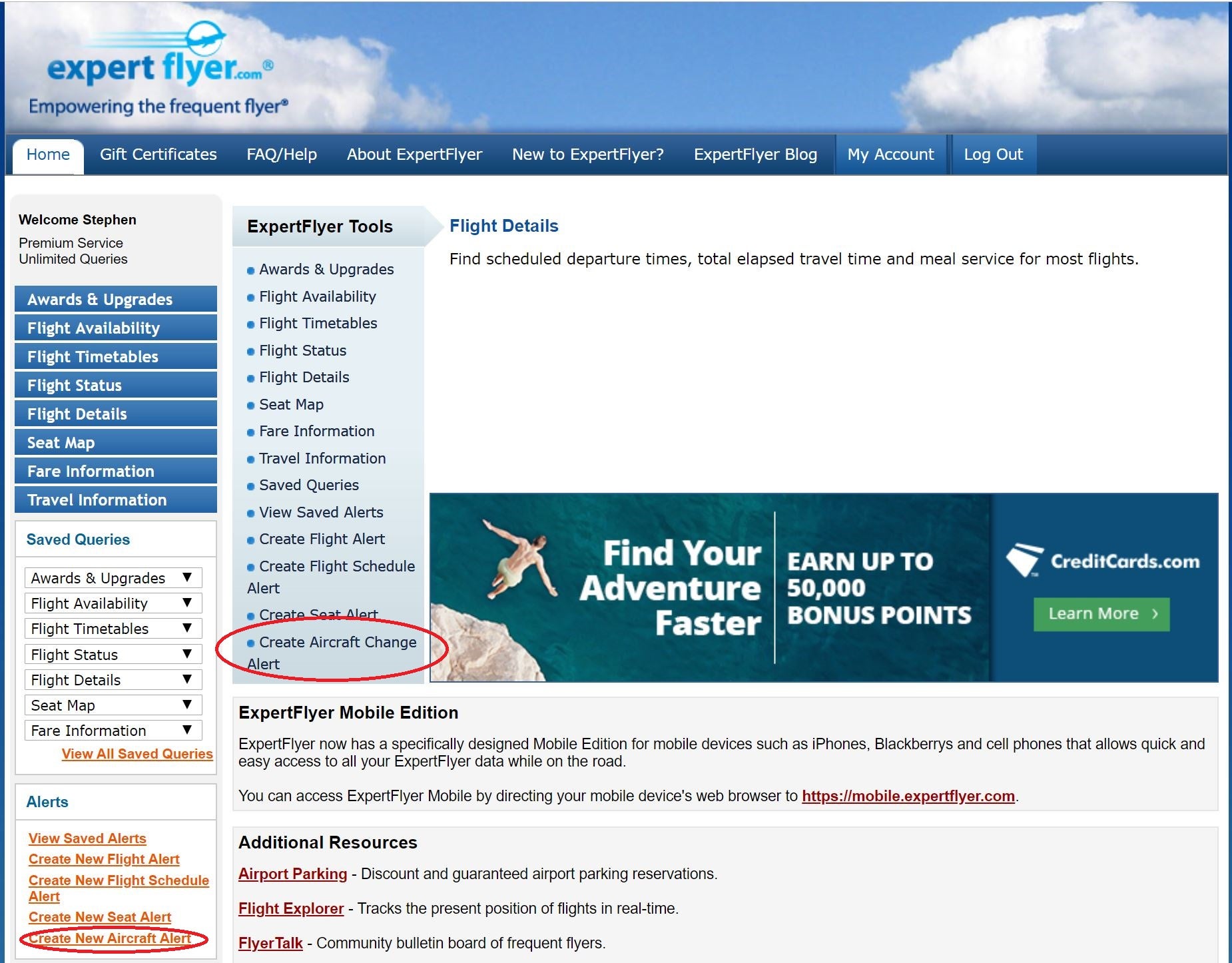 You'll want to fill out the flight information, name your alert, and click Verify and Create.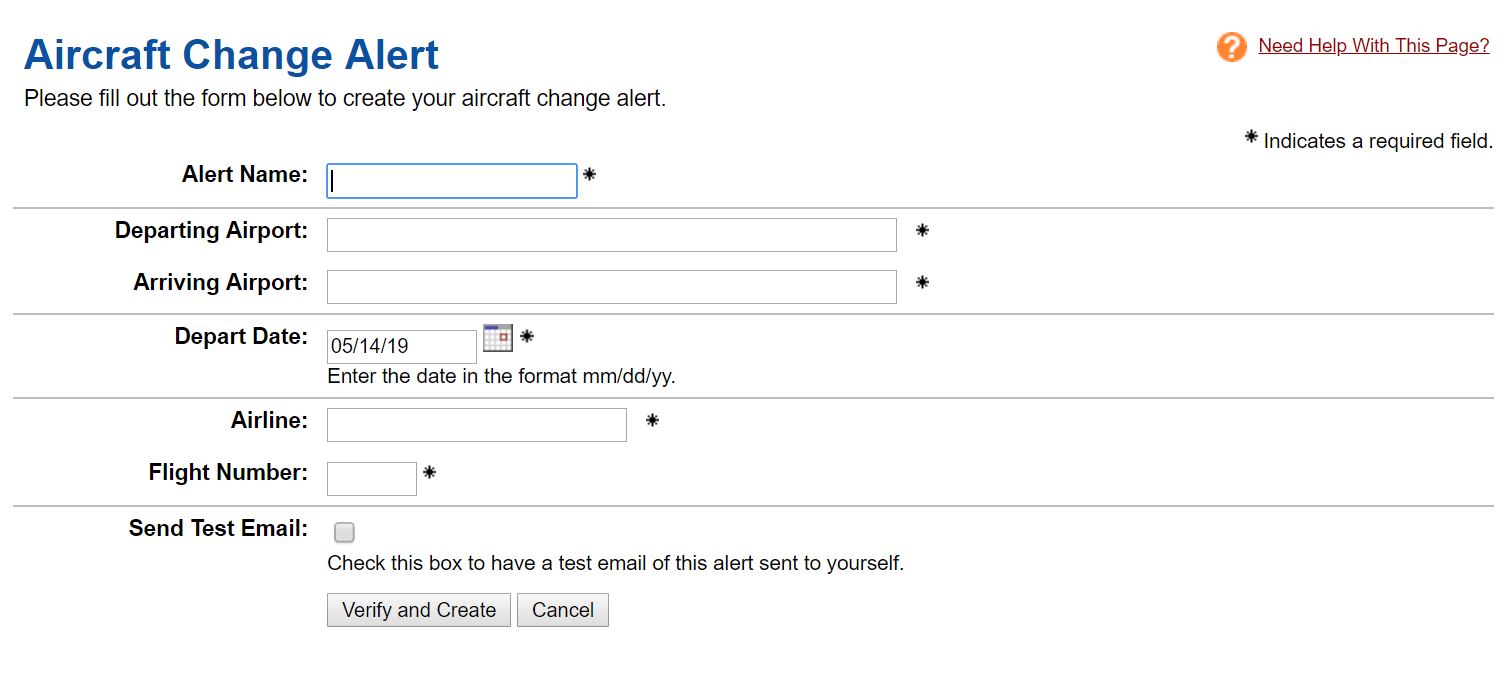 Other Services
Now that we've talked about the main benefits of ExpertFlyer, we'll cover some of the lesser-known parts. These advanced tools might be out-of-scope for some travelers, but we did promise the ultimate guide to ExpertFlyer!
Fare Information Search
Using the fare information search is primarily for paid tickets, as opposed to award tickets. Specifically, if you want to learn about the most current fare information for travel between 2 cities, this is one of the best ways to do it.
Some of the best applications of fare information searches are:
Looking for Y-Up fares, which are essentially instantly upgraded economy tickets into business class.
Looking for RTW (around the world) cash tickets given a city and up to 3 airlines of choice
Checking how a different ticketing city can make your airfare cheaper
Checking how different negotiated corporate and government fares compare
If this appeals to you, you'll definitely want to explore the fare information search section a lot more. Let's take a look at how to get to the screen. From the homepage, click the button that says Fare Information.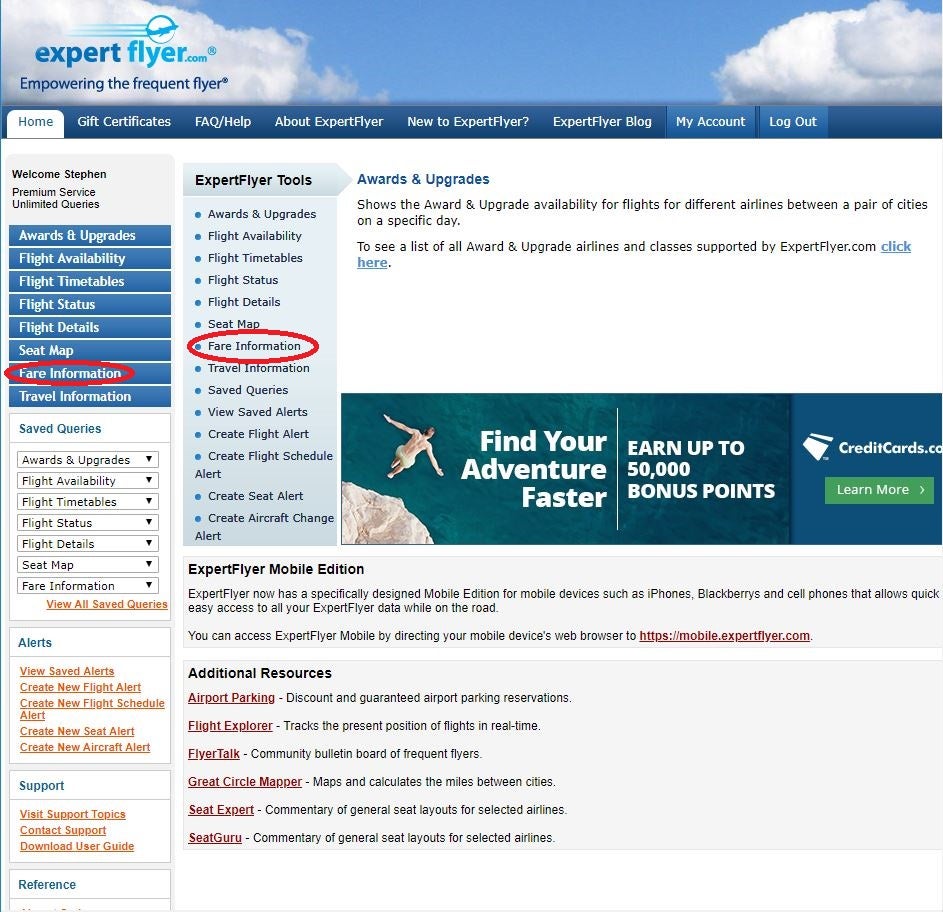 You'll arrive at a fare information search page that looks like this: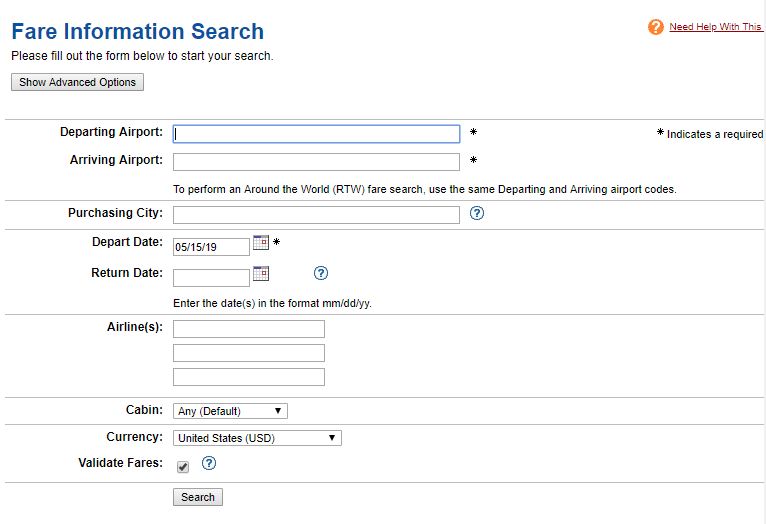 Enter your departure and arrival airports, travel dates, any airlines you're interested in, your cabin, and your currency.
Here are a couple items of note:
Purchasing City: This is the city from which the ticket will be purchased. You can select any city you'd like — and there's a possibility that you'll be able to save a lot of money on airfare by playing around with the purchasing city. Keep in mind that just because you enter a city does not mean you will be able to actually buy the ticket at the lower price.
Advanced Options: This is a button on the top-left of the search area, and clicking it will toggle the Ticketing Date, Class Code, Fare Basis Code, and Show Fares for All Travel Dates options.
A completed search form for travel between Los Angeles (LAX) and London-Heathrow (LHR) purchased in Bogota for travel on October 1, 2019 – October 22, 2019 on 3 possible airlines (United, Virgin Atlantic, and British Airways) in business class paid with U.S. dollars will look like this: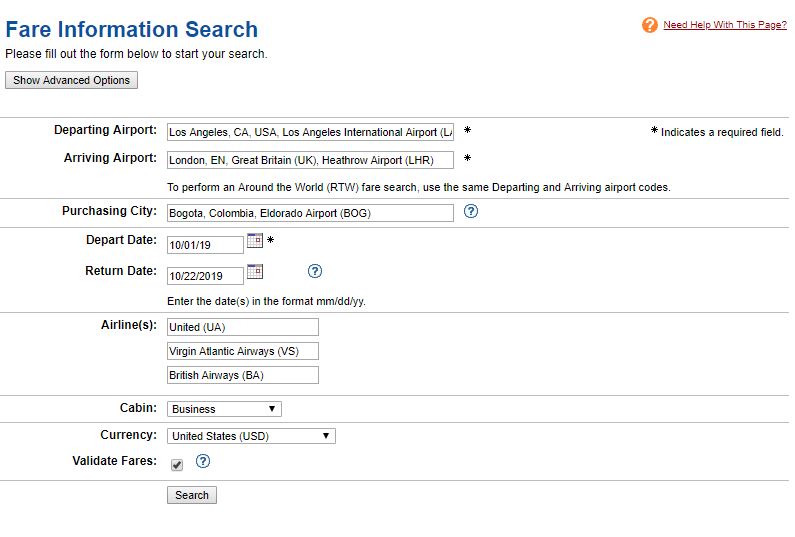 When you click Advanced Options, your search criteria will be expanded, looking like this.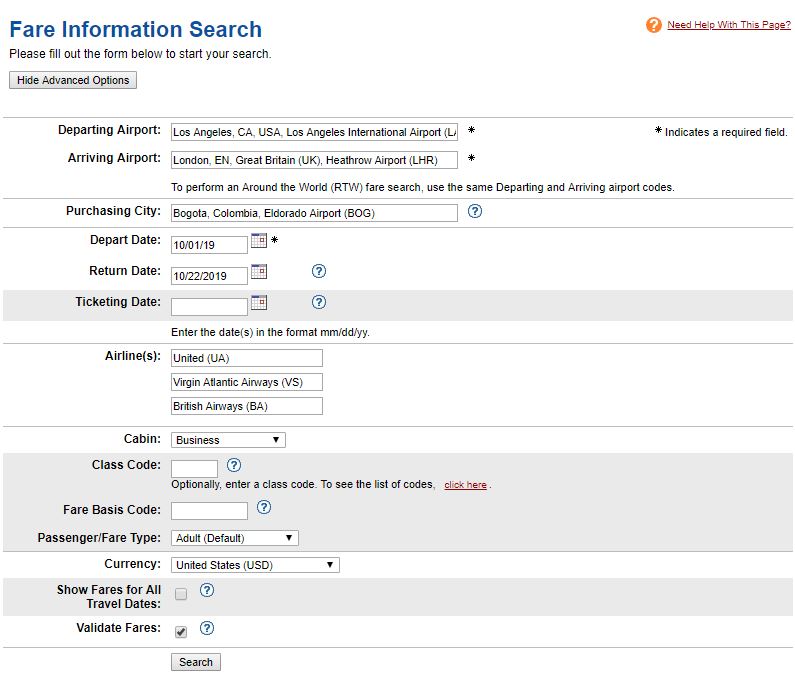 Here's what the results will look like. There are a lot of letters and numbers that look like gibberish, but the important thing to watch is the header of the table, which describes each column. Another thing to watch is the Legend for the icons all the way on the right.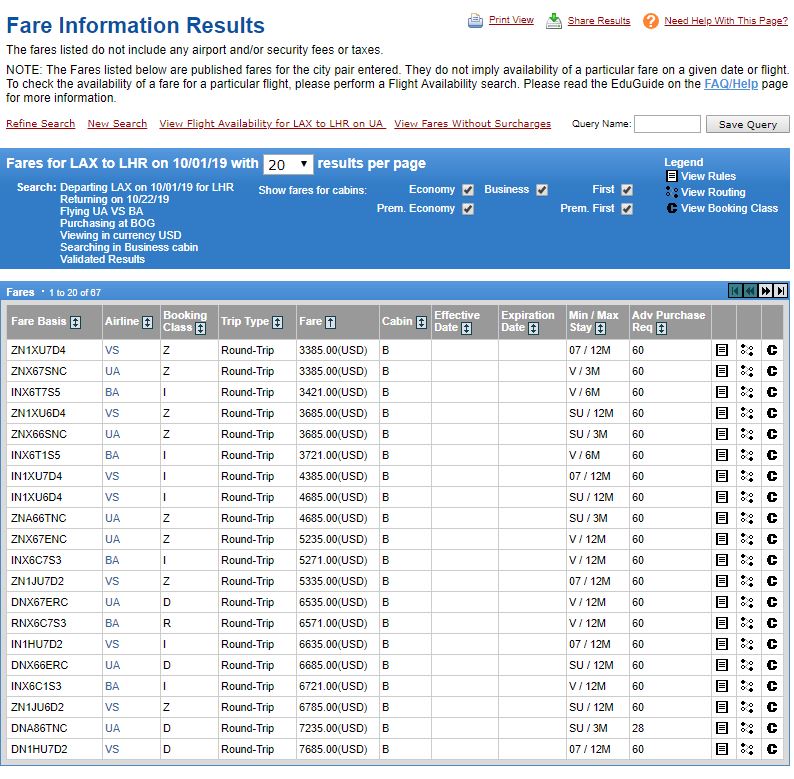 We won't go terribly in-depth, but this is a tool that essentially conglomerates all your cash ticket prices with specific booking and fare classes. It's a super technical functionality, and it's extremely useful for those who play around with and learn it.
Flight Status Search
The flight status search receives inputs in 2 ways:
By flight number, airline, and date
By departure date, departing and arriving airports, and airline
This screen allows you to find out the status of any given flight. It's especially useful for people who need real-time data like departure time, estimated arrival time, and even airline notes/comments from the flight.
Additionally, you'll also see the historical TSA security wait times for the departing U.S. airport and any applicable delay information.
To check out this section, click the buttons as shown below: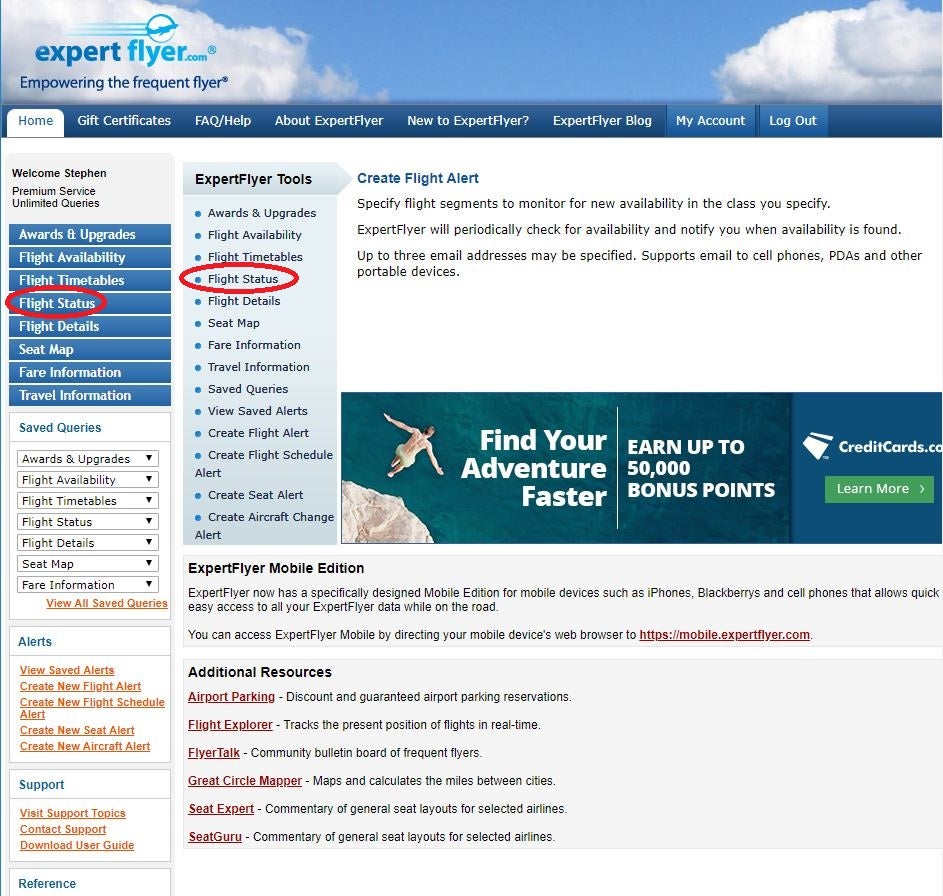 After clicking the Flight Status button, you'll arrive at the following screen. You can fill out the search fields like this:

Click Search; a returned search will look like this: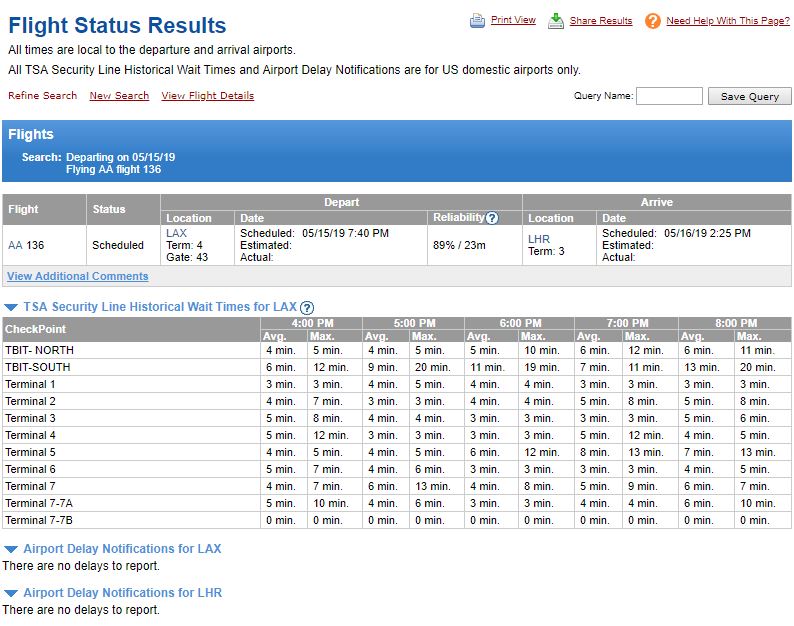 There's quite a bit of information here, including the reliability of your flight, the gate and terminal numbers, and even average delays. This is hugely useful for those who like to know what's going on or are obsessive about logistics and planning.
In addition, you'll get the terminal-wise TSA security historical wait times for your departing airport, which is super-detailed and broken down by the hour. Lastly, you'll see any airport delays for either airport from circumstances like weather, closed runways, etc.
You can also click the View Additional Comments button to see some of the notes that the airline jotted down for this exact flight:

 Flight Details
If you want to know more about the details of a given flight, ranging from the plane to the meals provided, you can do so using the Flight Details button.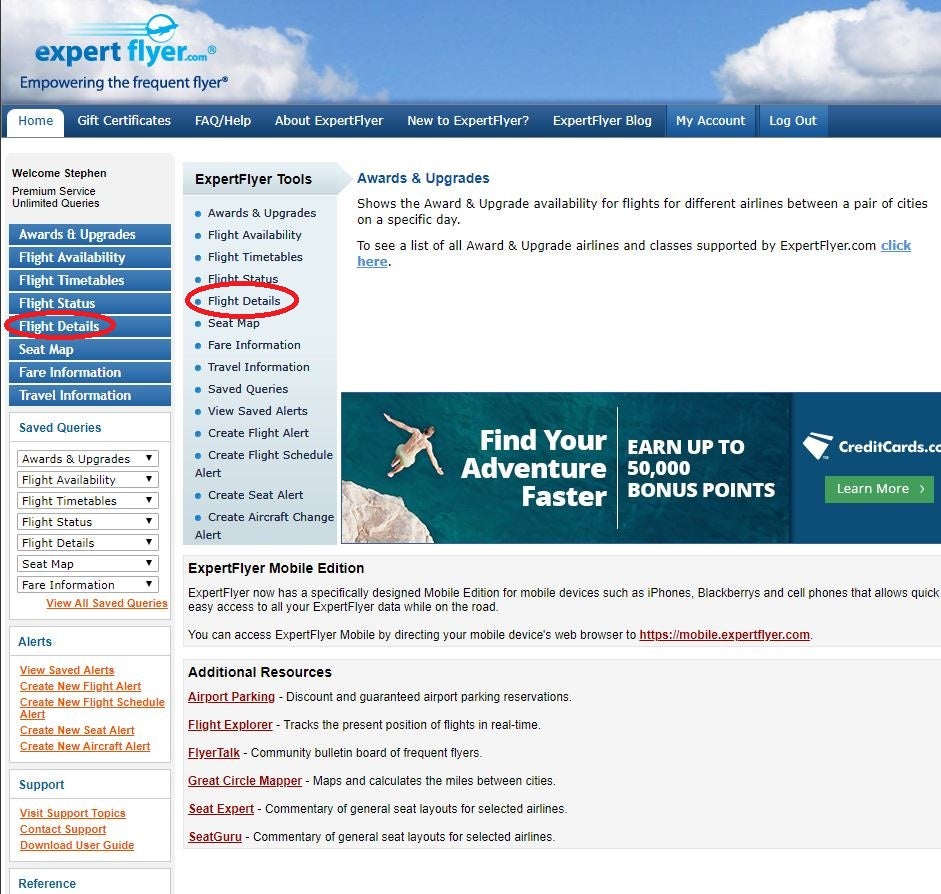 Simply fill in your departure date, airline code, and flight number. Click Search.

Then, ExpertFlyer will perform the searches and return the results to you.

Overall, this search is pretty simple, but it can be useful for some of us. You can also click the button on the right to create a flight schedule alert, which we'll discuss in the next section.
Flight Schedule Alerts
If you have an upcoming flight and need to be alerted whenever the flight schedule changes, you can't always count on the airline to send you information in a timely manner.
This is what Flight Schedule Alerts are for. Specifically, you can receive email notifications from ExpertFlyer whenever the schedule is changed for any flight in question.
If you're on the Flight Details page like the image above, simply click the icon that looks like an exclamation mark in a square. A box will pop up prompting you to name your alert, select a schedule change tolerance, and send a test email.

The schedule change tolerance can range from Any Time Change to At least 2 hours.
Travel Information and Reference Data
This last section is somewhat of a fusion of all the above travel-related functions.
Here are the key pieces of information this area provides:
Ratings & Delays
Minimum Connection Times
Maximum Permitted Mileage
Connecting Cities
Interline Agreements
Visa, Health & Passport
We won't go in-depth on these, since they are either very advanced, previously discussed, or of limited use for most travelers. To get to the page, click the button that says Travel Information.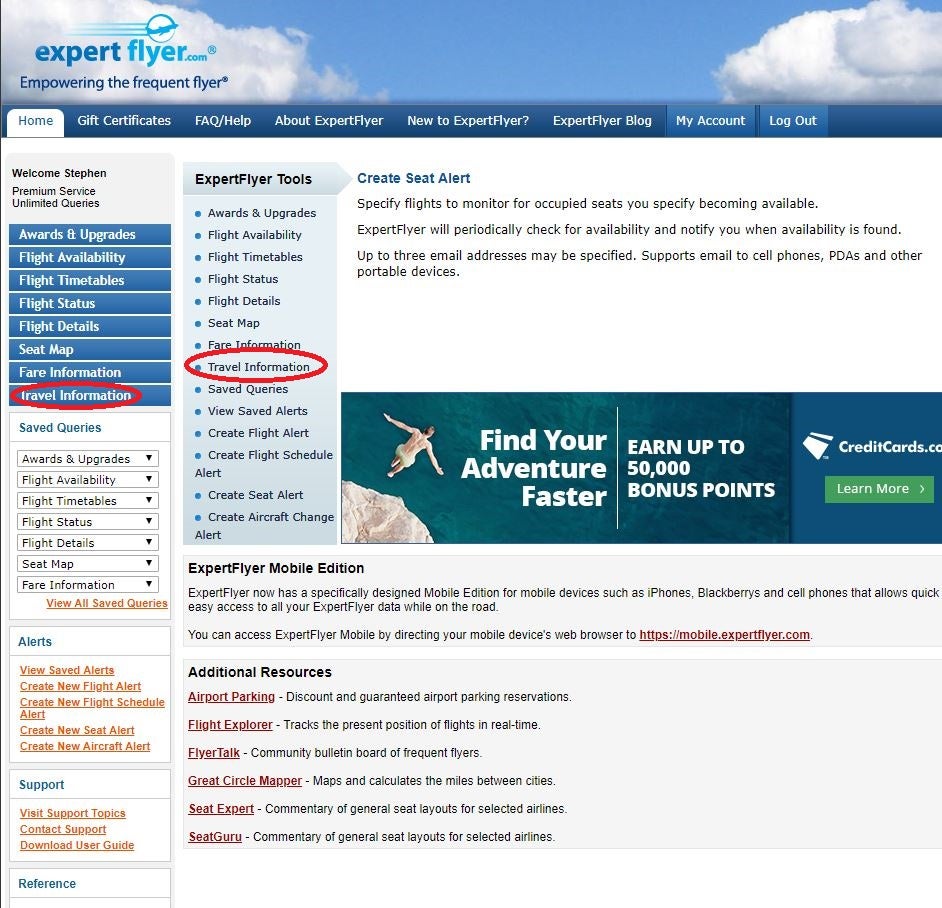 Select the function you want to use by clicking the appropriate button on the blue ribbon, and perform your searches.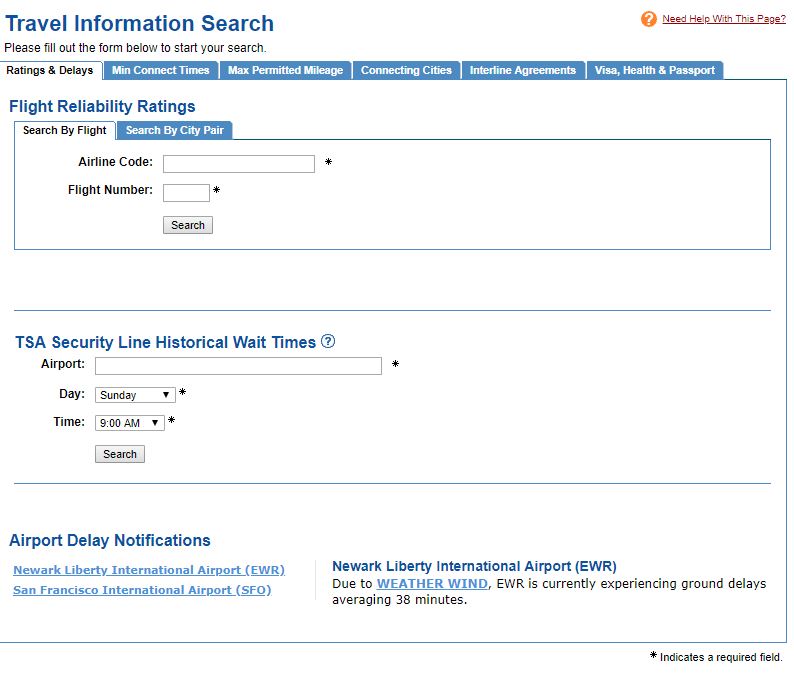 We'll touch a bit on the utility of each button.
Ratings & Delays: Searches for historical information about a flight, route, or airport
Minimum Connection Time: Tells you the time needed for a connection to be valid. Will vary depending on airport, route, cities, and more.
Maximum Permitted Mileage: Tells you the maximum allowed mileage to get between 2 cities (limits backtracking). Useful for round-the-world or advanced award bookings
Connecting Cities: Shows all single and double connection points between 2 cities. You'll still need to check the routing rules to determine whether your route is allowed for your specific ticket.
Interline Agreements: Shows airlines that have an Interline Agreement with the queried airline
Visa, Health & Passport: Will show airport taxes, health warnings/information, currency restrictions, customs rules and regulations, passport requirements and exemptions, visa requirements and exemptions, and visa/entry requirements based on your citizenship country and your destination countries
Additional Resources
On top of the normal ExpertFlyer services, you can also utilize tools like Airport Parking, Flight Explorer, FlyerTalk, Great Circle Mapper, Seat Expert, and SeatGuru. They aren't owned wholly by ExpertFlyer, but they're located all together in 1 convenient place.
Final Thoughts
Overall, ExpertFlyer is a tremendously useful tool that should be in every frequent flyer's arsenal. With the reasonable monthly subscription price of $9.99 per month or $99.99 per year for the Premium tier, it's a no-brainer and is very affordable if you find the features useful.
There are countless benefits that have proven helpful, from the flight award and upgrade search to the seat alerts to the invaluable flight availability alerts.
Additionally, there's quite a bit of non-award flight information that's still an added benefit, though it may be more technical than everyday travelers want to worry about.