How to Easily Get Through TSA Airport Security [Includes Infographics]
For many travelers, getting through airport security is one of the most frustrating aspects of flying. Long lines combined with regulations that seem to change constantly can be anxiety-inducing!
One way to reduce your stress is to dress smartly. Another is to be familiar with the rules set by the Transportation Security Administration (TSA) regarding any items you want to pack.
Here is some more guidance so you can sail through TSA security and get to your gate worry-free.
Before You Leave
Planning ahead and packing properly can help speed up the screening process and ease your travel experience at the airport.
Pack Appropriately
In the U.S., you may bring 1 carry-on bag and 1 personal item into the passenger compartment on most airlines. Discount airlines, such as Spirit, have stricter rules.
Also, make sure that your luggage fits in the allotted baggage space. Each airline has slightly different requirements, so make sure to check with your airline for more information.
Liquids and Powders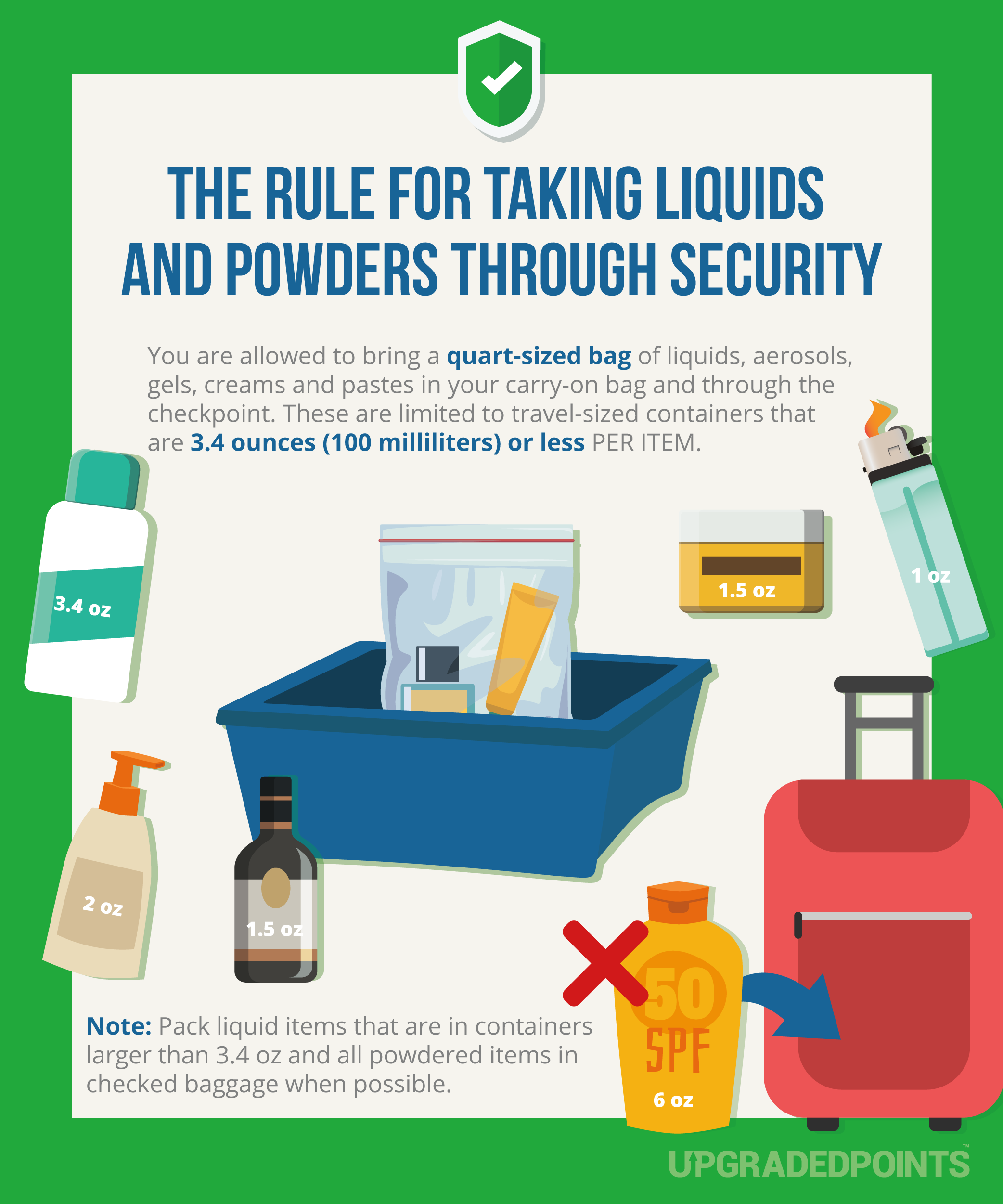 Per TSA requirements, all liquid and gel items must be 100 milliliters (3.4 ounces) or smaller per item. Every liquid and gel product you carry into the passenger compartment must meet this requirement and fit into a single, 1-quart zip-closure clear plastic bag.
If you must bring larger liquid or gel items, you will have to place them in your checked baggage unless they are medically necessary. Anything larger than 3.4 ounces will be confiscated (including bottled water).
Based on 2018 guidance from the TSA, powders may need additional screening. Consider putting powders into your checked bag unless they are medically necessary.
Due to COVID-19, TSA released updated guidance in March 2020 related to hand sanitizer. It is currently allowing up to 12 ounces until further notice.
Bottom Line: Packing your carry-on appropriately is especially important in the COVID-19 era to reduce potential issues — resulting in fewer touchpoints for TSA officers.
Medications and Equipment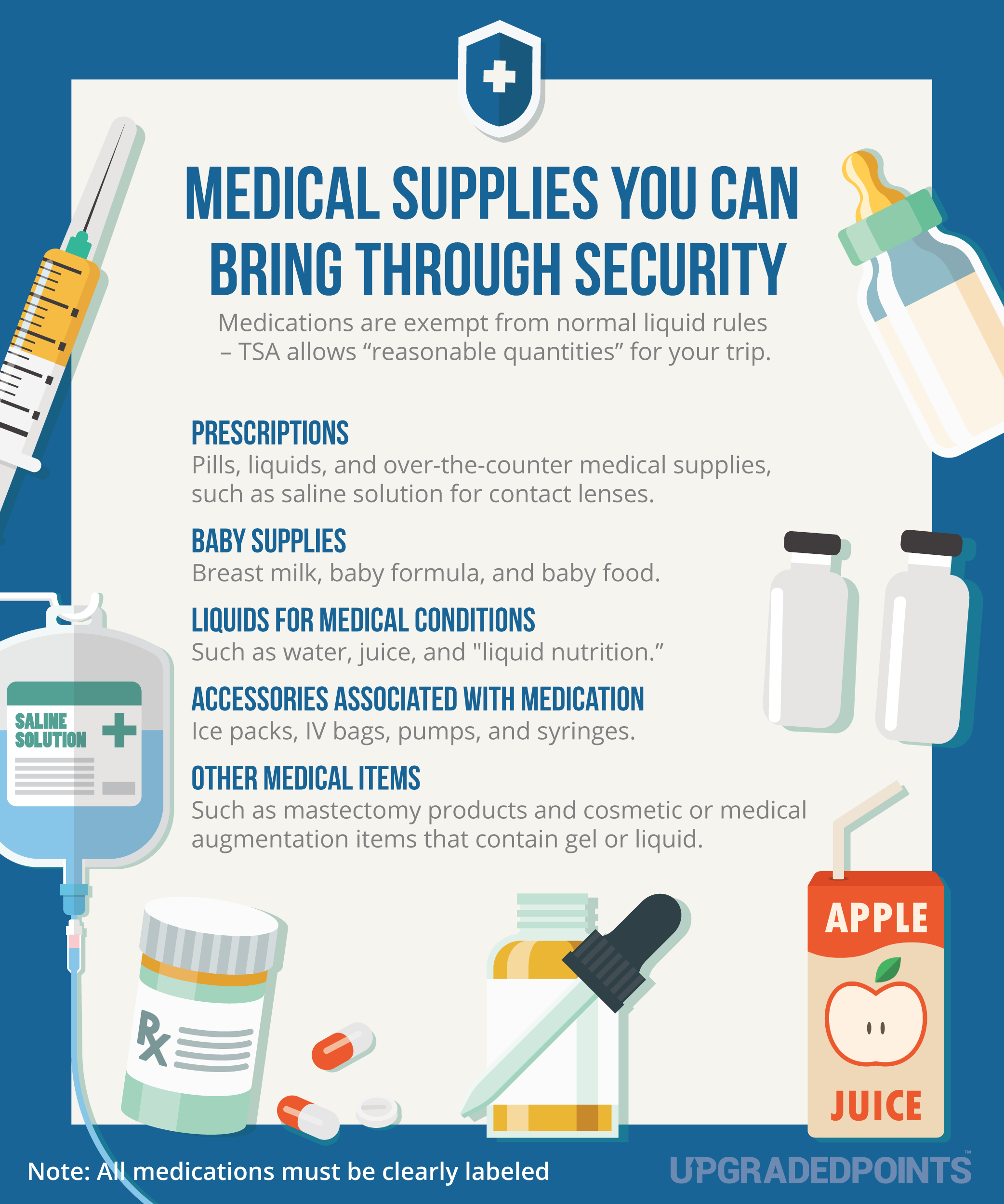 You can bring prescription medications (liquid or otherwise) through security. You can bring your medication in pill or solid form in unlimited amounts as long as it is screened. Liquid medications are exempt from normal liquid rules — they are allowed in "reasonable quantities" for your trip.
Other items allowed are:
Prescriptions (pills, liquids, etc.) and over-the-counter medical supplies, such as saline solution for contact lenses
Breast milk and baby formula
Liquids and gels necessary for a passenger with a medical condition (such as water, juice, or "liquid nutrition" like Boost)
Accessories associated with medication, such as ice packs, freezer packs, IV bags, pumps, and syringes
Mastectomy products and other cosmetic or medical augmentation items that contain gel or liquid
Make sure all medications are clearly labeled. TSA does not require passengers to have medications in prescription bottles, but states have individual laws regarding the labeling of prescription medication with which passengers need to comply.
Per the TSA, "it is not necessary to present your medication to or notify an officer about any medication you are traveling with unless it is in liquid form," as we discussed above.
Hot Tip: Never put prescription medications in a checked bag — carry on all medications.
For formula, breast milk, or juice for infants or toddlers you will need to notify a TSA officer and then remove these items from your carry-on. They will be screened separately by x-ray and the liquids may be tested. Also, these items do not have to fit inside a quart-sized bag and can be in quantities larger than 3.4 ounces.
You're also allowed to carry freezer bags, ice packs, and frozen gel packs to keep your breast milk frozen. As long as these are frozen, you shouldn't run into any issues with TSA.
A breast pump is also considered a medical device by the FDA. Since there are no specific guidelines, though, it's best to check with your specific airline to see if you are allowed to get an extra carry-on item for your breast pump.
Medical Marijuana
TSA released guidance on medical marijuana in May 2019. You are now allowed to bring some CBD oil in carry-on bags. This guidance notes that passengers will be allowed to carry medical marijuana products and CBD products that have been approved by the Food and Drug Administration. However, CBD products must be derived from hemp to qualify.
The TSA's new rules still ban other forms of marijuana, including certain cannabis-infused products and CBD oils that have THC, which are still illegal under federal law.
Items That Aren't Allowed
Many items aren't allowed through a TSA security checkpoint. While some of these items may seem like common sense, there may be a few surprises:
Liquids, creams, and gels exceeding the allowance
Alcohol over 140 proof
Harsh/corrosive chemicals
Weapons and/or ammunition
Explosives (including fireworks and other flammable items)
Knives (unless rounded or plastic)
Medical marijuana and CBD oil (that contains THC)
There may be some confusion regarding flying with marijuana and CBD oil (that contains THC). We noted above that TSA released new information about flying with hemp-derived CBD oil.
While some states have legalized forms of marijuana, it is still considered illegal under federal law. TSA is a federal agency and airport screening falls under its jurisdiction. While it may change in the future, you cannot fly with marijuana or other items that contain THC in carry-on or checked luggage.
TSA's website specifically notes: "TSA security officers do not search for marijuana or other illegal drugs, but if any illegal substance is discovered during security screening, TSA will refer the matter to a law enforcement officer."
For a full list of items that are not TSA-approved, check the TSA website.
Even if an item is permitted, it may still be subject to additional screening or not allowed through the checkpoint if it triggers an alarm during the screening process, appears to have been tampered with, or poses other security concerns.
Bottom Line: TSA always makes the final call on whether an item is allowed through security or not. If in doubt, pack the items in your checked luggage or don't bring them at all.

For items that you're not sure about, you can always send a picture or question to AskTSA on Facebook Messenger or Twitter. Agents are available to respond during normal business hours to help you before your trip.
Dress Smartly
You will have to take your jackets and shoes off at the security checkpoint and put them into a plastic bin for screening unless you are over age 75.
Wear shoes that require minimal effort to take off and put back on — you'd hate to re-lace those knee-high boots if you're in a rush! Also, several thousand people walk through the metal detectors each day… so you will probably want to wear socks.
Wear clothing and shoes without metal, and be ready to remove your belt if it has a metal buckle. Tuck large metal jewelry pieces into your carry-on bag before you go through the security checkpoint.
Put change and keys into your carry-on or empty your pockets into a plastic bin when you arrive at the checkpoint. If you have body piercings, either remove them before you go through security or prepare yourself for a pat-down screening.
Download MyTSA App
The MyTSA app, available for iOS and Google Play, includes features that show what you can (and can't) bring past security.
It also notes current security wait times, identifies PreCheck lanes in airports, and offers TSA feedback. This is a super handy tool to use for judging what time you need to arrive at the airport!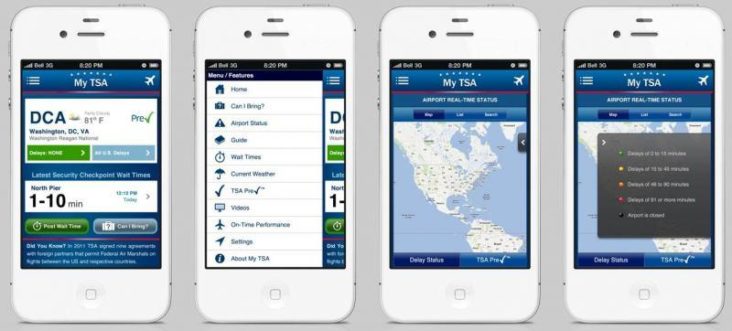 Check in Online
Check in online to avoid a long wait at the airport. You can usually check in online 24 hours before your flight, all the way up to an hour before your scheduled departure.
Leave Early
Though TSA does not actually offer any specific recommendations for airport arrival time, the general rule of thumb is 2 hours for domestic flights and 3 hours for international flights.
TSA recommends contacting your airline for a better estimate based on your specific day and time of travel. Obviously, times like holidays and weekends will be busier than your mid-day Tuesday flight!
Be sure to factor in traffic to the airport, parking and shuttle transportation, airline check-in, obtaining a boarding pass, and going through the security screening process.
Hot Tip: You can check the MyTSA app above for a real-time update of security wait times and make plans accordingly.
At the Airport
To avoid starting your travel day off on the wrong foot, you should consider these tricks to minimize your time waiting in long airport security lines.
Be aware that due to COVID-19, TSA is consolidating its screening operations to adjust for reduced flight and passenger volumes. Impacted security checkpoints may close as a result, so passengers may be redirected to other security screening checkpoints at the airport.
Provide Correct Identification and Documentation
Remember to bring a government-issued photo ID, such as a driver's license, passport, or permanent resident card to the airport. Your ID must show your name, date of birth, gender, and expiration date.
Here are some other forms of TSA-approved ID:
Due to COVID-19, TSA is now allowing expired driver's licenses to be used at TSA checkpoints. It notes:
If your driver's license or state-issued ID expired on or after March 1, 2020, and you are unable to renew at your state driver's license agency, you may still use it as acceptable identification at the checkpoint. TSA will accept expired driver's licenses or state-issued ID a year after expiration or 60 days after the duration of the emergency, whichever is longer.
Have you heard about the upcoming deadline to obtain a REAL ID? It's important to read up about everything you need to know about REAL ID and how it relates to the documents you need to bring to the airport.
Place your tickets and identification in a spot that's easy to reach so you won't have to fumble around for them in the security line.
Hot Tip: If you're traveling internationally with children, they'll also need a passport! For more information, check out our step-by-step guide on getting a U.S. passport for your baby.
Provide Boarding Pass
Due to COVID-19, TSA released guidance stating that all passengers should keep possession of their boarding pass, instead of handing their boarding pass to a TSA officer at the travel document podium.
After scanning, travelers should hold their boarding pass toward the TSA officer to allow the officer to visually inspect it. This change reduces the TSA officer's need to touch a passenger's boarding pass thus reducing the potential for cross-contamination.
Separate Food Items
The TSA has advised that passengers without TSA PreCheck should place their carry-on food items into a clear plastic bag and place that bag into a bin.
This is because food items often trigger an alarm during the screening process and separating the food from the carry-on bag lessens the likelihood that a TSA officer will need to open the carry-on bag and remove the food items for a closer inspection.
Trusted Traveler Programs
We wouldn't be doing our job if we didn't discuss the absolute fastest ways to get through airport security — trusted traveler programs! TSA PreCheck and Global Entry are the most common, but many airports also have CLEAR as well.
TSA's PreCheck has spread to more cities across the U.S. and is now available at more than 200 airports and over 55 participating airlines. Members of the program are pre-screened and can whiz through security without having to take off their shoes or remove laptops from cases.
According to the TSA, 93% of travelers wait in line less than 5 minutes! We've written an extensive guide to TSA PreCheck where you can learn more about the program including costs, requirements, and which credit cards will reimburse you for the membership fee!
The U.S. Customs Department's Global Entry program is another shortcut for frequent international travelers, especially as the federal government immigration and customs lines get longer.
Hot Tip: While Global Entry helps international travelers speed through U.S. security AND customs on international flights, membership comes with TSA PreCheck to help you speed through security on domestic flights as well! 
CLEAR uses biometrics (your eyes and fingertips) instead of traditional photo identification to help speed you through the security checkpoint. This program is not available at all airports, so make sure this would be beneficial to you before signing up.
Just because you are a member of a trusted traveler program, it does not ensure that you won't be randomly selected for a search by TSA.
Practice Social Distancing
Passengers should allow for social distancing of 6 feet from other passengers and employees, whenever possible, to reduce direct contact. Noticeable adjustments leading up to the security checkpoint include increasing the distance between individuals as they enter the security checkpoint, placing visual reminders of appropriate spacing on checkpoint floors, and staggering the use of lanes where feasible. No 2 airports are alike, so this could look a little different at each location.
Wear Facial Protection
TSA officers at checkpoints are now required to use facial protection, and all travelers are encouraged to wear face protection to the checkpoint as well. Please note, however, passengers may need to adjust it during the screening process if asked by a TSA officer.
Putting Items in Bins
Unless you have TSA PreCheck, you will have to remove various items, such as liquids and electronics, from your luggage and place them in separate bins before going through security.
You will also have to remove your shoes, items from pockets, jewelry, and large jackets.
update: Due to COVID-19, travelers are also encouraged to remove items such as belts and items from their pockets, like wallets, keys, and phones, and put them directly into their carry-on bags, instead of into the bins, to reduce touch-points during the screening process.
There is recent guidance stating that you may also be asked by TSA to remove snacks and powders for additional inspection — so be prepared for those items to be screened in more detail.
Note that if you are over the age of 75, you are exempt from removing your shoes and jackets.
Since 2008, the TSA has allowed laptops to remain in bags that meet its checkpoint-friendly design criteria. Laptop bags will need to have a designated laptop-only section with no zips, straps, or pockets on either side. When your laptop bag is screened, the laptop must lay flat on the belt, having nothing else with it, and provide an unobstructed view either above or below the laptop.
Note that even if your laptop bag is checkpoint-friendly there is no guarantee that you will not be asked to remove the laptop for screening.
Special Procedures
Travelers using wheelchairs, mobility aids, and other medical devices still need to go through the airport screening process.
TSA screeners will inspect and physically screen wheelchairs and scooters. You will need to put smaller mobility aids, such as walkers, through the x-ray machine.
If you use a prosthetic limb or wear a medical device such as an insulin pump, you will need to inform the TSA screener. You may be asked to undergo a wand inspection or pat-down, but you will not need to remove your medical device.
The majority of insulin pump manufacturers suggest that you do not go through a body scanner and opt for a pat-down instead as they are unsure what effect the small dose of radiation will have on your device.
Hot Tip: When in doubt, you can always ask TSA for a pat-down screening.
Additional Policy Changes Due to COVID-19
Travelers who have not flown since the pandemic are also likely to notice some other changes. They include:
Reduced security lane usage due to the reduction in passenger volume
All TSA officers at checkpoints wearing masks and gloves
TSA officers optionally wearing eye protection and clear plastic face shields at some locations
TSA officers will continue the practice of changing gloves after each pat-down
Plastic shielding installed at many travel document checking podiums, divest, bag search, and drop off locations
TSA officers practicing social distancing
Routine cleaning and disinfecting of frequently touched surfaces in the screening checkpoint area
Check out TSA's website for further information.
Hot Tip: Many airlines and airports are also providing specific COVID-19-related guidance to travelers; please check with your airline prior to your trip.
The TSA has modified screening rules for children under the age of 12.
You will not be separated from your child and can carry your small child or infant through the detectors or have them in a sling. If a child is capable of walking through the detectors without assistance, they may do so. Children under 12 are exempt from removing their shoes, light jackets, and headwear.
All children's items including bags, blankets, toys, carriers, strollers, and baskets must be screened by x-ray. If the item is too big to fit through the machine it will be subject to a visual or physical screening by TSA officers.
Traveling through an airport with an animal can be incredibly complicated and stressful — so much so that we studied which airports are best and worst for pet travel, as well as the best and worst airlines to fly with pets.
All animals must still pass through the security checkpoint, so reading our guide will help you prepare for this process.
At a minimum level, be sure to let the TSA officer know that you are traveling with an animal. They will not have to go through the x-ray machine but will have to go through the metal detector or be patted down just like a human.
If your animal has a crate, it will have to be passed through the x-ray machine. TSA officers will expect you to control your animal during this process.
Additional Screening
There are things like the medical devices noted above that may require additional screening. TSA officers sometimes ask to look through your luggage or need to perform additional screenings of your person.
The best thing to do is to familiarize yourself with TSA rules and processes for screening passengers, so you know exactly what to expect and what to do if your screening officer does not follow established procedures.
If you wear a head covering, TSA typically allows you to keep your head covered during the screening process. However, if your head covering is too concealing, you will be asked to undergo a pat-down screening, which may or may not involve the removal of your head covering.
In this case, be sure to ask the screening official to conduct the pat-down and/or head covering removal in a screening area away from the public view.
Duty-Free Alcohol
Buying 2 bottles of rum at the duty-free shop may save you money, but it may not save you time if you have to change planes after clearing customs.
You'll need to put those 2 bottles into a checked bag, as the liquids rule still applies to duty-free items (no containers larger than 3.4 ounces). If you have a nonstop flight, you don't have to worry.
Hot Tip: Do you have other questions about security screenings that we have not addressed here? Check out TSA's website.
Upon Arrival
Once you arrive at your destination, make sure you have everything you brought with you — after leaving the secured area, you will not be able to return.
If you realize that you did leave something, locate the nearest help desk or information booth within the airport. They will be able to help you retrieve any items that may have been left on the plane or in the secured area. You can also contact TSA Lost & Found.
Final Thoughts
It's never fun standing in long airport security lines, especially if you would rather spend that extra time relaxing in the airport lounge before your flight or you need to rush to your gate.
Thankfully, with a little bit of preparation, getting through airport security can be quick and painless!