TSA Airport Security – 80 Frequently Asked Questions [2021]
The rules for what the Transportation Security Administration, or TSA, allows travelers to bring in their luggage can be confusing and overwhelming!
For instance, are you allowed to bring food through security? And what about your bottled water? Just how much toothpaste can you pack in your carry-on? Does your razor blade need to be checked? And do these rules change if you're flying overseas instead of domestically?
So whether it has been a while since you've last flown anywhere or you just want to make sure you have everything in order before your trip, it might be time for a refresher. We've compiled a list of commonly asked questions to help you get through your next TSA airport security checkpoint with ease.
TSA General Questions
What Is the TSA?
The TSA is a federal agency that "protects the nation's transportation systems to ensure freedom of movement for people and commerce." If you're using a major airport, you'll have to be screened by the TSA. You can only avoid the TSA by flying on charter flights or private aircraft.
Do I Have To Comply With TSA?
To access your flight, you will most likely have to go through a TSA security checkpoint. Once the screening process at the airport has begun, you are required by law and by the TSA to go through the screening.
Bottom Line: TSA screeners do not have law enforcement authority, so they can't arrest you — but they can call airport police who can arrest you.
How Early Should I Arrive at the Airport Prior To My Flight's Departure?
TSA doesn't provide guidelines on when they suggest you arrive at the airport. TSA directs people to contact the airline you are flying with as times may vary depending on the airport and date of travel.
However, in general, 2 hours for a domestic flight and 3 hours for international flights are good standards. Always allow time for parking/shuttle transportation, airline check-in, obtaining a boarding pass, and going through the TSA security screening process.
You may check how busy the airport is likely to be on your specific day and time of travel based on historical data by downloading the MyTSA app. See more FAQs on this app below.
Can I Lock My Checked Suitcase and How?
Yes, you can lock your luggage, but you'll need to use a TSA-approved lock so that TSA screeners can open it if your bag is selected for inspection. If you don't use this type of lock, TSA screeners will simply cut off the locks if they need to get into your bag.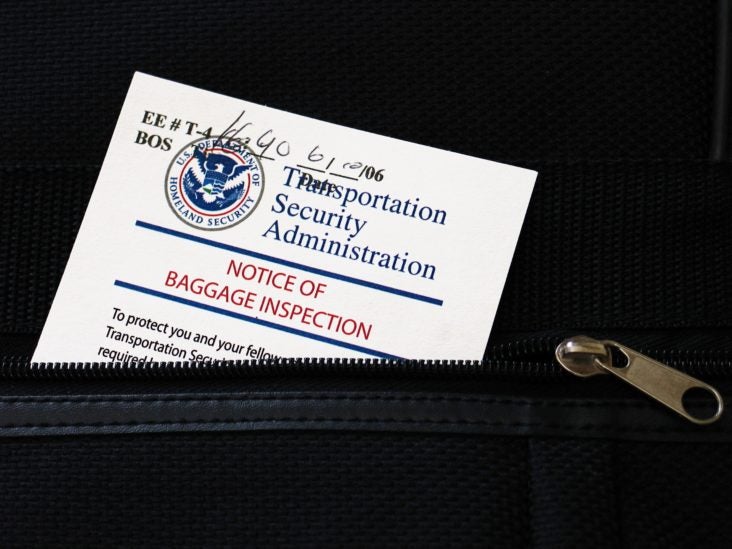 What Are the Size Restrictions for Carry-On Bags?
Size dimensions of carry-on baggage allowed in the cabin of the aircraft are regulated by individuals airlines, not the TSA. Be sure to contact your airline to confirm what is allowed.
I Forgot My Identification — Can I Still Get Through Security?
Even if you arrive at the airport without proper ID, either because it is lost or just left at home, you may still be allowed to fly. TSA has other ways to confirm your identity, like using publicly available databases. You may have to provide certain information for them to do this.
If your identity cannot be verified in this way, you will not be allowed to enter the screening checkpoint and cannot board your flight.
I Am Unable To Renew My License Due To COVID-Related Closures. Are There Any Accommodations in Place?
Due to COVID-19, the TSA has made changes to accepted forms of IDs. TSA issued a statement that notes "if your driver's license or state-issued ID expired on or after March 1, 2020, and you are unable to renew at your state driver's license agency, you may still use it as acceptable identification at the checkpoint. TSA will accept expired driver's licenses or state-issued ID a year after expiration."
TSA Airport Screening — What to Expect
What Should I Expect at the TSA Security Checkpoint?
First, be sure to have your ID and boarding pass out for inspection. Unless you have TSA PreCheck or qualify for reduced procedures (such as children or seniors), you will have to put the following items in a bin that gets screened separately:
A clear quart-size plastic bag with any liquids
Laptop, tablets, or other electronics larger than a cell phone
Shoes
Other common items you might need to remove (or place in your personal or carry-on luggage):
Belt
Cell phone
Hats
Jacket or outerwear
Jewelry
Keys
Metal items, such as coins
Place your personal items (such as a purse or laptop bag) as well as your carry-on bag on the conveyor belt. Proceed to the metal detector or the full-body scanning machine or opt-in for enhanced screening procedures, such as a pat-down. After you are through, you may collect your belongings and proceed to your gate.
Is There a Faster Way To Get Through Security?
Yes. TSA's PreCheck program offers access to expedited security lines. If you frequently travel internationally, Global Entry may be a better option as it also includes PreCheck membership. See more FAQs regarding the benefits of it below.
What Is Done To Protect My Privacy During Screening?
Per the. TSA, "automated target recognition software detects any metallic and non-metallic threats concealed under clothing by displaying a generic outline of a person on a monitor attached to the advanced imaging technology unit highlighting any areas that may require additional screening."
The generic outline of a person will be identical for all passengers. If there isn't an alarm, a green "OK" appears on the screen with no outline.
What Can I Do To Prevent an Alarm?
Remember to remove all metal items (such as belts and watches) and other items from your pockets before you go through screening. You should also avoid wearing clothes, shoes, and jewelry that have a high metal content.
Follow instructions and stand where you are directed. This will reduce the likelihood that a pat-down screening is necessary.
What Can I Expect During Pat-Down Screening?
The TSA officer will explain the pat-down process before and during the screening. The officer that conducts the screening will be of the same gender. Remember that any time during the screening process, you can request a private screening and are allowed to have a witness of your choice present.
Since a pat-down screening is conducted to determine whether prohibited items are concealed under clothing, sufficient pressure must be applied to ensure detection. You should inform the officer if you have a medical condition or any areas that are painful when touched.
Why Would I Receive Pat-Down Screening?
Pat-down screening is only used to resolve alarms unless otherwise requested by the passenger as an alternative to metal detectors and imaging technology.
What Are the Screening Procedures for Transgender Persons?
Transgender persons will be screened as he or she presents at the security checkpoint. Remember that any time during the screening process, they can request to speak with a supervisor and are allowed to have a witness of their choice present.
Whether or not an alarm is triggered, a private screening can always be requested.
Will Children Receive a Pat-Down Screening?
TSA has modified screening procedures for children under 12 that reduce the likelihood of pat-down screening. If an alarm is triggered, TSA officers will work directly with parents to resolve any alarms.
Read more about TSA's procedures for screening children.
What Is the Pat-Down Procedure for Seniors?
Generally, seniors can leave on their shoes and a light jacket during TSA screening. Passengers 75 and older who are unable to stand for screening will be screened through other security methods.
If an alarm is triggered, they may be required to remove these items for further screening or undergo a pat-down screening.
Can I Request a Pat-Down Screening Instead of Going Through the Machine?
Yes, you may request a pat-down screening as an alternative to metal detectors and imaging technology. Simply approach any TSA officer and inform them of your preference.
Can I Take My Pet Through the Security Checkpoint?
Yes, pets are allowed through the security checkpoint. First, you must remove your pet from the carrying case and place the case through the x-ray machine. Animal carriers will undergo a visual and/or physical inspection.
While the pet is out of their case, be sure to maintain control of your pet with a leash and remember to remove the leash when carrying or walking your pet through the metal detector.
Hot Tip: Note that separate procedures for service animals apply. See that section below for more details.
Is Imaging Technology Safe?
Per the TSA, "advanced imaging technology (or AIT) is safe and meets national health and safety standards. In fact, the energy emitted by millimeter wave technology is 1000 times less than the international limits and guidelines."
You are also able to opt-out of this screening in favor of physical screening unless your boarding pass indicates that you have been selected for enhanced screening.
MyTSA App
What Can the MyTSA App Do?
The MyTSA app provides airline passengers with 24/7 access to airport security information. It includes a search function for items that can or can't go in your carry-on or checked luggage, helpful tips for preparing for security, and both real-time and historic data for wait times at TSA checkpoints.
How Can I Download the MyTSA App?
The MyTSA app is available for iOS and Android.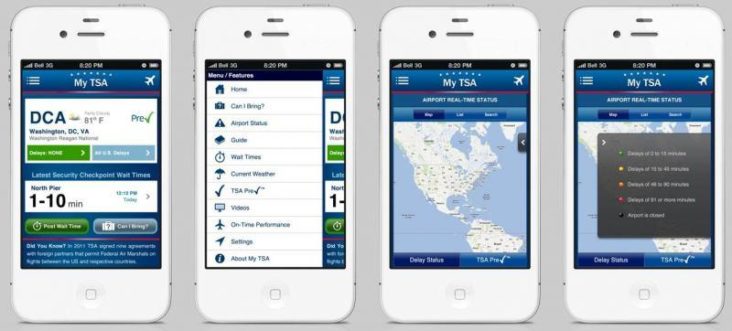 How Do I Report Wait Times?
You may report wait times under Checkpoint Wait Time on the My Airports screen. You must be within a half-mile radius of the airport to report wait times.
Why Can't See Any Wait Times on the App?
Wait times are kept for 2 hours, so if no one has reported within that time frame, no wait times will appear.
Who Can I Contact for Assistance With the App?
For assistance with the MyTSA app, please email your inquiry to TSA.
TSA PreCheck
What is TSA PreCheck?
TSA PreCheck allows pre-approved, low-risk travelers to go through expedited security screening at TSA airport checkpoints for domestic and outbound international travel.
At the TSA PreCheck lanes at more than 150 airports nationwide, members do not have to remove articles of clothing (shoes, belts, light jackets) at the security checkpoint and can even keep their laptops and 3-1-1 liquids in their bags.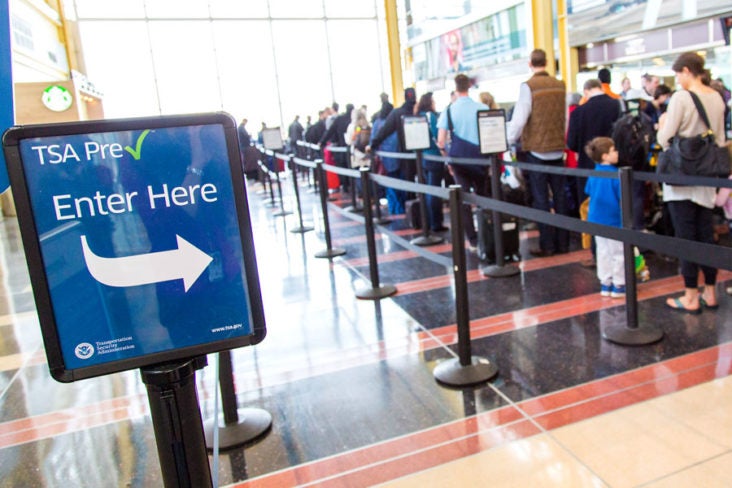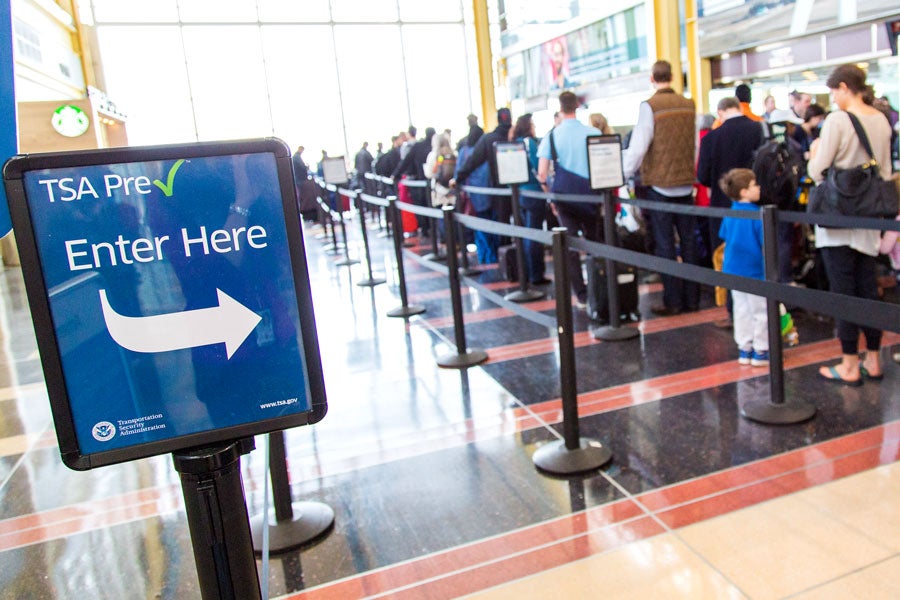 Applying for TSA PreCheck
How Much Does It Cost To Apply for TSA PreCheck?
There is a non-refundable $85 fee that will cover 5 full years of TSA PreCheck membership.
Hot Tip: Many cards reimburse this fee, so be sure to check out our article covering the best credit cards for complimentary Global Entry and TSA PreCheck.
Does the Name on My Airline Reservation Have To Match the Name on My Application?
Yes, and this is very important. The name submitted on your airline reservation must be an exact match to the name you provided on your application.
How Can I Find an Enrollment Center?
Find a TSA PreCheck enrollment center by entering a postal code, city, or airport code in the search box on TSA's website.
How Do I Apply for TSA PreCheck?
To apply, complete a TSA PreCheck application online or at an enrollment center near you. Most people will receive a notification that they have been approved in less than 2 weeks.
You will then have to schedule a visit to an enrollment center for a short interview and show proof of identity, citizenship, and submit your fingerprints. Once this is completed, you will receive a Known Traveler Number (KTN) by mail.
Who Can Apply for TSA PreCheck?
TSA PreCheck is open to U.S. citizens, U.S. nationals, and lawful permanent residents.
Is There Any Age Restriction To Apply for TSA PreCheck?
There is no age restriction to apply for TSA PreCheck, however, be aware that kids ages 12 and under traveling with an eligible parent or guardian with a TSA PreCheck indicator on their boarding pass can use TSA PreCheck for free.
Using TSA PreCheck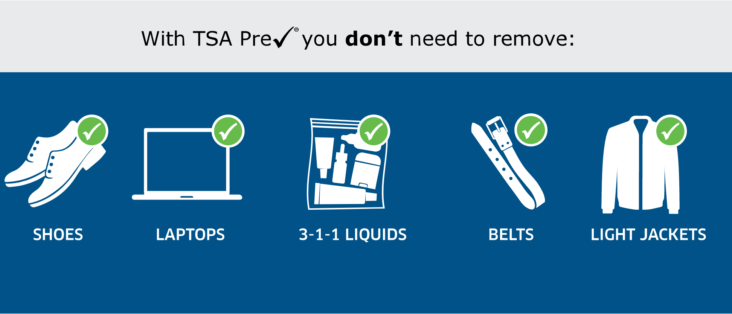 Will I Receive an ID Card or Other Credential To Use TSA PreCheck Lanes?
No, you will not receive any credentials to use the TSA PreCheck lane. A TSA PreCheck indicator must be printed on your boarding pass and embedded in the barcode if you are eligible for TSA PreCheck on your flight.
Can I Access the TSA PreCheck Lane by Showing My Global Entry, NEXUS, or SENTRI Card or TSA PreCheck Approval Letter?
No. To use the TSA PreCheck lane, you must include your Known Traveler Number in the appropriate field of your airline reservation, and the TSA PreCheck indicator must be visible on your boarding pass.
Can I Use TSA PreCheck When Flying From a U.S. Airport Internationally?
Yes. TSA PreCheck is available when you depart from a U.S. airport to a foreign country, and for domestic, connecting flights after you return to the U.S.
You cannot use TSA PreCheck at international airports.
Can My Family Members Also Use the TSA PreCheck Lane?
Children ages 12 and younger may use the TSA PreCheck lane when traveling with a parent or guardian who has the indicator on their boarding pass. Any child 13 and older who does not have a TSA PreCheck boarding pass must go through standard security lanes.
If I Am TSA PreCheck Eligible, Am I Guaranteed Expedited Screening?
No, TSA PreCheck does not guarantee expedited screening. If you do not have a TSA PreCheck marker on your boarding pass, you must go through the regular security lane.
Which Airlines or Airports Participate in TSA PreCheck?
Check the TSA's website for a current listing of participating airports and airlines.
Trusted Traveler Programs
What Is the Difference Between Global Entry, TSA PreCheck, and the Other Trusted Traveler Programs?
TSA PreCheck provides expedited security screening benefits for domestic flights. Global Entry provides the TSA PreCheck benefit plus expedited U.S. customs screening for international air travelers when entering the U.S.
Learn how to apply for Trusted Traveler Programs NEXUS (for entry into the U.S. and Canada) or SENTRI (for entry into the U.S. from Mexico) in our detailed program guides.
How Do I Use My Known Traveler Number or KTN?
Once you are approved for TSA PreCheck, you will receive your KTN by email. If you didn't, or simply don't remember, lookup your KTN.
From here, you will want to add your KTN to all previous reservations and update your profile with other airlines. You will do this by contacting each airline individually.
Hot Tip: Make sure your name and birthdate match exactly to receive your Trusted Traveler benefits.
I Have More Than 1 KTN. Which Should I Use?
You may use any active KTN that you have been assigned. However, if 1 KTN comes with more privileges (for example, Global Entry when you are traveling internationally), be sure to use that 1 to not miss out on any benefits.
Renewing TSA PreCheck
How Much Does TSA PreCheck Renewal Cost?
The cost to renew is the same as initial enrollment — $85 for 5 years.
How Soon May I Renew My TSA PreCheck Membership?
You may renew your membership up to 6 months before the expiration date to ensure you don't have any lapses due to processing time.
Will I Be Notified When I Am Eligible To Renew My TSA PreCheck Before It Expires?
Yes, the TSA states that it will send a renewal notification to members who have a valid email and/or phone number on record.
Will I Keep My Same KTN After I Renew?
Yes, you will keep the same number as long your membership is renewed within 1 year of expiration. After 1 year, you will receive a new KTN if approved.
TSA PreCheck Disqualification and Suspension
Can I Be Disqualified/Suspended From TSA PreCheck?
Yes. Per the TSA, "if you commit certain violations of federal security regulations, you can be denied expedited screening for a period of time." These violations include, but aren't limited to:
Interference with security operations
Access control violations
Providing false or fraudulent documents
Making a bomb threat
Bringing a firearm, explosive, or other prohibited item to an airport or on board an aircraft
The time you are disqualified "is related to the seriousness of the violation and/or a repeated history of regulatory violations."
What If I Received a Preliminary Determination of Ineligibility Letter?
If TSA finds information that could potentially disqualify you for TSA PreCheck, it will send a letter with instructions on how to proceed.
TSA Airport Screening — What to Wear
May I Keep Head Coverings and Other Religious, Cultural, or Ceremonial Items on During Screening?
Yes, you may keep these items on during your TSA screening. However, be aware that you may be required to undergo additional security screening if an alarm is triggered. If the alarm cannot be resolved through a pat-down, you may ask to remove the head covering in a private screening area.
What Type of Shoes Should I Wear Through Security?
Shoes that are easy to slip off and on at the checkpoint are the best choice. Many people also prefer to wear socks so that they are not touching the ground with their bare feet.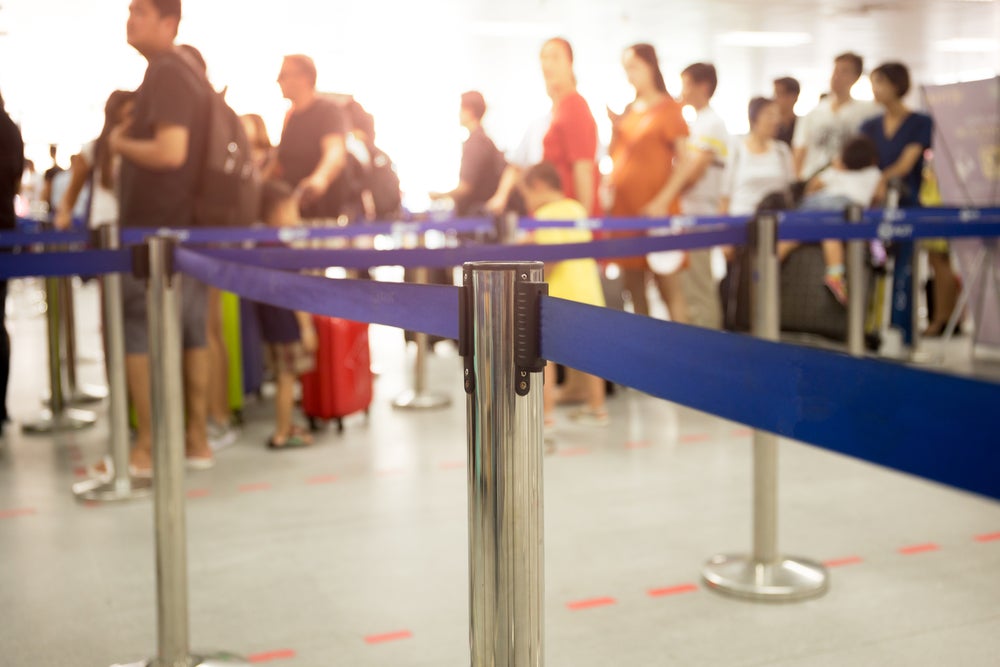 Should I Remove My Body Piercing?
Certain metal body piercings may cause the machines to alarm and a pat-down may be required. If additional screening is required, you may be asked to remove your body piercing in private as an alternative to the pat-down.
Are There Any Special Rules for Seniors (Over 75)?
Yes. Seniors 75 and older can leave their shoes and light jackets on during screening. If an alarm is triggered, they may still need to remove these items.
What Clothing Will I Need To Remove To Go Through TSA?
Unless you have TSA PreCheck, you will need to take off or remove the following items and place them in a bin or your carry-on luggage:
Shoes
Hats
Jacket or bulky outerwear
Jewelry
Belt
Bottom Line: This list is not all-inclusive. Other items, such as headbands or glasses, may interfere with screening and must be removed as directed by TSA.
What Can I Bring? — Permitted and Prohibited TSA Items
What Is the "3-1-1 Liquids" Rule?
TSA allows each passenger to carry liquids, gels, and aerosols in travel-size containers that are 3.4 ounces (or 100 milliliters). All travel-size containers must fit inside 1 quart-size bag. Common travel items that must comply with the 3-1-1 liquids rule include toothpaste, liquid makeup, shampoo, conditioner, mouthwash, and lotion.
Hot Tip:In light of the COVID-19 pandemic, TSA is allowing hand sanitizer in amounts over 3.4 ounces, up to 12 ounces. Find out more about TSA's COVID-19-related changes.
Is Breast Milk and Formula, Baby Food, Juice, and Other Medically Necessary Liquids/Gels Exempt From the 3-1-1 Liquids Rule?
Breast milk, formula, and juice can be brought in your carry-on baggage in quantities greater than 3.4 ounces or 100 milliliters. You may also bring gel or liquid-filled teethers and canned, jarred, or processed baby food in carry-on baggage. These items should be separated from other liquids and gels.
Ice packs, freezer packs, frozen gel packs, and other accessories required to cool formula, breast milk, and juice are also allowed in your carry-on. These items may be subject to additional screening.
The TSA also makes exceptions for other medical items such as insulin and eye drops. Just make sure to present these items to the security officer when you reach the checkpoint.
May I Pack Food in My Carry-On or Checked Bag?
Yes, you may pack food in both your carry-on or checked bag, but all food will undergo x-ray screening. Foods that are liquids, gels, or aerosols must still comply with the 3-1-1 liquids rule.
Do Vitamins and Medications Need To Be Packed in Their Original Containers?
While keeping medications and vitamins in their original labeled containers may expedite the screening process, it's fine to transfer them into smaller containers.
May I Pour Shampoo and Other Liquids or Gels Into Unmarked, Travel-Size Containers?
Yes, refillable travel-size containers are allowed as long as they conform to the 3-1-1 rule.
What Is the Policy on Powders? Are They Allowed?
Starting June 30, 2018, powdered items such as coffee, spices, and baby powder in excess of 12 ounces are subject to additional screening. You may be asked to remove them if they're judged dangerous or if TSA is unable to identify them.
Bottom Line: To expedite your time going through security, place powders in your checked bag, if possible.
Can I Bring Film Through the Security Checkpoint?
Yes, but to expedite your screening, take your film out of all canisters and wrappers and place it in a clear bag. Don't keep any film in any luggage or baggage that will be checked.
Regarding undeveloped film, the x-ray machine that screens your carry-on baggage at the passenger security checkpoint will not affect undeveloped film under ASA/ISO 800.
The x-ray machine will not impact digital cameras or memory cards.
Can I Bring Makeup in My Carry-On?
Makeup is subject to the same liquid and gel rules as all other substances, so if you're bringing liquid mascara, lip gels, or other similar items, they will need to be placed in your quart-size plastic bag in 3.4-ounce or smaller containers. Powders are subject to the rules noted above.
Lipstick, solid lip balms, and other solid beauty products, such as compressed blush and eyeshadows, are not subject to the rules and can be carried in your hand luggage without restriction.
What Are the Rules for Bringing Deodorant in My Carry-On?
Standard stick deodorant is fine to bring on a plane in your carry-on bag with no restrictions.
Gel or spray deodorant is subject to the 3-1-1 restrictions and may not be carried on in excess of 3.4 ounces.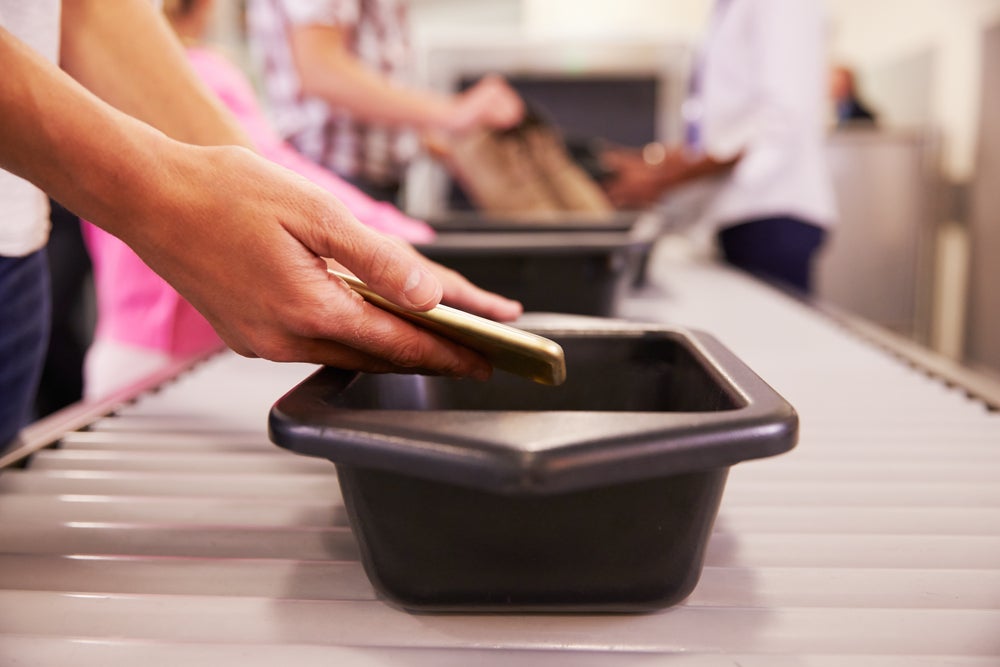 I'm Bringing Birthday or Holiday Gifts. How Do To Pack Them?
Do not pack wrapped gifts in either your carry-on or checked baggage, as the TSA may be required to unwrap them for inspection. A good alternative is to place the gift in a gift bag or simply wrap your gift once you arrive.
What Are the TSA Rules for Lithium Batteries?
Loose lithium batteries are not permitted in checked bags. If your batteries are installed in a device (such as a camera), you can pack the device in either a checked bag or a carry-on, but loose lithium batteries may only be transported in your carry-on luggage.
May I Bring E-Cigarettes or Cigarette Lighters on a Plane?
E-cigarettes are only permitted in carry-on luggage, not in your checked bag.
Common lighters that do not contain fuel are permitted in carry-on or checked baggage.
May I Bring Tweezers, Razors, or Scissors on the Plane?
Tweezers, electric razors, disposable razors, and their cartridges are all permitted in your carry-on luggage or personal item. Straight razors are only permitted in your carry-on as long as the blades are packed in your checked baggage.
Scissors are allowed on a plane in your carry-on bag if the blades do not exceed 4 inches. If in doubt, place them in your checked bag.
May I Bring CBD Oil or Marijuana on the Plane?
To start, the TSA does not specifically screen for illegal drugs but will report them to law enforcement if found. If you're flying within the U.S. it is legal to travel with products that contain no more than 0.3 percent THC.
If you're traveling internationally, you may be better off leaving these products at home unless you've thoroughly researched your destination's laws and know that what you're bringing is legal.
May I Bring Duty-Free Liquids in My Carry-On Bags?
Duty-free liquids, such as perfume or alcohol, are permitted in excess of 3.4 ounces as long as they were purchased at a duty-free shop and placed in special tamper-evident bags.
These items must go in your checked luggage if you have to go through security again (for example, to catch a connecting flight) or if these liquids are no longer in the tamper-proof bags and exceed 3.4 ounces.
What Happens If TSA Determines I Am Traveling With an Item That Is Deemed Hazardous Material?
If hazardous materials are found in a passenger's checked baggage, those items are brought to the attention of the airline with which the passenger is booked. The airline has the final determination of whether the item is permitted or prohibited, not TSA.
What Steps Are Taken To Screen Sensitive Items, Such as Musical Instruments or Sporting Equipment?
Any items transported as a carry-on require a physical inspection at the security checkpoint — including musical instruments and sporting equipment. Inform the TSA officer if your equipment requires special care and handling.
Hot Tip: Check with your airline before your flight to ensure your instrument or sporting equipment meets the aircraft size requirements. We also have a detailed guide of ski and snowboard luggage policies for over 70 airlines.
Can I Bring Guns Firearms on the Plane With Me?
You can't carry on any kind of gun or firearm-related item. The Transportation Safety Administration restricts flyers from carrying on ammunition, BB guns, air guns, firearms, flare guns, or realistic replicas of guns, though these items can be checked. They must still be unloaded, placed in a locked, hard-sided container, and declared to your airline.
Gunpowder and flares are not permitted in carry-on or checked luggage.
Bottom Line: TSA officers make the final decision on whether certain items are permitted into the secured areas of the airport. For more information, check out our guide to what can and can't be taken through TSA security.
Disabilities and Medical Conditions
Do I Have To Remove My CPAP Machine From My Carry-On?
If you have a clear plastic bag, you can place the device through the x-ray. Otherwise, a nebulizer, CPAP, BiPAP, and APAP must be removed from its carrying case and undergo x-ray screening. Any facemasks and tubing may remain in the case.
What Are the Rules for Traveling With Medication?
First, know that medications and other necessary medically-necessary liquids and creams do not need to adhere to the 3-1-1 rule. As noted above, you can bring "reasonable" amounts through TSA security.
Be sure to remove them from your carry-on bag to be screened separately from the rest of your belongings. TSA recommends that medication be clearly labeled to facilitate the screening process, but this is not required.
I Have a Service Animal, What Type of Screening Should I Expect?
You and your service animal will be screened by a walk-through metal detector. You can choose to walk through together or you may lead the animal through separately on a leash.
If the metal detector alarms, you and your service animal will undergo additional screening, including a pat-down.
I Have an Ostomy Pouch, Do I Have To Remove It for Screening?
No, your ostomy pouch does not need to be removed for TSA screening. Inform a TSA officer that you have an ostomy pouch before you enter the screening area.
Note that the ostomy pouch is subject to additional screening and may require you to conduct a self pat-down of the pouch outside of your clothing, followed by a test of your hands for any trace of explosives. A pat-down of other areas may also occur.
What Are the Procedures If I Have an Internal or External Medical Device, Such as a Pacemaker or Metal Implant?
Inform the TSA officer that you have an artificial knee, hip, or other metal implant, pacemaker, defibrillator, or another internal medical device. You will be directed to the AIT screening, if available, or alternatively you would undergo a pat-down screening by a TSA officer.
Hot Tip: You should not be screened by a walk-through metal detector if you have an internal medical device such as a pacemaker. 
I Need Assistance During Screening. Is There a Number I Can Call Before My Flight?
TSA Cares is a helpline that provides travelers with disabilities, medical conditions, and other special circumstances additional assistance during the security screening process.
Reach out to them 72 hours before traveling with questions about screening policies, procedures, and what to expect at the security checkpoint. You can call them at 855-787-2227 or email TSA Cares.
TSA Lost or Damaged Items
Does TSA Gain Any Profit From Any Lost or Abandoned Items?
TSA does not keep any proceeds from lost and found items. Money from the sale of these items goes to the U.S. Department of the Treasury into a general fund used to pay towards the U.S. national debt.
How Do I File a Claim for a Missing or Damaged Item?
You may file a claim with the TSA if your property is lost or damaged during the screening process.
How Do I Get Back an Item I Left at the Airport?
If you believe your item was left at the security checkpoint, contact lost and found. To retrieve the item, you must be able to describe the item, when it was lost, the color of the item, or any information identifying the item.
For items left elsewhere in the airport, please contact your airport authority.
What Happens If an ID Is Left Behind at a Checkpoint?
TSA works with the airport to alert passengers who might have left behind drivers' licenses and passports. Typically an announcement will be made over the airport speaker. If the ID is not claimed within 30 days, it is destroyed.
What Happens To Guns/Weapons Found in Carry-On Bags Left Behind?
TSA turns over all weapons detected in carry-on bags to local law enforcement authorities.
Final Thoughts
Ultimately, the TSA's airport screening procedures are intended to prevent prohibited items and other threats to transportation security from entering the secured area of the airport. Planning ahead and packing and dressing properly can help the screening process go smoothly.
We hope we've answered some of your questions and that you feel prepared next time you have to head to the airport. There are a lot of rules to keep track of, so be sure to bookmark this page and check back each time you travel!
We've also got a great list of tips to help you sail through security and get to your gate worry-free, even in the era of COVID-19!