NEXUS Trusted Traveler Program – Applying, Eligibility, Benefits & More [Detailed]
If you're a frequent traveler who visits international destinations for business or pleasure — or even a commercial truck driver who hauls goods in and out of Mexico or Canada — there's a special program for you.
Whatever your travel needs, the Department of Homeland Security (DHS) has Trusted Traveler programs that can help you move through ports of entry or airport lines more quickly. 
NEXUS is one of those programs, and it provides a modified screening process for pre-approved members. In addition, it improves security via more efficient screenings while also facilitating legitimate travel and trade.
If you're looking to beat the long lines, we'll answer your questions about the NEXUS program's advantages, and point you in the right direction for signing up. Soon you'll be zooming through customs and getting to your destination a lot faster — and with way fewer headaches.
What Is NEXUS?
If you've never heard of it, basically NEXUS is a program that allows pre-screened travelers to use expedited processing when entering Canada or the United States.
Members can use dedicated processing lanes at specific border ports of entry
There are NEXUS kiosks for air entry to Canada (as well as Global Entry kiosks for U.S. entry at certain Canadian pre-clearance airports)
NEXUS members can receive expedited processing when arriving by sea at some locations
To avoid long waits, NEXUS members' information is stored in a special database. When a member enters the country at a participating airport (or other port of entry), their membership card and fingerprints are scanned at a kiosk, they fill out a customs declaration form, and they can go straight to the baggage claim area.
The NEXUS program is 1 of 5 Trusted Traveler programs available, 4 of which are designed for both business and personal travelers:
NEXUS
The fifth program, FAST, is designed for commercial trucking.
Bottom Line: NEXUS can save time, lower stress, and simplify travel by allowing its members to skip the normal lines for customs entry and arrive at their destination much faster.
How Does the NEXUS Program Work?
NEXUS allows expedited entry into the United States and Canada via kiosks and marine entry points. Instead of waiting in line to speak with a customs officer, NEXUS cardholders simply answer a series of standard questions in electronic form and can then enter the country without having to pass through a manned checkpoint.
That said, NEXUS does not absolve you from having to speak with a human. You can be selected for random screening at any point, and your bags or personal belongings can be examined. However, a majority of the time, you'll be let into the country without further processing.
To take advantage of domestic TSA PreCheck benefits, NEXUS members need to enter their membership number in the Trusted Traveler number field when they book a flight (or add it to their frequent flyer profile). That membership number gives TSA the ability to proceed with Trusted Traveler verification.
Hot Tip: Your NEXUS program number is your Trusted Traveler number. When purchasing your airline ticket, enter your NEXUS number to receive TSA PreCheck benefits.
Where to Find Your Membership Number
Your member number can be located by logging into your account on the Trusted Traveler Program website. It can also be found on the back of your card.
About NEXUS Eligibility
Not everyone is eligible for NEXUS, and there are certain categories of people who can and can't apply.
Who's Eligible?
Eligible parties include the following:
U.S. citizens
U.S. lawful permanent residents
Canadian citizens
Canadian lawful permanent residents
Mexican nationals (members of Viajero Confiable, Mexico's Trusted Traveler program)
Anyone under the age of 18 must have written consent from a parent or legal guardian for participating in the program in addition to meeting eligibility requirements above.
If you're in a family with more than one person applying, including a minor, we suggest that you you apply at the same time and do your interview on the same day.
Nexus Restrictions & Ineligibility Reasons
You might not be eligible for participation in the NEXUS program if you:
Provide incomplete or false or information on your application
Were convicted of a criminal offense or have outstanding warrants or pending criminal charges (including DUI)
Are in violation of any agriculture, customs, or immigration laws or regulations in any country
Are the subject of any ongoing investigation(s) by any local, state, or federal law enforcement agency
Are inadmissible to the U.S. under any immigration regulation (includes applicants with parole documentation or approved waiver of inadmissibility)
Are unable to satisfy Canada Border Services Agency or CBP regarding your low-risk status
Hot Tip: Both the U.S. and Canada need to approve your application; application denial by either country will result in the denial of your participation in the NEXUS program.
It's important to understand that not every criminal act will get your NEXUS application denied. You may still be approved, and there are several things you can do to help improve your chances.
Let's take a look at each of the qualifications for possible denial, your chances are of being approved, and what you can do to help your situation. To be clear, this is not legal advice or a guarantee of approval — but it is worth mentioning, since there are many people who may apply with some sort of demerit on their record.
If you provide incomplete information on your NEXUS application, you may be given a chance to update that information during your interview, so long as it is determined that you did not omit it purposely. Always double-check your application to be sure all information is complete.
If you provide false information on your application, there is almost no chance you will be approved. This shows you cannot be trusted to answer the arrival questions honestly at a port of entry.
If you have been convicted of a criminal offense, you won't necessarily be denied. It depends on the severity of the crime and how long ago your conviction was. In general, you stand a better chance of approval if the crime was over 10 years ago.
If you have any pending criminal charges, you likely won't be approved.
If you have been convicted of a DUI, the chances you will be approved are very slim. The Canadian government takes driving under the influence cases much more seriously than the United States. That said, there is some anecdotal evidence of successful approval with a previous DUI arrest.
If you're in violation of any agriculture, customs, or immigration laws, there is almost no chance you will be approved. NEXUS is a cooperative agreement between the United States and Canada, and both countries take these violations seriously. In fact, these offenses are taken more seriously with NEXUS than with Global Entry, since NEXUS involves access into 2 countries.
If you are inadmissible to the United States for any reason, you will not be approved for a NEXUS card. This could include previous violations, customs issues, or immigration issues.
As a general blanket statement, if you are unable to prove to either country that you are a low-risk traveler, you will not be approved.
If you have questions before applying, we recommend you speak with an immigration attorney or another professional familiar with the approval process.
Bottom Line: Just because you have a criminal conviction doesn't mean you'll be automatically denied, though it certainly reduces your chances of being approved.
Benefits of NEXUS
NEXUS program membership allows you to have reduced waiting times at designated ports of entry by allowing you to:
Use dedicated land border crossing processing lanes
Use NEXUS kiosks when you enter Canada via airport
Use Global Entry kiosks when you enter the U.S. via airport
Call a marine telephone reporting center for reporting your arrival into the U.S. or Canada
There are several obvious perks here. First, when you can use the dedicated land border crossing processing lanes, you'll experience a shorter wait when entering either country by vehicle.
At the airport, by using a NEXUS kiosk, you'll avoid having to use the manual admission kiosks and can proceed straight to a customs officer for presentation. This avoids the inevitable long lines, especially at busy airports such as Toronto Pearson.
Hot Tip: Even when you use a NEXUS kiosk, you still present a verification printout to an officer at the exit — but generally these officers will simply waive you through without additional questioning.
When you use a Global Entry kiosk entering the U.S. by air, you won't have to fill out the paper customs declaration form or have a formal interview with an officer (where you approach the row of "cubicles" where they sit).
Instead, you'll go right to the Global Entry kiosks, answer a few questions, and then give the printed slip to the border officer at the end of the process.
For seaport entries, calling the marine telephone reporting center lets you avoid having to physically present yourself to an officer through an official customs station. Instead, you can simply declare yourself and any goods over the phone.
How to Apply for NEXUS
There are 2 ways to submit a completed application:
Apply Online (Fastest Way)
Step #1: Create your Trusted Traveler Program (TTP) account.
Step #2: Logging in to your TTP account, you can then complete your application and enclose your $50 USD fee, which is nonrefundable and required with all completed applications.
After acceptance of your completed application with the required fee, CBP reviews your application. If it is conditionally approved, you'll be instructed to schedule your interview at any NEXUS Enrollment Center.
This is by far the easiest way to enroll in the NEXUS program, since it can be completed online. You can also track your status online and see where you are throughout the process, as well as any approvals or rejections.
Apply by Mail
Step #1: Canadians can mail a completed application and $50 CAD nonrefundable fee to a specified address (see below). You'll be required to send in supporting documentation and photocopies to the designated Canadian Processing Center.
If the application is conditionally approved, you'll receive a letter by mail instructing you to schedule your in-person interview at any NEXUS Enrollment Center.
This process is slower than applying online, since it requires time to mail in the application, time for it to be processed, and then time for the decision to be returned by mail to your home address.
Mailing Addresses:
For Residents of the U.S., Ontario, Alberta, British Columbia, Manitoba, the Northwest Territories, Nunavut, Saskatchewan, and the Yukon:
NEXUS Program Canadian Processing Centre
6080 McLeod Road
PO Box 126
Niagara Falls, Ontario, Canada L2E 6T1
For Residents of Labrador, Newfoundland, New Brunswick, Nova Scotia, Prince Edward Island and Quebec:
Processing Centre – NEXUS Program
400 Place d'Youville
Montréal, Quebec, Canada H2Y 2C2
Security Screening
Applicants will undergo screening for their immigration status and citizenship, as well as a check for any possible criminal history and/or positive match on the following databases:
Canadian Security Intelligence Service (CSIS)
Interpol terrorism and no-fly list
United Nations databases
The UK Police National Computer
U.S. Federal Bureau of Investigation (FBI)
Royal Canadian Mounted Police (RCMP)
As a reminder, it is very important you do not lie on your application, even about minor criminal activity. Because the background check is so thorough, anything you try to hide will be discovered.
Applying for a NEXUS card is similar to a government background check to work at the Pentagon, for example — it covers all bases to ensure you're safe to proceed into the country without risk of hiding something.
Applicants who pass the initial screening will then have an in-person interview with both the Canadian Border Services Agency and U.S. CBP.
Following approval, new members will receive an RFID-enabled NEXUS card in the mail, which is valid for 5 years from their next birthday following issuance. Renewal generally occurs 6 months prior to the card expiration date.
Upon renewal, another interview to verify your continued qualification may be required.
What Is the NEXUS Interview Like?
Part of the requirement of the NEXUS program is to present yourself in front of both a CBP and CBSA officer. This is done for a few reasons, but partly so they can take your fingerprints and picture, match your information against their databases, and have the opportunity to question you on any discrepancies.
In general, you can expect several questions throughout the interview process that you should be prepared to answer:
Why do you want the NEXUS card? It's okay to be honest and say you're doing it because it's a cheaper option than Global Entry, but you only intend on using it for admittance into the United States. If you're truly going to enter both Canada and the U.S., you will want to explain your frequency of travel between the countries, how you usually get between them, and what your business is on either side.
You'll be asked to detail your line of work. This is important so customs officials know you're not using the program to gain entry into either county to live or work illegally. This question won't be too complex.
You may be asked about any previous interactions at the border and if you've ever brought over anything you shouldn't have, such as food. Saying you have won't necessarily disqualify you, but it may show you're an honest person.
You may be asked what countries you have traveled to. The officer is trying to see where outside the U.S. and Canada you have been, and if any of the countries on your list have bad relations with the U.S. or Canada. This could signal potential terrorist activity, so officers will want to know why you were in those countries specifically. There are many people who have traveled to Iraq or Iran for tourism — if you have visited there or any other potentially risky countries, just be forthcoming in your response and state why.
You may be asked how you usually travel to any countries you have visited outside the U.S. or Canada. The officer is looking to see what modes of transportation you frequently use, who may pay for your tickets, and how you get around once in a foreign country. This answer helps them get a big picture look at how you normally travel.
You may be asked why you applied for NEXUS vs. applying specifically for Global Entry. In this case, state why you visit Canada frequently or want expedited processing there. Many travelers report that they travel to Canada for work, or even to fly out of a cheaper airport.
You'll be asked to confirm your personal details, including your home address, personal biographical information, phone number, etc. They want to confirm you know what you put on your application, and where to send the card and informational packet if you are approved.
You'll be asked about any business dealings you have on either side of the border, which can represent an issue for customs. Do you manufacture goods in one country and export them? Do you produce fresh food in one country and intend on bringing it across the border? They'll also see if you have employment in either country and how that affects any trade.
If you have criminal convictions or other things that may come up, you'll be asked about each of these in detail. If you're asked details abut a specific crime, be very open and honest — do not lie about anything. Make sure you inform them of the dates of the crime, what you did, whether you were found guilty, any punishments, and what has happened since the infraction. If you've gone into a rehabilitation program, had a record expunged, etc., these are very important details to offer.
Many people ask what the dress code is for this interview. It's not formal, so there's no need to show up in your Sunday best, but you should be presentable. For men, that may be a polo-style shirt or casual button down. For the ladies, a sweater or professional top should work great.
Hot Tip: You'll have your picture taken at your interview for printing on your NEXUS card, so you should wear whatever you'd like to see in your picture for the next 5 years!

It's also worth noting that your dress does represent who you are — if you have previous criminal convictions or any problems with your application, you'll want to dress to impress. While wearing a t-shirt and jeans won't necessarily get you denied, wearing something presentable lets the interviewing officer know you're serious about following the terms and conditions of membership.
Most reports of the interview process suggest you should allow for about a 15-minute meeting. Depending on the wait at the facility, you may be asked to be seated until you are called, but many interviewees indicate this was a relatively short process.
Where to Apply: NEXUS Enrollment Centers
NEXUS Enrollment Centers are located in several states in the U.S. as well as in Canada.
Canadian NEXUS Enrollment Centers:
Belleville
Calgary
Edmonton
Enfield
Fort Erie
Landsdowne
Mississauga
Montreal
Ottawa
Vancouver
Winnipeg
U.S. NEXUS Enrollment Centers:
Blaine, Washington
Calais, Maine
Champlain, New York
Derby Line, Vermont
Detroit, Michigan
International Falls, Minnesota
Niagara Falls, New York
Pembina, North Dakota
Port Huron, Michigan
Sault Ste. Marie, Michigan
Seattle, Washington
Sweetgrass, Montana
Warroad, Minnesota
You'll notice that all of these interview points are located along the Canada/U.S. border, and many of them aren't at obvious locations (such as airports).
So how should you do a NEXUS interview if you don't live along the border or near one of the interview points? After all, just because you don't live near the border doesn't mean you might not visit Canada frequently.
Many travelers plan their air travel trips to connect or end in one of the interview points on either side of the border. For example, you might connect or end a trip in Seattle. This lets you avoid having to drive far distances or plan on an overnight adventure just to complete the interview process.
To clarify, you don't have to schedule 2 separate interviews at 2 separate locations — you schedule 1 interview at an enrollment center and are interviewed there by both Canadian and U.S. officials.
How Long Is the Whole Application Process?
The entire NEXUS application process can end up taking anywhere from 2 to 6 months depending on the current application and interview backlog.
Your initial application will only take about 20 to 30 minutes to complete, but conditional application approval can take 4 to 6 weeks — and booking your interview could take several weeks or months.
Things that can speed up your application:
Easily verifiable history
No criminal convictions
No blemishes on your application
Things that can slow down the application process:
History that isn't verifiable (for example, a reported address for which the government has no record)
Criminal history
Missing information from your application
Hot Tip: Be honest and thorough on your application. If you omit anything, even if by mistake, it could slow down the processing of your application. 
Where Can You Use Your NEXUS Card?
Here is a complete list of airports with kiosks, as well as those that only offer priority security screenings. Priority screening means that while there's no full NEXUS kiosk setup, you will receive priority security access when leaving or arriving to help you avoid waiting in longer lines.
Essentially, because you're a Trusted Traveler, they'll assume you have a lower risk of bringing in or departing with any contraband.
You'll also find a listing below of available land border crossings and marine crossing details.
Airports With NEXUS Kiosks
You will find NEXUS kiosks at these airports:
Billy Bishop Toronto City Airport (YTZ)
Calgary International Airport (YYC)
Edmonton International Airport (YEG)
Halifax Stanfield International Airport (YHZ)
Montreal Pierre Elliott Trudeau International Airport (YUL)
Ottawa Macdonald-Cartier International Airport (YOW)
Toronto Pearson International Airport (YYZ)
Vancouver International Airport (YVR)
Winnipeg James Armstrong Richardson International Airport (YWG)
These airports have priority security screening only:
Victoria International Airport (YYJ)
Greater Moncton Roméo LeBlanc International Airport (YQM)
Québec City Jean Lesage International Airport (YQB)
Kelowna International Airport (YLW)
St. John's International Airport (YYT)
Saskatoon John G. Diefenbaker International Airport (YXE)
Regina International Airport (YQR)
NEXUS Marine Crossings
NEXUS members have the opportunity for reporting to around 450 designated sites in Canada or the U.S. by calling CBP/CBSA between 30 minutes and 4 hours prior to arriving. Though the system is simplified, you'll still need to provide the appropriate declarations and other specified information.
For those not familiar, essentially it's possible to arrive into Canada or the U.S. by hundreds of different marine locations. You could take a boat from the U.S. into Canada or vice versa — because that boat doesn't have to go through a specific marked border crossing, it is essentially allowed to cross the border with the understanding that once it reaches land, the passengers onboard must declare themselves and their belongings.
NEXUS Land Border Crossings
NEXUS lanes can be found at these land border crossings:
Alexandria Bay, New York
Blaine, Washington (Pacific Highway and Peace Arch)
Buffalo, New York (Peace Bridge)
Calais, Maine
Champlain, New York
Detroit, Michigan (Ambassador Bridge and Detroit-Windsor Tunnel)
Highgate Springs, Vermont
Houlton, Maine
Niagara Falls, New York (Lewiston Bridge and Whirlpool Bridge)
Pembina, North Dakota
Point Roberts, Washington
Port Huron, Michigan (Blue Water Bridge)
Sault Ste. Marie, Michigan (International Bridge)
Sweetgrass, Montana
Sumas, Washington
Entering Canada by Land
Participating Canadian land border crossing points usually have a single lane that is reserved solely for use by NEXUS members. Some border crossing points will designate a second NEXUS lane on an as-needed basis depending on the volume of entering traffic.
Vehicles are only allowed to utilize the NEXUS lane if each passenger (including children) has a valid NEXUS card. This is something that trips many travelers up and can get them into trouble.
Some drivers believe that because they hold a NEXUS card it allows them to use the expedited lanes, even though other passengers in the vehicle do not have clearance. But this can actually slow down your processing dramatically, as the vehicle will need to move to a regular lane so everyone inside can be screened.
If you're traveling with other non-NEXUS passengers, here are your options:
Take 2 vehicles: one vehicle for NEXUS cardholders, and the other for non-NEXUS travelers
Take 1 vehicle, but go through the traditional non-NEXUS checkpoint
In addition, all passengers must not bring anything that requires a duty payment or special customs declaration — this would require you to go through the traditional lanes to officially declare them with an officer.
Bottom Line: Don't use the NEXUS lanes unless every passenger in your vehicle has NEXUS and isn't carrying anything they need to declare.
Entering the United States by Land (from Canada and Mexico)
NEXUS cards are valid at all RFID-ready lanes found at land crossings into the U.S. from Canada, and vice versa.
At the Mexican border, NEXUS members can use SENTRI lanes when they enter the United States via car, but they must be traveling in a registered and approved vehicle — you can't be driving a rental car that's not registered to your account. This is because the SENTRI program requires registration of vehicles, which involves thorough inspections by the CBP.
Whether travelers are in approved vehicles or not, NEXUS cards are always WHTI-compliant documents, and can be utilized in all standard lanes entering the United States from Mexico as proof of citizenship and identity. In addition, pedestrians can utilize the dedicated SENTRI lines for accessing expedited entry at the San Ysidro border crossing from Tijuana to the U.S.
NEXUS Cost Information
How Much Does NEXUS Cost?
Application Fee (Nonrefundable)
Online: A $50 (USD) one-time fee will be required with your NEXUS application. It must be paid in full with your application submission via the Trusted Traveler Program System (credit card or electronic bank transfer).
By Mail: A $50 (CAD) one-time fee will be required with submission of your NEXUS application by mail. It must be mailed along with your completed application to one of the Canadian Processing Centers. Payment can be made via check, credit card, or money order. Money orders and checks must be made payable to Canada Border Services.
Note that this fee is nonrefundable even if your application is denied.
Paying for Membership
Frequent travelers will be accustomed to the reimbursement of fees with Global Entry or TSA PreCheck from premium credit cards. However, most major credit cards do not currently offer credits toward payment of NEXUS fees.
For example, the following credit cards reimburse for Global Entry and TSA PreCheck fees, but do not reimburse for NEXUS fees:
It's also important to note that the above cards may offer the same credit to any authorized users of your card if you choose to add them. Even if there's a fee to add authorized users, getting a reimbursement credit for Global Entry or TSA PreCheck could go a long way toward offsetting it.
NEXUS Cards
If approved for participation in NEXUS, you will receive a radio frequency identification (RFID) card for use when entering the U.S. or Canada at all designated NEXUS land, air, and marine ports of entry.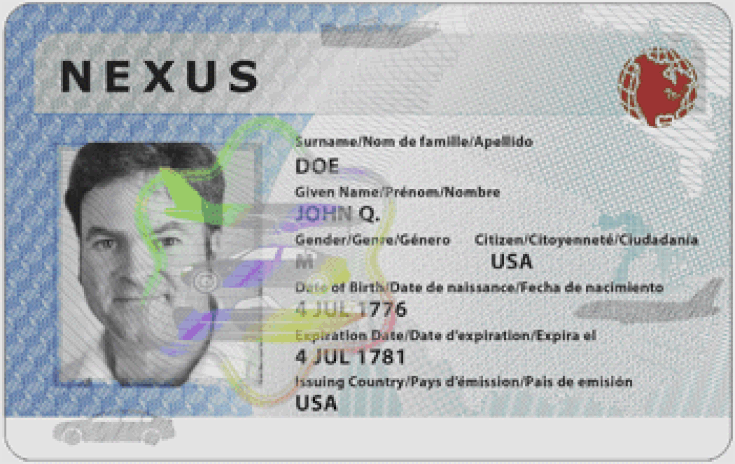 Activating Your NEXUS Card
Log in to your account on the Trusted Traveler Program website, and then click on "Activate Membership Card" at the bottom of the Program Membership section. You'll need to enter information from your card to finalize the process.
How to Use Your NEXUS Card
Land Borders
To Enter Canada:
Use a designated NEXUS lane by stopping and holding your membership card directly in front of a card reader. Then, proceed to the inspection booth for your visual inspection. A border officer will specify whether you should proceed into Canada or enter the inspection area.
To Enter the United States:
In a designated NEXUS lane, stop and hold your membership card directly in front of a card reader. Then, head to the inspection booth for your visual inspection. You may proceed into the U.S. unless directed to an inspection area.
Airports
To Enter Canada:
NEXUS members using air travel as their mode of transportation can enter Canada via the self-serve kiosks no matter where they're coming from. For example, NEXUS members returning from overseas to Canada via Montréal are permitted to use a self-serve kiosk upon arrival in Montréal.
To Enter the United States:
Use Global Entry kiosks within the customs area and follow the designated prompts on the screen. There is usually no wait for these kiosks — if there is, it usually moves pretty quickly.
Once you are finished answering the questions on the screen, scanning your fingerprints and having your picture taken, you'll get a printout to give to a CBP officer at the exit point. Then may ask simple questions about your visit abroad, though in most cases you can proceed beyond that point without any further inquiry.
NEXUS Card Legal Status
A NEXUS Trusted Traveler card is a valid document in the U.S. under the Western Hemisphere Travel Initiative (WHTI). As such, it may be used on its own for reentering the country from Canada by air. NEXUS cards that issued after September 2010 will be accepted as proof of citizenship, so a passport is no longer required.
In addition, NEXUS membership cards are acceptable proofs of identity for confirming citizenship upon entering Canada at any marine or land port of entry. This means that U.S. or Canadian citizens who are NEXUS members with valid membership cards aren't required to carry additional documents (i.e., birth certificate or passport) for entering Canada by land or boat, even when using a non-NEXUS lane.
Hot Tip: A NEXUS membership card is also acceptable as a List B identity document for use on a form I-9 employment verification.
NEXUS Kiosk Instructions
Have your NEXUS card ready
Select your language of choice
Insert your card into the document reader when prompted
Make sure it's face up (picture side) and fully inserted
Leave your card in the reader until you are instructed to remove it
When you receive audio instructions that advise you to look in the mirror, use the arrows to adjust and ensure you can see both eyes
Looking into the mirror, move slightly back or forward until you see the circle is centered between your eyes and is changing from orange to green
Follow all on-screen instructions and answer all questions displayed on the monitor
It's important to make sure you are answering all questions correctly — don't glance over things too quickly. Read all the questions presented carefully; once you confirm your answers, it is essentially legally binding. If a customs officer finds something you didn't report, it could cause issues with your processing.
Card Replacement
A nonrefundable $25 (USD) fee will be charged for replacing any NEXUS card that is lost, damaged, or stolen.
Traveling With Non-NEXUS Individuals
In the event that you're traveling with any person(s) into the U.S. or Canada who are not NEXUS members, you must use the regular lanes.
If everyone traveling with you (including children) is a member as well, then you can all proceed to the NEXUS lane.
How Much Time You Can Save With NEXUS
Usually, NEXUS cardholders are screened faster than non-NEXUS cardholders when crossing U.S. and Canadian borders where NEXUS, SENTRI, and Ready lanes are available. However, you will still be subject to any/all standard customs and immigration checks, and you could still be chosen for a secondary screening.
A 2015 study by Western Washington University's Border Policy Research Institute shows that a NEXUS pass can pay for itself in approximately 2 round-trip visits to Canada. So if you've been wondering if it's really worth getting your NEXUS card before crossing the border, then the answer is likely yes.
How did they come to that conclusion? Well, researchers monetized the time spent waiting in line, and then figured in the carbon emissions and gas as the cost of an idling engine. Next, they compared time spent in the NEXUS lines vs. time spent in the non-NEXUS lines.
All in all, this study estimated that NEXUS lane users saved around $28.10 worth of monetized time in a single round-trip, in addition to approximately 1/10 of a gallon of gas and 2.12 pounds of carbon dioxide being released into the air.
Countries That Participate in the NEXUS Program
NEXUS is one of 3 travel programs offered to frequent travelers who cross the border to Canada and the U.S.
Thus, the program has no benefit to visitors of any countries other than the U.S. and Canada. For example, it has no use entering in the European Union, Australia, countries in South America, or Asia. You'd only want to apply for the NEXUS program if you frequently cross borders with immediate U.S. neighbors.
Traveling With Pets
Most domestic pets are allowed to be taken through dedicated NEXUS lanes both at NEXUS kiosks and at land border crossings. However, birds and other prohibited animals aren't allowed in any NEXUS lanes.
All NEXUS members must be in possession of their pet's valid rabies vaccination certificate that has been dated and signed by a licensed veterinarian. This certificate must:
Clearly identify your animal by age, coloring, breed, sex, and any distinguishing marks
Include the name, serial number, and expiration date of the vaccine utilized. (You can obtain this from a veterinarian.)
The vaccination's validity period (must not be expired)
Hot Tip: Don't miss this study on the Best & Worst U.S. Airlines to Fly With Your Pet. 
Other Pet Travel Facts:
Pet tags will not be accepted in lieu of certificates.
Kittens and puppies under 3 months of age don't require rabies vaccination certificates, but proof of age is recommended. Usually, paperwork from a veterinarian suffices for this purpose. If you have questions on what type of paperwork can be used for this, speak with your animal's medical professional.
Pets that are used for commercial purposes (like racehorses, breeding animals) are considered commercial importations and are not allowed in any NEXUS lanes.
If you're bringing an animal with you that falls outside of these requirements and restrictions, you won't be able to use the expedited NEXUS lanes and will need to speak with an officer.
Humans should also check that they don't need a vaccination! Check out our in-depth guide on Travel Vaccinations and Travel Health for all the details. 
Items Permitted in NEXUS Lanes
Certain items will be permitted when using NEXUS lanes, including:
Alcohol in an amount that is within a member's personal entitlement (depends how long you are visiting)
Tobacco products bearing the marking "Canada-Duty Paid"
Any gifts worth up to $60 each (entering into Canada) or up to $100 total (entering the United States)
Any reasonable amount of personal effects
Be very careful about what you're reporting when you enter a checkpoint or kiosk. You may be asked if you're carrying any food, which can include fruit, bags of chips, snacks, or other common household goodies. Even if you simply bought these in Canada or the U.S., ensure you report them fully.
This includes items you may have taken from an aircraft or lounge. Be sure you remember if you've taken something — many travelers unknowingly stick fruit or other food items in their backpack and forget about them, but later get caught at customs as dogs and other teams are trained to detect food items not declared.
When in doubt, declare. If you can't remember whether you have something, but there's a chance you do, report it — this way you're not hiding anything. If you have food on you that isn't reported and a customs officer finds it, this could be grounds for additional search — or possibly removal from any and all Trusted Traveler programs including NEXUS, Global Entry and TSA PreCheck.
Hot Tip: You don't want to have to fight this type of claim, so it's better to be safe than sorry. It is extremely difficult to get your Trusted Traveler membership back once it has been revoked, and it is a very lengthy administrative process.

Global Entry vs NEXUS
NEXUS actually includes Global Entry, though it's important to talk about the differences between them so you can see what you're applying for. Both programs are similar in premise, but the countries you can access are different.
Global Entry provides expedited pre-screened access only for entry into the U.S., so it wouldn't work for someone leaving the U.S. into Canada, for example. NEXUS includes expedited pre-screened access across both the Canadian and U.S. borders, which is why it requires approval from both governments.
About TSA PreCheck
For clarification, it's important to briefly talk about TSA PreCheck and how it differs from the NEXUS program as well. PreCheck entitles travelers to bring liquids under 3oz. in their bag (without removing them), keep laptops in their bag, keep light jackets on as they walk through the metal detector, and keep shoes on.
Hot Tip: Remember that NEXUS gets you Global Entry which gets you PreCheck, so it's an invaluable perk when using airport security facilities in the US.
PreCheck was launched in October 2011, and is currently available to many elite members of participating airlines' frequent flyer programs, as well as members of Trusted Traveler programs (like NEXUS) who are U.S. citizens and flying on participating airlines. Active-duty military members are also eligible to use PreCheck.
Many airlines currently participate in the PreCheck program, such as these domestic carriers — and the TSA says it is working with other airlines to enroll them as well:
American Airlines
Air Canada
Hawaiian Airlines
Alaska Airlines
Delta Air Lines
JetBlue Airways
Southwest Airlines
United Airlines
Eligible travelers will have their information embedded in a boarding pass barcode. However, even a traveler approved for PreCheck is subject to a random search and/or security screening.
Bottom Line: If you have NEXUS, you will receive TSA PreCheck benefits. But it doesn't work both ways — if you only have TSA PreCheck, you will not have NEXUS benefits.
Final Thoughts
People who travel frequently overseas know just how difficult it gets to pass through customs upon arrival. NEXUS goes a long way toward lessening that pain while also dealing with an ever-expanding number of security risks. That's why the U.S. government created the Global Entry and NEXUS programs for providing pre-approved clearance to travelers who are low-risk when entering the U.S.
If you travel between the U.S. and Canada often, this program could save you a tremendous amount of time.