The Complete Guide to Travel Vaccinations & Travel Health
If you dream of traveling the world and experiencing the fantastic assortment of countries on offer, then good travel medicine and healthcare precautions are a must.
Learning as much as you can about the risk of diseases for different countries, and knowing what to do to protect yourself against them, will ensure that you can travel safer, for longer.
Introduction to Travel Vaccinations
Are Vaccines Really Required?
Travel vaccinations are there to protect you against the risk of developing serious diseases that your body may not be able to combat through your immune system alone. While they are not essential for every destination, it is also advisable to research the diseases most at risk at your future destination and see what vaccinations are available before you set off.
Bottom Line: Being vaccinated against any diseases that you are likely to encounter at your destination will not only keep you safe but will also help to safeguard against bringing unwanted diseases home and spreading them to your friends and family.
When Should You Get Vaccinated?
Seek advice around 12 weeks before you travel, as some vaccinations and tablets take a while to get into your system in order to be effective. It's never too early to get the knowledge and advice you need about which diseases you may be at risk for when you travel, and how to best safeguard yourself.
Hot Tip: If your trip is in less than 12 weeks, consult your healthcare provider as they may still be able to help you, and last-minute shots may still be better than nothing.
Where Can I Get Vaccinated for Travel?
Generally, you can book your travel vaccinations at any health care center or health department where experienced and knowledgeable staff will be able to provide you with useful information for your trip.
If you have a pre-existing health condition, or if you are planning to travel to several different destinations, your health care provider may refer you to a clinician specializing in travel healthcare. You can contact the International Society of Travel Medicine (ISTM) to find your most local travel clinic.
Be aware that if your destination has yellow fever as a disease risk, you may need to visit a specialist clinic as not all travel vaccine centers can provide this particular vaccine.
Which Vaccinations Do I Need?
Your requirements for travel medicines will depend on:
Where you are traveling to?
Where in the country you are visiting (e.g. rural areas)?
What you will be doing when you get there?
What type of lodging will you be staying in?
How long you are staying for?
Your general health may also be a factor in deciding upon the best kind of preventative travel medicine for your trip.
At your initial consultation with your travel healthcare clinician, always tell them about your itinerary, any pre-existing health conditions, and any prescribed medication you are taking. This will ensure that your healthcare provider has the very best information in order to fully advise you on the travel medicine most suitable for you.
Do Vaccines Have Side Effects?
Most travel vaccinations do not cause any serious side effects, and overall, our bodies tolerate most vaccines well. Occasionally travelers may initially experience headaches, nausea, or vomiting shortly after some vaccinations, but these symptoms should subside relatively quickly.
The most common side effect after travel vaccinations is for the area where you have received the injection to feel sore and perhaps ache a little. Again, this is a side effect that will only last for a short while after the vaccination.
Hot Tip: If you experience any other side effects that are of concern to you, contact your travel medicine clinician immediately.
Diseases & Vaccinations
There are numerous diseases that you may be at risk of contracting due to exposure to other infected people. Always check with your healthcare provider before traveling if you require additional immunizations to protect yourself at your destination.
Bottom Line: Remember, not all diseases can be vaccinated against, so it is often necessary for you to take other precautions to keep yourself from risks.
Routine Vaccinations
There are many illnesses that are routinely vaccinated against in the U.S., but you should check your own records to see if you have had them. The following is a list of immunizations that are commonplace to safeguard against contracting diseases:
Coronavirus (COVID-19)
The virus that causes COVID-19 is spread the same way other cold-causing viruses do — through close person-to-person contact via respiratory droplets or small particles.
As of early 2021, there are 2 vaccines (​Pfizer-BioNTech and Moderna) administered in 2 doses across 3 to 4 weeks and the 1-dose Johnson & Johnson vaccine that have been authorized for emergency use by the FDA for use to prevent COVID-19.
Due to a limited supply in the U.S., the CDC has provided recommendations to federal, state, and local governments about who should be vaccinated first, though each state decides how to distribute.
Ideally, the vaccine will be provided at no cost, though providers may charge for the service.
Hot Tip: For more updates regarding coronavirus and immunity passports, check our helpful guides.
Diphtheria, Tetanus, and Pertussis
Diphtheria is a bacterial infection that can easily spread, causing a thick layer to build at the back of the throat. Anyone can contract diphtheria by being exposed to droplets in the air from an infected person who is coughing or sneezing.
Tetanus is a dangerous nerve ailment caused by toxic bacteria entering the bloodstream, putting anyone with an open wound or broken skin at risk of infection.
Pertussis, also known as whooping cough, is a bacterial infection that can easily spread and enters the nose and/or throat. Anyone can contract pertussis, but it is particularly dangerous for young children under 18 months. Babies should be vaccinated against these deadly bacterial diseases with immunizations at regular intervals as infants, and then by a series of booster shots during childhood, teenage years, and in pregnancy.
Bottom Line: It is recommended that adults receive a booster vaccine for diphtheria, tetanus, and pertussis every 10 years. The combined vaccination for these diseases (DTaP, Tdap) is a single shot and costs around $64.
Hepatitis B
Hepatitis B is an infection of the liver caused by a virus spread through blood and bodily fluids. While anyone can contract hepatitis B, those who inject drugs, have unprotected sex, or have a tattoo in unhygienic conditions are most at risk.
The vaccine against hepatitis B is generally given to babies as a course of 3 injections a few weeks apart and costs around $60. Adults considered to be at risk can also receive an additional immunization for around $90.
Haemophilus Influenza Type B
Haemophilus influenza type B is caused by Hib bacteria spreading in a way similar to cold and flu viruses. It can lead to serious conditions such as meningitis and septicemia. Children under 5 years old are considered most at risk of contracting this disease. Babies should routinely be given the Hib vaccine and then boosters as toddlers.
Bottom Line: If vaccinated as children, adults generally do not need additional Hib vaccine, but those not vaccinated as children should include this within their travel vaccines.
Human Papillomavirus
Human papillomavirus (HPV) is a collection of infections that your own immune system can normally combat. Occasionally, some infections cannot be cleared out and become long-lasting and could lead to cancer. The HPV vaccine would ideally be administered in boys and girls from 11 years old through a series of 3 HPV vaccine injections over 6 months that cost around $215 each.
Influenza
It is recommended that everyone over 6 months old receives an annual seasonal flu vaccine that costs around $40. This shot will prevent certain strains of the flu viruses that cause severe illness, hospitalization, and even death.
Measles, Mumps, and Rubella (MMR)
Measles, mumps, and rubella are all highly infectious viral infections that are spread by an infected person coughing or sneezing near you. These viral illnesses can lead to more serious complications such as pneumonia, glandular fever, and arthritis. If rubella is contracted during pregnancy, your unborn baby is at risk of severe defects and disabilities.
Children should be given the MMR vaccine as a toddler and then again at preschool age. The MMR injections cost approximately $100 per dose.
Bottom Line: In some cases, adults who are considered at risk for measles, mumps, and rubella may also require a course of this vaccine.
Pneumococcal Disease
Pneumococcal disease is an infection that is easily spread from direct kissing or being exposed to an infected person coughing or sneezing droplets near you. This disease can lead to sepsis, pneumonia, or meningitis. The vaccine against pneumococcal disease costs around $125 and protects you against 13 types of pneumococcal bacteria. It is recommended for young children and all adults over 65 years old.
Poliomyelitis (Polio)
Polio is a contagious virus that could lead to permanent paralysis and sometimes death. The inactivated polio vaccine (IPV) should be given to babies and young children across 4 doses for a cost of around $50. If vaccinated as children, adults do not generally need to repeat this immunization unless they are traveling to countries where the risk of polio is high (such as in Africa or Asia), or working in an environment where you are directly exposed to poliovirus.
Rotavirus
Rotavirus is a common virus that is transmitted from infected feces and is therefore easily spread from poor hygiene and lack of handwashing in young children. Rotavirus can lead to severe dehydration and hospitalization. There are 2 vaccines to choose from to safeguard against rotavirus (RV5 or RV1). The vaccine is given across a couple of doses, costing around $80 each, and is recommended for babies from 2 months old.
Varicella
Varicella is an airborne virus that usually causes chickenpox and shingles but can lead to more serious complications such as lung and brain infections. Varicella is highly contagious and is spread from touching or breathing near an infected person. Young children and pregnant women are most at risk of contracting varicella. The vaccination for varicella is given across 2 doses, recommended at 1 and 4 years of age.
Bottom Line: Adults who have not received this vaccination as a child are advised to have these shots 4 to 8 weeks apart, at a cost of ~$150 each.
Recommended Vaccinations for Certain Countries
The following is a list of immunizations that are not routine in the U.S. but may need to be considered if you are traveling to parts of the world where these diseases are particularly widespread. Below will give you an overview of these vaccinations but you can check the CDC Destinations list for more information.
Hot Tip: Always tell your healthcare provider where you are traveling and your planned itinerary so that they can best advise you on everything you need to be protected against.
Cholera
Cholera is an infectious disease contracted from drinking contaminated water. It causes extreme diarrhea and dehydration and can be fatal if left untreated. A single dose oral vaccine is available to protect yourself against cholera and costs around $45.
Hepatitis A
Hepatitis A is an infection of the liver that is spread from the feces of an infected person and can be avoided with proper handwashing and personal hygiene. However, if you are visiting areas with poor sanitation, or you inject drugs, then you may be considered at higher risk and require the vaccine, costing approximately $115.
Japanese Encephalitis
Japanese encephalitis (JE) is a very serious, sometimes deadly, disease that is contracted from mosquito bites, causing swelling of the brain and coma. The only JE vaccine licensed in the U.S. is given across 2 doses, 4 weeks apart, and costs around $290 per injection.
Hot Tip: It is also advisable to take precautions against mosquito bites, as well, such as wearing insect repellent and using mosquito nets when sleeping.
Meningococcal Disease
Meningococcal disease is a rare bacterial infection of the brain and spinal cord and leads to meningitis and septicemia. Generally, it is spread from saliva contact such as kissing or air droplets from coughing. The vaccine is recommended from pre-teenage years and costs around $135.
Rabies
Rabies is transmitted to humans from the saliva of infected animals if you are bitten or scratched. The rabies virus is almost always fatal in people who have not been immunized. The vaccine to protect yourself against rabies is a series of 3 or 4 injections into the muscle spread over approximately 4 weeks. The average cost of a set of rabies shots is high at around $3,000.
Yellow Fever
Yellow fever is a dangerous virus spread from mosquito bites, and can lead to organ failure and sometimes death. Only specific clinics in the U.S. will provide the yellow fever vaccine, so ask your healthcare provider for your nearest clinic if they do not stock the vaccine.
Bottom Line: Anyone traveling to subtropical climates is considered at risk of contracting yellow fever, and the vaccine is suitable from over 6 months old, but it cannot be administered to people with egg, chicken, protein, or gelatin allergies.
Tuberculosis (TB)
TB is a bacterial infection that can be spread from being exposed to an infected person coughing or sneezing air droplets. TB can affect many parts of the body, but it mostly causes lung infections. The immunization usually lasts around 10 years in your system and is often subsidized at around $150.
Bottom Line: Although TB can be effectively treated with antibiotics, it is advisable to be vaccinated against this disease.
Typhoid Fever
Typhoid fever is a bacterial disease that affects the body's main organs. It is spread through contaminated food and water and travels from the digestive system into your blood. The typhoid vaccine can be administered to anyone over the age of 6 years old and provides up to 5 years of immunity.
Tick-Borne Encephalitis
Tick-borne encephalitis (TBE) is a virus contracted from the bite of an infected tick or other blood-sucking parasites. TBE affects the spinal cord and causes inflammation of the brain. Anyone is at risk of being bitten by a tick, and unfortunately, there are no licensed vaccines for TBE in the U.S.
Bottom Line: Although there isn't a vaccine, you can take precautions such as wearing cover-up clothing, using insect repellents, fast tick removal, and avoiding unpasteurized milk in areas where TBE is known to be a concern.
Hepatitis E
Hepatitis E is a virus that affects the liver and can lead to liver failure or fatality in pregnant women. It is particularly widespread in parts of the world where sanitation is poor and is easily spread through contaminated food and water.
As there is currently no licensed vaccine for hepatitis E available in the U.S., you will need to take preventative measures such as:
Good handwashing and hygiene
Alcohol wipes for cutlery and plates
Avoiding shellfish and raw or undercooked meats
Refusing ice and salad items that may have been made or rinsed with contaminated water
Tropical Diseases
There are other tropical diseases that can be easily contracted but currently have no preventative vaccines or effective treatments and therefore are considered high-risk diseases. The most common being Zika and dengue fever that are both mosquito-borne viruses.
Zika
Zika virus is spread through mosquito bites and pregnant women are considered most at risk of serious complications from this disease, such as congenital disabilities of their unborn babies. You can protect yourself from mosquito bites by wearing cover-up clothing, using insect repellents, and using mosquito nets when sleeping.
There is currently no vaccine available against the Zika virus, and so you will need to be mindful of taking precautions. However, vaccines are currently in clinical trials, so hopefully we will see a breakthrough in travel medicine in the near future.
Dengue Fever
Dengue fever is particularly widespread in tropical and subtropical climates and can be deadly for young children if contracted. It is spread from mosquito bites, and symptoms start with fever, rash, and hemorrhage.
In May 2019, the dengue fever vaccine was licensed for children aged 9 to 16 years, who are living in the U.S. territories of American Samoa, Guam, Puerto Rico, and the U.S. Virgin Islands only.
Bottom Line: You should take preventative measures against mosquitoes to limit your chances of dengue fever, such as loose cover-up clothing, insect repellents, and mosquito nets in the evenings and at night.
Malaria
Malaria is a very serious tropical infection that is spread via mosquito bites. Malaria can affect animals and humans and causes headache, fever, sickness, diarrhea, and seizures. If left undiagnosed or untreated, malaria can be fatal. It only takes 1 bite from an infected mosquito to contract this disease as it is instantly passed from the parasite into your bloodstream.
Malaria is widespread in the tropical and subtropical regions of the world such as Africa, Asia, the Middle East, the Pacific Islands, the Caribbean, and some parts of Central and South America. Although mosquitoes can bite you at any time, they are known to prefer to feed during the early evening and at night. Take extra care during these times with your bite prevention measures.
The easiest way to prevent yourself from contracting malaria is not to get bitten by mosquitoes. Bite prevention is something you should remain mindful of at all times if you are traveling to an area identified as a malaria risk.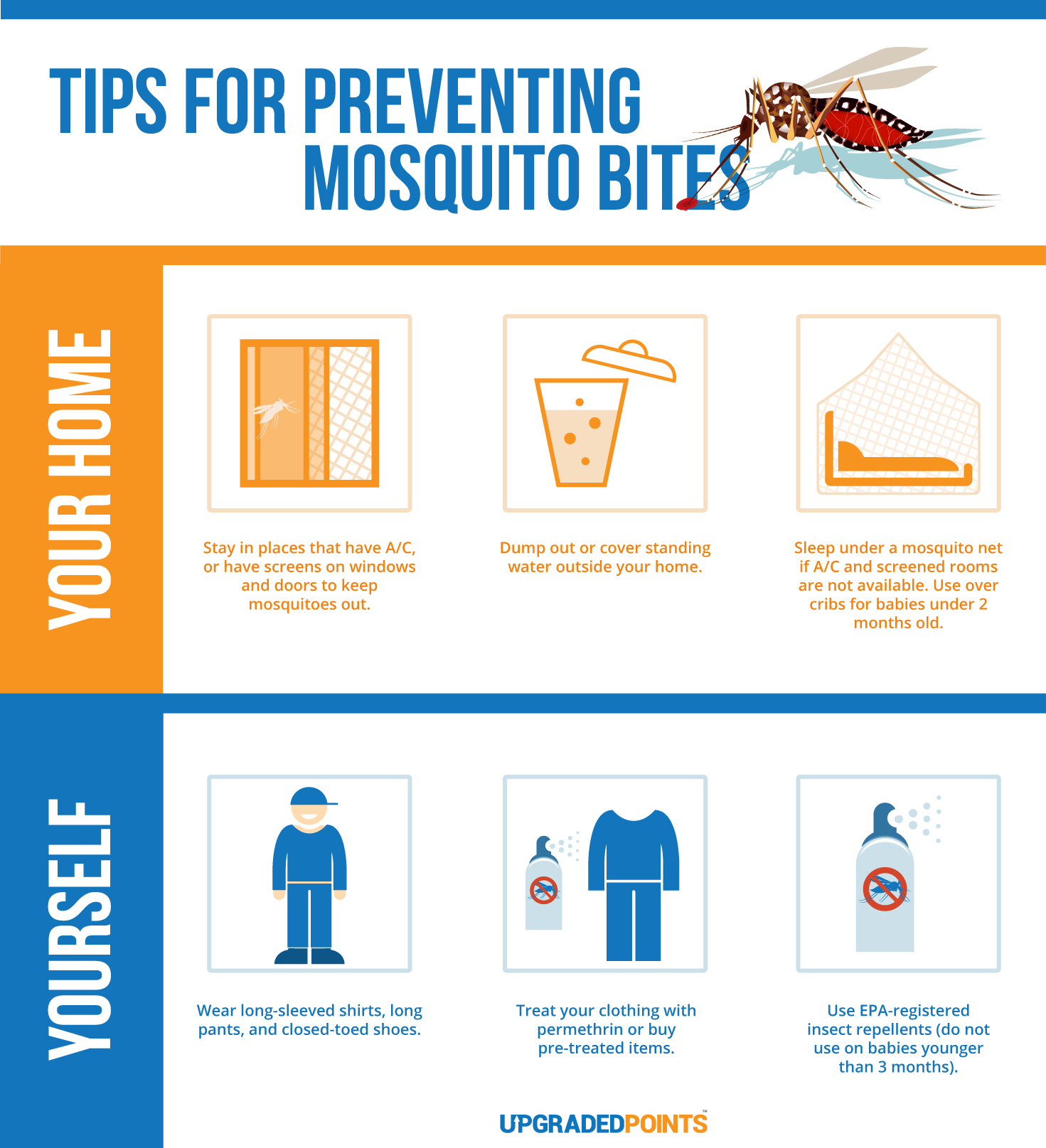 Use Insect Repellent
Always wear good quality insect repellent and check the bottle to confirm that it protects against mosquitoes. Ensure the repellent is in date, and that you apply it liberally to all areas of exposed skin during the day and night. It is a good idea to use insect repellent over the top of your sunscreen during the day. Reapply your repellent frequently in case it has sweated off or rubbed off with towels or clothing.
Use a Mosquito Net
Invest in a high-end mosquito net for sleeping, and consider using this whenever possible when relaxing from early evening onwards, as these are the times when you are most at risk of being bitten by mosquitoes. Ideally, your mosquito net will be insecticide-treated, and you should always check that the net is entirely intact and doesn't have any holes.
Cover Up
Whenever possible wear loose clothing that is of a cover-up style, such as long-sleeved tops and full-length pants. It is advisable to apply some insect repellent underneath your clothing in case of any areas where a mosquito could enter and bite unprotected skin.
Hot Tip: When booking your accommodation, you are more protected from mosquitoes if the property has effective air-conditioning and has mosquito screening on all doors and windows. Always close windows fully, particularly during early evening and night.
Anti-Malaria Tablets
There is no vaccine available to protect yourself against malaria. However, antimalarial tablets can be taken to reduce the risk of you contracting the disease by approximately 90%. Therefore, even if you have taken malaria tablets, you will still need to ensure you are following good bite prevention routines.
Malaria medication can differ depending on destinations, as mosquitoes in certain areas are known to be resistant to some malaria drugs. Therefore, it is essential to discuss your travel plans with your healthcare provider 3 months before traveling so that they can advise you on the most suitable medication for you.
Read more about malaria prevention on the World Health Organization website.
Bottom Line: In most cases, malaria tablets will need to be taken before, during, and after your trip, so it's good to seek advice on this well in advance of your travel.
Other Travel Health Considerations
Food & Water Safety
It is essential to stay mindful of food and liquid hygiene while you are abroad. Here are some guidelines to follow on your next trip:
Always wash your hands before and after eating and using the toilet.
If you are in an area where water sanitation is poor, use hand sanitizer gels or hand wipes.
Remember that plates and cutlery may have been washed in non-drinking water, and so some travel destinations may require you to wipe these with alcohol wipes before using them, wherever possible, as an extra precaution.
If you are purchasing meals from street vendors, try to choose dishes that have been cooked at high temperatures and eat it while it is still hot.
A general rule of thumb for cold foods in areas with poor sanitation is to choose items that you can peel yourself and avoid eating the skin to limit the risk of exposure to any external germs.
Many travelers experience diarrhea from salads rinsed in non-drinking water or iced drinks where the ice has been made from non-drinking water.
Meat and vegetables that have been thoroughly cooked and served piping hot are generally safe to eat.
Take extra care with fish and seafood as these can still be hazardous even if they have been thoroughly cooked; many travelers avoid these altogether.
Read more about food and water safety on the CDC website.
DVT
Deep vein thrombosis (DVT) is a condition when a blood clot forms in a deep vein within the body. Although any part of the body could be affected by a blood clot, it is most commonly seen in the legs where the deep larger veins run through the thigh muscles and calf muscles.
DVT causes painful swelling and can lead to serious complications such as a clot becoming loose, traveling to other parts of the body, and creating a blockage. Often DVT is linked to pulmonary embolism because clots make their way to the lungs and block the blood vessels in this area.
Anyone can develop DVT but you are considered at greater risk if you are in any of the following groups:
Smoker
Over the age of 40 years old
Overweight
Pregnant
Have a family history of DVT
Taking the contraceptive pill
Taking HRT
Receiving treatments that cause your blood to clot more easily such as chemotherapy, radiotherapy, and treatments for heart and lung diseases
There are a few ways you can reduce the risk of developing DVT while traveling:
Try to stay active during the flight, even if that is merely wiggling your toes and circling your ankles while sitting in your seat.
Wherever possible, take a walk around the cabin during the flight to avoid being inactive for an extended period of time.
Invest in a pair of good quality compression socks or stockings to wear during the flight as this is proven to be a very effective measure to limit your chances of DVT, particularly on long-haul journeys.
Before traveling, you may also wish to take extra preventative steps such as losing weight, stopping smoking, or taking a break from your contraceptive pill or HRT until you return from your trip.
Read more about DVT on Healthline.
Being Safe in the Sun
Sunlight exposure provides us with the health benefits of vitamin D but also puts us in harm's way by exposing us to the unhealthy dangers of ultraviolet radiation, known as UVA and UVB. It's vital to remain ever mindful of staying safe whenever you are in the sun and limiting the amount of sun exposure you receive.
Hot Tip: Remember, there's no safe way to get a suntan from being in the sun or on a sunbed, so consider fake tan options (such as spray tans or fake tan lotions) as those are the only truly safe way to achieve a tan without any risks.
If there's 1 rule to stick to while in the sun, then it is to always avoid getting a sunburn. It sounds incredibly simple, but this is something you will need to take precautions against at all times. Your skin can still quickly burn, even on an overcast cloudy day when you may not feel hot and realize it at the time.
When you're swimming, water reflects UV rays intensifying your exposure, and again, this not always noticeable at the time, particularly as the water is making you feel cool. Not only is sunburn uncomfortable and painful, but getting sunburned increases the risk of developing skin cancer.
Extra care needs to be taken by people who have:
White, fair, or light brown skin
Lots of moles
Red hair
Infrequent sun exposure
Anyone with a family history of skin cancer
Young children
These groups are at a higher than average risk of skin cancer from the sun's rays.
Sun Precautions
What precautions can you take to stay safe in the sun and avoid sunburn? The main areas to remember are sunscreen, shade, clothing, and time.
Sunscreen
In terms of sunscreen, always use one that is sun factor protection (SPF) 30 or above to safeguard you against UVB, and with a 4 Star or higher UVA protection. Apply enough sunscreen to the skin; if the sunscreen is too thin then you are decreasing the level of protection it will provide.
It's also vital to cover every inch of exposed skin, even the parts you might neglect, such as tops of ears, arches of feet, or the scalp where your hair may be thin or balding.
Shade
Stay in the shade as much as possible and consider using an umbrella when walking or sitting in areas where there isn't any shade. Try to wear cover-up clothing with close-weave fabrics so that sunlight cannot get through to your skin.
Clothing
A large brimmed hat will protect your scalp and provide shade for your most vulnerable areas of the face, neck, and shoulders. Did you know that the surface of your eyes is just as at risk of sun damage, similar to sunburn? Never look directly into the sunlight and always wear sunglasses when you are out of the shade.
Time
Time is a critical consideration as the intensity of the sun is at its peak between 11 a.m. and 3 p.m. Therefore, it is advisable to avoid being out in the sunshine during these hottest hours when the UVA and UVB rays will be most harmful.
Considerations for Children
Children's skin is much more delicate and susceptible to burning quickly. Babies under 6 months should always be kept out of immediate sunlight. All children should play in the shade as much as possible, particularly during the sun's hottest hours between 11 a.m. and 3 p.m.
Dress children in cover-up clothing and a hat, apply sunscreen liberally and frequently to all exposed areas of skin, and ensure that they wear sunglasses to protect the surface of their eyes from burning.
Sunscreen Tips and Advice
For ultimate protection from the sun, apply your sunscreen half an hour before you go out and allow the skin to absorb this layer, then top up with another application just before you go out.
If you are swimming, then be mindful that even "water-resistant" sunscreens will wash off in the water, rub off when towel drying, and even dilute when you are sweating in the heat. Therefore, it is essential to reapply sunscreen as soon as possible after being in the water or excessively perspiring — as soon as your skin is dry, apply a decent layer to all exposed areas of skin.
The sun itself can dry the sunscreen from your skin. This is a concept many people do not realize, and for this reason, it is recommended that you reapply your sunscreen at least every 2 hours.
One last note about sunscreens is to check the expiration date on the bottle. Most sunscreens only have a shelf life of about 2 to 3 years, and if they are out of date, they will not be as effective in the protection they provide. Let's face it — avoiding the risk of sun damage by buying new bottles outweighs any money you save by using out-of-date sunscreen!
Alongside this preventative advice, it is always recommended that you read the manufacturer's instructions for the sunscreen you purchase.
Hot Tip: In the event of any sunburn, always stay out of the sun until all signs of any redness have entirely disappeared. Apply cool water to the sunburnt area with a sponge, followed by a soothing aloe vera-based gel or lotion, and take acetaminophen or ibuprofen painkillers to reduce the soreness and inflammation.
Jet Lag
After a long flight and a sudden time change, it is very common for travelers to experience jet lag. Jet lag can have some nasty symptoms, some of which can feel debilitating at the time. Symptoms will differ for different people but can include:
Daytime fatigue
Mood changes
A general unwell feeling
Insomnia
Disturbed sleep patterns
Excessive tiredness
Stomach complaints such as constipation or diarrhea
Difficulty functioning or concentrating at your normal level
These symptoms will gradually improve as your body adjusts to the time change, but this may take a few days. However, don't fear — there are certain precautions you can take to limit the harsh effects of jet lag:
Prioritize Your Trip — Try to get plenty of rest by avoiding exercise, large meals, caffeine, alcohol, or electric devices at bedtime. Gradually tweak your sleep patterns by going to bed and waking an hour earlier or later than usual to be closer in line with your destination's time zone.
Take Care While Traveling — Stay hydrated with lots of water, attempt to sleep during the nighttime hours of your destination, avoid alcohol and caffeine, and try to keep active during waking hours.
When You Get There — Go outside during daytime hours to help your body clock adjust more easily. Avoid oversleeping by using an alarm, stay awake until bedtime hours, and attempt to apply the new time routine as soon as possible.
Read more about coping with jet lag on WebMD.
First Aid Kit
Traveling will usually put you in situations that are different from your everyday life and this can mean small accidents may happen. A basic first aid kit can keep you covered until you can seek medical attention.
You can purchase a premade first aid kit or use the list below to create your own:
Any current medication
Adhesive bandages
After-sun
Antihistamines
Antiseptic (liquid and wipes)
Bandage tape
Bite treatment
Diarrhea tablets
Gauze
Insect repellent
Latex gloves
Motion sickness tablets
Pain relief
Re-hydration sachets
Scissors
Sterile dressings
Thermometer
Tweezers
DISCOUNT: 42%
Top Pick
Final Thoughts
The world is your oyster, and your travel dreams and plans shouldn't be inhibited by fear of diseases and the off-chance of healthcare risks.
Seek advice from a travel healthcare provider 3 months before traveling and fully discuss your destination, itinerary plans, and your current health to ensure that you have everything in hand well before your departure date.
While you are away, remain mindful of how to keep yourself safe in the sun, what not to eat and drink, and how to avoid insect bites. Knowledge, preparation, and good travel healthcare routines are the key to exploring the globe safely.
---
All information and content provided by Upgraded Points is intended as general information and for educational purposes only, and should not be interpreted as medical advice or legal advice. For more information, see our Medical & Legal Disclaimers.