Citi ThankYou Rewards Program Review – Earning, Redeeming, Transfer Partners & More
To round out our series of reviews on the best travel rewards portals, we've put together this review on the Citi ThankYou Rewards Portal.
For now, we are covering the various reward credit cards that will help you earn Citi ThankYou Points, as well as the travel partners you can use to redeem them. Come back in the future to see the full, in-depth review!
This should help you plan out any potential future trips if you need to know where to earn reward points!
What is Citi ThankYou Rewards?

Citi ThankYou Rewards is the bank loyalty program offered by Citi. You collect Citi ThankYou Points which can be used for a number of rewards, including on Amazon, Best Buy, Live Nation, for gift cards, statement credit, and especially travel rewards!
To sign up for the program, you must be approved for one of the Citi ThankYou credit cards. As soon as you have your new card and make your first purchase, you will begin earning points.
Depending on the category, you may earn bonus points, though cards always earn at least 1x points per dollar.
How to Sign in To Citi ThankYou Rewards
You can manage your reward credit cards from the Citi online credit card portal, seeing your expenses and pay your balances. To manage your rewards, you need to go through ThankYou.com.
How Much is a Citi ThankYou Point Worth?
Citi ThankYou Points' standard worth is 1 cent each. You get this value when you redeem for gift cards, shop with points, or use statement credit.
Even better, you can get 1.5 to 2 cents per point when you transfer points from Citi ThankYou to one of the Citi transfer partners!
When do Citi ThankYou Points Expire?
Points will not expire as long as you keep your accounts open, though certain types of points, like shared points, come with an expiration date of 90 days.
If you close all of your ThankYou accounts, you will have 30 days to use your reward points before they expire.
How To Earn Citi ThankYou Points
You can earn Citi ThankYou Points in many different ways. These include using credit cards, travel purchases, and banking relationship opportunities.
To open a ThankYou Rewards account, you will need to apply and be approved for one of their ThankYou travel rewards credit cards.
AT&T Access Card from Citi
Earning Citibank ThankYou Rewards Using Credit Cards
Citibank has numerous reward program cards that earn points. Each one has slightly different bonuses and a different earning style, so it's best to choose the one that fits your own spending habits.
To apply, click on any of the card images or links below to complete a Citibank credit card application. You will be on your way to earning some great Citi travel rewards!
The best way to earn the most points is by combining multiple cards so you hit all the available bonus categories. Citi has a unique earning category not available on most cards: entertainment.
If you're a big movie-goer or spend frequently on other entertainment events, these may be the right cards for you!
Citi ThankYou Rewards Points Categories Overview
Here is a quick overview of the available points categories on Citibank ThankYou Rewards credit cards:
Dining – 2x points
Gas Stations – 2-3x points
Entertainment – 2x points
Online Retail – 2x points
AT&T Purchases – 1-2x points
Citi ThankYou® Preferred Card
The Citi ThankYou® Preferred Card is the most basic card in the lineup.
Cardholders will earn 2x points on dining and entertainment, as well as 1x reward points for all other purchases.
Dining covers all restaurants in the cafe, bar, lounge, and fast food categories. However, it may not cover specialty stores, or restaurants within other establishments that are not themselves categorized as a restaurant, such as a grocery store.
Entertainment, however, is the category to be more interested in here!
This category covers live entertainment, live theater, concerts, sporting events, movie theaters, amusement parks (including things like zoos), tourist attractions, record stores, and on-demand internet streaming like Netflix and HBO Go!
Perhaps the best part is that this card has no annual fee!
Note that your points never expire, and you have no limit on earning for any of the Citi ThankYou cards.
Citi ThankYou® Premier Card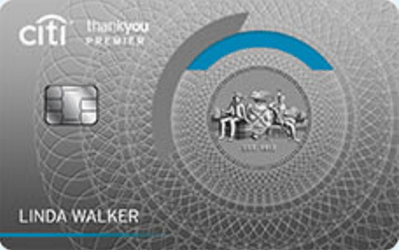 Second in the line of the Citi ThankYou cards, the Citi ThankYou® Premier Card earns 3x points per dollar spent in travel and at gas stations.
"Travel" is similar to the Chase Sapphire Preferred® Card travel category, in that you earn for airlines, car rentals, hotels, travel agencies, public transportation (railways, taxis, etc.), cruises, tolls, parking…but this card also includes gas stations!
On top of that, the Citi ThankYou® Premier Card earns 2x points in dining and entertainment as well.
The annual fee is $95, and it is waived in the first year.
Citi Prestige® Card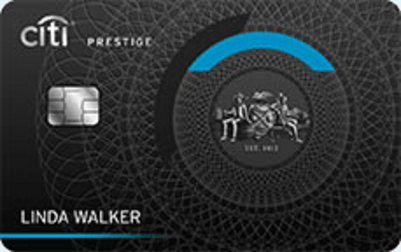 Hot Tip: At this time, the Citi Prestige card is no longer available for new applicants.
The premium card in the line up is the Citi Prestige® Card. While this card carries a large annual fee of $495, it has some outstanding benefits.
In fact, the card works like a combination of the American Express® Gold Card and The Platinum Card® from American Express.
You will earn 5x reward points on airlines and dining, 3x points on hotels and cruise lines, and 1x points for all other purchases.
In addition, you will also have access to a range of luxury travel benefits. These include a $250 air travel credit, $100 Global Entry fee credit, and a complimentary night at a hotel after a 4-night stay (limited to 2 uses per calendar year from September 1, 2019).
This is definitely one of the great travel rewards card!
AT&T Access Card from Citi
The AT&T Access Card from Citi earns 2x reward points per dollar for all AT&T purchases, 2x points for all online purchases, and then 1x points for all other purchases.
Most interesting is the online purchase category, since this is another unique category not offered on most other credit cards.
Online purchases that count in this category are those in the online retail and travel website space, which doesn't cover everything…but it does cover a lot!
There is no annual fee on this reward credit card.
How To Redeem Citi ThankYou Rewards
There are 2 main ways to redeem your Citi ThankYou Points for the best value:
Using the Citi Travel Center
Transferring points to Citi airline and hotel travel partners
Hot Tip: Points work like Chase Ultimate Rewards rather than AMEX Membership Rewards, your points do not "pool" together automatically and are not all worth the same amount. Instead, you must combine points within the Citi ThankYou portal, or use points individually.
However, there are other options for redeeming points as well including gift cards, through Best Buy, Amazon, Live Nation and more.
Using the Citi Travel Center To Redeem Points
When you use the Citi Travel Center, it works similarly to the Chase Ultimate Rewards travel portal. You can search for flights and book them using your Citi ThankYou Points for 1 cent per point. How much the points are worth depends on the airline.
Compare this to the 1 cent redemption rate for flights through the Amex Travel Portal and 1.25 cents in Chase Ultimate Rewards. Also, Amex Travel only offers 0.7 cents per point when used for anything non-flight-related.
Citi ThankYou Airline & Hotel Transfer Partners
| Citi Transfer Partner | Min Transfer | Transfer Ratio | Transfer Time |
| --- | --- | --- | --- |
| Aeromexico Club Premier | 1,000 | 1:1 | Almost Instantly |
| Air France / KLM Flying Blue | 1,000 | 1:1 | Almost Instantly |
| American Airlines | 1,000 | 1:1 | Almost Instantly |
| Avianca Airlines Lifemiles | 1,000 | 1:1 | Almost Instantly |
| Cathay Pacific | 1,000 | 1:1 | Almost Instantly |
| Emirates Skywards | 1,000 | 1:1 | Almost Instantly |
| Etihad Airways | 1,000 | 1:1 | Almost Instantly |
| EVA Air | 1,000 | 1:1 | 2 Days |
| JetBlue Airways | 1,000 | 1:1 | Almost Instantly |
| JetPrivilege | 1,000 | 1:1 | Almost Instantly |
| Malaysia Airlines | 1,000 | 1:1 | 1-2 Days |
| Qantas Airways | 1,000 | 1:1 | Almost Instantly |
| Qatar Airways | 1,000 | 1:1 | 2 Days |
| Singapore Airlines | 1,000 | 1:1 | 2 Days |
| Thai Airways | 1,000 | 1:1 | 4 Days |
| Turkish Airlines | 1,000 | 1:1 | 1-2 Days |
| Virgin Atlantic | 1,000 | 1:1 | 2 Days |
Travel partners are where you can earn the most bang for your buck. Points transferred to partners can typically be redeemed for at least 2 cents each (or more), making them quite a bit more powerful!
One thing to note is that the variety of travel partners covers all 3 major airline alliances: Oneworld Alliance, SkyTeam Alliance, and Star Alliance.
What this means is that you can basically use your reward points on any airline in the world! You will simply need to know how the whole redemption process works.
In a nutshell, as long as you have miles within an airline alliance, you can call and have them book your award travel in available space on any alliance member's flights!
More importantly, this means that even though some of the big U.S. carriers are not direct partners, you can still use your points on American Airlines, United Airlines, Delta Air Lines, and more by transferring points to travel partners.
Citi ThankYou Oneworld Alliance Partners:
Citi ThankYou SkyTeam Alliance Partners:
Citi ThankYou Star Alliance Partners:
Notes on Alliance Partnerships
There are some disadvantages of booking through partnerships, most notably reduced availability and additional taxes and fees (especially when using Asia Miles and Etihad).
As long as you plan ahead and do research, however, you will be able to get the flights you want!
Additional Airline Partners Through Asia Miles and Etihad
In addition, Asia Miles and Etihad Guest are 2 more alliances in which you can utilize transferred points on a number of airlines. Asia Miles has 25 partners and Etihad Guest has 8 (including Etihad itself, which is its own airline).
Note that Asia Miles is not an airline, and is just an alliance like the big 3 listed above. Also note that the 8 main partners of Etihad give you access to even more airlines via codeshares!
(Confused yet? Send us a note and we'll help you understand.)
For both alliances, there is no additional transfer of points necessary, but rather award availability based on award charts. See the Asia Miles Award Charts and the Etihad Guest Award Charts.
List of Travel Transfer Partners on Asia Miles:
Asia Miles Travel Partners
Aer Lingus
Airberlin
Air China
Air New Zealand
Alaska Airlines
American Airlines
Bangkok Airways
British Airways
Cathay Pacific
Gulf Air
Iberia
Japan Airlines (JAL)
Jet Airways
LATAM
Malaysia Airlines
Qantas Airways
Qatar Airways
Royal Brunei Airlines
Royal Jordanian Airlines
S7 Airlines
SriLankan Airlines
List of Travel Transfer Partners on Etihad Guest:
Etihad Guest Travel Partners
Air New Zealand
Air Serbia
Air Seychelles
Alitalia
All Nippon Airways (ANA)
American Airlines
Asiana Airlines
Bangkok Airways
Brussels Airlines
Czech Airlines
Etihad Regional
Garuda Indonesia
GOL
Hainan Airlines
Jet Airways
Korean Air
Malaysia Airlines
Oman Air
Philippine Airlines
Royal Air Maroc
South African Airways
SriLankan Airlines
UIA
Virgin Australia
Shop on Amazon.com With Points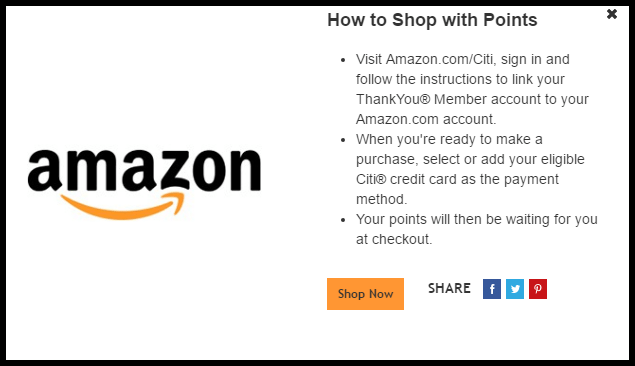 You can use your accumulated Citi ThankYou Points right on Amazon.com. To do this, you must visit Amazon.com/Citi, sign in to link your Citi and Amazon accounts together, then add your Citi ThankYou card as a payment method.
The next time you go to purchase something and choose your Citi ThankYou card as payment method, your points balance will appear and you will be able to offset your purchase with the points earned.
Your points are worth 1 cent each when using them on Amazon.com.
Shop on Live Nation With Points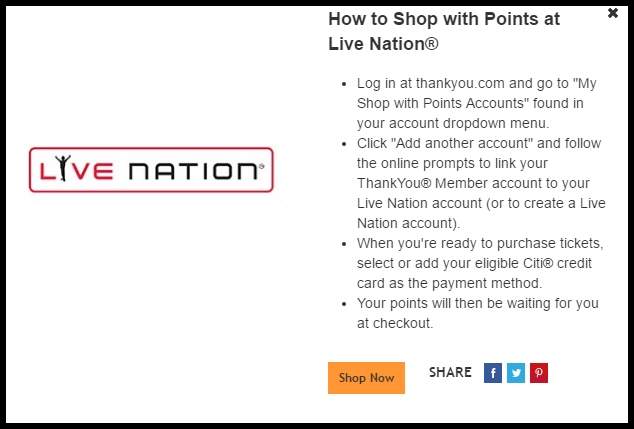 For Live Nation shopping, you must first sign into your Citi ThankYou account, find the "My Shop with Points Accounts" and "Add another account".
From there, you will be able to follow the prompts to create a Live Nation account, or link an existing one to your card. When you're ready to purchase tickets, you just need to add your Citi ThankYou card and you will see your available points balance for payment.
Points are worth 1 cent each.
Shop on BestBuy.com With Points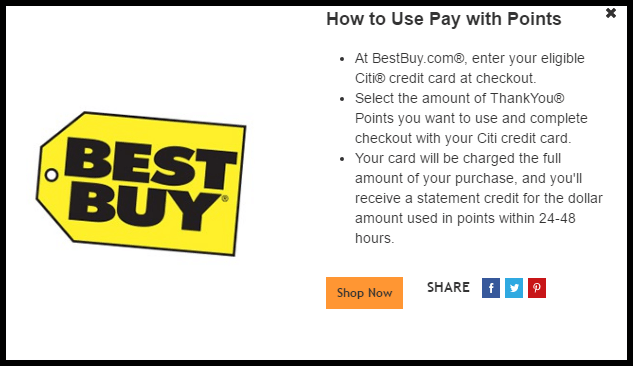 Go to BestBuy.com and enter your Citi ThankYou card when you are done shopping and ready to check out. The shopping cart will prompt you with the available points that you have, and you can use points to offset the balance.
The way it works here is that Best Buy will charge the full amount to your card, and then Citi ThankYou will give you statement credit based on how many points you want to use. The statement credit can take 24 to 48 hours to complete.
Reward points can be used at 1 cent each.
Purchase Home Depot Gift Cards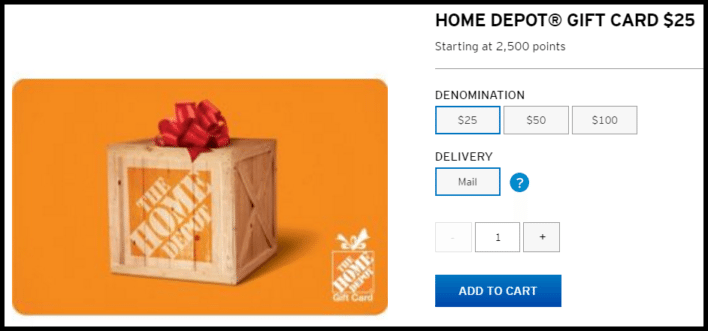 To purchase Home Depot gift cards with your point balance, visit this link and select the type of gift card you want: $25, $50, or $100. If you are signed in, you may see different options depending on your points balance.
Purchase Other Kinds of Gift Cards
Home Depot gift cards are not the only ones available, however, You can find other gift cards on the Citi ThankYou reward program site as well. Some popular options:
American Eagle Outfitters
Avis
Barnes & Noble
Bed Bath & Beyond
CVS/Pharmacy
Dillards
Express
Hyatt Hotels & Resorts
Kohl's
Macy's
Nike
Regal Entertainment
Starbucks
Gift cards offer a 1 cent per-point redemption rate.
Use Points as Statement Credit
If you'd prefer to directly use your points as statement credit, you can do so from the Citi Online area. Log in, select "Use Your Points Now", select your eligible purchases, then select "Redeem". Your points will be worth 1 cent each.

To share points with other Citi ThankYou members, log in to your account and find the area to share your points. You will need information about the person you are sharing with!
Citi ThankYou Conclusions
Citi ThankYou is a very powerful program, which allows you to earn reward points that can be redeemed on nearly any airline in the world.
The caveat to Citi ThankYou is that each of its reward credit cards earns points individually, and they cannot be combined until they are transferred to a travel partner.
But the ThankYou credit cards are all excellent credit cards with unique bonus categories that will allow you to fill in even more gaps in your points strategy!