10 Best Ways to Earn Lots of Citi ThankYou Points [2021]
Citi ThankYou Points often seem to fly under the radar compared to more well-known transferable currencies such as Chase Ultimate Rewards and American Express Membership Rewards.
But that doesn't mean you shouldn't add a stash of ThankYou Points to your points portfolio — in fact, they can be a powerful addition to your arsenal of points.
Citi's ThankYou program has a slew of awesome transfer partners and its own booking portal, making these points extremely versatile. Some of these partners are unique to Citi ThankYou as well, like Turkish Miles and Smiles and EVA Air Infinity MileageLands.
New to ThankYou Points? Thankfully, you have plenty of earning options if you're looking to start. Here's all the best and easiest ways that you can earn Citi ThankYou Points quickly and sustainably, so you'll always have a stock of ThankYou Points ready to redeem for maximum value.
Using a ThankYou Points Credit Card to Earn Points
Let's get this out of the way: you'll need a Citi ThankYou Points-earning card in order to start, well, earning ThankYou Points!
Thankfully, there are multiple ThankYou Points-earning cards on the market — each with different features, category bonuses, welcome bonuses, and annual fees.
Here, we'll show how to earn ThankYou Points with credit cards. We'll start by looking at all of the different cards available, and then move onto ways you can earn points with your Citi ThankYou card.
1. Citi ThankYou Points Credit Card Welcome Bonuses
As discussed, there are a few Citi ThankYou point-earning cards you can choose from. Here's a quick list of the best Citi cards that will let you start earning ThankYou Points. Oh, and don't worry: we've listed their special features and welcome bonuses, too.
CREDIT CARD
CARD INFO
Citi Premier® Card


Learn More

(at our partner's secure site)

Earn 80,000 bonus ThankYou® Points after you spend $4,000 in purchases within the first 3 months of account opening.
Earn 3 Points per $1 spent at Restaurants, Supermarkets, Gas Stations, Air Travel and Hotels.
Earn 1 Point per $1 spent on all other purchases.
Annual Hotel Savings Benefit
80,000 Points are redeemable for $800 in gift cards when redeemed at thankyou.com
No expiration and no limit to the amount of points you can earn with this card
No Foreign Transaction Fees on purchases
Good to Excellent Credit Recommended (670-850)
Annual Fee: $95

$1,280
Citi Rewards+® Card


Learn More

(at our partner's secure site)

For a limited time, earn 20,000 bonus points after you spend $1,500 in purchases with your card within 3 months of account opening; redeemable for $200 in gift cards at thankyou.com
0% Intro APR on balance transfers for 15 months from date of first transfer and on purchases from date of account opening. After that, 13.49% - 23.49% variable APR. There is an intro balance transfer fee of 3% of each transfer (minimum $5) completed within the first 4 months of account opening. After that, your fee will be 5% of each transfer (minimum $5).
Earn 2x ThankYou® Points at Supermarkets and Gas Stations for the first $6,000 per year and then 1X Points thereafter. Plus, earn 1X ThankYou® Points on All Other Purchases.
The standard variable APR for Citi Flex Plan is 13.49% - 23.49% variable. Citi Flex Plan offers are made available at Citi's discretion.
Annual Fee: $0
Hot Tip: At this time, the Citi Prestige card is no longer available for new applicants.
Keep in mind that Citi does not classify balance transfers, cash advances, fees, interest, and items returned for credit as "eligible purchases" for earning bonus points.
2. Category Bonuses
Citi ThankYou Points are easy to earn, especially when you put together a simple spending strategy. Citi credit cards even offer bonus points on entertainment purchases (movie tickets, concert tickets, etc.) — a category unique to Citi ThankYou cards.
Here's a look at Citi's various category bonuses across its credit card lineup.
Category
Applicable Credit Cards
Bonus Points
Dining
Citi Prestige® Card
5x
Citi Premier℠ Card
2x
Gas stations
Citi Premier Card
3x
Citi Rewards+® Card
2x (first $6,000 in spending, then 1x)
Entertainment
Citi Premier Card
2x
Supermarkets
Citi Rewards+ Card
2x (first $6,000 in spending, then 1x)
All other purchases
Citi Prestige Card
1x
Citi Premier Card
1x
Citi Rewards+ Card
1x
As you may know, some credit card companies place restrictions on what purchases qualify for extra points, but thankfully, Citi is pretty fair when defining the above categories.
For example, entertainment includes sports, theatrical productions, movie theaters, amusement parks, tourist attractions, record stores, and video rental stores (if you can find one). So no matter where you're having a fun time, you'll be earning extra points, too!
Dining includes any establishment preparing or distributing food, and they even include bars, cocktail lounges, discotheques, nightclubs, taverns, and fast-food restaurants! This is far broader than the American Express® Gold Card that limits many of these establishments.
Please remember, always check the specific terms and conditions associated with your card to be certain your purchases will qualify for bonus points.
Hot Tip: A huge draw to the Citi Premier card is the gas station category, which does not limit you to buying fuel to earn extra points. This means anything you buy at a gas station will be eligible for the 3x bonus points along with other great benefits.
3. Transfer Cash-Back From Your Citi® Double Cash Card
The Double Cash card is one of the most popular cash-back credit cards on the market, and for a good reason. It offers 1% cash-back when you make a purchase and another 1% cash-back when you pay the purchase back. In the end, this gives you 2% cash-back on all purchases.
Not a cash-back fan? That's okay because Citi recently added the ability to transfer cash-back from the Double Cash card directly into ThankYou Points.
Points transfer at a rate of $0.01 to 1 ThankYou Point, meaning that you can earn 2 ThankYou Points per $1 spent on all purchases with the Double Cash card.
Here's that math:
$10 purchase
Cash-back Earning

Earn $0.10 (or 1%) cash-back when you buy
Earn another $0.10 (or 1%) cash-back when you pay your bill
Total of $0.20 of cash-back on a $10 purchase

Transfer that cash-back into ThankYou points

$0.20 with the transfer rate of $0.01 to 1 ThankYou point gives you 20 ThankYou points from your $0.20 cash-back
Total of 20 ThankYou points on a $10 purchase, resulting in earning 2 ThankYou Points per $1 spent when you meet the Double Cash card's earning qualifications
This makes the card perfect for purchases in non-bonus spend categories. When paired with other ThankYou Points-earning cards, you can use the Double Cash card to ensure you're always earning.
How To Convert Citi Cash-Back to ThankYou Points
Step 1: Log into your Citi online account and click on your Double Cash account.

Step 2: Click View/Redeem Cash Rewards.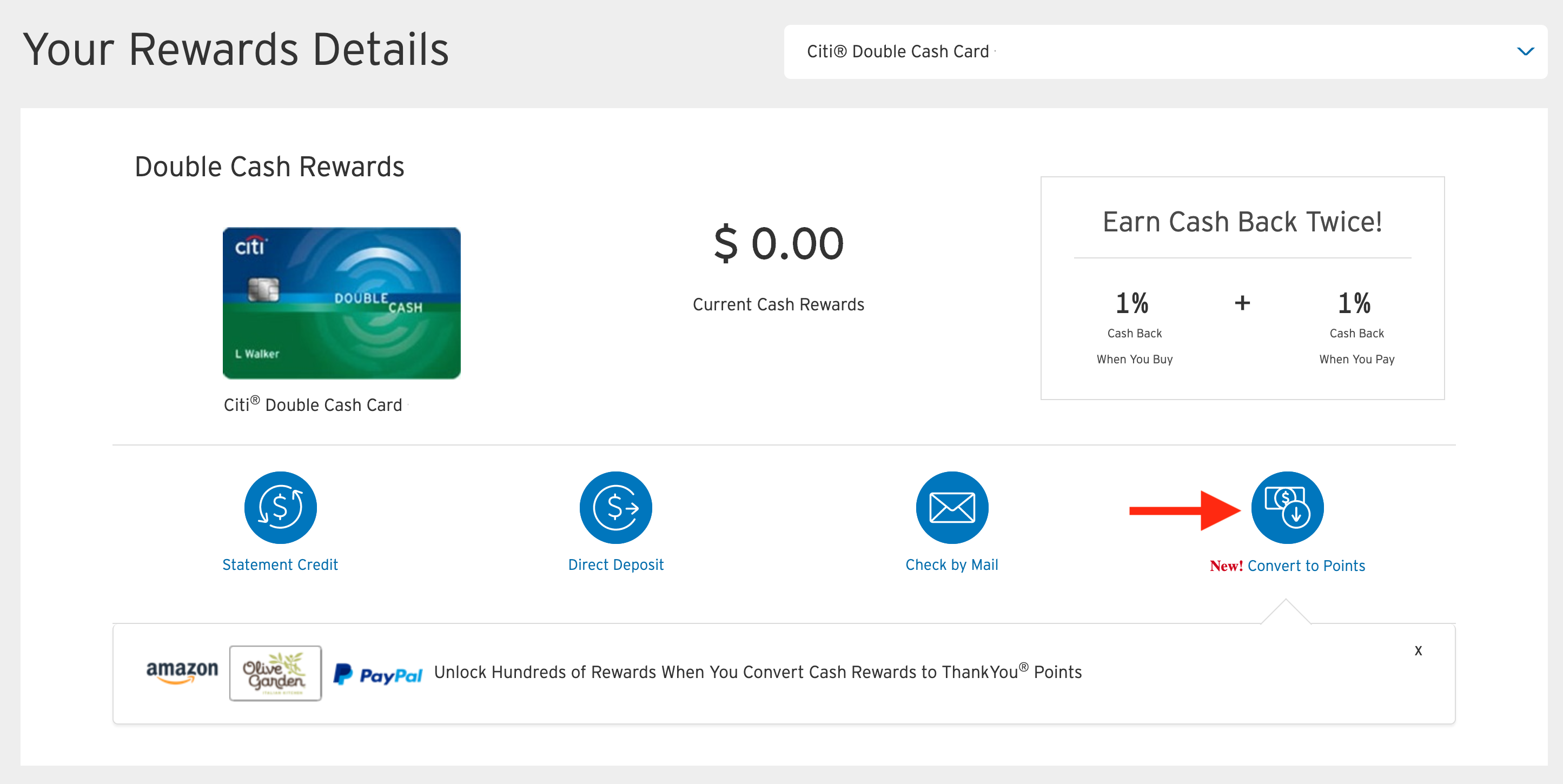 Step 3: Click the Convert to Points button on the right-hand side of the screen.
Step 4: You can now choose how much cash-back you'd like to convert to points — note that you must have at least $1 (100 ThankYou Points) to convert your cash-back to ThankYou Points.
And that's all there is to it! You can use your newly minted ThankYou Points to book travel through the Citi booking portal or by transferring to airline partners (if you have a Citi Premier card or Citi Prestige card).
4. Keep Your Points Active With Any ThankYou Points Card

Citi ThankYou Points don't expire so long as you have 1 open ThankYou-point earning credit card. The no-fee Citi Rewards+ card is a great card to open (or keep open) if you don't think you're getting enough value from the Citi Premier card or Citi Prestige card and decide to cancel.
However, note that you must have either the Citi Premier card or Citi Prestige card to access Citi's airline transfer partners.
5. Earning Citi ThankYou Points Welcome Bonuses
Citi only allows you to earn 1 welcome bonus every 24 months per card family. The 5 personal cards that earn ThankYou Points are part of a single card family, so decide which welcome bonus you want and apply for that card.
You can still get more of these cards, but you can only get 1 welcome bonus from this card family per 24-month period. The 24-month clock starts when you open or close one of these cards, so think twice about when you cancel a ThankYou point-earning credit card.
You'll want to do this after you've already opened a new ThankYou card so you can get another welcome bonus.
Earning Points With Travel Purchases
Travel purchases are a favorite for many of our readers, and you can earn lots of bonus points for your travel purchases with credit cards that earn Citi ThankYou Points.
6. Airfare Purchases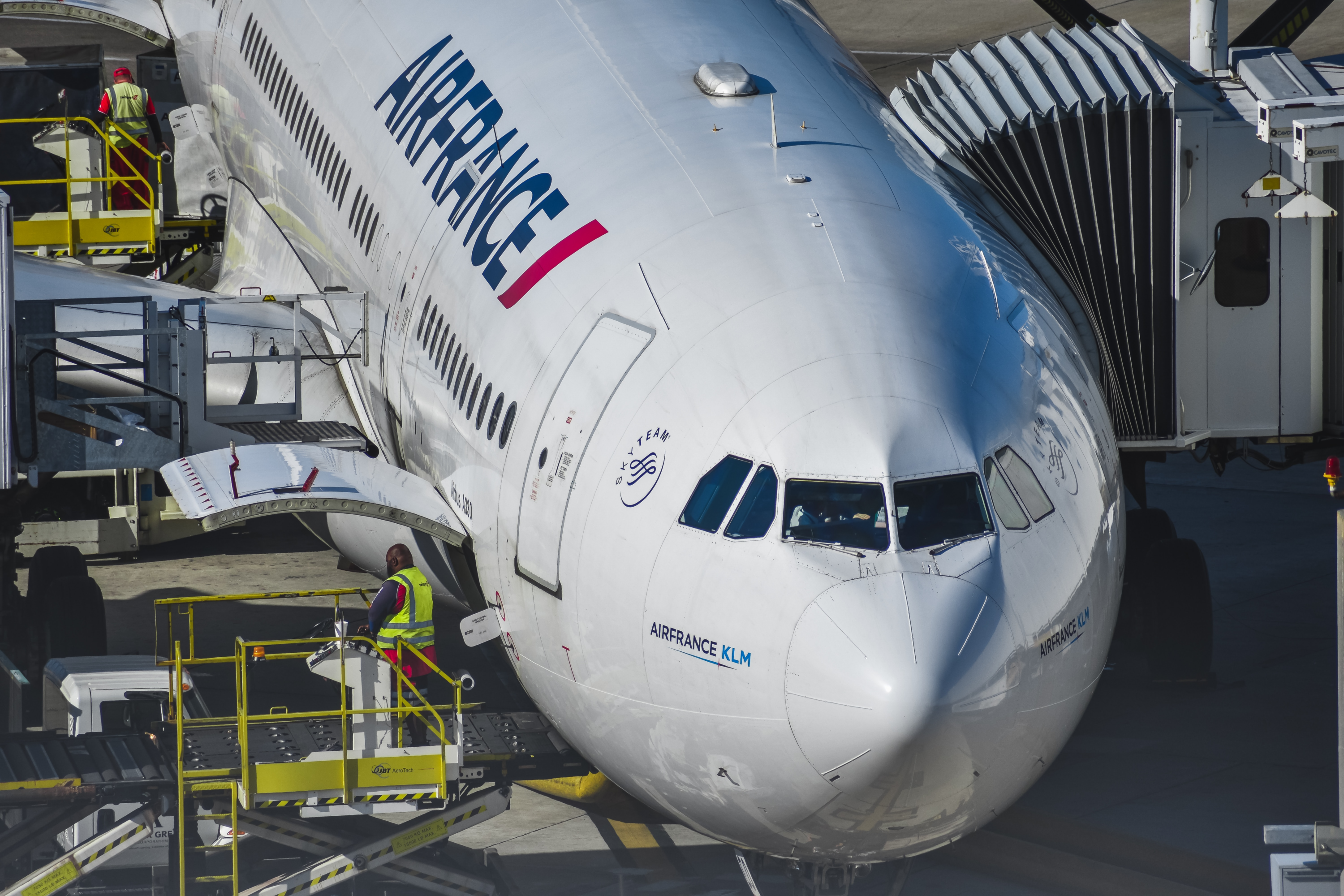 Citi offers 2 credit cards that earn extra points on airfare purchases:
| | |
| --- | --- |
| Card Name | Bonus points |
| Citi Premier card | 3x on travel purchases including airfare |
| Citi Prestige card | 5x on airfare |
The Citi Prestige card offers an industry-leading 5x points on airfare, which includes all tickets purchased from a merchant that provides air travel. This means you can purchase directly from an airline or through a travel site selling airfare (e.g., Orbitz, Kayak, Expedia, etc.).
In addition to 5x points on airfare, this card provides a $250 credit toward air travel every calendar year. This credit will be automatically applied to your first $250 in airline purchases each calendar year — you don't need to activate the benefit.
7. Earning Miles on Free Airfare Tickets (Purchased With Points)
A great perk of using ThankYou Points to purchase flights via the Citi Travel Center is that you will earn miles with the airline you fly (or the airline you choose to credit the flight). In effect, this provides a nice rebate when you use ThankYou Points to book airfare.
Cardmembers can redeem ThankYou Points for flights at a rate of 1 cent per point. This means that a $100 flight will cost 10,00 ThankYou Points.
 8. Other Travel Purchases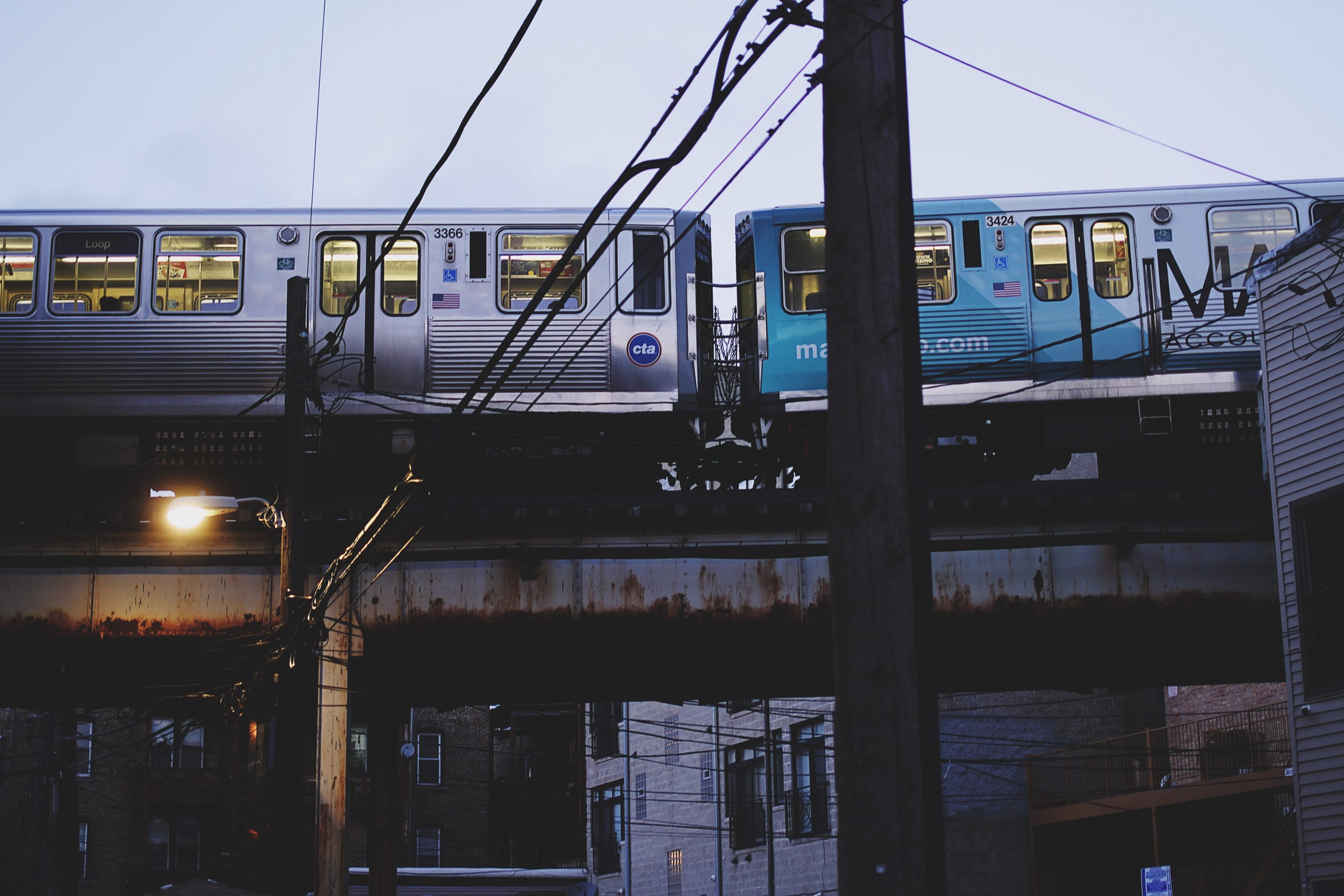 There are 2 Citi ThankYou cards offering bonus points for other travel purchases:
| | |
| --- | --- |
| Card Name | Bonus points |
| Citi Premier card | 3x on travel purchases |
| Citi Prestige card | 3x on hotel and cruise lines |
These cards will also earn 3x points on some other travel purchases. Though the travel category for the Citi Premier card is much broader than that of the Citi Prestige card, both cards can still be quite useful for earning tons of points!
The travel category on the Citi Premier card includes all of the following purchases:
Boat rental
Bridge and toll road fees
Bus tickets
Campgrounds and trailer parks
Commuter transportation
Limousines
Motor home rental
Parking lots/garages
Passenger railways
Taxis
Timeshares
Travel agencies
As for the Citi Prestige card, you will only get 3x points on hotels (including motels and inns) and cruise lines.
What's helpful here is that extra points on hotels are not limited to the room rate. You'll also earn extra points for goods and services attached to your accommodation and on your total bill with the hotel. Think minibar purchases, in-room dining, and more.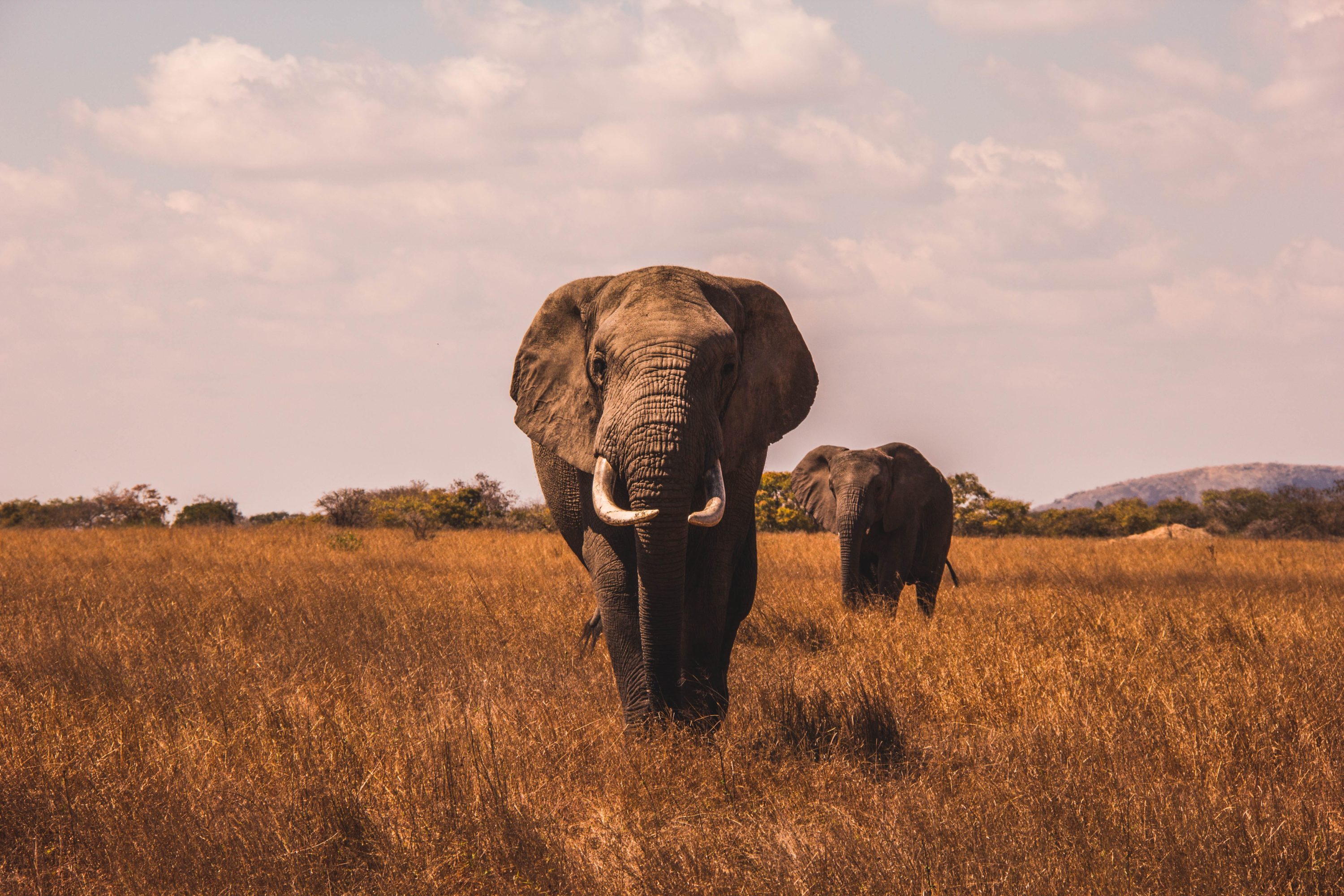 Additionally, the travel agencies category comprises any merchant providing travel information and booking services, which includes travel aggregators and tour operators.
So go ahead and book that African safari tour — you'll get extra points for using your Citi card!
Specialty Earning Opportunities
Outside of standard credit card purchases, Citi offers some special ways to earn more points.
9. Earn Bonus Points With a Citi Checking Account
Citibank offers some smaller ways to earn points through your banking relationship with them. If you have a Citibank account, all you have to do is enroll your account in ThankYou Rewards and you can start earning extra points right away.
Use their banking earning chart to identify ways in which you can earn, and then calculate your earnings with their handy calculator. Some ways you can earn include sending monthly bill payments, using your debit card, and enrolling in direct deposit.
Don't have a checking account with Citi? Simply open an account to get started earning as soon as possible.
Just note that — unless you meet a minimum monthly balance of $50,000 or more — the CitiGold account has a monthly fee of $30. Luckily, the fee is waived for the first 2 months after account opening, so you have time to transfer funds to your new account.
These checking account offers are not available at all times. If you're considering opening an account, check to see if there is a current offer first.
10. Transfer Points to Another ThankYou Cardholder
Finally, you can transfer points to friends and family members with ThankYou Points-earning cards.
Unlike American Express Membership Rewards and Chase Ultimate Rewards points, you can transfer Citi ThankYou Points to just about anyone with a ThankYou card. Citi calls this its Points Sharing feature.
So if you have a friend that isn't using their ThankYou Points — or maybe you want to give the gift of travel to a family member — you can arrange a transfer easily and without breaking any of the ThankYou program's rules.
Just note that there are a few restrictions in place when transferring ThankYou Points to another member:
ThankYou Points shared between members expire 90 days after they are received — so make sure the person you're sharing points with has an immediate use for the points you send them.
You can share up to 100,000 points and receive up to 100,000 points from another member per calendar year.
The Citi Rewards+ card is not eligible for 10% points back with Points Sharing.
Here's how to transfer ThankYou Points to another account with Points Sharing:
Step 1: Go to the ThankYou website and log into your account by clicking the Sign On button at the upper right-hand corner of the screen.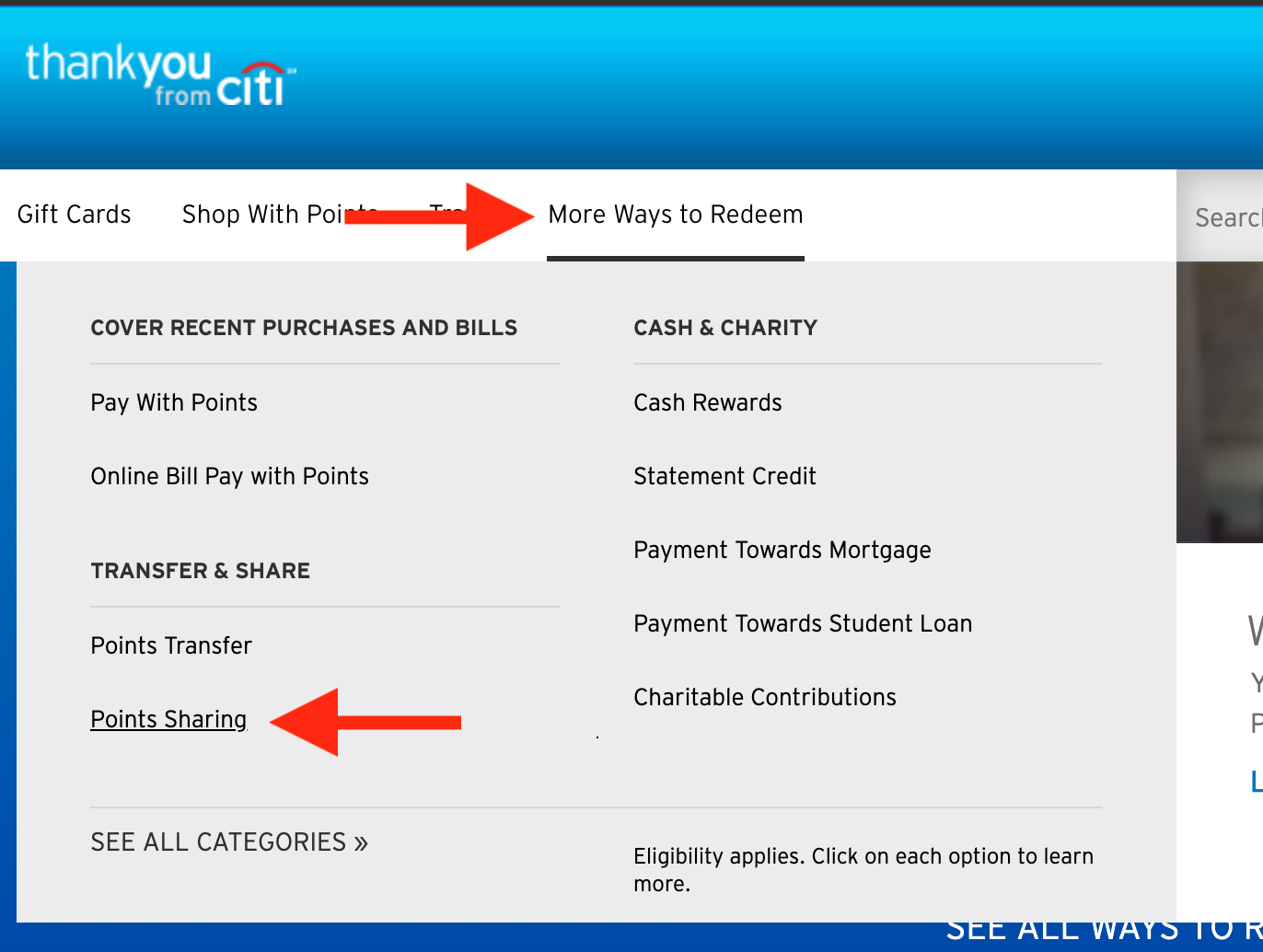 Step 2: Look at the top of the screen and hover over the More Ways to Redeem option. Then, click Points Sharing from the drop-down menu.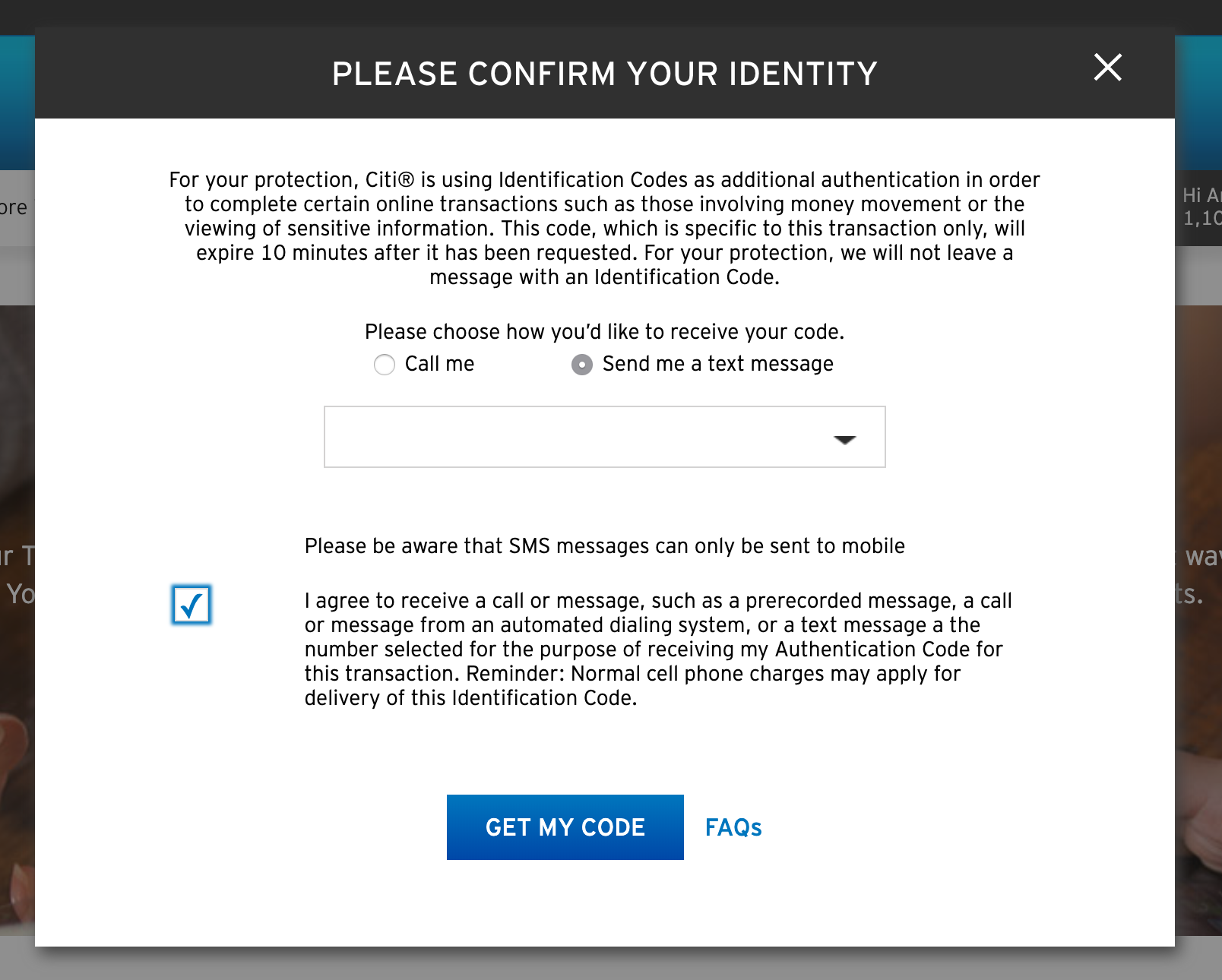 Step 3: You'll now be asked to verify your identity by text message or phone call — do this and you can continue the transfer process.
Step 4: Now, click the Begin Sharing button at the bottom of the page.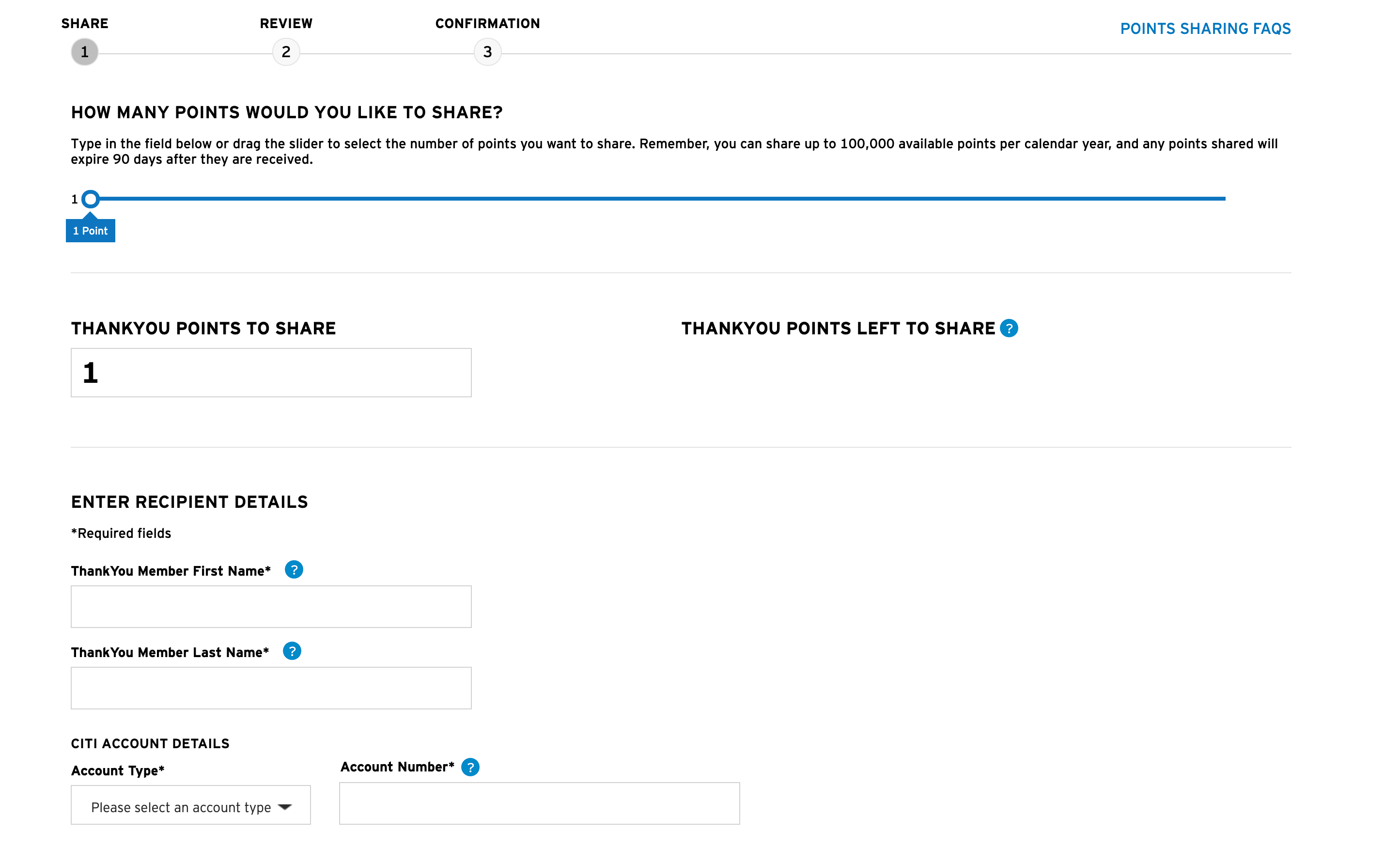 Step 5: You'll now be prompted to enter information about the person to whom you'd like to transfer points. This includes their full name and a Citi account number. This account number can be either a credit card number or Citi ThankYou account number that can be retrieved from the My Citi Accounts page on the ThankYou website.
Step 6: Follow the rest of the on-screen instructions and your points transfer will process immediately.
Final Thoughts
There are only a few credit card options for earning Citi ThankYou Points, but there are plenty of great bonus categories to help you earn tons of points.
This is especially true if you combine the Citi Double Cash card with a premium Citi card like the Citi Prestige card or Citi Premier card. Doing this will ensure that you earning the most points possible on all purchases, regardless of the purchase category or merchant – and this applies to Citi's personal and business cards.
Then, once you've earned a stash of ThankYou Points, you can redeem them for luxurious travel experiences around the world. Need some inspiration on how to redeem your points? Check out our list of the best ways to redeem Citi ThankYou Points.
And with that: happy earning and safe travels!
---
The information regarding the Citi Prestige® Card was independently collected by Upgraded Points and not provided nor reviewed by the issuer.