The 16 Best Carry-On Luggage Bags for Any Traveler in 2021
Cabin bags have revolutionized the way we travel. With airlines charging extras fees for checked luggage, more and more of us are cramming our belongings into little carry-on bags.
If you pack well, you can get pretty much everything you need into these compact cases — and you will also reap the rewards of not having to waste time at baggage claim when you arrive at your destination.
Things To Consider With Carry-On Luggage
Size
Most U.S. airlines will have strict rules about the amount of carry-on luggage a traveler can have with them, as well as the size of the items they bring on board. Items that are too large, too heavy, or restricted won't be allowed to travel with you and will need to be checked instead.
Every airline is different, but as a general rule you'll be allowed the following per passenger:
1 small purse or laptop bag
1 small cabin bag measuring no more than 22 x 14 x 9 inches (some airlines have even tighter restrictions, so check before traveling)
Weight
The usual rule for carry-on luggage is that it must weigh less than 40 pounds, including the weight of the bag itself. If you want to be sure before you fly, weigh your bag using a good scale before you leave home.
If your bag is too heavy, it will be stowed in the hold. Carry-on luggage is placed in the overhead lockers — too heavy and it's a safety risk since too many heavy bags make for a dangerous flying environment.
Need to fly with your suitcase full of weighty items? Opt for checked baggage instead.
Material and Durability
Unlike your checked luggage, your carry-on bag will stay close to you for the duration of your flight. This means you probably don't need to pay for supertough materials if you don't want to since it won't be thrown around or battered by luggage handlers. But you do want something quality that will last.
You need to carefully consider the weight of the luggage you choose to use on board. Since you only have up to 40 pounds to play with, lightweight but durable nylon bags or similar are usually the most practical option.
There are thousands of small cases, bags, and even rucksacks that are designed to meet the size and weight restrictions of most major airlines, so finding one should be a cinch.
Carry-On Backpack vs. Carry-On Suitcase
As the battle between backpack and suitcase rages on, travelers usually come to a conclusion based on their individual travel needs. While a cabin bag usually comes with wheels and is easy to pull around the airport, they can have limited access and may hold less than their counterparts.
Backpacks need to be carried at all times, but do offer plenty of hidden compartments for handy travel accessories — and using one will keep your hands free while you fumble for your tickets at check-in.
Which is best? Both work well, and your choice should be based on your own personal preference.
Hot Tip: Need some tips on packing your carry-on? Check out our carry-on travel essentials for short and long flights!
Wheels
Wheeled cabin luggage is perfectly designed to let you pull it around the airport — when the wheels are good, that is! Complete with pull-up handles and different types of wheel options, these types of cases are now the go-to accessory for savvy travelers around the world.
Standard 2-wheeled versions are perfect for pulling behind you or pushing in front when you have to. They are practical and affordable.
If you want something that offers even more maneuverability, opt for spinner wheels that allow you to wheel your case sideways next to you as well. Spinner wheels are much more practical when it comes to pushing your case down a busy airplane where space is limited.
Either way, quality counts. Pay bargain prices and you can expect a wheel to pop off here or there or a broken handle that will render it useless halfway through your trip.
Handles
If you are pulling, pushing, or even carrying your luggage, you want to be sure the handle will withstand the journey. Cases often come with collapsible, extendable handles that stow away in the body of the case when not being used.
Backpacks, on the other hand, need handles that are strong and durable but are also easily flexible when it comes to storing your luggage in the locker.
Much like wheels, quality is key. A badly built extendable handle may snap or come out of its housing, while a backpack or bag with inferior handles can break and leave you cradling it like a baby.
Hard or Soft Luggage
This is another decision that should be based on personal choice. Legend has it that hard-shell luggage is more durable than softer cases, but in reality, this is not always so.
While hard cases do offer some extra protection, they can be heavier, and space may be compromised by the design of the shell. Soft suitcases are more flexible in terms of shape and generally lighter. That said, they could also be more prone to splits or tears.
Guess what we're going to say next? Yep — whatever you choose, quality is key! Pay for well-manufactured, lightweight hard-shell cases or strong nylon soft cases to ensure your cabin luggage lasts you for more than 1 journey.
Laptop Compartment
If you're taking your work with you, you need to ensure that your laptop is well-protected while you fly.
Carrying laptops on board has its own intricacies, and you'll usually need easy access to remove the laptop for airport security. After that, you need practical, secure storage for the duration of the journey.
Some cabin cases are designed with laptop users in mind and have their own laptop compartments fully padded for extra protection. Other travelers choose to take a separate laptop bag with them, but you would need to check with your carrier to see if this is allowed within your onboard baggage limitations.
Smart Luggage
These days, everything is getting "smarter" — from our phones to our homes, and now even our luggage. Smart luggage offers fancy extras like power banks to charge your devices, electronic baggage tags, GPS tracking, and TSA-approved locks.
Bags like this may cost more than regular luggage, but they're totally revolutionizing the way we travel. Locate lost luggage, charge your devices, and keep your belongings safe from theft or damage as you go.
These additional functions are priceless for anyone who wants to enjoy fuss-free travel in the digital age.
Airline Rules for Smart Luggage
Turns out some things really are too good to be true! While smart luggage may seem like the perfect solution for connectivity problems of the modern-day traveler, it appears that it's also causing major problems for the airlines.
The lithium-ion batteries found in these cases aren't allowed in the cargo hold, and uninstalled ones can only be held by the passenger in the cabin during transit.
In an effort to combat potential fires and explosions as a result of lithium-ion batteries, no smart bags are allowed to be checked at all, and they can only be carried in the cabin if the battery is removable. Airlines who have already implemented policies like this including Delta Air Lines, American Airlines, Alaska Airlines, Southwest Airlines, United Airlines, and Hawaiian Airlines.
It's likely that many more will also follow suit, so please check with your airline before flying with smart luggage.
Best Carry-On Luggage Cases With Hard-Shells
For Every Type of Traveler
Samsonite Omni Hardside Spinner 20
Weight: 6.8 pounds
Overall Dimensions: 22.0 x 15.0 x 9.5 Inches
Made by one of the biggest names in luxury luggage, the Samsonite Omni Hardside Spinner is a beautiful piece of engineered luggage. Lightweight and effortlessly mobile, the 100% polycarbonate design is easy to move, offers plenty of internal space, and looks like business.
The micro-diamond texture is extremely scratch-resistant, which is important if you're planning to use the case on multiple journeys. Inside the suitcase are interior dividers to help keep your belongings organized, as well as cross straps for flattening your clothes.
For added security, there is a side-mounted TSA-compliant lock. The free-spinning wheels are the major selling point of this individual case, and allow you to pull the case behind you or along next to your side.
Hard-wearing, good-looking, and incredibly practical, this Samsonite case is designed to match the size and weight allowances of most U.S. airlines. If you are looking for a case that will fit enough clothes and toiletries for a week away without checking your luggage, this little beauty could be the one for you.
What We Like
Side-mounted TSA lock for security
What We Don't Like
In the unlikely event of a fault, the buyer pays shipping to return the item
For the Fashion-Forward Traveler
Delsey Luggage Chatelet Spinner
Weight: 9.3 pounds
Overall Dimensions: 23.5 x 15.25 x 9.75 inches
If you want to fit in with the jet set but aren't quite in the market for a full set of Louis Vuittons, this little beauty is stylish, practical, and a firm favorite with those in the know.
Elegant and innovative, this case is a real looker and comes in a variety of different colors. Clean curves and soft leather trim mean it wouldn't look out of place in the most luxurious of destinations, while the Bayer 100% virgin Makrolon polycarbonate construction is built to last. Designed to be seen, it can withstand extreme temperatures and will survive the general scuffs you can expect to receive.
This suitcase is so well-engineered, it even features a unique Stop-and-Go brake system that allows you to lock the front brake to stop it rolling away while you pull it, meaning you never have to grab for a runaway suitcase again.
The nearly silent Japanese Hinomoto spinner wheels assure smooth maneuverability and are a real talking point. Finally, the luxurious red interior is like a Louboutin for your belongings, and the zippered compartments keep your garments safely secured while you travel.
The only tradeoff with this very stylish case is that it does come in 1 to 2 pounds heavier than other top-quality hardshell cases.
What We Like
Handy Stop-and-Go brake system to prevent your case from rolling away
What We Don't Like
Marks are easier to see on a light-colored bag
Premium Suitcase That Will Really Go the Distance [We Use This One]
Delsey Paris Helium Aero 21″ Hardside Luggage with Spinner Wheels
Weight: 8.4 pounds
Overall Dimensions: 22.5 x 15.25 x 10 inches
The Paris Helium Aero case is made from 100% impact-resistant polycarbonate, ensuring that it strong enough to withstand the bumps and dings of airline travel while still offering plenty of class and style.
At 8 pounds, this may not be the lightest carry-on case on the market, but it is close and arguably one of the best looking. Stylish and sleek, the double spinner wheels add to its allure as the case glides effortlessly around the airport. 
On the inside, 2 full-size packing compartments provide plenty of space for all your travel essentials, and the tie-down straps will prevent your neatly packed items from moving around in transit. No matter how full your case, you will still be able to comfortably carry it when you need to thanks to the soft-touch top and side carry handles. 
Because Delsey understands just how much you love your luggage, this case also features integrated, TSA-approved locks, allowing agents easy access to your belongings without the worry of them causing any damage. 
What We Like
Lots of pockets and compartments for storage
What We Don't Like
Zippers can sometimes break with heavy use
For the Budget-Conscious Traveler
AmazonBasics Hardside Spinner Cabin Case
Weight: 7.34 pounds
Overall Dimensions: 14.9 x 10 x 21.6 inches
Basic by name, but not necessarily basic by nature, this little case from Amazon is great for budget-conscious travelers. The 24-inch hardshell case is perfect for shorter trips and will easily stow all your belongings safely while you travel.
Made with a scratch-resistant finish to protect against over-eager cab drivers or baggage handlers, the extra thick ABS shell is on par with many of its more expensive competitors and adds enhanced strength and durability.
Inside, the case is lined with 3 zippered pockets for storing all those important bits and pieces you need to bring along. Packing is a breeze with this expandable case — a useful extra 15% capacity means you can throw in that extra sweater or pair of shoes with ease.
The 4 double spinner wheels make this case easy to maneuver with 1 hand, leaving the other free for important additions like child-wrangling or retrieving your tickets and passport while you walk.
With a telescopic handle and an additional securely mounted short handle, you can drag, roll, or carry this case through airports and foreign lands the world over.
What We Like
Supersmooth double spinner wheels
What We Don't Like
Nowhere to store the zippers for protection
The Bang-for-Your-Buck Hard-Shell Carry-On
Kenneth Cole Reaction Out Of Bounds 20″ Hardside 4-Wheel Spinner
Weight: 6.25 pounds
Overall Dimensions: 21.75 x 14.5 x 8.5 inches
This case offers tons of useful features for an insanely low price. For ease of mobility, the Reaction case can literally turn on a dime — the multi-directional 4-wheel spinners allow for smooth, 360-degree movement over virtually any surface.
Being exceptionally lightweight makes it even easier to move around, and you can fill it to the brim with your belongings without having to worry too much about your weight allowance when you board. Garment straps are useful to hold your clothes in place and prevent too much creasing.
If you're into the aesthetic charms of carry-on luggage, this one is sure to please, with molded corners, an ergonomic handle, an attractive shine, and a scratch-free ABD hard-shell cover that looks great and is highly durable. The case is also available in 11 different colors, so you are sure to find something that suits your tastes.
Internally, there are additional zippered compartments that make light work of keeping your valuables and smaller items safe while you travel. All in all, this is a great little case that won't cost a fortune. Kenneth Cole also offers a 10-year limited warranty with this case for your peace of mind.
What We Like
Molded corner guards to protect from impact
What We Don't Like
Warranty only covers manufacturing defects, not general wear and tear
For Travelers Looking for a Truly Lightweight Carry-On
Chester Lightweight Polycarbonate Spinner Case
Weight: 7.0 pounds
Overall Dimensions: 21.5 x 13.5 x 8.5 inches
Chester designs great quality luggage that performs well and looks awesome. This case is no exception, offering a lightweight, unbreakable shell that you can fill up for your next adventure.
Based on the company's signature polycarbonate shell design, the case is ultra-durable, really lightweight, and incredibly easy to maneuver. It is also strong enough to withstand being thrown around during transit since the shell can absorb most knocks, eliminating nasty dents and scratches.
Designed by people who like to travel a lot themselves, the internal space is practical and well-thought-out. There are 2 compartments, an interior organizer for smaller items, and a separate nylon bag for your dirty laundry.
When you're packed up and ready to go, the silent multi-directional wheels make quick work of airport terminals — and are probably good enough to take you across harsher terrains during your travels.
Complete with a TSA-approved lock that is set using a combination code, you should be able to pretty much guarantee your belongings will stay safe wherever you're headed. This is a great case designed and made by people who really appreciate travel.
What We Like
Removable laundry bag to separate your dirty clothes
What We Don't Like
Telescopic handle stores inside taking up packing space
Hot Tip: For more lightweight options, check out our separate review dedicated to the best lightweight carry-on luggage. 
For Samsonite Luggage Lovers
Samsonite Freeform Spinner Cabin Case
Weight: 6.5 pounds
Overall Dimensions: 21.25 x 15.25 x 10 inches
Samsonite is one of the biggest names in luggage, and every case it sells is designed to be lightweight, extremely durable, and a good-looking addition to any traveler's collection.
This particular model has been created to offer the strength you would expect from a hard-shell case, with the lightweight maneuverability you'd expect from a roller skate (honestly, it handles that well!).
Spacious interiors make light work of clothing and belongings to last a few days away, while the cross straps and divider are perfect for keeping your clothing tightly pressed and uncreased during transit.
The double wheels are perfect for pulling along behind you or keeping close by your side, and the Samsonite TSA 3-dial lock will prevent unwanted opening by anyone other than TSA agents.
This case is also expandable to a degree so you can pack that extra heavy sweater, and the built-in ID tag makes it easily identifiable as it swings past you on the luggage carousel.
The Freeform is designed with the discerning traveler in mind. The price tag may be a little higher than some of the lesser-known models out there, but you're paying for a superb case built to last by a world leader in the luggage market.
What We Like
Built-in ID tag for quick identification
What We Don't Like
For Frequent Flyers Who Want Chic Design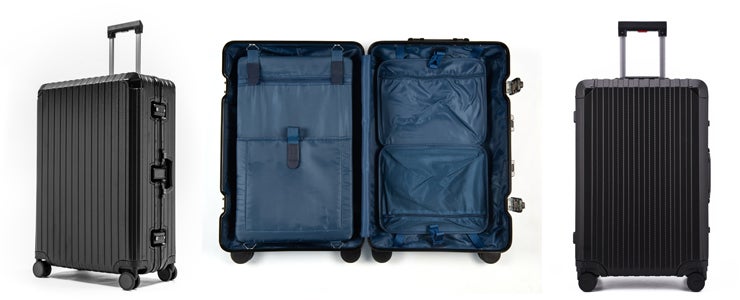 Hot Tip: Use special promo code UP25 for 25% off!
Weight: 9.6 pounds
Overall Dimensions: 22 x 14 x 8.7 inches
Chic and stylish, this hardshell carry-on case is designed to offer maximum luggage capacity, while still meeting the size restrictions for overhead lockers on most domestic and international airplanes.
With its unbreakable aluminum-magnesium alloy shell, the Trek carry-on case oozes sophistication and good looks, making it perfect for both business travelers and leisure trips alike. The unique zipper-less closure is easy to open while remaining incredibly secure, and the dual TSA-approved combination locks mean the case can be accessed easily by security agents should they need to.
The super spacious, fully-lined interior offers over 39 liters of space in both halves to carry everything you need for your next trip. The pocketed panels will keep your liquids and clear bag secure in transit.
It's not just the rugged good looks, and clever design touches that make this such an excellent choice for carry-on passengers, the way in which it moves is a revelation, too. Forget about wonky wheels and flimsy handles, this beauty comes complete with ultra-smooth 360-degree spinner wheels and an aluminum telescoping handle that makes it an absolute delight to wheel around the airport.
Refined, sophisticated, and built to last, this is the perfect carry-on case for frequent flyers.
What We Like
Zipless closure and hard-shell for tamper protection
What We Don't Like
Might be out of budget for many travelers
For the Tech-Heavy Business Traveler
NINETYGO Carry-On Luggage
Weight: 9.68 pounds
Overall Dimensions: 22 x 14 x 9 inches
With its unusual front opening compartments, the Passport suitcase is designed for those who need instant access to their devices, documents, and other items while they travel.
Grab your passport, wallet, phone, tablet, or laptop with the flick of a zipper, leaving your pockets empty and your hands free. Great for business travelers or those who need to take a lot of tech with them, you can breeze through security without having to unpack your entire bag just to get your devices out.
Your entire front panel opens fully for packing larger items. The main compartment is also pretty impressive with plenty of space for your clothes, and each compartment is held in place by cross straps and zippers to stop your belongings from rolling around during transit.
Made from 100% polycarbonate with an anti-impact and scratch-resistant hard side, this is one heck of a suitcase and is guaranteed to be completely shockproof. With a durable structure, this sleek and futuristic-looking case has a particularly impressive look.
Quirky and unique, this is a great case for those who want to be able to access their items at a moment's notice.
What We Like
Front pocket and main compartment TSA locks
What We Don't Like
Tech compartment eats into the main compartment space quite a bit
Best Carry-On Luggage Cases With Soft-Shells
Designed for the Practical Traveler
SwissGear Travel Gear 6283 Spinner Luggage
Weight: 9 pounds
Overall Dimensions: 13.5 x 7.5 x 20 inches
Soft and light yet somehow strong and dependable, the SwissGear Travel Gear 6283 is a good choice for those who like soft-shelled cabin luggage.
Every aspect of this case has been designed with longevity in mind. This is a case that's built to last and offers tons of features to help it withstand the rough and tumble of long-distance travel.
Made from durable, scuff-resistant polyester, the case is lightweight and can expand to offer extra packing space when needed. It also has some nice extra features like a zippered wet bag for keeping dirty clothes separate from the clean stuff.
It is also easy to maneuver with a telescoping locking push/pull handle system and 360-degree multi-directional spinner wheels that will glide effortlessly across most types of terrain.
With easy-to-access front pockets (that you won't find on most hard-shell cases) and a built-in ID tag, this is one case that you can literally buy, fill, and carry on!
What We Like
Comes with a removable zippered wet bag
What We Don't Like
Can tip over easily due to lightweight wheels
For the Discerning Traveler
Travelpro Platinum Magna Expandable Spinner Suitcase
Weight: 7.9 pounds
Overall Dimensions: 21 x 14 x 9 inches
No one wants to reach the destination with sore hands from dragging their suitcase behind them. This Travelpro suitcase comes with a contour grip handle and comfy cushioned touchpoints to help relieve the stress on your hands while you travel.
As with all the best cabin luggage, this suitcase is lightweight, sturdy, and conforms with the height and weight restrictions in place on most U.S. airlines. It's not just on the plane where this case excels though — the self-aligning magnetic wheels will allow you to roll it in any direction.
On the inside, your clothes can remain wrinkle-free during travel as you tuck them in 2 different compartments both inside and outside the suitcase. The engineered zipper is also designed to withstand the constant opening and closing of your case while you find the perfect outfit for your vacation.
Another plus for this particular bag is its extremely lightweight design, meaning you can pack more belongings without worrying about having to check your luggage. Overpacked? Not to worry — this case also comes with expandable capability to increase the internal storage area.
Complete with a worry-free lifetime warranty, this is a great little case for your next adventure from a brand that makes quality products.
What We Like
Self-aligning magnetic wheels for a straight roll
What We Don't Like
The telescopic handle can get jammed
For the Traveler Who Always Packs Too Much
Briggs & Riley Baseline Domestic Expandable Cabin Case
Weight: 8.9 pounds
Overall Dimensions: 14 x 9 x 22 inches
Briggs & Riley has been committed to supplying American globetrotters with luxury luggage for over a quarter of a century; this cabin case is another example of the company's very fine work.
A top pick with frequent flyers and airline staff, the Baseline expandable case has its very own neat trick that allows it to offer a whopping 25% more packing space when needed. The case then manages to compress back down to fit perfectly in the overhead storage lockers of most U.S. domestic airlines.
With a state-of-the-art hybrid fiberglass frame, the case remains lightweight and easy to maneuver while still being incredibly durable. Made from super-strong ballistic nylon, the outer fabric is hard-wearing and water-resistant.
The aluminum handle system offers a super comfortable ergonomic handle, and the freewheeling system makes this case a dream to move around even the busiest of airports.
What We Like
Exterior telescopic handle with no compromise on internal space
What We Don't Like
Not as much freedom pushing and pulling compared to spinner wheels
For the Really Modern Traveler
Travelpro Luggage Maxlite3 22 Inch Expandable Rollaboard
Weight: 6.3 pounds
Overall Dimensions: 22 x 14 x 9 inches
The Travelpro Luggage Maxlite3 is one of the lightest cabin bags ever made, meaning you can bring even more of your wardrobe when you travel. With lots of innovative features, this little beauty is made from tough, durable polyester that looks and works perfectly.
This case's most fascinating feature is the patented Rollaboard that places a frame several inches from the bottom, allowing the designers to do away with heavy and bulky reinforcing frames found in similar cases. This means less weight and more space for you!
Exterior pockets are spacious enough to safely store a laptop, while the full-size inner compartment is large enough to keep even the crispest of suits wrinkle-free. If you want to squeeze even more in there, the case can expand to give you more room — but you could quickly exceed the maximum size restrictions for your airline carrier.
The modern design is also pretty impressive. Despite its somewhat surprising dimensions, this looks pretty sleek for a softshell case, and the smooth gliding wheels and ergonomic handle make it a good choice for most travelers.
What We Like
Super light, so you can get more from your carry-on allowance
What We Don't Like
Size advertised doesn't include wheels
Best Carry-On Backpacks
For Those Serious About Traveling the World
Osprey Farpoint Travel Backpack
Weight: 3 pounds
Overall Dimensions: 22 x 17 x 5 inches
Osprey is world-famous for their awesome backpacks, and this one is as good as any in the range. In fact, this one comes in 2 different options for men and women. The Farpoint and the Fairview offer practical solutions for those looking for a cabin-sized rucksack that can be used for your onward journeys, too.
If you like to sling your belongings on your back, both the Farpoint and the Fairview are made from super-tough ripstop nylon and feature slash-proof straps, tons of useful compartments, and a harness and hip belt for ease of wear during longer excursions.
Both have a discreet laptop and tablet sleeve that will keep your tech protected while you travel. Easy to access, lightweight, and big enough to handle a good amount of belongings while still being cabin-sized, these backpacks are just about the perfect alternative to cabin-sized suitcases.
Osprey backpacks also come in a wide range of colors (and bigger sizes, too), so if you want to coordinate your checked luggage, you should be able to find a size and style that matches.
What We Like
Comfortable harness and hip belt for comfortable wear
What We Don't Like
No frame to stand up straight vertically
The Backpack to Stay Organized on the Go
Asenlin 40 Liter Travel Backpack
Weight: 2.7 pounds
Overall Dimensions: 21 x 14 x 9 inches
Whether you're jetting off on vacation or a business trip, this backpack is versatile, attractive, and perfect for travelers who prefer to carry the world on their back instead of pulling it along on wheels.
Weighing in at 2.7 pounds, you can maximize your hand luggage allowance by filling up your bag with as many belongings as you need while still meeting the size restrictions for overhead bins.
Offering an impressive 40-liter interior, you can pull the compression straps tight to keep the pack easy to carry. Stay organized on the go by stashing your belongings into the convenient packing cubes that come in 3 different sizes.
To increase the comfort, the designers added well-padded and adjustable shoulder and sternum straps that can be zipped away to check your backpack or to easily attach to the handle of your suitcase.
With a front organizer pocket to quickly access your tickets, passport, and other accessories and a separate padded compartment for a 17.3-inch laptop, you'll breeze through security in a matter of minutes.
What We Like
Includes 3 packing cubes to stay organized
What We Don't Like
The laptop compartment makes the backpack front heavy
The Best Design for the Cool Backpacker
Hynes Eagle Flight Approved 40L Backpack
Weight: 2.45 pounds
Overall Dimensions: 20.1 x 13.4 x 9.8 inches
Hynes Eagle bags suggest that you're a traveler who knows a bit about the world — and that you certainly know which kind of bag best suits your needs. Their cabin-approved backpacks are just the right size and offer tons of interior space while retaining modern silhouettes and a certain minimalist chic.
Made from water-repellent polyester, this is one of the hippest of all cabin rucksacks… and should probably be accessorized with a chai latte (and maybe even a beard).
Trendsetting aside, everyone should be impressed by the multiple interior slip pockets — one of which fits a 15.6-inch laptop with ease. Externally, there is a front zip pocket that enables easy access to your passport, money, phone, and frequent flyer cards.
Designed with ergonomics in mind, there is an adjustable sternum strap for added stability, as well as multiple exterior compression buckle straps for adjusting the height based on your own individual needs.
This is a true hands-free carry-on bag that won't limit your mobility, while still being able to stow plenty during your travels.
What We Like
Convenient interior slip pockets for your passport, money, and gadgets
What We Don't Like
No waist belt to help distribute the weight
Final Thoughts
The ability to travel without having to check bags makes your check-in faster and negates the need for lengthy waits at baggage claim.
Although you may need to do your research before you invest in the right cabin luggage for your needs, finding a small case that is easily maneuverable, lightweight, and able to hold everything you need for a few days away is really a game-changer when it comes to domestic and international air travel.