The 16 Best Swissgear Backpacks & Luggage for Travelers [2021]
Swissgear offers so much more than just the Swiss Army knives that it is so famous for. When it comes to luggage, the brand always picks up on the latest luggage fashion trends and combines state-of-the-art technology with clever design elements to produce brilliant backpacks, travel bags, and suitcases at affordable prices.
Why Buy Swissgear?
If the idea of Swiss precision-engineering elements mixed with European styling appeals to you, then Swissgear could be just the brand you are looking for. Forget about ostentatious patterns and colors and think instead about über-practical, sleek, good-looking bags, duffels, and cases that are loaded with carefully crafted finishing touches.
Made from superior materials and designed to handle life on the go, Swissgear prides itself on offering luggage that really performs. Incredibly user-friendly, well-made, and durable, all of its ranges are also affordable, making Swissgear a solid choice for savvy travelers.
It's not just its sharp looks that make Swissgear so popular either. Following the introduction of state-of-the-art technology like the ScanSmart lie-flat laptop compartments that allow your bag to go through the scanner while protecting your laptop from the dangers of the scanner, the brand is becoming a firm favorite with travelers who love their tech.
All of its collections come in a variety of simple but attractive colors, while every series offers matching pieces if you are in the market for an entirely new luggage set.
From carry-ons to garment carriers and hard-sided suitcases to backpacks, Swissgear luggage caters to every kind of adventure. It is also popular with those looking for durable and reliable bags and backpacks to use on the daily commute, at the gym, or even just for school or college.
Bottom Line: Clever designs, ample interiors, and a mid-point price range make Swissgear luggage some of the most practical pieces of luggage.
The Best Swissgear Backpacks
There is a wide variety of Swissgear luggage available, all as well-built and cleverly designed as the next, but here are some of our favorite pieces.
A Tech-Friendly Backpack for Everyday Use
Swissgear 1900 ScanSmart Laptop Backpack
Dimensions: 18.5 x 13.5 x 9 inches
Weight: 3.3 pounds
Made from durable 1200D polyester, this smart-looking backpack has enough room to carry everything you need for the daily commute or overnight stay, as well as innovative storage features to keep your much-loved laptop safe on the go. There are also matching rolling and travel laptop backpacks available in this range.
With enough pockets, dividers, and zippered accessory compartments to house all your gear, the ScanSmart lie-flat design makes this backpack special. Able to fit laptops up to 17 inches in size, you can safely leave your laptop in the bag as it goes through the scanner. This feature, coupled with the floating TabletSafe tablet pocket, offers increased security for your tech, wherever you are headed.
For impressive carrying comfort, the contoured padded shoulder straps can easily be adjusted to suit your frame, and the padded, Airflow back panel offers excellent ventilation and support — all in all, a great, tech-friendly backpack for everyday use.
What We Like
Can leave your laptop inside your bag when going through airport security
What We Don't Like
No chest strap for extra support
A Backpack With Lots of Pockets for Your Gadgets
Swissgear 5977 ScanSmart Laptop Backpack
Dimensions: 18.5 x 13.25 x 9 inches
Weight: 2.75 pounds
With sharp good looks, this large backpack has enough room to comfortably house a 17-inch laptop, while still being reasonably lightweight. Made from 600D grey heather material, this backpack is not only durable but can be customized with your own embroidery.
On the inside, the TSA-friendly, lie-flat ScanSmart compartment allows you to leave your laptop tucked away as your belongings go through the scanner, and with the media pocket and headphone cord port, you can stay plugged in as you navigate the airport.
With a front organizer with a key clip and useful front divider pockets, you can keep your documents and passport well-organized. Featuring adjustable shoulder straps and a padded Airflow back panel, it's comfortable to carry for hours on end, and the straps and grab handle make it easy to stow in the overhead compartment.
What We Like
Comfortable Airflow back panel to allow air to circulate
What We Don't Like
No RFID-blocking compartments
Breeze Through Security With ScanSmart Technology
SWISSGEAR 5358 ScanSmart Laptop Backpack
Dimensions: 18 x 11.5 x 7 inches
Weight: 3 pounds
Lightweight and incredibly durable, this laptop backpack is made from super-tough polyester and features all of the good looks and smart tech features you would expect from Swissgear.
Large enough to comfortably carry laptops measuring up to 16-inches, you can breeze through security with the ScanSmart lie-flat compartment that keeps your tech safely protected in the x-ray scanner. If you need to charge your devices on the go, simply plug into the integrated USB port that attaches to your own power bank internally.
Pop your sunglasses into the crush-resistant front compartment, and for any other items you need at your disposal, you can choose from several quick-access external pockets. A large collapsible side pocket can be used to stash a pair of shoes away from the rest of your gear and several internal dividers and mesh pockets will keep you well-organized with your passport, wallet, etc.
With a reinforced steel handle, this backpack is easy to carry, and when you need your hands free, the adjustable and well-padded shoulder straps allow for stress-free shoulder carrying. When toting multiple bags, you can easily slip this backpack over a suitcase handle using the trolley strap.
What We Like
Has a USB port for charging on the go
What We Don't Like
Could do with a few more internal pockets
A Great Backpack for Smaller Laptops and Tablets
Swissgear 5709 ScanSmart Laptop Backpack
Dimensions: 18 x 13 x 8.5 inches
Weight: 2.9 pounds
With a ton of separate storage pockets and compartments, this compact backpack offers much more space than it appears. With the Swissgear-patented ScanSmart lie-flat laptop compartment for laptops up to 15-inches in size, as well as the TabletSafe tablet pocket, this backpack offers the ultimate in organization and protection for your tech.
The main compartment is spacious and easy to access, while the additional cords and cable pocket, fleece-lined top pocket, quick-access zippered front pocket, and organizer compartment offer loads of space for you to fill with your gear on the daily commute or further afield.
On top of all this, the ScanSmart laptop pocket makes it super easy for you to whiz through security without even having to take your laptop out. For increased comfort on the go, the padded and adjustable shoulder straps help you find a customized fit, and the adjustable side compression straps and padded back panel keep the backpack in shape and well-supported.
Need more than just a backpack? No problem! This backpack comes complete with an add-a-bag sleeve, meaning you can slip it over the telescopic handle of your suitcase. Perfect!
What We Like
Comfortable padded back panel and straps
What We Don't Like
No RFID-blocking pockets for cards and passport
The Best Swissgear Hardside Suitcases
An Expandable Spinner Set — Perfect for Just the 2 of You
Swissgear 7739 Expandable Trunk 2pc Spinner Set
Dimensions:
Carry-On — 19 x 14 x 9.5 inches
Spinner — 26 x 17.5 x 11 inches
Weight:
Carry-On — 7.4 pounds
Spinner — 10.9 pounds
For longer trips and vacations, sometimes 1 case just isn't enough. This gorgeous 2-piece hardside spinner set offers all the luggage space you need in a blush or white color. Stunning retro looks give the impression of an old-fashioned storage trunk, while the super-lightweight ABS material offers all the convenience of precision-styled modern design and construction.
Both cases are expandable, offering even more storage space when you need it most. With large interior compartments, as well as additional zippered storage pockets, mesh compartments, and elastic tie-downs, your belongings will stay safe and wrinkle-free during transit.
Both cases glide along effortlessly thanks to 8 supersmooth spinner wheels, offering 360-degree maneuverability, while the reinforced wrapped grab handles extend and retract with ease. The larger suitcase also features a side grab handle for lifting on and off carousels and in and out of cars. This really is a great little luggage set for both of you to enjoy.
What We Like
Elegant and distinctive set that you'll never miss on the carousel
What We Don't Like
Can scuff and mark easily
Carry-On Convenience With State-of-the-Art Benefits
Swissgear 7272 19″ USB Energie Expandable Carry-On Hardside Spinner Luggage
Dimensions: 19.25 x 13.5 x 8.5 inches
Weight: 10.1 pounds
Offering a heady blend of sharp looks, superior protection, and state-of-the-art technology, this good-size spinner suitcase is the perfect fit for your next family vacation. With a rugged Makrolon polycarbonate construction and built-in USB capability, this suitcase will really go the distance.
On the inside, the main compartment offers 2 large storage spaces, one of which comes complete with tie-down straps to keep your belongings in place on the go. There is also a large zippered compartment, cinched pockets, and a further accessories pocket.
To ensure your tech stays charged, there is an internal mesh pocket that hides your USB cord and holds your power bank to charge that pesky low-battery when you really need to.
The retractable locking handle makes it easy to find the right position to suit your height, and the supersmooth spinner wheels offer 360-degree maneuverability. There is also an integrated TSA-approved lock for extra security and easy access, and if you really want to impress, this case comes in a selection of 9 eye-catching colors.
What We Like
Built-in USB port for on-the-go charging
What We Don't Like
Zipper can sometimes come apart
Hot Tip: Searching for the perfect carry-on for your next trip? Check out our guide to the best carry-on luggage bags for any traveler.

A Great All-Rounder for Carry-on-Size Adventures
Swissgear 8836 20″ Expandable Laptop Carry on Hardside Spinner Luggage
Dimensions: 19.75 x 15.25 x 9.25 inches
Weight: 6.5 pounds
This sleek and stylish expandable laptop hardside spinner case will help to keep your tech safe as you travel. Made from lightweight yet durable polypropylene and featuring a dedicated laptop sleeve that can comfortably house up to a 15-inch laptop, this case is perfect for both business and pleasure.
The split-case design offers 2 good-size storage spaces, and the separate laptop sleeve also offers a protective hook and loop closure. With a large side pocket for keeping essentials safely tucked away, as well as a mesh organizer, this case also can expand to offer even more packing space, making it a very capacious carry-on for short trips.
As with all Swissgear suitcases, the 360-degree spinner wheels offer a supersmooth ride, while the telescopic locking handle makes it easy to pull along with you. As you would expect from Swissgear, this case comes with a TSA-approved locking system to ensure that your laptop and other gear are safe on the go, while still offering access to TSA agents should they need it.
What We Like
Large external compartment to store a laptop
What We Don't Like
Laptop pocket space eats into the internal compartment
Hot Tip: Are you looking for even more hardside luggage options? Explore our dedicated guide on the best hardside luggage for travelers.
Lightweight and Spacious for a Week's Vacation
SwissGear 3750 Hardside Expandable Spinner Case
Dimensions: 26 x 17.5 x 11 inches
Weight: 8.4 pounds
This expandable hardside spinner suitcase offers utilitarian looks combined with ample space, allowing practical packing for any adventure. Made from superior ABS materials and available in stylish silver, this suitcase is a statement piece that really performs.
On the inside, the large split-case compartments offer more than enough space to carry your belongings for 5 to 7 days, while the elastic tie-down straps will keep your clothes wrinkle-free in transit. The zippered lid pocket is useful for keeping your gear well-organized, and the expandable zipper system offers those extra inches when you need them
The locking telescopic handle makes pushing and pulling a breeze, and the 4 360-degree spinner wheels make for super-easy maneuverability across the airport terminal.
With reinforced grab handles and protective side bumper feet, this solid suitcase can withstand the rough handling of air travel and the built-in TSA-accepted 3-dial combination lock makes for easy access for agents, without risking any damage to your beautiful new suitcase.
What We Like
Very lightweight and durable
What We Don't Like
Not many internal pockets for keeping organized
The Best Swissgear Softside Suitcases
A Super-Useful Spinner Range for the Entire Family
SwissGear Sion Softside Luggage with Spinner Wheels
Dimensions:
Carry-On — 21 x 12.75 x 10.25 inches
Small Case — 24.5 x 15.25 x 11 inches
Large Case — 28.5 x 17.25 x 12.5 inches
Weight:
Carry-On — 8 pounds
Small Case — 9.5 pounds
Large Case — 11.1 pounds
This gorgeous range of soft-sided suitcases offers all the space you need for a family vacation or global adventure. Comprising of a carry-on case, a medium checked case, and a large checked case, there is an impressive amount of cleverly conceived storage space in each case, maximizing your luggage capacity on the go.
Each suitcase expands for those useful extra inches of storage space, as well as offering fully-lined interiors, adjustable luggage tie-down straps for keeping your gear secure in transit, and additional zippered pockets and mesh compartments to keep your belongings well-organized on the go.
Made from lightweight and scuff-resistant polyester, this range is available in a choice of 7 bold color options, and all cases feature supersmooth spinner wheels, retractable handles, and built-in ID tags.
Designed very much with practicality in mind, this stylish set represents excellent value for money.
What We Like
Spinner wheels glide smoothly
What We Don't Like
Lighter-colored versions can stain easily
A Practical, Expandable Soft-Sided Suitcase Range
SwissGear 4010 Softside Luggage with Spinner Wheels
Dimensions: 21.5 x 15 x 9 inches
Weight: 6.45 pounds
Made from rugged polyester fabric, this expandable spinner bag offers all the benefits of a hardside suitcase in a soft-sided package. Available in black, blue, or grey color options, this case is also available in 20-inch and 29-inch versions.
The main compartment is fully lined and offers a large interior zippered mesh pocket, along with tie-down straps to help keep your belongings well-organized in transit. This case can expand to offer additional storage space when you need it most, and the 2 front panel pockets are useful for storing essentials that you need easy access to.
With 4 360-degree, multi-directional spinner wheels, you can enjoy easy maneuverability, and the aluminum locking telescopic handle allows you to push or pull the suitcase effortlessly. Extra touches, including a removable zippered wet bag and an integrated ID tag, give this superlight suitcase an upscale look and feel.
What We Like
Top, side, and bottom handles for easy lifting
What We Don't Like
Single spinner wheels are not as maneuverable as double wheels
Light and Stylish for Frequent Flyers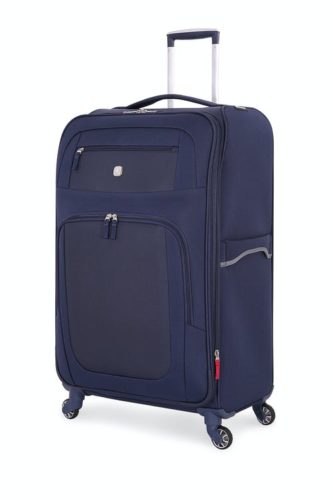 Dimensions: 31 x 18.5 x 12 inches
Weight: 8.2 pounds
This stylish soft-sided suitcase is perfect for frequent flyers, and with additional expandability, it offers enough space to easily cater for family-sized adventures. Made from superstrong polyester and available in an attractive blue and grey color, this case is durable enough to handle the bumps and knocks of air travel.
On the inside, the large main compartment features compression straps to keep your belongings neatly organized in transit. There is also a separate zippered mesh compartment in the lid for smaller items, and the zipper expansion system offers those all-important extra inches.
On the outside, the 2 front panel pockets keep travel documents close at hand, and an additional side storage pocket is useful for items you need to grab quickly.
With a lightweight aluminum locking telescopic handle and 360-degree multi-directional spinner wheels, this case is easy to maneuver despite its size. The integrated ID tag will help you to find your case on the carousel, and the Swissgear quality ensures that this case will be with you for many years.
What We Like
2 handy external pockets for separating items and for quick access
What We Don't Like
Doesn't come with a TSA lock
The Best Swissgear Duffels and Rolling Travel Bags
Keep Your Gear Close by With This Under-Seat Travel Bag
Wenger/SwissGear 600659 Wheeled Laptop Case
Dimensions: 16.5 x 13.7 x 9.8 inches
Weight: 8.1 pounds
This softshell bag with wheels is compact enough to fit neatly under your seat while still being big enough to handle a change of clothing and other travel essentials. The quick-access front compartment has lots of handy pockets and pouches for holding your travel documents and other valuables and has a double zipper to control how much you open the compartment.
The main compartment can be opened like a suitcase for easy packing and is spacious with interior straps to hold your clothing safely in place. Towards the front of the bag, there's a separate padded compartment for a 17-inch laptop which is held securely in place with a Velcro strap.
With smooth in-line skate wheels that quietly glide through the terminal and a front stand that doubles up as a handy carry handle, this bag is easy to maneuver and lift in and out of places.
What We Like
The perfect size to store under most airline seats
What We Don't Like
In-line skate wheels that won't suit travelers that like a spinner case
A Wheeled Garment Bag With Plenty of Space for All of Your Accessories
Swissgear 7895 Full Sized Wheeled Garment Bag
Dimensions: 24 x 23 x 9.5 inches
Weight: 11.6 pounds
Perfect for business trips or special occasions, this garment bag is roomy enough to hold your clothing and accessories while keeping all your travel essentials in 1 place. There is also a matching wheeled duffel bag available in this collection.
Despite its compact dimensions, the inside of this bag unfolds into 4 sections with zippered pockets for accessories, a hook for a hanger, and compression straps that help to keep your clothing wrinkle-free in transit. There are also 2 further shoe pockets and a line of smaller pouches for keeping personal items, toiletries, or jewelry safe on the go.
The full side zipper opening makes it easy to pack and unpack your outfits, and the separate wet bag keeps your dirty clothes away from the clean ones. Complete with 2 tip and roll wheels and a retractable handle, this bag is also supereasy to pull along behind you while breezing through the airport.
What We Like
Keeps clothes neat and wrinkle-free
What We Don't Like
Zipper pulls can sometimes break
A Compact Garment Bag With Full-Size Benefits
Swissgear 6067 21″ Garment Duffel Bag
Dimensions: 23 x 15 x 12 inches
Weight: 2.75 pounds
Make business trips, lunchtime gym sessions, or special occasions easy with this garment duffel bag that unzips easily to convert into a hanging bag. Keep your suits, shirts, dresses, or other clothing items wrinkle-free to ensure you are looking sharp from the outset.
The main compartment has enough room to hold a weekend's worth of outfits, while the additional internal sleeves are perfect for storing your shoes and other personal items. The zippered front and back pockets offer easy access to your travel documents, wallet, and other essentials, and the external side pockets will hold your files and documents on the go.
This innovative garment bag looks and handles like a duffel bag with a detachable and adjustable shoulder strap as well as a top grab handle.
Made from super durable polyester material and with a bag trolley strap to slide over your suitcase handle, this is a great addition to your travel luggage.
What We Like
Internal compartments for shoes and other items
What We Don't Like
No wheels for easy transportation
A Reliable Duffel Bag for Day to Day Use
Swissgear 9000 26" Apex Duffel Bag
Dimensions: 15 x 26 x 12 inches
Weight: 2.9 pounds
Compact and lightweight, this deceptively spacious duffel bag is perfect for the gym, school, college, or even an overnight stay. This practical duffel bag is incredibly spacious and extremely durable in blue, grey, black, or red.
The large main compartment has enough space to hold several changes of clothing, shoes or books, files, and other essentials, and the large top opening makes it easy to pack and unpack your gear on the go.
An additional front zip organizer compartment comes complete with a key clip and divider pockets for ID, pens, and a smartphone, and there are a further 2 large side zip pockets for other essentials.
The detachable shoulder strap is padded for extra comfort, and the grab handle can be used to lift the bag off the floor or in and out of the trunk. For additional storage, this clever duffel even offers a bungee-cord system to let you hold extra gear, as well as a mesh water bottle holder to help keep you hydrated on the go.
The Apex duffel bag is available in both 20-inch and 26-inch options.
What We Like
Padded shoulder strap and comfortable carry handle
What We Don't Like
No waterproof pocket for wet clothes
A Creative Storage Solution for Short Trips Away
Dimensions: 16 x 16 x 8 inches
Weight: 7.2 pounds
Make overnight stays effortless with this rolling tote bag that offers a creative storage solution for short trips away. With enough space to carry both a change of clothes and your work gear, this is a great bag for business trips, school, or college.
With an internal compartment that is perfect for storing files and other work essentials, as well as a good-size main storage place for your clothes and personal effects, this rolling tote bag is great for both business and pleasure. Easy access organizer pockets and compression straps to keep your clothing all in 1 place help you keep your gear organized.
The telescoping handle system and in-line wheels make for easy handling and a smooth and quiet ride for increased convenience.
What We Like
Compartments for your laptop and documents
What We Don't Like
No strap to attach to a suitcase
Final Thoughts
Swissgear offers practical, durable, and great-looking luggage with mid-point price tags, making it a sensible and attractive proposition for almost every kind of traveler. It is hard to go wrong with Swiss design, engineering, and looks, and with a company with a history going back to 1893, there is a lot to love.
Looking for other great brands of luggage? Explore our guides on the best American Tourister, Travelpro, OGIO, Delsey, Osprey, Eagle Creek, Hartmann, Samsonite, and Briggs & Riley luggage.