The 10 Best Eagle Creek Luggage of 2021 [Carry-On, Checked, Backpacks & More]
Way back in the 1970s, Eagle Creek started producing durable, high-quality, cleverly-designed backpacks for errant adventurers to take with them all around the world. From this small and very focused target audience, its popularity grew, and now it is one of the most highly revered names in luggage for those looking to explore the world without limits.
Why Buy Eagle Creek Luggage?
Eagle Creek bags, cases, and other accessories are famous for carefully curated designs that encapsulate all of the needs of the modern global traveler. Lightweight for longer hiking, spacious for longer-term adventures, and affordable for all, the Eagle Creek brand is one of the most popular luggage manufacturers in the world today.
Made from incredibly durable material, its ranges are made to last. Rugged rucksacks, carry-ons, duffels, and even cases are available in a wide range of muted colors and minimalist designs to ensure that practicality remains the most important feature. The sturdy construction is one of its major selling points alongside its "No Matter What" lifetime warranty.
As a company that has made it its mission to make traveling easier, it should come as no surprise that it also provides some seriously useful travel features and accessories along the way.
These include back panels to attach your rucksack to your suitcase handle, integral tri-fold garment carriers, 360-degree expansion capability, stow away rucksack handles, secure-zip toggle, and even packing cubes and mesh cubes for better organization.
Bottom Line: From fanny packs, slings, and daypacks through to wheeled bags and extra-large suitcases, Eagle Creek really does have luggage to suit every adventure.
The Best Eagle Creek Luggage
While Eagle Creek has many different pieces to choose from, here are some of our favorites.
A Super Light Duffel for Serious Adventurers
Eagle Creek Cargo Hauler Ultra-Light Duffel Bag Backpack
Dimensions: 12.5 x 22.75 x 8.75 inches
Weight: 1.8 pounds
This 45-liter duffel bag offers an amazing amount of space for your belongings, but the range also offers a variety of sizes, including 60-, 90-, and 120-liter options. Made from super-durable, water-repellent fabric, this is a lightweight and versatile luggage solution for those who like to travel light.
For ease of use on the go, this duffel comes complete with side grab handles, padded top haul handles, and removable backpack straps, making it easy for you to find your perfect way to carry. It also has 6 lash points that allow you to attach the bag to roof racks if and when you need to.
On the inside, the bag offers an internal divider to help keep your gear organized. The zippered end pockets are useful for housing stuff you need to access quickly, and the U-shaped zipper opening makes it super easy to pack and unpack in an instant.
The bag also integrates nicely with Eagle Creek's Pack-It System of packing cubes and holders to help keep you even more organized, wherever you are headed.
What We Like
Storm flap over zippers for extra water resistance
What We Don't Like
Backpack straps could be more padded
Pack and Play With This Lightweight Daypack
Eagle Creek Packable Daypack
Dimensions: 11 x 17.75 x 4.75 inches
Weight: 0.5 ounces
Designed for easy use on a daily basis, this backpack is made from 70D heathered nylon, a durable and lightweight fabric that will stand up to the toughest of conditions. It is available in classic black or bold, bright "blue sea" colorways, so finding the right one to suit will never be a problem.
Perfect for day trips, commuting, and even school or college students, the daypack has an easy to open and access front zipper main compartment that will hold everything you need and a little bit more. There is also a useful separate front pocket for fast access. In case you are worried about the security of your gear on the go, this nifty little bag even features lockable zippers to keep everything secured.
With a key fob in the front pocket that can also be used to attach the pack to your luggage and a side mesh water bottle pocket for easy hydration, this daypack is set up much better than many other similar daypacks. What's more, this model can also be folded up and packed neatly into the front pocket when not in use. Perfect for practical packing on the go.
What We Like
Can be folded in on itself for easy carrying when not in use
What We Don't Like
The straps could be more durable
A Wheeled Softside Suitcase With a Smooth Ride
Eagle Creek Tarmac Wheeled Luggage — Softside 2-Wheel Rolling Suitcase
Dimensions: 18.5 x 29.5 x 14.5 inches
Weight: 10.8 pounds
This popular and practical wheeled suitcase comes not just in this super-spacious 29-inch version, but it is also available in 21.5-, 22-, and 26-inch versions as well. Choose from black, green, or blue to suit your preference.
Made from Bi-Tech and Bi-Tech Armor fabric, this case is designed to be abrasion and weather-resistant, as well as super-durable and long-lasting. With oversized treaded wheels, you can be sure of a smooth ride on any terrain, and the heavy-duty wheel housings are kept safe by skid plates with bumper protection.
On the inside, the case has plenty of space to hold all of your gear and includes a sleeve for your laptop and other electronics, as well as compressions straps and external lash points to keep your stuff in place during transit. For added peace of mind, this case also offers puncture resistance, 10 lockable zippers, and a central lock point to keep your stuff supersafe.
What We Like
Expands for up to 2-inches of extra packing space
What We Don't Like
Can tip over with heavy items in the front pockets
A Duffel Bag With a Difference
Eagle Creek No Matter What Flashpoint Travel Rolling Duffel Bag
Dimensions: 30 x 15 x 14 inches
Weight: 3.14 pounds
Made from advanced Bi-Tech fabric, this large size rolling duffel bag is also available in a 36-inch extra-large size, too. With an abrasion-resistant and weatherproof exterior and an incredibly spacious interior, you can carry up to 105 liters of gear with you. It also offers different carry options so you can find the most comfortable way to evenly distribute the weight of your belongings.
Internally, the main compartment has plenty of space for everything you need to enjoy long trips and wilder adventures. There is also a front zipper pocket for stashing items nice and quickly, as well as external compression straps for convenient packing. When you are not using your duffel bag, you can fold it up small, wheels and all, and pop it in its very own pouch.
For ease of movement, this duffel bag has oversized, heavy-duty, treaded wheels that are tucked away in a protective wheel housing, making it super easy to pull your duffel when it is easier to do so. Great for camping trips, vacations, road trips, and much more, this is a spacious bag that is incredibly easy to maneuver.
What We Like
No internal frame keeps this duffel incredibly lightweight
What We Don't Like
Doesn't have a retractable handle for pulling
A Big-Hitting Duffel for 98 Liters of Gear
Eagle Creek ORV 2-Wheel Duffel Bag, 30-Inch, Asphalt Black
Dimensions: 16.5 x 30 x 15 inches
Weight: 9.15 pounds
Made from Bi-Tech Armor materials that offer impressive abrasion and weather resistance, this spacious wheeled duffel bag is available in black, green, or gray colorways. Durable, strong, and easy to carry, this duffel can hold up to 98 liters of gear for your next adventure.
With a padded laptop sleeve, shoe compartment, outside gear attachment, and seam-taped wet/dry compartments, you've got plenty of choice for where to pack your gear. Featuring the innovative Eagle Creek Equipment Keeper that holds your gear to the top of the bag tightly and a cargo net that can be used for internal compression, your clothes will remain neat and accessible throughout your trip.
For easy maneuverability, this duffel bag also comes complete with oversized treaded wheels with heavy-duty wheel housings, while the puncture-resistant lockable zippers and central lock point will keep your gear safe on the go. As an extra bonus, it also has a Porter Key key fob and bottle opener, too.
What We Like
Smooth-rolling and durable wheels
What We Don't Like
Zippers can be a bit tricky to access with lots of material in the way
A Business Brief That Is Never Boring
Eagle Creek Convertabrief
Dimensions: 8 x 12.8 x 17.8 inches
Weight: 14.1 ounces
Because the good folks at Eagle Creek know that sometimes you need to mix business with pleasure, they have designed a checkpoint-friendly laptop bag that will keep your equipment safe on the go.
Made from super-tough water-repellent material, and featuring tuckaway backpack straps and a grab handle for extra levels of versatility, this is a great bag for business travelers and those who like to stay connected wherever they are.
Large enough to safely house a 17-inch laptop and offering a separate laptop sleeve, there is also a zippered pocket, pen slot, and key fob, as well as a back slip panel to attach the bag to your suitcase handle.
For your peace of mind, there are also puncture-resistant zippers as well as a central lock point for securing the bag closed, and reflective easy-grip zipper pulls for ease of use. This is a super useful addition to your Eagle Creek luggage collection that also works well as a stand-alone piece for every kind of traveler.
What We Like
Laptops can be left inside when clearing security
What We Don't Like
Backpack straps could be more padded
An Ergonomic Backpack Perfect for Women
Eagle Creek Global Companion Women's Ergonomic Travel Backpack With Laptop Sleeve
Dimensions: 22 x 14 x 9 inches
Weight: 3.5 pounds
Designed and shaped to fit the female form, this backpack offers supreme comfort, ergonomic support, and lots of practical storage space. Perfect for days out, nights away, or just everyday use, the 450D geo ripstop and 600D helix poly-nylon construction will ensure that it will certainly go the distance.
With a large butterfly opening for easy access and 2 separate internal compartments, you can take quite a bit of gear with you. There is also a mesh compartment for easy viewing, a padded 17-inch laptop sleeve at the back of the main compartment, and 2 further zippered front panel pockets that are perfect for superfast storage when you need it. Internally, there's a padded electronic pocket, a key fob, and a pen slot.
For your increased security, the lockers on this backpack are completely lockable, and for your comfort, there are padded and moisture-wicking backpack straps as well as a hip belt and sternum strap to help you comfortably balance the weight load.
What We Like
What We Don't Like
No back cover to pack the straps away if needed
Increase Your Luggage Capabilities With Expandable Luggage
Eagle Creek Load Hauler Expandable Luggage
Dimensions: 14 x 22 x 9 inches
Weight: 1.13 pounds
This clever carry bag features zip-away backpack straps, removable padded shoulder straps, and multiple grab handles, meaning you can wear it one of 3 ways. In addition, the cleverly designed zippered 360-degree bottom expansion capability allows you to carry up to almost 60 liters of gear when you need to, and compress back down again when you don't.
Constructed with exoskeleton technology, and reinforcement in the parts of the bag that are likely to suffer the most amount of stress, this lightweight bag is incredibly strong and most definitely built to last. Geo ripstop and ballistic fabrics protect against water, tears, and rips, and the reflective accents will help you to be seen in the darkness.
On the inside, there is a large main compartment that is big enough to hold all of your essentials that are secured with lockable zippers with finger-friendly pulls. The flexibility of this piece, combined with the extra storage capacity makes it an excellent choice for anyone who wants to carry that little bit more.
What We Like
Expandable and compressible depending on your packing needs
What We Don't Like
Not the most comfortable to carry as a backpack for long periods
Solid Wheeled Carry-on Offering by Eagle Creek
Eagle Creek Gear Warrior Carry-On Wheeled Luggage Softside 2-Wheel Rolling Suitcase
Dimensions: 22 x 9 x 13 inches
Weight: 7.2 pounds
This carry-on size case is spacious enough to carry as much as you need for a short trip away, but if you need more, it is also available in a selection of larger sizes, too. You can also make use of the expandable main compartment to buy yourself a few extra inches, or attach it to a larger case using the gear attachment.
On the inside, you will find a pretty good-sized main compartment that comes complete with compression wings for a snug fit, and a mesh pocket for keeping smaller items safely stowed. On the outside, the front compartment houses a padded tablet sleeve for easy access to your tech on the go.
The Equipment Keeper feature on the top of the case will hold your jackets and extra bits and pieces safe, while the water-resistant, sustainable fabric shell with laminated exoskeleton will keep your belongings safe while in transit. For a smooth ride, the ultra-durable treaded spinner wheels are just what you need.
What We Like
Handy Equipment Keeper to secure loose items to the top of the bag
What We Don't Like
Exposed handle internally can crease clothes
Keep Hands-Free With This Crossbody Bag
Eagle Creek Sling Bag Crossbody Backpack–Travel Multiuse Unisex Fanny Pack
Dimensions: 12.75 x 9.25 x 3.5 inches
Weight: 14.1 ounces
Enjoy the flexibility of hands-free organization with this versatile and practical crossbody travel pack. Whether you sling it across your shoulders or wear it around your waist, this is a super-useful addition to your main luggage and one that makes light work of excursions and days out.
The good size main compartment will hold essentials such as your wallet, cell phone, and money, while the fleece-lined electronic pockets even have the capacity to hold your tablet. There is also a zippered front pocket for quick-grab items and a hidden pocket on the back for stashing your valuables in.
Made from PVC-free material and easy to wipe down or wash when necessary, this little pack can hold more than you might imagine and comes complete with secure zip toggles and a central lock point. Cute and super useful.
What We Like
Fleece-lined electronics compartment
What We Don't Like
Crossbody strap is not padded
Final Thoughts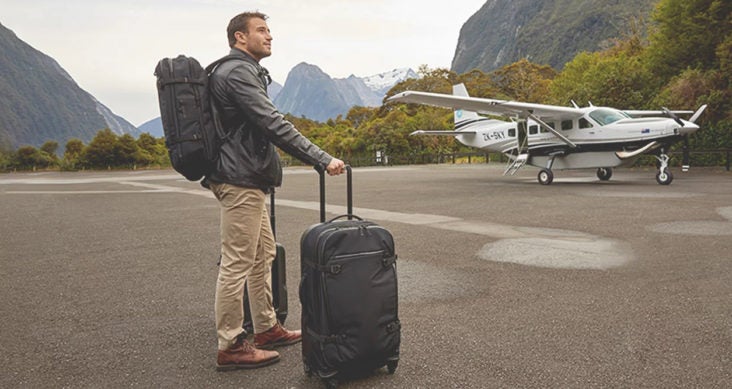 Investing in a piece of Eagle Creek luggage is a major investment in your wildest travel adventures. For nearly half a century the company has produced high-quality pieces that are super functional. From the smallest of backpacks to the largest of suitcases, Eagle Creek will get you to where you want to be.