The 15 Best Checked Luggage Bags for Any Traveler in 2021
Carry-on luggage is all well and good if you're only going on a short trip, but if you are planning on staying away longer, you'll need a substantial suitcase that can be checked into the cargo hold.
Whether you choose to check an über-modern hard-shell spinner case, a traditional fabric case, or a big ol' backpack, you should do your research to find the size, shape, and style of luggage that works best for your next adventure.
Things To Consider With Checked Luggage
Checked luggage is bigger, bulkier, and usually more cumbersome than cabin cases. How you transport it to and from the airport, as well as the physical weight and size restrictions on the aircraft itself will affect the type of checked luggage you can use on an aircraft.
Size
Carry-on luggage is easy to handle, but it can lack the space your need for bigger adventures. If you're planning to check your luggage this time, treat yourself to one of those bigger suitcases you've had your eyes on.
Most manufacturers make cases, backpacks, and even bags in a variety of sizes, so you could even drop a few dollars on a matching set. Remember that medium cases are easier to transport than super-sized ones (and lighter, too).
Great big cases are hard work to roll around the airport, and every carrier has restrictions on the size and weight they'll accept — so check with the airline before you fly.
Hot Tip: As a general rule, 62 linear inches is usually the maximum allowed bag size for most domestic and international carriers.
Weight
Don't be that person at check-in unpacking their overstuffed suitcase to make it weigh less. Check with your airline before you fly to find out their weight limit guidelines for checked luggage. Most airlines will charge extra for bags that weigh over 50 pounds (or may even refuse them at check-in).
You may be able to escape the weight restrictions by checking more than 1 suitcase at a time, but you will usually be charged extra for this privilege (and not every airline on every route will offer this service).
Backpack vs. Suitcase
When it comes to checked luggage, this is really down to what suits you best and how you intend to carry your belongings when you reach your destination.
If you are backpacking around the globe, you should probably invest in a pack of some kind with lots of bells and whistles. But if you're planning a vacation in a fancy resort, a suitcase will be just fine.
Bottom Line: The best type of luggage is the one that matches your needs both when you fly and when you to your destination, so don't lust over something unsuitable — buy to suit your needs instead.
Wheels
Suitcases with 2 wheels are easy to pull behind you and will be better equipped to move over rougher terrain, while the 4-wheeled versions can glide along next to you and are much easier to manage in tight spaces such as airplane aisles.
Cost, practicality, and personal preference are all major factors in choosing a 2- or 4-wheeled option. You can glide a 4-wheel spinner case with ease in the airport, but it could easily get stuck on bumpy sidewalks or uneven pathways.
A 2-wheeled version can be hauled over anything, but it can also be unsteady and cumbersome. Test "drive" a few suitcases before you buy!
Handles
A sturdy handle is an absolute must on a medium or larger suitcase. No one wants to end up having to carry their case around the airport — those wheels are there to be used!
Telescopic handles that fit neatly inside the frame of the case when not in use are a common feature of full-size suitcases. If you are buying a premium brand, they should also come with ergonomic handles to prevent your hands from becoming raw when pulling that case from one country to another.
Hot Tip: Look for a suitcase handle that has a selection of stop heights. That way, even the tallest and smallest members of your family can pull it with ease.
Zips and Locks (TSA)
The TSA requires that every passenger traveling to or from the U.S. that uses a lock to secure their luggage must use a TSA-approved lock.
Every passenger's bag is screened before it's placed on the plane, and the TSA can choose to open a passenger's luggage for closer inspection at its discretion.
When this occurs, if the luggage has any lock other than those approved by the TSA, they will destroy it to gain access. So invest in a TSA-approved lock or bag with a zipper to ensure your bag doesn't arrive half open and wrapped in notorious TSA tape.
Hard or Soft Luggage
Choosing whether to get a shiny new hard-shell case or a sporty-looking soft-shell is another tough call you'll have to make.
Hard cases can be incredibly durable with sleek curves and colorful exteriors, but they offer less flexibility in terms of interior space (and are more prone to wonky wheels and failing handles).
Soft cases are sometimes less to look at, and they don't offer quite the same level of reinforced protection. However, they often have more usable internal space, useful external pockets, and are far lighter to carry and easier to maneuver.
Quality and the durability of any case will depend on the make and model, so remember the old adage "buy cheap, buy twice" before you commit.
Material and Durability
Hard-shell suitcases are made from durable materials that will take the common knocks and bangs associated with air travel in stride. The most popular hard materials are polycarbonate, aluminum, ABS, and polypropylene.
When it comes to soft-shell cases, don't let the fabric put you off. They're not made from fine silk and won't fall to pieces at the first touch! Usually, these are manufactured using super-strong synthetic materials such as ballistic and Cordura nylon, or polyester if you opt for a lower-cost option.
Hot Tip: Need help getting organized? Check out our complete travel packing checklist and the best tips for packing. Pack smarter for your next trip with packing cubes, a travel dopp kit, toiletry bag, jewelry case or organizer, laundry bag, or portable scale. 
The Best Hard-Shell Checked Luggage Cases
For Those Who Demand Performance and Good Looks
Samsonite Omni Pc Hardside Spinner 28
The Samsonite brand is synonymous with great-looking suitcases that are tough as nails. Their Omni is no exception; its injection-molded polycarbonate shell looks super cool and is designed to withstand even the toughest of aircraft journeys.
Sleek and shiny on the outside, the micro-diamond texture is extremely scratch-resistant, meaning your case will look great no matter how many times you use it. It should also remain super easy to maneuver, as the 4 spinner wheels require pretty much zero effort to move around — you can practice 360-degree upright turns in any direction with just a light touch of your finger.
TSA locks come standard across the range, which means agents can access your bags when they need to, and your belongings will remain safe from malicious intrusions.
Weighing in at 10.5 pounds, this case will eat into your weight allowance without even a pair of socks packed inside — but it is also one of the most practical and durable cases out there.
Available in 20-, 24-, and 28-inch sizes, and a nice range of sophisticated colors, these Samsonite cases should be a feature on anybody's list of best luggage options.
What We Like
Integrated TSA lock for security
What We Don't Like
No bottom handle for lifting
The Premium Checked Luggage
Briggs & Riley Baseline Expandable Upright
As one of the most popular manufacturers of cases in the U.S., it should be no surprise that Briggs & Riley have come up with yet another practical and supercool suitcase with its Baseline range. It does, however, come at a premium price.
Available in a choice of 19-, 21-, 22-, 25-, and 28-inch versions, you should easily be able to find the right fit for you. Or buy 2: a matched set to check and carry-on!
Made from 1680D ballistic nylon outer fabric, this case promises to resist moisture and dirt as well as the wear and tear of everyday air travel. The hybrid fiberglass frame is lightweight and provides flexibility, durability, and the ability to cleverly retain its shape.
Perhaps most impressive is the patented CX expansion-compression system that comes as standard across the range, allowing you to increase your packing capacity by a whopping 26% while compressing back to the original size to keep the contents secure.
It also has an "aircraft-grade" aluminum handle system with 4 stop heights to suit the size of every traveler. Holding between 72.5 and 90.2 liters of personal belongings, this suitcase is a great option for anyone looking to check their luggage.
What We Like
Handy mesh pockets that minimize your clothes getting wrinkled
What We Don't Like
Might be a bit out of budget for many travelers
For the Fashion Conscious Traveler
Delsey Luggage Helium Aero 25 Inch Expandable Spinner (We Travel With This One!)
This suitcase looks really nice! It also wheels well and has plenty of space for lots of belongings. Unlike some of the other hard-shell cases on the market, the Aero from Delsey also has the capacity to expand a little bit, so you can drop in some souvenirs during your return journey.
Made from 100% polycarbonate, the case itself should remain durable throughout its lifetime. Available in a selection of colors, the shiny, molded case is an absolute stunner.
Internally, it is also impressive, with 2 full packing compartments, a separate lined divider, tie-down straps, and a zippered pocket for small accessories. These are allegedly there to minimize the shifting of contents during transit, though for most of us they just secure the extra items we throw in at the last minute.
The double spinner wheels are small, yet somehow really smooth and effective, while the handle feels sturdy enough to take the weight of your case (even when really full). No tipping here — the double-wheel setup will prevent the embarrassment of a falling suitcase as you wait in line to check in.
Finally, the designers at Delsey have been thoughtful enough to include a TSA-acceptable lock in the design, meaning TSA agents can easily open and inspect your bag should they need to.
Available in 21-, 25-, and 29-inch versions, these are good solid cases with a fashionable edge.
What We Like
Handy mesh pockets that minimize clothes wrinkling
What We Don't Like
Might be out of budget for many travelers
Beautiful and Functional Hard-Shell Case
Samsonite Winfield Hardside Spinner Suitcase
Of all the Samsonite luggage pieces, this is by far the best-looking. This beauty has a full-capacity design that offers tons of space for your belongings. Made from 100% polycarbonate, this case is made to absorb impact by flexing under stress and magically popping back into its original shape.
The lightweight locking telescopic handle has plenty of different height settings and is almost as strong as the case itself — perfect if you need something to lean on while you wait in line. The clever unified brushed pattern helps hide any unsightly dents or dings, though this case should be strong enough to handle anything that's thrown at it.
And it's not just the exterior that's impressive either. Inside the case, you can use every inch of space to pack your belongings. There is also a fully-zipped interior divider and cross straps to keep your clothing in place during transit.
Need more space? No problem! The Winfield can expand up to 1.5 inches for all those extra souvenirs you need to bring home. And no more lugging a heavy case through the airport either — it moves effortlessly on 4 multi-directional spinner wheels.
For additional security, the case comes with side-mounted TSA locks that will deter thieves but make it easy for TSA agents who need to search your luggage. Chose from a variety of colors and sizes that range from 19 to 28 inches to suit your travel needs.
A great-looking case that's built to last, this is the crème de la crème of Samsonite luggage.
What We Like
Brushed pattern to hide scratches
What We Don't Like
Buyer pays shipping costs for warranty claims
A Rugged, Smart, and Spacious Aluminum Suitcase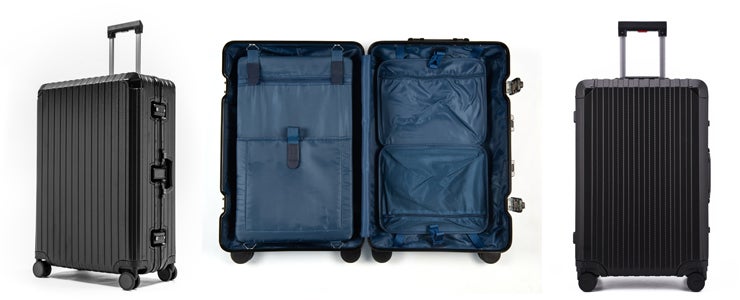 Hot Tip: Use special promo code UP25 for 25% off!
Checked luggage needs to be able to withstand the rough and tumble of international air travel, and only the most robust of cases are truly equipped to do the job without damage. The Trek Aluminum Suitcase is a hardy case that has been built with your next adventure in mind.
Made from a super-resilient aluminum-magnesium alloy shell that will withstand bumps and bruises, and reinforced corners that are designed not to crack or split, this is a serious contender for travelers looking for a suitcase that will last for many years to come.
With rugged good looks on the outside and smart design features like a zipper-less closure system and dual TSA-approved combination locks for ease of access when passing through security, this suitcase is much more than just a fashionable flight case.
The smooth-lined interior offers pocketed panels to keep your items separate when necessary. This case has 104.6 liters of interior packing space spread across both sides of the shell.
The respectful weight of just 14 pounds means the case is light and easy to maneuver even when full, and the sizable dimensions of 29.5 x 20.9 x 11.4 inches are handled effortlessly by the ultra-smooth 360-degree spinner wheels and aluminum telescoping handle.
Rugged good looks, impressive internal capacity, and a design that will withstand even the roughest of baggage handlers make this a great suitcase for long-distance adventures.
What We Like
Rubber seals and zipperless closure for security
What We Don't Like
A little on the heavy side
An Affordable Hardside Spinner
AmazonBasics Hardside Spinner Suitcase
Keep your cash free for spending when you arrive at your destination with this basic but brilliant budget hardside suitcase from AmazonBasics.
Along with an attractive price tag, this suitcase also offers plenty of similar features to those you'll find on suitcases twice the price (or more). You can easily create more space for your belongings — an expandable design provides an impressive extra 15% more packing space, perfect for longer trips or extra sweaters.
The interior is fully lined, and the handy divider will keep everything neat and tidy while you travel. Much like some of its more expensive counterparts, the AmazonBasics Hardside Spinner also offers extra zippered pockets you can use to keep smaller items or travel documents safe while on the move.
On the outside, it also looks every bit as good as any of the bigger brand alternatives, with its durable, scratch-resistant finish that will protect it against common damage from being knocked around on its travels.
What We Like
Expandable for up to 15% extra packing space
What We Don't Like
The telescopic handle can get stuck
Hot Tip: Looking for more options? Check out our separate review dedicated to the best hardside/hard-shell luggage. 
The Best Soft-Shell Checked Luggage Cases
A Light Yet Travel-Proof Suitcase
TravelPro Maxlite Expandable Spinner Case
Made from polyester fabric with a stain-resistant coating, this lightweight suitcase is perfect for anyone seeking a soft case that doesn't cost a fortune. This case looks just as good as many of its more expensive counterparts and is available in a variety of sizes.
Weighing a super light 5.9 pounds, you will have plenty of room within the weight limit to load up your belongings, and the top opening front makes it accessible to pack.
Expandable cases offer fabulous amounts of flexibility and can dramatically increase the interior space you have to play with. Taking the family away for a while? Unzip the concealed section on the front to fit in the extra gear you need.
Spinner wheels allow for easy maneuverability, while the handle is made from stronger stuff that slips away into the honeycomb frame with ease.
While this may not be the most exciting suitcase on the market, it is one of the best. According to TravelPro's website, this is the preferred case of cabin crew and frequent travelers, which would suggest it's worth exploring if you want to travel light, but travel right!
What We Like
Expandable for up to 2 extra inches of packing space
What We Don't Like
Can tip forward unless properly weighted
The Best Design for Frequent Flyers
TravelPro Platinum Magna Expandable Spinner Suitcase
TravelPro strikes again — but this time we've scaled up the additional features and headed toward the top of its range.
Roll with ease on the self-aligning, magnetic dual spinner wheels that will you have maneuvering this case on a dime. Or simply pull it along using the patented PowerScope aluminum extension handle that minimizes the dreaded wobble and has 3 different height stops for additional comfort.
Made from high-density ballistic nylon with a Duraguard coating, this case should be well-protected against both damage and dirt — and it looks like a really premium product that you would be proud to roll along with you. Top and side leather carrying handles, as well as a bottom cup handle, are there for you to comfortably lift your case off the carousel.
Need more room? You got it! This case is expandable up to 2 inches, which should be plenty of space to throw in an extra sweater or 2 without making it bulky or misshapen.
This lid-opening suitcase comes with lots of useful accessory pockets internally and a built-in suiter, and the wet pockets allow you to keep your toiletries or dirty clothes separate. Designed by a former airline pilot, these cases are lightweight, practical, and are made to withstand many, many miles of overseas adventures.
If it is good enough for an airline pilot who really has traveled the world, chances are this one is good enough for you too!
What We Like
Top, side, and bottom handles for easy lifting
What We Don't Like
Zipper pulls can sometimes break with regular use
The Best for Budget-Conscious Travelers
AmazonBasics Softside Spinner Suitcase
Not everyone wants to compete in the big-brand luggage stakes, and this suitcase is a good AmazonBasics alternative to some of the better-known brand names.
The low price tag means this suitcase is easily within range for most travelers. And while it may not last you a lifetime, it is a pretty good solution for those looking to travel occasionally, or on domestic flights.
This 25-inch softside spinner complies with check-in size restrictions and is lightweight enough to allow you to fill it with ease. Intriguingly, this case can shrink a little to fit into tight spaces or grow a little bit to allow you an extra 25% packaging capacity with its expandable top section.
You'll get smooth-rolling mobility in any direction with the 360-degree spinner wheels, and the telescopic handle can quickly be pulled out when you are on the move. Inside the suitcase is an effective organizer to keep your clothes safely stowed during transit and 3 zippered pockets for conveniently storing smaller items.
Low on price but not on quality, this basic case is a good option for those who want to spend more cash on vacation than they do on their luggage.
What We Like
Outer pocket for quick access to items
What We Don't Like
Soft-Shell Luggage for Premium Travelers
Samsonite Aspire XLite 25-Inch Spinner
This time Samsonite brings you the Aspire Xlite, a cleverly designed soft-shell case that has some intriguing features. The case is made from 1680D polyester, a man-made fiber produced by the polymerization of the product formed when an alcohol and organic acid react… now there's something you probably never knew before!
The case has the trademark Samsonite spinner wheels, allowing for zero-effort maneuverability on airport walkways and busy sidewalks alike. The retractable handle is a dream to use, as it glides seamlessly out from the case when you need to be mobile and then slips back into the frame when not in use.
Inside there is also plenty to write home about. Cross straps encourage your luggage to not move around in transit, and there are some cool extra features: a Wetpak bag that keeps damp items away from clean and dry ones, and mesh pockets for extra organization.
If you have utilized all of the pockets and space, you can add a little more by taking advantage of the expanding capability that adds extra capacity for more sweaters, shoes, or souvenirs.
At 9.5 pounds, this is surprisingly weighty for a soft-shell case, but it's also a premium brand that is made to last with lots of great quality features.
What We Like
Integrated wet pocket to keep other items dry
What We Don't Like
A little heavy for a softside bag
The Case for Families and Extended Stays
Briggs & Riley ZDX Expandable, Hunter, 29-Inch
With sleek curves and a sizable capacity for extra items, the ZDX suitcase from Briggs & Riley is another great case for checking when you travel. Being the largest in the range, this is the perfect case for anyone jetting off for an extended stay, or a family who has plenty of gear they need to take along.
This suitcase is made from lightweight, durable 800D ballistic nylon, and has reinforced corner guards for extra protection. The dual wheel spinning system makes light work of airport terminal walkways, while the patented outside telescopic handle provides easy handling and prevents your clothes from getting wrinkled when stored.
Once again, the brains behind the Briggs & Riley brand have included their patented CX expansion compression system, which allows you to increase your packing capacity by an impressive 34% before compressing back to its original size.
The self-repairing, durable YKK zippers are also a unique and well-thought-out feature that can be used with a standalone TSA lock, and the Smartlink strap attaches to another suitcase or a backpack for easy transportation.
Inside, you'll find a huge main compartment with tie-down straps and an additional 2 zippered compartments in the top for all those additional bits and pieces that need to come with you.
Big and beautiful, the ZDX suitcase really should be on your list if you do not intend to travel light.
What We Like
Handy luggage strap to join multiple suitcases together
What We Don't Like
Suitcases for Travelers Who Appreciate Unique Design
Victorinox Works Traveler 6.0 Softside Spinner Luggage, 24-Inch
Victorinox is famous for its Swiss army knives and state-of-the-art watches, but it's also becoming increasingly well-known for its luggage. Statement style with tons of practicality combines to make the Werks Traveler a great option if you prefer a soft-shell suitcase.
Flexible and super accessible, the interior space makes it easy for you to compartmentalize your belongings. We think this design would really appeal to business travelers who need to arrive ready to go.
Made from extra-strong nylon, this is one of the only cases on the market that comes with a Swiss-engineered handle system that is as awesome as Victorinox's knives and watches. It also takes inspiration from Japan with Hinomoto wheels that feature Lisof silent tires for quiet and quick maneuverability.
Inside the case, you can fit tons of stuff with the innovative Pack More System, complete with X-shaped compression straps, a removable trifold suiter, and 2 large mesh side pockets. Stash your laptop in the padded 15.4-inch laptop compartment, and you'll be on your way!
What We Like
Comes with a packing cube to keep clothing neat and tidy
What We Don't Like
Quite heavy for a medium-sized suitcase
The Best Backpacks and Duffel Bags for Checked Luggage
Pack Everything Including the Kitchen Sink
Eagle Creek No Matter What Flatbed Duffel Bag
Need something large enough to carry your entire closet? This could be the one for you. This massive 105-liter travel bag is the ultimate travel bag for globetrotters and comes complete with Eagle Creek's innovative No Matter What Warranty.
This huge, rolling bag is built to offer the ultimate in durability and is a firm favorite with those looking to embark on big adventures anywhere in the world. Made from Bi-Tech fabrics, you can guarantee your belongings will be kept safe in transit, and the huge internal compartment provides plenty of room.
When not in use, keep your duffel bag inside the handy storage pouch, which also doubles up as a bag to keep your shoes or wet clothing separate. Large treaded wheels make light work on uneven surfaces, and the hefty wheel housing adds stability and makes this bag easy to maneuver.
For that tricky terrain when wheels just won't do, you can carry your bag using the detachable shoulder strap or comfortable carry handles.
With a huge capacity to hold everything you need and more — and complete with a warranty that covers every eventuality — this is the perfect bag for the serious backpacker!
What We Like
Can be wheeled like a suitcase or carried like a shoulder bag
What We Don't Like
No internal storage compartments to stay organized
For Travelers Looking for a Big Bag on Wheels
Eagle Creek Gear Warrior Duffel Bag
Warrior by name and by nature, this supersized wheeled duffel is built with super cool "exo-Skeleton" technology, making it a great choice for those who want a backpack that's a little different.
Treaded wheels will make it easy for you to pull this beast through the busiest of airports, while the protective wheel housing and durable kick plate ensure maximum durability in a bag that can withstand almost anything.
With a huge 110 liter capacity, as well as the brand's own unique Equipment Keeper that allows you to strap gear to the top of the bag, you can carry all of your clothing, your sleeping bag, and much much more with you wherever you go.
Despite its size, this suitcase/duffel bag hybrid has a lightweight anodized aluminum dual-tube handle that makes light work of lugging this behind you. The reinforced Hypalon material also helps keep abrasions at bay so your bag will look fresh no matter what your adventures throw at it.
On the inside are a variety of compartments to keep your stuff stowed securely, as well as compression straps to help it keep its shape. Practical, lightweight, and impressively sizable, this is yet another great travel option from the wizards over at Eagle Creek.
What We Like
Made from 100% recycled PET ripstop and a recycled coating
What We Don't Like
Zippers can sometimes break
One of the Most Popular Backpacks on the Market
Osprey Farpoint 55 Travel Backpack
Osprey is well-known for its high-quality, super roomy backpacks. The Farpoint is no exception, and this particular model is big enough to take you anywhere in the world while still being light enough to be carried easily.
Don't want to carry a huge rucksack around when you reach your destination? No problem! Osprey's famous 2-in-1 backpack solution includes a detachable daypack that can be used for excursions and exploration when you reach your destination.
The Farpoint is made from durable ripstop nylon, and the backpack will remain comfortable to carry thanks to the stowaway back panel, harness, and hip belt that can easily be adjusted to fit your size.
There is a large zip panel to the main compartment that makes it a cinch to pack and unpack, and the numerous zippered compartments are perfect for hiding valuables or items you need easy access to.
What We Like
Includes a detachable daypack
What We Don't Like
No wheels to use as an alternative method of transportation
Hot Tip: The Fairview is similar in design but has been designed with women in mind, offering slightly varied dimensions to suit the female frame. If you don't feel the need for the detachable backpack, both versions are also available in the carry-on-sized 40-liter model, as well as 55- and 70-liter versions.
For Those Who Want an Osprey Pack on Wheels
Osprey Sojourn Wheeled Luggage, 28-Inch/80-Liter
This super-sized 80-liter backpack offers you 2 choices: roll it or wear it. Either offer an effective way to transport your belongings while enjoying your trip.
Featuring Osprey's very own AG AntiGravity mesh back system, this backpack is incredibly comfortable to carry, and the torso-adjustable harness and hip belt mean you can customize the fit to your frame.
Almost as advanced as a 4-wheel drive, the injection-molded HighRoad chassis is made from an ABS polymer plastic that makes it super hard-wearing and durable, while the polyurethane wheels are good to go over most types of terrain.
Internally, there are acres of space to stow your stuff. You'll find plenty of pockets as well as the patented Osprey Wash Bag Cassette that helps keep clean and dirty clothes separate — and a wipe-clean liquid/accessories pocket makes light work of cleaning up spills.
The internal compression straps allow you to fully maximize the capacity of this bag and are also really useful for securing your clothes during transit to limit creases and let you squeeze those last-minute extra items in.
If you want to go all out, the Sojourn is also compatible with Osprey's smaller day backpacks. The Daylight and Daylight Plus can be attached to the front, meaning you have a smaller, lighter option for daily use when you get there.
What We Like
Can be wheeled like a suitcase or carried as a backpack
What We Don't Like
The telescopic handle could extend longer
Final Thoughts
Checked luggage is nothing new, and travelers have been lugging huge suitcases around since commercial air travel was invented. What is new, though, is the huge variety of suitcases, bags, and backpacks that modern-day travelers can choose from.
Whatever your preference, go for quality, and be sure to check with your airline carrier about their checked luggage restrictions before you fly.