The 16 Best AmazonBasics Luggage Bags & Backpacks [2021]
AmazonBasics offer a great-looking range of practical suitcases, travel bags, and backpacks that are designed for travelers on a budget who don't want to compromise on quality.
Clever design features, durable materials, and affordable price tags make the brand one of the very best for anyone looking for great value luggage pieces.
Why Buy AmazonBasics?
The online retail giant Amazon launched the AmazonBasics brand back in 2009 to offer a range of basic electronic products that modern consumers crave at very affordable prices.
These products included electronic cables, blank DVDs, and other electronic peripherals and featured superfast delivery. Over the years, the AmazonBasics brand has extended the range to become a veritable emporium of everyday essentials, all available for very competitive prices.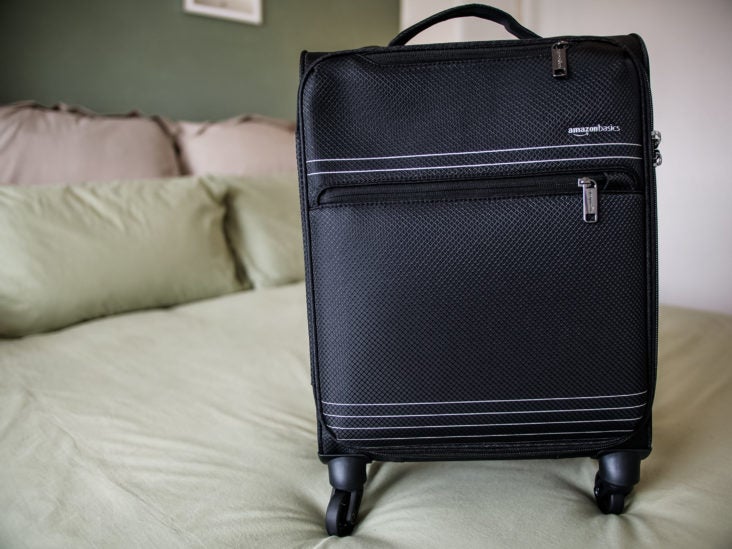 Offering excellent value for money, AmazonBasics can keep the cost to consumers down by skipping on the expensive packaging and relying on the excellent reputation of the Amazon brand and its huge global reach.
When it comes to luggage, AmazonBasics offers a varied selection of suitcases, duffel bags, backpacks, laptop bags, and even packing cubes, all of which are designed to work incredibly well in the real world.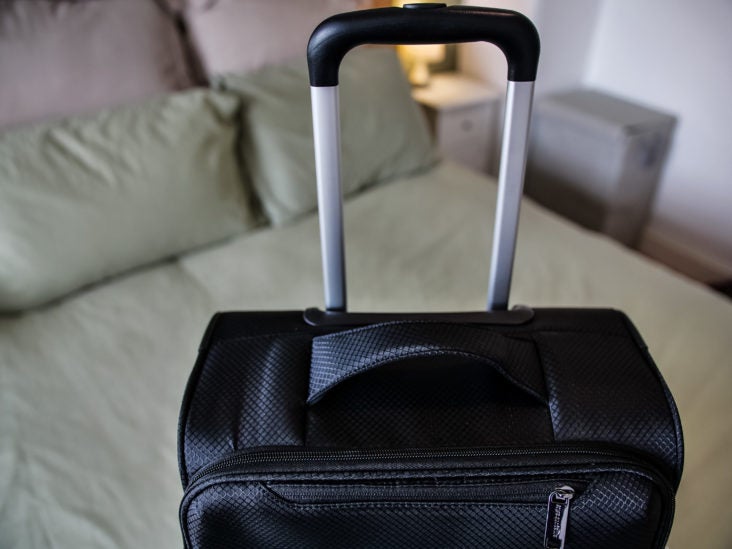 With smart colorways, textured finishes, and sleek good looks, the AmazonBasics range offers some of the same great features that you would expect to find in more expensive models.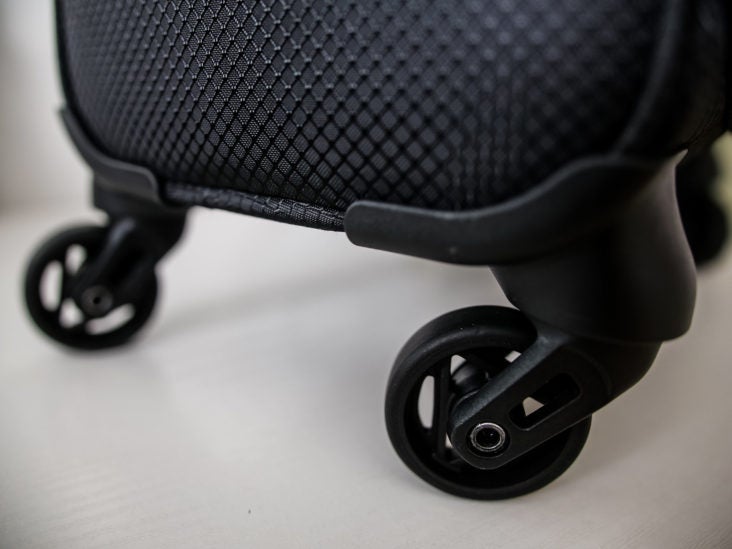 Smooth-running 360-degree wheels, retractable telescopic handles, and TSA-approved locks come as standard on many of its pieces, and its laptop bags and backpacks are just as suitable for business users as they are for students and travelers.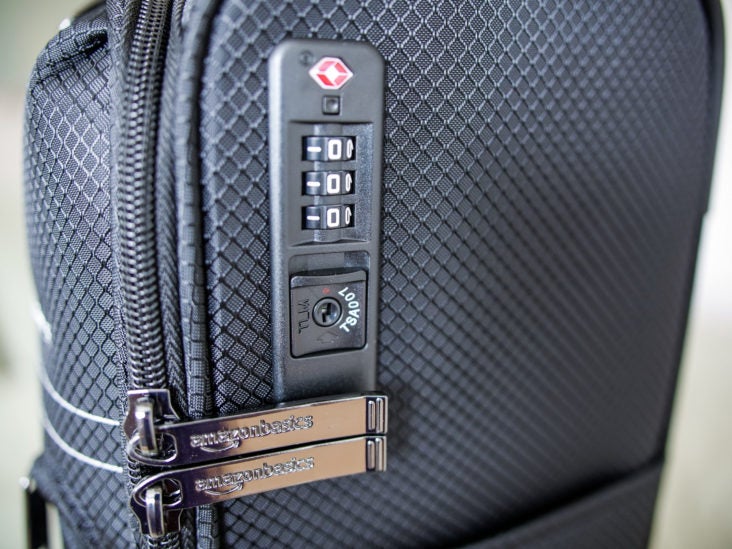 Available in a range of sizes from compact carry-ons to family-sized suitcases, the AmazonBasics luggage collection offers everything you could need for your next adventure.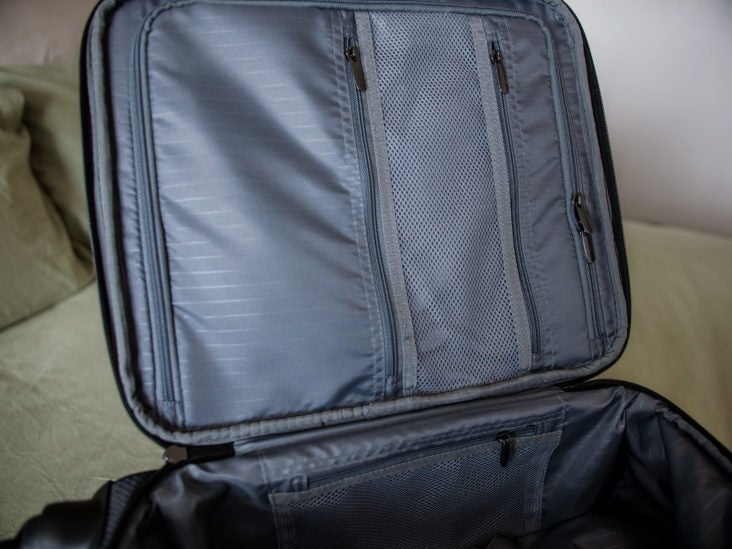 Hot Tip: Most pieces in the collection come with at least a 1-year warranty, and you can purchase matching sets to make the perfect luggage collection to cater to all of your travel needs. Consider purchasing your luggage with one of the best cards for extended warranty coverage for extra protection.
The Best AmazonBasics Luggage
The AmazonBasics range offers a wealth of great travel accessories, but here are some of our absolute favorites.
A Rugged Suitcase for All Occasions
AmazonBasics Hardside Spinner, Carry-On, Expandable Suitcase Luggage with Wheels, 21 Inch
Dimensions: 14.9 x 10 x 21.6 inches
Weight: 7.34 pounds
Made from super-durable, extra-thick ABS, this hardside spinner suitcase is just the right size for a few days away, and its compact dimensions will easily comply with most airline carry-on restrictions. The scratch-resistant finish is available in a choice of black, blue, orange, and navy colorways, and the distinctive ridge design offers designer looks at affordable prices.
On the inside, the fully-lined interior comes complete with a zippered divider to help you make better use of the space, and the interior organizer section with 3 zippered pockets keeps smaller items tidy in transit.
For those all-important extra inches, this case expands up to 15 percent to ensure you can squeeze in extra items, and the strong, solid zipper ensures that your case stays shut, even when it's full.
With 4 double spinner wheels offering smooth-rolling mobility in any direction, and a telescoping handle for easy maneuverability, this little cabin case offers all the features of much more expensive models, while still leaving you enough cash in your wallet to spend when you get there. A great choice for travelers on a budget.
What We Like
Great budget option and meets U.S. airline size requirements
What We Don't Like
Telescopic handle can sometimes stick when retracting
Designer Looks at Low Prices
AmazonBasics Vienna Spinner Luggage Expandable Suitcase With Wheels
Dimensions: 17.9 x 11.8 x 26.7 inches
Weight: 9.35 pounds
This handsome suitcase exudes designer good looks and ample storage space for everything you need for your next vacation. Also available in blue and red colorways and 21.6- and 30.7-inch options, this well-made, eye-catching case with upscale faux leather trims is anything but basic.
The exterior is made from ABS material with a micro-diamond finish for extreme scratch resistance, while the fully-lined interior is spacious and well-thought-out. With an easy clamshell opening and a selection of interior zipper pockets, you can pack and unpack quickly and easily knowing that even your smallest of items have a safe space in which to store them.
The 4 360-degree spinner wheels are quiet and smooth and can handle almost any surface, while the telescopic handle allows you to roll the case alongside you. Agile and practical, this is a beautiful-looking suitcase for fashion-conscious travelers who like to save money without scrimping on style.
What We Like
Stylish and comes in 3 beautiful colors
What We Don't Like
Hot Tip: For more excellent choices for an extended trip, see our guide to the best checked luggage bags for any traveler.
Sleek Good Looks and Expandable Packing Space
AmazonBasics Oxford Expandable Spinner Luggage Suitcase with TSA Lock 30.1 Inch
Dimensions: 20.4 x 12.6 x 30.1 inches
Weight: 10.76 pounds
With sleek modern looks and a practical interior, the Oxford suitcase offers the perfect blend of stylish good looks and incredible usability. Also available in smart red, black, and blue colorways and a choice of 21.6- and 28.6-inch options, this suitcase is versatile enough to see you through many adventures.
With a scratch-resistant monochromatic patterned exterior and a rugged, functional design, this case has been built to withstand the bumps and knock of air travel.
The good-size interior is fully lined, giving the case an upscale feel, and the multiple zippered pockets ensure that there is a space for everything you want to take with you. When you need to throw in that little bit extra, the zipper expansion capability offers you as much as 15 percent more packing space when you need it the most.
With smooth-rolling spinner wheels, you can glide this case alongside you through the airport, and the telescoping handle makes it easy to find the perfect height for your ongoing comfort. The extendable handle comes complete with a handy push-button mechanism for easy lifting. Overall, this is a great-looking suitcase that is practical, affordable, and perfect for frequent flyers.
What We Like
Zippered expansion system for 15% more packing space
What We Don't Like
Handles are not padded for comfortable use
An Expandable Softside for Extra Capacity
AmazonBasics Premium Expandable Softside Spinner Suitcase Luggage with TSA Lock and Wheels
Dimensions: 15.7 x 9 x 23.2 inches
Weight: 7.19 pounds
A premium suitcase without the premium price tag makes this sleek-looking suitcase perfect for business travelers and style-conscious travelers alike. Made from super-durable polyester material, this case has been built to withstand many miles of travel, and the molded corner guards and skid guard ensure your suitcase remains up to the job.
While this model is the perfect size carry-on companion, the range also features larger 25-, 27.7-, and 30.1-inch options, all available in a wide range of colors.
The large main compartment is deep enough to comfortably carry all your belongings, while the compression straps will keep everything neat and tidy on the go. The additional organizer pocket has mesh storage compartments that offer a safe space for your chargers, books, and other important travel items.
As you would expect from a premium spinner, the 360-degree wheels glide effortlessly and silently across the floor, and the telescoping handle makes it super easy to maneuver your way through even the busiest of airports.
Offering striking looks that belie the affordable price tag, and premium features like the support stabilizers that help to prevent the suitcase from tipping over, this is an awesome suitcase from AmazonBasics.
What We Like
Comes with an integrated TSA lock
What We Don't Like
Has very little zipper expansion
Classic Clean Lines With This Sleek Carry-On
AmazonBasics Lightweight Softside Spinner Suitcase Luggage With Wheels
Dimensions: 8.6 x 14.1 x 22 inches
Weight: 5.27 pounds
With its simple design and clean aesthetic, this cabin case offers the storage space and practicality you need for short trips away without worrying about check-in. Made from superstrong polyester and incredibly lightweight, this range is available in black, blue, grey, and red colorways as well as larger 27- and 32-inch options.
The spacious main compartment has enough room to hold all of your essentials, and the tie-down straps will keep your belongings neatly packed in transit.
With zippered compartments for smaller items and an external pocket for keeping your travel essentials close at hand, this lightweight rolling suitcase performs perfectly, while the recessed TSA-approved locks will ensure your gear stays protected on the go.
The 360-degree spinning wheels offering a smooth, fluid ride, and the telescoping handle feels strong and sturdy, making it easy to maneuver through the airport terminal. With an adjustable grab handle for quick lifts and a modern look, this affordable suitcase is just as good as many of its more expensive counterparts.
What We Like
Lightweight and easy to roll
What We Don't Like
Suitcase is slightly smaller than the sizes advertised
Best for Traveling Light
AmazonBasics Underseat, Carry-On Rolling Travel Luggage Bag With Wheels, 14 Inches
Dimensions: 13.3 x 9.4 x 14.1 inches
Weight: 4.7 pounds
Small but perfectly formed, this versatile and lightweight carry bag is just the right size for stashing under your seat when traveling. Offering easy access to all of your in-flight essentials, with the added bonus of spinner capabilities, this under-seat bag is perfect for savvy travelers who like to travel light.
With a good-size main compartment that offers plenty of space for a few changes of clothing, a spare pair of shoes, and your essential personal items, this is a compact alternative to a cabin case. With a front pocket for books, passports, and other essentials, you can keep everything close at hand during your journey.
The smooth-rolling wheels and long telescopic handle offer a smooth ride and easy maneuverability, while the clever pass-through strap on the bag offers the option of sliding the bag over the handle of your suitcase.
Compact dimensions offer useful additional storage for those who like to travel with just 1 bag, or anyone wanting to make a complete travel set for longer adventures.
What We Like
Handy front and side pockets for quick access to items
What We Don't Like
No padded storage for a laptop
Extra Space for Epic Adventures
AmazonBasics Ripstop Rolling Travel Luggage Duffel Bag With Wheels
Dimensions: 37.5 x 18.25 x 16 inches
Weight: 11.9 pounds
For really epic adventures, this rolling duffel bag offers all the space you need for all your belongings, complete with the benefit of added wheels, which make it an extremely practical piece of luggage. Made from sturdy polyester with a 1680D ripstop base and a 210D lining, this clever rolling bag is more than capable of coping with whatever your next adventure throws at it.
The large main compartment has plenty of room for shoes, clothing, and all your other essential items, while the zippered front compartment is perfect for grabbing items you need easy access to. The large U-shaped zipper opening makes it easy to load and unload your bag in a hurry, and the end pockets offer a safe space for headphones, books, and other travel essentials.
Offering the flexibility of a duffel bag, you can choose to use the removable shoulder strap if you need to carry it over rough ground, or enjoy the smooth-rolling capabilities of a suitcase with 2 in-line style wheels and a retractable telescoping handle.
Spacious, stylish, and sleek, this is the perfect bag for camping trips, overseas adventures, and expeditions where only the most rugged luggage will do.
What We Like
U-shaped zipper opening for easy access to the internal compartment
What We Don't Like
A little heavy for a duffle bag
Roomy Interior and Classic Good Looks
AmazonBasics Belltown, Softside Expandable Luggage Spinner Suitcase With Wheels
Dimensions: 16.1 x 10.6 x 25.9 inches
Weight: 6.88 pounds
This lightweight, medium-size suitcase offers all the space you need for longer trips away, and the 600D polyester exterior is more than capable of handling the stress and strains of frequent travel.
Available in a choice of black, gray, navy, purple, and blue colorways, and also in a more compact 21-inch option, you can build yourself a matching set that will suit your needs for every adventure.
On the inside, the large main compartment is complemented by an organization pocket that offers mesh storage and a zippered compartment for your smaller items. The adjustable compression straps help keep your clothes neatly folded in transit.
Offering the ability to expand to give you an impressive 25 percent more storage space, this case comes with strong zippers that are durable enough to remain secure even when fully loaded.
The telescoping handle is robust enough to allow you to maneuver easily across the concourse, and the 360-degree spinner wheels offer a smooth, quiet ride in any direction.
For easy access to your most important possessions on the go, the 2 exterior zippered pockets allow you to breeze through check-in, and the top, side, and bottom handles enable you to quickly retrieve your luggage from the carousel.
What We Like
2 front pockets for easy access to your belongings
What We Don't Like
Nice compact case, but too big to use as a carry-on
The Best AmazonBasics Backpacks
A Brilliant Basic Laptop Backpack
AmazonBasics Laptop Computer Backpack
Dimensions: 13.39 x 7 x 19.29 inches
Weight: 1.98 pounds
This great laptop backpack offers a ton of useful storage compartments in a sleek-looking backpack that won't break the bank. This backpack is an excellent choice for the daily commute, business trips away, or even school or college, is available in a black, orange, and white colorway, and has a laptop compartment large enough to safely house screens up to 17 inches.
As well as the dedicated laptop sleeve compartment, this backpack also features a separate padded tablet pocket, numerous zippered compartments, and an organizational sleeve for keeping your pens, keys, and cell phone safe on the go.
The external mesh pockets are the right size for holding drink bottles, while the front U-zip pocket has enough space for the essentials you need to access quickly.
To ensure your continued comfort while traveling, this sleek-looking backpack comes complete with adjustable and heavily padded shoulder straps that help keep that backpack comfortable even when fully loaded with all of your gear.
There is also a mesh compartment on the shoulder strap that offers super-quick access to your cell phone while you walk for even more practicality and convenience.
What We Like
Separate padded laptop compartment
What We Don't Like
No sternum strap for comfortable carrying
A Super-Stylish Backpack for Your Laptop
AmazonBasics Slim Carry-On Travel Backpack
Dimensions: 19 x 13 x 4.5 inches
Weight: 2.75 pounds
Super-slim and über-stylish, this backpack has a premium look and feel about it and is suitable for virtually any occasion. Available in a wide range of stunning colors, this backpack would be perfect for use at the office, at school, or even as an alternative to a tote bag.
The cleverly designed interior has lots of well-thought-out compartments designed to hold everything the modern-day travelers need to keep close at hand. As well as the dedicated laptop sleeve, there is also a fleece-lined, top-loading tablet pocket to ensure that your tech is well-protected in transit.
There is also a front storage pocket that offers easy access to your most used items, and a zippered side water pocket that can be zipped flat when you don't need to use it.
Another great feature of this awesome little backpack is the flexibility it offers when carrying. You can choose to use the padded and adjustable shoulder straps to carry it on your back or use the low-profile top and side grab handles to use it more like a briefcase.
With an additional pass-through panel on the back of the bag, you could even slip it over your suitcase handle to make the perfect travel set for longer adventures.
What We Like
Vertical and horizontal pass-through panels for attaching to cases
What We Don't Like
Quite a slim backpack, so it won't fit any bulky items
Keep Your Electronics Safe With Anti-Theft Features
AmazonBasics Anti-Theft Premium Backpack
Dimensions: 16.50 x 5.00 x 11.5 inches
Weight: 2.2 pounds
Knowing that your personal information is safe when you are traveling offers much-needed reassurance for anyone on the move. Whether you are concerned about crowded spaces, busy airports, or simply just want to know that no one can access your belongings without your knowledge, this cleverly designed backpack will give you the peace of mind you are looking for.
Made from tough and durable waterproof polyester material, this backpack offers an array of storage pockets and compartments, including a dedicated, protective laptop sleeve.
But perhaps its most impressive features can be found in the reinforced closures and hidden zippers, the invisible phone pocket, an invisible RFID compartment on the back, and the unique roll-top design that will keep your belongings safe and protected.
The shoulder straps are adjustable for added comfort, while the pass-through sleeve on the back allows you to slide the backpack over the handle of your suitcase.
What We Like
Has an external USB port for convenient charging on the go
What We Don't Like
Backpack straps are not particularly padded
Hot Tip: For more options, check out these anti-theft travel backpacks for both men and women.
The Perfect Backpack for Urban Adventurers
AmazonBasics Urban Backpack for Laptops up to 15 Inches
Dimensions: 17.8 x 11.45 x 7 inches
Weight: 1.95 pounds
Every urban adventurer likes to stay connected, and this sleek-looking backpack has plenty of space to keep all of your tech safe while you travel. Made from durable, water-resistant material and available in a selection of muted colorways, this is the perfect backpack for school, college, or the everyday commute.
With a selection of different-sized pockets and compartments, you can easily organize your gear on the go. With a fully padded laptop compartment, 2 side pockets, and a front zipper pocket, this backpack will keep all of your belongings secure, including laptops up to 15 inches.
With padded and adjustable shoulder straps, you can be assured of a comfortable carry no matter how long your journey, and the top-loading design offers easy access to your belongings in an instant.
What We Like
Multiple external zippered pockets and side pockets to hold a water bottle
What We Don't Like
No luggage strap to carry over suitcase handles
2-in-1 Backpack and Carry-On
AmazonBasics Carry-On Travel Backpack
Dimensions: 15.75 x 21.5 x 8.25 inches
Weight: 3.64 pounds
Designed with travelers' needs in mind, this modern-looking backpack is a practical alternative to a traditional briefcase, laptop bag, or carry-on. Made from durable polyester and available in black, navy, or red colorways, this larger-than-average backpack is perfect for business trips and everyday commutes to the office.
The roomy main compartment comes complete with double zippers for added security and external compression straps to help the backpack retain its shape. The zippered mesh compartment helps keep your items well-organized on the go.
The backpack also offers a front pocket for easy access to your travel documents, as well as a briefcase-style organizer with sleeves, zippered pockets, and a key clip.
With adjustable straps for added versatility, you can use the padded shoulder straps to carry on your back with extra support from the adjustable sternum strap, or remove these and use the removable shoulder strap for carrying like a tote bag.
The AmazonBasics travel backpack is an incredibly practical bag that can be used for both business and pleasure at a very affordable price.
What We Like
Has a removable sternum strap and waist belt
What We Don't Like
Internal compartment could do with some more pockets
The Best AmazonBasics Bags
An Awesome Camera Bag at a Very Affordable Price
AmazonBasics Large DSLR Camera Gadget Bag
Dimensions: 12 x 7 x 9 inches
Weight: 1.56 pounds
Perfect for keeping your beloved DSLR camera safe in transit, this camera bag has been designed to ensure that your gear can be carried with you everywhere you go. Made from strong and durable materials, this compact camera bag offers plenty of internal space to keep your camera and accessories safe and organized wherever you are headed.
The main compartment has a padded and removable organizer that can be customized to fit the size of your camera body, as well as offering enough space for up to 3 separate lenses and other accessories. There is also a padded slot to the rear that is just right for keeping your tablet or e-reader safe in transit, as well as dedicated from pockets for your cell phone and other essentials.
This bag also features an adjustable and heavily padded shoulder strap to help keep it comfortable no matter how long you need to carry it, and there are also adjustable straps on the exterior to attach and carry a tripod.
What We Like
Removable dividers to customize the internal compartment
What We Don't Like
Strap clips squeak loudly when walking
A Designer Duffel for Every Occasion
AmazonBasics Leather and Canvas Duffel Bag
This beautiful duffel bag offers roomy interiors and practical storage space wrapped up in an attractive and upscale-looking premium exterior. Made from rugged yet lightweight canvas materials with leather accents and trims, this duffel can hold an impressive amount. This is an awesome alternative to a carry-on case or backpack available in grey or khaki colorways.
On the inside, the large main interior has plenty of room for extra clothing, shoes, and personal items, while the exterior buckle-closure pocket is just the right size for keeping your cell phone, boarding pass, and other important travel documents close at hand.
With 2 loop handles and a heavy-duty, adjustable shoulder strap, you can carry this bag in 1 of 2 ways, and the reinforced bottom panel helps the bag stay super strong, even when it is packed full of your belongings.
What We Like
Very stylish with plenty of packing space in the internal compartment
What We Don't Like
No frame inside so doesn't hold its shape unless full
A Shoulder Bag With a Difference
AmazonBasics 15.6 Inch Laptop and Tablet Case Shoulder Bag
Dimensions: 16.3 x 2 x 11.5 inches
Weight: 1.50 pounds
This clever little laptop bag can be adjusted to offer you as much space as you need for your next business trip or meeting. Available in either 15.6- or 17.3-inch options, you can easily carry your laptop, tablet, and other essentials with you, everywhere you go.
With the main compartment reserved for keeping your laptop safe, the additional storage spaces have been cleverly divided to offer organizational space for your phone, tablet, pens, cables, power cords, and other essentials.
With 2 padded loop carry handles and a removable shoulder strap, this laptop bag is incredibly versatile and a comfortable carry, while the pass-through strap at the back allows you to easily slide the bag over the handle of your suitcase.
What We Like
Has a luggage strap for attaching to a suitcase
What We Don't Like
Larger laptop bag doesn't accommodate some 17-inch laptops
Final Thoughts
AmazonBasics offer a select but very well-thought-out range of pieces that cover all the needs of modern-day travel for business or pleasure. While the quality of its bags and cases may not be designed to last forever, the low prices and superfast delivery makes them a convenient choice that is practical for everyday use or occasional vacations.