The 13 Best Laptop Backpacks To Buy for Travel in 2021
In order to safely transport your laptop from place to place, you need a protective vessel that not only works hard to keep your tech safe but is also comfortable to carry around with you.
Backpacks are the preferred bag type of students, commuters, and frequent flyers. Finding one that will fit your laptop as well as your day-to-day belongings will make travel just a little bit easier.
Things to Consider When Buying a Laptop Backpack
Size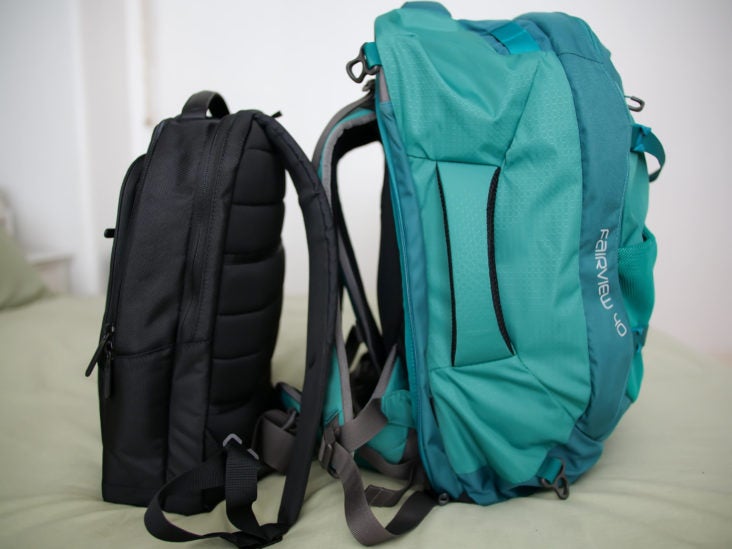 The size of your backpack should be large enough to comfortably accommodate your laptop and accessories, yet small enough to fit in an overhead bin.
Internal compartments should be roomy enough to fit not just your laptop and charger, but also all your vital necessities, including your wallet, cell phone, glasses, keys, and all the other things you rely on, to prevent you from needing to carry yet another purse or shoulder bag with you.
The size of your laptop will dictate the size of your backpack. Laptop backpacks have a dedicated, padded compartment to slip your laptop into, so it's important to make sure that the pocket is large enough to fit your laptop.
Standard size dimensions include 15-, 16-, and 17-inch laptop compartments. The thickness of your laptop can make a difference in whether or not it fits, so be sure to take that into account.
Weight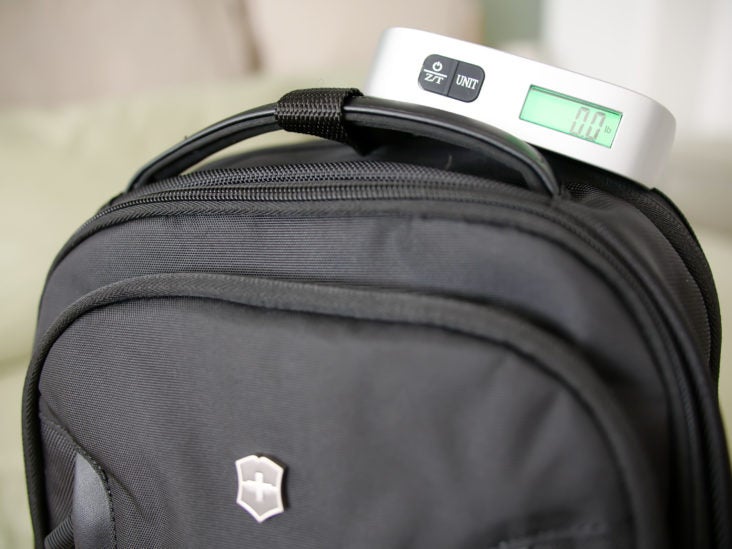 Because laptops and all of their necessary paraphernalia can be heavy to carry around, your laptop backpack needs to be as lightweight as possible.
You want to be able to work on the move, but not be so weighed down that you suffer back strain while getting there. Laptops are designed to be portable, so the backpack that you carry it in should be easy and comfortable to carry as well.
Material and Durability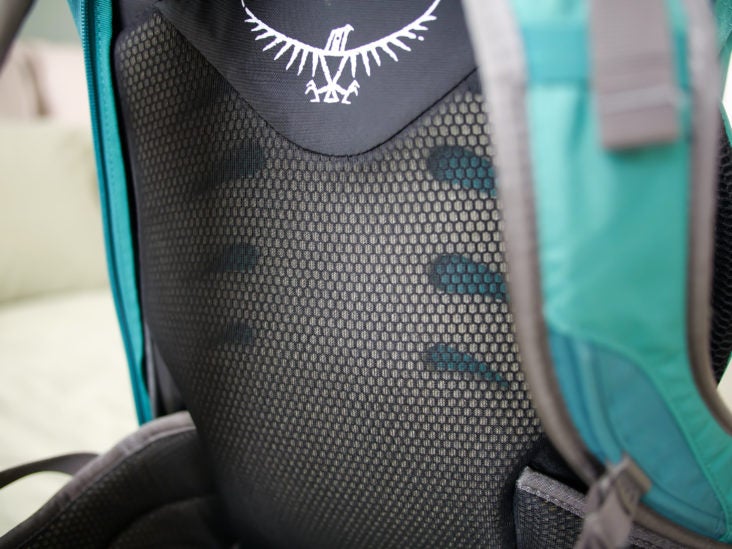 The level of protection your laptop backpack offers is one of the most vital aspects of its purpose. Your laptop needs protection not just from knocks and drops, but also from wet weather.
Some of the very best laptop backpacks on the market are made using waterproof (or at least water-resistant) material that will protect your laptop from the elements and is easy to clean.
Make sure that the material your laptop backpack is made out of is durable, resistant to abrasions, and won't rip or tear, leaving your laptop vulnerable to the outside.
Meshed backs, curved back systems, and padded through-flows are also useful backpack design features that stop you from getting a sweaty back when carrying your backpack for long periods of time or in hot weather.
Handles and Straps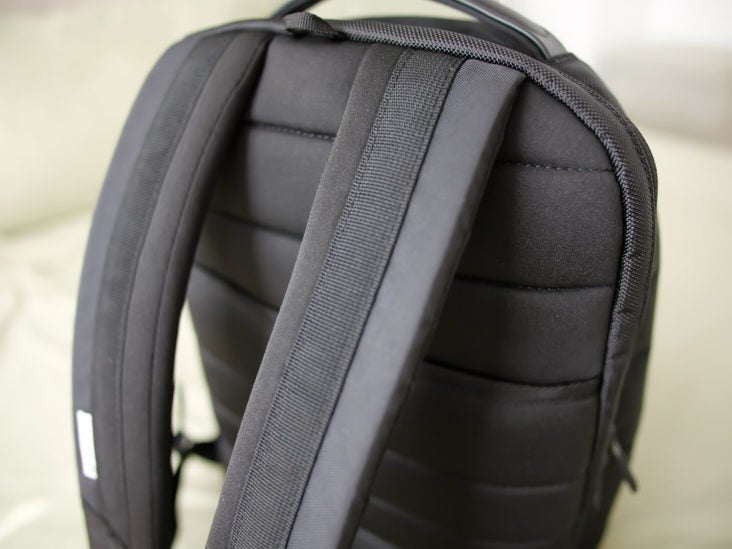 The beauty of a backpack is that it leaves your hands free for carrying coffee, checking social media on your phone, or holding on to your plane ticket. It's essential that your backpack have strong, durable straps that will carry all the weight you put in it without tiring out your shoulders.
Comfort is also key. Handles and straps should sit comfortably on your shoulders. They should be able to carry the weight of the bag with ease and not start to come loose or strain at the seams.
Backpack straps and handles should also be adjustable so you can find the most comfortable position that doesn't cause back strain.
Laptop Compartment and Pockets
A superb laptop backpack should have multiple pockets and spaces to store all of your items.
The laptop compartment itself must be well-padded to ensure that your device is kept safe from knocks and damage at all times.
Additional pockets should be carefully devised to ensure that they can hold your chargers and cables without squashing or tangling them. There should also be a good variety of internal pockets that can be zipped up tight to keep USB sticks and other peripherals safe.
There should be plenty of room for your wallet, keys, and phone, all kept safely away from the laptop compartment to avoid scratching or damage as you reach in to grab what you need.
Smart Luggage
When it was first invented, smart luggage was considered to be the most exciting thing to happen in the world of carry-on bags. Cabin bags and laptop cases fitted with this type of technology were a real game-changer.
That was until airlines banned them due to the risk of carrying lithium batteries on packed commuter flights.
You can still take your smart luggage into the cabin, but there are very strict rules that apply. You must be able to remove the battery from the smart luggage in case it needs to be checked. This news may change your mind about paying the extra dollar for these handy features.
But fear not, dear flyer, for there are plenty of excellent laptop backpacks on the market without lithium batteries that will keep your beloved laptop safe and sound while you travel.
The 13 Best Laptop Backpacks for Travel
While there are many, many laptop backpacks on the market to choose from, only a few of them really make the grade. Here are some of our favorites.
Best for Frequent Flyers
Swissgear Travel Gear 1900 Scansmart TSA Laptop Backpack
Weight: 3.2 pounds
Overall Dimensions: 9 x 18.5 x 13.5 inches
Made from superior quality, durable, and weather-resistant 1200D ballistic polyester, the Scansmart from Swissgear offers lie-flat technology to protect up to 17-inch laptops when traveling.
For your convenience, the easy-open compartments are designed to ensure hassle-free, laptop-in-bag TSA scans.
The main laptop compartment is easy to access and is separated from the additional iPad or tablet pocket. Both are fully padded and lined with scratch-free, soft material to help avoid damage during transit.
An additional large U-zip pocket on the front is perfect for keeping all of your pens, notebooks, wallet, and keys safe and within easy reach. The contoured shoulder straps are easily adjustable and the mesh panel with Airflow ventilation prevents sweating.
Packed full of useful features, this backpack not only performs well but also looks professional.
If you're looking for a quality backpack to carry your laptop from one place to another, this a great option for frequent flyers who want to keep their tech safe and secure wherever they may be.
What We Like
Can leave your laptop inside your bag going through airport security
What We Don't Like
No chest strap for extra support
Best for Those Who Want To Travel in Style
Incase Icon Pack
Weight: 2.8 pounds
Overall Dimensions: 13 x 9 x 19 inches
This design-conscious laptop backpack is made from patented Woolenex, abrasion-resistant fabric that's woven from 2 different thicknesses of polyester fiber.
Durable and weather-resistant, this backpack looks chic and understated, while offering practical and versatile storage options.
The main compartment is large enough to carry a 15-inch MacBook, while the front pocket offers just the right size storage for your iPad or tablet.
Both compartments are padded and offer plenty of protection for your most valued devices, as well as being lined with soft, velour-like material that will keep your screens scratch-free wherever you take them.
In terms of extras, there's a multitude of storage pockets and zippered compartments that are designed to keep all of your day-to-day necessities safe by your side.
There are even 2 side-access pockets that make it easy to get what you need without taking the backpack completely off. A pocket also features a headphone cable hole for easy listening on the go.
The stylish, minimalist design is low-key and label-free, meaning that you can safely carry around your expensive equipment without drawing too much attention to yourself.
What We Like
What We Don't Like
Zippers are not water-resistant
Best for the Born Organizer
Timbuk2 – The Authority Pack
Weight: 2.4 pounds
Overall Dimensions: 11.4 x 18.1 x 5.9 inches
If you're the kind of traveler who needs to take a lot of stuff with you, then this is the perfect laptop backpack for you.
Designed to comfortably carry all of your office necessities, this strong, durable, and well-thought-out backpack has plenty of room to accommodate your laptop and lots of extra items with ease.
The Authority Pack from Timbuk2 has strong adjustable straps that can be adjusted to suit your height and width, and a grab handle for easy lifting and carrying.
The fabric is designed to not only keep your gear safe and well-protected from the elements, but also to prevent sweating.
With the main compartment that can hold up to a 17-inch laptop and a wealth of additional pockets, you'll be able to take everything you need on the road.
It also offers a neoprene water bottle pocket, compression straps (that also add a useful hanging function), a dedicated key keeper fob so you'll never lose your keys in the bottom again, and internal pockets perfectly sized for cell phones, pens, chargers, and cables.
Whatever you're taking with you, The Authority Pack backpack has the perfect space to keep it safe.
What We Like
Rear-positioned laptop for weight balancing
What We Don't Like
Backpack straps are a little short
Best for the Everyday Commuter
Thule Subterra Daypack 25L
Weight: 2.18 pounds
Overall Dimensions: 13 x 11 x 18.5 inches
The Subterra Daypack from sports luggage giant Thule is perfect for those who want to combine the sporting life with the everyday commute.
Made from the highest quality materials, the quick access compartment is large enough to hold a 15-inch MacBook as well as your iPad or tablet. This backpack also offers superior bumper protection with a soft, snuggly lining and 2-way access through the top-loading compartment or side zipper.
A useful addition to the Subterra backpack is the patented SafeZone compartment that can hold your sunglasses, smartphone, or other fragile items and can be removed for carrying separately.
There's also a quick-access front pocket that expands to hold your charging cables or power bank, as well as a hidden vertical pocket that's perfect for your headphones or wallet and includes a clip for keeping your keys safe.
Made from strong, durable nylon with the subtle Thule branding, this backpack is a good choice for those looking for practical and protective storage for everyday journeys.
Whether you're traveling to work, the airport, or somewhere else entirely, this is a good-size backpack that will protect your laptop and stow everything else you need for the hard day's work ahead.
What We Like
Molded side pocket to protect valuable items such as a cell phone or sunglasses
What We Don't Like
Straps don't tighten that much for smaller people
Best for the Money Conscious Laptop Owner
Solo Duane 15.6 Inch Laptop Hybrid Briefcase, Converts to Backpack
Weight: 2.05 pounds
Overall Dimensions: 12.5 x 5.5 x 17.3 inches
This laptop backpack may look like a simple backpack, but the hidden, convertible straps can instantly transform it into a briefcase. This unique function makes the Solo Duane perfect for business travelers who like the convenience of a backpack but the professional look of a briefcase.
The interior is roomy and well-padded. The dedicated laptop compartment will hold any of the most popular devices measuring up to 15.6-inches — including MacBooks, laptops, and Chromebooks. There's also a dedicated pocket for keeping your iPad, tablet, or e-reader safe during transit.
There are plenty of additional storage compartments, including a large exterior pocket that can comfortably hold your charging cables, and 2 quick-access front pockets for phones, keys, wallets, and credit cards.
For the price you pay, this backpack is an absolute bargain! With plenty of space to hold everything you need to work or study, the price is right on point.
Complete with a 5-year manufacturer's warranty, this backpack is great for a professional looking to impress, students who are serious about school work, or those who want an affordable laptop bag they can rely on.
What We Like
3 different options to carry this bag
What We Don't Like
Best for the Security Conscious Traveler
Mancro Slim Backpack with USB Charging Port
Weight: 1.5 pounds
Overall Dimensions: 20 x 13 x 6 inches
This functional backpack offers really useful security protection for your laptop and your cards, including an anti-theft metal shackle and RFID-blocking compartments to keep your belongings safe from fraudulent use.
The dedicated laptop compartment fits up to a 17-inch laptop, while there's a separate spacious compartment suitable for iPads and other tablets.
Made from durable, water-resistant polyester with metal zippers, the Manco Slim backpack is perfect for business users, commuters, or students. Another bonus is the built-in USB charger and charging cable which means you can charge your phone when you're on the go.
The padded shoulder straps make this bag incredibly comfortable to carry on your back, and the grab handle is perfect for quick movements while on the go. The slim design makes it a good-looking piece that will also keep your laptop safe and secure wherever you are.
There's plenty of space to carry everything you need on a daily basis, and the affordable price makes this a great addition to your travel gear.
What We Like
RFID-blocking compartments to prevent identity theft
What We Don't Like
Not much space for other items with a laptop in the main compartment
A Clever Use of Space in a Sleek Design
eBags Professional Slim Laptop Backpack
Weight: 3.3 pounds
Overall Dimensions: 8.5 x 18 x 12.8 inches
eBags is known for its clever use of space and the Professional Slim Laptop Backpack is no exception.
With a wealth of handy compartments and clever features, you'll never be short of usable space with this strong, durable, and practical laptop backpack.
Made from twisted-poly fabric, the streamlined shape, and sophisticated design make this perfect for day-to-day use. The vented Airmesh back panel and contoured straps make this backpack super comfortable to carry around. The crush-proof pocket will keep your charger and other peripherals safe.
The dedicated laptop compartment will fit up to a 17-inch laptop, and the separate tablet pocket will also keep your entertainment gear safe on the move.
There are plenty of additional pockets for key chains, business cards, pens, and even a patented removable, crush-proof case that allows you to keep your cables safe no matter what. Genius!
If you're not carrying something fragile, simply remove the crush-proof case and you have more space in the main pocket for large items — and you still have your laptop compartment free for a large laptop.
The slim design makes this backpack super easy to keep by your side at all times, and will help relieve the dreaded separation anxiety of worrying where your laptop is when you're on the move.
At work or even while you travel, this slim backpack from eBags has got your back.
What We Like
Colorful internal lining helps to locate items quickly
What We Don't Like
The Laptop Backpack Designed Specifically for Women
The North Face Recon Backpack
Weight: 2.6 pounds
Overall Dimensions: 19.25 x 13 x 7 inches
Not only does The North Face make fantastic gear for intrepid explorers, but it also make pretty decent laptop luggage, too. This particular model would be as at home on a commuter train as it would be on a mountain top.
Designed specifically to suit the female frame, the shoulder straps, sternum strap, and hip belt are all adjustable.
When it comes to internal storage, the Recon offers a large main compartment that's perfect for stashing books, folders, and other important documents, while the front compartment has a padded sleeve that can hold a small laptop.
There's also a fleece-lined pocket for your sunglasses or phone, an extendable mesh water bottle holder, and added lash points. This backpack can be used as a laptop bag or just a regular backpack depending on your needs.
Made from high-grade nylon, the Recon boasts a range of features that are standard across The North Face line, including the patented FlexVent suspension system, a padded mesh back panel, and a highly breathable lumbar panel for increased airflow around your body as you travel.
What We Like
Comfortable and breathable back panel
What We Don't Like
Backpack doesn't stand up by itself
A Comfortable and Lightweight Backpack
Incase Compass Backpack
Weight: 2.1 pounds
Overall Dimensions: 18.5 x 12 x 6.3 inches
The Compass Backpack from Incase is designed to be compact and incredibly practical. You can fit up to a 15-inch MacBook Pro in the faux-fur-lined laptop compartment that is located at the rear to ensure comfortable weight distribution on your back.
The double zippers allow you to open the main compartment only as far as you need, without risking any of your belongings falling out. Inside you'll find a variety of internal compartments to keep all your day-to-day paraphernalia safe and sound as well as a couple of quick-access pockets on the outside.
The backpack is made from premium lightweight flight nylon, meaning the bag is durable but won't take up much of your weight allowance. The padded back panel and straps allow for comfortable and stable carrying wherever you're headed.
The many different internal compartments provide the perfect hideaways for your keys, cards, cell phone, and books or documents. Whether you're traveling for business, study, or just for fun, the Incase Compass Backpack is good to go, whatever you need it for.
What We Like
Double zippers for easy access
What We Don't Like
No sternum strap to alleviate the weight on your shoulders
A Savvy Budget Option
Travel Laptop Backpack by Matein
Weight: 1.56 pounds
Overall Dimensions: 18 x 12 x 7.8 inches
Made from water-resistant, durable polyester fabric, this travel laptop backpack is great for laptop users on a budget.
With lots of lovely storage pockets and a separate laptop compartment, you can carry around your daily necessities with ease. What's more, the comfortable airflow design with multi-panel ventilated padding makes this laptop back super comfortable to carry at all times.
The laptop sleeve comes with enough space to hold up to a 15.6-inch laptop. This backpack also comes with a cleverly designed, anti-theft pocket on the back of the bag so you can keep your valuables close and protected from theft.
Perhaps the most useful function of this particular backpack is the built-in USB charger and charging cable.
Attach your backpack to your rolling luggage using the back strap so moving through airports is a cinch. You can even tuck this bag under the seat in front of you, so there's no need to worry about putting it in the overhead compartment.
Compact and well-designed, this is a great backpack for the price you pay.
What We Like
Lots of internal pockets to stay organized
What We Don't Like
No bottom padding beneath the laptop compartment
For Those Who Have a Lot To Take With Them
Everki Atlas Business Laptop Backpack
Weight: 4 pounds
Overall Dimensions: 13.4 x 9.1 x 18.9 inches
This supercool laptop backpack benefits from a ton of extra features, making it perfect for anyone who needs to take a lot of stuff with them. Made using high-quality materials, your equipment will be well-protected wherever you may go.
Large enough for any adventure, this backpack will comfortably hold laptops from 13- to 17.3-inches in size, in the adjustable padded and felt-lined compartment that opens a full 180 degrees for easy access at airport security checkpoints.
Even when it's fully loaded, the 5-point strap system means that this backpack is always comfortable to carry.
Aside from the main spacious storage area, there are also large, zippered pockets that are perfect for holding your iPad, tablet, or e-reader, as well as plenty of extra space for stashing your business cards, writing utensils, and other daily accessories you may need. There's even a separate small stowaway pocket that's perfect for storing your phone.
An investment piece for sure, but this is a great backpack that offers excellent protection for your laptop, as well as plenty of extra storage space for anything else you could want to take with you.
What We Like
Checkpoint-friendly compartment that opens 180-degrees
What We Don't Like
Side pockets don't fit a tall water bottle
For the Value Happy Traveler
AmazonBasics Backpack for Laptops
Weight: 1.98 pounds
Overall Dimensions: 13.39 x 7 x 19.29 inches
This laptop backpack from the AmazonBasics line of products has been cleverly designed to protect and hold your laptop while you're on the move. With multiple storage compartments, you can carry your laptop and work accessories with you everywhere you go.
Made from heavy-duty material that offers some weather resistance, this backpack looks way more expensive than it actually is.
There are plenty of internal pockets to store your pens, keys, wallet, and smartphone, and the bag holds up to a 17-inch laptop in a padded, dedicated laptop compartment. There's even a separate handy compartment in which to store your iPad or tablet.
The adjustable and heavily padded shoulder straps make the backpack comfortable to wear, even when loaded with all your gear. There's also a mesh water bottle compartment on the side.
While there are other, more expensive laptop backpacks available on the market, this one is both affordable and practical, making it perfectly suited for use as a budget laptop backpack.
What We Like
Lots of internal and external pockets
What We Don't Like
Zippers can sometimes get stuck
Doubles up as an Activity Backpack
Osprey Packs Radial Bike Commuter Daypack
Weight: 3 pounds
Overall Dimensions: 13.39 x 7 x 19.29 inches
Although this laptop backpack was designed with cyclists in mind, this bag is loaded with features that make it a great option for traveling with a laptop.
Featuring a specially designed harness and suspension system, this backpack moves with you and provides incredible ventilation and comfort, even when you're packing a heavy load. You'll certainly stay cool with this ventilation system, making it perfect for warmer climates.
The integrated kickstand will keep your backpack upright, which is super convenient if you have to pick up and put down your backpack often. The blinker light attachment and reflective details will keep you safe and visible if you do decide to use it for cycling.
Made from strong and durable material, this clever backpack even has a built-in rain cover that keeps your pack and gear dry in any weather.
The dedicated laptop sleeve will keep a 15-inch laptop protected. There are plenty of additional zippered pockets and mesh organizers to keep your cell phone, credit cards, notebooks, and other daily necessities organized.
There's even a key strap for keeping your keys where you put them. An additional stretchy mesh side panel carries a water bottle to keep you hydrated on the go.
Made by luggage giant Osprey, this is a backpack that's perfectly designed for those who like to cycle while keeping their laptop safe and well-protected. However, as such a comfortable and well-designed backpack, it's well-suited to double up as a professional backpack for travelers who work and play.
If you need something slightly bigger, the Osprey Radial is also available in the 34-liter size, too.
What We Like
Built-in kickstand keeps the bag standing upright
What We Don't Like
Final Thoughts
If you're looking for a backpack that will sit comfortably on your shoulders, provide ample protection, and look good, any of the above will fit the bill. While some of the big-name brands do offer superior quality at a higher price point, there are some great budget options, too.
One thing is for certain, a laptop backpack is a must for anyone on the go with a laptop. Keep your gear safe, look professional, and keep your back comfortable by choosing the right laptop backpack for your travel style.
Interested in other travel products you should be considering to up your travel game? We've done all the research so check out our other reviews!